Walk On Water
Do you know those funny-looking shoes that actors wear in movies that are set in the snow? They look fun to walk around in and let me tell you, they one-hundred percent are!
However, picking out the right snowshoes isn't as easy as strapping tennis rackets to your feet and heading out the door.
There is a lot to a snowshoe and quality can vary not just from one brand to the next but from one part to the next. It's a roller coaster but one that you'll need to ride.
Snowshoes give you the ability to walk on deep snow and snowy terrain in general with greater ease.
They spread out your weight evenly, without them, you'd be waist-high in the snow the second you set foot on the frozen mountain terrain. Actually, that doesn't sound too bad. Nonetheless, if you want to walk on snow, you're going to need snowshoes.
Best Snowshoes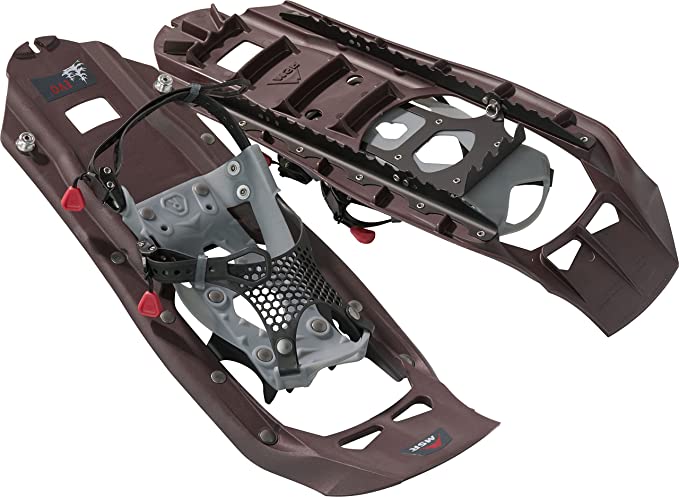 MSR Evo
Frame Material: Martensitic steel
Binding: Paraglide
Heavy-Duty Build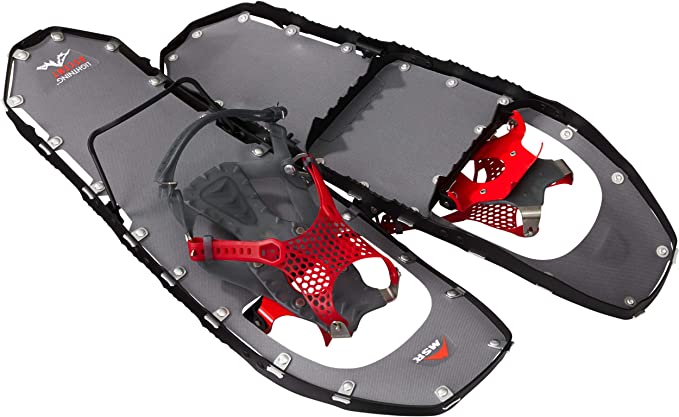 MSR Lightning Ascent
Frame Material:
aluminum, steel
Binding:
Paragon
Best Versatility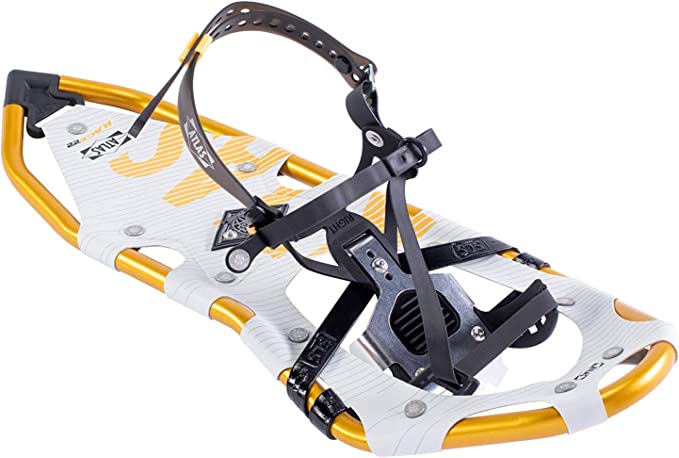 Atlas Snowshoes
Frame Material:
composite
Binding:
Wrapp Trail
Lightweight Design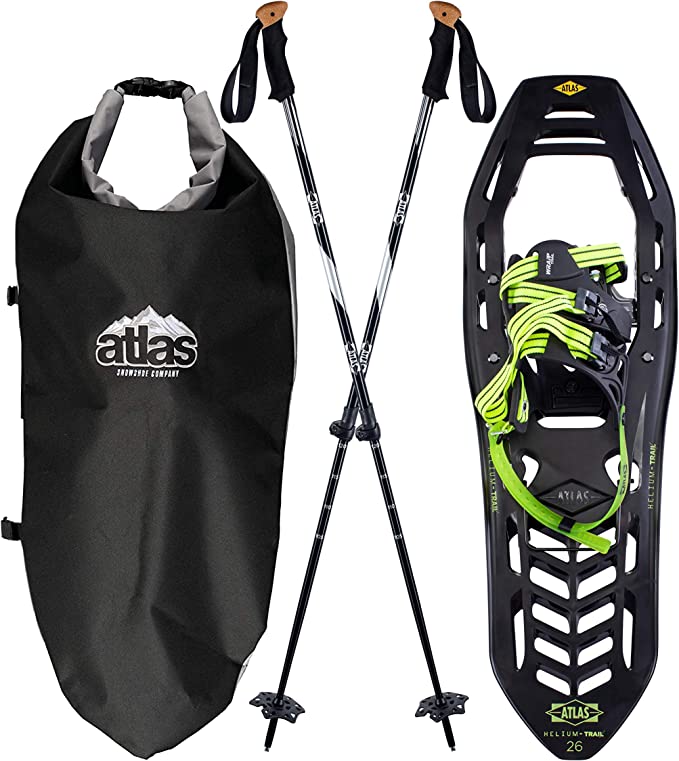 Atlas Helium Trail
Frame Material:
composite
Binding:
Wrapp Trail
Hiking Performance

Crescent Moon Big Sky 32
Frame Material:
6063 aluminum
Binding:
SPL
Advanced Option

TSL Symbioz Hyperflex Elite
Frame Material: Plastic, Steel
Binding:
Wrapp Trail
Budget Snowshoe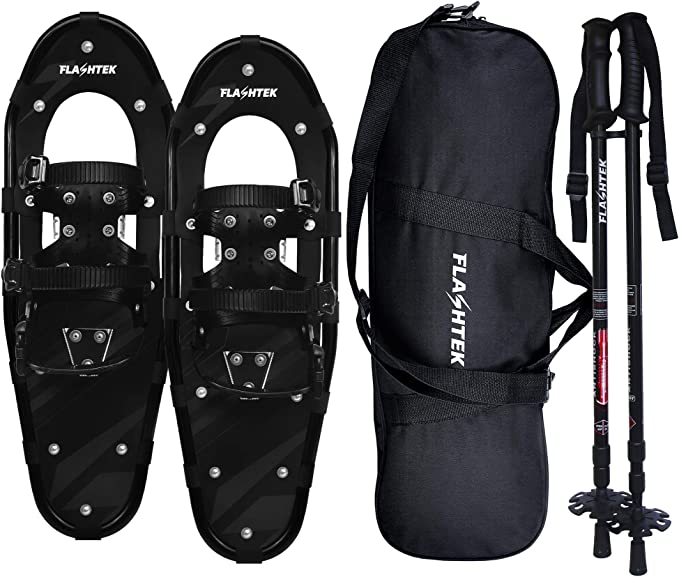 Flashtek Snowshoes
Frame Material: Plastic, Steel
Binding:
Wrapp Trail
Best of The Rest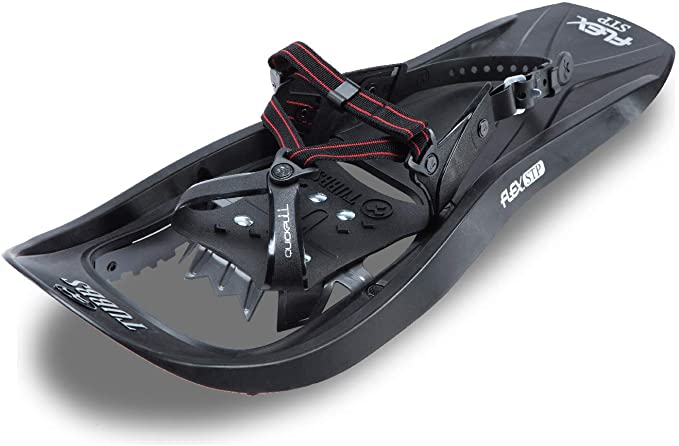 Tubbs Flex STP
Frame Material:
Torsion Deck
Binding:
Quickpull
The 8 Best Snowshoes of 2022
Our listing is ranked based on a shoe's build quality and the parts that make it up. Of course, other factors like how they perform and their comfort level were also taken into account. What we end up with is a pretty standout list of elites.
The Atlas Race has got several features that are great for versatility. Letting you swiftly move across different terrain without much trouble. The MSR Revo Explore does as the name suggests. Keeping their weight light so that you can see and do more.
However, they aren't the lightest shoes on the market, that honor goes to the Atlas Helium trail shoes. There are a ton of options to choose from and even more things to consider when making a choice.
Strap in and hang tight because everything we're about to show you is the cream of the crop.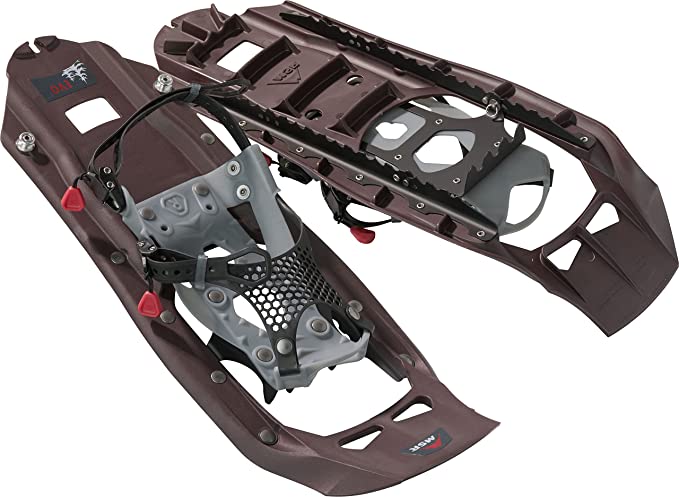 The MSR Evos are backed by a solid frame that has been constructed by Martensitic steel. This type of steel has ultra-high strength and moderate corrosion resistance. It's sturdy, to say the least, and it won't fall apart on you.
To secure the Evos onto your boot, you'll need to use the paraglide stretch mesh. As the name would suggest, this mesh is flexible and as a result, you needn't worry about any compatibility issues.
But what if you are carrying a big load or perhaps the combined weight of yourself and your pack proves too much for these snowshoes? It's simple, purchase flotation tails, also made by MSR, and attach each one to a snowshoe.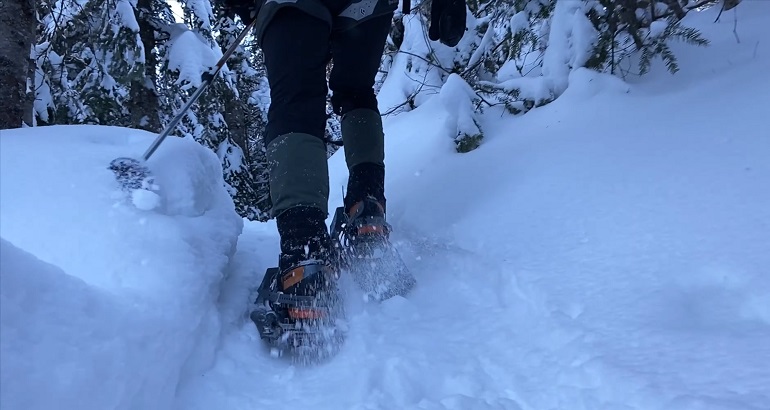 What these flotation tails do is increase the surface area and therefore the amount of weight that these shoes can reliably support. Your grip won't suffer, thanks to the side rails underneath each shoe.
Quality engineering without any blind spots!
Features
Frame: Martensitic steel
Deck: UniBody
Crampon: Steel
Weight: Three pounds and eleven ounces
Best Feature: Paraglide stretch mesh bindings
Pros
The paraglide stretch mesh bindings accommodate all kinds of footwear.
You can attach the MSR flotation tails to improve buoyancy and pack on more weight.
Has side rails that improve the grip of these snowshoes.
Cons
Durable but not the best at providing long-term user comfort.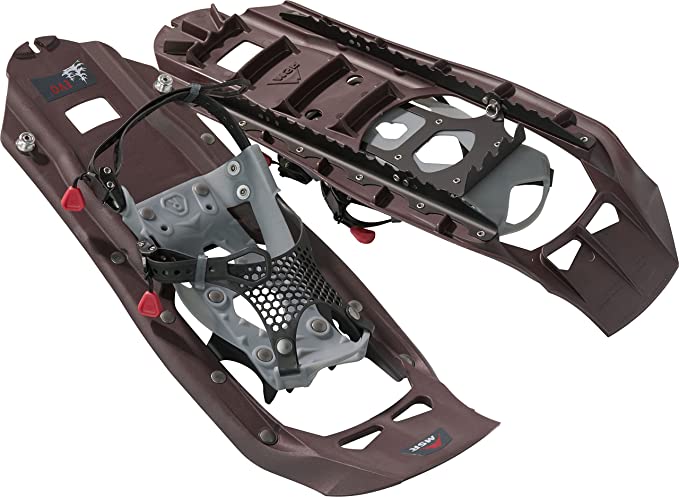 MSR Evo
The price of "MSR Evo " varies, so check the latest price at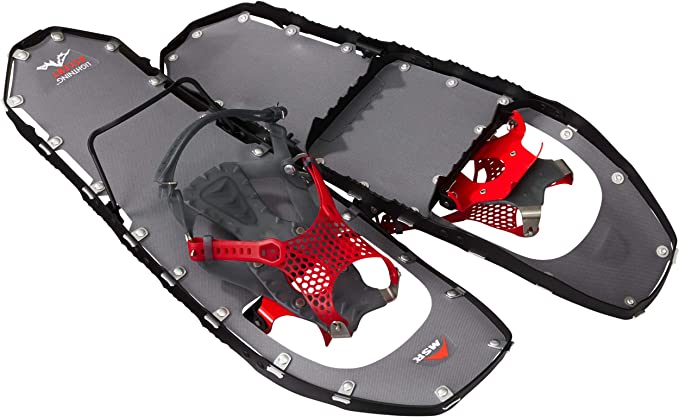 The name is a dead giveaway of what you are in for. With DTX crampons, you get a mean bite that doesn't let up. Coupled with a light frame that doesn't shy away from using steel inserts to increase durability.
Like all MSR snowshoes, this one here is yet another solid example of great engineering. What impressed me most was the ballistic nylon that was used to make the deck. Often, due to the cold and rough terrain, snowshoes tend to crack.
The Lightning ascent is more than ready to stand up to the challenge. Nothing takes the hits better than ballistics-grade nylon. But user comfort was also at the core of these snowshoes.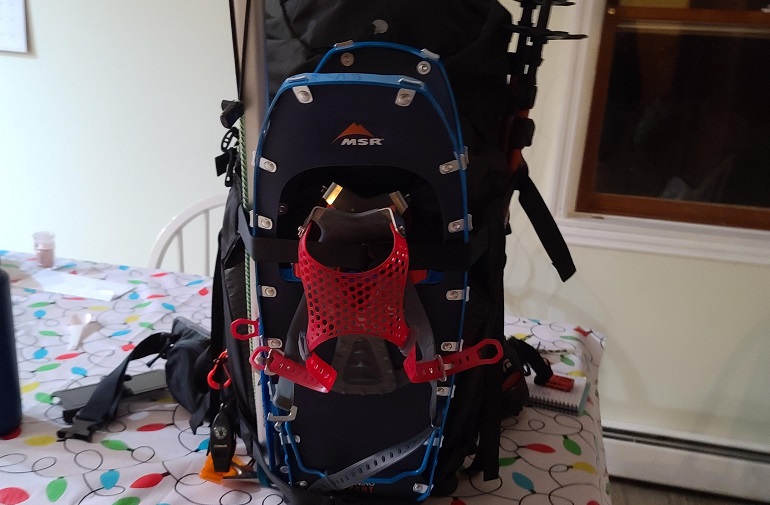 Heel lift has been included on either shoe. What these lifts do is improve your posture and minimize the amount of weight that you'll have to place on rough terrain.
Greater lift and more endurance!
Features
Frame: Aluminum and steel
Deck: Ballistic nylon
Crampon: DTX
Weight: Three pounds and thirteen ounces
Best Feature: Durable build quality
Pros
Has incredibly durable decking that won't crack on rough terrain.
Excellent heel lift that improves the endurance of the wearer.
The crampons and the bindings work in tandem to provide the wearer with boosted support.
Cons
The weight of these snowshoes greatly grows depending on which option you choose.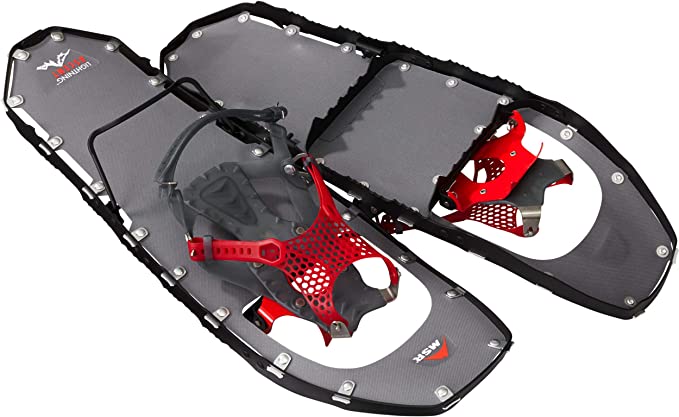 MSR Lightning Ascent
The price of "MSR Lightning Ascent" varies, so check the latest price at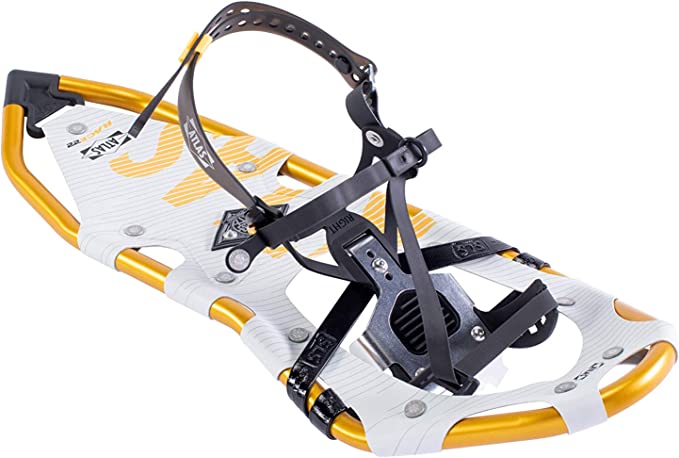 Versatility is completely underrated nowadays, but I understand why. There have been so many products over the years that refuse to specialize. What you end up with is a plethora of mediocre gear that doesn't do anything right.
However, for every one hundred bad products, there is one great one, and the Atlas Race is that product.
With a V-frame design that supports your natural walking stance and gait, to a lightweight but weather-resistant aluminum frame, you get it all, and you get it right.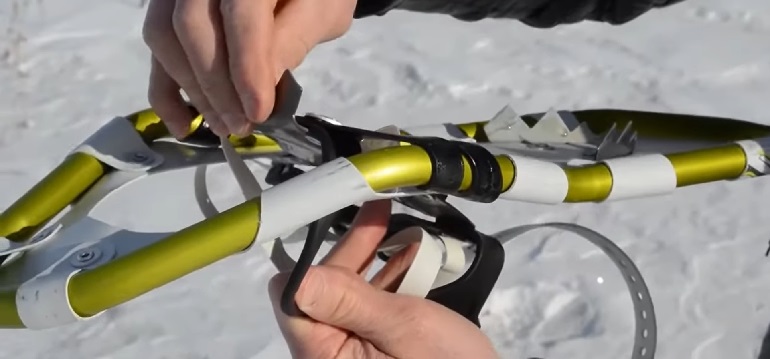 Don't worry about what kind of land you'll be trekking across because I doubt that the spring-loaded suspension of either snowshoe won't be more than enough to keep you going.
To top it all off, the bindings can be easily adjusted with just one hand. Simple!
Features
Frame: Aluminum frame
Deck: Nytex
Crampon: Z-Trac
Weight: Two pounds and three ounces
Best Feature: V-frame for natural gait support
Pros
Smoothly glide from one step to the next thanks to the V-frame arch support.
Has a spring-loaded suspension that improves the maneuverability of the shoe.
Bindings can be adjusted with one hand across the entire foot.
Cons
Only one color option to choose from.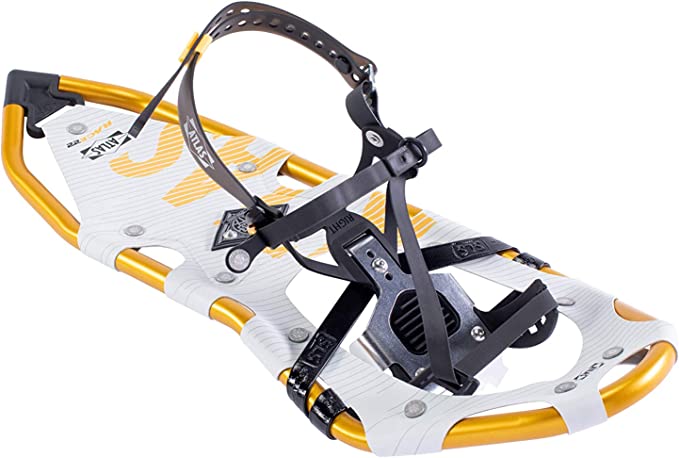 Atlas Snowshoes
The price of "Atlas Snowshoes" varies, so check the latest price at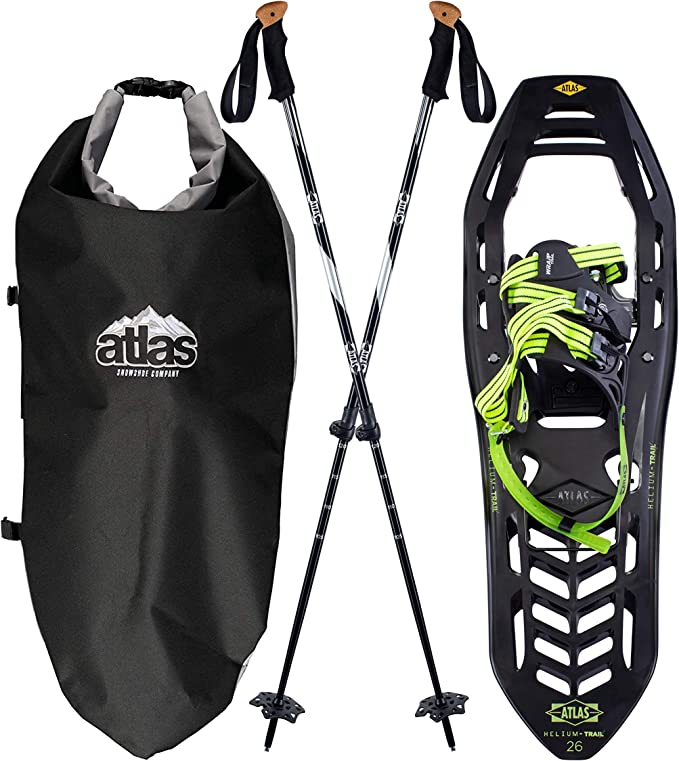 Our top four spots are dominated by two companies because both brands found a winning formula and then began to iterate upon it. The Helium trails do what the Races couldn't, they specialized.
But what exactly was the theme of these snowshoes? Lightweight design. How was this light feeling achieved? First, by shrinking down the overall length of each shoe.
Then Atlas constructed a lightweight skeleton upon which the rest of the shoe would be based on.
Next, the strap system wasn't weighed down with unnecessary buckles and excess wiring. A rotating binding design was used as the style of choice. You can quickly step in and out of these snowshoes without much trouble.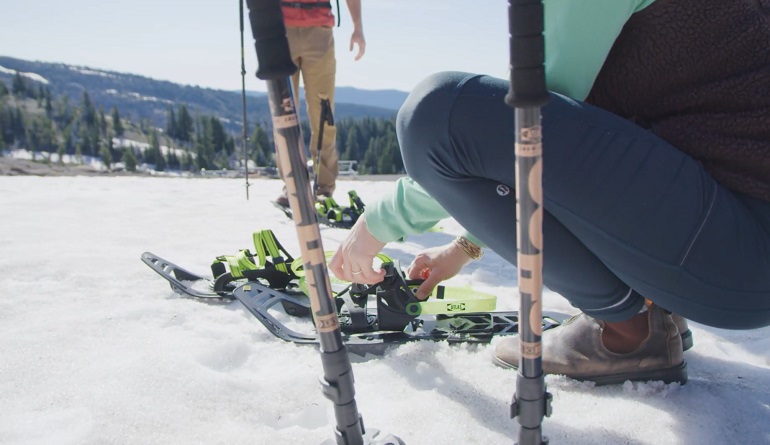 Beneath this frame is steel crampon ribbing that cuts into and then disperses the snow!
Features
Frame: Composite
Deck: Helium
Crampon: Steel
Weight: Feels like two pounds and two ounces
Best Feature: Crampon ribbing shakes off snow
Pros
Affordable and with a size that spreads your weight out to improve traction.
Lightweight skeleton design that is perfect for trekking through long stretches of land.
Quickly slip in and out of binding thanks to their rotating design.
Cons
Would have preferred stronger side rails.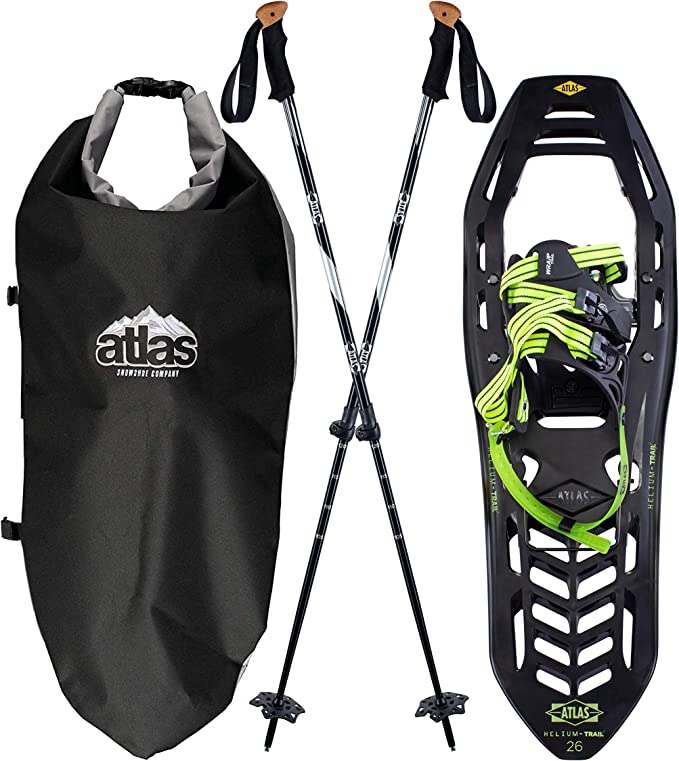 Atlas Helium Trail
The price of "Atlas Helium Trail" varies, so check the latest price at

With a name like Big Sky 32, the possibilities seem endless. When you take into account the features of these snowshoes, you realize that this is true.
Sure, all the great things packed into these shoes have weighed them down, but there exist enough wearer support features to counteract any issues.
Gone are the days of either shoe running into the other, causing you to lose your balance. This is because of the teardrop shape of the Big Sky 32s. A shape like this prevents either shoe from getting in the other's way.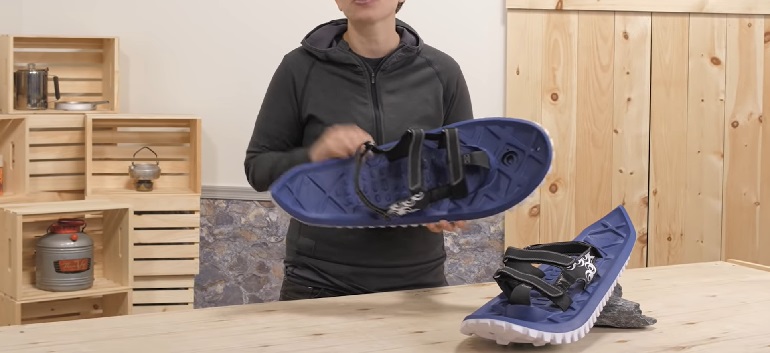 Stainless steel claws make steep terrain a cinch to get through, and a single-pull strapping system has you going in seconds.
All these features combine to make hiking a literal breeze!
Features
Frame: 6063 aluminum
Deck: Polyurethane
Crampon: Stainless steel crampons
Weight: Four pounds and fifteen ounces
Best Feature: Polymer gel straps
Pros
Each shoe has a teardrop shape that prevents them from knocking into one another. This is what makes them great for hiking.
Has stainless steel claws that dig into steep inclines.
Quickly secure yourself into place with a single pull loop.
Cons
Be careful not to step on anyone because of the steel claws.

Crescent Moon Big Sky 32
The price of "Crescent Moon Big Sky 32" varies, so check the latest price at

The Hyperflex Elite, no that is not an overly confident name. With steel crampons, a carbon fiber deck, and a hyperflex frame, you'd be a fool to not be confident with these snowshoes.
Weighing in at four pounds each and with carbon fiber inserts running the base for increased durability, the Elites were made for heavy-set hikers. If you couldn't find a pair of snowshoes to accommodate your weight before, then look no further.
Surprisingly, the HyperFlex decking stays true to its name.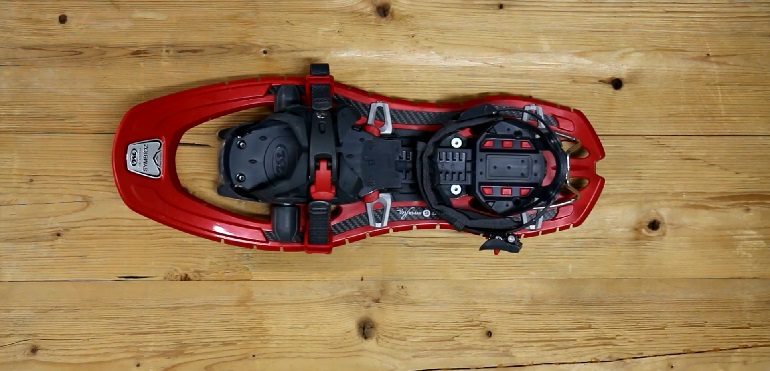 It's flexible and bends into all kinds of positions to help you with your hike. If you were wondering what you use to secure these shoes onto your boots, each snowshoe has ratchet straps that are located on the instep.
A very heavy-hitting offering!
Features
Frame: HyperFlex
Deck: Carbon Fiber
Crampon: Steel
Weight: Four pounds
Best Feature: Has carbon fiber inserts
Pros
Perfect for those that are on the heavier end of the weight scale.
You can secure your fit with ratcheted straps located on the instep.
Hyper flexible decking thanks to the materials used to construct them.
Cons
Heavyweight to lug around for extended periods of time.

TSL Symbioz Hyperflex Elite
The price of "TSL Symbioz Hyperflex Elite" varies, so check the latest price at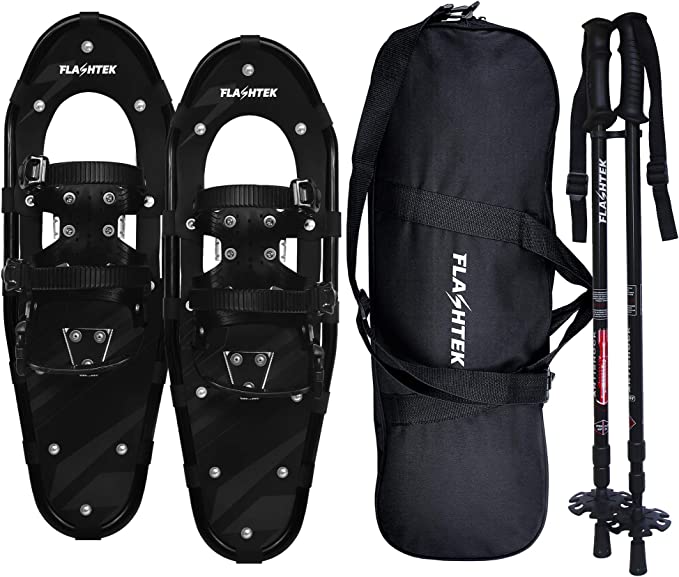 More than a budget option, the best deal in the house. I don't know where else you will get the amount of quality and gear on offer here for this low price. The Flashtek snowshoes don't come alone.
With your purchase, you get a nylon carrying case and a set of trekking poles. This zippered bag is big enough to carry your shoes and your poles. Simply throw everything in and sling the bag over your shoulder once the day is done.
As for the snowshoes themselves, they've got an aluminum frame that doesn't shatter or crack when exposed to cold temperatures for prolonged periods of time. The crampons are made of forged aluminum, and they can be secured with fast pull bindings.
It all really sounds too good to be true, but it isn't!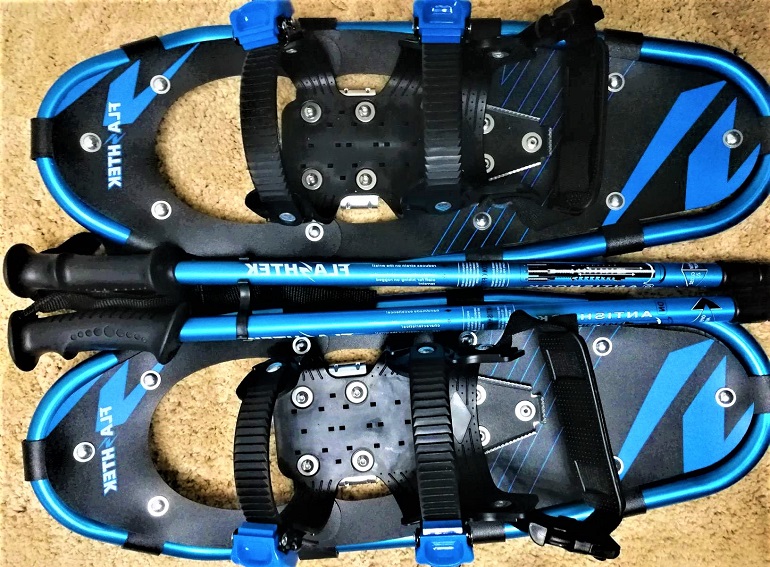 Features
Frame: Aircraft aluminum
Deck: HDPE
Crampon: Forged aluminum alloy
Weight: Four pounds and eight ounces
Best Feature: Comes with nylon carrying bag
Pros
The cheapest shoes on the list without compromising quality.
Comes with a zippered bag and trekking poles.
Fast pull bindings that tighten and release in seconds.
Cons
Nothing wrong with the deal offered here.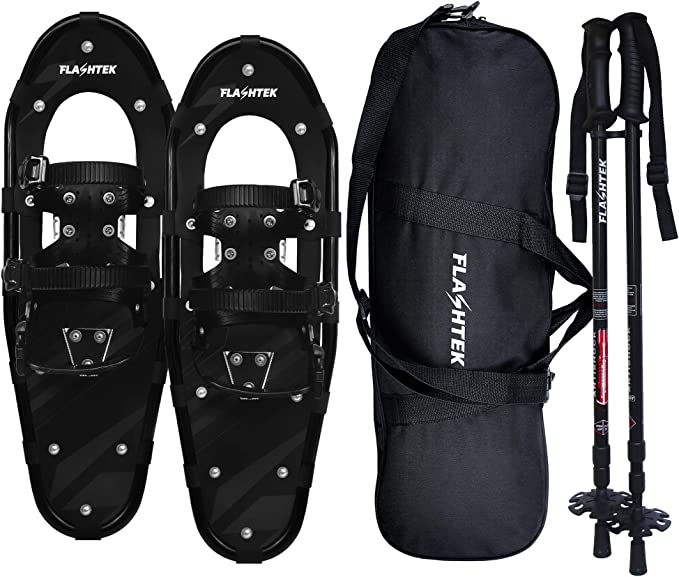 Flashtek Snowshoes
The price of "Flashtek Snowshoes" varies, so check the latest price at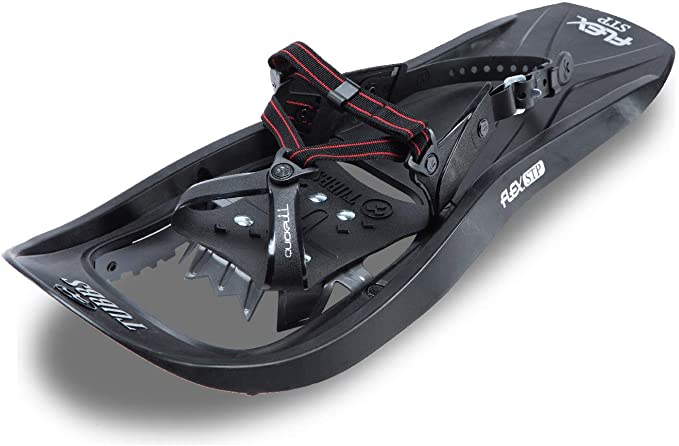 The final option on our list but by no means a bad performer. With a torsion deck frame and metal crampons, I'd struggle to find a more solid build.
The torsion deck was made for the wearer's comfort. Getting more accommodating as the groomed trails begin to grow more varied.
The metal crampons act as a secure lifeline between you and solid ground. No slipping and no weak hold to send you tumbling into the cold hard snow. At the back, "control wings" have been added to keep your heels aligned.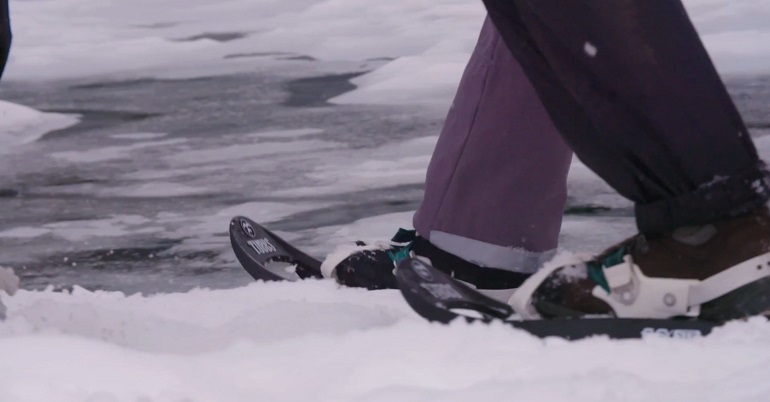 By keeping your heels aligned, your posture is improved and your fatigue reduced. And all of these great design choices are backed by a limited lifetime warranty.
There isn't more that you could ask for!
Features
Frame: Torsion Deck
Deck: Composite
Crampon: Metal
Weight: Three pounds and six ounces
Best Feature: Limited lifetime warranty
Pros
The torsion deck improves your comfort the more uneven terrain you come across.
The QuickPull binding system unlocks with the single press of a buckle.
Has "control wings" that keep your heels aligned. This improves posture and reduces fatigue.
Cons
Only available in two sizes.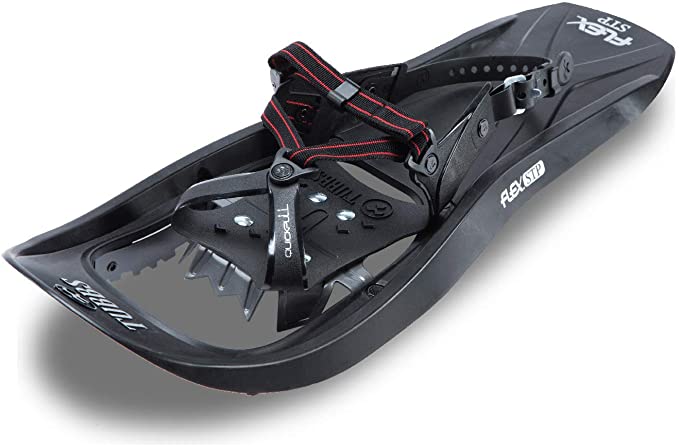 Tubbs Flex STP
The price of "Tubbs Flex STP" varies, so check the latest price at
Get The Best Snowshoe, Consider The Following
From the Lightning ascent snowshoes to the MSR Evo trail snowshoes, you can't really go wrong with any of the options that we have listed for you above. However, snowshoes are a wild beast because their quality can vary drastically from one part to the next.
It's like the wild west, and it's incredibly easy to get shoes that are fantastic all around but are missing that one key ingredient that could have served you well. Even if you are only looking for a pair of recreational snowshoes, you need to know what parts should be reaching higher standards.
This is why we have the information posted below. To help you figure out what exactly your snowshoes need to have.
The Size of Your Winter Boots
Getting the right size for your backcountry snowshoes is vital to your ability to move across deep snow. When you get the wrong size snowshoeing boots or skiing boots, moving around in them is entirely possible.
Sure, it's going to be uncomfortable and sometimes even downright painful but still possible. The thing is, snowshoes provide a different kind of service. They aren't just for your comfort or for fighting back the cold.
A snowshoe has to be the right size in order to cover the correct amount of surface area. This way, our weight will be distributed evenly, providing us with the flotation that snow conditions demands of us.
Different size snowshoe bindings and snowshoes have different terrain that they specialize in. Short snowshoes, the ones that are anywhere from twenty-two inches to twenty-eight inches, are best for moving through moderate terrain. That is to say, flat terrain and trails.
A longer snowshoe is best for the backcountry and areas with deep snow. What kind of terrain you move through will determine what you need. Either the Big Sky 32 for the hiking season or the Atlas Race shoes for more varied terrain and groomed trails.
Either option will help you dominate your area!
What Binding System Is Supported
Snowshoe bindings are what we use to secure binding to boot and vice versa. Needless to say that you will want this system to be on point. Technical terrain can be very demanding, and if your hiking boots are not secured into them, you run the risk of having one of your boots slip out.
What will this cause? In a worst-case scenario, one of your boots gets loose, and you go tumbling forward. Face first into deep powder snow that completely envelopes you and will suffocate you if you can't get yourself free. This is an extreme scenario but still possible.
Allow me to run through your options:
Strap Systems
This is by far the one binding system that you'll encounter on most snowshoes. Either multiple straps or a single-pull system. With multiple straps, you get securely interconnected straps that interweave through your boot and the snowshoe itself.
There are also single strap or webbed options. While tried and tested, these strap systems suffer from a lack of uniformity and vacuum design.
What I mean by this is that they are designed separately from the rest of the snowshoe, and as a result, their quality can vary greatly when compared to the rest of the shoe.
Look out for any painful pressure points that can be prevalent with snow shoes that have low-quality strap systems.
Boa Secured
The next kind of snowshoe binding system available is the Boa system. This style melds what works from more traditional options and mixes them with some new adjustments.
Wrapped around your boot is a metal wiring that is tightened and loosened at the turn of a dial. Easy to use and make adjustments on. Of course, this is the best strap system that you can get on the market. With this kind of quality, comes a price point to match.
Traction & Heel Risers of the Snowshoes
Traction is what determines whether you get a good grip on the ground or not. You don't want to buy a pair of snowshoes that can't get a steady foothold into the snow. What's the point of that?
The amount of reliable traction that your snowshoes have is determined by the parts, and their quality, located on the bottom of the snowshoe. Crampons, frame rails, and traction rails are just some examples of traction-boosting parts.
A solid heel lift makes it easier to scale steep terrain. This is done by elevating your heel, go figure, and letting your toes get a better dig of its terrain. Steel crampons are great for all kinds of terrain. Packed trails or otherwise, these are the ones you want.
Other kinds of parts and substitutes are nowhere near as efficient as the originals. The MSR EVO snowshoes have got all of the recommended parts and great build quality to hold it all together. Any kind of winter hiking should be a cinch with those.
If you should have noticed by now that snowshoes are a complex beast. They are essentially an amalgam of parts that vary greatly in quality. Fortunately for you, all of the snowshoes listed above were checked to ensure that they deliver across all of the categories and features listed here.
Poles
What are poles to snowshoes? To me, they are the perfect companion for your hikes out on the icy trails. They complement your natural gait and aid you in particularly harsh terrain.
Lighter ski poles are necessary, you may think that all you need are snowshoes, but this is one hundred percent incorrect. What happens when your snowshoes get clogged up, and the crampons can't get as good of a grip as before?
Ski poles reduce the workload that your steel-toe crampons have to bear. Giving you greater mobility, speed, and efficiency. This efficiency also helps you travel farther out. The less energy that you have to expend as you move, the more of it that you have to push you further.
Another thing to keep in mind is if your snowshoes don't have great steel traction rails, retaining your balance can get harder and harder, whether on steep or technical terrain. Do you know what would be great for balance? Yeah, a great pair of trekking poles.
FAQ
What Are the Best Snowshoes for Deep Snow?
The best deep powder snowshoes would be both of the MSR options that we have on our list. This is because both of these options have the form and function to spread your weight out more evenly when crossing deep powdery snow.
The MSR Evos have an injected molded deck and the MSR lightning ascent snowshoes have ballistic nylon decking for you to stand tall with.
What Shoes Do You Wear With Snowshoes?
Hiking boots, snow boots, or any kind of wear that you think is appropriate when skiing or snowboarding. Shoes and snowboard boots that are waterproof and have some form of insulation should be fantastic for keeping you comfortable in frigid temperatures.
The goal is to maintain a lighter weight, this makes the steep terrain ascents easier on your body. You tire less, you can do more.
My Final Thoughts
When you take into account how many styles of snowshoes there are, ones with a steel crampon, aluminum crampons, etc., getting overwhelmed is all but assured. This isn't even taking into account the varied terrain that one is exposed to when hiking through soft snow.
A good backcountry snowshoe is a great equalizer. Giving you the ability to move through rolling terrain, packed snow, and anything else that you will encounter. For the best backcountry snowshoe, be sure to track each part that matters. Also, take your time to properly learn how to snowshoe.
Check their quality and performance. By assessing any weak areas, you can better prepare for what comes ahead.