Catch a Ride on the Burton Flight Attendant
What's in all those freeride snowboards? What do the best freeride snowboards have that other boards simply lack?
There is a lot more to board design and construction than most people realize. Your ability level does affect how great of an experience you will have, but this Burton Flight Attendant review will show you the magic that occurs when the right board meets the right rider.

From great turn initiation with the nose to speed you through any terrain, to a setback stance that gets you into the right position to carve through the fresh powder.
The natural features, the stable ride no matter the uneven terrain you find yourself on, the impressive float thanks to a nose that easily takes flight. There is a special board here, but sadly a great number of riders lack the ability level to truly experience it the way it's meant to.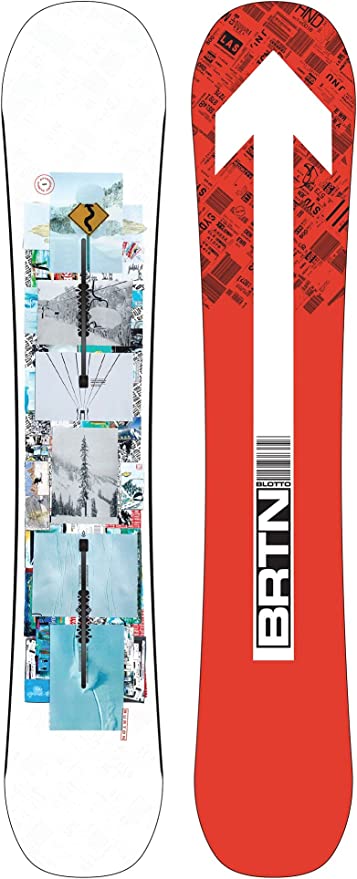 BURTON Flight Attendant Snowboard
The price of "BURTON Flight Attendant" varies, so check the latest price at
This board is meant for riders with an advanced ability level. You need to be at least an intermediate rider to get a great ride out of this Burton Board.
Whether you feel as if you fit the bill or you are looking for more info, jump in and work your way down the slopes of this in-depth breakdown of the Flight Attendant.
The Flight Attendant: All Things Considered
Here we go! This monster section systematically breaks down the Burton Flight Attendant and shows you why it's not only an amazing board for all-mountain shenanigans but among the best freeride boards available.
Do keep in mind, as I stated before, that the Burton Flight Attendant is not a great board choice for someone looking to get a beginner-friendly snowboard. You'll need to progress to be worthy of this masterpiece!
Shape and Side cut – Curves, Edges, and Type
The Burton Flight Attendant is a directional board, but don't let this classic directional shape fool you. There is much here that is far from the ordinary.
Overall Shape
Yes, the nose of this snowboard is still longer than the tail. But as the old adage goes, if it ain't broke, then don't fix it.
I mean, how else are you going to get the pop to concentrate on the tail? Of course, while still giving you the float and control required to even freeride. This Burton Board has all of that covered.
This board has both its tip and tail tapered. Why? In order to reduce the swing weight for easier mobility. And this is a modification that you can truly feel. It's quick when turning edge to edge, but it's not the fastest that I've ever been on.
Still, this great board lends itself well for a comfortable ride, and don't even worry about its performance on deep powder. I'll elaborate further in the uneven terrain section but let me just say that it's a super fun snowboard to ride through deeper snow.
Board's Side Cut Geometry
Next, I'm going to talk about Burton boards' balanced freeride geometry. Don't break out in cold sweats just yet, there is no math to be had in this land.
What the above means in the context of the Burton Flight Attendant is that a side cut has been centered on your stance.
The reason why the side cut of this board is located within that area is that you get a twin freestyle feel as you ride a flat base. What the heck is a flat base? Well, riding on your board's flat base means that you are riding in a straight line.
Riding in this style means that you are no longer placing any pressure on your toe or heel edge. This makes riding at high speeds possible, but all it takes is one patch of rough terrain to throw you off balance and straight into that powder.
It may be called powder, but if you slam into anything at a certain speed, nose first, it's going to hurt. No matter how soft the name sounds. So yeah, it's best to avoid riding your nice Burton Flight Attendant in this manner.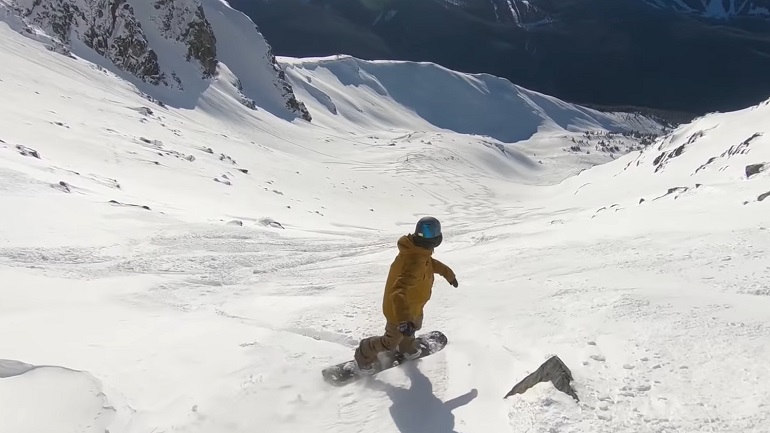 Final Touches
While you can ride switch, it's not a great feel. I don't particularly enjoy dragging so much weight behind me as I ride, but what can you do? That nose is wide.
In short, the shape of the Burton Flight Attendant makes it great for all kinds of riding styles. From the groomers to the powder, you are getting a freeride board that's got a hint of all mountain.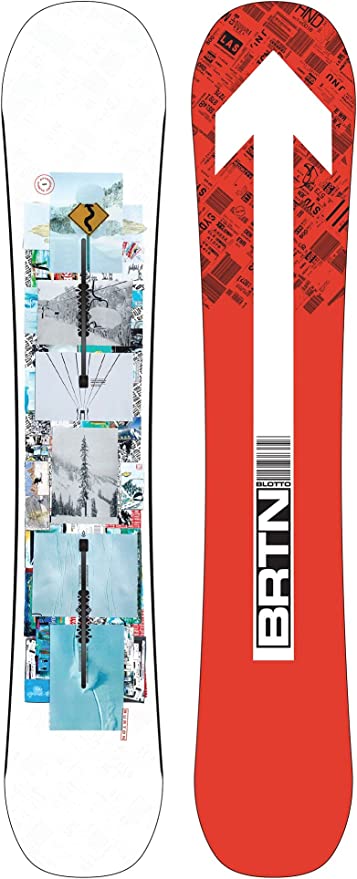 BURTON Flight Attendant Snowboard
The price of "BURTON Flight Attendant" varies, so check the latest price at
Construction and Materials – What Are You Made Of?
Whenever you get down to the nitty-gritty of what exactly goes into a snowboard, matters tend to get messy.
It's not our fault nor yours. We should be blaming the snowboard manufacturers and their increasingly complex and abstruse naming conventions.
The Base
l means, what exactly is Sintered WFO?
Well, I'll tell you.
It's what the base of this freeride board is made from. A highly absorbent and high-density material that makes for a durable base that can take the hardest hits that the icy snow conditions will send your way.
The base is coated in a specially formulated wax that is wedged deep into the pores of the board. The wax retention is important because riding a freshly waxed board across the powder at high speeds is pure adrenaline.
You can't feel more freedom than this.
Laminates
A Triax™ Fiberglass laminates the board. The flex here fits many kinds of styles, and the extra response that the Burton Flight Attendant receives will make executing skid turns a breeze.
Now partner all of the above with an ultra-light carbon backbone, and you've got one mean snowboard that pops.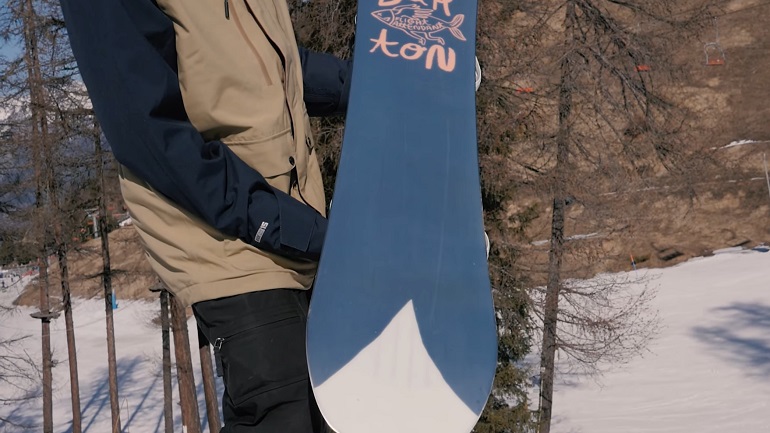 Core
The annoying long and complex naming trend continues with the Super Fly II™ 700G Core.
*What in God's name?!*
This core has a segmented assortment of different woods, all known for their light weight and strength.
These woods are strategically placed throughout different areas of the snowboard in order to maximize pop when riding and make the board super durable to boot.
There is a sweet balance of thicker core sections that act as jet boosters for giving the board its power and thinner core sections that are set in place to add some semblance of flexibility to the Flight Attendant.
If you were wondering how this affects the speed ability level of the Burton Flight Attendant, then I am pleased to say that there are no issues when it comes to reaching a high speed. Going fast, that's the entire point of all freeride snowboards.
Along your toe and heel edges, the Flight Attendant has wood grain sprinkled and positioned on two zones that run continuously. These zones run perpendicular to the remainder of the wood core.
The wood grain is how this stiffer board has a consistent edge hold with added strength.
Mounting System
It's hard to talk about the construction of the Flight Attendant without mentioning what kind of mounting pattern is included. And I am pleased to say that this terrain neutralizer comes with the fantastic Channel mounting system.
Writing about all the possibilities that this mounting pattern unlocks for you would turn this simple review into a novel. But the short of it is that the channel mounting system does away with screws and instead digs a trench across the center of your Burton board.
This allows you to slide your bindings into whatever stance you can imagine. Of course, the best stance for you on the Flight Attendant will differ from other channel system boards because of the setback stance.
Camber Profile
This review of the Flight Attendant wouldn't be complete without making mention of the board's camber profile. The camber profile of this board is a directional camber. It extends from the tail to just past the binding inserts.
The rocker comes just before the nose, and overall, the camber has a higher arc. This is why the Flight Attendant has such a great locked-in feeling. The security needed to get going.
Flex – Soft, Hard, What Does It Mean?
The Flight Attendant has a medium stiff flex rating that is commonplace if you want a freeride board that'll crunch through any terrain while providing you with a stable ride. The higher the flex level, the more stable your ride will be, but it comes with a catch.
Boards with a high flex level are much more difficult to maneuver and control. Softer flex boards are more forgiving and, as such, are suited to more freestyle-esque riding.
As I stated before, the Flight Attendant is a pretty stiff board that is loaded with power. Easy-going riders should look elsewhere because this one was made for ruthless aggression.
Speed – Fast Enough?
Yes, it's fast enough, and if it isn't, then you should put your life on the line and ride flat base, and if that still isn't enough… wow, you may be untamable. For the rest of us normal humans, don't worry about the chatter that comes with fast speeds.
The Flight Attendant does a great job of achieving minimal chatter across any terrain. You can always expect a stable and speed-fueled ride from this board.
With the rocker preceding this board's nose, that early rise locks you in and makes you feel welded to your board. You won't fear how fast you are going, but at this speed, you may wonder how you will ever come to a complete stop.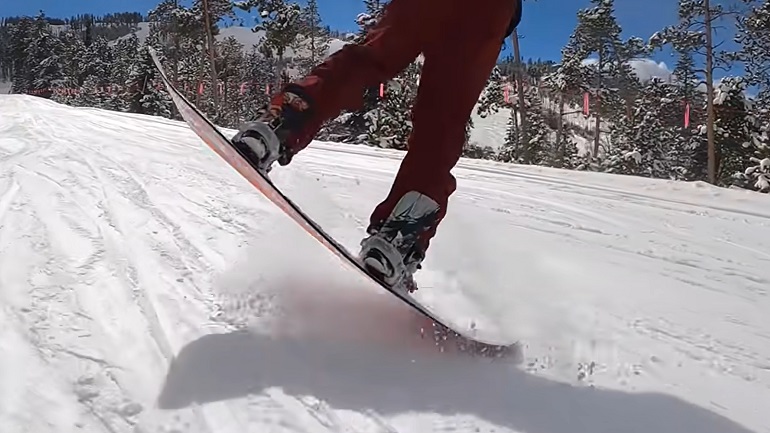 Uneven Terrain – Could Any Mountain Stop Us?
Whether you are riding through stamped-out powder or cutting through groomers, you won't have to worry about hopping along down the slopes.
Confidently carve through the roughest patches of snow, remember thanks to the wood grain spread throughout the toe and heel edges, the edge hold of this board is more than enough to keep you on board.
It's these tiny details that stack up to make the Flight Attendant a mountain of a board.
Wood grain for enhanced edge hold, even the tiny details are elite with this board.
Jumps – Great Pop, Greater Air Time
Any board that has this amount of camber is going to hop, and all the little details that boosted the board's overall pop definitely helped. Keep in mind, that this is a freeride board first. So if you want to do some crazy flips, then it's best if you get a freestyling board.
Roundup – Was the Highest Score Achieved?
The Flight Attendant is a fantastic board that can tear up the park and handles the backcountry with ease. Is it the smoothest, most forgiving ride that you will find on the market?
Of course not, but that was never what you were after if you made it this far into the breakdown. You're a speed demon that needs the stability to get going and get going at high speeds. That is exactly what the Flight Attendant is for.
The varied and dynamic camber of this board sacrifices air time for enhanced usability across any terrain or snow. There is a great number of features to this board that improves one aspect or another.
From toe and heel edges built with wood grains to a varied core that is split into different varying sections of thickness. The Flight Attendant is an advanced board that everyone with the required skill level should absolutely consider getting.
Need some great Burton bindings to go with your excellent Flight Attendant? Then check out our detailed breakdown of the Burton Step-On bindings. And go to our article, if you want to know what size bindings to get.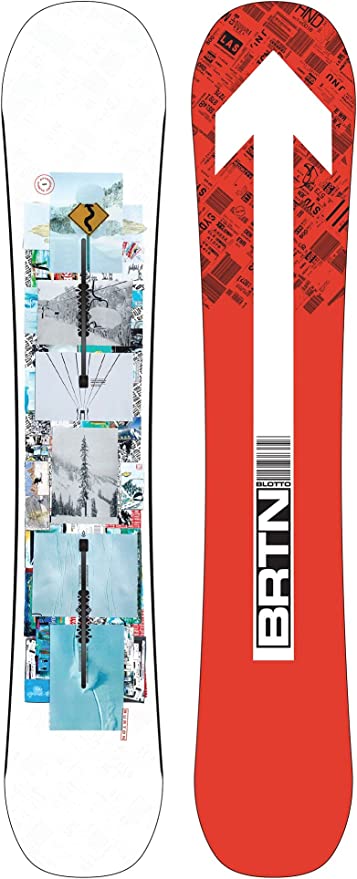 BURTON Flight Attendant Snowboard
The price of "BURTON Flight Attendant" varies, so check the latest price at
My Final Thoughts
When it comes to freeride boards or all-mountain boards, should this be your first option? No, simply put, this isn't the only board on the market that can give you a great ride. Many freeride boards are built for just that.
But if you have got the skill level and are looking for something that can take the side hits, with turn initiation that'll allow you to handle any mountain or uneven terrain, then I'd recommend getting the Burton Flight Attendant Snowboard.
The ride here is stable, and it's got everything you need to go fast and stay fast.
The Flight Attendant is a Burton board, and so you know that quality is here, lots of it. This stiff board is made for advanced riders that want to throw caution down the slopes and then shred over it.
If you fit the profile (then seek out a therapist, all daredevils should) and you are intrigued with the specs listed above, then have at it. It's impossible to regret purchasing a board made especially for you.
Those poor powder days don't stand a chance. And after my last visit to the park, neither did my legs!