Snowboarding season comes around from November to April in most countries, but go to any mountainous areas high up, and snowboarding remains a highly popular seasonal activity.
Whether you go alone or with family and friends, you might find additional equipment having lots of advantages to bring along with your carefully chosen gloves, shoes, jackets, and unique cool snowboards.
Snowboarding headphones not only give you extra protection from the cold, but they also give you the enjoyment of modern technology – enjoying music and attending calls while snowboarding.
When choosing the best headphones for snowboarding according to your needs, one must look at the key features they offer and which feature is a priority to you.
That can include substantial battery life or hi-fi sound with good quality. It can also be the IP Rating of headphones which can make them sweat-resistant and waterproof, especially if you tend to sustain falls in the snow or water.
All-Rounder Best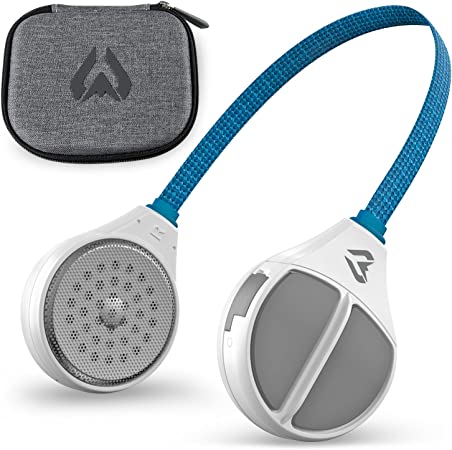 Wildhorn Alta headphones
Color: White/Blue
Form Factor: Over Ear
Sleek and Stylish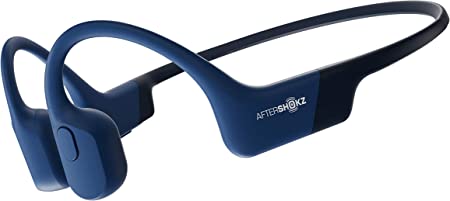 AfterShokz Aeropex Headphone
Color: Blue Eclipse
Form Factor: Over Ear
Wireless Ingenuity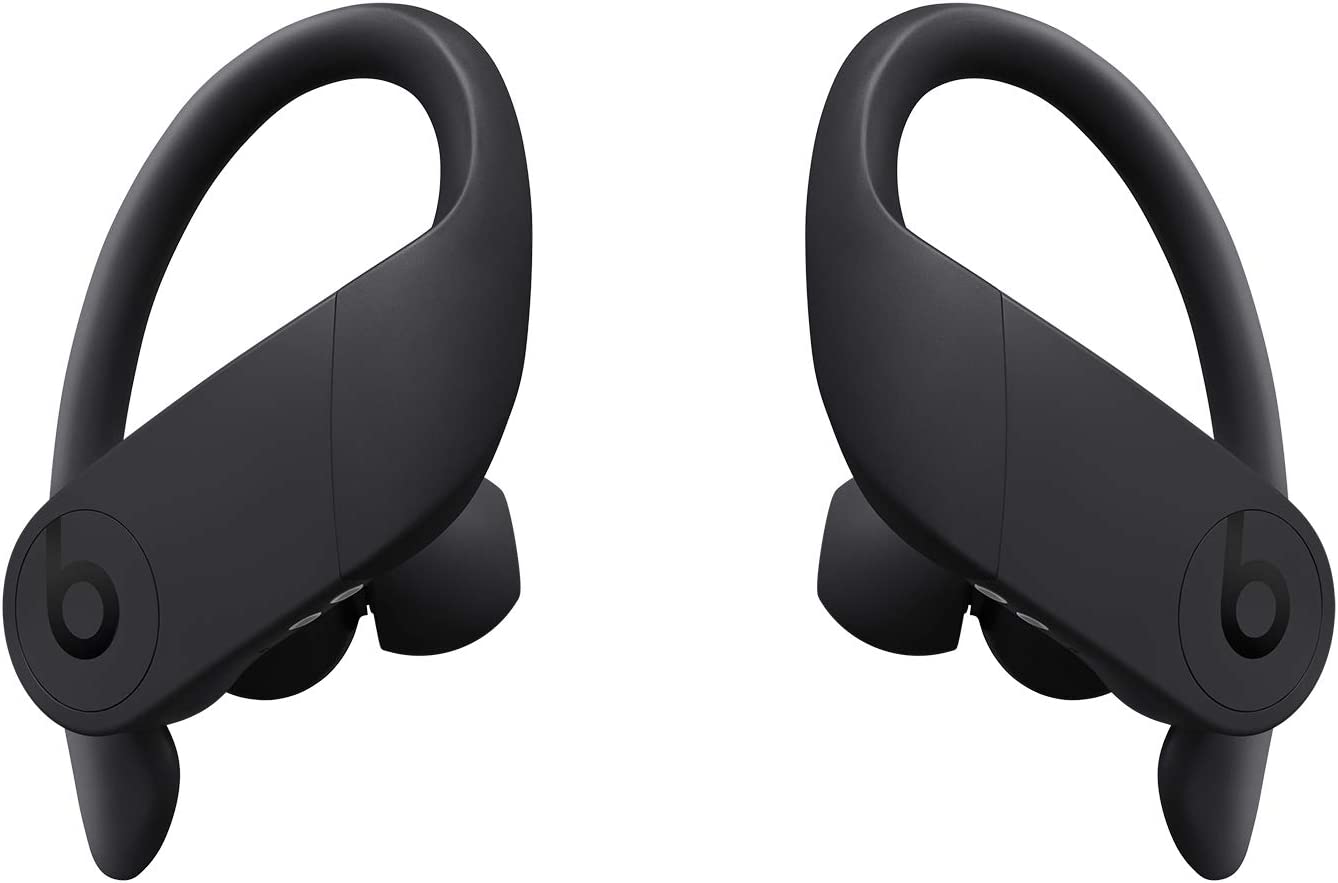 Powerbeats Pro
Color: Black
Form Factor: In Ear
Premium Sound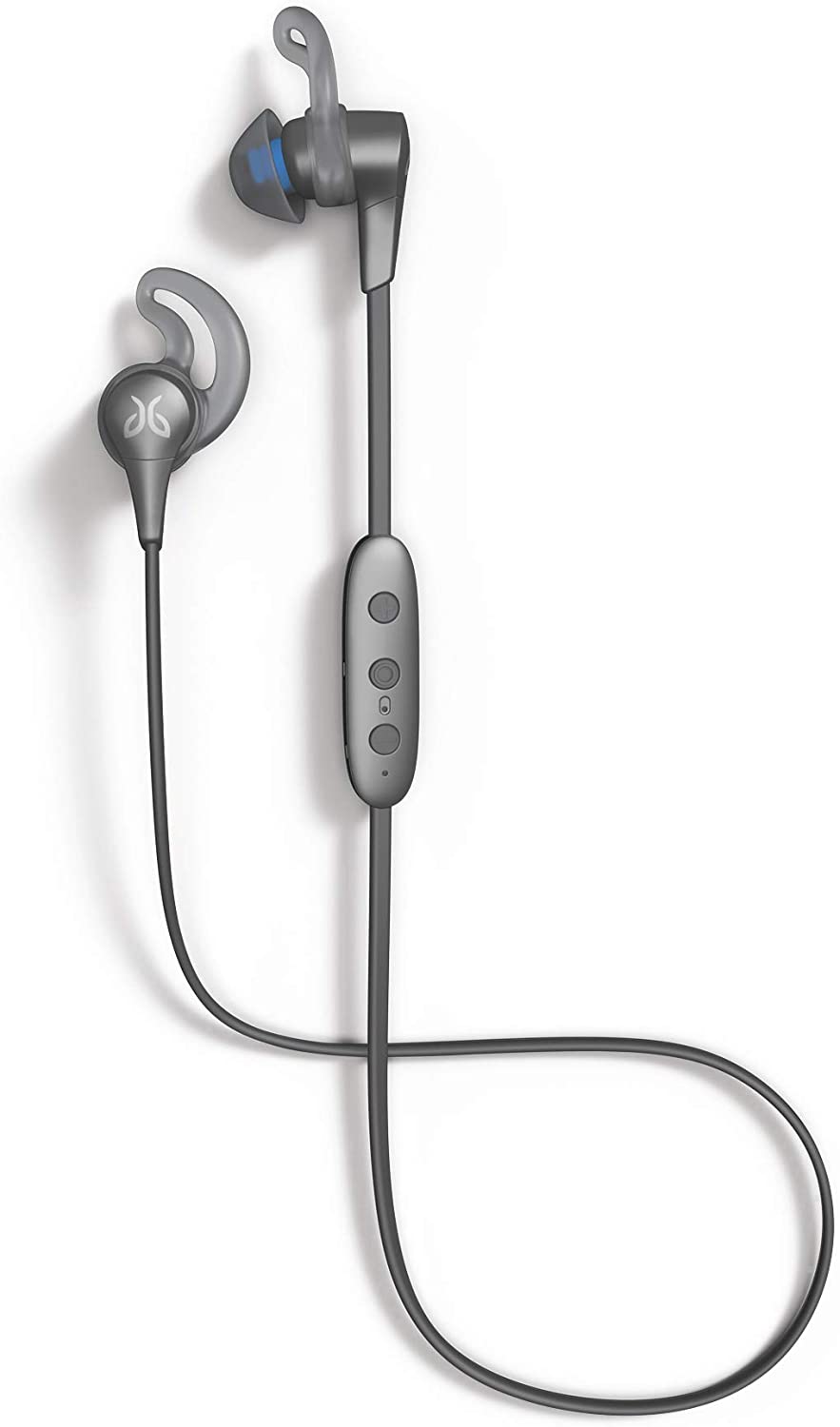 Jaybird X4
Color: Storm Metallic
Form Factor:

In Ear
Most Stylish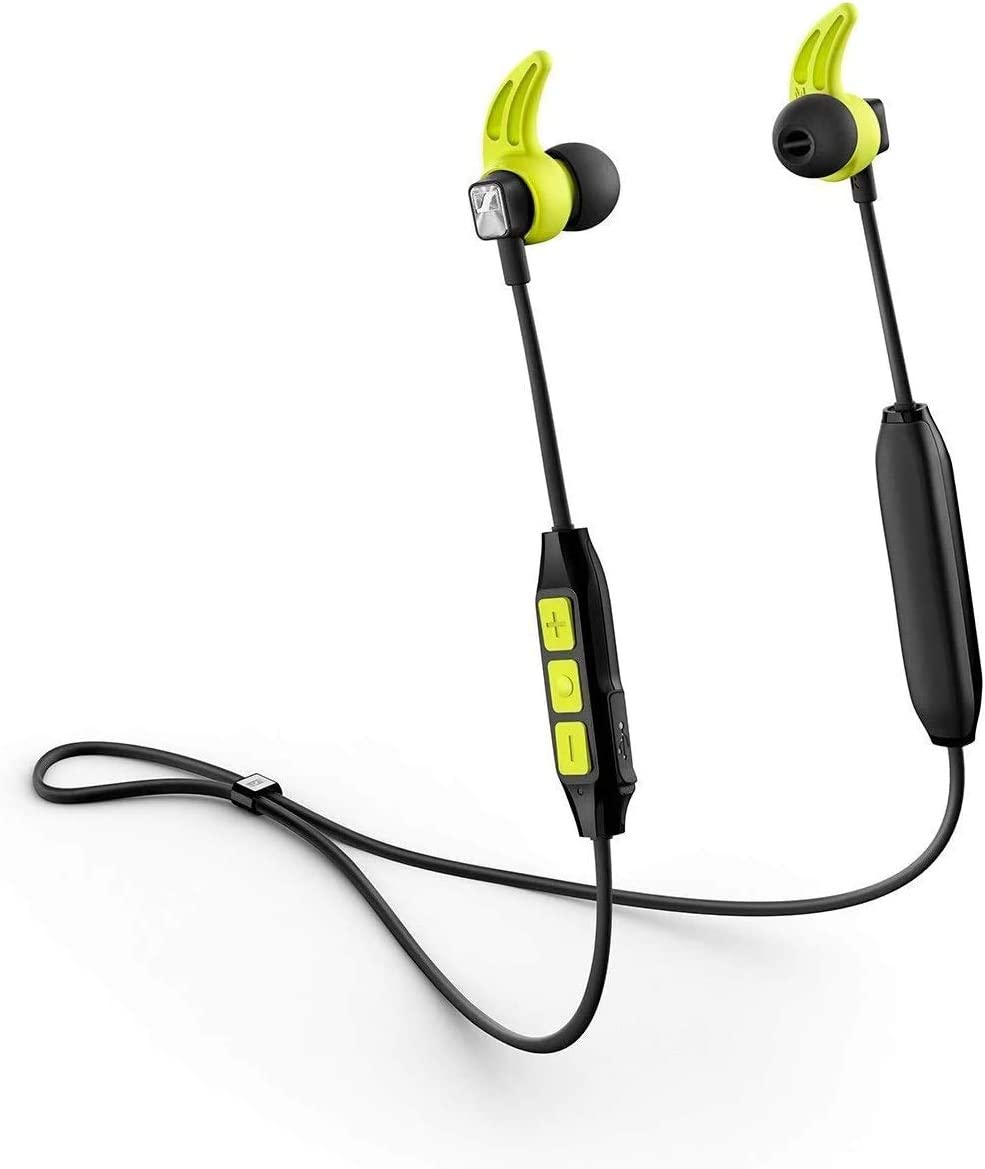 Sennheiser CX Sport
Color:

Black/Neon Green

Form Factor:

In Ear
Great Battery Life

Skullcandy Smokin' headphones
Color: Orange
Form Factor: In Ear
Best Wired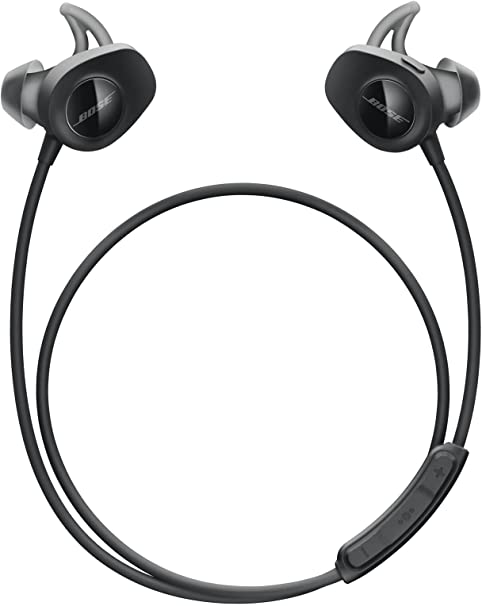 Bose SoundSport Headphone
Color: Black
Form Factor: In Ear
Best Snowboarding Headphones – Our Top 7 Picks
Whether it's about setting a good mood while practicing the activity, being practical and wanting to talk on the phone to someone, or even simply wanting extra protection from cold and injury, snowboarding earphones are super versatile.
In this list, we have compiled some incredible options for you to choose from. It doesn't matter whether you are a beginner just dipping your toes into the art of snowboarding or a seasoned veteran looking for a new pair of headphones for the season.
The best snowboarding headphones for you will be the ones you ultimately end up enjoying the most. Look for comfortability, fit, design, audio quality, etc., all listed in the buying guide below.
Happy Shopping!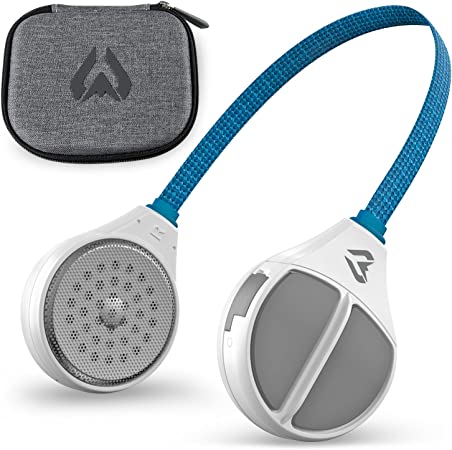 The Wildhorn Alta Wireless Bluetooth Headphones might just be an all-rounder's best snowboard headphones.
Not only is this one built perfectly, with a rugged construction to suit the specifications of the harsh and snowy weather conditions up on all ski slopes, but it also has some amazing features which help make it one of the best!
Things We Like
Some key features we love in the Alta ski headphones are their type, which is helmet over-ear style headphones. This will make sure it doesn't slip off your head while snowboarding and provides a good grip.
With a great battery life of up to 10 hours, these headphones come with a Bluetooth 5.0 wireless setting and deep bass to deliver the best sound quality to you while listening to music in the snow.
Other features we love on this one are hands-free calling in case you need to pick up an emergency call or chat with friends during your snowboarding experience, with a voice assistant compatible feature.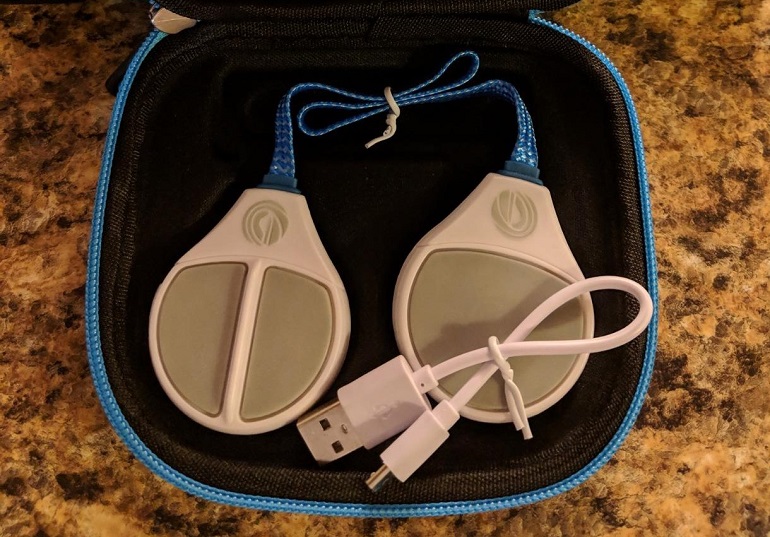 This way, all you need is voice commands (no touch required!) in order to pursue the hills and stay connected.
Made by snowboard enthusiasts for snowboard enthusiasts, ample research and time were given to the creation of the Alta Headphones for snowboarding, which means vigorous testing in the field. This led to a quality control check lasting up to 24 degrees Fahrenheit (-4 degrees Celsius) in cold mountain conditions!
The super intuitive and practical ergonomic design made it possible to have oversized buttons on either side of the Alta headphones. This made it possible to change the tracks you listen to, along with their volume, and talk to online assistant AI without having to take off your snowboarding gloves or snowboard equipment.
Finally, the Alta headphones come with a portable charging case and can be charged via a USB Type-A cable. Truly the top pick in wireless headphones on our list overall!
Things We Don't Like
These headphones are definitely more suited for beginners rather than skilled snowboarders. They're basic with all features and get the job done nicely on all fronts.
Stay tuned to find out which snowboarding headphones hit the mark and are exceptional for seasoned veterans!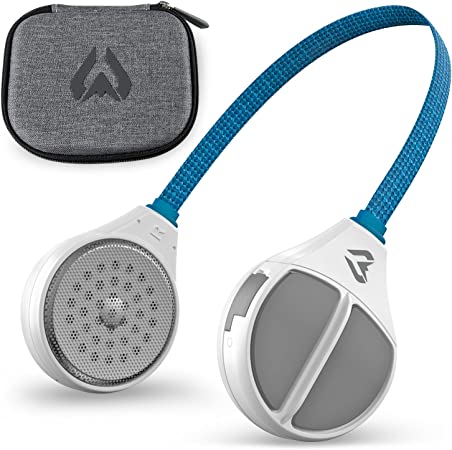 Wildhorn Alta headphones
The price of "Wildhorn Alta headphones" varies, so check the latest price at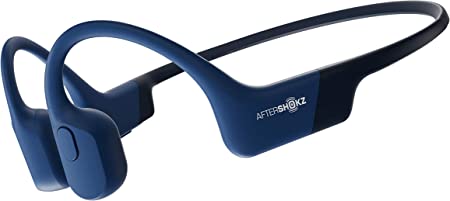 The AfterShokz Aeropex Bluetooth Headphone is a step away from our typical headphone list. Featuring a fancy, snug-fitting design that not only looks cool but also has amazing features, the Aftershokz are bone-conduction headphones.
Read on to find out why these over-ear headphones are a strong recommendation.
Things We Like
We have to say, we love the sleek and smart look of these headphones. Bone conduction headphones are an interesting and innovative open ear-headphone design, as they have certain advantages that bypass in and over-ear headphones by a mile.
For one thing, they do not go in your ear at all, conducting the sound directly through your cheekbone into your inner ear and bypassing your eardrums.
Not fitting into the ear canal makes it easy to be aware of your surroundings as you can hear everything. The sound quality remains clear and ambient noise is always detectable.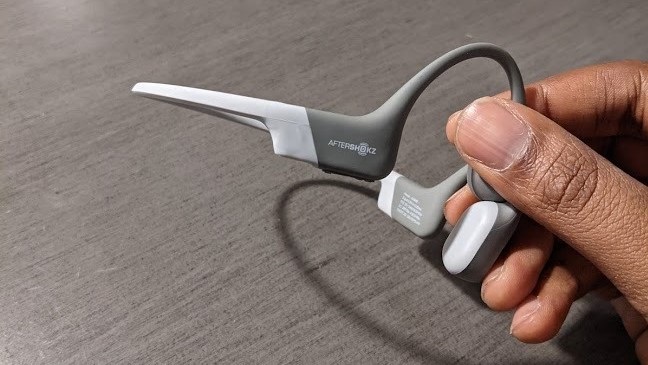 A lightweight design, the Aftershokz Aeropex headphones are really advanced headphones for snowboarding. This open-ear device has a lot of super cool and unique key features.
This includes dual noise cancellation, a hands-free mic, and a multifunction button to aid accessibility. You can tap this button to play or skip music, attend calls, or get access to a voice assistant like Siri or Google while perusing down snowy hills and snowboarding.
Finally, we want to talk about the premium IP Rating installed in this audio device, which is a touch way above the others on this list – IP67. This means that the Aeropex will be completely waterproof, and can be put underwater with sustaining damage for up to 30 minutes.
This also means they are totally sweat resistant and are equipped with a smart moisture detection alert system to protect from all external water damage in the event of an accident.
Things We Don't Like
One of the biggest drawbacks of the Aeropex open-ear headphones is its regrettably low battery life. With only 8 hours of solid battery life and playback time, the Aeropex do fit a standard snowboarding practice and session time.
But this means that they will have to be charged daily, or every alternate day to keep them from dying out on you mid-snowboarding.
Compared to other headphones on this list, this is one seems to be suffering from lower battery life, by comparison, so do keep that in mind while making your purchase.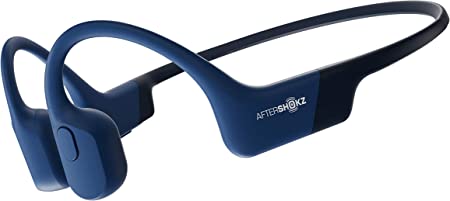 AfterShokz Aeropex Bluetooth Headphone
The price of "AfterShokz Aeropex Headphone" varies, so check the latest price at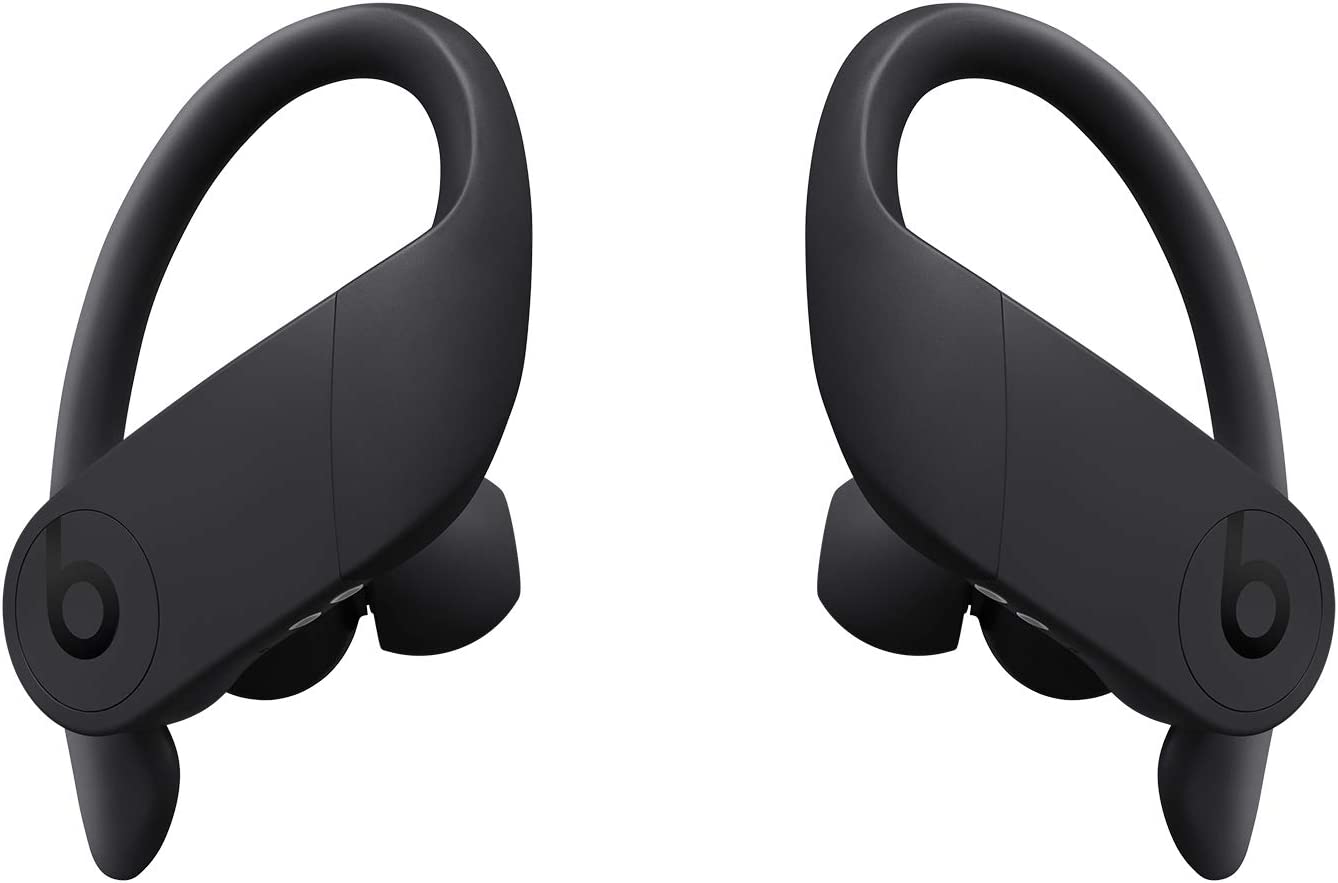 For all the Apple and Beats fans out there, Powerbeats Pro is the definition of truly wireless!
The issues with wireless headphones are with their fit. But Powerbeats with over-the-ear style and adjustable ear loops provide a secure fit even during strenuous exercises, making them ideal for snowboarding!
Things We Like
Powerbeats Pro with an H1 chip is one of the sturdiest and most comfortable wireless headphones out there! Silicone tips feel gentle and keep your ear protected from discomfort. They also provide good audio accuracy.
Compatible with iPhone and Android both, these bad boys come with advanced tech like proximity sensors which automatically pause the playing track when the headphones are removed and resume when you put them back on.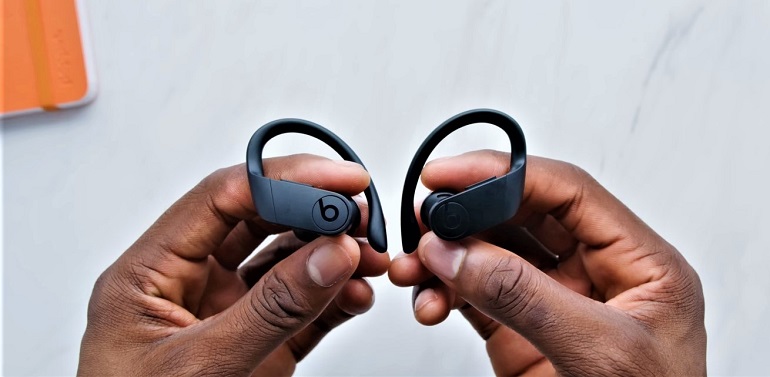 Equipped with JBL pure bass sound, they make sure to provide you with high-quality sound. They are splash and sweatproof and look oh so stylish! You can flaunt them even during your morning runs.
Both earbuds have an easy-to-use physical button to change the volume or summon your virtual voice assistants. As if we weren't already impressed, these earbuds also have excellent battery life with 9 hours on a single charge.
In case you have to leave without fully charging your earbuds, the charging case is there to give you a few more hours of listening time.
Things we don't like
These earphones are pretty overpriced, even more expensive than AirPods. Powerbeats don't come with noise-cancellation and are not that suitable for rushy places.
The charging case is large enough to fit into your standard pocket, making it difficult to carry.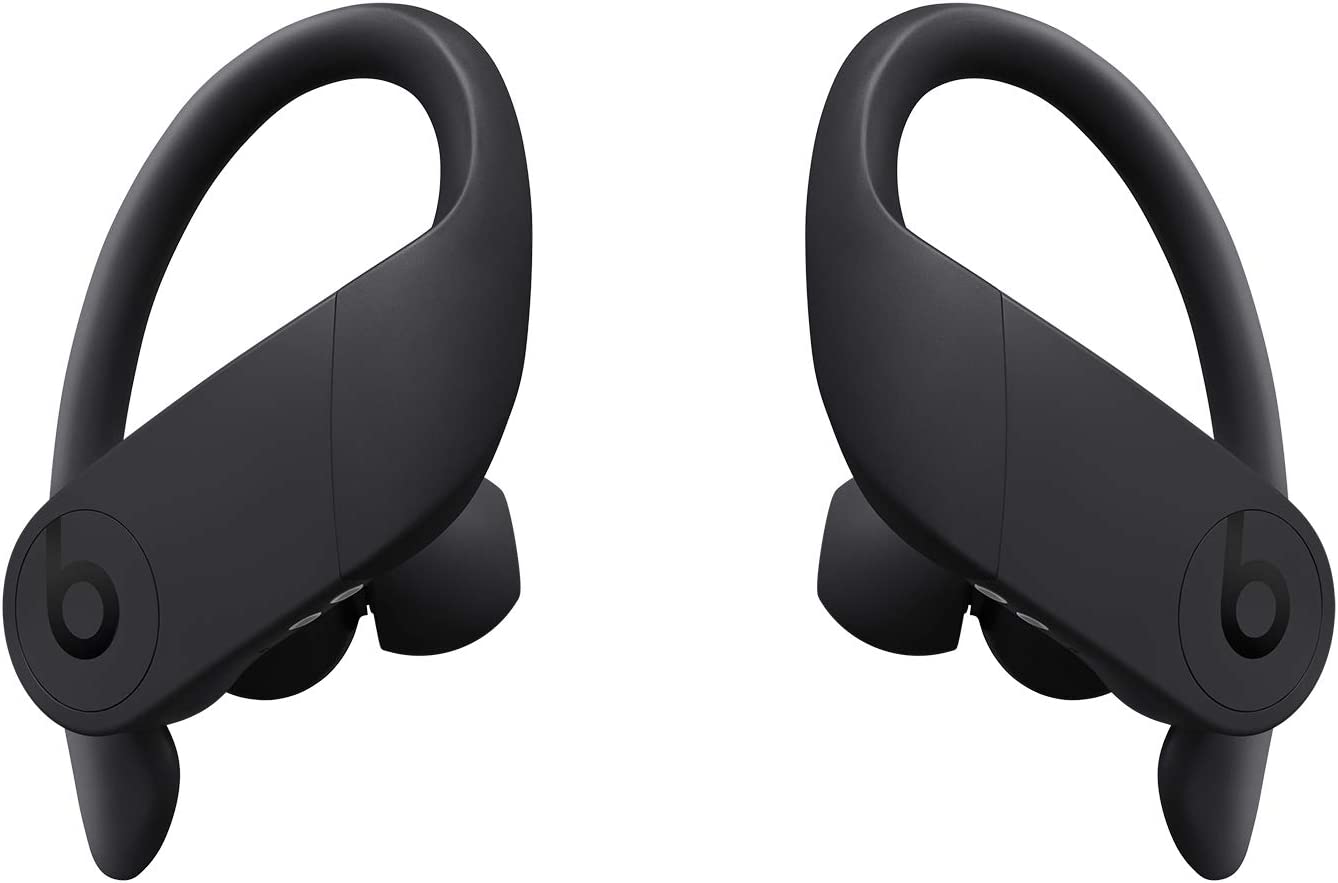 Powerbeats Pro
The price of "Powerbeats Pro" varies, so check the latest price at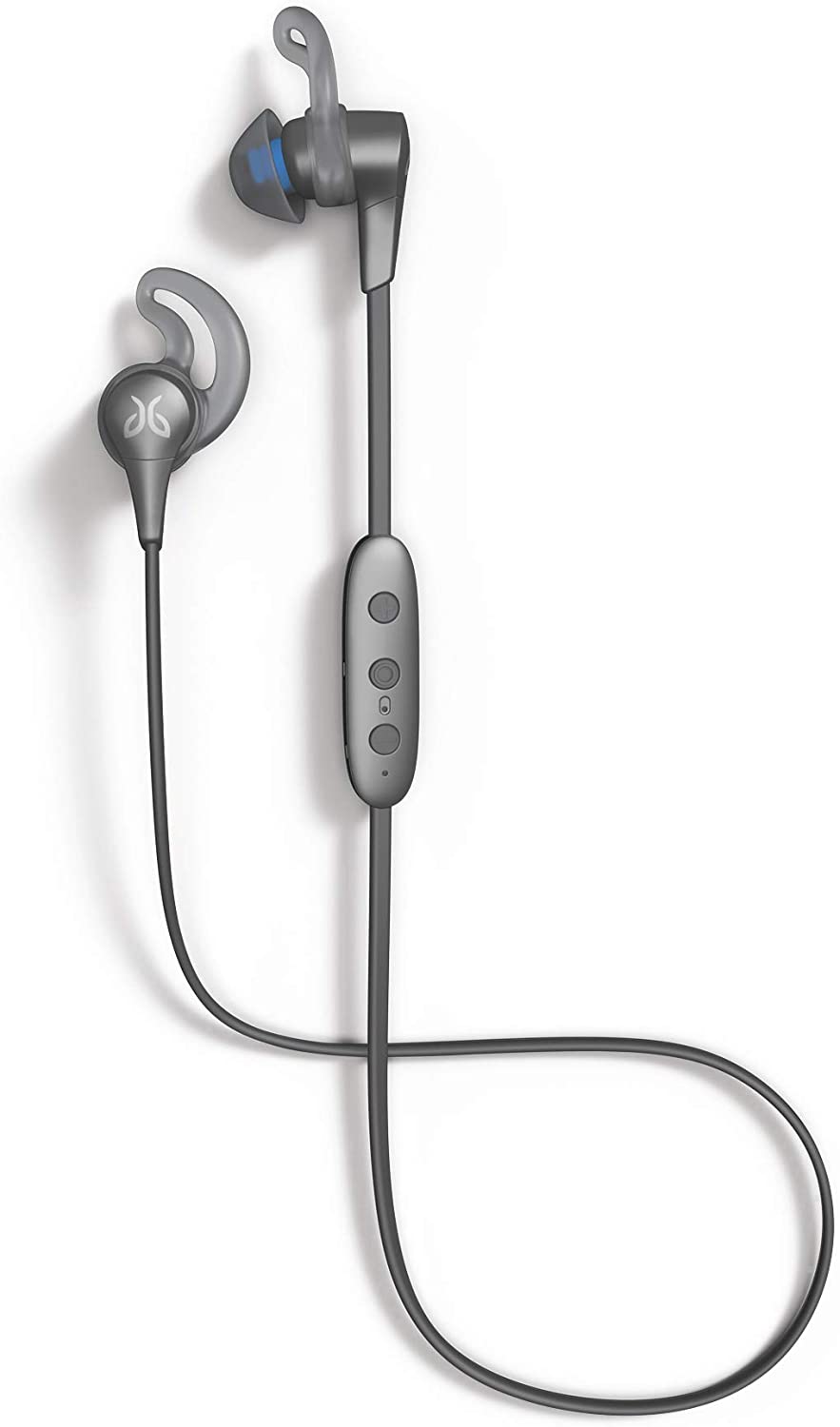 Jaybird X4, with its weather-resistant design, is our top pick for snowboarding headphones, and there are many reasons behind that!
Things we like
The feature that sets these earphones apart is that they come with an IPX7 rating making them among the top earphones with sweat and water resistance and, thus, ideal for snowboarding. They can even withstand submersion for up to 30 minutes.
They feel comfortable with an in-ear fit and a tab at the top, keeping the earphones firmly in place. The headphones are connected with a wire, so there is no need to fear losing one earpiece in case of a crash.
Jaybird offers good battery life with almost 8 hours on a single charge avoiding the fuss of recharging them every few hours. It also comes with EQ customization to select your preferred listening levels, and we love the high-quality audio output.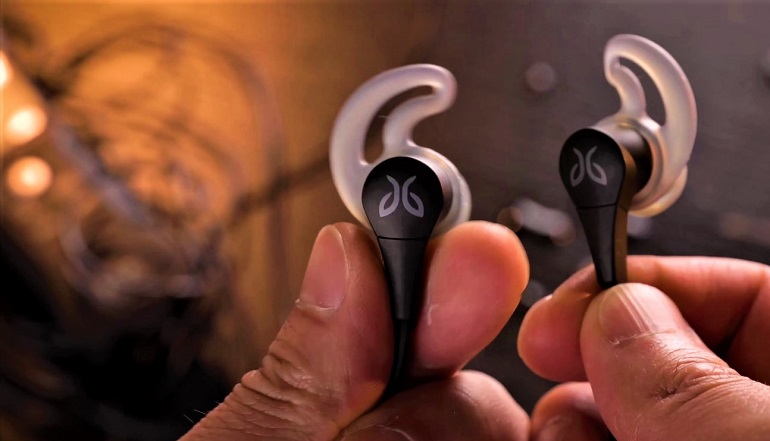 The earphones don't have a USB port; instead, they have metal contacts behind the in-line remote, which you place in a small USB dock.
The middle button on the remote accesses Google Assistant or Siri, while the control buttons on the side are used to adjust the volume.
Things we don't like
The only thing we wish to change about these snowboarding headphones is the lagging of the in-line remote. There is almost a couple of seconds gap between pressing the button and the audio playing.
X4 is also on the expensive side of the spectrum and has a comparatively slow charging time that can be a bit annoying in today's fast-moving world!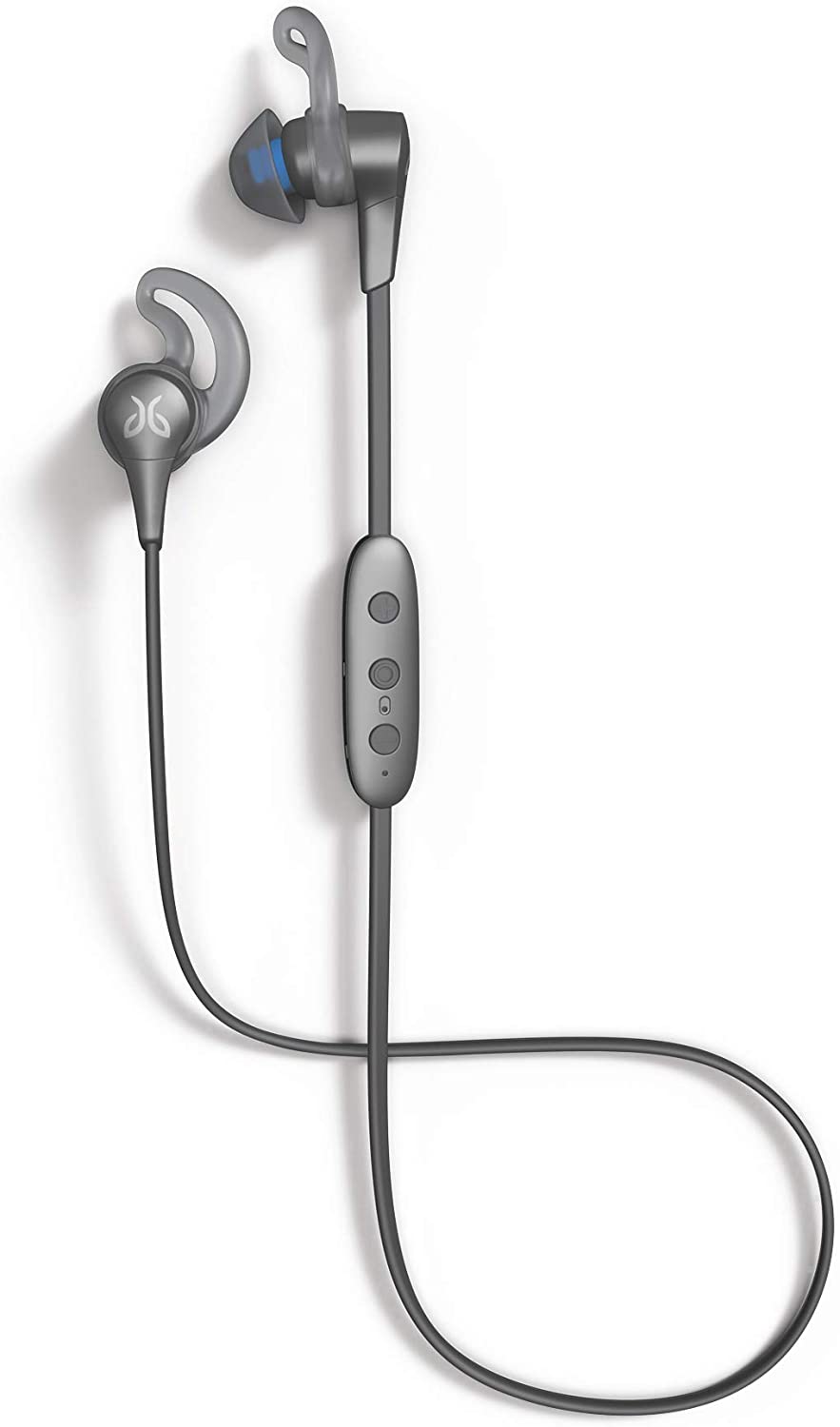 Jaybird X4
The price of "Jaybird X4 " varies, so check the latest price at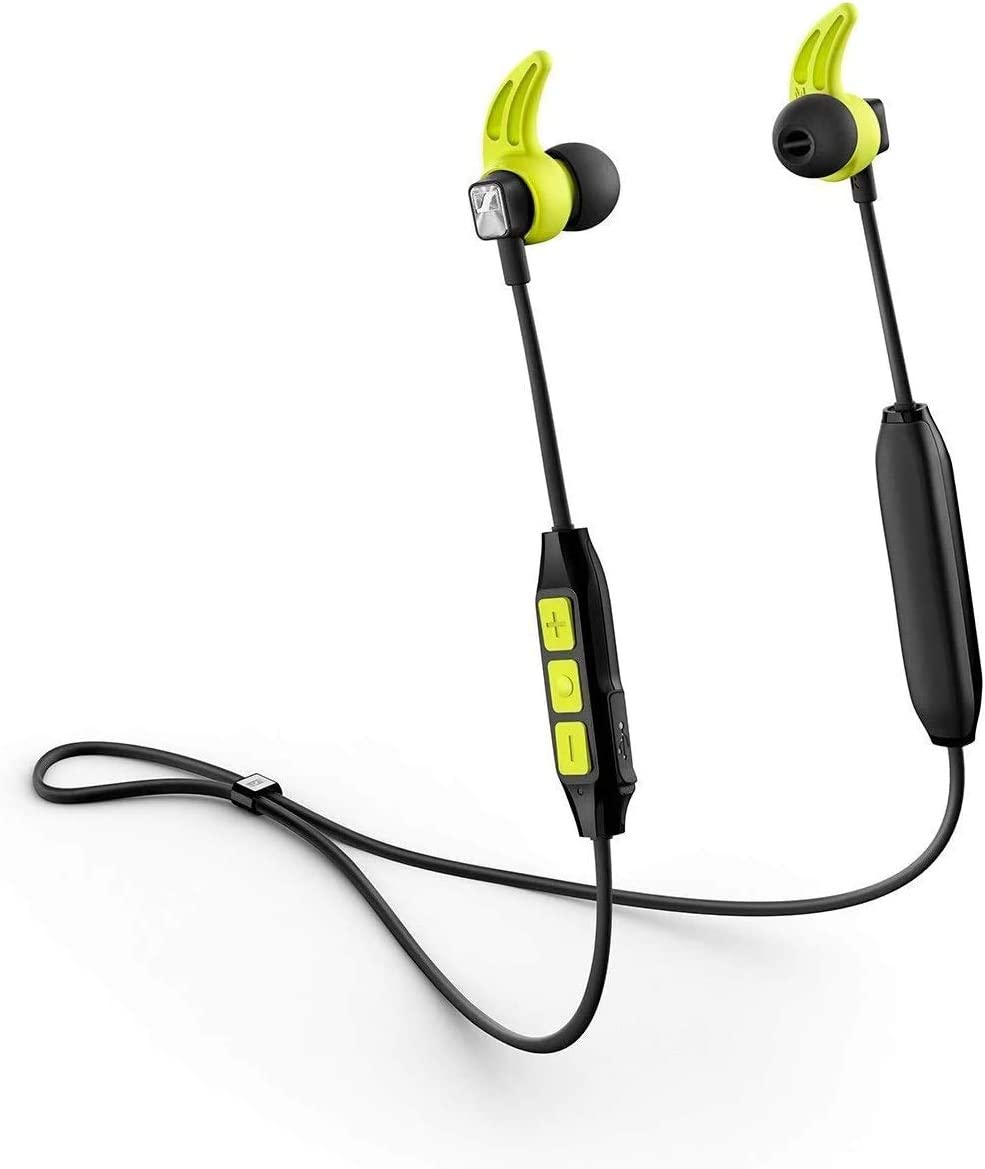 With a cool, edgy black-neon green, and comfortable design, Sennheiser CX Sport easily made it to our list of the top headphones for snowboarding or even heavy workout sessions.
Things we like
CX Sport comes with a cable between both earpieces, which is great if you have also lived the nightmare of losing one Airpod to a drain hole during your run!
The buds are compact and have rubber ear fins to keep the headphones securely in place while you snowboard along the slopes. You get three different-sized ear fins and four ear tips, giving you a choice to customize as per your need.
Worried about heavy sweat during a workout or snow dumps during snowboarding? Well, you don't have to worry about it with the CX Sport as they come with splash proof rating of IPX4.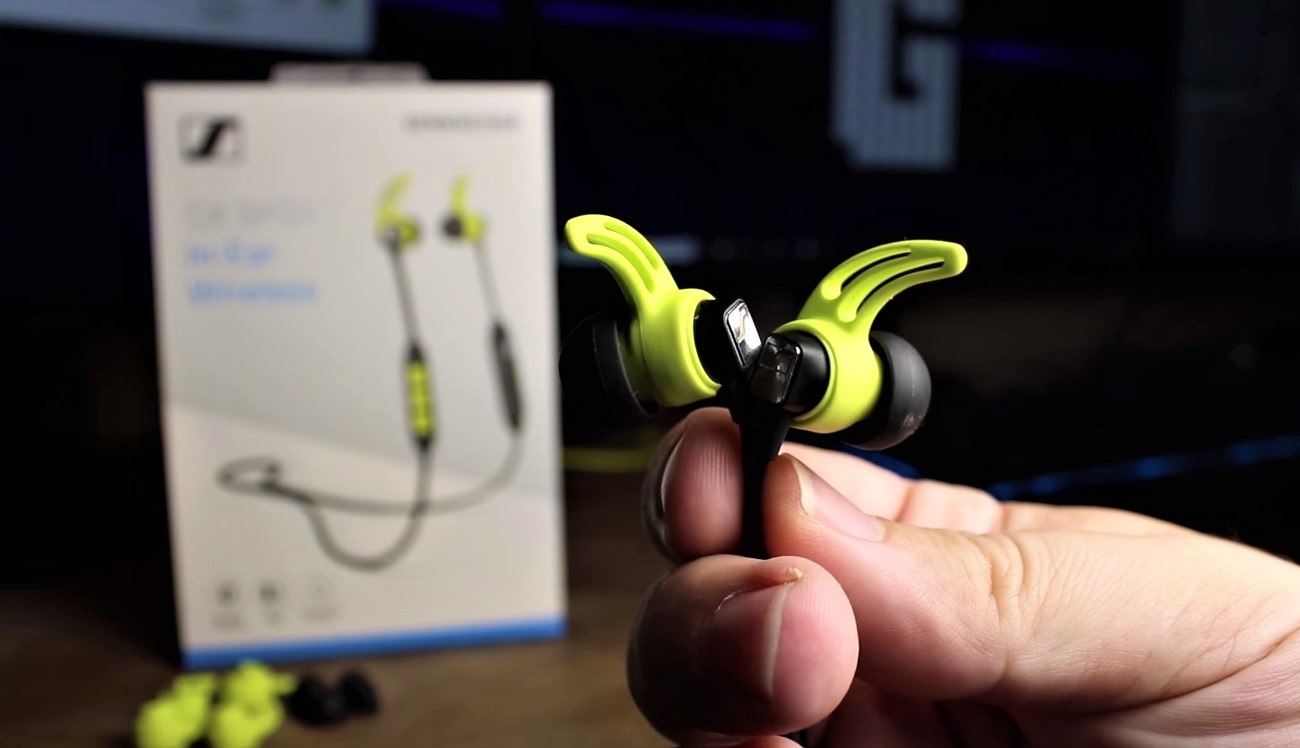 When it comes to the battery life, it is average compared to some other options on this list, with 6 hours on a single charge. But these headphones come with a 10-minute fast charging option, so you won't run out of juice.
Below the right earbud is an in-line remote with three buttons for volume and play/pause control and a built-in microphone. It has Bluetooth 4.2 compatibility, and we didn't experience any lagging or dropouts.
Things we don't like
Sennheiser CX Sport is a little pricey, all things considered. You can find other affordable good options.
The audio quality with these earbuds is overall decent but not extraordinary, and we could do with a little more powerful mid-frequencies.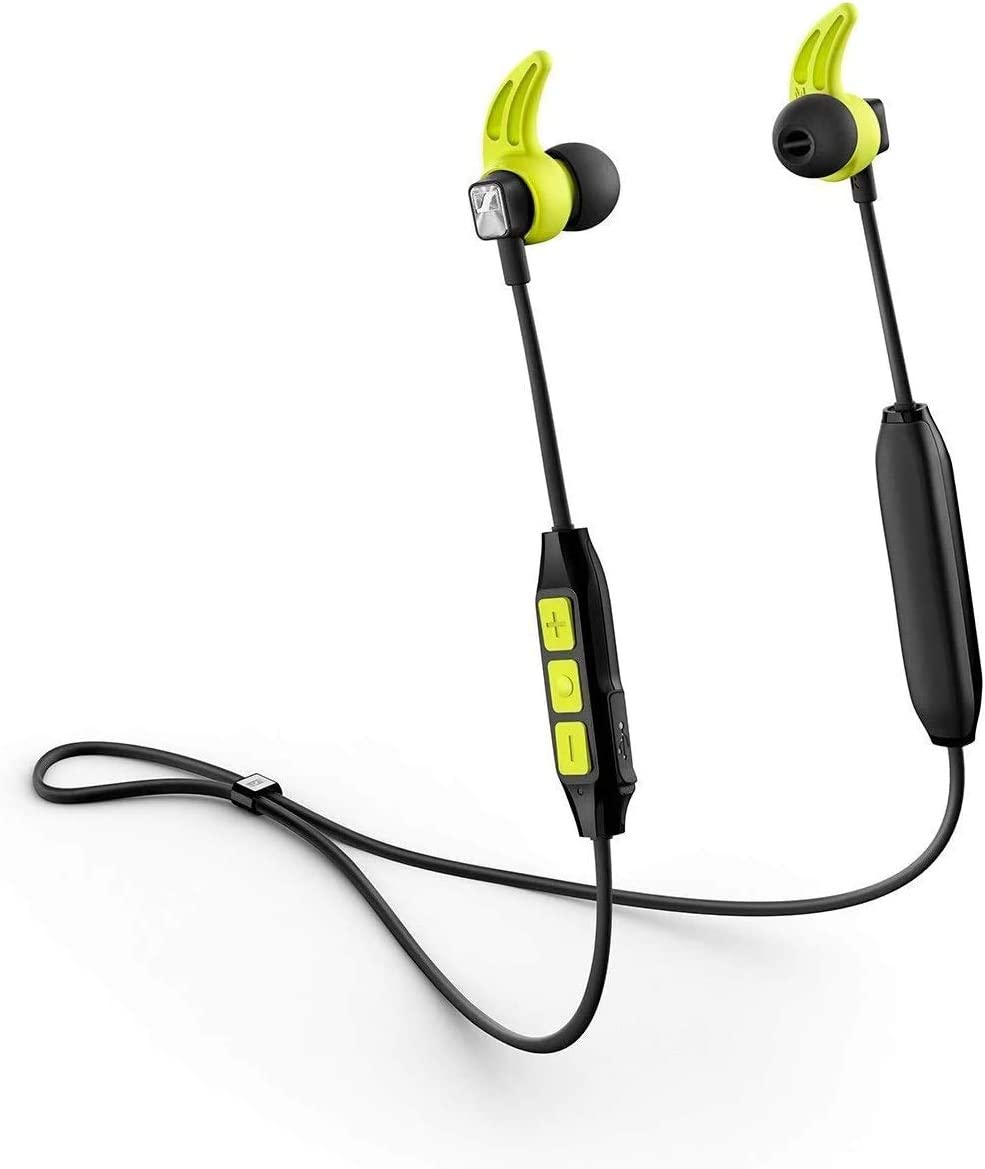 Sennheiser CX Sport
The price of "Sennheiser CX Sport " varies, so check the latest price at

The first wired headphones on our list, the Skullcandy Smokin' Buds 2 Headphones, are fully wired headphones that will need to be physically attached to your devices, via a port (Android devices) or a lightning jack connector (Apple devices).
Things We Like
Being under $50, the Skullcandy Smokin' Buds 2 are a great option with a wired battery life that is unlimited as long as connected to your device. This makes the charging hassle a non-existent problem, as the easy accessibility and small and compact size of these headphones will allow ease of carriage.
These might be the best earbuds on the market as they are backed by a company practicing premium sound quality to minimize ambient sound and create noise isolation due to the in-ear design.
This will provide you with a secure fit while pursuing the snowy hills and practicing snowboarding.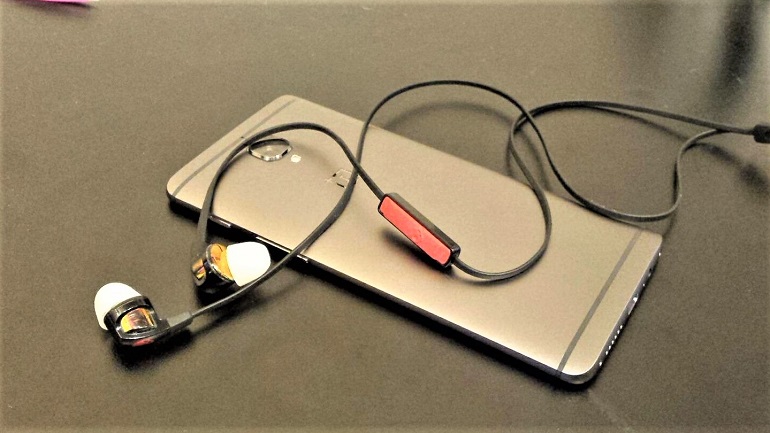 One of the key features of the Skullcandy due to its design as a wired audio device is its easy single multifunction button that is easily clickable and can play and skip songs, and attend calls. Right near the button is featured a built-in microphone that registers good audio quality.
We like this option as headphones that do their job. If you're looking for a budget-friendly wired option, the Skullcandy is the one for you.
Things We Don't Like
The wired fit may cause comfort issues, as they won't sit as neatly as the bone conduction headphones or any of the true wireless earbuds or best wireless headphones available in this list.
Make sure to check if you would be alright with this level of comfortability and fit for your snowboarding needs compared to the rest of the options on this list.

Skullcandy Smokin headphones
The price of "Skullcandy Smokin headphones" varies, so check the latest price at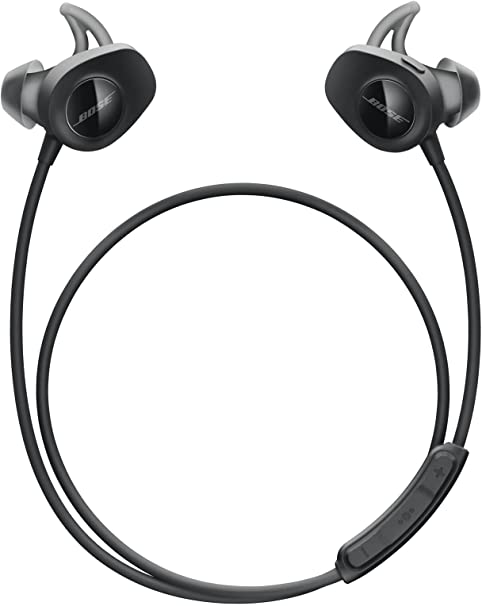 The Bose SoundSport Bluetooth Headphones for snowboarding are a fun wired option. While not true wireless earbuds, they are still connected together using a wire and come with a wireless charging case.
Things We Like
With a battery life of up to 6 hours, the Bose Soundsport definitely lose compared to our other options on this list, but considering a typical snowboarding day, they work best for beginners.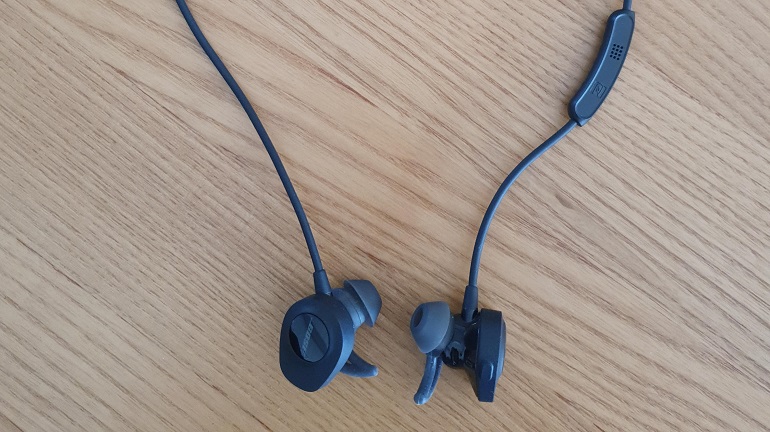 These offer good sound, a secure fit, and strong Bluetooth connectivity, compatible with most devices. They are sweatproof and weather resistant, making them a good option to consider, as Bose is a technologically sound brand coming in with great outdoor tech.
Things We Don't Like
We wish the battery life were better, as 6 hours is quite less, and a long battery life would bring the Bose Soundsport to the top of our list.
Also, some people might not appreciate the relatively bigger earbud design that fits nicely but might take some getting used to.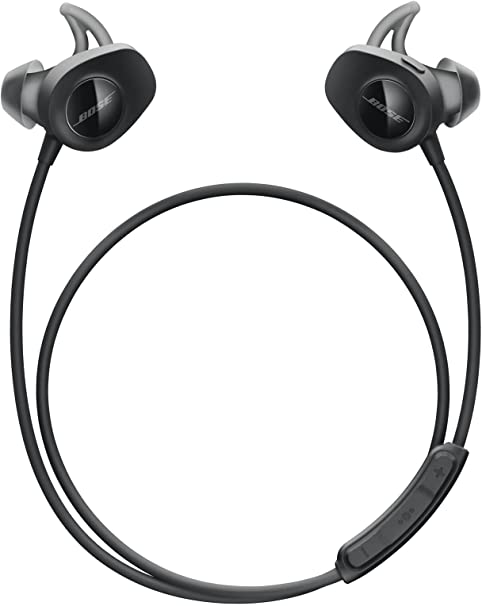 Bose SoundSport Bluetooth Headphone
The price of "Bose SoundSport Headphone" varies, so check the latest price at
Buying Guide: What to Consider When Buying the Best Snowboarding Headphones
Here is a list of all the factors worth considering while buying the best headphones for snowboarding lessons.
Comfortability and Fit
Comfortability and fit are huge factors to consider when buying your perfect snowboard headphones. Whether they're wireless snowboard headphones, over, on, or in-ear ones, the best for you will be the ones that are comfortable and fit you well.
Think about the kind of fit you want – our list covers over-ear, on-ear, and in-ear options, all chosen as the top headphones across certain categories. But the best fit for you will determine the level of enjoyment you achieve while cruising down those hills listening to tunes comfortably.
Also, make sure to get headphones that don't fall off or slip off while you are in the middle of snowboarding. That would be really inconvenient.
Durability and Resistance
The best headphones for snowboarding are created with the ability to last in super harsh and extremely cold environments of the mountains. Snowboarders sustain injuries all the time, so accidents and moisture damage are very common.
This is why buying headphones while considering their moisture, sweat, and waterproofing is so important. It is also important to consider their quality and material, as investing in high-quality headphones will immediately give back to you in worth and performance.
Battery Life
Battery life, especially long battery life, is one of the most crucial aspects to consider when getting your perfect snowboarding headphones. In this list, we have covered a whole spectrum of headphones with great to average batteries.
This includes the Alta headphones with a 15-hour battery life, to the Aftershokz bone conduction headphones with an 8-hour battery. These are both impressive according to their key features.
At the other end of the spectrum, we have even completely wired in-ear headphones with unlimited battery. Finally, the Bose Soundsport wired headphones come with a 6-hour battery, the least on our list.
It is important to understand your devices and that wear and tear will inevitably bring down the battery life significantly over time. Whatever you start with, you must get to know your specifications, needs, and knowledge of use.
If you think you will need them while snowboarding for only a couple of hours, versus maybe even less than an hour, then you should get the type according to how much battery will work for you best.
Design
As seen in our compiled list of favorites, snowboarding headphones are varied across many designs and styles. It all depends on what you like, as design goes a long way in not only looking stylish but also featuring certain qualities and features over others.
For example, the Aftershokz Aeropex is a sleek, smart design speaking of high tech and fashion.
They might not be the most practical, as they sit at the tops of your cheekbones and not even in your ear, as they conduct sound waves directly into your ear. But they offer an amazing Bluetooth range, an astounding IP Rating of IP67, and other cool features!
Meanwhile, you can get true wireless earbuds, which would serve a good battery time and also provide premium sound quality while remaining smart and fashionable in your ears!
On the other hand, some people love the simple and traditional design of these headphones, such as the Alta, OutdoorMaster, and Outdoor tech chips 2.0, which fit snugly over the head. They sit underneath your snowboard audio-ready helmets, which makes them look and feel well-fitted and trendy.
Audio Quality
Another huge contributor to buying the best earphones for snowboarding for you is audio quality. Good audio quality can make or break your snowboarding experience.
After all, who likes to invest in snowboarding gear that's already somewhat pricey, like hi-tech headphones, and expect bad, broken sound? Not us, and not you, sir!
Finding headphones with high-fidelity audio and overall good audio quality is key. The best headphones will be the ones that you find yourself enjoying your tunes in while snowboarding away. Put the audio quality on priority while considering your options.
FAQs
Can You Wear Headphones While Snowboarding?
Short Answer: Yes, you totally can!
Explained: Listening to music while perusing the snowy terrains might be a great way to enjoy the experience even more!
However, keeping in mind safety, we do recommend beginners take it slow and not buy headphones that encourage noise cancellation or even isolation, and keep a check on their surrounding ambient noise.
Should I Buy Specific Headphones for Snowboarding?
Short Answer: Yes, you probably should!
Explained: If you enjoy listening to your jams while snowboarding, you will want to look for specific features in your headphones like they should feel snug and comfortable and be splash resistant. Usually, open-back and open-ear headphones are preferable.
Can't I Just Use My Over-ear Headphones?
Short Answer: No, we would not recommend that.
Explained: It is not recommended to use over-ear buds, as they may fall off while riding and distract or hurt you. They also may feel comfortable under a head covering. Better to choose one that snugly fits in your ear.
Conclusion
The type of headphones you choose will make or break your experience. There are so many under the sun. From in-ear headphones to over and on-ear headphones, to Bluetooth beanie headphones and true wireless headphones, and so many more. However, we have only picked the top contenders for you.
Ultimately, the best headphones you choose for snowboarding will be the ones that you enjoy the most. Look at what qualities you want to prioritize, and make the decision.
Whether you get the Alta headphones, the Aftershokz bone conduction headphones, or the SkullCandy wired ones, you are signing up for amazing sound quality, good battery life, and so much more.
Snowboarding headphones are trendy, fun, and fashionable. More than anything, they make a great snowboarding experience. Investing a little more will last you long, so just have fun with it and enjoy your snowboarding journey with this cool gear!