Of Course, Anyone Can Kayak!
As Remy bravely claimed in 'Ratatouille' – 'Anyone can cook' –the same can apply to kayaking. Being a bigger guy shouldn't stop you from being on the water.
All the people in this world should be encouraged to reap the benefits of paddling and discovering nature from a different perspective.
What about the boat? Can a kayak stop you from being on the water? Yes, if it isn't the right size, the right design, or another one of those 'right' features.
To keep you paddling, study, research, and assess. Can you find a kayak that's the right fit considering the features that are most important to you? If you do, it's a keeper, so take care of it and maintain it well. You'll get a great water companion that'll guide you on the adventures of a lifetime!
Join me on a journey designed to discover the best kayak for big and tall guys, the features that should be considered when buying such a boat, and the questions raised around it. 
Best Maneuverable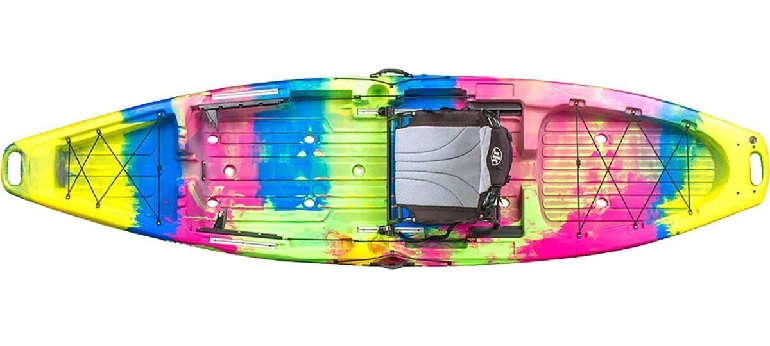 Jackson Kayak Bite Rec
Material: polyethylene
Weight: 74 Pounds
Master of Stability

Perception Pescador Pilot 12
Material: Polyethylene
Weight: 85 Pounds
Speedy & Comfy

Wilderness Systems Pungo 125
Material: POLYETHYLENE
Weight: 47 Pounds
Best Durable Kayak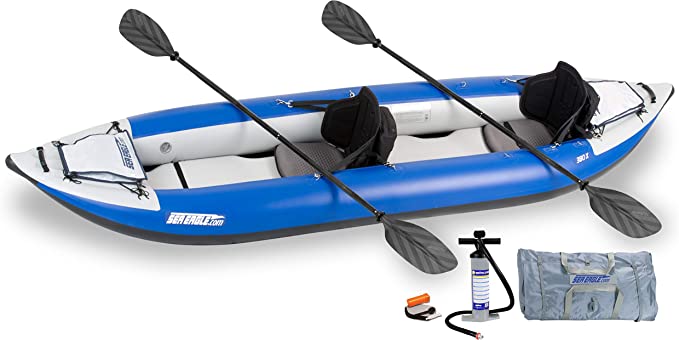 Sea Eagle 380X
Material: 1100 Decitex
Weight: 40 Pounds
Organized Storage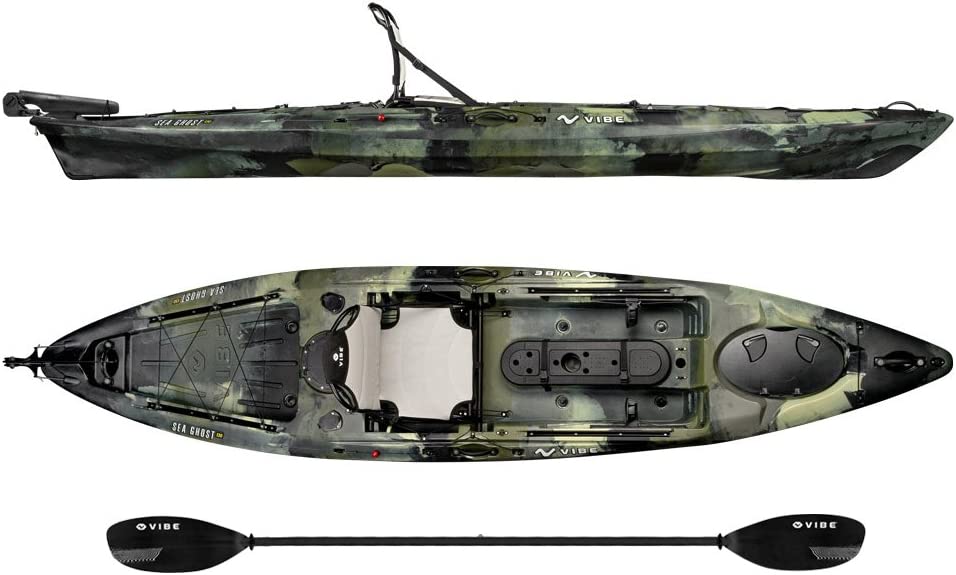 Vibe Kayaks Sea Ghost 130
Material:

POLYETHYLENE

Weight: 57 Pounds
Very Affordable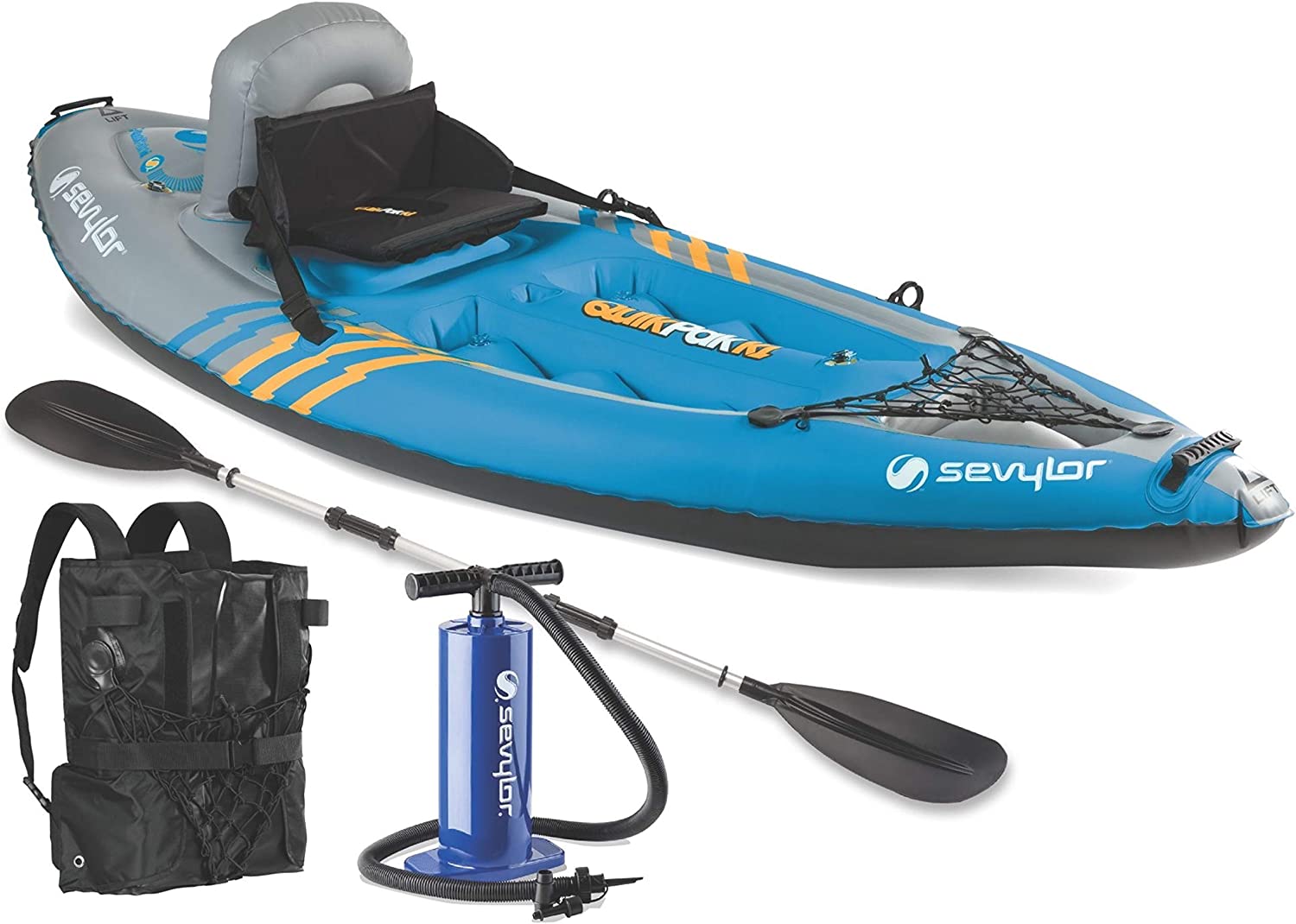 Sevylor Quikpak K1
Material: Polyester
Weight: 20.28 Pounds
Ultimate touring kayak

Eddyline Sitka XT
Material: Carbonlite ABS Plastic
Weight: 50 pounds
The Crossover Kayak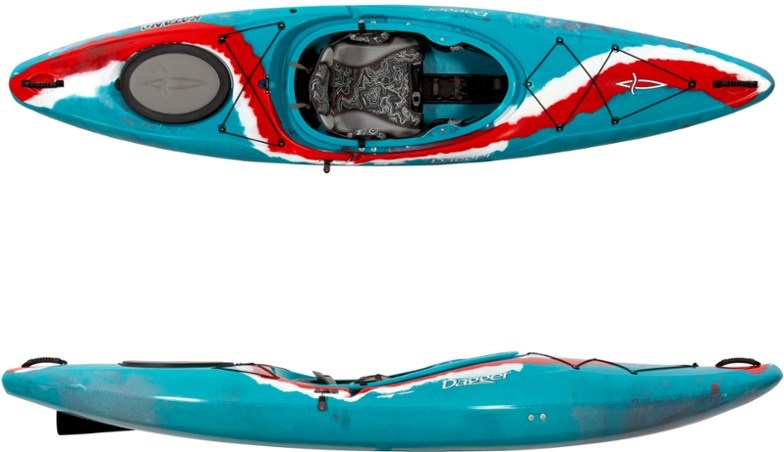 Dagger Katana 10.4
Material: Rotomolded polyethylene
Weight: 56 pounds
For all wallets

Sun Dolphin Bali SS
Material: Polyethylene
Weight: 48 Pounds
Tri-powered Kayak

Wilderness Systems Radar 135
Material: Polyethylene
Weight: 90 Pounds
The Best Kayak for Big Guys
Ten interesting kayaks fit for big guys follow. I will try to make the comparison part easy for you to understand. This way, making a kayak purchase decision will be and feel easier.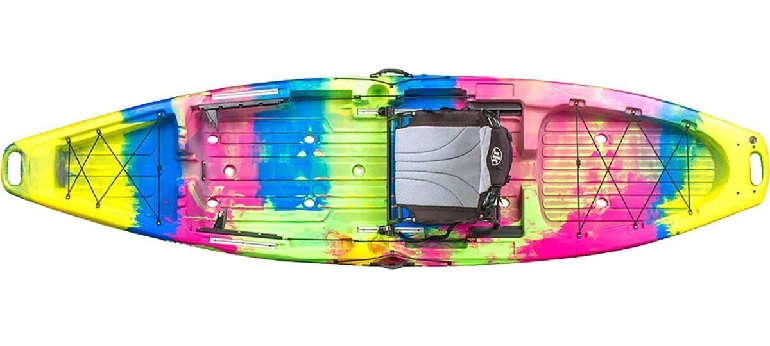 Don't be surprised! This is a top fishing kayak. So, it's designed for big and tall paddlers. It is longer and wider than the usual recreational/fishing kayak. Added to those features is the fact that its sit-on-top design makes it very stable.
What do you need most on a fishing trip? Storage space and a comfortable position while seated! Both checked. There is side storage, as well as stern and bow storage, coupled with bungee ties.
The seat provides comfort and breathability, as well as drainage – which is a much-needed but rare feature. So, it's good to see it on this kayak at such an affordable price!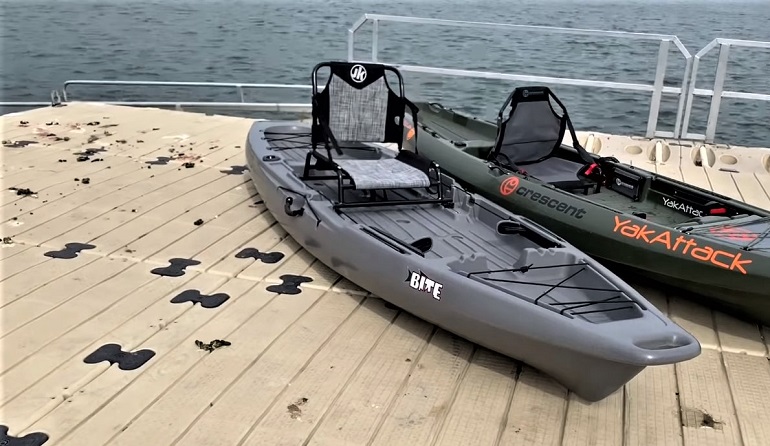 You will also be able to paddle your kayak on small lakes, rivers, ponds, and streams. It can also work well in inshore saltwater. So, calm waters are this kayak's preferred environment.
Other pros? The boat is very maneuverable for its weight and quite easy to carry and launch, thanks to the big handles.
Cons? The bar at the base of the seat feels uncomfortable. The colors are not the most attractive part of this kayak.
Then again, you're up for a great deal with the Jackson Kayak Bite Rec!
Specifications
Length: 11'6"
Width: 35"
Design: Sit-on-top
Weight: 74 lbs
Capacity: 400 lbs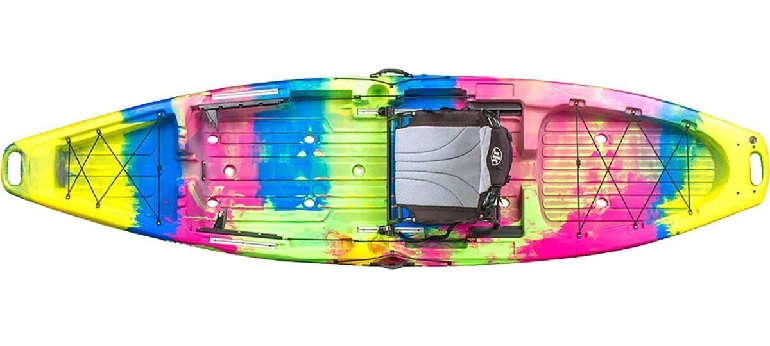 Jackson Kayak Bite Rec
The price of "Jackson Kayak Bite Rec" varies, so check the latest price at

The manufacturer claims that you can even stand on the Perception Pescador Pilot 12 – yes, it is that stable! 
Endowed with pedals, fishing from this kayak is a breeze. It is a top fishing kayak on the more expensive side, but anglers will find that it has style and is a great catch for all paddling levels. It also comes with a rudder assembly.
The Pilot Drive propeller system makes propelling seem easy, even in reverse. There are other features recommending this fishing kayak – namely, plenty of storage possibilities and an adjustable seat that tilts. They all make this kayak the most popular pedal fishing kayak in the world.
It comes in 3 colors, and it shows off its best capabilities on lakes, ponds, and lazy rivers. Open water is also one of its strong points, be it freshwater or saltwater. The kayak has wear-proof colors and graphics and is UV-resistant. It can carry your best furry friend, too. 
Before embarking on your kayaking adventure, make sure to learn how to kayak with your dog to ensure a safe and enjoyable experience for both of you!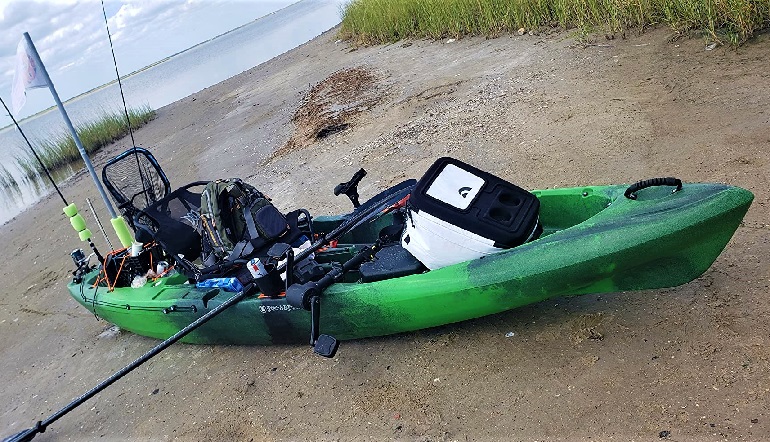 What do paddlers think about it? Apart from the 4-rod holders, the drink holder, the possibility to use a paddle, and the many accessories that it could accommodate, anglers love that it works equally well in deep and shallow water. Its speed is also one of the favorite features.   
What did they not love? The pedal drive system slides uncontrollably. Also, anglers claim that this fishing kayak is big and bulky and difficult to maneuver in high winds. 
What will you sacrifice if you're out to buy the best of the fishing kayaks on offer? 
Specifications
Length: 12'5"
Width: 33.75"
Design: Sit-on-top
Weight: 85 lbs
Capacity: 475 lbs 

Perception Pescador Pilot 12
The price of "Perception Pescador Pilot 12" varies, so check the latest price at

Famed for speed and efficiency, the updated version of the Wilderness Systems Pungo 125 boasts great stability and premium comfort. Pungo hull design is one of the features 'responsible' for all the pluses mentioned above.
The Phase 3® AirPro seating system turns this kayak into one of the most comfortable ones in the world. Additionally, there are two cup holders, SlideTrax™ to hold mounts for phones and various accessories, as well as fishing rod holders. Even more, there are adjustable bungee ties, a bow hatch, and comfortable carry handles.
Labeled 'The best boat of 2019' by Outside Magazine, the Pungo 125 has one of the most comfortable seats around, allowing very long days of paddling. A very important feature for big guys concerns adjustable footrests. I should tell you that there are also thigh pads in place.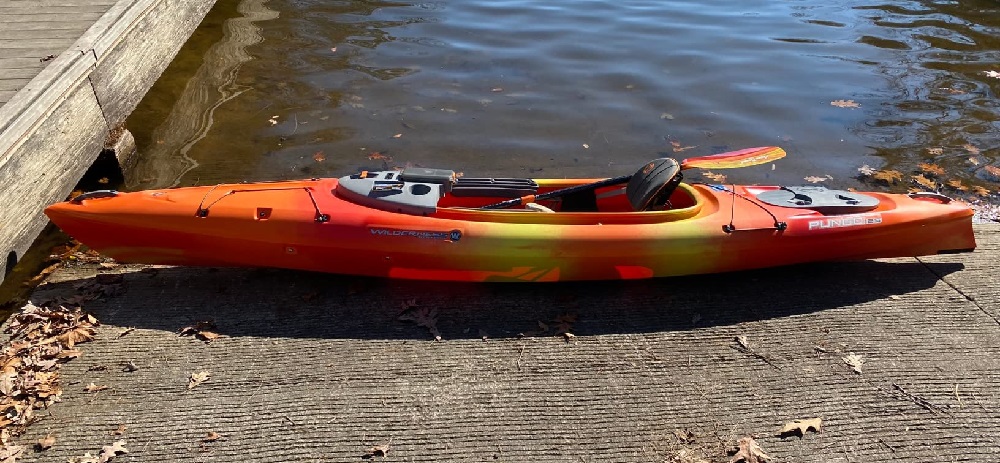 While most paddlers consider it the best recreational kayak (you can read 'the best fishing kayak', too) out there – with everything that comes to mind to this end –there are some who would like superior storage capacity in lieu of the spacious cockpit that the kayak features. 
The Wilderness Systems Pungo 125 is affordable and comes in 4 color combinations. Have you made up your mind yet?     
Specifications
Length: 12'6"
Width: 29.5"
Design: Sit-in
Weight: 53 lbs
Capacity: 375 lbs 

Wilderness Systems Pungo 125
The price of "Wilderness Systems Pungo 125 " varies, so check the latest price at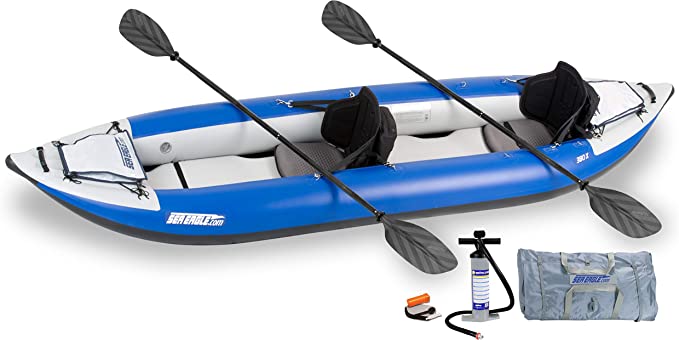 A kayak designed for solo river/open water running or with a partner, the Sea Eagle 380X Explorer inflatable kayak can fit even 3 people! It is versatile from all perspectives considered!
If you wish to use it on whitewater, it can tackle even Class IV rivers! That means immense kayak stability and fast self-bailing (there are 16-floor drains; you can leave them open for river running and sea kayaking and closed for flat water). There is also a skeg included for sea kayaking and tackling open water currents.
Other pros? It gets inflated in 8 minutes (you've got a hand pump included). Deflated, it will fit into an easy-to-carry-around backpack. It is super tough, which is proven by the torture tests undertaken. It is also a large-weight-capacity kayak, which fits the topic of this article.
Paddlers are raving about it and its versatile design. It would indeed be the best choice for a big and tall person who would like to go to the rivers and the sea, too. The starting price for the packages is also great value!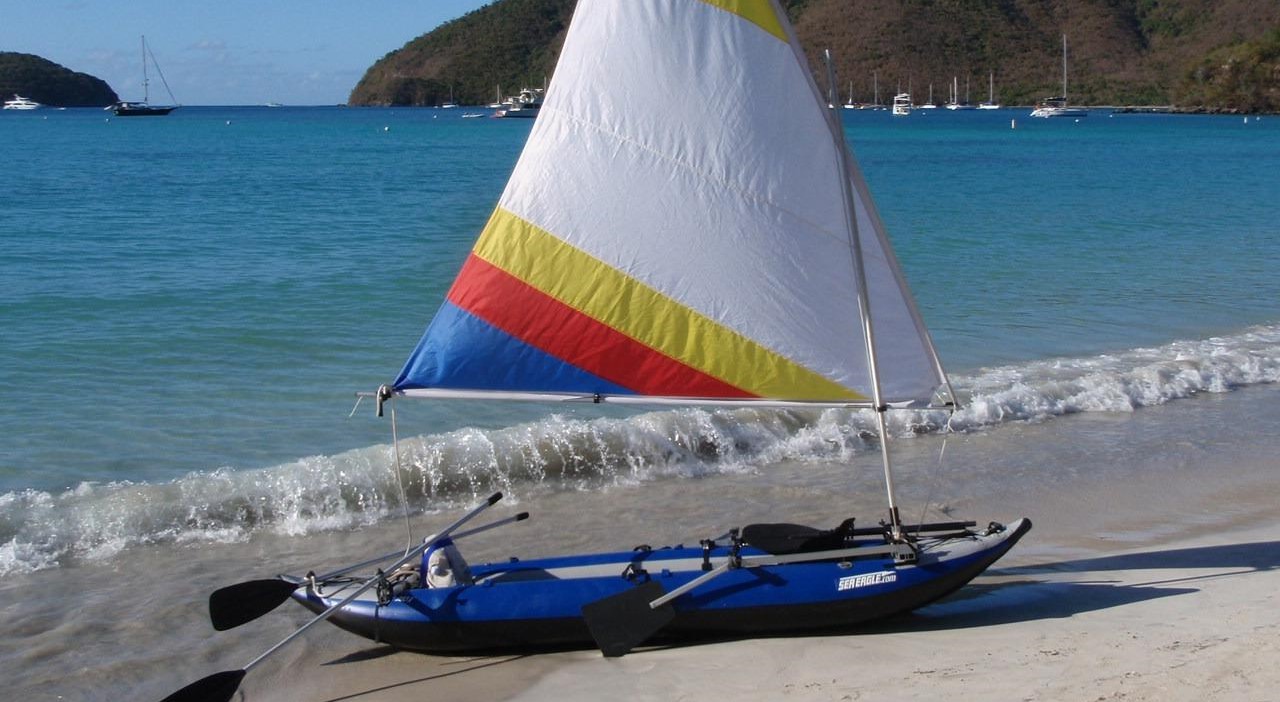 There are not many cons in the case of the Sea Eagle 380X Explorer. I already have an inflatable whitewater canoe that is wonderful, roomy, and very stable. On the other hand, if I were to buy an inflatable kayak, this would be high on my wish list.
Is it the best inflatable kayak out there? I don't know, but I'd be willing to find out.    
Specifications
Length: 12'6"
Width: 39"
Design: Sit-on-top
Weight: 40 lbs
Capacity: 750 lbs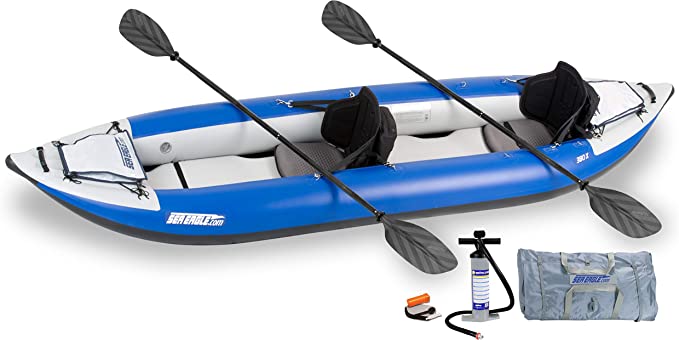 Sea Eagle 380X
The price of "Sea Eagle 380X" varies, so check the latest price at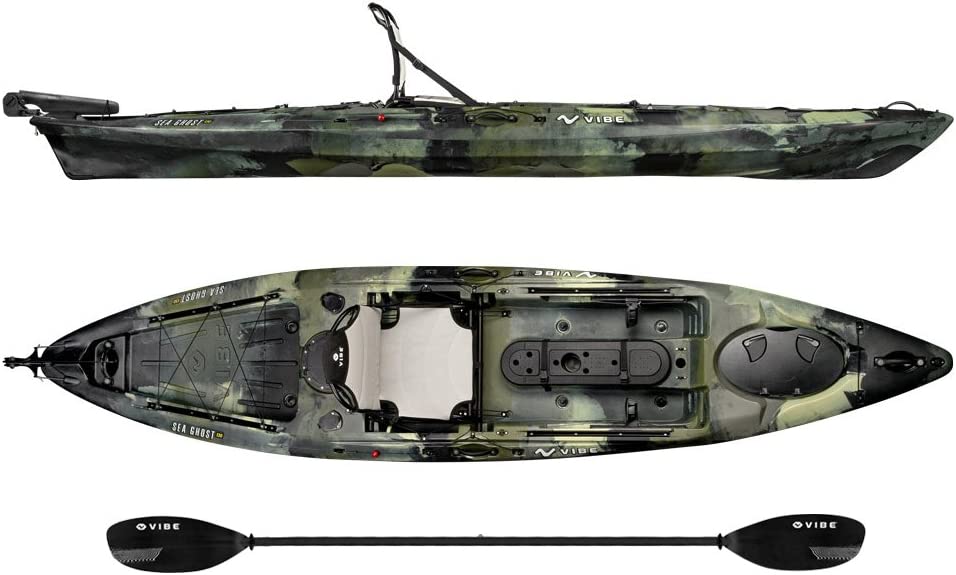 Another of those fishing kayaks! It is a sit-on-top kayak, very generous with the weight limit. 
You've got a dual-position Vibe Hero seat (a Vibe Kayaks staple) that easily dries and an included rudder, adjustable foot braces, and a cup holder. The bungee cords, the carry handles, as well as several storage spaces, and mini hatches are all useful for the transport and carriage of items.
When you spend hours on an end in the kayak fishing, you'll need everything organized (I'm talking about the fishing equipment here) and within reach.
Learning how to mount a trolling motor to your kayak will open up a world of possibilities, enabling longer excursions, exploration of new waters, and extended fishing sessions.
What goes for it? The affordable price, the fact that it is comfortable for bigger guys and girls (and large enough!), and the rudder kit that helps face windy days and strong currents!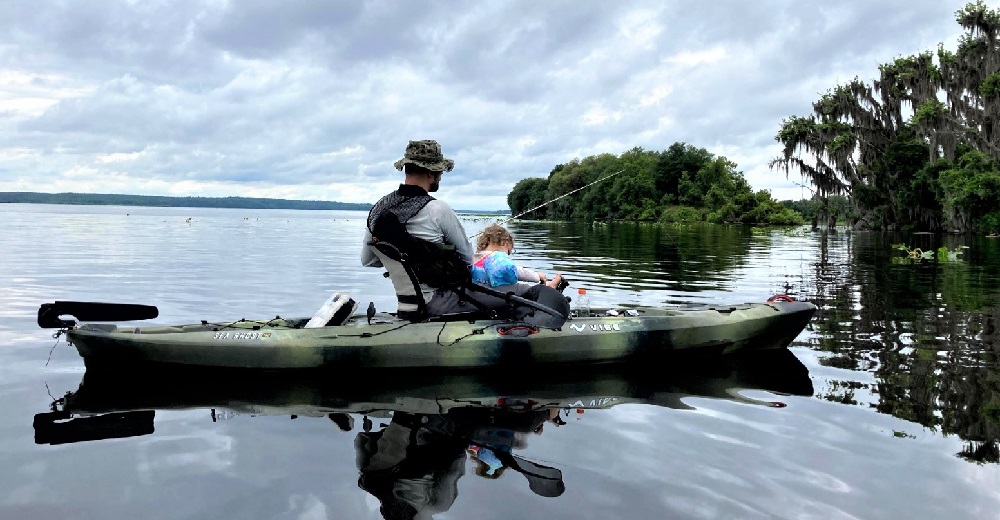 The Vibe Kayaks Sea Ghost 130 excels in terms of speed and comfort and has excellent stability on flat water.
There is a catch, however – you will struggle a bit with the maneuverability, and this is why faster rivers are not the best place to paddle this kayak.
The Versa Center Console is a customizable gadget, as seems to be the entire kayak. 
What goes against it? I don't know what to answer. It is labeled, after all, 'Best in class All Purpose, All Waters kayak'. Or so claim those at Vibe Kayaks.
Specifications
Length: 13'
Width: 33.5"
Design: Sit-on-top
Weight: 92 lbs
Capacity: 550 lbs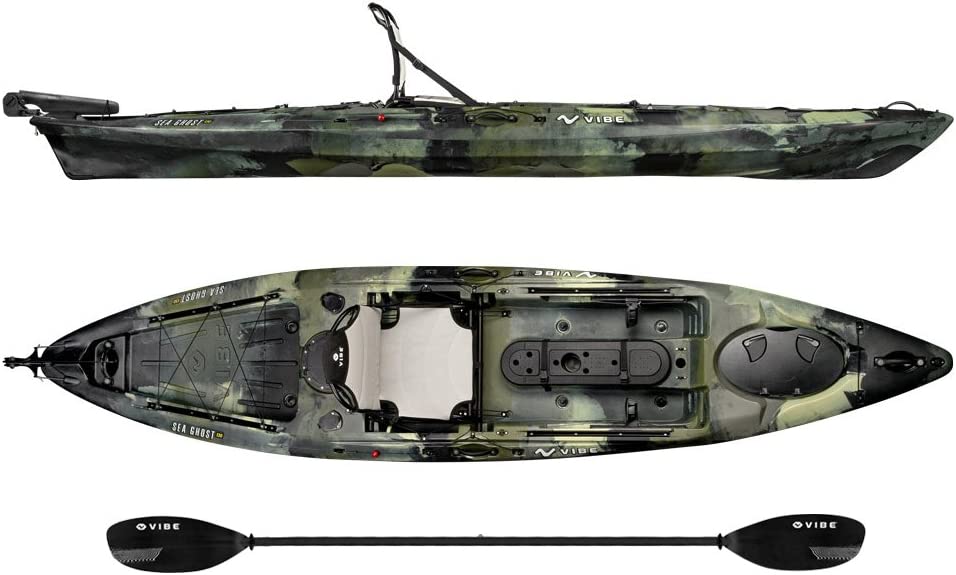 Vibe Kayaks Sea Ghost 130
The price of "Vibe Kayaks Sea Ghost 130 " varies, so check the latest price at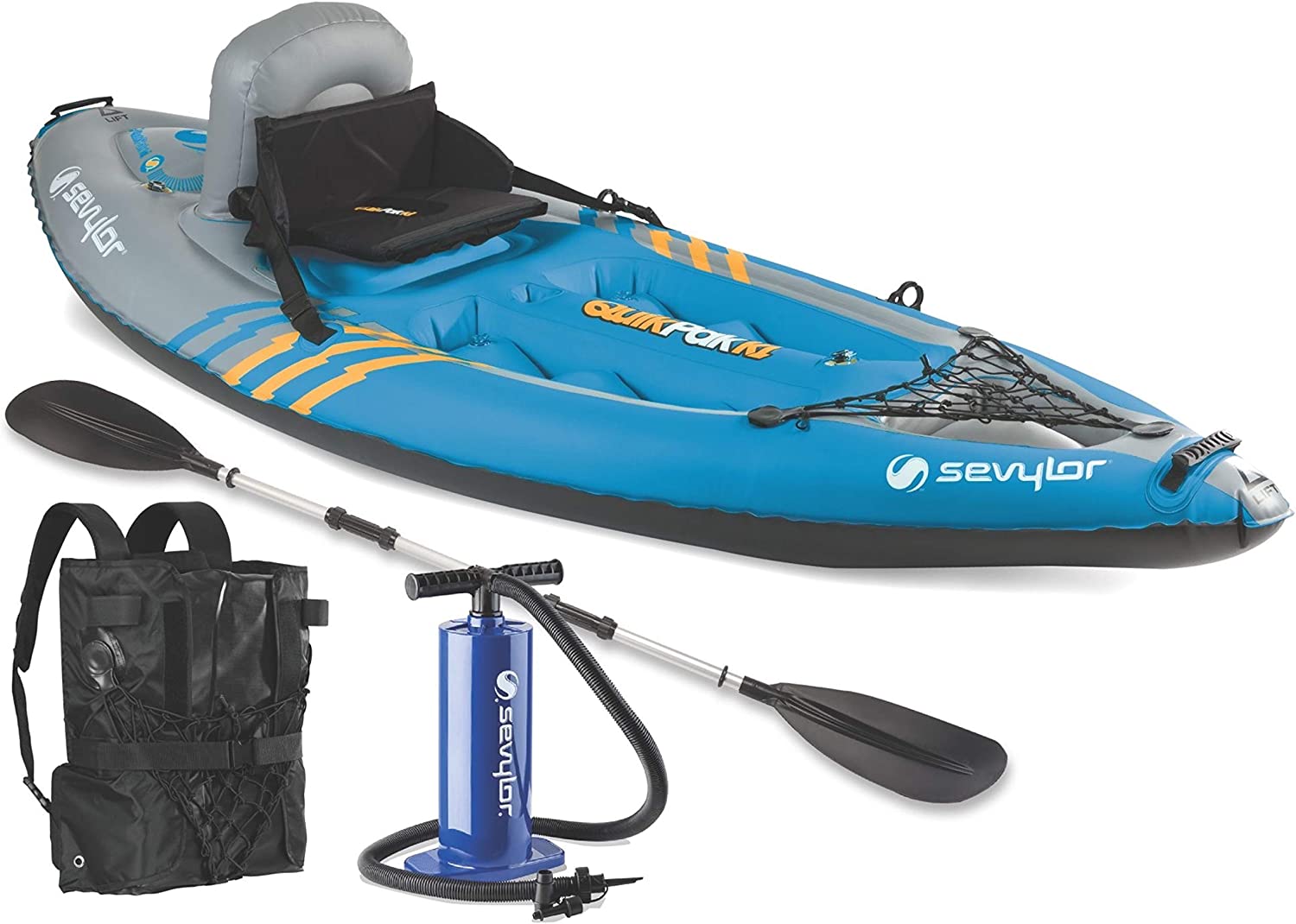 Everyone can afford this inflatable kayak! Let's see how good it is for bigger people and a fun day on the lake!
In 5 minutes, the backpack will turn into a kayak, thanks to the Double Lock valve for fast inflation or deflation (the hand pump and the paddle are included).
This lightweight boat has a high load capacity, providing an inflatable backrest, and is an airtight system, guaranteed not to leak.
The multiple air chambers allow the other chambers to remain inflated in case of a chamber's puncture. It even comes with a cup holder! Moreover, your furry friend can enjoy the ride, too.
Which are the pros? The Sevylor Quikpak K1 is a heavy-duty (made from high-density polyethylene) and stable kayak. The multi-position footrests guarantee a comfortable ride.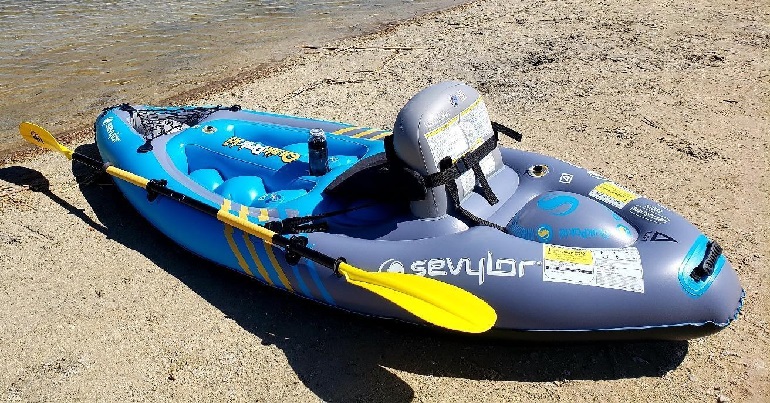 The cons? The kayak does not seem to track very well and is very difficult to maneuver. It doesn't seem like a controllable boat for beginners.
The kayak weight limit is a tricky aspect to cover, especially for big guys – test the kayak near the shore before heading out to see if it holds you and your fishing gear. 
Specifications
Length: 10'3"
Width: 9.25"
Design: Sit-on-top
Weight: 20.28 lbs
Capacity: 400 lbs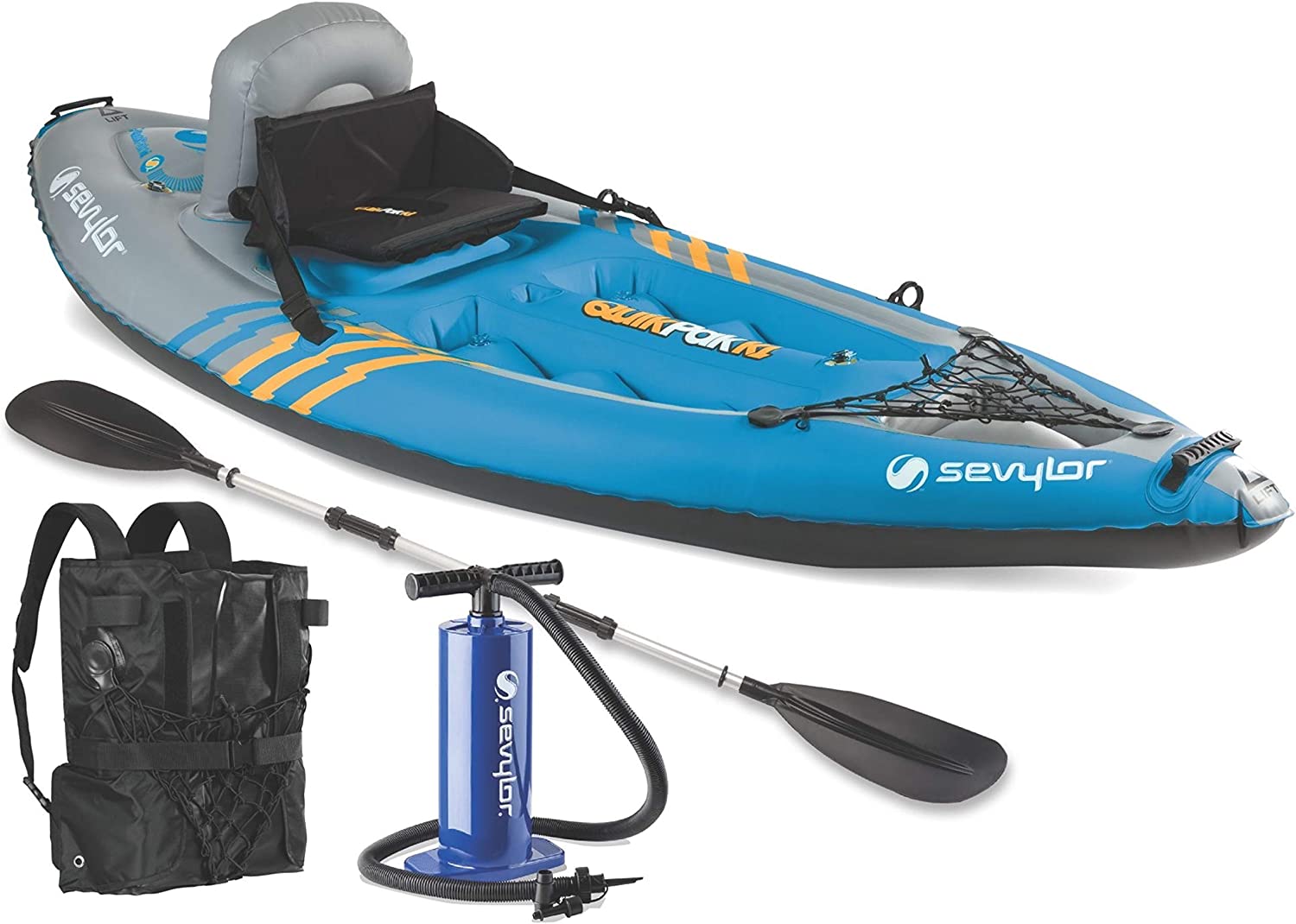 Sevylor Quikpak K1
The price of "Sevylor Quikpak K1 " varies, so check the latest price at

The Eddyline Sitka XT provides extraordinary build quality and is a good partner in all water adventures undertaken on lakes and ponds, slow rivers (up to Class II), as well as the sea and the ocean. The features of recreational kayaks and touring kayaks intertwine in this kayak.
It provides the speed and efficiency that a fun day on the water needs. Additionally, the beautiful colors would also get you spotted on the water if unavoidable situations occur.
There is a day watertight storage hatch for regular storage, and there are two more watertight hatches where you can store the fishing gear and/or the camping gear during multi-day paddling adventures.
Let's get to the points that probably interest you the most. The kayak is lightweight (so, easy to carry and maneuver). The standard Infinity Seat System includes a backrest but can also come with a backband.
With most touring kayaks, the width diminishes. Here, it is still at a higher value than your usual touring kayak width to help you enter and exit the kayak more easily.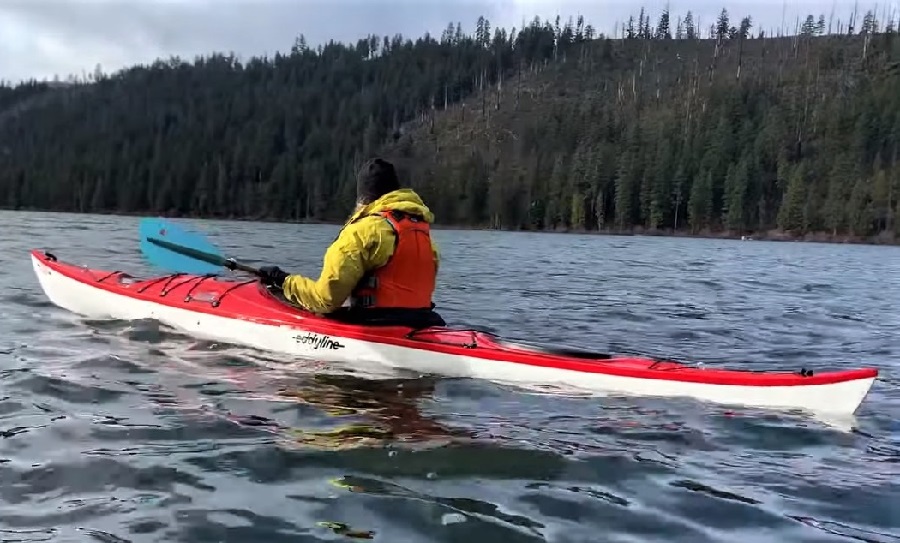 The foot braces are adjustable and comfortable – just what every paddler needs to hear (in this case, read)! The kayak cockpit space is generous, too, making this kayak the perfect choice for really tall kayakers. Can it be the best fishing kayak for big guys out there? It surely is a contender.
This kayak has your back even if there are winds, strong currents, and rough water involved (you have a removable skeg, after all) – this is what paddlers love most about it, apart from its roomy and defined cockpit.
It can help you feel more confident and grow your skills, even as a beginner kayaker. That being said, the Sitka XT will accommodate paddlers of all levels.
What's not to like, then? Well, the price. Then again, quality requires sacrifices. 
Specifications
Length: 15'3"
Width: 24.5"
Design: Sit-in
Weight: 49 lbs
Capacity: 400 lbs

Eddyline Sitka XT
The price of "Eddyline Sitka XT " varies, so check the latest price at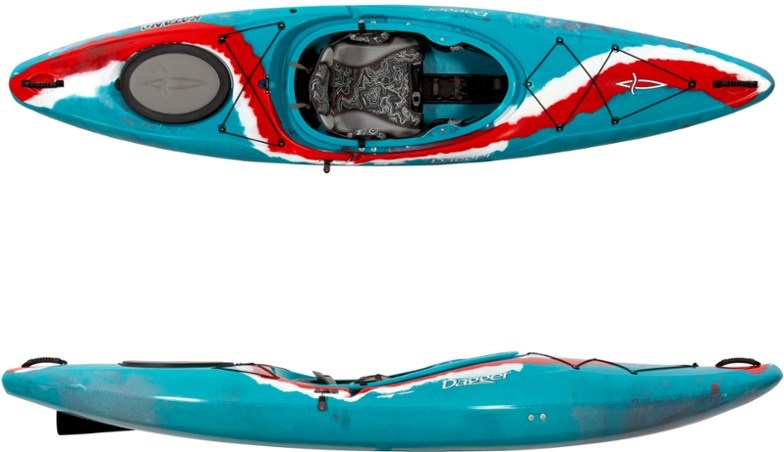 Dagger kayaks are sturdy and extraordinary boats. This one is designed for all water conditions, gaining maneuverability and forgiveness on whitewater and speed on flat water. Its design is very attractive – and the colors are, too.
The rear hatch provides storage space for expeditions while the skeg adds even more stability to this boat, making it invincible on flat water!
It is one of the more expensive kayaks, probably best for river running. Paddlers will appreciate the hip pads, the leg lifters, and the padded seat.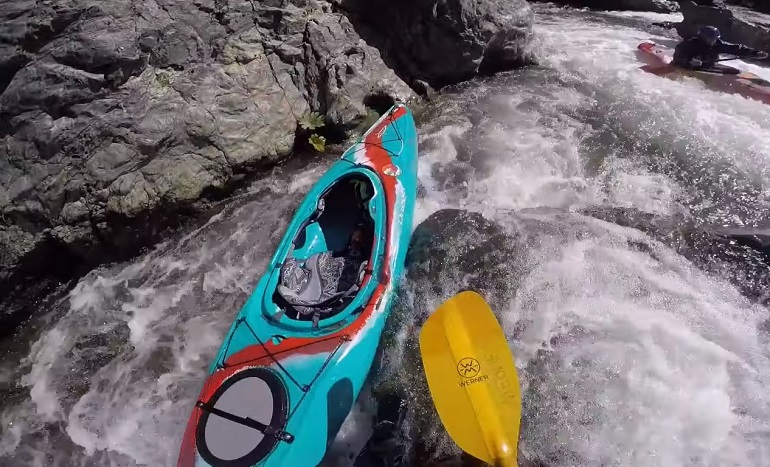 The split personality of the Dagger Katana 10.4 seems to have left no room for error on the manufacturer's part. I would give it a go as my main kayak. What about you? 
Specifications
Length: 10'4"
Width: 27.25"
Design: Sit-in
Weight: 56 lbs
Capacity: 300 lbs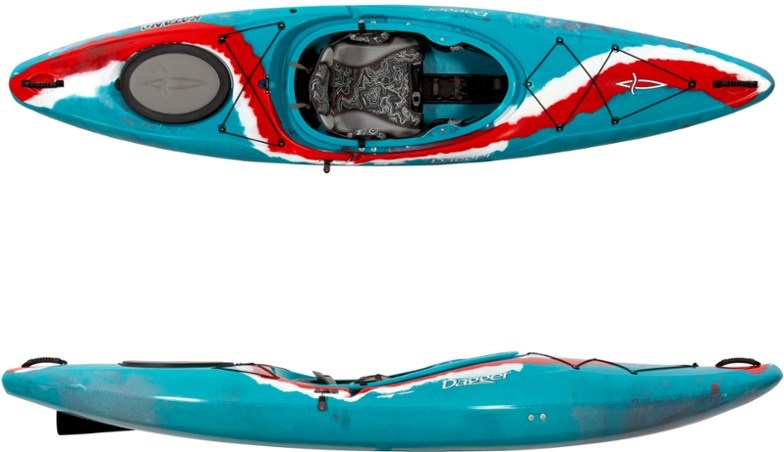 Dagger Katana 10.4
The price of "Dagger Katana 10.4" varies, so check the latest price at

Built for all paddling levels, the Sun Dolphin Bali SS is a recreational boat that is easy on the wallet and your arms. You'll get to maneuver it yourself successfully in and out of the water.
It is great for lakes and slow rivers, offering a large and very comfortable seating area. On the other hand, the seat is lower than the deck height, so it can get filled with water pretty fast.
Suited for expeditions (see the provided storage space) and fishing (see the paddle holder), this kayak has a surprisingly high maximum capacity. It is also surprisingly slow.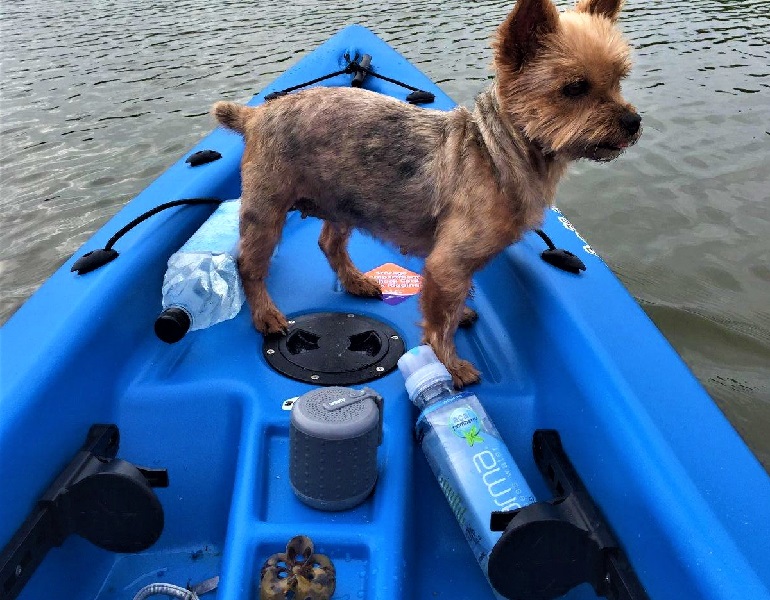 If we continue with the cons, it might be too tippy for a large person. Tall guys will find it hard to properly stretch their legs. Try to test it immediately after you buy it (if you decide on that) if you can't test it before.
On the side of the pros, it does a great job even on Class III rapids. If the adventure is calling, answer.    
specifications
Length: 14'35"
Width: 30.75"
Design: Sit-on-top
Weight: 48 lbs
Capacity: 395 lbs

Sun Dolphin Bali SS
The price of "Sun Dolphin Bali SS" varies, so check the latest price at

The Wilderness Systems Radar 135 comes in 4 unusual color combinations and has a charming design. It is a heavy kayak but has a high load capacity, too.
This is Wilderness Systems' first tri-powered kayak: with kayak trolling motors, a paddle, and pedals. The steering control system allows hands-free fishing and easy navigation; that's a top fishing kayak! The stern is equipped with a rudder.
There is a comfortable AirPro 3D seat, letting the angler cast from an elevated position. In usual Wilderness Systems fashion, the kayak seems stable enough to cast standing (it will feel a bit like paddle boarding). There are several hatches, plus bungee cords and space to add accessories.
We are dealing with a suitable kayak, even for the biggest and tallest of anglers. That's a downside to it – it is a very heavy boat. It will be difficult for you to handle it on your own or load it onto your car. The kayak's weight can make it feel sluggish even on the water. The price is high, too!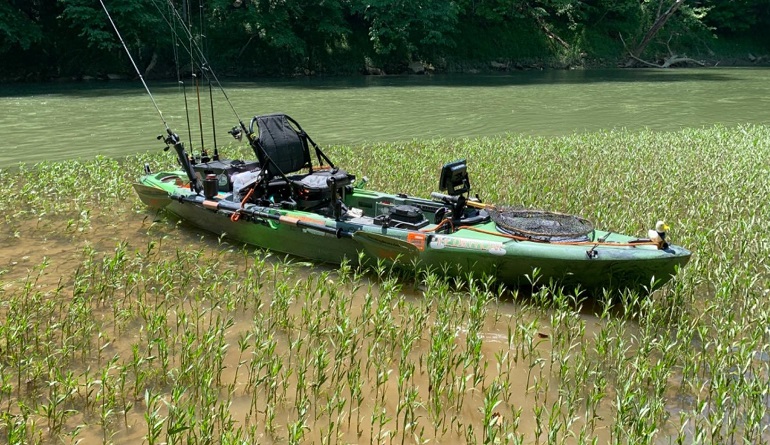 Another upside, to finish optimistically. Even Class II rapids can be run with this kayak! Easy whitewater, but with an electric motor? That would be nice to try!
Specifications
Length: 13'6"
Width: 34"
Design: Sit-on-top
Weight: 90 lbs
Capacity: 475 lbs

Wilderness Systems Radar 135
The price of "Wilderness Systems Radar 135" varies, so check the latest price at
Kayak for Big Guys Buying Suggestions
Big guys (and even girls) need an incredibly comfortable and steady kayak when heading out on the water. Of course, there are several conditions to consider (level of the kayaker, body of water to be paddled, etc.), but the following elements are worth to be noted.
In the end, what makes a great kayak for larger paddlers?
Volume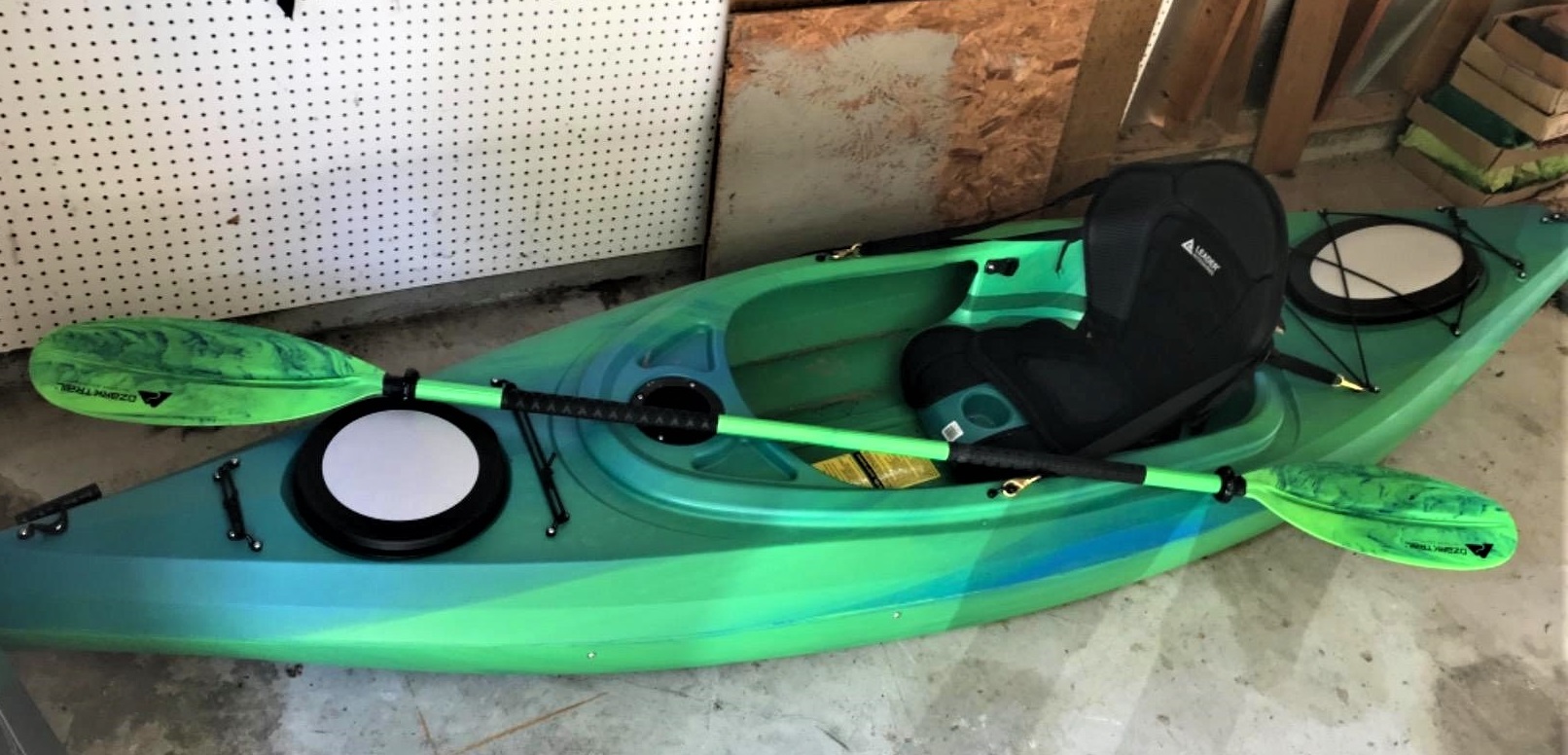 In my view, volume is the most important feature of sit-inside kayaks. While sit-on-top kayaks have other features that are important for big guys, deeper boats are more stable. On the other hand, they are harder to turn and slower.
However, volume is a critical element in a kayak for tall guys, too. Generally, we are dealing with low, medium, and high volumes. Opt for a high-volume kayak if you are a big paddler.  
Length
On average, a whitewater kayak/a playboat is 6 feet long. The recommended length for big guys is 8 feet in the case of river running. In the case of touring kayaks in general, sit-inside or sit-on-top, a 10-foot-long kayak is an average boat. Consequently, start your research from a 12-foot kayak for big guys.
A greater kayak length also means more legroom – a big tall guy will need sufficient legroom not to feel cramped during those long days spent on the water.   
Width
A wide hull means a more stable kayak, irrespective of its design. Touring kayaks will naturally be narrower than whitewater kayaks when dealing with sit-inside kayaks, while sit-on-top kayaks are generally wider.
Getting into and out of a wider kayak will be an easier task and a much-needed feature for a big and tall guy. Maintaining balance is a less-challenging feat in a sit-on-top kayak compared to a sit-inside kayak.
Entering and exiting a kayak is different depending on the body of water and the weather conditions, but my take on them is half on the shore/bank, half on the water, using the paddle and my hands to get into/out of the water. 
Design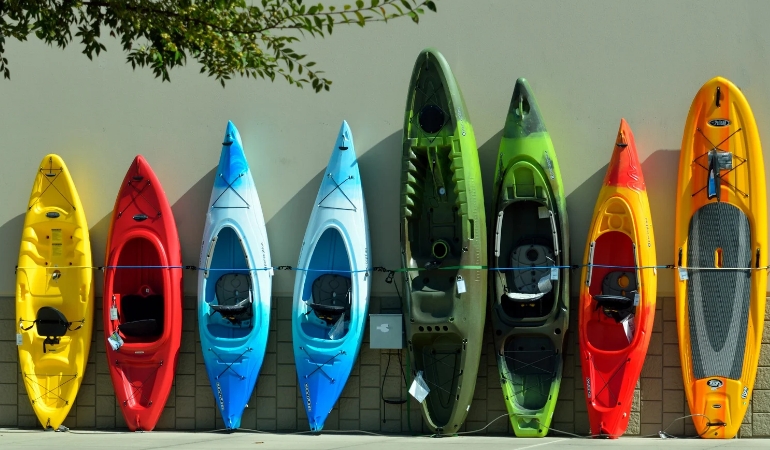 Beginner kayakers will probably feel safer, more confident, and more comfortable in sit-on-top kayaks. They are really buoyant and practically unsinkable (given the streamlined hull). I kept mentioning sit-in kayaks above. Virtually all kayaks that require sprayskirts are sit-in.
As a big and tall guy, it will be easier to find a sit-on-top kayak that would feel comfortable, but give sit-in kayaks for big guys a shot, too. The degree of control that a paddler has in a sit-inside kayak is fantastic!   
Seating Configuration
What if, as a big guy, you wish to go paddling not on your own but with a partner? There are inflatable and hard-shell versions of tandem kayaks. There are also versions of these boats designed for big and tall people.
The weight will be a considerable one. Then again, the kayak's maximum weight capacity will also be substantial. Very importantly, don't forget comfort and legroom, even in tandem kayaks. Paddling together should be a fun and memorable experience!
Weight Capacity
A critical feature in deciding to purchase a kayak when you're a big guy is the weight capacity. Bear in mind that you shouldn't exceed 70% of your kayak's capacity!
That means that you plus your belongings and gear (don't forget to compute those, too, as load capacity is also important!) should be included in that percentage.
A 30% weight buffer is critical. Why? Because a kayak that feels too heavy will sink more into the water. Let's not worry only about the fact that you might take on water – sit-on-top kayaks will stop self-bailing when the mentioned weight buffer is exceeded –rather, discuss other aspects.
You won't be able to gain much speed, you may be more prone to capsizing, you will lose that extra stability, and your kayak will feel less maneuverable.
I've been there when I packed too much gear onto my medium-volume playboat and ended up putting more effort into paddling and keeping the line than necessary.   
Material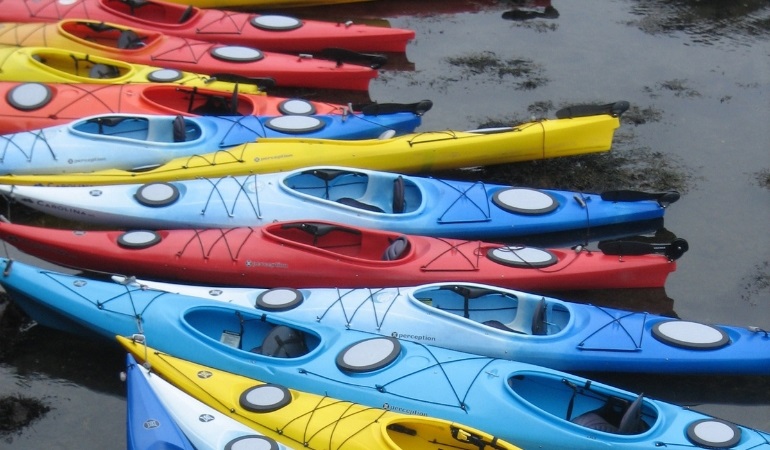 There are inflatable kayaks, and there are hard-shell kayaks. The latter can be made of fiberglass, carbon fiber, composite materials, Kevlar, and even wood. Choose the material that works best for you.
However, most kayaks for big guys made of high-quality plastic may be your best bet nowadays in terms of strength, weight, versatility in use, and price.
Other kayaks for big guys exist, too, such as foldable kayaks. You can easily take them along on your travels! You will sacrifice a bit of quality, though.
Are inflatable kayaks a good fit for larger paddlers? They can be, and there are a few good options. I would, however, choose a hard-shell kayak for extra control in the water.
Comfort
For a big and tall paddler, comfort will be synonymous with a safe and comfortable seat. Increased legroom is also important for long days spent on the water.
Your legs and back shouldn't become numb while you retain control of the kayak from inside the cockpit.
Location
Fishing and touring kayaks for big guys will work great on lakes, ponds, and slow rivers. Sea kayaks for big guys will be perfect for the sea or the ocean but will also help you gain speed on lakes and lazy rivers. Whitewater is a different story, though, so you'll have to get yourself a whitewater kayak or a playboat.
However, there are versatile kayaks that serve all of the above to a higher or lesser extent. Research well.
Choosing a kayak will depend on where you live and what you love to explore while on the water. It also depends on the skills that you wish to develop or improve.
Either way, a quality kayak, which is intended for the body of water that you've got your eyes on, is a good investment for your mental and physical health. 
Portability & Storage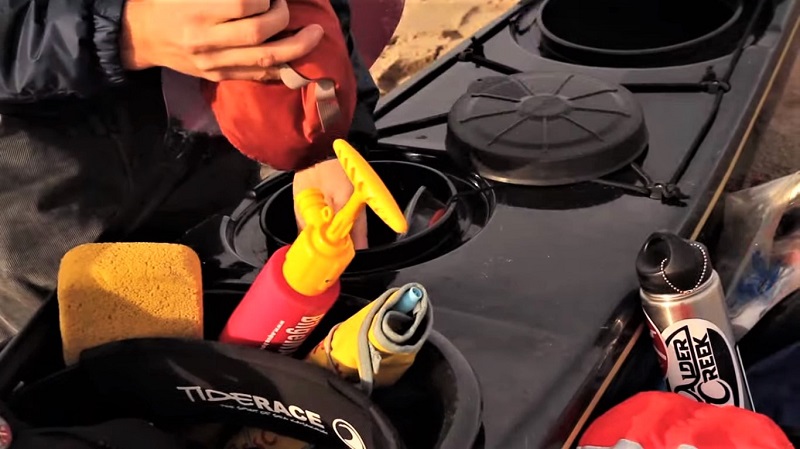 You'll need more storage space for your kayak. Can the racks in your garage support it? What about your car? Is it long enough? Can your car roof withhold those extra pounds? How difficult is it to load your kayak onto the car rack?
Don't forget to explore the best kayak trailers, ensuring convenient transportation of your kayak to any destination with ease and efficiency.
Budget
Like all items that get more material into their manufacturing, kayaks for big guys cost more. Watch out for deals and be willing to pay more for a kayak that would stay with you for a long time, even if you can't find a cheaper option. 
Usually Asked Questions
If you need to draw some conclusions, put all notions together, and find a comprehensive answer to important questions, here are two of them as to what makes an excellent kayak for a bigger person. 
What Is the Best Kayak for an Overweight Person?
The best kayak that you could buy for an overweight person or if you are an overweight person is, first of all, a high-volume kayak. It will help you get into and get out of the kayak more easily.
Moreover, a balanced ratio between the volume and the width would help the paddler maneuver the kayak better, not capsize, feel more stable, and gain a little bit of speed.
Irrespective of the type of kayak (sit-in designs, sit-on-top designs), you should prevent taking on water. This is why you should observe a maximum weight of up to 70% of the kayak's weight capacity.
Make sure to add the weight of the accessories and extra gear to your weight and then compute the total weight and compare it with the boat's weight capacity. 
How to Choose the Best Kayak If You're Big and Tall?
Legroom is of utmost importance. A good seat is also important because you're going to spend a lot of time on the water. Look for a kayak that's above 12 feet in length and has a comfortable padded seat.
A wide cockpit is also a must if you're one of the bigger paddlers because it will provide the superior stability that you need.   
See You on the Water!
I hope that this article and the ideas that I put together in it have already helped you or will help you purchase a kayak that you would end up loving!
Investing in a high-quality kayak from the best kayak brands will improve your life through the myriad of new adventures that you can experience. First of all, think of 'adequate volume', 'comfort', and 'weight capacity'. What is the kayak's maximum load capacity? Do you have sufficient storage space?
It is easy to make a decision when you know what you are looking for in a kayak, as one of the big guys who love to paddle.
Is it a companion for river running, sea kayaking, or maybe fishing tours? Will you head on the water by yourself, or do you have a paddling partner in mind and would like to buy a tandem kayak instead? How do you feel about high-quality plastic? Or are you looking for more elaborate materials?
Before making that purchase, have your budget in mind and see if you can also invest in a good car rack and a good storage system when the paddling season is over.
If talking about transporting your high-weight capacity kayak, rigid racks mounted on the roof of your car work best. Inflatable ones can get tricky, especially with heavier kayaks. A kayak cart would also be helpful.
You will surely find the right kayak even if you're one of those tall people, especially if you assess, compare, and research products! See if a hard-shell or an inflatable kayak is a better fit for you, and imagine if a sit-in kayak or a sit-on-top one would make you feel safer.
It's a personal preference issue to sit on top or sit inside of a kayak, after all, apart from kayak size considerations.
What's left to be said? Enjoy your paddling time, and see you on the water! Let's build quality time in the great outdoors!