Nothing excites me more than good old kayaking! It's the best upper body workout and ideal for weight management. But before getting into it, I always assumed that it was something I might not be able to do because of my size.
Luckily, after looking it up online and talking to a few friends, I came to know that kayaking can be enjoyed by people of all sizes and ages. That's awesome! right?
So, all the big 'n tall guys and girls like me need not worry! Kayaks are available in different size capacities, suited for almost all sorts of waters.
Top pick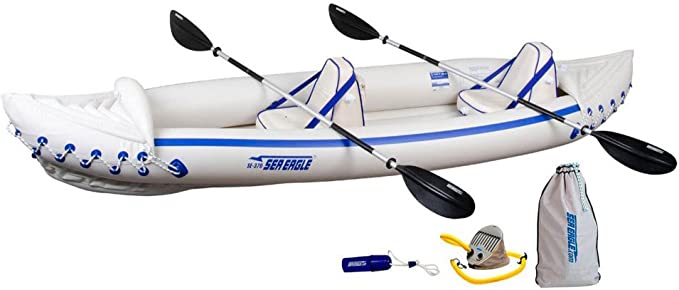 Sea Eagle 370 Pro
Material: Synthetic
Weight: 44.25 Pounds
Best Looking Kayak

Wilderness Systems Tarpon 120
Material: Polyethylene
Weight: 63 Pounds
Best Comfortable Kayak
Vibe Sea Ghost 130
Material: Polyethylene
Weight: 75 Pounds
Best Heavy Duty Kayak

Wilderness Systems A.T.A.K. 140 Kayak
Material: Polyethylene
Weight: 95 Pounds
Best Durable Kayak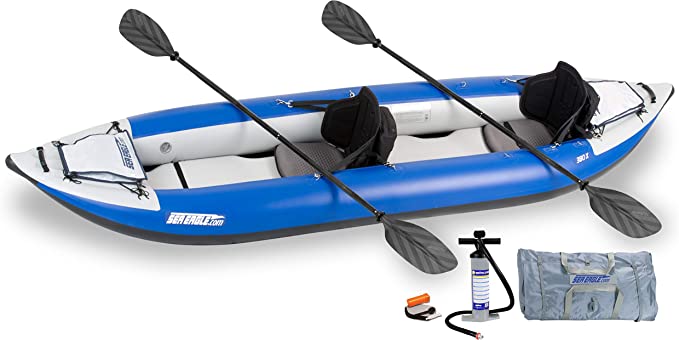 Sea Eagle 380X
Material: Inflatable
Weight: 40 Pounds
Best Stable Kayak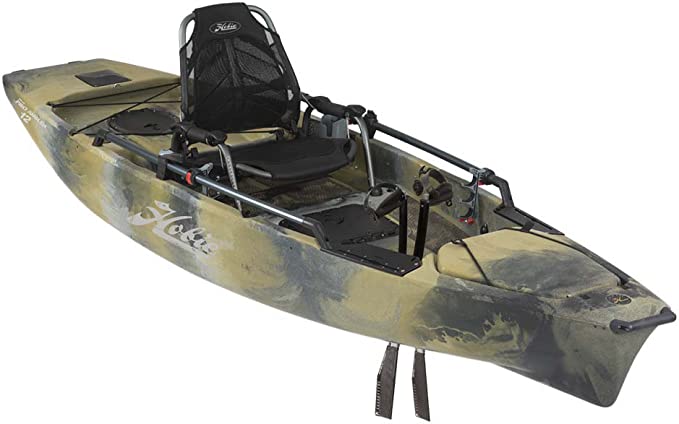 Hobie Mirage Pro Angler 12
Material: POLYETHYLENE
Weight: 128.5 Pounds
Best Portable Kayak

Sun Dolphin Aruba SS 12
Material: Plastic
Weight: 47 Pound
Simple to Store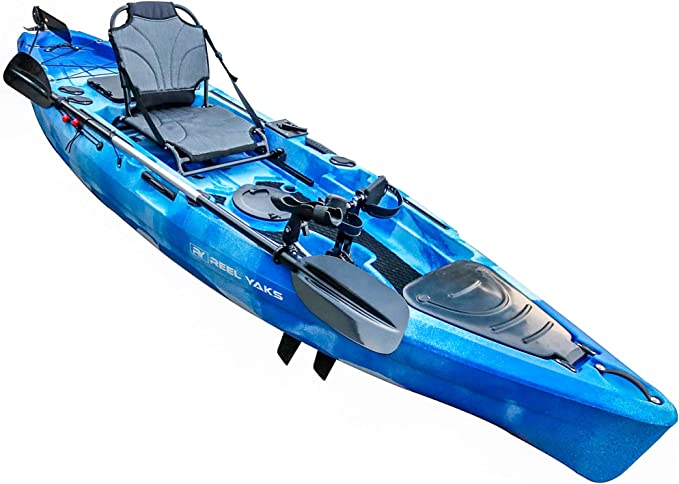 Bonafide SS127
Material: Plastic
Weight: 62 Pound
In this article, we will discuss in detail different types of kayaks, how they are used and what you should be looking for in a kayak for large paddlers. Most importantly, we will tell you about some of the best kayaks for big guys.
What is a Kayak?
A kayak is a small, narrow boat tapered at both ends. It is propelled forward with the help of a double-sided paddle.
The Inuit people of Greenland initially used kayaks for the purpose of hunting on water. Kayak means 'hunting boat' initially, it was used for hunting or fishing only,y but over time, it became more popular for recreational activities and extreme sports like water racing, extreme creaking and waterfall kayaking, etc.
Before investing in a kayak, you must know the types of kayaks available in the market like Touring Kayaks, Motorized kayaks, Inflatable kayaks, etc. It is important because they can be of different sizes and dimensions depending upon how, where, and by whom they will be used.
Best Kayaks for Big Guys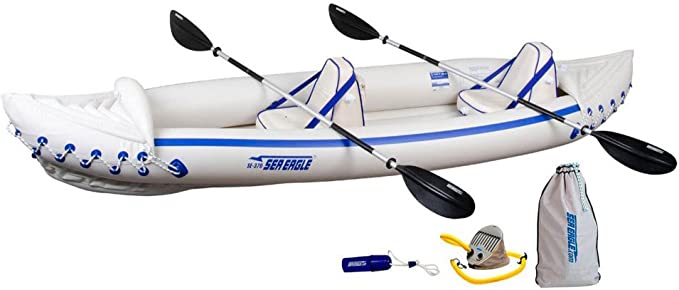 Sea Eagle 370 Pro has been rated as the best inflatable kayak. These high-weight capacity kayaks are one of the biggest inflatable kayaks. If you are looking for a cheap inflatable kayak that can hold you and your friends, you can definitely go with this one.
It has perfect kayak dimensions as those needed by big guys. It measures 34 inches in width and 2 ft in length. It has three inflatable chambers that make it a safe choice if you are afraid of bursting inflatables. It can fit three people, but it might hold only two if you are a big guy.
Sea Eagle inflatable kayak is best used on flat waters such as lakes, rivers, and steady creek waters. It is not designed to be used on white waters and will not hold up to flowing rivers or rocky paths. Its inflatable seats are comfortable for big guys.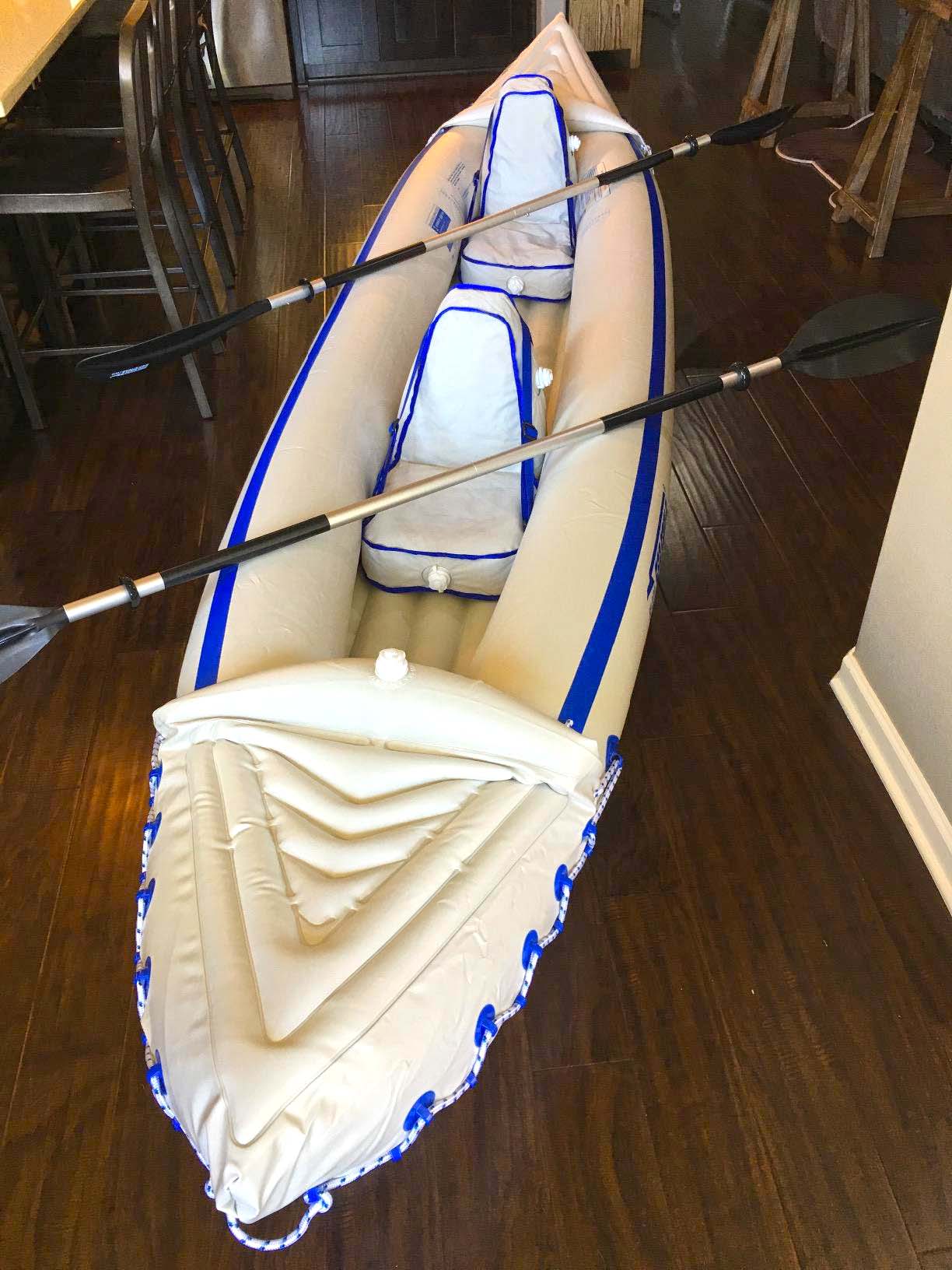 They have skegs on the bottom for better tracking and speed. They also have self-bailing drain valves to drain water quickly. You can also bring your pets along because the rugged polyKrylar hull is strong and tough enough to withstand claws.
Features
650 lbs capacity
Comes with movable seats, two paddles, a foot pump, and a carry bag
Open and close drain valve, 5 deluxe 1-way inflation/deflation valves
2 skegs on the bottom
Pros
It is appreciated due to its affordable price.
It's incredibly lightweight and portable.
Cons
Not suitable for white waters as it does not withstand unstable waters and rocky paths.
Testers Verdict
Our testers were happy with its weight holding capacity and low price compared to others. They said that the kayak was roomy and comfortable.
However, a few complained that the boat was not as steady on rocky paths and was good enough for only a few uses.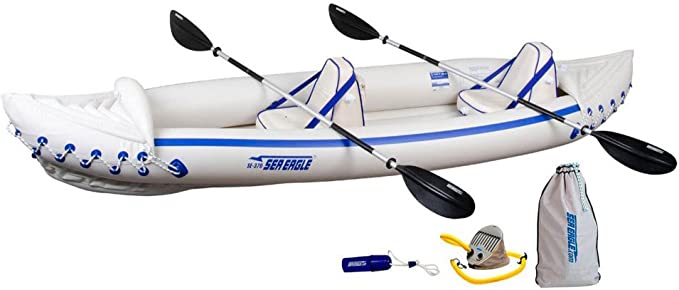 Sea Eagle 370 Pro
The price of "Sea Eagle 370 Pro" varies, so check the latest price at

Wilderness Systems Tarpon 120 is all new and upgraded, even better than the original one. It looks super cool with a vibrant body and eye-catching colors.
It is a lightweight, sit-on-top kayak designed for single-person use only. Wilderness Systems claims that it is the most versatile kayak they have ever made. It works great on the water providing fast, efficient and straight tracking.
Their comfortable and adjustable Phase 3 AirPro seating system features a cool touch system, that keeps the seats cool to the touch even in hot weather. It is very stable. Considering previous reviews, they have added a covered rear storage area that can hold crates, equipment, coolers, etc.
They have dry storage at the front to keep your mobile phones, wallets, and other valuable water-sensitive items inside. It has a magnetic strap water cup holder at an easy-to-reach and a small compartment for keeping your sunscreens and snacks.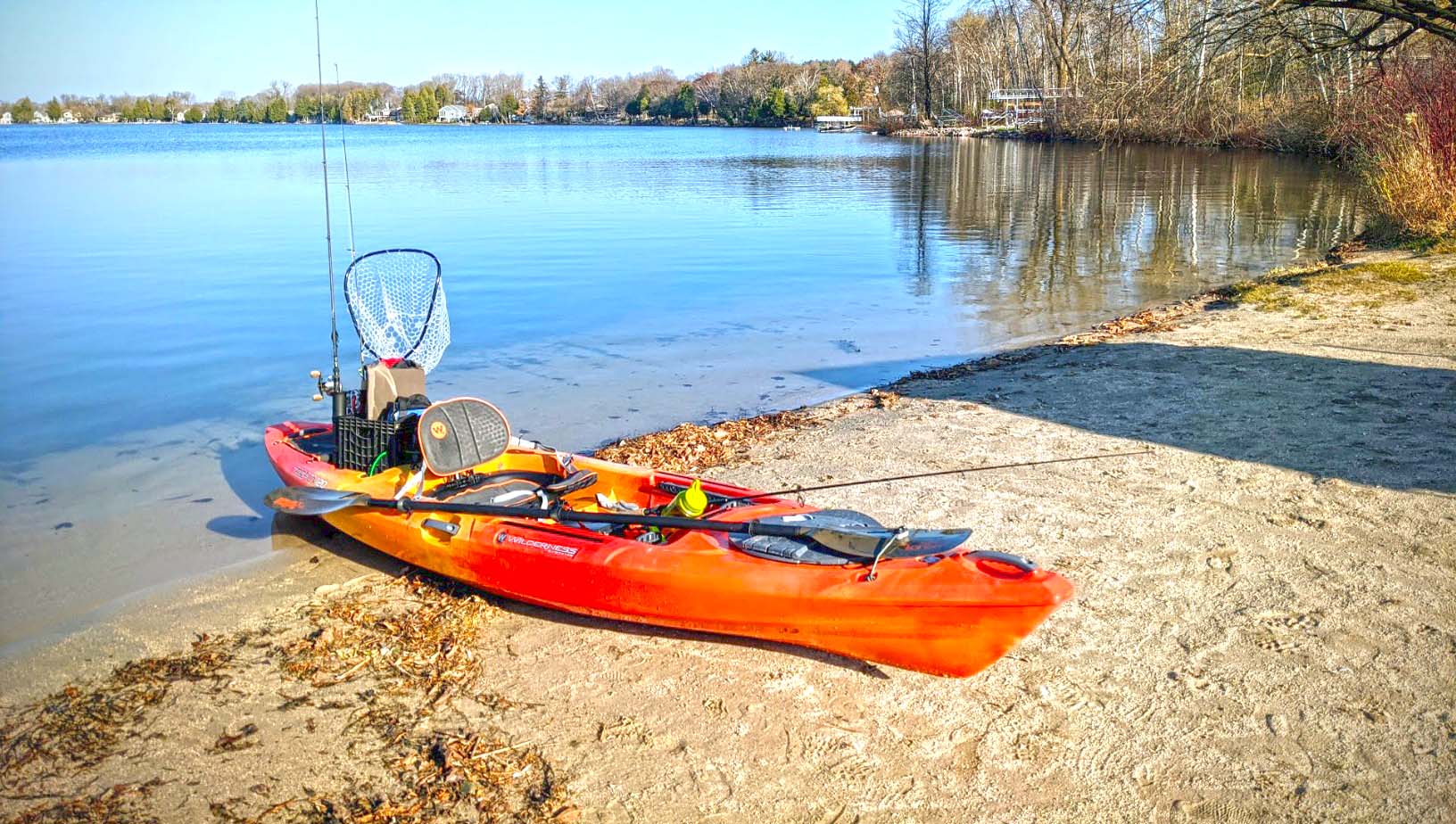 This kayak is mainly used for calm water recreational purposes and as a fishing kayak. Using SlideTrax accessory rails, you can customize it into a fishing kayak, filming, or leisure boat.
Keeping the kayak weight limit in mind, if you are a big guy of more than 250lbs, you might have to go solo without your pet or heavy gear.
You can't move heavy kayaks easily for this purpose you must have to buy a Kayak rack it will help you to move your kayaks from one place to another easily.
Features
The high-quality Polyethylene shell body
Holds up to 350lbs of weight.
Cool touch seating
Pros
It is steady on water and easy to maneuver.
It provides lots of storage.
Cons
Due to its low weight capacity, it might not be suitable for whitewater.
Testers Verdict
Our testers loved the design and quality of the kayak. It was incredibly smooth and easy to ride.
However, testers of heavier weight of approximately 245lbs complained that it could not hold them very well, and water came inside the boat.

Wilderness Systems Tarpon 120
The price of "Wilderness Systems Tarpon 120" varies, so check the latest price at
As the name suggests, the Vibe Sea Ghost 130 are the best fishing kayaks for big and tall guys. It can hold up to 550lbs of weight.
Its rotomolded high-density polyethylene high-density body makes it a solid and durable kayak. It is also very stable on the water, with 33 inches in width and 13 ft in length. So, if you are a big guy and fear balancing on a fishing kayak, don't worry, you can even stand on it and continue fishing without worrying about falling off.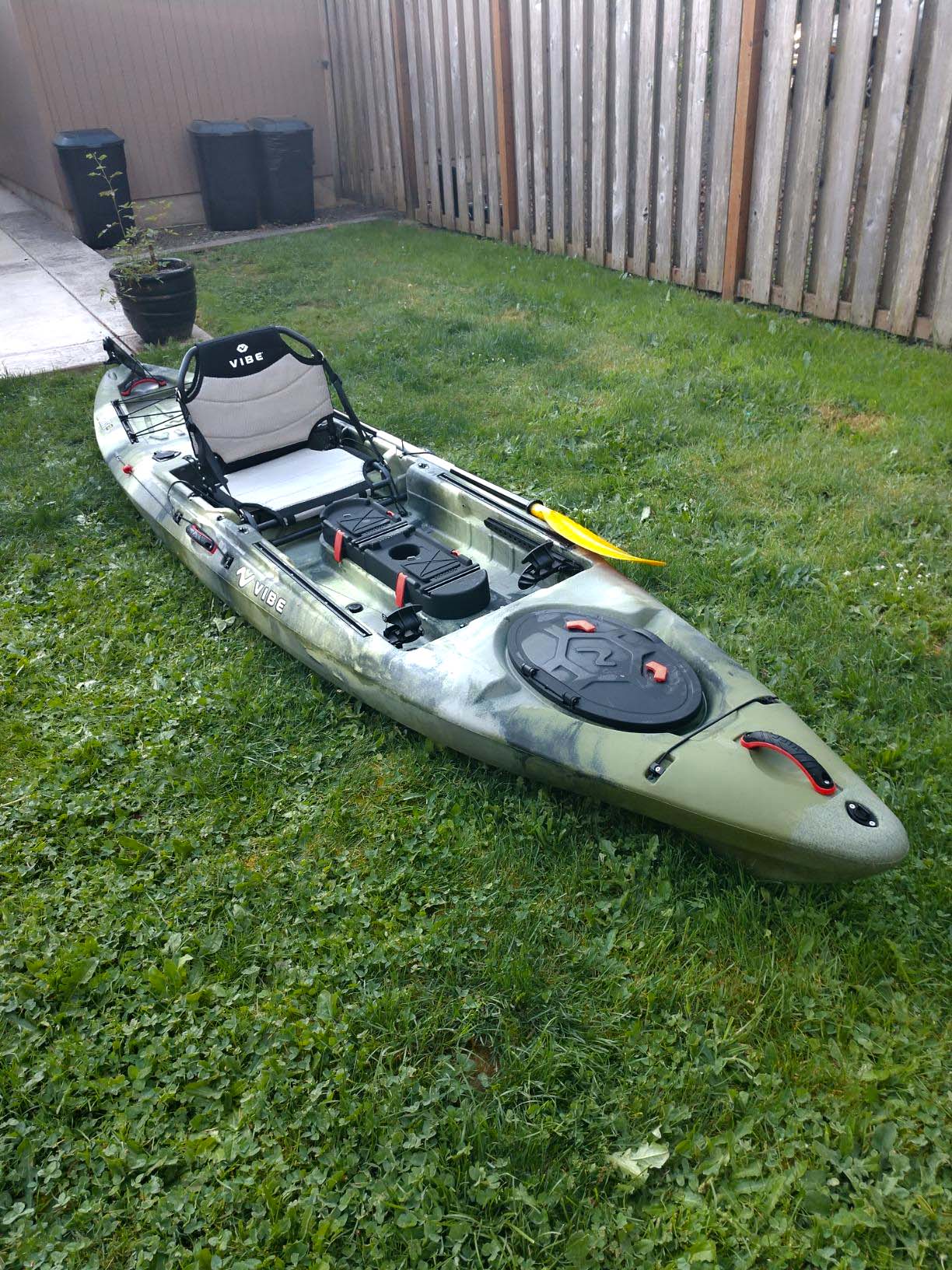 It has a built-in toe-controlled rudder to maneuver easily through the water. It has a Vibe Hero Seat, which can be adjusted in two positions, making it very comfortable to sit in for a long time.
It has built-in storage compartments and fishing rod holders making it a fishing dream for any enthusiast.
Features
Dual-position Vibe Hero seat
2 flush-mount rod holders and 4 integrated gear tracks for customized rigging
Large center console, 20″ front oval hatch, rear hatch, and large bungee rear tank
Pros
It is commended for its speed and stability.
It comes in attractive colors and boasts a very stable, fast, and comfortable ride.
Cons
A little longer design which might not be suitable for lightweight people.
Testers Verdict
Our fish enthusiasts loved the design and how appropriate it was for fishing in all possible ways. The only drawback that our testers could find was that it could not fit smaller people as it is enormous in size and would not be easier to maneuver if you are not the right size.
Vibe Sea Ghost 130
The price of "Vibe Sea Ghost 130" varies, so check the latest price at

This is another Wilderness Systems kayak on our list. The difference between 120 and 140 is that the A.T.A.K 140 is specifically designed as a great fishing kayak. Hence, it has a bigger, sturdier body and has stern storage hatches.
Its 14 ft long design is more suitable for big fellows as compared to the 12 ft design. A longer body also means a smoother ride, more kayak stability, and easier tracking. It has an open-top design that allows easy movement. Its stable body also allows fishers of any size to stand and walk on the deck.
It also ensures that the paddler is comfortable on the boat with its suspension-style seat with high-low and recline settings. It also has moveable and adjustable large padded footrests that provide support and comfort.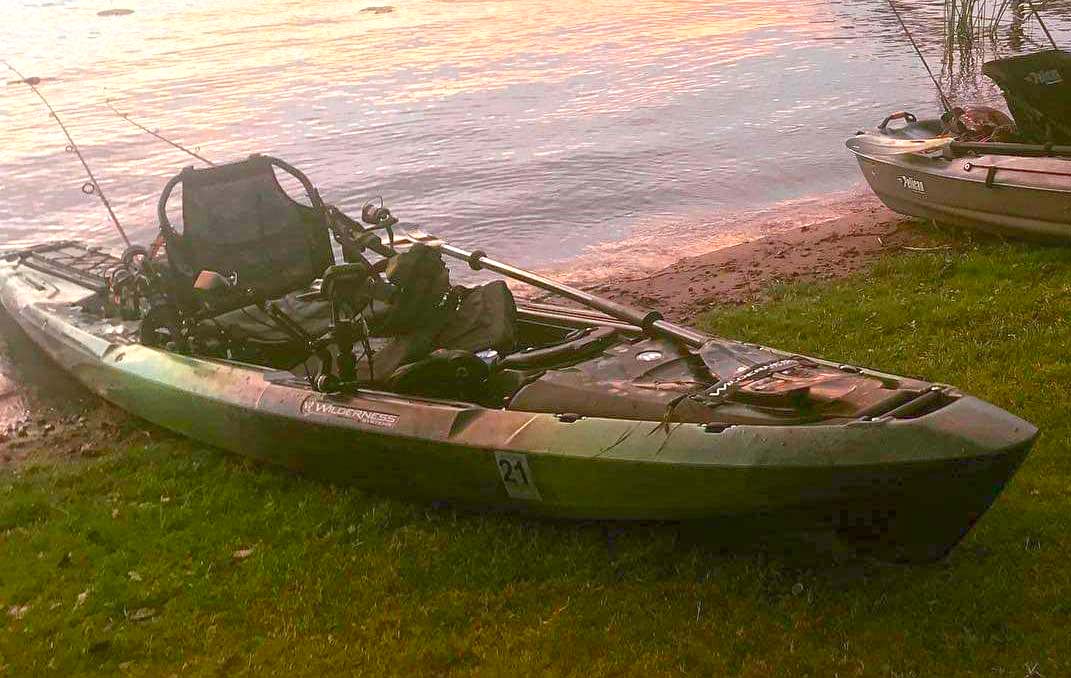 The boat has 550 lbs of weight capacity, paddler and gear combined. Hence, it is good news for big guys. If you were disheartened to learn that Tarpon 120 was not supportive of your weight, this is another excellent option that is absolutely fit for you.
A.T.A.K 140 also has lots of storage space at the rear and front. You can also add or remove your accessories from the SlideTrax found in the kayak's front, rear, and midsection.
Features
Compatible with the Helix MD motor drive
Phase 3 AirPro Seating
95 lbs (43 kg) weight
Center Easy-Access Storage
Pros
It has a bigger more durable design that is suitable for big guys.
It provides lots of storage, and it's also easy to walk on.
Cons
It is only suitable for calm flat waters.
It is pretty heavy on the pocket.
Testers Verdict
The testers at our place are all in for Wilderness Systems kayaks. They loved the sturdier, bigger designs and approved them as the best kayaks for big guys.
However, some of them recommend that if you are a beginner at kayaking, you might not want to spend this much money on a kayak. Get a hold of the sport first and then invest.

Wilderness Systems A.T.A.K. 140 Kayak
The price of "Wilderness Systems A.T.A.K. 140 Kayak " varies, so check the latest price at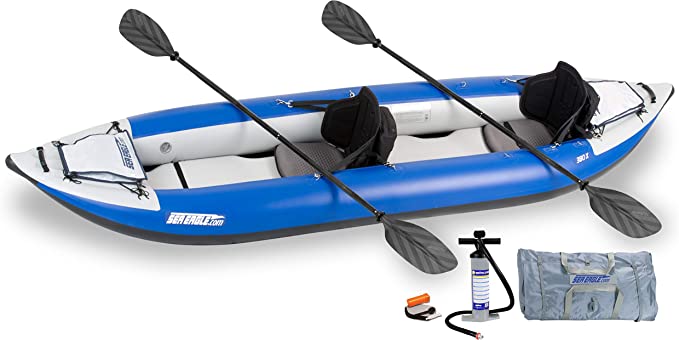 We have already said all the good things about the Sea Eagle 370X. Hold on, it only gets better with this upgrade.
The Sea Eagle 380X is more robust, sturdier, and tougher than the 370X. It is considered the best inflatable whitewater kayak. It has up to 750 lbs of weight capacity and can resist even the sharpest of nails and can hold up to three people.
The sea eagle inflatable kayak design might not look as tough as the hard shell boats, but inflatables are more recommended for water sports. They have a lot of air inside, hence providing buoyancy and excellent stability. It also moves through the water better than the hard boats. It is also very easy to drain water.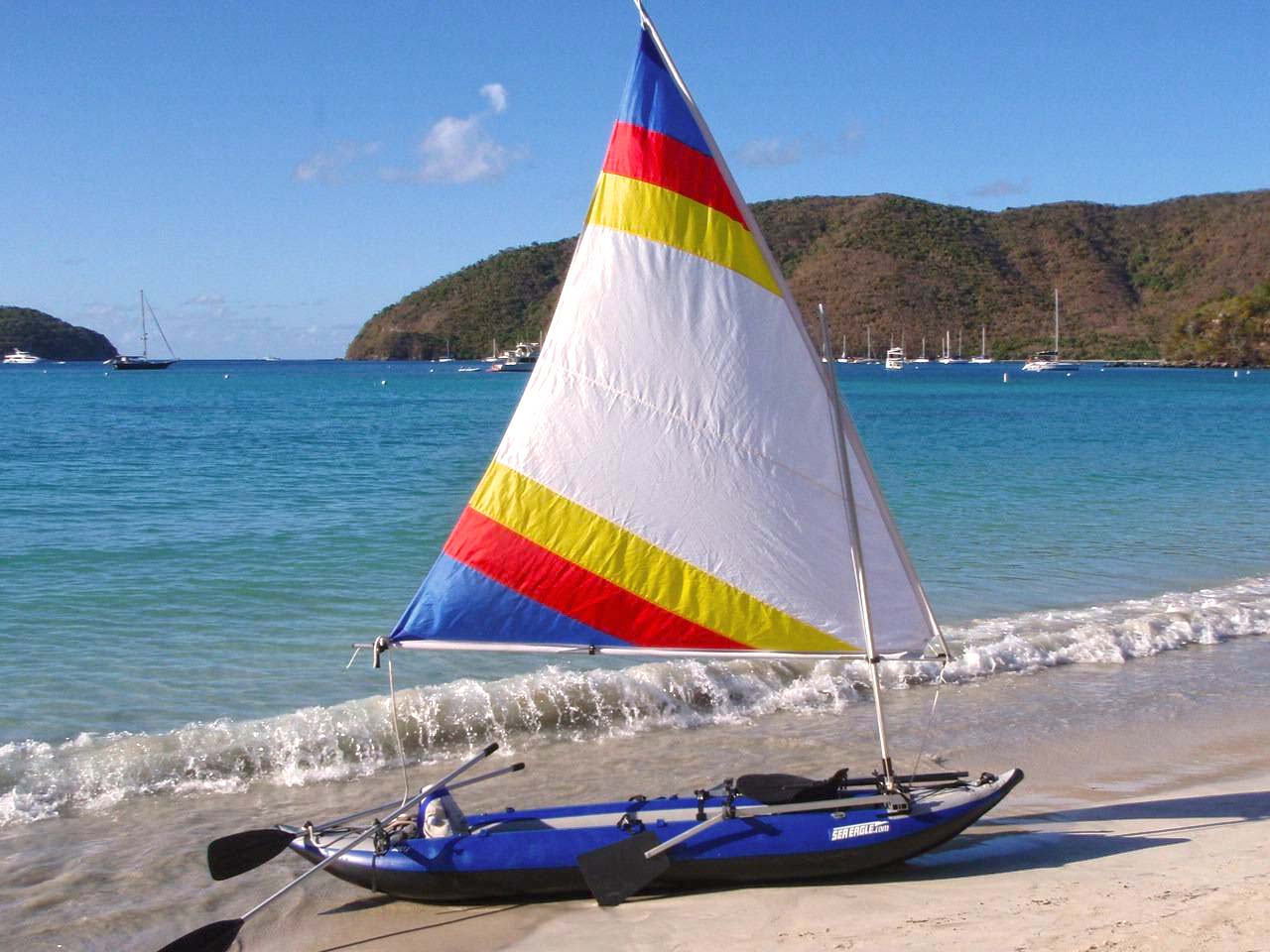 It is made of sturdy 1000-denier high-pressure fabric that responds very well to heavy weights and can resist damage, scratches, ruptures, and pet claws. You can convert sea eagle into any type of kayak depending on which waters you are traveling. They have a removable skeg for smooth tracking. You can also attach a motor to give it speed.

Features
Four extra-large, easily convertible drains
12′ 6″ x 39″ , Weight: 40 lbs
Quadruple overlap seam
Two Halkey Roberts one-way air valves
Pros
It is suitable for all waters as it's sturdy and strong.
It is a high-weight capacity kayak that is very lightweight.
Cons
The sealing system on the seam does not hold up in warmer climates.
Testers Verdict
Our testers completely love this great kayak. From its light weight to convertible design for any purpose of kayaking, this is the best kayak for big guys who like sharing the joys of kayaking with friends.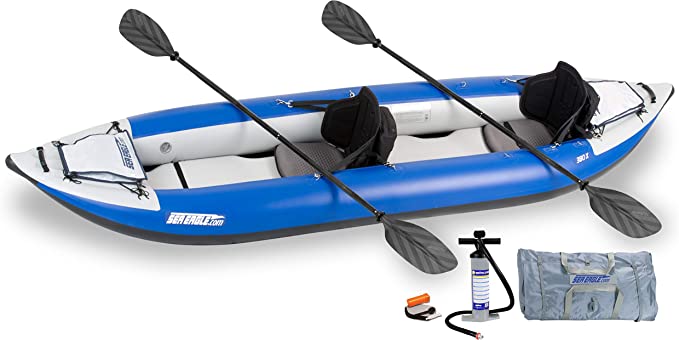 Sea Eagle 380X
The price of "Sea Eagle 380X" varies, so check the latest price at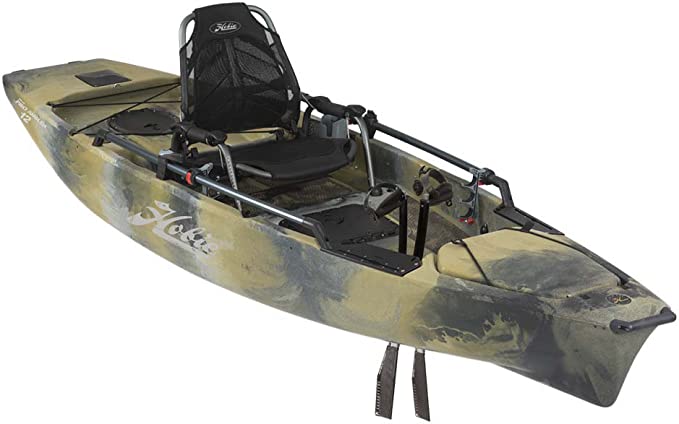 Hobie Mirage Pro Angler 12 kayak features all the big-boat fishing characteristics on a 12-foot platform. It has a rotomolded polyethylene hard exterior suitable for fishing.
According to Hobie, the unique feature that they have added to this fishing kayak is the patent kickback feature. They have 'Kick Back' fins that kick back whenever any contact with an obstacle is made underneath the boat.
They have four standard and two vertical fishing rod holders that can hold six fishing rods. It is stable and sturdy enough for big guys to stand on deck and enjoy the kayak fishing experience. It has a super comfortable Vantage St seat that sits on top of the deck, big enough to support a big guy all day long. It also has comfortable leg space, hence very roomy and easy to move for larger paddlers.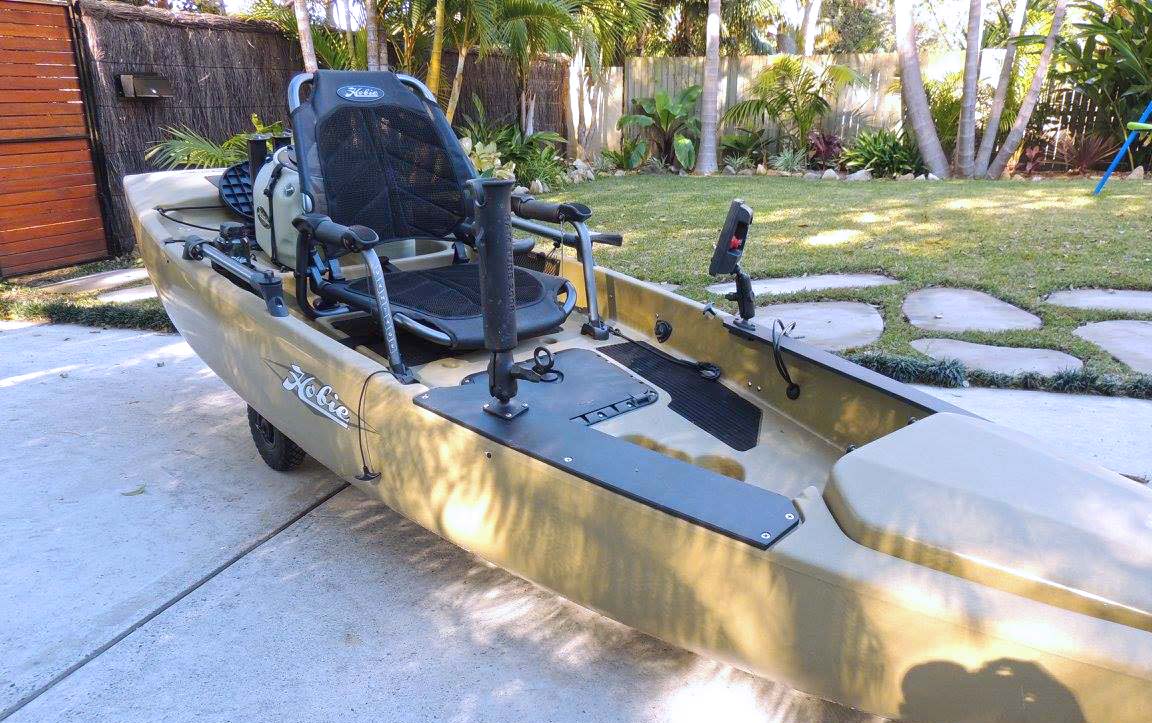 It also has front foot pedals that make it easier to navigate on water. A retractable skeg helps in course keeping. The front storage compartment can be used for storing fish or ice. It has a removable lining that can be taken out for easy cleaning.

Features
36 inches wide, 12 feet long
Weight capacity of 500lbs
Hands-free pedals propulsion system to move forward
Pros
It comes with reverse pedals.
It's a high-quality kayak and suitable for all sizes.
Cons
It's costly as compared to other options available.
Owing to its heavy weight, it's not easy to carry around.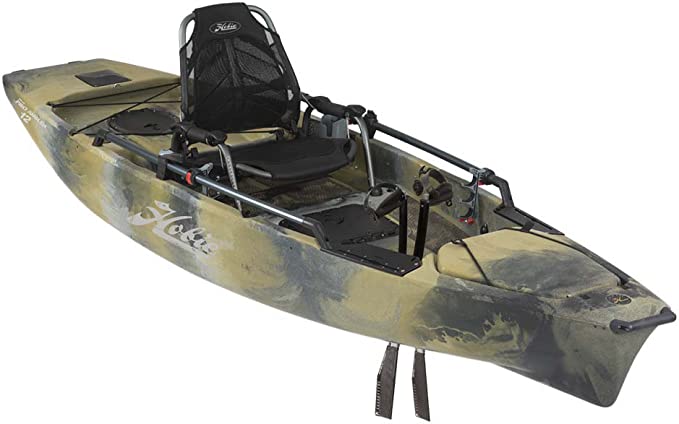 Hobie Mirage Pro Angler 12
The price of "Hobie Mirage Pro Angler 12" varies, so check the latest price at

Sun Dolphin is known for designing and manufacturing the best recreational kayaks. It's Sun Dolphin Aruba SS is the best recreational paddling kayak available. You can use this for leisure and relaxation purposes to just chill on the lake or pond or go fishing in a laid-back manner. Even though it is wide enough to fish, you should only consider fishing while sitting down.
This boat has up to 400 lbs of maximum weight capacity. It is spacious and has thigh pads that keep you comfortable and save you from any scratches on your legs. Considering these specifications, this is a great kayak to chill out on for big and tall paddlers.
It measures 12ft in length and is considerably light in weight, for this reason, it is not recommended to be used in rough running waters. It has two fishing rod holders, a tray on top of the cockpit, and a storage compartment to keep your fishing gear.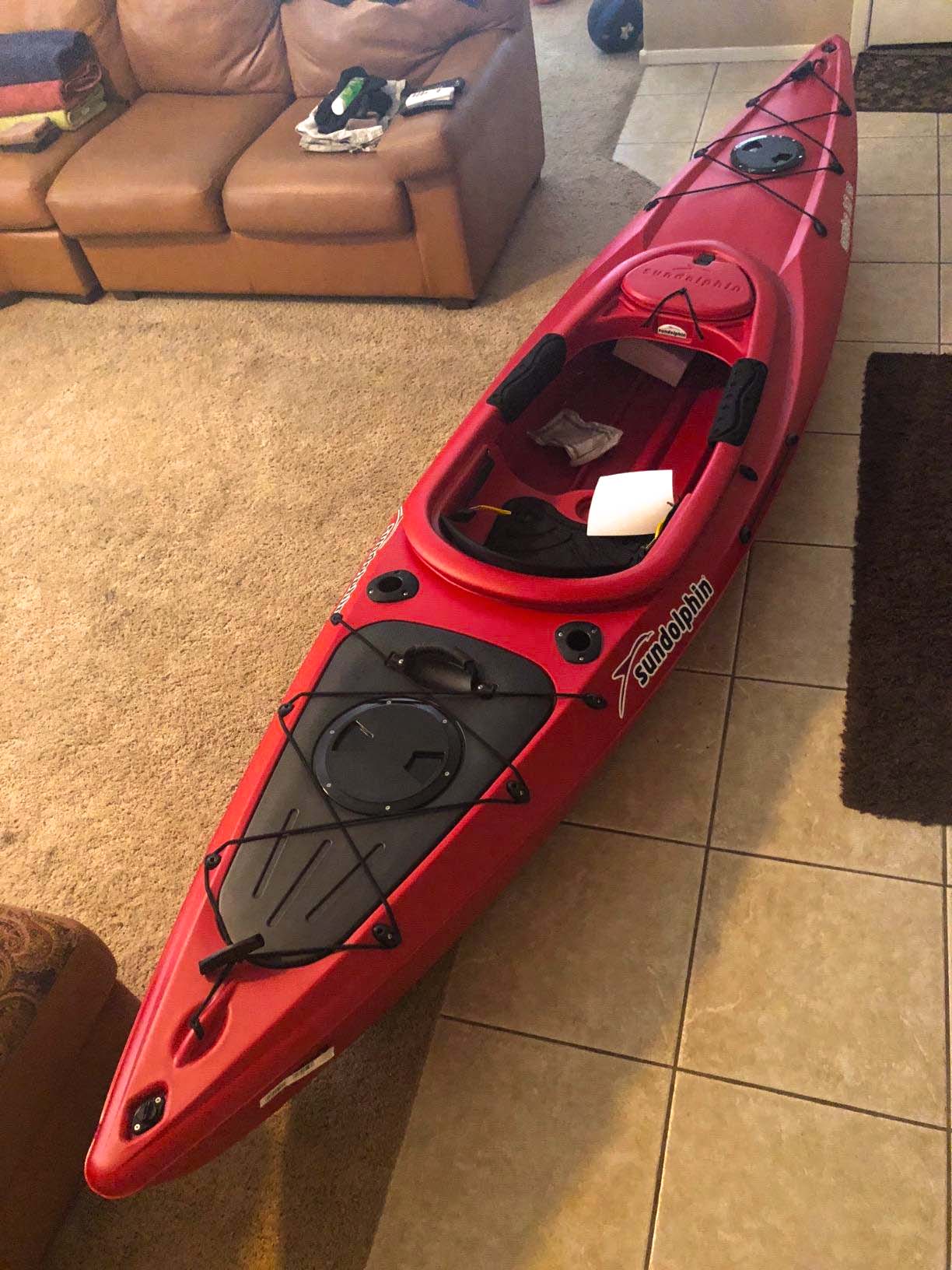 Features
Tracks and paddles with ease
Adjustable padded seat
Storage and shock cord deck rigging
Pros
It's lightweight and very stable in calm waters.
Good for recreational and fishing purposes.
Cons
It does not do well on rough waters and its seat might feel a bit uncomfortable.
Testers Verdict
Our testers really enjoyed chilling out on the waters in this kayak. They said that it could be the best companion in calm waters on a sunny day.
However, a few were unhappy with the rough edges that needed some trimming. Also, they said that it might get unstable on windy days.

Sun Dolphin Aruba SS 12
The price of "Sun Dolphin Aruba SS 12" varies, so check the latest price at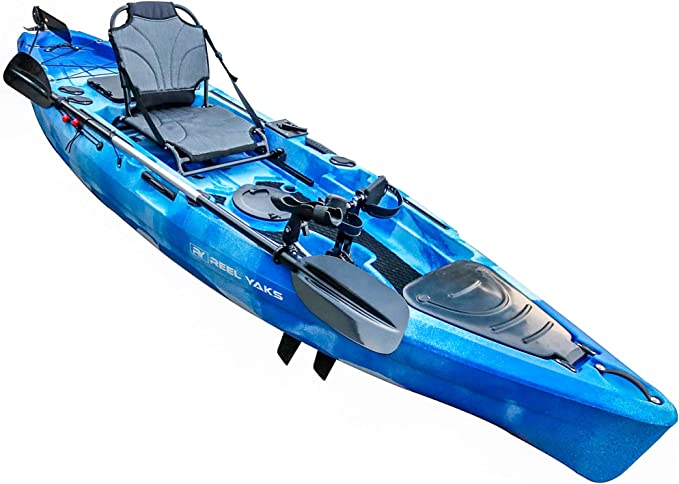 Sit on the top design of Bonafide SS127 is better than most fishing kayaks available on the market. The kayak manufacturers claim that it is the most stable fishing kayak one can ever use in their life. With its crazy stability, you can sit, stand or move around on it for the best fishing experience.

It is 33.5 inches wide and 12 ft 7inshes long. The Bonafide kayak team takes pride in all the research and development efforts that they have made to make it the most stable boat.
One of the best features of this kayak is its high-rise kayak seating system. It is incredibly comfortable and sits really high so that your knees are bent when you sit on it. It also provides an ideal position for the angler and increases the 'fishability' of the boat, as the manufacturers call it. The seat can also be folded to reduce height depending on your need.
It also provides the angler with enough storage space within range. It has a miscellaneous storage area below the seat. Multiple rod holders and paddle points make it easy to operate and keep your gear out of your way but also within range.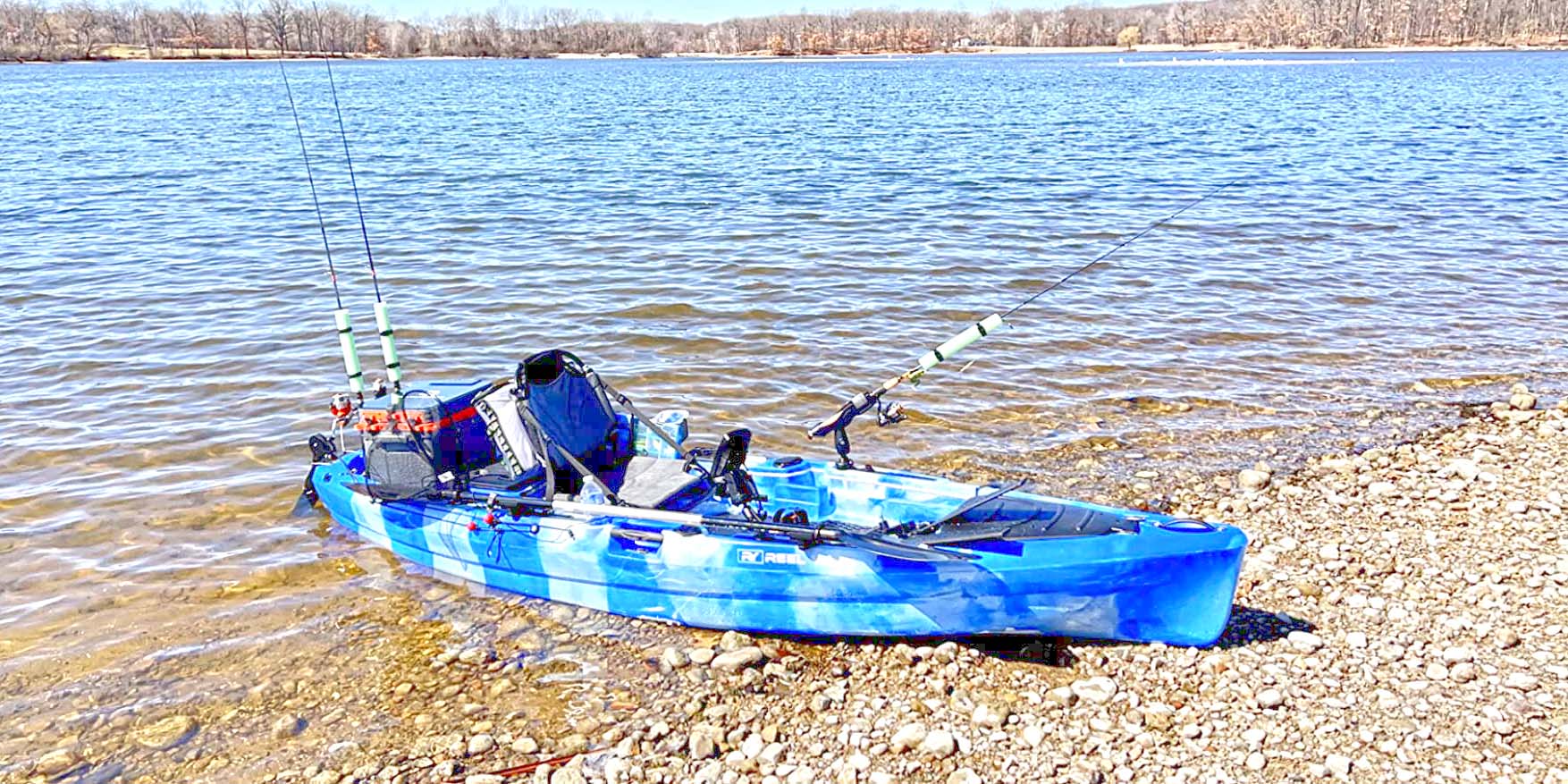 It has up to 475 lb of weight capacity so big guys are good to go. Overall, its versatile design was made keeping the kayak angler and ultimate fishing experience in mind.
Features
The hybrid cat hull design
Multi-rod and paddle management points
Perhaps for an additional standing position
HiRise seating with an ultra-high bass boat-like position
Pros
It is highly stable and great for fishing.
Cons
The finishing does not seem too neat for its high price.
Testers Verdict
Our testers have confirmed that this is the most stable fishing kayak they have ever seen. They recommend it for everyone, no matter how big or small your size is, this will give you the best fishing experience. There was only one complaint that it does not have an immaculate finish to the product, but hey, that does not take away from all the amazing features that it provides.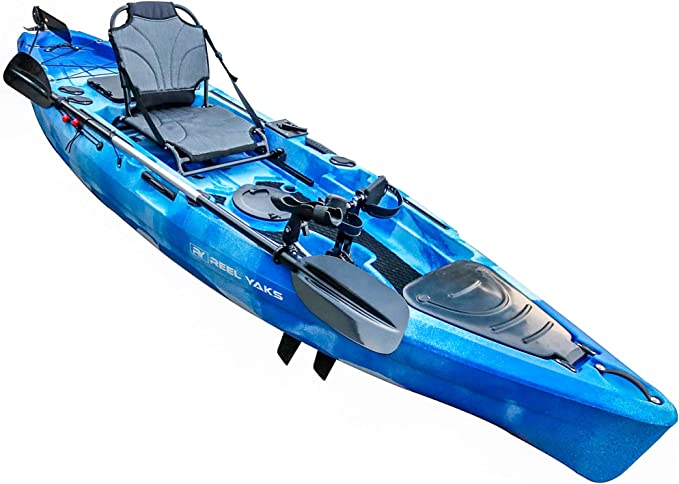 Bonafide SS127
The price of "Bonafide SS127" varies, so check the latest price at
Types of Kayak:
Kayaks are of different types but most kayaks are categorized into two kinds- sit-in kayaks and sit-on-top kayaks.
Sit Inside Kayaks:
A sit-inside kayak has a covered cockpit. It has a seat that is a bit deep, close to the floor of the kayak. The paddler sits inside with his legs stretched in front of him. Inside the cockpit are foot pedals, and there is much room to move the legs around.
A spray skirt is used to cover the opening of the deck. Sit inside kayaks are ideal for summers to save the body from sunburns, as well as for winters and cold waters. It also ensures that no water is splashed and the paddler and his gear stay warm and dry.
There is only one downside to having a sit-inside kayak. It limits your ability to move, so if you face an unfortunate event of turning over, you won't be able to come out right away. Also, getting in and out of the kayak is harder for big guys as its seat is deep and close to the base of the kayak.
Sit On Top Kayak
As the name suggests, sit-on-tops are the ones where the paddler has to sit at the top of the kayak instead of inside it. There is usually a seat where you sit with your knees bent.
As the paddler sits on top, more balance is needed to maneuver the boat around, so it is a bit wider and longer. These kayaks are very stable and easy to get in and out of. Hence, they are recommended for plus-size people for better balance provided.
The only downside of these kayaks is that there is no way to save yourself from getting splashed and harsh weather conditions. But to tackle this problem, sit on top kayaks have holes on the sides to drain water.
Types of Kayaks based on their Purpose:
Recreational Kayaks:
Leisure kayaks are used for recreational purposes, relaxation and fun. They are very easy to use and paddle. They are made shorter and wider to provide stability. They measure 9-12 feet in length and 28 to 34 inches in width.
They are used on flat waters like lakes, rivers, and ponds. They can be both sit-ins or sit-on-tops. The most important feature is their ease of use as anyone can handle it easily.
Tour kayaks are used for traveling longer distances on flat waters like rivers. They are usually longer and narrower to withstand longer times of exposure to water.
It also has more storage space to keep travel baggage and gear. It ranges from 11 to 15 feet in length.
Fishing Kayaks:
As the name suggests, fishing kayaks are used for the purpose of catching fish. They have built-in slots for hanging fishing rods and for keeping buckets and other equipment. Some high-end fishing kayaks have built-in pedals so that you can avoid paddling on fishing trips.
Whitewater Kayaks:
A whitewater kayak is mainly made for water sports such as water racing, river running, and surfing on rapids. They are built shorter and sturdier but come in a variety of sizes to accommodate paddlers of all skill levels.
They are exclusively sit-in kayaks covered with spray decks because water will eventually fall on you when you are on fast-moving waters. Spray decks keep you warm and dry so that you can enjoy the sport even more.
Based on boat structure and material, kayaks can either be hard-shell kayaks like hard plastic, composite, or wood or they can be inflatable kayaks that are lightweight but heavy-duty and very stable on waters as they can balance more buoyancy due to the air present inside them.
What to Look For When Buying the Best Kayak for Big Guys
Choosing the right kayak depends upon the purpose you want to use it for. Whether for leisure activity, travel, or water sport, you need a boat that will suit your needs and body type perfectly. Don't worry, we have got all of your concerns covered.
There are some key features to look for while buying a kayak for big guys and girls.
Weight Capacity of the Kayak:
As a well-built person, your first and foremost priority should be finding a kayak with capacity of more than you and your gear combined.
Ideally, to find out the estimated weight capacity of a kayak you should add your weight + weight of the kayak + approximate weight of your gear. So, if you are a 250lbs plus girl or guy, you should be looking for a kayak with a weight capacity of over 250lbs.
Length and Width of Kayak:
Generally, to balance more weight, kayak width should be more too. Kayaks of more than 30 inches in width are recommended for big guys. As for length, it should be almost 12 ft long to support the width and add buoyancy. A wide boat will be stable enough to hold your weight without tipping off in the water.
We suggest that if you are a newbie you try a sit-on-top kayak first. It is very easy to get in and out of. The seats are more comfortable, you sit high and thus have more control over maneuvering the boat and there is a lot of room for you and your gear.
Material:
The material used for making a kayak should be of extremely good quality. You can choose from inflatable or hard shell plastic exteriors depending on what type of water you want to go kayaking. Just make sure that it is sturdy enough to take the pressure of weight and water.
Speed:
The speed of the boat also depends upon why you are using it. Narrower boats are used for traveling long distances as they reduce friction with water and offer more ease to cut through still waters. If you need to travel long distances, try using a motor attachment with your kayak.
Contrarily, you will need a shorter and wider boat on fast-moving, running, or white waters to offer resistance and balance and to prevent falling off.
Design:
Kayaks come in various designs, sometimes in bright eye-catching colors and occasionally plain and simple. If you want it as a beginner, choose a simple design with minimum attachments to save yourself from confusion.
Budget:
If you are experienced and need a kayak for really long-term use, it is safe for you to invest. But if you are a beginner and know just a thing or two about kayaking, start from a budget-friendly design. You can always upgrade in the future.
Comfort:
If you are a big guy looking for a suitable kayak don't forget to look for your comfort. Sit-on-top kayaks with high seats are usually more comfortable as they are very easy to get in and out of. Moreover, sit-inside kayaks with a closed cockpit will not be very comfortable for your legs.
Portability & Storage:
If you are traveling, you need ample storage space at the front and back of the deck to keep your belongings. Inflatable kayaks are easy to store in a bag and carry around too. When you are done with travel, you can fold it in a bag and carry it on with your journey off the water.
FAQs
What is the Best Kayak for an Overweight Person?
The best kayaks for big guys are the ones that can support the weight of the person and his gear. They should be wide and long to maintain stability and strength. The seats should be comfortable and there should be enough room to move around quickly. Sit-on-top designs are recommended for big guys.
Can an Obese Person Kayak?
Kayaking is a great sport for an obese person. Paddling and moving around on the boat will strengthen the body and get those muscles working. This can be a great step to losing a few extra pounds.
Conclusion
Kayaks for big guys are easier to find than imagined. Kayaks are made in various forms, sizes and perform a plethora of different functions depending on your need and water type. Our extensive guide on the best kayaks for big guys will help you eliminate your fears and make an informed decision. We hope you have all the fun. Happy kayaking!