I have seen people making permanent modifications to their vehicles and ending up using them as towing machines only. I mean, even when they are not towing gear, it seems as if they are hauling themselves (if you know what I mean).
Installing a roof rack system on your car has its price too. And the price is a jalopy. Not everyone has the guts and stamina to maintain their machine after using it as a towing machine.
That is exactly why many cars with an aftermarket roof rack look like junkers trying to blend in with others on the road. No offense, but that's what it is.
A clever solution to avoid this situation is a kayak trailer. A kayak trailer not only holds your gear properly but also leaves the passenger seats vacant and neat.
Let's explore some trailer options for your next kayaking tour.
The Winner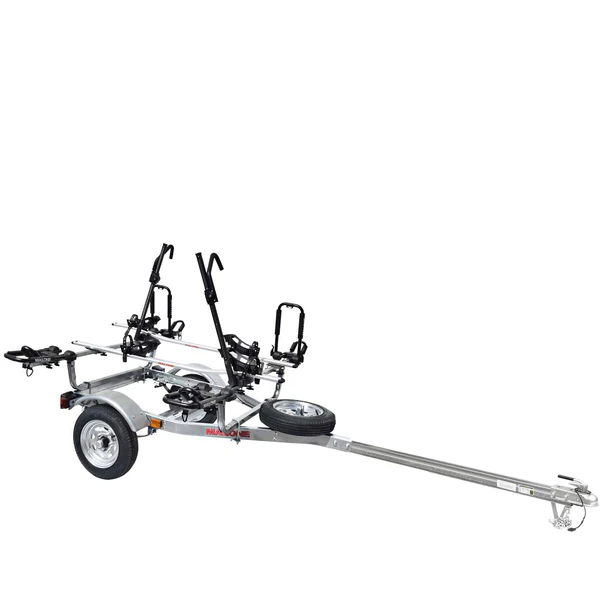 Malone MicroSport
weight: 800 lbs
wheel type: galvanized
Runner-Up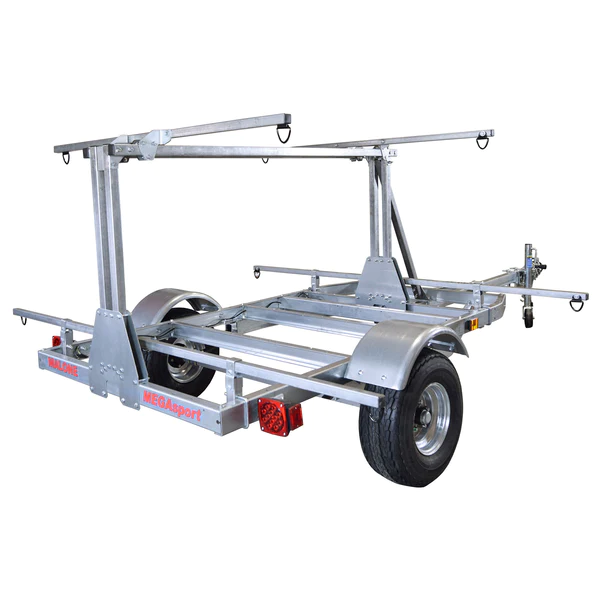 Malone MegaSport
weight: 63 lbs
wheel type: galvanized
Most Versatile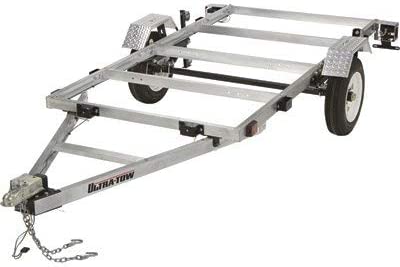 Ultra-Tow 4ft. x 8ft
weight: 195 lbs
wheel type: aluminum
Most Durable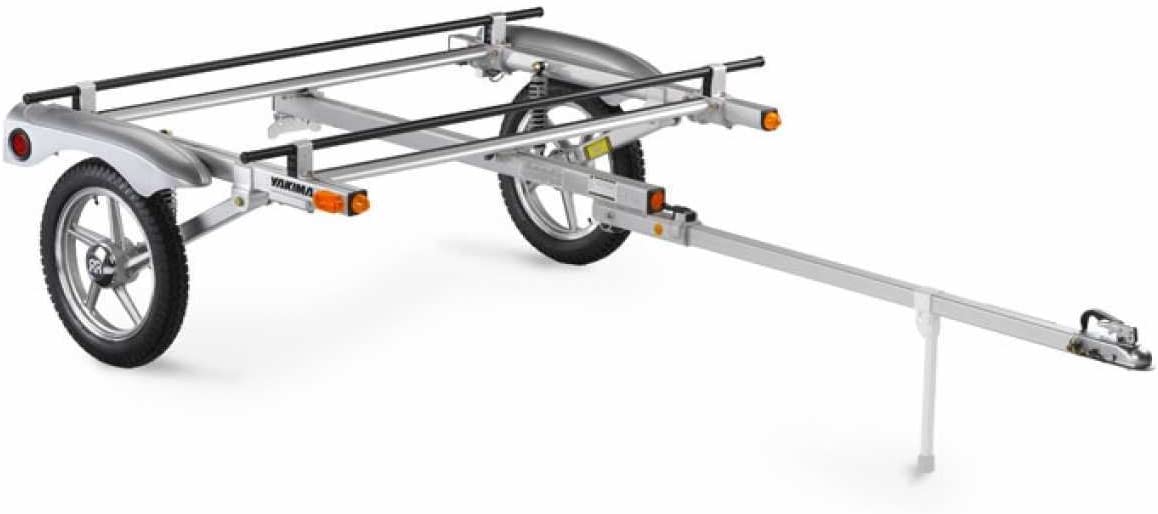 Yakima Rack
weight: 171 lbs
wheel type: aluminum
Most Functional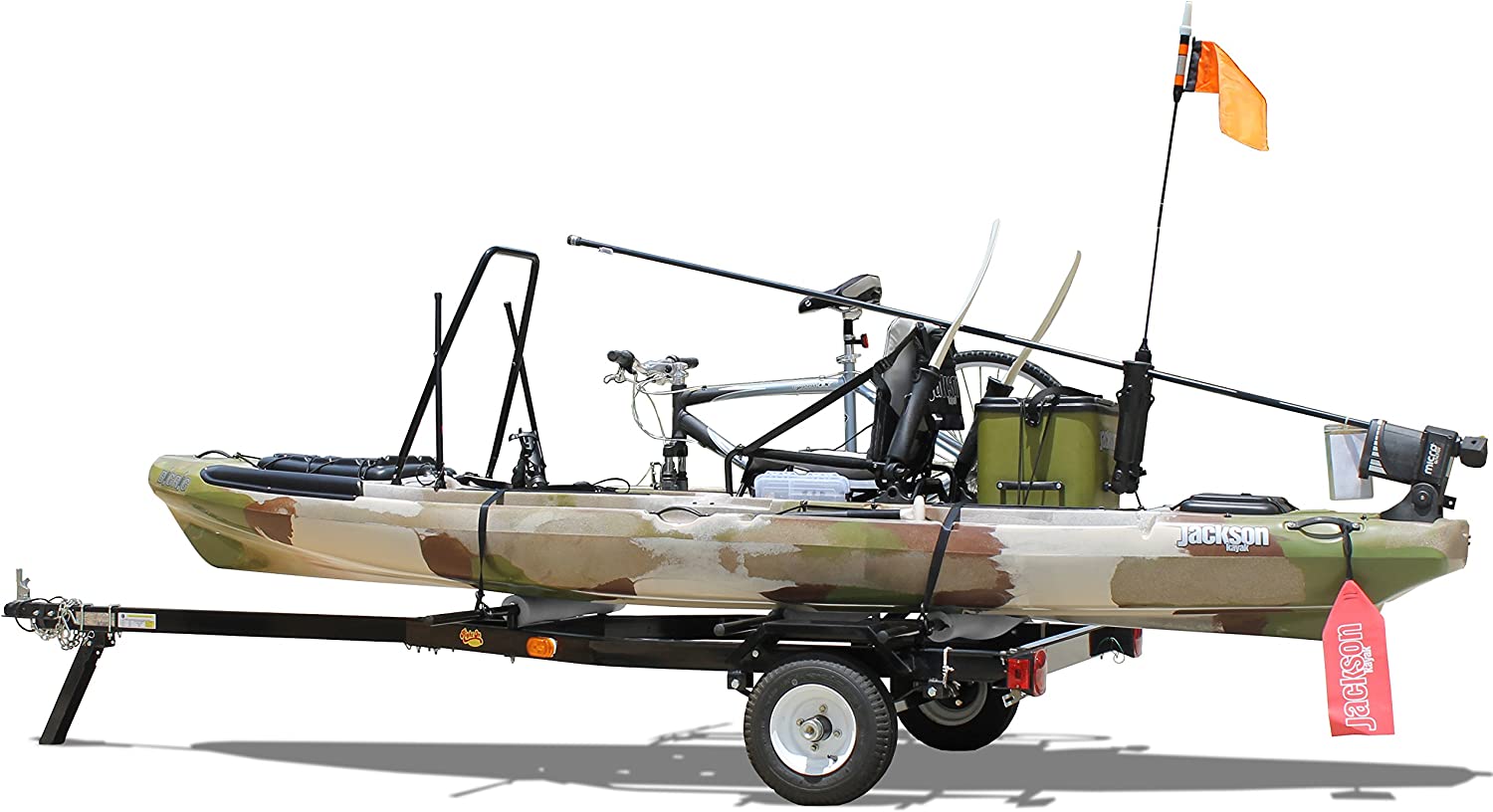 Right-On Trailer
weight: 136 lbs
wheel type: coated steel
Ideal For Bikers

Rambo Bikes Canoe Trailer
weight: 14.968 lbs
wheel type:  steel
Budget Pick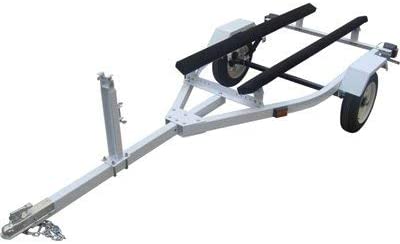 Ironton Watercraft
weight: 99.79 lbs
wheel type: coated steel
User-friendly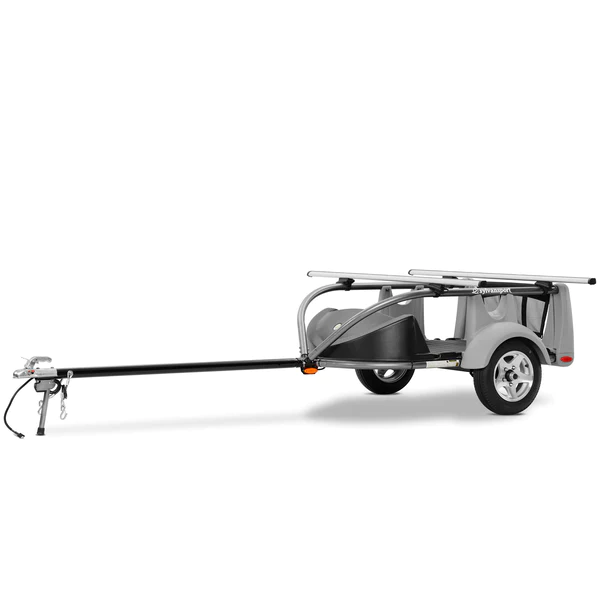 SylvanSport GoEasy
weight: 110 lbs
wheel type: aluminum
Best Two-Kayak Trailer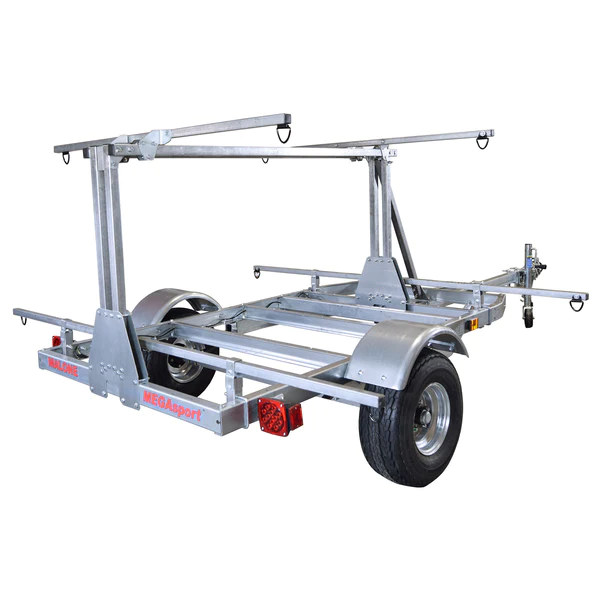 Malone EcoLight 2
weight: 8.07 lbs
wheel type: alloy
(Best For Rough Terrains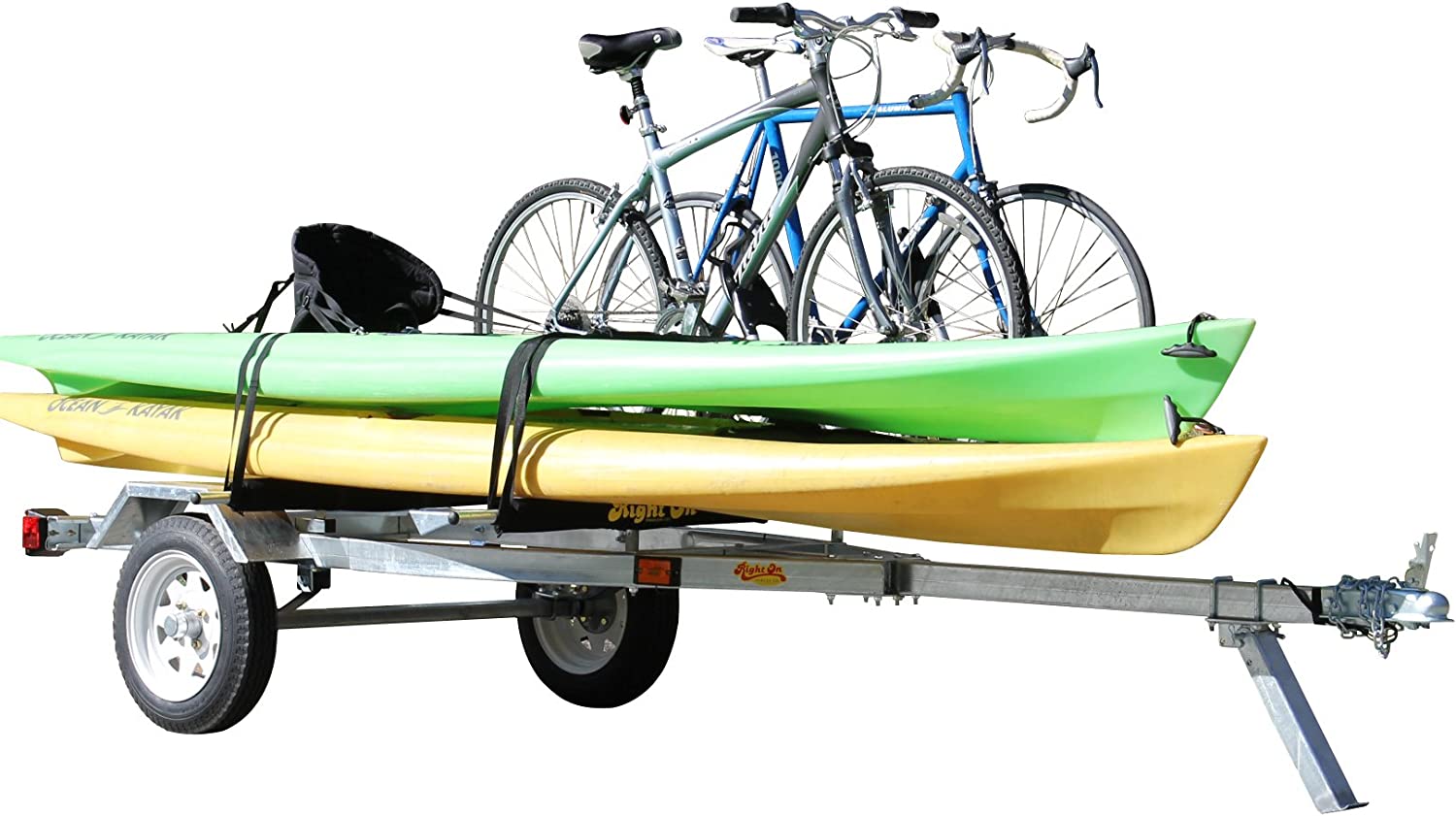 lightweight kayak trailer
weight: 181 lbs
wheel type: galvanized steel
Best Kayak Trailers
Now, you don't have to stack up your whole vehicle with travel gear and leave no room for pals when you have an entire trailer for kayaking gear.
I mean, traveling alone has its perks, but you know, a journey is best measured in friends, rather than in miles.
Instead of kicking them out, let them join in on your weirdness. Trust me, it will make your trip 10 times better.
Now that I am done with emotionally blackmailing you, below I have put together a list of some of the best kayak trailers on the market. Read on to find out the one made for you.
A perfect gift for a family of kayakers, Malone MicroSport Trailer, is the Big Show of the world of trailers. Okay, stop eyeing me, and believe me when I say, there is nothing in the name.
This 159" L x 78" W beast is capable of lifting two kayaks and two bikes at the same time. Although it can be fixed to accommodate a single kayak, I'd say, it is gigantically big for solo riders.
Still, if you insist, you can easily remove parts that are not in use, rescale the trailer to the extent it allows, and get the work done. However, it makes a perfect option for a group of buddies kayaking together.
This MPG461KB marvelous package brings together the USA-built performance kayak trailer with the exceptionally durable Malone kayak carriers. No more messy overhead liftings, right? What makes it special is its capacity to be assembled in no time, get the task done on a whim, and safe gear storage.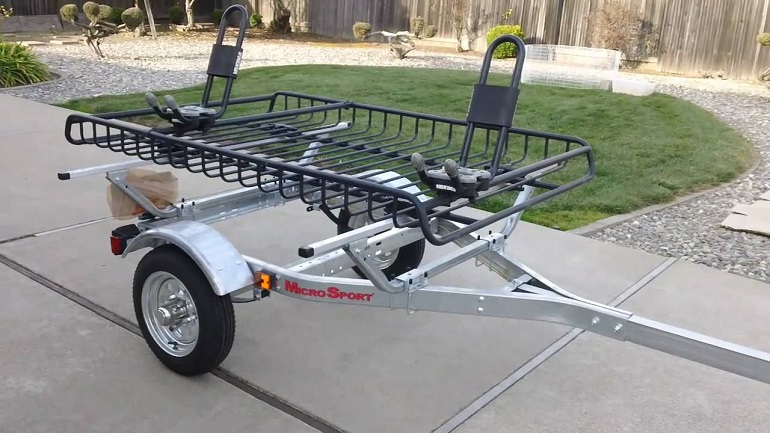 If we talk about its overall quality, this kayak trailer swanks aluminum and steel construction that can easily combat dust and dirt, 60 inches of high-quality cross rails which spare you the capacity to install a kayak rack of your own too, and extra full-size spare wheel for a prolonged life.
The perks don't end here, it comes with a five years warranty, key locks for better safety, some pre-assembled parts for easy installation, robust slot wheels, and much more. Doesn't this make it the best kayak trailer package?
Features
Weight Capacity: 800 lbs.
Length Capacity: 20′
Carrying Capacity: up to four kayaks
Structure: Galvanized slotted wheels (12"), galvanized heavy-duty axle with hubs (54"), a firm steel frame with 60" aluminum cross rails.
Assembly Time: 2 to 3 hours
Pros
Malone MicroSport features a customizable set-up making it a go-to choice for many.
Cons
This trailer is not a license plate holder that might prove a turn-off for you.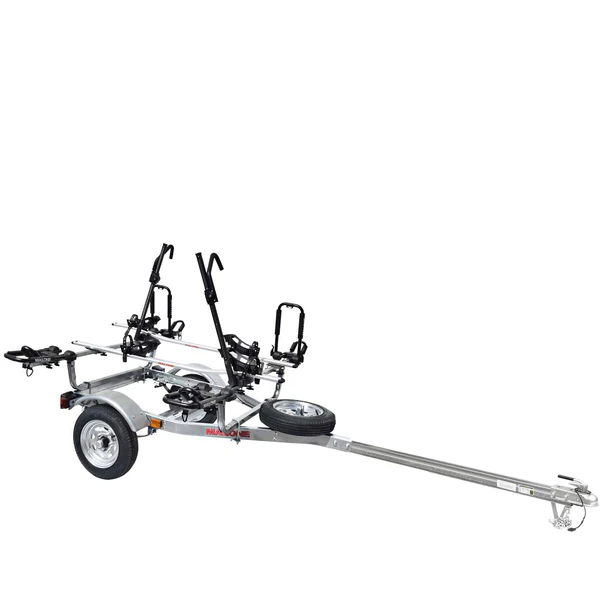 Malone MicroSport
The Price of "Malone MicroSport" varies, so check the latest price at
Well, I call it the Shelby Mustang, or the King of the road. If you have any doubts, have a look at its price tag. Kidding! Price doesn't stay relevant if you are getting good value in return. Believe me, it is a force to be reckoned with!
This trailer has been refitted with the custom-designed 2nd tier kit and lower bar supports. I mean, what impeccable progress it made from lower 86" to 25" load bars, making loading and unloading an easy-peasy task.
Its expansive and expensive body lets you load it with several kayaks, canoes, and other gear accessories. The structure is made of 11 gauge galvanized aluminum and steel that promises a long life. Moreover, this rugged and durable trailer also flaunts its very helpful locking attachment for better safety when it is unattended.
This robust trailer features fast and furious wheels and bearings which renders it ideal for highways. It features submersible lights and wheel hubs for a worry-free landing near water. Don't you get the best of both worlds with this beast?
If we further look into its construction, this hefty trailer features heavy-duty leaf spring suspension, an extra cargo box for storage, and an extended tongue along with a crank-assist jack stand for an easy transportation journey.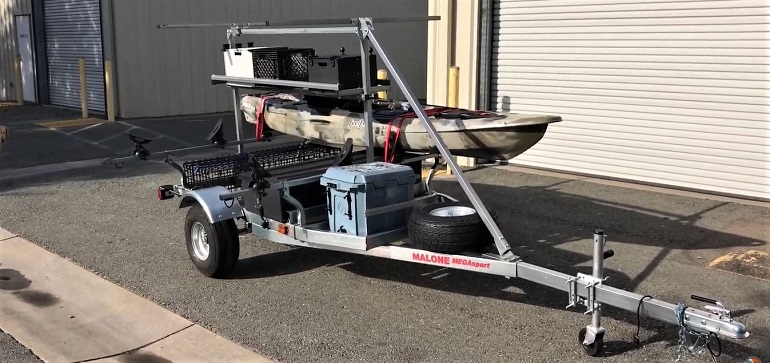 As far as the assembly is concerned, the minimum time is four hours. However, if it is your first time assembling anything, plan half a day for the purpose.
You also need to figure out beforehand if you can do it alone or need assistance to screw it into its shape. But how do you decide this? You go through the given manuals and find the answer.
Overall, it is a beast and a durable option for avid kayakers. But before buying one, figure out your expectations. I mean, it might be more than what you need.
Features
Weight Capacity: 1000 lbs.
Length Capacity: 20′
Carrying Capacity: Four kayak capacity
Structure: 10" high-speed wheels with sealed bearings, 11 gauge steel construction, LED lights
Assembly Time: 3 to 4 hours
Pros
Malone MegaSport trailer stands as the most spacious of them all. All your gear can easily fit into it, be it your yak, bike, or canoes. Honestly, this quality guarantees an exhilarating tour of the waters.
Cons
Customers seem to complain about the assembly time only. To them, there is nothing to worry about besides the fact that it takes a while to put together.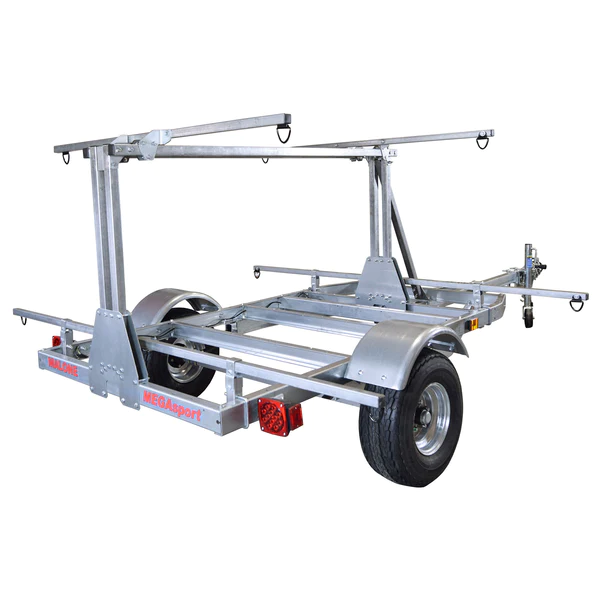 Malone MegaSport
The Price of "Malone MegaSport" varies, so check the latest price at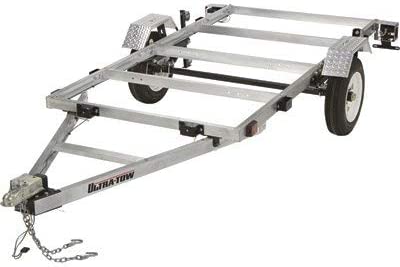 Are you after a customizable option? Ultra-tow is just right for the job. This versatile kayak trailer allows you to tweak it as per your desired specs, as it is not just a kayak trailer. With it, you can haul whatever gear you want and adjust the settings.
This kayak trailer is capable of towing more than two kayaks at a time along with other accessories. Besides yaks, you can also haul canoes, paddle boarding gear, or even ATVs. And you need to worry about its interaction with water as it features a rust-resistant aluminum structure instead of steel.
It ensures a very safe ride by providing LED lights and 12 inches tires that allow you to take a risk of driving to the destination in the dark. Can't you, now? You sure can.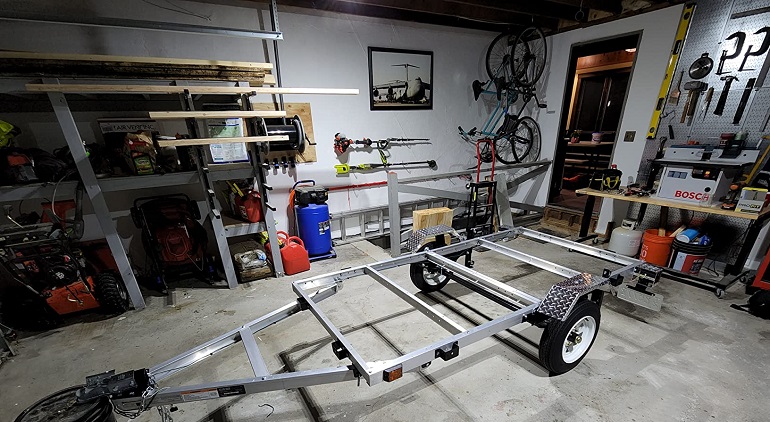 One important thing you need to know is that for a safer road trip, you might want to install racks or cradles to the trailer. However, you need to buy them separately as none come along with them. While buying, keep it in mind to find a suitable match, or buy racks and cradles from the same company.
Now, let's talk about its most prominent feature. This kayak trailer can be easily folded for convenient storage. I mean, with it, you won't need to worry about no space in your garage, just fold it up and roll it in any corner.
Features
Weight Capacity: 1170 lbs.
Length: 8′ Deck
Carrying Capacity: 2+ kayaks
Structure: Aluminum frame, 4ft. x 8ft. deck, foldable profile for storage, two 4.80-12 inches tires, 4-wire harness, LED light kit
Assembly Time: 2 to 3 hours
Pros
Users are in love with its space-saving folding design.
Cons
Some customers seem to complain about the instruction guide, as to them, it needs revision.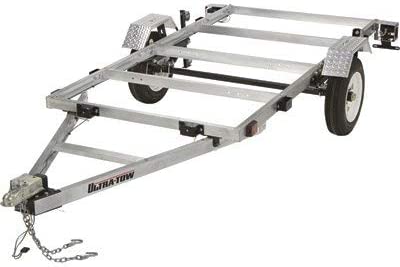 Ultra-Tow 4ft. x 8ft. Folding Aluminum
The Price of "Ultra-Tow 4ft. x 8ft. Folding Aluminum" varies, so check the latest price at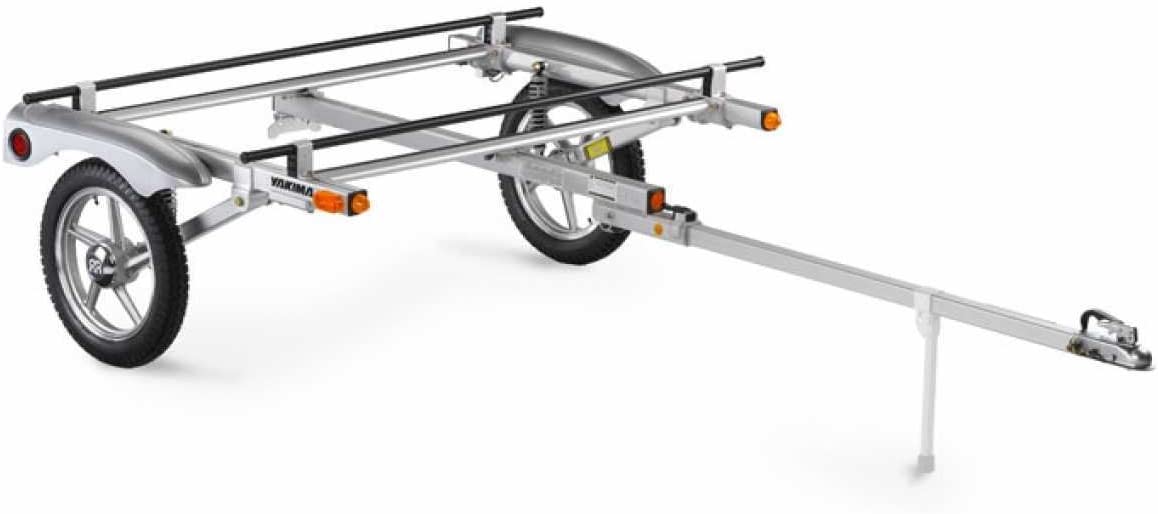 This feature-rich trailer will prove a boon to your efforts, especially if you own J-style kayak racks for loading. Do you wonder how? Because by doing so, if the weight stays within the limit of 250 lbs. You can easily tow more than five or up to six lightweight kayaks in a single road trip.
The 78 inches wide kayak trailer is lightweight yet robust and offers a very smooth ride, as compared to many other options in the market, courtesy of its shock-absorption suspension system.
Mind it! When I say lightweight, it doesn't mean a meager machine but something sturdy enough to flaunt multi-kayak capacity, exceptional structure, and adequate carrying capacity.
If you dig deeper, you will find its terrific aluminum constructed frame weighing about 161 lbs and a super wide crossbar. Did someone say extra width? Definitely.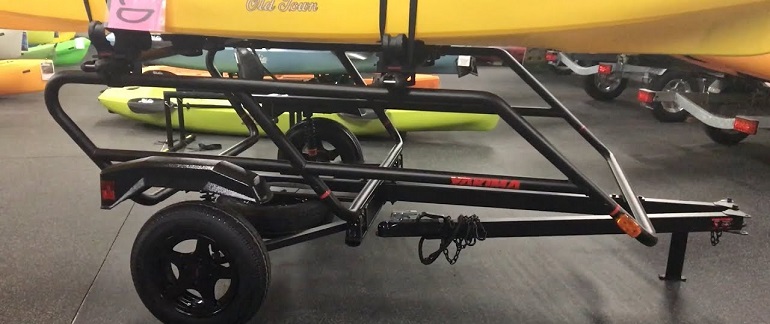 Yakima caters to the owners of thick and wide yaks, too, by offering 78 inches and 86 inches crossbar options. Well, it might feel expensive, but don't we all love group travels?
Another best thing about this durable kayak trailer is the availability of carry handles. One can transform it into a hand cart in a snap and be done with it. Besides just that, it also features locking levers on both wheels for extra security.
Lastly, although Yakima does demand self-assembly by the user, it is not at all time-consuming, unlike its alternatives. It boasts a very straightforward quick assembly to haul kayaks without making a fuss.
Features
Weight Capacity: 300 lbs.
Length Capacity: Up to 17 ft. long kayaks
Carrying Capacity: up to 6 kayaks (high weight capacity)
Structure: lightweight aluminum frame, contains independent heavy-duty springs and suspension, locking system to prevent theft, 4 inches wheels with motorcycle-style shock absorbers
Assembly Time: 2 to 3 hours
Pros
The biggest pro is its ability to get assembled fast and its light weight. I mean, you can literally pull it by hand.
Cons
The only complaint is this j rack kayak trailer feels heavy on the wallet.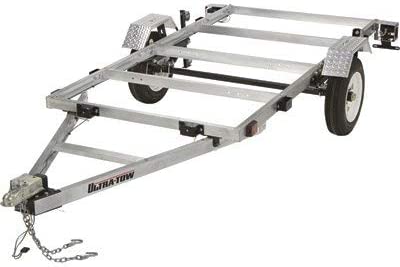 Ultra-Tow 4ft. x 8ft. Folding Aluminum
The Price of "Ultra-Tow 4ft. x 8ft. Folding Aluminum" varies, so check the latest price at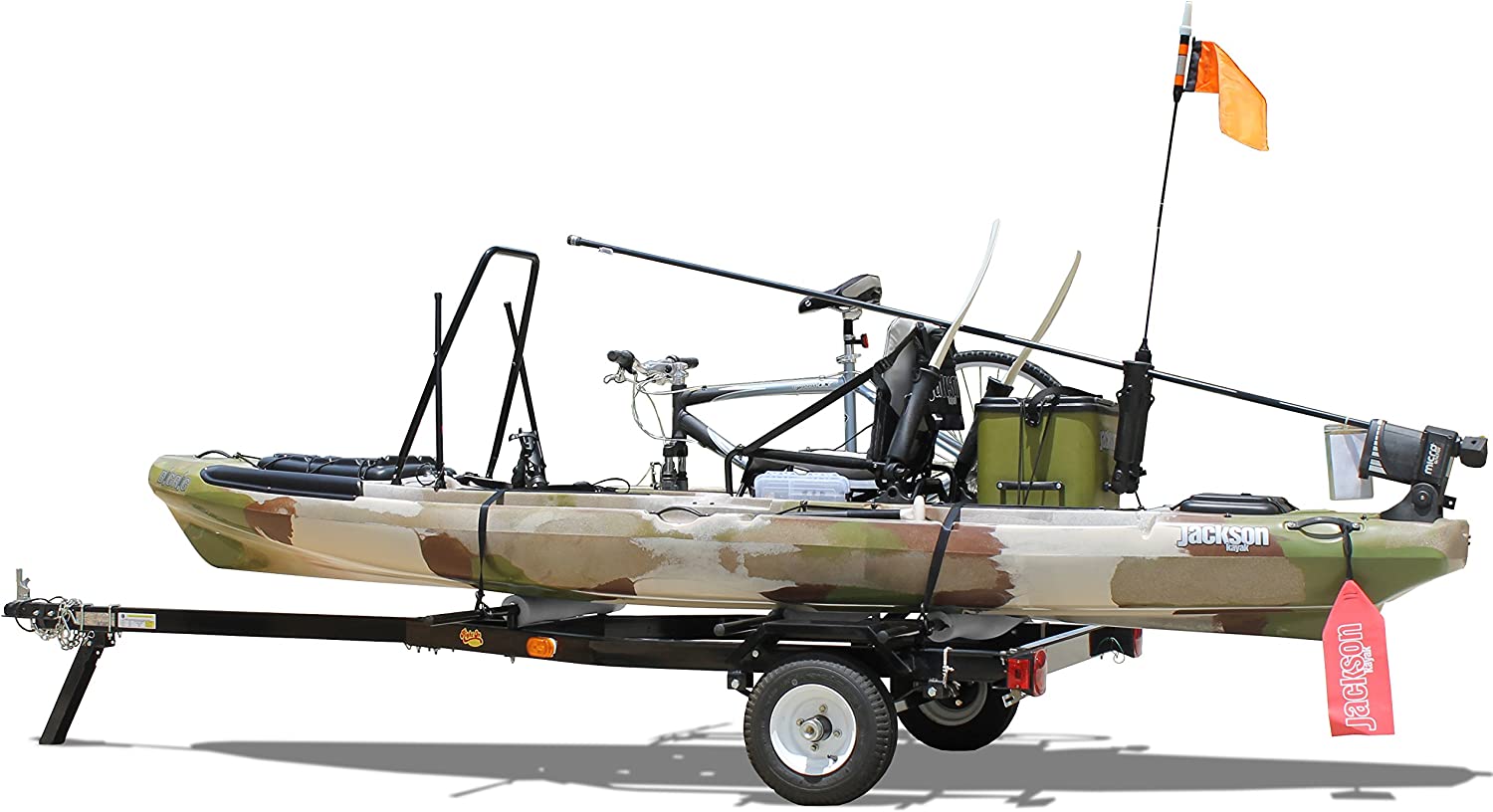 With a two-tiered rack system, this perfect trailer gives a killer death to its alternatives. Ideal for group travels, the Right-on multi-sport kayak trailer is the right choice for multi-kayak towing. However, you need to add extra padding to it for secure transport.
Besides just kayaks, you can also tow bikes, canoes, sailboats, SUPs, cargo boxes, or your other camping gear. To conclude, it isn't a kayak-specific trailer but a multi-sport trailer, as it offers you a little bit of every possible sport you might want to enjoy near the waters.
You might be wondering how on earth it is possible to get your hands on such a feature-rich trailer at such an insignificant amount. Well, that's its x-factor. If you are budget-oriented, this can prove a good choice.
Besides being cost-friendly, it is extremely convenient when it comes to buying additional accessories, allowing you a vast fabric of options for racks. With this one, you can easily use any accessory from Yakima or Thule or any other kayak brand you like. Who even likes a complainer?
Its extra features include rear lights, spring suspension, fold-up tongue, 64 inches wide crossbars for precise lifting, and fuel efficiency.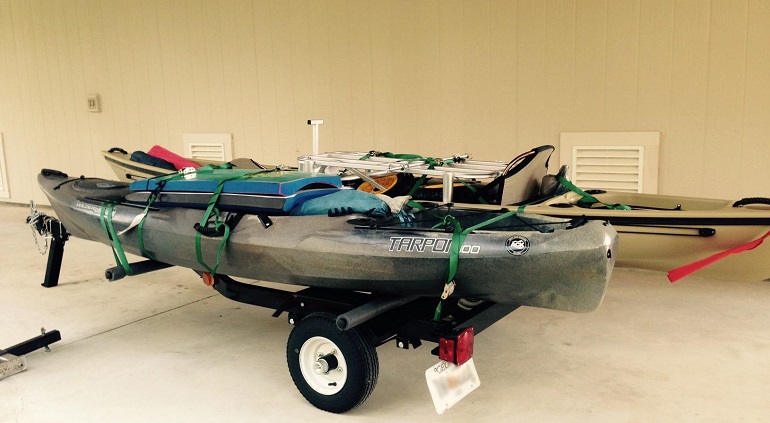 Did you say you dislike assembling a kayak trailer? Congratulations! You are considering the right trailer package. The right-on kayak trailer package also comes already assembled if you are willing to pay that extra $100 for the service.
Features
Weight Capacity: 300 lbs.
Length Capacity: 15 feet is the maximum kayak length
Carrying Capacity: Up to 2 kayaks weighing 300 lbs.
Structure: durable powder-coated steel profile, DOT certified, rear and side lights, 1-7/8 coupler, foldable tongue, low profile, high speed 4.80-8 tires
Assembly Time: 2 to 3 hours
Pros
Nothing can beat the Right-On trailer when it comes to super functionality at a cheaper cost. Also, it complies with many other brand accessories and doesn't nag for parent company products. Bravo!
Cons
Some customers find it inconvenient when they have to purchase padding for cross bars separately. Well, that's the case with most kayak trailers. We can't blame this one only. Right?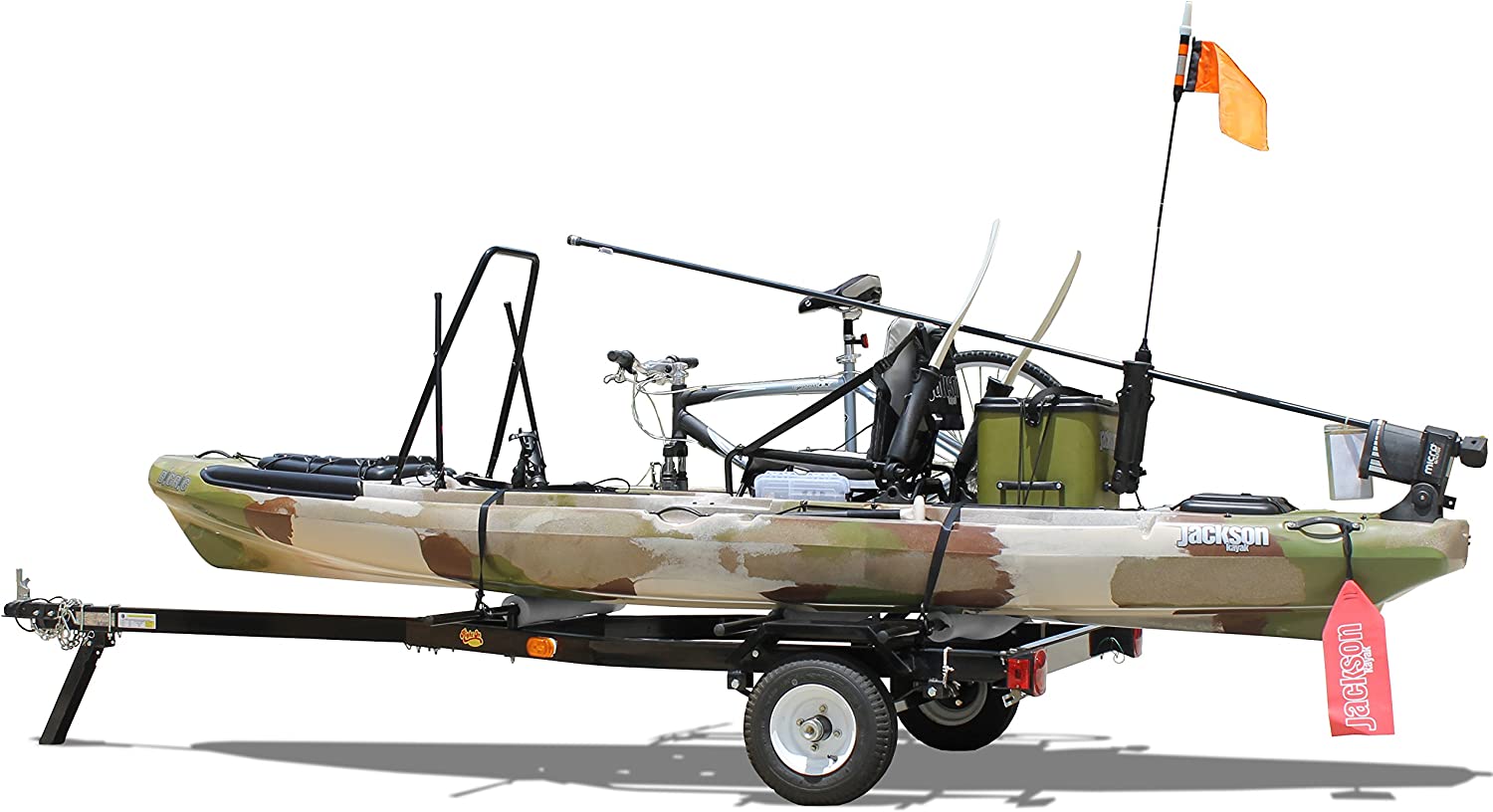 Right-On Trailer Multi-Sport Trailer
The Price of "Right-On Trailer Multi-Sport Trailer" varies, so check the latest price at

Rambo works best if you own a Rambo bike. With this one, you can transport kayaks even on a bike without hassle! Ideal for 8 to 10 ft long and 3-foot-wide kayaks, this kayak trailer features adjustable straps and tie-downs that you attach to your bike frame and tow it behind.
This boat trailer is capable of lifting weights up to 300 pounds when used as a hand cart and up to 70 lbs when towed behind a bike. So, the weight-carrying capacity fluctuates depending on how you utilize it, i.e., by hand or behind a bike.
It also features padded contact points which protect your yaks from getting harmed during the ride. I mean, when I say those foam pads can prevent dents and scratches. That's one good feature we all kayakers want.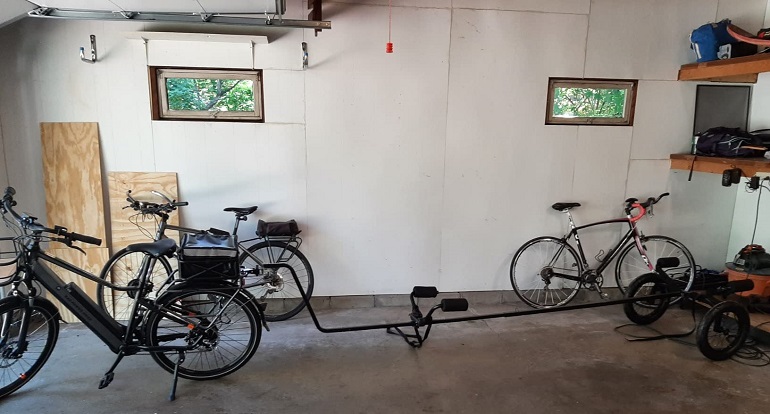 As far as its structure is concerned, the Rambo bikes trailer lags behind many when it comes to providing a sturdy steel frame. Also, it can only be attached to a bike. This thing also puts a limit on its functionality.
One more thing, as the hitch of the kayak trailer isn't made to comply while making turns, it can prove a safety hazard and a kayak transport failure also. Well, one can modify and improve the hitch for desired mobility. However, Rambo makes the best single kayak trailer.
Features
Weight Capacity: 70 to 300 lbs.
Length Capacity: Up to 10 ft. long kayaks
Carrying Capacity: One kayak
Structure: Alloy steel construction, weighs about 33 lbs. tie-down straps for tying
Assembly Time: 1 to 2 hours
Pros
The best thing about this trailer is that it can be carried to places where most kayak trailers can't go. Thus, it can perform well on any terrain.
Cons
The trailer fails to keep pace with other trailers in many aspects. It lacks any suspension, is not that rigid, cannot carry multiple kayaks, and, lastly, cannot be hauled behind a car

Rambo Bikes Canoe Trailer
The Price of "Rambo Bikes Canoe Trailer" varies, so check the latest price at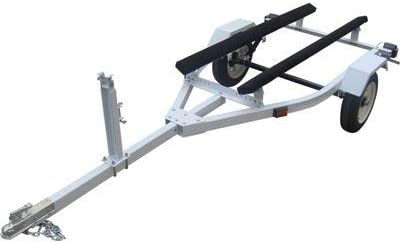 This sturdy trailer is capable enough to carry more than two full-sized kayaks for you. The heavy-duty trailer owns a robust profile with powder coated finish on its steel frame for durability, finished with 12 inches tires and leaf suspension.
The kayak trailer swanks 610 pounds necessary weight capacity for multiple boats, ranging from gigantic kayaks and paddleboards to Jon boats and jet skis. It is recommended to haul more than two middle-sized kayaks at a time and only one if it is that long touring kayak for a safer journey.
Even you can make it carry up to 4 kayaks at a time, thanks to its superior weight capacity. Rest assured, it makes a perfect hauler for tandem kayaks, fishing kayaks, or other heavy-duty yaks.
However, for secure towing, you need to purchase racks and cradles for that extra money you are trying to hide in your wallet. I mean, did you expect to pay only a dime for a kayak trailer with the highest weight capacity? It surely is the most robust trailer on our list. Show some respect.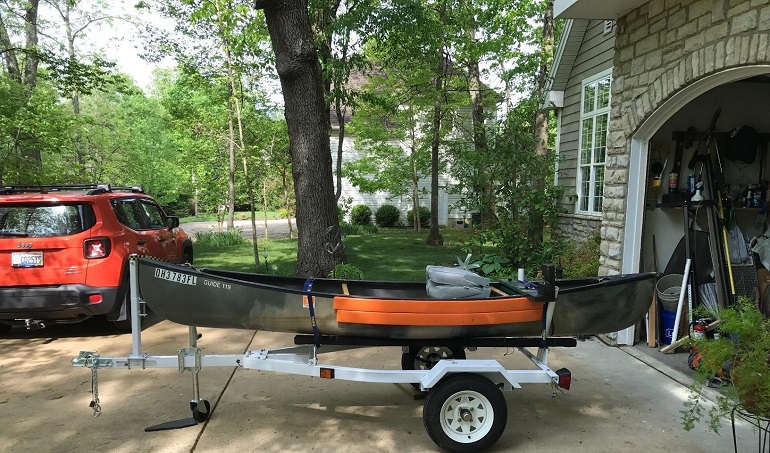 As far as the assembly is concerned, you might find yourself in a maze while trying to decipher its instruction manual. So, it is better to spare a day for the assembly process alone.
Last but not the least, its foldable design is the most convenient feature out of many, especially if you have space issue at home. All you need to do is, fold it and store it in any small space you find.
Features
Weight Capacity: 610 lbs.
Length Capacity: 8 to 10 ft. long kayaks
Carrying Capacity: 2+ kayaks
Structure: White powder-coated steel structure, 12 inches wheels, features protective fenders, lights, and 1 7/8 coupler.
Assembly Time: 4 to 5 hours
Pros
This trailer holds up your heavy-weight gear perfectly, courtesy of its huge weight capacity. It is also one of the best-budget kayak trailers.
Cons
Some customers were noted complaining about the instruction manual. According to them, the parts aren't labeled, and the manual does no help in that matter.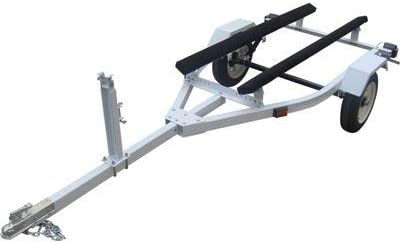 Ironton Watercraft
The Price of "Ironton Watercraft" varies, so check the latest price at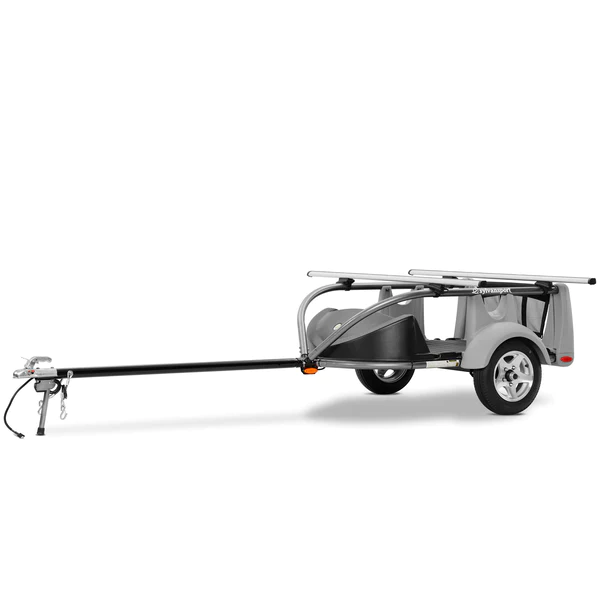 SylvianSport hauler makes a perfect choice for those who are impatient. I mean, if you loathe loading and unloading part of your travel journey, this kayak trailer will offer a potential helping hand in that matter.
You must be wondering, how is it possible? Well, the answer is, it has a very low profile for easy loading and unloading, which makes the process totally seamless. Woot Woot!
Besides the terrific profile, it has the ability to handle about 565 lbs of weight. It itself is also heavier than many other kayak trailers, weighing about 235 lbs. Don't worry! This heavy-weight hauler will not give you a tough time driving as it proves to be a practical option despite its weight.
Not to mention, that extra weight gives it strength and sturdiness, rendering it a robust trailer for towing 20 feet long kayaks. In case you are wondering about the crossbar capacity, the trailer flaunts 110 lbs weight capacity.
The road-ready hauler gives tough competition to many options in the market regarding carrying capacity, functionality, and robustness. I mean, it really does deliver what is due in all the departments. Doesn't it?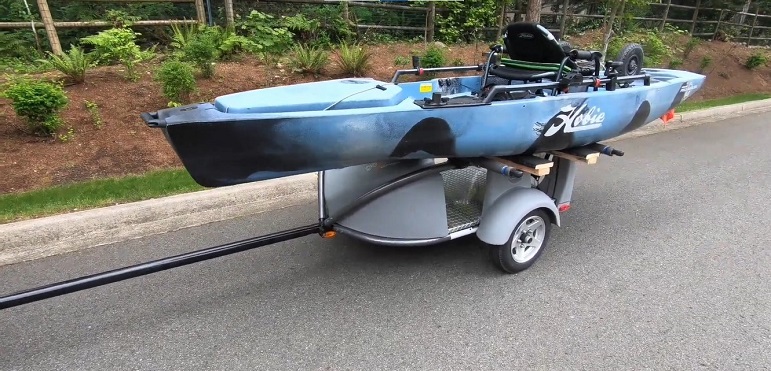 Just so you know, a heavy-weight trailer doesn't promise better functionality. However, SylvanSport promises a properly functioning machine for long life.
If we talk about its structure, this kayak trailer has got some really convenient cross bars. Yes! You can haul your equipment using whatever carrier you desire, as its crossbars are compatible with many.
For a safe journey, this kayak trailer provided a submersible LED system. Even if it rains, you are going to reach your destiny! No matter what!
Features
Weight Capacity: 565 lbs.
Length Capacity: 20 ft. long kayaks
Carrying Capacity: 4 kayaks
Structure: powder-coated steel frame, molded polyethylene deck, mesh tailgate, tie-down points, submersible water-repellent LED lights, kickstand, ergonomic coupler, crossbars compatible with various carriers, torsion axles
Assembly Time: 2 to 3 hours
Pros
This rugged design trailer features all the extra features one can dream of
Cons
Although this kayak trailer boasts some of the finest features, it does not make a very pocket-friendly option for kayakers.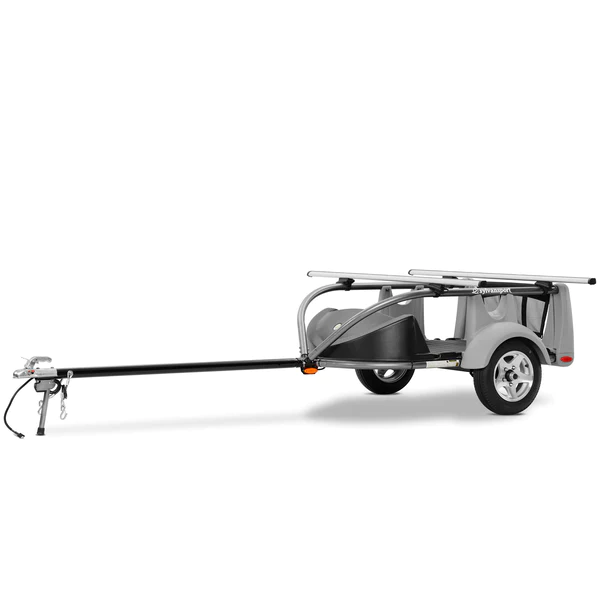 SylvanSport GoEasy Essential
The Price of "SylvanSport GoEasy Essential " varies, so check the latest price at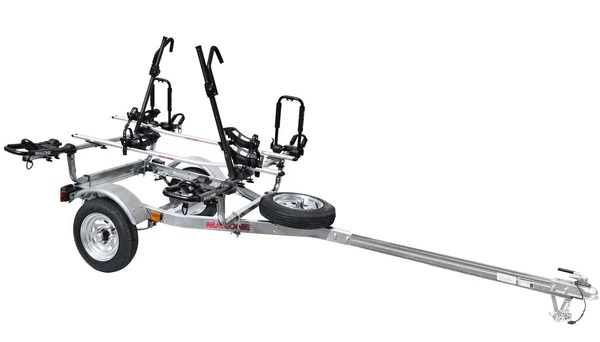 If you are a small family looking to haul one or two kayaks securely, Malone EcoLight Boat J-rack Kayak Trailer Package might be the one for you. This two-kayak hauler can carry up to 400 lbs. Hence makes a practical replacement for XtraLight, an exquisite piece that is no longer available.
Guess what? This mini dragon trailer weighs only 145 pounds; however, it can carry two 14 feet long medium-sized kayaks weighing up to 400 pounds max. Again, the quality of being lightweight doesn't imply that the machine cannot get work done. So, do not judge already!
As far as the construction is concerned, the Malone Ecolight 2 boat J-rack kayak trailer flaunts its galvanized steel body that you can count on. Because no other trailer was as lightweight as to manage two giant kayaks without giving them scratches and dents.
This boat trailer not only safely hauls your gear to destiny but also doesn't squeak like many, rather stays as quiet as new-fallen snow.
Furthermore, you will get to enjoy its features like a four-wire harness, leaf spring suspension, heavy-duty hitch (2 inches receiver), thick tires, and most importantly, a long tongue to ensure a worry-free ride. I mean, who even likes a kayak trailer spanking your car now and then?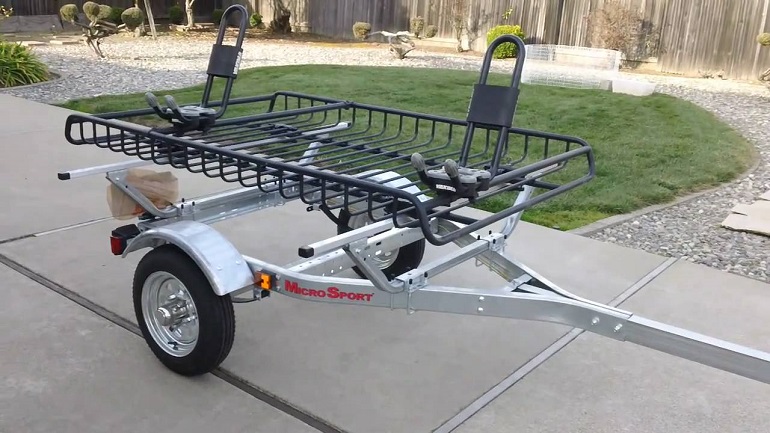 Since we are talking about the perks of having an EcoLight trailer, let me tell you about my favorite thing about it; J-style racks. What could be more convenient than getting free J-racks for better security? I assure you, using these racks leaves you much room for loading extra gear.
Just so you know, loading this kayak trailer with two heavier boats might prove a wrong decision. So, if you own lightweight yaks, only then you should haul more than one kayak on this trailer.
Features
Weight Capacity: 400 lbs.
Length Capacity: 14 ft long kayaks
Carrying Capacity: 2 kayaks
Structure: Marine grade galvanized steel frame, DOT approved, 8 inches high-speed tires, molded fender, 58 inches coated steel cross bars, 2pc extended tongue, heavy-duty galvanized axle
Assembly Time: 3 to 5 hours
Pros
If towing a giant trailer behind your vehicle reduces your confidence in your driving skills, a lightweight trailer such as EcoLight might be a perfect solution.
Cons:
Although this boat trailer can bear the weight of two medium-sized kayaks, its narrow width might trouble owners of wider kayaks.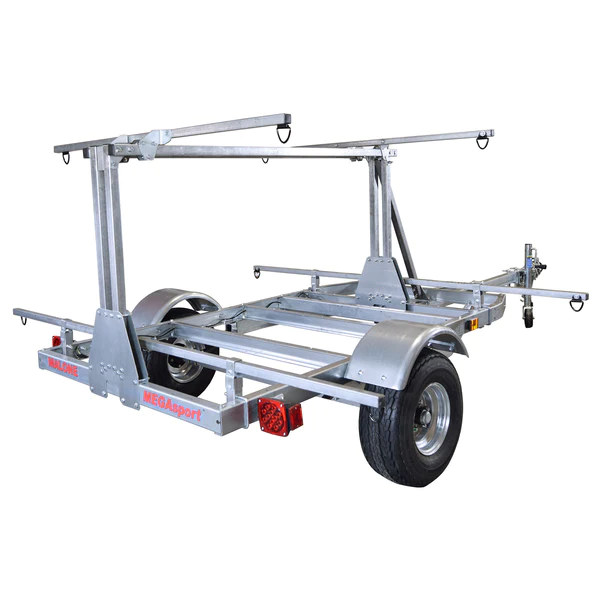 Malone EcoLight 2-Boat J-Rack
The Price of "Malone EcoLight 2-Boat J-Rack" varies, so check the latest price at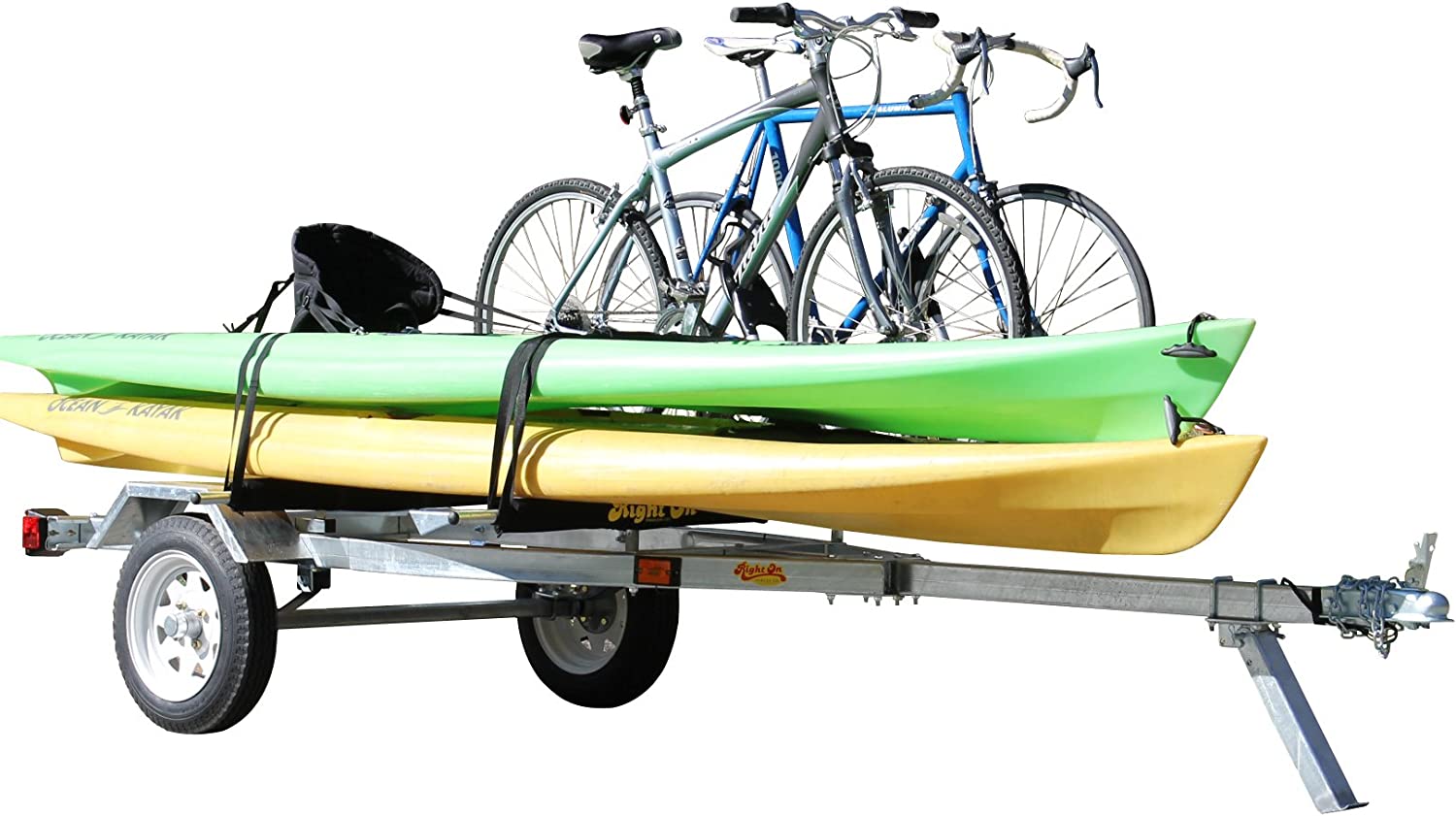 What makes it best is the fact that it isn't specifically designed for kayak towing. Instead, it has been built as a multi-sport trailer. Weighing about 200 pounds, Ruff is more than what you can expect at this price point.
Since its expertise doesn't limit to kayaking only, you can easily haul all other outdoor leisure accessories you want. Ruff boasts its spaciousness with its 64 inches wide crossbars and 11.5 ft. total length.
Not just that, its body is galvanized, ensuring a corrosion-free long life. Wait that means you can subject it to salt water too, right? No. Because not all of its structure has been built with stainless steel.
Bearing the weight of two kayaks is another promise it makes. However, the limit is 400 pounds, including your other gear besides the yaks.
The ruff trailer also guarantees a smoother ride with its LED lights which are submersible, and a leap spring suspension that acts like magic on rough routes.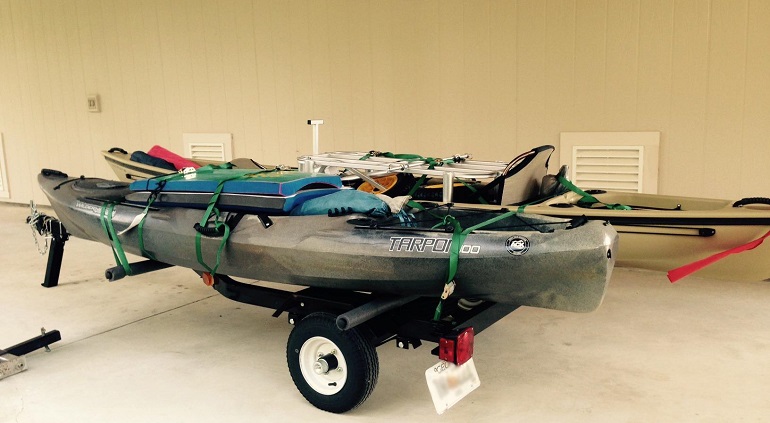 If you compare this one with the Malone EcoLightSport trailer (which has the same capacity of carrying two kayaks at a time), you will find a 60-pound weight difference between the two. Ruff weight is heavier than Ecolight. If you can handle that extra weight, you are good to go with this one.
Furthermore, this kayak trailer lacks any foam pads for secure transport. You need to buy rack pads separately.
Features
Weight Capacity: 600 lbs.
Length Capacity: 15 to 20 ft.
Carrying Capacity: 2 kayaks
Structure: Steel frame, 4.80 x 12 large tires, 65 inches wide cross bars, foldable tongue, submersible LED
Assembly Time: 3 to 5 hours
Pros
Right-on Ruff-Sport kayak trailer shows some exceptional suspension on the road.
Cons
The only con would be its unclear assembly manual.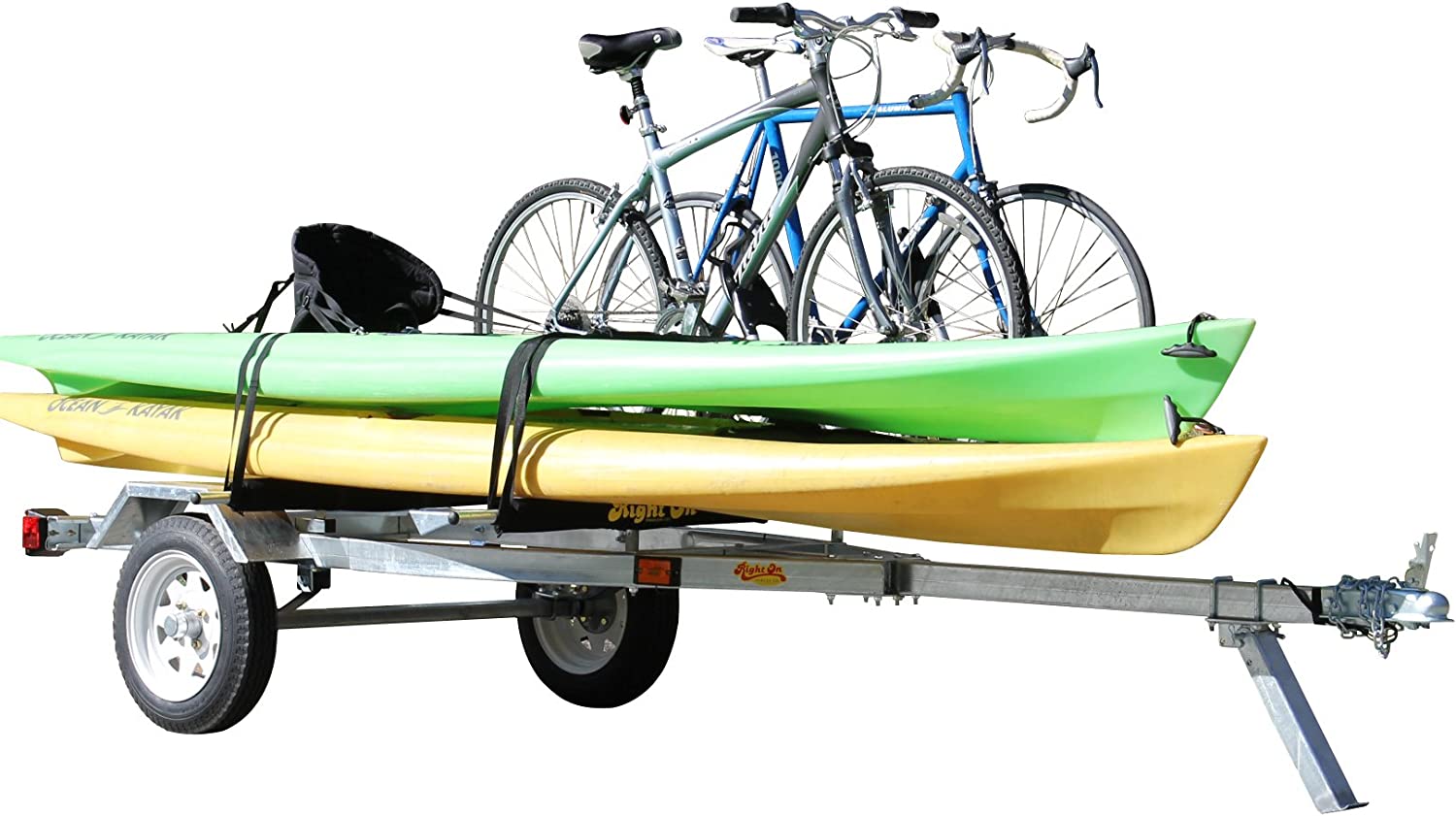 Right-On Ruff-Sport Trailer
The Price of "Right-On Ruff-Sport Trailer" varies, so check the latest price at
What Features Should I Consider in the Best Kayak Trailers?
Before you decide on a particular kayak trailer package, I suggest you go through all the factors given below to save yourself from buying the wrong one.
Tire & Wheel Size 
Wheels are one of the most important features you need to pay attention to while buying a suitable kayak trailer.
I'll try to explain it further through an example to let you judge better what suits your needs. Imagine yourself hitting the highway for a moment. You are driving your car with a trailer loaded with kayaks behind it.
Your kayak trailer features two small or medium-sized wheels and all the necessary straps for tying. The ride goes well only until you stay on a maintained route. However, when the need arises to descend a rough patch, you get stuck. Why? Because you need larger wheels to handle your off-road episode.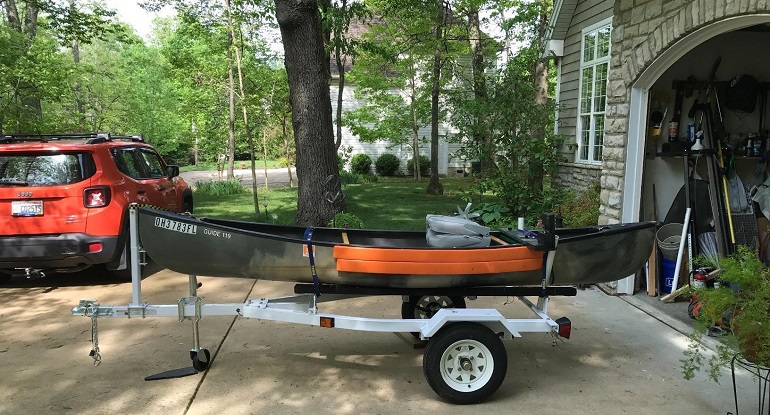 Smaller tires are most convenient for loading and unloading as the lower platform makes you put less effort into the task. But such wheels don't prove durable or robust enough to tackle rough patches. They can limit your ability to switch from smooth to rough roads, no matter how good your driving skills are.
And believe me when I say that it often happens, and then you don't know what to do. On the flip side, traveling with larger wheels allow you an easy trip even over rough terrains.
Besides rough roads, heavy load also demands larger wheels as smaller wheels cannot tackle massive weight. Secondly, smaller wheels tend to wear out later than you expected. However, it partially depends on your hauling too.
On the contrary, large wheels not only assist you with a heavy load but also prove beneficial in the long run. Well, besides the size, the number of wheels also matters. So, always keep an extra tire with you, or opt for a kayak trailer that offers you a spare tire as well.
Suspension System
Suspension is not an issue if you are hauling less weight, or you can say one yak only, but it becomes a pain in the arse when it comes to towing multiple kayaks. Don't you desire a smooth stable ride?
Just so you know, most kayak trailers come without a suspension system. And to be very honest, they are built to survive without it. So, you need not worry much. That is exactly why I wouldn't call it a necessary addition for a safe journey, but when you are covering bumpy roads, it gets necessary for the vehicle to own one.
You know, most kayaking destinations are hidden somewhere off-road. You need to make an effort to arrive at it and have a good time. If you think you have the energy to explore the wilderness and reach the kayaking spot, I think you are going to need a suspension system installed in your kayak trailer.
Or do you like a bumpy ride? Even if you do like it, trust me, your yak would be screaming in the back of all the bouncing. Suspension is truly important for carrying a heavy load and maintaining stability. It really sucks up bumps like a sponge, and that shock absorption saves your yaks and yourself from getting backaches.
If you happen to buy a kayak trailer without suspension, figure out what you are hauling and which route you are picking. Your needs will guide you to the right decision.
Easy To Move (By Hand) 
Here comes the weight of the kayak trailer in question. A quick helpful tip is to look for a lightweight trailer.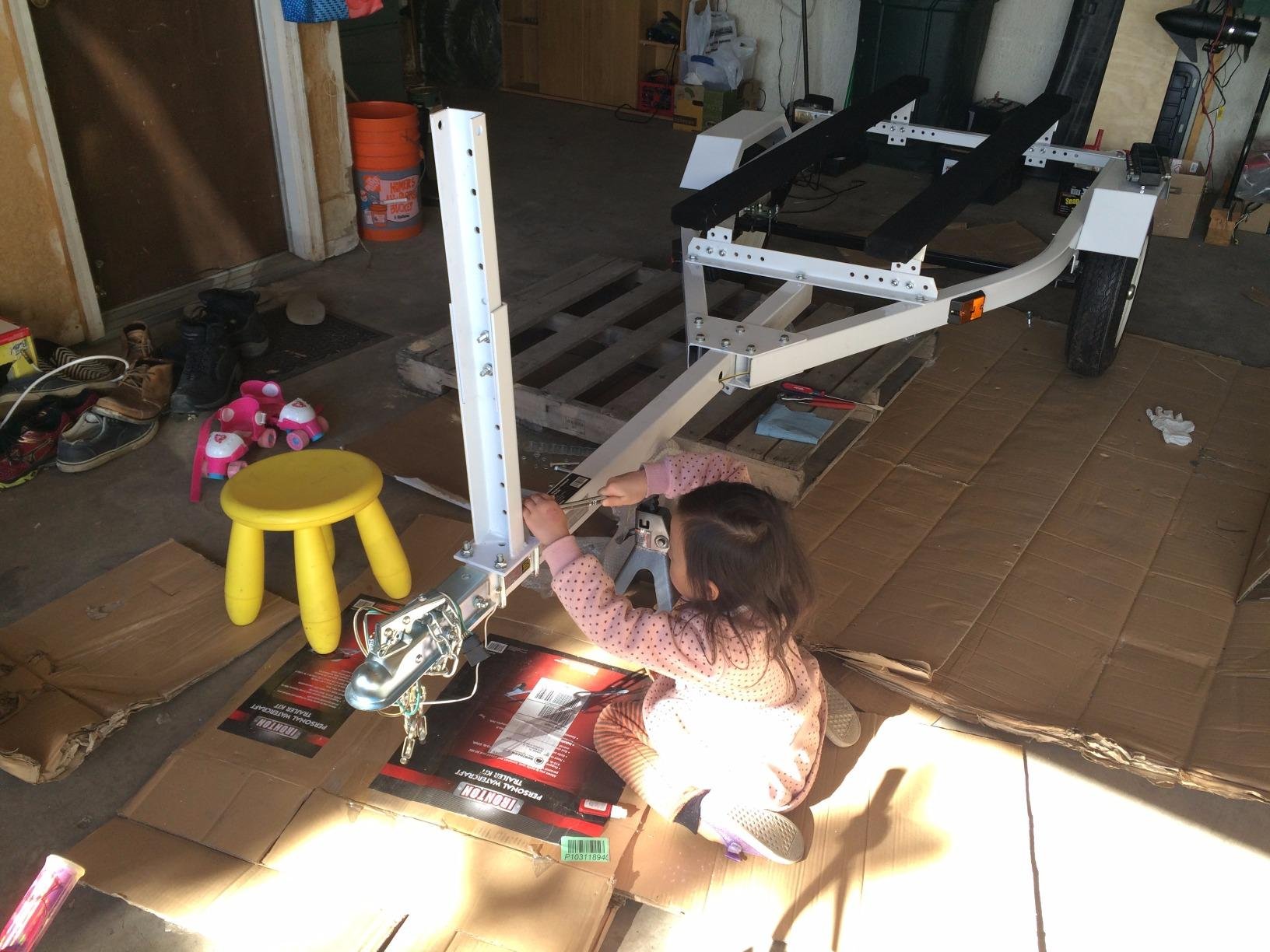 I mean, it really gets frustrating when you are unable to move the kayak trailer manually.
With a heavy-weight trailer, firstly, you cannot move it with your hands, and secondly, there is not always a person around to lend a hand in attaching it to the car or assembling it. When this happens, you either lose the motivation or go gaga.
To conclude, the lighter the weight is, the easier it becomes for you to handle it. One more thing, with a heavier trailer, you are forced to consider the weight of your gear too. I mean, a hefty load on a giant trailer itself is only going to make your driving difficult.
And you don't want others to think of you as a clumsy driver. Do you? And you hate to crash into others too, right?
Kayak Trailer Assembly
Mostly all kayak trailers come unassembled, so do not throw tantrums when multiple boxes show up at your doorstep. However, if you want one pre-assembled, you are required to pay extra cash for the service. Not to mention, this service is not offered by all renowned companies.
Anyway, kayak trailer assembly is painstakingly an arduous task, especially if you are not a mechanical person. But if you are one, congratulations, you got a new toy. Well, if you were that good, you could build a DIY kayak trailer yourself. Kidding! I have full confidence in you.
For not-so-mechanical people like me, it can get dirty. Trust me, it can cost you a whole day or two. So, always keep the manual by your side, read it like a million times and stop yourself from screwing it up.
Just so you know, users of many different companies seem to complain about improper instruction guides for their kayak trailers. They seem to face difficulties in figuring out the parts and their assembly. It is better to expect less.
Good advice would be to request help from a friend or any family member interested in mechanics. Especially if you don't own the right tools, just hunt down the right person before your travel date arrives.
Lastly, an assembly failure can also cause accidents. If you fail to assemble the kayak trailer correctly, it can disassemble in the middle of the road and hurt you or the people around you. So, take this matter more seriously.
Trailer Weight and Capacity
Considering the weight capacity of a kayak trailer is a must if you want to avoid road failures. To do so, first of all, sort out the actual weight and length of your kayak. You also need to figure out how many kayaks you would be towing on average.
A heavier kayak demands a stern trailer that can handle it. If you plan to haul multiple yaks, hunt down a kayak trailer with adequate carrying capacity for all of them. Also, check your vehicle's towing capacity.
I mean, you cannot haul a 20 feet yak on a lightweight kayak trailer of 400 lbs weight capacity. It will squeak like a mouse. You know, some beastly kayaks like sea kayaks and heavy fishing kayaks tend to weigh a lot. In order to tow such equipment, you are going to need mammoth-like haulers too.
Besides weight capacity, also consider storage beforehand. Where would you store the trailer? On average, how much gear would you be hauling? How much your kayak trailer would weigh when fully loaded? Because you want to drive safely.
Don't panic! You need to answer only these basic questions, and you are ready for your kayaking trip.
Storage
I repeat, think about storage beforehand. Believe me, it is one important step to take before paying for a kayak trailer. However, people tend to ignore this part and then fight with themselves later.
If you want to avoid my 'I told you so, don't wanna brag, but you already know, look, pay attention, and do as I say. Decide where you want to store it, go to that place and measure the space, then purchase a kayak trailer that actually fits in the decided area.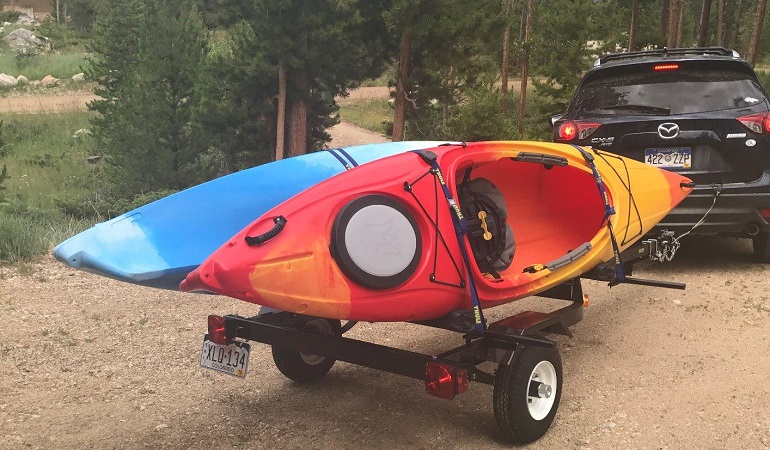 You can also explore foldable trailer options. Such haulers occupy little to no space as they can be put against the wall in a standing position as compared to others. You can adjust such kayak trailers in some tight spots also.
No matter where you store it, make sure it is safe there. A garage or storage shed is the best idea. However, if you fail to plan storage in any of them, store it somewhere safe where only you are allowed easy access.
Trailer Tongue length
Appropriate tongue length is the key to a worry-free ride. A tongue is what connects the kayak trailer to the car, and it is the distance between the axle and the hitch of the hauler. It is also what dictates the length of a yak a trailer can practically tow.
This is the part that precisely tells you about the kayak length capacity of a trailer; if it can carry a 20 feet yak or a 12 feet only? So, a long tongue allows you to haul longer boats, while a smaller tongue can tow only small or medium-sized kayaks.
Your kayaks should be loaded with gear so that the waist of the kayak rests centered on the axle of the trailer. So, always measure your kayaks before placing an order for a kayak trailer. You know, only a certain size can entertain a certain yak length.
FAQs
Can I Place the Kayak on a Trailer by Myself?
Good news! You don't have to lift a kayak in the air in order to load it on a trailer, because kayak trailers rest lower to the ground to assist in loading and unloading. Well, a trailer top rack is an exception.
One can easily load a yak all alone; however, if you don't want to take any risk, just ask for help and be done with it.
How Do You Secure a Kayak?
First thing first, besides buying a suitable trailer, you should also pay attention to your tying skills. I mean, nobody wants to witness a flying kayak.
Secondly, you should not tie down your gear too tight, as doing so might snap your yaks or damage other accessories also. Similarly, tying it too loose will also prove dangerous on the road.
Thirdly, always double-check before you ignite your engines. And fourthly, try to pull over a few times during your trip to cross-check if everything is fine. Don't you dare think that your gear will behave properly! Especially on bumpy roads, your gear will start acting up like a little kid, for sure.
Can I Travel With a Kayak Trailer?
I would say, it is the safest possible way to travel long distances. A rack system installed on a car also proves helpful; however, it comes with risks too.
No doubt, you can always mitigate the risks by properly tying it to the rack, but do not ever assume everything goes well with the rack system. The same is the case with a kayak trailer also.
But on a best car roof rack system, your gear is stacked on a much higher level which can be dangerous in case the gear flies off the roof. Whereas, if the same thing happens with a trailer, there are comparatively minimum chances of hurting people around you.
How Do I Take Care of My Kayak Trailer?
An ideal way is to put it as it is in a garage or whatever designated space. Not to mention, cleaning it up is mandatory. In case you are having space issues, you can always fold up the trailer if you own a folding kayak trailer, remove the wheels, and put it against the wall.
Final Thought
To summarize, before you choose the best kayak trailer to buy, you are required to consider the weight and size of the yaks and other gear, the number of kayaks (how many kayaks you are hauling), the storage space, your driving skills to see if you can handle towing, and most importantly the car's towing capacity.
Failing to answer these questions is taking you nowhere, trust me.
Hauling your equipment on a kayak trailer is one of the best options for hauling kayaks; however, it can prove otherwise if you fail to factor in all the issues that I have discussed in this article. So, think wisely before committing to purchase one.
This article highlights some of the best kayak trailers, out of which I'm sure you would be able to find the right one for you if you have already made up your mind.
Best of luck to you for your upcoming kayaking trips!