Overview
Let's face it – Skiing is an expensive sport, yet something we all want to try at least once in our life. When Oprah Winfrey said, 'Skiing is the next best thing to having wings,' I became a fan – of both!
Ski is an activity growing large amongst all age groups. But to maintain a balance between your love for skiing and your dear pocket, know that it will be tough but also essential. I mean, some bucks saved up at the end of the day of skiing is so wholesome.
One way to save money is by teaching your kids this sport at a beginner level. But can you teach your kid to ski? Hell yeah! You can be their first instructor; by doing so, you will save hundreds of dollars, which a ski school might require.
You can at least get your kids on the slopes, and they can start practicing themselves later. Kids are quick learners, and you get to spend some productive time with your child out there – so you see, it's a win-win situation either way.
What Is the Best Age to Teach Kids to Ski?
Any age! Not even kidding. But to still give you a bracket, the best learning years for young kids are around 4-8 when they have all they need. Young adults also tend to learn things quickly, making this age bracket ideal.
Most ski schools like to enroll and teach children beginning at this age because most kids have begun to better understand their motor abilities and coordination.
Another reason is children at this age have unmatchable energy and need direction. Their physical and mental abilities are changing, and they are ready to pick and learn anything.
If you put them out on slopes at a young age, they will grasp all the techniques needed for this sport and become a pro.
How Proficient a Skier Must I Be to Teach My Own Children to Ski?
You must at least be an intermediate skier to teach your kid how to ski.
You will be your child's first-ever ski instructor; therefore, make sure those classes are filled with experience and worth trying.
Special Equipment to Teach Your Child to Ski.
It might be difficult to start teaching kids skiing, especially small ones. Getting them up the mountain, properly dressed, and clipped into their skis may be challenging enough, let alone training them to ski.
But I am here to help, so first things first, what great tool would you recommend using for first-timers? I have listed the main teaching tools that are necessary for a beginner.
Hula Hoop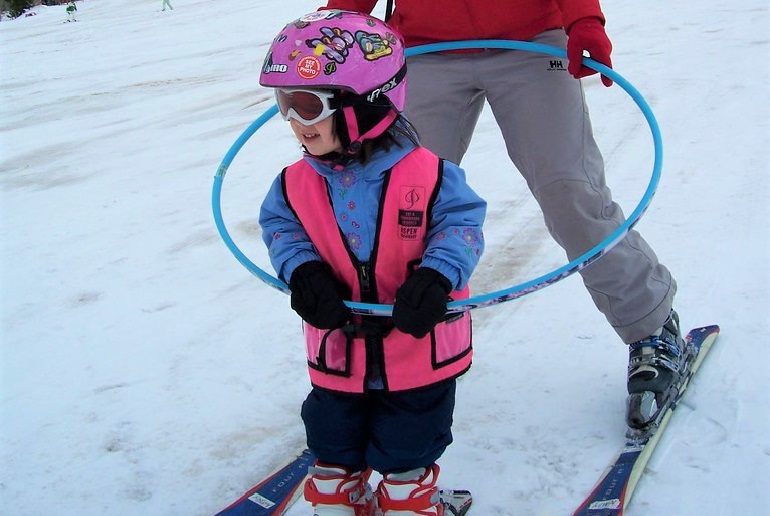 The age bracket for Hula Hoop caters to children between 4-5. The purpose of this activity is to educate young children to stand freely while sliding forward and fighting the possibility of falling back.
Hold on to the back of the hoop as you wrap it around the child's waist; this way, you are in command while the child has the feeling of sliding.
Edgie Wedgie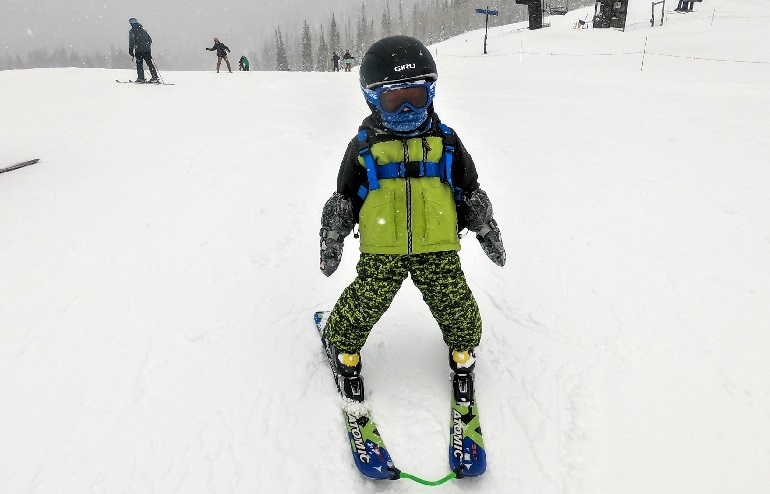 The age bracket for Edgie Wedgie caters to children between 3-5. Children five and younger may find it challenging to make a wedge because they lack the leg power that is necessary to maintain the position of their skis.
The edgie wedgie is used in this situation, and the child's ski tips may simply be fitted with this device and removed again. Remember, the broader the stretch, the wide the wedge.
Harness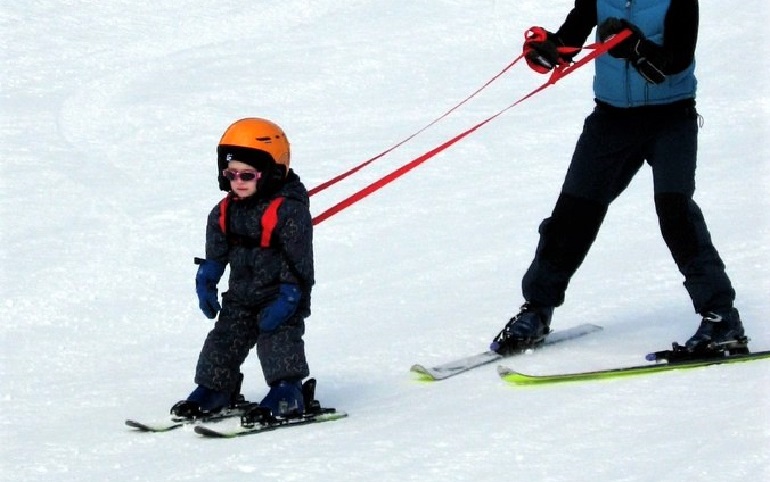 The age bracket for Harness caters to children between 2-6. For really young kids who still don't understand the wedge stop, a harness is a fantastic help. Read the instructions carefully before putting them because they might be a bit tricky and challenging to handle.
The goal is to hold the straps loosely and keep your little skier in front of you while you slide the terrain. Never pull on the straps, which may cause the youngster to lose balance.
How to Teach Your Own Kids to Ski?
Let us list down factors that will help you teach kids how to ski.
Keep them Warm.
Teaching kids to ski is much easier when they are warm, dry, and comfortable. It is important to have the right tools, and it is recommended to take breaks at least every few hours.
Feeling chilly will likely discourage kids from skiing more quickly, so make sure they are completely dressed, from their thermals to gloves. Remember, many lighter layers are preferable to one thick sweater.
Base Layer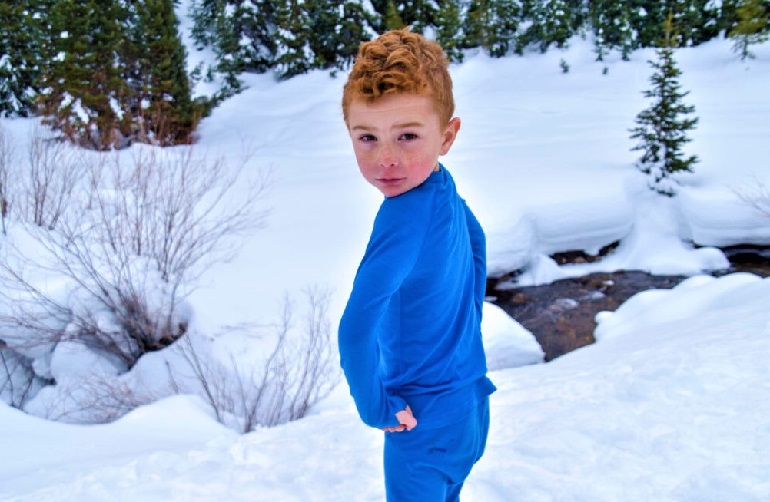 The process begins with the foundation. Staying warm is important when you are 2,000 meters above sea level and surrounded by snow and ice.
These are often built of synthetic materials like polyester but can also be made of natural fibers like merino. This layer serves to keep moisture off of your skin and keeps you warm and dry.
Mid Layer
Your second layer of clothing for skiing should either be a fleece or two light sweaters to keep your little one warm.
If you want to keep the body temperature up, wear many layers unless you are going on a very warm late-season trip. Even if you are not skiing, fleece makes a flexible addition to your outfit.
Ski Jacket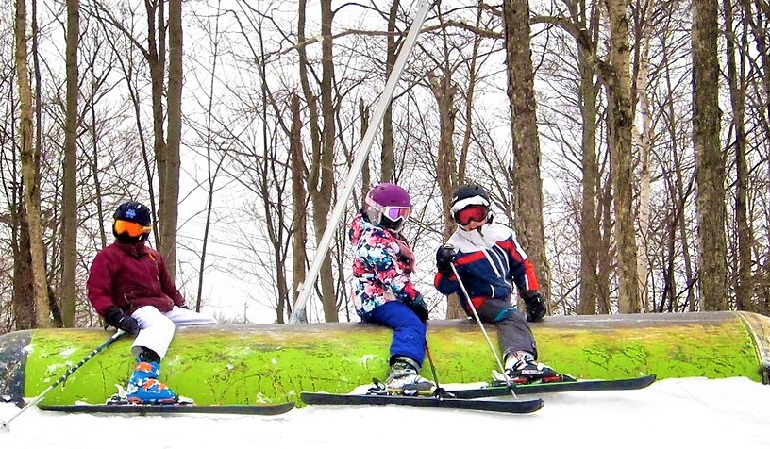 These often include accessible pockets, are insulated, waterproof, or water-resistant, and have other snow-specific qualities. A kid's rain ski jacket that is both waterproof and breathable worn over a fleece or wool might also work.
Ski Trousers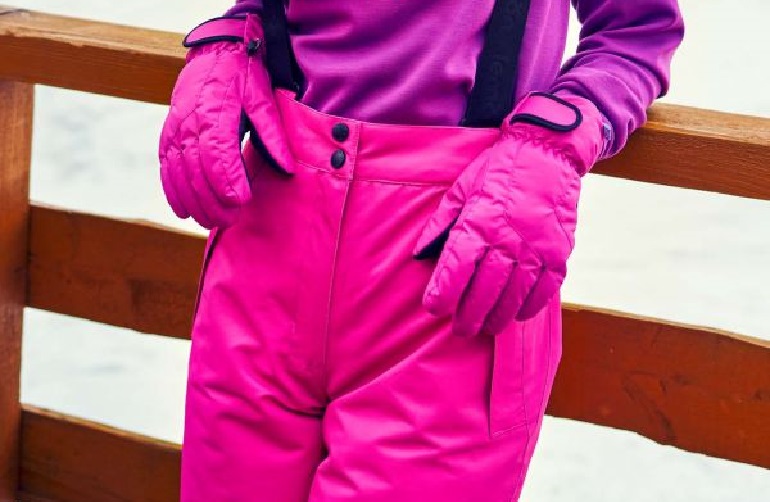 These have to be well-insulated and waterproof. Sometimes snow is prevented from entering ski boots by the internal ankle gaiters of ski trousers.
For small kids, the ideal option is a pair of high-waisted trousers or bib-style pants with detachable straps.
Ski Socks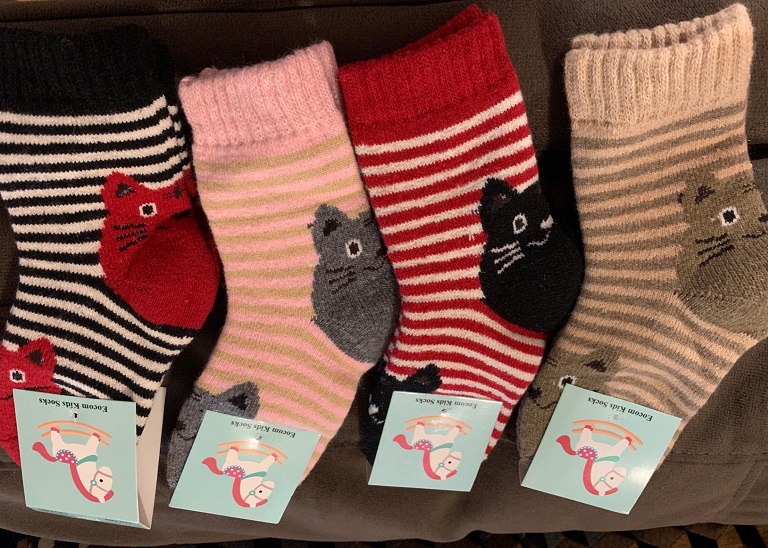 Avoid wearing short-length ski socks made of cotton. Ski socks should be made of a combination of wool and synthetic fibers and reach just above the calf.
Children should own two pairs of ski socks for alternative use. Always aim to avoid getting blisters from wet feet; therefore, always keep spare socks in your backpack and change them as soon as you feel your child's feet are wet.
Gloves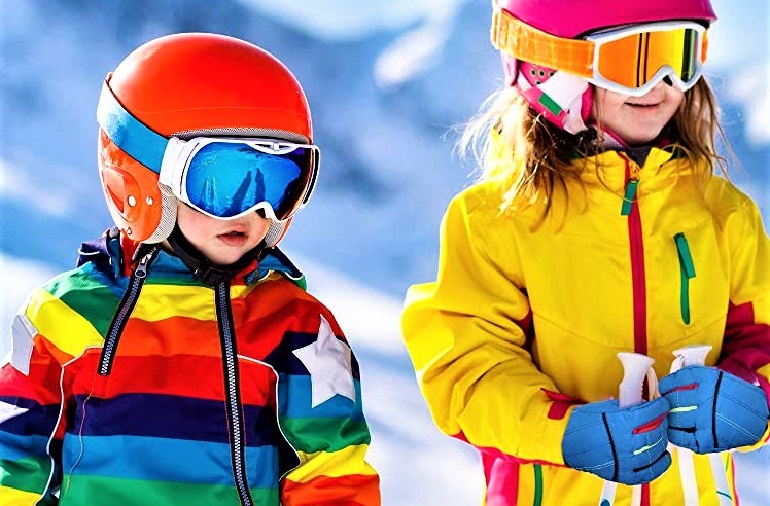 For better warmth in the cold weather, kid's ski gloves are better than mittens. Choose a pair that is waterproof because you would probably want to shield your kid's hands from the snow.
To avoid having sweaty hands or overheating, consider one with a breathable layer or one that kicks off moisture.
Neck Gaiters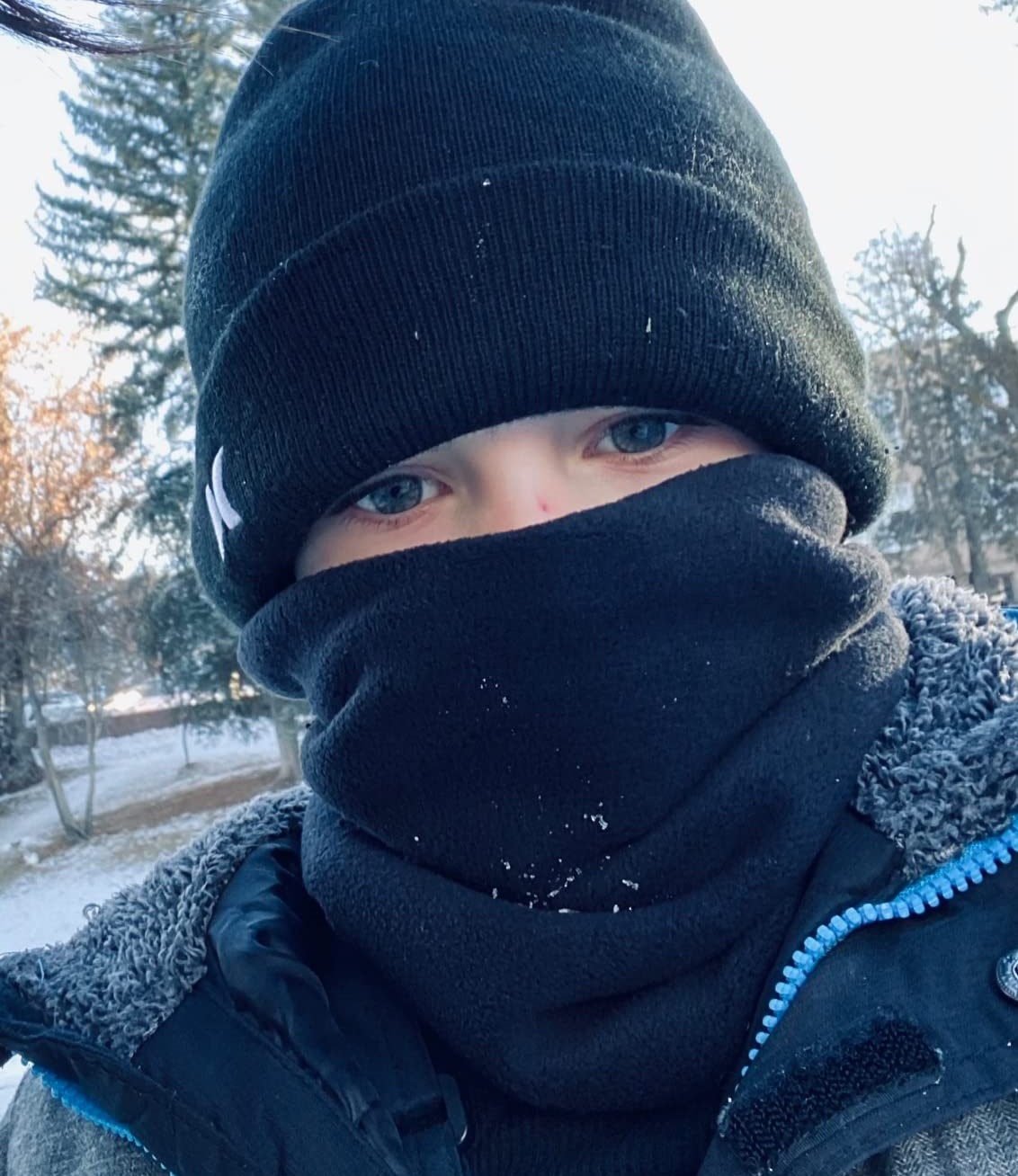 Neck gaiters are as essential as any other equipment. On chilly days, they work as a mask and keep your neck and face warm. They also protect your skin from UV rays while you are high up the mountain on sunny days.
The ideal fiber used in neck gaiter is merino wool or polyester fleece, so make sure you opt for one which is built with such material.
Goggles
Kid's ski goggles are one of the few necessary pieces of ski gadgets when you should consider spending a lot of money.
Poor quality goggles might steam up and provide poor sight on the mountain. A good pair, however, will let you fully appreciate the breathtaking views that are all around.
Ski Boots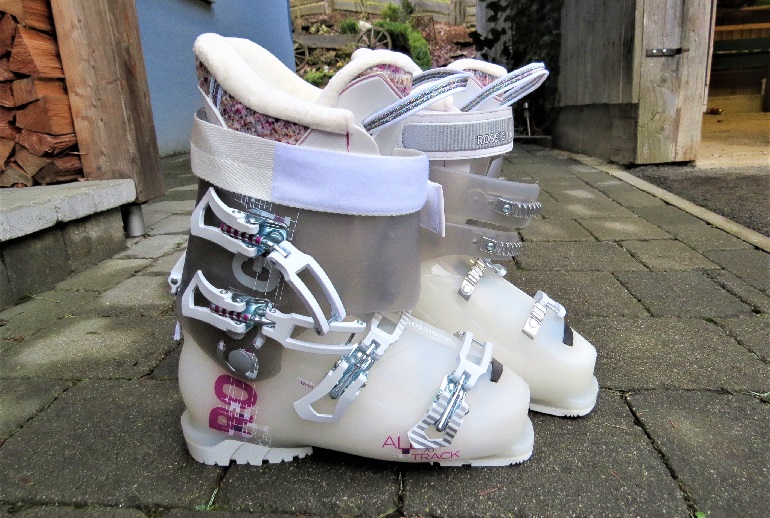 Children will have an enjoyable, safe time on the slopes, and their skiing abilities will advance properly if they are wearing the proper kids' skiing boots.
In order to put themselves in the driver's seat and control the size, form, and speed of their turns, children must learn a new technique that can be easily done by giving them a proper grip on their ski boots.
Ski Gear: Rent or Buy?
Although it depends on your personal preference, here are some benefits of whether you rent or buy ski gear.
If You Rent
It can be worth the purchase if young kids and the family spends enough time on the slopes. However, it makes more sense to families who have never taken a ski vacation to test various clothing alternatives before shelling out money for pricey products.
You may explore numerous possibilities on your ski holiday by renting tools at some specific ski resorts. Additionally, renting will be more convenient if you are traveling by air to your ski location. You do not have to carry all the equipment to the airport or pay extra bucks for them.
For kids who have just started skiing, renting can be a good option. They will grow out of that equipment in a year. Testing various skiing gears can make them aware of the product they want to opt for permanently.
If You Buy
You can purchase the gear for your kids from a local ski shop if you are comfortable that way. The fact that you do not have to return the skis when you buy them instead of renting them is a huge benefit, especially if you have more than one kid.
Another benefit of owning skis is that your child needs performance skis, and buying him one with the best choice a parent can make is everything he would need. Sometimes you may also end up finding the best deals online for the gears; these deals are cost-effective and have good performance overall.
If you can own skis, you do not have to worry the entire season about finding them. Having said that, it is you who has to decide for your kid. Make sure it is wise and put your thought process to it.
Gliding and Moving on Snow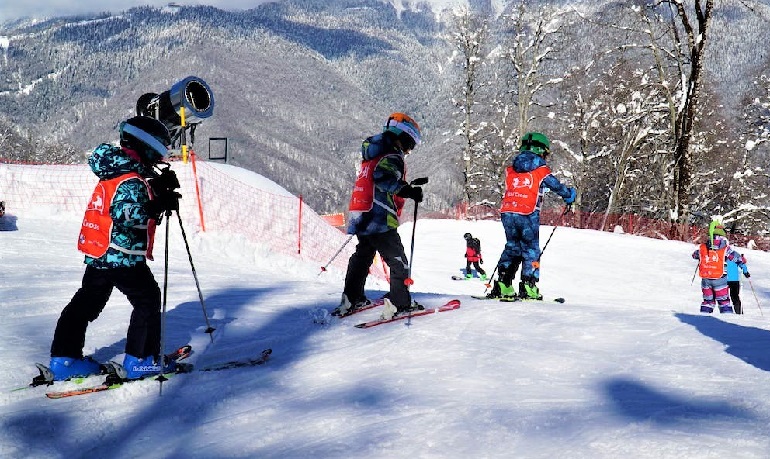 These are the fundamental movements that you should begin with when teaching kids to ski. You may have your kid imitate these motions on a smooth floor while they are wearing socks or try a pair of carpet skates.
Leaning a little forward, have them sweep their feet across the floor. They will be more equipped on the terrain once they start practicing this on an actual path. Allow them to hang on to you or a chair as they take their first clumsy steps.
Consider yourself lucky if you have a nearby resort with a magic carpet. Take your kids to that resort for a fun-filled practice. This will be an advantage for your child's practice session as it will give him a great start for skiing.
Getting up When You Fall
This is an important skill to teach a small child before getting on the lift, but they probably won't get it immediately. So be patient and ready if they fall because you have to carry them up the mountain again.
Ensure their skis are pointing away from the ski hill so they may stand up before they begin to slide again.
Ensure that their legs are not crossed as well. Their hands should be in front of their shoes so the child begins to lean forward and raise their bottoms more.
They should be taught to push off snow with their hands. If they are having trouble standing all the way up, have them hold their knees and pull up that way.
Teach Them How to Stop on Skis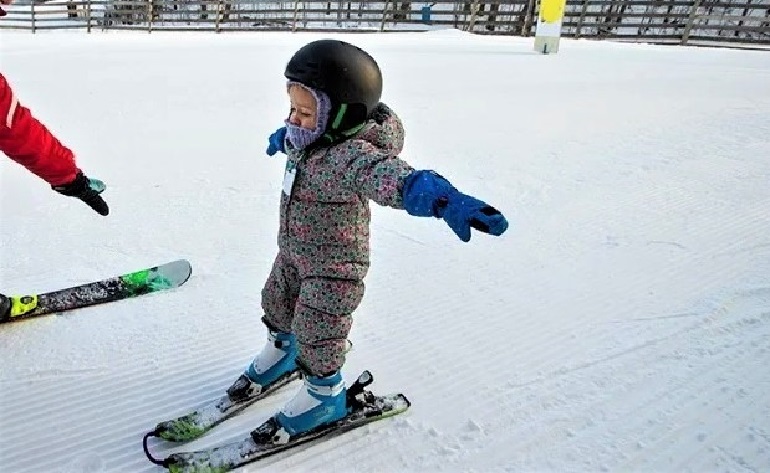 Take your kids to the beginning hill to practice how to stop on skis now. Teaching kids to stop in a wedge shape is the greatest method for it.
Kids frequently refer to this as a pizza or a slice of pie since they are extremely familiar with such shapes. It is also called a snowplow stop for kids.
Your child must have their knees apart, point their toes together, and keep their ski tips from crossing in order to stop in a wedge. The wider their wedge, the slower they will move.
Teach Them How to Turn on Skis
Kids often travel in the direction of their interests. Most likely, if they are looking at the large trees, they will run into one. Therefore, get your kids to concentrate on observing you as you ski.
You may demonstrate a safe turning technique and ask them to learn from you. To maintain their attention on you, be prepared to make jokes, faces, or conversations carrying humor.
Teach Them How to Ride a Ski Chair Lift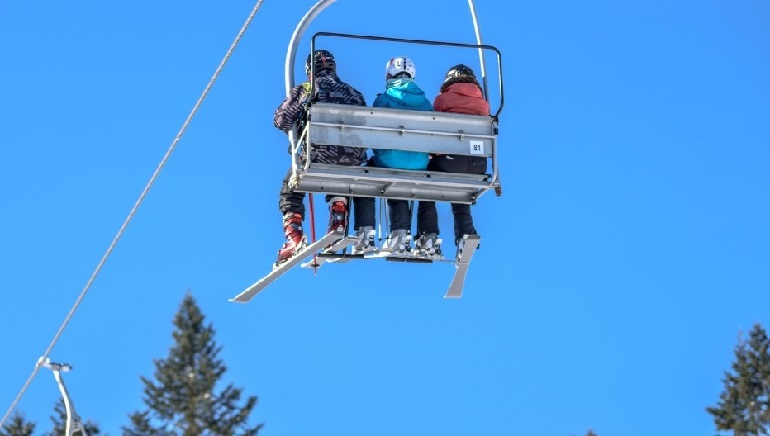 When training your child to use a chairlift, be careful to pick a lift that reaches beginner hill (green circle). To ensure your child understands the procedure, see a few other people boarding before you get in line, then explain to your child what they should do.
You can always ask the lift operator to slow down the lift for you as you are traveling with your child so that he can learn. They will be more than happy to assist you. Use the handle on your child's ski harness to help them get on and off the chairlift.
How Long Does It Take Kids to Learn to Ski?
Ski lessons are very important, and learning to ski takes time, and there is no certain duration for it. Most children learn to ski in their own special ways at their own pace, therefore don't push them too hard!
Usually, children don't feel secure on skis until three to four days of instruction, therefore, be calm and have patience. Younger kids can get demotivated quite quickly, so make sure you support them from scratch.
Like anything else, start teaching the fundamentals and later introduce them to beginner and advanced techniques. Keep them calm, motivated, and focused while enjoying the activity.
For some, they can learn in merely 10 days, whereas for others, this can take years to learn. It all depends on how well an individual picks up the instructions and how much interested they seem to be in this sport.
Tips for Starting Out!
Here are a few tips for you before you start teaching kids to ski.
Patience
You need to understand that your child has just begun their experience of kid skiing. It is not them but you who needs to be calm and collected for your child to have better learning.
It can be exhausting, but it is worth the time and effort. So, grab that cup of hot chocolate and enjoy those tears together but have patience, my friend.
Fun Ways of Learning
Get some treats and snacks packed in the backpack for yourself and the kids. They are a powerful motivator for many kids to listen to what you are teaching them. Oh! You are asking, what is my favorite? Hot cocoa, Hah! Play games that can lighten up the mood for the family.
Physical Movement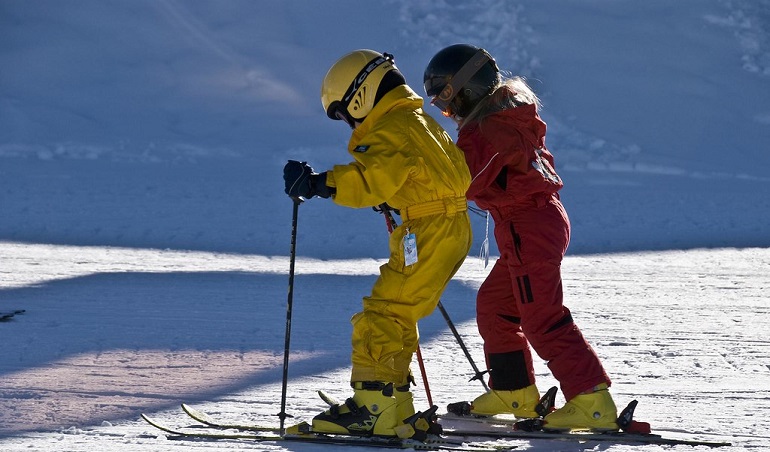 Look for a snow-covered gentle slope at a resort for walking on with your boots. You should practice some physical movement by avoiding using the chairlift.
Carry a Backpack
Carry extra undergarments, mittens, and baby wipes when traveling with young children. Even older kids tend to have wet mittens by the evening and keep sunscreen at all times for your trip.
Stopping Is Important
You can have all the fun on the go, but be sure to stop for a while. Not having breaks can exhaust your kid mentally and physically. You do not need your child just to experience the moves; you also want him to learn them.
Turns Are Essential
Do not forget that ski instructors teach children to have an athletic and technical stance in their teachings. If you want to teach your child how to take turns, do not just tell them anything for the sake of it; teach them with meaning.
FAQs
Isn't Skiing an Expensive Sport?
It may be surprisingly affordable to take your little kids skiing with you. Many resorts provide complimentary skiing to kids under the age of 5. In some cases, purchasing an adult ticket or season pass allows you to bring along one child on the same ticket.
My Child Loves Competitive Sports. Can Children Ski Race?
Young athletes have a lot to gain from participating in ski racing, including lifetime friendships, healthy competition, and access to great nature. Children can start alpine racing at the age of 6.
Conclusion.
Ski school can help your kids to ski in a professional manner, but if you think you can follow the instructions and these great tips from the article for teaching, then wear that crown because you are your child's hero!
Do not worry about the ski poles that might come your way; they are actually helpful for a beginning skier. A ski lift is a good way to reach most resorts, and many parents would want to opt for terrain with a good lift.
Skiing skills can absolutely be polished better if kids love this activity, but do not force anything on your child or get influenced by other kids. If your kid wants to learn to ski, have patience and remember nothing can happen overnight.
Take your friends along, focus on tracks, and make learning a fun experience for your family. Do not forget to take safety precautions beforehand and make the most out of your experience.