A Lethal Injection of Mountain Freestyle Excellence
The edge of your board isn't carving up the uneven terrain as well as you'd like. When you blaze down the slopes there's a cacophony of bumps and shakes.
This isn't a chatter-free ride.
You try to pop into the air, but the jump is non-existent. The trees dangerously getting closer, and you don't have the agility to weave through silently.
This isn't snowboarding. It's long-form torture dragging you down the mountain by the ear. Do you want something with a good balance? Something that can travel at a high speed and with the edge hold to make it count.
You need a real killer of a freestyle snowboard. You need a lethal injection!
The Salomon Assassin lives up to its name. This mountain freestyle board has got a directional twin shape that lets you ride switch and ride at high speeds. It's multi-talented and best of all, it's the killer you need to get the job done.
Salomon Assassin Snowboard In Charts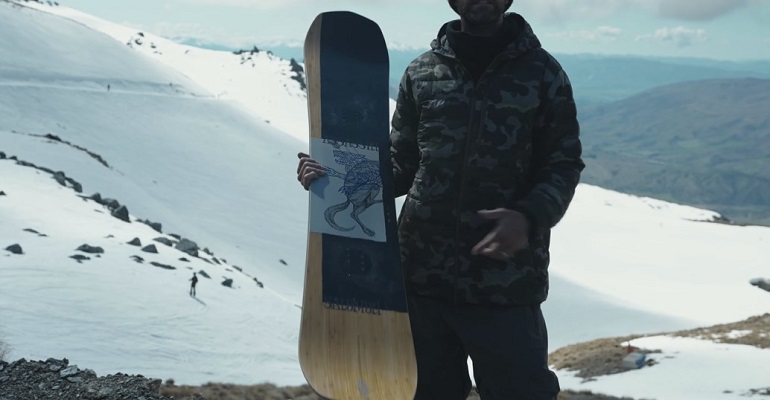 Assassins are silent and difficult to perceive. Here one minute and gone the next, with a trail of the dead as their only calling card. The Salomon Assassin operates in much of the same way. Although, instead of bodies, it leaves crud and hard carvings on the snow park ground.
This beast has got a quick edge but fortunately for you, I've got these handy charts to help you better understand this ride. First, a size chart to help you pick out the right fit: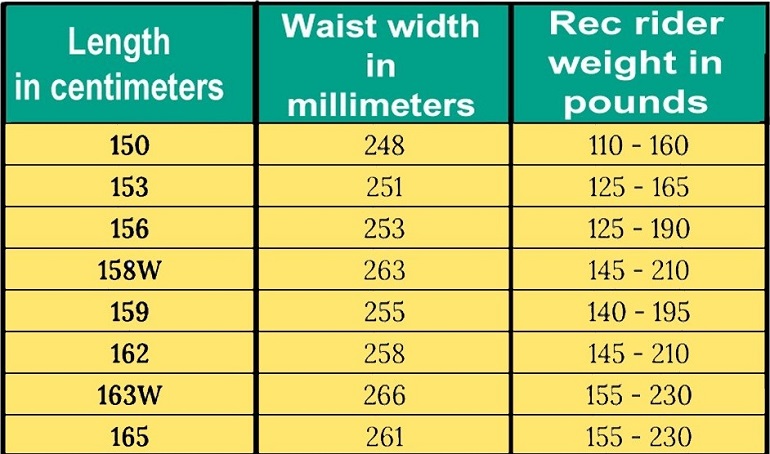 Now that we've got you nice and sorted, let's try to better understand this best freestyle snowboard with a quick overview of its specs.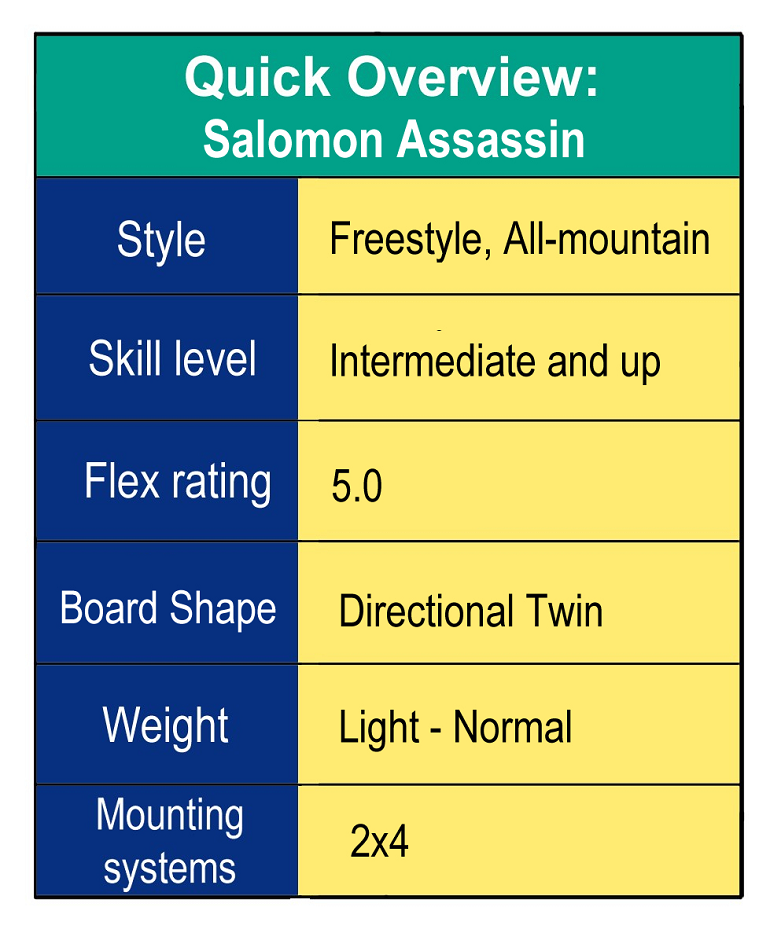 As you can see, the Salomon Assassin Snowboard manages to be a heavy-duty performance machine while still keeping its weight down. The best part is, that it feels lighter as you ride it and that's only the start of its abilities.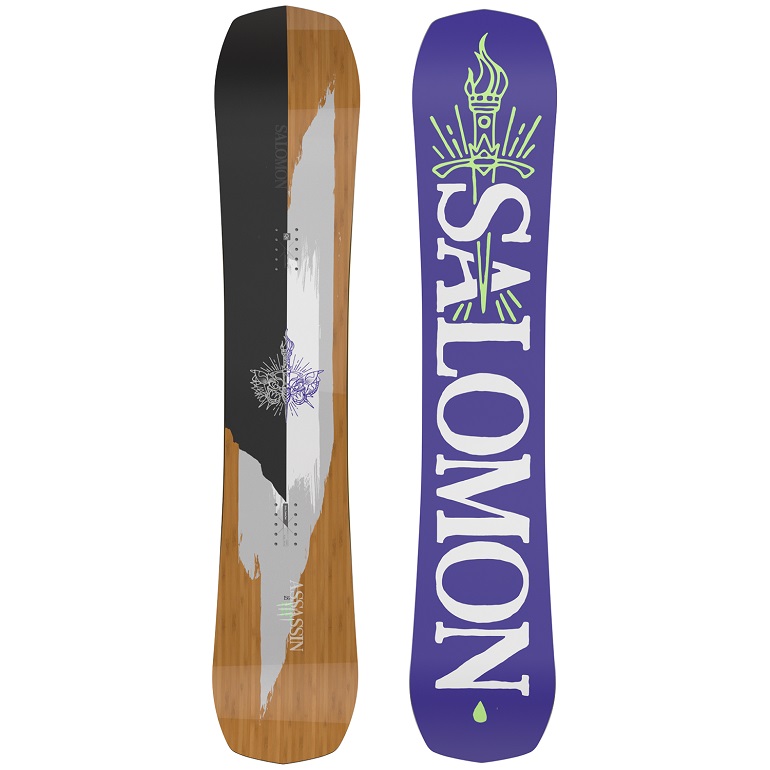 Salomon Assassin Snowboard
The price of "Salomon Assassin Snowboard" varies, so check the latest price at
Who Needs the Salomon Assassin Snowboard?
What kind of rider needs this mountain freestyle assassin? Like other top-notch boards, it can be used by all kinds of riders. However, if I had to narrow it down to a specific rider profile, I'd say it's for the rider that is looking for their next one-quiver board.
This snowboard is responsive, stable at high speeds, and perfect for hard hits.
I'm talking about the jumps, pop, and powder-crushing hits that take out the best of them. Picture an assassin atop the belfry. Trailing the target with their eyes, preparing to gracefully swoop down and nail the landing. Delivering the finishing blow.
That could be you. Eyeing the side hits from a distance and preparing to leap off them, land, and leap off the next. All in one precise flow of movement.
That is the kind of rider that needs the Assassin. An intermediate rider that wants to catch the air, as well as their board catches the snow beneath it.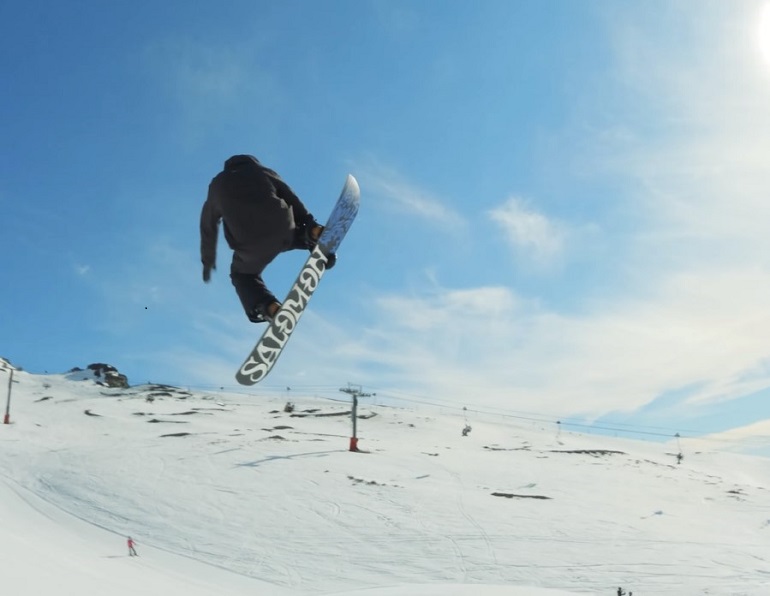 The Salomon Assassin: Bit by Bit
Now's the time to cut open the Assassin and see what makes it tick. A nice change of pace I would say. This part of my Salomon Assassin review will focus on what the Assassin has and what makes it perform.
You'll come to understand why it flies so well and handles landings even better. I'll give you a hint, it's that wonderful rock-out camber profile. I stated before that to get the best out of this board you've got to have either an intermediate or above skill level.
That is still true. But the distance between intermediate and expert is boundless. Everyone should keep their eye on this one.
The Board Itself
Although I'll go into more depth on the pop of this board later, let me tell you one of the reasons why it's so good in the air. The core of this board has bamboo and carbon rods running through it.
Strategically placed so that you could get the most out of their quality. I've got to say that their presence can really be felt as you ride. This board is light and it feels even lighter when it's in action.
The Assassin has a directional twin shape that (despite the directional in the name) is a joy when riding switch. That was unexpected but pleasantly so.
Size of The Blade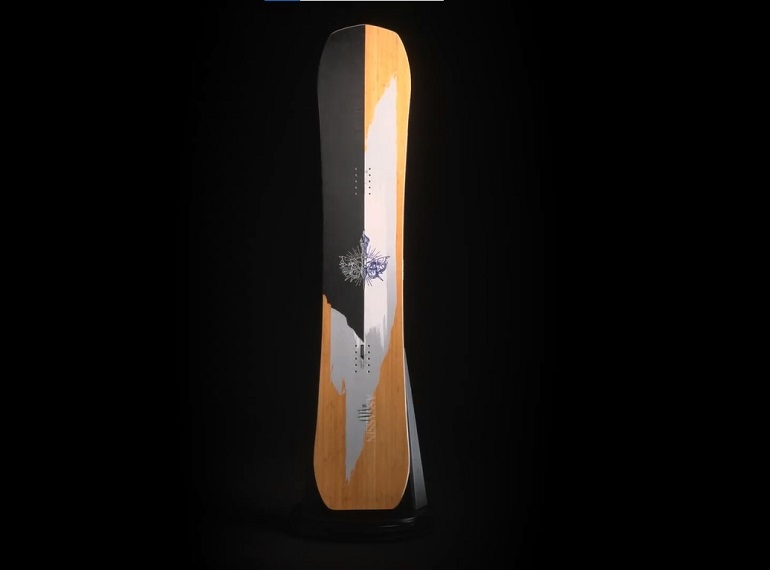 As I stated before, the board has a directional form and this means that its nose is a bit longer than the tail. What does that give you? A better ride when trailing through powder.
The long nose breaks through everything in its way and is a big reason as to why it even has a half-decent output on powder. The longer the nose, the better the float through powder.
As for the rest of the Salomon Assassin, the waist width is pretty par for the course. But if it isn't broken then don't fix it. Besides, the standard waist width contributes to its edge transitions.
Bindings Support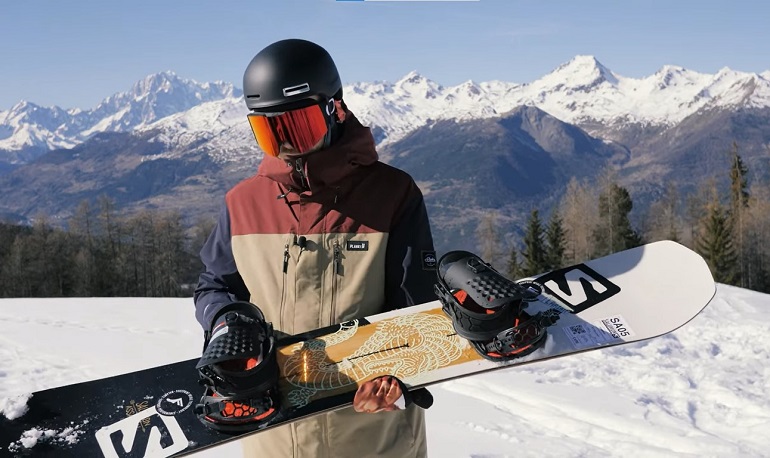 The rock-out camber profile has a flat section between the best snowboard bindings. This flat area is what gives this board its stability and poise. Don't be afraid to dial that speed all the way up because this design delivers even when racing through the snow.
There is a camber section near the bindings. Placed there for their responsiveness, so that you can bob and weave like a fighter. Taking your board with you at a moment's notice.
At either end, just past your bindings lies a rocker. One for each foot. These rockers improve your ability to press down and lift the board up. Either for riding through powder or preparing a jump.
It never felt like I was fighting the board.
What Conditions Can it Handle?
Going off of the previous section, you would think that the Assassin has world-class handling when it comes to powder. But this wasn't the case. The deeper the pow the more effort I had to exert to not catch an edge.
Still, it did deliver a decent performance and so I can't completely downgrade it based on this alone.
As for its edge hold, it suffered in icy conditions but again, this board was made for all-mountain freestyling. As a result, some of this was to be expected.
The Flex Pattern
Solid mid-flex that handles well but will leave any speed demons hungry for more. In fact, there is a stiffer version, the Assassin pro, for those that want to go faster. The tips are softer making it easier to get them into the air.
This medium flex gives you that nice middle-of-the-road between a forgiving ride and something that is stiff enough to reach a decent speed.
But I will say that if you want the full benefits of a freestyle board then something with a softer flex would do you wonders.

Stability Through Force
I've danced around the edge long enough. Is there a stable ride within the recesses of the Salomon Assassin? Yes, yes there is. Damp across uneven terrain without much chatter to disrupt your riding.
Remember that flat section between the bindings that I mentioned earlier? Well, it pays dividends here.
For a mountain freestyle board and one with a standard not extended waist width, you'd be surprised at the stability of the Assassin.
I certainly was. Simply put, I was not expecting how smooth of a ride this same board would give me even when the terrain was getting uneven and alarmingly noisy. Top marks for its stability.
Jumps, Pop, and Then Silence
I was taken aback by the stability of this board but I was blown away by its jumps and pop. This is by far the best quality when it comes to this board and possibly the highest score when it comes to all the boards I've encountered this year so far.
It doesn't matter how high of a jump you are trying to pull off, this is the number one board for the air.
In my experience, the pop of the back was easy to engage and felt impactful. This only made it easier to get the board into the air.
It was snappy like a whip. There's enough play in here to keep you occupied for the whole season.
How Smoothly Can it Glide?
Butterability, that tasty-sounding quality that we all want in our board. Well, does the Assassin have it? Can it butter well enough?
I'm happy to announce that in my experience, the Assassin was damn good at buttering. Another surprise for me because much like its performance when riding switch, the Assassin had no business being this good.
Especially because boards with a similar flex rating do not butter this well.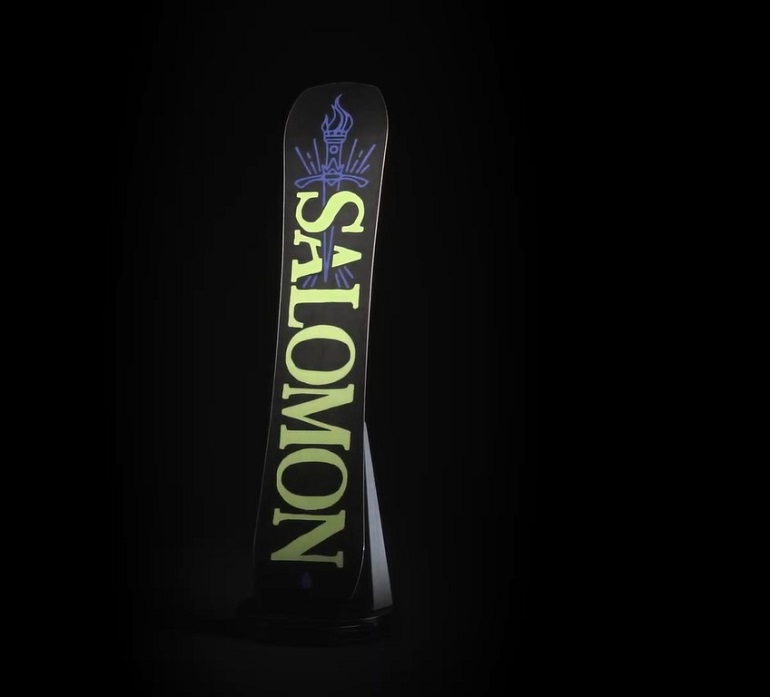 Its Deadly Carving Edge
Much like a real assassin, this board is not meant for aggressive carving. It's more about precision and grace rather than the rip-roaring performance that we expect from carving snowboards. You'll get a decent carve and it'll feel well enough but this isn't a true carving master.
It's not messy but it makes clean work of the snow. I will say that for me, the carving felt better the faster I went. Above average carving, be gentle with it and you'll have a good time.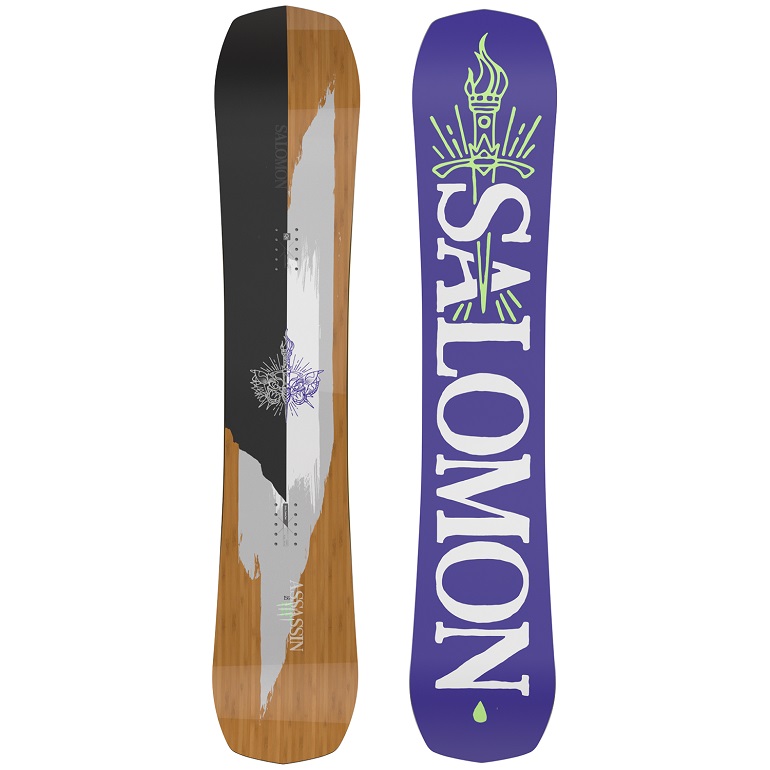 Salomon Assassin Snowboard
The price of "Salomon Assassin Snowboard" varies, so check the latest price at
My Final Thoughts On This Fresh Snow Killer
The Assassin easily makes it into my top 3 snowboards that I've encountered this year. I loved how easy it was to engage the pop. The quality of the jumps that I was able to pull off made me feel like a high flying professional.
And trust me, I am the furthest thing from a high-flying professional that you will find.
But this is what made it so special. Your snowboarding gear (or gear in any sport for that matter) should make you feel confident and capable. The Assassin snowboard did exactly that and I can't recommend it enough.