You are scrapping a fresh layer of powdered snow off the piste as you zip down the mountain slopes. The morning sun is creating shadows off the trees, and the fresh air wakes you up like no other.
But there is a problem. A few problems, to be exact! Particularly a pinching in your ankle, and it gets worse with every landing. Instead of taking in the experience, you are too busy focusing on your bindings. Like a small pebble in your sock, an annoying and persistent problem.
The flex level of your bindings was not the right one for your skill level or riding style. Now your lack of research has got you paying for your negligence.
Snowboard bindings are renowned because, unlike the bindings in other sports, they are comfortable and practical. But this established belief can lead to a few misconceptions.
While a snowboard binding is designed for comfort, not every snowboard binding will be comfortable for everyone.
King of All-Arounds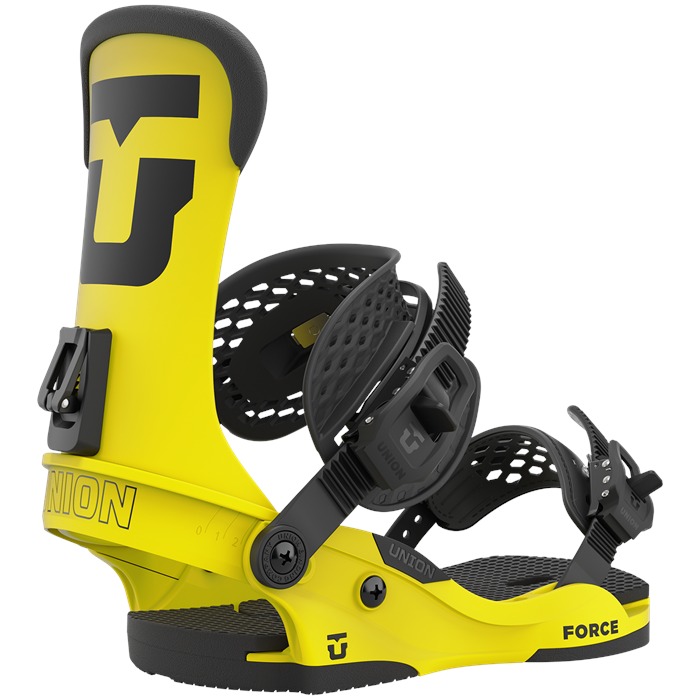 Union Force
Ability Level: Intermediate-Advanced
Binding Pattern: 2×4, 4×4, Channel
For maximum performance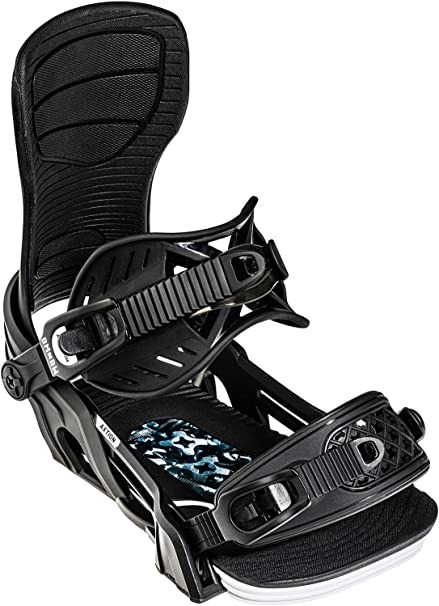 Bent Metal Axtion
Ability Level: Intermediate
Binding Pattern: 2×4, 4×4, Channel
Great Mountain Binding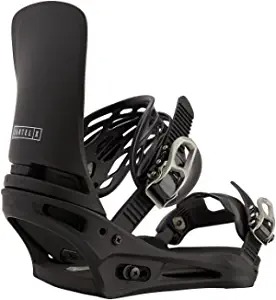 Burton Cartel X
Ability Level: Beginner- Intermediate
Binding Pattern:2×4, 4×4, Channel
Awesome Fit Innovation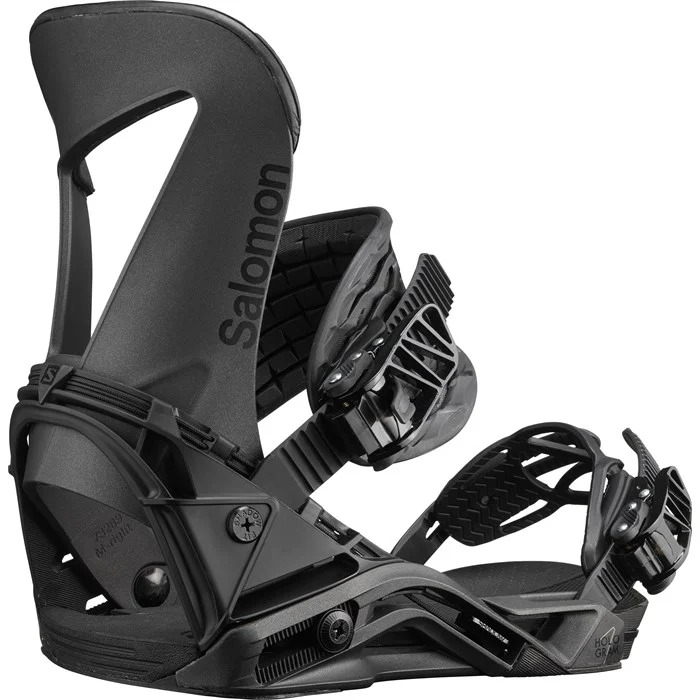 Salomon Hologram
Ability Level: Intermediate-Advanced
Binding Pattern:2×4, 4×4, Channel
Eye-Catching Design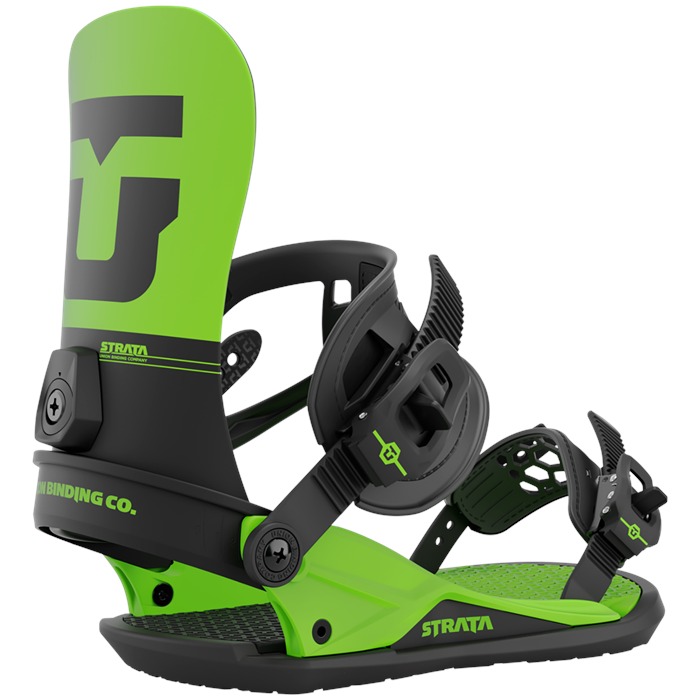 Union Strata
Ability Level: Intermediate-Advanced
Binding Pattern:2×4, Channel
Simple Layout & Price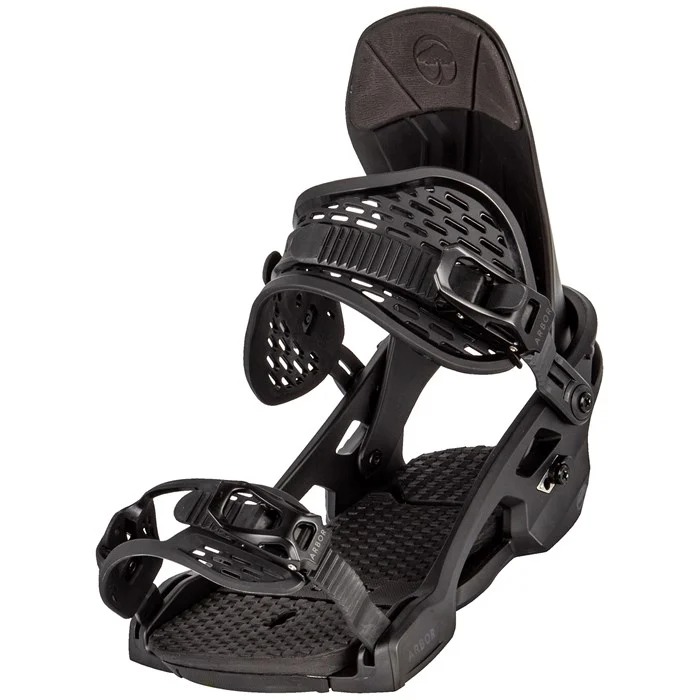 Arbor Spruce
Ability Level: Beginner-Advanced
Binding Pattern:2×4,  Channel
Most Affordable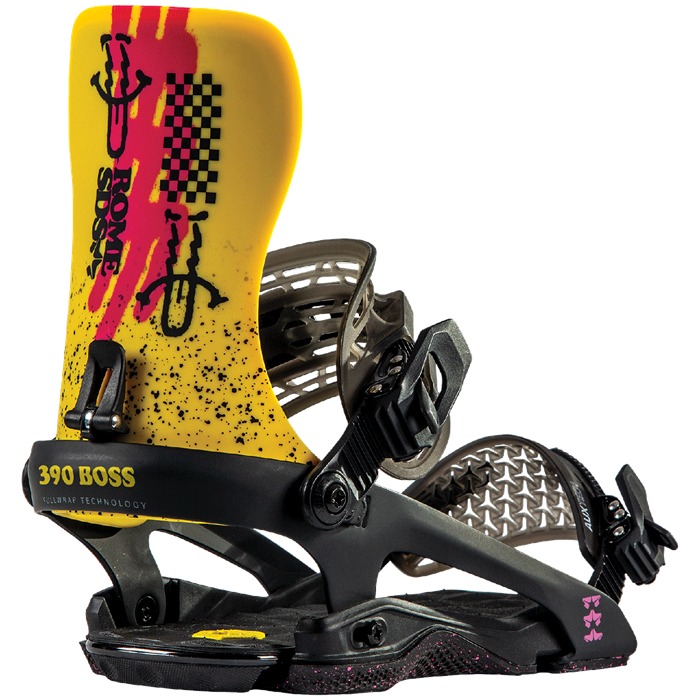 Rome 390 Boss
Ability Level: Intermediate-Advanced
Binding Pattern:2×4, 4×4, Channel
Veteran's Choice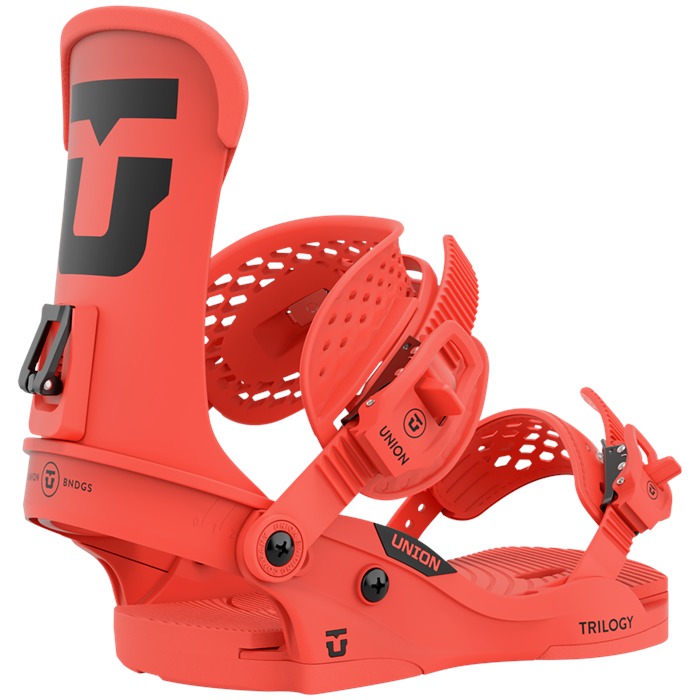 Union Trilogy
Ability Level: Intermediate-Advanced
Binding Pattern:2×4, 4×4, Channel
Best-Looking Option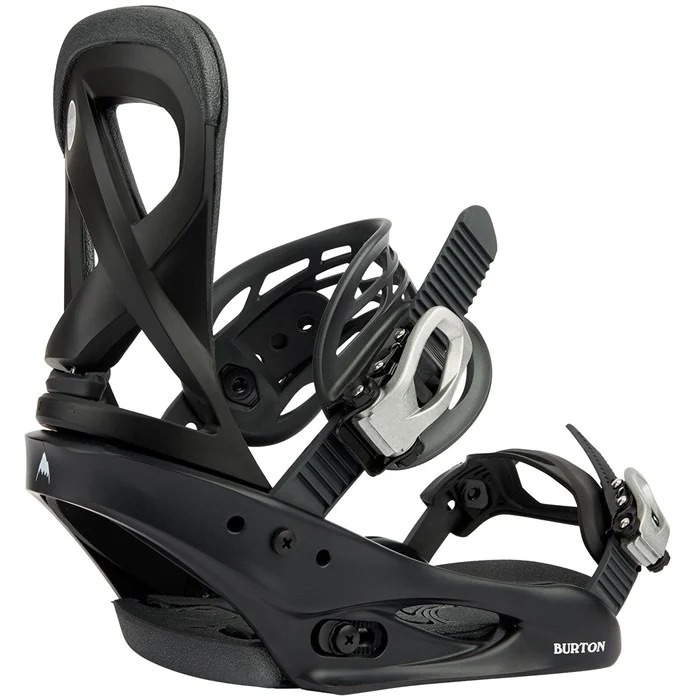 Burton Scribe
Ability Level: Intermediate-Advanced
Binding Pattern:2×4, 4×4, Channel
Improved Classic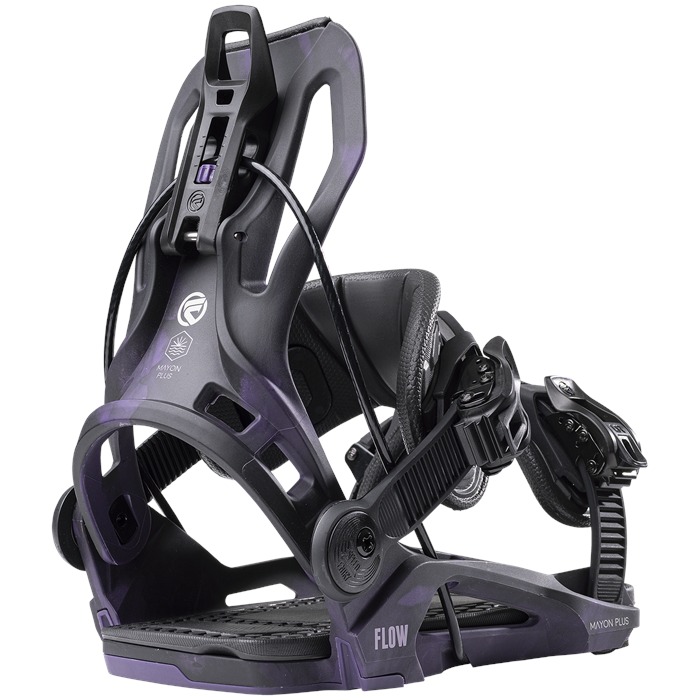 Flow Mayon Plus
Ability Level: Intermediate-Advanced
Binding Pattern: Burton 3D, Channel
The Best Snowboard Bindings for All Snowboarders
This is not a one size fits all situation. First and foremost, the best snowboard bindings are reliable no matter the weather or the condition of the piste. Beyond this, snowboard bindings can be split into several categories.
Certain brands have built a reputation for being the best in class in specific categories. Our listing has included the greatest bindings on offer, including atlas bindings, strata bindings, burton mission bindings, and burton cartel bindings.
Consult our buyer's guide, where I provide you with a more in-depth systematic breakdown of what separates the best bindings from the rest of the snowboard bindings on the market.
Union Force bindings have been a part of most snowboarding gear setups for years now. Most beginner and intermediate riders have either used or continue to use a pair of Union Force bindings in their lives.
I myself began my journey down the mountain slopes with a pair of these. The reason why this medium-stiff binding has such longevity is Union's refusal to make compromises during the design stage. These bindings are capable of handling different terrain, all while providing you with max comfort.
Magnesium buckles and an extra-strength heel cup in each binding are the two secret weapons that help power this reliable binding. These design choices ensured that this binding would be built to last.
Any all-mountain rider will find that the canted footbeds, which lean towards the center of the board, provide even the most aggressive riders with an ideal energy transfer. The canted footbeds are what make these a comfortable binding.
Be warned! The screws have been known to be unreliable— something to consider upon purchase.
Features
Medium to stiff flex level.
Best used by intermediate to advanced riders.
EVA foam pads the inside of the binding. Providing a multi-dense comfort zone.
Secure ankle straps.
The straps on the ankle aren't the only ones available on these snowboard bindings, a toe strap design is also included.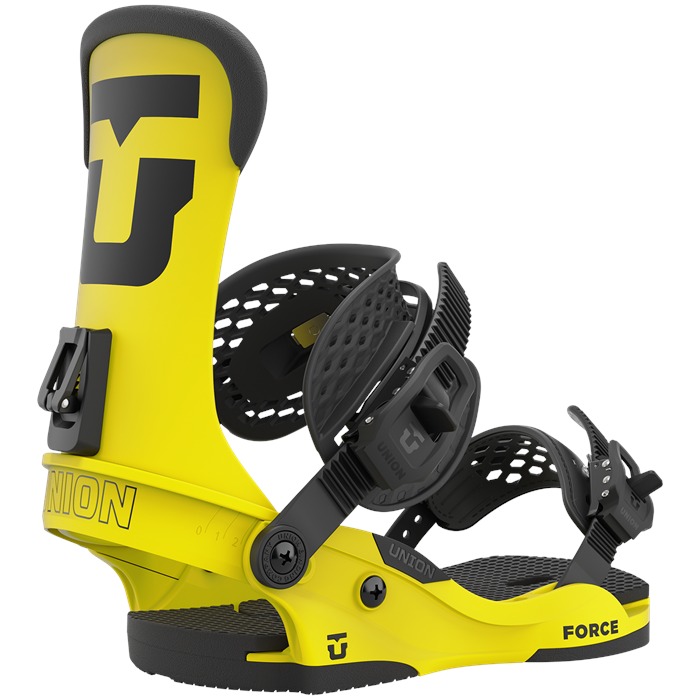 Union Force
The price of "Union Force" varies, so check the latest price at
The Bent Metal Axiton is the all-mountain binding for shock absorption and board control. The list of features is extensive. Let us begin with its forward lean adjuster, which allows you to modify the lean of these mid-flex snowboard bindings.
Impacts are absorbed, and its uni-body design allows for max energy transfer away from more vulnerable areas. Its easy-to-adjust toe ramp and interchangeable drive plates act as a sort of flex slider that can be used to alter this setting to softer flex.
This is one versatile binding. The downside is that you will have to play around with the settings before you find what works best for you.
This solid binding provides you with great ankle support not while sacrificing comfort. Most snowboard bindings would gladly make concessions in design and user experience just to have half of the customizable features that the Bent Metal Axiton's have.
Be warned! These snowboard bindings are not compatible with the Burton 3D mounting system, and repairs can be difficult due to parts being harder to locate.
Features
Its multiple features can be adjusted, making this binding optimal for performance when compared to other mountain snowboard bindings.
Lightweight, easy to get acclimated to, and won't weigh you down.
Comfortable. Comes with a baseplate composed of magnesium fibers.
Is compatible with the channel system of a majority of snowboard brands and boots.
Best suited for the intermediate rider.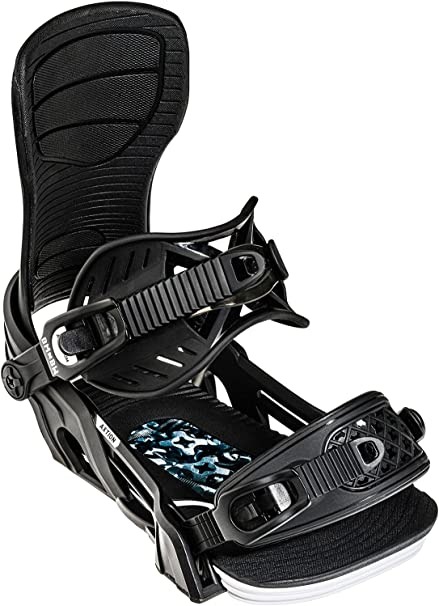 Bent Metal Axtion
The price of "" varies, so check the latest price at
This affordable pair of stiff bindings take everything that was celebrated in the classic Burton Cartels and improves upon them. Placing it on par with other bindings, such as the Burton Step On.
The design is a bit stiffer than before, but this is what gives it its responsive feel, something that more advanced riders can appreciate. The heel of your boot is firmly secured in place thanks to the new hammock strap that has been added.
This heel hammock accommodates a powerful riding style that can't be supported by Burton step-ons. A flexible ankle strap on either binding provides you with a smooth ride, even at high speeds.
Full cushioning and a gel base gives you a comfort standard that soft bindings could never achieve.
Be warned! If you wish to make any adjustments, you will need tools that are not included in the purchase.
Features
For all intermediate-advanced riders and snowboarders.
Has no pressure zones in which extra force is applied to your foot. Something that new bindings should include in their design.
The ideal flex for someone looking to enjoy the best these snowboard bindings have to offer.
Baseplate, extra cushioning, and gel underfoot makes you forget that it is a stiff binding.
A new hammock provided specifically for the heel makes these freeride bindings easy to get used to.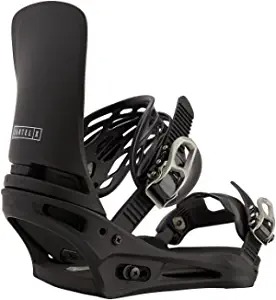 Burton Cartel X
The price of "Burton Cartel X" varies, so check the latest price at
These freestyle bindings have truly stolen my heart! The amount of exclusive and advanced features make this freestyle binding ideal for those looking to get more bang for their buck.
Let us first begin with its Shadow Fit mechanic. This Salomon exclusive is a baseplate system that has completely thrown out the industry stalwart heel cup. In its place is a system made up of 3 separate parts, which are headlined flexible heel straps.
The heel strap provides boosted comfort to the rider. Alongside it are quick wires made of Kevlar that encircle the entire boot. These two features work in tandem to provide you with precise power transfer.
These snowboard bindings have built-in forward lean and a base pad that ensures maximum comfort. By far, one of the best snowboard bindings that can be used by beginner and experienced riders.
Features
Can be used for any riding style and by beginner and intermediate-advanced riders.
The 3 piece Shadowfit technology is unmatched by other snowboard bindings.
Forward lean and with cant footbeds.
Due to its heel support system, it could be considered a freeride binding at heart.
Avoids the painful ankle pinching that all mountain bindings usually come to suffer from.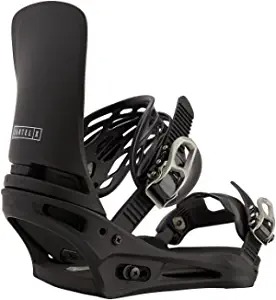 Salomon Hologram
The price of "Salomon Hologram" varies, so check the latest price at
The Union Strata snowboard bindings are sure to catch your eye more than any of the other snowboard bindings on this list. Dyed a vibrant purple, these bindings are multi-layered. Each layer comes with its own functionality and purpose.
The first layer is comprised of thermoformed EVA. To make it, foam materials have to be heated up until they reach a more flexible state. When in this pliable state, the foam is worked into a custom-fit mold.
Next up is the Duraflex Nylon. This nylon is exceptionally strong, and it works to provide security and added cushion to your boots. In fact, Duraflex nylon is much stronger than polyester, so you won't have to worry about any tearing here.
Vaporlite material is fused onto the two aforementioned layers in order to provide you with a smooth ride. These Union Strata snowboard bindings can easily rival the Salomon Hologram Shadowfit technology.
Features
Stiffness level of medium.
Best suited for boarders of an intermediate-advanced level.
Built for freestyling in the backcountry hills.
An incredibly flashy design even by snowboard bindings standards.
Two straps are provided, one at the front of the toes and the other around the heel.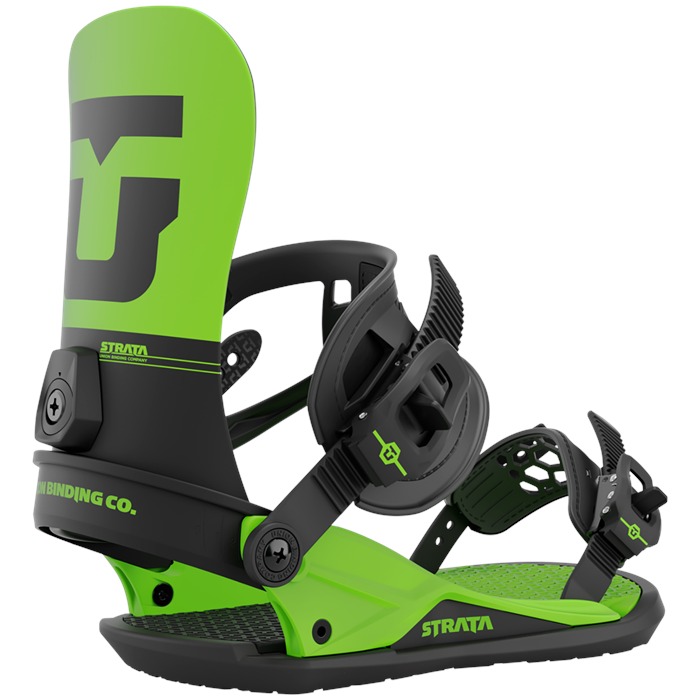 Union Strata
The price of "Union Strata" varies, so check the latest price at
These medium flex bindings will help you maintain the correct posture as your board scrapes off a fresh layer of powder snow. The footbeds are canted, which will help keep your knees in the correct position.
Having your knees properly aligned is important because this will reduce the wear and tear on the rest of your legs. Despite this great bit of assistance and the fact that Arbor has long been an established player in the industry, the Arbor Spruce are affordably priced.
Keep in mind that the reason the best all mountain bindings are available at such a low price is that Arbor has decided not to bog them down with unnecessary features.
You won't get anything innovative with these all-mountain beauties. You will only receive what you need and nothing more.
These snowboard bindings are best used by beginners, but intermediate-advanced boarders can also make great use of these brightly colored offerings.
Features
EVA footbeds provide you with a cushioned landing.
Ankle and toe straps that don't need tools to be adjusted.
A minimalist design and form, but this means that they are an easy fit for beginners.
Slightly softer than other similarly priced snowboard bindings.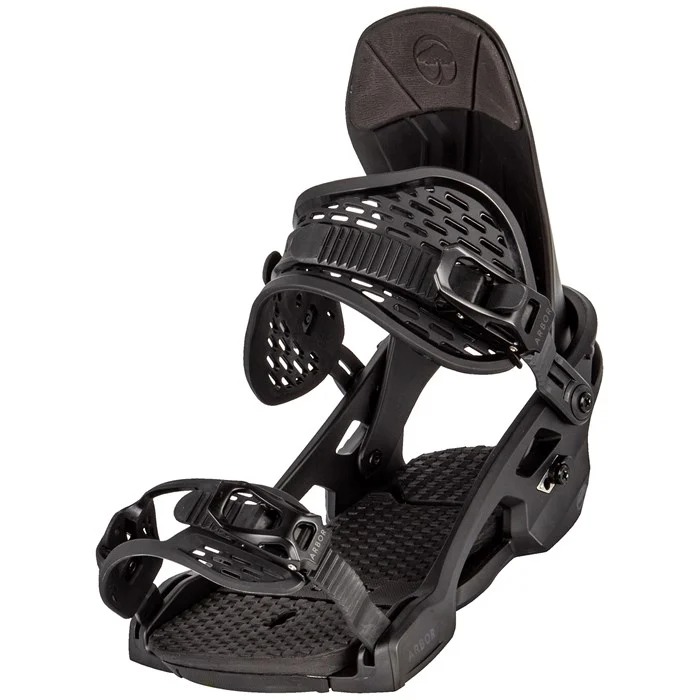 Arbor Spruce
The price of "Arbor Spruce" varies, so check the latest price at
This intermediate-advanced skill level pair is just what you need if you are on a tight budget. While our previous entry is also a potential candidate for you, allow me to explain why you would want this entry instead.
These snowboard bindings have a softer highback than most competitors on the market. The reason is that the highbacks are made from 100% nylon and nothing else. This provides a soft flex that meshes well with the freestyle riders of the world.
Their FullWrap chassis was recently modified, and these new changes have improved the durability and energy distribution of these bindings. The ankle strap and toe grip are both lightweight in their overall design. You won't have to contend with unnecessary features here.
Be warned! Do not buy these snowboard bindings if you have a Burton 3D mounting system, as they are not compatible with said system.
Features
A simple design that removes unnecessary bloat.
A 100% nylon highback gives you a smooth and comforting experience.
The base plate can be adjusted to fit a wide range of boots.
FullWrap technology provides excellent energy transfer throughout the foot.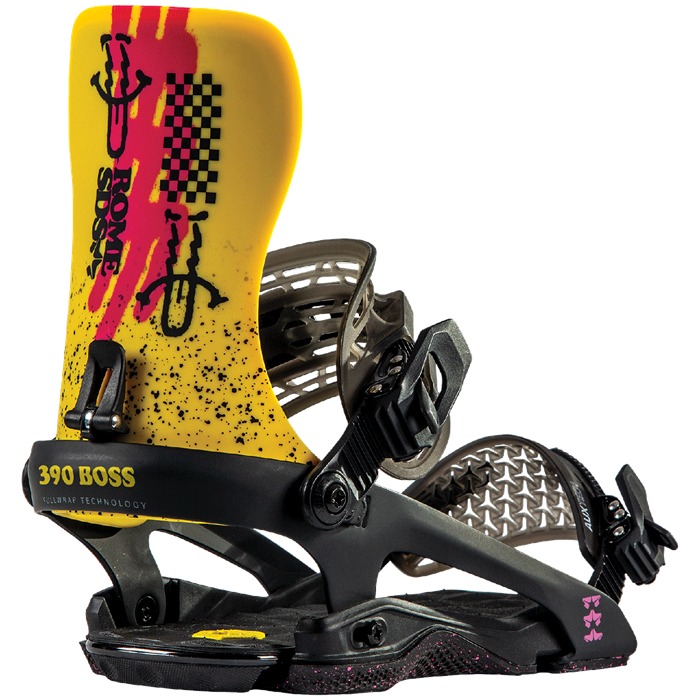 Rome 390 Boss
The price of "Rome 390 Boss" varies, so check the latest price at
Hitting the sweet spot, these snowboard bindings have been chosen by the best, and that is for a good reason. With the Trilogy, Union has focused all its energy on making a set of bindings that are comfortable and durable. Best used by female riders and is optimal for either soft or deep snow.
Although they are designed for women, these bindings share all the same features that can be found in Union Atlas snowboard bindings or even a rear entry binding pair. They are a medium stiff binding with a high back that is much shorter than competitors.
If you want to see what these snowboard bindings are capable of, then look up Jamie Andersen on youtube and marvel at her greatness. These have long been her bindings of choice.
Features
Exoframe ankle straps that are lightweight in order to maximize comfort potential.
For more skilled riders, not a beginner pair of bindings.
Colored in fashionable pale pink.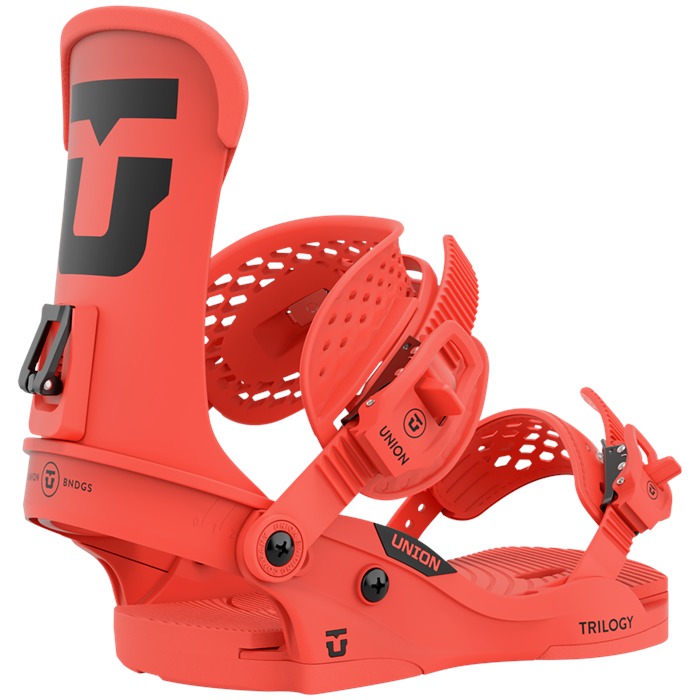 Union Trilogy
The price of "Union Trilogy" varies, so check the latest price at
Nothing on this list could top the wonderful white and coral mix that these bindings sport. They are medium flex offerings that feature a surprising new addition, canted high backs.
As expected, these canted high backs provide you with extra support in an area that doesn't regularly see it. I honestly wish that there was a similarly designed offering for males because they would become my instant new favorite.
MicroFLAD on the sides enables you to improve your responsiveness and forward stretch. The best part of this fully cushioned, user-friendly offering is that anyone from beginners to more skilled boarders can use them.
Features
Heel and toe straps are cushioned and ready to provide additional support.
Incredible color scheme.
Can be used by any level of rider, although designed for females.
Canted high backs, a once rare feature.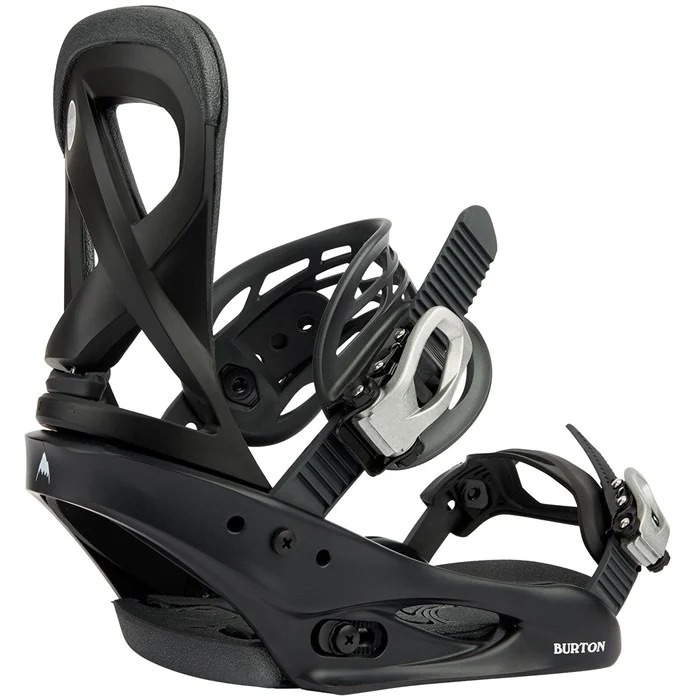 Burton Scribe
The price of "Burton Scribe" varies, so check the latest price at
The best rear entry binding on this list, and for a good reason, as that was the entire design ethos over at Flow. The base plate and high backs that made the original Mayon an instant best seller have returned, but some improvements to the overall design have been made.
A new strap has been added for additional security and convenience. Oddly named the ExoKush, this strap provides an extra layer of security that makes this an instant must-have over the previous iterations of the Mayon.
Of course, we should be paying more attention to Flow Mayon Plus's star feature. Its rear openings make them significantly faster to put on and take off speed entry bindings.
Women usually have fewer snowboard gear offerings than men across many action sports. Rest assured that the Mayon Plus can proudly call themselves members of the best all-mountain snowboard bindings grouping.
Features
ExoKush strap. A terrible name but an excellent stability feature.
An improvement over an already classic offering.
One of the best offerings for aggressive styles, won't lose comfort even during the harshest sets.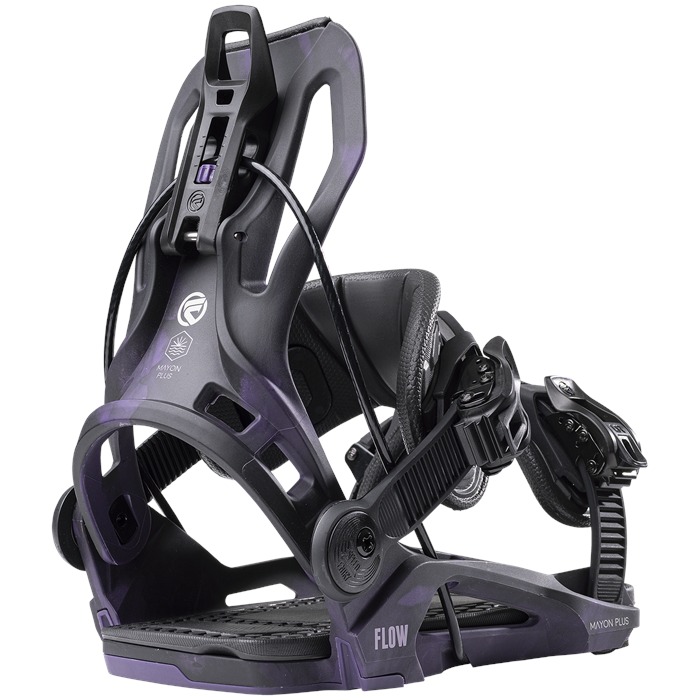 Flow Mayon Plus
The price of "Flow Mayon Plus" varies, so check the latest price at
Choosing the Best Snowboard Bindings – Our Buyer's Guide
First and foremost, before making a final purchase choose snowboard bindings that are compatible with either your snowboard or your boots. Otherwise, you are just burning your hard-earned cash.
Beyond that, there are many things to consider when purchasing a set of snowboard bindings, from flex level to features, but worry not. I have assembled an in-depth guide explaining what you need to know in layman's terms.
Pick what matters most and let your choices guide you toward the perfect purchase.
Mounting Options
Every rider has their own unique stance and angle at which they like to snowboard. This is why snowboards have a base plate component that allows you to adjust the placement of your bindings.
Fortunately, most snowboards support a universal mounting system, but there is one company that annoyingly decided to buck this trend. Beware of Burton snowboards because you will have to purchase a pair of bindings that are Burton-compatible.
You Know It's All about the Flex!
While snowboarding can be split into several categories. Ultimately it is your style that will determine how you traverse across different terrain. You may be wondering how flex levels play into all of this.
Flex levels determine how flexible your equipment is. Bindings are graded on a scale of one to ten, with one being the softest and ten being the hardest. Beginners should stick to lower flex ratings, preferably in the 1 to 4 range.
This is because you are allowed greater freedom at the lower levels, which is important for someone just starting out in snowboarding.
The greater your skill level, the more likely you are to seek out a higher level of flex. Don't purchase a higher level flex binding because they are not as forgiving as lower levels.
Adjustments
Do you like to have ultimate control over your purchases, or would you rather get a finished and standard product out of the box? If you like to make adjustments, then you should consider picking out a set of bindings that have multiple features that support such behaviors.
However, it is not enough to purchase highly customizable bindings. You also need to make sure that these bindings have parts that can be easily swapped and replaced.
If you don't care much about making adjustments, then just make sure that your one-size-fits-all, include your size and stance.
Budget and Riding Style
Of course, when making any purchase, the number one factor is how much money you have and how much money will the product cost you. Don't just look at the final sale price, consider the cost of making repairs and their durability levels. The more durable, the less likely you are to have to replace or repair them.
Your riding style should be supported by your final purchase; otherwise, you may have to obtain a new snowboard or other pieces of equipment, and neither of those comes cheap. You should need to know about snowboarding costs.
Entry Methods
Finally, entry methods are how you equip the binding. Some entry methods make for easy equipping and removal of the gear, such as any bindings in the speed entry category. Although these types of bindings do not provide you with as great a sense of security as more conventional entry methods.
The trade-off here is that conventional entry methods, like a step-on entry, take a lot more time and effort to put on and remove. This is due to the greater difficulty in clicking in the gear when out in the snow. It is all about what you value most.
A Few Closing Words
We made sure to run the gamut here and give you as many options as possible. Taking into account the many factors that could influence your decisions. Everything from riding style, comfort level, support features, and aesthetic design was considered.
Remember to consider your own skill level and what type of snowboard you have before moving on to the next stage of your decision process. A Burton board will most likely require special bindings that are compatible with it and it alone.
We want to ensure that you make a wise purchase and the best way to do that is to first use our buyer's guide to simplify your thought process. Followed by then making a selection from the list above.