Thinking about hiking (or climbing) the Grand Teton? Adventure writer and experienced climber Meg Atteberry shows us the ropes.
The Grand Teton is the crown jewel of the Teton Mountain Range in northwestern Wyoming.
Traditionally, this land belonged to the Bannock, Blackfoot, Crow, Flathead, Gros Ventre and Nez Perce Native people. In fact, the highest known Native American building structure is located near the summit of the Grand Teton.
The mountain towers at 13,776-feet tall, making it the second highest mountain in Wyoming (the first goes to Gannet Peak). However, what this mountain lacks in elevation, it makes up for in technical ability.
Ropes are required to reach the top.
Not only is the Grand Teton a worthy climbing objective, but it is also one of the top fifty classic climbs in North America!
You might also like: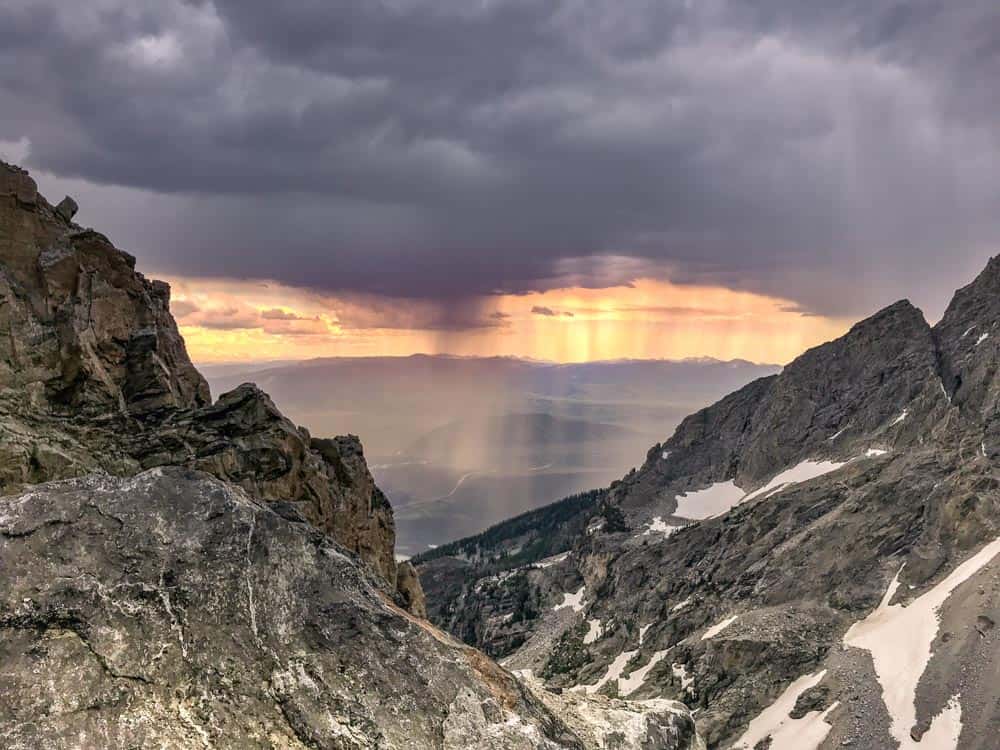 So how does one go about climbing the Grand Teton? Well, there are several different routes up this majestic mountain, and this insider guide to climbing the Grand Teton will give you all the juicy details.
Where is the Grand Teton?
Located in northwestern Wyoming, in Grand Teton National Park just outside of the town of Jackson, the Grand Teton rises abruptly above the Great Plains of America.
Part of the Grand Teton's appeal is that it requires over 7,000 vertical feet of elevation gain to reach the top, meaning that you start at a fairly low elevation when you begin your climb.
Many mountaineers and climbers alike are drawn in by the sheer challenge of reaching the highest point in Grand Teton National Park.
You might also like:
What skills and fitness do I need to climb the Grand Teton?
First, since you can climb the Grand Teton both guided and unguided, you'll want a different level of mountain proficiency for each.
Guided climbs require less skill, but you should still be able to hike up six miles one way (12 total) while carrying a 40-pound pack as well as basic mountain climbing skills.
You'll also want to be familiar with roped climbing and at least have some gym climbing under your belt. Furthermore, the drops are steep and the fear-factor is real on this climb. There are points where you will be suspended in the air on a rope with nothing between you and the ground for several hundred feet, so have a healthy "head game" or ability to handle heights and exposure.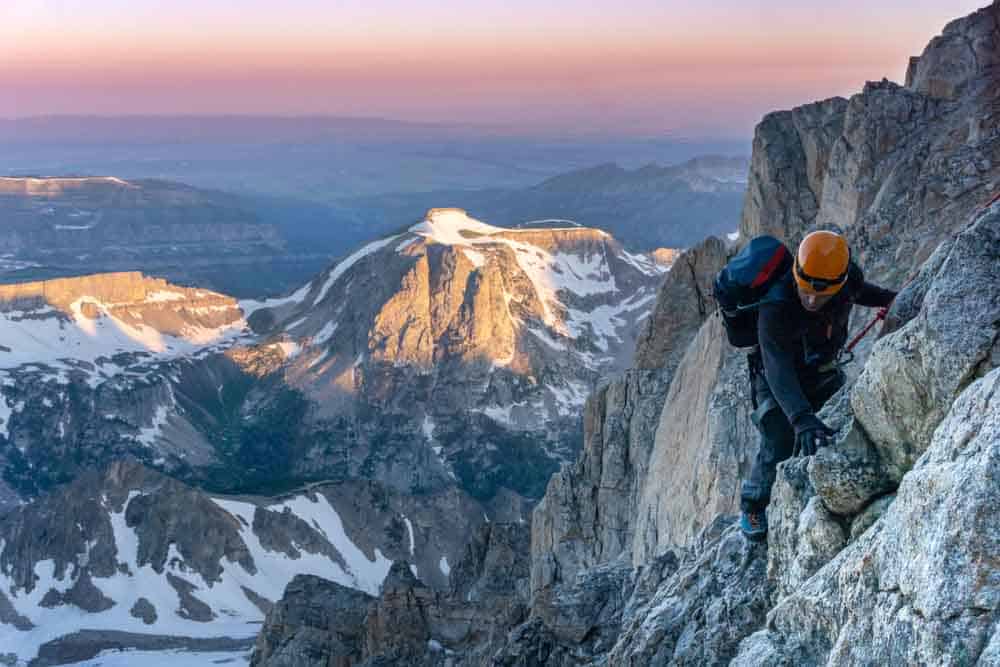 If you're doing the climb un-guided, you'll need the above skills plus backpacking and alpine trad climbing expertise. This includes setting up trad anchors, rappelling, and extensive route finding. You'll need to be self-sufficient on an unguided climb, and your pack will likely weigh far more than if you went on a guided climb.
The best time to climb the Grand Teton
Unless you are into serious winter endeavors, you'll want to make sure that the Teton Range is mostly snow-free before attempting this climb.
There are permanent snowfields and glaciers in the Teton Range, so the snow never completely melts, however, a climb in winter conditions is certainly an extremely advanced mountaineering objective.
The weather is best from late June through August, with the potential for snow again in September.
During these times, the mountains generally see warmer weather during the day (although you'll certainly want to pack a puffy layer and base layers), cool, occasionally freezing temperatures overnight, and plenty of thunderstorms. People die every year in the mountains from lightning strikes, so take care to understand the risks of climbing or staying above treeline in the afternoon.
Summer is considered monsoon season in the Rocky Mountains and expect thunderstorms to roll in quickly, dropping hail, lightning, and plenty of rain. This means you'll want to get an alpine (pre-dawn) start on the day of your summit bid up the the Grand Teton.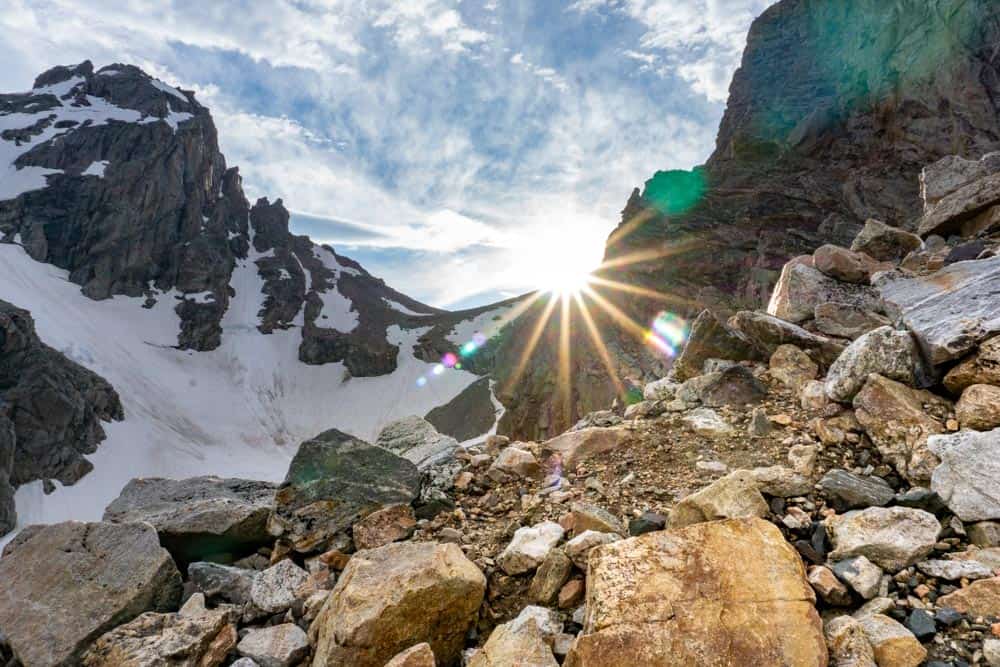 Plan to be back down to the saddle before noon to avoid dangerous storms. The weather on the Grand Teton is largely unpredictable, and many times climbers are thwarted from reaching the summit due to surprise storms.
How long does it take to climb the Grand Teton?
Timing largely depends on your ability and how you choose to climb the Grand Teton. For example, the speed record from car-to-car on the Grand Teton is two hours and 53 minutes.
Now, unless you're an FKT (fastest known time) rock climber, that's pretty unrealistic.
On the other end of that spectrum, guided trips take up to five days, including a day hiking both in and out, a skills day, and a summit day.
However, most people attempt to climb the Grand Teton as an overnight. They backpack up to the saddle, spend the night, and head out early in the morning for the summit, returning all the way back to the car the next day (it takes most people around 8 hours to summit and return to their camp). This requires the least amount of food but also allows your body to rest.
From car to car the round trip distance up to the summit is 14 miles with over 7,000 feet of elevation gain.
You'll do the first 12 miles and 5,000 feet of gain to reach the saddle between the Middle and Grand Teton, while the remaining 2,000 feet of gain is done in just over a mile one-way.
For those not well-versed in el-gain, that is some seriously strenuous climbing. Those who may want a more conservative approach could opt to say near the saddle a second night. This not only makes the descent a little easier, but it also gives you an extra day to summit in case the weather doesn't cooperate.
Do I need special gear?
Unlike many beginner mountain climbs, all ascents up the Grand Teton require technical rock climbing gear and skills. There is no "easy" way to the top and unless you are comfortable free-soloing (climbing unroped), you'll need some climbing gear. Exactly what gear you'll need largely depends on your route.
There are a variety of routes of varying difficulty up the Grand Teton, with the easiest being the Owen Spalding Route, a 5.4. Some people may opt to solo this, however, most people opt for a more challenging route such as the 5.6 Upper Exum Ridge Route and use the Owen Spalding route, along with the 120-free hanging rappel to descend.
The following is a general list of what you'll need to climb the Grand Teton
Grand Teton Climbing Permits
In order to climb the Grand Teton as an overnight climb, you'll need backcountry permits for your climb.
Since this climb is so popular, it's a smart idea to obtain your permit well in advance of your climb. Advanced permits are available from the first week of January through May 15th for that year.
If you're going with a guide service, then you won't have to worry about obtaining a permit.
Climbing with a Guide
For those who want to enjoy a climb up the Grand Teton but don't have the skills to go on a self-sufficient climb, consider hiring a guide for your Grand Teton climb.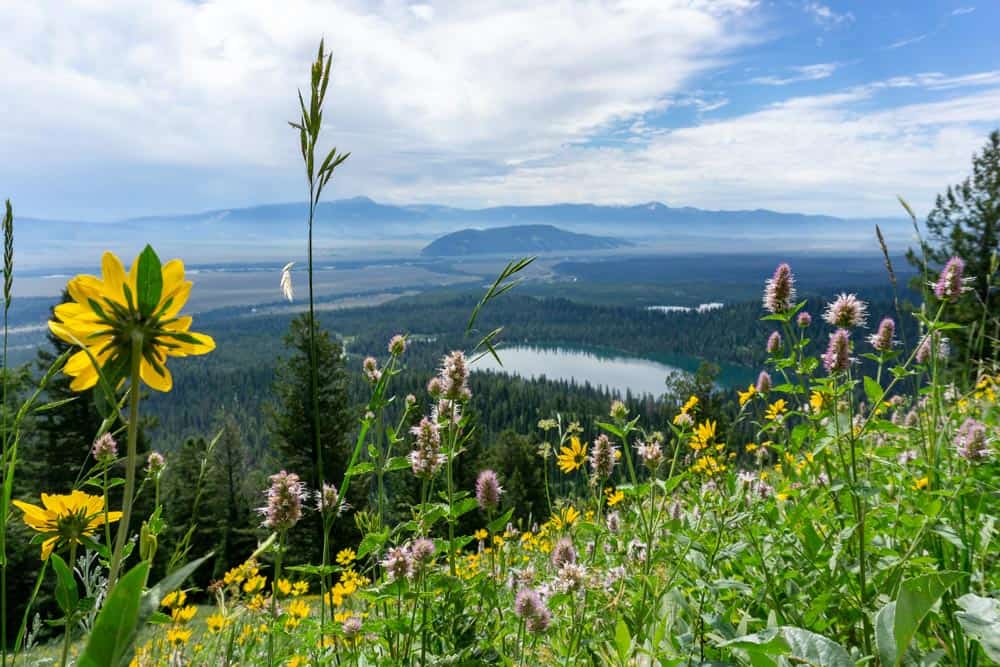 There are two primary guiding services, Exum Guides and Jackson Hole Mountain Guides. Both provide similar trips, but Jackson Hole Mountain Guides has a better-protected base camp with better views and access to training climbs.
You can opt to go on a guided trip with or without a skills day, where you'll learn multi-pitch climbing techniques, rope team techniques and more. Furthermore, the guides know the mountain like the back of their hand, so you don't have to fret about route finding when on a guided climb.
This is a great option for those looking to get into alpine climbing or for those who simply don't want the hassle of planning a self-sufficient trip.
How to select an unguided route
There are 30 named routes up the Grand Teton, each varying in difficulty. Select a route based on your ability, keeping in mind that if you are a 5.9 trad climber at the crag, you may want to take the difficulty down a few grades to ensure that you'll be able to handle the climb.
Alpine climbing differs greatly from trad climbing at the crag or even multi-pitching. The rock tends to be dirtier and looser, making protection placements a bit more difficult. You'll also have to combat ice, verglass (thin layers of ice), wet rock, altitude, and other high-alpine obstacles.
Hiking the Grand Teton
For those who aren't up to the challenge of climbing the Grand Teton, you can still get above treeline and see the Grand Teton massif without putting on a climbing harness. There's a whole bunch of Grand Teton hikes that offer awesome views and adventure potential, from easy day hikes to more challenging routes.
Let's look at which of the Grand Teton trails should be on your radar:
The Garnet Canyon to Lower Saddle Trail offers up a chance to reach the ridge between the Middle Teton and the Grand Teton. This strenuous, 12-mile hike climbs up 5,300 feet and terminates at the saddle.
Along the way, you'll be treated to stunning views of the Teton Range and the valley below.
However, keep in mind that this hike should only be attempted in good weather and requires a fair amount of fitness to reach the top. You won't be able to stand on the summit, but such a hike certainly will make you feel quite accomplished.
Grand Teton Tours
Whether you're looking for a fun day tour or an epic week-long adventure, there's a pile of Grand Teton tours to suit just about every taste and budget.
Take a look at this 4-hour wildlife safari that brings you through the national park spotting moose, grizzlies, and eagles.
If you fancy some on-water action, check out this 3-hour river tour that takes you floating down Snake River with an insane view of the Grand Teton mountains.
For a full week-long adventure, feast your eyes on this incredible 7-day camping and hiking tour that takes you through Grand Teton National Park as well as Yellowstone and Bryce Canyon. EPIC!!!
You might also like:
Travel resources
Plan your trip
Ready to start planning and budgeting your trip? Use Kayak to find and compare the best deals from all over the web on flights, hotels, and car rentals. When you do a search on Kayak, it pulls data from hundreds of travel booking platforms to offer you the best prices available, so you know you're always optimizing your budget to the max. The closest airport to Grand Teton National park is Jackson Hole. You'll also find Idaho Falls a bit further west
Travel insurance that covers adventure sports
Finding serious travel insurance that covers outdoor activities and extreme sports isn't easy, that's why we recommend World Nomads, a simple and flexible insurance company run by an international team of active and passionate travelers since 2002.
From physical injuries and medical repatriation to dental emergencies, stolen passports, damaged gear by airline companies, trip cancellation, or even pregnancy complications, they've planned it all. You can even sign up for a policy after you started your trip. For up-to-date Covid information on domestic travel, check out the CDC's travel page.
Wrapping it up
Overall, climbing the Grand Teton is an absolute bucket list item for any mountaineer or alpine climber. There's something magical about standing on the top of the mighty Grand and looking down at the wild, beautiful landscape below you. If you need more info on all of Yellowstone national parks, you should find everything you're looking for at yellowstonepark.com.