Looking at all the surf camps in Bali got your head in a spin? Here's your one-stop-shop guide to choosing.
If there's one thing Bali has heeeella, it's dudes with man buns / smoothie bowls / surf camps.
But is it really any wonder? After all, Bali is undisputedly one of the most epic places to surf in Asia.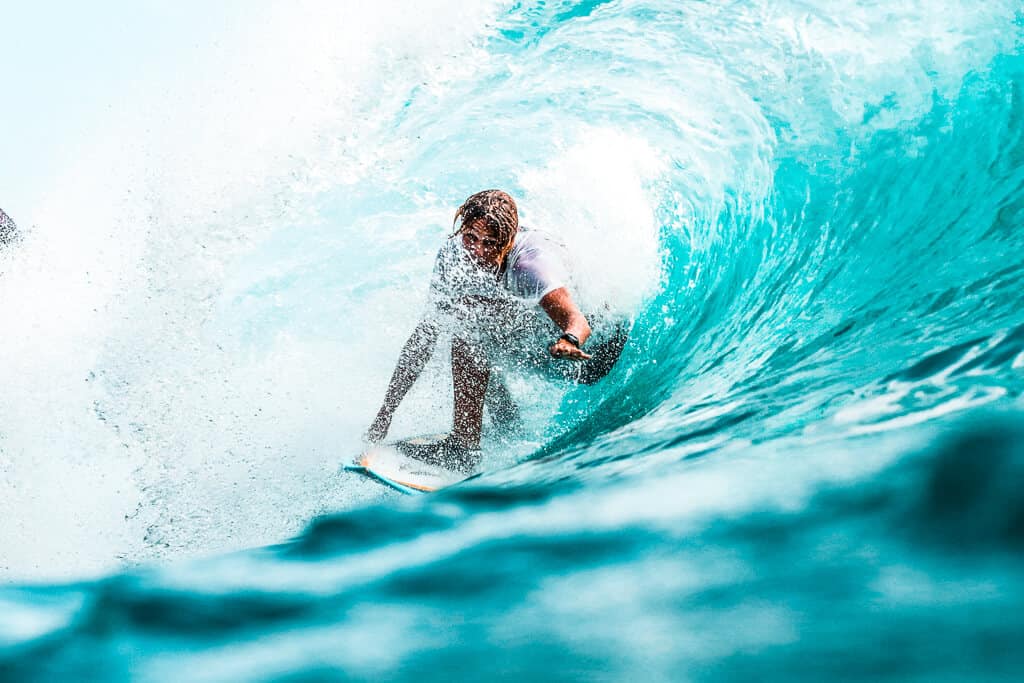 There's literally DOZENS of surf camps scattered across the island, and each one seems to be offering something kinda same same but different to the next.
Honing in on the best surf camp in Bali for you can be an F'ing challenge and a half- especially if you aren't familiar with the island. Questions like 'where are the best Bali surf spots?', 'when's the Bali surfing season', and 'which camps are gonna have me harnessing my inner Alana Blanchard and which are just wind-up merchants??' are probably flooding your mind- as they were mine when I first started researching.
Pop a chill pill and put on the kettle, guys; we've totally got ya covered.
During our 10 day trip featuring all the wildest adrenaline sports in Bali, we experienced some of the island's surf camps firsthand; then we went and dug through the archives to create this mega comparison of 19 different surf camps in Bali to help you narrow your own search.
As well as summarising their basic offerings, we've also compared them on a whole bunch of different factors so that you can quickly and easily pick out the one that'll suit you the best.
Ahhh sure, aren't we good!?
So before we duck dive (see what I did there?) into the list, let's look at the different factors you should consider when deciding which one of the mountains of surf camps in Bali is for you:
You might also like:
Which of the MANY surf camps in Bali is the one for you?
This depends on a whole mess of factors, and the matter of finding the "best" surf camp will be different according to everyone's own preferences and priorities.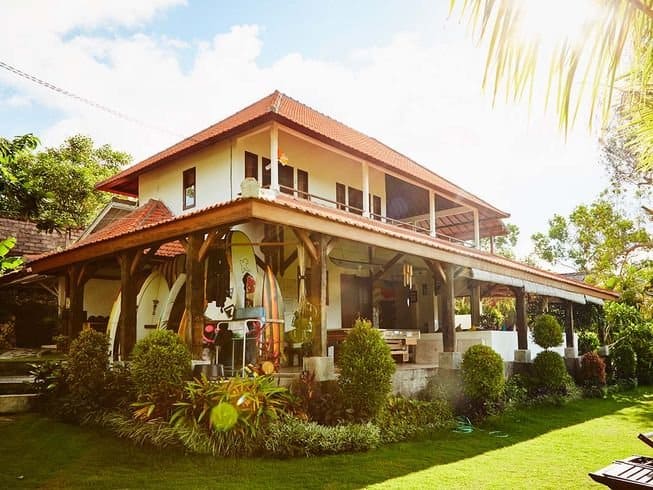 For us, we wanted a beginner-friendly camp that allowed us the chance to progress to more difficult classes as our level improved. We also wanted to find somewhere that offered good value for money (and we weren't too fussed about fancy pants accommodation).
But for someone else, those priorities might more wrong than those eejits who still say the earth is round.
….just kidding! (Soz, flat-earthers.)
So in order to be most helpful to those of you with varying needs, we've broken down our comparisons of the surf camps in Bali according to:
Languages spoken
Location
Level suitability
Relative cost
Comfort of the included accommodation
We've also detailed the services offered by each one (though we do still encourage you to check out the precise listings of your chosen camps to get a really complete view of this).
Hopefully this goes some way towards helping you pinpoint the ultimate surf camp in Bali for your next adventure. Woohoo!
Without further ado:
19 surf camps in Bali to know about in 2019
Surf WG
First up on our list is the friggin' awesome camp that we were recently hosted by: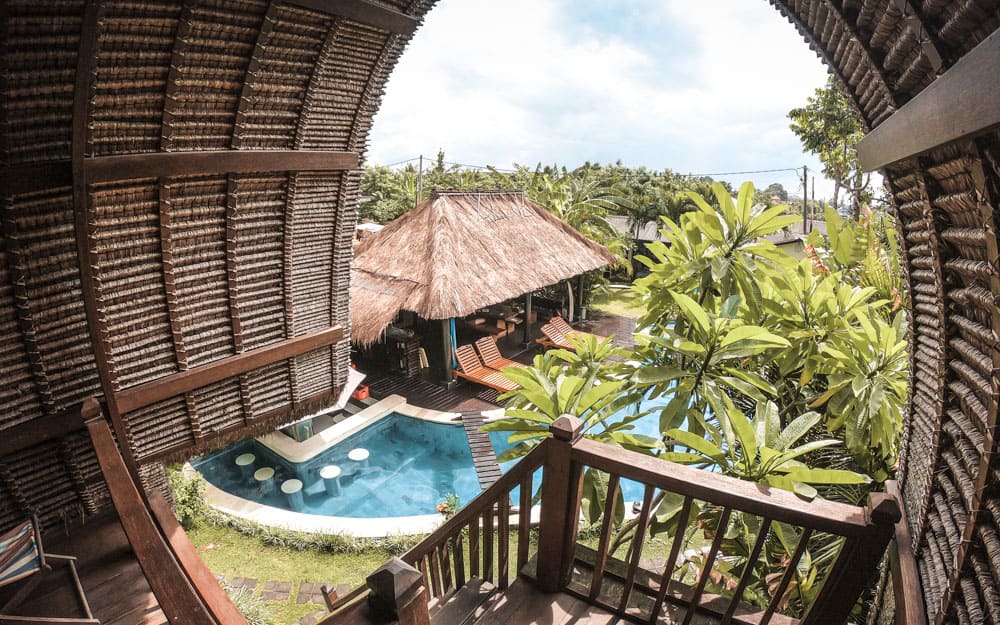 Surf WG is a German run camp located in a quiet part of Berawa (on the outskirts of Canggu). With gorgeous wooden/palm leaf housing, a lush tropical garden, a swimming pool, and ample chill-out space, we loved the vibes on-site as much as out in the waves (and did we mention their delicious home cooked meals?! Breakfast was included in the standard surf package, as was a free scooter rental. Super handy).
Surf WG offers a 7 day surf camp (2X lessons daily + accommodation) for all levels, from total beginners to intermediate and advanced surfers looking to make some trips around the island under the wing of their dedicated guides. And if you're already looking for surf lessons in Canggu, they even offer their 3-day beginner course for FREE when you book to stay in their accommodation- which is kinda a no-brainer.
Language: English, German, Indonesian
Location: Canggu
Surf level: beginner, intermediate, advanced
Cost: $
Comfort: $$
Mojosurf
Mojosurf is one of the most established surf camps in Bali, having set up as an extension of the Aussie surf tour brand of the same name. Their Bali surf camp has its HQ in Canggu, but the team operates all over the island and elsewhere at Indo's top surf spots, including the adventure-filled island of Lombok, Nusa Lembongan, Java, and the Mentawais.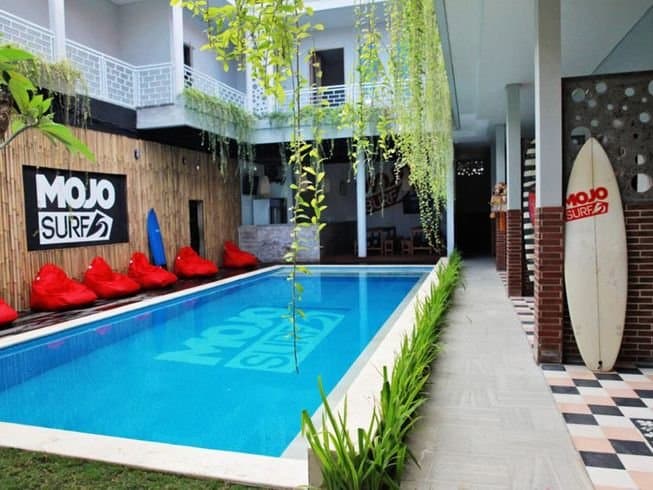 A great choice for anyone hoping to incorporate travel with their surf camp experience, Mojosurf offers surf n stay camps for beginner and intermediate surfers, from one-day excursions and energizing surf yoga camps to week-long island hopping adventures. They're now also offering private and dorm rooms in their newly built hostel.
Language: English
Location: Canggu
Surf level: beginner, intermediate
Cost: $
Comfort: $$
Lapoint Bali
Operating near the black sandy shores of Echo Beach, Canggu, Lapoint is a wildly international surf camp that has schools in Sri Lanka, Costa Rica, Morocco, Portugal, and Norway to name a few.
They offer camp packages for 3 specific levels of beginner and intermediate surfers, as well as the option to stay in their villa (with double rooms, dorms, and private bungalows all available). Take your pick between their best selling surf camp in Canggu or the offbeat version in the quiet east coast town of Gianyar.
Language: English, Indonesian
Location: Canggu
Surf level: Beginner, intermediate
Cost: $$
Comfort: $$
Wave House Bali
Located in Berawa, Canggu, Wave House sits in a stunning location complete with their own tropical garden, pool, common area, and selection of stylish accommodation offerings- from deluxe private rooms to budget friendly dorms.
But their site aside, Wave House offers an intensive intermediate 15-day camp that covers your accommodation, 2X daily surf sessions, equipment rental, theory classes, and a whole mess of added extras like access to the gym, waterpark, and free push bike rentals.
And for anyone who's keen to check them out but not quite ready to bite the bullet with the full camp, you can always start out with a taster course or simply a beginner's surf lesson on Kuta Beach with one of the Wave House instructors.
Language: English, Russian
Location: Canggu
Surf level: beginner, intermediate
Cost: $-$$
Comfort: $$$
Pro Surf School
Pro Surf School brings a decade and a half of professional experience to the table and holds a rake of impressive titles and awards, including Lonely Planet's 'Best of Bali', I Explore's 'Top 5 Surf Schools in the World', and Magic Wave Surf Community Magazine's 'Best Surf School in Bali' for three years running. Phew!
The surf camp is based right on the shores of Kuta Beach, just a 20 minute transfer from the airport (yay for short transfers!) where they offer a range of surf camps for all levels. Their camps include accommodation in their simple rooms, as well as lesson-only packages for total beginners and intermediates, and finally reef surfing courses for those looking to challenge themselves further.
Language: German, English, Indonesian
Location: Kuta
Surf level: beginner, intermediate, advanced
Cost: $$
Comfort: $
Rapture Camps
The international surf moguls at Rapture Camps operate in primo wave spots all over the world, from Nicaragua to Portugal- in addition to their two surf camps in Bali. Location numero uno is their super popular, balls-to-the-walls Padang camp, which is located on the westerly end of Uluwatu; their second- and somewhat bougier- location, Cliff, is located just 10 km southeast.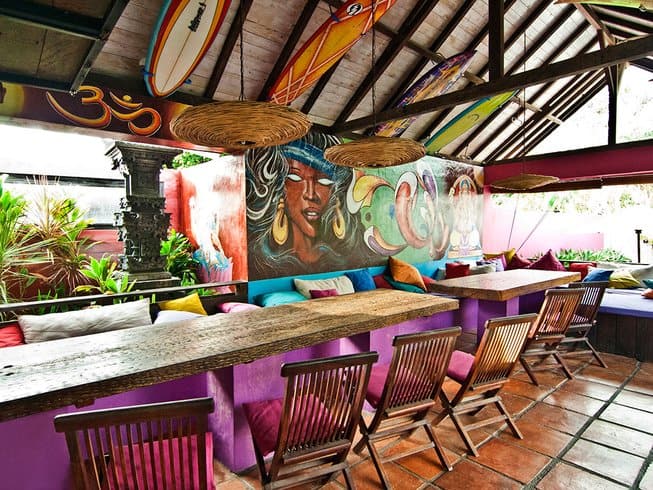 Their camp is staffed by certified Aussie instructors who take their guests training down at the likes of Padang Padang and Uluwatu- spots that are famous for their insane waves (so you know these guys are fo' real). With a location like this, advanced surfers will be catered for just as much (if not more) than any beginners.
On-site, they've got dorm rooms available for budget travellers and swishy suites or grass bungalows, too. Their surf camp covers the accommodation of your choice as well as 2X daily guided surf sessions, breakfast and dinner, surf sesh video analysis, fitness & yoga classes, and more.
Language: English
Location: Uluwatu
Surf level: beginner, intermediate, advanced
Cost: $$
Comfort: $$-$$$
You might also like:
Kima Surf
Kima Surf have been teaching people how to ride those Balinese waves for nearly 25 years (!!!) and in that space of time, they've established centers in Canggu, Seminyak, and Padang. Catering to beginners and advanced surfers alike, each one of Kima's surf camps in Bali includes 2X daily surf sessions with a guide, breakfast, free access to bicycles and vans, theory classes, and surf video analysis.
No matter what your skill level is, you can join Kima's surf camp in Seminyak or combine it with yoga at their Canggu surf camp location. Beginners will be able to progress quickly at the sand bottom beach breaks, while advanced riders can set off to challenge themselves at the nearby reef. When the day is done and you're good and knackered, curl up in the comfort of your own gorgeous room overlooking the terrace, tropical gardens, and stone pool.
Aaaaah, bliss.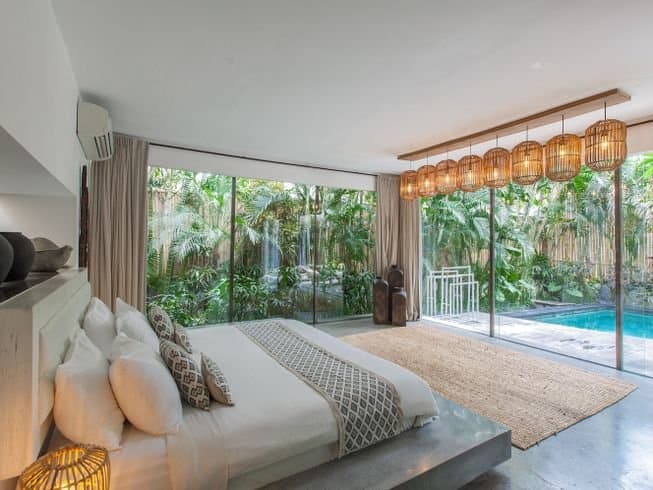 Language: English, German
Location: Canggu, Seminyak, Padang
Surf level: beginner, intermediate, advanced
Cost: $-$$
Comfort: $$$
Padang Padang Surf Camp
Located in the most southwesterly peninsula on the island, Padang Padang Surf Camp is the sort of place I'd want to head for when I'm dreaming of that Insta-Bali vibe that we all secretly love to love. Their luxe surf villa boasts bloody incredible views over Bukit Peninsula; and most importantly, it's just a stone's throw away from some of Bali's most insanely awesome surf spots- like Impossibles, Uluwatu, and the camp's namesake, Padang Padang.
Choose between the 8 day relaxation surf camp filled with daily surf sessions, complementary massages, and yoga in their phenomenal open-air studio- or the epic 15 day version, which promises to charge up your batteries and progress your surfing skills in a big big way.
Language: English
Location: Pecatu
Surf level: beginner, intermediate, advanced
Cost: $$$
Comfort: $$$
Endless Summer Surf School
With more than a decade of experience on the island, the Endless Summer crew now offer surf camps in Bali- one in Kuta and the other in Canggu.
The beauty of joining their Kuta surf camp is two-fold: first, you'll be staying right at the surf spot, which means you'll be able to swap out those arduous shuttles to and from the beach for extra time catching waves. Secondly, their Kuta camp is one of the most budget-friendly camps on this list, and includes airport transfer, surf lessons, photo analysis, and more.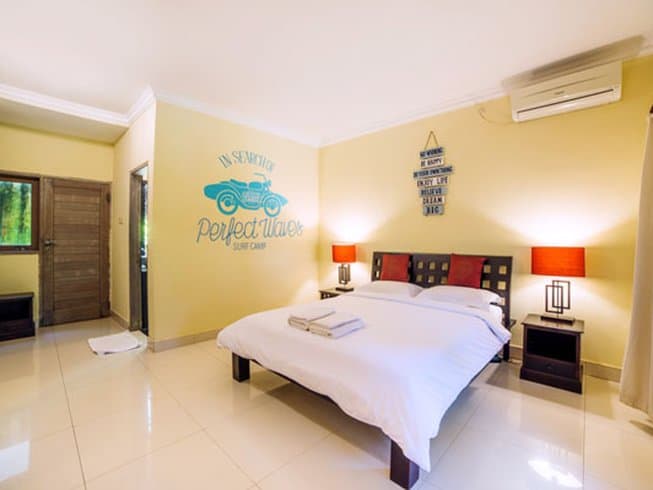 Then there's the Canggu camp, which would see you staying in the lush greenery of southeast Bali's rice fields. Their designated surf villa comes with a private swimming pool, garden, open-air chill out area for yoga (or, y'know… beer drinking) and is located just 5 minutes from Echo Beach- one of Canggu's sweetest surf spots.
Language: Indonesian, Russian, English
Location: Kuta, Canggu
Surf level: beginner, intermediate, advanced
Cost: $
Comfort: $$
Kamafari Surf Camp Bali
Located just a stone's throw from the perfect waves of Padang Padang, Kamafari Surf Camp Bali is perched between jungle and ocean (with a 180 degree view of the water that they're pretty damn proud of, if they do say so themselves) and far away from the craze of the main tourists haunts.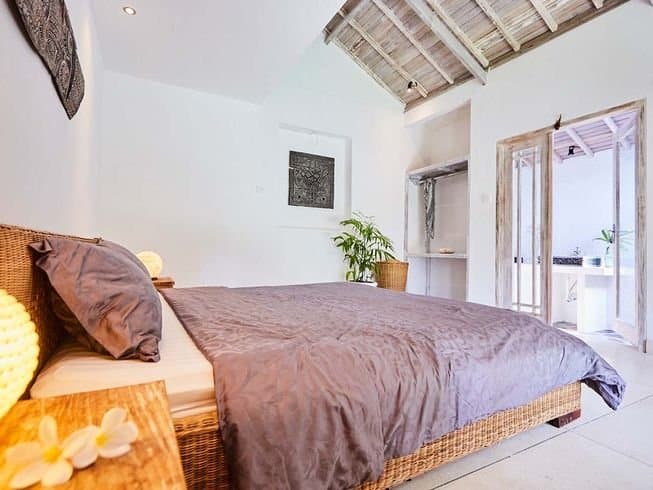 Their budget friendly surf camp caters for all levels, offering full board, daily surf lessons, theory, and transfers to and from the surfing spots as standard. You'll be staying in their dedicated surf villa, which is spread over two floors and offers the option to stay in a double or twin room.
Language: German, English
Location: Badung
Surf level: beginner, intermediate
Cost: $
Comfort: $-$$
Solid Surf House
Combining both surf and yoga, Solid Surf House offers a rejuvenating week long surf camp in their peaceful location in Canggu. The half board camp includes daily surf lessons, yoga, sightseeing, board rental, and 'surf safaris' to nearby spots to get you scoring the best conditions no matter where they are.
Since 2012, Solid Surf House has offered their own boutique villa accommodation with just 9 rooms, nestled away in Canggu's banana plantations. On-site, they've also got a swimming pool, jacuzzi, a bar/restaurant, and even an open-air cinema.
With an open plan living area, kitchen, and plunge pool, guests can float between socialising with like minded surfers and retreating to their own private rooms for a wind-down.
Language: English
Location: Canggu
Surf level: beginner, intermediate, advanced
Cost: $$
Comfort: $$
Stormrider Surf Camp Bali
Hidden away in the rice fields of Canggu is Stormrider Surf Camp Bali, a place that focuses as much on surfing as it does on the things that complement it- from healthy eating and surf-inspired yoga to working on board skills at their very own mini ramp.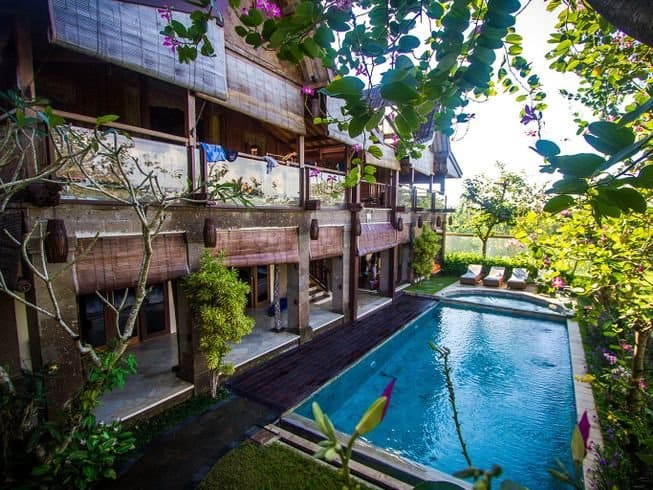 They offer a beginner-friendly 4-days crash course that sees guests dive into 3 beginner surf lessons with guidance from their instructors, complimentary breakfast, and 3 nights' stay in an upscale dorm in the Raja Ombak Surfers Resort (with an outrageously nice view of the rice terraces).
Language: English
Location: Canggu
Surf level: beginner
Cost: $
Comfort: $
Vertical House Bali Surf School
Vertical House's wonderfully multinational team is as good a representation as any of their camp's diversity. Spanning beginner and intermediate courses, Vertical House are offering two camps at the moment which we reckon are worth their weight in salt water- err, I mean gold.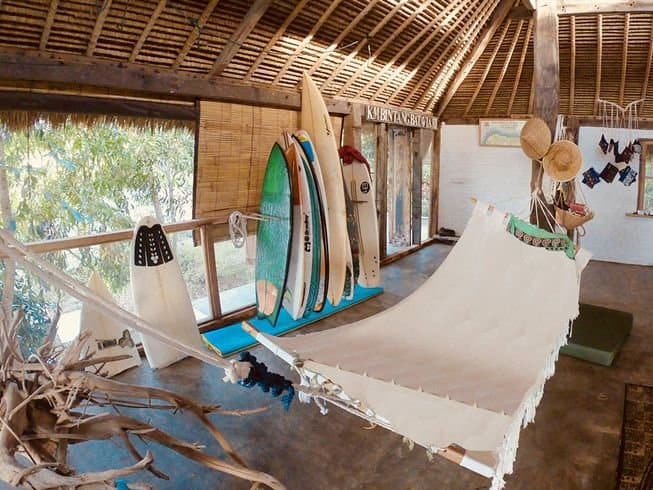 The first is their 'invigorating' (but totally beginner-friendly) 8-day surf camp which promises to get novice surfers up onto their board and catching Uluwatu's beautiful blue waves. You'll also be invited to join on their private boat to enjoy the sunset when Friday rolls around (swit-swoo!).
They also offer an epic 8-day 'surfari' camp (see what they did there?) which includes the same services as above, but is geared towards intermediate surfers.
Language: English, French, Indonesian, Italian, Spanish
Location: Ungasan
Surf level: beginner, intermediate
Cost: $$
Comfort: $-$$
Medewi Bay Retreat
Medewi is by far one of our favourite places in Bali thanks to its laid back vibes, distinct lack of crowds, and ridiculously awesome surf (it's said to have the longest left-hander on the island!).
Medewi Bay Resort is welcoming pairs of experienced surfers to join along for a 2-person advanced surf camp at their stunning home spot along Bali's west coast.
An irresistible choice for anyone who's keen to avoid Bali's crowded surf spots, the camp package includes 2 full days of surfing Medewi's untouched corduroy waves, 3 nights of accommodation in a deluxe suite at the Medewi Bay Retreat, breakfasts, and round trip airport transfers from Denpasar.
Language: English
Location: Medewi
Surf level: advanced
Cost: $
Comfort: $
Brown Sugar Surf Camp
Love the sound of Medewi by don't quite consider yourself 'advanced' yet? Then Brown Sugar Surf Camp's intermediate course should be right up your street. Accommodating a maximum of 5 guests per group, the Brown Sugar crew are offering an intensive 8 day surf camp which would see you training at all of Medewi's best surf spots.
The camp includes 12 guided surf sessions, transfers to and from the surf spots, video coaching and analysis, airport transfers, and 7 nights accommodation in either their traditional Indonesian bungalows or their deluxe villa. Sweet!
Language: English
Location: Medewi
Surf level: intermediate, advanced
Cost: $
Comfort: $-$$
The Beach House
Located in the wave battered southerly town of Uluwatu, The Beach House is hosting an epic 7-day surf camp for surfers of all levels, which is truly designed to maximise your time on the water no matter what. The camp offers unlimited surfing sessions, daily lessons, healthy breakfasts, airport transfers, sightseeing around the beautiful area of Uluwatu, and 6 nights accommodation in their plush pool villa.
This camp is an ideal choice for anyone who's keen to challenge themselves on some of Bali's best waves, whilst still being able to enjoy all the comforts of a super-modern villa when the day is done.
Language: English
Location: Uluwatu
Surf level: beginner, intermediate, advanced
Cost: $$$
Comfort: $$$
Dream Sea Surf Camp
Just a quick look through international surf collective Dreamsea's Instagram is enough to make me want to pack a bag, book a flight, and never ever leave Bali ever again.
Will ya get a load of their beachfront rooms!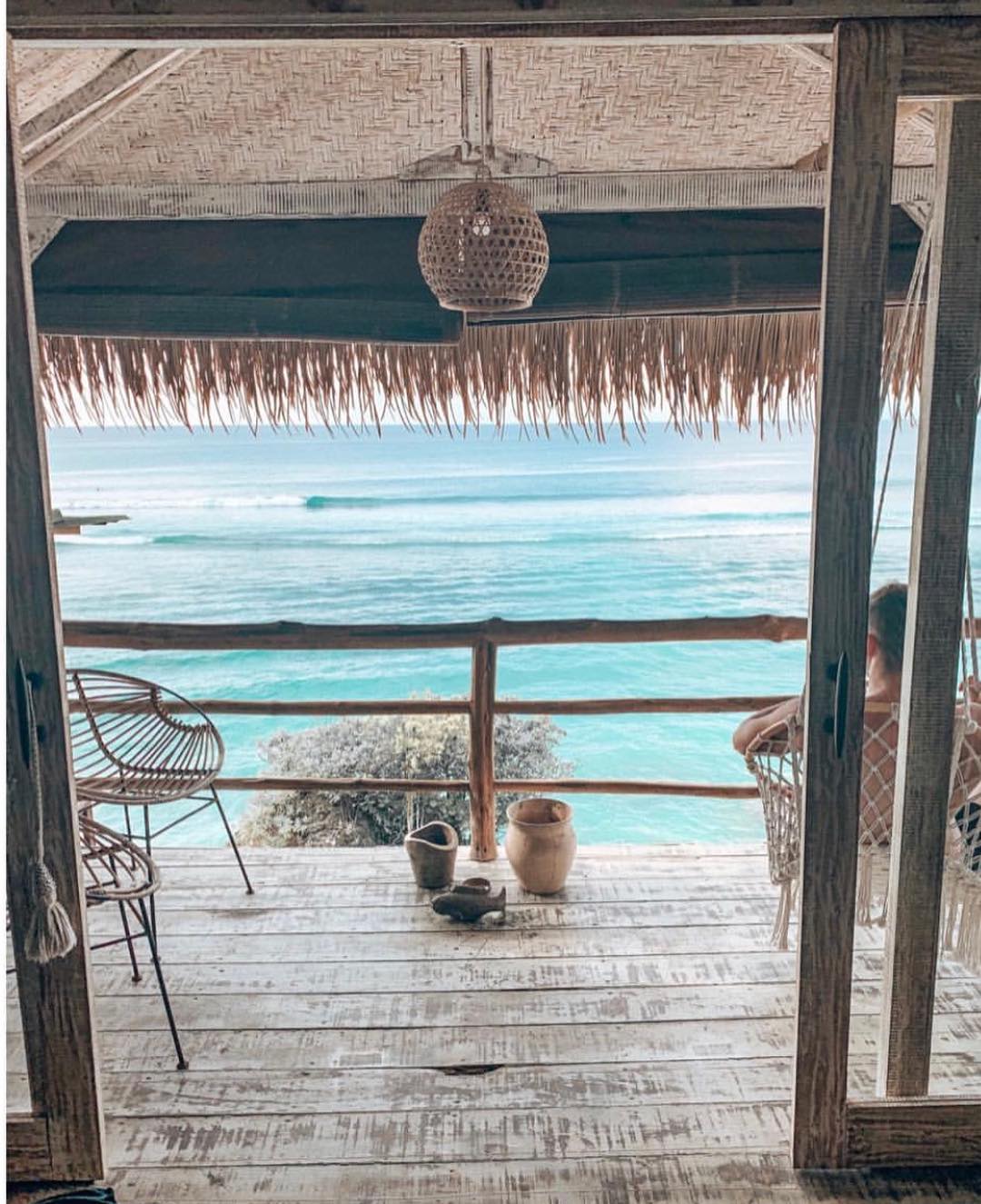 Everything on site has been handpicked by their uber-cool interior designers who are all about tying Bali's natural surroundings right into the camp experience.
Book yourself a room at Dreamsea and you'll have the choice of adding on a 10 hour beginner's surf course, a curated series of private lessons according to your level and time constraints, or- if you're already an experienced surfer- free access to their equipment and guided tours.
Language: English
Location: Canggu, Uluwatu
Surf level: beginner, intermediate, advanced
Cost: $-$$$
Comfort: $$$
Next Level Surf Camp Bali
With 30 years of experience under their belt, the team at Next Level Surf Camp pride themselves in providing a structured, quality course- which one customer on TripAdvisor described as "scientific". You'll get core skill development, video analysis, personal coaching and feedback sessions, as well as your theory and practical classes.
The camp is situated just up the road from South Bali's epic surf spot, Padang Padang, which even though is widely known as a 'pros only' reef break, also offers beginner-friendly conditions right around the corner. Stay in their boutique villa (which only ever has a maximum of 6 guests) fitted with teak furnishings, an azure plunge pool, and jungle views.
Language: English
Location: Padang Padang
Surf level: beginner, intermediate, advanced
Cost: $$-$$$
Comfort: $$
Bali Green Surf School
Located in Seminyak, Bali Green Surf School offers three levels of surf camp, all of which offer airport pickup, accommodation, unlimited surfing, surfboard rental, and complimentary breakfast.
Choose between their simple and affordable standard Seminyak camp, the superior Seminyak camp (plusher accommodation in a nearby resort), or their adventurous Red Island surf camp which takes place in the secluded beaches of Pulau Merah, East Java.
Language: English
Location: Seminyak
Surf level: beginner, intermediate
Cost: $-$$
Comfort: $-$$
FAQs about surfing & surf camps in Bali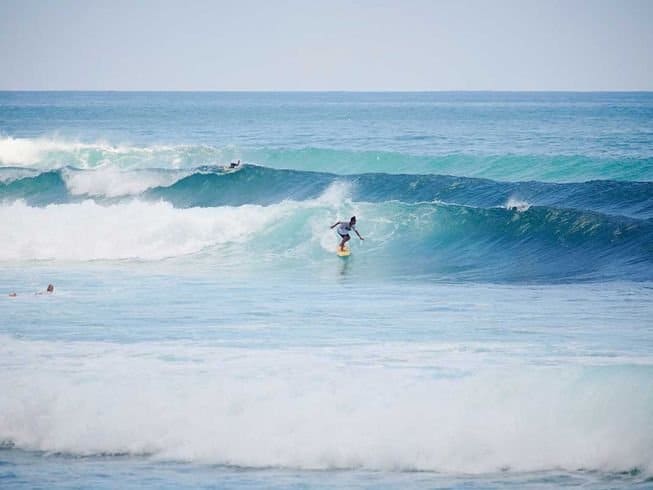 Where are the best beginner surf spots in Bali?
If you're wondering where the best places to surf in Bali are specifically for beginners, you'll want to look for the spots that offer the safest, most mellow conditions (so sand bottom beach breaks are a big YASSSS while tricky reef breaks and exposed rocks are a nah thanks mate).
Bali's south easterly beaches offer great learning conditions for beginners, from Canggu's Berawa Beach to Kuta and Seminyak. There are even some beginner friendly spots further south on the way to Uluwatu, though many of those southerly spots are 'pros-only' territory, because of the rocky shoreline and difficult reef breaks.
We also loved surfing in Medewi as 'advanced beginners' because the waves offer such a long ride, giving you loads of time to stand up and work on your stance and balance. The only thing we didn't totally love was the scads of boulders underneath the water (eeeeep if you fall and hit one! Though it did give us the chance to practice falling safely).
When's the Bali surf season?
Though it's actually possible to surf on the island year-round, the peak Bali surf season runs from May-September. These months make up the island's dry season and typically the weather is rain-free, sunny, and comes with consistent offshore wind and solid groundswell.
The peak Bali surf season brings the biggest and most consistent waves, which are great for all levels of surfers but especially suited for the intermediate and advanced among you. A lot of people reckon that off-peak season is better suited to beginners, since the waves are somewhat smaller and even the best Bali surf spots are far less crowded than in the peak season.
We joined our surf camp during the off-season and we were still able to surf every single day at relatively uncrowded spots. The only downside was that the afternoons tended to bring cross onshore wind, which blew out the waves and made paddling out a real challenge (but not impossible!).
Read next:
When's the best time to visit Bali overall?
Again, there's no real right or wrong time to visit Bali. Some prefer to visit during the dry season, as it pretty much guarantees good weather- but the downside is that certain places can be a lot busier and prices tend to rise during these months (as is the case for a number of the surf camps in Bali, so it's worth comparing dates on and off season to get a really complete view of how much rates can change).
Others prefer to visit during the rainy season because temperatures are a little cooler, certain aspects of local tourism are less busy than usual, and you can often score discounted deals on accommodation.
Got a question in your noggin about surf camps in Bali? Drop us a comment below and we'll do our best to help you out! Want to make sure you don't miss any of our future articles? just sign up to our monthly newsletter when exiting this page (or in the footer / sidebar) or follow us on Facebook, Instagram, or Youtube!