For us, there has to be adventure.
Though Instagram might lead you to believe that a trip to Thailand is all about lying on a postcard-worthy beach with a cocktail in hand (admittedly there are worse ways to spend a day) or feeding bunches of bananas to a rescued elephant (again, there are worse things), for us there has to be adventure.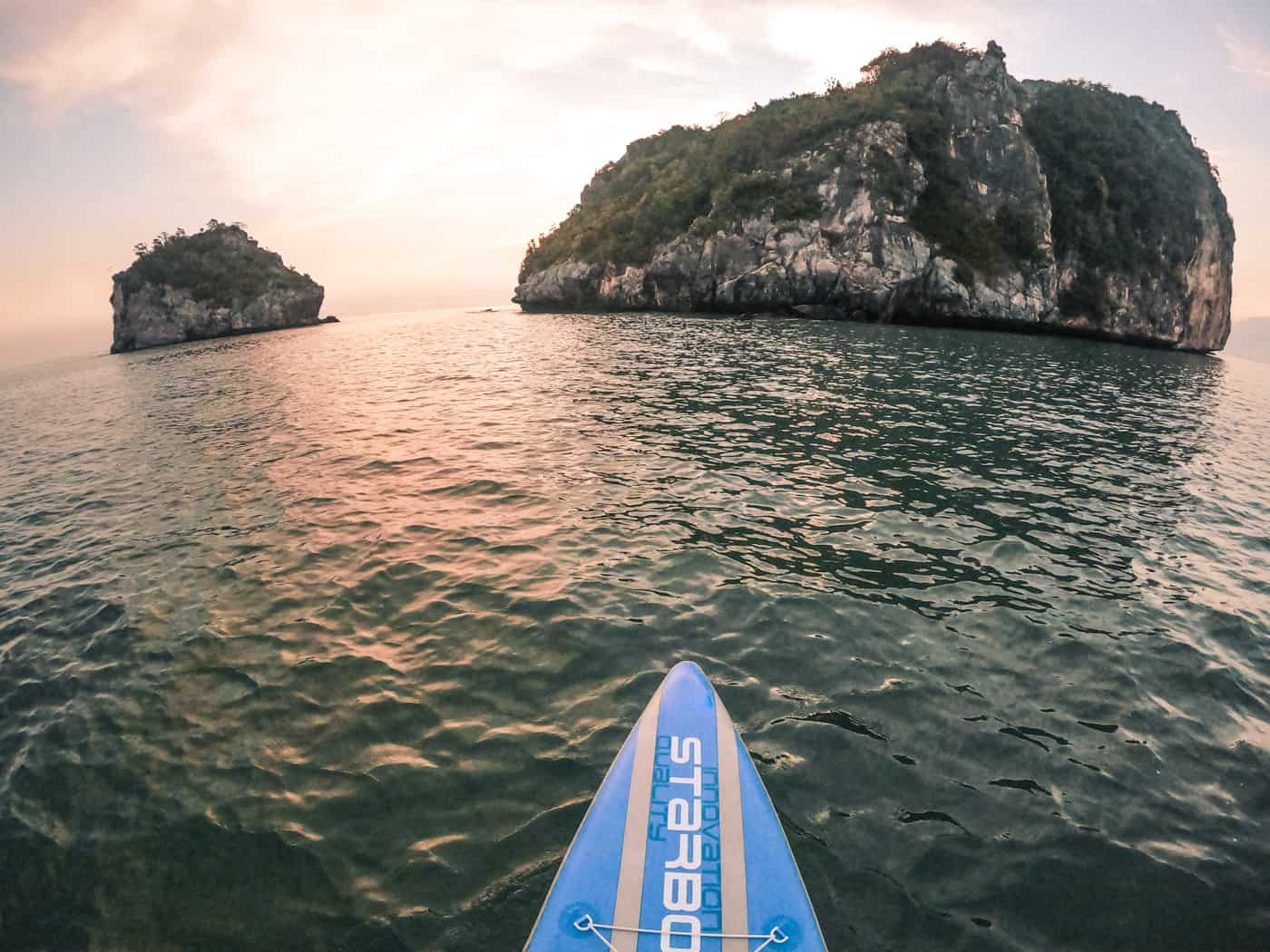 Kitesurfing. Mountain biking. Exploring the depths of the jungle. 

Whether on foot, two wheels, or a board, we reckon there's no better way of discovering Thailand's landscape, culture, and people than on an odyssey laden with action.

During our combined 11+ years living in Thailand (whaaaaaat?!) Jim and I packed an impressive amount of this into our daily lives — helped by the fact that we were based in a part of the country that's relatively unheard of to foreign tourists, but happens to be home to a brood of adrenaline seekers and adventure enthusiasts unlike any we've met before (we'll tell you all the details below).

So without further ado, let us take you through our pick of 10 epic adventures in Thailand that you'll definitely want to consider for your own trip:

Adventures in Thailand you don't want to miss
Kitesurfing in Hua Hin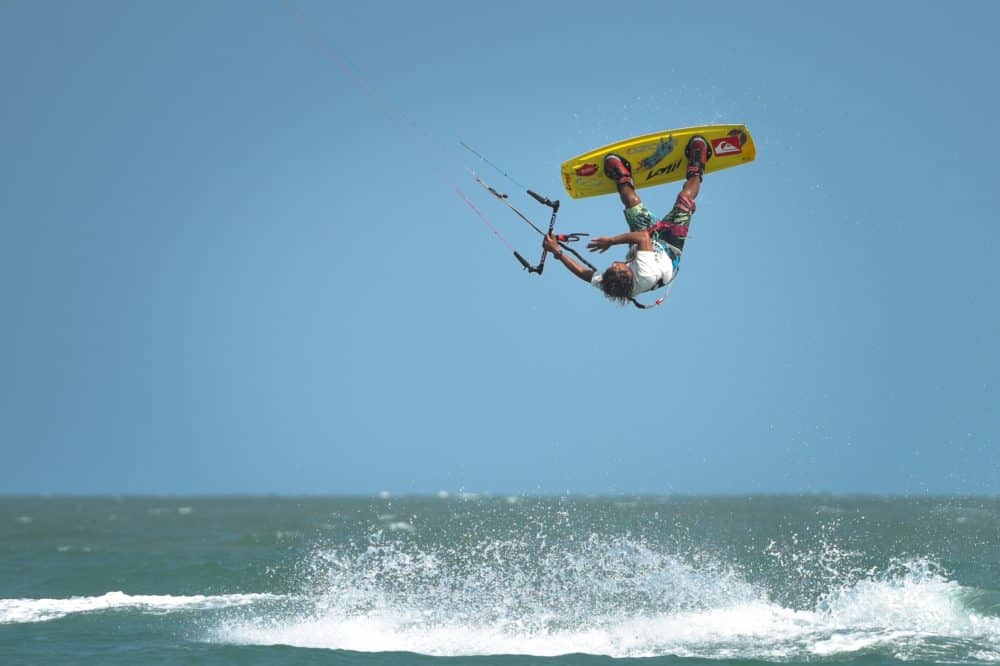 Sitting just 3 hours south of Thailand's buzzing capital city, Hua Hin has long been heralded as the number one spot for kitesurfing in Thailand — though they certainly are big boots to fill considering how many stunning places there are to kiteboard around the country today.

But boots aside, hundreds — if not thousands — of visitors make their way to Hua Hin every season to experience the local kitesurfing scene. Beginners and experienced shredders mingle together on Hua Hin's sandy shores, brought together from all corners of the globe to make the most of Thailand's phenomenal weather and easy going kite conditions.

If you've never tried kiteboarding before, Hua Hin is an awesome spot to learn — just make sure you do so with a qualified instructor, as the safety aspect is super important to get right from the get-go. Sign yourself up for a beginner's course and you'll be up and riding along the coastline of the Gulf of Thailand in no time at all.

Where to stay: Check out the fabulous Intercontinental Hotel which is located right next to the kitesurfing beach and often has seriously good discounts on Booking.com or opt for a cheap and cheerful local guesthouse like Reera Resort.
Exploring miles of mangrove forest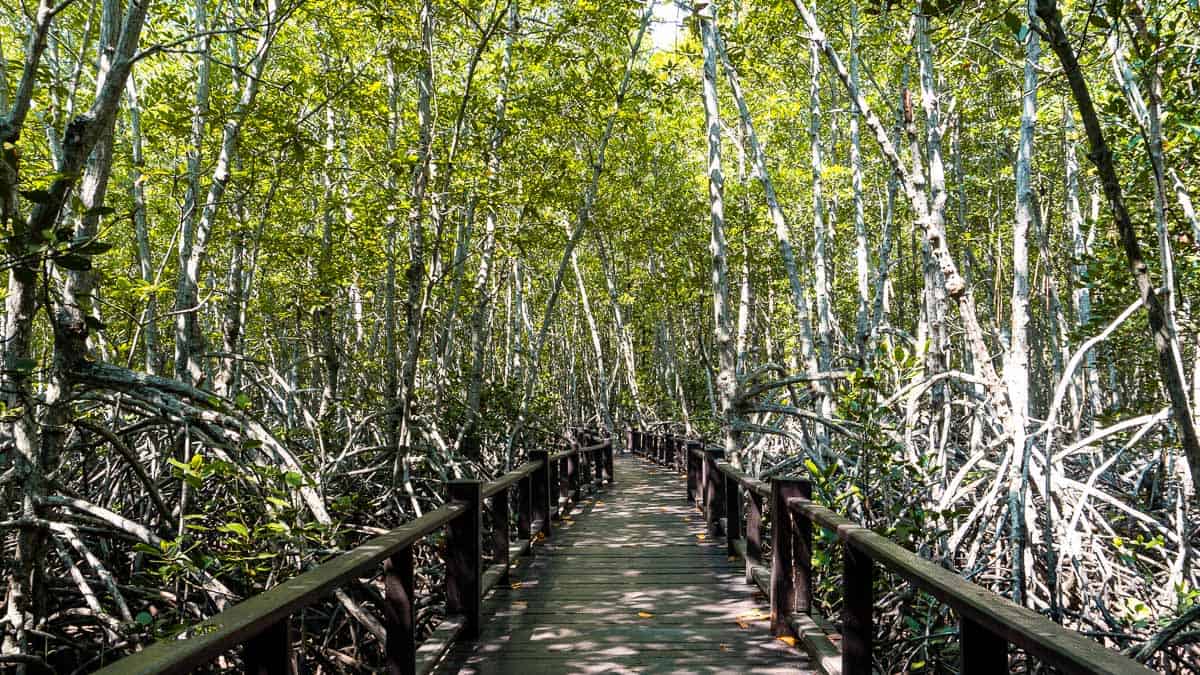 While you're in Prachuap Khiri Khan, it's a must to pop over to Pranburi — a small, seaside village just 30 minutes away from Hua Hin. This is the town where Jim and I were based; a spot that initially drew us in for its windswept kitesurfing beach but kept us there long term for its fabulous natural beauty and relaxed way of life.

In addition to kiting, you've also got wakeboarding, paddle boarding and hiking on the menu — a veritable smorgasbord of adventurous activities. But we know that sometimes it's those slower-paced activities that seal the deal; in this case, a walk through the mangrove forest.

The village of Pak Nam Pran is where you'll find the Pranburi Forest Park, with ~3.5 square kilometers of verdant mangroves shooting up out of the muddy estuary. The park is home to hundreds of species of tropical birds, crabs, and sea creatures (like giant monitor lizards, who you can often find sunbathing on the roots of the mangroves early in the morning). 

Wooden walkways snake between the swaying trunks of the mangroves, whose canopy provides a welcome respite from the scorching Thai sun. 

To get a bird's eye view over the sea of green, you just need to find the watch tower located in the heart of the park and climb the stairway that takes you above the canopy — you'll work up a sweat, but trust us when we say it's a view unlike any other.

Where to stay: For luxury, you can't beat the Evason (amazing spa, breakfast buffet, and eco vibes) or Villa Maroc (best beachfront in town and incredible rooms). There are also plenty of great budget-friendly places too, like the Beach House Bungalows — which is run alongside a kitesurfing school, so a pretty perfect base for your Thailand adventure.
Paddle boarding down Pranburi River
It'd be remiss to leave Pranburi without renting a paddle board and exploring the sinuous river that runs through its centre. Thanks to the ever-growing watersports community in town, paddle boards are easy enough to come by and can be rented for as little as ~$8/hour (and much less if you strike up a deal to rent them for the whole day).

You might be wondering why we'd recommend paddling here — of ALL the places in Thailand one can paddle, why Pranburi, a place which virtually no foreign tourists have heard of?

There's your answer, right there.

Because Pranburi's tourism levels are still in their infancy, much of the area remains more or less unchanged by the heavy flow of travellers visiting Thailand's better-known destinations. As such, you can paddle down Pranburi River and be pretty confident the only other souls you'll see along the way will be that of wild peacocks perched in the trees or the gleaming eyes of monitor lizards sprawled out on the mangroves.

The river (which is technically an estuary) can be reached by sea or land — the latter of which offers many access points.

Where to stay: Stay with either the Beach House Bungalows or Palm Beach Resort, both of which offer paddle board use/rentals for their guests. Check out our complete guide on where to stay in Pranburi for more details and suggestions.

Paragliding in Sam Roi Yot National Park
There's no adventure in Thailand that'll give you a high like paragliding over the insaaaane landscape of Khao Sam Roi Yot National Park. 

'Khao Sam Roi Yot' means 300 mountain peaks, and no better description could we give of the national park. It's all soaring limestone mountains, jungle brush, white sand beaches and glimmering water. Needless to say, flying over it with nothing but a paragliding wing and a pilot is a Thailand adventure very few people get to experience.

Thanks to the team of highly skilled pilots at 300 Peaks Paragliding, you can be one of the few travellers to find out what it's like to soar over the Thai countryside. The team — Graham, Matt, and co. — know all the best spots, and since Sam Roi Yot is far enough away from Thailand's most popular tourist haunts, you can guarantee your paragliding experience will be a blissfully uncrowded one.

From your vantage in the sky, you'll see the forest-covered hills of Khao Daeng and Phraya Nakhon; miles and miles of palm trees and pineapple fields; tiny villages hidden away in the mountains; and the beautiful blue water of the Gulf of Thailand.

Where to stay: The incredible Brasserie Beach— one of the most lovely, unique places you can stay in Sam Roi Yot.
UPDATE: 300 Peaks Thailand have currently ceased operations, so this activity is no longer available (as of August 2019). However, the 300 Peaks team are still contactable via their Facebook page and website (and they are flying at other locations around the world) so get in touch with them for further inquiries!
Hiking to a hidden cave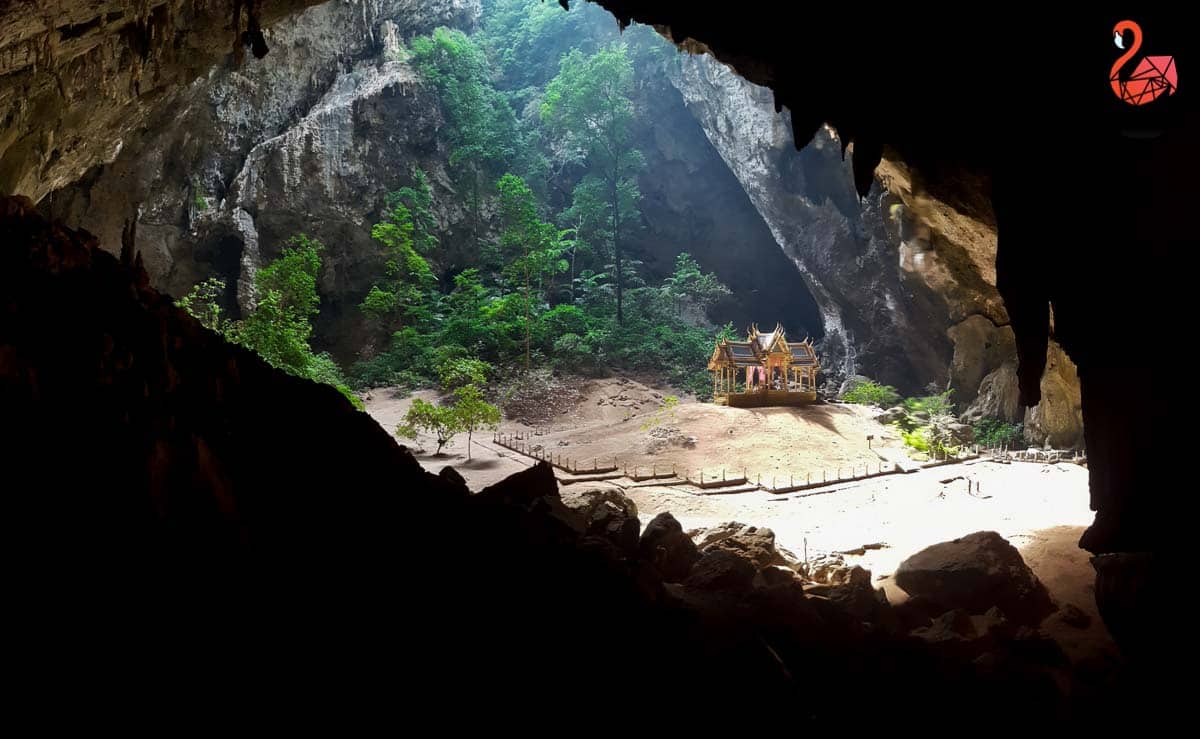 Although many of you won't have heard of Sam Roi Yot National Park until this article, if you've been doing a lot of research for your Thailand travels then you may have heard of a special place that lies within its borders: Phraya Nakhon Cave.

Reachable only by a steep 2km trek up an uneven set of stone stairs in the jungle, Phraya Nakhon Cave is a place apart. A small, sacred pavilion sits in the middle of the giant cavern, built in honour of one of the country's former kings. The tradition, still to this day, is for the current king to visit the cave — and the signatures of some can even be seen on the cavern walls.

Long ago, the roof of the cave collapsed. What's left today is a gaping hole which allows sunlight to stream in throughout certain hours of the day, creating a fertile environment for species of tropical plants to thrive in an unusual subterranean home.

Challenging, tiring, and absolutely breathtaking all at once, discovering Phraya Nakhon Cave is an adventure in Thailand of extra special proportions.

Where to stay: You can extend your adventure in Thailand's coolest cave by camping on Laem Sala beach, the last stretch of coastline before the Phraya Nakhon hike. It's super cheap to rent a tent on site, too. 
Wakeboarding in Phuket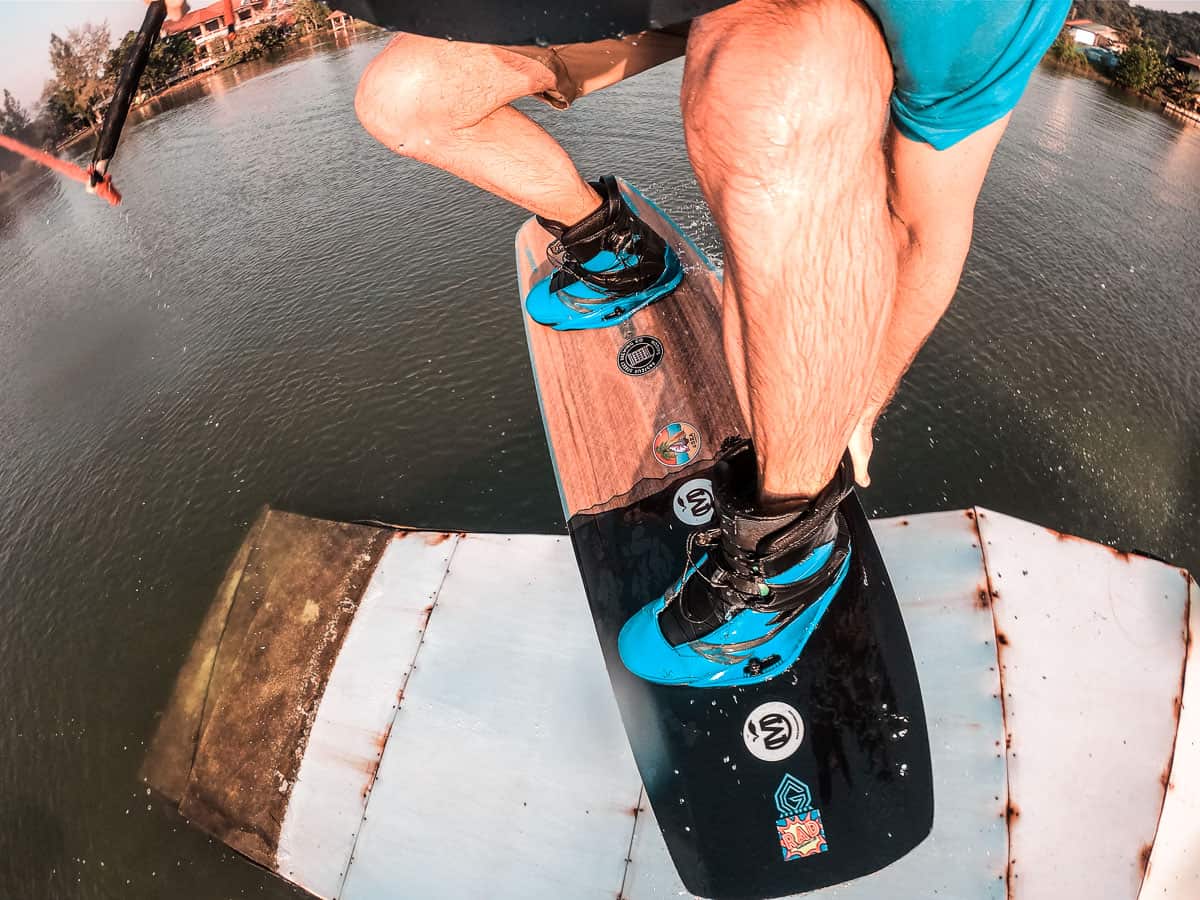 Thailand is home to more than a dozen cable wakeboarding parks — a handful of which are of a world class level (we covered them in more detail in our hitlist of insane cable wakeboarding parks in Southeast Asia). We're talkin' full sized Rixen systems with 8+ towers, homemade obstacles, kickers, and sliders that'd give any wake fiend goosebumps just looking at them. Of all the adventure sports you can do in Thailand, wakeboarding comes in high on our list every time.

Phuket is where a lot of the best action happens, with Phuket Wake Park, International Wake Park, and Anthem Wake Park all operating on the island.

So what's to love about wakeboarding in Phuket? 

Whether you're a total newbie or a seasoned cable rider, these parks offer adventure, action, and exercise in one. 

Wakeboarding is an awesome way to keep cool in Thailand's tropical temperatures; plus it's also one of the best full body workouts you can give yourself (a chance to work off aaaaaall the mango sticky rice we just know you've been eating). Finish off your day at the lake with a few frosty bottles of Leo and you're good to go.
If you want to try wakeboarding for the first time, cable parks are your best bet: Get ahead by reading Jim's complete guide to learning wakeboarding at at cable park.

Where to stay: Phuket Wake Park has their own accommodation — ideal if you want to push your cable riding to the max and stay in a chilled, social spot.
Surfing the Andaman Sea
Though it often slips under the radar with legendary spots like Bali and Sri Lanka nearby, surfing in Thailand can be savage — if you catch it at the right time and place. May to September bring the best swell and biggest waves with the southwest monsoon swooping up along the Andaman coastline.

In terms of where to find the best surf along Thailand's extreeemely long coast, the answers are endless (if you've got experience and a board, that is). 

Beginners will do well to head to Phuket or Koh Lanta, where surf schools and board rentals are a dime a dozen. Those of you with a level of independence and the freedom of owning your own gear might want to veer off to lesser known spots like Koh Phayam, Khao Lak, or Koh Kradan.

Where to stay: Honestly, the best way to experience Thailand's surf is probably to move around and experience a few different places. But base yourself in the southwest of Phuket — near Kata beach — for some of that and you're well-positioned to score the summer swell and kick off your adventure in Thailand.
Flow riding in Bangkok
The down and dirty capital city is arguably better known for its debaucherous after hours activities than its outdoor offerings (errr, is drinking an outdoor activity?!) but Bangkok is a city with many sides — and if it's action-packed activities thou wants, 'tiz a flow rider thou shall get.

That's a big fat YASSSSSS for all you salty souls stuck in the city; Bangkok is home to an indoor flow rider where you can practice your surf skills even when you're miles away from the nearest break — by far one of the coolest adrenaline activities in Bangkok and a great way of kicking off your adventure in Thailand for those of you flying in and out of Suvarnabhumi or Don Muang Airport.

Imported from San Francisco, the Flow Rider 2.0 features an everlasting wave which you can choose to ride on a bodyboard or finless surfboard. There's also a pool, a bar, a bike zone, and plenty of cosy chillout corners.
Downhill MTB through the jungle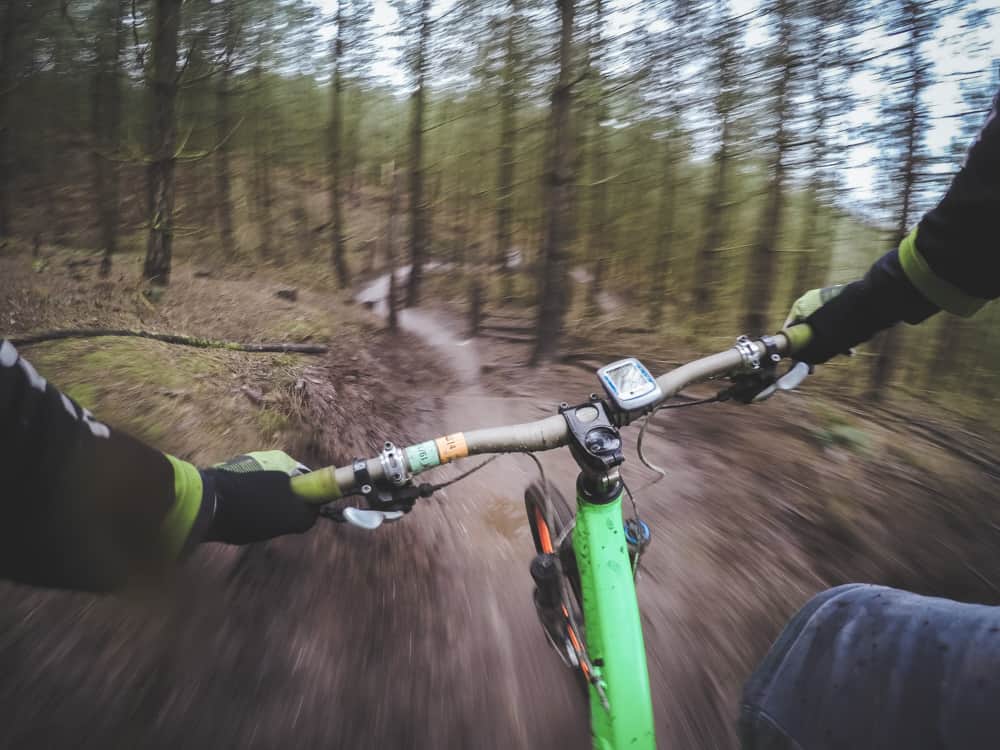 Does flinging yourself down a trail deep in the jungle on a state of the art mountain bike sound like your idea of an awesome day? YES?! Then Chiang Mai is where you need to head for, my adventure-seeking friend.

Thailand's northerly hotspot may be renowned for its hippy culture and elephant parks, but it's also home to some of the sickest downhill mountain biking trails you can find on the continent.

Doi Suthep National Park is where the magic happens, and thanks to the well-maintained trails kept by local clubs like Mad Monkey and Trailhead Chiang Mai, there's something to suit every level and style of rider.

But the crème de la crème? It's gotta be Bike Park Chiang Mai, the holy grail of MTB in Asia. They've got a MTB training centre, a jump park, and a XC and pump track — which solidifies their activities as some of the coolest things to do outdoors in Chiang Mai and one of the top adventures in Thailand by far.
Check out the Loose Riders' write up of Chiang Mai's MTB scene for the nitty gritty.
Where to stay: Check out Bike Sleep Repeat Hostel, located just 10 km away from Doi Suthep and 1.5 km from CMX airport.
Trekking the foothills of the Himalayas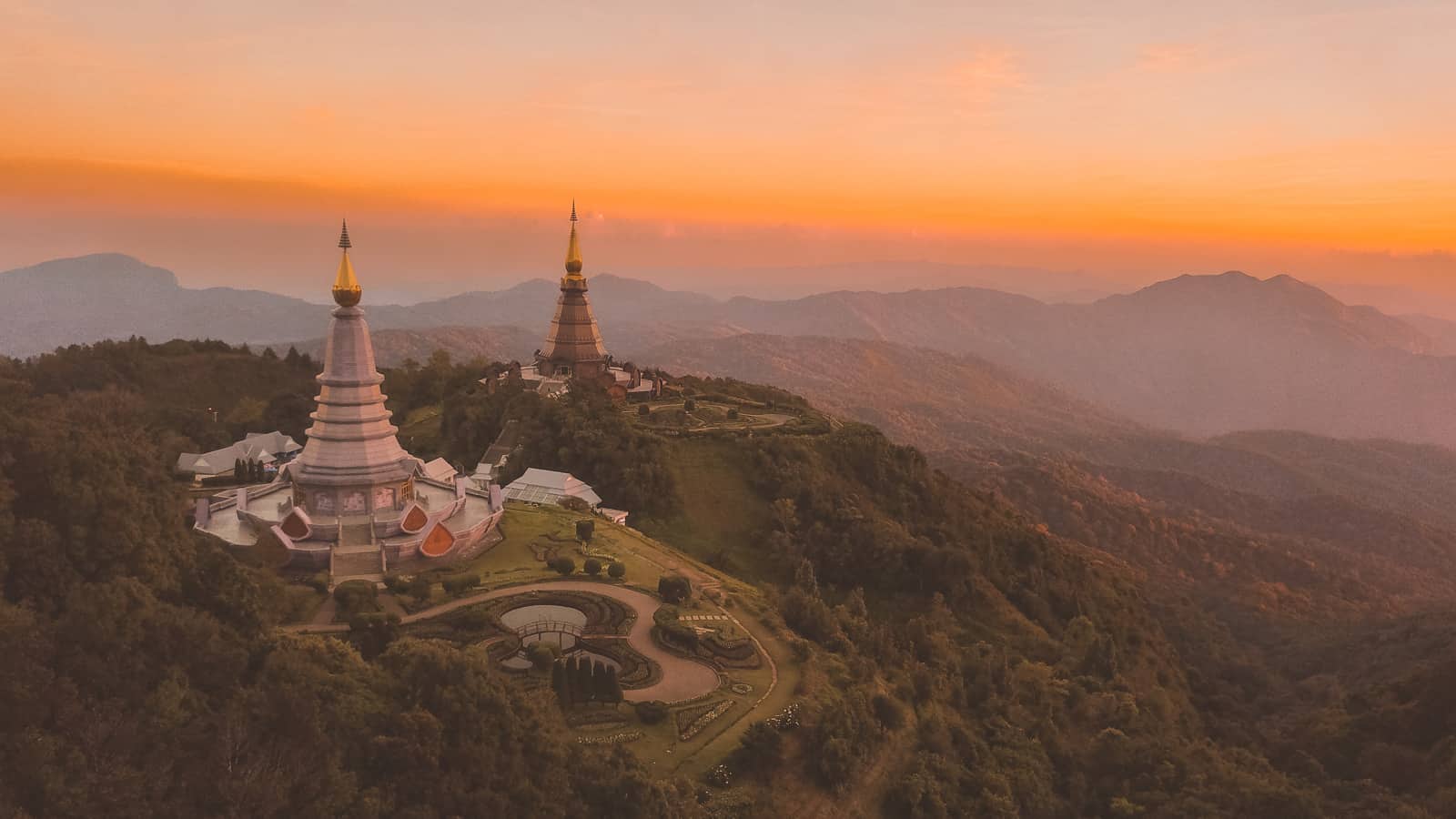 Sticking with the northern part of the country or our last entry, we're getting rid of all wheels and boards in favour of our own two legs. 

The mountains surrounding Chiang Mai are home to some of the absolute best hiking trails in the country — so good that thousands of adventurous travellers make their way here each year just to experience them.

Towering mountains, national parks, and even the foothills of the Himalayan mountain range; that's just the beginning of what you'll find here. You can go it alone and trek the trails solo — but in this case, do stick to well-marked hikes like the Monk's Trail in Doi Suthep National Park.

Doi Inthanon is the place to head for to really challenge yourself. Belonging to the Himalayas, it's where you'll find Thailand's highest peak (2565 metres above sea level). There are countless hiking trails to explore there which may lead you to waterfalls, temples, and mountain villages.

To really get the most out of a long distance, challenging hike, it's a good idea to consider getting a local guide — not only for your own safety but for the safety and conservation of the wildlife and environment around you. They'll also be able to take you to all the most beautiful spots, a lot of which you likely wouldn't find on your own.

Where to stay: base yourself in Chiang Mai proper and grab a spot on a hiking trip that includes transport from the city — no mess, no fuss. Check out the renovated rooms at the Rice Barn or the super unique accommodation at Warehouse Art Studio.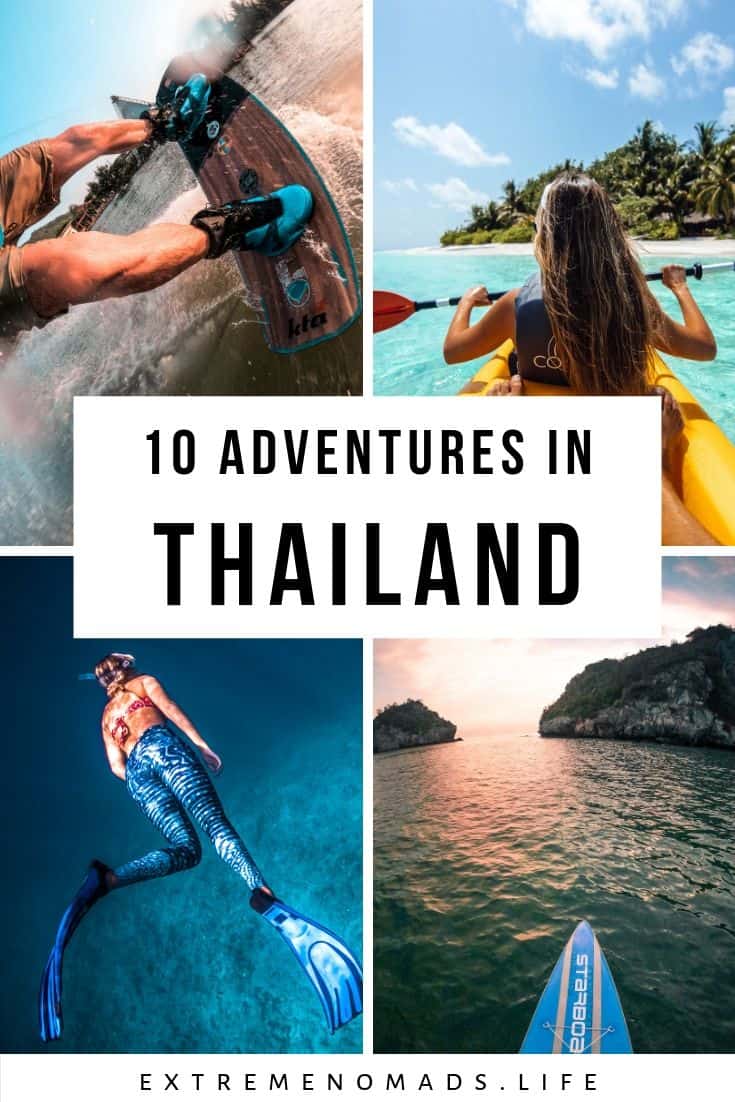 Have a question about any of the above adventures in Thailand? Looking to plan your own adventure and in need of some advice? Drop us a comment down below or get in touch with us (and other nomads) in our FREE adventure travel facebook group!