Picture this. As you are sliding on groomers, you pop your board and get some air. You come down hard, expecting a solid transfer of force from your body to your board. Your expectations do not come to fruition.
Instead, what you got was a landing and a wobble to go with it. Sloppy, unsatisfying, and leaving you wanting for more. It's your bindings. Their flex is too soft, and as a result, you can't get the precision and responsiveness that make for a great ride.
Don't rush out and buy the stiffest bindings that you can find. There's a better way. A pair of bindings that have that perfect stiffness(flex) that allows for responsive riding. A pair of bindings that can be adjusted to fit your boot and your needs.
The Union Force bindings have arrived, and we are glad that they did.
Union Force Snowboard Bindings
The price of "Union Force" varies, so check the latest price at
Union Force Binding Review Charts
Looking to see whether these bindings will fit on your boots before you fall in love with them? That's a smart choice. Below, we have provided you with a nifty chart that you can reference. The Union Force bindings can fit a large selection of boot sizes, but it's better to be safe than sorry.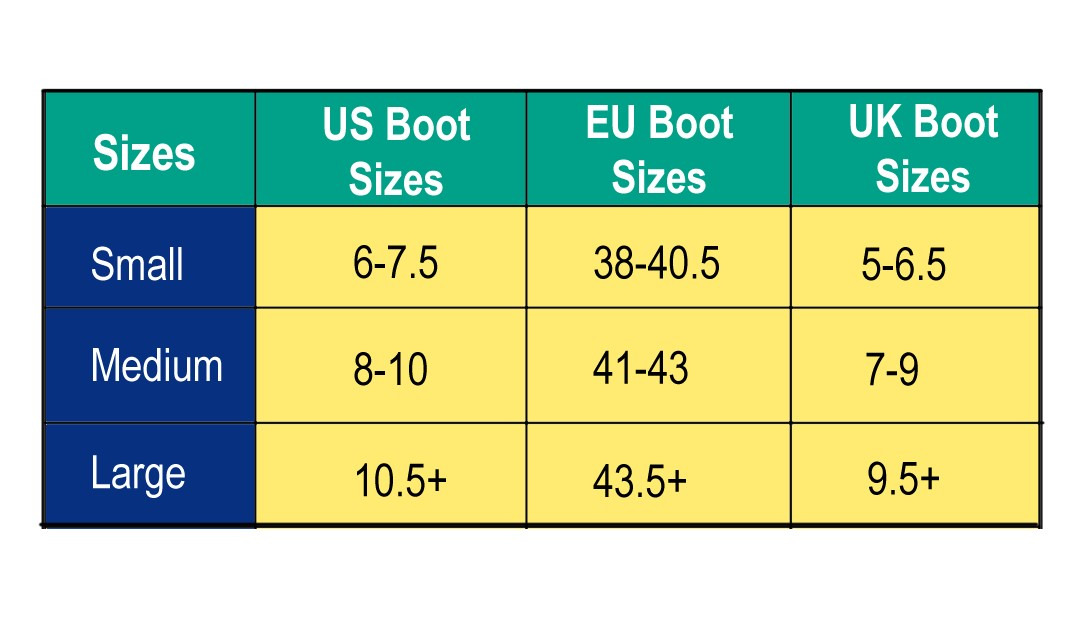 Now we've got a quick informational chart that'll tell you the very basics of what these bindings offer.
If you aren't ready to read the in-depth breakdown or if you know your way around pair of bindings, then use this chart to save you some time.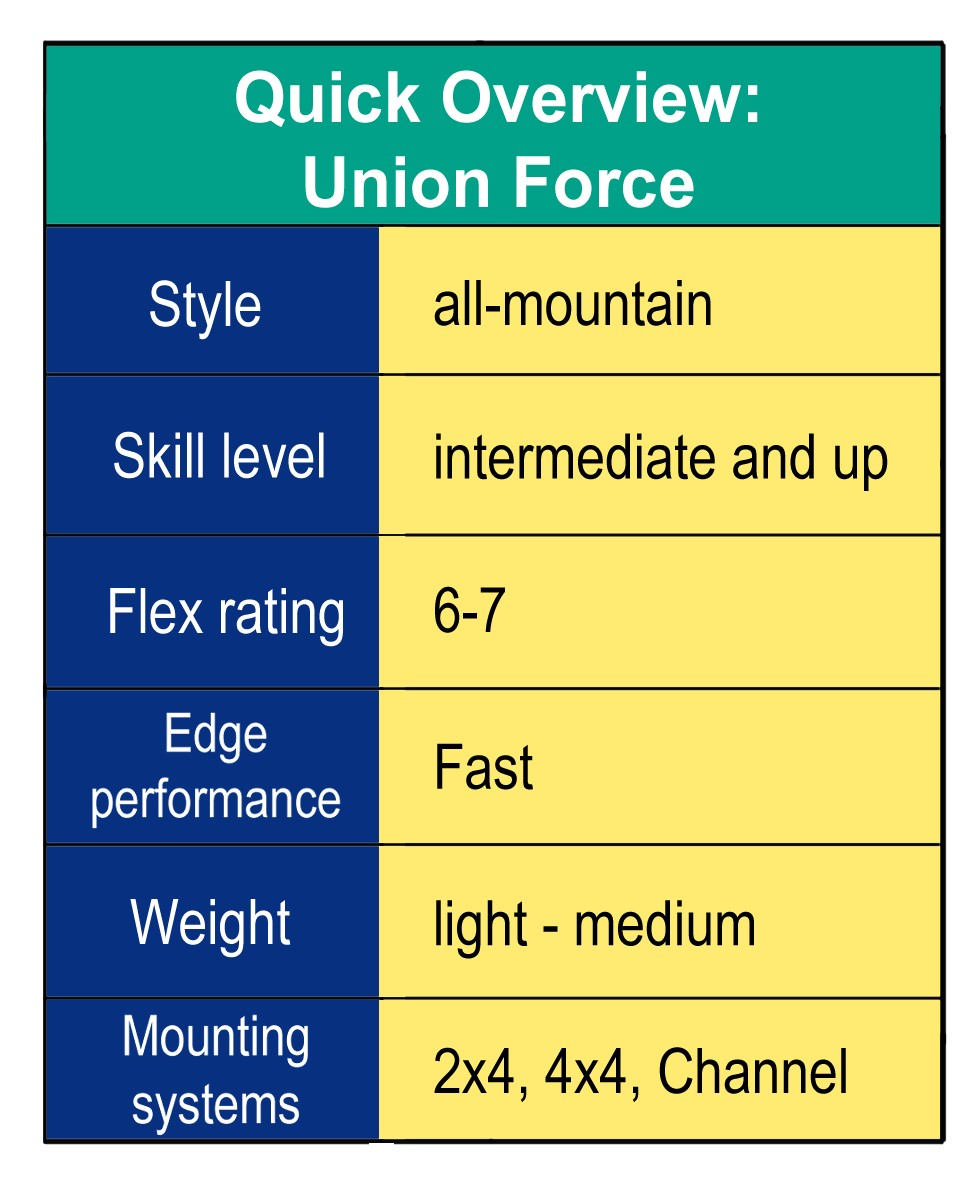 Who Were the Union Force Snowboard Bindings Made For?
When it comes to the ability level recommended for the Union Force snowboard bindings, that would be any rider that is intermediate to advanced. At least, that's what the folks who made the Union's line think.
In my opinion, the Forces are the best bindings for anyone that wants an all-around pair of bindings. Bindings that with only a few adjustments, will be able to fit most boots. If you want great response when riding but without a flex that is too stiff, then the Force bindings are for you.
If you want a pair of bindings that have great customization potential and strap on tight to your ankle and toe, then this is your five-star option.
If you want a binding that has kept what made it a winning bet over the years but has had slight touch-ups throughout its structure, then once again, the Union Force is for you.
A great binding that has the right level of flex for control and that supports you overall.
The Union Force Binding: A Detailed Breakdown
It's time to get into the meat and bones of these bindings. We are going to break down all the important features and areas in which a pair of bindings should excel. Making note of not just how good they are but why they are so good.
Over the years, these bindings have seen slight modifications from their original design. The areas that have seen the most improvement will also be mentioned.
The Force is set at a reasonable price and does more (at a higher level) than the snowboard bindings. Here's why:
Binding Flex
The Union Force snowboard binding has a medium stiff flex, and there are a great number of benefits to this. Softer flex ratings (referring to a mountain binding) feel sloppier. The force of your movements isn't transferred as well as it would with a snowboard binding on the stiffer side.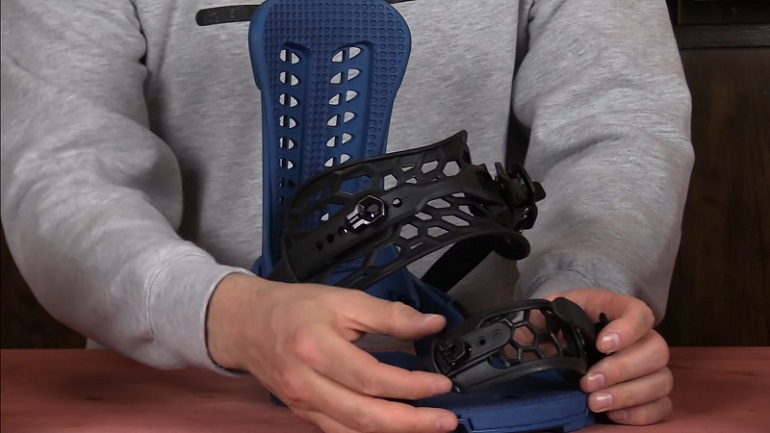 This becomes especially true when you are carving on groomers. If you like that kind of riding that is. Not as much of your own momentum is transferred from your body to your board. Soft flex snowboard bindings aren't firm enough to act as power channels.
The Union Force has a stiffer baseplate than it does highback flex. If you feel as if the position of the highback, and its flex level, isn't for you, then there is a lever that can be used to adjust the forward lean.
The Union Forces have got a great medium-stiff flex score. It'll help add power and precision to your movements without closing the doors to novice riders.
Responsive Bindings
Response. You want your gear to be responsive because they are an extension of your body. Any lag between you, your mountain bindings, and your environment will lead to unsatisfactory performance and experience.
Fortunately, these Union bindings were made to steer the toughest boards with no problems. You can thank the flex level, the ankle strap, the toe strap, and the heel cups for that.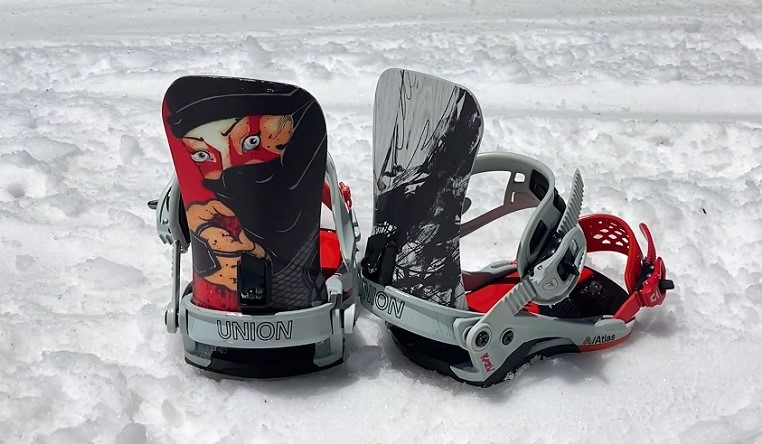 The harder the flex rating, the less forgiving the bindings are but the more responsive they are. The Union bindings have a medium flex rating, that sweet spot between total control and forgiving but unresponsive.
This versatile binding is secured onto your boot with an ExoFrame ankle strap and a Rhombus toe strap. This toe strap can be positioned in multiple areas, and the anti-slip thermo-plastic will make sure that it stays in place.
This superior grip and durability make these mountain bindings a very responsive pair. Especially when paired up with the right all-mountain snowboard.
Board Feel
How do your bindings make your board feel? Better yet, how does your board feel with your bindings? One thing you must first understand is that there will always be a bit of a dead spot between your underfoot and your board.
The best snowboard bindings have a mini-disc underfoot instead of a full-size disc. The smaller the disc, the smaller the dead zone under your foot. Unfortunately, the Union Force snowboard bindings don't have a mini-disc.
But the Duraflex ST that has been added to the baseplate does increase the responsiveness of the board without weighing it down. It feels surprising well. There are enough features that you can quickly adjust to get a better board feel.
Other bindings (including Union line bindings) may give you a great board feel but not having a mini-disc is not the end of the world. The Union Force snowboard bindings have proven that.
Adjustment Capabilities
There is plenty to adjust here, and like most adjustable bindings, the key areas such as the straps and highback can all be tinkered with. I would even place the Union Force snowboard bindings ahead of the pack when it comes to the amount of input that you have.
Not only are the Union Force snowboard bindings adjustable, but it's quite easy to do so. If you want to modify your forward stance, then all you need to do is use the lever in place for a quick tune-up.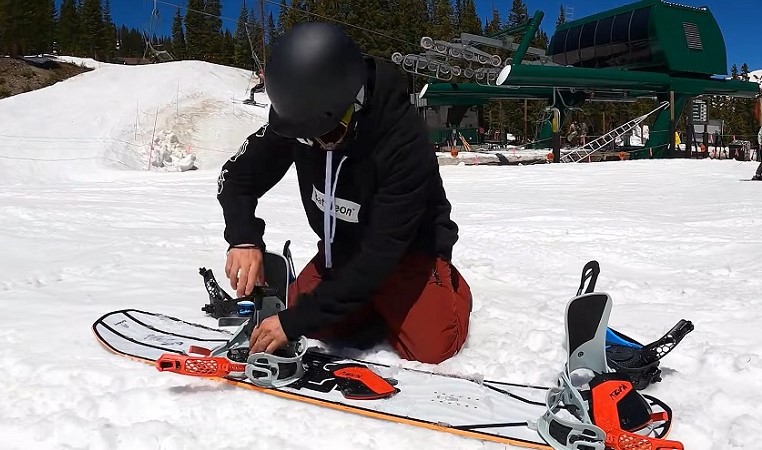 Besides your forward lean, the adjustable heel loop and toe ramp mean that you can get a secure fit with any boot sizes in the ranges suggested. No matter your boot size, you can center them perfectly within the bindings. It's wise to learn how to adjust your snowboard bindings after getting into this sport.
Finally, the straps on your toes can be shifted around in place. Get creative because they won't slip, thanks to the special thermo-plastic used in their construction.
Impact Absorption
The Union Force snowboard bindings have got great shock absorption. If you've been around a Union binding before, then you know that this can be said for most union bindings.
What more could you expect from multi-density thermoformed Eva? This padding doesn't age and lose its effectiveness as quickly as other materials used for shock absorption. Materials like urethane rubber. Which becomes more bitter with each passing season (kind of like me).
Not all credit can be given to the multi-density Eva foam. Placed at the back are extruded aluminum heel cups. They not only disperse the force of heavy impacts but also improve your heel hold.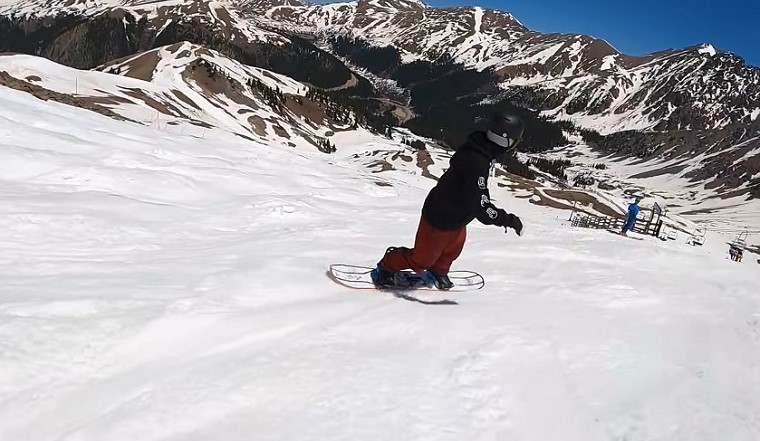 The improved hold at the heel edge makes it so that the drag of your boot to your bindings (and by extension your board) is minimized. Yet another point scored for responsiveness and comfort(which we will discuss in-depth in the next section).
You can count on excellent shock absorption, especially when riding at slower speeds.
Comfort Level
Before I jump into specifics and binding parts with overly complicated names, let me just give you a straight answer. The Union Force snowboard bindings are very comfortable. This can be attributed to several features that we have already discussed. A common design outcome with the Union Force bindings.
That's a hallmark of brilliant design. When one piece can serve two functions, total optimization. For example, not only can the toe straps be placed in different areas of your boot's front, but the new pin system used to secure them makes for a tighter fit.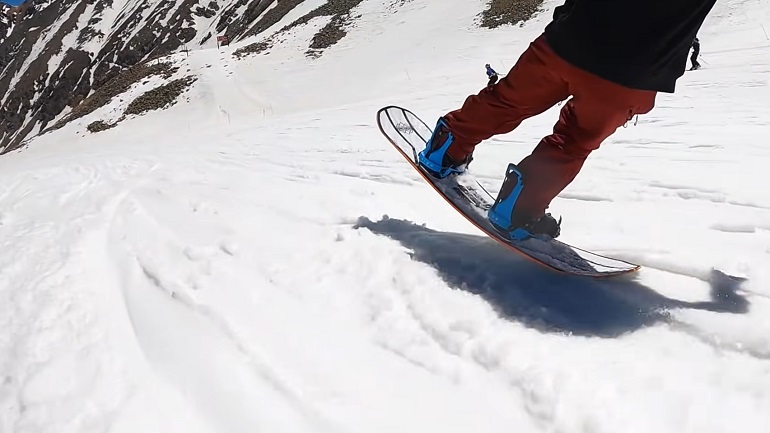 This tight fit doesn't allow your boots to shift in place. Comfort assured. The canted footbed helps your foot return to a much more natural angle. This is an essential feature for taller riders who tend to have a wider stance width.
Throw in an adjustable forward lean and a lightweight (but durable) baseplate, and you've got the comfort that other bindings wish they had.
Ratchets
The ratchet system of strapping in is the old reliable of the snowboard binding world. The ratchet model of binding has been the standard and has been the dominant model for many decades.
It's this traditional system that keeps the Union Force lightweight. Had the Union Force snowboard bindings used the rear entry model, it would have been much more difficult to make speedy adjustments.
Being able to make vast and fast adjustments are one of the defining traits of these snowboard bindings. Losing that would be catastrophic. In short, the ratchet system here increases control because you can get a more well-adjusted fit.
Maintaining your snowboard bindings is also much easier because of how the baseplate is set up. Improved maintenance, control, and ease of modification. The Union Force has got it all.
Union Force Snowboard Bindings
The price of "Union Force" varies, so check the latest price at
The Straps
I've made mention of the secure fit that you get from both the toe and ankle strap earlier in this review. However, one thing to note is that this sturdy hold could make it difficult for some riders to unbuckle them.
The cold temperatures and numb fingers aren't going to help either, but that's the price that you may have to pay for security and responsiveness.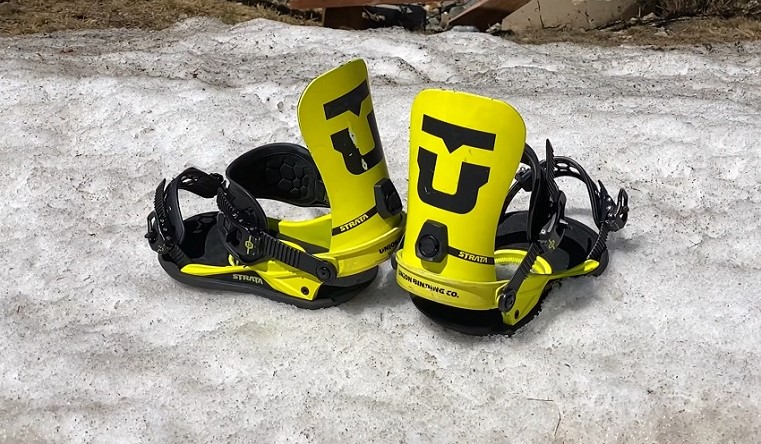 Both straps can be adjusted without the need for a tool. Both straps have also seen slight redesigns from previous versions of the Union Force. The ankle strap is lightweight (more so than years prior) and much easier to adjust.
The toe straps have been reinforced, and their connection strength greatly improved. All in all, there have been minor touch-ups that have been applied to all of the straps on these bindings.
Nothing has changed drastically, but things have improved, and I'd say that it's another point for the Union Force snowboard bindings.
Base Material: Everything Else
The rest of the Union Force snowboard bindings can count on the same attention to detail that parts previously examined have benefited from. The highback is made from Duraflex ST. This material makes it so that even in frigid temperatures, the highback is still providing the support that it needs.
There are magnesium buckles that look really smooth but are extremely durable. The right metal for your boots and the mountain.
Grade 8.8 is one of the strongest steels on the market, and the Union Force bindings have it integrated throughout their structure. Now you've got more than just great bindings. You've got bindings that are built to last no matter what kind of mountain riding style you are engaging in.
As for the mounting system, the Union Force snowboard bindings are compatible with all the industry heavyweights. The 2 x 4, 4 x 4, and the wonderful Channel mounting system.
My Final Thoughts
Unless you are a complete novice (and I'm talking "never have touched the snow" -type rider) then there is no reason why you shouldn't pick up the Union Force bindings. They are proper all-mountain bindings that don't lock out riders due to their flex level.
They can be adjusted to fit all kinds of needs and they've got several design features to accommodate riders of all kinds. For example, the canted footbeds.
What you are getting here is an extension of your boots that does a great job of translating your movements to your board. Response and accessibility all rolled up into one.