For anglers who have spent their entire lives with their feet planted firmly on the shoreline or, at the very least, on a traditional boat, fishing from a kayak is an entirely different animal.
Personally, I prefer to fish from my kayak, and it took some getting used to. I'll be the first to tell you a kayak fishing net is a must.
So is a kayak anchor if you plan on catching anything that puts up a fight (and if you're fishing on a river, for obvious reasons). The only other thing that might be as effective as a kayak fishing net is a gap, which isn't something that catch-and-release anglers will want.
The best kayak fishing net is the one that won't break on you. Pretty obvious, huh? Its got to have durability, of course, along with a good size mesh (depending on what you want to catch), nylon materials, or rubber-coated nylon, and the portability factor matters as well.
Top Pick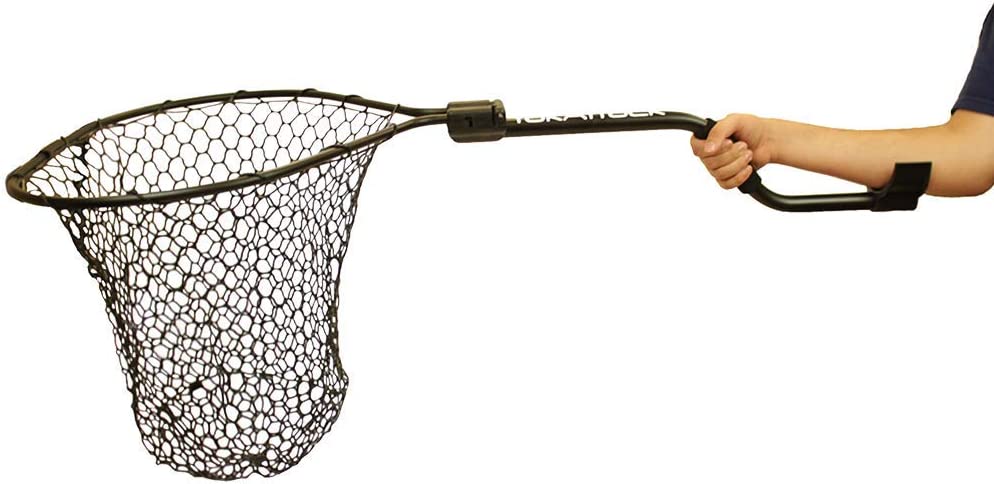 YakAttack Leverage
MATERIAL: RUBBER
item weight: 2.292 pounds
Runner Up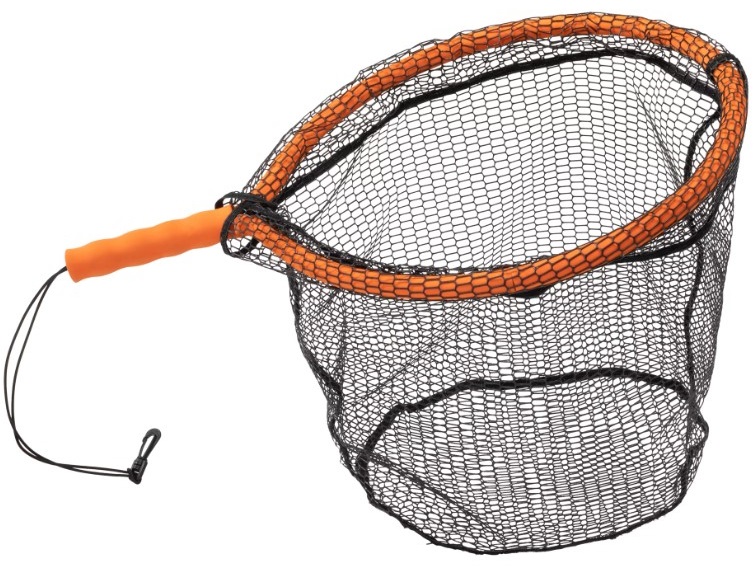 Offshore Angler Wading
MATERIAL: nylon
item weight: 1.5 pounds
Multiple Variations

EGO S2 Slider Landing Net
MATERIAL: aluminum
item weight: 1 pound
Versatile Pick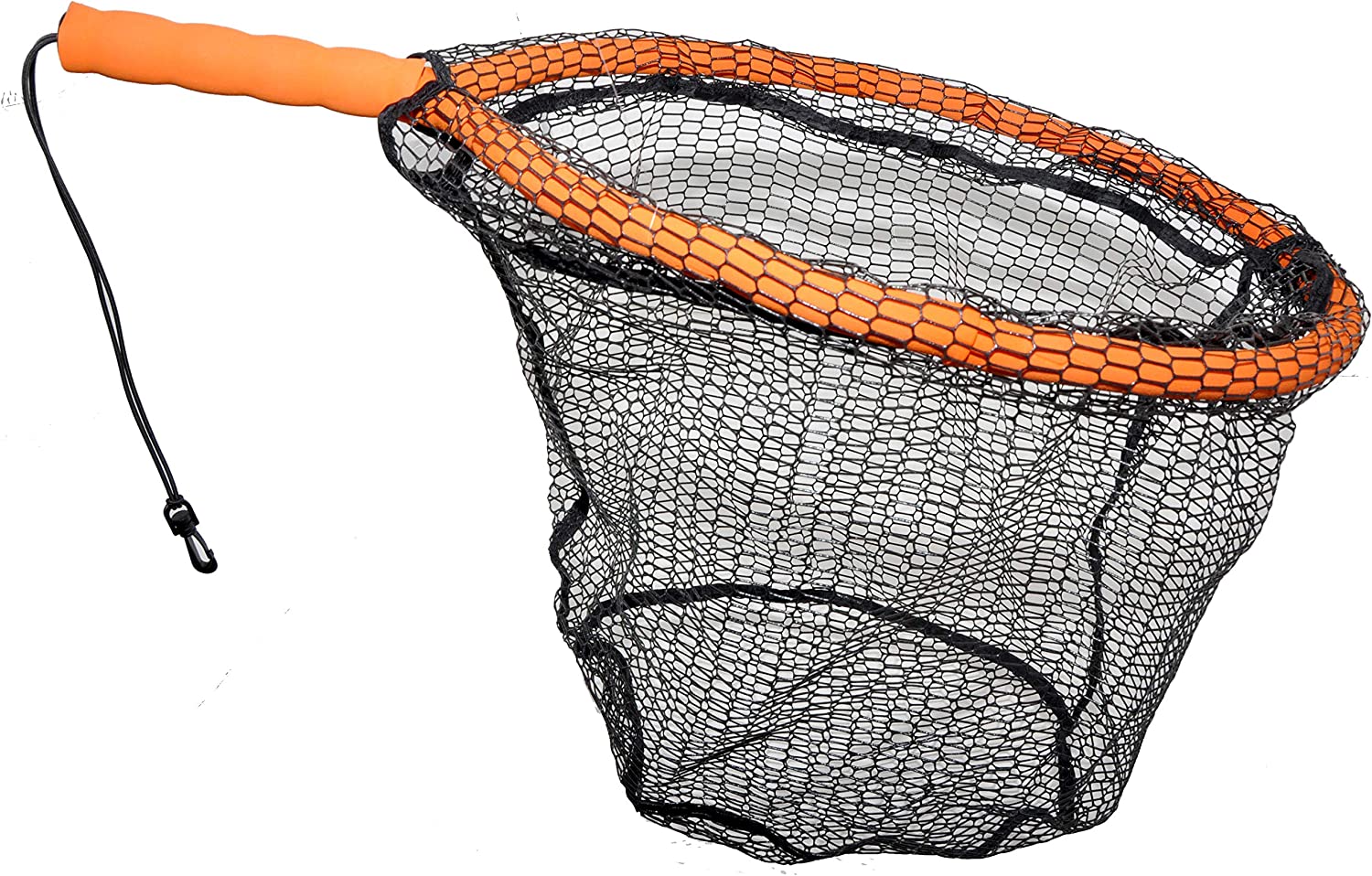 Generation 2 Floating Fishing Net
MATERIAL: blend
item weight: 0.8 pounds
All-Rounder Option

Frabill Trophy Haul 1821
MATERIAL: aluminum
item weight: 3.54 pounds
Premium Choice
StowMaster TS94IM Tournament Series
MATERIAL: aluminum
item weight: 4 pounds
Ultra Lightweight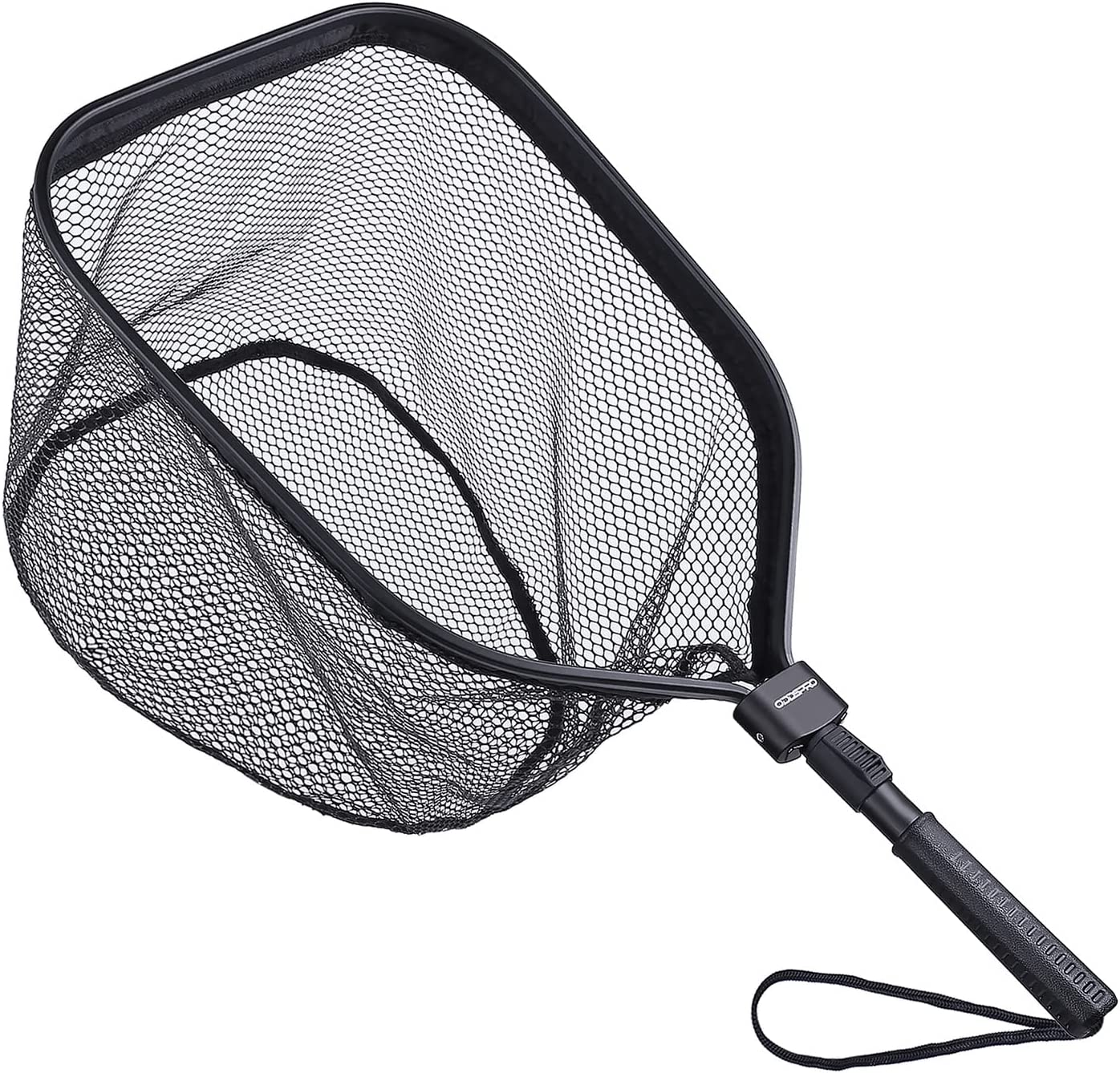 ODDSPRO Fly Fishing Landing Net
MATERIAL: nylon
item weight: 0.74 pounds
Super Customizable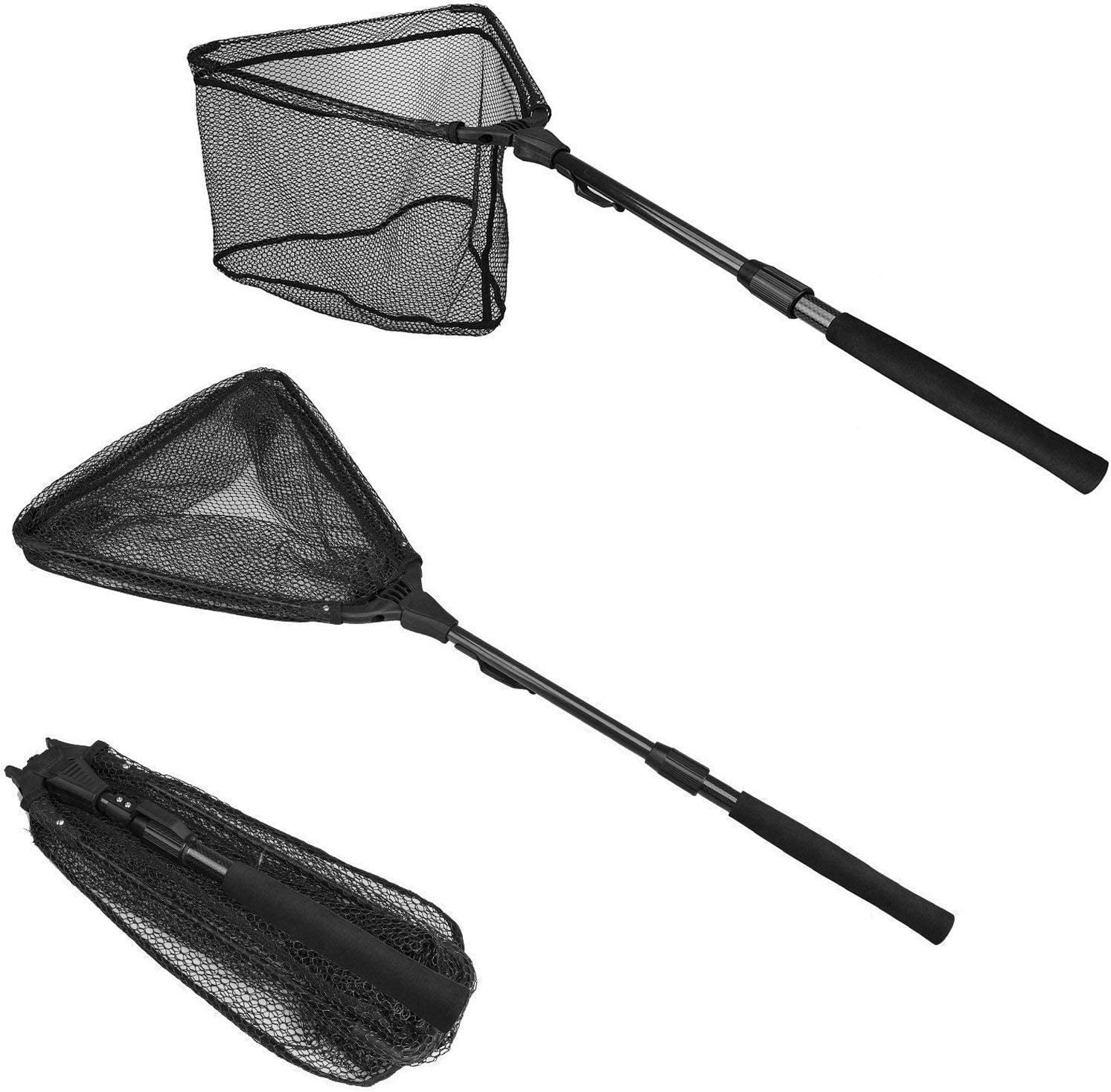 PLUSINNO Fishing
MATERIAL: nylon
item weight: 0.88 pounds
Budget-Friendly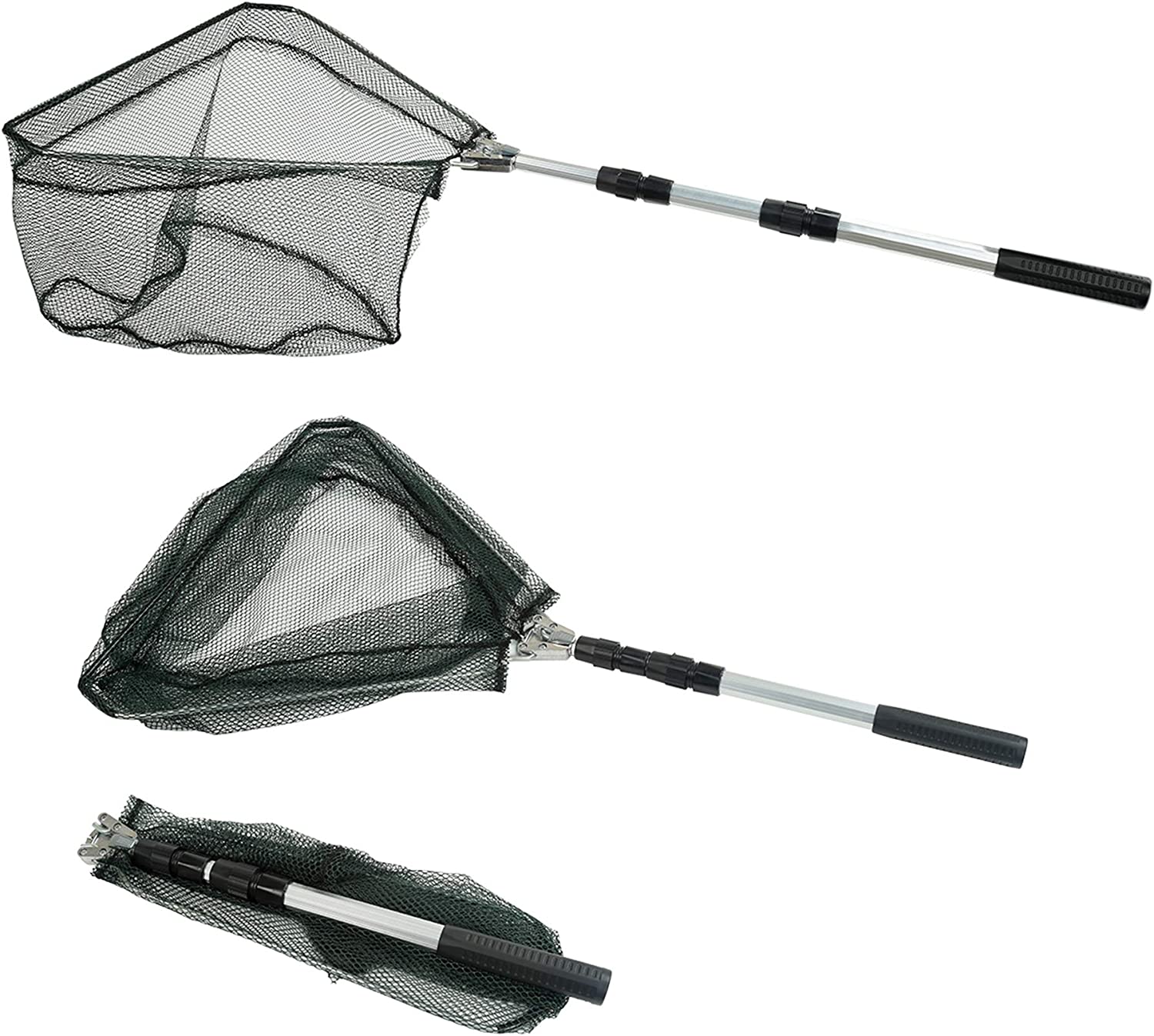 RESTCLOUD Fishing Landing
MATERIAL: aluminum
item weight: 0.70 pounds
Best Net for Kayak Fishing
Best Kayak fishing net options are pretty simple at the end of the day. The things that separate the best kayak fishing nets from the sub-par variations are very small, such as an extended handle or rubber coatings over the mesh net.
To the unkeen observer, one probably looks as good as any other. However, if that were true, I wouldn't be here presenting this list.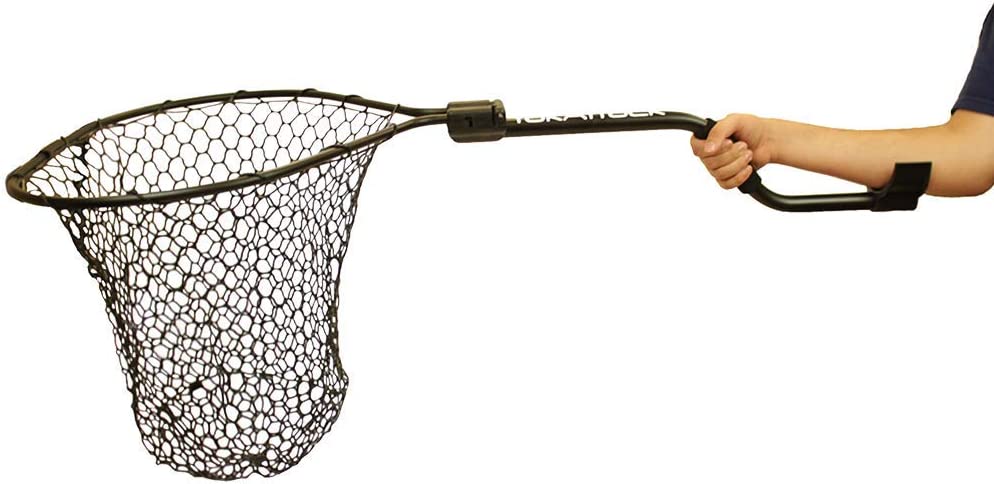 The key term here is "leverage landing net." When you are sitting in a kayak, trying to land a large fish, more leverage makes the difference between getting the feisty fish in the boat and you ending up in the water with it.
The YakAttack Leverage Landing Net incorporates an additional 12″ or so in the handle, with a cup that sits against the underside of your forearm.
That's your leverage and man, it makes a heck of a difference. Those standard aluminum fishing nets have short little handles, which are completely fine when you're leaning over the side of a boat. The problem is, you can't really lean over the side of a kayak, not unless you want to go for a swim.
It also has a hinged design, so you can just fold it up when you're done and pack it away nice and easily. Thanks to the leverage handle length, you don't need a large net because of the added control. It's much easier to use the center of gravity of the fish against it and haul it into the kayak.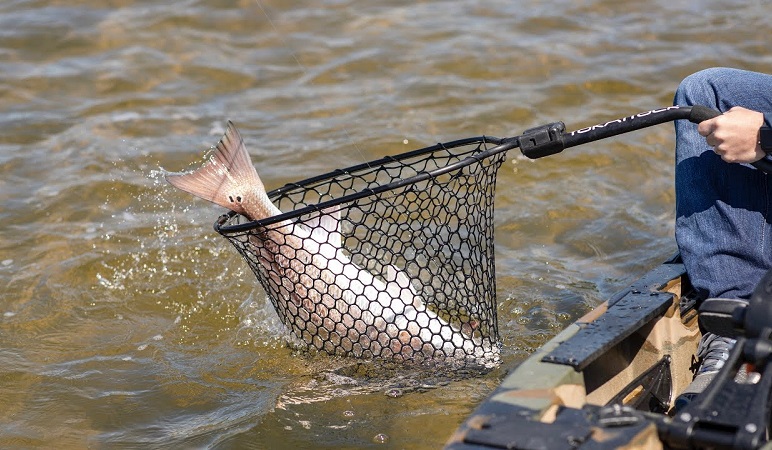 YakAttack offers four types—a 12″ x 20″ hoop with a foam extension, a 12″ x 20″ hoop width without the foam extension, a 20″ x 21″large hoop with a foam extension, and another one without. Another interesting difference between YakAttack's net and many of the others on the market is the net material.
YakAttack went with a full rubber net material, and it's surprisingly durable. Usually, when you see "rubber" in the net material specs, it's nothing more than a coating over underlying nylon material.
If you've never used a kayak fishing net before, it's a game changer, especially if you do a lot of kayak fishing. YakAttack took what works and improved it just for kayakers.
Kayak fishing nets are a dime a dozen, but the YakAttack is definitely one of the better ones. If you want to supplement your leverage, consider purchasing an anchor for your kayak as well.
Pros
Great accuracy and control
Rubber net
Forearm support bar
Hinged design for better portability
Handle is ergonomic
Cons
It's on the expensive side for a kayak fishing net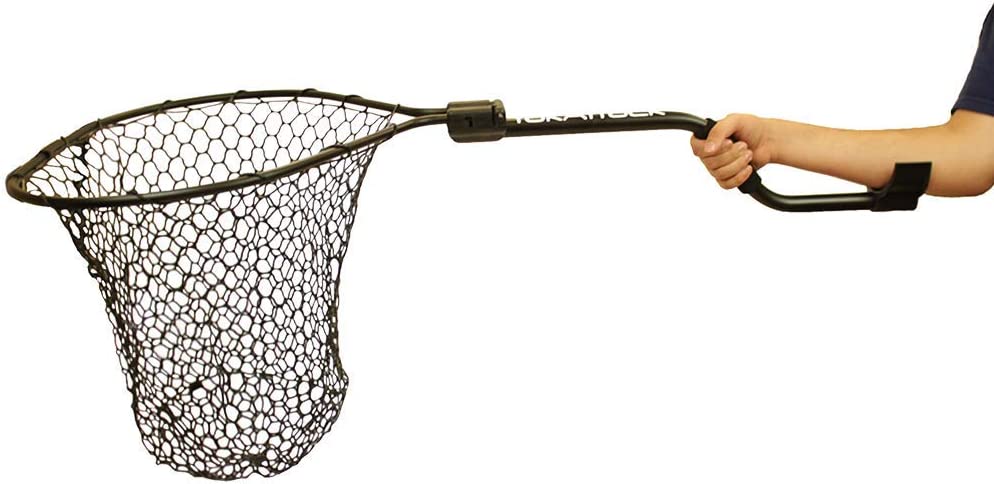 YakAttack Leverage Landing Net 
The Price of "YakAttack Leverage Landing Net" varies, so check the latest price at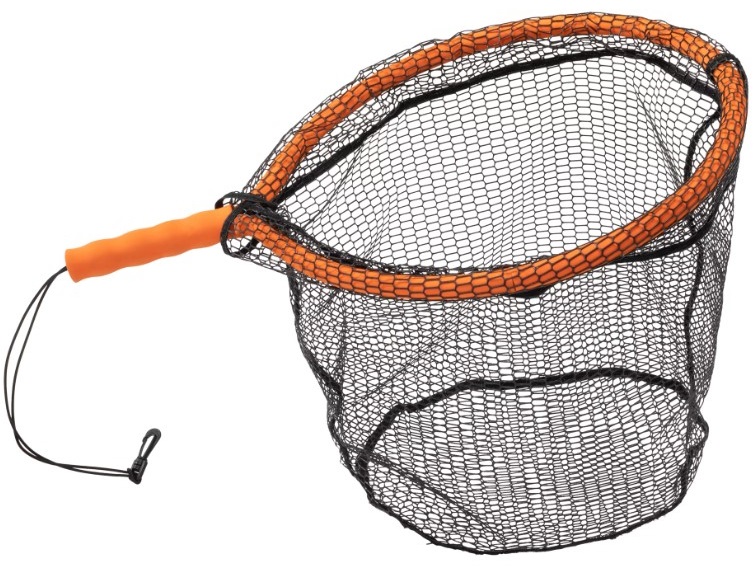 There's an entirely different purpose for this net. No, I don't mean you'll catch butterflies with it rather than fishing. This is the kind of net you need for very shallow water, which you can certainly reach in a kayak. You can even wade next to your kayak and use the small boats as a transportation device for your daily catch.
Either way, the Offshore Angler Wading Net comes in handy. It has a small, short handle that's long enough for you to get a good grip, and it includes a spring clip device to keep it attached to you and not floating out in the water. Fishing is slick work, after all.
It has a fairly wide hoop at 17″ x 19," and the net is about 15″ deep, with a degree of stretch to it. The large hoop itself has a foam exterior. If you forget to clip the net to your belt, it will bob up and down in the water, mocking you for forgetting to secure it.
Another thing I like about this fishing net is its light weight. It's plenty durable and strong enough to handle just about anything, but it only weighs 0.8 lbs. Kayak anglers have plenty of experience with weight limitations, and every little bit matters.
It makes for the perfect fly fishing net, however, since fly fishing mostly involves waist-high water. The only drawback to the Offshore Angler is the fully nylon netting material. If you are a catch-and-release angler, nylon is more harmful to the fish than rubber.
While nothing about this fishing net really stands outs, in terms of aesthetics anyway, it's a versatile option for fly fishing and wading, as well as bringing your kayak into very shallow water.
Pros
Retractable bungee cord
Floatable
Bright and easy to see
Lightweight
Perfect for shallow or wade fishing
Cons
Handle length is short
One size only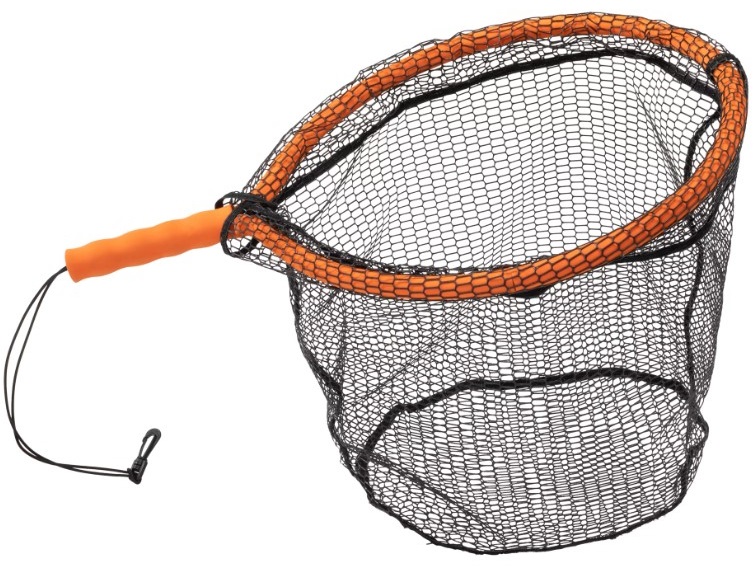 Offshore Angler Wading Net
The Price of "Offshore Angler Wading Net" varies, so check the latest price at

The Ego S2 Slider is a Swiss Army Knife in the form of a kayak fishing net. With a telescoping handle and the ability to mix and match over 30 attachments, it's difficult to point to any one thing it isn't capable of. It would probably serve drinks if you needed it to.
The handle length minimum is 48″, so it's pretty long even when it's not extended at all. Fully extended, you get 108″ so you can reach out and touch some fish when you need to. There are a lot of features that make this one of the best kayak fishing nets, but the one that stands out the most is the customization.
The range of options is kind of surprising for a net. Who would have thought you could use thirty + interchangeable options on a modular fishing net? Unfortunately, all of those "mods" are sold separately, so the overall experience makes this kayak fishing net cost more than any of the other nets.

But it's not like you have to buy all of them at once. Besides, it's a fishing net. Whether you're fly fishing or wrestling with an alligator gar, its core function remains the same. It also comes with four different mech types. It's always nice when the available variations accommodate anglers of every stripe.
There's the clear rubber mesh, deep rubber mesh, deep rubber mesh closeout, and PVC-coated mesh fabric. No matter what net material you go with, you'll land medium-sized fish with this puppy all day long, even if you can't bring it in close to the kayak.
It's good to have options when out on the water, and the Ego S2 Slider provides plenty of them. Plus, you have to admit, telescoping handles just make everything easier, especially when it can hold up to 30 lbs.
Pros
Over thirty available attachments
Telescoping handle
Holds up to 30 lbs
Modular design
Comes in multiple variations
Cons
All attachments are sold separately
Expensive net

EGO S2 Slider Landing Net
The Price of "EGO S2 Slider Landing Net " varies, so check the latest price at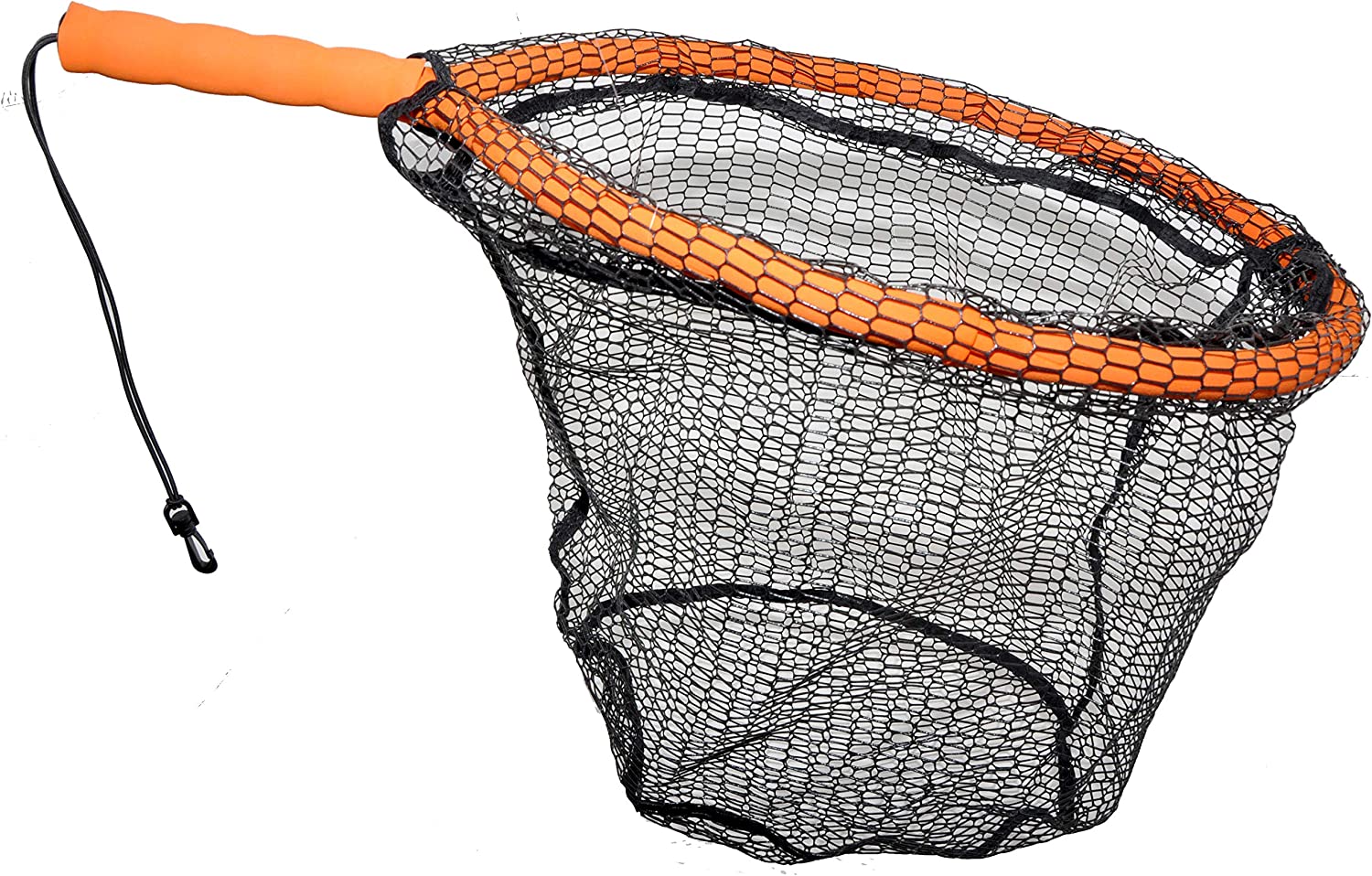 At first glance, the Gen 2 Floating Fishing Net looks just like the Offshore Angler Wading Net. They're similar in a lot of ways. The total length of the Gen 2 is 29″, with a 16″ x 19″ net hoop. Because of its short stature, it makes for a good wading net, just like the Offshore.
You have to keep in mind that kayak fishing is fairly versatile. You can fish in water that's over 100′ deep or water that's barely a foot in depth. You need a kayak fishing net like the Ego 2 when you're fishing pretty deep, and the G2 Floating makes more sense for the shallows.
Personally, I fish deep with my kayak, use a kayak anchor when I'm in the river or know I'm going after heavier fish, and bring along my Lowrance Hook Reveal 5 fishfinder.
I prefer longer nets, but I've used the Gen 2 Floating Fishing Net in shallower water and loved it. As I mentioned above, the best kayak fishing nets are the ones that won't break on you.
The Gen 2 certainly won't do that. It's lightweight, versatile, and has the same foam handle extension design that keeps it afloat if you happen to drop it. It also comes with a bungee cord clip. The rubber-coated nylon netting is designed to be tangle free as well.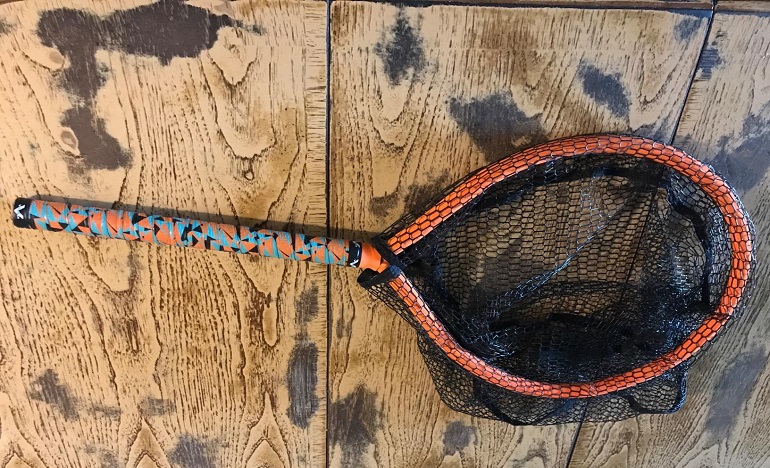 It also has a fairly deep net at 18″, so it can handle sizeable fish without much of a problem. The only thing that holds this net back, like the Offshore, is the extremely short handle.
In a kayak, you won't have much in the way of leverage. It's all wrist power and balance when you try to bring in a very unhappy, flopping big fish.
If you love fly fishing, wading, or pushing your kayak into tight, shallow areas, this deeper net hoop is perfect and will do the job just fine. Out in the middle of a lake, however, might present some difficulties because of the lack of leverage.
Pros
Bright and easy to spot
Lightweight (fantastic for kayaks)
Floats
Inexpensive
Bungee cord clip
Cons
No handle extensions (the handle is too short)
Only one size option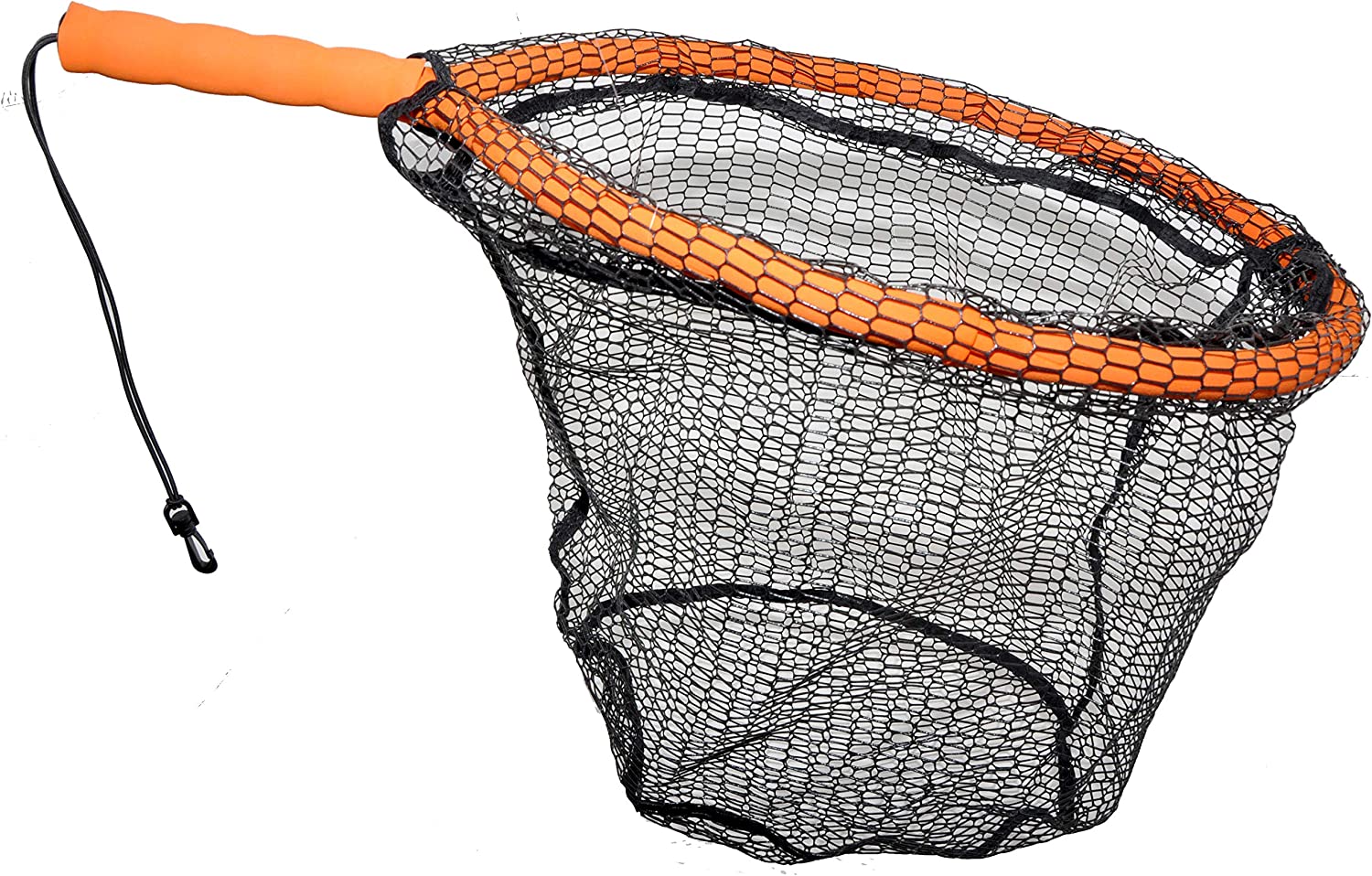 Generation 2 Floating Fishing Net
The Price of "Generation 2 Floating Fishing Net" varies, so check the latest price at

Frabill is huge when it comes to ice fishing. Having a good fishing net when you're fishing through a hole in the ice is a necessity. From that, you can safely draw the conclusion that Frabill knows what it's doing when it comes to fishing nets.
Yeah, I know, ice fishing and kayak fishing aren't exactly the same. The point is, Frabill puts together a pretty solid fishing net with larger mesh holes, and just because it's a net for kayak fishing doesn't mean it failed the litmus test. What's the litmus test for the best kayak fishing nets? That it will land fish for years without breaking, for the most part.
In that, Frabill is wildly successful. Their other nets are fantastic, durable, and long-lasting. The Trophy Haul 1821 is no exception. The handle is aluminum, with a sliding mechanism for simple telescopic use.
The handle attaches to what Frabill calls a "power yoke." This is the gripping point at the back of the hoop, and it's definitely sturdy.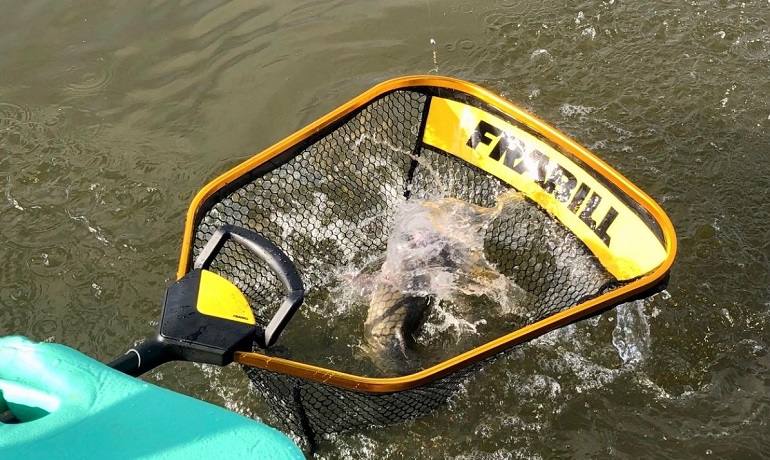 In case you were worried, this fishing net isn't enough; it comes with an LED light. Nice! If you've ever gone flounder gigging, you know the value of additional LED lighting. Also, I have to say; there is no better craft in the world than a kayak when it comes to gigging for Flounder.
The hoop is 14″ deep, 18″ x 21″ wide, and features rubber-coated, nylon net material. So it's good for catch-and-release or catch, filet, and eat.
The only weird thing about this net is it weighs 3.5 lbs. Now, I don't have a problem with a heavy net, but it's awkward with this one because it just doesn't look like it should weigh much of anything.
The Trophy Haul 1821 is one of the best kayak fishing nets because Frabill isn't afraid to innovate. Despite the fact that it's a little on the heavy side, it just wouldn't be right to go kayak fishing without one.
Pros
Nice handle yoke for better balance
Built-in led light
Snag-proof mesh material
Easy control sliding handle
Most durable construction on the list
Cons

Frabill Trophy Haul 1821
The Price of "Frabill Trophy Haul 1821 Fishing Net" varies, so check the latest price at
The TS941M Tournament Series is seemingly made for kayak fishing. At first glance, it resembles the Ego S2 Slider, but it separates itself in a few distinct ways. For one, it just looks cooler, and maybe that's how they justify the $230 price tag—I don't know. Landing nets usually don't cost kayak anglers an arm and a leg.
However, I've used this thing, and I can comfortably say that it's capable of catching a greyhound at a dead run without putting too much strain on the handle. This is easily one of the strongest landing nets on the market.
It has a single adjustment at the center of the handle, which lets you cut its length in half. It's also huge, with a 30″ x 32″ hoop that's 36″ deep. Needless to say, you will land some big fish with the TS941M. If landing fish the size of your car hood isn't your thing, maybe this net isn't for you.
The rubber-coated net is decidedly fish friendly for those of you who fish for sport rather than food. A rubber-coated net is always preferable anyway since it helps prevent the nylon mesh from getting all tangled in itself.
The handle is made of aircraft-grade, extruded aluminum, which sounds really cool, but I can certainly attest to its strength. This rod will not bend on you. This is not a net for fly fishing, but it's versatile enough, with its semi-telescopic handle and huge net, for a variety of kayak fishing types.
It may not be the best kayak fishing net in the world, but it's easily one of the best and deserves a spot on the list. For those who catch crappie, bluegill, mullet, and other small fish and enjoy fly fishing, you may want to pass this one up.
Pros
Highly durable handle
Rubber netting material
Huge, durable net that's plenty deep
Semi-telescopic function
Designed for big fish
Cons
A lot more expensive than other nets
Too big for smaller fish
StowMaster TS94IM Tournament Series
The Price of "StowMaster TS94IM Tournament Series " varies, so check the latest price at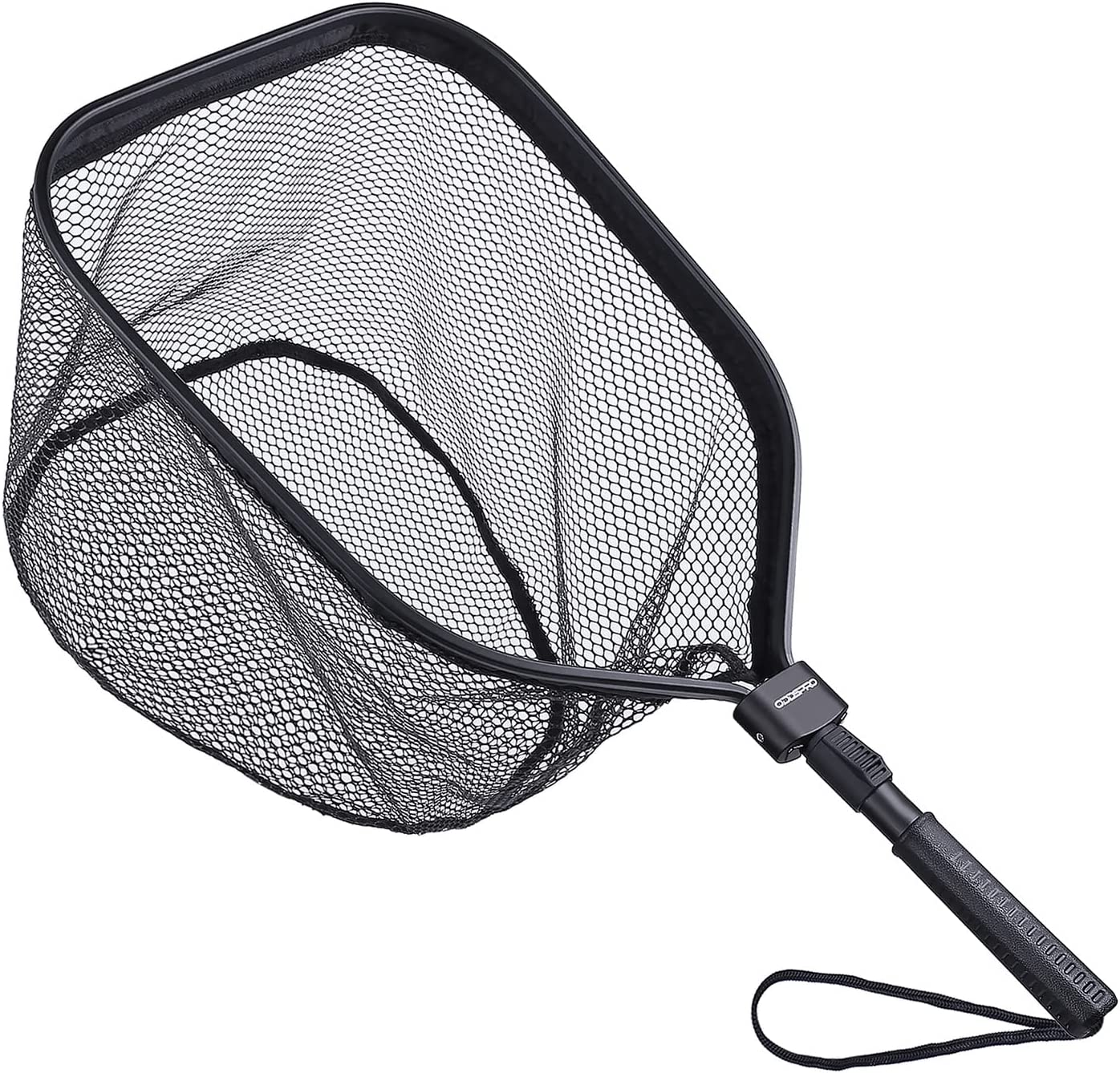 If you've never gone fly fishing while standing in a kayak, you're really missing out. It's a fun little game of perfect form without face-slapping the water because you lost your balance. The Oddspro looks like a fishing net manufacturer saw a tactical knife once and took a cue from its aesthetics.
In other words, it has a neat look, with an all-black, square hoop design. In terms of capabilities, it's a fairly standard fishing net, but that's certainly not a bad thing. It's constructed from carbon fiber and fiberglass, which means you would have to go out of your way to break it.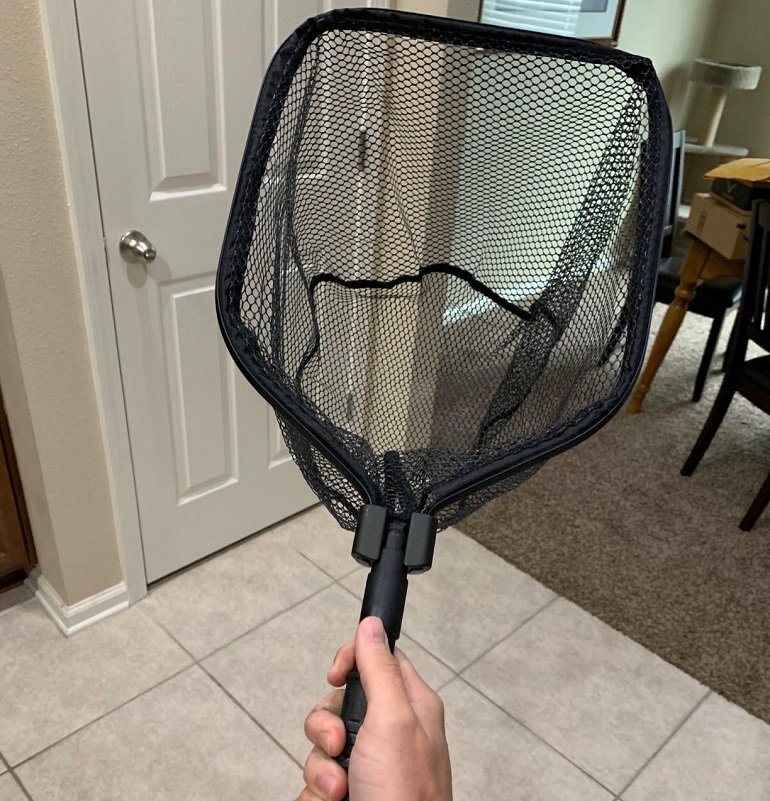 The rubber netting is a nice touch too, and it all rolls in at only 0.7 lbs, making it the lightest fishing net on this list. This net has a lot going for it, and it's small and sleek enough to stow away just about anywhere. Unfortunately, it suffers from the same thing that the Offshore and Gen 2 nets suffer from—being too short.
The handle is only 8″ long, so you won't have much in the way of leverage if you're kayak fishing out on the water. That's always a problem when you land a big fish. The net material is more than enough to hold it, but you lack that extra handle length over the side of a kayak.
It is a collapsible fishing net, however, which is always great for kayak fishing. The hoop width is 15.5″ x 11.5," and the rubber netting isn't terribly deep, so larger fish (bigger than most largemouth bass) are probably out of the question anyway.
The Oddspro Fly Fishing Net is an excellent net, and you'll find a lot of uses for it outside of fly fishing as well. However, if you're fishing out on the water and hooking bigger fish, it's too small, especially at the handle, and too light.
Pros
Rubber-coated, nylon fishing net
Collapsible design
Very lightweight
Carbon fiber and fiberglass construction
Affordable
Cons
Too small for large fish
The handle is too short for leverage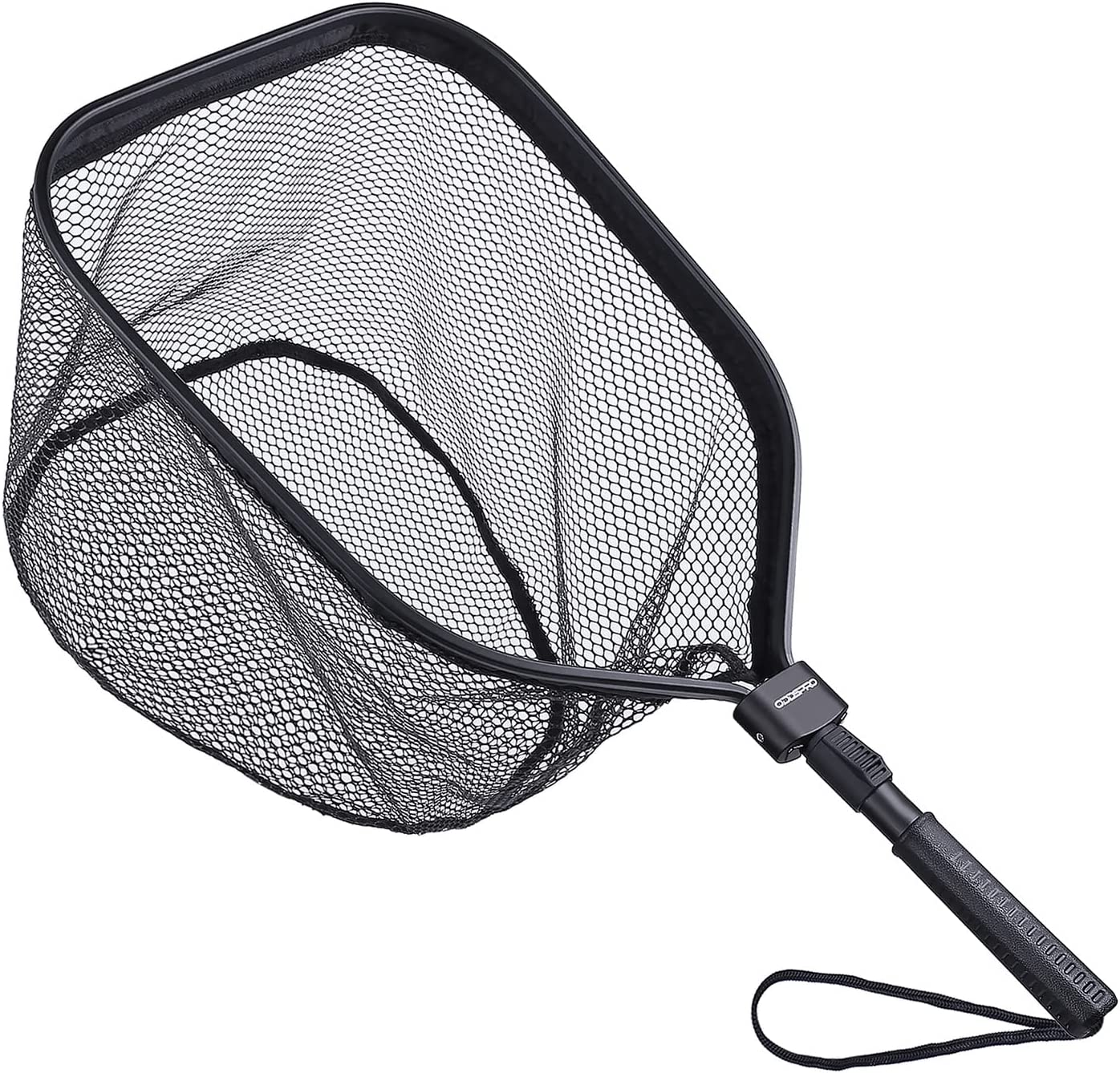 ODDSPRO Fly Fishing Landing
The Price of "ODDSPRO Fly Fishing Landing Net " varies, so check the latest price at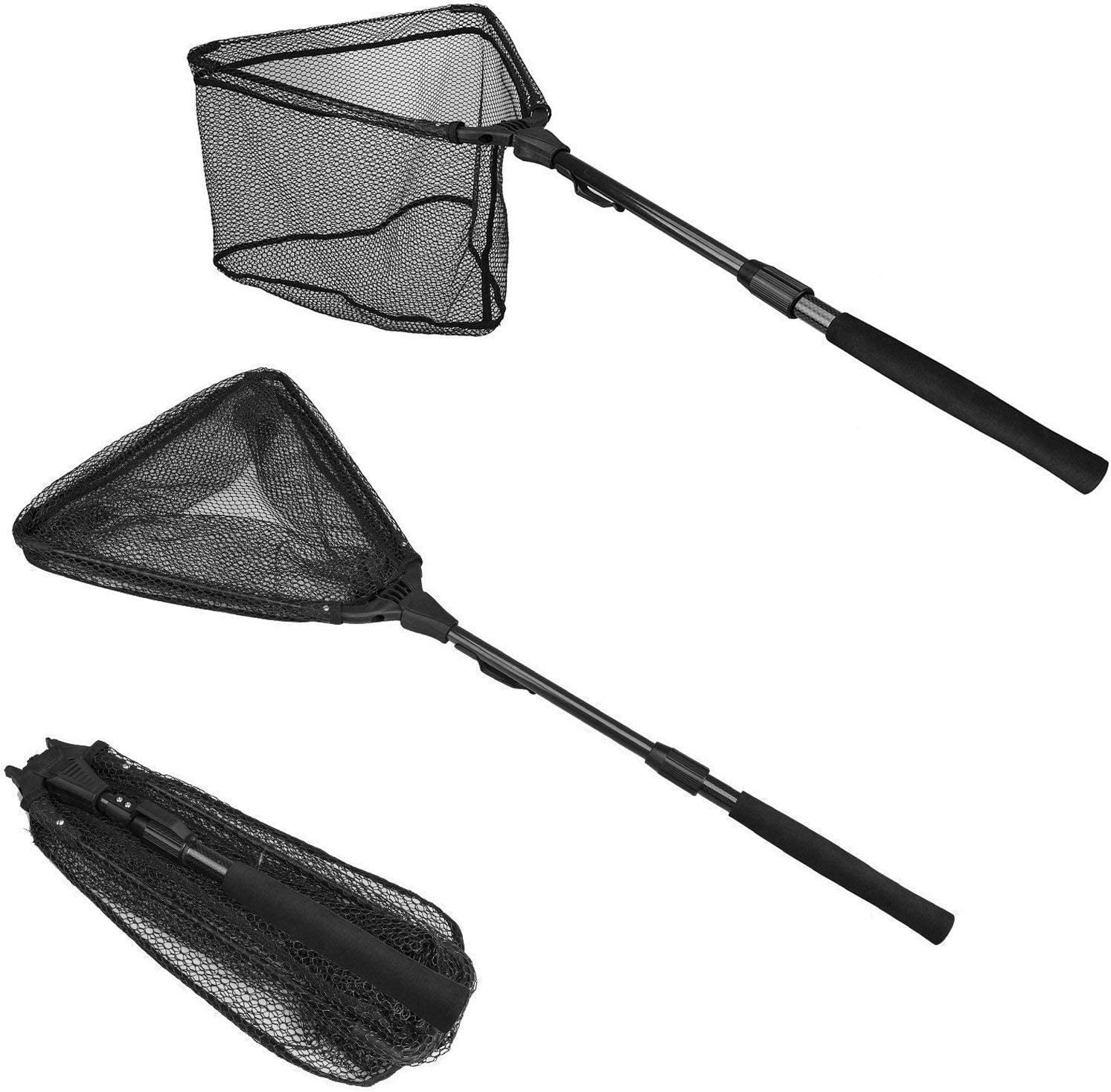 The Plusinno Fishing Net is all about variety, with four hoop sizes to choose from, along with a telescopic handle. Personally, I love the telescoping handles (so long as they are well-built and durable) simply because how much that handle length makes a difference depending on the fish you're going for.
If I'm on the lake, bass fishing, I'll shorten the fishing net handle length to sit comfortably under my arm. If I have to lean out or I'm going after something bigger, I'll extend it. For bluegill, on a simple breadcrumb bait, I don't need anything more than something to grip in my hand.
The net material is nylon with a rubber coating, so it's good for sports fishing and fishing to eat. It also has a three-section telescoping handle that's made of carbon fiber and fiberglass. You can use it to hit baseballs if you want to, and it will hold up just fine.
It doesn't come with one net size, but with four, so you're free to go with something that fits your fishing preferences. The 16″ hoop model is only .09 lbs, and the heaviest model is just over a pound, so they're all pretty lightweight. Huge fish will strain the smaller models, so stick with the appropriate fish for the net size.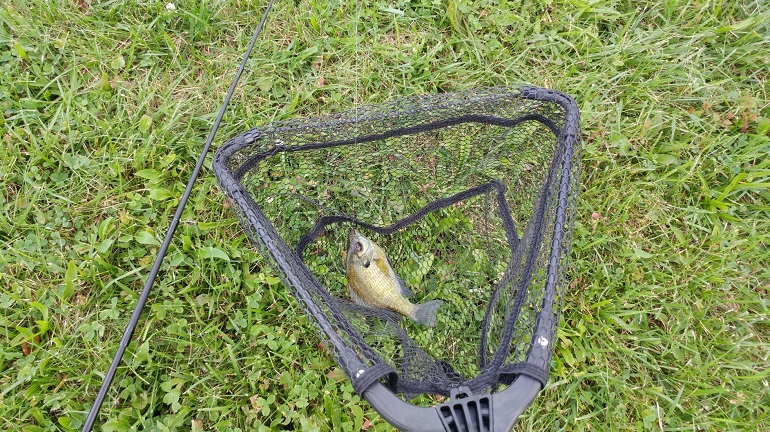 Fully extended, you can reach out an additional 38″ and possibly aggravate that angler parked next to you, trying to fish your favorite spot.
The entire contraption collapses to 17″, which is awesome for kayak use. Even the best fishing kayak tends to lack a large storage compartment, so everything lengthy has to tie down on the deck.
Combining a pretty extensive telescoping handle with a collapsible design is a good way to get a kayak angler's attention. We love something that lets us reach out without needing to lean and that also stores easily in the small surface area a kayak's deck provides.
Pros
Three-section telescoping handle
Carbon fiber and fiberglass material
Knotless construction
Includes a belt clip
Nice, EVA foam grip
Cons
The handle has a little "too much" flexibility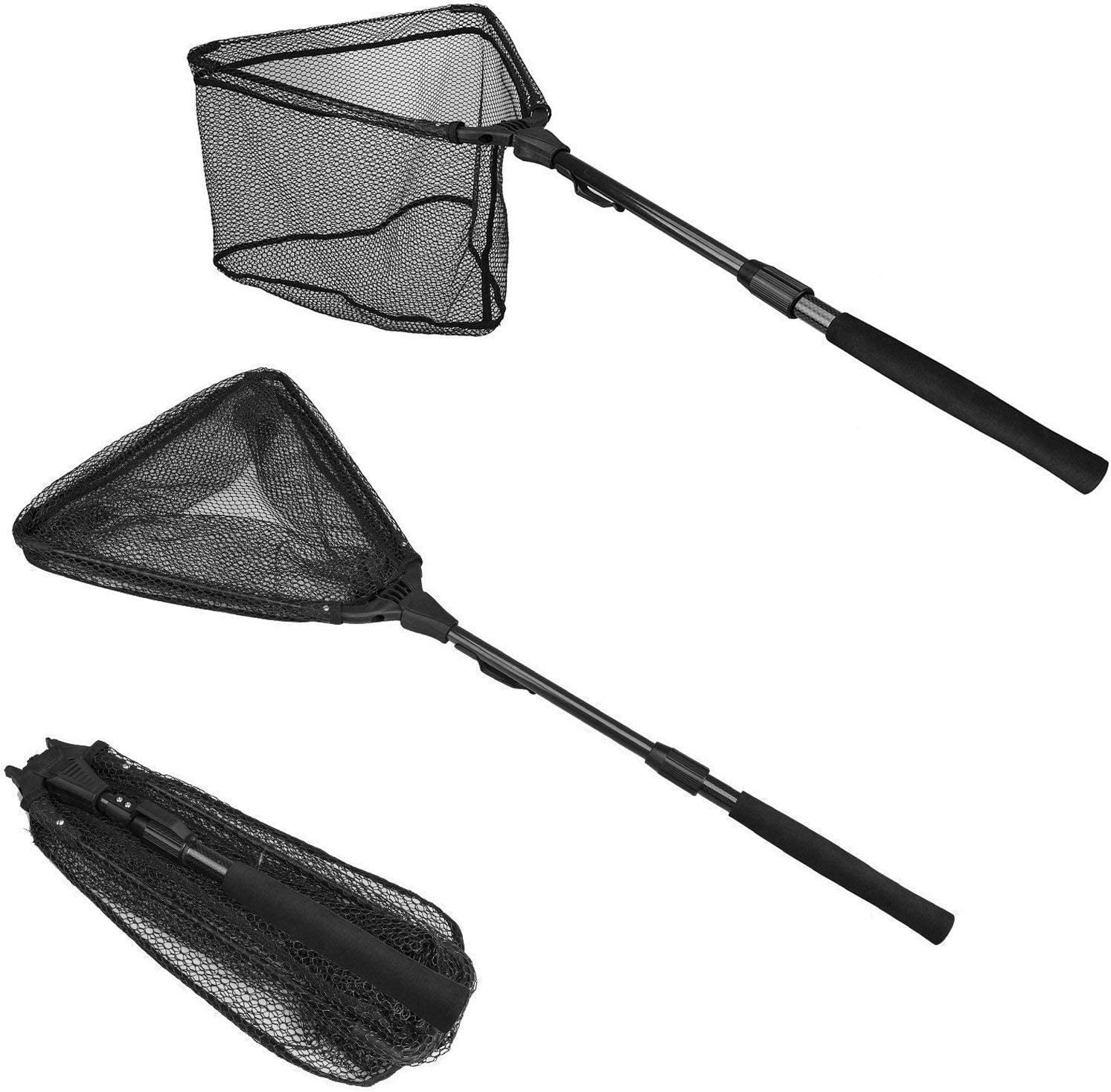 PLUSINNO Fishing
The Price of "PLUSINNO Fishing Net Fish / Landing Net " varies, so check the latest price at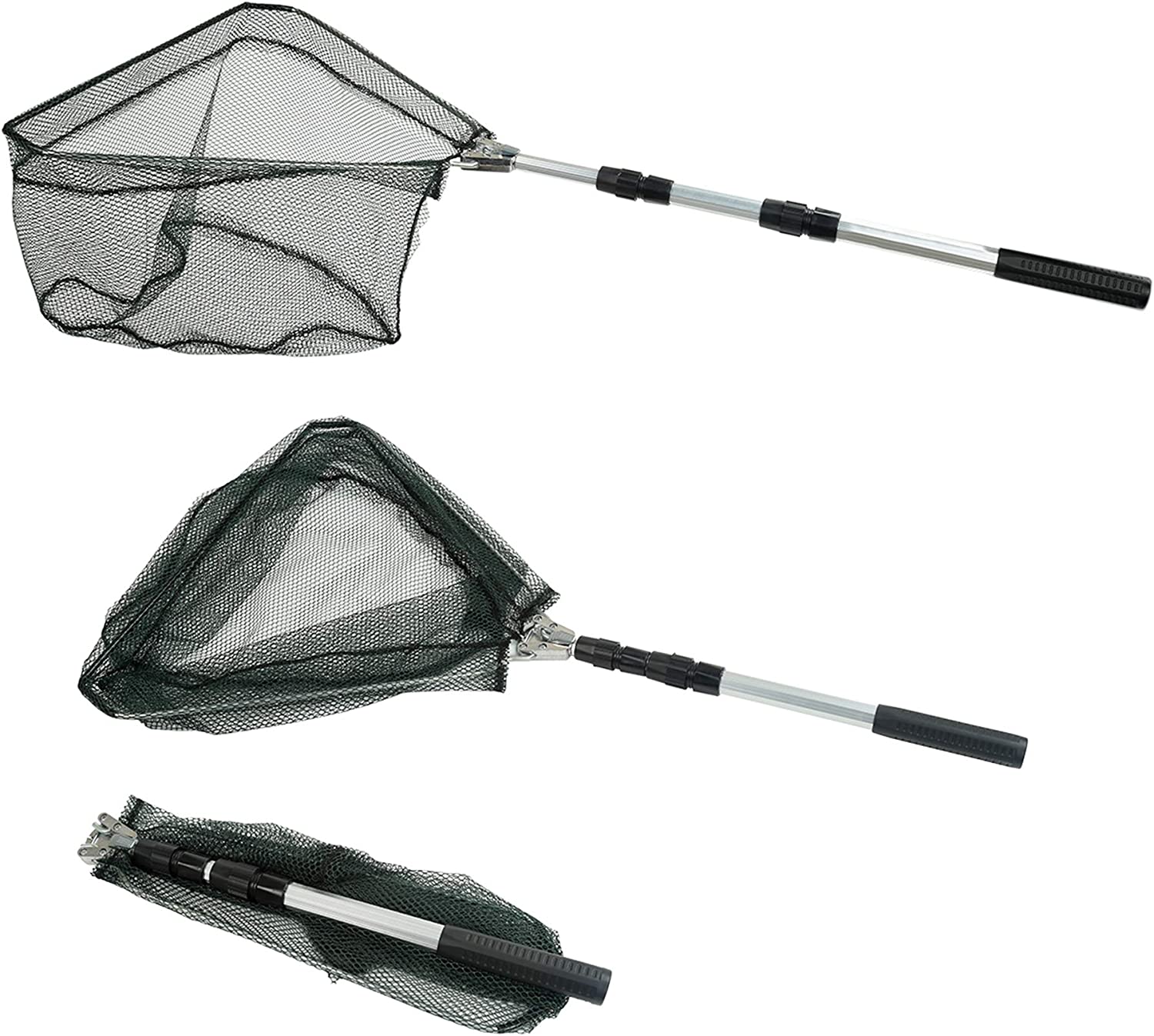 Boy, that's a mouthful. But does it stand up to its lengthy title? Well, I wouldn't put it on the list if you couldn't even take it trout fishing. As it turns out, the Restcloud is an excellent leverage landing net.
The aluminum telescoping handle opens the door for both freshwater and saltwater fishing, so be prepared to take your fishing kayak everywhere. There's no rubber coating on this one, however, only a soft mesh design that holds up pretty well.
Since it's a folding net (collapsible, if you'd rather call it that), it goes great with a fishing kayak, and though the handle is pretty sturdy, it's not recommended that you go after anything too heavy. The feel of the handle didn't give me the impression that it would hold up well with very large fish.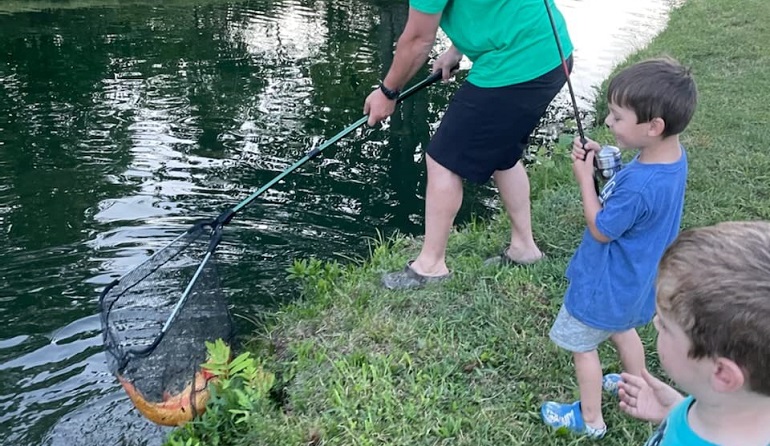 As a leverage landing net, you get up to 36″ of extension, so reaching out without leaning out won't be a problem. It's also a great addition to your budget-friendly fishing gear. If you're on a tight budget, the Restcloud is only about $15.
While it's not good for release fishing, the Restcloud is a fantastic affordable option that has plenty of reach and worked out well from my own observations.
Pros
Telescoping handle
Corrosion-resistant aluminum handle
Very lightweight
Budget-friendly option
Collapsible for easy storage
Cons
Not ideal for heavy fish
Not a rubberized net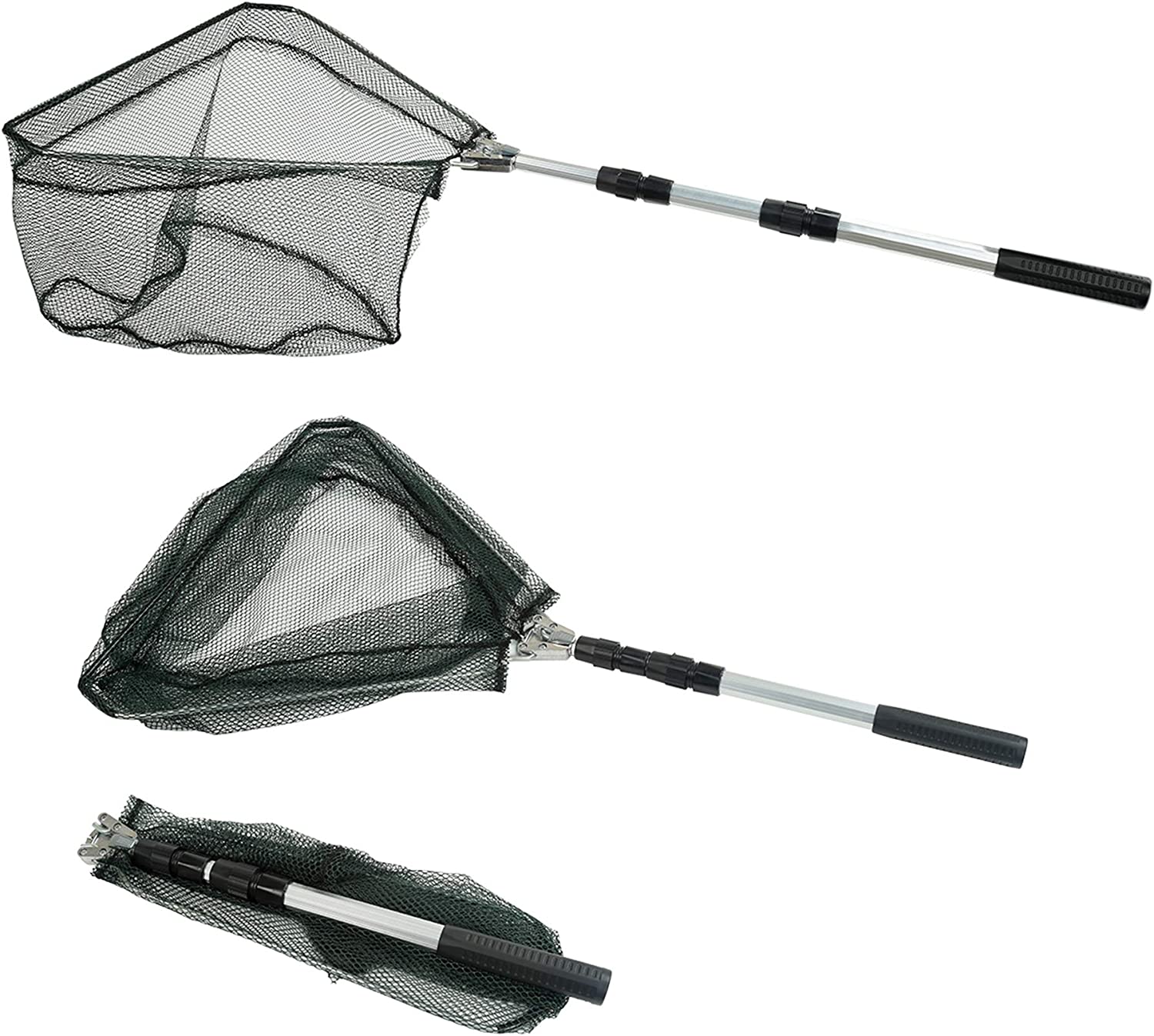 RESTCLOUD Fishing Landing
The Price of "RESTCLOUD Fishing Landing" varies, so check the latest price at
Considerations To Make Before Purchasing a Kayak Fishing Net
Fishing trips are often worth a few moments of careful consideration, especially if you have access to a wide variety of fish. The kind of net you bring will definitely matter, especially on a kayak.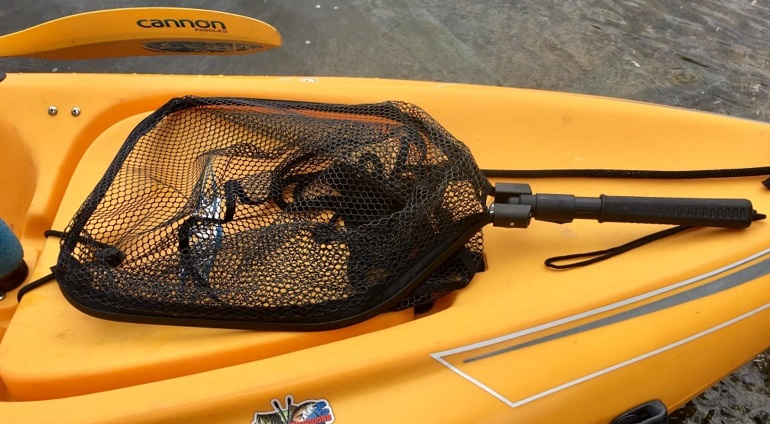 Collapsible
Kayaks have very limited space, especially if you're like me and fully load yours out with all of the latest and greatest fishing gadgets on the market. Collapsible nets help save space and are easy to store.
Net Material
This really boils down to catch-and-release versus fishing to eat. Rubber nets catch fish as well as nylon, but nylon is more harmful to the fish you want to release.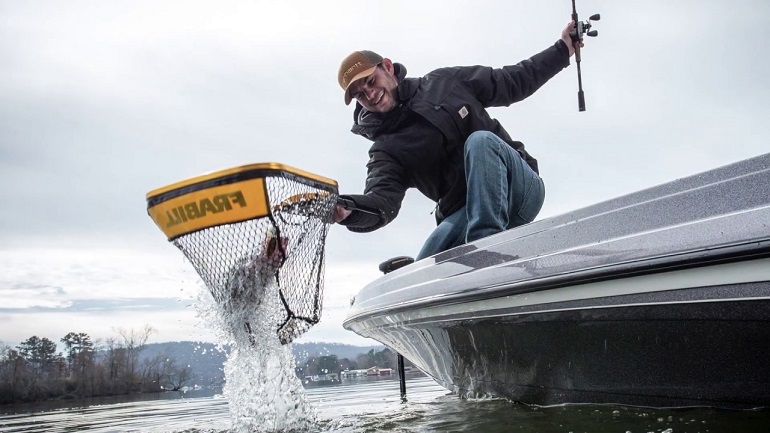 Folding Handle
The best fishing nets provide you with options, and you don't always need that extra length and leverage. A folding handle is great for when you just don't need long kayak nets.
Floating
Fishing on a kayak is a very involving process, especially if you're standing. It's all too easy to drop your net. If you're already prone to suffering from fumble fingers syndrome, a floating net is a good idea for you.
Size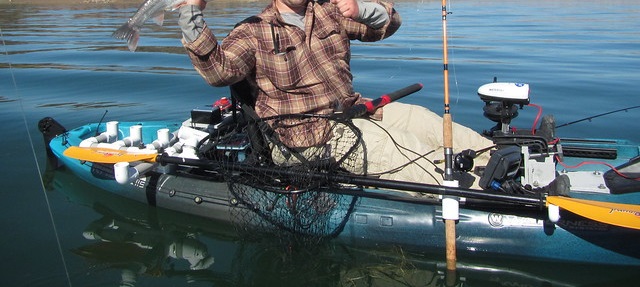 It all depends on what you need. Collapsible or folding nets are the best in every way, or you can purchase different nets lengths for different fish. It's entirely up to you.
FAQs
Do You Need a Net for Kayak Fishing?
Not really, but it's so much more convenient. Fishing kayaks are designed to be stable, but they don't hold over well when a kayak fisherman has to lean out suddenly or often.
How Do You Net a Fish on a Kayak?
Keep around 7′ from the tip of the line to the water
Ensure the net is within quick reach
Dip the net with the farthest end of the hoop, submerging first
Maintain line tension
Manipulate the fish to the top of the net
Bring the net up from beneath the fish
How Much Does a Kayak Fishing Net Cost?
Judging just from the landing nets on this list, they can easily range between $14 and $300. It all depends on the material, brand, and size.
Final Thoughts
The best kayak fishing net is the one that works for you, and fortunately, there are a ton of them on the market. This list comprises some of the best, and I have had my hands on all of them at one time or another.
If you need an outstanding kayak landing net, you'll find something for everyone on this list, whether it's a budget buy or something serious for a kayak fisherman going after the mother of all fish.