New Mexico is an undiscovered and underrated place when it comes to skiing. Tacos are not the only thing that Mexico has to offer. Some enchanting mountains and ski resorts in New Mexico are blessed with ample amounts of annual snowfall and dry powder.
Best Places to Ski In New Mexico
New Mexico: the land of enchantment has most of its ski resorts northeast of the Sandia mountains. Apart from this, some mountain ranges run in Alamogordo. Among the most recognized New Mexico ski resorts are Taos ski valley, Angel fire resort, Ski Santa Fe, Sandia peak, etc.
Following are the best ski resorts in Mexico.  
1. Taos Ski Valley
Highlights
Season: November 24, 2022 – April 9, 2023Operational hours: 9 am – 4 pm 
Travel time: 4 hours
Ticket price: $55-$155 per day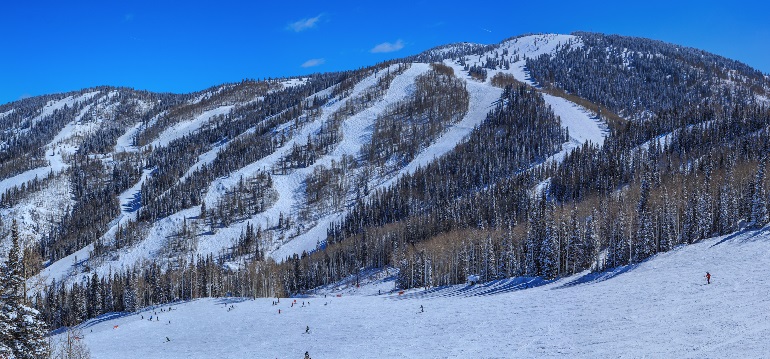 Taos ski valley has 1294 acres of skiable terrain. It is best known for its challenging terrain and adventurous runs and slopes, making it the favorite place of advanced skiers. There are 110 ski trails and cruisers catering to beginners, intermediates, and expert skiers with the hidden black diamond runs. Fourteen lifts are installed to take you up on the top to ski down the hill.
The Taos ski valley owners have kept the old-school theme and amalgamated it with the modern touch to preserve the authentic essence of the place. The base area has undergone much renovation and development, including tree skiing, quad chairlifts, and a gondola. Blake hotel and numerous condominiums have expanded the accommodation space for bigger crowds.
Finding rental places for a staycation at Taos ski valley was difficult, but now you can find them in the base area. However, for variety, you can take a 30-minute drive to Taos town to get diversified experiences of lodges, restaurants, and shopping areas.
There is Ernie ski school for professional ski lessons with acute learning conditions. Moreover, there is a daycare if you have a toddler and want to have a stress-free ski trip. All these services are offered at a not-so-expensive price depending on the age and seniority levels.
2. Angel Fire Resort
Highlights
Season: December 16, 2022 – March 20, 2023
Operational hours: 9 am – 4 pm 
Travel time: 3 hr. 45 min 
Ticket price: $69-$110 per day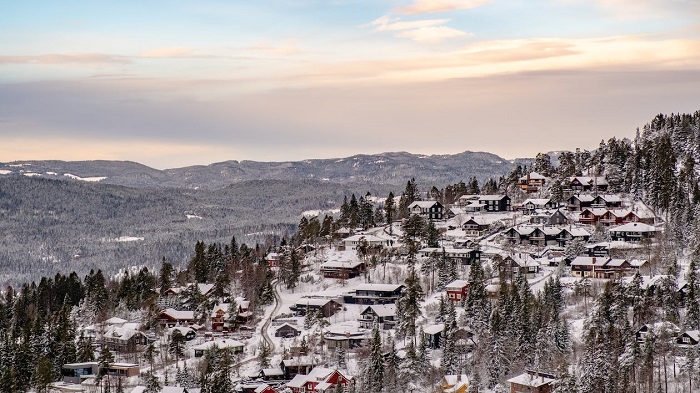 Angel fire resort has all that it takes to be among the bests. You can find ski trails, swift lifts, accommodations, and many non-ski fun activities. There are 50 acres of skiable terrain with 81 ski trails, mainly for intermediate and beginners. It makes sit ideal for a family vacation with people with different ability levels.
The mountain always has enough snow with the snowmaking machine and natural snow. The terrain parks are a bonus for the freestyle snowboarders with various riding pipes, jumps, humps, and spins.
Night skiing is the crowd grabber for Angel fire resort. It is the only place in New Mexico that offers night skiing. So rest assured, you won't get bored at night during your staycation. However, you will have to pay an extra fee for it, but the experience is worth the price.
You can find lodge options at the hill range, i.e., hotels, condos, rental places, or bed and breakfasts. Moreover, you can have more variety of hotels, resorts, and cafes in Toad town, which is 40 minutes away. Also, if you are planning a weekend trip, you can easily cover the two resorts, i.e., Taos ski resort and Angel fire resort, two of the best ski resorts in new mexico.
3. Sandia Peak
Highlights
Season: December 2022 – Mid March 2023
Operational hours: 9 am – 8 pm 
Travel time: 1 hr. 45 min 
Ticket price: $39-$60 per day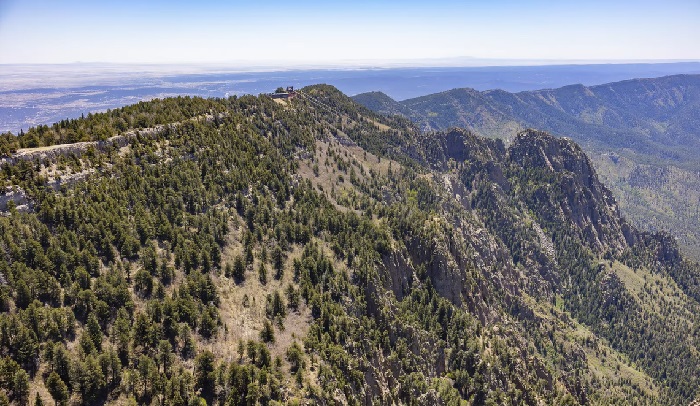 Sandia peak is the oldest New Mexico ski resort, with 35 beginner-focused ski trails. The design and layout o the ski runs make it a great place to learn skiing. There are three double chair lifts and a surface lift with a vertical drop of 1700 feet. It's interesting to note how ski lifts work to truly appreciate their functioning.
Another unique feature of Sandia peak is the tram facility. It is the only New Mexican ski resort with a tram. It adds up an activity of sightseeing other than skiing. You will be able to cover 2.7 miles in 15 minutes ride with fantastic scenic and amusing views. Have you ever imagined being in the air in a car? With this tram ride, you will be 1000 feet in the air at a certain point.
There is a restaurant as well on the mountain top. Famous food chain 'Ten 3' is at 10378 elevations, serving delicious food with enchanting views of Albuquerque as a cherry on top. The resort is operational only from Friday to Sunday. So you better plan your trip accordingly if you visit Sandia peak.
4. Sipapu Ski and Summer Resort
Highlights
Season: November 18, 2022 – April 9, 2023
Operational hours: 8 am – 6 pm 
Travel time: 3 hr. 25 min 
Ticket price: $29-$50 per day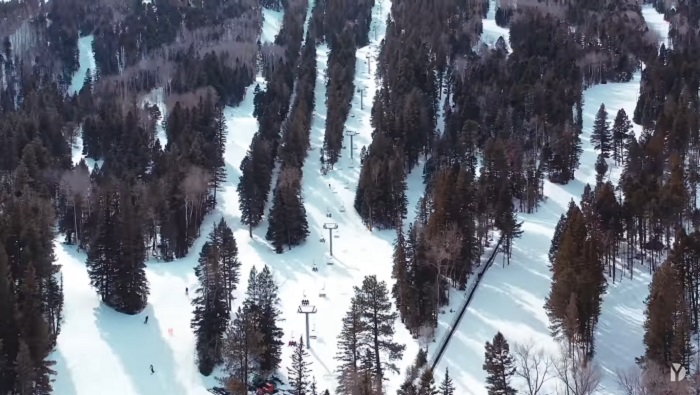 Sipapu ski and summer resort is located in the Sangre de Cristo mountains, which helps it in getting decent snow for the ski season. It has 43 ski runs with three chair lifts and three conveyors. The ski trails are gentle and are made according to all ages and skill levels. The bottom runs are for the noobs, while the black diamonds at the top are for the pros.
There are a few terrain parks for the freestylers and expert boarders. And to avoid overcrowding, it has a separate lift. Sipapu is among the resorts that open first and closes last, as it has the most extended ski season in New Mexico.
Being budget-friendly means the quality of services and facilities is maintained. Instead, it gives your pocket relief from some expenses as kids 12 and under do not require any tickets and can ski for free. Thus, it is the best place to take your kids on a ski venture before they enter their teens.
There is a place at Sipapu resort called 'The Big House, sufficient for 16 people. Besides, traditional rooms and casitas are also available near the ski hill. The riverside café fares may seem high to some of you, so you can always pack some homemade picnic lunch and devour it beside the ski trails.
5. Ski Apache
Highlights
Season: November 2022 – March 2023
Operational hours: 9 am – 4 pm 
Travel time: 2 hr. 15 min 
Ticket price: $90-$135 per day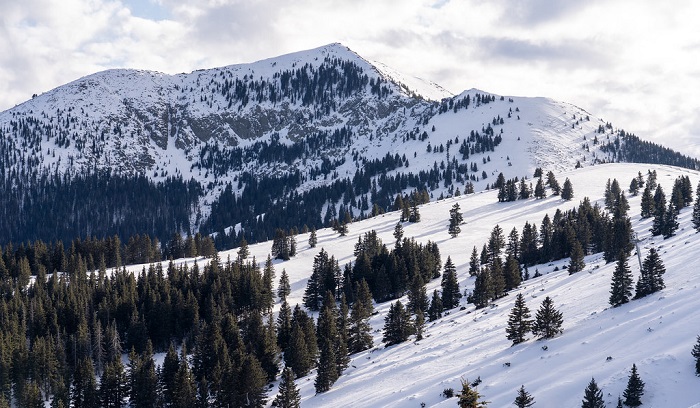 Texas people buckle up for a trip as we have the closest ski place for you, i.e., Ski Apache. It has 750 acres of skiable terrain with 55 ski runs and 11 lifts. Almost 80% of ski trails are for beginners and intermediate skiers.
It grabs the attention of most families with growing kids who are still learning to ski. Whereas, for the experts, the ski Apache resort has tree trails and a large bowl to challenge their abilities. This resort gets 15 feet of snow each season due to its high elevation of 12000 feet.
 The lift ticket prices at Ski Apache are low for the experience you get there. Unfortunately, there are no lodging facilities available at the resort. However, you can find many lodging options in Ruidoso town, which is half an hour away from Ski Apache. This way, you will travel to more places and know about more exciting stuff.
Another exciting feature of Ski Apache is the zipline. It is said to be the third longest zipline in the world. It has 9000 feet elevation and 60 miles per hour speed. So, you have enough to explore and experience during your visit or stay at Ski Apache.
6. Pajarito
Highlights
Season: Mid-December 2022 – Mid March 2023
Operational hours: 9 am – 3.30 pm 
Travel time: 3 hours
Ticket price: $30-$90 per day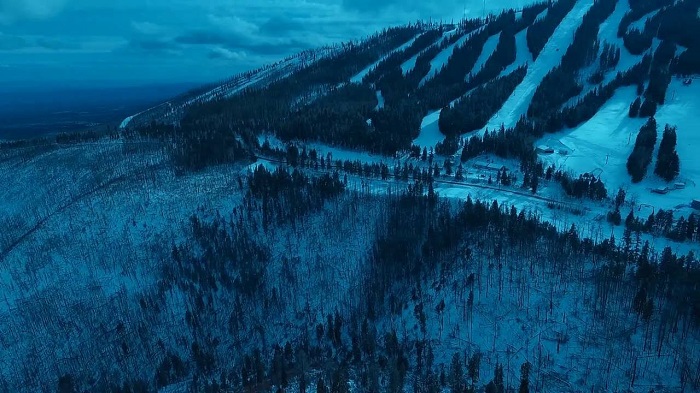 Pajarito is an affordable and family-friendly ski resort. It has 300 skiable acres at the Jemez Mountains. There are 44 runs and numerous trails. Every year this resort receives around 10.5 feet of snow.
The moguls at Pajaraito are pretty famous for their rough and strenuous rides. The beginner and intermediate trails are served by five old-school lifts where you can feel pleasant with the views of Rio Grande valley, Valle Grande, and Sangre de Cristo mountains.
The best thing about skiing at Pajarito ski resorts is that kids 12 and under and adults 75 and older can ski for free. Also, the musical events and other cultural festivals trademark Mexican culture and seek more tourist attention.
No on-hill accommodation exists, but Los Alamos and Santa Fe can be good alternatives. These are 55 minutes and five miles away from the Pajarito resort. So, you can visit these places and have more exposure to the place's culture, tradition, and aesthetics.
7. Red River Ski & Summer Area
Highlights
Season: November 23, 2022 – March 19, 2023
Operational hours: 8 am- 5 pm 
Travel time: 4 hr. 15 min
Ticket price: $70-$160 per day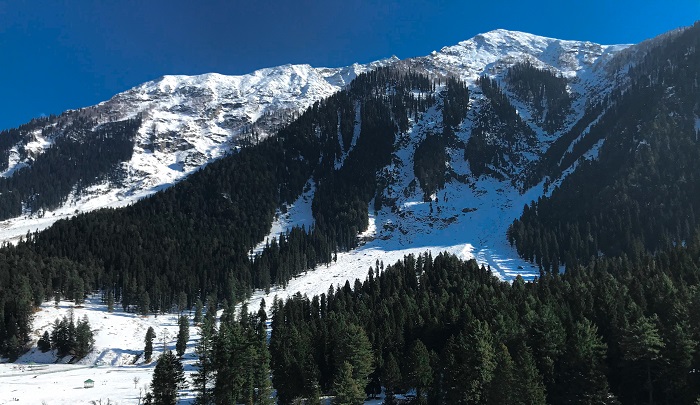 Red river ski and summer area has 85 percent of the mountain covered with snow, as it gets 18 feet of snow annually. This makes the ski trails all groomed and stiff for the ski season, and that too at decent pricing. The best part is that you can enjoy the scenic beauty of nature both in summer and winter and experience skiing in different weather conditions with snowmaking machines.
There are blue and green ski trails at the front side and all green trails at the back side of the ski area, perfect for beginners to learn and practice the skill. It can be an excellent place for new learners, adults, teens, or even kids to start learning the art of skiing. The trails at red river ski resort are wide, groomed, and well maintained for the skiers to ski all day without any hindrance.
There are seven lifts for the transportation of the skiers. At the same time, the small town at the base area is full of amusements and assortments. You can find hotels, lodges, and condos within walking distance of the lifts.
The local eateries, primary street shenanigans, and night walks will amuse you well after a tiring ski session. The nightlife of this area is quiet and peaceful, so it would not be a good factor for the night owls and the party animals. However, it can be a great relief for your mind and soul for the reclamation in the quietness of the night.
8. Ski Cloudcroft
Highlights
Season: Mid-December 2022 – Early March 2023
Operational hours: 9 am- 4 pm
Travel time: 2 hr. 35 min 
Ticket price: $55-$122 per day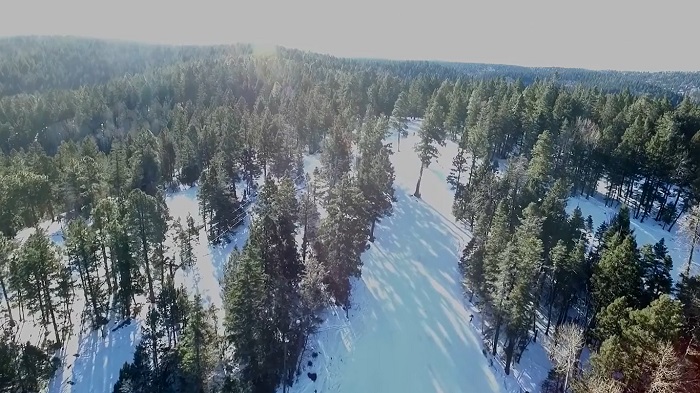 The most eminently unique fact about Ski Cloudcroft is that it is situated at the United States and Mexico border. The area of this place Is not huge, but it offers enough in a compact manner which is good enough for a pleasant leisure time in the snow. Significantly, the desert people from the nearest surroundings can enjoy a good deal at Ski Cloudcroft.
There are 25 ski trails with a double chair lift, a rope tow, and a handle tow to get you up and down from the mountain top. The elevation of this resort is the lowest among the New Mexico ski resorts. For this reason, it is best suited for people who suffer from altitude sickness and compromise their passion for skiing. They can come to this low-elevated resort and ski once in a while.
The ski trails are mainly for beginners and intermediate skiers, but the experts can also find their share of adventure amidst all the chaos.
For the non-skiers, there is a tubing hill where they can take an exciting ride that requires no skill but only a height limit. Also, the lift tickets and passes are affordable and can be an excellent pick for a low-budget family trip in the wilderness away from the city crowds. 
Conclusion
Won't it be great to have tacos, Mexican food, and skiing pleasure altogether? So, what are you waiting for? Prepare your burrito bag for a new Mexico ski trip up in the mountains. Book from the best suitable mexico ski resorts with the most facilities and budget-friendly packages. Remember the travel distance, your means of transport, and accommodation options while finalizing your skiing destination.
Happy skiing!
Related Guide: