Are you a polar bear and yearn for snow all the time? Do you miss skiing and rolling out in snow surrounded by mountains? Do you experience FOMO while gawking at the Insta stories of your friends visiting west Carolina?
If your answer to any of these questions is yes, then my dear you have landed on the right platform.
Santa Claus just dropped by and told us about a hidden heaven for snow skiing, snow tubing parks, mountain biking, ice skating, winter zip lining, and much more.
North Carolina is the perfect place folks! It has the perfect climate and guess what, there are snow-making machines for a constant supply of fresh snow while dodging the extreme cold temperature!
So you need not worry about the season or weather change as the resorts in NC are capable of creating a Winterland.
Our Top Picks of the Best Ski Resort in North Carolina
It is always better to do your homework before going on any vacation or adventure. For this reason, here we are with the list of the best ski resorts in NC. We intend to make your ski trip easier and free of last-minute hassles.
We have included honest and detail-oriented reviews for ski resorts. So that you can make a perfect choice.
Following are the top ski resorts in North Carolina where you can spend your money on trusted services.
1. Sugar Mountain Ski Resort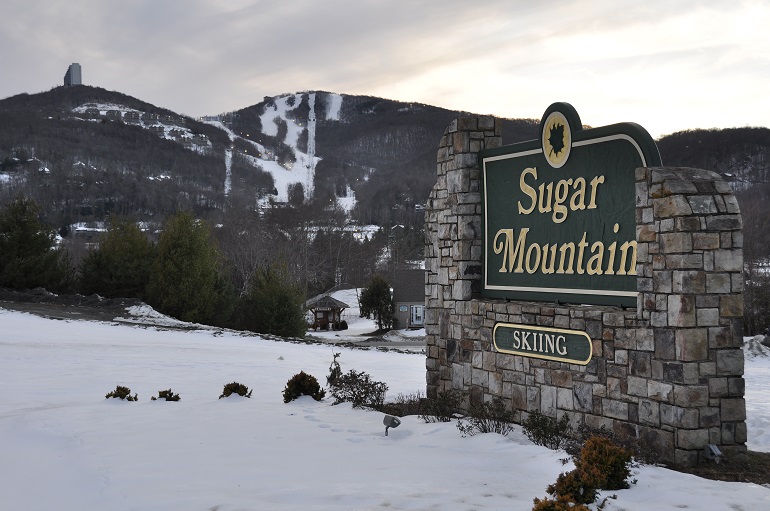 Highlights
Location: Blue Ridge Mountains
Price: May vary on weekdays and weekends
Skiing trail area: 125 acres
Sugar Mountain ski resort is the biggest and highest ski resort in North Carolina. It has an area of 125 acres for skiable terrain and tube world. The location of Sugar Mountain resort adds spark to adventures as it gets around 75 inches of natural snow during winter.
So, why not spend some quality time surrounded by white shields during the Christmas holidays in Sugar Mountain?
Seeing the popularity of the Sugar Mountain resort on social media accounts and travel blogs, you might imagine a picture of an overcrowded place. On the contrary, the management and infrastructure of the Sugar Mountain resort are designed in such a way as to accommodate a lot of tourists at a time.
They have 21 slopes in Sugar Mountain for ski areas and also cater to transport needs with 8 lifts for the trails.
Vacation is not just about going to a place and sitting idol. Instead, you should explore the place and try out different activities. For this reason, you can rest assured that the Sugar Mountain resort has a huge variety of activities awaiting you.
You can go snowshoeing, snow tubing, hiking, ice skating, refrigerated winter wonderland, or even mere sightseeing.
In terms of cost, you get a fair deal for all the services and facilities you get to enjoy at Sugar Mountain. Also, there is a difference in price on weekdays (around $50) and weekends (about $80) per day. So you can plan your visit according to your budget and availability.
Moreover, you can even extend your stay and book yourself cabin rentals, or rooms for days, nights, or even twilights which are more popular stay times at the North Carolina ski resorts.
2. Beech Mountain Ski Resort
Highlights
Location: Beech Mountain
Price: May vary according to season
Skiing trail area: 95 acres 
Beech Mountain ski resort is yet another famous ski area in North Carolina with some exciting features that tempt you by all means. North Carolina has numerous skiing resorts but a few of them stand out with their attractive services.
Beech Mountain is one of those ski resorts having a vast area of 95 acres. This area is covered by 17 trails and 8 lifts to accommodate incoming tourists in beech mountain.
One of the most attractive features of the Beech Mountain resort is the sky bar. Yes, you read it right you get to experience extravagant dining up in the mountains with the 5506' Skybar. Also, for the ones who cannot end their evenings without drinks, they can have their moment in scenic beauty with the Beer Mountain Brewery Co.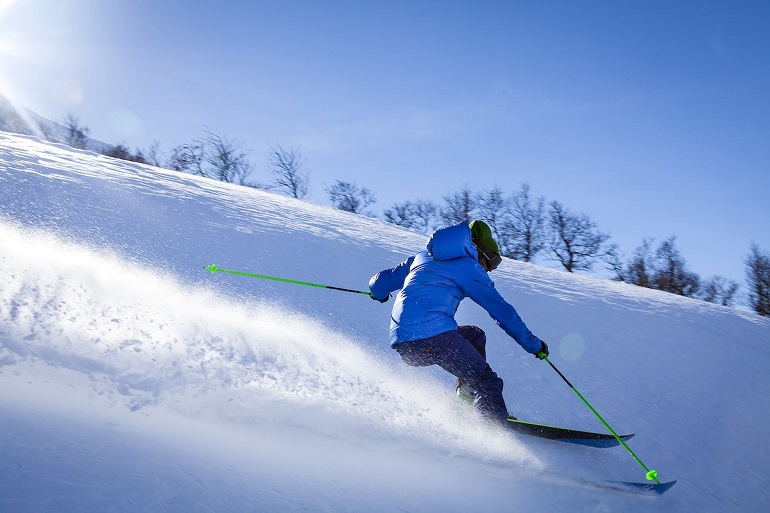 The eye-catching beauty of this terrain park is remarkable, you get a wholesome experience of nature and its scenic beauty even if you are not doing any activities. Apart from this, the retro 80's fest is the crowd grabber for Beech Mountain ski resort.
Every year towards the end of February, this event takes place mostly on weekends. At this event, the skiers wear bright neon color ski suits that look great on white snow spread. With the old school bands, music, and contests, this event becomes the celebration of winter in Beech Mountain.
The pricing of Beech Mountain resort is very moderate and affordable regardless of the services and facilities. Moreover, you can freely take your children first-time skiing without any hesitation as they offer classes and ski lessons for children and adults as well.
Plus, you can always have a night's stay there in the nearby hotels, rentals, and lodges. The location of Beech Mountain resort has the benefit of more accommodation options, places, and amenities in its surroundings to cater to the crowd.
3. Appalachian Ski Mountain
Highlights
Location: Blowing Rock
Price: Ranges from$30-$70
Skiing trail area: 27 acres 
Appalachian ski mountain was once an unknown place sold in an auction but later transformed into a beautiful ski resort in the location of blowing rock. This family-focused ski resort has an area of 27 acres which is comparatively smaller than other North Carolina ski resorts.
However, the quality of services, facilities, and activities is not compromised due to the smaller skiable terrain area. The architects have meticulously designed the resort despite the lesser space they incorporated 10 slopes, hand and conveyor lifts, and 2 terrain parks along with chairlifts.
The slopes and trails of the Appalachian ski mountain are a bit difficult to ski, especially for children, beginners, or noob skiers. But, you do not need to lose heart as they have professional instructors and trainers from ski schools to assist and teach you the art of skiing.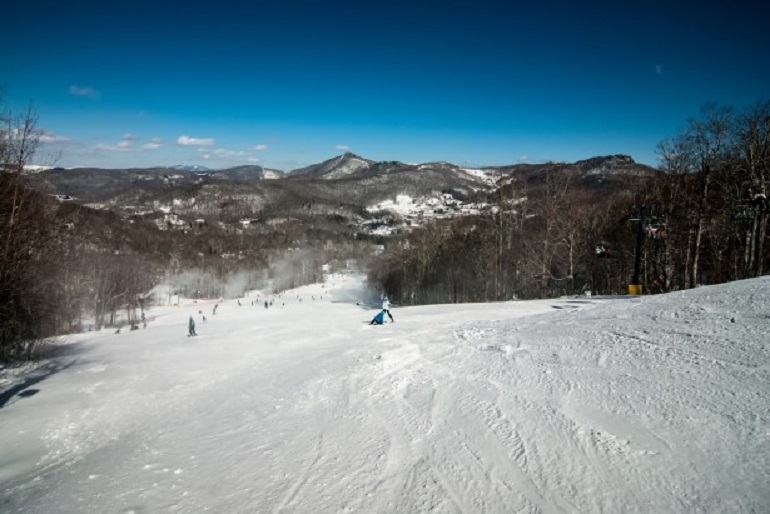 The oldest and traditional snow sports school i.e., the French-Swiss ski college serves in this resort and teaches skiing regardless of age, skill, and gender.
The lodging options around this skiing resort are quite famous for their hospitality and quality services. It always adds a point to the popularity of this skiing resort because the ones least interested in skiing can also enjoy their vacation in a scenic location.
Also, the snow gear stores are there along with the gift shop to get some souvenirs way back home. The snowmaking machines at Appalachian create enchanting white snow spread in no time as long as the temperature is low.
Another attractive feature of this ski resort is the flex lift tickets system where you get the ticket once and it is good for long eight hours. Also, this resort stays open for night skiing and ice sports till 10 at night on weekdays while you can enjoy the adventure till midnight if you are visiting on weekend.
The small compact yet giving experience is waiting for you at the Appalachian ski mountain.
4. Cataloochee Ski Area
Highlights
Location: Maggie Valley
Price: $35-$76 per day
Skiing trail area: 50 acres
Old is always gold and old has its own charisma. Cataloochee ski area is the oldest among the North Carolina ski resorts and still stands strong with its finesse. It has a total area of 50 acres but the best feature is its division of trails.
In total, there are 18 slopes from which they segregate a percentage for beginners, intermediate skiers, and advanced skiers individually. So that everyone can enjoy skiing as per their expertise.
You need to have some extra element to stand out in the crowd. Cataloochee ski area has adopted this mantra and introduced lighted skiing trails so that the skiers can enjoy night skiing as well during their night stays.
Along with this, there are aerial lifts and moving carpets and to cater to the needs of the skiers there are 4000 sets of rental equipment.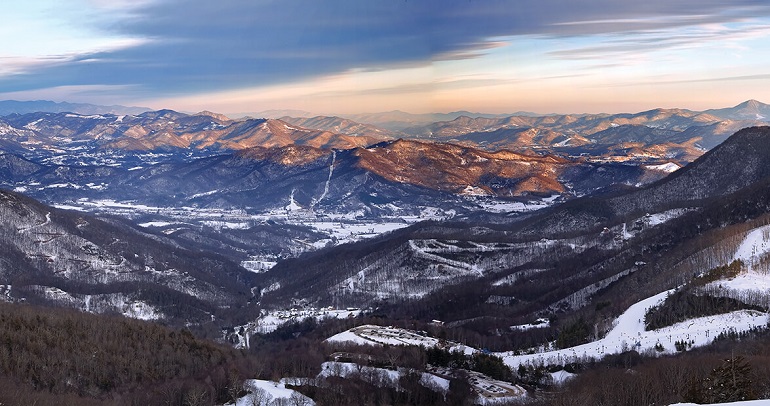 Snow tubing park is the best activity for you if you are accompanied by children. It would be a fun sight to watch and experience as well. The ski lifts will help you climb up the hill and the tubing hill will let you slide down and create a fun play for all ages. The price range for weekdays and weekends justifies the fun you are going to get.
Staycations are always a good idea to escape from the busy city life and if it is in mountains surrounded by snow it gets all better. For this purpose, there are numerous, wooden cabin rentals for aesthetic and traditional feels, and lodges nearby Cataloochee.
Also, there are some stores for skiing equipment as well so you need not carry extra luggage and gear from back home.  
5. Wolf Ridge Ski Resort
Highlights
Location: Mars Hill  
Price: Around $35 for half day
Skiing trail area: 54 acres
Wolf Ridge ski resort is the go-to resort for Ashville dwellers. It is just 30 minutes drive away surround by Mars hill. You will find 15 ski area slopes with two surface lifts in an area of 54 acres.
Also, there is a 350 feet length slope designated for snow tubing only. They have managed the design and operation so well in a limited space for a ski resort.  
Doesn't it feel awesome to have a small cozy living place in snowy hills? if yes, then you need to book the rental cabins at Wolf Ridge ski resort for a short or long staycation. We promise you won't regret your decision as you will have a rejuvenating experience in the serene beauty.
Apart from these cabins, there are some famous lodges and hotel chains like Wolf Laurel resort and many more. You can book lodging options as per your needs and budgets.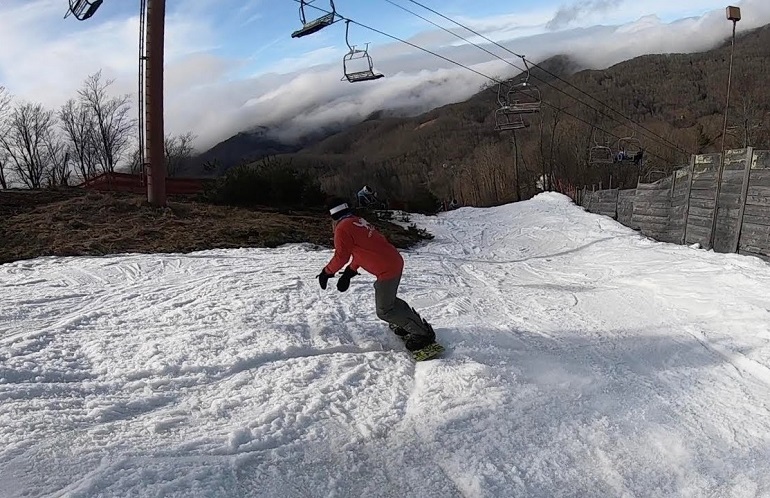 Snacking always accompanies vacations as a VIP guest and you need not worry about it as the Wolf Ridge resort has cafeterias and fireplaces as well for you to chillax. The skiing gift shops and rental stores make convenient access.
The newbie skiers need not feel left out because there are professional instructors who offer private and group lessons to both beginners and even experts who want to polish their skills in skiing and snowboarding.
Similarly, the Wolf Ridge resort has a different ticket system in which you get individual, group, or even season ski passes for a longer stay.
North Carolina's Ski Season
Although snow sports require no season there are some conditions that we cannot alter; weather change is one of them. However, in North Carolina, the weather change is not an issue, so you can expect ski resorts mostly full of passionate skiers.
The ideal season of skiing in north Carolina begins in November and goes on until mid-march or April. These months have the most skier crowd in North Carolina.
Thanksgiving and Christmas holidays act as catalysts and provide a chance for the long-lost skiing fans to go to the ski resorts in North Carolina and bury their fatigue, and stress in snow and ski happily over it.
However, we would suggest you go to terrain parks in the mid-winter. You will get the perfect skiing experience during this time frame as the snow slopes get more firm and sturdy to help you balance your gear. Also, the mildness of the winter chills will allow you to ski freely.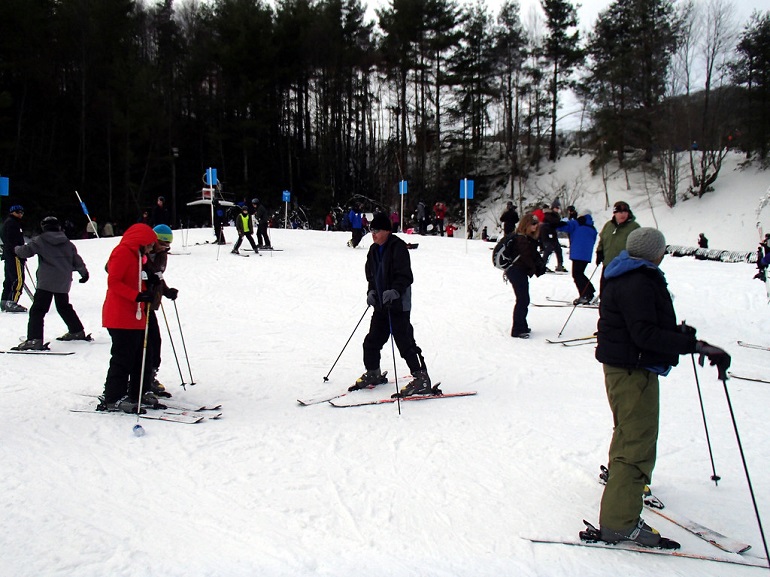 North Carolina Vs West Carolina
West Carolina is the holy hub of skiing, ice skating, and other snow sports. The scenery, ambiance, and ski resorts are exotic in the west. Whereas, in the north, there is a technological advancement that helps create nature-like winter lands for the skiers.
No doubt the ski resorts in the west are top notch but we can also not deny the supremacy of ski resorts in North Carolina. These ski resorts in the north have snow-making machines which help them regulate their business even during weather changes.
So, if you are a busy bee and cannot manage to visit the west for a wholesome experience of skiing then North Carolina is the best alternative. Pack your bags on a Friday evening, book a skiing resort in the north, leave by car, and voila you will get to enjoy skiing and lots of other sports in the snow.
Do not forget to pack all the essential gear i.e., ski jackets, warm ski pants, ski goggles, ski bibs, etc., that you will require for smooth skiing.
Conclusion
North Carolina ski resorts are the go-to options for passionate skiers living in South Carolina. If you are one of the south Carolina dwellers then you need not worry about the airplane ticket expenses. You can travel by road and enjoy the fun of a road trip and later enjoy ice sports. If you are interested to learn how to ski on ice like a pro check out the complete detailed guide.
Skiing is a healthy and pleasing sport that revives your energy amidst nature. Yet another reason why we all praise NC ski resorts is the moderate temperature and control; which saves you from getting frozen in extreme cold weather and from the squishy ice skating as well.
So, if you can not head towards the west, the north is always a straight road pal!
Skiing is just not a sport but a passion. The skiers do not let go of any opportunity to visit a ski resort. Therefore, here we have reviewed a few most popular ski resorts in North Carolina. So, you won't have to go through the hassle and can book your adventure asap.
Pull up your socks, and roll in the snow with the best North Carolina ski resorts!
Related Article: