As a hopeless lover of snow falls and fresh powder, the breathtakingly beautiful pictures of the fresh dusting of snow on the mountains, spread all across social media by ski resorts, must be enticing you to plan an adventure.
It's THAT time of the year when the mountains are white, trees are snow packed, and the ski resort management teams are grooming the trails vigorously.
Idaho is popular for its mountainous landscapes with crazy vertical drop, plentiful sunshine, spectacular scenery, and endless powder. It's called a 'skier's paradise' for the very same reasons!
Idaho has numerous ski resorts, and if you have been itching to take your ski gear out of the cupboard and stroll through the snowslides, it's high time you go for it.
Best Resorts in Idaho for skiing
In this article, we take you through just a handful of the most terrific Idaho ski resorts that you MUST experience at least once in your lifetime.
1. Sun Valley Resort
The best thing about the Bald mountain of the Sun Valley Resort is that you don't want advanced bookings for skiing. However, it is advisable to buy lift tickets in advance to avoid the hassle of having to stand in long queues.
Benefitting from its extensive terrain, it offers a great place to avoid crowds and offers you a pretty peaceful weekend.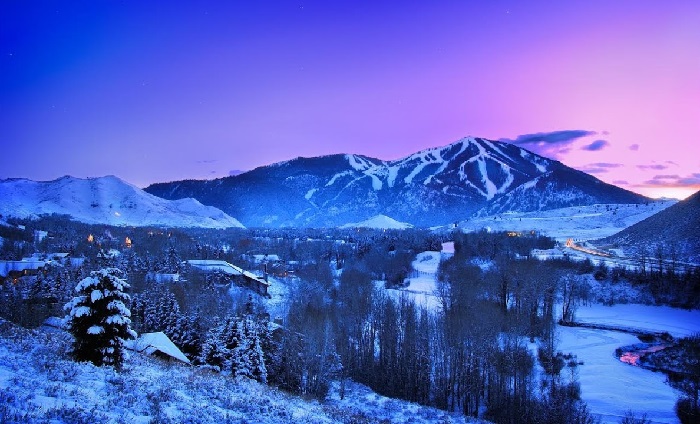 Features You Would Love
For adrenaline junkies, Sun Valley is filled with extensive options for to-do things. Being one of the best ski resorts in Idaho, it offers you a consistent pitch glide on and a variety of terrain.
Sun Valley features 65 unique runs that are a dream come true for advanced skiers. The terrain spans thirty acres, letting you enjoy Idaho skiing in a relatively lesser isolated space compared to other ski resorts.
If you have kids with you, Sun Valley has a special place for them to enjoy the skiing experience. An extra small park named Sidecar park offers mini-jumps, and the whole adventure turns out to be extremely safe and apt for beginners.
As the ride-on boxes are on low-poverty flats, the vertical drop isn't tough to manage. Lombard Street is a family cross course that is meant for beginner and intermediate skiers.
The Sun Valley Lodge pool & jacuzzi are available around the year, but they offer you maximum comfort during the peak winter season. As far as further adventures go, there are spin bikes, a serene fitness studio, and an exclusive cabana area for a luxurious experience.
Want to rewind after a long skiing session? Avail yourself of the amazing spa facility, and you will never forget the experience.
Wanna fill up your bellies with scrumptious food? The dining options available at Sun Valley are drool-worthy. Gretchen offers fine dining for you and the family, while Konditerei lets you have a quick cup of hot coffee to warm yourself up after skiing across the snowclad mountain.
Duchin Lounge is a great option for an unforgettable cozy dining experience with your loved one with its aesthetically beautiful interiors.
Love shopping and want to get your hands on winter-specific apparel; check out the Brass Ranch Riven Run Plaza for quality products, or go for the Brass Ranch Village for amazing sportswear products.
Basic Terrains Might Annoy Expert Skiers
The only downside I found with Sun Valley was that the trails are not for expert skiers. Rather, they are more meant for beginners and intermediate skiers. If you are looking for some tricky trails, you should better choose some other ski resort.
Nonetheless, if you want a peaceful ski resort that offers extensive amenities, the Sun Valley resort is a great pick!
2. Tamarack Resort
Tamarack resort holds a super special place in my heart. I visited it during the peak season, and I still remember the steady deluge of fat flakes falling around me while I skidded through the terrain park. It was a ski dream come true!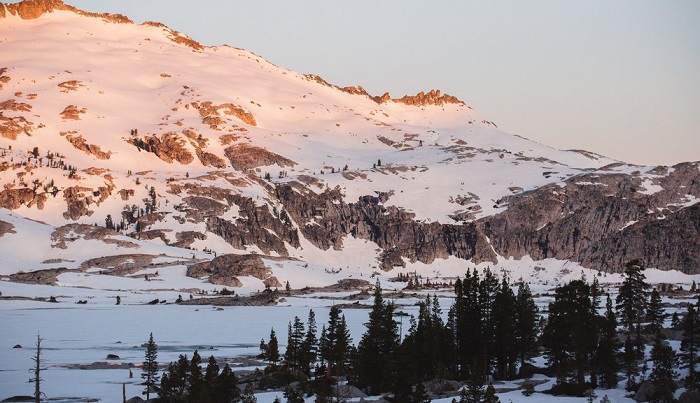 Features Worth Mentioning
Getting to the resort is pretty easy. It's located on the west shore of lake Cascade. The closest airport to it is Boise Airport. From here, you can get a rental vehicle towards the Tamarack resort, which is easily available.
The resort opens on December 9th, 2022, and you can make your reservations now for a stress-free stay. The terrain has 50 runs, from which 38% of the ski area is specified for expert skiers.
The various terrain parks include the incredible showtime park, homestead park, and disco park. Each one comes with distinct features, but they mostly have uncrowded slopes.
Have no one to look after your small kids yet want to plan the perfect ski trip? Not a problem! It's one of those Idaho ski resorts that offer a daycare center. The Wildhorse Children's Center caters to children from 6 months to 12 years, and you can easily leave your kids there while gliding on the snow-clad mountains.
Tamarack resort comes with a plethora of choices in terms of lodging options. Staying at the Lazy Daze condo to the Aspen Ridge condo, you get incredibly luxurious amenities. If you are looking for some peaceful nights after long days of skiing at a perfect romantic getaway, the Tamarack Resort's chalets are worth every penny!
May Burn A Hole In Your Pocket
Though this resort is amazing, it's a little pricy! The lodges, spa, and dining require you to pay a tad bit more than what the regular resorts make you spend!
If you have a heavy budget, you may end up loving it with your whole heart and would want to return to it time and again.
3. Schweitzer Mountain Resort
Schweitzer is filled with hospitable and super-friendly people, and I came back from there making many friends. If you are looking forward to night skiing at a place that organizes extensive winter special activities for visitors, the Schweitzer mountain resort is where you need to go!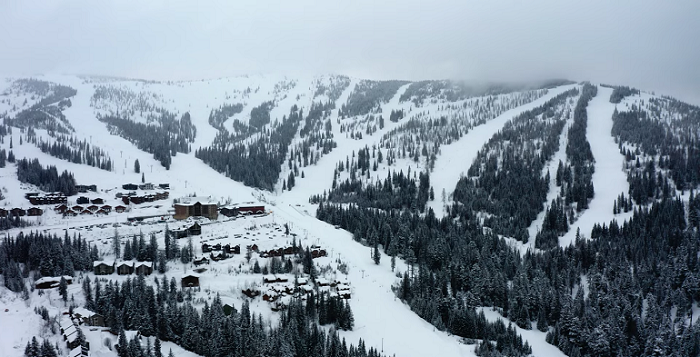 Features You Need To Know About
The terrain parks at Schweitzer mountain resort are so wide that they are suitable for skiers of all kinds of expertise. No matter whether you are a beginner or an expert, you can skid through the fresh powder with equal ease.
And in case you didn't know, this resort has a tremendous mentoring plan for the skiers. It presents you with a wide variety of options when it comes to choosing a mentor for kids, adults, and even for an elderly person who wants to tick one more box from the list of adventures he/she wants to experience.
This is the largest ski resort on its way to becoming the best skiable terrain in Idaho and rightfully so! It offers so many discount options that you will be enticed to plan a trip to this place.
Though the winter season opens on 25th November 2022, you'll get amazing discounts on lift tickets and season passes if you book your tickets now.
Reaching here is pretty easy! The closest airport to it is the Spokane International Airport. From here onwards, you can take the free shuttle and enjoy your way toward the resort.
This place is packed with incredible events and activities throughout the winter season. Apart from fulfilling your dream of night skiing, you can entertain yourself with the high speed quad, Taps Open Mic night, Northern lights fireworks event, and even delight your kids with a special Ski with Santa activity.
Are you also one of those people who love to collect souvenirs from wherever they go? Well, if yes, then this place offers you a wide variety of options to shop from.
Where The Source saves all your worries by providing you with the best winter clothes collection, the Artists' Studio lets you buy the local community's special art creations. Also, you will be able to meet the artists and have a quick chat with them about their process of creativity.
Early Dinners To Avoid Queues
The food this family-friendly resort offers is great, and so are the dining options it provides. However, the only thing that bothered me was the long queue of people waiting for food every time I wanted a quick meal.
So, if you are planning a trip to Schweitzer mountain resort, make sure to enjoy early dinners before people make the place overcrowded!
4. BOGUS BASIN
What makes Bogus Basin so insanely loved among ski lovers is its affordability. With the burgeoning inflation taking over the World, this resort is still insanely economical.
Also, reaching here is pretty easy. The airport closest to Bogus Basin is the Boise Air Terminal, and around 23 airlines operate through it at a global level.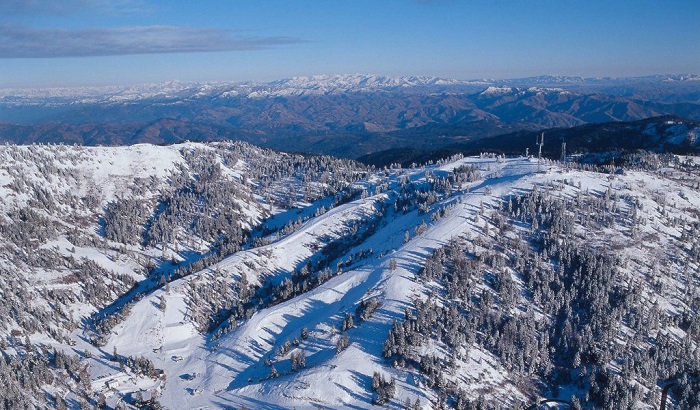 Features Worth-Mentioning
You can count on the 90 trails, 4 quads, and the 1o lifts to give you the best skiing experience at these best ski mountains.
During the peak season, the snowfall is incredible, which fills the Bogus Basin mountain with unbelievingly beautiful fresh powder. The management works a bit harder during this season to offer its customers well-groomed terrain parks.
Take my word for it; the season passes help you save a lot of your hard-earned money. Buying these passes in advance helps you avail of amazing discounts at this mountain resort.
From the Beyond Bogus Season Pass to the True Bogus Season Pass and from the Winter Season Pass to The Basin Gravity Park pass, this hidden gem offers it all! Even the lift ticket is pretty reasonable in terms of its cost.
As for winter rentals, downtown Boise lets you enjoy light-luggage travel by offering you ski equipment rental options. Rather than buying your own new gear, simply rent it out, and it will help you save more! From skis to boots to poles, you get everything of your choice!
The Annoying Part
The only thing that bothered the hell out of me was that the bookings totally depend on your luck! With this resort being extremely economical, even when schools have to plan an adventure trip, they opt for this one. this is the reason why, most of the time, this mountain resort is booked to its fullest!
Hotel rooms are hard to find during the peak season as almost every skier living nearby wants to experience the deep powder of these ski mountains.
5. LOOKOUT PASS
Two terrain parks of this mountain, the Rolling Thunder and Huckleberry Jam, are my absolute favorites! This place offers a gorgeous drive between the marvelous mountains of Montana and Idaho.
A very special park named Huckleberry Jam is specifically groomed for beginner skiers. Hoot Owl offers a merely 20ft jump, which is great for those who are looking forward to honing their skiing skills.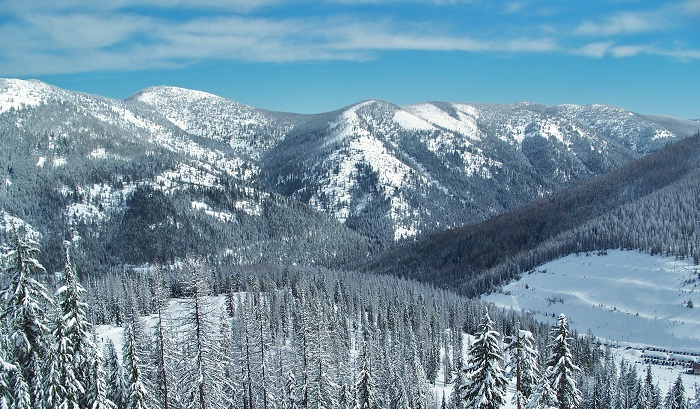 Features To Mention
If you are planning for some guided backcountry terrain skiing, the option of Cat Skiing is available at Eagle Peak, which lets you explore the mountain ranges quite extensively.
This is a class-apart experience as Lookout Pass tends to get the highest rate of snowfalls each year. Hence, this magic mountain turns out to be the most preferred choice for skiers.
Before you head off on your ski adventure to the Lookout Pass, you need to be aware of one thing; the more you ski, the more you'll save. Yes, you read that right!
The Lookout pass advantage cards let you ski as much as you want, and it also offers you easy access to the terrains, which is why it is an ideal place for beginners to learn. No matter how long are the lift lines seeking tickets, you'll get easy access if you have the passes.
Eating At The Lodges Is Messy
The only thing is that you may not get to eat in peace at lunch or dinner at the lodges as there is always a huge queue of people waiting for the tables.
I can't eat in peace if the seating space is limited and there are people waiting for them to get vacant. But, if you have the stamina after a hectic ski activity, you can surely visit the nearby towns for a local food experience.
5. Silver Mountain Resort
During the peak winter season, the most reliable mountain resort, 30 miles east of Coeur d'Alene, is the Silver Mountain Resort. Typically, the best time to ski is from January 3, 2023, and March 16, 2023.
During these months, Silver Mountain resort, located in northern Idaho , sitting 70 miles east of Spokane, offers you terrain parks for extensive winter adventures, including skiing, snow tubing and snowboarding.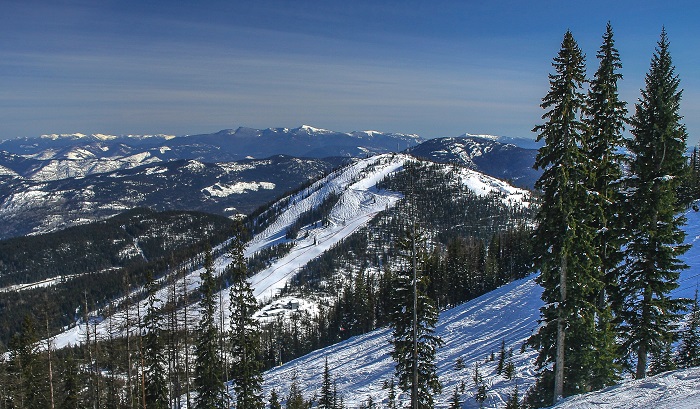 Features That Make It So Amazing
Silver Mountain resort's beauty resides in the fact that the staff is super-friendly and highly accommodating. No matter how silly of a question you may have, the staff members will be happy to answer that.
Silver Mountain Resort is home to the largest indoor waterpark, which means after the ski adventure, you can delight yourself with the water adventures as well.
Thanks to the orientation of Silver mountain, you can avail yourself of a plethora of dining options such as Vânătorul, Coliba Haiducilor, Casa Românească, and my absolute favorite Dei Frati.
It's Better To Have Your Own Equipment Than Renting
It must be mentioned though Silver Mountain offers rentals to the skiers, you're better off bringing your own if you want to have a safe skiing experience.
This is because a lot of my friends revealed that the equipment they got on the rent was faulty and made the skiing experience tough for them.
6. Brundage Mountain
The Brundage mountain resort features a skiable terrain that has a variety of terrain parks, offering extensive skiing opportunities for people of all levels of expertise.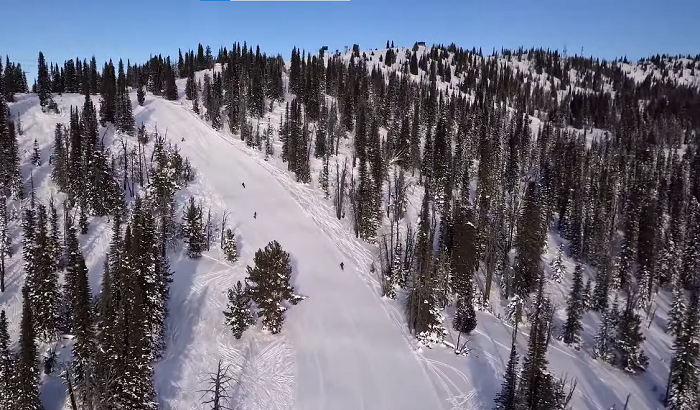 The ski terrain not only has the best runs that are well-groomed but also checks all the boxes for being the best mountain area for ski enthusiasts. Spanning across an area of 1,920 acres, these terrains are surely home to great snow each season!
Looking for a romantic getaway on the top of the snow-clad mountain? The Snowcat Dinners at the Bear's Den is once in a lifetime kind of opportunity which lets you skim through the Brundage mountain landscape while devouring a scrumptious meal.
To delight yourself with the local community delicacies, opt for the main Street Market & Espresso, and you will never regret it.
If you are a sports enthusiast, you would be well aware of the McCall Winter Sports Club. The Brundage mountain resort provides mentoring services partnered with the sports club.
It offers top-notch teaching lessons to skiers at all levels. What's even better? There is a McCall Winter Savings Card that lets you avail of these services while paying a lot lesser than the regular fee.
Costs Augment Every Season
Though Brundage Mountain resort has something or the other for everyone, what I don't particularly like about it is that they increase the prices for the services every season.
Hence, this time around, it's three times costlier than it was three years ago when I visited it for a skiing getaway! Also, the parking isn't free. If you are planning to get to this resort in your personal vehicle, be ready to pay a hefty parking fee!
Conclusion
 As the winter season, the favorite time of the year for ski lovers is around the corner, the fresh tracks have begun to thrive. The resort management teams are working day and night, grooming the tracks and making them feasible for the adventurers. If your adrenaline has started thumping, you should definitely take out the ski gear from the cupboard, book the online tickets and avail all the early bird discounts before the crowd starts filling these powdered mountains!
Related Guide: