The Siargao surfing scene is world class.
Special thanks to Kathrin Borgwardt, Hendrik Van de Perre, Tom Soupart, and William Bourget for contributing their local knowledge — acquired over many years of living, surfing, and doing business on the island — for our Siargao article series.
Home of one of the world's top 10 waves and host of multiple awesome surf competitions, Siargao is the unanimous surfing capital of the Philippines and frequently touted as one of the best surf spots in Asia.
For many travellers bound for Siargao Island, surfing is top of the list of things to do while there.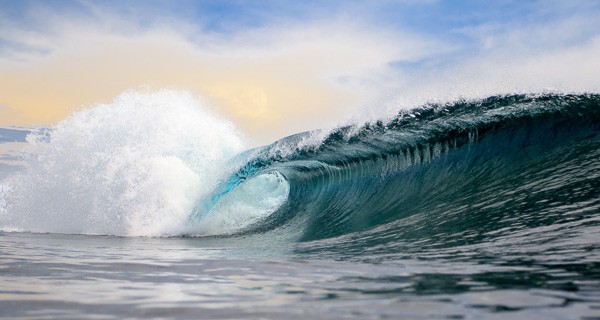 The island reaps the rewards of having 30 km of exposed, wave battered coastline. There are more than 20 world-class surf breaks already 'discovered' and frequented by surf travellers — and even more that are still kept secret by in-the-know locals.
While you'll need to flirt with the right people to get the down-low on the best hidden breaks, this article should give you an overview of Siargao's most popular surf spots, as well as some essential info about surfing in the wave capital of the Philippines.
Psst: don't miss our recommendations for Siargao's coolest surf camps at the end!
The best Siargao surfing spots
Cloud 9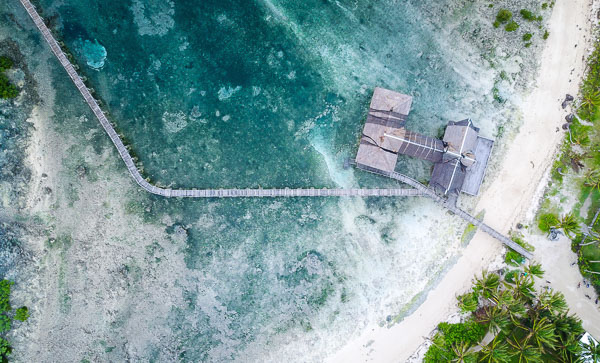 By far and above, the most renowned Siargao surfing spot of all.
Located on the General Luna strip, Cloud 9 is a viciously powerful right hander, and has consistently been ranked as one of the top 10 waves in the world for the past few years.
After a short paddle out, surfers will be rewarded with Cloud 9's barreling break over a shallow reef not far from shore. The wave is powerful, the ride is short and fast, and if you mistime anything, the consequences can be pretty gnarly. But like the name suggests, when it goes your way, surfing Cloud 9 is paradise.
Cloud 9 is best surfed between September and November. You can also surf it after November and throughout the winter, but the cross-on northeast wind that sweeps across Siargao's shores at that time of year blows things out a tad.
If you're not yet an experienced surfer, avoid Cloud 9 during peak season and opt to surf it in the summer instead. It'll be smaller, but much more forgiving for beginner and intermediate surfers.
Jacking Horse
Nearby to Cloud 9, you've also got Jacking Horse (so named because the wave 'jacks' at the peak before it breaks over a shallow reef).
There are two waves you can surf here, an outer and an inner. The outer, more powerful wave is better suited to experienced surfers; while beginners should stick to the inner wave (beginner-friendly waves are in the minority in Siargao, so this one's worth noting).
Surf Jacking Horse at mid/high tide for the best ride (low tide is too shallow to surf safely).
Daku Island & Guyam Island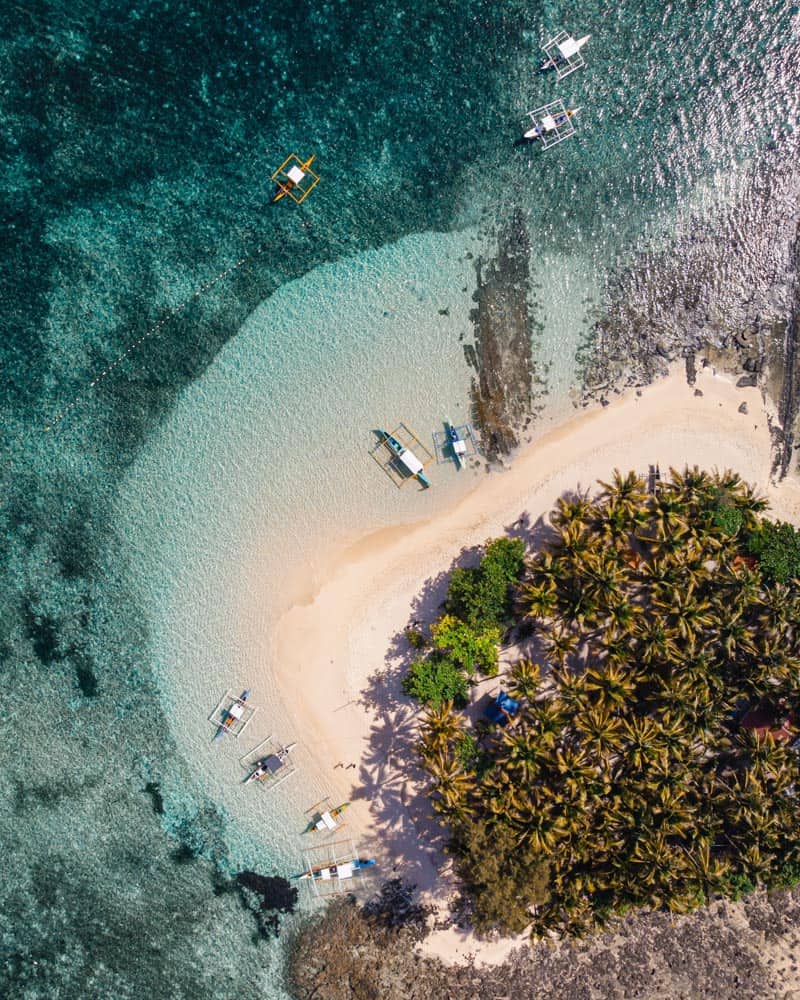 Just a 5 minute boat ride from General Luna, Daku Island is rife with breaks and offers a less crowded alternative to the main Siargao island.
The nearby Guyam Island is even more remote and offers its own collection of waves for beginners and experienced surfers alike. Turn your trip to Guyam Island into an overnight adventure by pitching a tent at the campsite; word on the street is it's the best place to catch the Siargao sunset.
Pssst: if the idea of island hopping to somewhere like Guyam sends your stoke meter through the roof, check out this insane island hopping surf camp!
Tuason's Point
Also within walking distance of Cloud 9, Tuason's Point is a winner for all the goofies in town.
This short, fast point break rivals Cloud 9 in a number of ways, and is often touted by locals as being the best left in Siargao.
With a shallow reef bottom and some sharp rocks lining the shore, Tuason's Point is best left to experienced surfers. Beginner and intermediate surfers should check out any of the surrounding smaller breaks, most of which you can see from Tuason's Point.
Stimpy's
Accessible only by boat, Stimpy's is a left hander that barrels and breaks over a shallow reef just off the coast of Rock Island (one of Siargao's many offshore islets).
Not unlike its famous neighbour, Cloud 9, Stimpy's is a fast, heavy, powerful ride that works best during shifting tides. Surfing at low tide can be risky though, since the sharp rocks and reef under the surface of the water can easily stab you or your board.
Once you've exhausted Stimpy's, head around the corner on Rock Island to discover the rest of its 150 meter coastline (with plenty of choice between rights and lefts).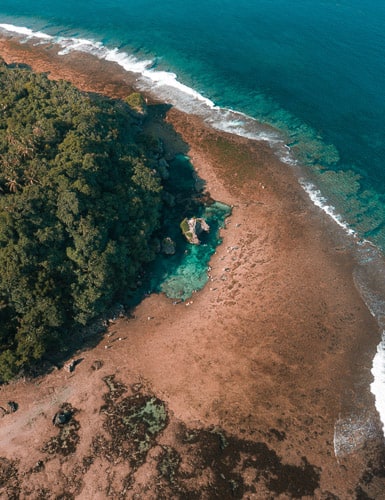 Caridad
Along the central east coast of Siargao Island, Caridad is home to some clean left handers that barrel neatly during the peak surfing season. The waves here typically work best in E/NE swell.
Just 5 km further up the road from Caridad, Pacifico is another worthy wave to note. Pacifico's long, tubing left hander is a sturdy one, and holds out even when the swell is big.
Pilar
Also on the east coast of Siargao, Pilar has 2 very reliable left breaks and a few more which can be real fun to surf when you catch them on the right day. The best waves break in front of the little town and work best during periods of NE swell.
You can access the waves here by taking a 90 minute boat ride from General Luna, or a cross country drive through the palm trees and farmland until you reach the town. Either way, Pilar is quiet, uncrowded, and fun alternative to the surf spots in General Luna.
Siargao surfing season
The best time to go surfing in Siargao is between June and November, when the southwest "habagat" monsoon and offshore swell bring the best conditions to Siargao's most famous waves. Most local surfers consider September and October to be the best months for surfing in Siargao.
That said, different waves peak at different times of the year. So while one wave might work best during the SW habagat monsoon, another might work better during the NE amahan season (which typically begins in November), depending on the orientation and direction of exposure.
What to expect from the Siargao surfing conditions
During the peak Siargao surfing season, waves typically measure up to 2.5 meters — but are also known to reach nearly 4 meters when a strong swell kicks in. Overhead barrels and hollow tubes come as standard.
Along the coast, you can find a mix of mainly reef and point breaks, with a few beach breaks.
Siargao's beaches have powdery white sand, many of which are surrounded by reef
The average air temperature in the peak surfing season in Siargao is 27 degrees Celsius, and sea temperatures hover between 28 and 30 degrees. You won't need a wetsuit when surfing in Siargao.
Some of Siargao's surf spots are affected by the tides, so surfers should always be careful during low tide that they don't hurt themselves (or damage their board) on exposed sharp rocks or shallow reef. Check with locals to find out when the tide is too low to surf safely.
In addition, less experienced surfers should tread with caution when it comes to Siargao's most powerful waves. Choose your wave according to your experience level.
Siargao surfing beginners tips
The off-season brings more manageable swell for beginners, especially if you're dead set on surfing the likes of Cloud 9. If you're a total newbie and feeling serious about upping your level, get an instructor or join a camp (see below!) — you'll make progress so much more efficiently. And lastly, even though you might be super tempted, avoid the really powerful waves until your level is up to scratch.
Surf camps in Siargao
Booking a surf camp is a sure-fire way of simplifying your travel plans and improving your level in one. It's by far our favourite way of experiencing an unfamiliar surf spot too (just read our most recent experience of surfing in Bali to see why!).
While there are tons of surf camps to choose from in Siargao, here's just a few to give you an idea of what's on offer:
Island hopping surf camp
Siargao belongs to the wider province of Surigao del Norte, home to numerous beautiful islands in addition to Siargao itself — Bucas Grande, Guyam, and Mindanao to name a few. This 12 day surf camp would see you visiting some of the harder-to-reach surf spots off the coast of Siargao — some of which are only accessible by tiny fishing boat or propeller plane.
The camp includes 11 nights' stay in eco cabanas right on the beach, 7 days of private and semi-private surf training, transport to and from the islands, daily breakfast, and airport transfer.
See full details and secure your spot on Siargao's island-hopping surf camp!
The 8-day ultimate surf package
This all-in-one package brings you to Siargao for 8 days/7 nights, with 5 days of intense surf lessons with an experienced local instructor. The camp also includes accommodation at Harana Surf Resort, surf-oriented fitness training (think stretching, MMA, and boxing), daily breakfast and lunch, social dinners, airport transfers, island hopping adventures, and a restorative massage.
Check prices and availability for the 8-day Siargao surf camp
8-day surf & yoga camp
Blending daily yoga classes with your regular surf schedule, this 8 day camp will see you work on both the physical and the spiritual side of surfing. Over the course of 5 days, you'll take part in intense surf classes at some of Siargao's best breaks, rejuvenating yoga classes, and guided meditation.
The camp also includes 7 nights' accommodation at Harana Surf resort, breakfast and lunch each day, welcome & goodbye dinners, and airport transfers.
Book your spot at the surf yoga camp in Siargao now!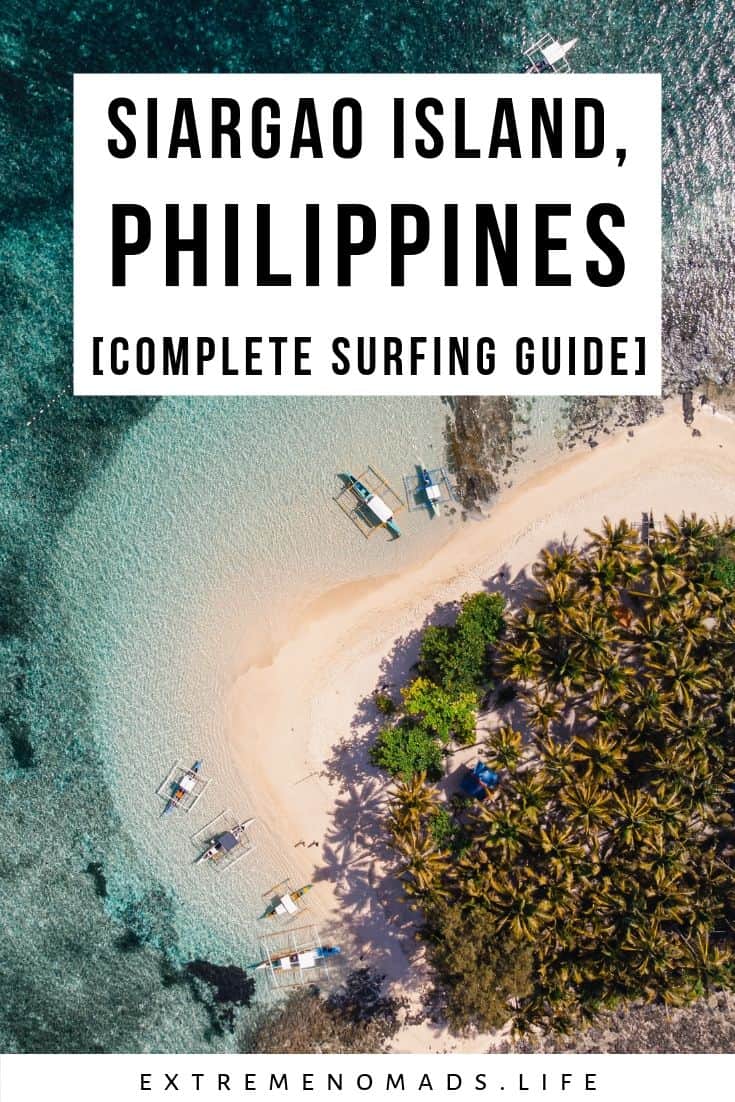 Still have questions about the Siargao surf scene, spots, or schools? Shoot us a comment down there or connect with us — and other surf travellers — in our FREE adventure travel Facebook group!