Transcend Both Worlds with the Ride Twinpig Snowboard
Imagine a land submerged under fresh pow. This fluffy white blanket extends as far as the horizon lets it. You start at the peak of the mountain and begin your descent. Destination: any place where the ride never ends.
With little effort, you begin riding the switch. The shape of your board makes it oh so easy and satisfying to do so. The turn initiation may be slow, but this is only because the board is revving up some serious fun. When it comes to carving, only the beginning requires work.
Is your riding style riddled with pop and jumps, the bumpy uneven terrain your homeland? Don't worry, because this magical board has got the camber profile you need to get some hang time.
But now it's time to snap back to reality. However, we don't have to leave that beautiful sight entirely. The freestyle board from our dreams does exist. This Ride Twinpig review will show you what I mean.
Twinpig at a Glance
Before we begin to break down the Ride Twinpig, let's first get a quick overview of this best freestyle snowboard. The length of the Twin is the first thing that sticks out to us.
It's a smaller board. For any tall riders out there, you'll want to get the right size of a snowboard. The same can be said for those that have a wide stance. Precision is key here; otherwise, you'll have trouble stuffing that gargantuan stance onto the Ride Twinpig.
Use the size chart below for reference: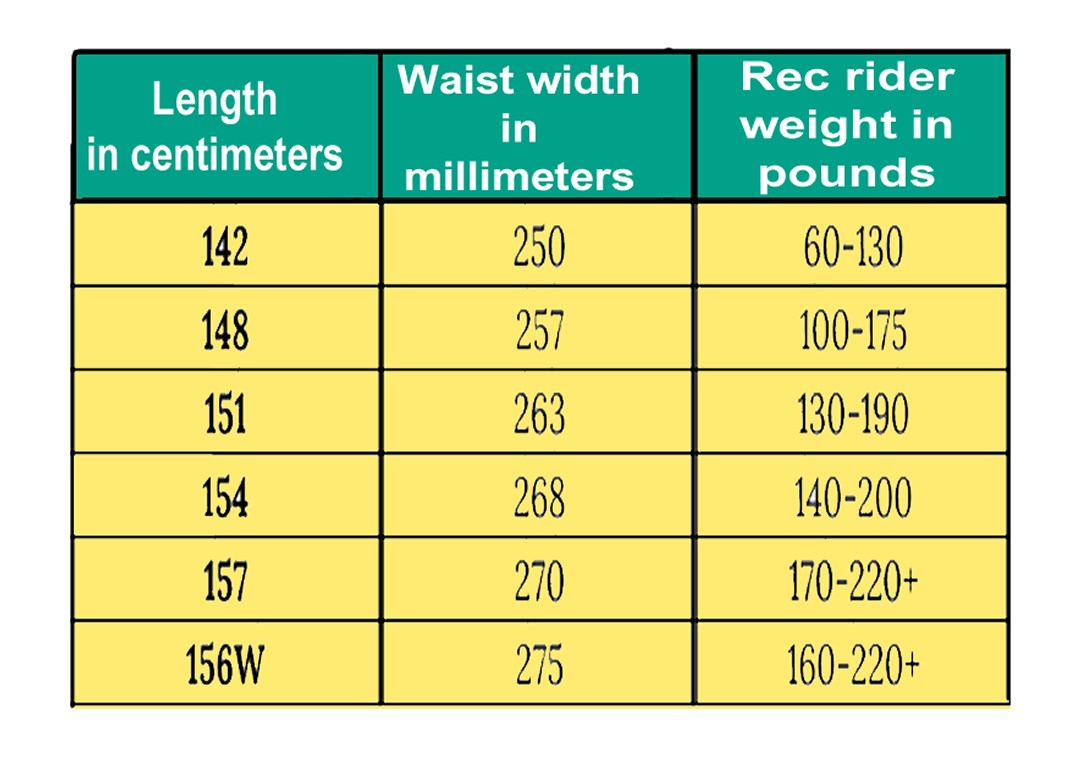 With that sorted, there are some riders that will (unjustly in my opinion) disqualify a board based on one or two features. Don't want to waste your time? The good thing is that we don't either. This is why we've provided you with a quick overview of the specs down below.
Here's the specifications chart in all its glory: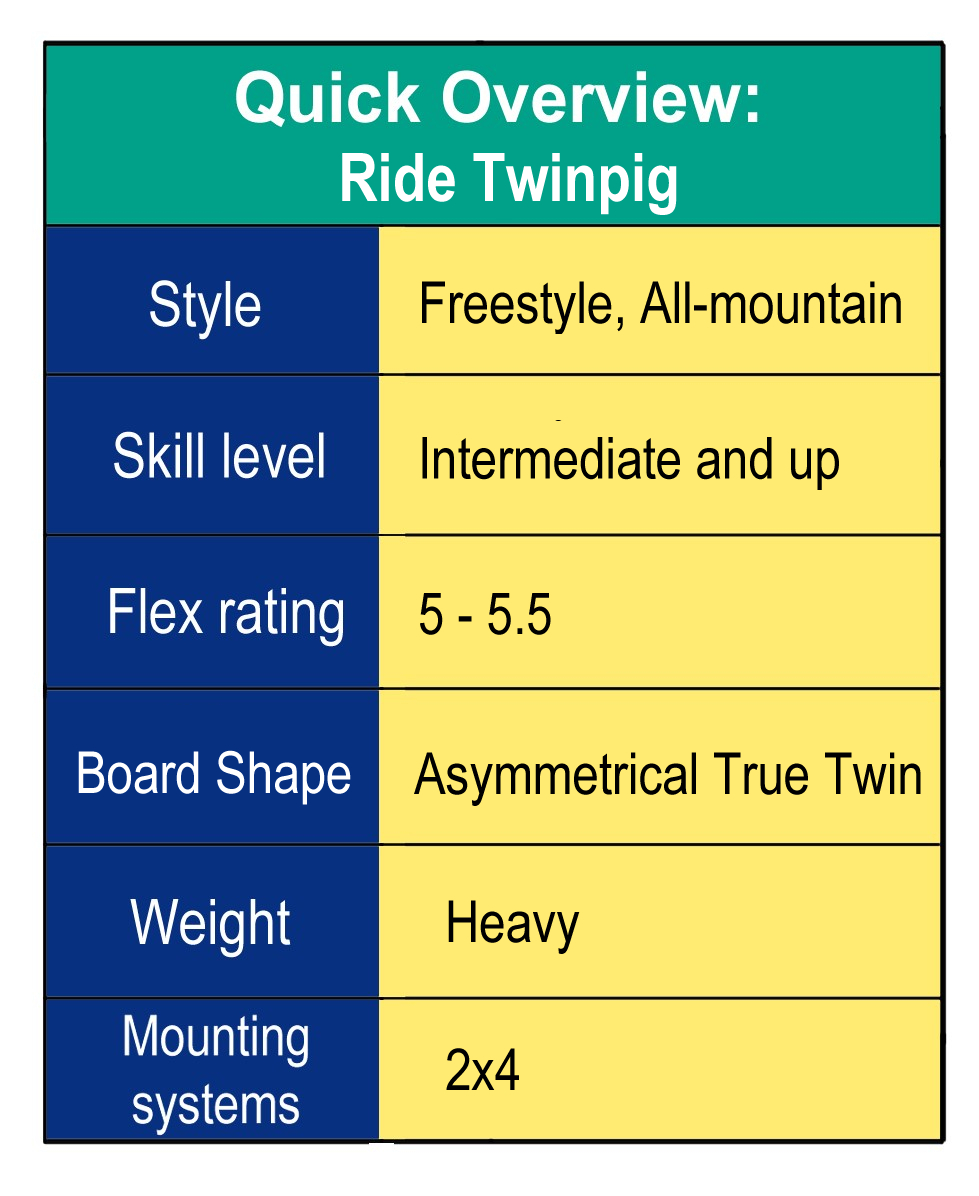 Does everything still seem great? Fantastic! Then let's get on with the show.
What Kind of Rider Is the Twinpig Best For?
If you want to ride switch and you want to have a great time doing so, then this is the snowboard for you. If freestyle riding and frequently riding switch sounds like an average snow day, then get the Ride Twinpig.
Few other boards will satisfy you the way the Twin does.
It's got a softer flex and is relatively easy to get into the air. Sure, if you are a total novice, there are way better beginner snowboards for you. But if your ability level exceeds this mark, then have at it.
This isn't one of those boards where your ability level will act as a barrier to entry. Most riders can get a fun ride out of this one. Of course, the Twinpig size is another massive benefit. It's a small board and one that riders of all sizes can dominate.
In short, if you frequently ride switch and are at least an intermediate-level rider, then get this snowboard. It's a great choice for some freestyle fun.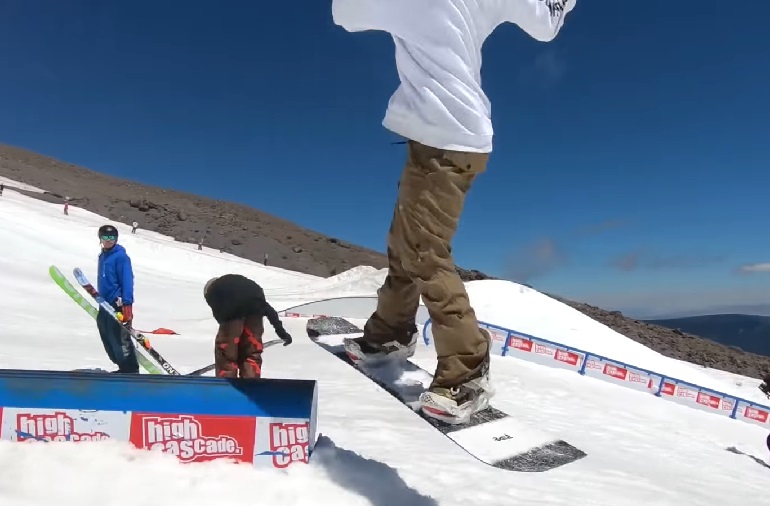 The Ride Twinpig Twin Shape Board in Focus
Now's the time to take out our scalpels and cut open this specimen. I'll be discussing what makes this board the ideal switch-riding, freestyle cross-bearer of the snowboarding world.
Of course, the board's form and camber profile play a significant role, but that's not all. When we consider the added width and diminutive length of the Ride Twinpig, we realize that this here is a volume-shifted board.
Volume-shifted boards are designed to take the best features from short and longboards, creating a trailblazing middle option. We can see this clearly in Twinpig's performance. And you can feel it immediately upon riding the board.
I know I did.
Board Shape and Composition
The Ride Twinpig is a true twin-shaped board. There are two kinds of true-twin-shaped boards. Symmetrical and asymmetrical true twins, the Twinpig is asymmetrical. Asymmetrical true twins are different because their side cuts, control points, and their flex are all asymmetrical.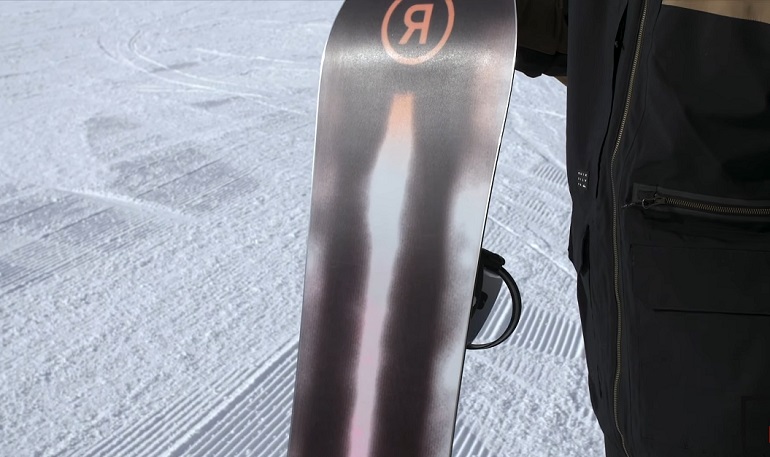 This form makes the Twinpig perfect for those that like to ride centered. When it comes to turning on your heel or toe side, the feeling is matched. There are no differences. However, there is one caveat.
To enjoy this symmetrical performance, you must ride centered. As a result, those that use a setback stance will not get as high-quality of a ride.
The Twin Pig Size and How It Benefits You
As I stated before, this is a volume-shifted board. Smaller but wider than others. But it's the size of this board that is one of its biggest benefits. Boards that have a short length are quicker to turn. Especially on powder.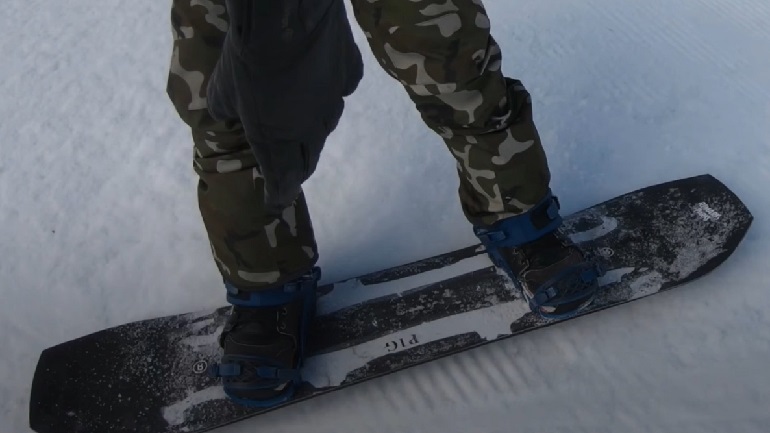 How does the Twinpig stack up?
While I did state before that its turn initiation is a bit lethargic. I could definitely feel the quality of the turns. But this is the only area in which the board was lacking. It was still easy to control and maneuver.
In the end, what you get is a board that lets itself be dominated, and all it requires is a bit of a rev when beginning to turn.
Weight and Effect of the Twin Pig
Both your weight and the snowboard's weight matter for the same reason.
If you get a board that weighs too much for you, then you'll find it difficult to control or pop into the air. You can also forget about trying to flex it.
The inverse is if you get a board that weighs too little for your own weight. If this is the case, then you can kiss a stable ride goodbye.
Due to the waist width of this board, any rider weight is handled well. The added weight of the expanded waist makes this board stable when riding at high speed, and the uneven terrain was handled with ease.
This Wide Board and Terrain Conditions
There are some rides that were made to crush curd. This isn't one of those boards, but it does handle crud admirably. Better than average, I'd say. However, the same can not be said for riding on pow.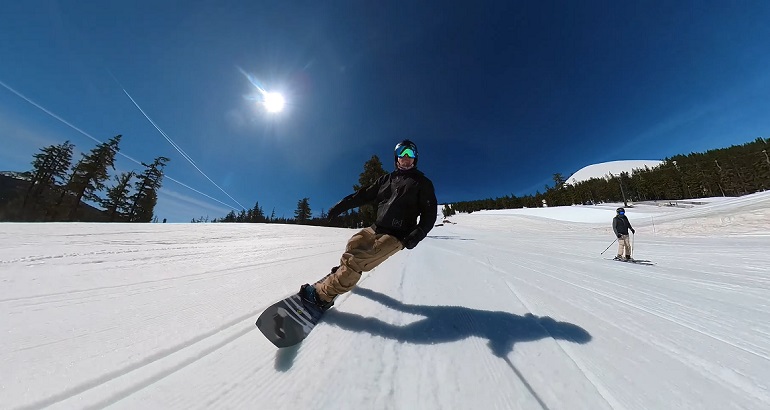 (Encase you don't know what crud is, crud is terrain that is uneven. The slopes get this way after repeated use.)
Remember how I said that getting into a turn required some work? It was slow. Did that sound bad to you? Well, it's going to get worse.
The turning speed on the powder dropped off even more. However, this is where the bad times end. Riding the rest of the mountain is a joy.
If you need to know how to turn on a snowboard without falling check out our article.
Flex Rating
It's got a medium-level flex score, around 5.5, so it's on the lower end. This flex rating makes it more damp and stable.
In the past, the Twinpig had a softer flex, and while it benefited from this by giving you some great pop, it wasn't as damp.
The rides had more chatter, and this (personally) didn't feel great for me. As a result, I am much happier with how this board has turned out thus far. Although, I am unsure if this is here to stay as the flex of a board constantly changes.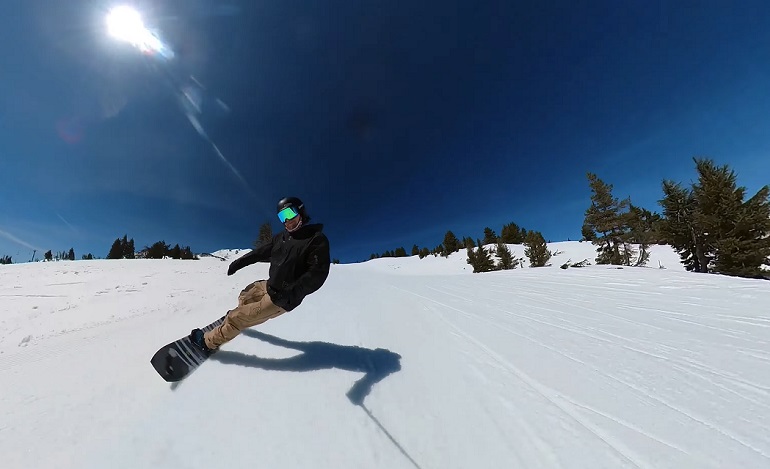 Still, this mid-level flex is easy to get accustomed to.
Good for a Stable Ride?
Considering everything that I've said so far and other factors such as its edge hold due to its sidewall construction, I'd say that the Twinpig is definitely good for a stable ride.
The increased width gives it more of a presence on the snow. Perfect for pulling off some solid landings. Even when going at a higher speed. It's a damp ride. The velocity isn't going to give you much chatter.
This is something that any free rider will appreciate. Chatter-filled rides can get annoying. Too choppy to pull off anything spectacular. This wasn't the case here, and the support from the board was a nice change of pace.
Airtime, How Good Is It?
This board has got some pop in it. As for its performance when it comes to pulling off some jumps, I'd say it did well enough. There was nothing spectacular about its airtime, and this could definitely be seen as a negative. But I wouldn't go that far.
Its jumping capability was great, and it was easy enough to get that pop. The rocker and camber profile made sure of that.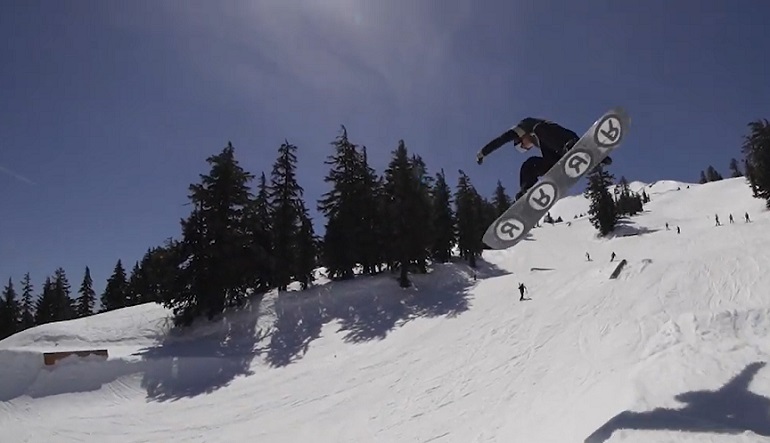 The Twinpig does pretty great in both categories and the best part is that when landing, it's even better. No bad points are to be found here, it's all positive just not the best ever.
Smooth as Butter Or…
Whether initiating from the nose or the tail, it's a breeze either way. However, make sure to really shift that weight into place. It'll require work to keep your end of choice in the air.
Once you get a feel for it you'll definitely love buttering with this board. After all, this is a playful board.
The Jib of It
When it comes to jibbing on a snowboard, the Twinpig does well. As I stated before, the pop of this board is good but not exceptional. This can be felt when jibbing, making it more difficult to begin.
But again, I didn't have a bad time, and as such, I am going to have to give it a bonus point for delivering a solid performance.
My Final Thoughts on This Super Fun Board
We've arrived at the tail end of this snowboard review. By now, you've no doubt realized that there aren't many boards that can give you a better switch ride. On the off chance that you were left wanting more, consider the Burton Malavita.
Moving on, the Twinpig impressed me with how much fun it was to ride. It also makes one of the best snowboards for buttering!
Usually, I prefer boards with lightning-fast turn initiation. The Twinpig has no such feature, but it rides switch exceptionally well. Lately, I've come across too many boards that can't even give you a serviceable switch ride. As such, the Twinpig was a refreshing change of pace.
The flex, the build, and everything else. It's all a good time.