The reality of sailing the Northeast coast amidst Covid-19 and the BLM Movement.
Veteran broadcast journalist, Rosa Linda Román (NewMexicast.com) lives with her husband and 3 kids on the sailing catamaran s/v Dawn Treader. Like many cruisers, the family planned to spend hurricane season in Grenada, but Covid-19 changed everything.
With most island nations closed, they instead sailed north of hurricane alley, finding themselves exploring the US Northeast Coast just as America entered a race-related crisis of conscience. In this Extreme Nomads guest post, Rosa Linda shares impressions from that journey.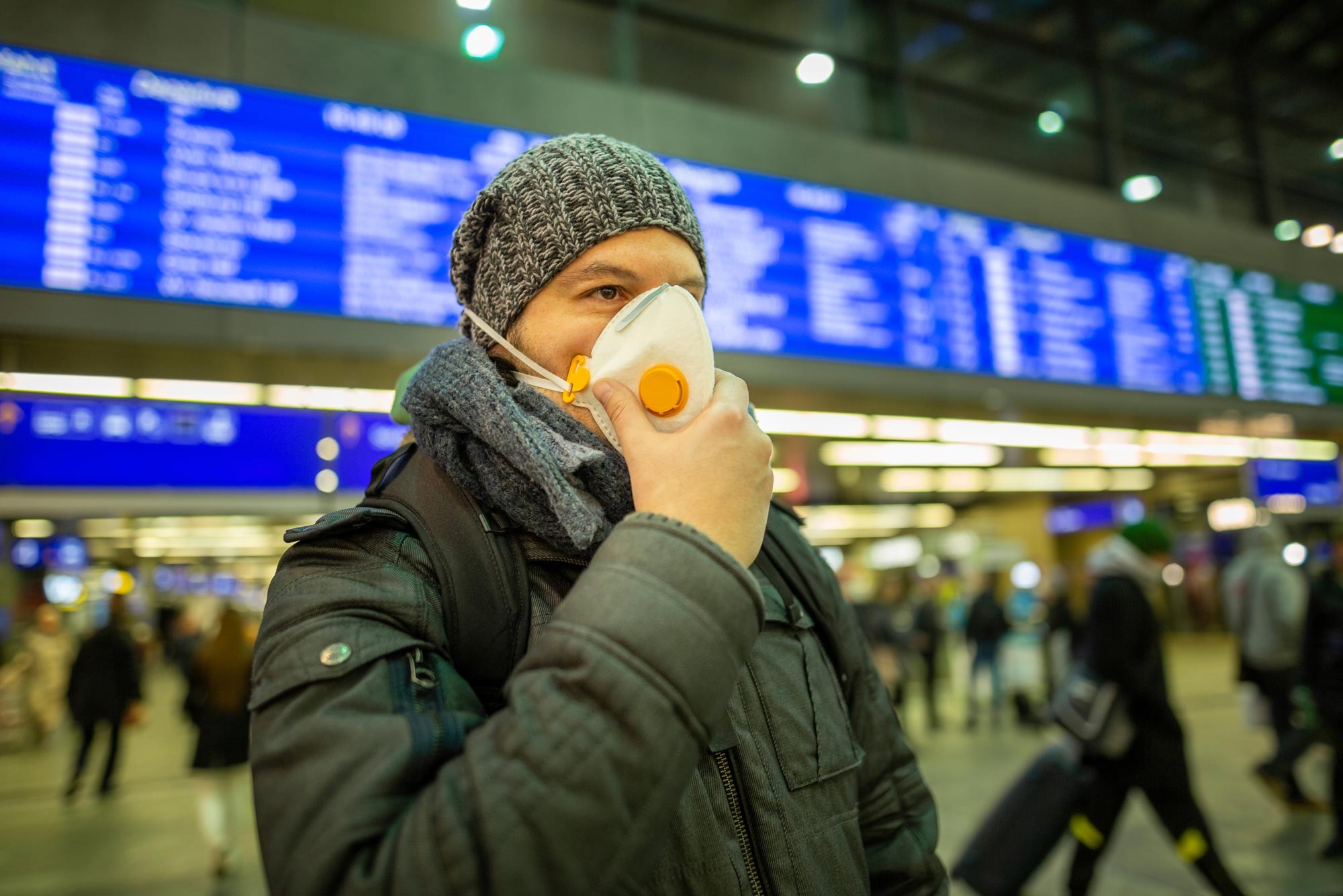 ---
Sitting on the flybridge of s/v Dawn Treader in Blue Hill, Maine, USA, with a gentle breeze blowing my hair, sun on my face, waves lapping against the hull and our trusty German Shepherd, Nala, snuggled beside me, it is hard to imagine there is turmoil anywhere in the world at this very moment.
Yet even in the quiet of this peaceful harbor I am keenly aware that we humans are in the middle of a global pandemic while we Americans are also navigating the long-overdue movement to eradicate the systemic racism our nation was built on.
This calm anchorage is like a metaphor for the world right now.
If we sit in our peaceful comfort for too long, we will soon be reminded how quickly tides can turn and how ferocious Mother Nature can be.
Just yesterday, socially distanced around a campfire with new boat friends at the magical Buckle Island, we watched in horror as our anchor came loose and our floating home started moving quickly toward the distant shore with no one on board. My husband, Nathan and 15-year-old daughter, Ahava jumped in the dinghy, intercepted our boat, started the engines and saved the day. I cringe to think of what would have happened if we had not been paying attention. 
For the past two months, sailing up America's Northeast coast during these unprecedented times, I ask myself daily, "Am I paying enough attention?"
Because we live on a boat, we could easily take our 3 kids, sail away and never give another thought to world issues or social justice. There are certainly days when that approach is tempting, but it would fly in the face of why we moved onto a boat with our family in the first place.
For us, this extreme lifestyle is not about checking out of the world but leaning into it.
We want our children to know firsthand that most people are worth knowing and all life is worth protecting. By regularly facing fears in our physical environment we learn to welcome life's discomforts, both physical and emotional, knowing if we lead with our hearts, while also using our heads, those challenges always bring gifts. As an American liveaboard family unexpectedly back in US waters, I regularly feel the discomfort and am frequently humbled by the gifts. 
Traveling from south to north, here are a few of my favorite, initially-uncomfortable-but-ultimately-gift-giving stops on our unplanned, American adventure.
Read related:
Cape May, New Jersey
Two months. That's how long we waited in an Airbnb rental at a marina in Edgewater, Maryland with 3 kids, a German Shepherd, no oven and no laundry to buy s/v Dawn Treader for the second time around.
It was a painful, Twilight Zone-like-time as Covid-19 cases were rising, lockdown orders were in full swing and my own 52-year-old cousin, Flaco, died from the virus. By the time we finally got the boat in the water, the thought of heading north towards the Covid hotbeds of New Jersey and New York was stressful.
But liveaboard cruisers are generally a restless lot and I'm pretty sure my sweetheart, our Captain, is their King. So, to paraphrase H. Jackson Brown's mother (not Mark Twain as is often misattributed!), we threw off the bowlines and sailed away from the safe harbor.
After a two day sail up the Chesapeake, through the C & D canal and one very rocky night at an anchorage in Delaware Bay, we motor/sailed up to Cape May, New Jersey.
We expected to stay just one night, but our plans changed, as they so frequently do, because of boat projects. I imagine this lovely little town of Cape May is usually just coming alive this time of year, full of fishing boats, recreational boaters and beach-goers, but in the middle of a global pandemic the town felt more like a creepy, post-apocalyptic movie after a vaporizing blast took out all the humans and left every other thing intact.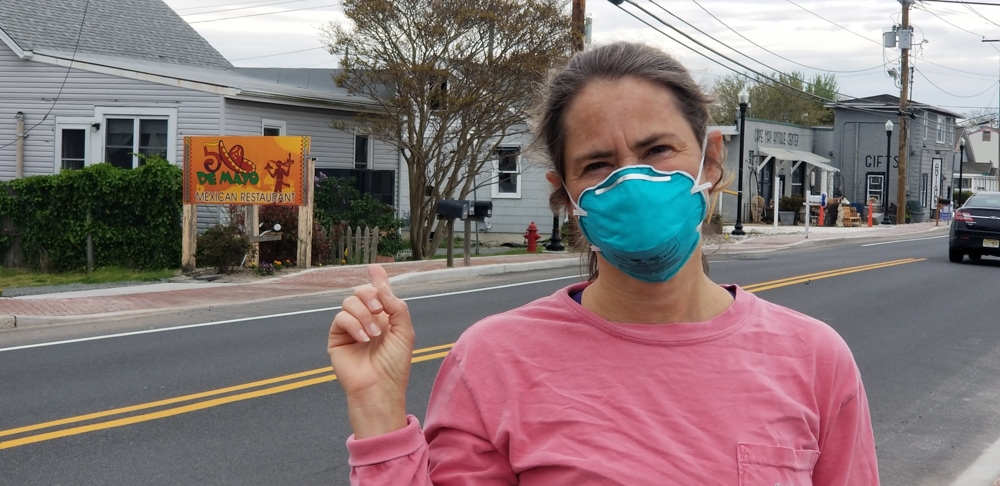 All the stores were fully stocked and picturesque, with windows open and welcome signs, but not a soul in sight. Every now and then a mask-wearing kid would peek out, see us and run in the other direction. To this town, we must have seemed like the zombies arriving from distant shores, in search of brains.
Our crew was fearful too.
This was our first landfall at a time when New Jersey was averaging 2,500 new coronavirus cases a day.
The signs along the dock at South Jersey Marina read, "stay on your boat," but Nathan had called ahead to get permission to get off the boat for supplies. I breathed a little easier (pun intended), knowing we all had our N95 masks and used them religiously whenever anyone was around.
It turned out, on our trips to the hardware store there was no-one else around. My saddest Cape May memory was discovering a Mexican restaurant called, "Cinco de Mayo" on Cinco de Mayo (May 5th) only to realize even they were closed due to Covid. Thanks to coronavirus I couldn't even have a Corona on America's favorite, not-so-Mexican holiday.
We need to come back someday when things are back to normal. For now we will remember Cape May as the place where we fixed many systems, re-provisioned, refueled and ate hardly any brains at all.
New York Harbor
It may seem strange in this age of YouTube stars like the "Bucket List Family," but I have never written a bucket list.
For me that always felt like too much pressure to "do all the things" and check off all the right boxes without enough regard for why they mattered to me personally. Who needs one more thing to achieve or conquer in our already busy, goal-oriented lives?
My preferred style of travel is more fluid, allowing for surprises and serendipity in our journey.
Living on a boat, we literally follow the wind and watch the seasons. We adjust the sails, listen to advice from those who came before us and do our best to steer safely toward new horizons.
I suppose I always felt if I were busy writing bucket lists, I might miss the magic of the next anchorage. If I'm honest, I took pride in the fact that I never wrote bucket lists.
That is, until we sailed into New York Harbor and stood before the State of Liberty.
As tears streamed down my face, I realized I have held the dream of standing before Lady Liberty in my heart for as long as I can remember. This was clearly number one on my bucket list. I just never put it in writing.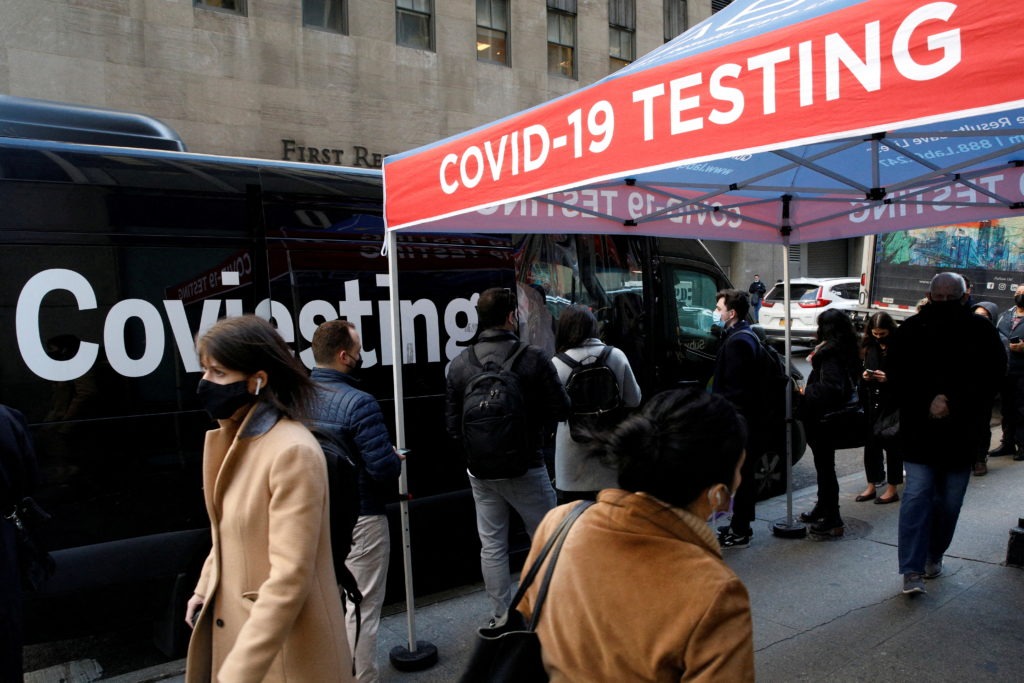 Looking back, that day feels like a miracle.
It was Mother's Day, just one month after we re-purchased s/v Dawn Treader. On the surface, our timing was terrible. New York's Covid numbers and death toll were both on the rise. The city (and most of the country) was on total lockdown.
Having never sailed into New York Harbor there was already a lot of uncertainty and fear. A few loved ones caught wind of our plan and texted me their disapproval.
While I downplayed the risk, I knew they had plenty of valid reasons to worry.
I was worried too.
But once we went under the Verrazzano-Narrows Bridge, my concerns melted away. Not only were we the only ones on the water, we were the only living humans as far as the eye could see. 
Perhaps it is because my father came from a faraway land, with little more than the shirt on his back, a desire to do something more with his life and a fierce willingness to work for it, but having that Beacon of Hope welcome us into this pandemic-weary city had me bawling like a baby.
I know there are plenty of valid reasons to question the attainability of the "American Dream" but I am living proof that it is possible. Seeing the Statue of Liberty, so up-close and personal, moved me beyond words. 
In hindsight, I am glad that experience happened before, to quote Hamilton, the Musical, "The world turned upside-down," and my view of America, past and present, would be forever changed.
Martha's Vineyard
Our family had just sailed to Martha's Vineyard from Mystic, Connecticut. After a long day of navigating through crab traps and unmarked shoals we landed safely at Black Dog Marina in Vineyard Haven, Massachusetts.
With no broadcast news on board we only had a vague, Facebook newsfeed idea about recent developments in the Black Lives Matter movement, so when Nathan, Nala and I stepped off the boat in search of Martha's Bike Rentals, it was a bit shocking to come around the corner into an active protest, with a woman yelling "8 minutes & 46 seconds!" across a kneeling crowd.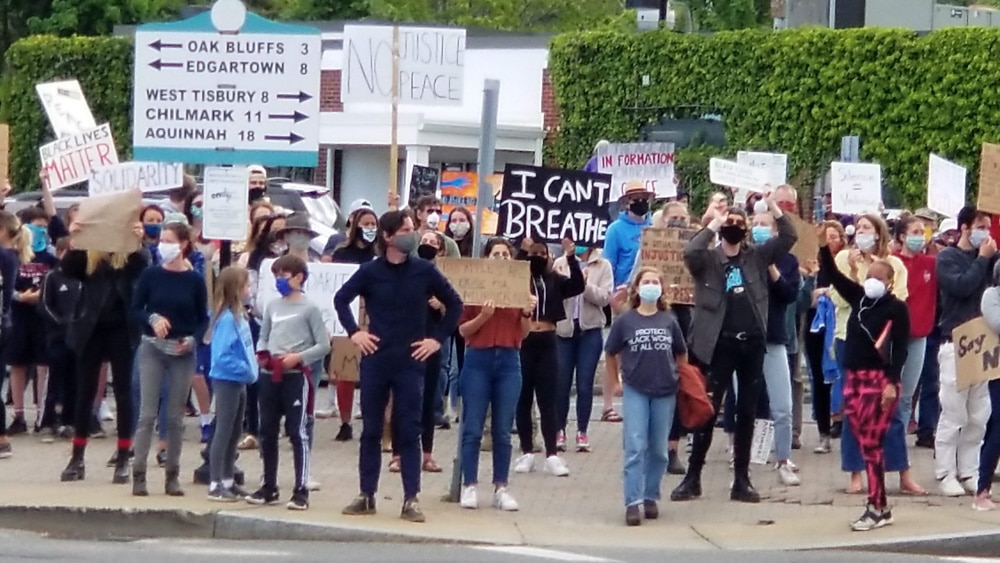 At first, I was a little panicked since this was the first crowd we had encountered since Covid-19 quarantines began. We had not stood within 6 feet of any strangers in months. But we both had masks on and felt the importance of what we were witnessing, so we sat down on a bench to listen and learn.
Someone suggested a NY Times video showing every moment of the 8 minutes and 46 seconds when police kneeled on George Floyd's neck, killing him. Sitting on that bench, surrounded by mostly white, peaceful protestors shouting, "Black Lives Matter!" and "I can't breathe!" we watched that video and got an uncomfortable, necessary education that changed my view of America. 
Eventually, we did rent bikes and my family spent the next several days exploring the lovely Martha's Vineyard, which was just starting to open up post-lockdown.
But as we passed the perfectly manicured lawns and adorable, beach-themed shops, my heart was heavy. I needed time to process how this could happen in America, so I took Nala on long runs around the island while educating myself with Black History podcasts like "1619" and "Following Harriet," and listening to Black-led conversations like, "Yo, is this Racist?," "It's been a Minute" and "Code Switch."
I knew it wasn't enough, but I had to start somewhere as I work toward becoming a better ally in the fight against racism. 
Part of what I love about our family's cruising-style is that we are open to what comes our way.
I can't help but wonder how my experience would be different if I had never watched that video of George Floyd's murder. Would I have been sleepwalking through my country's time of reckoning? Would I have seen a few souvenir shops, eaten some ice cream cones and then gone back to business as usual?
Instead, it feels like that moment when our boat's radar detects a boat hiding in the fog off our bow, completely invisible to the naked eye. It is scary to realize what is lurking out of sight, threatening all that you hold dear. 
As a biracial American woman, my radar is now tuned to a new frequency as I navigate the very harbors that welcomed slave ships to their shores. Because we boatschool our kids, they are learning to see America differently too.
We are having the uncomfortable conversations. We are adding Black History sites to our itineraries, places I might not have known about without my country's great, painful awakening.
Maine
If you had told me 3 months ago I would be cruising in the state of Maine, I would have said there was about a 5% chance of that happening.
Maine was too wild. Too cold for this tropical girl. Not exciting enough.
Then Covid-19 changed everything.
One after another, the islands we planned to visit closed to incoming boats, especially boats from the US. It had taken so much just to get through the first few months of 2020 that heading north felt like the death of a dream to me. I should have known that was just the inevitable discomfort before the gifts revealed themselves.
It is hard to find words to adequately describe the majesty of Maine. Every single anchorage is breathtaking. Every single town is quaint. Everything about this place is amazing. 
Except lobster pots. Those are the worst. 
I know people claim to eat these bug-like creatures and therefore need all these lobster pots, but I suspect it is really just Maine's way of keeping people away, a literal rite of passage.
In the unlikely event that your boat makes it through the lobster pot minefield without disabling your propellers, you will be richly rewarded with some of the most pristine beaches, trails and waterways we have seen anywhere in America.
Living on a boat reminds you that life ebbs and flows.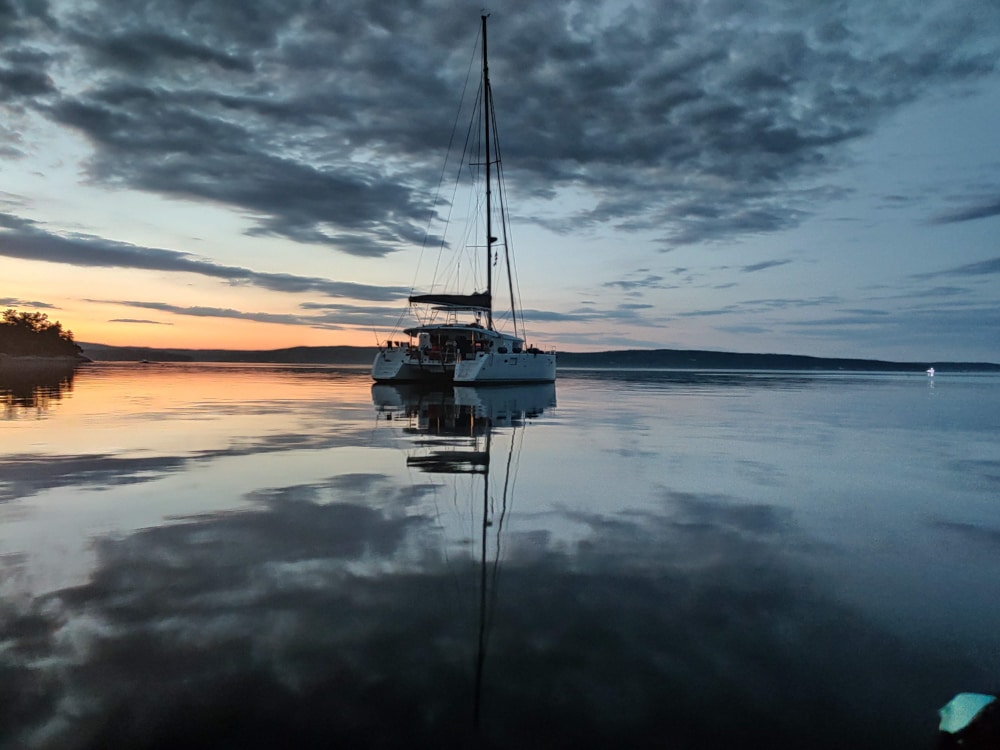 We may fight the good fight and set out to change the world, but we all also need to pause every now and then.
This is demonstrated in dramatic fashion every day at the Blue Hills Falls bridge.
Every day when the tide comes in goes out, the water beneath the bridge is fast-moving rapids. If you time it wrong you could end up on the rocks, or worse.
But there is a window, between the outgoing and incoming tide, called "slack tide" when the water is almost still. That is the perfect time to gather up your courage and jump off the bridge. I know, because I did that yesterday.
For me Maine has been that much needed slack tide. A moment to pause and process all that we have endured and witnessed in the past 2 months.
We arrived here with an incoming tide of Covid-19 and Black Lives Matter. After this pause, we will leave with an outgoing tide of awareness.
Thanks to this time in Maine's quiet anchorages I feel more hopeful for the future. I am grateful that, despite our country's flaws, we were unexpectedly "stuck" at home during these revolutionary times.
I know having the freedom to move through this great country, explore historic sites (all of them!) and start tough conversations with my children about pandemics, protests, privilege and personal responsibility is by far the greatest gift of all.
If you liked this piece, you can support and follow Rosa Linda's adventures on the New Mexicast website.
Liked this post? Why not check out our sailing category for other off-the-wall adventures, or our US travel category where you'll find articles on – not just sailing, but also hiking, national parks, rock climbing, and more.