I've been kayaking for years and have recently become interested in river tripping canoeing. Sure, they're a little more difficult to paddle and come with their own challenges. But I'm ready for more comfort and a ton more space to carry everything that will make my trip so much better.
As soon as I realized all the advantages of a canoe, I quickly started searching for the best out there. When it comes to canoe vs. kayak, the best canoes stay drier while paddling, are remarkably more stable than a kayak, and have all the space I'll need for creature comforts.
All that's left to do is to decide on the type of canoe I want. I would go for a river or recreational canoe that is portable. Although you can also choose from whitewater canoes or fishing canoes.
Best Folding Canoe

PakCanoe 170
Material: PVC
Weight: 56 lbs
Best Solo Canoe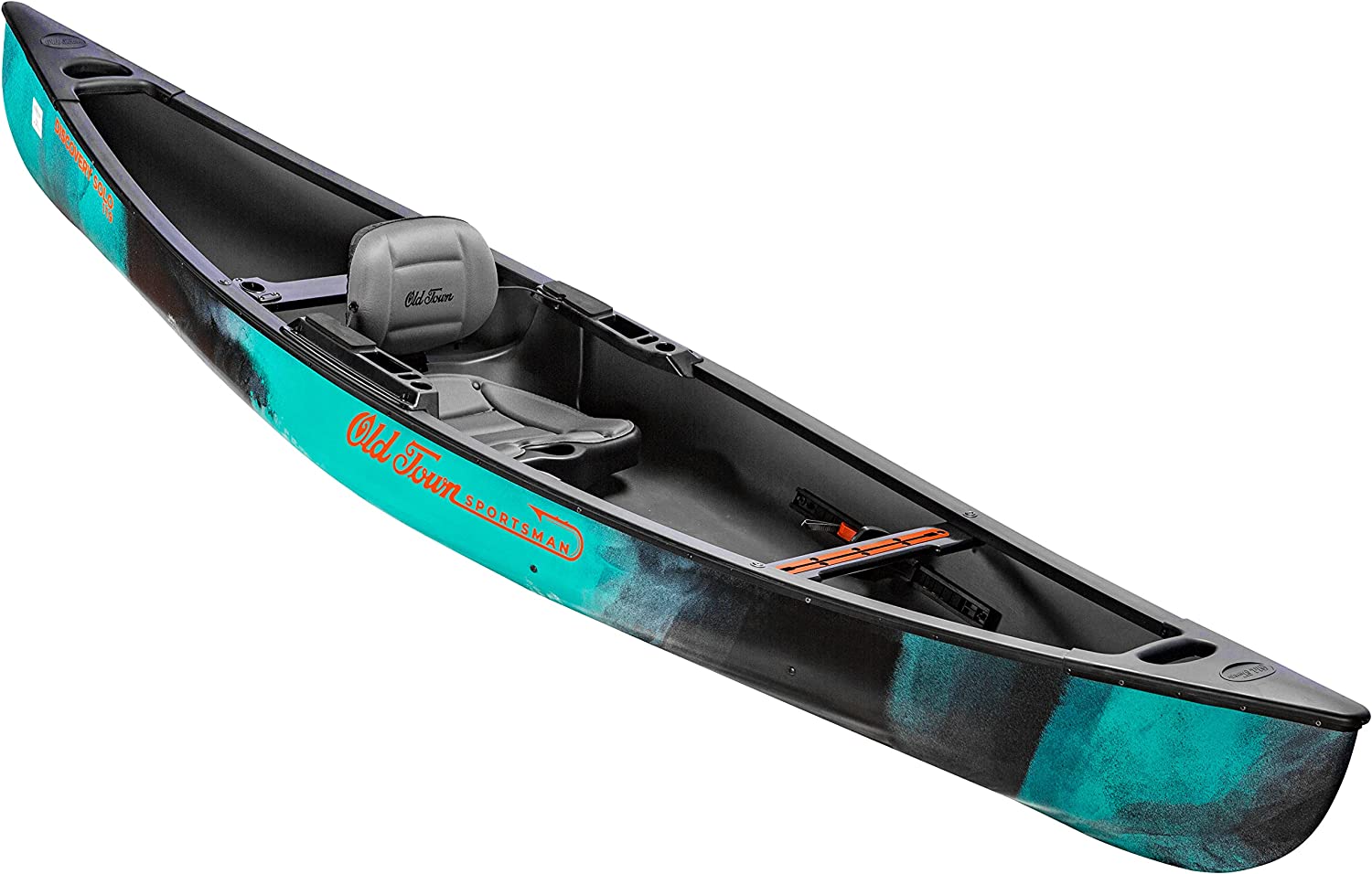 Sportsman 119 Solo
Material: polyethylene
Weight: 56 lbs
Best Motor Operated

Esquif Heron
Material: foam, and vinyl
Weight: 69 lbs
Best Recreational Canoes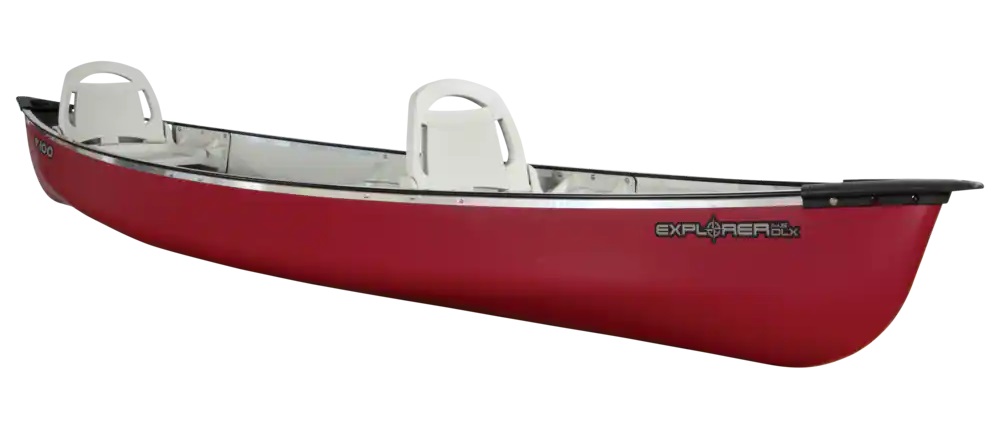 Pelican Explorer 14.6 DLX
Material: polyethylene
Weight: 90 lbs
Best for Families with Kids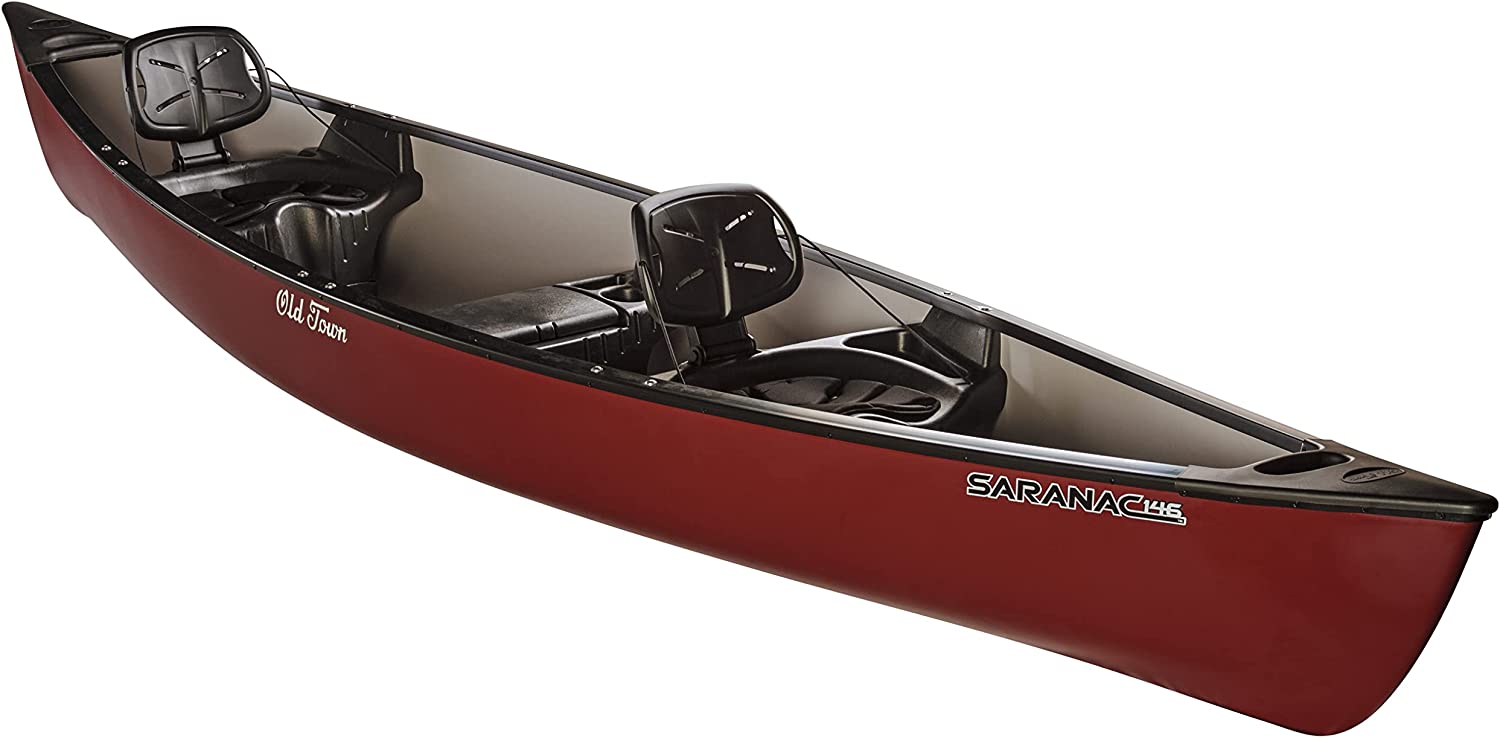 Old Town Saranac 146
Material: Polyethylene
Weight: 79 lbs
Most Versatile Canoe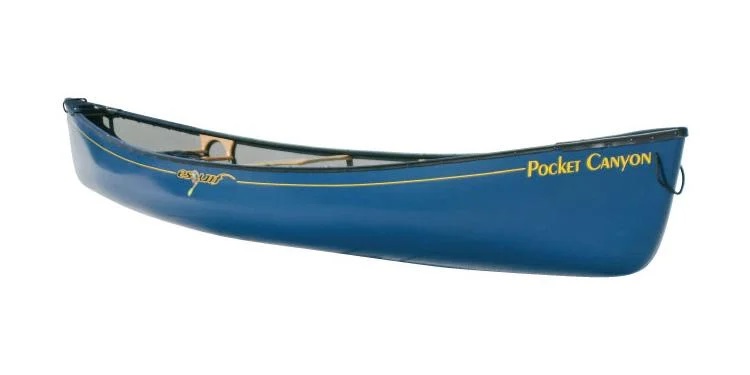 Esquif Pocket Canyon
Material: T-Formex
Weight: 59 lbs
Best Classic Canoe

Grumman 17′ Double-End
Material: Aluminum
Weight: 75 lbs
Best Inflatable Canoe

Sea Eagle TC16
Material: Reinforced 1000 Denier
Weight: 65 lbs
Most Customizable

Nova Craft Prospector 16
Material: Blue Steel, Fiberglass
Weight: 45-66 lbs
9 Best Canoes of 2023 – Roundup of the Top Models
There is something for everyone on this list of best canoes on the market. You can find everything from portable canoes that can fit in the back of a small car to canoes big enough to sit a family to canoes that can handle the roughest waters.

Wilderness canoe tripping just became a lot easier with the Pak Canoe. This is a folding canoe that can be packed up inside your vehicle and carry it in a bag right to the river's edge.
It is also a huge canoe, so you can take it on multi-day long trips with enough room for all of your camping equipment.
For a folding canoe, this thing is built incredibly tough and can actually paddle better than some traditional canoes.
I noticed it moves with the flat water and waves rather than smashing into them because of how the frame is built, so there is less resistance, and I stay drier. I also love all the safety features, like inflatable side walls and a foam bottom that make it feel super stable.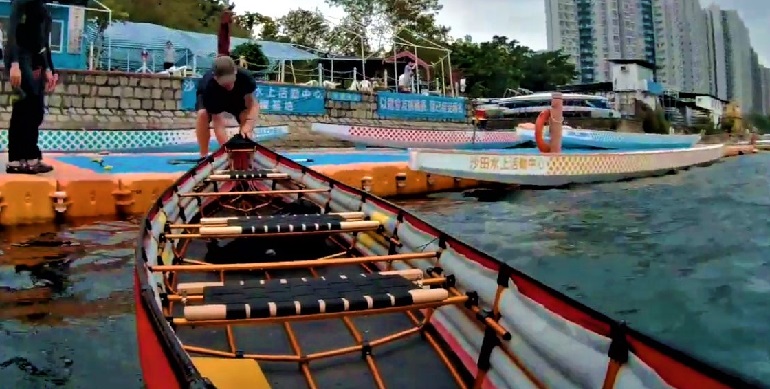 This versatile canoe comes with two woven seats, but you can definitely fit way more than two people in this canoe. I would get one or two more woven seats that you can add to the canoe in case you have some friends or family that want to come along for the ride.
Features
Materials: Closed cell foam, aluminum frame, PVC skin
Length: 17"
Width: 38″
Packed Dimensions: 35" x 18" x 14"
Capacity: 910 lbs./2 people
Weight: 56 lbs.
Pros
Pak Canoes will actually run better and keep you drier on rough water than most hard canoes.
It has a bunch of safety features, like a foam bottom, inflatable tubes around the sides, and reinforcement strips between the frame and exterior.
They use anodized aluminum, which keeps it from corroding, even in salt water.
Putting the canoe together is reasonably intuitive, similar to a tent with tension poles.
It's extremely lightweight for this size of a canoe, mostly because of the materials used.
Cons
It has many components and features, so it could take a while to set up.

PakCanoe 170
The price of "PakCanoe 170 " varies, so check the latest price at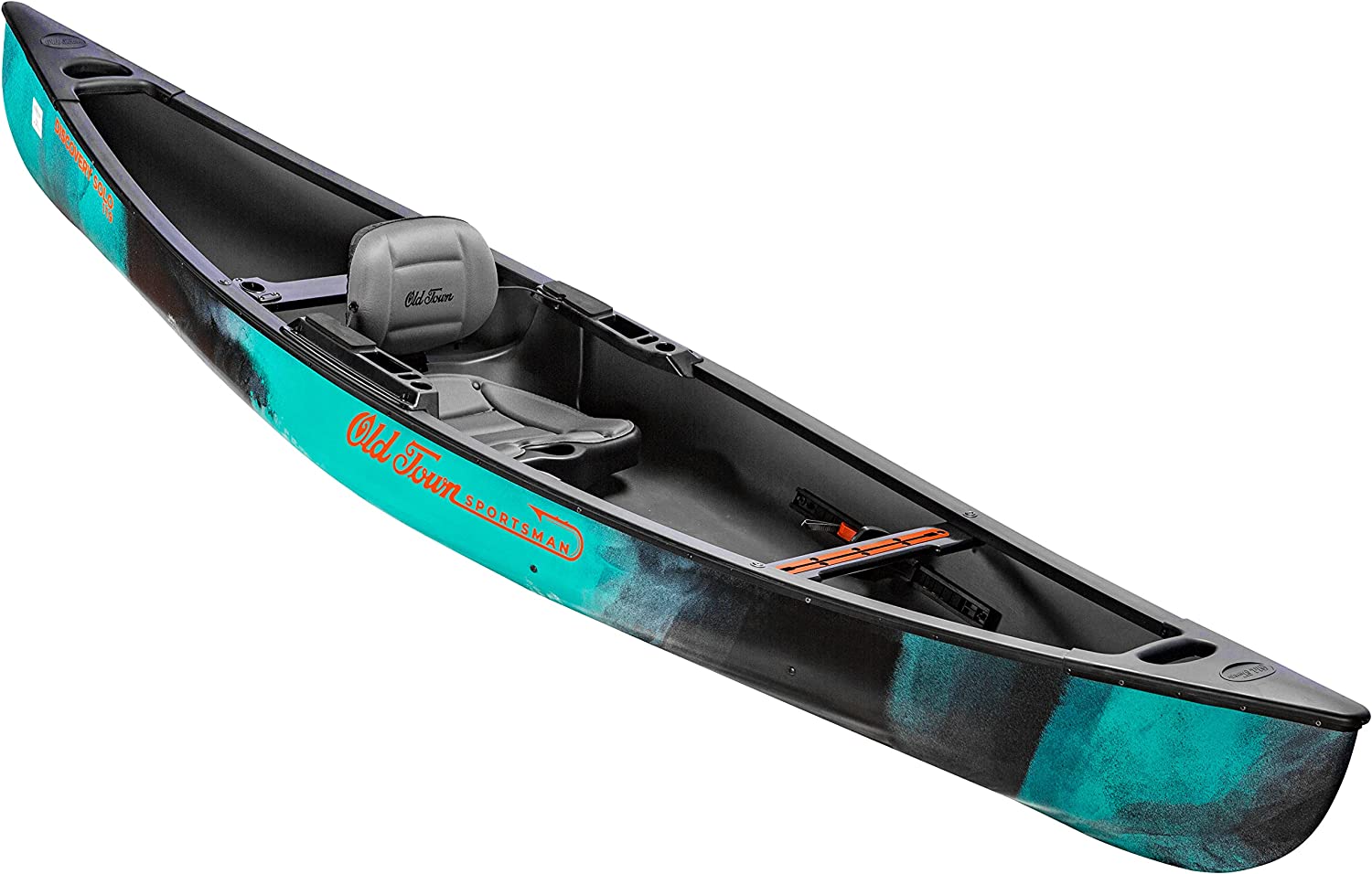 For all you solo paddlers out there who love a quiet fishing or hunting day, look no further. This is the best solo canoe for avid fishers or hunters, with all of its fishing pole holders and ample storage space to put your decoys or even your hunting dog!
I also love that the Sportsman Discovery canoe has a forward thwart with a slot to attach any accessories you want to it. That way, you don't need to worry about your things falling out of the canoe if you catch some rough water because they are attached to it.
Another thing that makes this best canoe even more luxurious is it is incredibly comfortable.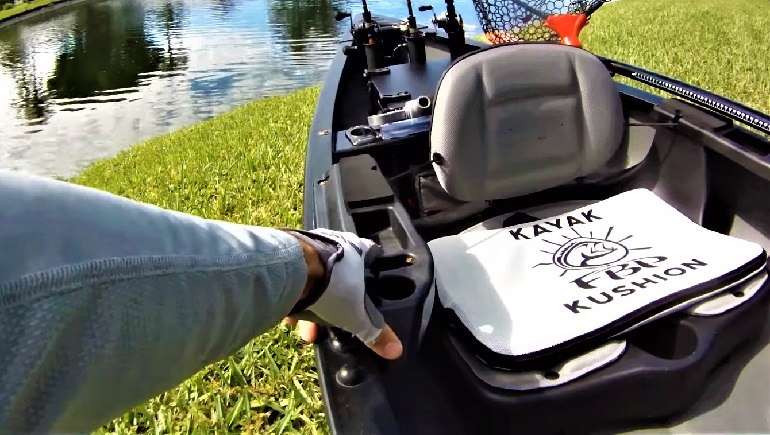 From the adjustable kayak seat with foam armrests to the insulated hull to keep you and your pup warmer in cold waters, this canoe almost makes me feel at home.
Features
Materials: Closed-cell foam and polyethylene
Length: 11'9″
Width: 32.5″
Capacity: 354 lbs./1 Person
Weight: 56 lbs.
Pros
It's built similarly to a kayak, so it has a kayak's speed and handling but all the space of a canoe.
Very comfortable, with a padded kayak seat, armrests, cup holders, and a ton of rod holders.
It can be paddled with a standard canoe oar or a double-bladed kayak paddle.
You can mount different accessories onto the forward thwart with a recessed track.
The hull has three layers, including foam insulation and two layers of polyethylene, to keep you warm and safe from rock and branches.
Cons
The weight capacity is low for a canoe, so you must watch how much weight you put into it.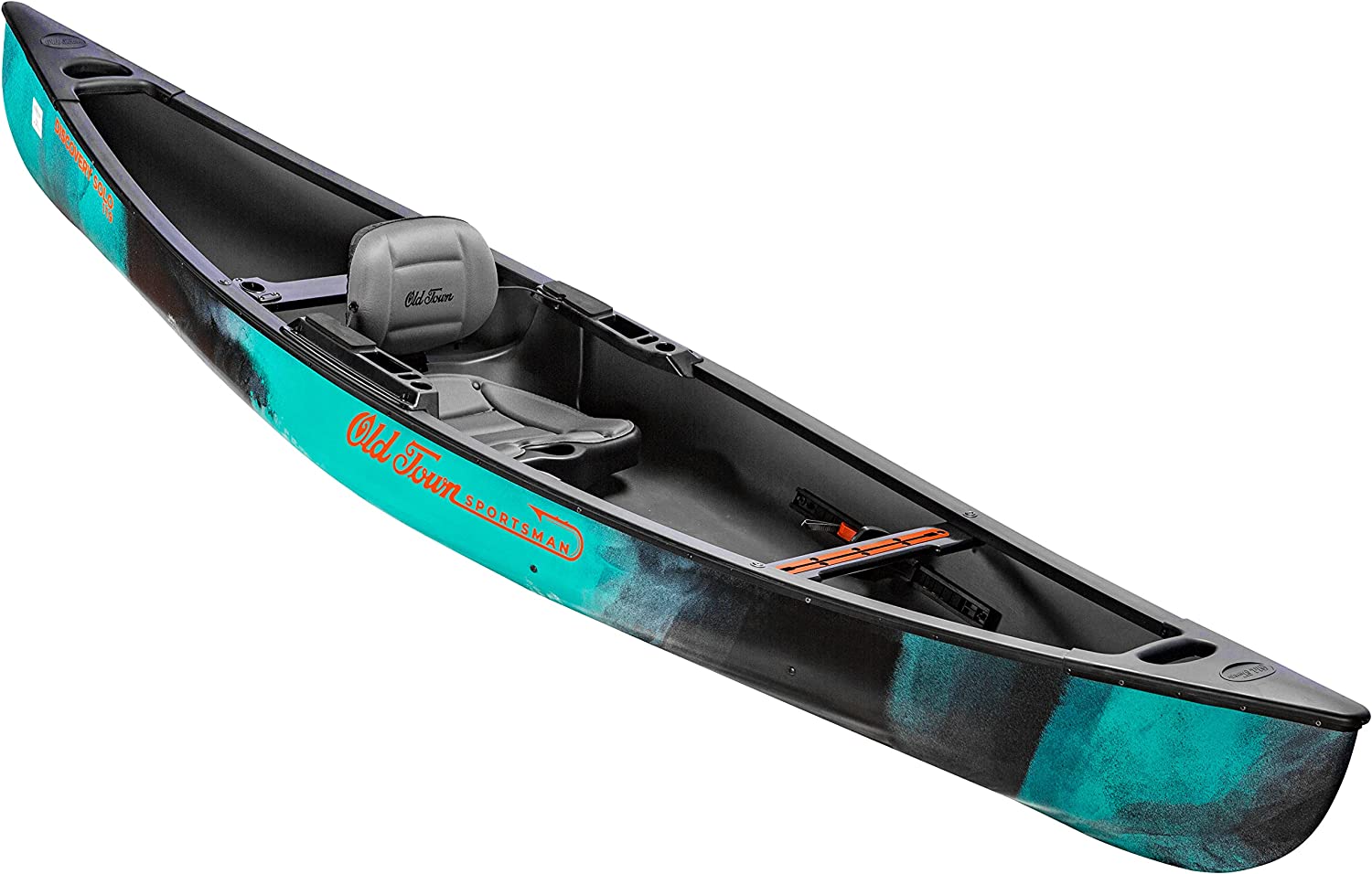 Old Town Discovery Sportsman 119
The price of "Old Town Discovery Sportsman 119 " varies, so check the latest price at

The most unique thing about this canoe is that it can be operated with a motor, as well as a canoe paddle. It has a square stern perfect for any motor under three horsepower. I would love to see the best trolling motor on this canoe, making it the ideal fishing canoe.
Most canoes tend to be a bit wobbly when you stand up in them to cast a line, but the Heron has an extremely stable platform. It is wider than most other fishing canoes and has a flat bottom. It would be extremely difficult to flip this canoe.
The Heron is ideal for sneaking up on any fish or wildlife without disturbing them. The hull shape has a foam interior and T-Formex exterior, making it quieter than most other canoes.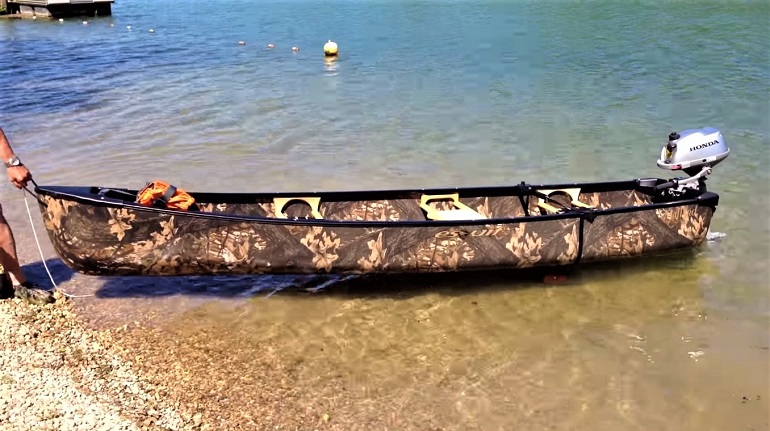 If I add a trolling motor to it, as mentioned above, I could probably sneak up on the most observant humans.
Features
Materials: T-Formex, foam, and vinyl
Length: 14'6″
Width: 38.5″
Capacity: 800 lbs.
Weight: 69 lbs.
Pros
It can be operated with a motor or without a motor with a square stern that accommodates up to 3 horsepower.
The load capacity is high enough to carry up to three people, plus any gear you may need.
Foam core keeps you warm and allows you to move through the water quietly for fishing and hunting.
Lightweight for a canoe this size.
The design is very wide, making it highly stable, so you can easily stand up in it.
Cons
There aren't a ton of extra features included, like rod holders or storage.

Esquif Heron
The price of "Esquif Heron " varies, so check the latest price at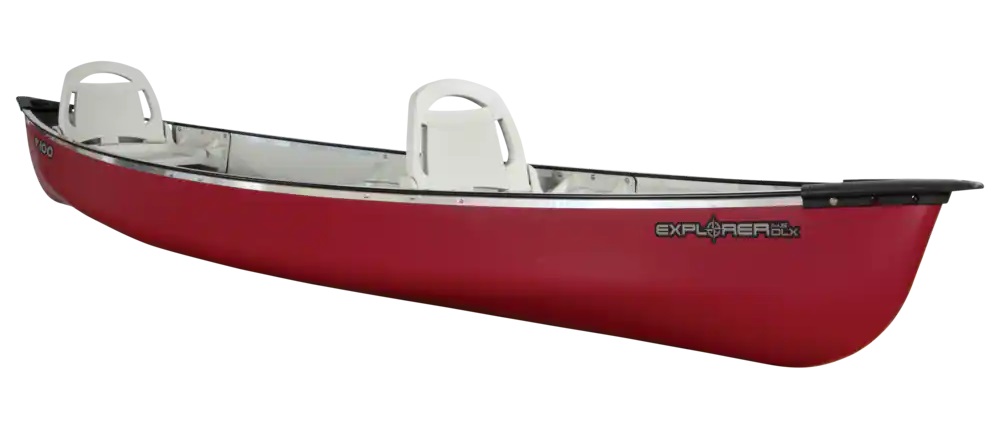 The Pelican Explorer is a tandem canoe that can actually hold a third person because of the center bench seat, which is also a cooler. These things, in combination, make it the perfect canoe for a small family or to take your friends along on a day trip down the river.
Three-person canoes can be challenging to find because you need something that accommodates everyone.
I like that this one lets you remove the seats and cooler so you can move them around to face each other or make molded seats closer if you want your kid within arm's length.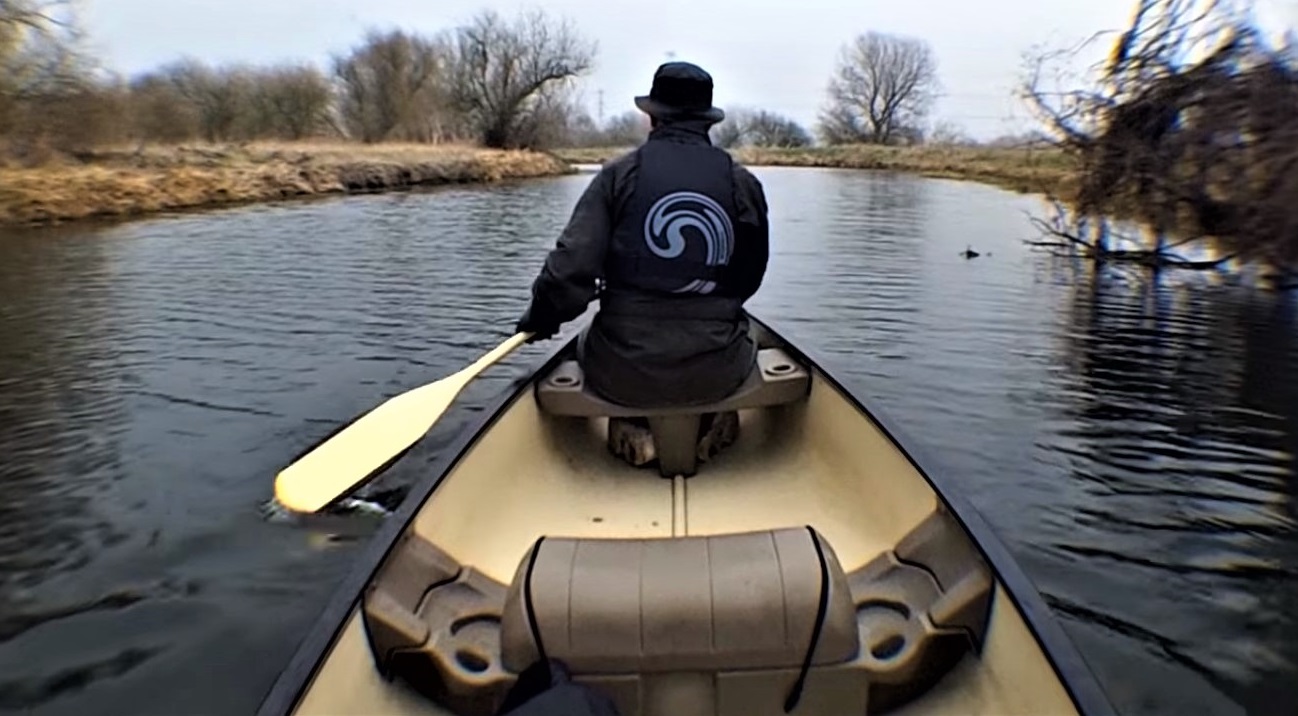 The cooler bench seat is not ideal for younger paddlers because it is sunken into the boat quite a bit. It is made more for tandem paddling.
The comfortable seats also fold down and have rod holders and cup holders, so it's easy to move around without spilling anything.
Features
Materials: High-density polyethylene
Length: 14'6″
Width: 38″
Capacity: 800 lbs./3 people
Weight: 90 lbs.
Pros
It has some unique canoe features, like a cooler that can be used as a bench seat too.
The seats and cooler can be removed and/or adjusted to face whichever direction.
Extremely durable while staying thin with Ram-X material, which is basically heat-molded polyethylene.
The canoe construction is pretty wide, and the seats fold down, so it sits on top of vehicles or kayak racks for cars easily.
Cons
It is a heavier canoe, so it can be challenging to load and unload, but it has handles on the front and back.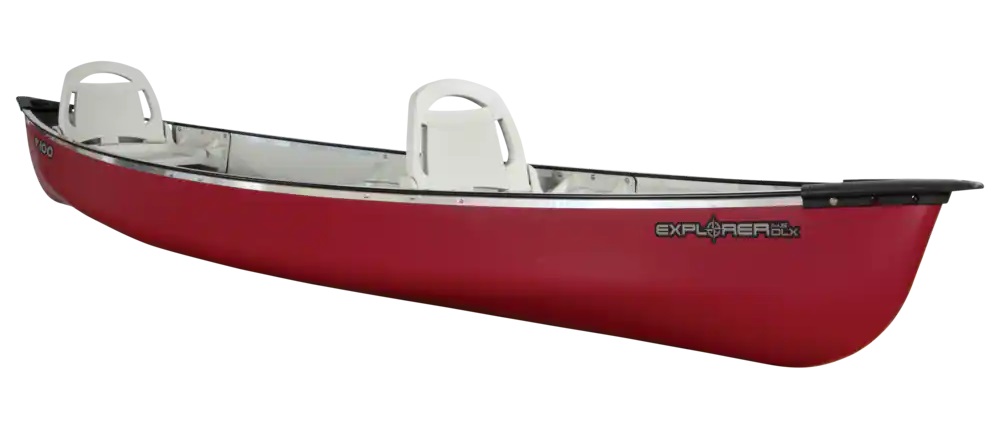 Pelican Explorer 14.6 DLX
The price of "Pelican Explorer 14.6 DLX " varies, so check the latest price at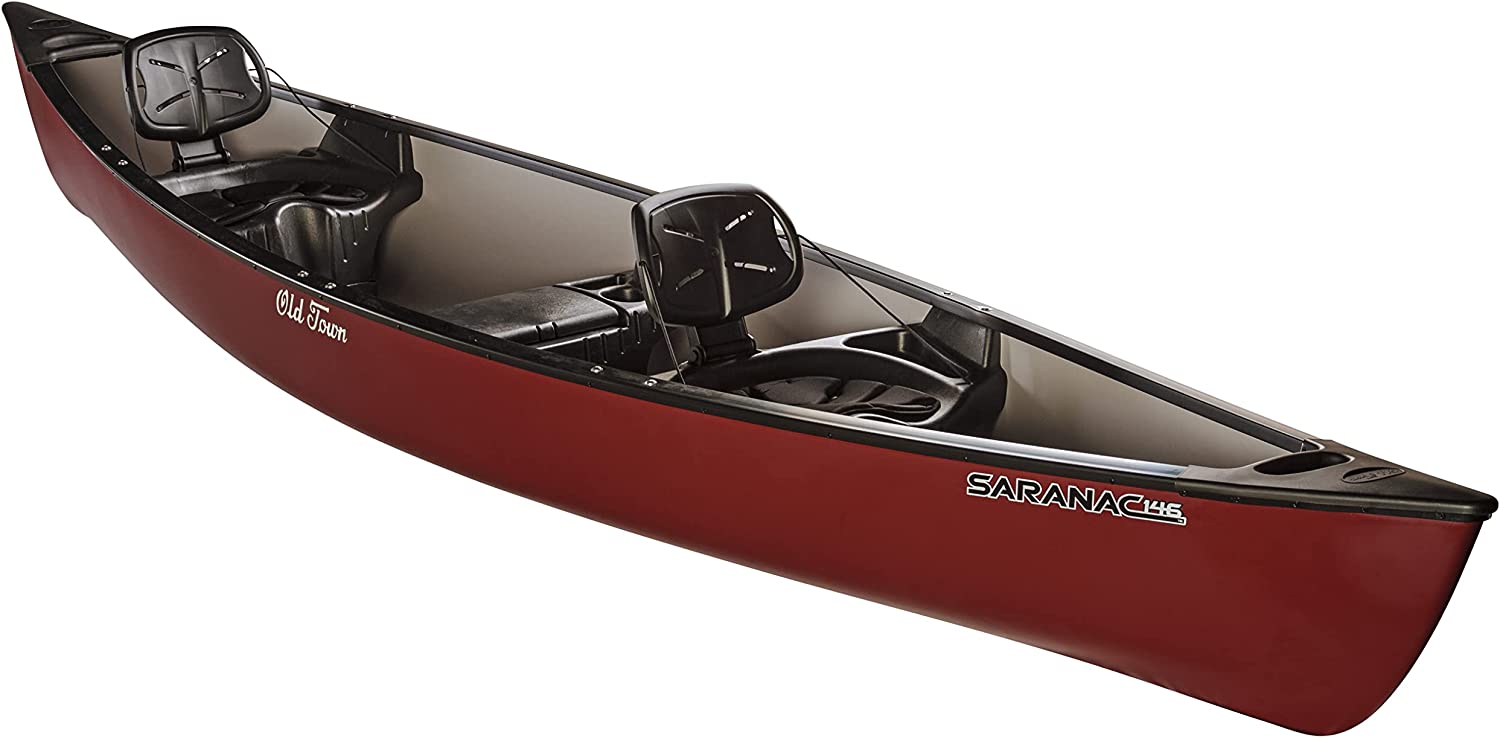 Not only does the Old Town Saranac have three seats to fit your entire family, but it also has a ton of storage space to hold all of your stuff. From my experience, anytime children are involved, extra storage space is a must.
There are storage trays, slots for your paddles, storage under the center bench seat, and more space behind the stern seat.
Family canoes need a lot more stability than other canoes, especially if you have kids. With a flat bottom and less rocker, you can rest assured that this canoe will stay smooth and track straight during your river running.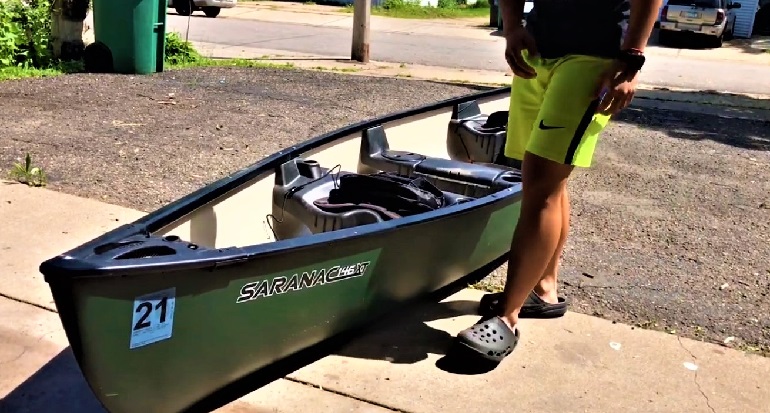 I love there are enough seats inside this wide canoe too. Your bum will thank you for getting this canoe after paddling long distances because of the contoured padded seats.
There are also adjustable seats, so I can adjust the seat to be more straight when paddling and lean back when relaxing.
Features
Materials: Polyethylene
Length: 14'6″
Width: 36″
Capacity: 750 lbs./2-3 people
Weight: 79 lbs.
Pros
Contoured padded and adjustable seats with side trays make them highly comfortable.
Tons of storage space with a bench seat in the center that opens up, paddle storage, cup holders, and rod holders.
Cruises down smooth water relatively quick and tracks straight.
A flat bottom and moderate rocker make this a stable canoe, perfect for younger paddlers.
Cons
Reviewers have complained of the bottom becoming wavey over time, but there is a lifetime warranty on the hull.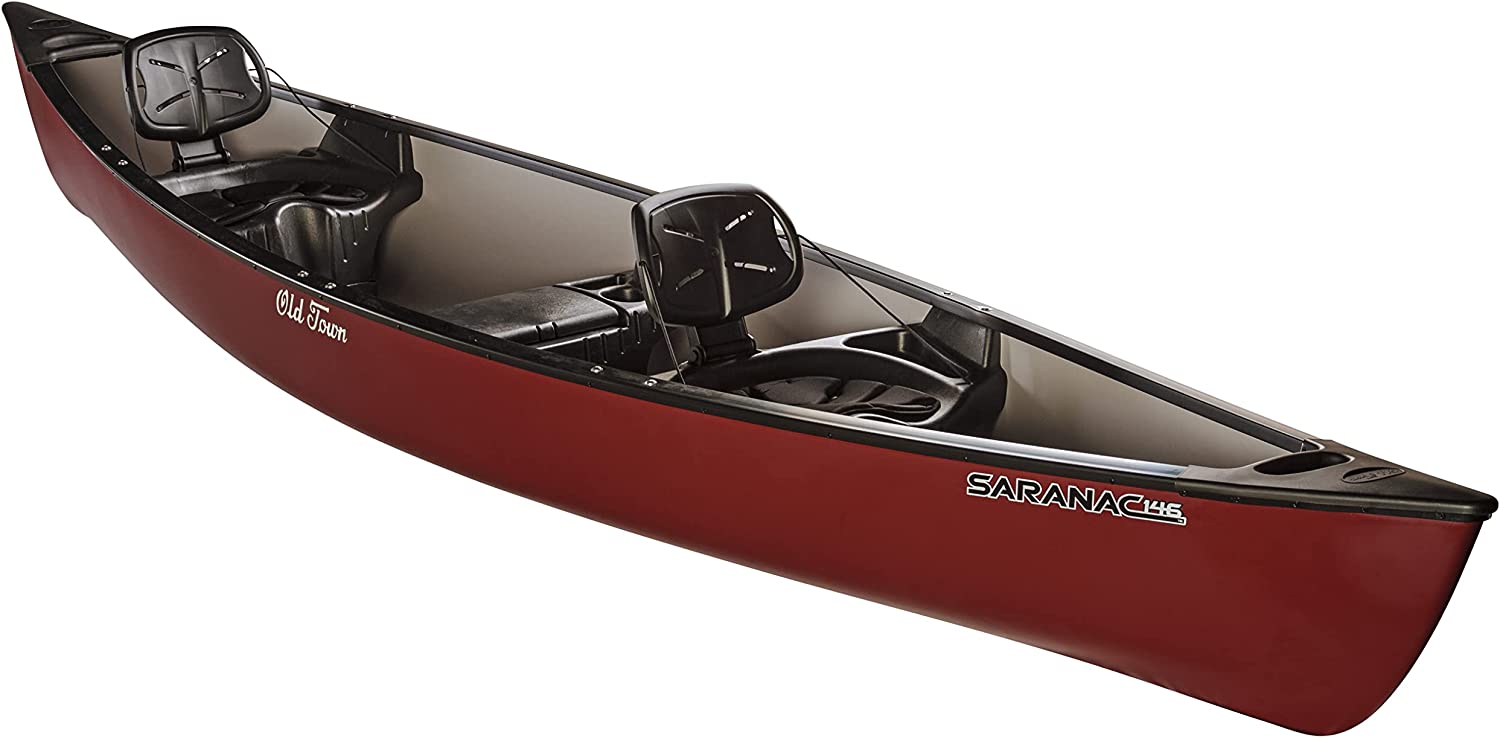 Old Town Saranac 146
The price of "Old Town Saranac 146 " varies, so check the latest price at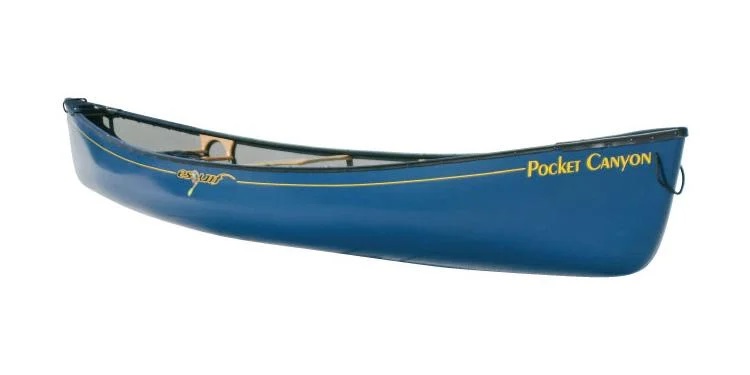 The Pocket Canyon is a simple canoe but can be used for many purposes. From some of the roughest whitewater to calm day trips, this canoe has you covered.
It's really just an all-around fun canoe to have because of how small it is and its versatility in recreation you can use it for.
The canoe is large enough to easily carry two adults and some gear for camping or a cooler. But I also can't wait to handle high-speed situations where you need to easily maneuver through obstacles. I don't think I've seen a canoe with more rocker and flared walls than this one.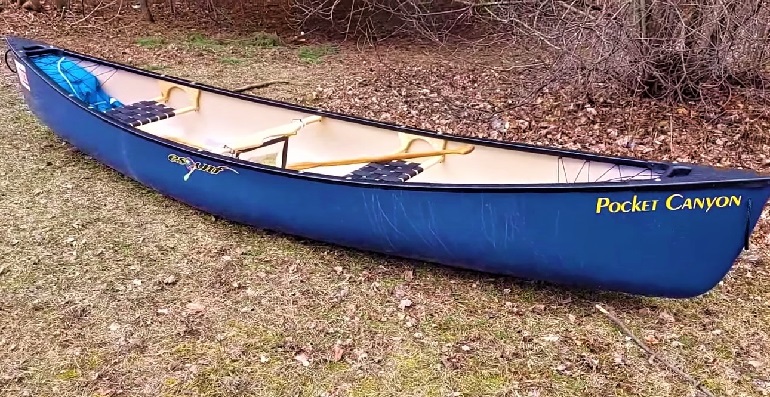 I'm honestly most excited about this canoe because of how much you can do with it. It's highly customizable because you can add any accessories you want with contoured cross bars.
It's also simple enough that you can take it on almost any water, and it will be light enough and fast enough to paddle easily.
Features
Materials: T-Formex
Length: 14'5″
Width: 34.5″
Capacity: 770 lbs./2 people
Weight: 59 lbs.
Pros
Has progressive chine and rockers, making it easy to maneuver and quick in choppy or smoother water.
The side walls a flared, helping keep you dry throughout your canoe trip.
It has a contoured yoke and thwarts to make it easier to attach accessories and keep them there on rough waters.
It is very versatile, being small enough to paddle solo down whitewater, but big enough to tandem paddle with some gear for a day trip.
Cons
The seats aren't very comfortable, but you can change them if you prefer.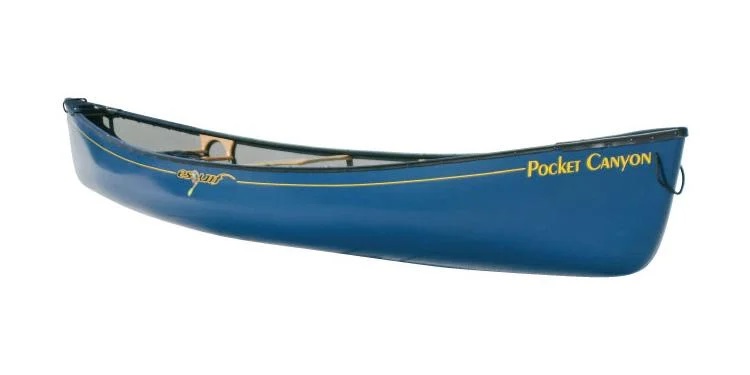 Esquif Pocket Canyon
The price of "Esquif Pocket Canyon" varies, so check the latest price at

I don't know about you, but I love the look of a classic aluminum canoe. Not only do aluminum canoes look sleek and aesthetically pleasing, but they are also some of the most durable and strong canoes you will ever paddle.
The Grumman is especially durable, with a shoe keel that has seven ribs in it, which makes it even stronger than a standard shoe keel.
The shoe keel basically kicks the canoe off of rocks to keep them from banging into the bottom of the canoe and causing possible damage. The whole canoe is also coated in a sealant to keep it from getting scratched or rusting.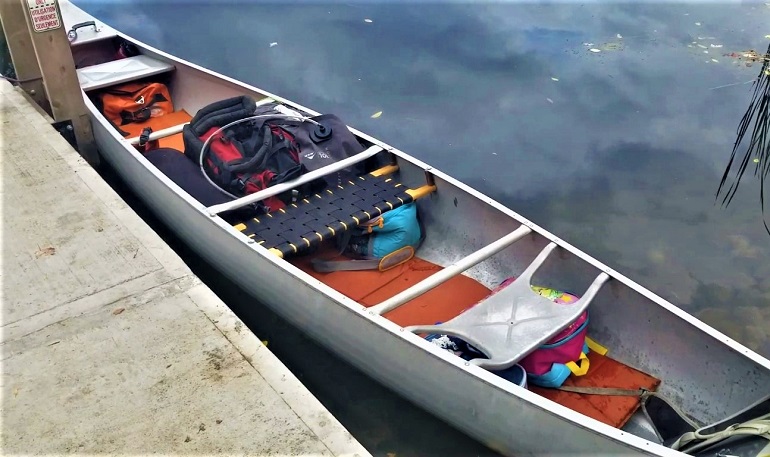 While the width is not as wide as I would like for such a long canoe, it does have floatation devices at each end of the canoe that keeps it right side up if it tilts.
I also love how low the canoe is to the water. Shallower and narrower canoes have a lot less wind resistance, so I could potentially pick up some major speed in this thing.
Features
Materials: Aluminum
Length: 17′
Width: 36″
Capacity: 755/2-3 people
Weight: 75 lbs.
Pros
It has a low profile to help with wind resistance but is wide enough to be stable for less experienced paddlers.
There is a shallow aluminum shoe keel to keep the bottom from hitting rocks or other possible abrasions.
Has the sleek design and durability of a classic aluminum canoe with a sealant to help it last longer.
You can use it as a tandem canoe or add a third bench seat to make it a three-person canoe.
There are flotation devices in the bow and stern to keep it afloat, even if it takes on water.
Cons
It doesn't track as well on calm waters because of the shoe keel.

Grumman 17′ Double-End
The price of "Grumman 17′ Double-End " varies, so check the latest price at

I almost always go for an inflatable canoe because I don't have a vehicle that I can carry a canoe on top or in the back of. I like the Sea Eagle because it is extremely easy to inflate and deflate with three air chambers that blow up in less than 10 minutes.
This recreational canoe also has a lot of really helpful features that you don't usually see in simple inflatable canoes.
I love that it has non-slip foot pads, which you don't see in a lot of recreational canoes because it makes it easier to paddle with a firm grip on the floor.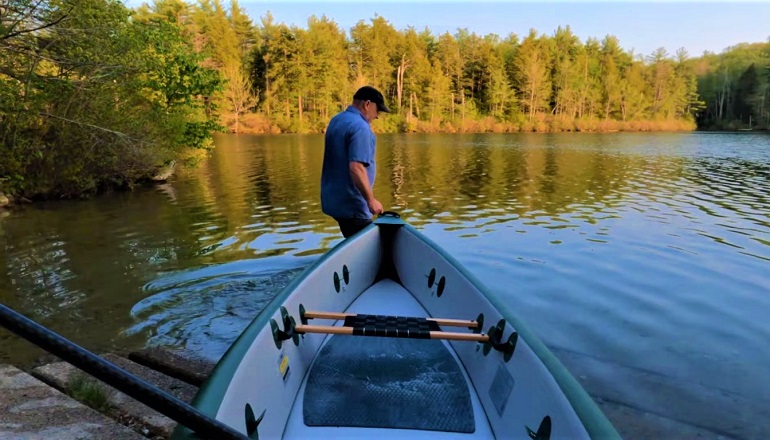 This canoe can also pick up some speed in comparison to other inflatable canoes. It has plastic molds in the front and back to cut through the water and is built to lift a bit as you paddle. I find the less resistance, the better, and this lift helps with that a lot.
Features
Materials: Reinforced 1000 Denier
Length: 16′
Width: 38″
Deflated Dimensions: 40" x 24" x 16"
Capacity: 915 lbs./2-3 people
Weight: 65 lbs.
Pros
There are center carry handles, so it is very easy to move around once it is inflated.
The floor has non-slip foot pads, which makes it easier to paddle.
All the air chambers are built with drop stitching, making them extremely stable and durable.
It has a bow mold, stern mold, and a removable skeg to help cut through the water and improve tracking.
Takes less than 10 minutes to inflate with a pump.
Cons
The storage bag is large for an inflatable canoe, so you'll most likely need two people to carry it.

Sea Eagle TC16
The price of "Sea Eagle TC16 " varies, so check the latest price at

When I'm canoe shopping, I always like to look for unique features. Nova Craft Prospector is the master of features, with everything being customizable, from the materials it's made of to the add-ons you can attach to make the boat exactly what you want.
A couple of add-on features that I'm really excited about are the kneeling thwart and the knee pads. That way, I can comfortably use it as a solo canoe or tandem in the kneeling position when the water gets a bit rougher.
You can also add on a spray deck for a dry ride, a shoe keel, an additional webbed seat, and more.
There are also five different composite hulls you can choose from depending on how much you want to spend and what type of canoeing you plan to do.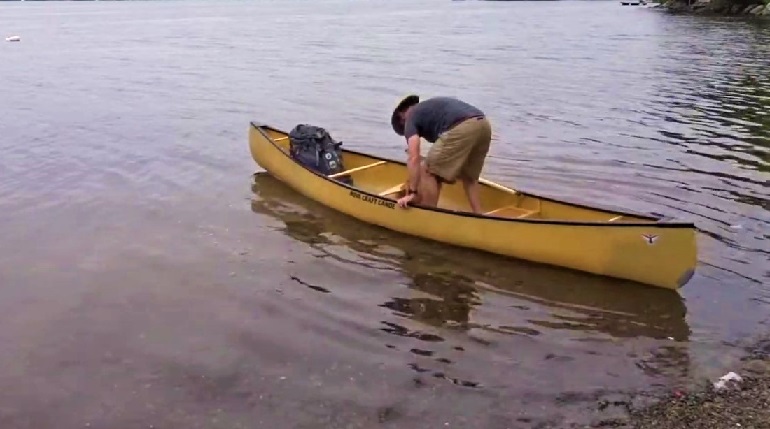 Fiberglass is the cheapest, while TuffStuff Expedition and Blue Steel are the most expensive but much better quality. You can also upgrade the trim of your boat to white ash to make it look like wooden canoes.
Features
Materials: Fiberglass, TuffStuff, TuffStuff Expedition, Aramid Lite, or Blue Steel
Length: 16′
Width: 36″
Capacity: 1,000lbs./2-3 people
Weight: 45-66 lbs.
Pros
You can choose what composite material you want your canoe made of depending on what type of recreational canoeing you want to do.
There are a ton of canoe features that you can add to your canoe.
It has an extremely high carrying capacity, so you can really load it down with gear.
It has a shallow arch hull, so it will self-correct in rough rivers.
You can upgrade to wooden gunwales from aluminum.
Cons
The gel coating is not very durable and may need some maintenance over time.

Nova Craft Prospector 16
The price of "Nova Craft Prospector 16 " varies, so check the latest price at
Buying Guide for the Best Canoes
Finding the perfect canoe for you can be complicated with so many different types, the features that can be added on, and the different builds of each one. Below I'll go over everything you need to consider when shopping for the right canoe and what it all means.
Choose a Canoe Type
Canoes are usually built to accommodate the type of sport you plan to do inside them. They will have different features, lengths, rockers, and materials depending on the type that it is. The five main canoe types are as follows:
Hunting and fishing canoe
Whitewater canoe
Recreational canoe
River canoe
Racing canoe
Length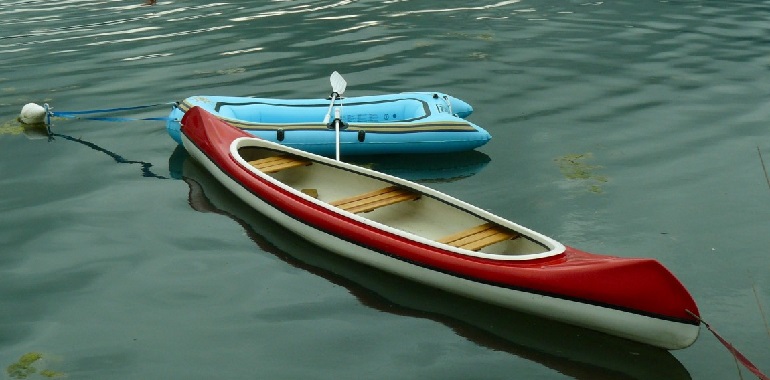 The length of the canoe is important to consider because a longer canoe will have different advantages than shorter canoes. I typically like short canoes (14′ or under) because they are a little more versatile, easier to move around, and more maneuverable.
Short canoes are also easier for solo paddlers because the weight distribution is more even.
Longer canoes (15′-17′)are more geared toward people who want to go long distances. You can pack more inside of them, and they are usually faster, especially with two paddlers. Some even have enough storage space for a week-long paddle into the wilderness. They also make great family canoes.
Rocker
The rocker is how much higher your boat is on each end (bow to stern) than the hull's center. For example, a boat with more rocker could be 4 inches higher on the bow and stern than the center. A boat with less rocker can have almost no change in height from the center.
The rocker affects how well the canoe tracks, how fast it can go, how easy it is to steer, and how much splash you can encounter.
A canoe with more rocker is easier to maneuver and is better for super choppy water, like whitewater rapids. Canoes with less rocker are better for calm lakes and gentle rivers, track straighter, and move faster.
Weight
Canoes are typically heavier paddling boats, weighing anywhere from 45 pounds to almost 100 pounds. Typically you want your entry-level canoe to be as lightweight as possible so it is easy to maneuver, store, and transport. However, the lighter the canoe's weight, the less durable it is.
You need to think about what kind of canoeing you'll be doing and then go from there with weight. I don't canoe on super rough waters, so a lightweight canoe that is 45-60 pounds is ideal for me.
If you are whitewater canoeing, you'll need something extremely durable, so it can weigh 65-80 pounds.
Capacity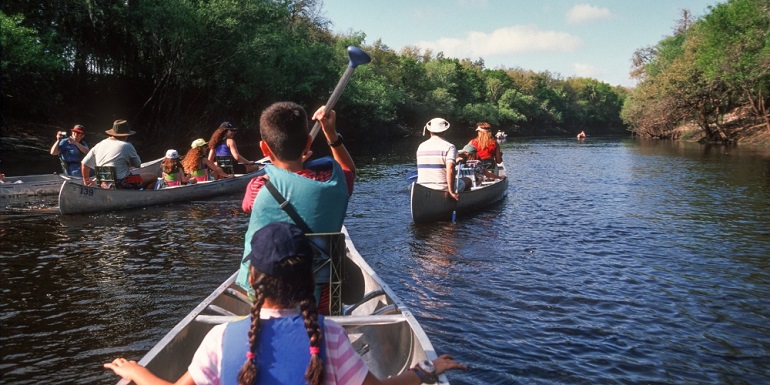 Capacity is the weight a canoe can safely hold without being submerged. Canoes have a pretty high capacity compared to other small rowing boats, with a carrying capacity of 400-1,000 pounds. You should consider all the passengers' weight plus anything you bring along.
My canoe trips are usually short and are just river runs with friends, so I only need enough capacity for a friend and me, plus the best cooler for food and drinks.
If you are someone that likes to do grand expeditions in your canoe, you may need a lot more gear. Multi-day canoe trips need enough capacity to hold all of your camping gear as well.
Solo, Tandem, or Three-seater
Most canoes are tandem canoes by nature. The way they are built, canoes are more stable and move through the water better with someone sitting near the bow and stern. However, there are solo canoes and three-person canoes.
A solo canoe will have a seat or kneeling thwart somewhere near the canoe's center to help even out the weight. These are well-suited for fishing and hunting.
Tandems are an ideal choice for long-distance paddles, and three-seaters are great for families. The third seat in a three-person canoe is usually an add-on you must purchase.
Material
The materials that your canoe is made out of will affect its durability and weight. Most solo canoes are composite canoes made of plastic (three-layer polyethylene) because they are lightweight without sacrificing durability. You can also find fiberglass, wooden, and aluminum canoes that all have their own advantages.
Fiberglass canoes are the cheapest option but are more susceptible to damage. Wooden canoes are flexible and have a particular vintage aesthetic that appeals to many people.
Aluminum canoes are the most durable, being resistant to weathering, and they will still float with a dent in them. Although aluminum boats are very heavy.
Features
The features added to expedition canoes are only there to make them safer and more comfortable for solo paddlers. Shoe keels, foam, and vinyl gunwale covers are a few features you can find to improve your canoe's safety. These keep your boat afloat and keep you from hurting yourself if you flip.
There are a massive amount of comfort features that can be added to a canoe to make your paddle easy and keep your body from hurting afterward. A few of my favorite features are cupholders, adjustable seats, a double-bladed paddle, paddle storage, knee pads, and a cooler.
Final Thoughts
Ocean canoeing is one of the best ways to immerse yourself in nature and have a thrilling adventure at the same time. Whether you're recreational paddling down long exhilarating rivers trying to escape from the busy world or want to relax on a lake with a line in the open water, canoeing can be your safe haven.
Out of all the best canoes listed above, you will surely find the perfect canoe for your future mad river adventure. All that's left to do is pack up your cooler and pick up your paddling partner.