Discover the best yoga festivals in Europe, as picked by a full-time travelling yogi.
Yoga festivals have really upped their game in the past few years and there are amazing events happening all over Europe in the summer. Check out my guide to the best European yoga festivals of summer 2020!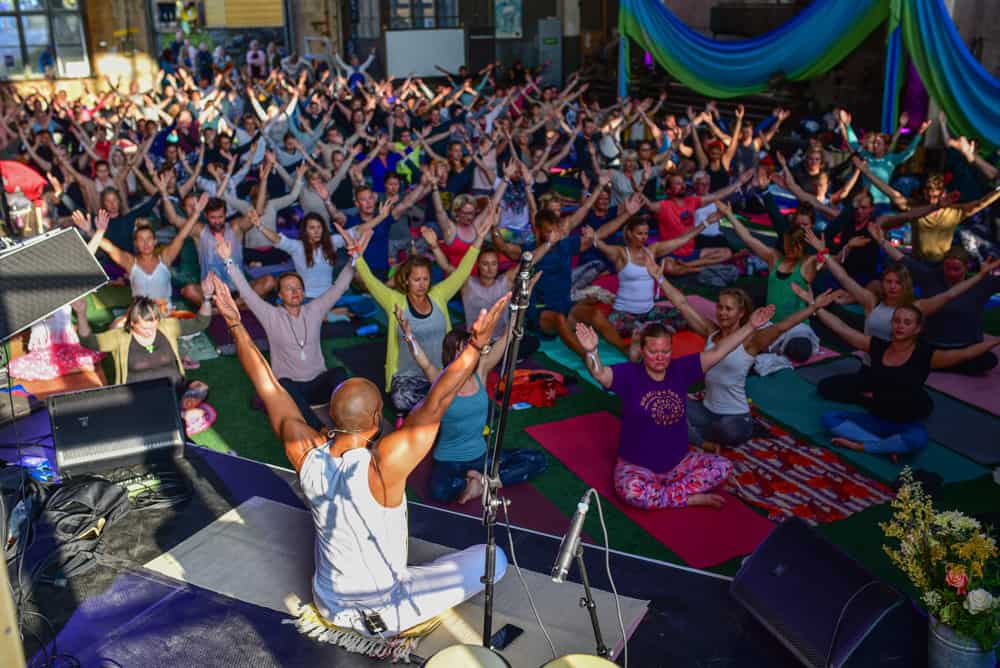 Whether you want to go to an all-yoga event, try lots of different modalities of movement, or head to a mini-Burning Man/psy/trance festival with music, movement, and mayhem we've got you covered in this guide to choosing the best yoga festivals in Europe this summer regardless of your tribe.

Not sure you want to lug your heavy, daily-use yoga mat to the festivals this summer?
City-based Europe Yoga Festivals

A lot of city events can feel more like advertising opportunities for new wellness ventures. Which is fine. But the summertime yoga-focused festivals in Barcelona and Berlin, while not related in a direct business sense I feel they are related in terms of ethos.

Both are places where learning is an important aspect and asana has a primary focus.
Barcelona Yoga Conference, Barcelona, Spain
Date: July 2 – 6

Celebrating its 10th anniversary in 2020 the Barcelona Yoga Conference is almost certainly the biggest yoga festival in Europe. It's spread over five days, and regardless of your level of yoga experience, they offer events for all ages and backgrounds.

They also have special events for children, a feature becoming more common at yoga festivals, so you can bring the whole family to share in the event.

BYC has announced their main teachers for 2020 and it is a stellar line-up of yoga teachers including Shiva Rae, Meghan Currie, Bryan Kest, Janet Stone, Simon Park, Jason Nemer, and Kino MacGregor.

Follow them on Instagram or Facebook for all the latest news.

If you're thinking about a longer yoga adventure don't miss our guide to the 7 of the Best Yoga Travel Destinations in World.

Berlin Yoga Conference, Berlin, Germany
Date: June 19 – 21

A fairly new player on the scene, the Berlin Yoga Conference is heading into its second year. The three-day festival did a great job last year of encouraging participation from around Europe, making it a great place to come and expand your yoga community.

The conference brings together a wide range of teachers from around the world to lead masterclasses, lectures, workshops, panels, and discussions.

Founder Anastasia Shevchenko said, "It is not a festival, not a trade show, and not a series of workshops. It is a transformational space for creating more awareness, learning, and connecting. The content is top quality and is strongly focused on modern philosophy and scientific research."

The theme for 2020 is Breathe. Learn. Connect.

They have already published their main teachers for 2020. Katchie Ananda, Matthew Remski, Daniel Rama, and Anastasia Shevchenko are among the list of international teachers who will be leading events this year.

Follow their and Facebook to stay on top of future announcements.
European Yoga Festivals in Stunning Locations

Do you want to get out of the city and return to the trees? Here are our top picks for yoga festivals set in absolutely magical locations. Getting away from the daily grind and heading to a yoga festival set in the countryside adds a deeper level of reset and recovery to your festival experience. These festivals also tend to be smaller which encourages more shared experiences with your new yoga friends.
Chamonix Yoga Festival, Chamonix, France
Date: July 3 – 5

The Chamonix Yoga Festival is a three-day festival dedicated to yoga, music, and dance in one of the extreme sports capitals of the world, right in the heart of the French Alps.

The festival brings together different kinds of yoga & meditation classes. Along with various Hatha and vinyasa classes they generally host workshops focused on Pranayama, Tribal Dance, Yin Yoga, Restorative Yoga, kids classes, mindfulness classes, and concerts, all against a backdrop of the alps.

The spectacular Mont Blanc peak looms large over the city but it's not alone. In Chamonix, you're surrounded by multiple peaks over 2,000 metres along with the incredible beauty alpine summers.

Extend your stay to the region after the festival to add some mountain biking, bouldering, climbing, or hiking on the countless kilometres of hiking trails (OK, you can actually count them. There are 350 kilometres of hiking trails in the Chamonix region.)

Bonus feature: The closest airport is Geneva and the journey from Geneva to Chamonix cuts through the alps on an winding elevated road that is like something out of a James Bond film, which is appropriate since the ski scenes in The World Is Not Enough were shot in and around Chamonix.

They have not published their 2020 programme as of November 2019. Stay up to date via their Instagram or Facebook.
Magnesia Festival, Helsinki, Finland
Date: July 31 – August 2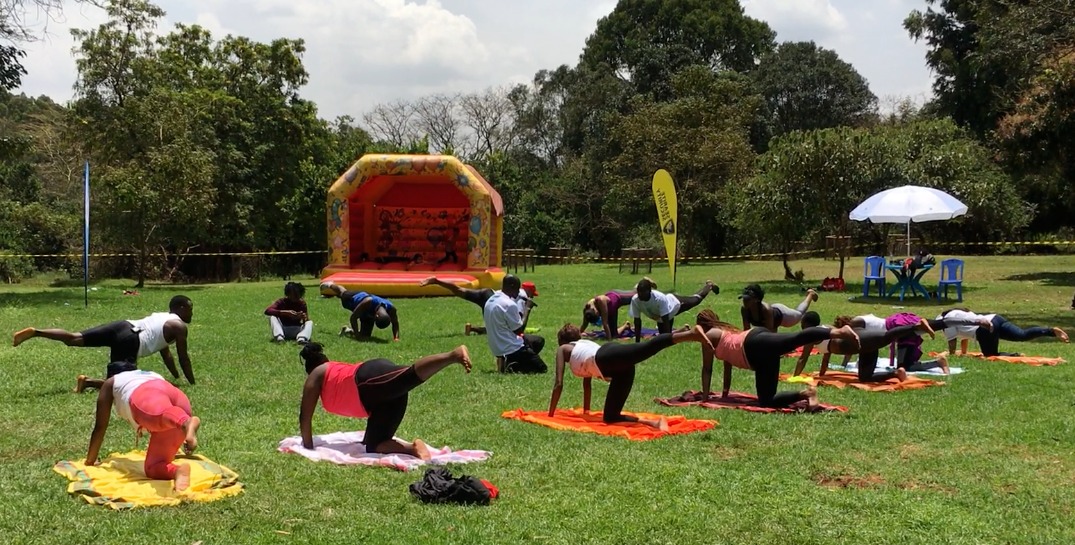 Magnesia Festival 2020 is a four-day event being held Suomenlinna Fortress Island, a UNESCO World Heritage Site just a short boat ride from Helsinki that is a part-18th-century sea fort, part-nature park, part-village. How cool is that?

I absolutely love Helsinki, and in the summer it's pretty magical. If I could, I would be going to this festival next summer.

Magnesia Festival is a three-day experience of yoga, meditation, music, dance, holistic wellness workshops, fantastic food, stunning sunsets, and passionate people. The aim of Magnesia is to create more happiness and joy, expand the community, and learn to enjoy life together.

Bonus feature: There's also a brewery on the island. Post-festival evenings can be spent enjoying locally-brewed craft beer socialising with your new yoga friends.

They have not published their 2020 program as of November 2019. Follow them on Facebook or Instagram to be notified when the program is announced.
Mountain Yoga Festival, St Anton, Austria
Date: September 3 – 6

You just have to go to their website and look at the main picture to see why this made the list. Go, click here, check that view out, and then come back and read on. I will wait for you…
The Mountain Yoga Festival is a chance to celebrate nature at this four-day event in early September in the middle of the Tyrolean Alps. MYF brings together a variety of different yoga styles, with classes appropriate for beginners as well as advanced yogis, forest bathing/therapy, hiking opportunities, music, and talks.

Their theme is "Connect, feel the nature, ignite your inner fire, practice yoga, and just be in the moment!"

Bonus feature: On the Friday of the festival lunch is served at the Gampen restaurant where Chef Reinhold creates locally-sourced delicious veggie and vegan meals. This is not to be missed!

Double-bonus feature: Geli, the official festival "mountain guide", can recommend different hikes and leads some hikes as well.

They have not published their 2020 programme as of November 2019. But they promise details for the fifth anniversary MYF will be online soon. Stay up to date via their Instagram or Facebook.

Another stunning location to practice yoga is Bali. If you're thinking about heading to Bali for a yoga retreat make sure you get our Guide to the Best Bali Retreats for Every Budget.
Intimate Yoga Festivals

If you're more interested in a festival that features the personal touch of being a community-run event these three boutique festivals offer you just that. Read on to discover my recommendations for festivals that off you the chance to get your yoga on without getting lost in the mayhem of a massive festival.
Yogaland, Torhout, Belgium
Date: July 24 – 26

Yogaland, a three-day event, is the biggest yoga festival in Belgium, but it's still an intimate affair. I mean, Belgium is pretty small (no offence, Belgium but you are 13 times smaller than California). The festival provides you with the opportunity to practice in the company of like-minded souls, enjoy great vibes, spend time with international teachers, and enjoy amazing vegetarian and vegan food.

Janet Stone, Kenny Graham, and Duncan Wong are a few of the international teachers that have visited previous Yogaland festivals.

The festival is located on the property of the Groenhove Diocesaan Centrum, outside Brugge, which houses an ancient monastery surrounded by woodland, walking paths, and meadows.

As well as a diverse range of yoga asana opportunities, the festival offers meditation classes, speakers, musical performance, a yoga market, and the Kids Village.

They have not published their 2020 programme as of November 2019. Connect with them on Instagram or Facebook to know when the program is announced.
Scottish Yoga Conference, Dundee, Scotland
Date: September 25 – 27

Happening the final weekend of September this is the latest festival on our summer calendar. Yes, the Scottish Yoga Conference is a three-day event that technically falls outside of summer, but let's be honest, is it ever really summer in Dundee, Scotland?

I have heard great things about this boutique festival and the calibre of the teachers they bring together. The festival brings together a curated group of teachers providing you with an extraordinary opportunity to learn, listen, move, explore, and have fun.

You don't have to be advanced, flexible, or even able to touch your toes because all sessions are designed to be accessible to all. And all sessions are crafted to teach you something different. All you need to bring is your yoga mat and an open mind.

SYC has published the first round of teachers for the 2020 event. Faith Hunter, Dhugal Meachem, Chelsey Korus, and Finlay Wilson (aka the Kilted Yoga guy) will all be at the festival this year.

Find out new additions to the program by connecting with them on Instagram or Facebook.
Hvaler Yoga Festival, Hvaler, Norway
Date: July 31 – Aug 2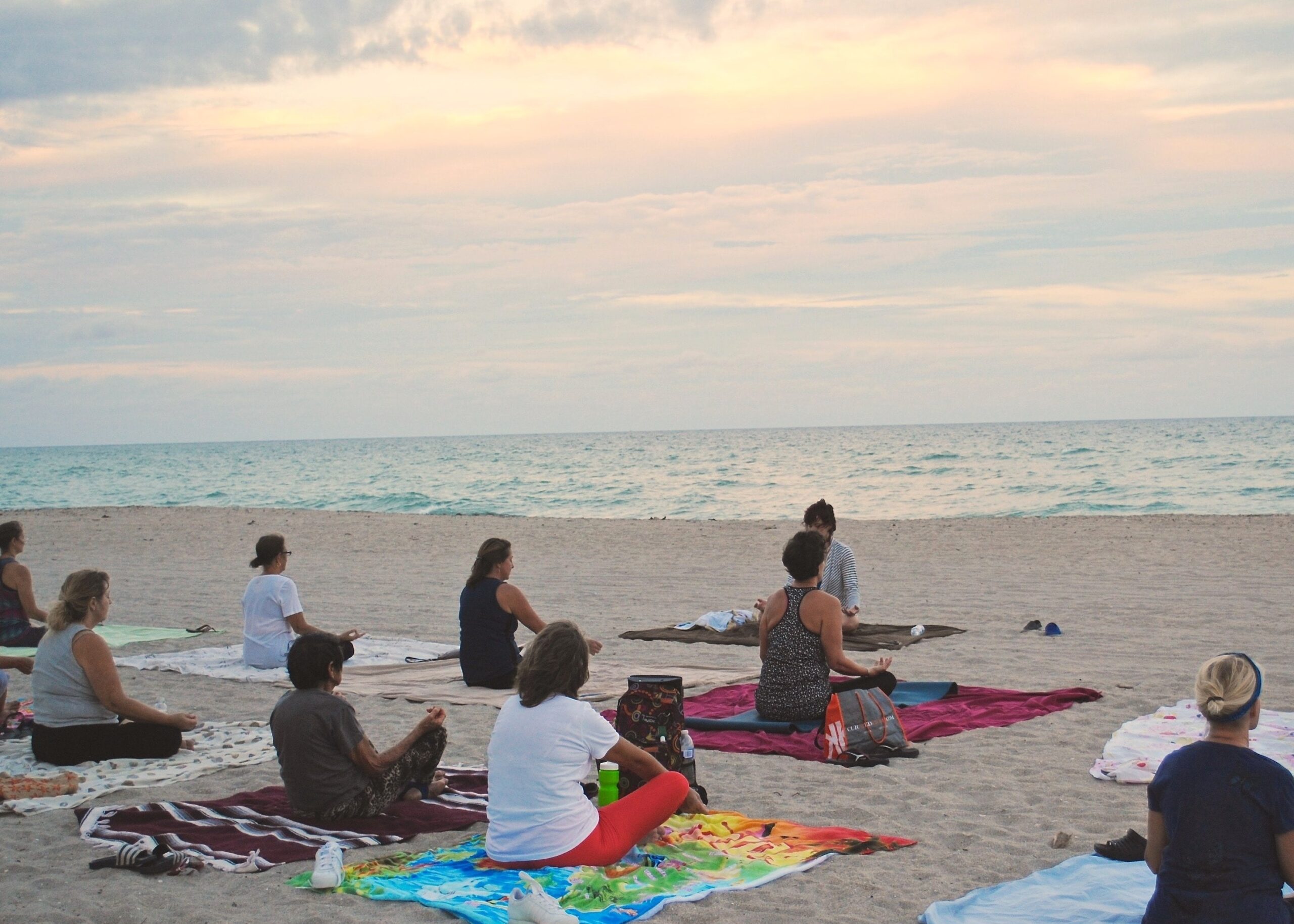 The three-day festival Hvaler Yoga Festival is being held on the Hvaler archipelago for its second year in 2020. The archipelago is a collection of hundreds of small island in the southwest of Norway near the Swedish border.

The Hvaler Yoga Festival offers classes in Jivamukti, Ashtanga, yin, calm flow, and MediYoga (research-based therapeutic yoga).

The festival also features chanting, Thai massage, a flower ceremony, and sunrise and sunset meditations daily, plus feel free to jump in the sea to cool off anytime you like.

Bonus feature: Accommodation options include staying in one of Norway's most beautiful tent sites or renting a cabin, boat, or even wild camping on the coast since Norway has Allemannsretten (aka Everyman's Right)] which means you can legally camp on any land that isn't being farmed.

They have not published their 2020 programme as of November 2019. Stay up to date via their Instagram or Facebook.
Multi-Movement-Modality Festivals

If you want to explore more movement than just yoga we recommend you check out these exciting events that incorporate a multitude of modalities.

This is a great opportunity to experience a lot of different ways to move and connect to your body. Who knows, maybe you'll discover something you love and want to add to your yoga practice, or new modalities to add to your overall health regime.
MoveCopenhagen, Copenhagen, Denmark
Date: July 9 – 12

Are you ready to move? MoveCopenhagen is like nothing I have never seen. As you might guess from its name, MoveCopenhagen is held in Copenhagen, it takes place over four days, and is billed as "a community-driven festival celebrating the diversity of movement."

Their goal is to help create better lives by making people move more and move in new ways.

Join movement junkies from all over the world and try out Acroyoga, parkour, slackline, dance, yoga, functional strength training, and loads more.

They also have special events for young and veteran movers (what an awesome term!), plus live music and DJs. Oh, and did I mention it's in Copenhagen, one of the coolest cities in Europe?

They have not published their 2020 programme as of November 2019. Stay up to date via their Instagram or Facebook.
Soul Circus, Elmore, England
Date: Aug 21 – 23

Soul Circus is a three-day wellbeing festival of "healthy hedonism" in the heart of England's beautiful Cotswold region, where yoga, holistic therapies, and music meet glitter-fuelled festival shenanigans and pumping after parties under the stars.

Soul Circus curates more than 250 classes and a diverse group of inspirational teachers and spiritual guides providing you seemingly endless opportunities to experience sound healing, heated yin, dance, aerial yoga, DJ sets, live bands, burlesque performances, and transformational workshops.

This is a real Yin and Yang event with your days spent doing yoga, rejuvenating in their spa, and sipping fresh juice while your evenings are spent dancing to DJs, eating locally-sourced delicacies, and kicking back with cocktails.

Bonus feature: They have glamping tee-pees allowing you to get your beauty sleep in style. But you'd better book soon as space is limited!

They have not published their 2020 programme as of November 2019. Stay up to date via their Instagram or Facebook.
Transformational Festivals That Include Yoga

There are tonnes of other festivals that have some yoga at them. Instead of focusing on those, I selected some festivals to recommend to you that provide the opportunity for transformational experiences through music and community similar to the way that yoga can – and all three of them include yoga as an integral part of the event.
O.Z.O.R.A.Festival, Igar, Hungary
Date: July 7 – 17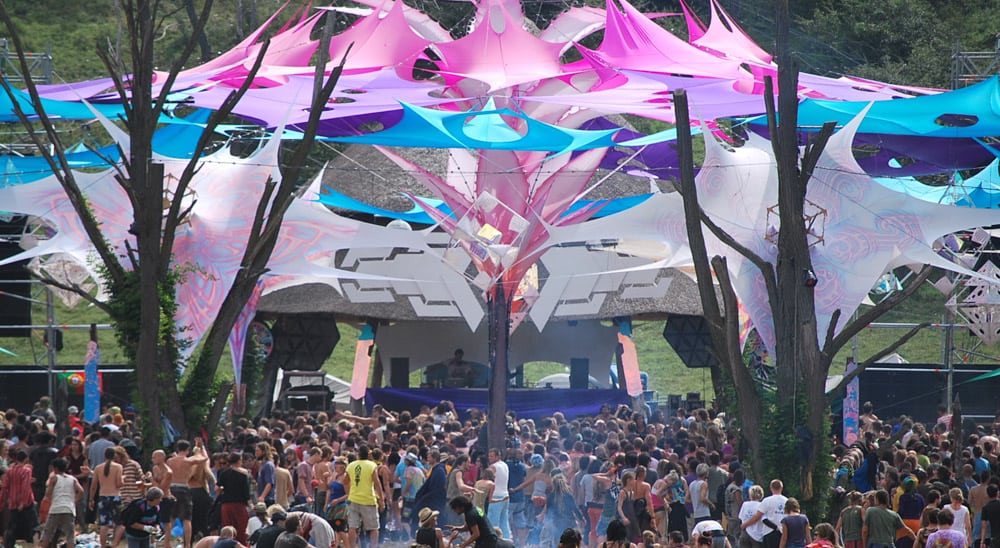 Holy hippies! "One of the largest gatherings of trance and psychedelic music in the world" with an estimate 60,000 attendees last year, this is a whopping ten-day event held on an estate in Ozora, Hungary. I hope they have showers that work the entire time.

Set among rolling hills in the Hungarian countryside OZORA always has an amazing line-up of the best psy artists in the world. But OZORA's six music stages are just the beginning of the festival experience.

Artists fill the festival with colour, while activities including yoga, slackening, dance, and many workshops create a consciousness-raising adventure.

They have not published their 2020 programme as of November 2019. Stay up to date via their Instagram or Facebook.
Meadows In The Mountain, Polkovnik Serafimovo, Bulgaria
Date: June 4 – 7

Meadows in the Mountains is another trippy psy festival but this is more like the baby sister of OZORA. Much more intimate, and feeling more like a weekend with your extended family of fellow seekers, this four-day adventure playground for all things psychedelic is held in the Bulgarian mountains.

Not only does 2020 usher in the festival's tenth anniversary but it will also be held on the weekend of the full moon! Dude.

Their invitation to you is to "cast aside your daily woes, shrug off the binding chains of the 9-5 and indulge in a debauched weekend of mind-expanding experience, community, and free spirit to skip through the fields and forests with untamed abandon and to lay with the fireflies and nighttime skies in the long grass."

If that doesn't sound like a magical weekend I don't know what does!

Bonus feature: They have a partnership with the nearby Orpheus Spa and will be hosting two days of Spa Sessions after the festival. This is the perfect way to end the festival – at a stunning mountain spa hotel relaxing in the pool and chilling to sick beats.

They have not published their 2020 programme as of November 2019. Stay up to date via their Instagram or Facebook.
Wilderness Festival, Cornbury Park, Oxfordshire, England
Date: July 30 – August 2

Wilderness Festival is a three-day festival of music, arts, yoga, learning, literature, theatre, fancy drinks, food, and rejuvenation that takes place in the parkland of Cornbury Estate in Oxfordshire surround by lakes and forests.

I love their concern about the festival's impact on the earth, and they even publish an environmental policy on their website. They use 100% biodegradable and compostable cups, but encourage you to bring your own reusable water bottle and fill up for free at their numerous water-stations, the site is plastic straw-free, and they only allow biodegradable confetti and glitter in festival performances.

Highlights from 2019 include an inspiring line-up of musicians such as Robyn, Bombay Bicycle Club, and Groove Armada, talks from Rose McGowan, Dermot O'Leary, and Adam Kay, theatre performances, yoga classes, a family area with activities for children, and incredible drink options from Sipsmith gin, Veuve Cliquot champagne, Patron tequila, the Rijoa Wine Terrace, the Talisker Wild Spirits Bar, and so much more!

They have not published their 2020 programme as of November 2019. But they promise details for the fifth anniversary MYF will be online soon. Stay up to date via their Instagram or Facebook.
The Best Secret Yoga Festival…
… is a secret no more!
By including the European Yogi Nomads in this round-up I hope you'll find your way to this community of passionate yogis. They host events in different cities around Europe, hosted by members of the community. They even help organise house-shares with locals so you can embed yourself in the community. There is usually one or two events annually.
European Yogi Nomads, London, England
Date: 5 – 7 June

European Yogi Nomads isn't really a festival, it's more a gathering of friends, coming together to reconnect in person over three days, to share their passion for yoga, socialise, and build community.

In 2020 they are getting together in London and this is bound to be a really fun event filled with great teachers and community.

Bonus feature: There is always a group dinner during their gatherings. It costs extra, but go. This is a terrific night of food and friends.

They have not published their 2020 programme as of November 2019. Connect with them on their Facebook group, and follow them on Instagram for the announcements coming soon about their plans for June.

---
Got a question about this article? Reach out to Stephen on his Adventure Yoga Online website. Fancy connecting with other yoga-loving nomads? Head over to Extreme Nomads' FREE Facebook group and join a growing tribe of adventurous, active travellers!