Orson Welles once said, "The enemy of art is an absence of limitations." And no, this isn't me trying to put my film degree to use; this philosophy is the backbone behind the idea of fishing paddleboards.
While some anglers demand large motorboats and overkill fishing setups to catch fish, paddle boards are singular, minimalist boards that require bold anglers to rely on just themselves and a few pieces of gear.
This minimalism has its benefits. You become less tied down to excessive gear and materialistic items to truly embrace the primal nature of fishing. It also allows you much more flexibility in what waters you can and cannot enter.
In this post, I'll explore the benefits of fishing paddleboards and my recommendations for the best fishing sup.
The Versatile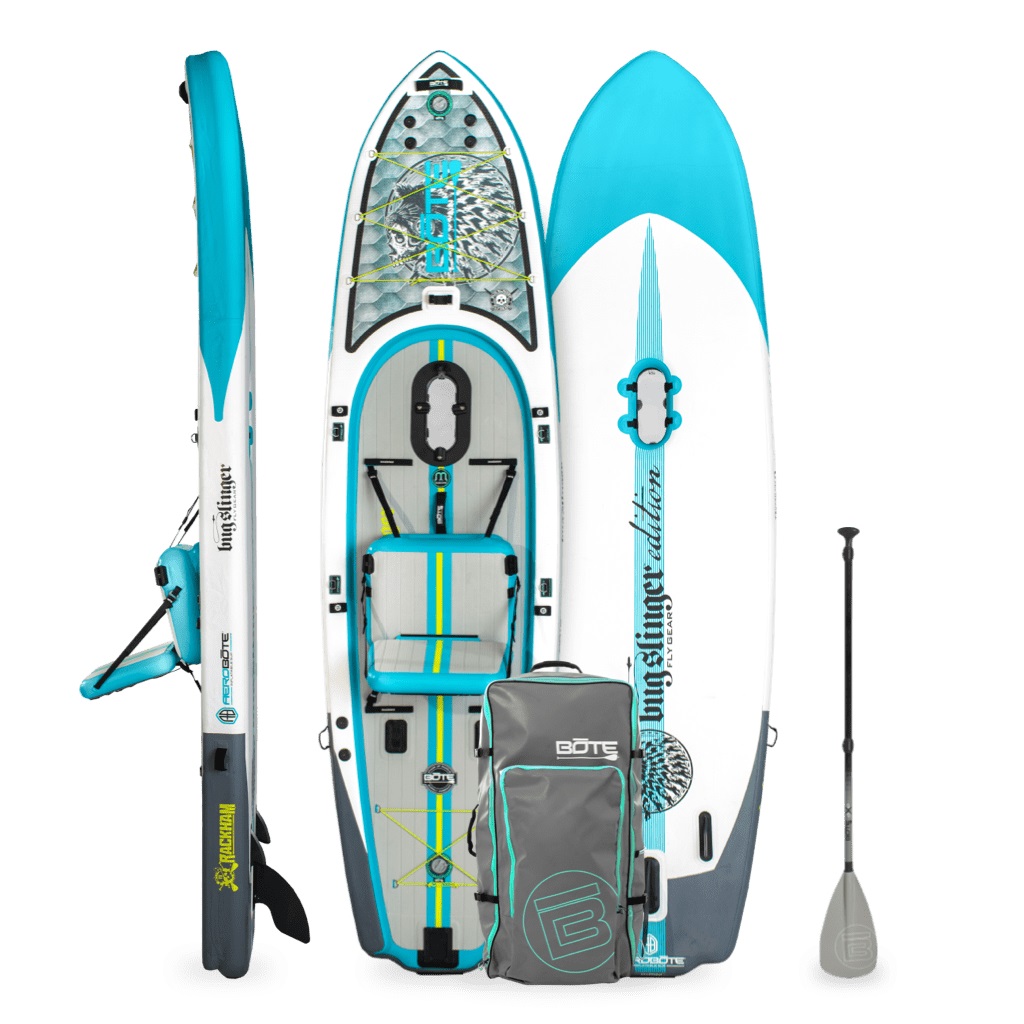 Rackham Aero 12′4″
Color:  S

ilver

Sport Type: SUP Paddling
Great for Exploration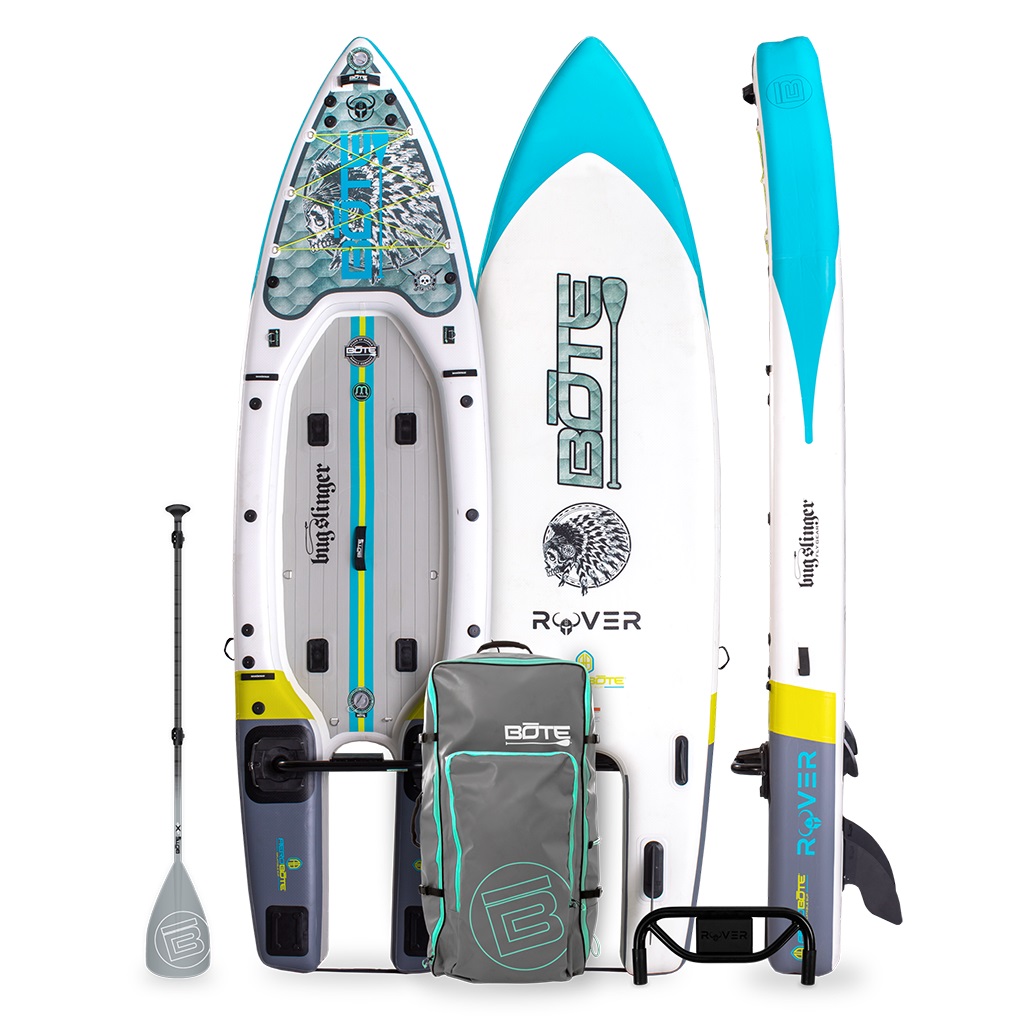 Rover Aero 12′6″
Color:

Bug Slinger Silver King

Sport Type: SUP Paddling
The Light and Easy SUP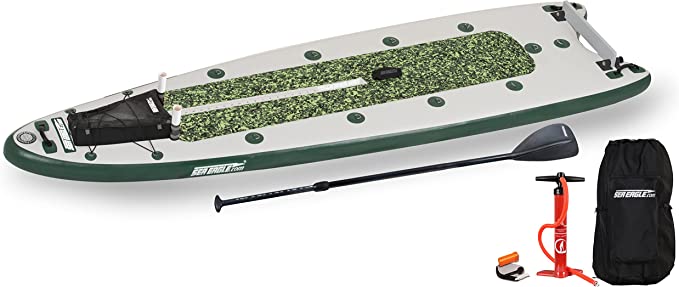 Sea Eagle Fish
Color: Sea Green/White
Sport Type: SUP Paddling
Best For Beginners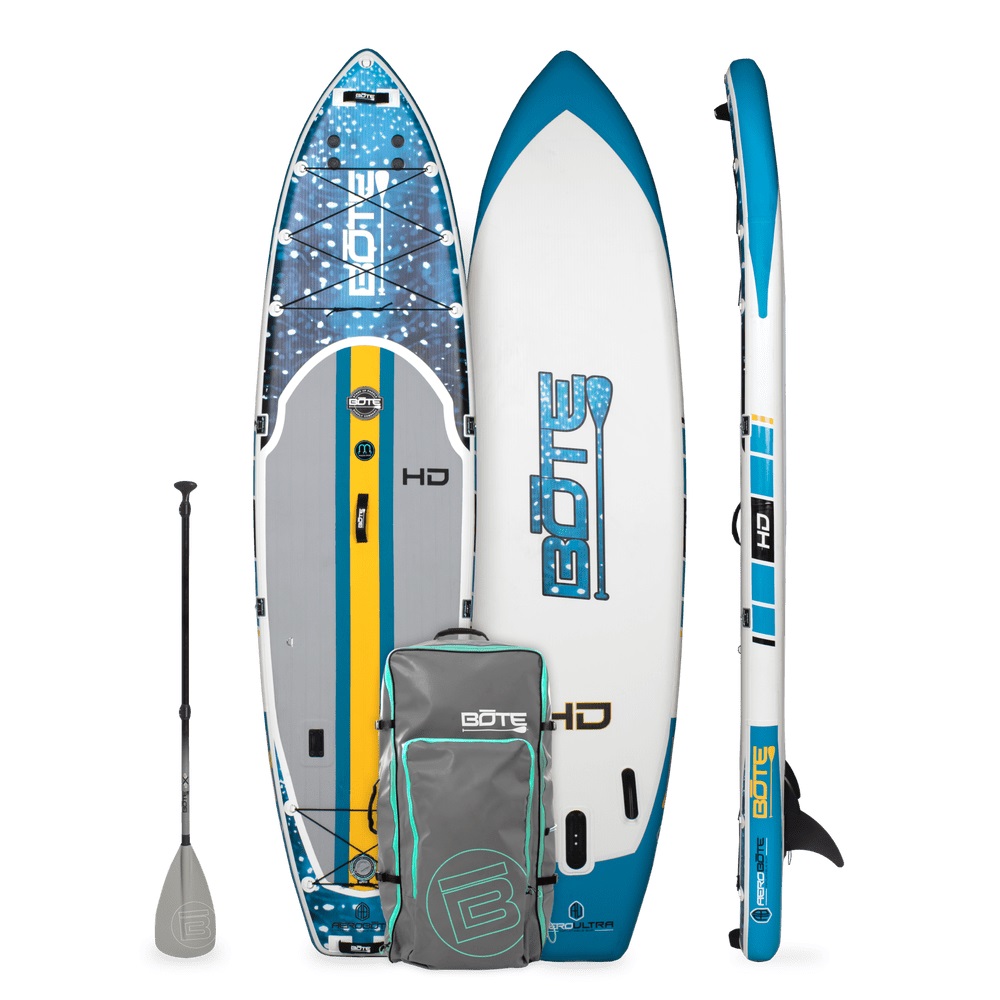 HD Aero 11′6″
COLOR: Native Whale Shark
SPORT TYPE: SUP PADDLING
Great for Stability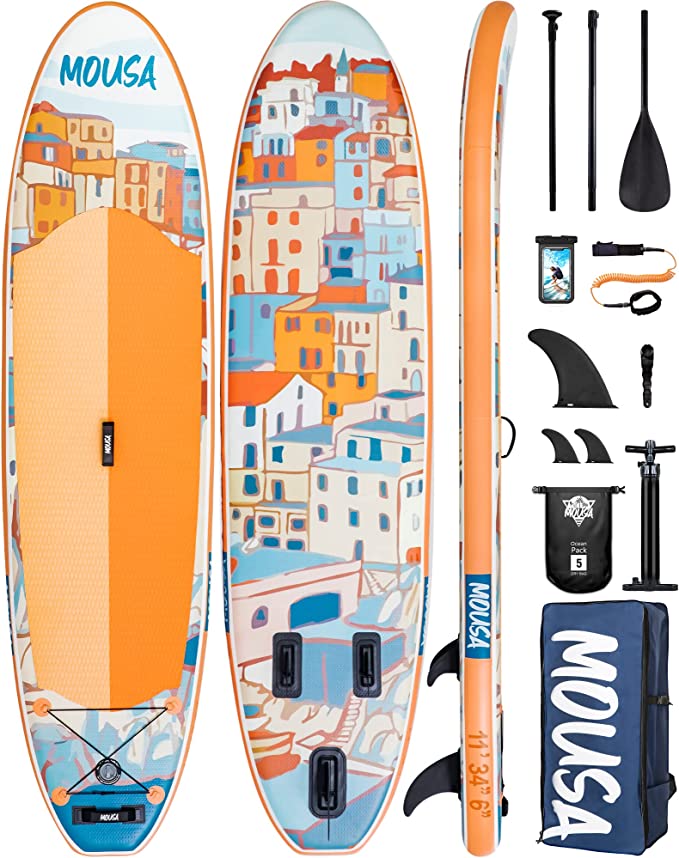 Mousa Inflatable Paddle Board
COLOR: RED TERRE
SPORT TYPE: SUP PADDLING
Ultra-Convenient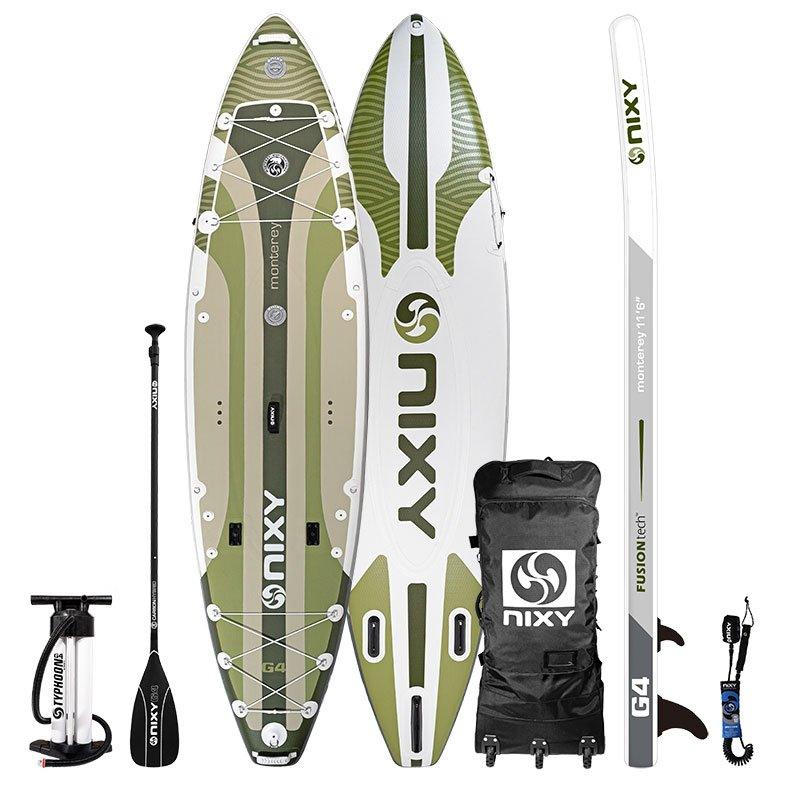 MONTEREY G4 EXPEDITION
Color:

Aqua

Sport Type: SUP
Best for Environmentalists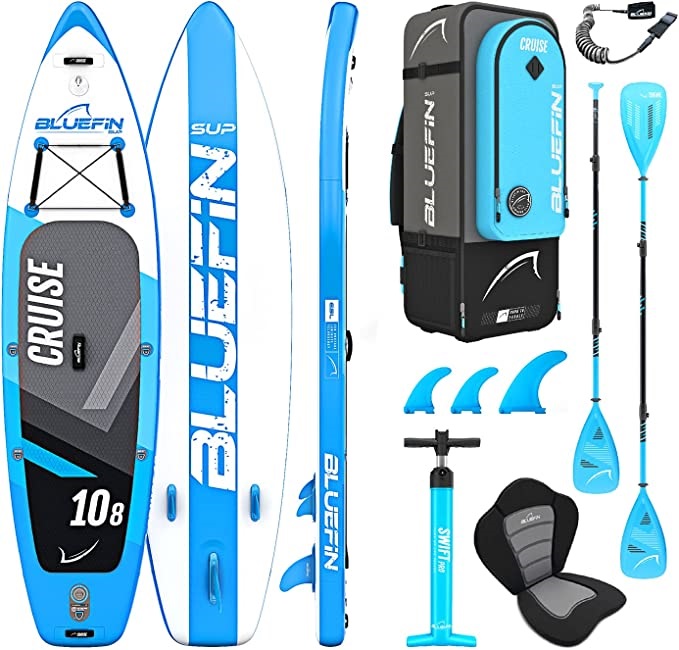 Bluefin Cruise
COLOR: BLUE
SPORT TYPE: SUP
Sturdy Construction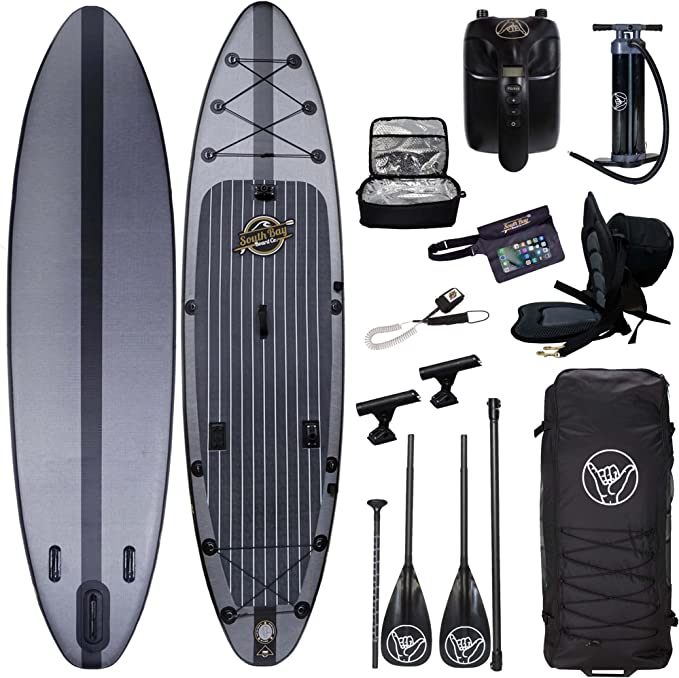 South Bay Board
Color: Carbonfiber
Sport Type: SUP
Our Top Picks for Best Fishing Paddle Boards
Ahoy! You've traversed into the REI paddle board aisle, and you're looking upon choices, upon choices, upon…. you guessed it: choices. So what's a fisherman (or fisher lady) supposed to do? Review my top eight fishing paddleboard choices, of course!
The good news is that every item on my list has been thoroughly vetted and tested, so you really can't go wrong with any of these bad boys.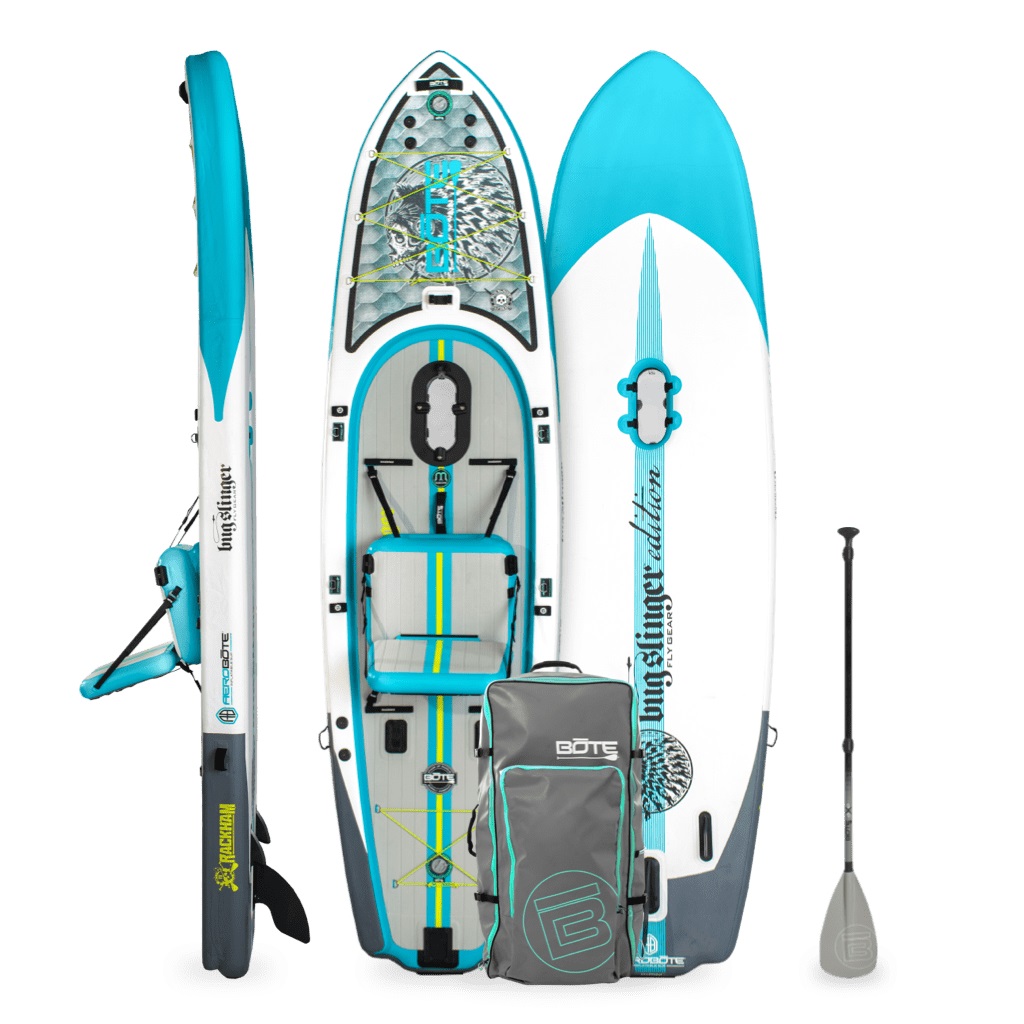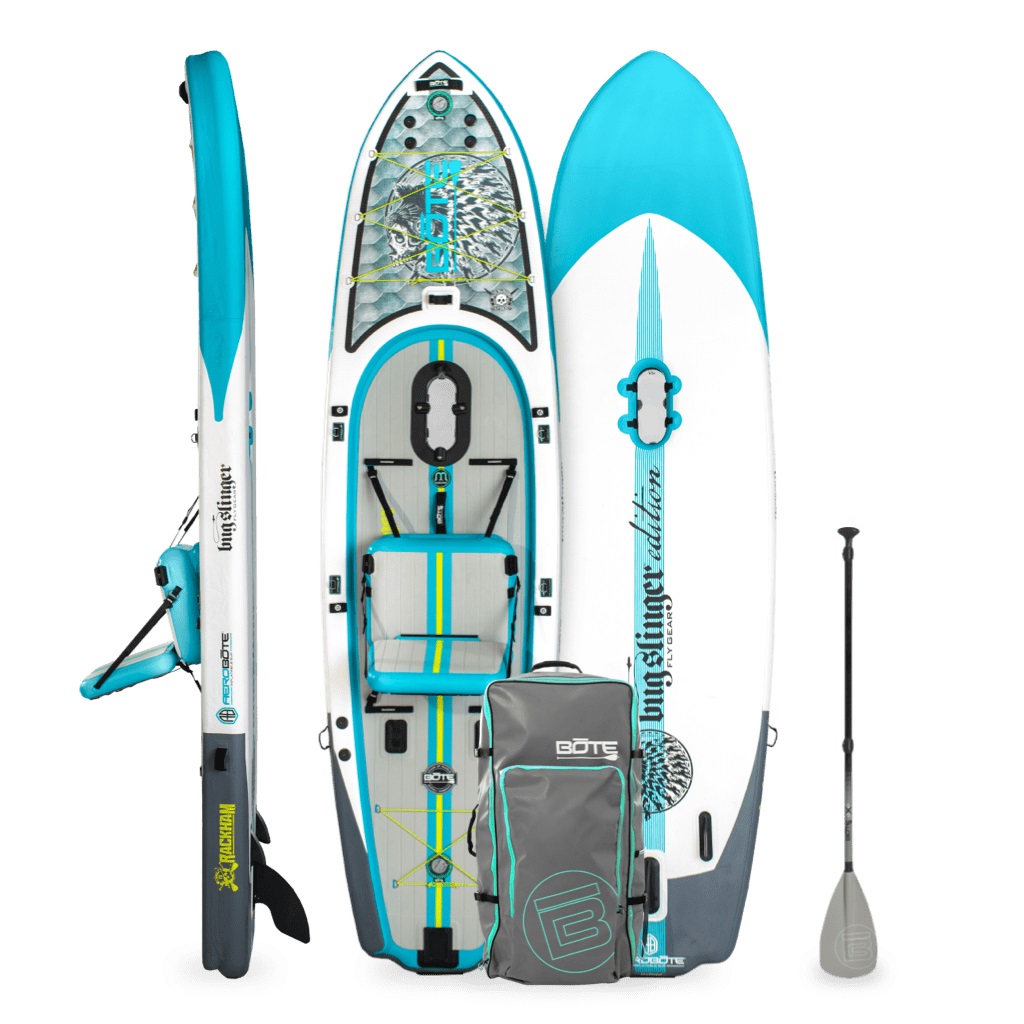 BOTE breathes innovation into its impressive hybrid Bug Slinger by allowing anglers to use this board as both a stand-up paddle and a sit-on-top vessel for superior movement and versatility.
The Slinger achieves this by introducing a patent-pending Aero Paddle Seat technology, custom-built to shift from a stand-up paddle board to a sit-on-top kayak. (You can check out the differences between paddleboard vs. kayak to decide which suits you better).
The ​Bote Rackham Aero has gone over the details of this product with a fine-tooth comb; almost everything is accounted for to ensure a pleasant, easy journey. And rubber kick-up rudder promises no damage to your rudder when wading through shallow or rocky waters.
F​or performance, the board's recessed deck wideness makes for a stable ride, and its lighter weight means you can wield this boat alone without anyone's help. What does this mean? A solo fishing adventure!
Who needs cupholders when you have magnets?
The Bote Rackham Bug Slinger employs powerful neo-magnet technology to keep your drinks firm on the vessel's floor so that no gusty winds or punchy waves can release its grip – unless you pull.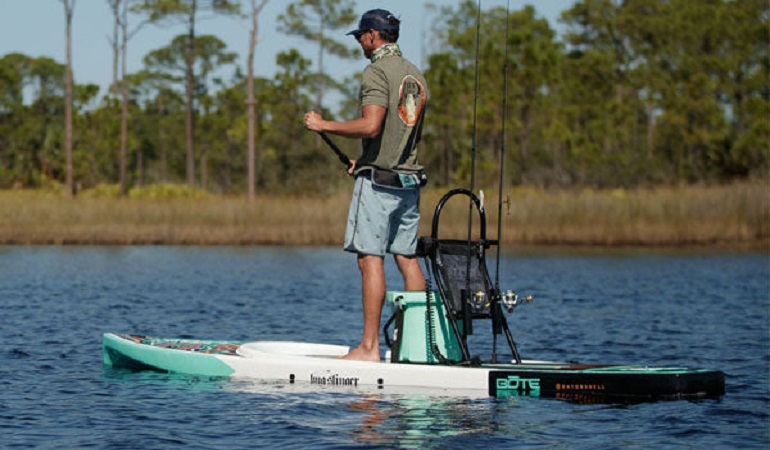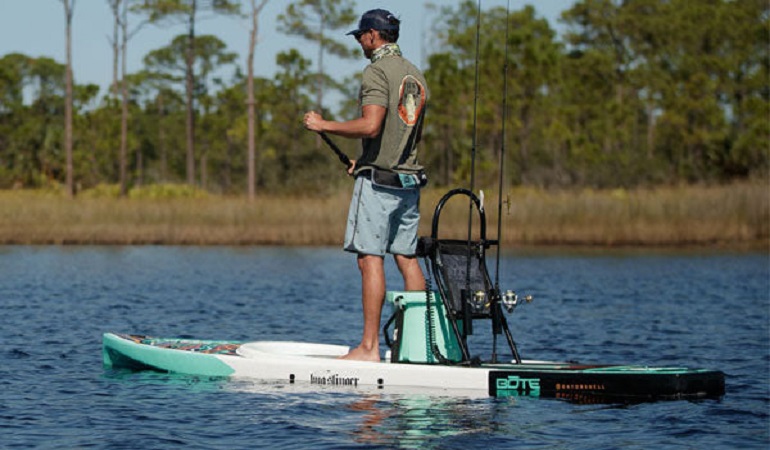 For all you paddlers with a need for speed, Bote Rackham Aero's got you covered. Their bug slinger is compatible with the APEX Pedal Drive + Rudder System, which allows you to jet through the water. However, bear in mind this accessory is sold separately.
Be prepared to bite down on a whopper price tag; this model costs more than 1500 dollars. And, with so many fancy add-ons, it begs the question: at what point is this just a kayak and not a stand-up paddle board?
Features 
Capacity: 400 lbs
Avg. Weight: 45 lbs
Construction: Inflatable AeroULTRA Technology
Pros
A wide board makes for greater stability.
Most Bote boards are compatible with add-ons and more accessories.
A rubber rudder means you won't pick up any damage in shallow waters.
Cons
This model is very expensive.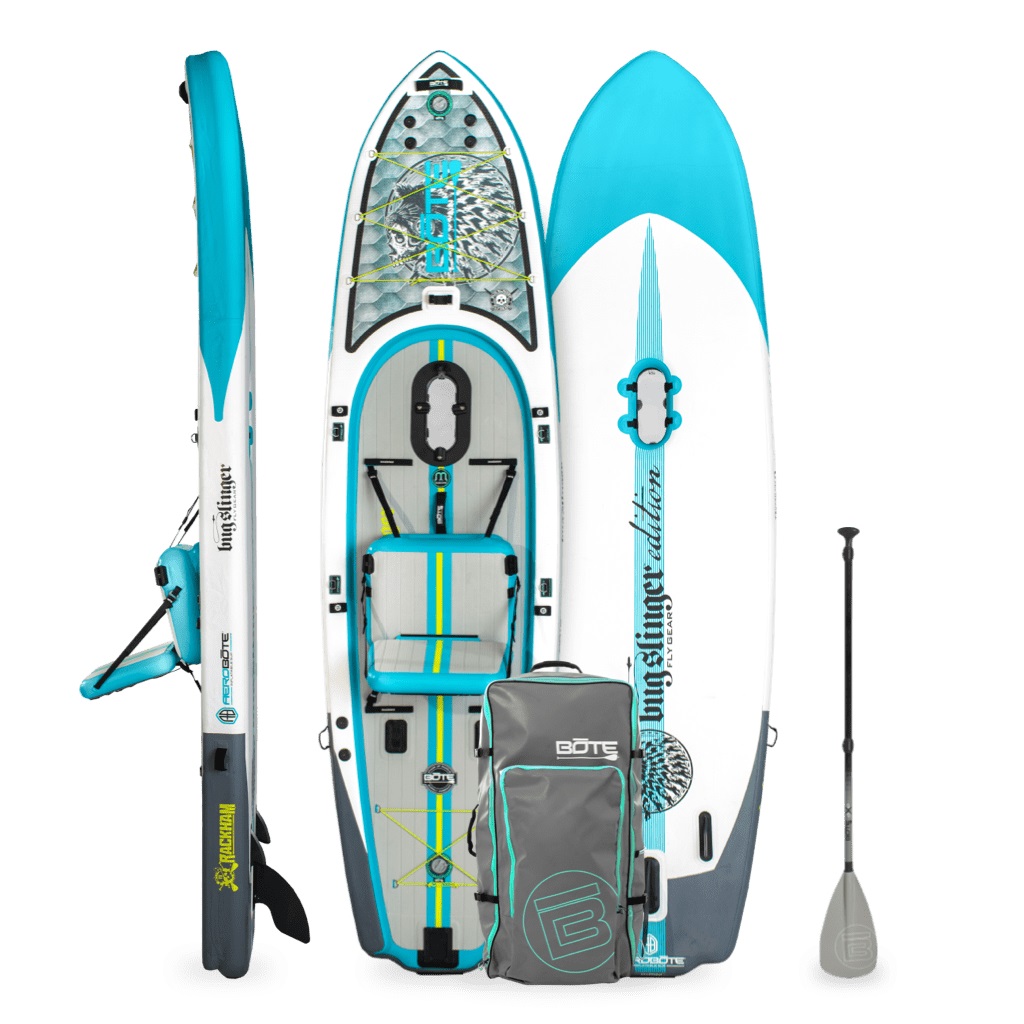 Rackham Aero 12′4″ Bug Slinger 
The price of "Rackham Aero 12′4″ Bug Slinger" varies, so check the latest price at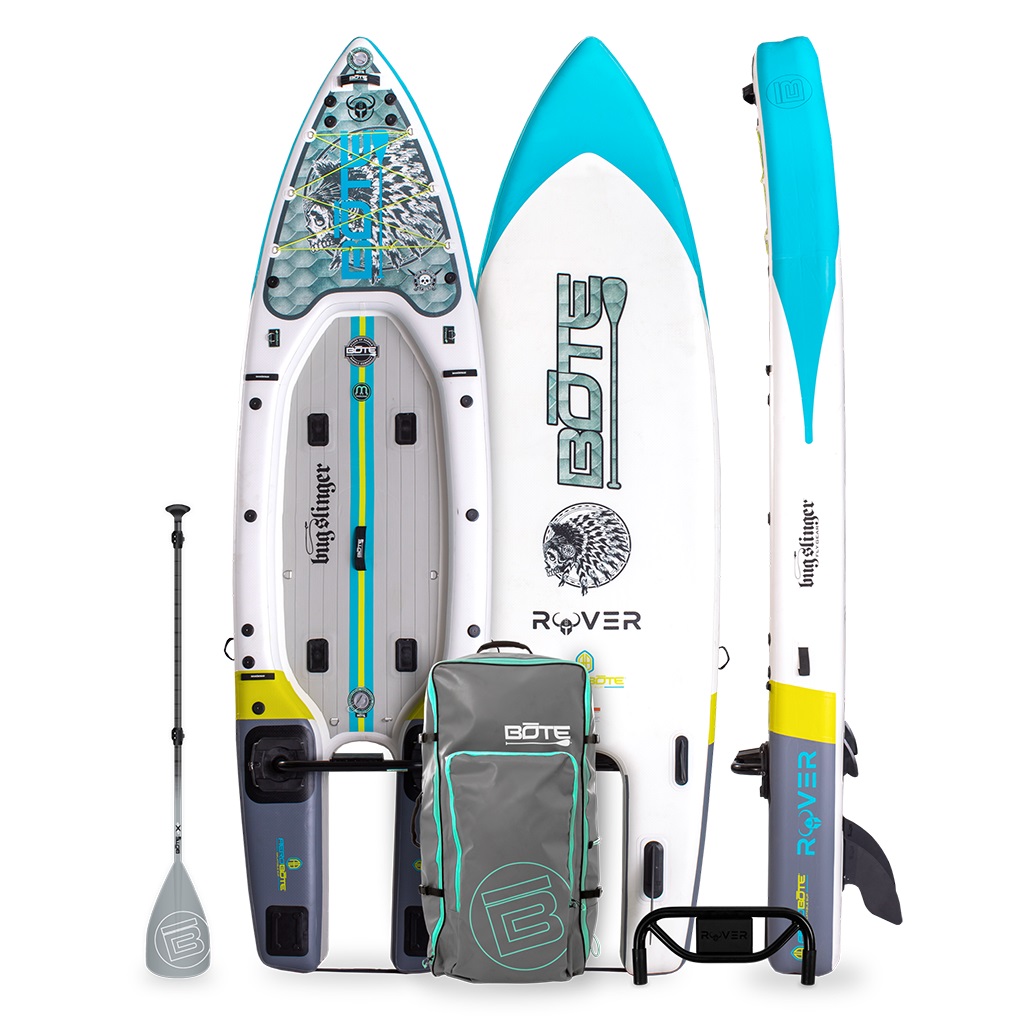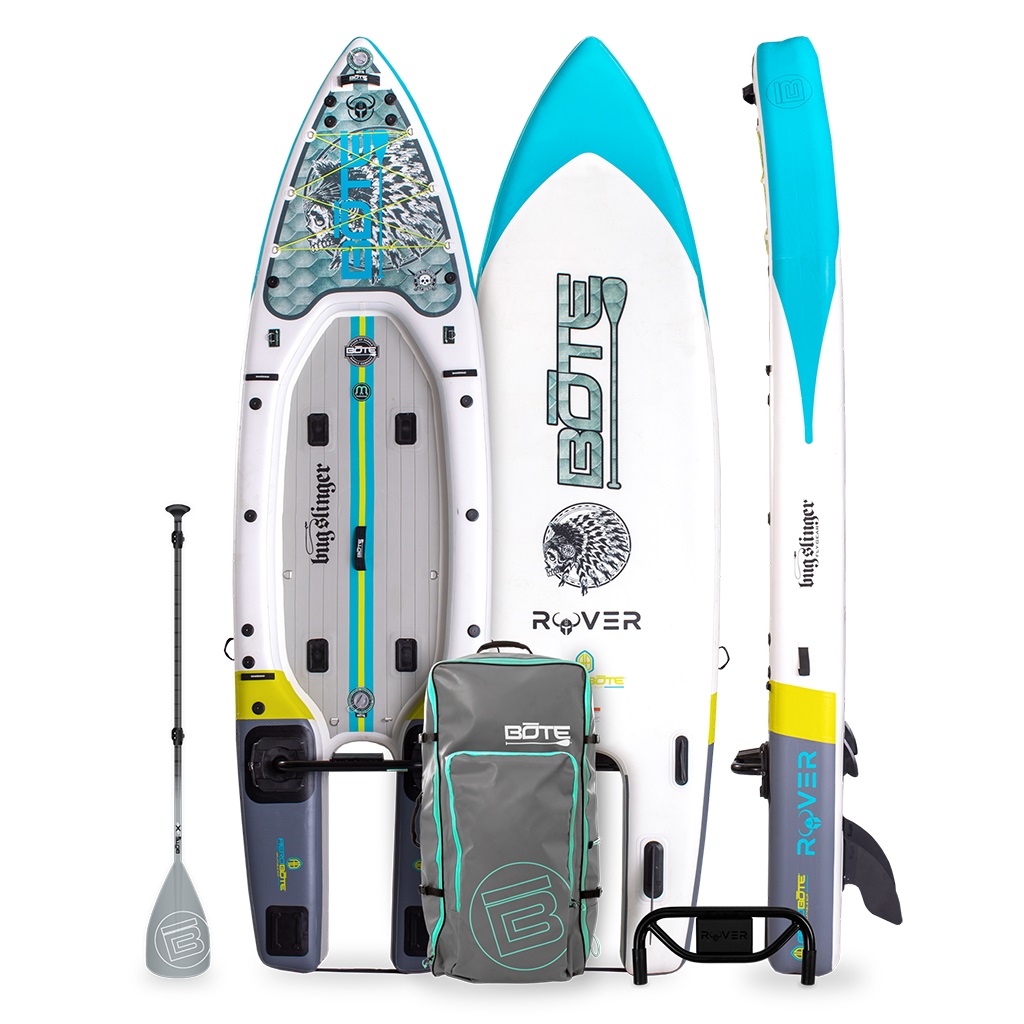 SUP fishing titan B​OTE's done it again with their flexible Rover Aero Bug Slinger. Hyper-durable with the ability to transform into different features, this Slinger's got everything a serious angler could ever want.
The Bote Rover Aero hybrid design makes you the ultimate predator. Don't get locked out of shallow waters when your fish swim away; cut the motor and whip out the adjustable paddle to pursue the ends of the earth (okay, ends of the waterway).
The hybrid design means that you get primo beach access. Why is that? While other boats struggle to both cut past choppy waves and pedal up to the beach, you can camp out and relax on the far less traveled path. So, if you're looking to find new places others can't get to, consider the Rover Aero.
Worried about tangling up your hooks and piercing your precious new Slinger fishing stand? Don't be.
By crafting their vessel with a military-grade PVC layer, the Rover Aero can thrash against demanding, hostile waters and still emerge unscathed.
Even though it's an inflatable paddleboard, it will feel like a hard sup once fully inflated. And the seams are quality and strong to handle rocks.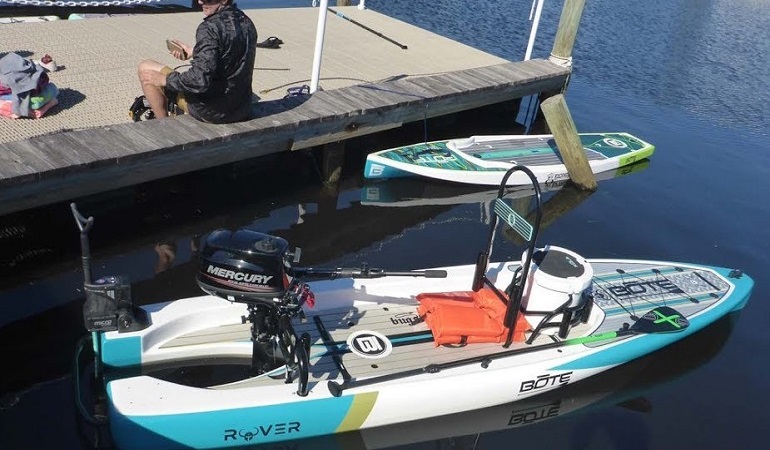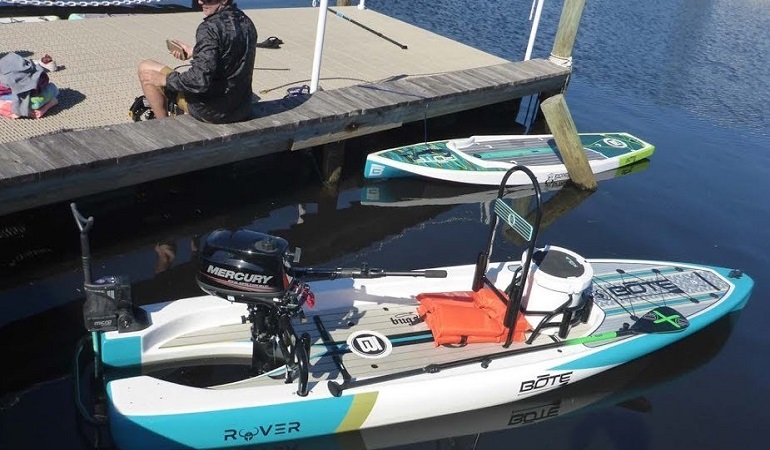 What's not so great about this model? It's not as user-friendly as it could be. For example, BOTE doesn't provide a manual for how much oil you should put into the motor, which can be dangerous. Additionally, I've found that the motor mount warps from too much heat
Features 
Capacity: 500 lbs
Avg. Weight: 63 lbs
Construction: Inflatable AeroBOTE Technology
Pros
The hybrid paddle motor design allows this boat to traverse in hard-to-reach places.
Military-grade plastics make this fishing isup extra durable.
An inflatable design ensures easy travel and transport.
Cons
The add-on motor isn't user-friendly.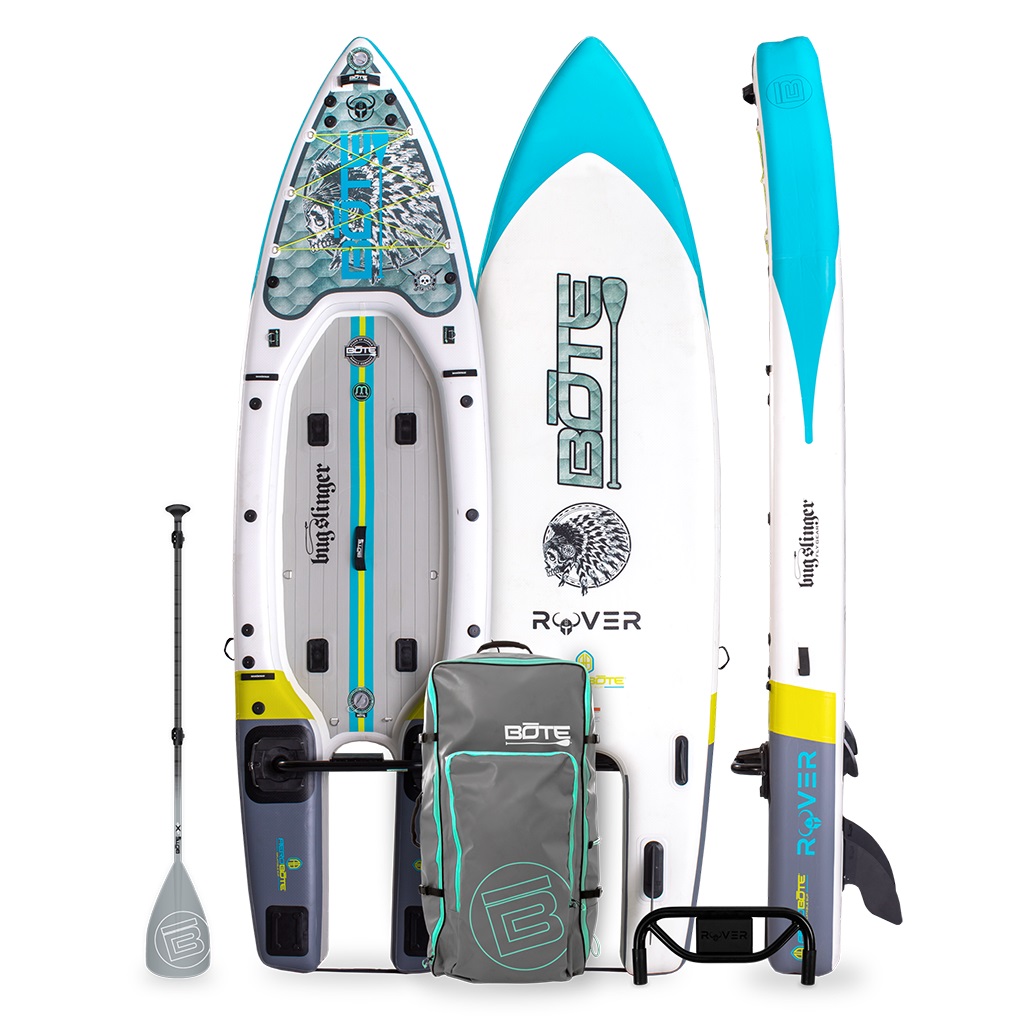 Rover Aero 12′6″ Bug Slinger
The price of "Rover Aero 12′6″ Bug Slinger" varies, so check the latest price at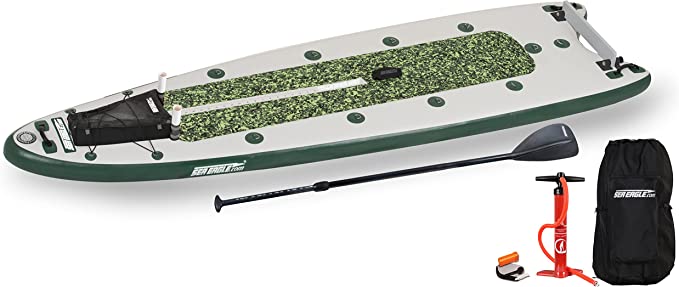 What do whales have for dinner? They eat fish and ships. Well, I have reservations about their full-course meal because I love my human fellows. Let me introduce you to the Sea Eagle FishSUP 126, a hunter of the stunning creature of the deep.
The moment I led my eyes on it, I decided to fork out the required amount just to hold my fork against the mouth-watering fish because I refused to get eaten by the whale.
The Sea Eagle board is the dream of every fisherman out there, as this stand-up paddle board has to offer terrific fishing gear. This inflatable paddleboard seems to be designed specifically for a fly fishing adventure.
Now, let's talk about its engineering. The tip/nose of the board boasts a vast area to safely store your bare essentials, saving your day literally. On the deck, you'll find the availability of four-rod holders to ensure a worry-free ride with pals. This way, you can bring multiple rods to this exhilarating journey.
It also features a ruler that can measure the fish and mock you for bringing tiny poor fish on board every time. For excellent buoyancy and superior stability, this board features a 1000 denier drop-stitch traction pad for optimum width and length, a wide-shaped back, and a pointed nose. One can also attach a SUP motor for speeds.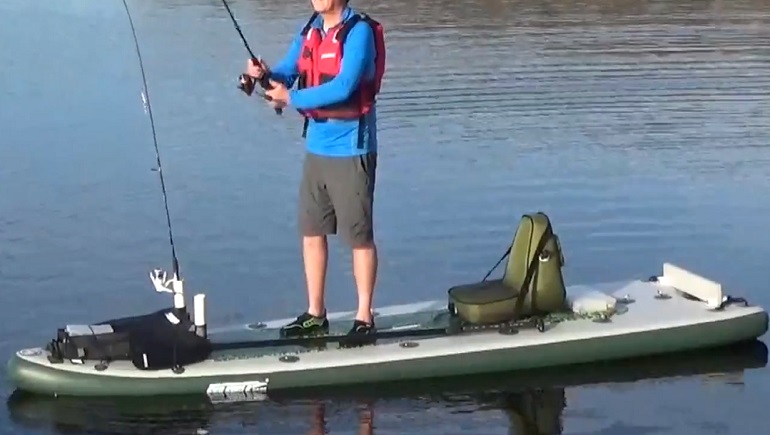 The board boasts 6 inches thickness which adds to its sturdiness and strength to bear the weight of 2 adults up to 500 lbs. If talk about the whole package, it involves two paddles (a single blade for stand-up paddling and a double blade for paddling when seated), a swivel chair, a paddle board dry bag for gear storage, and a manual double-action pump.
Features
Length: 12'6"
Width: 40.15 inches
Thickness: 6 inches
Weight: 44.09 lbs.
Max weight capacity: 500 lbs.
Pros
The board seems to be specifically made for your fishing tours, with its task-oriented engineering, the board has a lot to offer.
Cons
The company claims the board to be inflated within 7 minutes; however, in reality, it takes about 15 minutes with a double action pump.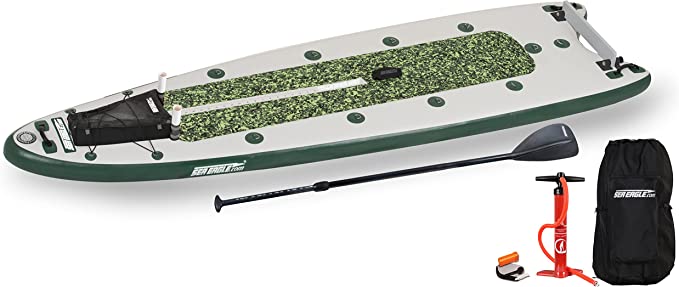 Sea Eagle Fish SUP 126 Inflatable
The price of "Sea Eagle Fish SUP 126 Inflatable" varies, so check the latest price at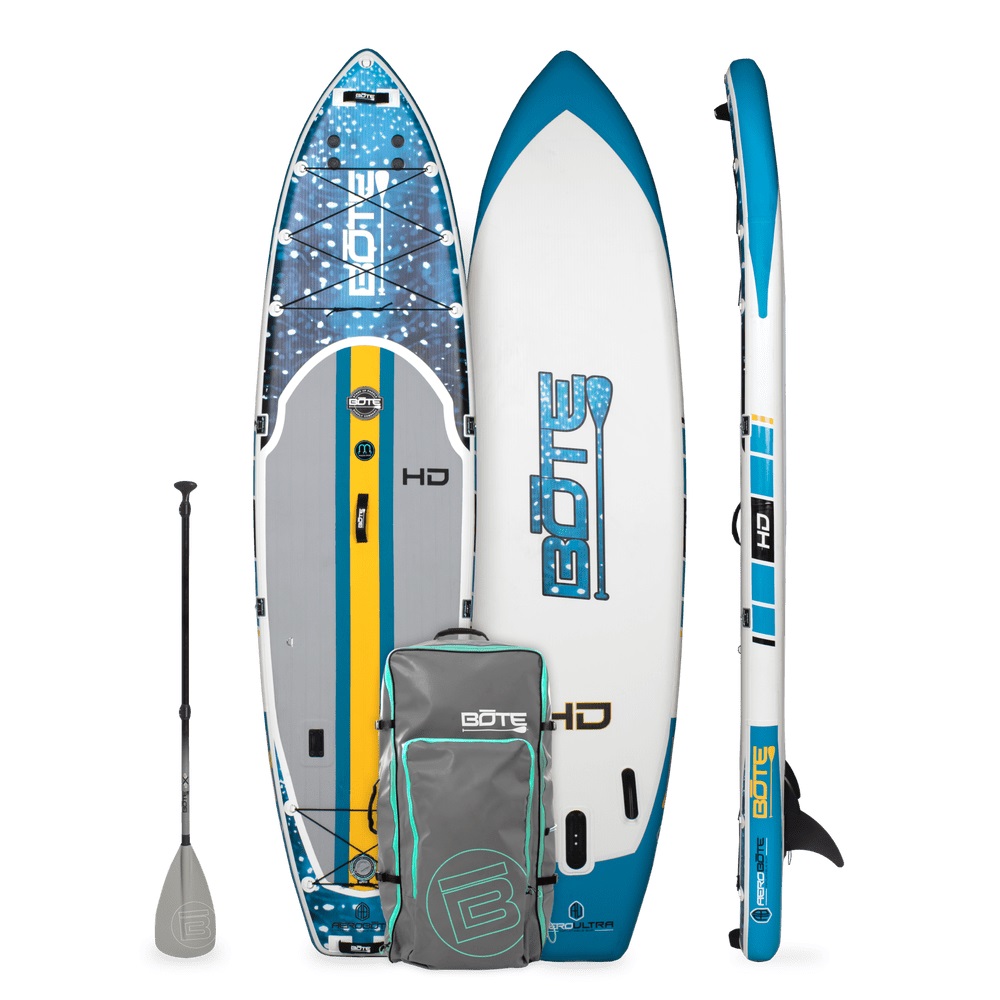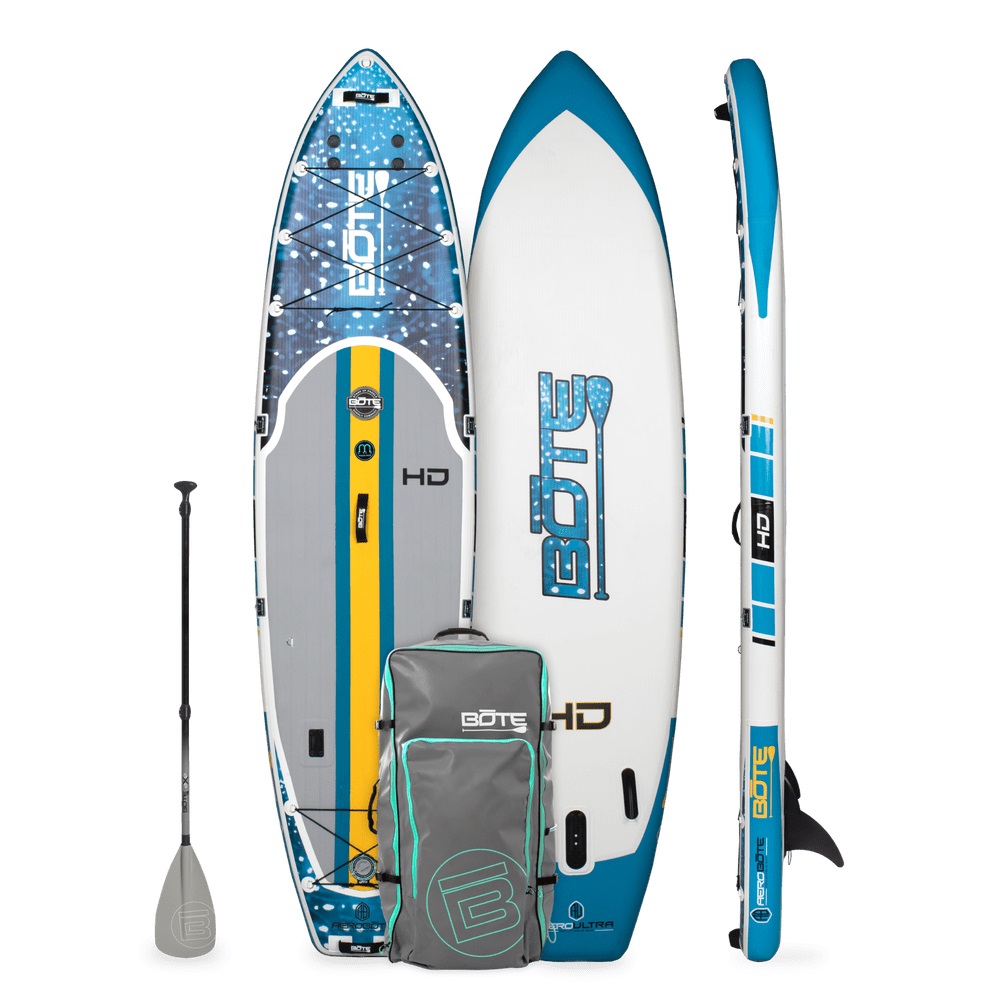 B​OTE makes my list again with their highly-portable Native Whale Shark board.
The entry rocker's engineering and HD Aero's extra width make it highly stable in different water conditions. That means it's a great pick for novice paddlers or if you're teaching a child how to paddle.
The Native Whale wouldn't be a BOTE if it didn't have its fair share of convenience. It doesn't disappoint. Built with the same magnetic technology as other BOTE models, the board's top allows you to stick your paddle anywhere for easy grabbing.
But the boat has other extra features, like tie-down points that allow you to lash paddleboard food coolers and other gear.
What's more? The Bote HD Aero stand-up paddle board comes with front, and rear bungees, grab handles, a shoulders trap (for long distances), a velcro paddle, and sand spear sheath equipment.
This all-around board is as safe as it is impressive; it's equipped with an anti-slip, BVA multi-textured deck pad that provides your toes with a cushioned, secure resting place.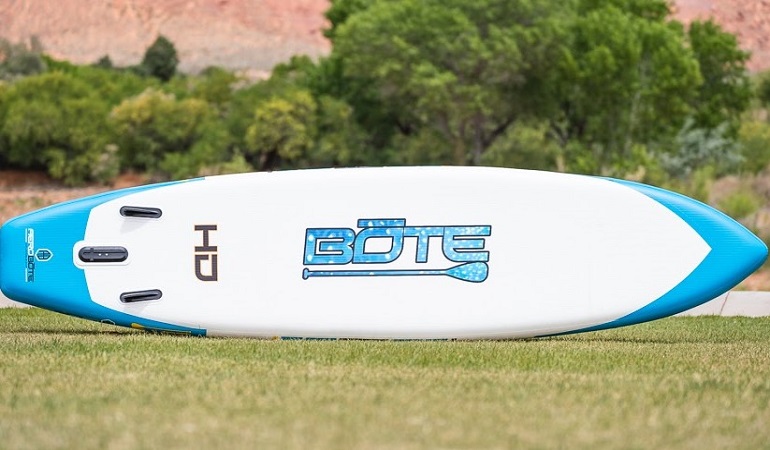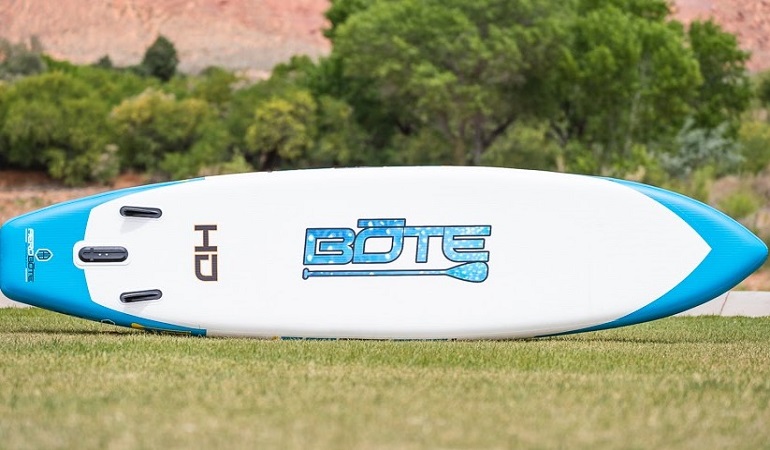 Like other BOTE products, these stable boards occasionally come with manufacturing problems. For example, some fisher paddlers I know had issues with the pump and its air output and leakage.
Features
Capacity: 315 lbs
Avg. Weight: 30 lbs
Construction: Inflatable AeroBOTE Technology
Pros
The large board makes it great for stability and beginner paddlers.
BOTE HD Aero includes plenty of accessories for a smooth ride.
Cons
This model is known for having problems with the hand pump.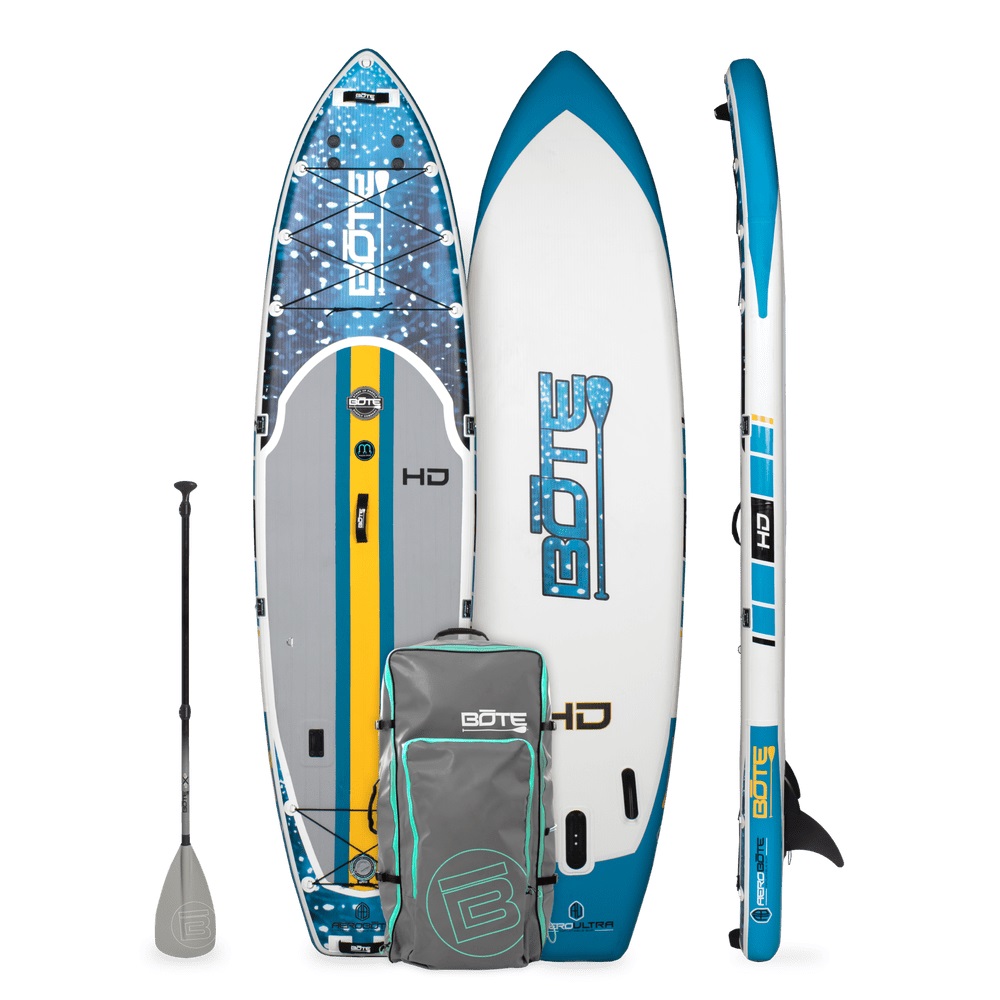 HD Aero 11′6″ Native Whale Shark
The price of "HD Aero 11′6″ Native Whale Shark" varies, so check the latest price at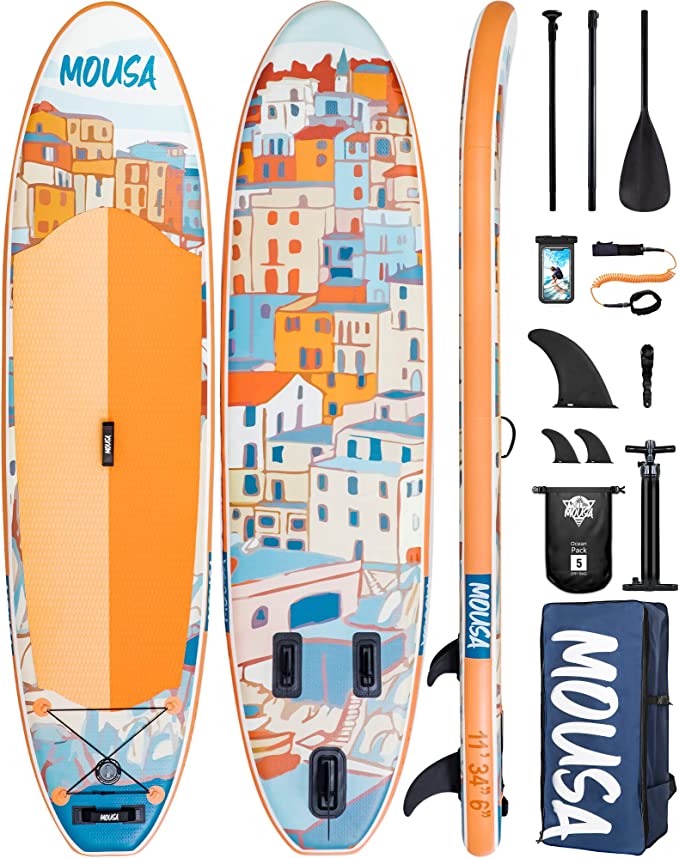 Are you sick of the wear and tear and corrosion of the boards you had bought before? And you are reluctant to buy a new one, but the tiny humans want to explore the waters with hues like emerald greens and turquoise blues?
Are you sick of the wear and tear and corrosion of the boards you bought before? And you are reluctant to buy a new one, but the tiny humans want to explore the waters with hues like emerald greens and turquoise blues?
Speaking of rivers, let me introduce you to the King of the river – Mousa Inflatable PaddleBoard. The board terrifically handles the lakes and rivers, owing to its sturdiness and qualities like UV resistance and corrosion resistance.
Despite being exceptionally low weight at 20 lbs, the board can handle up to a maximum of 330 lbs. At 34 inches, it is wider than many paddleboards on the market, giving you extra space for SUP paddling performance with much-needed stability.
This artistic board, with its attractive red terre color and terrific high-weight capacity, is a great option if you want to bring along your fishing partner. Besides being spacious, it is slip resistant. It comes with an aluminum paddle that is adjustable in length but doesn't offer a kayak paddle. Neither does the board features any kayak conversion kit.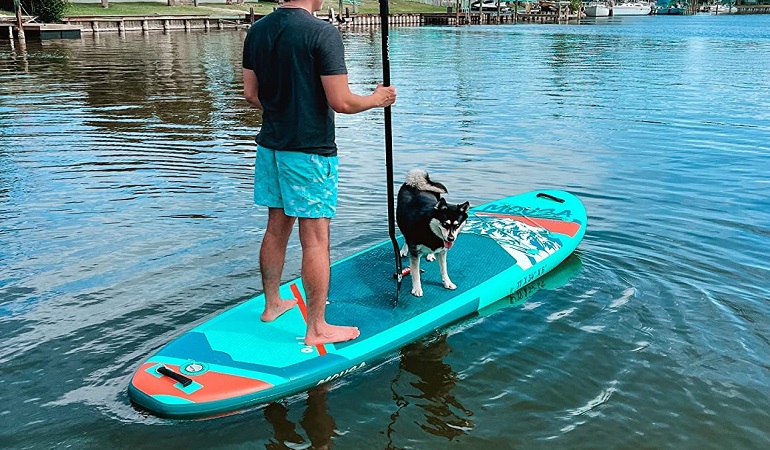 If we talk about additional accessories, this all-around board boasts 5L waterproof backpack for storage, three fins (removable) for directional stability, a double-action fast inflating pump, a waterproof mobile phone cover, and a leash.
Features
Length: 11′
Width: 34 inches
Thickness: 6 inches
Weight: 20 lbs.
Carrying capacity: 330 lbs.
Pros
The exceptionally light weight board is easy to carry to travel spots.
Cons
Mousa inflatable paddle boards for fishing do not offer kayak conversion kits.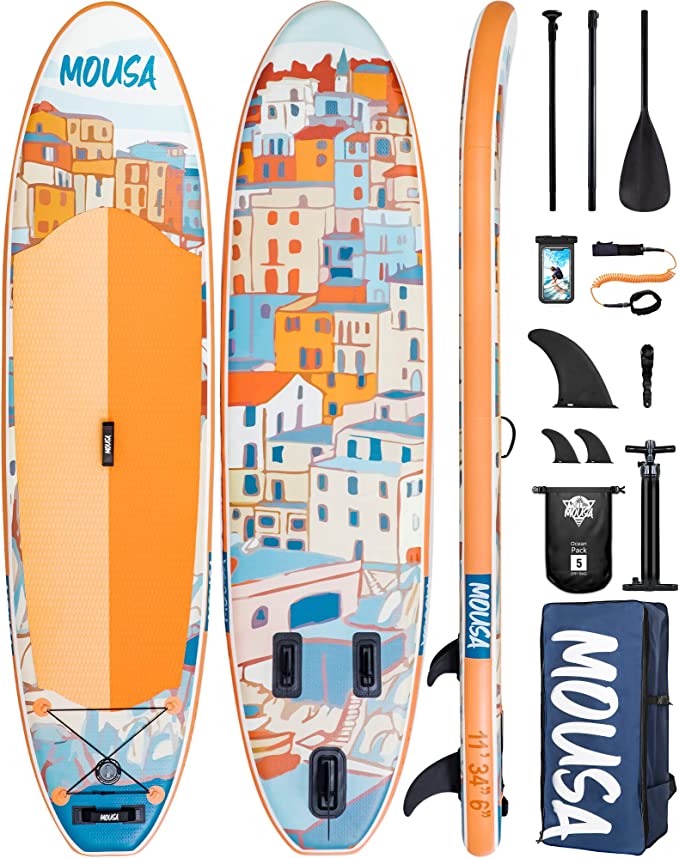 Mousa Inflatable Paddle Board
The price of "Mousa Inflatable Paddle Board" varies, so check the latest price at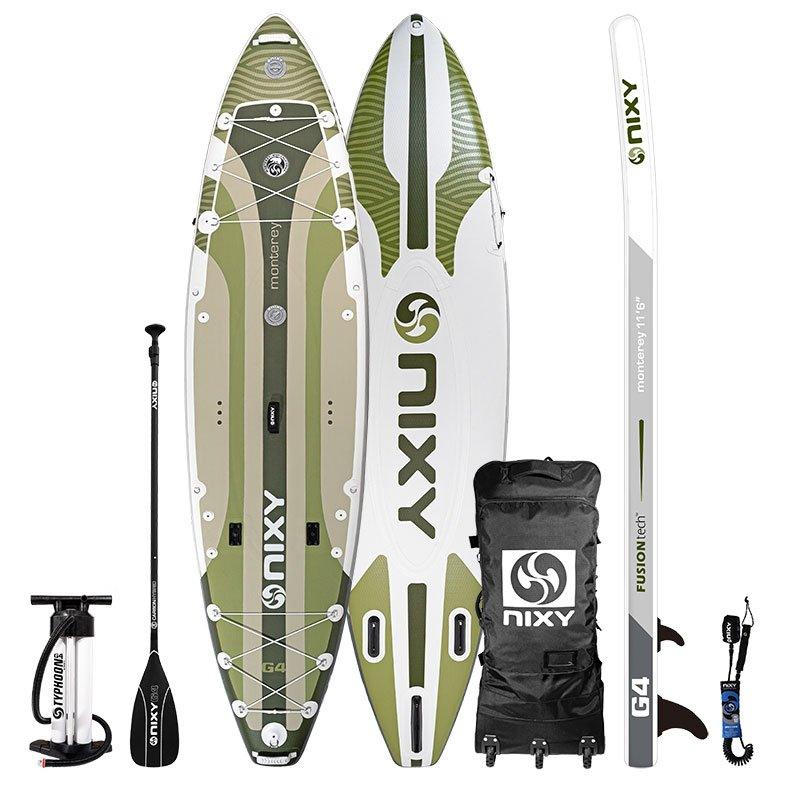 Designed with beginner paddlers in mind, the Monterey is an ultra-lightweight, super-transportable board with hearty materials and thoughtful designs.
Sturdy action mounts allow you to easily clip on cameras, fishing rods, cup holders, and more. Edges are polished in carbon fiber, which further protects your vessel.
Meanwhile, a nonslip tracking pad boosts safety and comfort. Grab handles are strategically placed on multiple high-action points like the nose and tail for better use, and paddle holders ensure that your oars are only in the way when you need them to be in the way.
Don't be turned off just because it's an inflatable; an included hand pump makes for an easy inflate and deflate process.
Now for the bad news. I've spoken with some anglers who lament about the traction pad and how it does not line up with the D-rings. Sure, this won't make or break your experience, but it's enough to raise a few eyebrows regarding the company's quality control.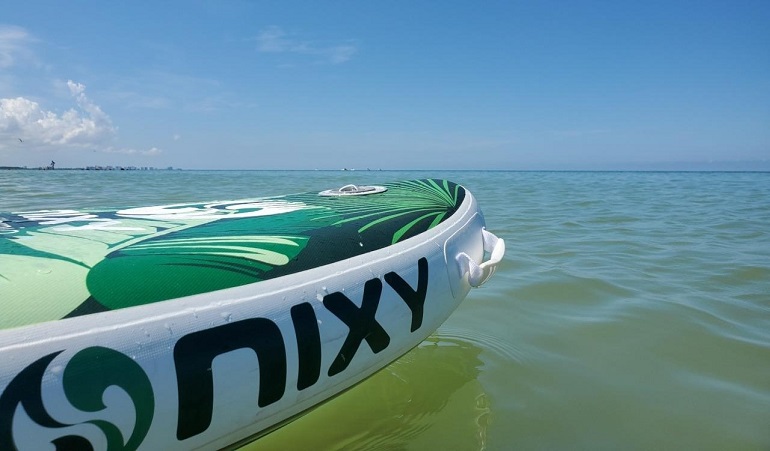 Ultimately, the Monterey G4 Expedition Paddle is one of the best fishing iSUPs because of its lightweight body and thorough designs. Plus, who can say no to a quick inflatable?
Features
Capacity: 400 lbs
Avg. Weight: 25 lbs
Construction: advanced FusionTech dual-layer laminated woven drop stitch
Pros
There are plenty of action and camera mounts to clip on cameras and other accessories.
These fishing sups have many grab handles for easy moveability.
Cons
Sometimes the model doesn't line up the trackpad with the extra D-rings.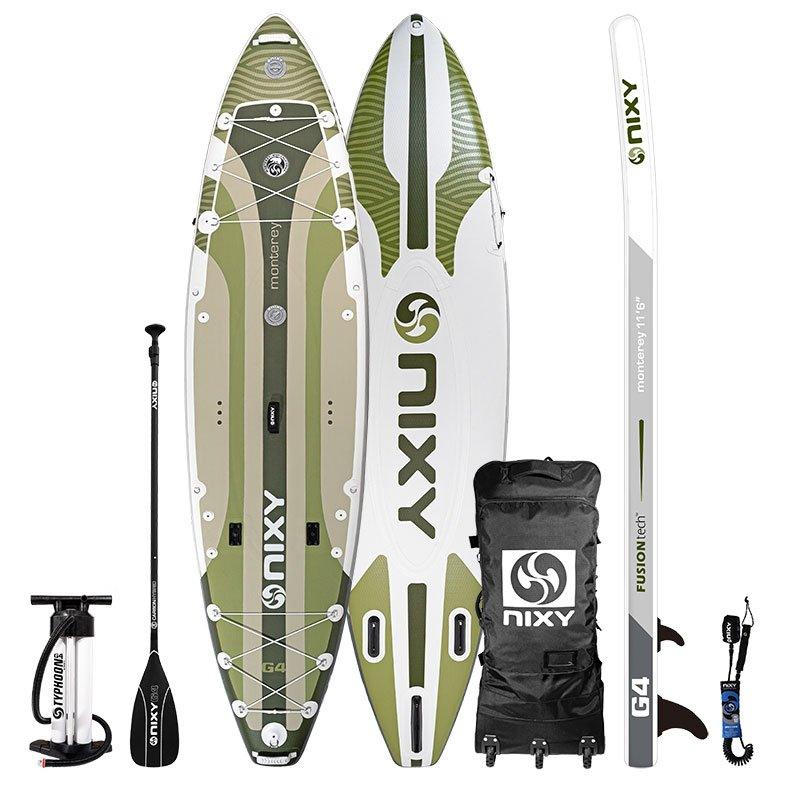 MONTEREY G4 EXPEDITION PADDLE BOARD
The price of "MONTEREY G4 EXPEDITION PADDLE BOARD" varies, so check the latest price at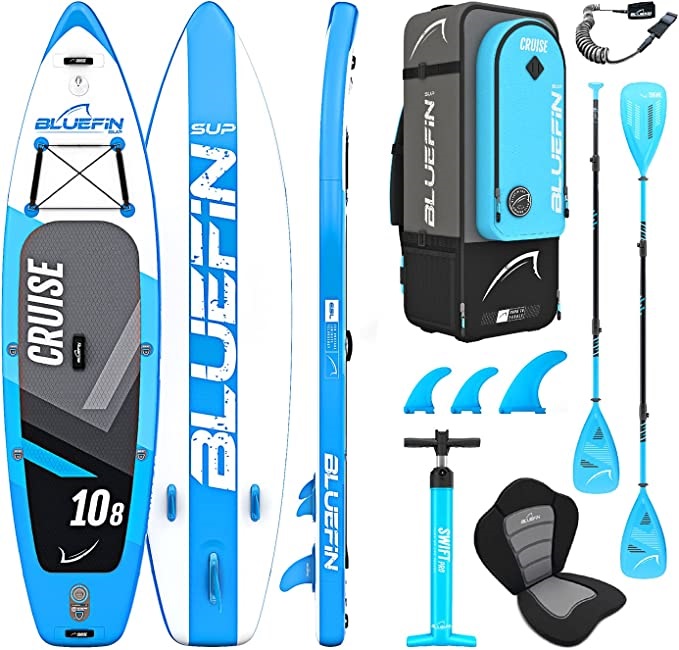 Bluefin Cruise SUP is a great choice for its versatility as it can go with any style, be it any fishing adventure. It means you can have different paddling adventures as it features fins and advocates better tracking and stellar stability, courtesy of its ability to get pumped up to 28 PSI. This particular capacity of this inflatable stand-up paddle board makes it exceptionally rigid and sturdy.
This inflatable fishing SUP offers an optimum length of 10 feet 8 inches for 2 persons to stand on, along with its 33 inches of width and 6 inches of thickness. Its spaciousness allows you to do SUP fishing easily without making your board feel poky. And please don't worry about slipping while saving the fish you did catch, the deck pad is as secure as Fort Knox.
The Bluefin Cruise SUP package features a fiberglass two-piece paddle as lightweight as a feather, making paddling an easy task for you. Also, it comes with a double-action pump for inflation and deflation, a coiled leash, an inflatable kayak seat, and a dry bag for storage.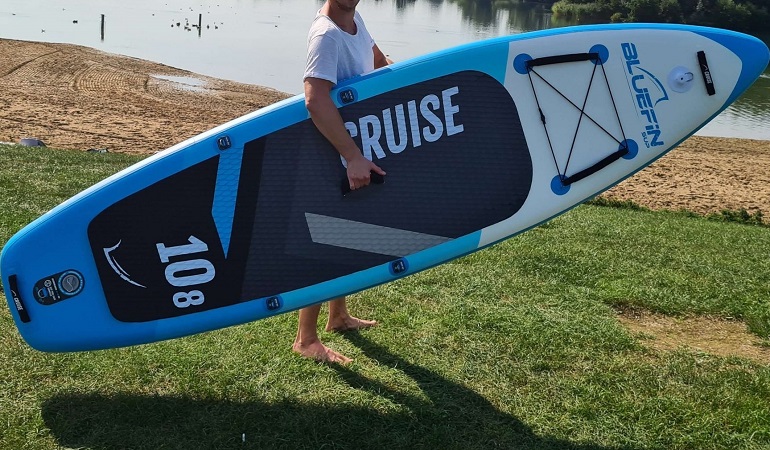 Speaking of storage, let me introduce you to its storage area near its nose. It is equipped with D-rings for better safety and security.
Features
Length: 10'8"
Width: 33 inches
Thickness: 6 inches
Weight: 38.8 lbs.
Carrying capacity: 287 lbs.
Pros
This effortlessly controlled inflatable board has a lot to offer. Besides just fishing, it can also allow you to kayak in white water or SUP paddling in angry or flat waters. How versatile!
Cons
The board doesn't come with fishing rod holders.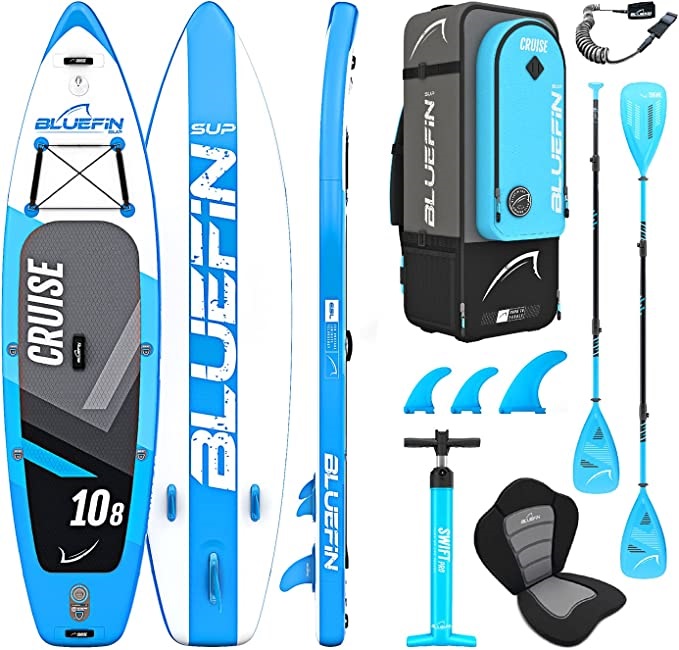 Bluefin Cruise SUP Package
The price of "Bluefin Cruise SUP Package" varies, so check the latest price at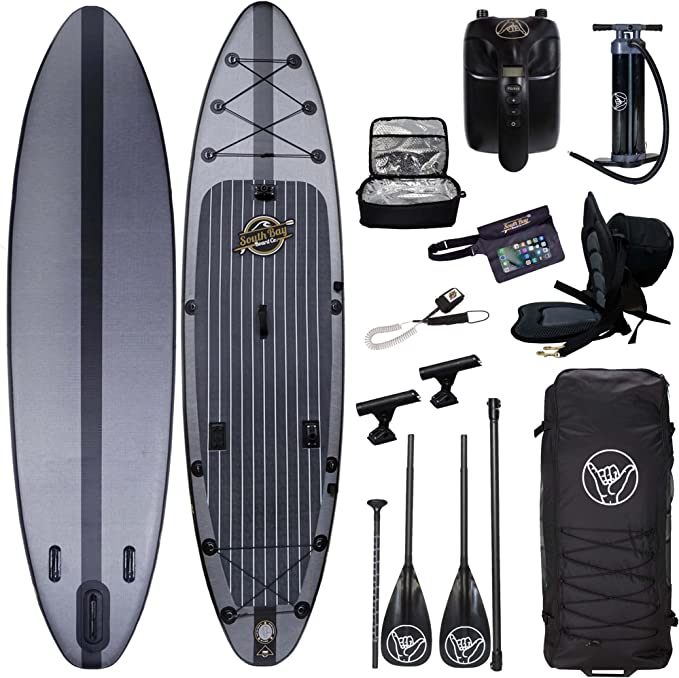 The most exciting feature about the South Bay Board is its size: the board utilizes a broad and round nose that makes it super easy to cut through the water, while a siphoned wide chest doesn't compromise on stability and balance.
South Bay checks off its boxes regarding materials and construction: It uses a heavy-duty, Military Grade PVC frame with robust heat-welded seams and a durable drop-stitch for construction you can trust.
The trackpad is wax free, making it even more sturdy for your balance. Additionally, the board also supports 450 pounds, making it an ideal fishing iSUP as you can bring all the gear you need for a perfect day on the water.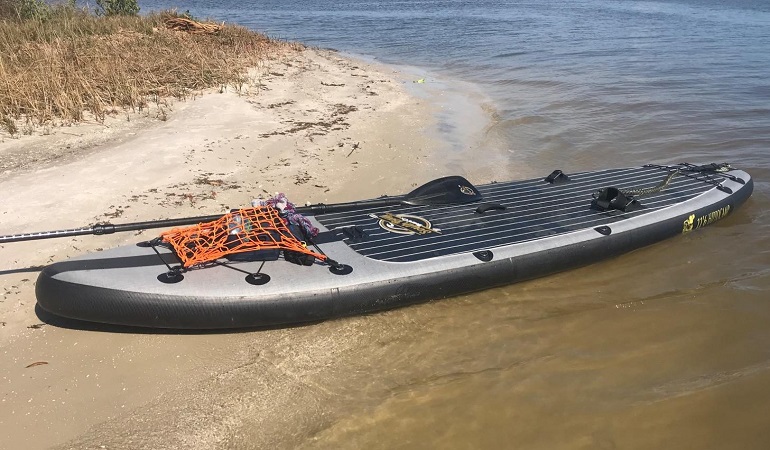 The actual space to stand could be lengthened as it doesn't give you much room before you stumble upon cords and rope. Like all inflatables, it can be challenging to inflate fully.
Features 
Capacity: 450 lbs
Avg. Weight: 50 lbs
Construction: PVC/Nylon
Pros
The board has superb construction.
The traction pad is wax-free, which aids in balance.
Cons
The board could be elongated to make casting much more convenient.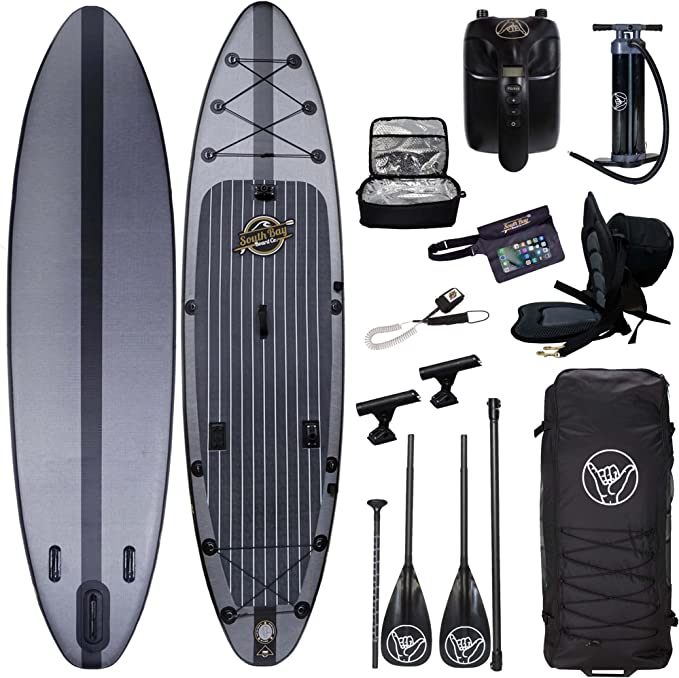 South Bay Board Co. – 11'6 Hippocamp
The price of "South Bay Board Co. – 11'6 Hippocamp" varies, so check the latest price at
What Constitutes a Great Fishing Paddle Board?
Fishing paddle boards are slightly different from your regular, Joe-schmo paddle board. The biggest difference is you need it to be large enough and possess a high enough weight capacity to bring your gear (and yourself!) without capsizing.
You also want to prioritize boards with add-ons that allow you to strap on a cooler, rods, and other gear or ones compatible with a rack, fishing rod holders, and other fishing gear.
A repair kit is always a good idea, too, so that you can easily patch your fishing paddleboard if things go awry mid-adventure.
Check out other must-have features to get a fishing paddleboard that really shines.
Weight Capacity
The fishing spot for a paddleboard weight capacity is finding a board that is not too heavy itself with one that can handle as much weight as all your gear will bring.
Naturally, a fishing SUP will force you to be much more careful about what you bring and what you leave at home.
Still, some boards will surprise you with their maximum capacity. If you scanned my list of top picks, you'd find some boards that can hold a few hundred pounds, with some of them up to 400 pounds. And if you're looking for even more weight capacity, some long paddle boards can go up to 700 pounds.
But remember to take a board's weight capacity seriously. A board will sink if you bog it down with more weight than it's designed to handle.
And, what's also important: if you cut the weight capacity too close, you'll notice a difference in your board's speed. When boards are too weighed down, they become sluggish and difficult to navigate.
Therefore, you must be honest with yourself about what you need in a boat's maximum capacity. And it's equally vital to commit to the weight capacity and leave all those extra rods and double coolers on land.
Looking for a companion? You can also buy a 2-person board to double the fun! Just make sure you buy a board with proper two-person weight capacity instead of just trying to squeeze another rider onto your single board.
Fishing Mounts/Equipment Compatibility
Nowadays, when you buy a paddle board, you can outfit it with different equipment and accessories to transform it from a simple board to basically a motorized vessel.
If you don't want to get all that fancy, no worries. But at the very least, you should consider buying a fishing rack to make your life a little easier.
And if adding a trolling motor, swivel seat, storage compartment, rod holders, mounting points, and more fishing gear does sound up your alley, make sure to buy a board that has attachment points compatible with those modifications.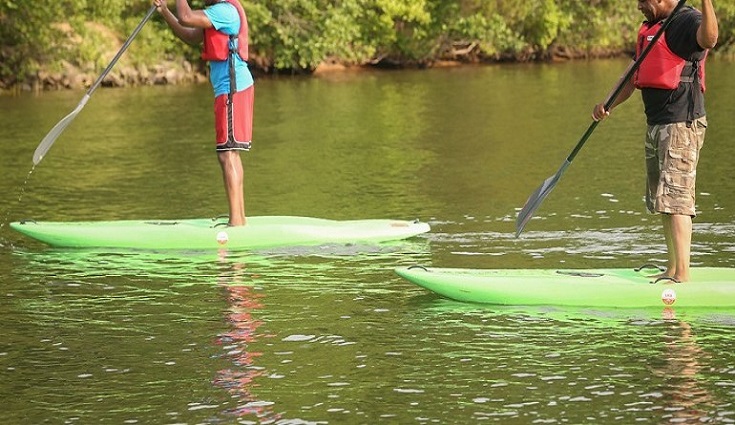 Stability
When browsing for your next stand-up board, you really are looking for one thing and one thing alone: enough stability. It's hard enough to balance upright when paddling through rolling waves, but it's even harder if the paddle board is too narrow or designed incorrectly.
This is, even more, the case when you're using a paddle board for fishing. Between the swelling excitement and adrenaline, you feel coursing in your veins while you're reeling in your next catch to bending down to open your cooler, you need a board that won't flip you over with the slightest movement.
Make your life easier and find a board with great stability. For this, board width is your bread and butter. You want to be looking in the 11-inch width range.
Whatever you do, don't buy a board under example inches, or you can resign yourself to swimming next to your board instead of standing up. You can also add stability to any fishing sups by installing paddle board outriggers.
But, like anything, there's a downside with boards that are too wide. The more width you add to your board, the slower it will be. This is also the case if you install outriggers.
Still, if you're just learning the sport of stand-up paddle boards and are looking for slow and steady – especially when you're about ready to catch a fish, being slow may not be that bad of an idea.
Deck Pad
A life jacket (personal flotation device). A repair kit. Deck pads. What do all of these fishing gear items have in common? Safety, safety, and safety.
Sure, a life preserver is probably most important regarding safety, but don't underestimate the importance of a nonslip deck pad. A proper full-length deck pad will keep you upright. And if you're new to using stand-up paddle boards, you'll need all the help you can get.
When you're out on the water, fishing sups can get really slippery. Ideally, buy a full-length deck pad with marine-grade plastics to ensure that it will be durable and long-lasting, and as nonslip as you can get it.
Paddle
I can talk about boards until I'm blue in the face, but the truth is a wonky paddle can break even the best fishing paddle board.
Some beginner paddlers think that every paddle is the same. Hardly! Length, material, and blade type all differ and give different results.
Length is especially important as too long a paddle will be awkward to hold and awkward to use. Many paddlers I speak to say to take your height and add 8 inches to it, but I think the best is to add 10 or 12 inches.
When shopping for paddles, usually you'll choose between an aluminum paddle or a carbon paddle. Carbon paddles are typically much stronger and lighter but tend to veer on the expensive side. If you're looking for something more affordable, aluminum will get the job done but won't be as quality as carbon.
Now, let's talk blade types. A smaller blade is much easier to use as less weight makes it easier to pull and push back into the water. However, if you want to talk about sheer power and adding a little oomph to your journey, a bigger blade may be the right fit because it displaces more water per square inch.
And, before we move on, how can we forget about other accessories? Having a paddle pocket or paddle sheath on your board will make all the difference (instead of just throwing it on the board somewhere).
Warranties/Guarantee
There's no getting around it; if you buy a fishing kayak or fishing paddleboard online without trying it in person, there's room for disappointment. For example, you may find some features aren't what you pictured, or some materials degrade faster than the company asserts.
Make sure you buy from a reputable company with a warranty of at least one year. Many companies nowadays will offer two, three, or sometimes lifetime warranties.
Reasons to Use a Fishing SUP
Without a doubt, the best thing about a great fishing SUP is how silent they are. Their silence enables you to expertly stalk and catch fish using a fish finder, whereas other boats like kayaks or motorboats are so loud and obtuse that they easily scare fish away.
A​ fishing SUP with a removable center fin is also great because it tends to navigate tighter waterways much easier than other boats. As a result, you can pursue fish in places other fishermen struggle to get to, wiping away competition for a fish dinner tonight.
Without sitting down and paddling, you gain a better field of vision, making you a sharper angler. And standing up also gives you an advantage: when you stand above the water, you gain a vantage point that lets you see the fish near you.
And lastly, when fishing or fly fishing, you have more room to cast the line because of the large deck space area.
Tips for Maximizing Your Fishing SUP Performance
Hands down, the best way to maximize the performance of your fly fish SUP is to outfit it with an anchor and other super stable equipment.
Sometimes you want to park your fishing sups to catch the fish. At this moment, you want your focus to be on reeling in that next catch instead of worrying that the tide is slowly moving you away from your prey.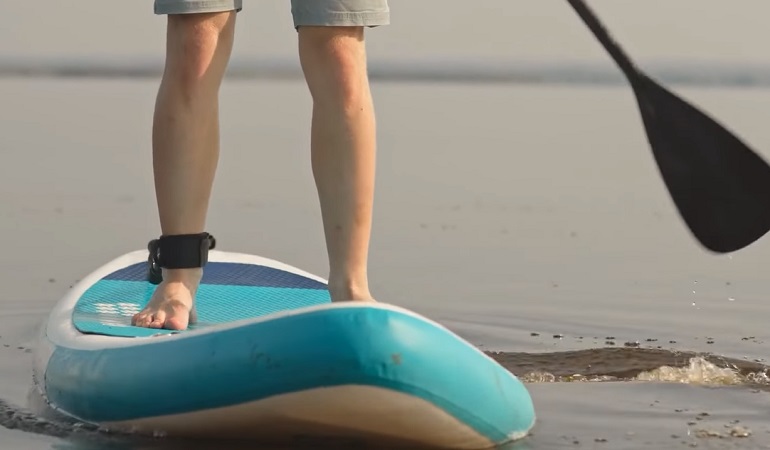 If an anchor isn't your speed, I've spoken with many fishermen who enjoy stake-out poles. Poles are a great alternative as they are deployed and are quiet enough that they won't scare fish away (like anchors sometimes do).
Other great fishing accessories are leashes; paddle leashes are designed specifically to keep your paddles secure, but using them to strap down your coolers and rods isn't such a bad idea.
Getting a SUP with a place to leash down a cooler is also paramount. Sure, a cooler is vital for fishing, but it's also important on a stand-up that you have a place to park it. Otherwise, talk to me after you've endured a ten-hour dedicated fishing expedition with no place to sit down.
Somewhere to place your paddle is also essential because it can get annoying moving from paddling to casting when you've eyed your next prey when SUP fishing.
FAQs
Are Inflatable Paddle Boards Good for Fishing?
Inflatable paddle boards are good for fishing setup because they are easy to transport, making your fishing trip much easier and more seamless. However, be warned that inflatables are not are sturdy as hard shells, so consider what type of water you're fishing in before you press purchase on an inflatable.
How Can I Stabilize My Board Enough to Feel Confident Casting and Reeling in Catches?
Fishing is all about stability. And on a stand-up paddle board, sometimes stability is hard to come by.
Fortunately, there are tricks you can use to increase your stand-up paddle boards' stability for easier casting and reeling. For example, you can attach outriggers to your paddle board for stability. You can also add an anchor or a stabilizer pole. Finally, buy wider boards as they offer more stability.
Are There Any Benefits to Stand-up Paddle Boarding?
Besides being heaps of fun, there are many benefits to stand-up paddle boarding and SUP fishing.
Let's start with the basics: it's incredibly healthy for you as you will rely on many muscles you don't usually use. It's great for the core and is a great low-impact sport. It also drastically improves your balance! Finally, an inflatable SUP is great for maneuvering in sharper waters, making it convenient and suitable for SUP fishing.
Stand Up From Your Computer And Ride Your SUP! 
I get it: choosing the best paddle board is a daunting undertaking. With an inundation of choices, it can feel like you're lost in no-mans-land.
But why struggle? Choose one of these best fishing sups from my list and get out on the water. After all, wouldn't you rather be cruising on the lake trying out your best fishing sup than, I don't know, reading about it? Of course, you would! That's because you're an extreme nomad.
So close down the laptop, pack up your truck, and start your fishing adventures on your hardshells or inflatable fishing paddleboards today.