Are Floating Mats Back in Style?
Those days when you had no worries… you just went on a holiday with your parents and did whatever made you happy. This included floating in the sea on top of a mat and emptying your mind of all the negative thoughts.
If you remember those days and they still feel bright to you, you're probably nostalgic. This article will revive memories and give solutions, too.
Choosing a floating mat nowadays is easier than back in the day because there are so many options! There's a checklist below; it will help you tick the boxes and buy the floating mat of your dreams.
There are many bodies of water where you could put your floating mat to good use. However, when we're referring only to lakes, here are some of the best floating water mats from the many mats around.
Best Overall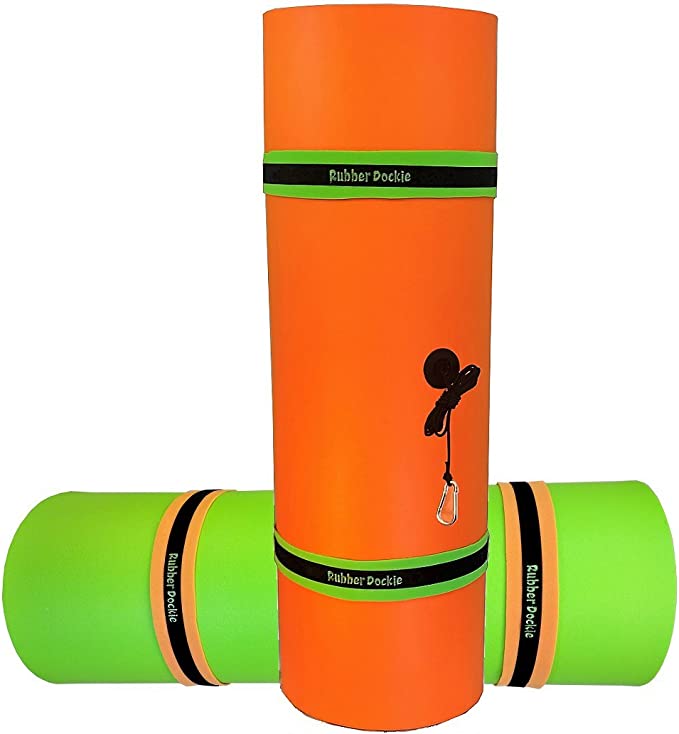 Rubber Dockie
Material: Rubber
Item Weight: 16 Pounds
Family Fun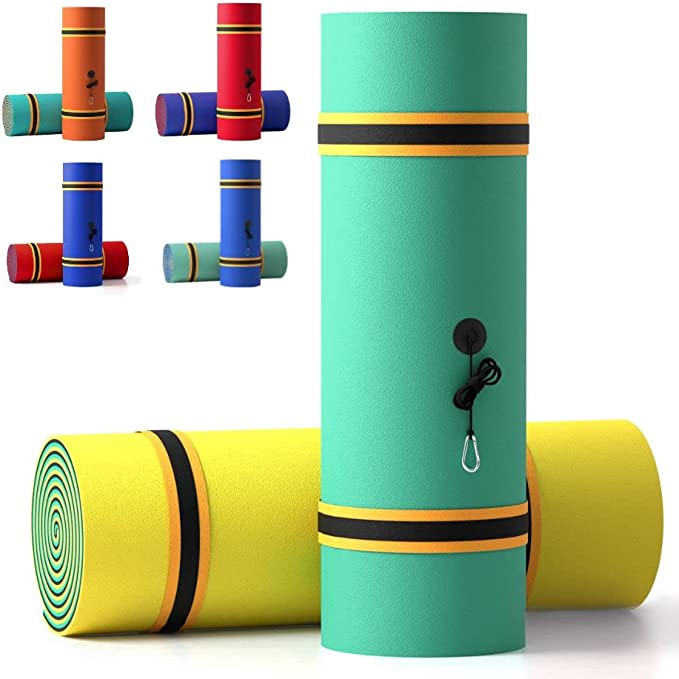 SOWKT Water Pad
Material: Foam, xpe
Item Weight:

28 lbs
The Right Price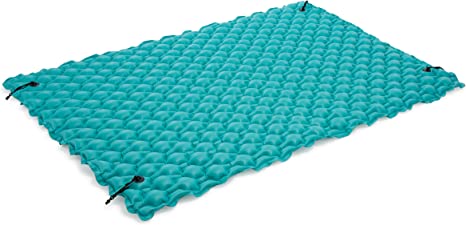 Intex Giant Inflatable
Material: Vinyl
Item Weight: 19 Pounds
Inflatable Luxury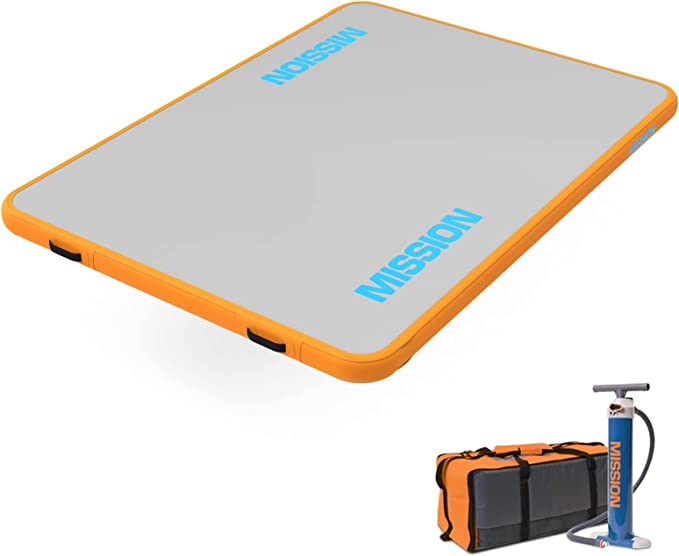 MISSION Boat Gear
Material: Nylon
Item Weight: 32 lbs
Connect Away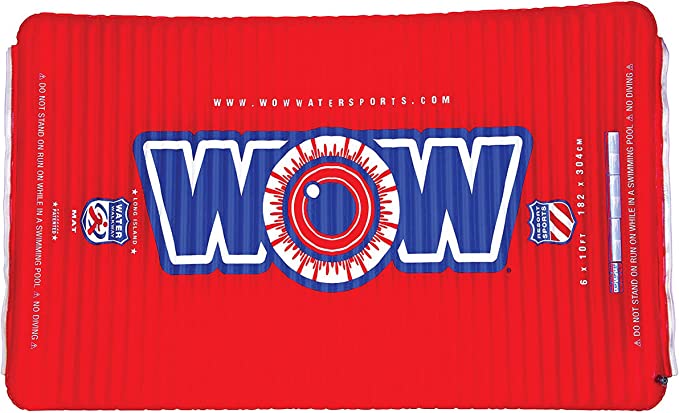 World of Watersports
Material: PVC
Item Weight: 1kg
The Giant Mat

Aqua Lily Pad Original
Material: Polyethylene
Item Weight: 44 Pounds
Jack-of-all-trade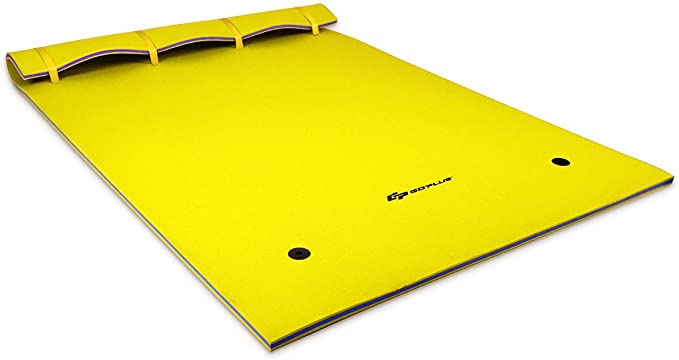 Goplus Floating
Material: xpe foam
Item Weight: 12 Pounds
YOLO!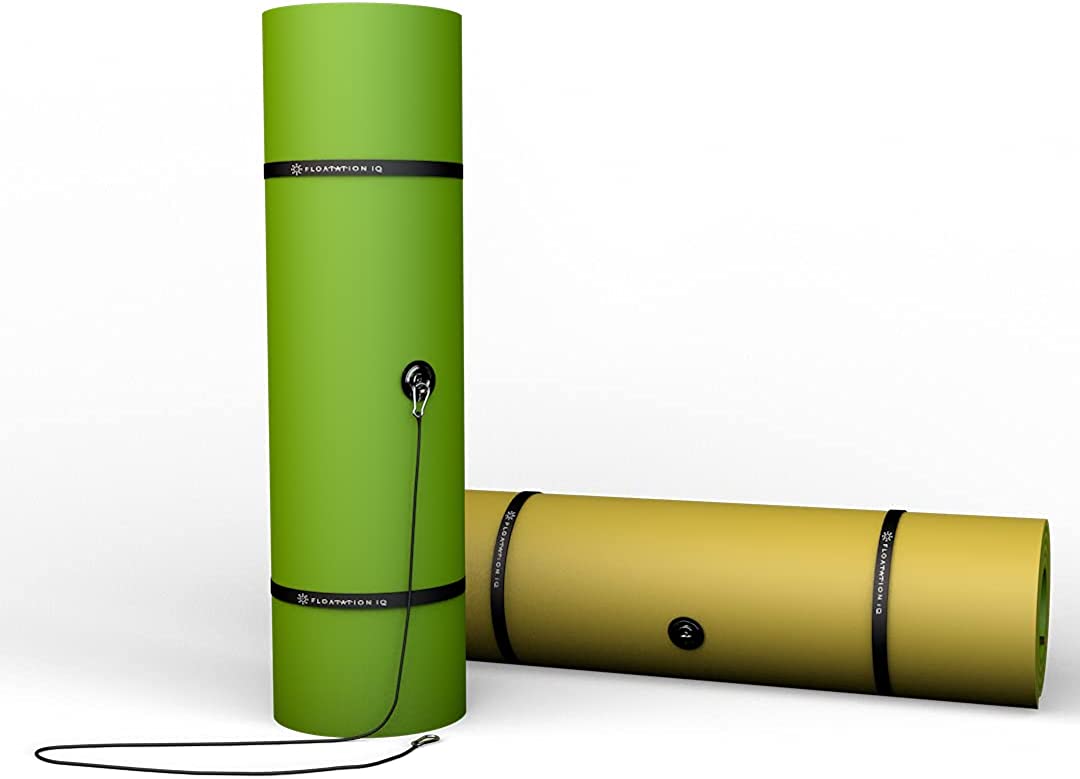 Floating Oasis Lake Pad
Material: Polyethylene Foam
Item Weight: 1500 lbs
Versatile Pad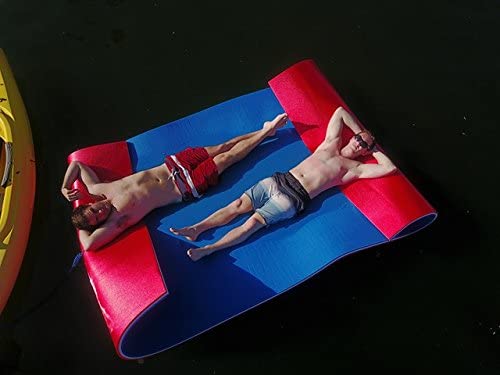 iFloats Water Pad
Material: Polyester
Item Weight: 24 Pounds
Happy-go-lucky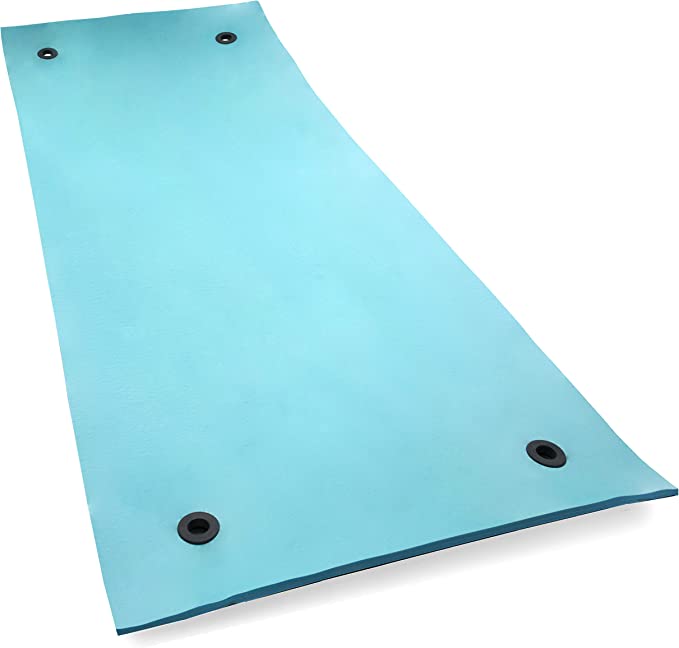 Big Joe Waterpad Foam
Material: Foam
Item Weight: 22 Pounds
Best Floating Mat for lake
What is a floating mat, in the end?
It is a large item, inflatable or made of foam, which acts as a dock – in our case, on the lake.
Of course, a floating mat can also be used to float along a flat river, relax in a calm ocean or sea, or lounge in the swimming pool (you can clearly see that the linking word for the bodies of water is 'calm'). However, in this piece, we are only covering floating mats for the lake and their features.
So, let's see, of the many floating water mats, which is the right one for you? How will you choose your water mat? Which are the most important features for you?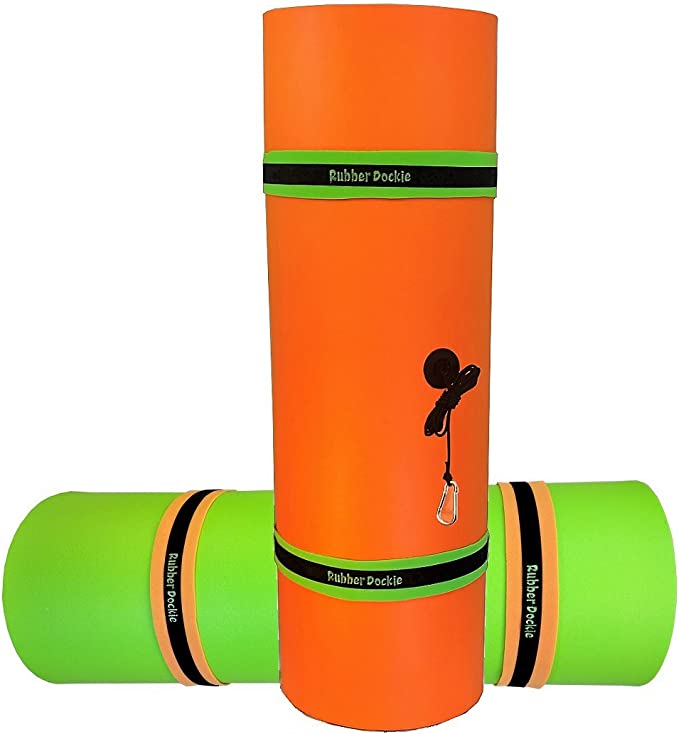 Light and easy to store, this bright-colored mat is easy on the skin and is one of the most popular floating water mats. There is a 12-foot bungee cord to anchor the Duckling [the Junior member of the Rubber Dockie family].
Additionally, it comes with a pair of custom loop and hook storage straps with metal buckles and a 1-year warranty.
It is made of closed-cell foam, which helps resist dirt accumulation. The Tear Stop Technology prevents punctures from becoming full-length.
Users argue that it is not that sturdy or durable, that its color fades fast, and that it can feel like sandpaper after only one year of use.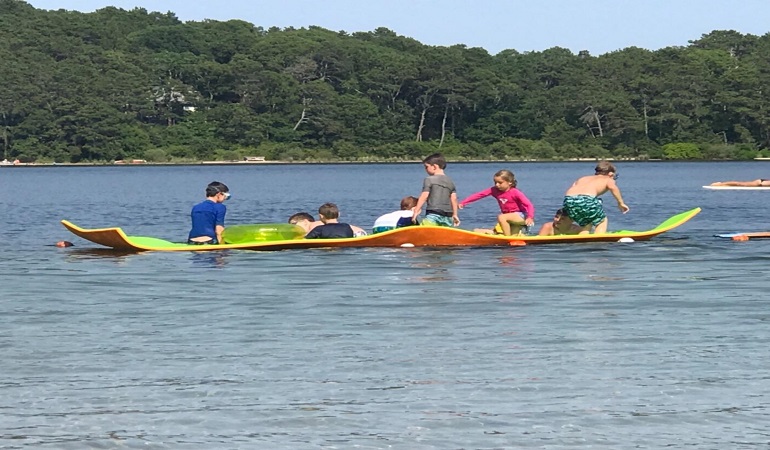 Then again, the price is an attractive one for the Rubber Dockie Floating Mat, so you may just be sold on that. It can also be rolled out in seconds, so this is also a big plus!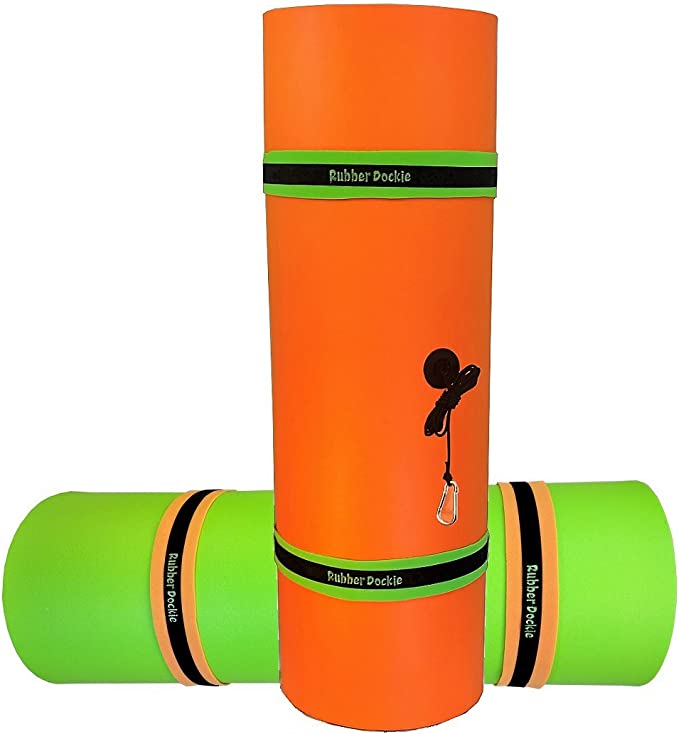 Rubber Dockie Floating Water Mat
The Price of "Rubber Dockie Floating Water Mat" varies, so check the latest price at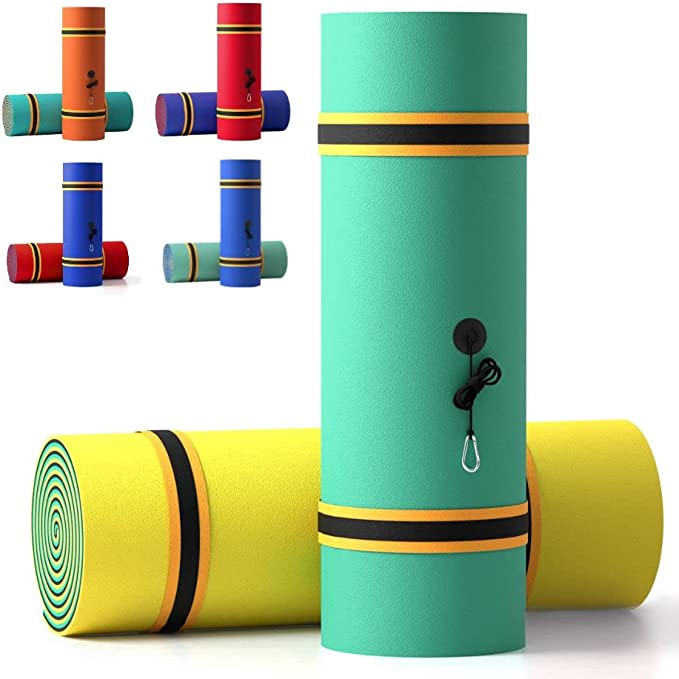 This was the main goal of the SOWKT team, which developed this water pad in bright colors for safety and fun! As it can hold up to 1320 lbs (8 adults or 14 kids), with its 18×6 ft size, and the high-quality XPE foam, family fun comes with the territory!
The material used is also anti-slip, 1.3in thick, and heat-sealed to prevent tears. The pad comes with two extra-long Velcro straps for easy storage and a bungee tether leash for mooring and anchoring.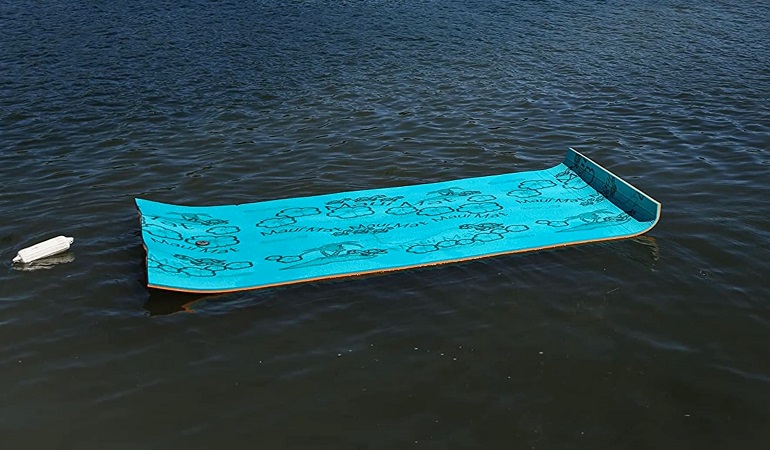 The downside? It is a bit heavy, and the color fades quickly. Also, it appears to be easily subject to wear, and the bungee attachment can produce tears.
The price for that size is an extremely great value for all those enjoying southern climates and searching for bigger mats, to be used year-round.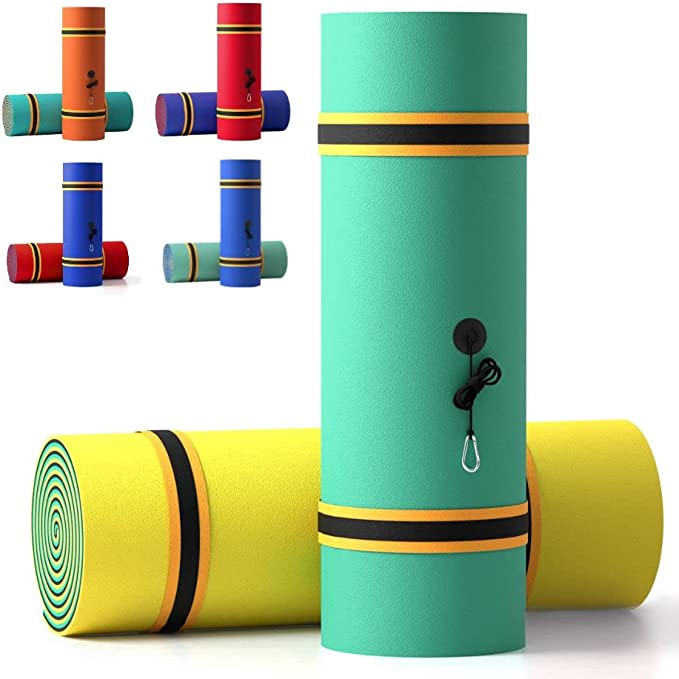 SOWKT Floating Water Pad
The Price of "SOWKT Floating Water Pad" varies, so check the latest price at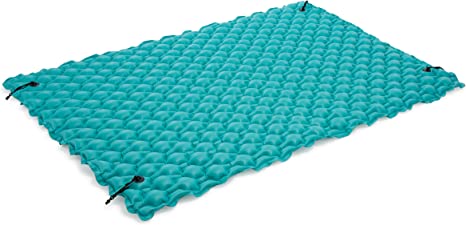 Is this it?
Sure, the mat may be inflatable, but that's what you've probably wanted all along.
The Intex Giant Inflatable Floating Mat is made of air pockets, which have enough buoyancy to keep you afloat but also flex, letting in a cool wave of water. Aaaah, a blessing during those long hot summer days…!
Other perks? It can inflate and deflate easily and can become really small for storage. It can also connect to other mats to create a big mat.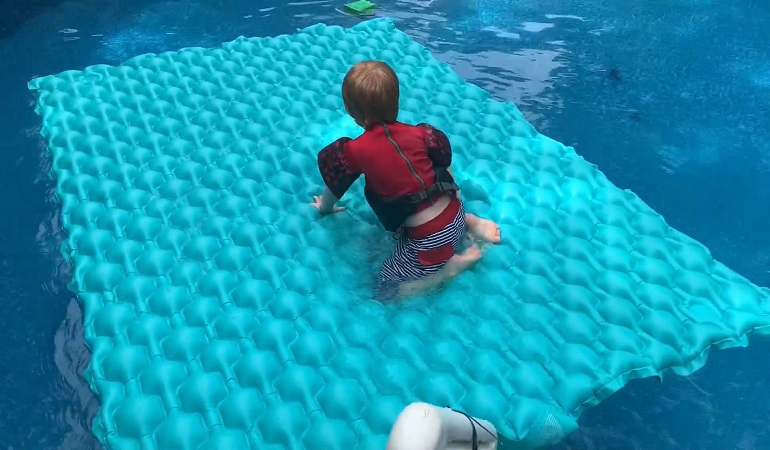 Disadvantages? It is heavy (with the hand air pump that must be carried along) and may not inflate equally in all of its parts.
Will the disadvantages turn into dealbreakers, or will the perks win in the end?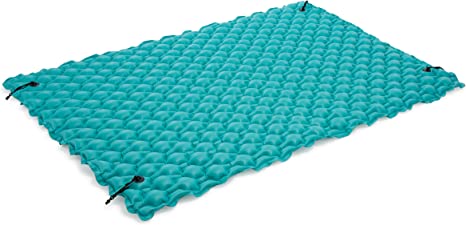 Intex Giant Inflatable Floating Mat
The Price of "Intex Giant Inflatable Floating Mat" varies, so check the latest price at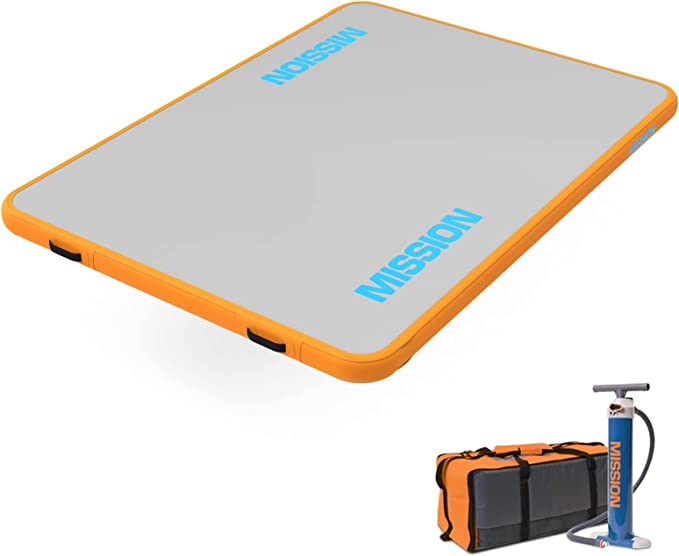 On the pricey side for an inflatable mat, the MISSION Boat Gear Reef Inflatable Mat Water Lake Lounge features added durability. It is made using 1000D nylon – the same material used in naval applications and double-reinforced seams.
Its 4 inches thickness will allow you to stand, walk, jump, and play without worrying about deflating it. When you do wish to do it, the package will be optimal (e.g., it will stow small).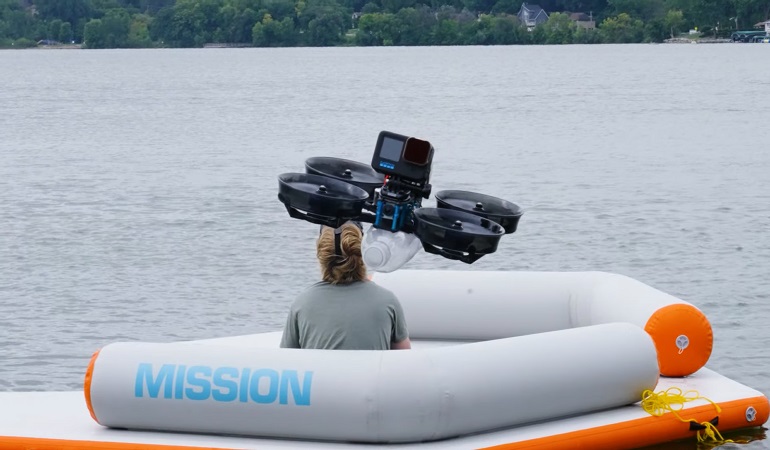 You shouldn't worry about anchoring it either, as it's got a built-in tie-off. It gets delivered with a one-year warranty, a high-flow pump, a repair kit, and a storage bag (quite handy, don't you think?). It is said to change the way that you spend and envision your summer days at the lake.
The bad part? It weighs a lot.
Would that keep you away from giving it a try?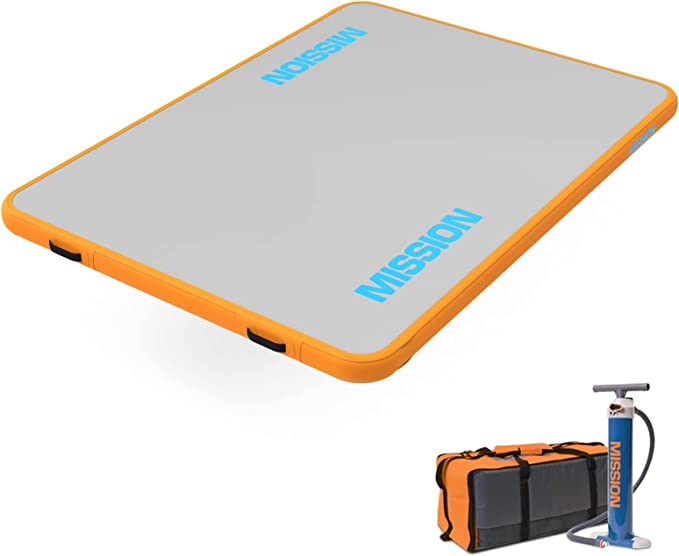 MISSION Boat Gear Reef Mat Inflatable Floating Mat
The Price of "MISSION Boat Gear Reef Mat Inflatable Floating Mat" varies, so check the latest price at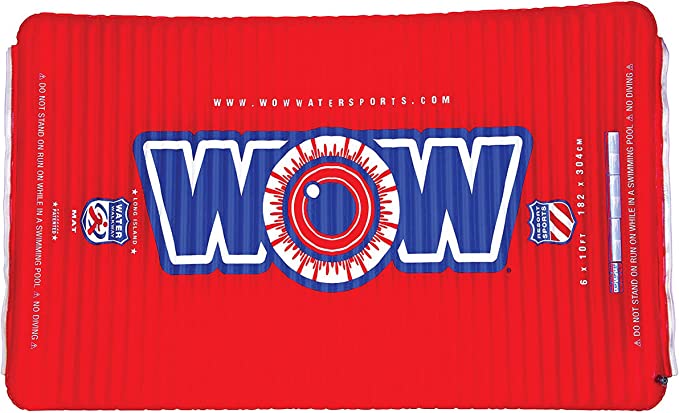 The vision for this inflatable walkway was lounging on a large mat, connecting boats, or striding across the lake's surface.
If we keep the 'connection' part in mind, be warned: the walkway comes with zippers, grommets, and ropes. Not only boats can be connected to your floating walkway (more like a floating platform), but also other walkways, to create the shape/design of your dreams.
The price is attractive, and the product is light. Other strengths? It dries fast, packs easily, and is sturdy (a heavy-duty 30 Gauge PVC construction).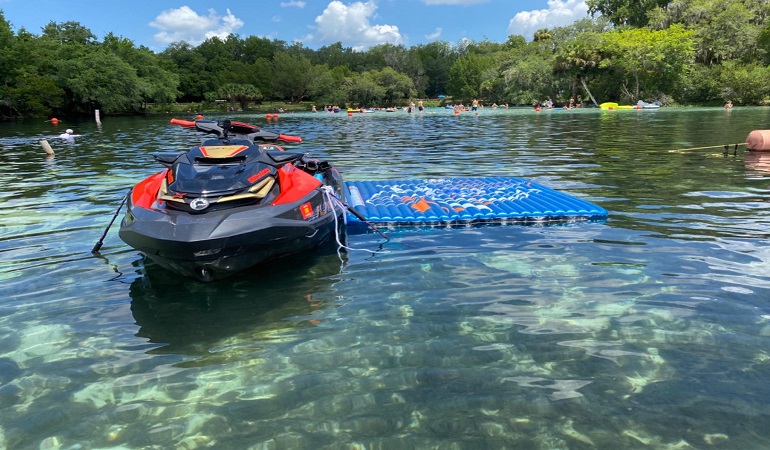 There have been cases of punctures or tears along the connecting zipper system. Dogs can also puncture these walkways that can hold up to 6 persons each.
If you don't try the walkway, can you then say that you've built one of your life's floating islands from scratch?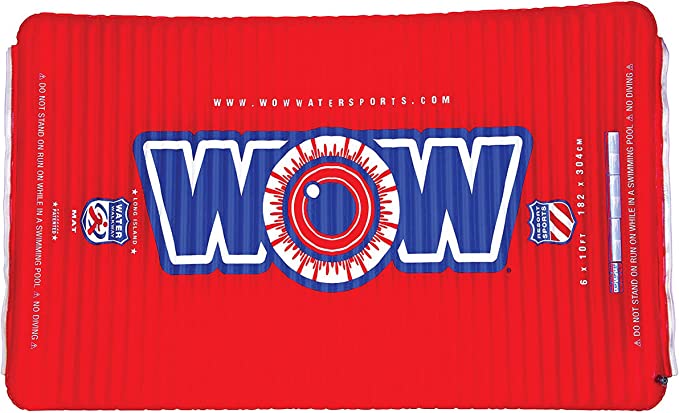 Wow World of Watersports Inflatable Walkway
The Price of "Wow World of Watersports Inflatable Walkway" varies, so check the latest price at

It can hold up to 1500 lbs – and that's the combined weight of roughly 10 people (and it's a wow, to start!). You can even take deck chairs along!
It can make for a great launching pad for water skiing, wakeboarding, tubing, etc., or even a diving break.
There is no roll memory, which makes it easy to roll and store. Plus, it is fast to lay it flat on the water. The Flex Core technology is behind all of the above, adding strength and water resistance to the pad. The patented UV stabilization protects the mat against sun damage. It also includes a tether system for docking and straps for storage.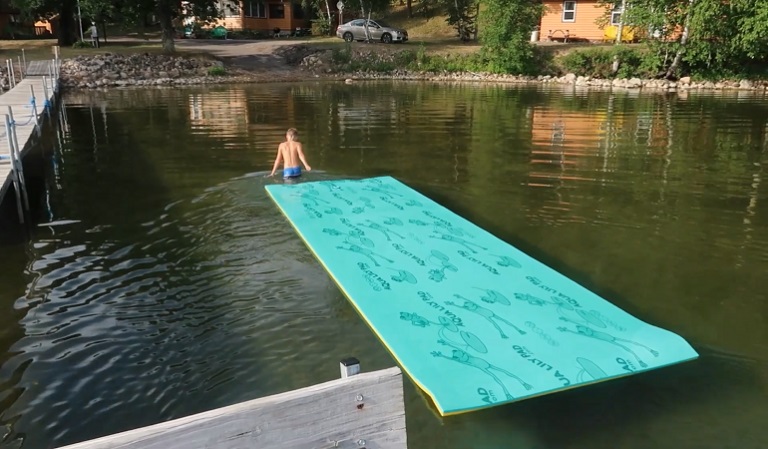 The Aqua Lily Pad is made of a marine-grade 'Cross-Linked' polyethylene foam material – designed for marine applications.
Labeled by users as not buoyant enough and over-hyped, the Aqua Lily Pad Original Floating Water Mat does come with an intimidating price tag. Some have witnessed their foam layers split, and it is heavy.
On the other hand, who wouldn't wish to have a floating island all to himself/herself?

Aqua Lily Pad Original Floating Water Mat
The Price of "Aqua Lily Pad Original Floating Water Mat" varies, so check the latest price at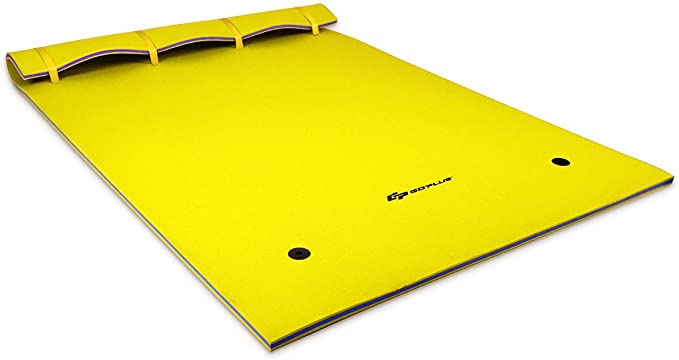 This happens when a water sports products manufacturer gets into developing water pads, too. They even think of how to carry them on a yacht! Two binding ropes, two traction ropes, and a bungee tether – checked!
They used high-density three-layer XPE foam for increased support; it doesn't absorb water and cannot easily be deformed. We are also dealing with non-toxic polyethylene foam, for secured use. I shouldn't even mention that it's got a portable design, making it easy to carry around and store via the two storage straps.
You can also clean it fast with water and soap, while its colors are guaranteed a long life.
Users say that it can get like sandpaper in some areas of the foam surface and hurt your skin, that it stays curled on water, and that the three layers are difficult to roll, thus, to store.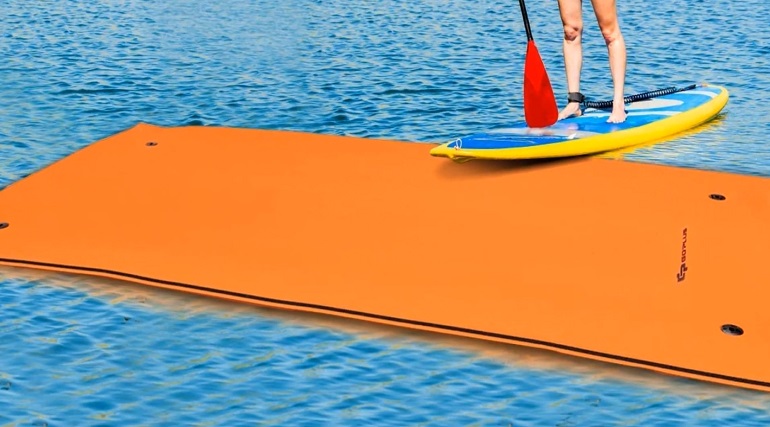 Would the price be worth paying to see for yourself?
What if I tell you about a very cool feature? You're dealing with a rolled-up rolling sleeper design, which allows you to reasonably support your head area and relax your body, releasing stress.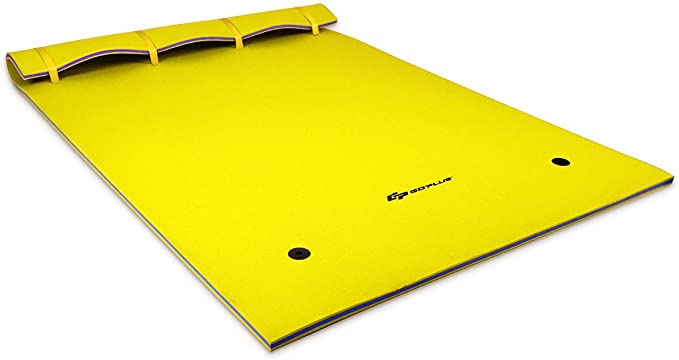 Goplus Floating Water Pad Mat
The Price of "Goplus Floating Water Pad Mat" varies, so check the latest price at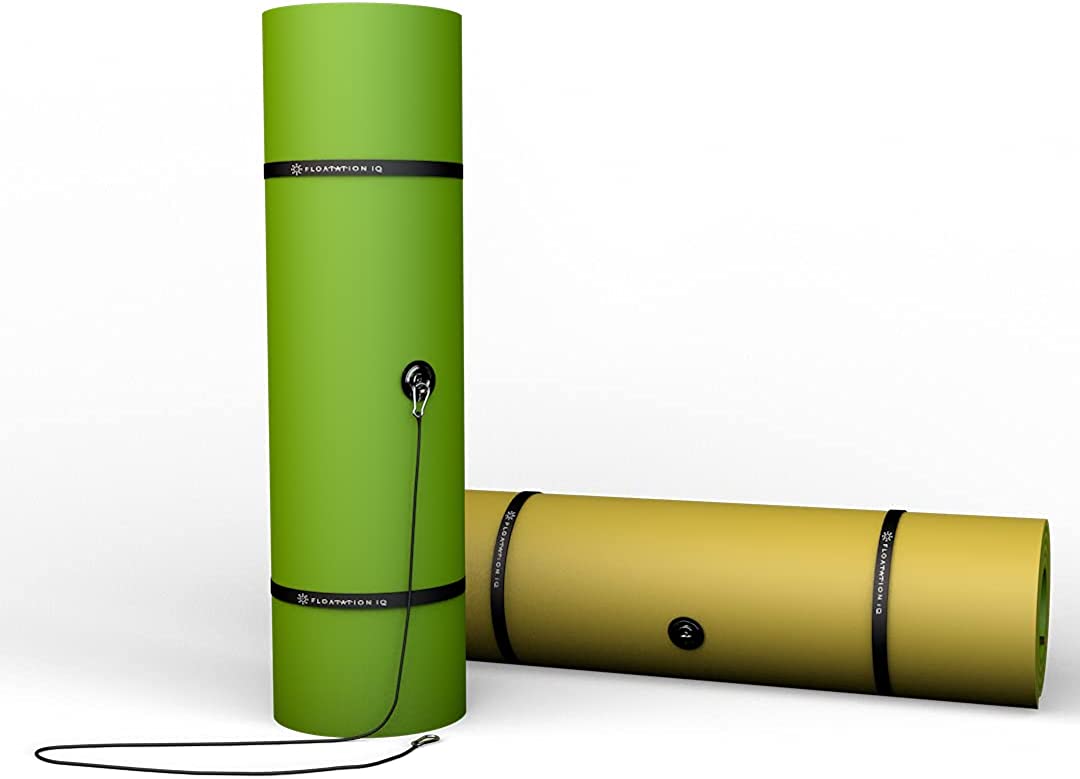 'Live your best lake life!' is the motto of Floatation IQ for this product. Let's dive into it, then!
High-density UV-resistant foam went into it and its developers proudly say that they designed the most durable lake pad in the market (it was created for larger bodies of water). The foam used is said to preserve the vivid colors of the Floating Oasis Lake Pad mat.
How many of you can fit on it? 8 persons (1500 lbs of evenly distributed weight) is the magical number for this larger mat (an understatement, of course!). Simply unrolling the pad will start the fun. The stainless steel D rings allow for quick and easy tethering to boats, docks, and piers.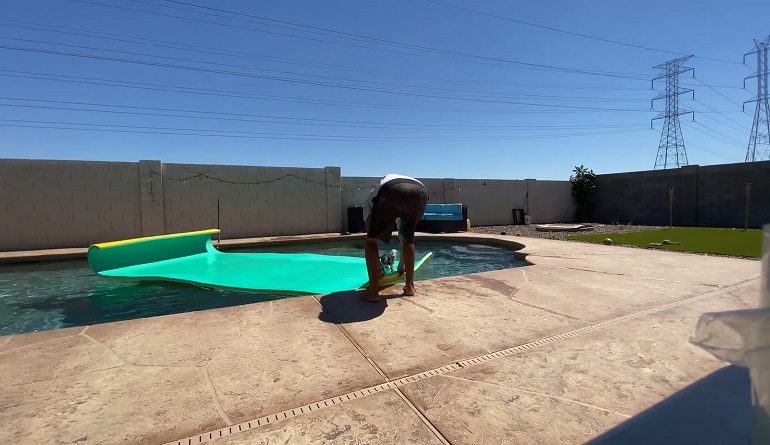 The surprisingly lightweight design makes it easy to transport and store.
For the price paid, one should never read that the colors faded after only one season of use or that the mat disintegrated after only some light use.
You are, however, promised quality and the water life of your dreams. Bigger mats are all about that!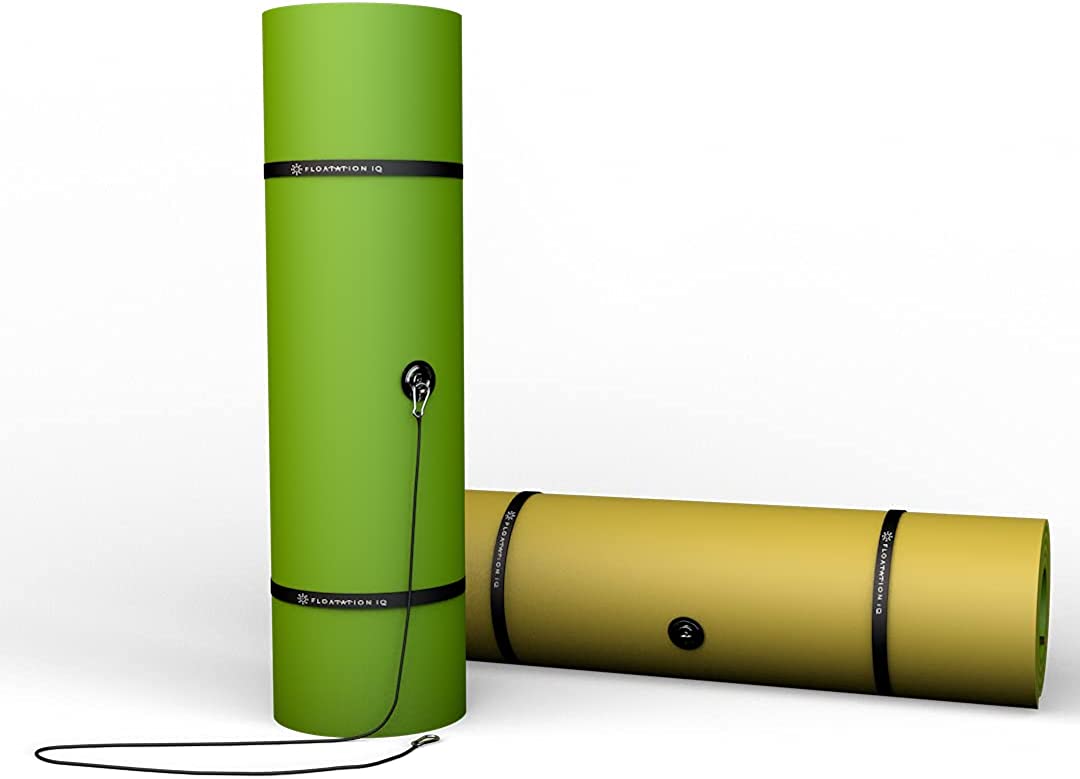 Floating Oasis Lake Pad
The Price of "Floating Oasis Lake Pad" varies, so check the latest price at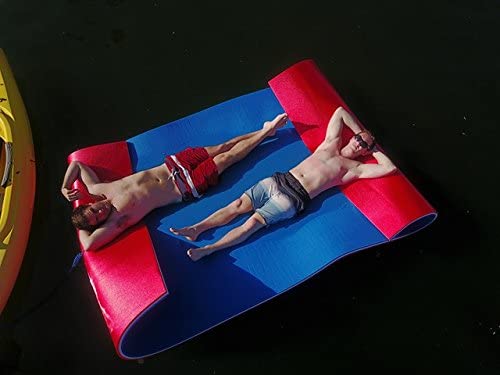 You can use this floating water pad to float on a lake, lounge in the sun, or exercise on it. The developers of iFloats Floating Pad decided to create a better aquatic mat.
By the looks of it, they did. It is made of high flotation closed-cell foam. Its thickness is 1 ½ inch, enhancing flotation. The water mat comes in bright colors, for increased visibility, even though this may not be necessary, as anchoring is very easy via the bungee tether.
Storage is an easy job through the two polyester stainless steel straps with D rings – those at iFloats claim that Velcro doesn't last. Depending on the length of the floating foam mat, it will only take about 2-5 feet when rolled, so it's perfect if your space is limited. It doesn't weigh too much either.
Other strong points? It can accommodate multiple family members (6 adults comfortably) and pets, expanding the fun. Moreover, it has two color sides; this way, you can alternate use.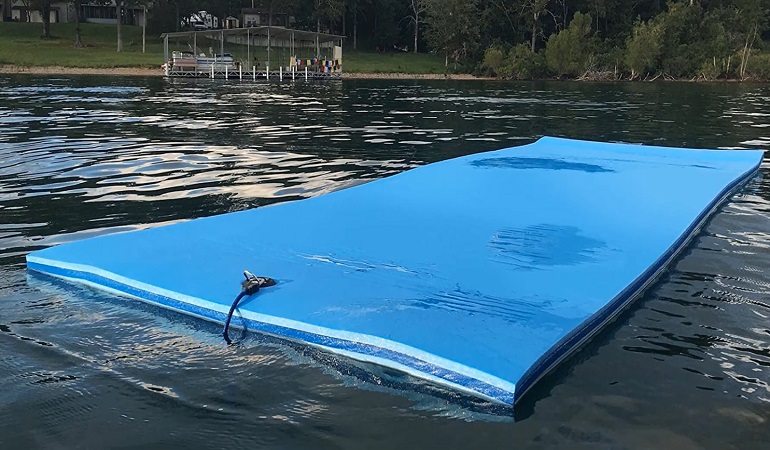 Weak points? Buoyancy may be a bit off. The two layers of foam may be coming apart soon after the purchase.
Do the math and give it a go if the investment seems like a good decision to you.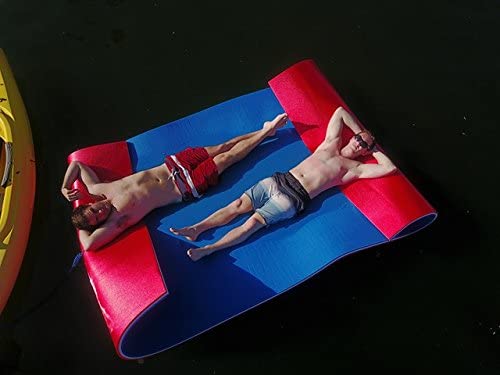 iFloats Floating Water Pad
The Price of "iFloats Floating Water Pad" varies, so check the latest price at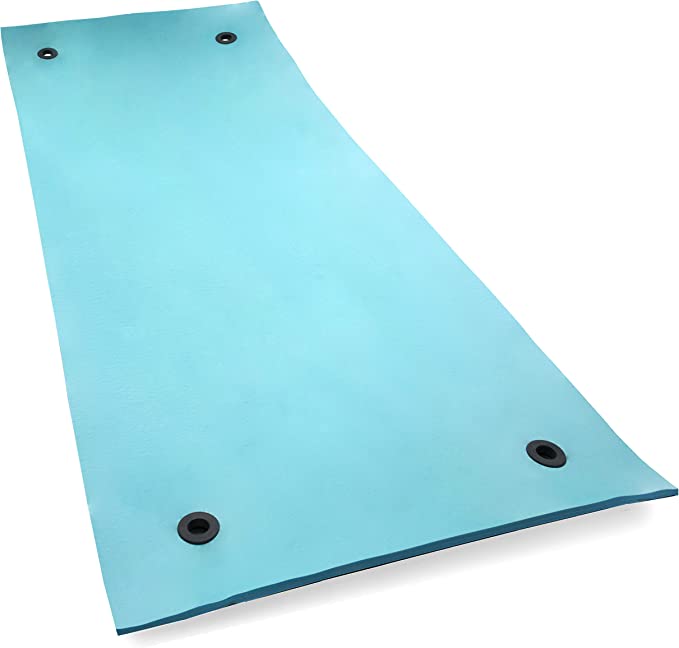 Made of foam, this mat can hold up to 5 people for a fun day spent together on the water. Even though its size makes the weight large, too (almost 11 lbs, to be more exact!), the mat is easy to roll and store by using its Velcro straps. I should add that it packs nicely.
Anchoring is also a piece of cake – just use the grommets at each corner (each double as a cup holder); no, you won't let this one get away.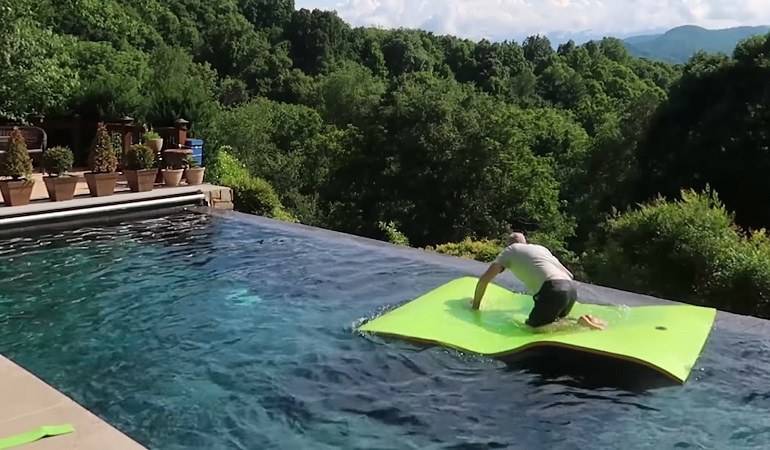 Users claim that the Big Joe Waterpad Foam Aqua Eva is easier to sit than walk on it, but they all agree that it is a very sturdy and durable product. On the other end, it can get discolored pretty fast.
If you get it on sale, that will be terrific, and you'll especially make the young ones around you happy.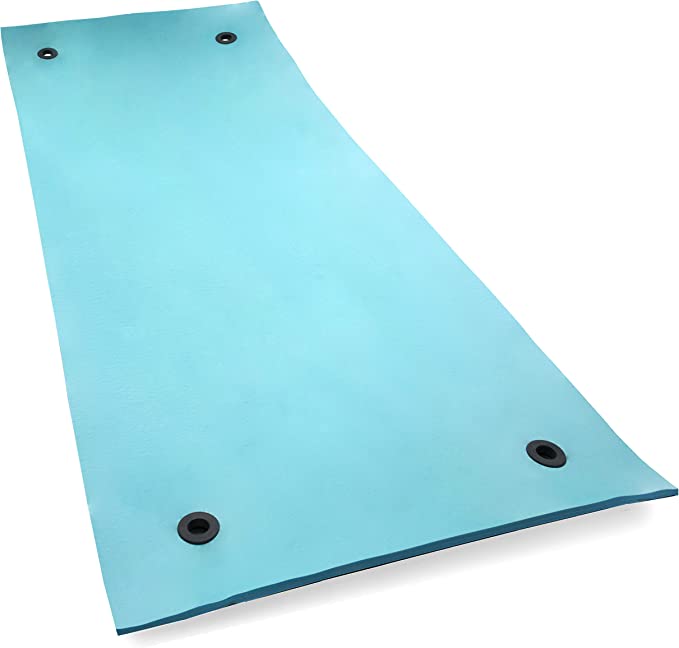 Big Joe Waterpad Foam Aqua Eva
The Price of "Big Joe Waterpad Foam Aqua Eva" varies, so check the latest price at
Elements to Consider When Choosing the Best Floating Water Mats for the Lake
Why do you need/wish to buy a floating water mat? Do you wish to use it as the confidence booster to finally learn how to swim? Would it be good to rest in between your snorkeling/free diving sessions? Or do you simply want to read a book and soak in the sun?
Foam Vs. Inflatable Water Mat
If you wish to buy something for the long run, invest in a floating foam mat – it has a longer shelf life. On the other hand, inflatable water pads are the perfect choice for smaller lakes or even swimming pools.
They may be less expensive, but inflatable mats come with issues of their own – you will be required to put in the effort and inflate it by mouth or by using a hand pump.
Safety
Make sure that the lake area where you plan to use your floating mat is deep enough, free of rocks that can create punctures, unusual currents, or logs that can hit you.
Have paddleboarding life vests at hand if using your inflatable floating water mat on large lakes, where conditions can change quickly.
If you wish to take your animals along, make sure that they feel comfortable on the water and calm enough not to scratch the water mat (or have their nails trimmed, especially if you're planning to buy inflatable mats).
Don't swim under your floating mat or jump onto it from high platforms or points.
Anchor
If used at sea or along a faster-moving river, an anchor in the form of some clips is necessary. It may not be the case for the lake, but lake water also gets choppy at times (especially in the case of larger lakes, where waves form easily). This secure line will keep the floating foam mat more stable and will give you peace of mind.
Find the grommets on your floating mat to safely secure it and impede it from floating away while you're not on it. Use ropes or cords if your mat does not come equipped with a safety line. Then, find a safe place for tying.
If you, unfortunately, discover that your mat has floated away, its bright colors (yes, it was specially designed that way!) will help you locate it easily by using a boat or a kayak.
Solidity
Consider the firmness of the pad when deciding to make your purchase. What activities do you have in mind? If it's just lounging in the sun for you only, solidity won't be as important as in the case of a multiple-use mat, when the maximum capacity should be considered.
Inflatable mats will tend to be firmer. Foam pads will also be firmer or less firm, depending on the type of foam. Is the floating mat made of lighter or harder foam? Of course, the harder foam will feel sturdier.
Weight capacity
Ranging from singular use to multiple uses (which includes pretty much the whole family), floating mats can become your private island. This can be a very small one or a giant one, able to host as many as 10 people (if you need more space, that is). Talk about experience sharing, especially on a larger mat!
Thickness
A 1.5-2-inch thickness is recommended for all quality and floating mats.
Storage
Use the D rings, the straps and/or the cases that your floating mat comes equipped with to store it properly. This way, it won't take up too much space. Of course, smaller floating pads will mean even less storage space needed.
Store your floating mat away from direct sunlight, to reduce the fading and surface damage that prolonged sun exposure can cause.
Transport
These durable and portable items are easy to transport. Carrying straps make the job easier at times, while there is also a carry bag available for some models.
Extras
There are floating mats equipped with instant draining or even cup holders, so you've got a great variety of options. Of course, this may increase the purchase price – see 'Budget'.
Maintenance
After a day spent on the water, check that your floating mat doesn't show tears or rips.
You should clean it with regular soap and water in case dirt accumulates on it during days of use that follow extended periods of rainy or stormy conditions or gets muddy when taken to shore. Then, you should wipe it completely dry or let it fully air dry to avoid unpleasant smells and the accumulation of mold.
If using the floating mat around a lake on a clear day, wiping it before storage should suffice. Saltwater can be a damaging element, but this is not the case.
Budget
How much are you willing to invest? Go for an inflatable floating water mat if your budget is lower and for foam mats if you've got money to spend. Accessories are, of course, charged extra.
Warranty
This can give you some peace of mind. As mentioned above, floating mats are usually sturdy. However, when buying one, check if it comes with a warranty because even sturdy objects can get scratched or broken.
Questions That Pop up All the Time
These are the main questions that come to mind when thinking about floating mats – these items are used for lying down, sitting, or even walking.
Why Are Floating Mats so Expensive?
It depends, as not all mats are. In the end, it is up to you and your budget. How much are you willing to invest in this water accessory? Select an inflatable version if you don't have too much money to spend. Choose a foam mat if you have more money saved.
Also, bear in mind that extra features and larger mats will automatically mean more expensive products.
Last but not least, watch out for sales and bargains!
How Do You Secure a Floating Water Mat?
Anchor it by tying it with a rope or a cord from its grommets to a sturdy element near the lake. Many floating mats come with a secure line, which makes anchoring faster.
What Best Features Do You Need in Your Floating Water Mat?
Safety, solidity, and water mat weight capacity. They all connect to how floating on your mat feels because it ultimately comes down to relaxation, confidence, and fun on the water.
You can be alone or surrounded by friends, but you will still remember how you perceived your day – and we're all aiming for the positive spectrum! Joy, curiosity, and excitement.
I would also add easy maintenance, storage, and transport to the first set of important features. This is the more practical side. It should be, however, considered if you've got limited space at home or in your luggage or not enough time to properly care for your mat.
Closing Thoughts
One of the things that I'd like to mention at the end of this piece on the best floating water mat is a thing that I've learned while kayaking – when you get into the water, you'll get yourself wet. So, expect this even with a floating mat! After all, it is not a water toy.
In the end, you'll have to get into the water to get on top of it. Don't panic, especially if you don't know how to swim. You can do it close to the shore, in shallow water, by pulling the mat close to you and leaning forward onto it. It will boost your confidence in being around water. Observe the water mat capacity at all times.
You'll need to decide, of course, on the materials. In short, inflatable floating water mats will bring along a sturdier experience for a lower price. On the other hand, you can use floating foam mats for a longer time, along with more of your closest friends.
Many floating water pads are made from tear-resistant XPE foam, a durable material, and also have UV protection.
Anchoring your mat and caring for it while it's out of the water is of utmost importance. Transport and storage will be easy with quality straps that will help keep your mat rolled (and most floating water mats come equipped with them).
Ultimately, owning a water mat can be a fun and relaxing experience that will make you understand water from a different perspective. It has opened my eyes to how a water day can be more than swimming, paddling, or steering… and more of relaxing on a floating island.
So, a water mat is a great tool for all water people out there. It doesn't matter if you're more adventurous or like more active ways of spending your summer days or your holidays (sea or whitewater kayaking, surfing, windsurfing, kitesurfing, wakeboarding, diving, snorkeling, or free diving, etc.).
Every person needs some time off, even from adventure, every once in a while.