Deciding to get out there and take up a hobby like kayaking is always a fantastic idea. It is a wonderful way to burn calories whilst soaking up the serene beauty of nature on a lovely warm weather day.
You can opt for a canoe or a kayak for long trips with camping gear and coolers, or simply head out with a friend on a tandem kayak with some fishing gear to while away the afternoon.
Finding the best beginner kayak can seem a little daunting at first. There are so many different designs, brands, shapes, and sizes that it can all get a little overwhelming. In actual fact, it's all pretty straightforward. As a beginner, you should opt for pocket-friendly options (like a fishing kayak under 500, for example).
You simply need to know what it is you would like to be doing with your kayak, your preferred paddling location, and how confident you're feeling in your water paddling.
Top Pick

Sun Dolphin Aruba
Weight: 40 Pounds
Material: Plastic
Streamlined & Stable

Wilderness Systems
Weight: 49 Pounds
Material: Polyethylene
Premium Design

Old Town Manitou Sport
Weight: 44 pounds
Material: polyethylene plastic
Great Value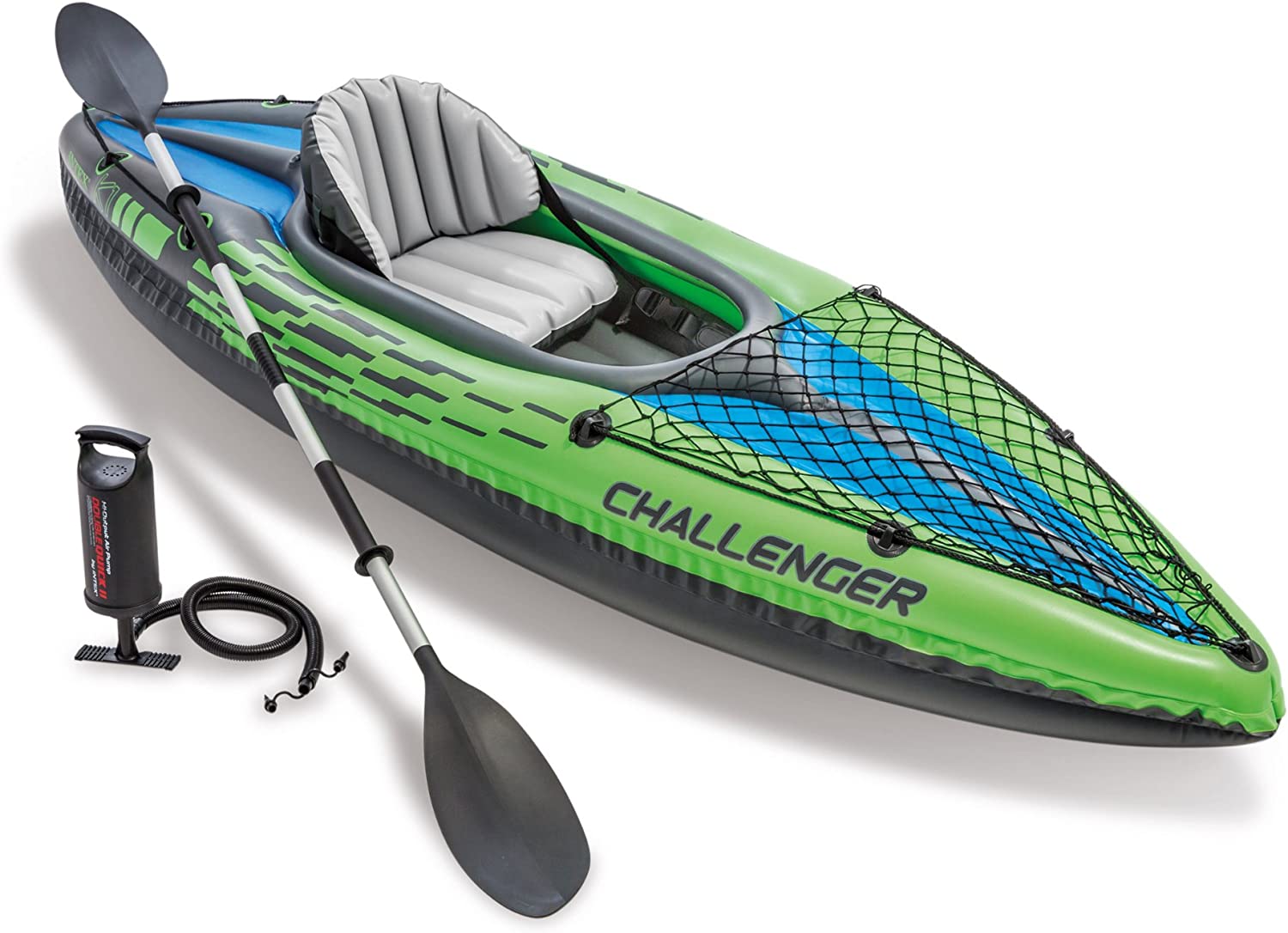 Intex Challenger K1
Weight: 25 Pounds
Material: Plastic
Most Versatile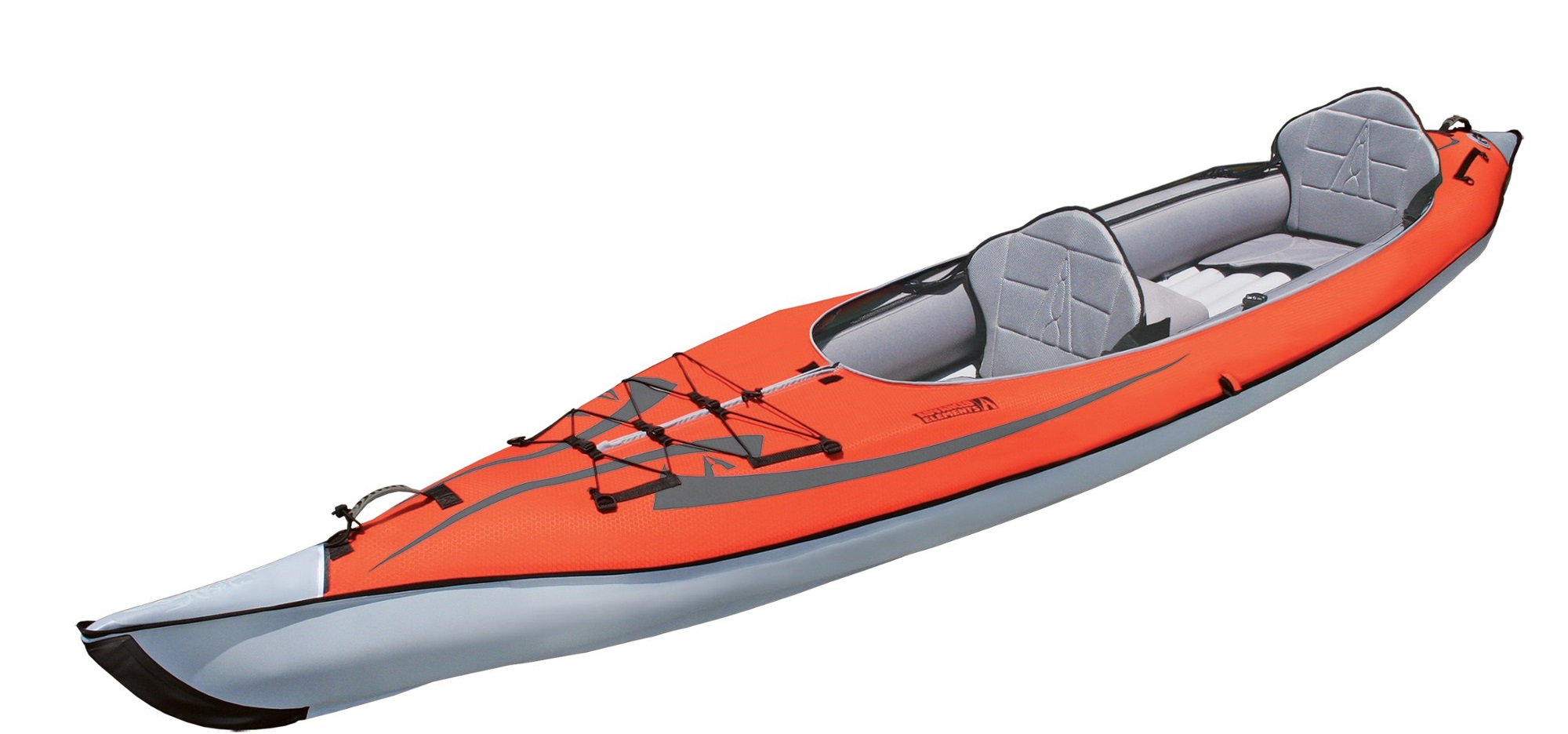 Advanced Elements
Weight: 52 pounds
Material: PVC
Amazing Storage

Perception Flash 9.5
Weight: 41 lbs
Material: Polyethylene
Most Convenient

Oru Kayak Beach LT
Weight: 20 pounds
Material: polypropylene
Super Adjustability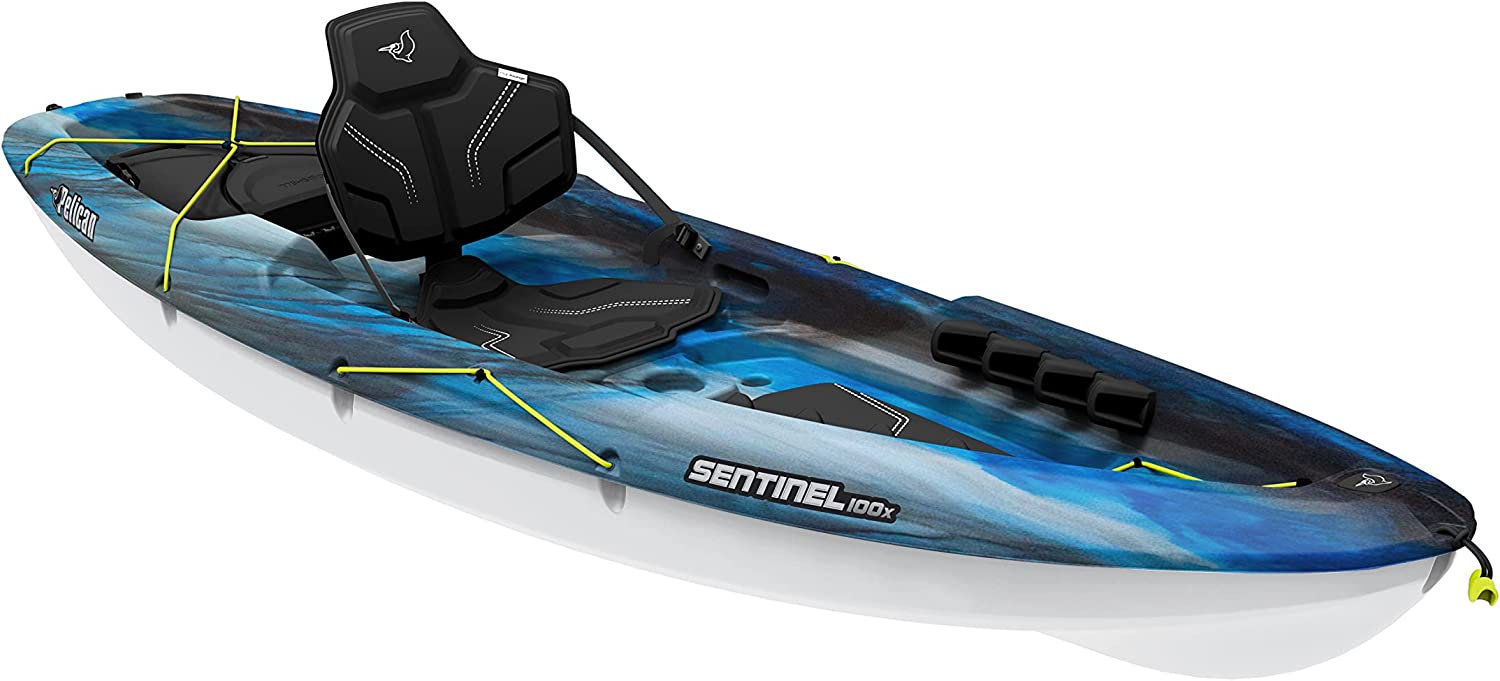 Pelican Sit-on-Top
Weight: 42 Pounds
Material: Plastic
Kids Choice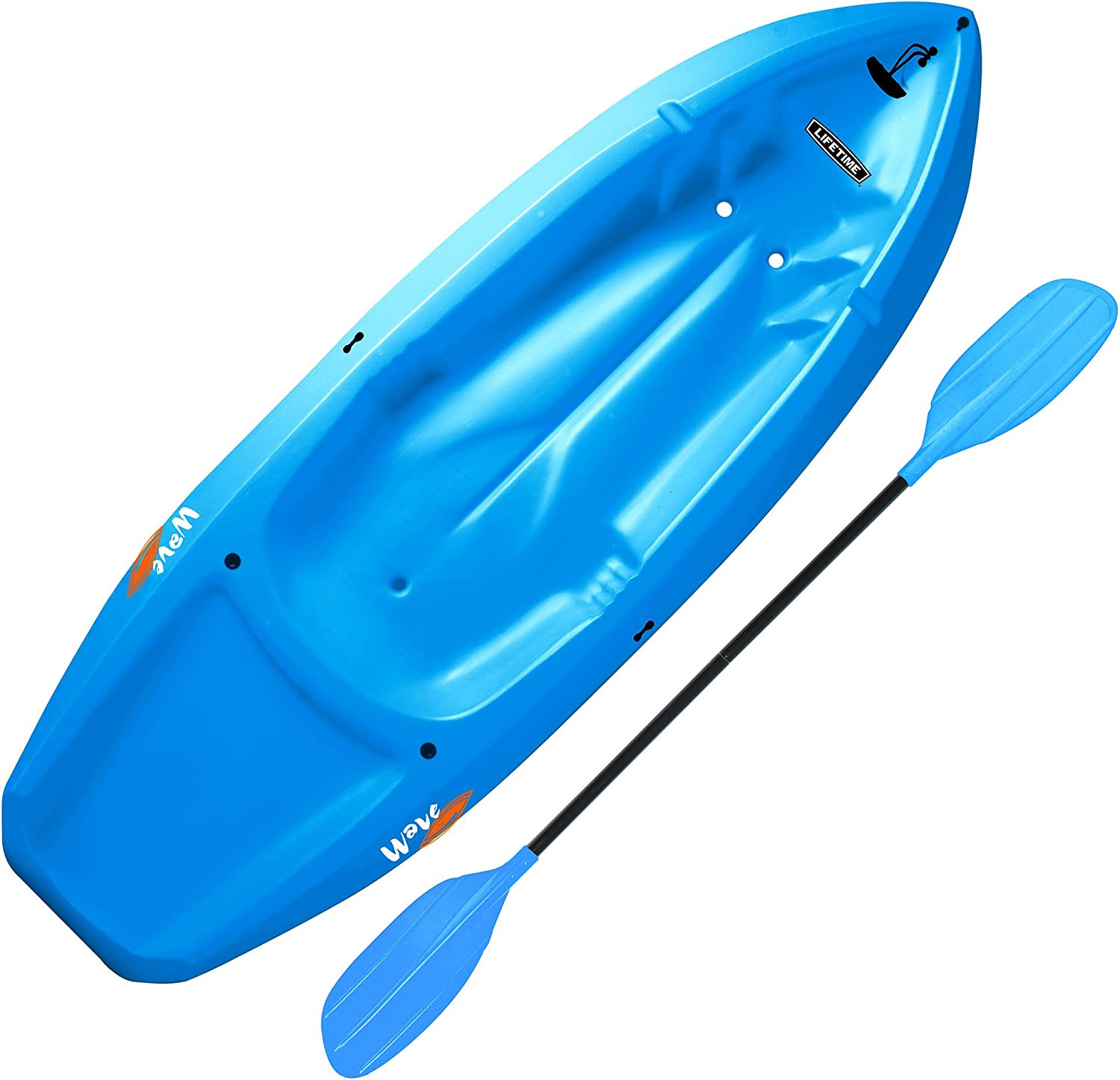 Lifetime Youth Wave Kayak
Weight: 18 Pounds
Material: Polyethylene
9 Best Beginner Kayaks
So, if you're looking to get out there on the open water and give recreational kayaking a go for the first time, read on. I have included some of the best kayaks for beginners and even a few that will be great for the more advanced paddlers too.
If you're looking for a few more tips and tricks on buying your first kayak, then check the end of the article for my buying guides and FAQs.
Take a look at this selection to find great beginner kayaks. There is something for all budgets and lifestyles in this article, so you should have a good idea of what you want by the end.

We're starting this list off with a great beginner kayak that is as simple as easy as they come. The Sun Dolphin Aruba is a straight-down-the-middle, no-frills, cheap budget kayak that will do what it needs to and for a very reasonable price.
It is made of reliable but cheap materials, doesn't come with extra features, and will serve you well as a first kayak.
The Sun Dolphin Aruba will keep you nice and secure in the padded seat. The adjustable foot braces and protective thigh pads help you lock yourself down into the body of the sit-in kayak.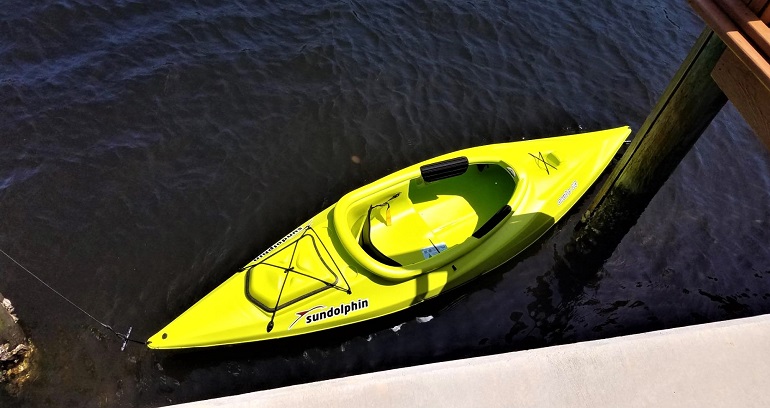 This beginner kayak doesn't come with a paddle but does have a paddle holder alongside the body of the kayak. Extra storage space is located on the top and rear of the kayak allowing for a decent amount of luggage to be transported safely and in a waterproof manner.
The kayak has a small amount of shock cord deck rigging across the bow of the deck, although not a lot.
Summary
Don't expect the world from this simple 10-foot recreational kayak. You can rest assured that it is reliable and one of the best kayaks for beginners. It won't break the bank and will provide everything you need to get started and paddle with confidence. It is a remarkably lighter kayak and can be transported with ease.
Stats
Length – 115″
Width – 29″
Weight – 18 kg
Capacity – 113 kg
Construction – Plastic

Sun Dolphin Aruba Kayak 10-foot
The price of "Sun Dolphin Aruba Kayak 10-foot" varies, so check the latest price at

In stark contrast to the previously reviewed sit-inside kayak, we have the Wilderness Systems Pungo 120. This comes with a plethora of features to make your first kayak trips an absolute breeze. A fantastic structure and ergonomic design provide a stable hull that seems to glide through the water like it's air.
This kayak for beginners is made with streamlining and stability in mind. The renowned hull makes slicing through the water a dream. It provides plenty of speed for even the novice kayak paddler. The low profile and wide hull are complimented by the pointed bow and stern.
The kayak hull features adjustable foot braces for multiple footrest positions providing support for all heights of the rider. The protective thigh pads can also be adjusted to the rider's preference. The fully adjustable seat provides airflow throughout the back and base to keep you cool even on the hottest days.
A really nice feature to see included on the Wilderness Systems Pungo is the front console placed just in front of the large cockpit.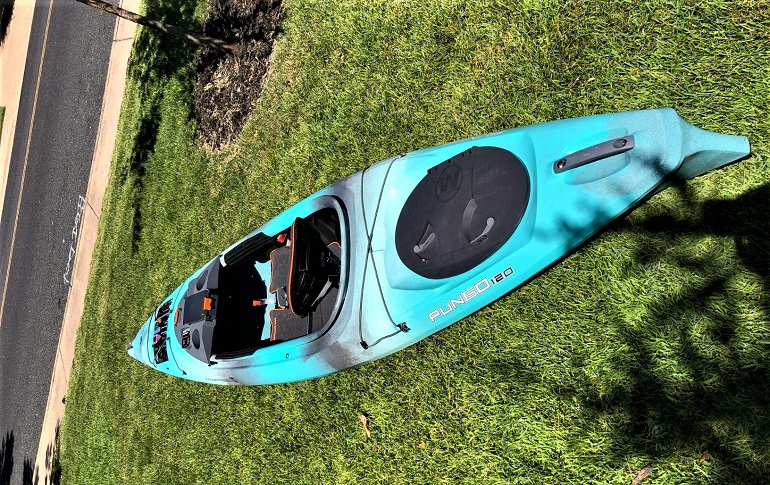 It has space for a lot of optional accessories, including a double cup holder, recessed kayak motor battery pack holder, and 'Slidetrax' for rod holders or kayak GPS systems. This feature really opens the sit-in kayak for many amazing trips out.
A large dry storage space is included at the back of the hull that can hold a large amount of cargo and keep it dry and safe even in the unlikely event of a roll. The last thing you want is all your gear at the bottom of the lake you're trying to traverse.
Summary
This is the perfect kayak for beginners and more experienced kayakers. It is versatile, very well-built, and able to tackle long trips and many different types of water.
Stats
Length – 12'2″
Width – 29″
Weight – 22 kg
Capacity – 147 kg
Construction – Polyethylene Plastic

Wilderness Systems Pungo 120 Kayak
The price of "Wilderness Systems Pungo 120 Kayak " varies, so check the latest price at

A beautiful sports kayak from Old Town has been brought to the kayak market in 2022. The fantastic, sleek design makes it perfect as a flat water or sea kayaks, as it can cut through waves and chop with ease.
The premium design is evident from the plush seat all the way through to the delicate typography of the lettering on the hull.
The slim and streamlined shape of the sit-inside kayak helps the boat slice through even rough water with ease. The extended keel further adds secondary stability to the kayak's hull to keep you in a direct line with less effort.
Unlike the previous kayaks, this model comes with a kayak paddle and a paddle keeper on the boat. Of course, you may prefer to buy yourself a different paddle, perhaps a relatively lightweight and durable carbon fiber version, instead of the two-piece aluminum paddle that comes with this.
Summary
The Manitou Sports doesn't have the broad range of features that the previous type of versatile kayak offered, such as rod holders. It still provides an excellent ride and more than enough gear storage space and qualities that make it stand out as one of the best for beginner kayakers.
There is plenty of storage space available in both the stern bulkhead and stern deck rigging for all your needs on a trip.
Stats
Length – 10'11"
Width – 26.5″
Weight – 20 kg
Capacity – 136 kg
Construction – Rotomolded Polyethylene Plastic

Old Town Manitou Sport
The price of "Old Town Manitou Sport " varies, so check the latest price at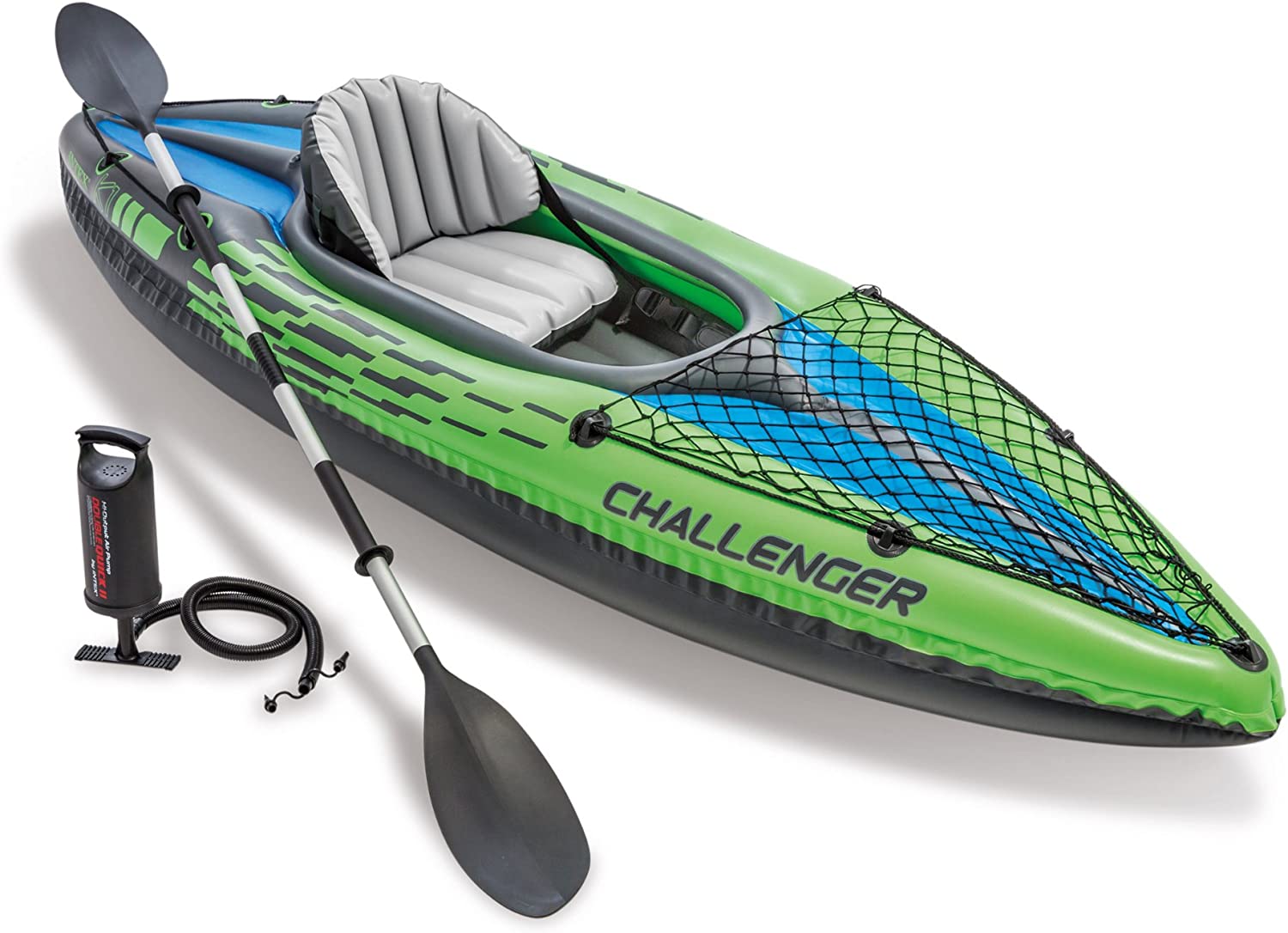 Inflatable kayaks make for a great beginner-friendly kayak option. They are relatively lightweight, easy to store, can be efficiently transported, and are often quite cheap. With the Intex Challenger, you get all three of these great benefits rolled into one easily packed-away bundle. This is the best tandem kayak for dry storage and reliability.
The rise of inflatable kayaks is one that is well deserved. They were initially met with some skepticism due to concerns about durability and stability, but as time has gone on, they have proven themselves as formidable options.
The benefits of an inflatable kayak are many; you are able to transport and store them in a small storage space; they are remarkably lightweight and can be repaired simply and cheaply.
Although this sea kayak has little space in the cockpit for anything more than the inflatable seat and rider, there is a gear storage compartment on both the front and back of the hull. It doesn't have the capacity of a solid counterpart.
This kayak for beginners comes with a kayak paddle, dual action pump, repair kit, and a really handy carry bag. The base of the kayak also comes equipped with a removable fin which adds great stability to recreational paddling, especially when the boat sits so high on the water. Another good beginner-friendly option is the Intex Explorer K2 kayak you might want to look into.
Summary
The Intex Challenger is a tiny but durable kayak that is made to hold the rider inside the body. The snug fit allows the rider to really move the oars and their own weight to maneuver around sharp turns with ease.
The best inflatable kayak will be great for beginner kayakers as it will allow them to really get to grips with manipulating the movement with a lightweight first.
Stats
Length – 9′
Width – 2'6″
Weight – 11 kg
Capacity – 100 kg
Construction – Plastic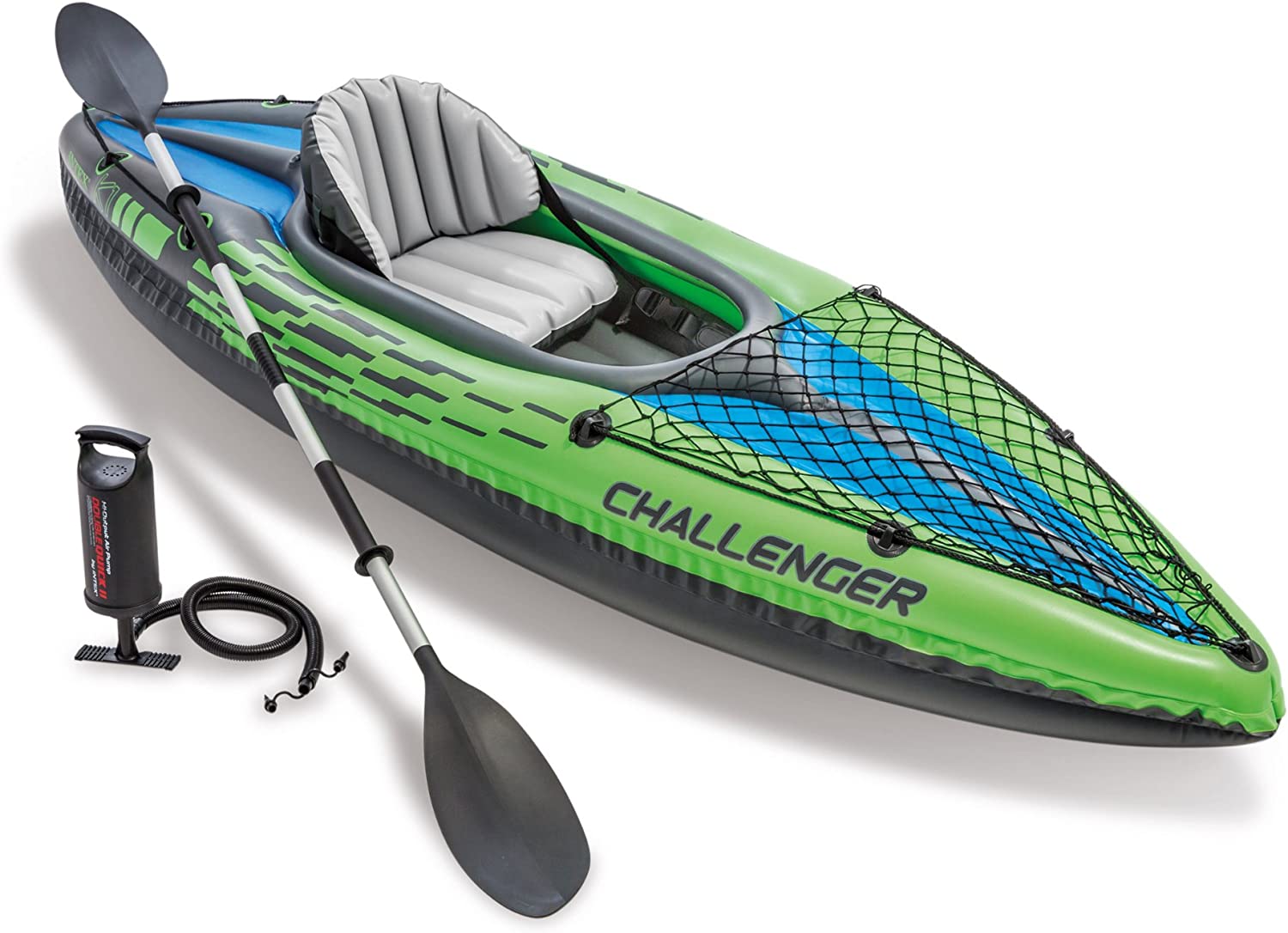 Intex Challenger K1 Kayak
The price of "Intex Challenger K1 Kayak " varies, so check the latest price at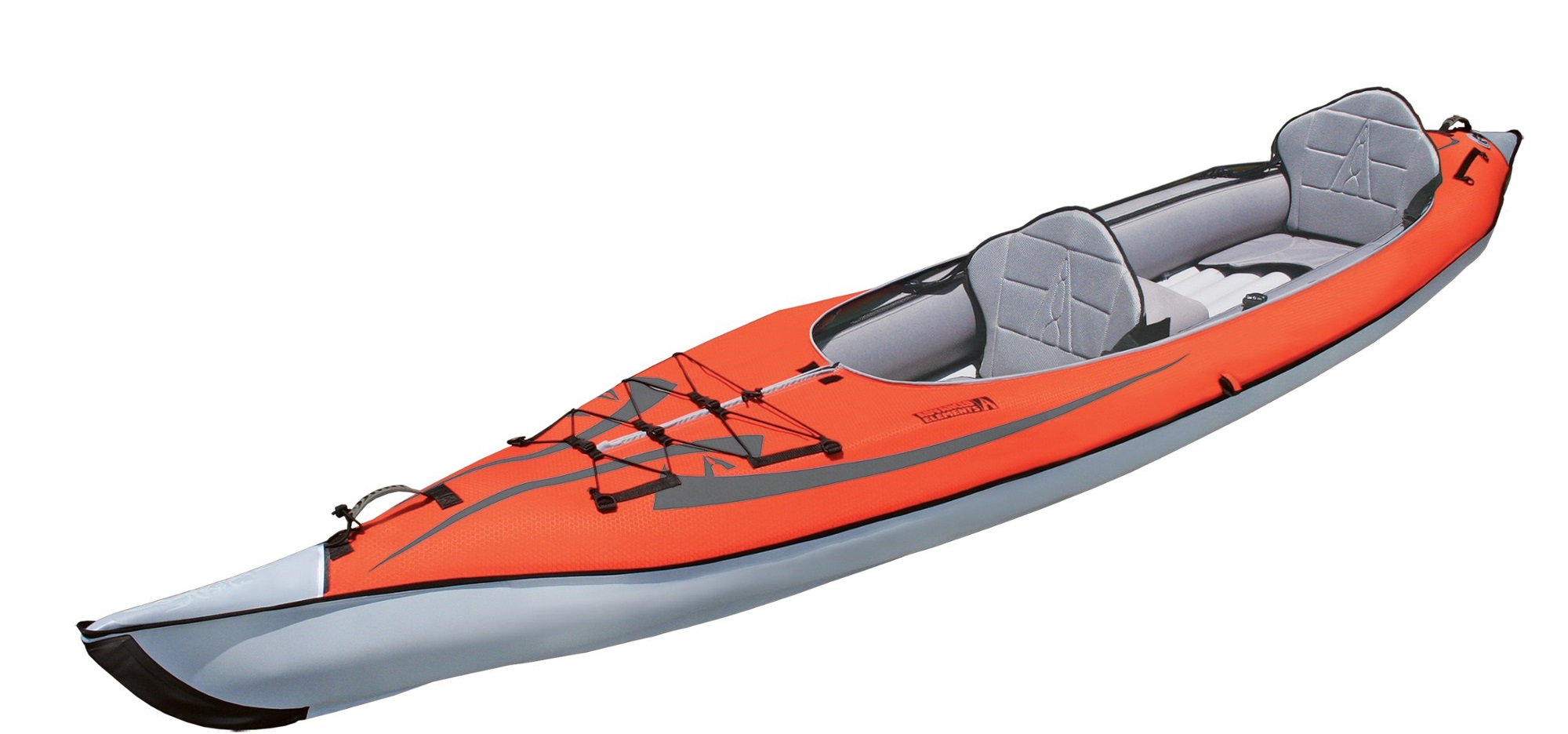 The multi-layer construction of the Advanced Elements inflatable kayaks makes them reliable, durable, and stable even in the most adverse conditions. You can rest assured you're unlikely to receive a puncture or suffer from a lack of rigidity through a full and intense day of paddling.
This is a two-person kayak that is ideal for twin-day trippers looking for something they can ride well into their journey to being more experienced kayakers.
This convertible kayak has a hybrid inflatable setup combining an aluminum frame with multiple air chambers surrounding the body. This design results in a longer kayak than we have seen previously but allows for two people to sit inside with enough room for dry bags and plenty of storage.
This long and stable kayak can be easily packed down into its compact bag. This means it can be easily packed away into a cupboard when not in use or transported in a trunk rather than having to use a roof rack.
This kayak can be equipped with a spray skirt as both a single kayak and a tandem kayak. The easily adjustable foot braces and adjustable seat can be set up for either setup making it one of the best kayaks for adaptability.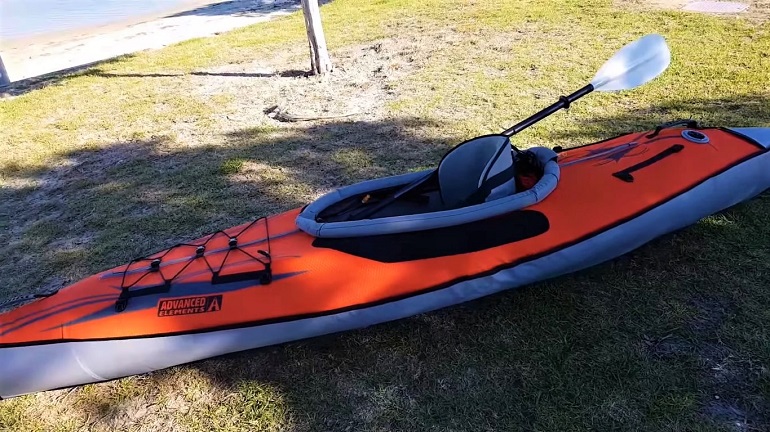 Like the previous inflatable kayak, this also features a tracking fin on the bottom of the hull to help keep it in a straight line. This isn't something that is necessary on the touring kayak equivalent due to their solid hull construction that often sits lower in the water.
Summary
This is the best tandem kayak for anyone looking to really branch out from routes and water, usually only for beginner paddlers. The stable hull and impressively lightweight kayak design make it ideal for taking on rough water, such as waves, or even for whitewater kayaking.
It has a high weight capacity, so won't struggle to stay afloat even with two riders. It's a lot cheaper than buying two kayaks.
Stats
Length – 15′
Width – 2'6″
Weight – 23.5 kg
Capacity – 250 kg
Construction – PVC-coated polyester/aluminum ribs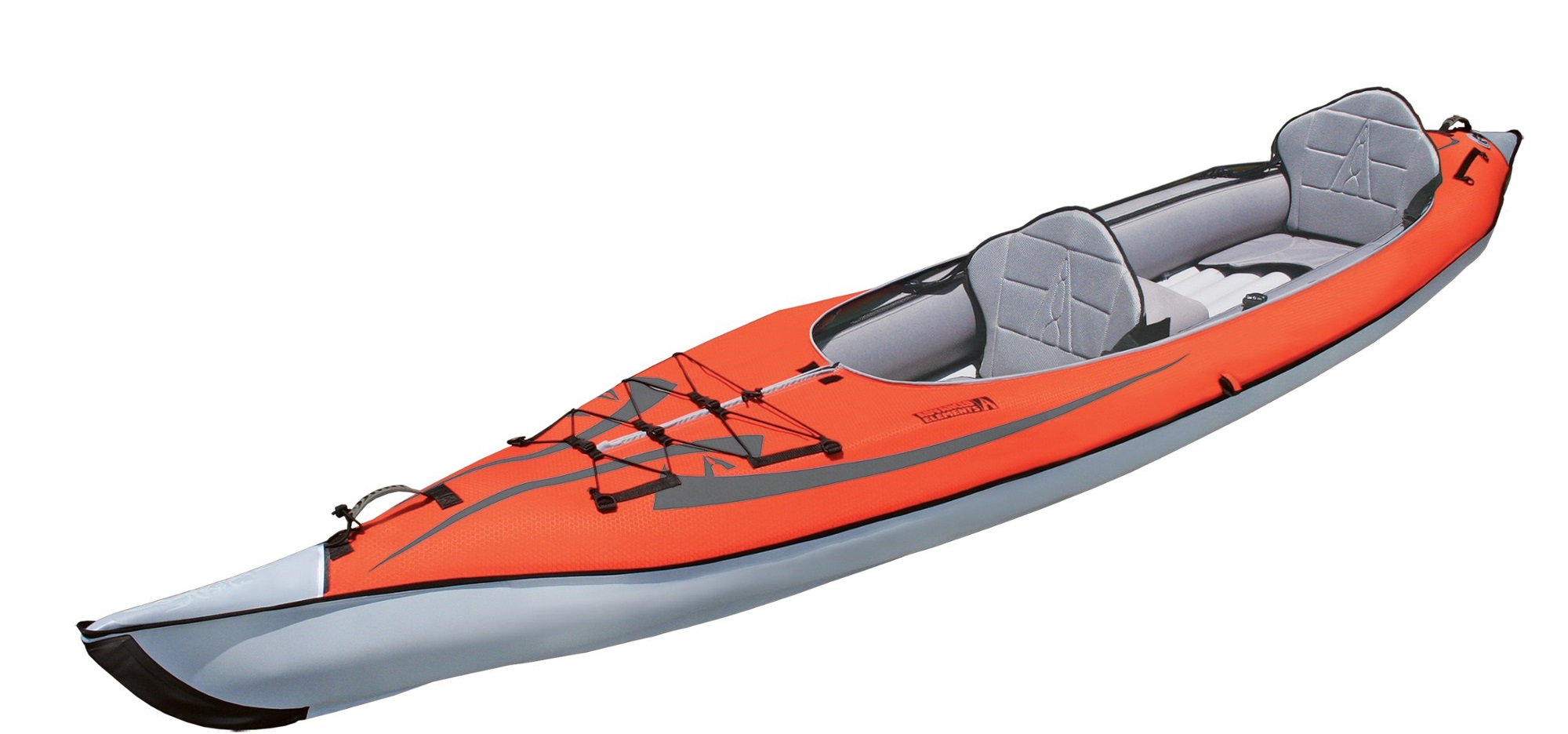 Advanced Elements Advanced
The price of "Advanced Elements Advanced " varies, so check the latest price at

This is one of the best kayaks that are beginner-friendly for people looking for a nice leisurely paddle and avid fishing enthusiasts. It has a comfortable seat, some nice little features, and a good price tag to boot.
For anyone looking for a kayak for fishing, this is a great option. It is shorter than most beginner-friendly kayaks but still has plenty of space to sit inside and has lots of gear storage. The flush mount rod holders are ideal for anyone looking to catch some fish whilst keeping all their gear tucked away in the roomy dry storage hatch.
This recreational kayak features a drain plug in the bottom of the boat so that when you're done paddling, you can empty the cold water out of the hull without any trouble. Kayaks tend to fill up with water no matter how good you are unless you have spray skirts installed. Getting the water out of the odd shapes can be difficult.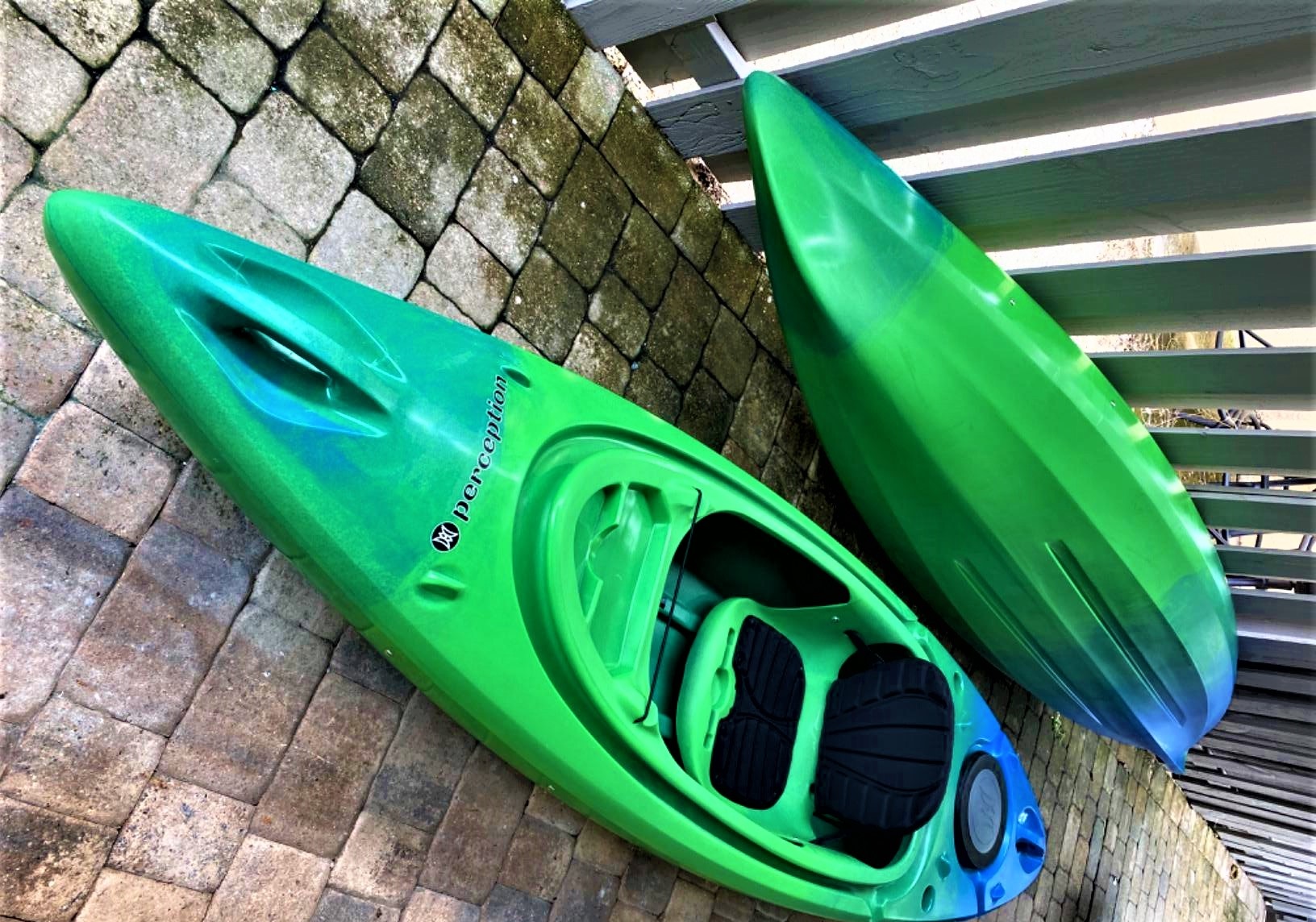 This kayak for beginners features both an adjustable padded seat and multiple footrest positions to make it as universally accessible as possible for recreational kayaking. The best kayaks for beginners need to have as much adaptability as possible so that you can tweak and change the setup until it fits you just right.
Summary
As a fishing kayak or as a beginner sit-in kayak, this would be the right kayak to start looking at. It is very reasonably priced, has a decent kayak weight capacity, and is very stable on flat water. Learning to paddle in this short but sweet fishing kayak will be a breeze.
Stats
Length – 9′ 6″
Width – 28.5"
Weight – 18.5 kg
Capacity – 148 kg
Construction – Polyethylene

Perception Flash 9.5
The price of "Perception Flash 9.5 " varies, so check the latest price at

If you're looking for an innovative touring kayak that will really turn heads and is built for people with limited storage space, then look no further than Oru's folding kayaks.
This sit-in kayak is made for people who like whitewater paddling but perhaps don't have the luxury of a large garage or even a car for transportation.
The Oru's amazing design makes the kayak's weight incredibly low, resulting in folding kayaks that can be easily carried by hand to wherever you may want to paddle.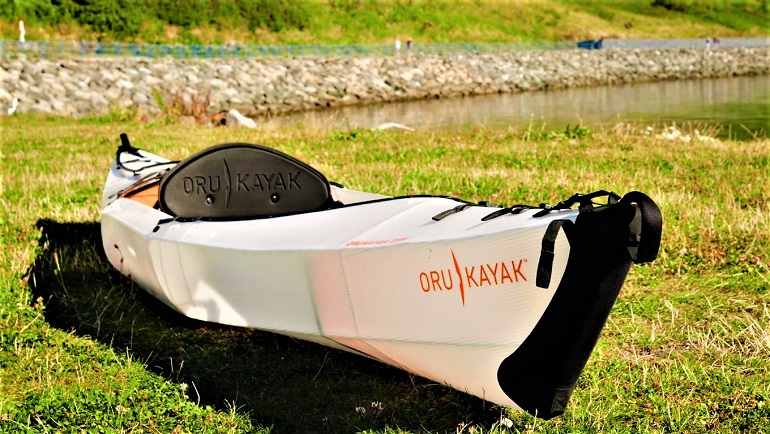 For the size of the pack and the low weight, the craft is a good size recreational kayak and remarkably sturdy. It may not have the cargo net or cargo space of most kayaks, but this is to be expected for its incredibly versatile and lightweight construction.
Summary
These are single kayaks that are designed for very calm water paddling; they will not be able to withstand chop or waves. Sheltered waters are where this folding kayak would excel, providing a calm and fun day out in pleasant weather.
If you want to just take some trips out on a marina but may have to walk to it, this is the best kayak for you.
Stats
Length – 10′
Width – 30"
Weight – 9 kg
Capacity – 125 kg
Construction – 5 mm 2-layer polypropylene

Oru Kayak Beach LT
The price of "JOru Kayak Beach LT " varies, so check the latest price at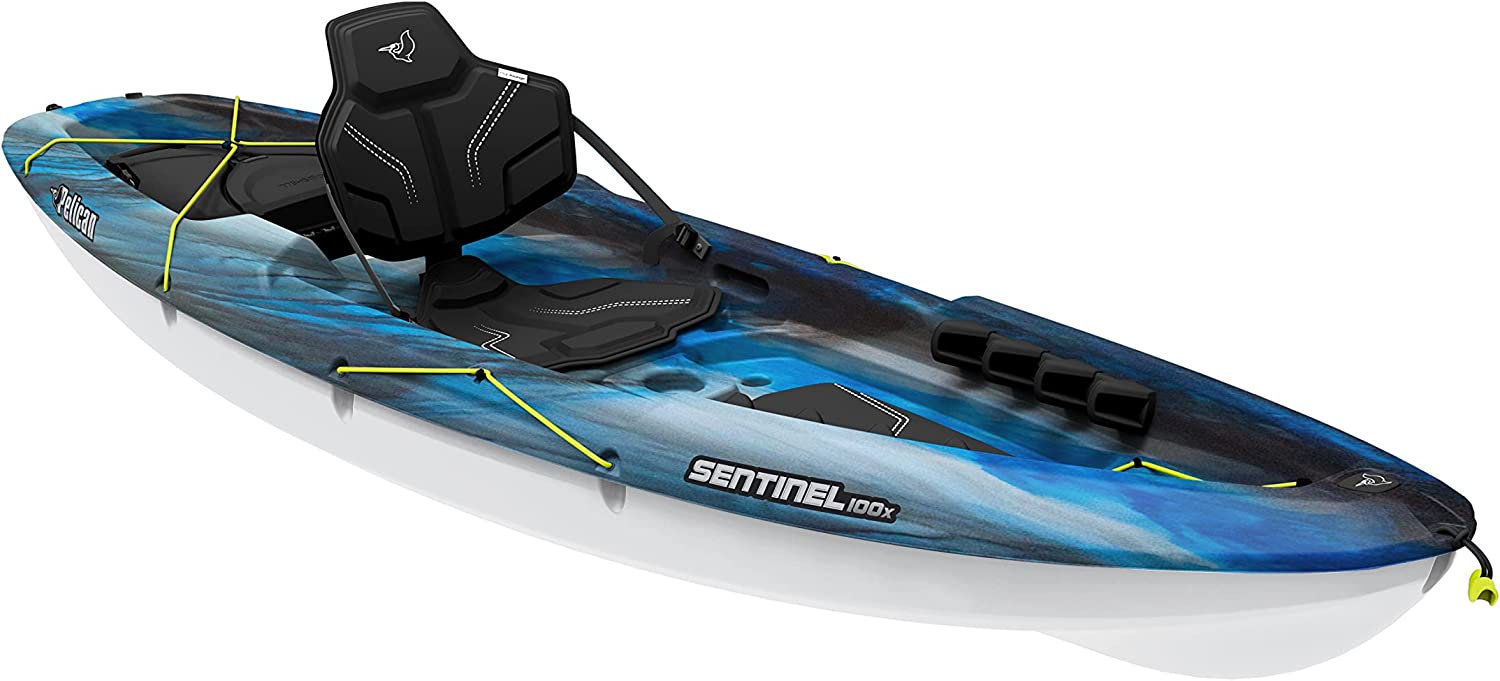 Unlike most paddling kayaks we have looked at today, this model from Pelican is one of the sit-on-top kayaks designed to ride in a much higher position than most beginner kayaks. There are a number of benefits to the sit-on kayak's design.
They offer enough stability, which is something you would be looking for in the best kayak for a beginner. They also offer a lot less confinement; the sit-on-top kayaks are totally open to the elements, with no walls around the paddler.
Best top-sitting kayaks are very user-friendly, but they don't perform as well as sit-inside kayaks. They are never as narrow and have a much high center of gravity. If you're only planning on paddling in calm waters, this isn't too much of an issue, but adverse conditions could quickly become an issue.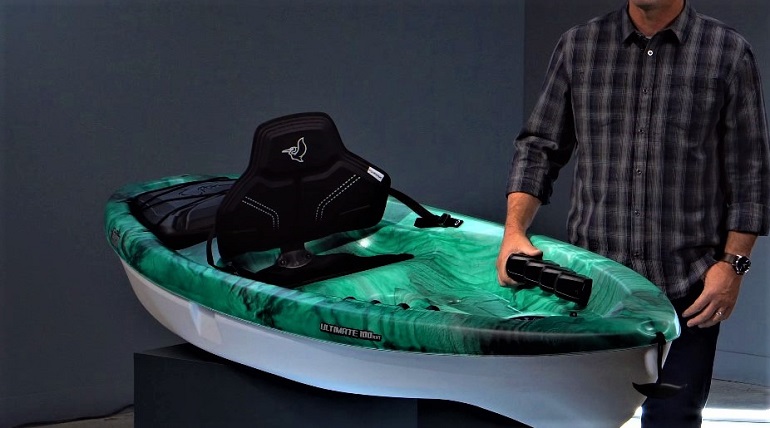 These sit-on kayaks have a lot of similarities with the very popular paddle boards you may see cruising around. They have large flat decks that are perfect for bringing lots of cargo on your journey. This sit-on kayak is no different.
A huge 13l cargo container straps behind the seat whilst the front has a large surface area perfect for more cargo or even your furry friend. The weight capacity won't struggle to hold it all securely, also.
Summary
The inside of the sit-on-top kayak has multiple footrest positions down the inside of the walls of the kayak. You can choose which one to use as you paddle. The seat can also be adjusted to where you need it. This is a recreational kayak for beginners that is suitable for a lot of different-sized paddlers.
Stats
Length – 9'6″
Width – 30"
Weight – 19 kg
Capacity – 125 kg
Construction – High molecular weight polyethylene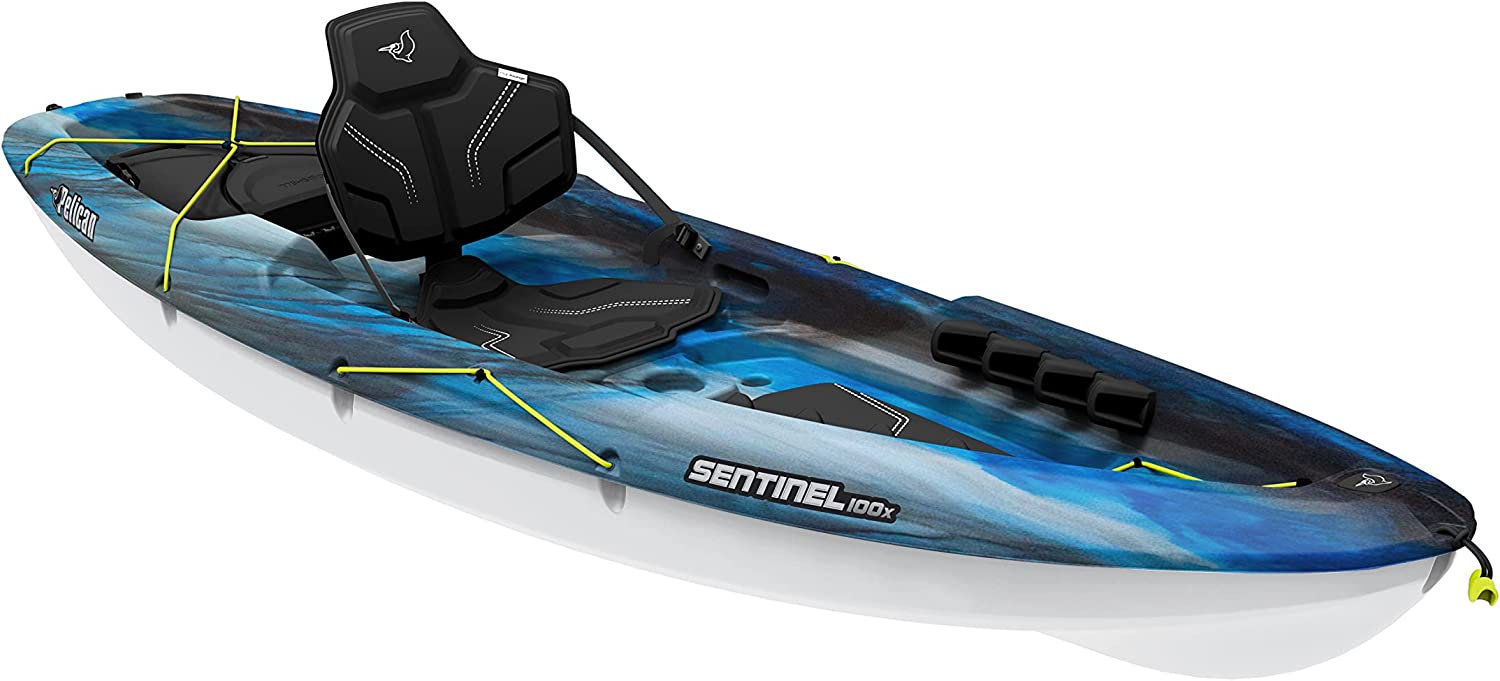 Pelican Sit-on-Top Kayak
The price of "Pelican Sit-on-Top Kayak " varies, so check the latest price at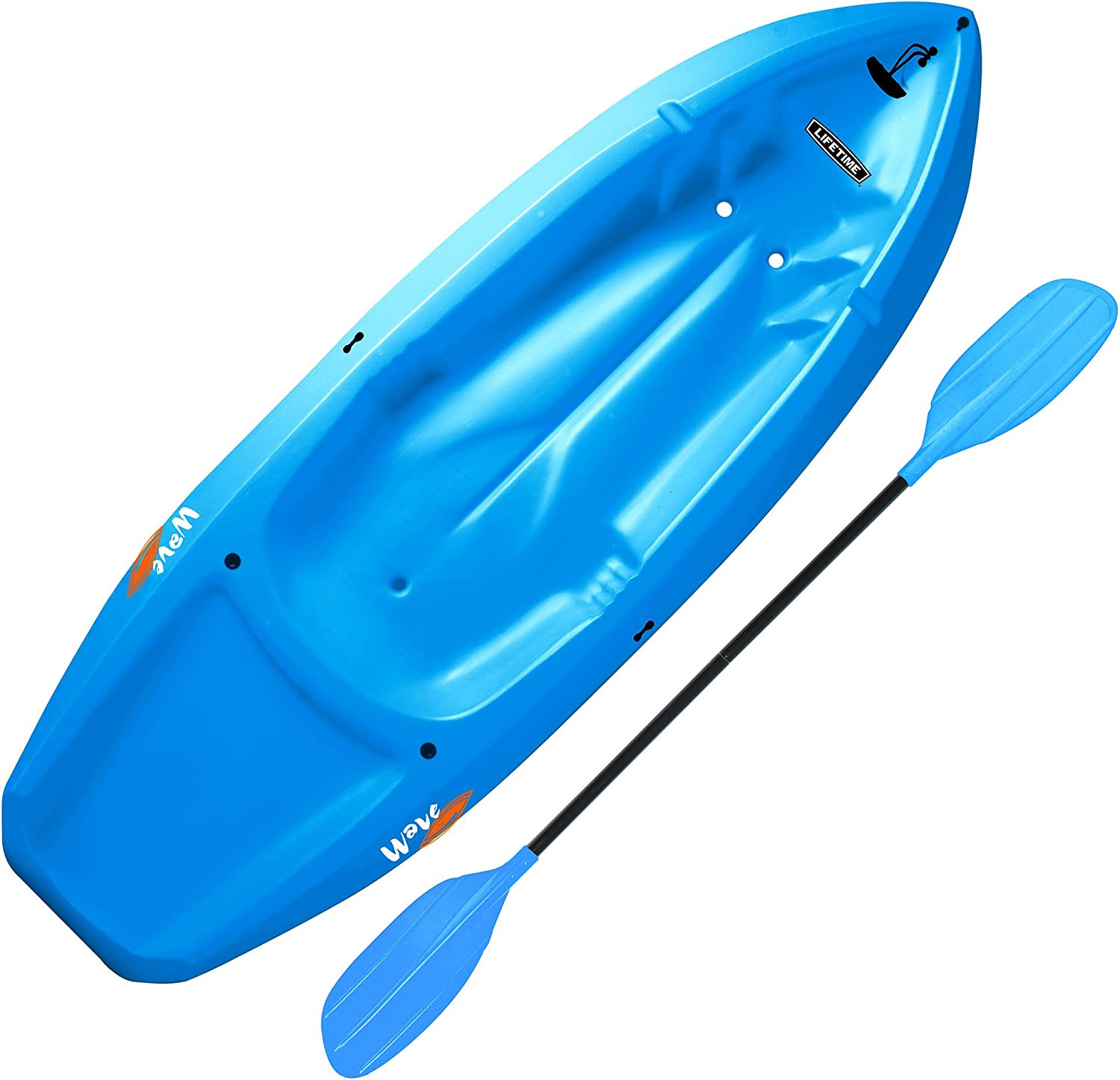 Why should kids be left out of the fun while kayaking? There are kayaks, especially for kids, and Youth Wave is one of them.
The Youth Wave range are sit-on-top kayaks made for the younger beginner paddlers who are just looking to get out there on the open water and start their new hobby. The Lifetime Youth Wave kayak is ideal for someone five and up and under 60kgs.
If you want to start paddling with your young ones in single kayaks, this lightweight kayak is a great place to start.
With its low weight capacity and small, six-foot frame, this is a sit-on-top kayak that can only really be used by young children. It is perfect for learning with a wide-open design that is incredibly easy to get in and out of.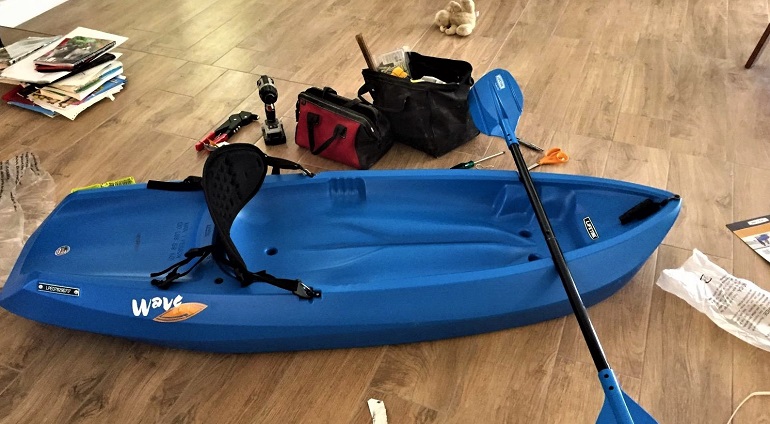 The Lifetime Youth Wave kayak is made to be as accessible as it can be and to make learning as simple as possible.
The sit-on-top kayak features a swim-up deck which allows the paddler to mount the deck from the back and pull themselves aboard from the water. This isn't just helpful for the likely event of a tumble, but if your kids want to jump off for a swim, they can always climb back aboard after.
Summary
The sit-on-top construction is both durable and lightweight. It can be carried by a kid and can withstand the inevitable bumps and scrapes that will come with a young one's lifestyle. You don't need to worry about punctures and damage to the hull. A perfect, accessible first kayak for the aspiring sea captain.
Stats
Length – 6′
Width – 24"
Weight – 8.2 kg
Capacity – 59 kg
Construction – High-density polyethylene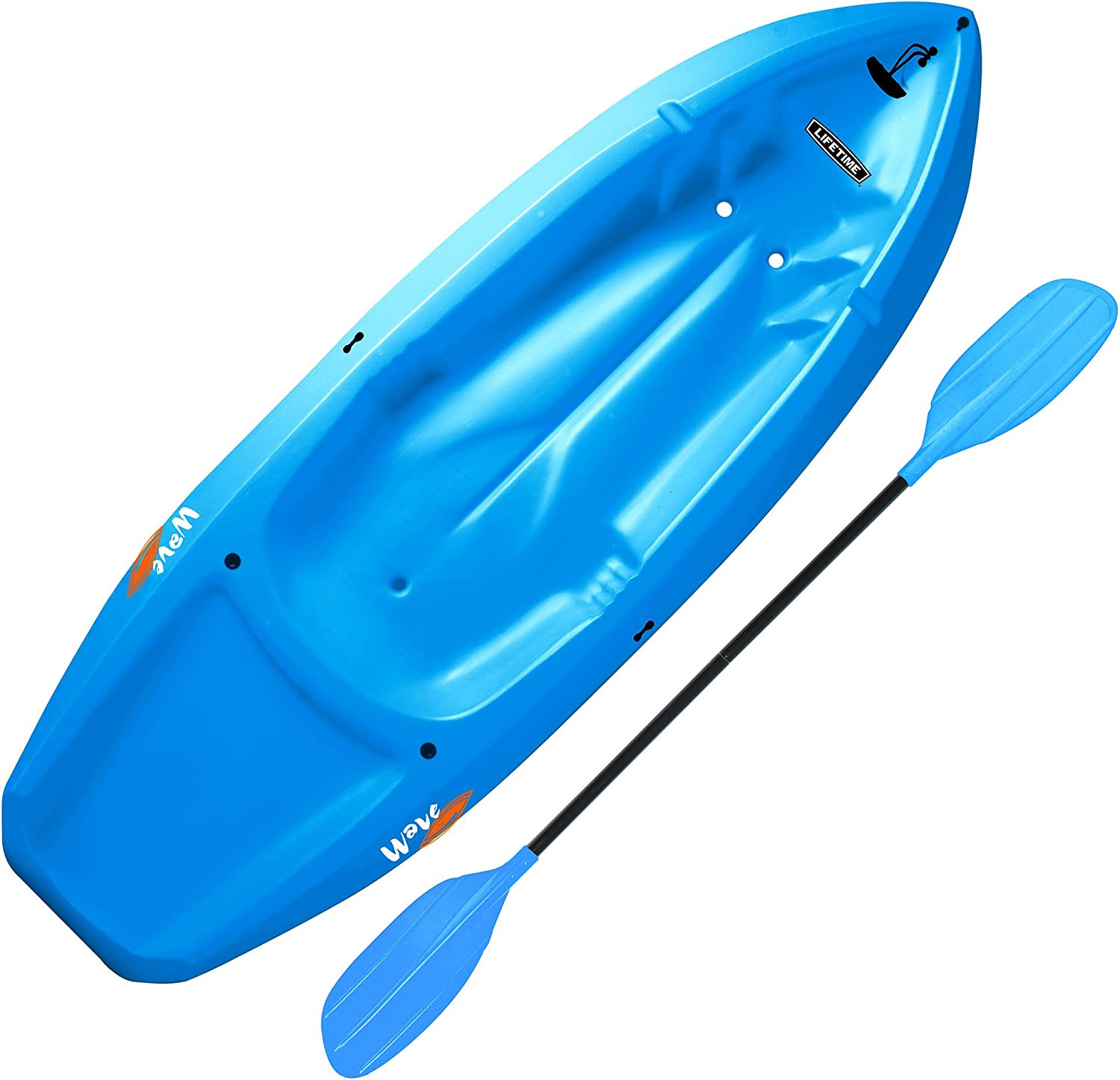 Lifetime Youth Wave Kayak
The price of "Lifetime Youth Wave Kayak " varies, so check the latest price at
A Buying Guide For Your Next Beginner Kayak
You should always know what you're looking for before you start shopping. Knowing the lingo and the correct things to be aware of will save you from wasting your time and money on something that is totally inappropriate for you.
There's a whole lot of jargon out there and a million different types of entry-level kayaks. Let's make sure you know your whitewater kayaks from your touring kayaks before you blow a load of money.
Capacity
The weight capacity of your new kayak is an important element to take into consideration. With tandem kayaks, you're going to want something that has a weight capacity for carrying at least the weight of both you and another paddle partner, potentially at a wet weight.
If you're planning on taking cargo with you for camping or fishing kayaks, you want to make sure it won't be too low in the water. The maximum weight capacity is always advertised on the sales pages of whatever kayak you're planning on buying.
As a rule, touring kayaks and recreational kayaks will have the highest weight capacity, whilst most whitewater kayaks and racing kayaks tend to have a much lower capacity.
Durability
If you're investing good money into a kayak, you want to make sure that it'll stand the test of time. If you're learning, chances are you're going to put the hull through a bit of strain with bumps and scraps, so making sure it doesn't end up holed on the first voyage is a must.
The best option for durability is a hard shell kayak, they are made of resilient plastics that can take a lot of abuse, including being dragged in and out of the water. This being said the best inflatable kayak will be just as strong as a good solid hull equivalent.
The materials inflatable kayaks are made of these days are built to last and, in some cases, can be even more sturdy.
Make sure you keep an eye out for reviews for warnings about weak kayaks. You don't want to find yourself suddenly having to bail out of water in the middle of a lake.
Price
Inflatable kayaks can range wildly in price, from less than a hundred dollars all the way up to thousands. If you are only just starting out on your journey into the pleasures of kayaking, I would suggest buying yourself something cheap or second-hand, as long as it has good build quality.
Make sure you actually like to paddle, find it a hobby you want to invest in, and then spend some real money on a touring kayak that will make the other people on the water green with envy.
Of course, if you keep your eyes out, you can find some excellent deals on top-of-the-range inflatable kayaks in sales and second-hand bargains from people who no longer have the time to enjoy the sport.
Stability
When you're just starting out in your new hobby as a kayaker, you'll be wanting something that provides as much primary stability as possible whilst still being accessible. This is where the debate between sit-in kayak and the sit-on-top variety comes in.
The benefits of sit-in kayaks are their low center of gravity, deeper keels, and resistance to the more adverse conditions that open water can throw at you.
Being so low down in sit-in kayaks makes it much harder to fall sideways. A sit-in kayak is built with a deeper keel that digs into the water to stabilize and keep the kayak straight.
The sit-on alternative makes getting into the kayak a doddle, simply step down onto the surface, and away you go. These are also super easy to climb onto if you happen to fall or purposefully jump off.
The disadvantage is the high center of gravity, making you much more vulnerable to wake and chop. They also sit much higher in the water, lowering the overall stability.
What you choose is up to you and what you feel you need as a beginner, but it is important to prioritize stability. If you prefer a kayak, you can step in and out of easily without the restrictions of a cockpit, then give a sit-on-top a go. If you prefer to be enclosed and low in the water, get yourself a more traditional style.
Tracking
Tracking is determined by the underside of the inflatable kayak and is often dictated by how deep in the water the kayak sits and the design underneath it. A touring kayak will track through the water like a shark due to its low profile and pointed nose and tail.
A recreational kayak is a little wider around the waist and won't track quite as smoothly.
A few of the recreational kayaks we have looked at that sit high in the water feature fins on the bottom of the hull. This is similar to flat surfboards or paddleboards. The fin helps them stay straight in the same way the keel does on an inflatable kayak that sits deeper in the water.
If a recreational kayak is completely flat on the water, it will struggle to stay in a straight line. You want to look for something that has a slight v or double v shape that will help it hold a course.
A Few Frequently Asked Questions
If I answer them now, you don't have to waste time later searching for the answers.
What Size Kayak Is Best for Beginners?
As you just start out, opting for something smaller is usually a good idea. This doesn't mean choosing something the size of a whitewater kayak or the skinny profile of a racing kayak, but just make sure it isn't too unwieldy.
Lightweight, comfortable, and able to be manipulated without having to know loads of fancy moves would be ideal. Go for an inflatable kayak that is nice and wide, it will provide the most surface area to provide stability even in rough water.
Which Is Better: Sit-On-Top Kayaks or Sit-In Kayaks?
Personally, I am a much bigger fan of the sit-in kayaks. They are much easier to paddle, they feel a lot more secure, and they keep me a lot drier and warmer tucked down in that cockpit.
Of course, this is coming from experience and being very comfortable with my legs inside the body of the craft. This can feel a little claustrophobic for some, and the restrictive nature of the shell can be unpleasant.
If you feel like you would like to be above the water until you have your technique and confidence up, then I would suggest a sit-on, but for power, stability, and speed, you can't beat a sit-in.
What Length Paddle Do I Need?
Your paddle length depends entirely on the style of kayak you're going to be paddling. The further from the water you are, the longer the paddle you will want. Basically, you don't want the paddle to be hitting the sides of your kayak on every stroke, but you also don't want it to be flailing around miles away and slapping the water.
The best option is to get adjustable kayak paddles and figure out exactly what works for you, your height and arm length, and the width of your boat.
The Last Point on Paddling
Kayaking is a wonderful sport to take up, it is a gateway to a huge array of different waterways. You may start out on a marina or your local lake, but you could very easily end up tearing down a ravine's whitewater or slicing through a river's cold water within a year.
If you've ever wondered how many calories does kayaking burn, the answer is quite some (around 280 calories for an average-weight kayaker). So kayaking is also a great way to get in some fun workout.
The sport offers a huge range of pathways and options for all involved. It can be just as easily enjoyed as a casual sunny Sunday family trip as it can be plunging off the edge of a waterfall with a bunch of other adrenaline junkies.
The best kayaks for beginners would most likely be recreational kayaks or tandem kayaks. The former provides a lovely wide beam and plenty of space to move around.
Once you get a grip on things, you can go for the best inflatable whitewater kayaks or racing kayaks. If you're into fishing, as a beginner, you can look at the best pedal-drive fishing kayaks available on the market. However, remember to store your kayak properly to get maximum performance out of it.
The wider shape provides a lot of stability on top of the water, helping you find your sea legs and forgiving any mistakes you may make. (Additionally, as a beginner, you might want to learn ways how to make a kayak more stable to avoid the risk of capsizing).
Tandem kayaks tend to be a lot larger than usual and have the space for a friend or instructor if you're not quite feeling confident enough on your own yet.
My suggestion is to buy yourself a cheap, quality kayak for beginners, strap on a life jacket, and give paddling a go. I can guarantee you will love it, and if not, at least you got a good day of exercise out of it.
As a beginner, you can also take a look at the best kayak outriggers available on the market for more stability. It's also beneficial for you to learn how to paddle your kayak the right way.
If you are someone who is testing out the waters for the first time or just wants to relax, you can look into the best-floating mats available on the market.
So get your shoes and kayaking gloves out, and embark on your adventure!