Adventuring With Friends
We all know that dogs are the best. They are loyal, can be trained, and are dependable. But you know what is the one thing that all dogs hate? Being left out, it's why they cry and whine every time they see you getting ready to leave.
Unfortunately, besides walks and playing at the park, there isn't much else you can do with your dog. Or is there?
Paddle boarding is a relaxing activity that not only blasts your core but also takes you on an adventure. The best part is, there are paddle boards that are built to accommodate you and your furry friend.
These special paddle boards for dogs have got all the required features and sizes to let your best friend hitch a ride with you. Like the folktales of simpler days, set sail and let the waterway take both you and your dog wherever it pleases.
Best Paddle Board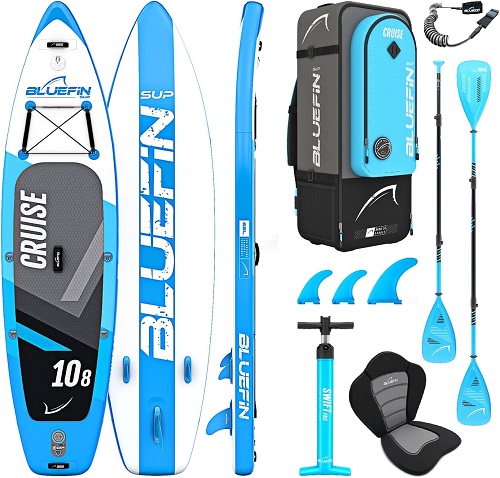 Bluefin Cruise
Material: PVC fabric
Item Weight: 33 pounds
Best Durability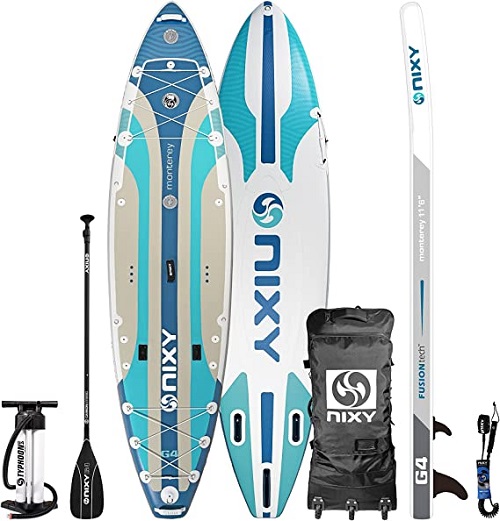 Nixy Monterey
Material: Neoprene, PVC

Item Weight: 25 Pounds
Best Build Quality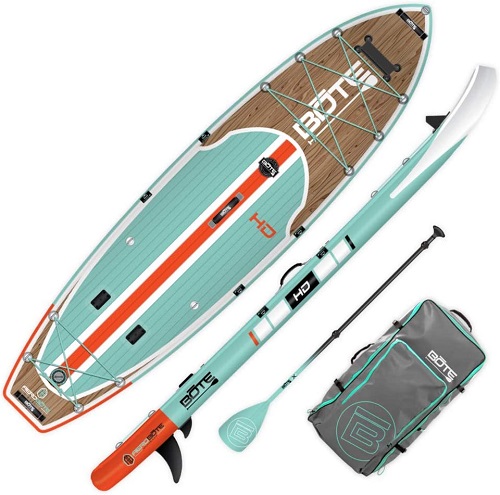 Bote HD Aero 11'6" Full Trax
Material: Polyvinyl Chloride
Item Weight: 31 pounds
Best Deal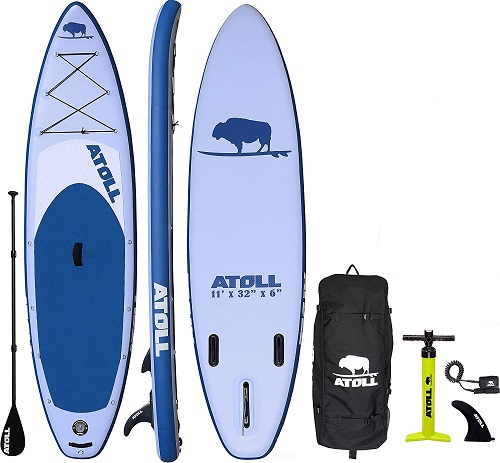 Atoll 11
Material: Polyvinyl Chloride

Item Weight: 21 Pounds

Best Stability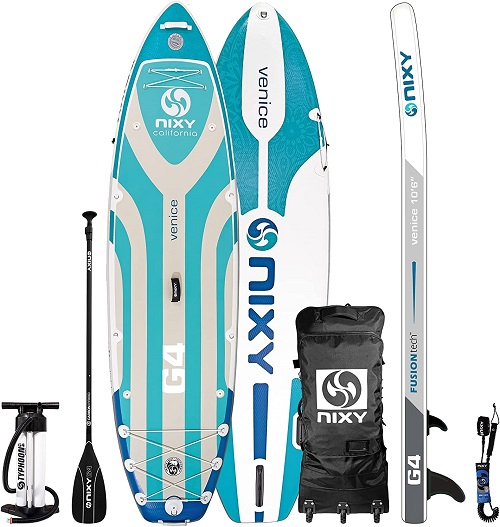 Nixy Venice
Material: Neoprene, PVC

Item Weight: 23 POUNDS
Best Lightweight Option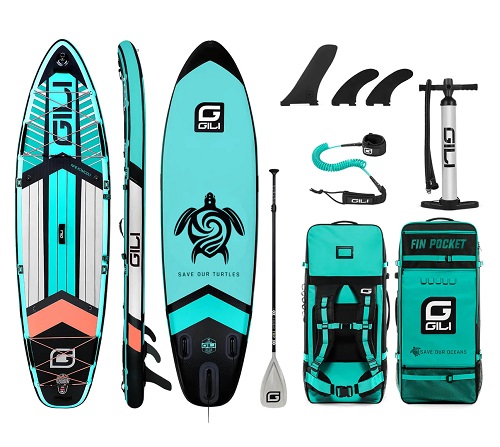 KOMODO Paddle Board
Material: Ethylene Vinyl Acetate

Item Weight: 21 POUNDS
Best Of The Rest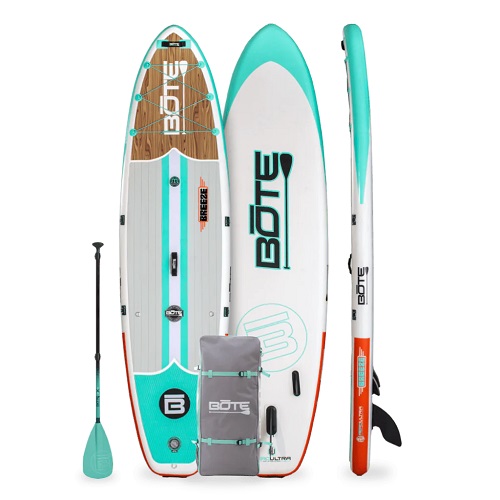 Bote HD FullTrax
Material: Polyvinyl Chloride
Item Weight: 45 pounds
The 7 Best Paddle Boards for Dogs
Below I've outlined seven paddle boards that allow you to bring a plus one along. These boards range in features and feel as well as what types of paddling they excel at, but they have two constants.
First, they are all good quality, and second, they've got enough space for your pet dog.
From the best inflatable paddle boards, like the Bluefin Cruise, to the Nixy Monterey and all the accessories that come with it. There's nothing but great deals to be found. Hopefully, one of these hard boards comes with a bag of doggy treats. My little guy gets hungry, you know?
The Bluefin Cruise was the big winner for today. You could tell that the makers of this great board had a lot of trust in their creation. It's why they attached a five-year warranty to it. Nothing else on this list comes close to this level of coverage, and that speaks volumes about its durability.
Aside from a long life span and equally long warranty policy, the Cruise benefits from a two-piece paddle that has the entirety of its shaft made from fiberglass. This fiberglass paddle weighs half of what competing paddles weigh.
The reason why this is something that I want to highlight is that paddling with this board is a breeze. Remember that you are going to bring your dog along. Wouldn't you want to cut as much weight as possible so that you don't tire as quickly?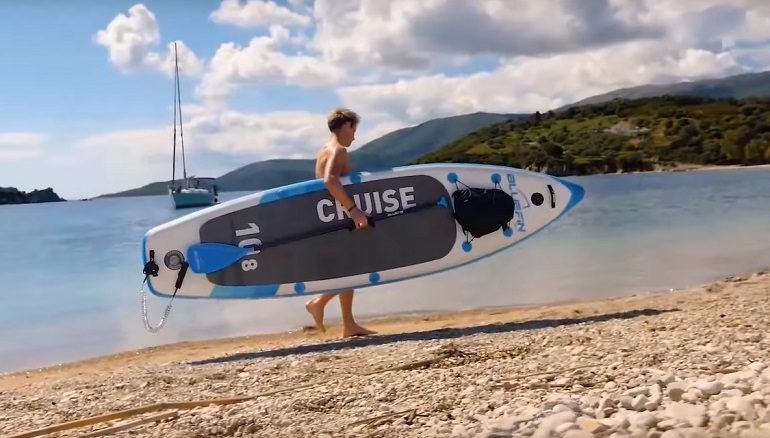 A fiberglass paddle is a pretty good place to start with that.
I was also blown away by the functionality of the Cruise. Using the D-rings that come with your purchase, it only takes a few minutes to turn this paddle board into a kayak with a kayak seat. How crazy is that!?
The short eight-inch fin makes maneuvering a cinch, and getting it into place doesn't require any tools at all. Simply put, there are many things that my top pick offers that no one else does.
This is what makes it worthy of the number one spot.
Features
Material: Nylon
Best Feature: Comes with a Kayak conversion kit
Warranty: Five years
Fin: Smart lock fin
Weight: Thirty-eight pounds
Pros
Using the D-rings included with your board, all it takes is a couple of minutes to turn your board into a kayak.
The two-piece paddle has a fiberglass shaft that cuts its final weight in half.
Has a center fin that is eight inches long and can be securely clipped into place in a matter of seconds.
Cons
Different sizing options have different color schemes. Some uniformity would have been nice.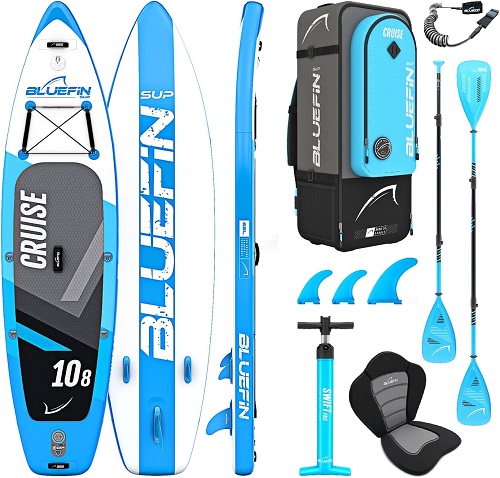 Bluefin Cruise
The price of "Bluefin Cruise" varies, so check the latest price at
Longevity, in one form or another, is what we all want. For ourselves, our loved ones, and definitely for what we spend our hard-earned cash on. I'd say that the Nixy Monterrey will remain standing, or I guess in this case floating, long after all the other boards have come and gone.
To what is this durability owed? I'd point to the PVC and the Neoprene materials that this solid board is made of as the main culprits. PVC material is an extremely lightweight yet rigid material that is the gold standard when it comes to quality inflatable construction.
What PVC is to paddle boards and their durability, Gore-tex is to ski gear and their breathability. Working alongside this money material is Neoprene. Neoprene is a material that was specially made to resist scratches and other abrasions.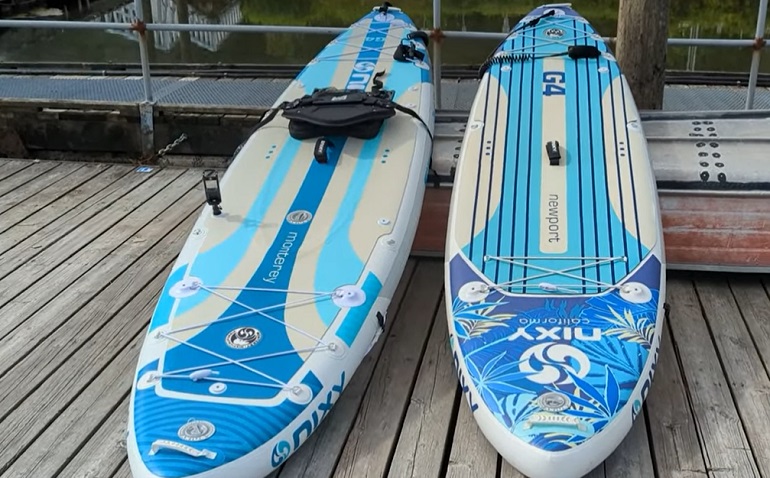 It even makes it harder for something to stretch and twist into itself, further avoiding damage. This is especially vital when your paddle board isn't fully inflated. Truth be told, your paddle board is more likely to get damaged when it's not inflated than when it is. Neoprene protects against this.
Should the worst happen, which I doubt unless you are either unlucky or were trying to damage your board and your paddle board tear, fear not! The Monterey comes with a two-year warranty.
Two years may not be as much as our previous option, but it is still more than enough time for you to use and then replace this board.
Features
Material: Neoprene and PVC
Best Feature: Maximum weight limit of 400 pounds
Warranty: Two years
Fin: Three tool-less removable fins
Weight: Twenty-five pounds
Pros
This board comes with three fins that can be removed and attached without the need for a tool.
Comes with a large non-slip UV pad for your dog to lounge on.
The entire board boasts a double-layer construction from two layers of PVC and a FusionTech laminate.
Cons
Only one sizing option is available.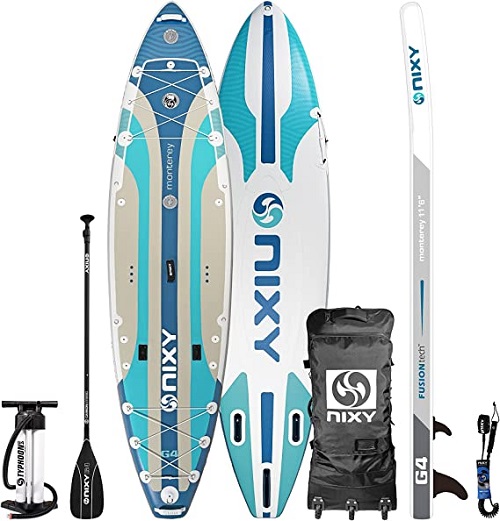 Nixy Monterey
The price of "Nixy Monterey" varies, so check the latest price at
Our first two picks left me impressed with their blend of ingenuity and quality construction; however, as far as overall build quality goes, the Bote HD Aero takes the whole pie.
In this instance, what does build quality even mean? One would think that durability is the main purpose of improving build quality, but this isn't always the case. To me, build quality means that great materials were used throughout the entire construction phase of a board.
Not just in terms of creating a more durable product but also one that had more to show for itself. Don't get me wrong, durability is a cornerstone of the Bote HD Aero, but then again, that can be said for all of the boards on this list.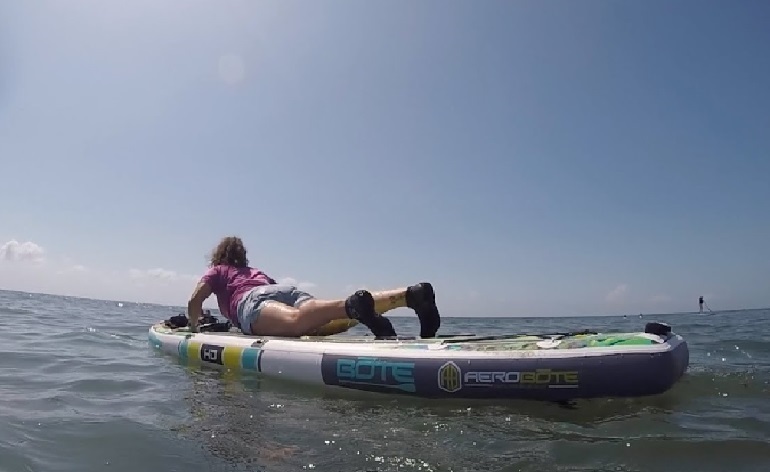 What the Aero board has to show for itself is a Magnepod retention system. This system allows you to place compatible drink holders onto the surface of the Aero, without fear of them slipping off.
Through the use of magnets, your drinks will be held firmly in place. Now you can take your furry best friend and a nice cup of tea with you on your travels. Helping you maintain a straight course is a ten-inch long center fin.
In need of some quick repairs? Fortunately for you, this board comes with a repair kit and hand pump. All bases are covered, and all systems go. The only thing that you'll have to look out for is its weight. At thirty pounds, it is a lot heavier than most other boards.
So keep your dog's weight in mind while ordering yours.
Features
Material: PVC
Best Feature: Sleek and colorful design
Warranty: Not available
Fin: Ten-inch center fin
Weight: Thirty pounds
Pros
Comes with an Aero repair kit and a hand pump to inflate your board.
The center fin is among the largest at ten inches long.
The board has a paddle holder and a MAGNEPOD retention system that firmly holds onto your thermos and other compatible drinks through the use of magnets.
Cons
Has a much lower weight capacity of only three hundred and fifteen pounds.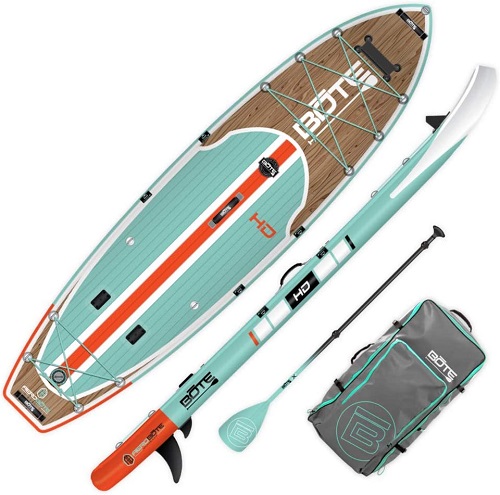 Bote HD Aero 11'6" Full Trax
The price of "Bote HD Aero 11'6" Full Trax " varies, so check the latest price at
We are right in the heart of the holiday season. The best time of year, they call it, for everyone and everything except your wallet, that is. Getting a good deal is the difference between feeling rotten at the checkout counter or going home with a big smile.
And let me assure you that there is no better deal than the Atoll 11. It's more than just a paddle board package; this inflatable sup list has plenty of those; what's on offer here is gargantuan. First, let me highlight the quality of this great board itself.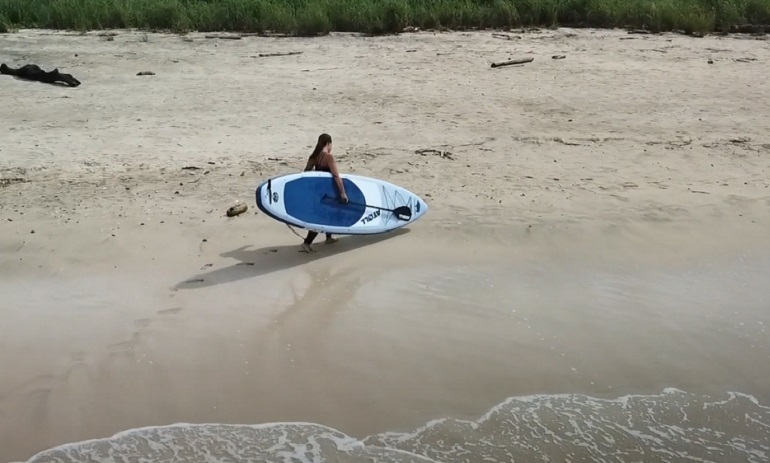 Weighing in at only twenty-one pounds and with a triple-fixed fin design to have you coasting through the rough waters with no stuttering at all, this is a lightweight machine. The central fin can be removed and reattached without the need for any tools, and it can reliably carry four hundred pounds on its back.
Even just the inflatable sup board alone is well worth its price tag. But alongside the Atoll you get a three-piece paddle with a nylon blade. You also receive a heavy-duty nylon bag for carrying all of your gear and a two-year warranty to secure it all.
All of the other paddle boards offer dry bags and paddles with purchase, but not many of them can hold a candle to the quality of the Atoll's paddle or dry bag.
Features
Material: Nylon
Best Feature: Very low weighing
Warranty: Two years
Fin: Fixed tri-fin design
Weight: Twenty-one pounds
Pros
The fins are fixed, which means you won't have to worry about them getting lost or knocked out of place.
Despite weighing so little, can reliably handle more than four hundred pounds of weight.
The central fin can be detached and replaced without the need for any tools.
Cons
The only downside is that some will not enjoy the fixed fins as it could become harder to store this board.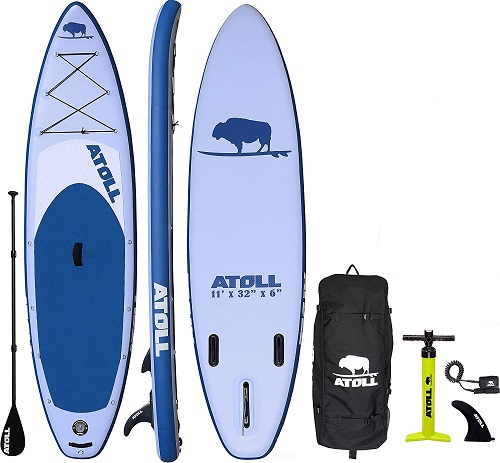 Atoll 11
The price of "Atoll 11" varies, so check the latest price at
The Nixy Venice gives you smooth rides that lack the power and thrust of other inflatable sup boards but makes up for it in serenity and durability. The much-lauded Neoprene and PVC from before make their appearance once more. Bringing with them all of the durability and abrasion resistance that you could want.
To help you haul around this lightweight board, handles were placed at all intervals throughout its body. At the front, back, and sides of the board. Speaking of lightweight, this is where it gets most of its shine.
Despite only weighing twenty-three pounds, the Venice board is extremely stable. Your pup can dance on the bow, and you wouldn't feel much of anything. Although that would be creepy to witness in certain circumstances…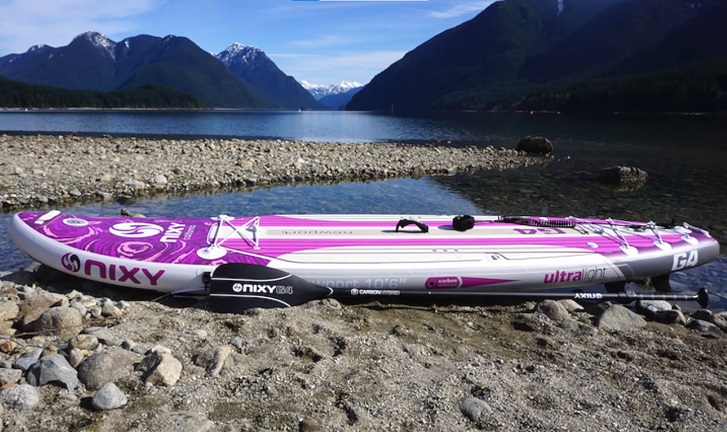 Moving on, the sides of this board have been reinforced with rails made from carbon fiber. This was done to offer an extra layer of protection to the seams. The seams are the weakest and most vulnerable part of any paddle board.
An unintended effect of these side rails is that the Venice board is able to use them as pillars. One's that help it maintain its form in more choppy waters.
Features
Material: Neoprene and PVC
Best Feature: Front, back, and middle handles
Warranty: Two years
Fin: Tool-less removable fins
Weight: Twenty-three pounds
Pros
Has side rails made from carbon fiber which protects the seams from any tears.
The front and back bungee cords can be removed to ease storing this board.
Comes with an ankle leash that is comfortable and reliable.
Cons
I did not have any issues with this board or its design.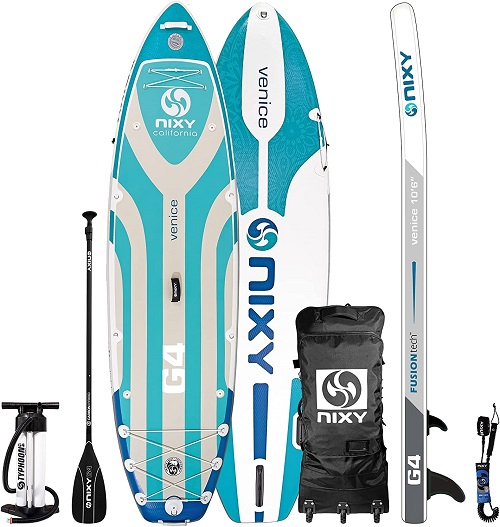 Nixy Venice
The price of "Nixy Venice" varies, so check the latest price at
Named after the deadly Komodo dragon and its toxic saliva, I would not describe this board as vicious by any means. Rather, with a weight of only twenty-one pounds despite its triple-layer fusion construction, this board is a complete paradox.
The Komodo is capable of moving three hundred and forty pounds reliably. The thick triple-layer construction that I mentioned earlier does add a bit of buoyancy to this board, but it's not the sole reason for its strength.
Coupled along these three layers is an extra widened base. As the entire board's shape is expanded outward, the stability of your ride is increased. The weight is displaced more evenly, and even though there are hundreds of pounds on top of it because it isn't all concentrated in one spot, the Komodo can easily handle it.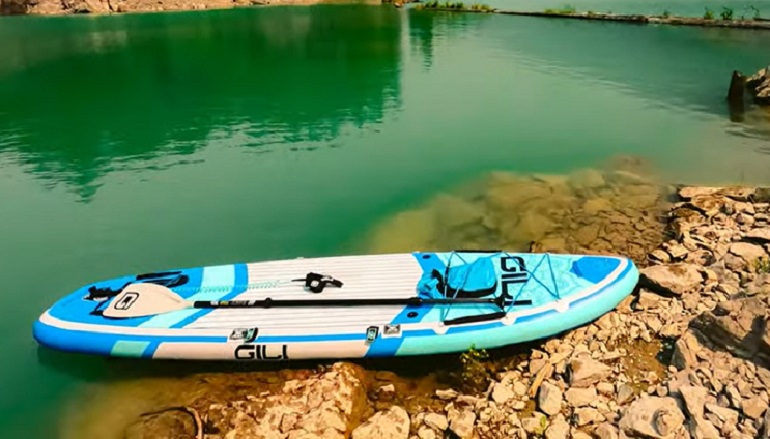 My favorite feature about this stand-up paddleboard, besides its rounded nose shape, was the bag that came with it. This ISUP bag has a dedicated pocket for all of the inflatable paddle board parts and tools that one will require.
This bag even has a special fin pocket! Now that is a detailed design. The carry straps have also seen a touch-up to avoid any painful chafing. This is a common occurrence when carrying a bag that is loaded with heavy items.
The magic of this board comes from its strength despite its low weight, but there's a lot more to enjoy about it. The complimentary bag is only the start.
Features
Material: Triple-layer fusion construction
Best Feature: Comes with a high-quality ISUP bag
Warranty: Two years
Fin: Nine-inch snap-in main fin
Weight: Twenty-one pounds
Pros
The ISUP bag has dedicated pockets for all of the parts that you may need, including a fin pocket for the removable fin.
The stance has been widened to increase your stability when standing.
When you remove the bungee cords, you get a full traction pad space for your big dog to lounge on.
Cons
Only handles up to three hundred and forty pounds reliably.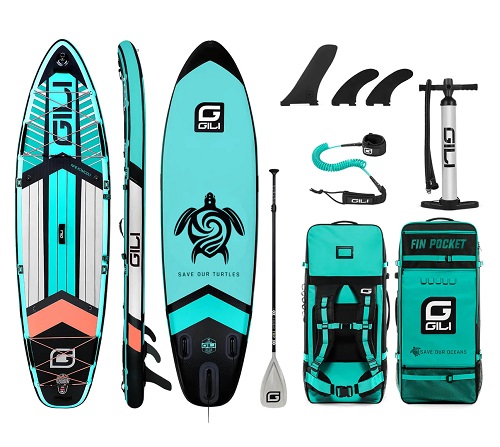 KOMODO Paddle Board
The price of "KOMODO Paddle Board" varies, so check the latest price at
At the bottom of the list but certainly ahead of all the rest lies the Bote HD FullTrax. This is a special board that I would have loved more had I an affinity for the lankier types of boards.
It's long, with enough of a runway for your dog to strut its stuff. The issue is that this length of the board came at the sacrifice of width. Now, there hasn't been such a loss of width as to significantly impact the added stability of the ride. But it certainly doesn't match up to some of the other boards on this list.
One thing that did come in at the right size was the fin. Just like with our other entries, this fin is removable, and you don't need a tool to mess around with it. Coming in at ten inches long, you will get a straight course.
However, as is the case with anything, there is a downside to this healthy-sized fin. Your maneuverability does take a hit. This seems to be the running theme with this paddle board. It's got an awesome targeted design that sadly comes at the cost of paddle board of some other quality.
Still, I was left impressed by its wonderful colorful design and its low weight. It looks pretty and weighs little, made from a single layer of PVC, everything that you could ask for in a board.
Features
Material: Military-grade single-layer PVC
Best Feature: Great visual design
Warranty: Two years
Fin: Ten-inch removable fin
Weight: Twenty-two pounds
Pros
This board has an awesome color design that makes it pop in all the right ways.
Has a good length to it that gives it more room on the deck pad for your dog to move around on.
This wider board is made from a single layer of military-grade PVC.
Cons
I wish this paddleboard was a bit wider.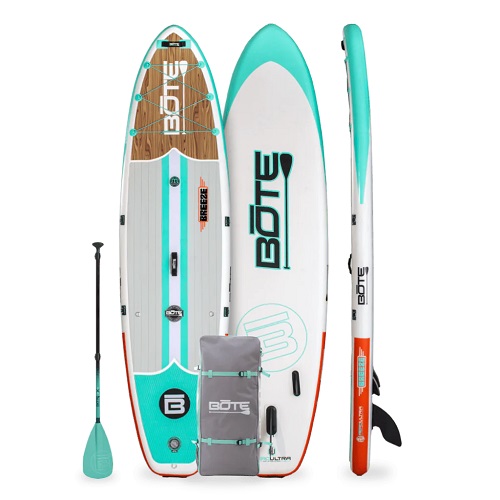 Bote HD FullTrax
The price of "Bote HD FullTrax" varies, so check the latest price at
Choosing an Inflatable SUP for Your Puppy
So you've been swamped with different choices, and now you don't have a clue where to begin. Which stand-up paddle board is the best for you? There's a wealth of things to consider. This is because you aren't just getting this paddleboard for yourself but also for your dog.
As a result, you've got to take into account your needs and theirs. It gets even more complicated when you realize that certain factors, such as your board's weight capacity and weight distribution, are affected by several other features.
But wait, there is no need to panic. We, dog parents, have to stick together. Whether you have a large dog, a medium-sized dog, or a small dog, the best way to pick out the right board is by knowing the following four key features.
Paddle Board Stability
A stable paddle board is one that can handle the waters, no matter what condition they may be in. The times that I've gone paddle boarding, I've usually done so in still waters. However, the weather can change things rapidly, and a bit of wind goes a long way when it comes to shaking things up.
An easy solution to turbulent waters is a thick board. The thicker your board is, the more stable it is.
But the weather isn't the only important factor that you'll have to contend with. Dogs like to explore, and even if you've got a small deck pad, they will still shift in place. This movement, on a thin paddleboard will cause a disturbance. You'll want a stable board that is thick enough to handle this adequately.
Once again, a thick board such as the Bluefin Cruise is an excellent choice and should be enough to keep you steady and feel comfortable.
Deck Pad Space Available
When it comes to the amount of deck space available, bigger is better. The more space there is, the easier it'll be for both you and your large dogs to get comfortable. A larger board with a full-length deck pad space also allows you to accommodate dogs of all sizes. Perfect for those dog owners who didn't stop at one.
Be sure that the area your large deck pad covers isn't cluttered with any extra accessories or paddle board gear. I know some paddle boarders like to place their bags on this deck pad space. I would not recommend doing that if you bring your big dog along.
Either your dog has to step out of the traction pad zone to find a spot to settle in, which could cause them to slip when coming into contact with any PVC areas, or he knocks your belongings into the water.
The last thing to consider is your dog's personality. If they move and fidget constantly, then a full-length deck pad with more than a couple of feet of space is needed. Otherwise, you can make do with two feet deck pad.
Paddle Board Durability
I will answer this question of durability again in the FAQs section, but I'll give you more details now.
Despite many people believing otherwise, inflatable paddle boards are a lot more durable than you think. However, the cheaper your paddleboard, the harder that durability ranking drops.
The options that we've got listed for you above may seem expensive, but this is only because they can guarantee you that they won't pop or tear. This is as much of a safety issue as it is about money.
Sure, a personal flotation device, like a dog pfd, life vest, or paddle board life jacket, can prevent the worse from happening, but avoiding the chaos of you, your dog, and your belongings suddenly sinking into the water is the best outcome.
Certain features, such as reinforced seams, go a long way in ensuring the longevity of your board.
The Bote HD Aero is my pick of the bunch in this category.
The Size and Weight of Your Paddle Board
Obviously, you are going to need a wide board that is big enough for you and your dog. Beyond this, you've got to keep in mind that bigger isn't always better. Consider that you will have to haul your paddleboard in and out of the water.
It's noteworthy to learn how much a paddle board weighs. The best paddleboards on our list range from twenty-one pounds to the high thirties. The Sea Gods Skylla is among the lowest-weighing inflatable paddleboards on the list. Okay then, simply stick to low-weighing boards, then?
Well, there is an issue with that. The less a yoga board weighs, the lower its weight capacity and potentially the less room it will have at its disposal. Not to mention that stability will also take a hit as that is directly tied to a boat's thickness.
Finding the right balance is key, but in my opinion, I'd rather deal with a heavy paddle board than have to worry about all of these other issues.
Training Tips For Paddle Boarding With Your Dog
Okay, you've seen all the best boards available, and you even know how to pick out a quality paddle board, so what is stopping you? Your dog. You are worried that they will jump off the edge of your paddle board.
They might not even know how to sit still. Fortunately for you, I've got a few tips for getting your pup paddle board ready. If, after extensive training, you are still worried, then getting a few dog life jackets wouldn't be a bad idea.
They Need to Stay
Don't even think about getting your dog out on open water if they have trouble staying still in one spot. Getting your dog to sit still is ninety-nine percent of paddle boarding in general.
Get your dog in a sitting position, and repeat the command "stay" to them. If they do so, then reward them with a treat. Slowly begin to move away while repeating the command. Again, reward them when they obey and move them back into position if they move without you telling them to.
Once you are confident in their ability to sit still, then you can move on to the next step.
Getting Him Used to the Board
You've got to get your dog used to the board. Before you head out to the lake, set up your inflatable stand-up paddle board in your backyard. Grab your dog and set them on the board's traction pad. Place a treat on the board deck pad at random intervals, so long as your dog stays on the paddle board.
This is training your dog to sit still on the board, this is so that they can get familiar with the texture and surface of your paddle board. Once they are comfortable, they may even begin to nap on it. This a clear sign that your work here is done.
Practice, Practice, Practice
You've got to repeat the previous two steps until you are sure that your dog won't let you down when the big day finally arrives. Be sure to rock the paddle board and cause other distractions for your dog. Putting them to the test constantly is the best way to be sure that they are ready.
FAQs
What Is Better For A Dog A Hard SUP Or An ISUP?
I know what you are thinking; a hard board must be the better board for your dog. After all, anything inflatable will surely pop under the pressure of your dog's nails. However, this isn't always the case.
If you pick an inflatable paddle board from our list, you can rest assured that they were designed to handle whatever your dog can throw at them. An inflatable board also has the best traction pad that provides your dog with a grippy surface area.
Can A Dog's Claws Puncture An ISUP?
No, and I am pretty confident in saying that. The design of inflatable boards has come a long way. Gone are the days of easy punctures and tears. Seriously, when inflated properly, these boards are incredibly durable and built to take quite a few hits.
Is A Kayak Or Paddle Board Better For A Dog?
A paddle board is better for your dog because they generally have enough width and design features to accommodate your pal. Bigger dogs and smaller ones can both fit great on a paddle board. Remember, kayaks aren't designed to hold animals on their bow.
However, a longer board does have the space and extra stability to handle your furry pal. Not to mention that a kayak seat may not be comfortable for them.
My Final Thoughts
Paddling with dogs is a great experience. I know some people say that meditation is the best way to set your mind at ease, but for me, paddle boarding adventure takes the cake. Moving through calm water on the Nixy Monterrey and knowing it won't spring a leak is the peace of mind that I crave.
Remember that even if you are a smaller person, you are going to need the extra width to properly accommodate your large dog. And if you have a German Shepherd, you are better off buying a durable canoe.
Kidding aside, purchasing the best paddle board for dogs isn't just about your needs; your dog must play a big part in your decision-making process.