Looking for the perfect accommodation in Kalpitiya? Here's our rundown of the best places to stay.
If you visited as little as 5 years ago, you'll remember that the question of 'where to stay in Kalpitiya' returned few easy answers. Your options were limited to a small handful of kite schools offering their own lodgings, but they were on the expensive side and there were very few alternatives.
Fast forward to today, and you'll see that finding places to stay in Kalpitiya is now much easier. Travelers have their pick between luxurious hotels, budget guest houses, long term flat rentals, and kitesurfer friendly lodgings located right at the beach.
---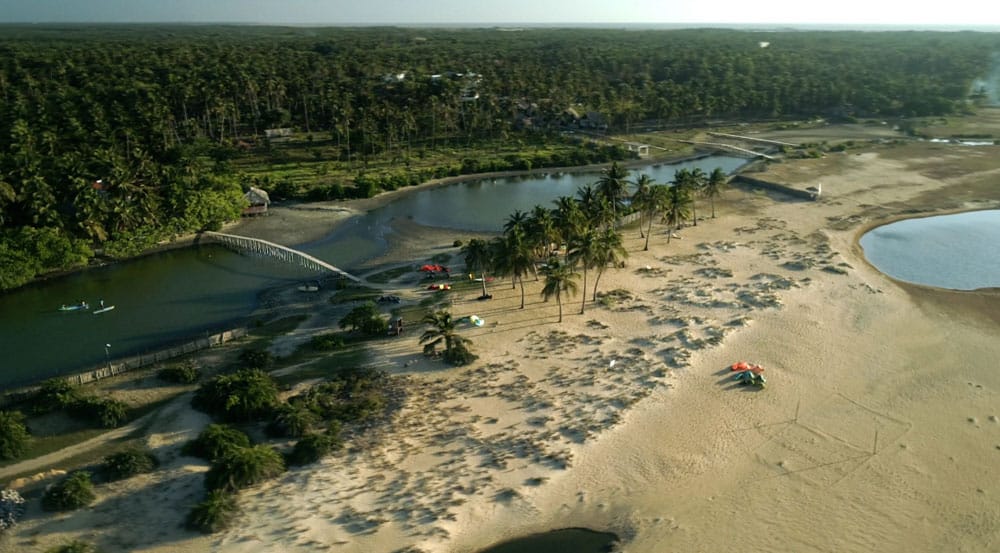 Disclosure: This page may contain sponsored and affiliate links, meaning that at no additional cost to you, we earn a commission of the hotels' bookings. Goes without saying, we only suggest places that we trust and know you'll enjoy. HotelsCombined finds the best prices through all major booking sites.
Our pick of the best places to stay in Kalpitiya
Kalpitiya Lagoon – Best for kitesurfers
If you're heading over for a spot of kitesurfing, the best place to stay in Kalpitiya is at the kite centers' dedicated accommodation. You'll be able to maximise your session time 200% by eating, sleeping, and (let's face it) partying right at the spot.
But this ain't just bog standard bungalows we're talkin' about; there are some pretty quirky options when it comes to staying at Kalpitiya Lagoon:
The adventurer in you can choose to stay in a glamping style tents at Dolphin Beach, complete with sleeping mats, electricity, plug sockets, and a fan (just like camping, only way more swish).
Meanwhile, all you sustainable travelers will definitely want to check out the boutique eco bungalows of Ruuk Village, which — as well as having incredible beach views — have actually been built with locally sourced, raw materials like coconut leaves and bamboo. If you're feeling the urge to satisfy the would-be van-lifer in you (we've all got one! Minimalism, baby!) you can even choose to stay in their old-school converted VW bus.
Then there's the standard rooms, which tend to cost somewhere between $40-70/night, depending on the school and packages offered. For one cover-all price, you'll typically have your own room, as well as wifi access, meals, beach services, and use of club equipment (such as stand up paddle boards and kayaks). Check out the offerings of Margarita Kite School, for example.
The lagoon is the best place to stay in Kalpitiya for many, not only from the perspective of convenience, but also for the social aspect. Staying in Kalpitiya town (where there's little of interest socially) means you're far away from all the action- and the parties!
Kalpitiya town – Best for long-term travelers
If staying at the lagoon is a bit beyond your budget, you can always go solo and find an apartment to rent in Kalpitiya town from one of the locals. This is invariably the cheapest option- especially for long-term travelers- though it does call for some resourcefulness (and patience… lots of patience).
There's little in the way of rental facilities or agencies in Kalpitiya, so you'll have to go rogue and do some digging on your own.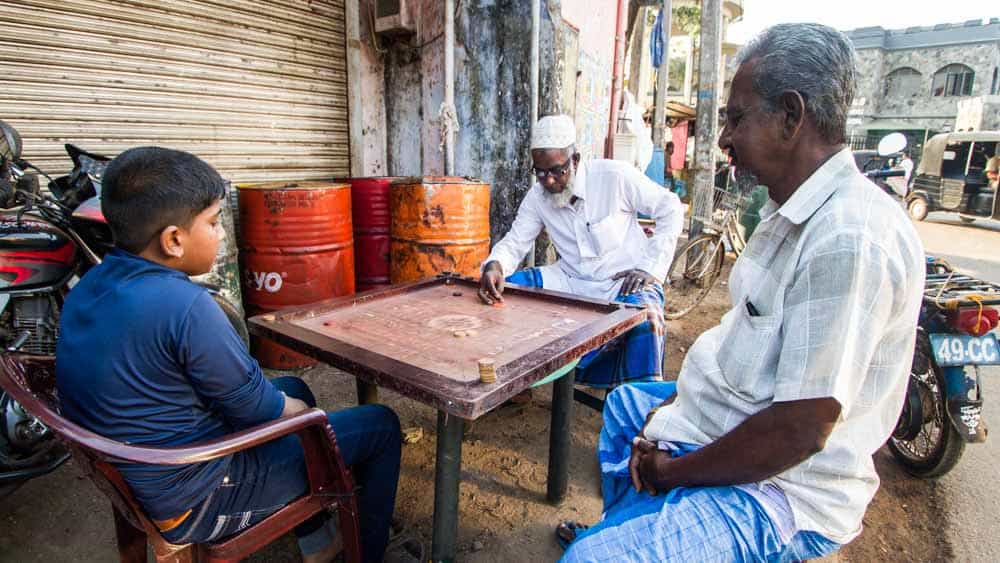 From experience, we reckon the best way to do that is to initially book yourself into a comfortable hotel room for a week, rent a scooter, and give yourself some time to explore the area while getting a feel for what kind of rentals are on offer. This will also give you the chance to chat with some of the locals (and expats) and get a better idea of the current going rate for long term rentals.
As a starting point, you can usually find an apartment for around $200/month in Kalpitiya town, though most likely whatever you find will be unfurnished (and may or may not have wifi).
Be prepared to put some love into your new digs. Love and lots of elbow grease.
Local guest houses – Best for budget travelers
Local guest houses are almost always the best option when it comes to budget travel- and in Kalpitiya, things are no different. Plus, virtually all guesthouses and hotels offer free wifi as standard (so far we haven't found- or heard of- a single place that doesn't) which is always important to consider if you're planning on doing some remote work while you're there.
For a simple room with aircon and wifi, prices start as low as $6/night. Double that price and you can find fully equipped private bungalows at The Villa with their own kitchens and en suite bathrooms. Lots of local guest house owners will even be happy to negotiate a discounted rate for you if you're planning on staying long term.
Realistically, the downside of staying in some of these places is that they're mostly located in town- which doesn't boast a huge pile of options when it comes to restaurants or social activities. Be prepared to make your own fun- or make regular trips to the beach, where you know the kitesurfers are gonna' be chilling out with a few beers.
Swanky hotels – Best for luxury seekers
A few years ago, you would have been fairly disappointed with the local luxury offerings; but now, there are plenty of places to stay in Kalpitiya to satisfy the bougie traveler in you.
The phenomenal Palagama Beach has one of the most epic infinity pools on the entire Kalpitiya Peninsula, along with killer sunset views and a swanky spa- perfect for couples looking for a romantic break or families in need of some serious r&r time.
Meanwhile, the likes of Wind Blend Kite Resort offers high end lodgings with private terraces, garden views, and beautiful outdoor bathrooms, which are ideal for kitesurfers looking for that extra level of comfort.
Slightly further away in Kappalady, you've also got the outstanding Elements Beach & Nature Resort, with its own private beach and intimate bungalows facing out over the Indian Ocean (*drool*). FYI: The nearby Kappalady Lagoon is a kitesurfing spot too (and it's not far to Kalpitiya, if you really wanted to kite over there), so Elements could be an awesome option for kiters who are looking for something luxurious and far away from the crowds.
---
Fancy hearing some more personal recommendations about places to stay in Kalpitiya? Grab yourself membership to our exclusive Extreme Nomads Facebook group and fire your question out to the community!
Heading to Kalpitiya? You might also be interested in our other adventure travel guides to Sri Lanka.