Scuba Diving With Security
Life is most interesting when we begin to pay attention to all the little things around us. Even a small patch of grass is its own ecosystem. Filled with predators and prey. With this in mind, there is no system more vast and diverse than the ocean.
Do you want to go scuba diving in a coral reef? Meet all the lifeforms that call it home? You can have all the best snorkel gear, but it wouldn't mean a thing if you couldn't see.
The best snorkel masks increase your visibility, do away with any reflective light, and ensure that you are comfortable. You would think that all scuba diving masks are up for the job but this isn't the case.
I once ended up with a nose full of water because I decided to go with the cheap option. It didn't have a waterproof seal and I, unfortunately, was born without gills. The rest is history.
Best Snorkel Mask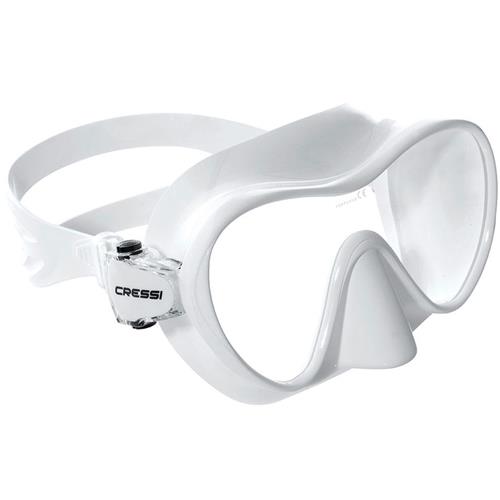 Cressi F1 Frameless
Material: Silicone

Lens Type:

Single Lens
Best Air Intake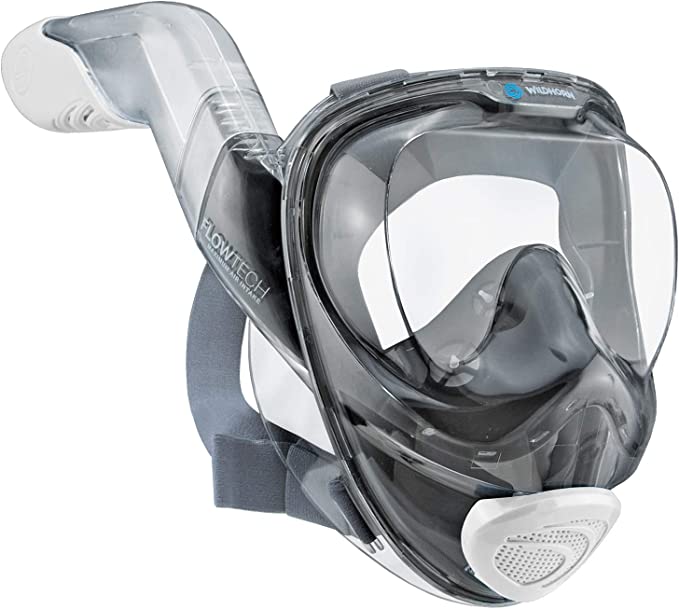 WildHorn Outfitters
Material: Polycarbonate

Lens Type:

Single Lens
Best Lens Design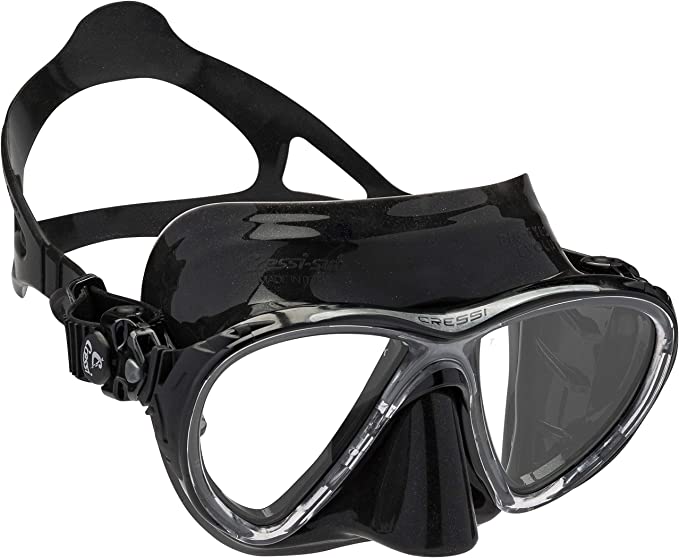 Cressi Big Eyes
Material: Silicone

Lens Type:

Single Lens
Best Adjustability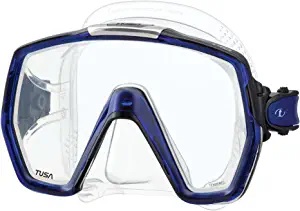 TUSA M-1001
Material:  plastic

Lens Type:

Single Lens
Best Budget Snorkel Mask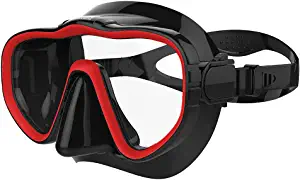 Kraken Aquatics
Material: Silicone

Lens Type:

Single Lens
Best Premium Option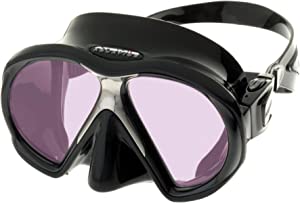 Atomic Aquatic
Material: Nylon
Lens Type: Dual Lens
Best Visibility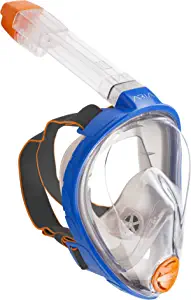 Ocean Reef Aria
Material: Plastic

Lens Type:

Single Lens
Best Of The Rest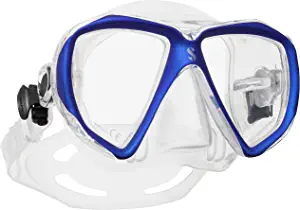 ScubaPro Spectra 2
Material: Polycarbonate
Lens Type: Dual Lens
8 Best Snorkel Masks
Trust me, you don't want to be underwater coughing and sputtering, trying to take off your mask and get a breath of fresh air at the same time. It's not fun, and it really takes the tranquility out of scuba diving. Who knew that choking would do that?
The best snorkel masks listed below are top quality. They have a suite of features that many snorkeling masks forgo. Attention to detail and being more than the sum of their parts are what put these options ahead.
Whether you want prescription lenses or tempered glass lenses. No snorkeling gear setup is complete without a quality low-volume mask.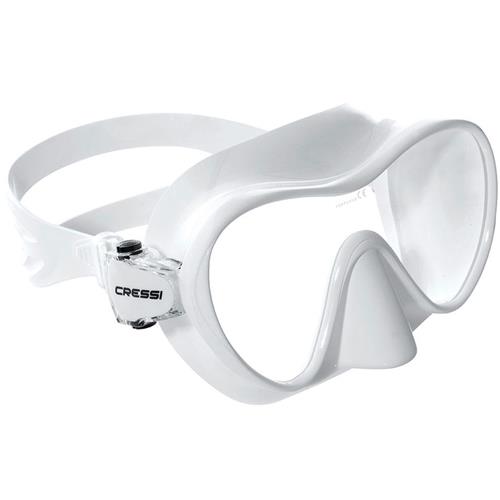 The Cressi F1 took the concept of simplicity and ensured that each part of its design embodied it. The benefit of having a simple design is having a design that won't weigh you down.
Far too often, I encounter sporting gear that could have been much better had it not been for their bloated designs. With the F1, you get a wide range of vision. One that is only further enhanced thanks to the low internal volume of the mask, which helps deal with fog and moisture.
A high-grade silicone skirt comfortably conforms to the shape of your face. Creating a comfortable seal in the process. This comfort is only further enhanced by the easy-access nose pocket, which helps you equalize using only one hand.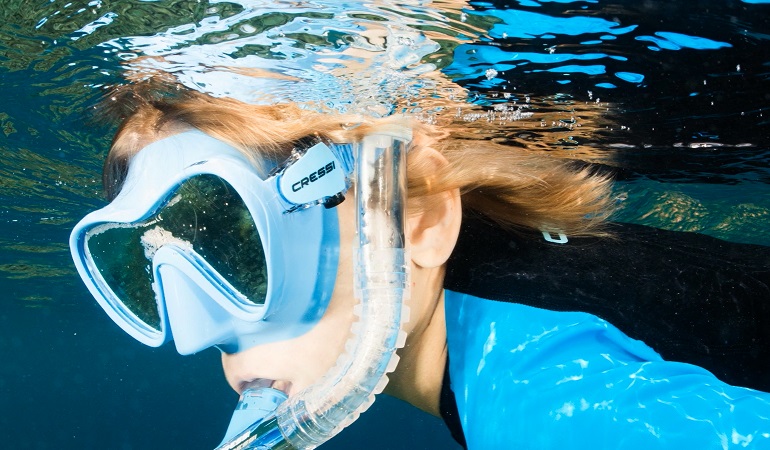 Through simplicity, the F1 improved upon its competitors and made it to a league all its own. For its current price point, there simply isn't a better option unless you want a full-face snorkel mask. Even so, the quality here is great. I imagine even those with narrow faces would be considering the Cressi F1.
Features
Field of Vision: Wide field of vision
Warranty: Limited two year
Best Feature: Easy access nose pocket
Weight: 0.8 pounds
Build Materials: High-grade silicone skirt
Pros
A frameless mask that is not weighed down unnecessarily with a bulky frame. Sleek design.
The nose pocket helps you equalize in seconds with one hand.
Has a low internal volume that clears away fog in no time at all.
Cons
It's a condensed and targeted design and so no extra features to enjoy.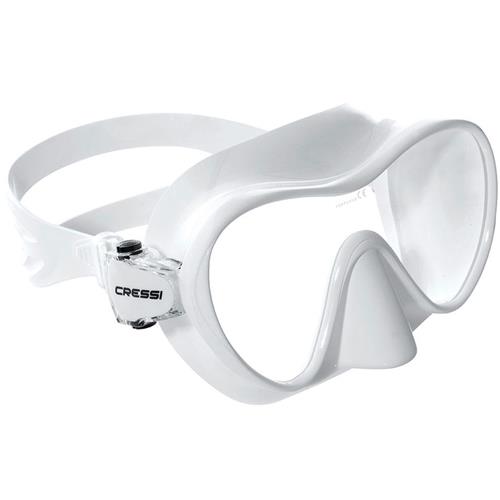 Cressi F1 Frameless Mask
The Price of "Cressi F1 Frameless Mask" varies, so check the latest price at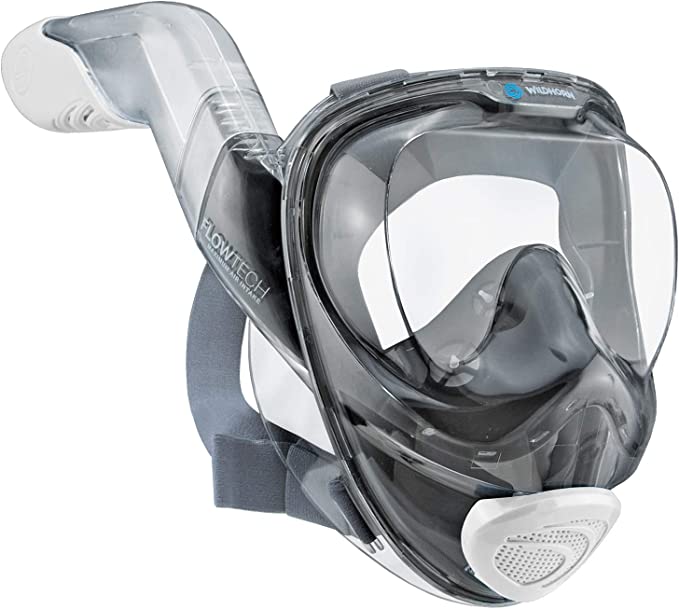 Speaking of full-face snorkel masks, I happen to have the best one right here. The Wildhorn Seaview 180 is made up of three game-changing features that provide a strong foundation for you to snorkel comfortably.
The Seaview has an air intake system that reduces any resistance that comes from the water pressure. As a result, you'll find it significantly easier to breathe naturally. Being able to breathe with greater ease enhances your ability to go farther per breath.
A watertight seal has been created, thanks to the nose of this full-face snorkel mask being fitted with silicone inserts. They place the right amount of pressure on the right areas, sealing off any access points.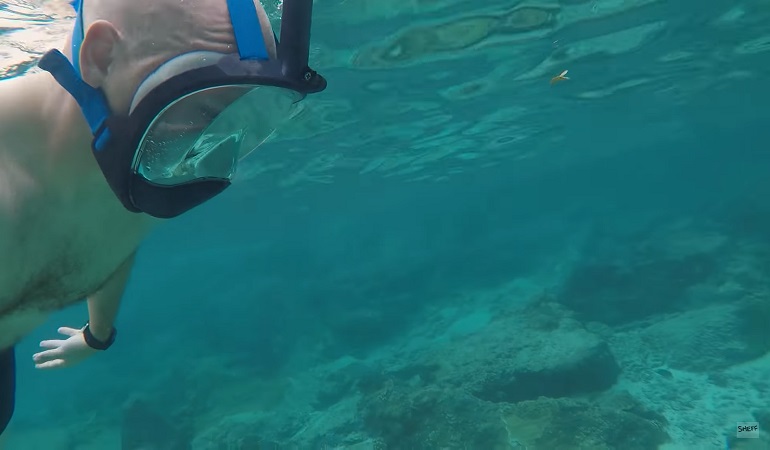 The most impressive feature of this mask is its drainage system. Even if, somehow, water was to find its way into your mask, it would quickly be taken care of. Ushered out without you needing to remove your mask.
Features
Field of Vision: Seaview 180 v2 lens
Warranty: One year
Best Feature: Flowtech Maximum Air Intake
Weight: Two pounds and two ounces
Build Materials: Polycarbonate
Pros
The air intake system reduces resistance and works to let you breathe naturally.
These full-face snorkeling masks are fitted with durable silicone inserts that create a watertight seal.
Has a one-way auto drain system that removes any water that gets into your full-face snorkel mask automatically.
Cons
May take a while to get used to the full-face design of this mask.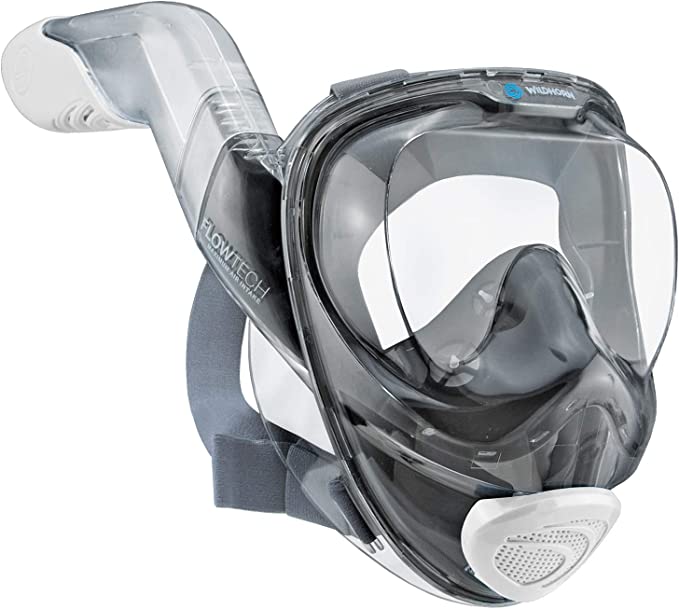 WildHorn Outfitters Seaview
The Price of "WildHorn Outfitters Seaview " varies, so check the latest price at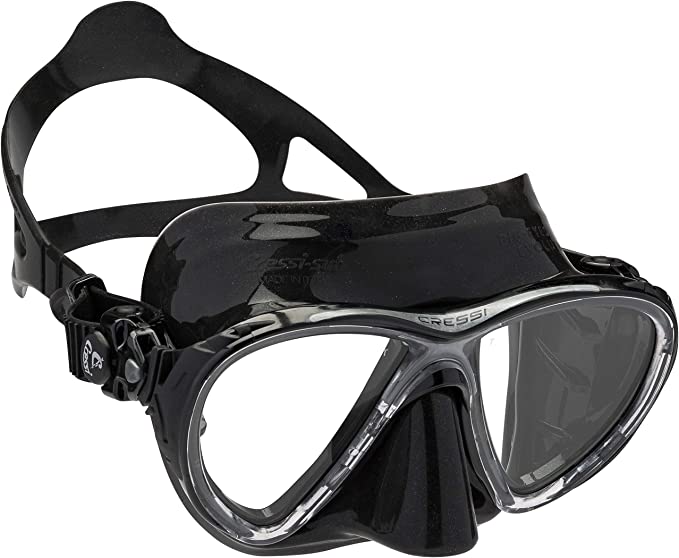 Once more, Cressi makes it onto the list. This time for the impressive lenses that they partnered up with an incredibly thin frame to make the Evolution snorkel mask. I won't beat around the bush, this snorkel mask made it this far up on the strength of its lens.
It's got raked lenses that drop down as low as their frame will allow them. An inverted drop shape. This design gives you a downward field of view that clearly displays everything beneath you.
This kind of visibility is essential for snorkel masks. It lets you see what is underneath you without making you tilt your head downward. This eliminates the risk of water going down your snorkel as you try to get a view of the ocean floor.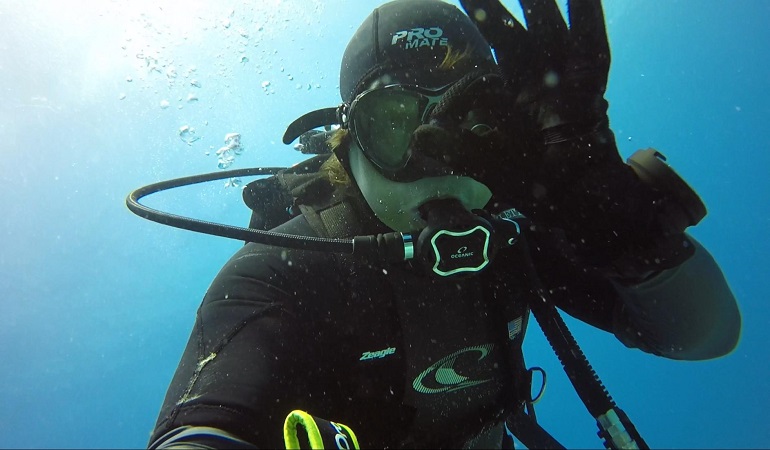 The buckle system is durable and won't corrode over time due to constant exposure to water. A solid snorkel mask with great visibility.
Features
Field of Vision: Improved downward visibility
Warranty: Two-year warranty
Best Feature: Raked lenses with inverted drop shape
Weight: 0.75 pounds
Build Materials: Crystal silicone construction
Pros
Has an incredibly slimmed-down frame that traditional masks lack.
The integrated dual frame technology used to construct this mask frame significantly reduces internal volume.
The buckles were made using high-quality materials. Durable and resistant to weathering.
Cons:
Not the most appealing aesthetic design.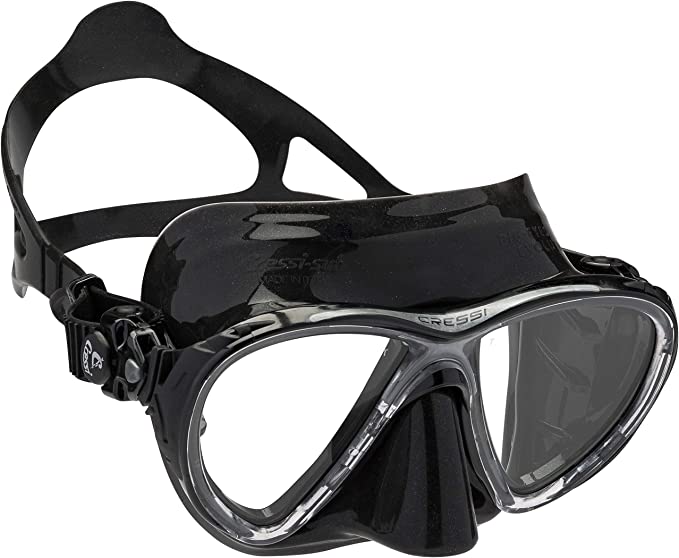 Cressi Big Eyes
The Price of "Cressi Big Eyes" varies, so check the latest price at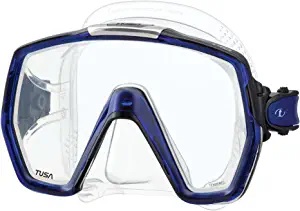 The Freedom scuba diving mask stays true to its name. With this mask, you have the complete freedom to shift around the strap into various different positions. The strap angle adjuster lets you choose from five different positions.
Not only can you customize your fit and how you wear this mask, but you also get to benefit from its low-friction fitting line. This low-friction fitting line seals you off from any water and reduces the tension on your face.
The waterproof seal is further enhanced by stability ridges strategically placed to reduce compression. The reason why so many safeguards against leakage are needed is because of the mask's adjustability.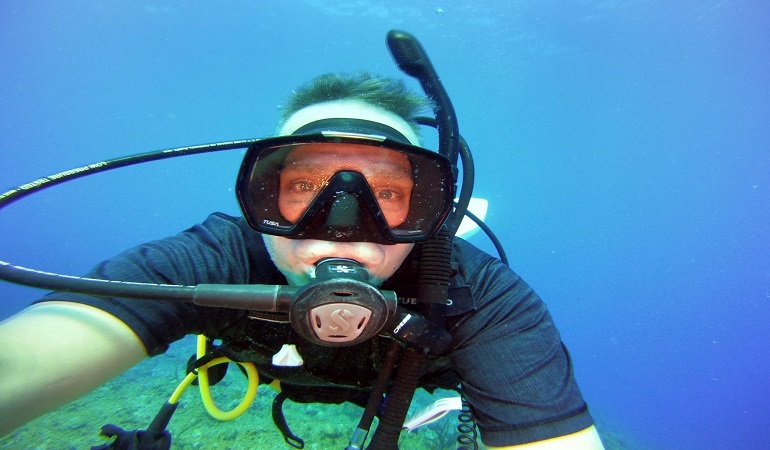 In case you are constantly shifting the mask around, the extra protection keeps the inside nice and water free. Even better, the skirt of this scuba diving mask has a dimple design that feels smooth on your skin.
The complete package when it comes to comfort, waterproof technology, and adjustability.
Features
Field of Vision: Wide field of view
Warranty: One year
Best Feature: Five-position strap angle adjuster
Weight: 0.25 pounds
Build Materials: Hard plastics
Pros
Has a low friction fitting line that provides a great seal while reducing face tension.
Stability ridges have been added to the design to reduce compression. Avoiding leakage.
The skirt has a dimple design that creates a comfortable seal, better than most full-face masks.
Cons:
Has a massive lens that is easier to damage or scratch due to its surface volume.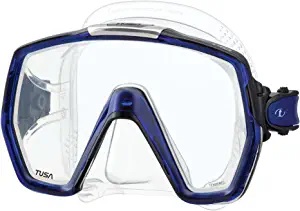 TUSA M-1001
The Price of "TUSA M-1001" varies, so check the latest price at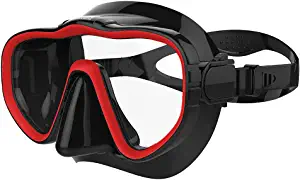 Budget options are needed in all sports and recreational activities. The Kraken stepped up with the Aquatics to give novices and casuals an easy gateway into the world of snorkeling. Despite its low price, it even comes with a two-year warranty.
The Aquatics has a sturdy construction that holds up well in the water. You won't find anything fancy here, but a blend of hard plastics and silicone goes a long way. Not just for your comfort but for its durability. Despite this heavy-duty build, this is one of the lowest-weighing masks on the list for all face shapes.
Weighing just a few ounces, you won't have any neck issues with it on.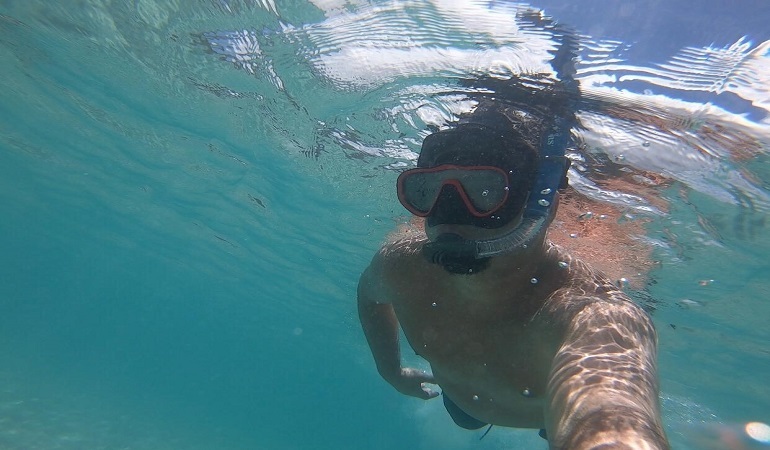 My favorite feature of this snorkel mask is its strap. It's easy to adjust. Simply pull on it until you get the fit you want, and then release it. It's a great quality mask, but the only downside is equalizing with it on. Not impossible, but not the best either.
Features
Field of Vision: Single lens
Warranty: Two-year warranty
Best Feature: Low-weighing mask
Weight: Seven ounces
Build Materials: Silicone skirt
Pros
Sturdy construction that will hold up in all kinds of underwater adventures.
Has a low weight that is only surpassed by its low price point. Low price and great comfort.
Has an easy-to-adjust strap. Pull into the desired fit, and the buckle system automatically handles the rest.
Cons
Equalizing with this snorkeling mask is not as easy as with some full-face snorkel masks.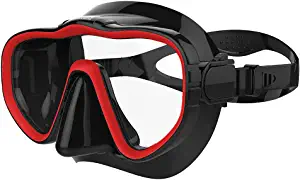 Kraken Aquatics
The Price of "Kraken Aquatics " varies, so check the latest price at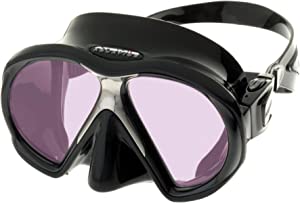 From the best budget option to the king's choice. The Subframe ARC has got all the little extras that you should expect from a price tag this high. One thing to note is that while quality and features abound, they do place the ARCS at around two pounds of weight.
Two pounds may not seem like much, but it can quickly become a strain on your neck when out of water, that is. Brushing this little caveat aside, the lens has an ARC technology coating applied to it.
What this coating does is reduce glare and increase light transmission. When the sun is blaring down, the waves become a potent reflector, creating a powerful glare. However, this no longer becomes an issue with the ARCs.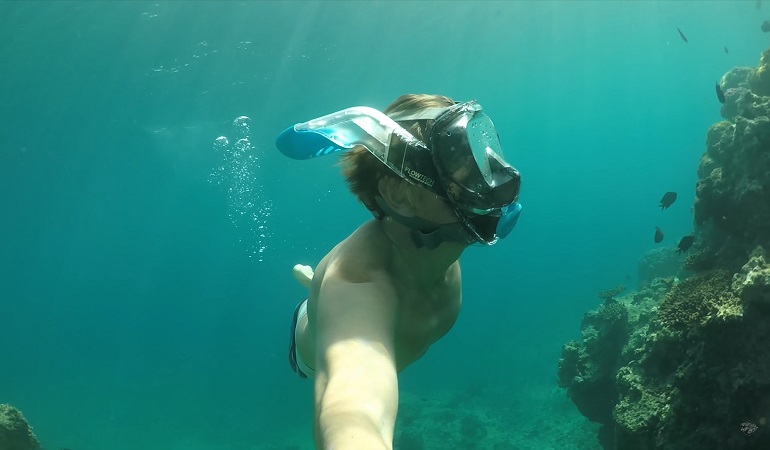 The nose bridge is reinforced, and the lens is held steady by a stainless steel retainer. To top it all, the durable frame is backed by a lifetime warranty.
Features
Field of Vision: Wide vision
Warranty: Limited lifetime
Best Feature: Arc technology lens coating
Weight: Two pounds
Build Materials: Stainless steel retainer
Pros
Has a durable frame that is backed by a lifetime warranty. The best value for your money.
The ARC technology lens coating reduces glare and has increased light transmission.
A steel retainer locks your lens into place and strengthens the nose bridge.
Cons
The best premium design but sadly weighs more than any other masks on the market.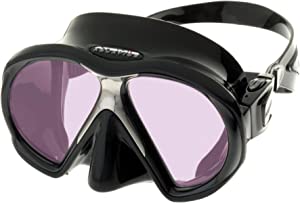 Atomic Aquatic Subframe
The Price of "Atomic Aquatic Subframe" varies, so check the latest price at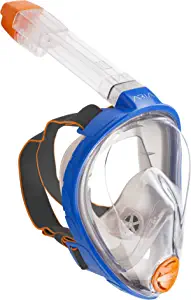 While the previous option may have had glare protection and increased light transmission, the best visibility title still belongs to the Aria Classic. The Aria classic has a wide field of vision. Bigger than any other mask.
What it lacks is an uncomfortable jaw piece to bite down on. Other masks have them, and it is the hardest thing to get used to. Fortunately for us, the Aria classic does away with this. Not needing it, thanks to the air circulation that keeps fog to a minimum.
Something that the Aria classic does have is a dry snorkel design. One that efficiently handles water and keeps it out of the mask. A silicone skirt acts as both a waterproof seal and a comfort layer between you and the face mask itself.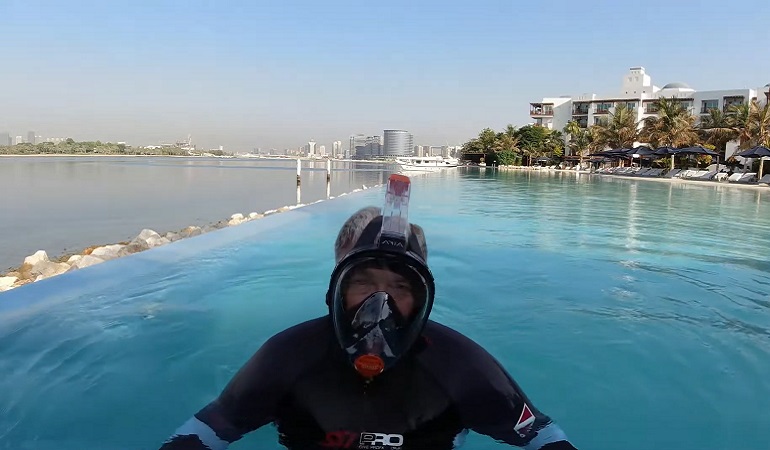 This snorkel mask doesn't quite weigh as much as our previous options but at one and a half pounds, it's not exactly light either.
Features:
Field of Vision: One-hundred and eighty degrees
Warranty: Not available
Best Feature: Immense field of vision
Weight: One and a half pounds
Build Materials: Silicone skirt
Pros:
Unlike most full-face snorkel masks, there is no uncomfortable jaw piece to bite onto.
The dry snorkel design keeps water out of your snorkel mask entirely.
Great air circulation that keeps fog to an absolute minimum.
Cons:
Not many sizes or color options to choose from.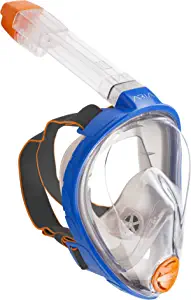 Ocean Reef Aria Classic
The Price of "Ocean Reef Aria Classic" varies, so check the latest price at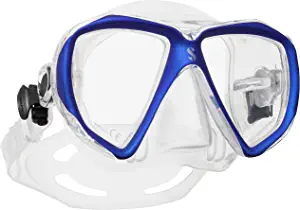 The Spectra 2 has got a field of vision almost as good as the Aria classic. This may not seem like much, but it places it second behind the other choices. Not bad for a snorkel mask that has plenty more to offer.
Its dual-lens design is unique and makes sure that each eye has its own viewing space. This means that even if one lens were to get fogged up, you could easily use the other to steer yourself to shore. Securing these fine-tempered glass lenses onto your face is a push-button buckle system.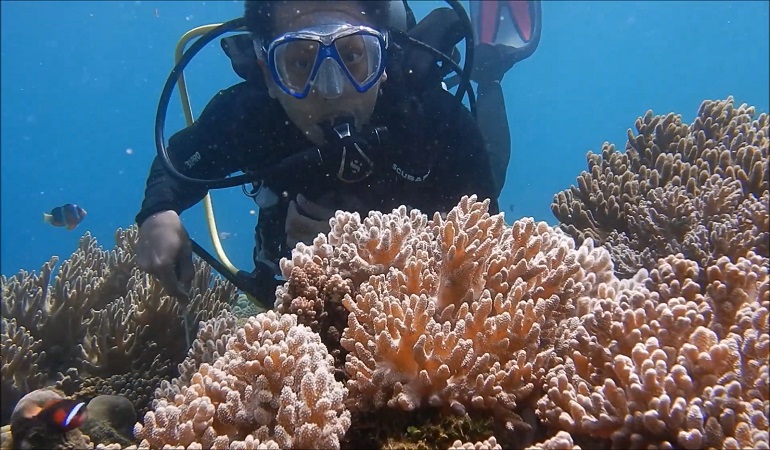 It's easy to use and shouldn't take you long to figure out. Doubling back around to the tempered glass lenses. This lens type reduces glare and helps give the mask a low volume. Low-volume masks are easy to clear, among other things. They also help you breathe better.
The only issue I had with this snorkel mask was the strap. It's not as comfortable as other options, but not a pain either.
Features:
Field of Vision: Wide field of vision
Warranty: One-year limited warranty
Best Feature: Dual lens design
Weight: Half a pound
Build Materials: Polycarbonate
Pros:
Fitted with tempered glass lenses that reduce glare and give the mask a low volume.
The push-button buckle system is easy to use and engage with.
You have the option of choosing mirrored lenses instead. Unaffected by a bright reflection or your underwater surroundings.
Cons:
Unfortunately, this new mask does not come with a comfort strap.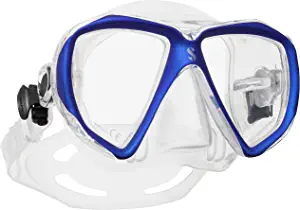 ScubaPro Spectra 2 Window
The Price of "ScubaPro Spectra 2 Window" varies, so check the latest price at
The Types of Face Snorkel Masks On The Market
There are many different mask types to choose from. Almost as many as there are entries on this list. I'll be giving you a quick rundown of each one so that you can have a general sense of what options you have.
Side window masks have two glass windows on the sides of the mask. These windows increase light transmission making it much easier for you to see as you snorkel about. Of course, these masks have a large field of vision, but they are bulky.
Dual window masks are the dual-lens type that I just got done discussing. The Spectra 2 is a great example of this variant. As I stated before, these masks are easy to clear.
A corrective lens mask is a mask that is best used by anyone with prescription eyewear or contact lenses. These masks were made especially for you, and you should be looking into them.
A single-lens mask is pretty self-explanatory. There is a great number of them, and they come in different shapes and sizes. The vast majority of the masks on our list come in this style. That alone should show you how much they have to offer.
Color-correcting masks are for the deep-sea diving bunch. The further down you go, the more colors are lost. A mask of this style is great for counteracting this.
Our last mask type to run through is the built-in purge valve mask. Known for being easy to clean thanks to the purge valve. This is a premium type of mask that has great build quality.
The only thing you'll need to look out for is the purge valve, if it breaks or is damaged, then water will rush into your mask… scary. Don't worry, this is highly unlikely.
What To Consider When Buying The Best Snorkel Mask
As you have probably learned from my anecdote in the intro, not just any old snorkel mask will do. You need to make sure that whatever it is that you are getting has the build quality and design fit for the job.
That's not all, even among the best snorkel masks listed above, some options will be better for you than others. You need to keep in mind how you will be engaging with the water and in what capacity. Some will need a purge valve mask, and others a simple snorkel tube.
Use the information below to make an informed purchase.
Enclosed Nose and Benefits
You want your scuba or snorkel mask to have an enclosed nose pocket. This feature protects and provides a nice cushion for your nose. It can get painful when water shoots up your nostrils, not a fun burning sensation to experience.
Then again, what burning sensation is fun?
Furthermore, nose pockets also help prevent your lenses from fogging up as you dive. Goggles used in any sport are prone to this, and it is as annoying as it is persistent. Besides everything I have just mentioned, there is even more that nose pockets provide.
Nose pockets also help with equalization. Equalization stops the hearing loss that occurs as you dive into the water. Also not fun.
Volume and Mask
The less volume your mask has the better. This is an easy rule of thumb that'll help you steer clear of some truly awful choices. This type of mask helps you get the most out of every breath. They also happen to make it easier to breathe in general.
Of course, with all of this breathing going around, fog is sure to become an issue. Again, having a low-volume mask can help you out. This mask type makes it more difficult for the fog to build up and easy to clear should the need arise.
You'll know that a mask is low volume because they tend to have the lenses as close to the face as possible. The closer the lens is to your eyes, the less volume there is.
Shaped Lens Panel
You get two choices when it comes to either scuba diving masks or snorkel masks. Each mask lens style brings with it its own benefits. A dual-lens setup will be much harder to cloud, keeping your vision clear and ready.
However, your field of view is smaller. Not significantly so, to the point that everything except a few details is missed. But it is smaller than with a single-lens system.
A single-lens snorkel mask has a much wider field of vision. Your peripheral vision is greatly enhanced, and even your downward vision will see a boost. The downside is that they fog up much more easily and much quicker than a dual-lens mask.
Needed or Not: Wide Head Strap with Touch Adjustment Buckles
A wide head strap simply lets a range of head sizes fit with it. If you use a mask that has a strap that is too tight, get ready for a whole host of problems. Namely, painful chaffing and marks. Not to mention a very difficult time equalizing and clearing up the fog.
It's a downright mess and one that doesn't get better unless you have a strap that fits you well.
But having a large or loose strap is no better. If you can't get a snug fit, then don't even bother snorkeling or scuba diving. You'll end up with a mask full of water and a lot of coughing.
The strap should be wide, but the buckle system should give you plenty of adjustment options. That's the key. Having something that can be adjusted to fit any head or face shape. Not so much the actual length of the strap.
The Qualities of Tempered Glass
Tempered glass is one of those features that has quickly become the gold standard for its field. Much like gore-tex in the snowboarding world.
Tempered glass lenses have many benefits, namely their durability. Due to how it is manufactured, this glass type can take several blows and impacts without cracking. The visual clarity it provides is also much higher than dull regular glass.
This glass type is also scratch resistant, and that's what you'll have to worry about most with snorkel and scuba diving masks. It's truly a fantastic material that should be in any mask you purchase.
FAQs
Are Black or Clear Snorkel Masks Better?
In my opinion, which I formed after losing more snorkel masks than I care to admit, black or brightly colored snorkel masks are better than clear ones. Water is clear, and if your snorkel mask is also clear, then good luck separating one from the other.
Keep in mind that the waves shift everything about. Resulting in your poor little snorkel mask drifting out further and further.
A black colored snorkel mask is a lot easier to spot.
What's the Difference Between a Snorkel Mask and a Scuba Mask?
Besides the various design differences, the main variation between the two is what they are used for. A snorkel mask is used for swimming in shallow water. You must remain close to the water's surface. Otherwise, your snorkel will fill up with water, and so will your lungs.
Scuba diving masks are used when diving deeper into the water. They are designed to protect your nose and eyes from the water pressure as you sink further.
My Final Thoughts
Between staying close to the surface and observing the underwater world from afar, and diving deep to get up close and personal, the waters offer many ways to explore it.
Either route you choose will have you needing either a snorkel mask or a scuba diving mask. Be sure that your final selection has a waterproof seal. Without this, you'll find yourself inundated, unable to breathe or see.
The lens quality will matter as well. Much like in most winter sports, fogging is a persistent and annoying issue. I could go on, but the point is to stick to a snorkel mask that covers the essentials, like the ones listed above.