When I first came to Canada, one of the first things I did with my family was going cross-country skiing. Even though I was only seven or eight at the time, the memory of this awesome winter excursion is still fresh in my mind.
It was an amazing introduction to British Columbia's insane winter paradise that looms just above the cloudy, rainy urban landscape of Vancouver.
Better yet, it was probably the perfect way for a total winter sports newbie to enjoy the mountains.
If you're looking for an easy way to dive into winter sports, cross-country skiing is an excellent choice. It's not quite as "extreme" as downhill skiing or snowboarding, but it's still a real blast.
Best All-Arounder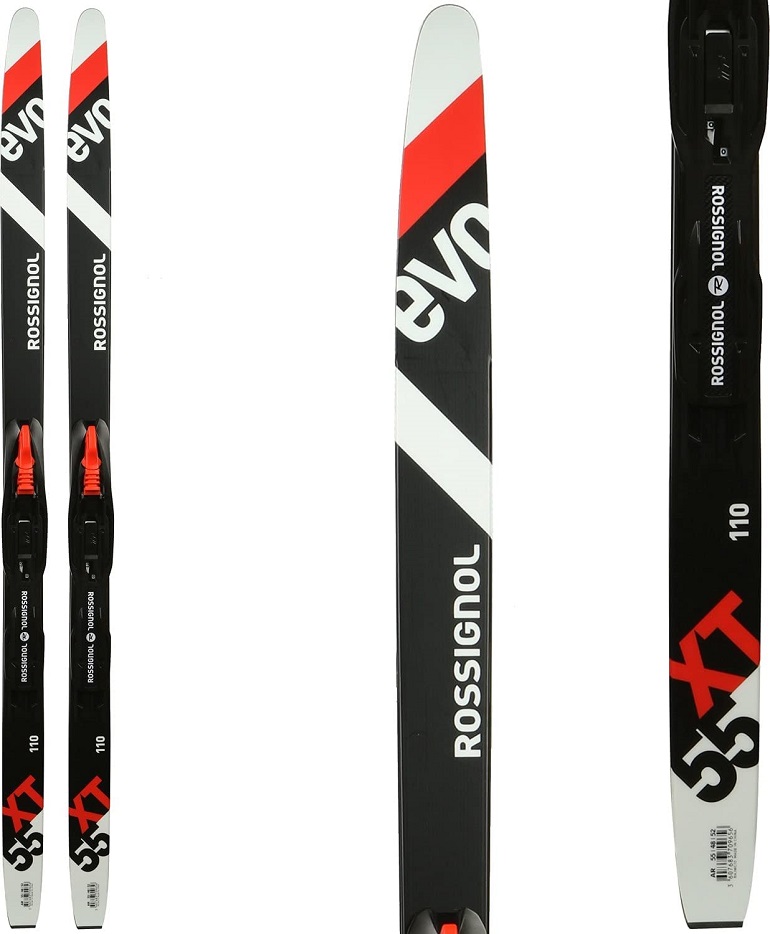 Rossignol Evo XC Series Skis
Laminates: Wood
Warranty:

2 Years
Best Value By Far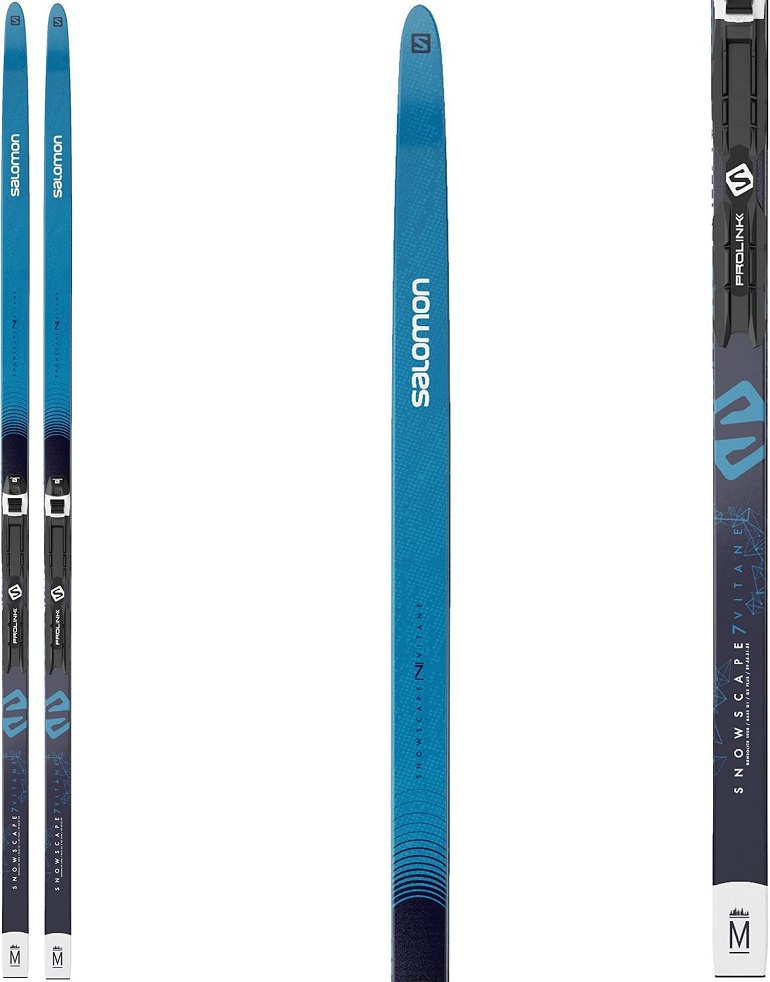 Salomon Snowscape 7
Laminates: Foam
Warranty:2 Years
Quick Progression

Fischer Spider 62 Crown
Laminates:

Wood

Warranty:

2 Years
Unique Design

All-in-One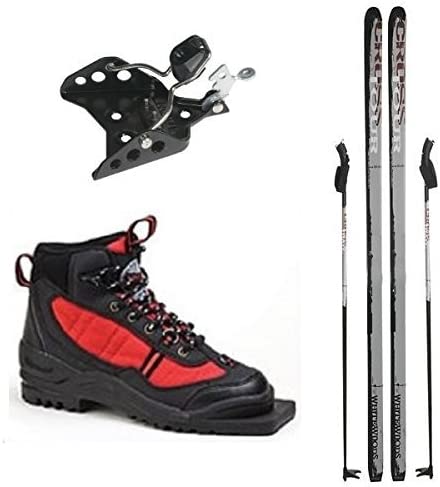 Whitewood 75mm 3Pin
Laminates:  wood core
Warranty:

2 Years
Versatile Package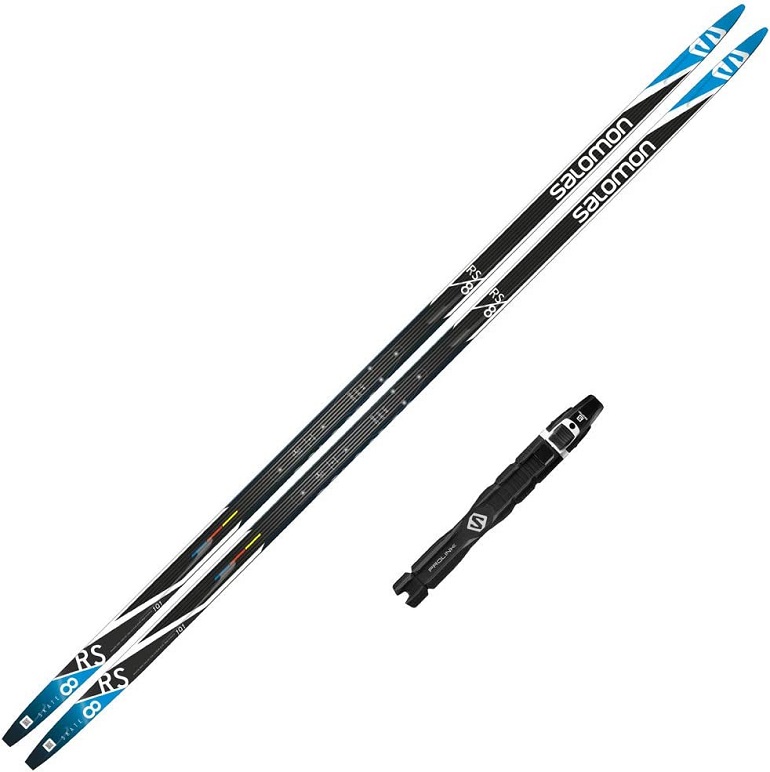 Performance Oriented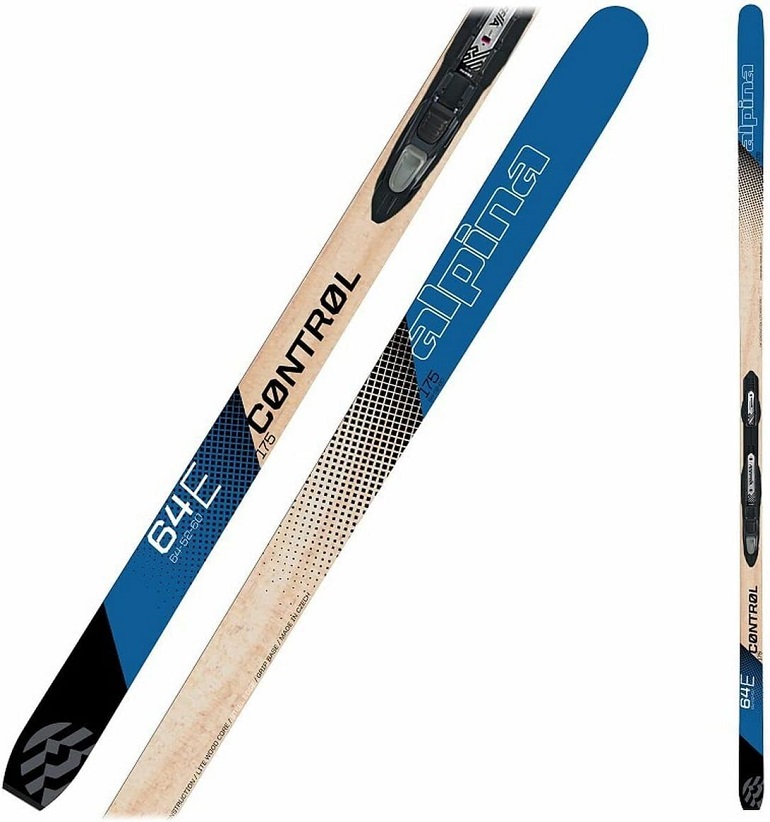 Alpina Control 64 Edge Ski
Laminates: Wood
Warranty: 2 years
Our Top Picks of the Best Cross-Country Skis for Beginners
But make no mistake – cross-country skiing is still a seriously demanding sport. In fact, you're probably going to be working harder than a downhill skier as you skate across flat surface terrain on your cross-country skis.
You might even argue that cross-country skiing is even more "extreme" compared to downhill riding when you consider its emphasis on endurance and leg strength.
But the question remains: What are the best cross-country skis for beginners?
Here are seven of the best cross-country skis you should reach for as a beginner.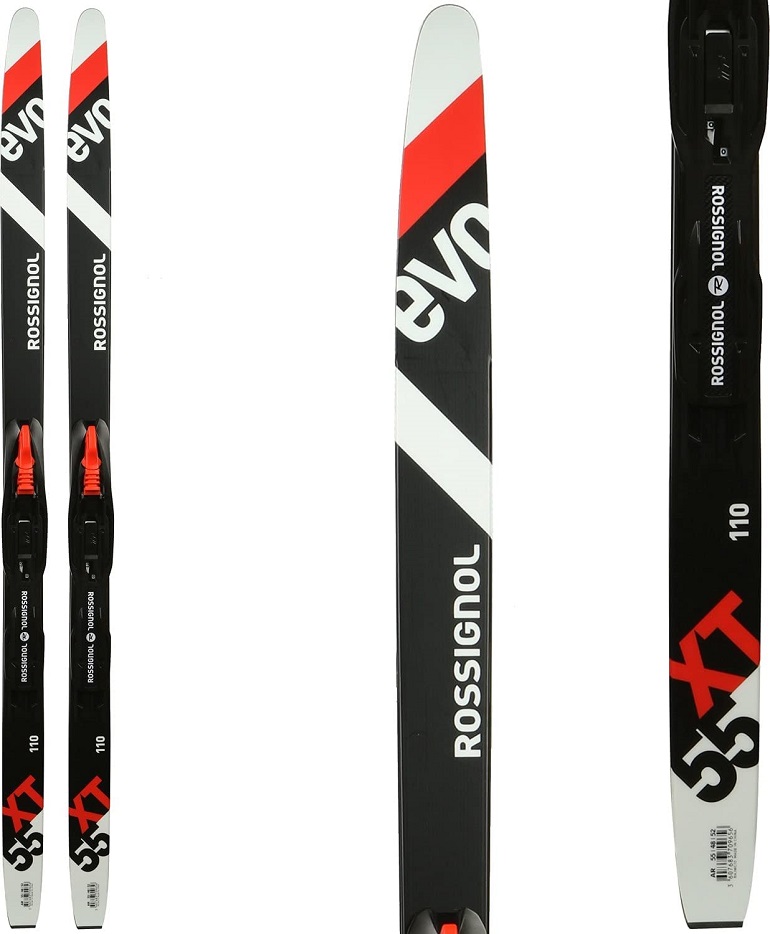 If you're looking for a pair of versatile beginners skis for your kid, the Rossignol EVO XC Action 55 Jr. is a solid cross-country ski. With generous width, and low weight, your young one will be gliding along the snow in no time.
The versatility is insane with these skis, allowing skiers to rip it up in and out of the track.
While this particular model is for kids, you can grab yourself a pair of EVO XC Nordic skis in adult size as well.
One thing to keep in mind is that these are "classic" skis for cross-country or nordic skiing. If you're looking for a pair of skis geared toward skate skiing, you're going to need to keep searching.
The stability on these skis is also worth mentioning, and it gives you a lot of confidence in the snow as a beginner. One of my friends recently rented a pair, and she said that she felt super stable.
And even though these classic cross-country skis are geared towards beginners, there's no reason expert skiers can't have fun on them as well.
At one point, my friend and I switched skis so I could try them out. Sure, they weren't quite as advanced as my own cross-country skis – but I still had a blast.

Top Features
Wooden
Beginner-level
Active cap construction
54/48/52 sidecuts
Nordic ski
Lightweight LDC core construction
Fishscale, waxless base
Pros
Lightweight
Versatile
Perfect for beginners
Cons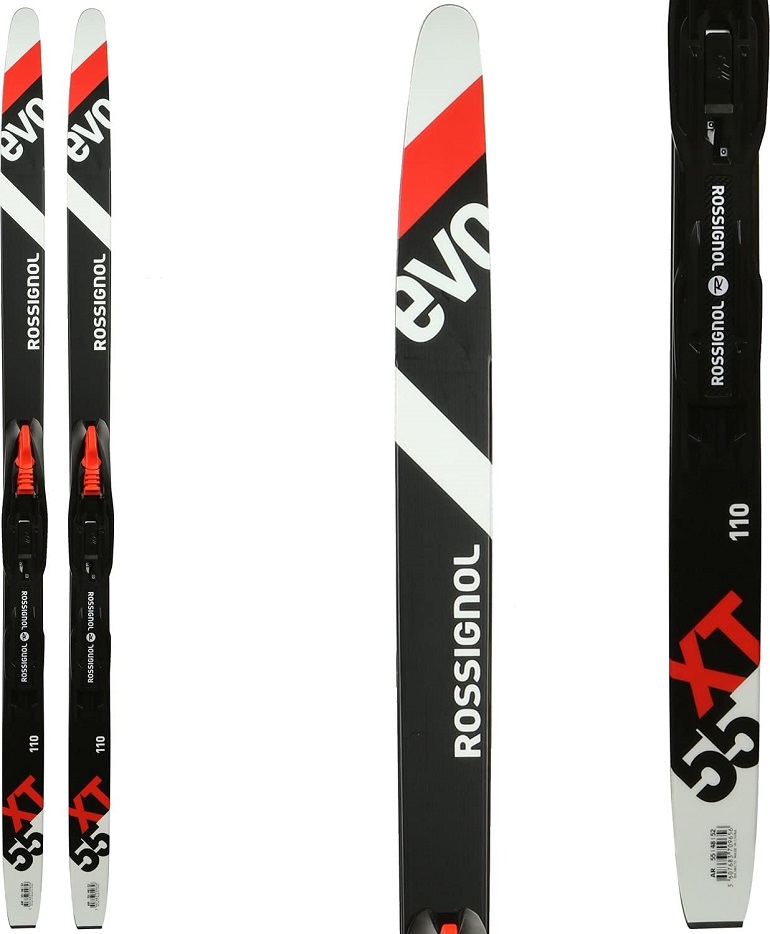 Rossignol Evo XC Series Skis
The price of "Rossignol Evo XC Series Skis" varies, so check the latest price at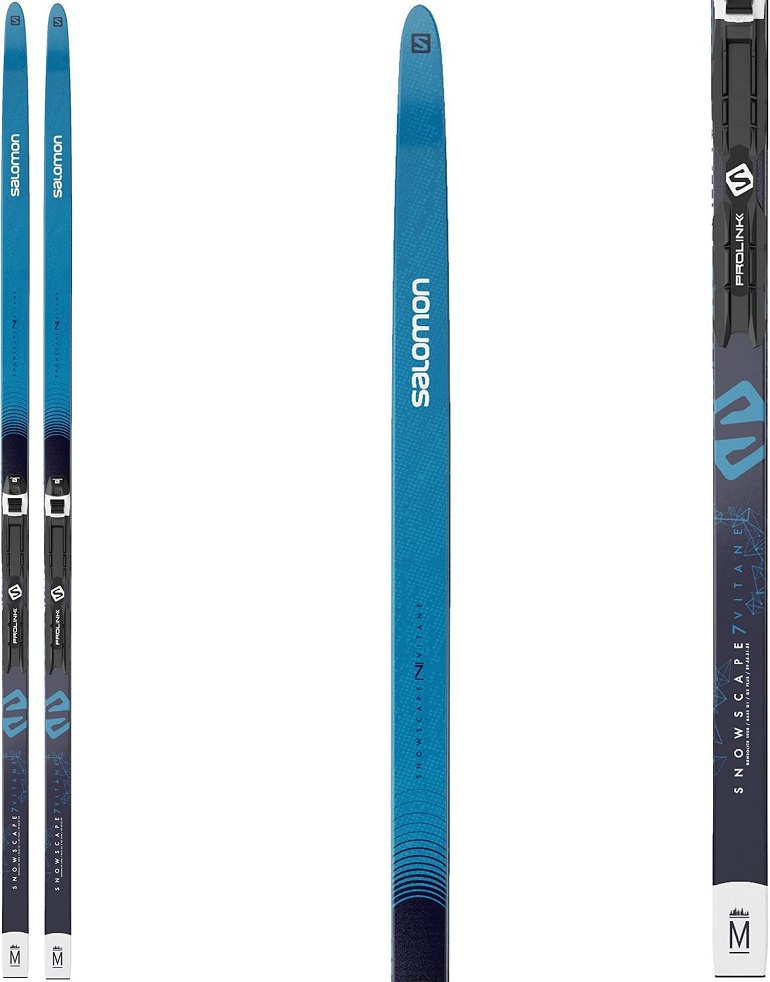 If you're looking for a way to experience a rewarding extreme winter sport on a dime, you really can't beat the Snowscape 7.
With a price right around the $200 range, these skis come with bindings included – which means you're pretty much all set as soon as you grab 'em.
Sure, they might not be the best cross-country skis on the market – but you don't need any fancy bells and whistles as a beginner.
If you're like me, you're going to be too busy enjoying the beautiful winter landscapes to even notice what type of skis you're wearing.
But while these skis are certainly bargain-friendly, they still offer tons of modern, innovative features. A waxless Posigrip base creates a fishscale-like experience, eliminating the need to wax your skis every time you head up the mountain.
And believe me, the cost of waxing your skis every week can really add up.
These skis are also on the slightly shorter side, giving you plenty of control and maneuverability around cross-country ski poles as a beginner. When I tested these bad boys out, turning was almost effortless due to their shorter length.

Top Features
Waxless Posigrip bases
Lightweight Densolite cores
Optimized camber
Prolink bindings included
Double camber
Pros
Maneuverable
Affordable
Versatile
Cons
Not the lightest
Not the fastest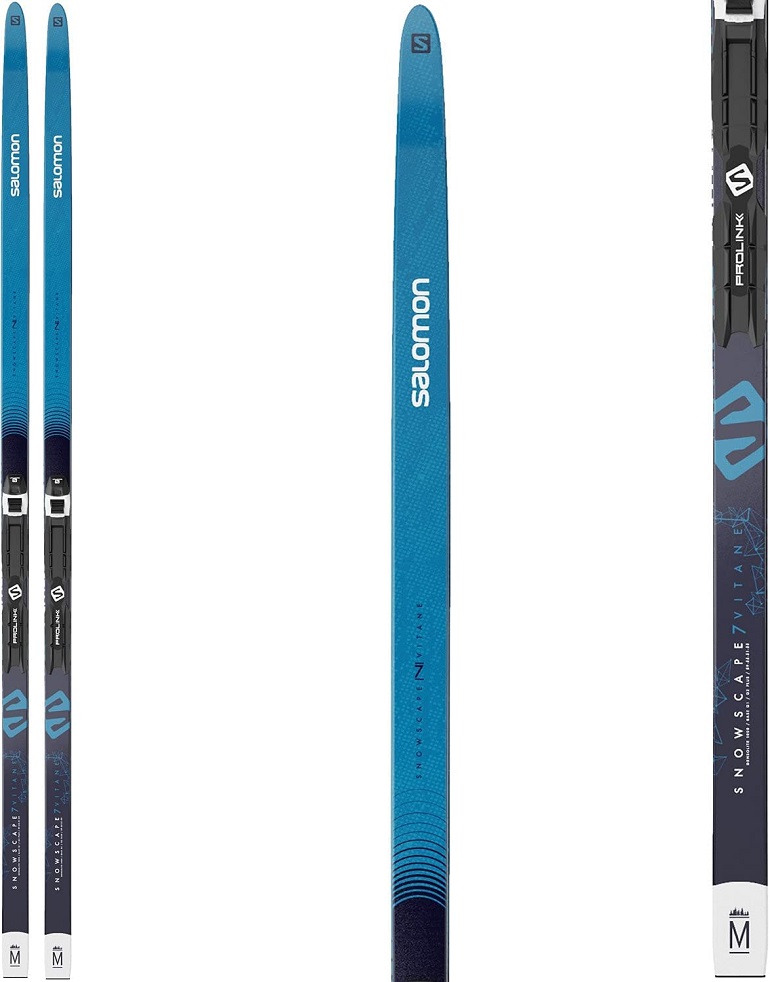 Salomon Snowscape 7
The price of "Salomon Snowscape 7 " varies, so check the latest price at

If you're committed to explore cross-country skiing in the long-term, you might want to spend a little extra and reach for a pair of Fischer Spider 62 crown skis.
Here's the thing:
These are technically intermediate skis. I know, I know – this is supposed to be a list of beginner-friendly skis.
But hear me out:
If you go cross-country skiing for a few weeks, you're going to reach that intermediate level pretty quickly. And suddenly, you'll get a whole lot more joy out of these feature-rich skis.
At just 1630 grams per pair, these skis are extremely lightweight – making it easier to push yourself that extra mile. But at the same time, you won't sacrifice any stability.
Believe me, it's difficult to strike this careful balance between lightweight design and stability – and it's something Fischer does really well with these skis.
You also get metal edges, which is definitely not something you're going to see on most beginner skis. This addition gives you an entirely new dimension of control, and you'll start to love the added performance once you reach a higher ability level.

Top Features
Sintec base
Control step bindings
Metal edges
Channeled wood core
Medium length
Pros
Allows for easier progression
Versatile
Feature-rich for excellent gliding
Cons
Intended for intermediate skiers – not beginners
Not the most affordable

Fischer Spider 62 Crown
The price of "Fischer Spider 62 Crown" varies, so check the latest price at

For those who don't know, Asnes is considered one of the best brands in the sport. While they might not be cheap, they're also highly durable.
This means that if you shell out a little extra cash on these babies (we're talking about $400), you won't need to place them for a long time… Maybe never.
The Asnes Ingstad cross-country ski is one of the most unique options out there – mostly because of the insane features it offers.
First, the tips feature a unique rockered camber that allows you to glide through virtually any type of snow – whether it's fresh powder snow or groomed tracks.
Another feature I really loved while testing these was the nylon caps. Right away, it became clear that these skis could really take a beating. Don't be afraid to take these through difficult terrain.
Even though they might be expensive, these XC skis definitely not fragile.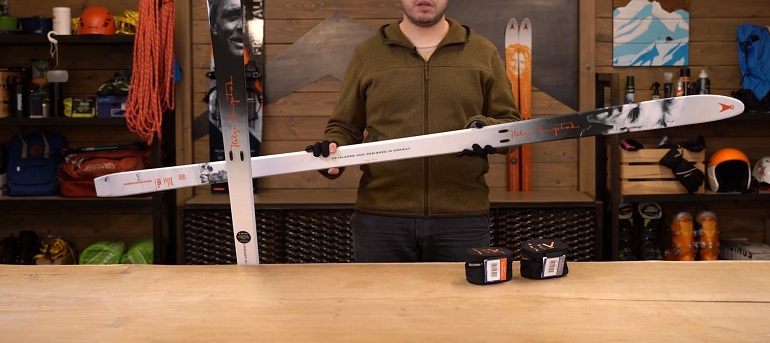 Top Features
Unique geometric design
Steel edge
Made in Czechia
Rockered
Durable
Pros
Can handle adverse weather snow conditions
Highly maneuverable
Great for downhill runs and fast descents
Full length metal edges
Cons
High price point
Perhaps not ideal for beginners

Asnes Ingstad
The price of "Asnes Ingstad" varies, so check the latest price at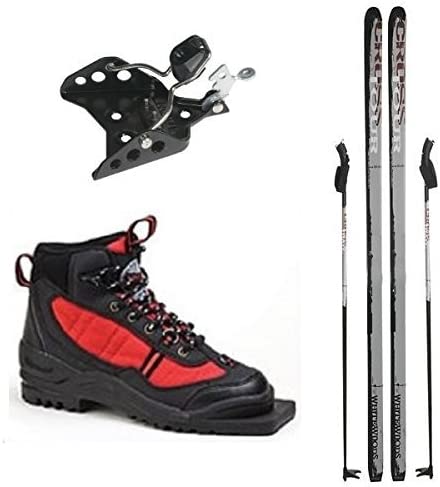 If you're looking to get all your shopping done in one fell swoop, check out the Whitewood 75mm 3Pin.
This is a junior model that contains everything your kid needs to get started, including best cross-country ski boots, bindings, skis, and poles.
If you were expecting this package deal to cost an arm and a leg, think again. In fact, this package is cheaper than many of the standalone skis we've reviewed so far.
One thing I really like about this system is that everything is geared toward comfort and convenience.
The waxless fish scale bases provide excellent stability, while the beginner ski boots are designed to be extremely comfortable, allowing your kid to enjoy a full day of skiing.
The easy setup of the 3-pin design is just the icing on the cake.
Top Features
Laminated wood core
Includes boots, bindings, and poles
Waxless fish scale bases
Pros
One-stop shop – everything your kid needs to get started
Versatile
Easy 3-Pin setup
Cons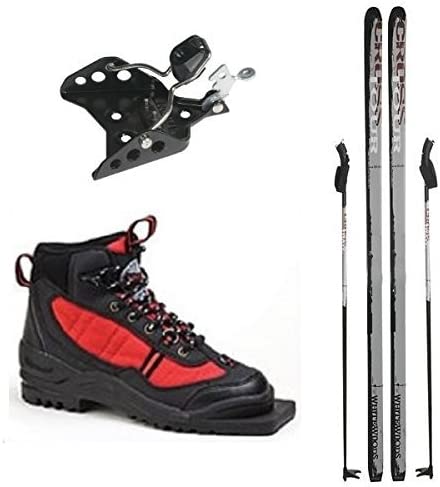 Whitewood 75mm 3Pin
The price of "Whitewood 75mm 3Pin " varies, so check the latest price at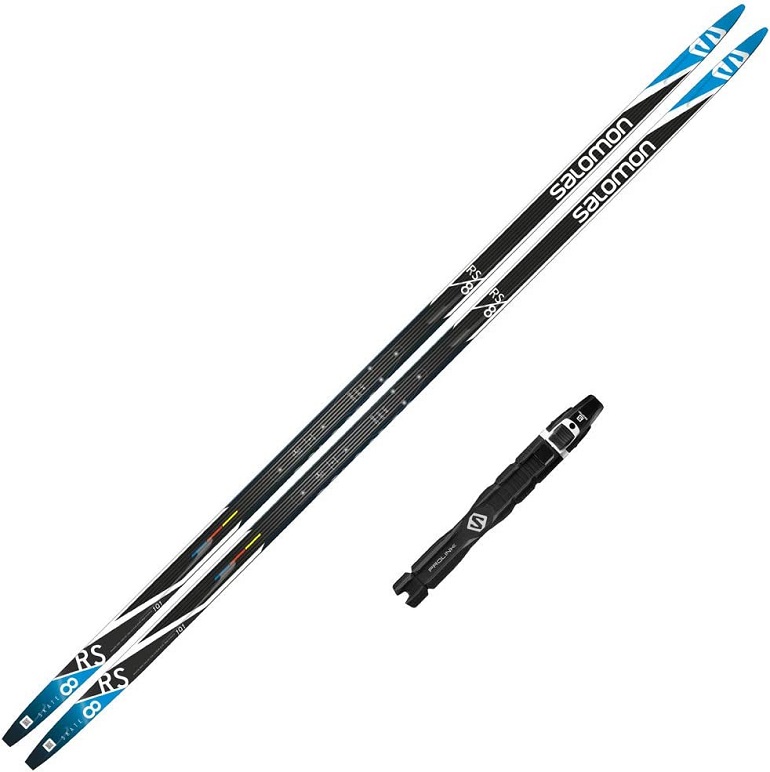 This list wouldn't be complete without a few skate skis thrown in, so let's take a look at the Salomon RS Skate.
As the name suggests, these skis are designed for the slightly more demanding variant of XC skiing – skate skiing.
If you know you want to dive straight into this specific type of cross-country skiing, the Salomon RS Skate is a solid starting point.
Balanced camber construction is great for effortless gliding, but they're also seriously stable. I never once felt like I was losing my balance while I was trying these bad boys out.
Densolite cores are also a major plus, providing you with exceptional control and responsiveness in any snow condition you can imagine.
Just remember that these are designed for groomed trails – so you're not going to have the chance to explore as much.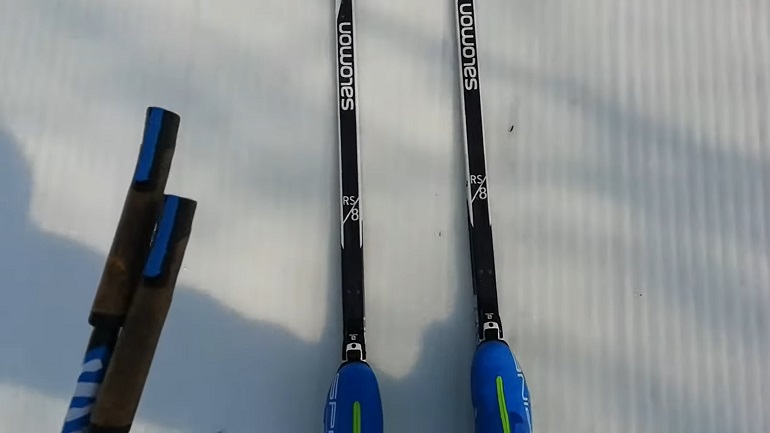 Top Features
Balanced camber construction
Densolite 3000 cores
Prolink Pro Skate bindings
Fiberglass wrap
Pros
Thin edges for excellent grip
Responsive cores for great control
Suitable for all snow conditions
Cons
Only suitable for groomed trails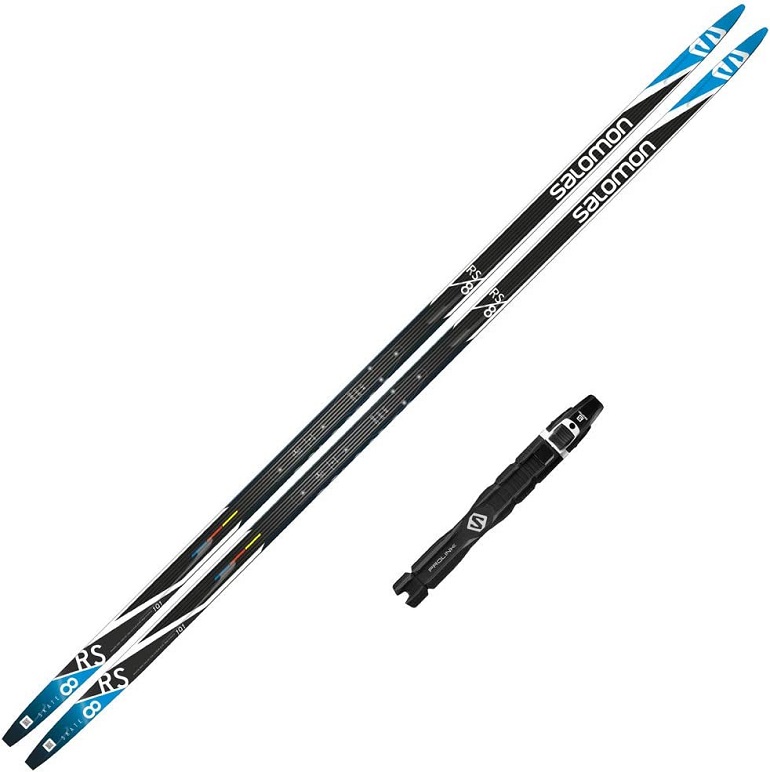 Salomon RS Skate
The price of "Salomon RS Skate" varies, so check the latest price at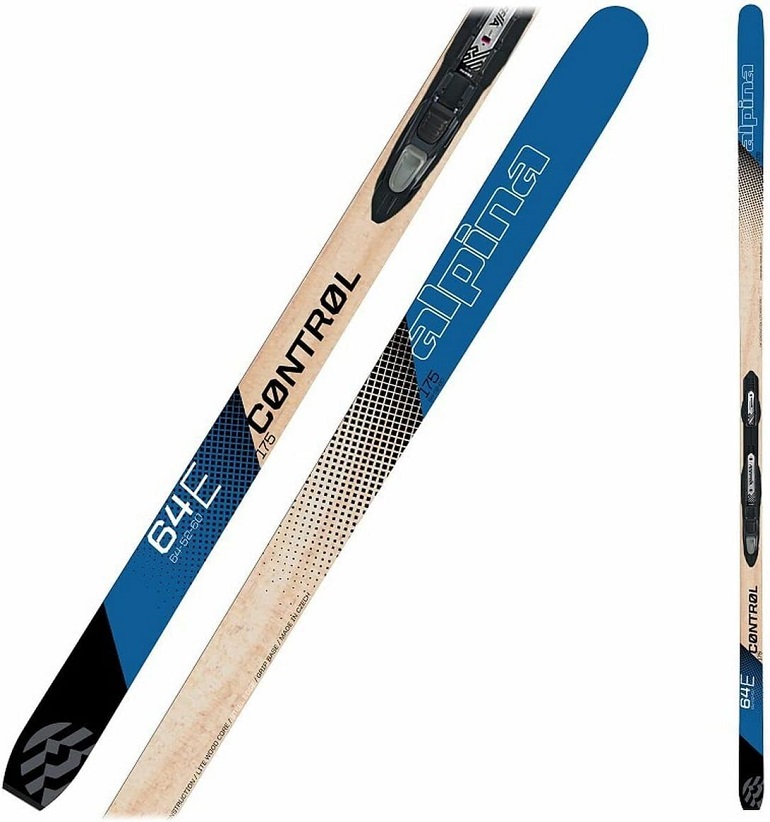 Last but certainly not least, we have the Alpina Control 64 Touring Skis.
If you're the type that loves getting off the beaten track, you're going to really appreciate these bad boys.
Although the Alpina 64 might seem traditional at first glance, the addition of metal edges adds tons of performance. That said, the edges also add a little extra weight – so keep that in mind.
One of the things I noticed about these backcountry cross-country skis is that the metal edges make climbing uphill much easier.
All in all, these skis can take you pretty much anywhere you want to go on the mountain, and you don't need to feel limited to staying on groomed terrain.
The only downside is that it can be a little tricky to find them online. As far as I could tell, they were often out of stock.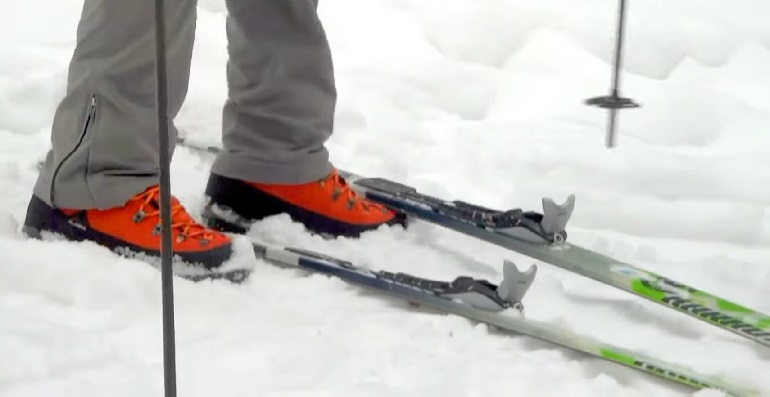 Top Features
Full metal edge
Traditional design
Easily climb uphill
Wood core
Pros
Great touring skis for a cross-country skiing adventure
Solid choice for beginners
Cons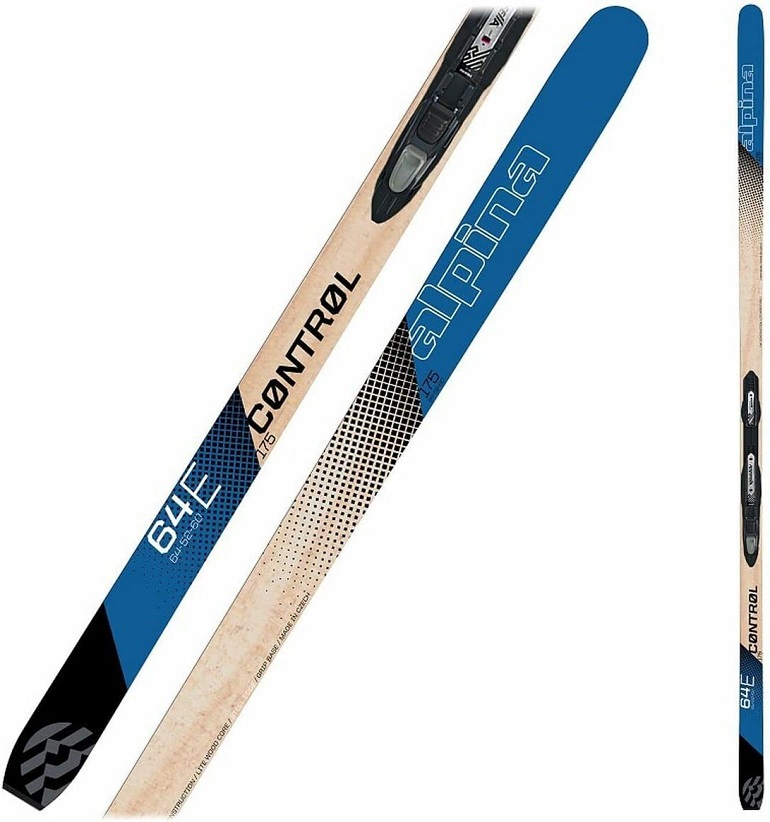 Alpina Control 64 Edge Ski
The price of "Alpina Control 64 Edge Ski" varies, so check the latest price at
What You Need to Know About This Sport
Before you start buying cross-country skis for newbies, you need to know what you're getting yourself into.
Cross-country skiing is a lot more fitness and endurance-focused compared to downhill riding. When you're racing down the mountain in a pair of downhill skis, you're not really doing a whole lot of work.
In fact, you can simply sit back and forget about turning – going straight down the mountain.
Cross-country skiing is completely different. The goal isn't to go fast – the goal is to get a solid workout. When you strap into a pair of cross-country skis, you're basically going jogging on snow.
But even though some people might dismiss cross-country skiing as "boring," you'll notice some serious benefits. For starters, cross-country skiing is seriously cheap.
You won't have to worry about buying a lift pass, and this can save you hundreds or even thousands of dollars per year. You should also need to know perfect ski size you need before going to the mountain.
And make no mistake – this is a great way to boost your health and lose some weight. Cross-country skiing is one of the best cardio workouts available. If you stick with this sport, you'll start to get seriously ripped – and your endurance will go through the roof.
Just don't expect to rip down the mountain at 100 miles per hour while doing backflips.
This is not what this sport is about.
What's the Difference Between Classic Cross-Country Skis and Downhill Skis?
Because cross-country skiing and downhill skiing are two very different extreme sports, the skis used in both activities are also completely different.
The first thing you need to know is that they're not interchangeable. Unless you're feeling a little adventurous (and insane), you can't use cross-country skis on downhill trails – and vice versa.
Cross-country skis are typically longer and narrower compared to downhill skis, and they also lack metal edges in many cases. In addition, downhill bindings lock your entire foot onto the skis. In contrast, cross-country skis allow your ankle to rise up and down freely.
What Beginners Should Keep in Mind When Getting into Cross-Country Skiing
Choose the Correct Profile:
The term "profile" refers to camber in the context of cross-country skis. This refers to both the ski flex and their curvature. Skate skis have a single camber profile, which means they stay lower to the ground so you can use your edges to push more easily. Classic skis have high arches in a double-camber profile, making it easier to glide across the snow without using the edges. Longer skis have stiffer camber, which can make it more challenging to grip and flex the snow – especially if you're lightweight.
Sidecut:
When you look straight down at your pair of skis, you'll see a slight curve from nose to tail. This is called the "sidecut."Skate skis have minimal sidecut, allowing for greater stability during the glide phase. The most high-performance skis have something called dual sidecut – although you won't need to worry about this as a beginner.
Things to Consider When Choosing Cross-Country Skis
If you're choosing your first pair of cross-country skis, there are a few things you need to keep in mind:
Consider Your Goals
First, consider your long-term goals for this sport. Some people get into cross-country or backcountry skiing because they want a tough workout. For these individuals, you might want skis that glide a little less easily across the snow.
Or are you just looking for a way to explore the mountains and enjoy some crisp, fresh air? If this is the case, you might want to grab cross-country skis that are more geared towards exploration, allowing you to dash in between the trees and uncover hidden paths.
Skate Skiers vs. Classic Skiers
You should also consider whether you're planning to engage in "skate skiing" or "classic skiing."
Classic skiing is a more relaxed version of cross-country, and it involves moving along at a leisurely pace by moving your skis in a straight line. Skinny skis are used for classic cross-country skiing.
On the other hand, skate skiing is a much more physically demanding form of exercise that involves pushing yourself forward using both your poles and your skis.
Skate skis are a little shorter than classic skis, and they always have waxable bases. In addition, their camber profile is more similar to alpine skis to help you push off your edges.
What Beginners Need
Generally speaking, beginner cross-country skiers need to choose cross-country skis that make it easier to dive into this sport right off the bat.
The best skis for complete newbies are known as "fishscale" skis, as these feature waxless ski bases for additional stability.
You might also consider "skin" skis, which are also waxless but offer you the ability to progress past the beginner level.
As a general rule, beginner cross-country skiers should stay away from waxable skis until they have reached a higher level.
In addition, it's worth noting that modern fishscale and skin bases are highly advanced, and they give you exactly what you need as a beginner.
In fact, a lot of the more experienced cross-country skiers I've talked to say there's not much difference between fishscale and waxable bases these days. This is especially true if you're a beginner because you're not going to really notice these subtle differences anyway.
Although there are many different brands to choose from when it comes to cross-country skis, you always need to take your height into account when choosing your first pair.
This is the same basic principle associated with downhill skiing and snowboarding. And just like choosing a downhill board or a pair of skis, weight is also a factor.
Things can get a little difficult if you're quite tall but also very light – like me. For example, when I choose cross-country skis, I'm sometimes a little confused as to whether I should choose longer skis (to compensate for my height) or shorter skis (to compensate for my low weight). You migh encounter the same issue if you're short and heavy.
If you're not really sure which skis to choose, don't be afraid to reach out to the manufacturer. Since there are so many different pairs to choose from, it's often best to simply get their advice on which skis to grab based on your weight and height.
With all that said, shorter skis are usually ideal for beginners, as they're easier to control.
It's Time to Rip it Up
Now that you have some stellar recommendations for your first pair of cross-country skis, it's time to get out there and rip it up.
Cross-country skiing is a great way to experience the crisp mountain air and fresh snow – and it comes with the added benefit of keeping you in great shape.
Better yet, it's probably one of the most affordable winter extreme sports out there.
Seriously!
Once you get yourself a pair of solid cross-country skis, you won't really need to worry about spending any more money on this hobby.
Take that first step, grab yourself some skis, and don't look back!