It's common enough to hear about tandem kayaks. But best 2-person paddle boards? Can two people even stand up on a tandem paddle board?
Multi-person paddle boards do, in fact, exist, though they are more scarce than standard SUP boards. My own SUP is the Tower Xplorer, which we'll cover more below.
Paddle boards are generally pretty long and wide, designed with a slightly upturned bow and a flat, hydro-foam core that exerts enough upthrust to keep the paddle board afloat.
They're much easier to flip than a kayak or a canoe, so it takes some getting used to by yourself—even more so with two of you.
In the meantime, here are some fantastic multi-person paddle boards to keep an eye out for.
Top Pick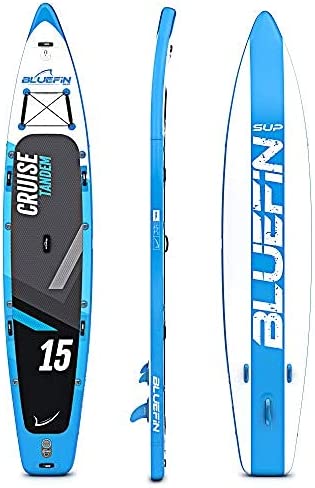 Bluefin Cruise Tandem 15
Color: Blue 15′
Sport Type: SUP Paddling
Super Rigid Construction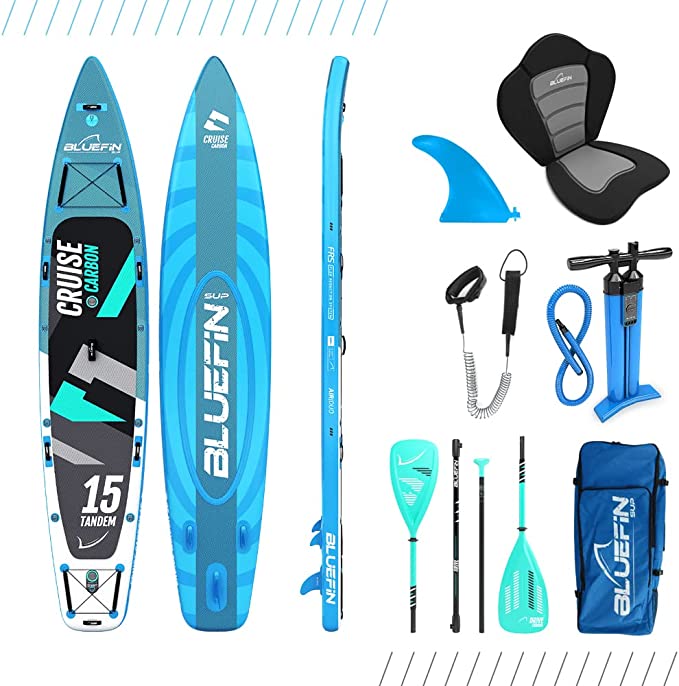 Bluefin Cruise Carbon 15
Color: Blue
Sport Type: SUP Paddling
Jack-of-all-trades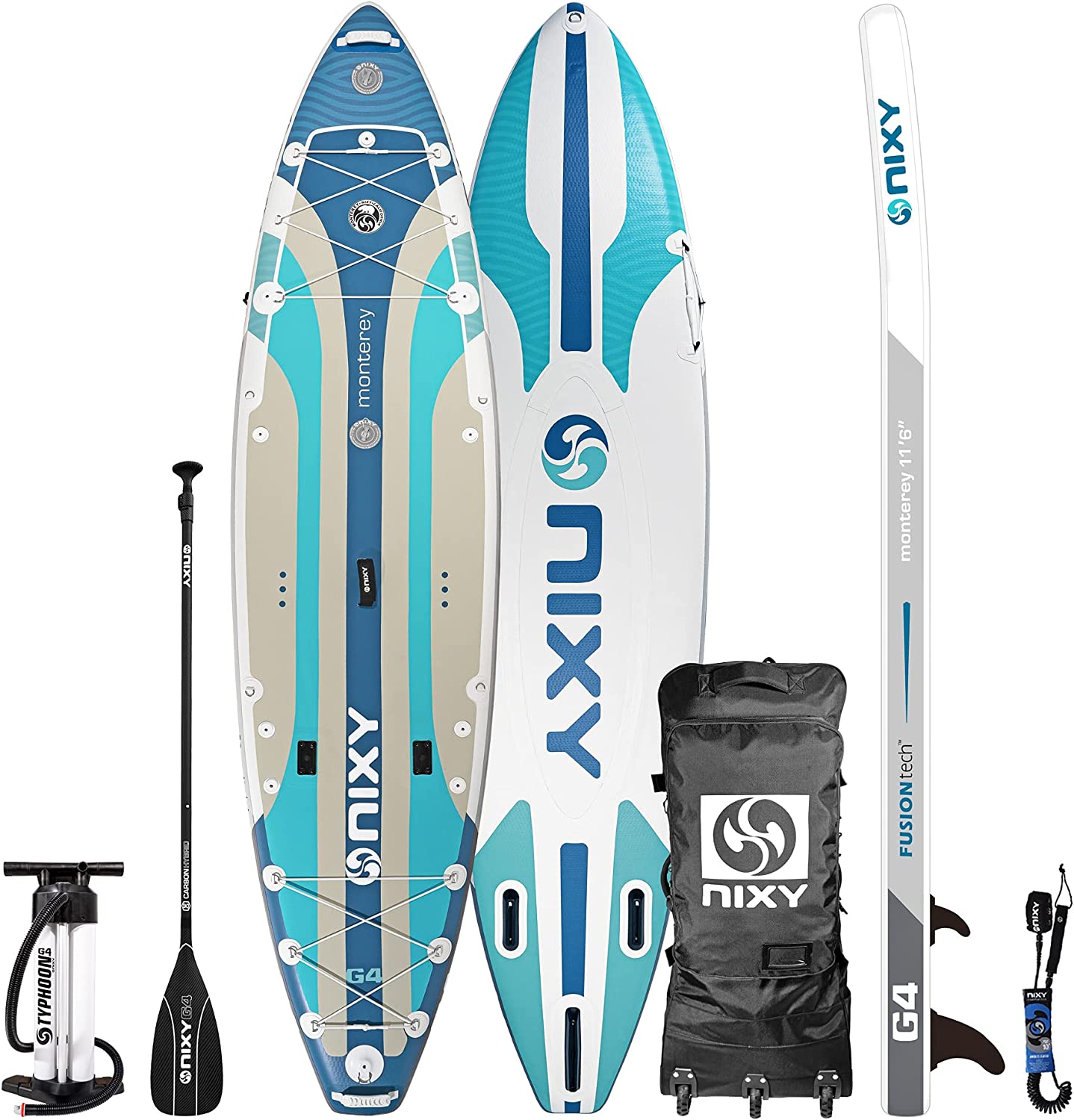 Nixy Monterey G4
Color: Aqua
Sport Type: SUP Paddling
Super Gigantic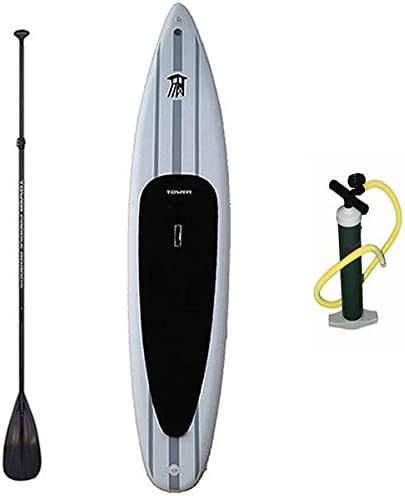 Tower Xplorer
Color: White, Gray
Sport Type: SUP Paddling
Ease of Use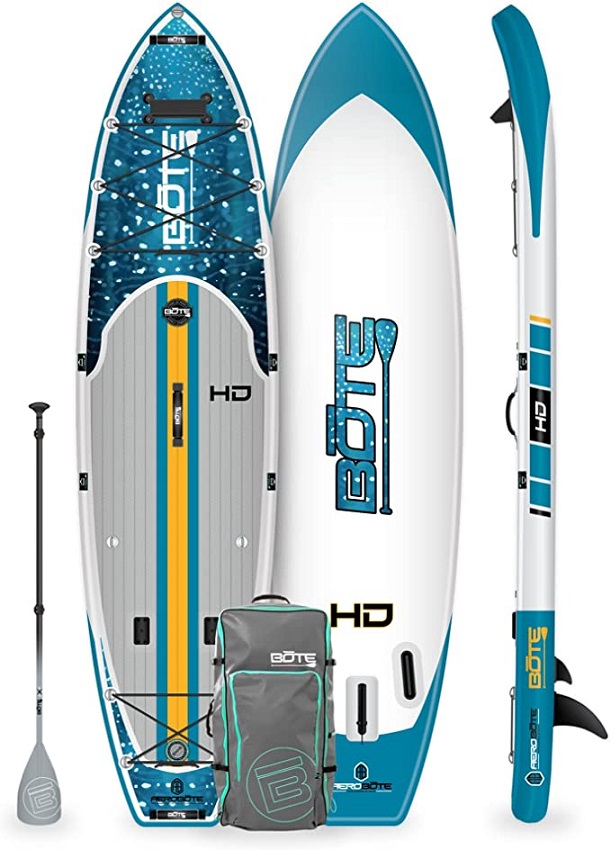 BOTÉ HD Aero
Color:  Whale Shark
Sport Type: SUP Paddling
Great Speed

Red Paddle Co. Voyager Tandem MSL
Color: White/Blue
Sport Type: Paddle Boarding
Ultra Lightweight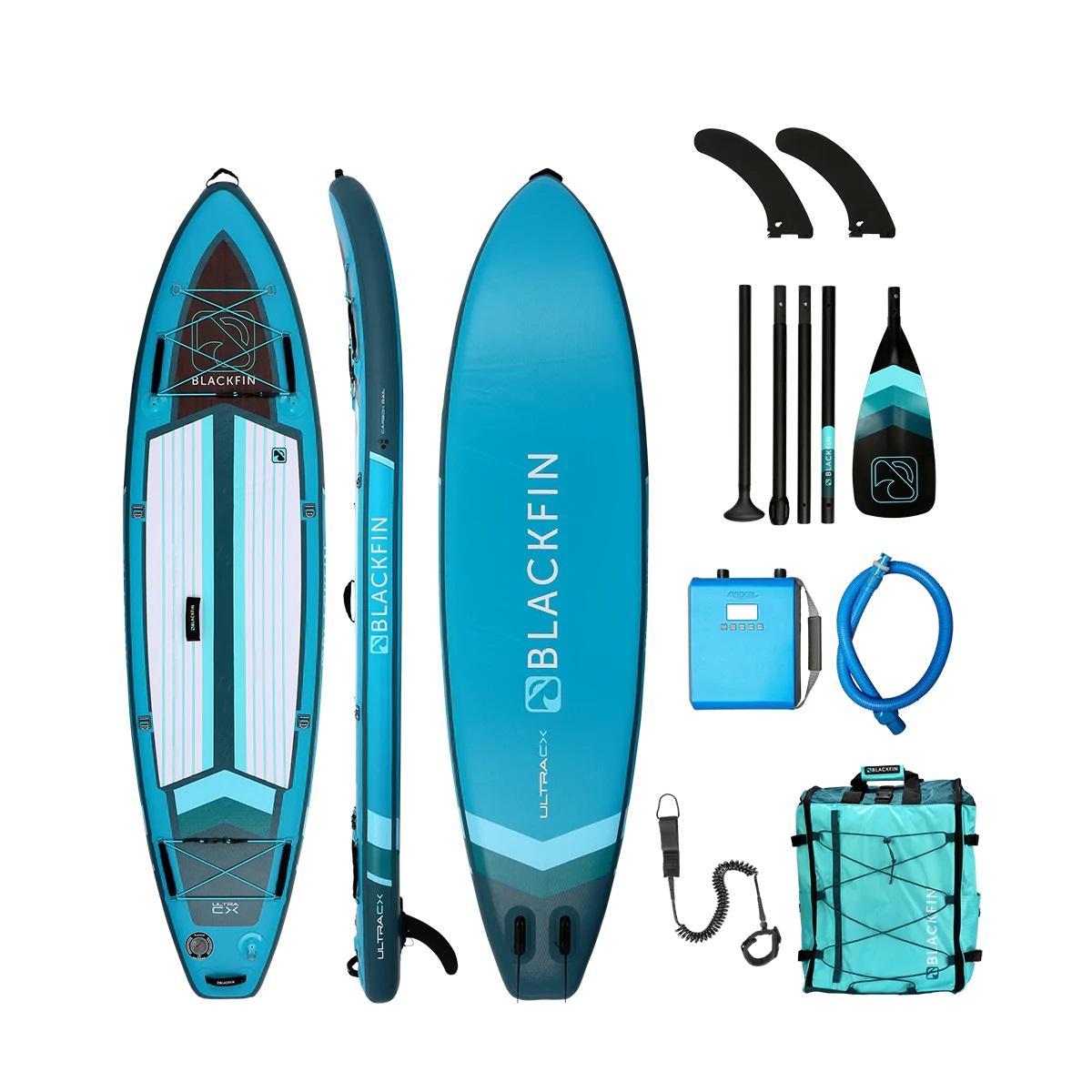 Blackfin CX Ultra
Color:Teal
Sport Type: Paddle Boarding
Best 2-person Paddle Boards
Multi-person paddle boards are kind of a misnomer, although there are a few SUP boards out there labeled as tandem paddle boards.
Most multi-person boards won't carry the "tandem" label but will come with a weight capacity feasible for two people. It will also be a little longer than a standard SUP board.
When you throw two people in the mix, even the best 2 person paddle boards will take some serious practice and a profound sense of teamwork and cohesion. It's a good idea to get in some practice on a regular stand-up paddle board until you both get the hang of it.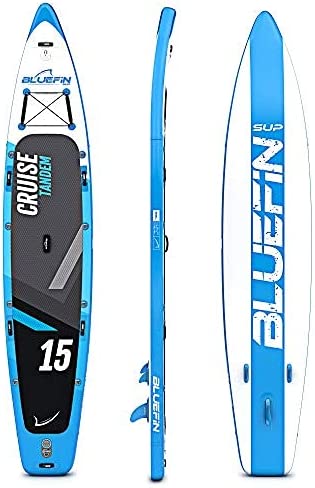 This is definitely a 2 person paddle board thanks to its 15′ length and heaviness. It's wrapped in a three-layer construction, and all of that extra material accounts for the excess weight. Thankfully, there will be two of you toting this thing around.
My Xplorer is roughly 51 lbs when I don't have kayak seats strapped to it, along with my other gear. I can usually carry it just fine unless the wind is really kicking when I haul it out of the rack. As is, the Bluefin Cruise Tandem is 32 lbs with a 15′ length to deal with.
It also has a fantastic weight capacity of 530 lbs, which should be more than enough for yourself, a partner, or maybe the family dog (even if your pooch is a Mastiff). Make no mistake, this is a big SUP board. If you drag it out in a heavy wind, on your own, you may struggle with it.
That three-layer construction I mentioned earlier? Yeah, it may be heavy, but it also makes for a seriously durable paddleboard. You'd have to treat this thing mercilessly to ruin it. The triple construction is all PVC, and the SUP paddle is constructed with a fiberglass shaft and a polyurethane blade.
As a long paddle board, you wouldn't think the Cruise would have fantastic maneuverability and you would be right. However, it's surprisingly nimble in the water, especially when you have two paddlers working in concert. Thanks to its length, the tracking capability of the Cruise is fantastic.
The Cruise is an inflatable paddle board, and the range is between 15 and 18 psi. All of the included accessories add up quickly, especially fiberglass paddles, yet this board is still priced below $500 on a lot of sites.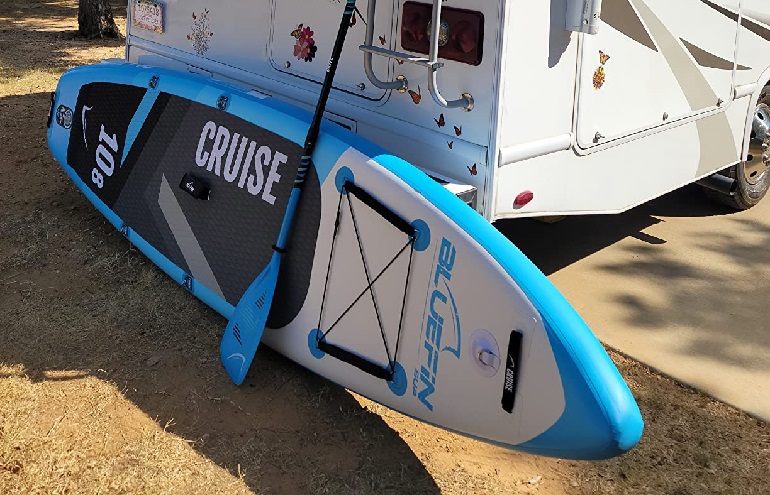 What makes the Bluefin a fantastic, inflatable paddle board is the premium features you get for a jaw-dropping price. This SUP is loaded, and while it falls just short of being a truly premium SUP board, it's pretty close for such an affordable price.
Features
2 + 1 Snap Lock Fins
Triple Layer PVC Construction
530 lb Weight Capacity
Military Grade Outer Shell PVC
Kayak Conversion Kit Included
EVA Foam Deck Pad
7 Built-In Handles
14 D-Rings
Included Camera Mount
Pros
Very affordably priced
Incredible durability
Great stability
Comes with a ton of accessories
5-year warranty
Cons
Length reduces maneuverability
Pump is a slow, single-chamber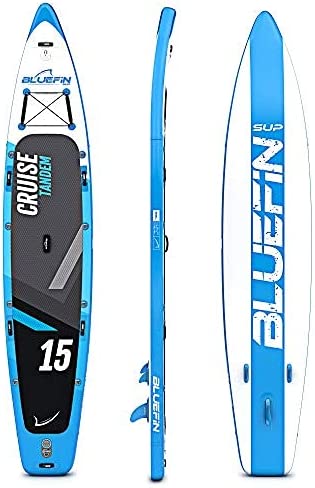 Bluefin Cruise Tandem 15
The price of "Bluefin Cruise Tandem 15" varies, so check the latest price at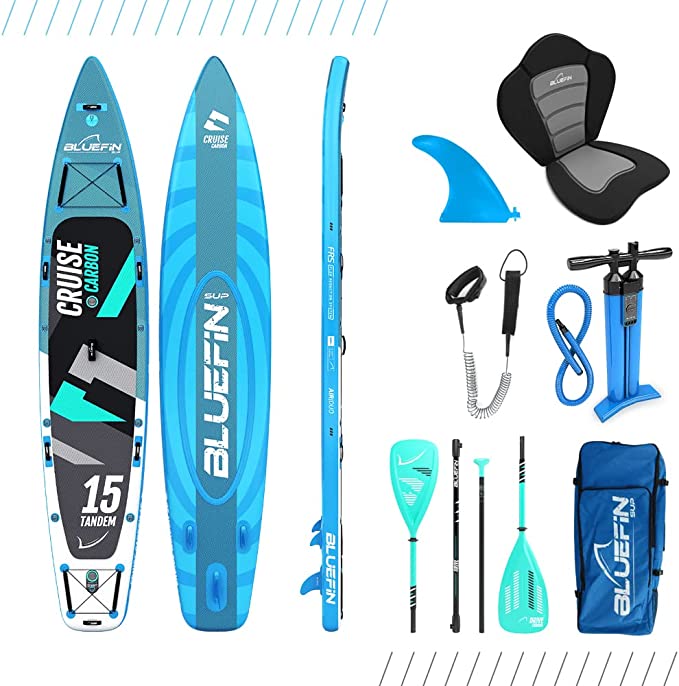 The Bluefin Cruise Carbon is a step up, in my opinion, and the only reservation I have with it is the fact that it's wasted on solo paddle boarders. Sure, you can solo the Carbon 15, but the maneuverability is absolutely sluggish. You can tell that the Carbon 15 was designed with two people in mind.
Bluefin's gigantic Bluefin Carbon Cruise comes with what Bluefin terms a "Flex Reduction System." Sounds like a cool concept. What it means, in reality, is the side rails are covered in a thick, carbon material.
Throw in the three layers of PVC construction, with the outer shell meeting or exceeding military specs; you have yourself one of the most rigid paddle boards on the market. Even with two people standing fairly centered, you won't get much flex out of this paddle board.
As giant paddle boards go, the Carbon Cruise is 44 lbs and 15′ long. It's more than enough to handle two people with its 530 lb capacity. That also means it's a struggle on windy days. Paddle-boarding enthusiasts will love the fact that this board comes with carbon fiber paddle shafts.
The Bluefin Cruise Tandem had the same weight capacity but lacked the overwhelming rigidity of the Carbon Cruise. Speaking of comparisons, the Carbon Cruise is a lot more expensive than the Bluefin Cruise Tandem. Fortunately, you're paying for the complete package.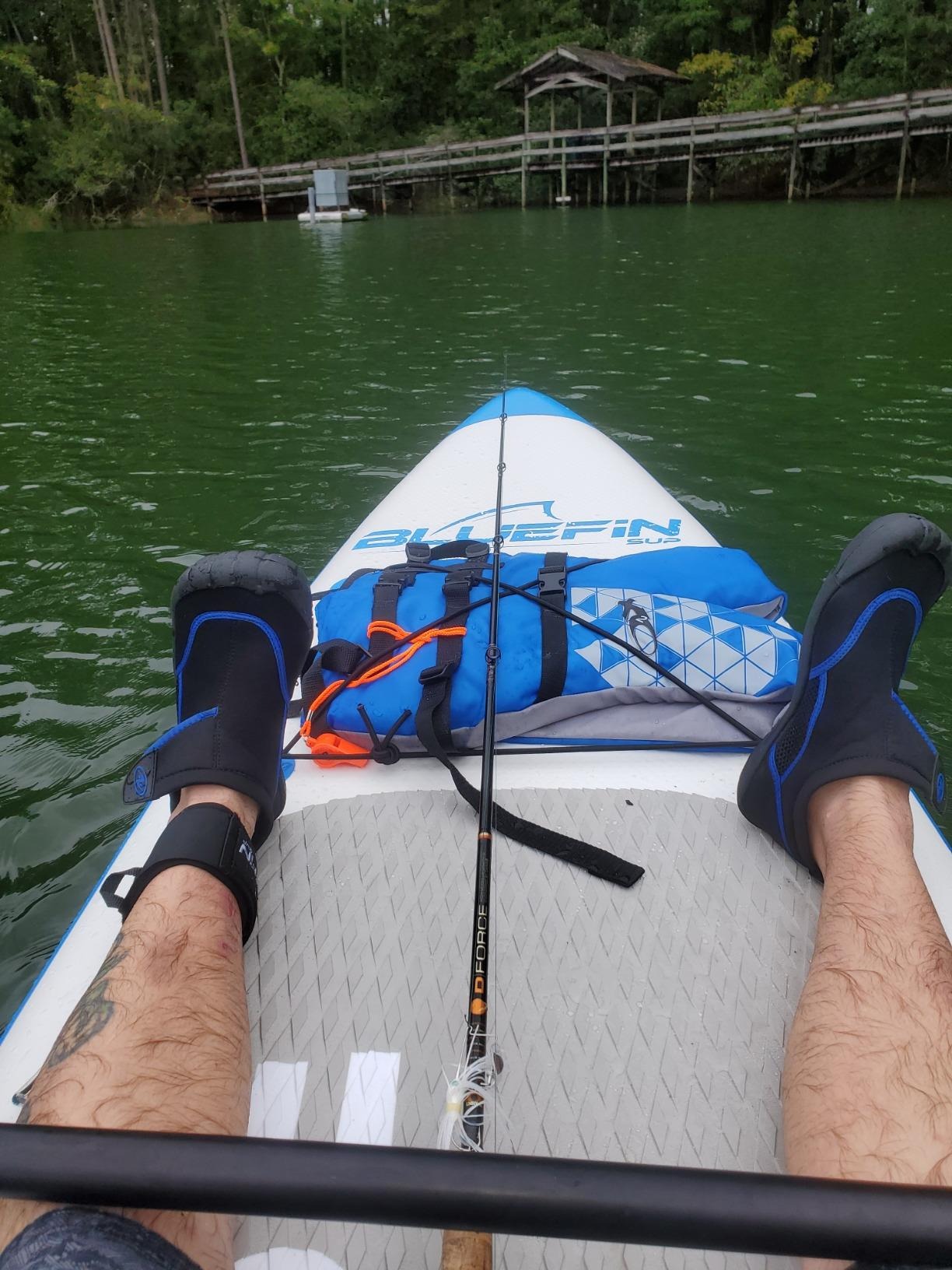 The Carbon Cruise includes everything you need, including a kayak conversion kit and a three-stage pump system that's considered one of the best in the industry. With dual chambers and a paddle board of this size, expect about ten minutes to get the board inflated enough to hit the water.
The Carbon Cruise is an excellent inflatable paddle board. It's certainly on the expensive side but it also comes with everything you will ever need to have a blast on the water. If you and your partner can't get the hang of it, switch over to the paddleboard seats, and you won't miss a beat.
Features
Built-In Go Pro Mount
Convertible SUP to Kayak Paddle
Flex Reduction System
Carbon Fiber Paddle Shafts
Two Inflation Chambers
530 lb Capacity
US Fin Box (Central Fin)
5 Grab Handles
Max Pressure of 28 psi
Pros
Maximum carrying capacity of 530 lbs
Large deck pad
High level of rigidity
Quick and efficient inflation
Carbon fiber paddles
Cons
Not a fun ride for solo paddlers
Maneuverability is so-so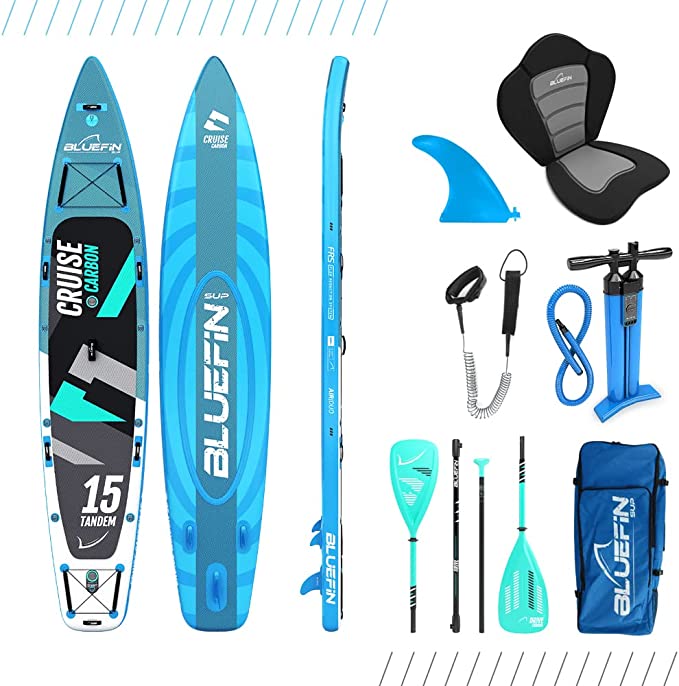 Bluefin Cruise Carbon 15
The price of "Bluefin Cruise Carbon 15" varies, so check the latest price at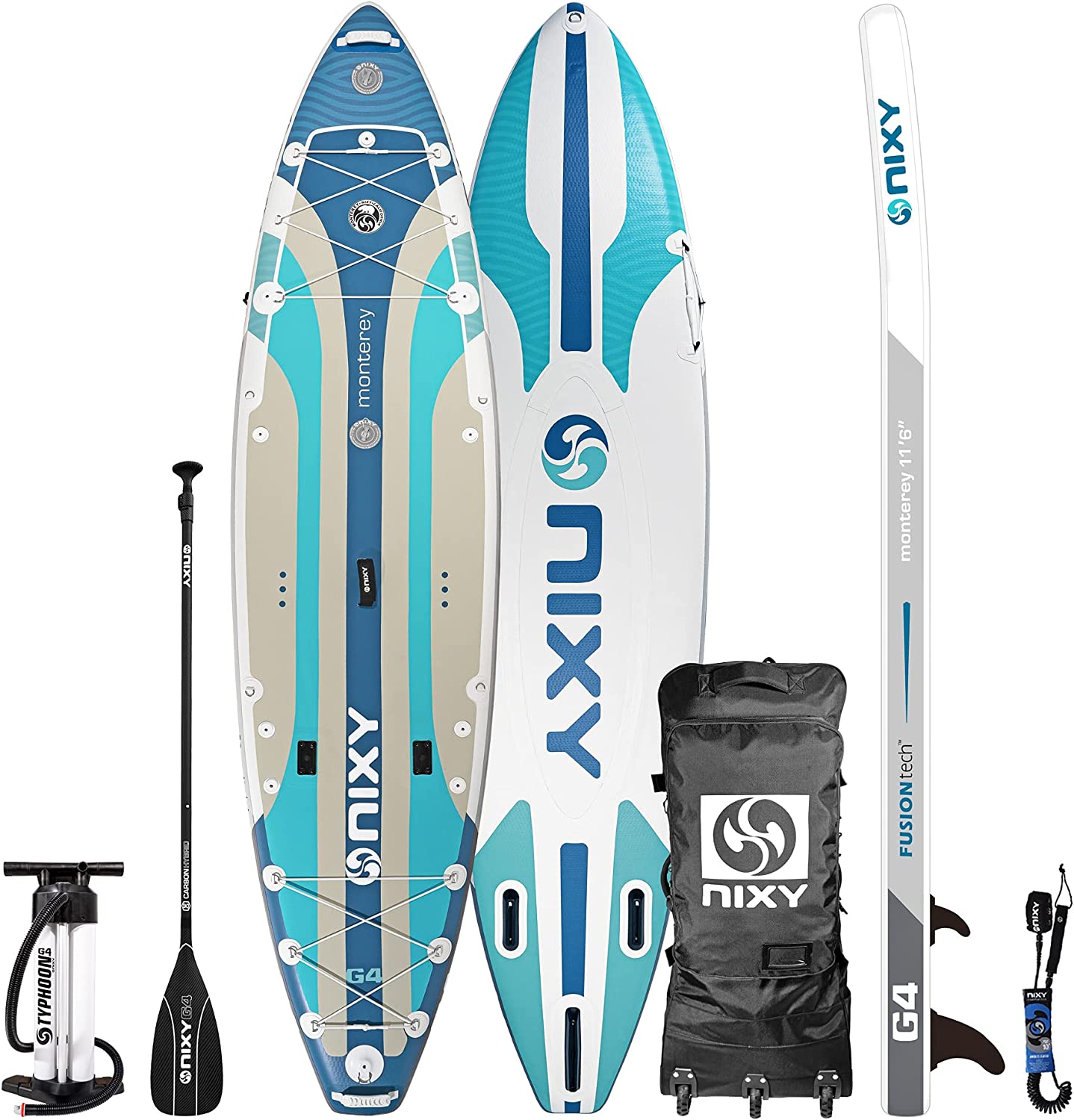 The Nixy Monterey G4 is an exceptional inflatable paddle board (try saying that five times really fast), and it changes the game for paddle boarding for two. That's because it's loaded with accessory functions.
The G4 is a jack of all trades, meaning you can solo it, bring along a friend or significant other, load it down with accessories galore, or bring your dog along for the adventure.
It's an exceptional SUP, and it's often overlooked and underrated in SUP and kayaking circles. It's big enough to support a tandem kayak conversion kit, and Nixy even manufactures kayak seats specifically for the G4.
It weighs 40 lbs (without all of the aforementioned gear) but has a maximum weight capacity of 400 lbs. It's technically not labeled a "tandem paddle board," but it's more than capable of being your next go-to multi-person paddle board.
It's also an extremely durable paddle board, with carbon fiber rails for added rigidity and a Dual-layer drop stitch PVC body. It's exceptionally rigid yet functions well on the water, even for solo paddlers. The tracking is great, and even the maneuverability is decent with one and great with two.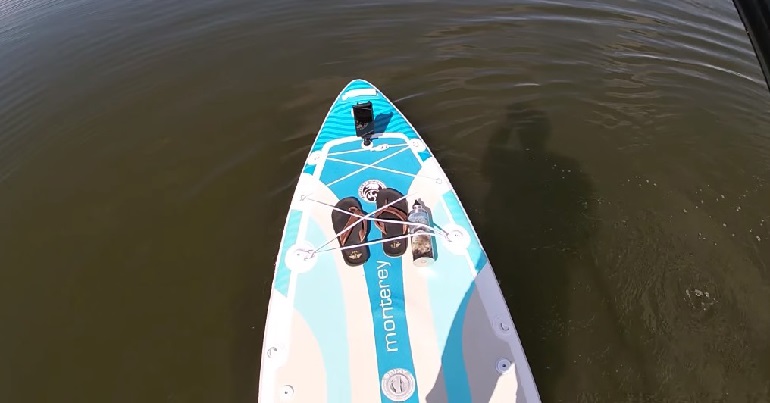 The G4 comes with a three-stage, dual-action pump to get you in the water fast. For transport, it deflates and travels easily with the included three-wheel backpack that's more than enough to carry the weight of the multi-person paddle board and some of the gear you want to bring as well.
All-in-all, the G4 is an excellent two-person paddle board option that functions as a decent recreational SUP when you're riding solo. It really stands out when it comes to all of the mounts, opening up a world of possibilities on the water.
Features
Several Mounting Options (10 Action and 2 Scotty Mounts)
Carbon Side Rails
FCS Fin
2-Chamber System
Plenty of Deck Pad Webbing
Edge to Edge EVA
UV Protection
Front, Back, and Middle Handles
Dual-Adjustable Bungee System
Pros
Excellent stability
Enough mounts for any setup
Lightweight, rigid construction
Removable fins
Excellent value with an included 2-year warranty
Cons
Difficult to fold after deflating
Not very fast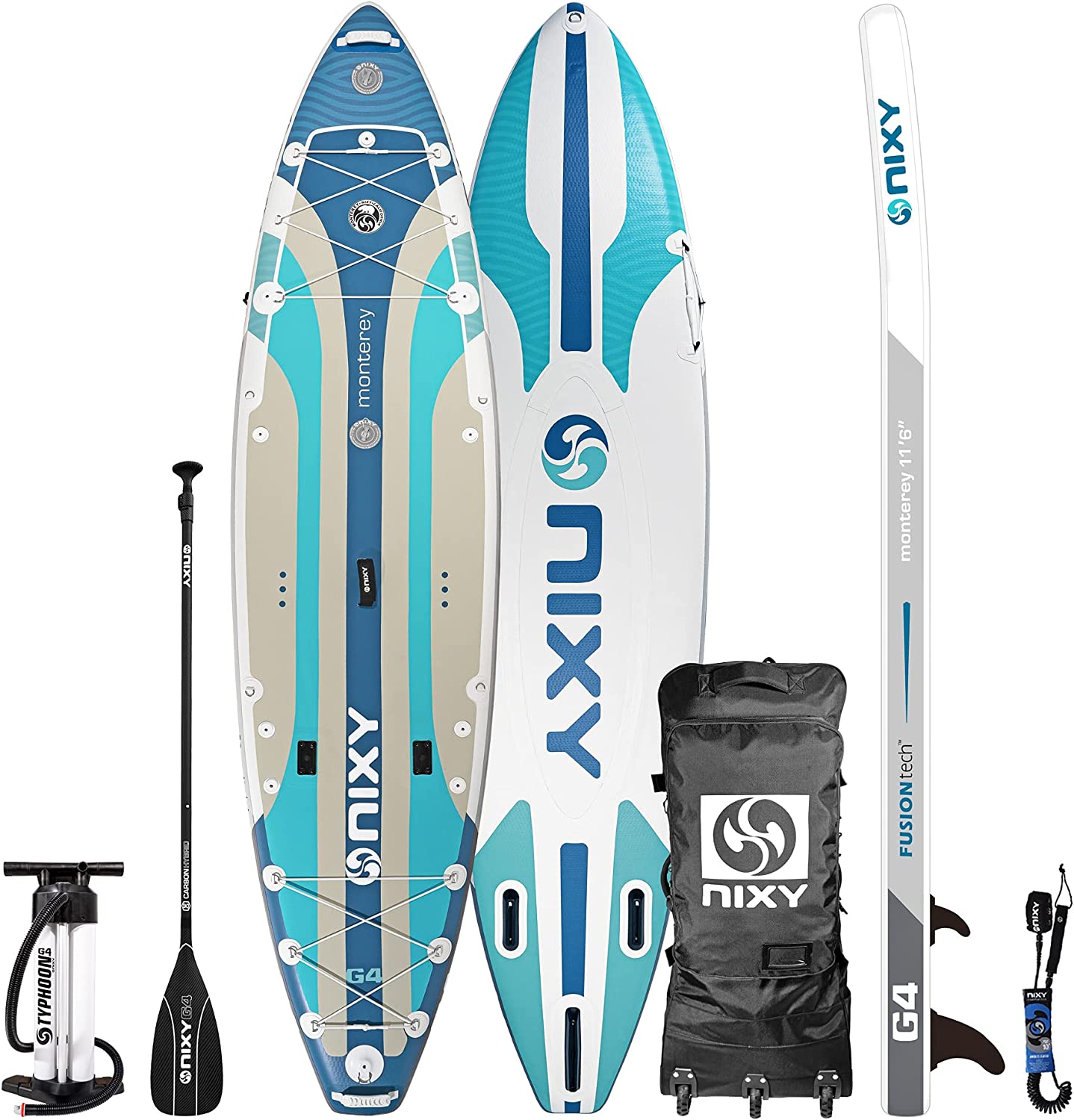 Nixy Monterey G4
The price of " Nixy Monterey G4″ varies, so check the latest price at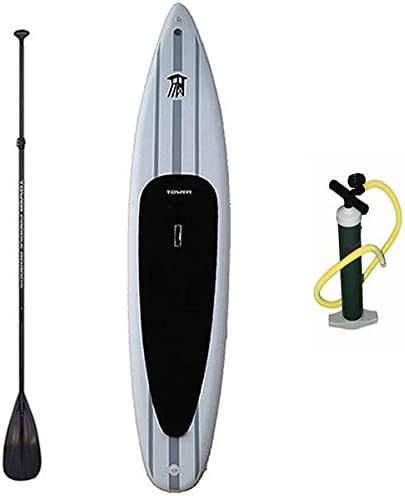 My personal favorite, I have to admit, if only because I have one hanging on a rack in the garage right now. The Tower Xplorer does have some flaws, but I personally love it and think you will as well.
Just to be honest and upfront, this thing is absolutely gigantic. When it's inflated, it's too big to fit in a 4 x 10 trailer without some adjustments or a rack, much less the bed of a pickup. The 8″ thickness looks much bigger in person.
The Tower Xplorer rides high in the water and strikes a very impressive aesthetic.
Due to its largeness, it's easy to think it's a sluggish stand-up paddle board. While doing tricks and nimble maneuvers are out of the question, it's surprisingly mobile when it comes to quick adjustments and turns.
The best thing about the Xplorer is it positively glides across the water. It's almost like floating on air, and a solo paddler can move about easily. The tracking is excellent, and the weight capacity of the Xplorer is a staggering 800 lbs.
Unfortunately, it doesn't come with much in the package. When you open the box, you get the pump, SUP, and paddle. Thankfully, this monster SUP folds up exceptionally well for easy and compact (if a little heavy) transportation. But you'll need a carrying bag (sold separately, unfortunately).
The single fin makes this giant surprisingly maneuverable on the water, even if you stack the gear on, bring a partner, and test the weight capacity. With the EVA traction pad, you won't slip off anytime soon, either.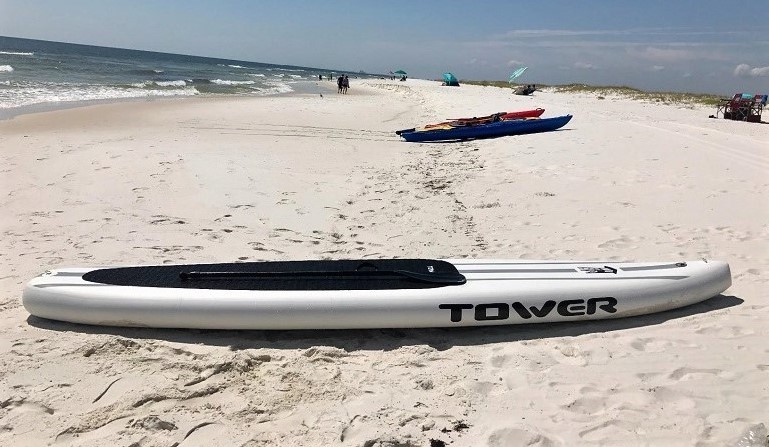 The biggest surprise about this board is that it isn't a gentle giant. It's fast, fluid, highly durable, and has better maneuverability than anyone would think at first glance. It's a little on the pricey side, however, especially since not much comes with it outside of what you need to get on the water.
Features
8″ Thickness
EVA Traction Pad
Drop-Stitch Military Spec PVC
800 lb Weight Capacity
Weighs 51 lbs
Flexible, Durable Paddle
10-Minute Inflation
Single Spin
Pros
Well-balanced and speedy
Huge capacity
Excellent stability
Folds up well—tight, compact, and portable
Nice EVA traction pad.
Cons
Underwhelming with the accessories
Its a ridiculously largest paddle board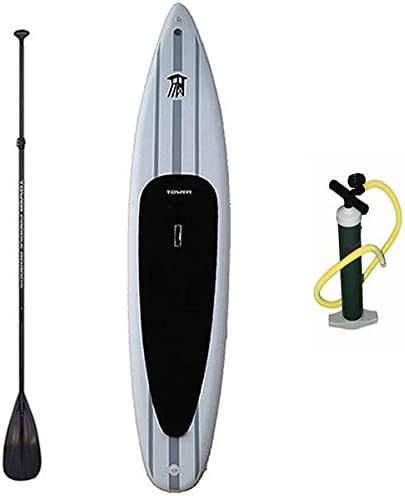 Tower Xplorer
The price of "Tower Xplorer" varies, so check the latest price at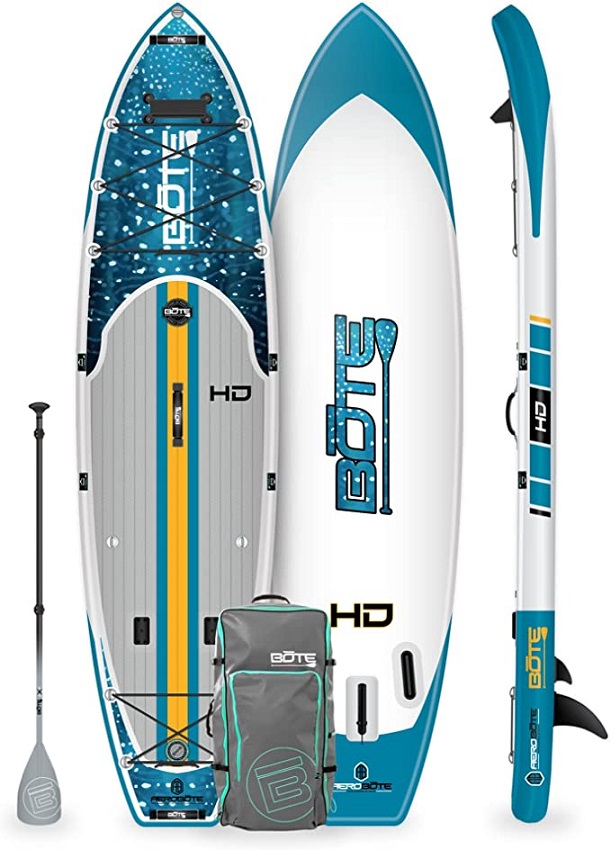 Bote is better known for its fishing SUPs, but that doesn't mean they can't put together a good stand-up paddle board. Like most of the multi-person boards on this list, the Bote HD Aero is pretty sizable.
Now, the Aero is a little on the deceptive side. The specs sheet reads that it has a carrying capacity of only 315 lbs. Fortunately, that's not exactly the case. The 315 lb limit is all about the performance standards of the board, not its actual carrying capacity, which is more like 400 lbs.
The Aero is designed with dual layers that are heat glued and sealed together through a fusion process Bote calls Aerobote Inflatable Construction. It's a multi-tiered process as it's repeated again for the rail system. It all comes together to create a pretty rigid board.
The inflation time is 10 minutes or less, and the included handle in the center of the BVA deck makes for easy carrying once you get it inflated. The deck pad is plenty grippy, which allows you to get creative on the water, whether you're solo or have a partner onboard as well.
The Magnepod system is fantastic. The only drawback is that the magnet on the front of the board is only at its best when you start ordering more Bote accessories, like speaker systems, paddle board coolers, and gear storage holders.
The Magnepod is on the bow and the stern, so you can balance everything out easily. As far as performance, the Bote is what you would expect from a very large stand-up paddle board. It tracks well but lacks that next speed level.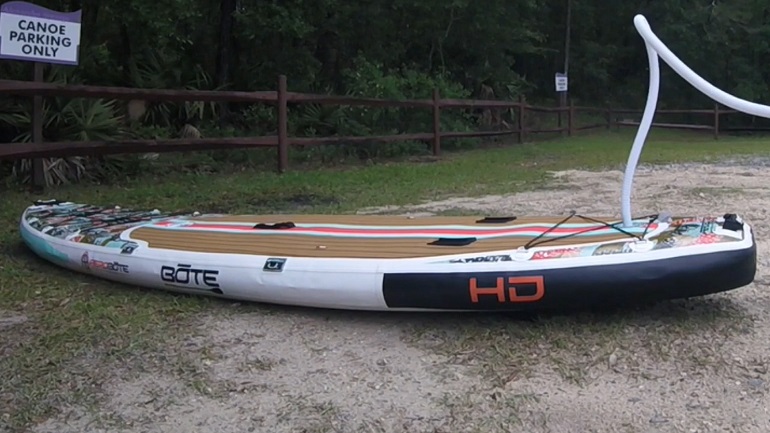 The con listed above is the biggest drawback. It's very rare to see a huge board (or any SUP board for that matter) that doesn't come with any kind of leash safety system. You'll have to head out on your own and buy one from Bote or from a third-party SUP retailer.
Features
Aerobote Inflatable Construction
Kayak Seats Compatible
Built-In Fishing Rack Mounts
Magnepod Attachment
Dual PVC Layers
Dual Rail Layers
48 lb Kit Weight
Nose and Tail Cargo Sections
BVA Deck Pad
Pros
High stability
Great for storage
Balanced
Magnepod system is fantastic
Includes a heavy-duty bag
Cons
Doesn't come with a leash or a D-Ring for the leash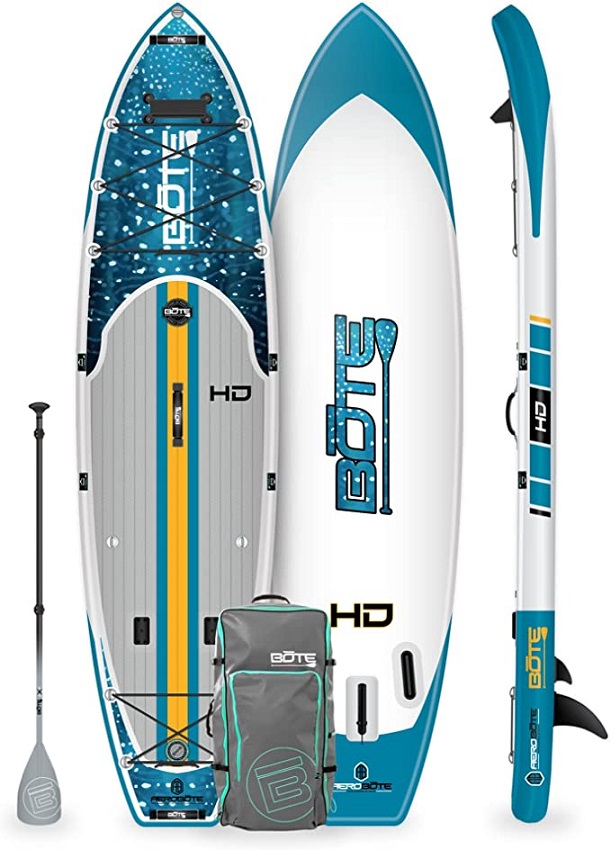 BOTÉ HD Aero
The price of "BOTÉ HD Aero" varies, so check the latest price at

Here is one of those rare tandem SUPs that actually uses the word "tandem." This is Red Paddle's idea of a two-person paddle board that is designed almost exclusively for exploration purposes. Kind of like taking it easy on the water, not trying to pull tricks with this massive SUP.
When it comes to size, the Red Paddle Voyager Tandem MSL is comparable to the Xplorer. It's a giant board, 8″ thick, and, also like the Xplorer, has excellent tracking and speed. This is especially true when you're doing a multi-person gig.
At a shade over 15′ long, it's easy to throw two people on this thing, along with all the cargo you can carry, and cruise in style, faster than you would think with two paddlers. Despite its incredible length, when you're using it as a 2-person paddle board, maneuverability is excellent.
As I mentioned above, Red Paddle was going for an exploration design with this particular SUP. It has plenty of cargo space, including the twin D-ring locking system. The textured surface is slightly different from other decks, but it holds up well, and the deck is surprisingly grippy.
The board has five carrying handles strategically placed, which makes carrying the board around, mounting, and dismounting pretty simple. The board airs up quickly as well, with included the Titan II pump, one of the best accessories to come with an iSUP on the market.
The ATB Tandem backpack is a nice addition as well. This is a heavy board, and Red Paddle did a good job, including a comparable pack for carrying it around. The board is also exceptionally rigid, but not so much that it's ridiculous. The only detectable flexibility shows up when you are really working the paddles.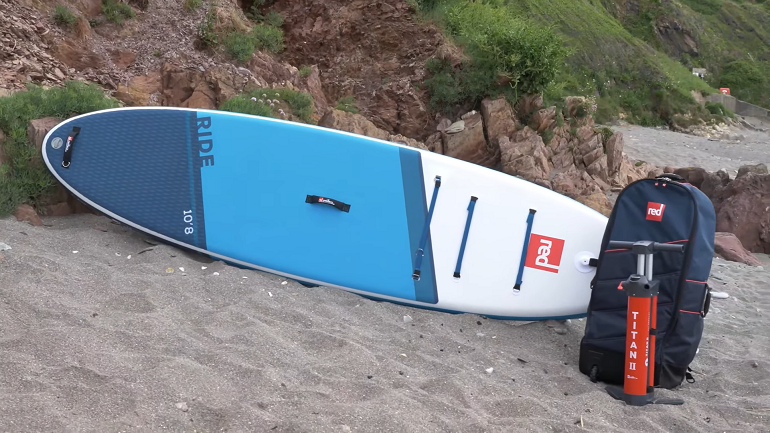 The huge textured deck pad, extra cargo provisions, and the Titan II pump are the stand-out features that make this one of the best inflatable paddle boards on the market. It's not quite the same board as the Xplorer, with improvements in some areas and drawbacks in others.
Features
8″ Thick
Removable Center Fin
Five Carry Handles
Built-In Action Camera Mount
Twin D-Ring Locking System
Carbon and Glass Fiber Paddles with Carbon Paddles
Dual Valve System
Textured Grip Surface
723 Liter Board Volume
Pros
Excellent rigidity
Plenty of cargo-carrying capacity
Twin, interlocking D-Rings are a nice addition
Included Titan II pump is fantastic
Great tracking and speed, especially with two
Cons
Can be awkward due to its size

Red Paddle Co. Voyager Tandem MSL
The price of "Red Paddle Co. Voyager Tandem MSL" varies, so check the latest price at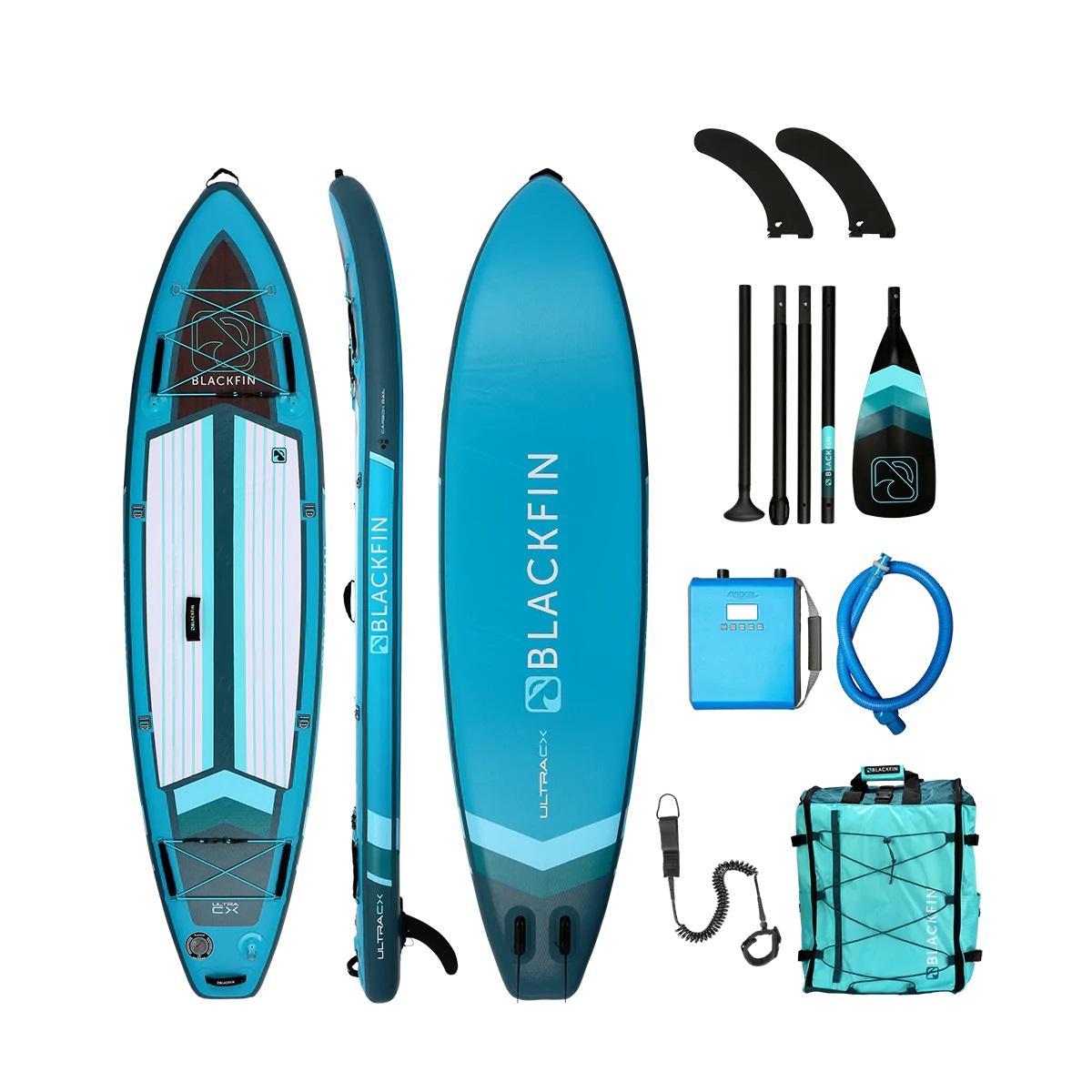 The Blackfin CX Ultra is manufactured by iRocker, and though it's not labeled as a tandem iSUP, it's more than capable of being the multi-person board you're looking for. It's not quite as large as some of the others on this list, but it has a few tricks up its sleeve.
The CX Ultra is iRocker's attempt to beef up the performance in all of their iSUP lines, whether it's tandem compatible or not. You can see the results in the Blackfin CX Ultra. This is a lightweight iSUP with a 320 lb capacity in performance terms rather than actual weight capacity.
The dual-fin design was a step in the right direction when it comes to speed but not necessarily in maneuverability. With two people onboard, it helps to turn this thing quickly, but the two 9″ fins make it difficult to turn the board around quickly when you're running solo.
The three-piece, foldable paddle is a nice addition, and the board itself includes a dividing line below the central carrying handle. When it's deflated, it makes it so much easier to fold the iSUP and store it in the nice bag that comes with it.
It's a little less stable than some of the other iRocker offerings, but it's also extremely rigid, with little to no flexibility, even when you're working the paddles excessively. Speed is improved massively in the Ultra CX, and it easily beats out most of the other iRocker models.
The rocker does an excellent job of keeping the nose up and out of the water, and the CX Ultra simply glides across the water, especially when you have two people pushing the board in tandem.
Features
Dual-Carbon Rails
Triple-Layer Composite PVC Construction
Lightweight Design
Split Deck Pad
6 D-Ring Front Cargo
Dual-Nine Inch Fins
Triple-Threaded Action Mounts
Roll Top Bag Included
Includes a 5-Piece Travel Paddle
Pros
Nice, compact design
Lightweight with a good carrying capacity
Carbon fiber rails and triple PVC make for a rigid board
Built-in action mounts are always welcome
Includes an electric sup pump
Cons
The fins are too big for solid maneuvering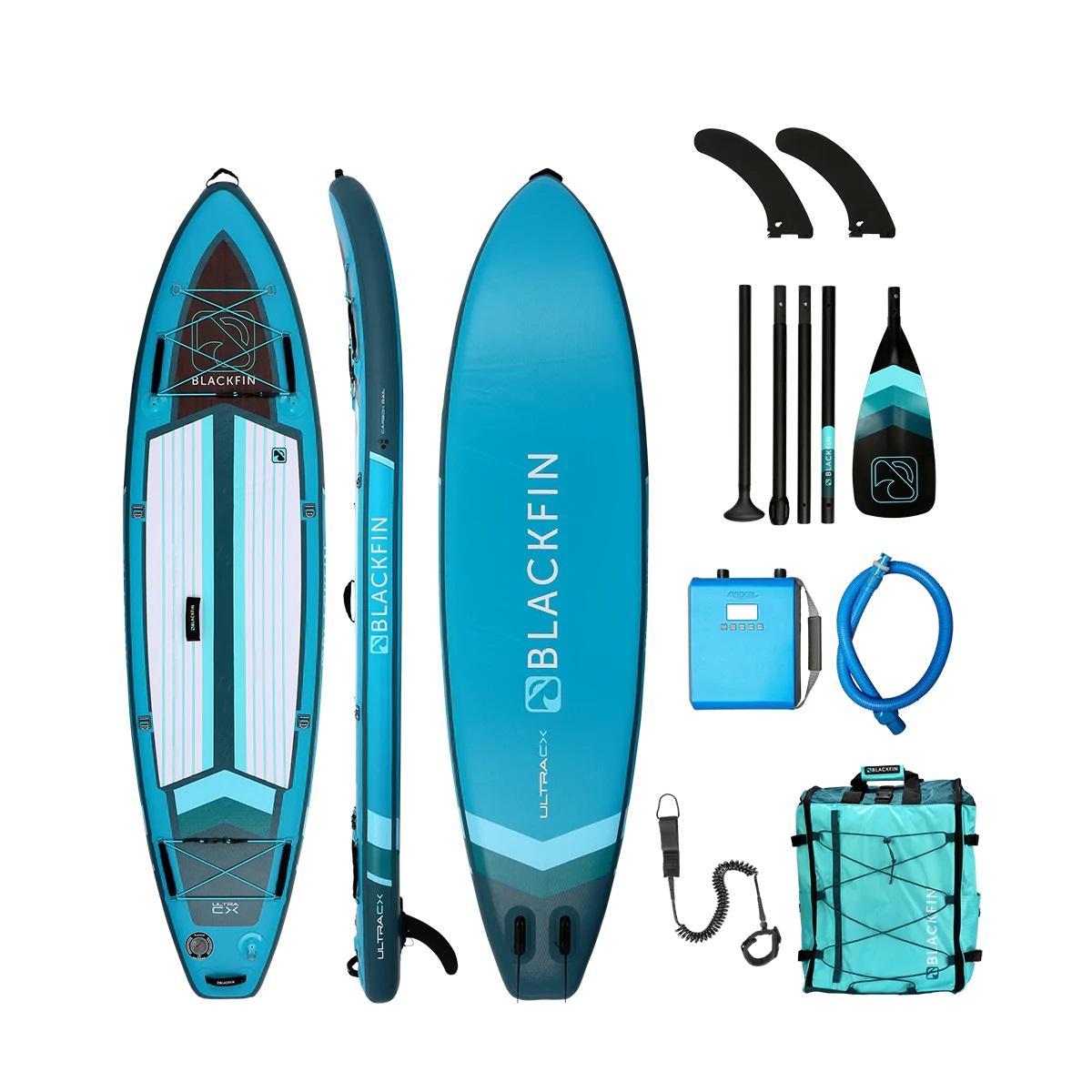 Blackfin CX Ultra
The price of "Blackfin CX Ultra " varies, so check the latest price at
How to Pick a Paddle Board for Two People
It doesn't take much to learn how to choose a paddle board. Paddle boards are paddle boards, regardless of size. What you're really looking for is build material and carrying capacity. It has to be good enough to carry you both, or all you'll do is go swimming every time you break out the board.
Are You Bringing Anyone or Anything?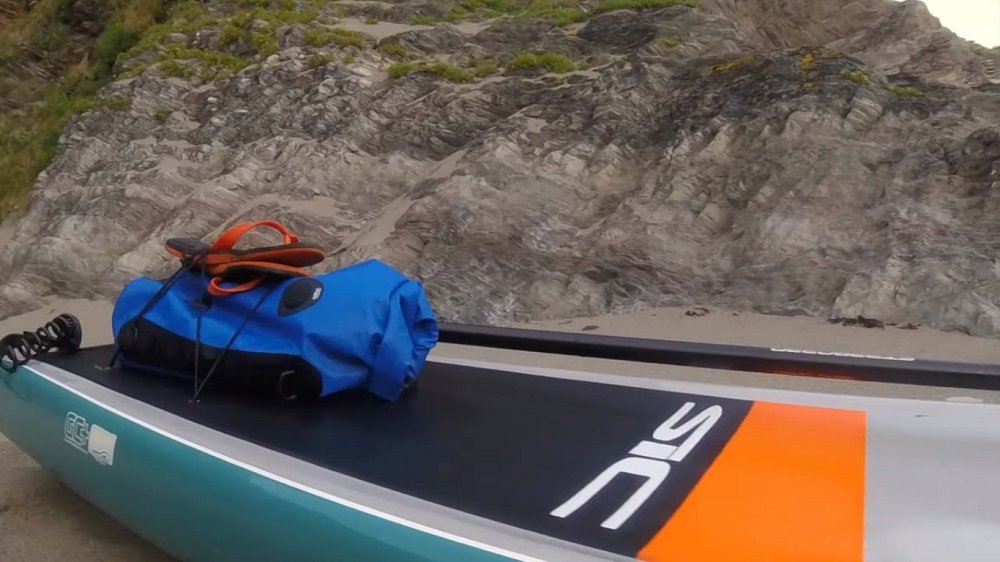 Cargo space is definitely on the list. When I go out, it's not for a one-hour trip across the bay and back to the house again. This is especially true if there are two of you. That means double the supplies, and you need the cargo space and attachments to cover that.
SUP Construction
In case you didn't notice, almost all of the best tandem paddle boards listed above feature triple-layer PVC construction. Dual-layer is good as well. But, the point is, double the crew, double the wear and tear. You want an iSUP with solid durability so you can get more out of it for both of you.
Budget
These boards aren't cheap. However, occasionally you'll come across an iSUP like the Bluefin Cruise Tandem 15′. When you see a board with those features at that price, jump on it.
Maximum Weight Capacity
That's entirely up to you and what you plan on using the SUP for. I like to bring my wife, a cooler, an E-tool, and a handy metal detector. I know the weight limits on my iSUP, and I don't push it.
Size and Shape of the Board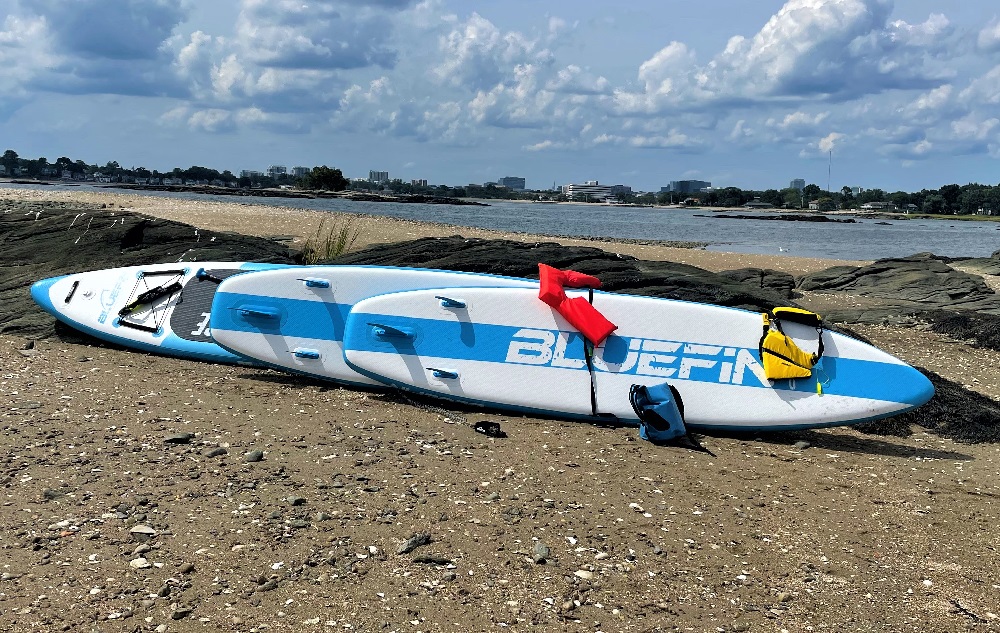 There's no getting around it—tandem SUPs are really big. 14′ to 16′ in length and well over 30″ in width, they are generally fast (thanks to their length) and not very nimble (also thanks to their length). Sometimes, the really wide ones can slow you down, however.
FAQs
How Big Are Tandem Paddle Boards Usually?
The vast majority of tandem SUPs are around 14′ and 15′ in length and 32″ to 34″ wide. Some are longer and wider. Some are shorter and more narrow. But you'll find that the majority fall within those parameters.
How Much Weight Can a Multi-person Paddle Board Hold?
Some will only hold as little as 325 lbs, while others can hold nearly half a ton. The thing you have to look out for are the iSUPs that advertise weight capacity in terms of performance rather than the actual capacity.
What Is the Difference Between Two-person Paddle Boards and Xxl Boards?
Two-person iSUPs or SUPs are generally designed with two people in mind. Everything about the features on these tandem paddle boards revolves around catering to that dynamic. XXL boards are far larger and designed to hold a whole bunch of people, sometimes up to 8 or even 10.
Final Verdict
There you have it, the best 2-person paddle boards on the market today. Of course, there are more out there than just these, but if you've never gone out on a tandem iSUP or SUP paddle boards before, the ones on this list are a terrific start.
Keep in mind, you really should practice and get your balance down on a regular SUP first. It doesn't matter if it's an inflatable or not. Once you both know your business on a paddle board, go ahead and challenge yourselves on a tandem paddle board.

If you wanna ditch your friend and take your pup instead, you can also look into the best paddle boards for dogs because don't they make the cutest companions.
Furthermore, if you're an experienced paddler looking to challenge and refine your skills, reading a Blue Fin Sprint review can provide valuable insights into the exceptional features and performance that solo expert paddle boards offer.
Most importantly, have fun and be safe.