Sharing is caring, and you don't care? Do you have a brain in your head and a heart in your chest? Well, you need to give me the benefit of the doubt when I tell you about the perks of having a two-person paddle board.
That is, if you are getting a flashback of any wrongdoing of your board fellow, you can always do a donkey kick and apologize later. Moreover, when tired, you can always resort to lying on the board and rebuke them for not putting much effort. But if your partner has brought a cat or a dog, try to be the person their pet thinks you should be, it's safe this way.
Now that you have learned how exciting this journey can be let's see what makes a safe person paddle board. Two-person paddle boards should provide stability and possess a higher weight limit, a kayak conversion kit, extra length, and additional accessories like food storage gear. Food before dudes, baby!
Best Overall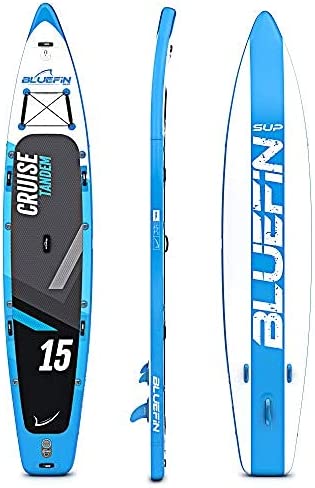 Bluefin Cruise Tandem 15
Color: Blue 15′
Sport Type: SUP Paddling
Most Durable

Pool Central Zray R2
Color: Yellow
Sport Type

:

SUP Paddling
Best Performant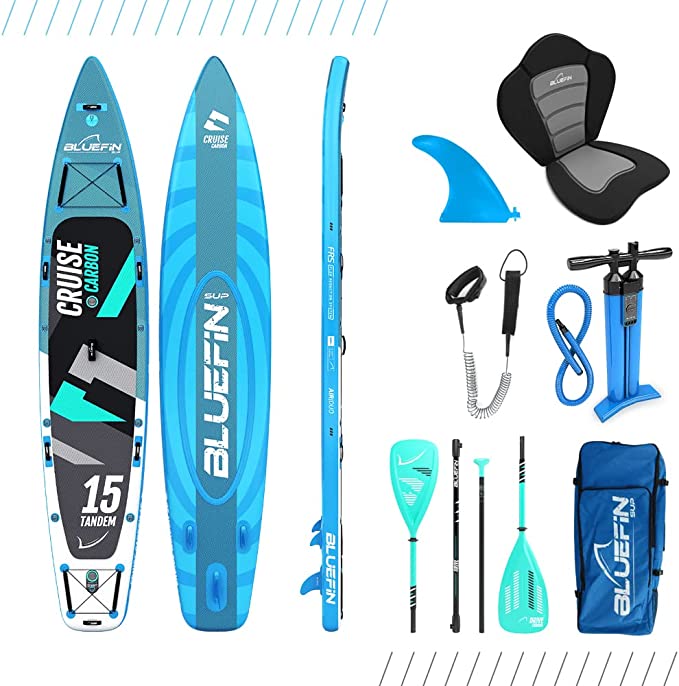 Bluefin Cruise Carbon 15
Color: Blue
Sport Type: SUP Paddling
Ideal for Heavyweight Riders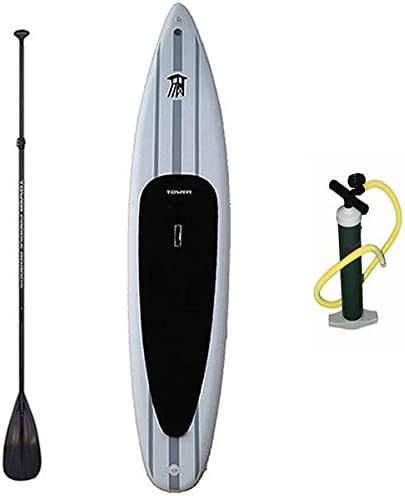 Tower Xplorer
Color: White, Gray
Sport Type: SUP Paddling
Budget Friendly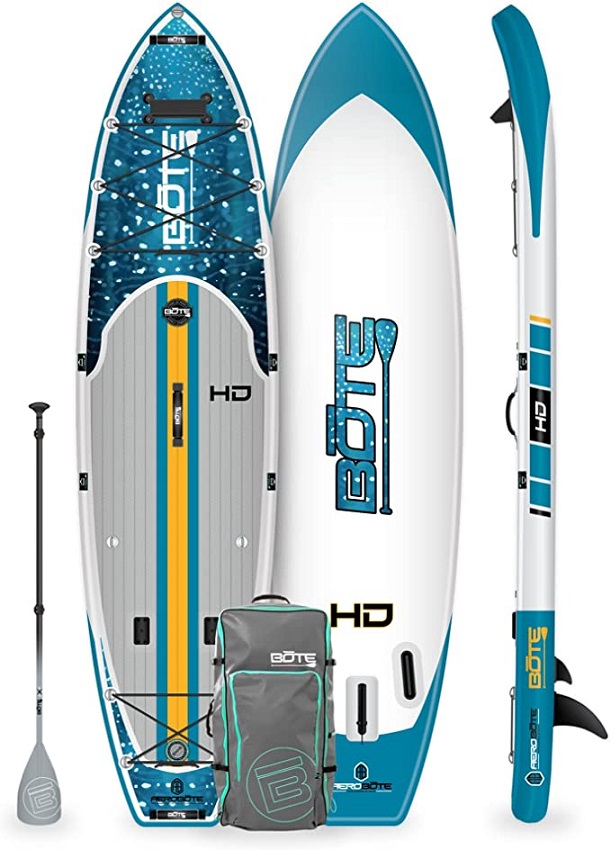 BOTÉ HD Aero
Color:  Whale Shark
Sport Type: SUP Paddling
Most Functional

Red Paddle Co. Voyager Tandem MSL
Color: White/Blue
Sport Type: Paddle Boarding
Ahead, I have presented some of the best 2 person paddle boards on the market. So, read on to learn about them and pick the one you think is worth your attention.
Best 2-Person Paddle Boards – Top Picks
Allow me to present to you some of the best two-person paddle boards that are worth your attention.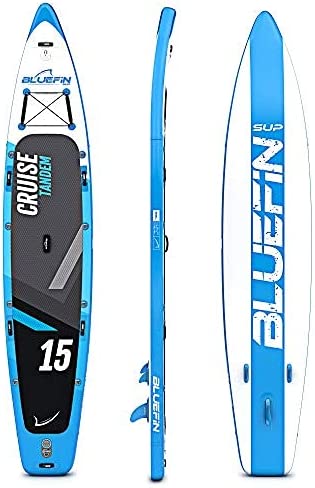 Are you tired of paddle boarding while being packed in like sardines? Shh. Zip it! Bluefin has got you covered. Now double the fun with Bluefin Cruise 15 Tandem – my personal preference.
When it comes to paddle boarding with your pals, Bluefin advocates spaciousness, superior quality, and contentment. Now you won't have to ask your fellow to retire in the middle of the sea because the board is poky. How generous of you!
Boasting its longest length, this imperial paddleboard provides 6 inches thick board with a wide and large deck pad for you to stand on. This EVA foam traction pad features a diamond crocodile pattern to facilitate you with secure footing and a firm grip to keep you from falling every now and then.
Bluefin tandem terrifically minimizes the risk of slipping while you are having the time of your life. Hence, ensuring blissful and fearless trekking. Aside from a textured traction pad, it also encompasses a raised kick tail for quality control when you go conquering the water. As far as safety is concerned, it also comes with a coiled leg leash for a worry-free ride.
Now let's talk about its versatility and the kind of experience it can provide. This inflatable paddle board not only provides a great SUP experience by providing a great rocker profile, but the board also swanks two paddle kayak seats with two fiberglass adjustable-height paddles that can be adjusted from 170cms to 220cm however you desire. What does it imply? It means you can enjoy a whitewater SUP experience or tandem kayaking in choppy waters. Freaking amazing, isn't it?
It has three fin systems – 2 small fins and an eight-inch smart-locking center fin for directional stability. The fins, along with their pointy shape, help you keep a straight course on the water even after bearing the weight of two persons. The maximum carrying capacity of the board, claimed by the brand, is 160kg/353 lbs.
Bluefin cruise tandem comes with bags of additional useful features like 3 carry handles, a spacious durable backpack, a kayak conversion kit, and the most prominent feature of the action camera and its five-year warranty.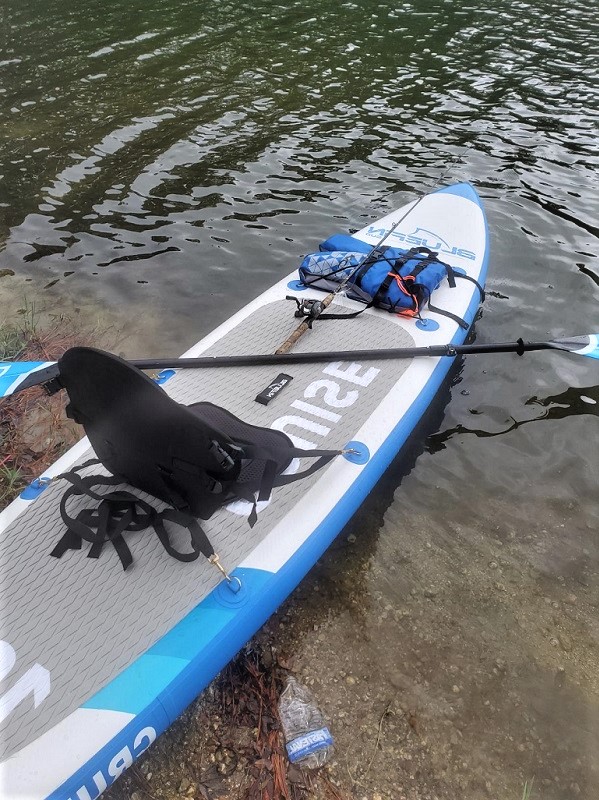 Features
Weight capacity: 353 lbs.
Length: 456cms/15 feet
Width: 91.5cms/3 feet
Weight: 42 lbs.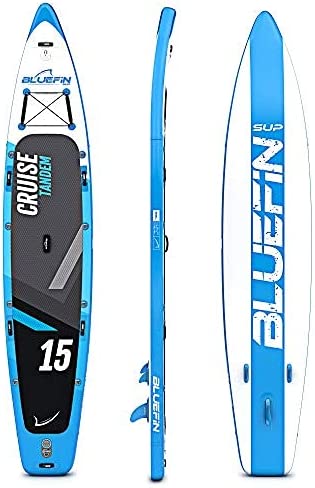 Bluefin Cruise Tandem 15
The price of "Bluefin Cruise Tandem 15" varies, so check the latest price at

If you desire a board that's very sturdy, rigid, and as strong as Hercules, then don't forget to buy R2 Rapid ZRay. This race board comes with plenty of lengths, strength, and buoyancy.
Although the board flaunts an extravagant length, it comes with a narrower shape, recommended for intermediate and more experienced paddlers. The board features a strong double-layer outer shell, making it less vulnerable to scratches, usual damages, and dings. This resistance towards damage renders it suitable for rides in waters where the environment has a higher likelihood of impact. It will fight tooth and nail against rocks, river debris, and logs and save you a hell lot of money.
The ZRay R2 features a non-slip traction pad that is not intensely textured, saving your feet from getting numb and tingly. It comes with an adjustable paddle, a repair kit, a closing belt, a pump, a removable center fin, and a bungee rigging kit.
Now let's talk about its pressure handling capacity. The board is manufactured to handle up to 15 PSI with a recommendation to inflate it to a minimum of 12 PSI for optimum performance.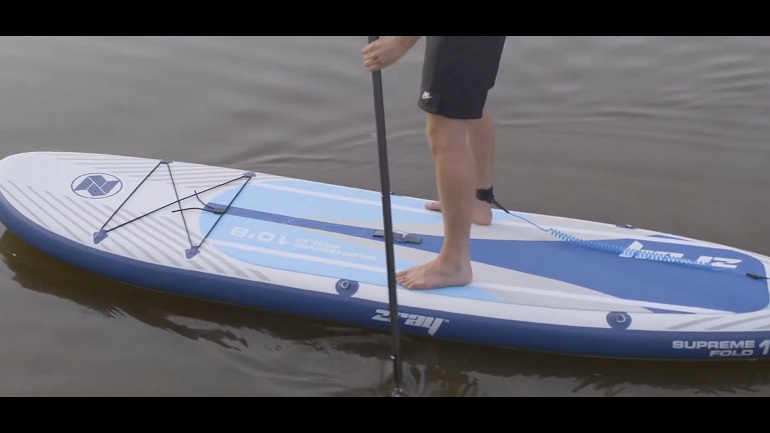 Features
Weight capacity: 397 lbs.
Length: 426.7cms/14 feet
Width: 71.12cms/2.3 feet
Weight: 36 lbs.

Pool Central Zray R2
The price of "Pool Central Zray R2" varies, so check the latest price at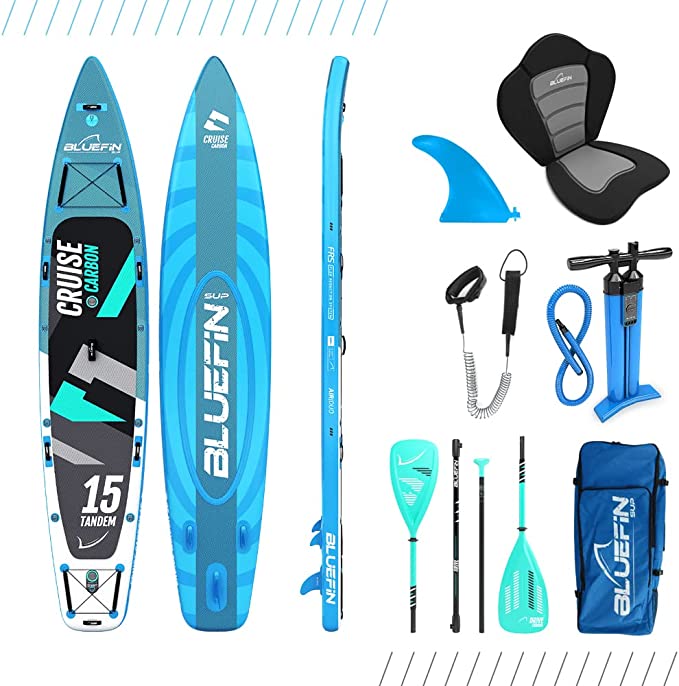 Bluefin Cruise Carbon stands stiffer and heavier in comparison to its alternatives. It comes bearing gifts! Yes, indeed, with its premium features, impeccable accessory bundle, and terrific upgraded construction. Bluefin Cruise carbon is a high-end board, a great alternative of which is Bluefin SUP Cruise 15′ if you are budget-oriented.
It is equipped with two separate air chambers for proper inflation, first, you have to inflate the inner chamber and then the outer one with the recommended pressure of 15-18 PSI. The maximum pressure is 28 PSI. With such quality inflation, it can bear up to 529 lbs, which is its maximum weight capacity.
Its fancy construction involves unique carbon textile material woven into the board's fabric. One can actually admire its workmanship, especially the drop-stitch density traction pad composed of 11200 threads per sqm, making it the densest pattern on the market. Its outer shell is composed of 2 thermo-sealed layers of PVC, coated UV-resistant.
Although both Bluefin Cruise Tandem and Bluefin Cruise Carbon share many similar features like diamond deck pad, nose rocker, kick pad, waterproof phone case, and action cam mount, they also have some differences. Cruise Carbon possesses two-piece carbon fiber SUP paddles weighing about 70pc less than an average paddle. It has 3 fins, as does the standard bluefin version, but here the side fins work on the smart lock system while the bigger center fin works on the US-box system.
This longer board is equipped with 8 free D-rings as compared to the standard version, which holds 6 D-rings. Moreover, instead of 3 carrying loops, it possesses more, making it easier for you and your pals to carry.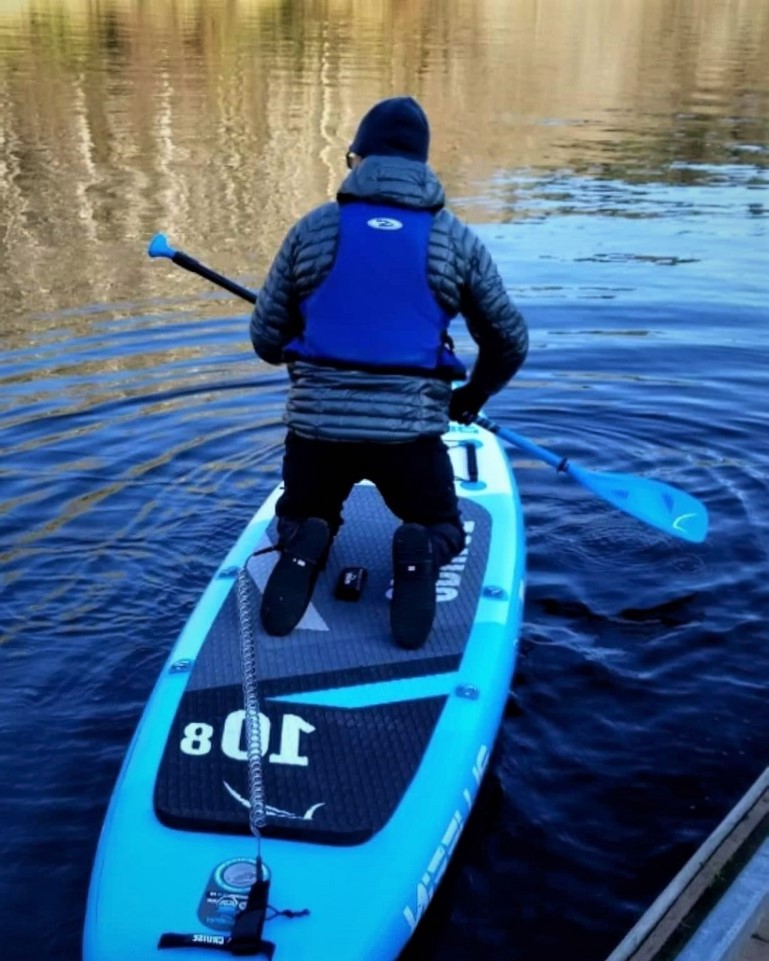 Features
Weight capacity: 529 lbs.
Length: 456cms/15 feet
Width: 91.5cms/3 feet
Weight: 44 lbs.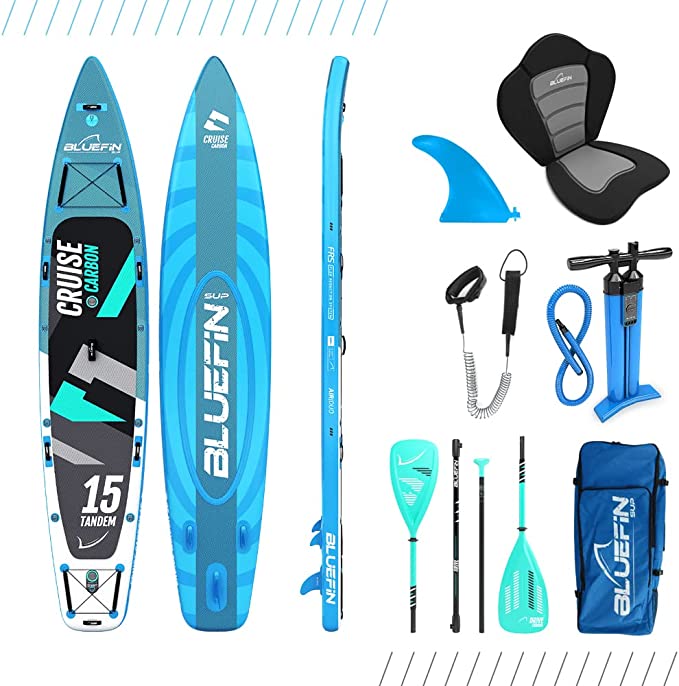 Bluefin Cruise Carbon 15
The price of "Bluefin Cruise Carbon 15" varies, so check the latest price at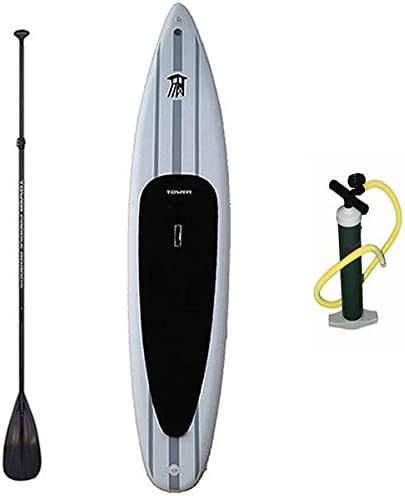 Tower Xplorer is the Brock Lesnar of the paddle board world- the Heavyweight Champion. This Godzilla enables you to paddleboard without caring a hang about your weight or the weight of your luggage because it offers one of the highest carrying capacities you will find on the market.
However, strapping your gear onto it requires you to think like Walter White from Breaking Bad, you know, making it happen. The reason behind your turning into a crafty person is that this paddleboard doesn't come with any D-rings or bungee cords.
The secret to its good carrying capacity is its thickness of 8 inches when inflated. This capacity provides you with a stern surface beneath your feet to stand on and enjoy extra buoyancy even under heavier loads. This big board can handle up to 10-11 PSI when inflated.
For inflation and deflation, the board offers a high-pressure manual pump. Besides that, it offers one adjustable three-piece paddle, so you need to buy another if you want to use a second paddle.
Also, don't forget to bring a pair of paddleboard stabilizers if you are a newbie and you plan to load the board with more than 300 pounds. You are advised to always keep its narrower shape in mind, as it may prove a bit tippy for heavier folks.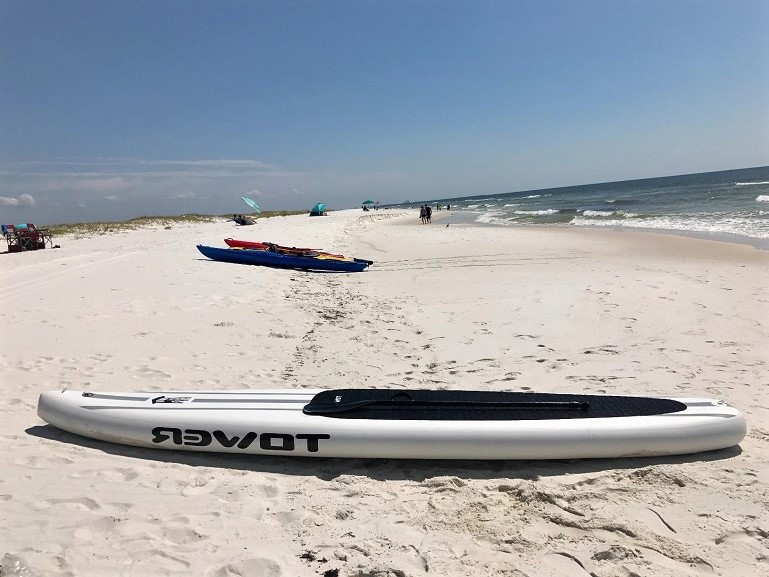 Features
Weight capacity: 800 lbs.
Length: 426cms/14 feet
Width: 81.28cms/2.7 feet
Weight: 51.35 lbs.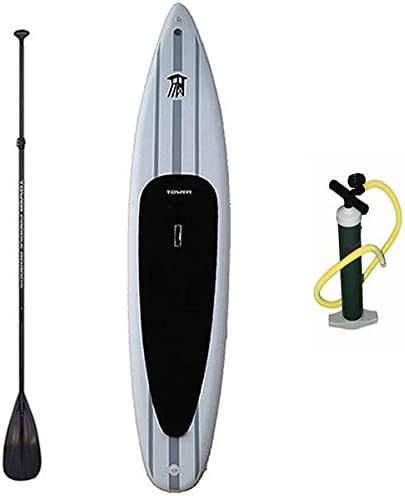 Tower Xplorer
The price of "Tower Xplorer" varies, so check the latest price at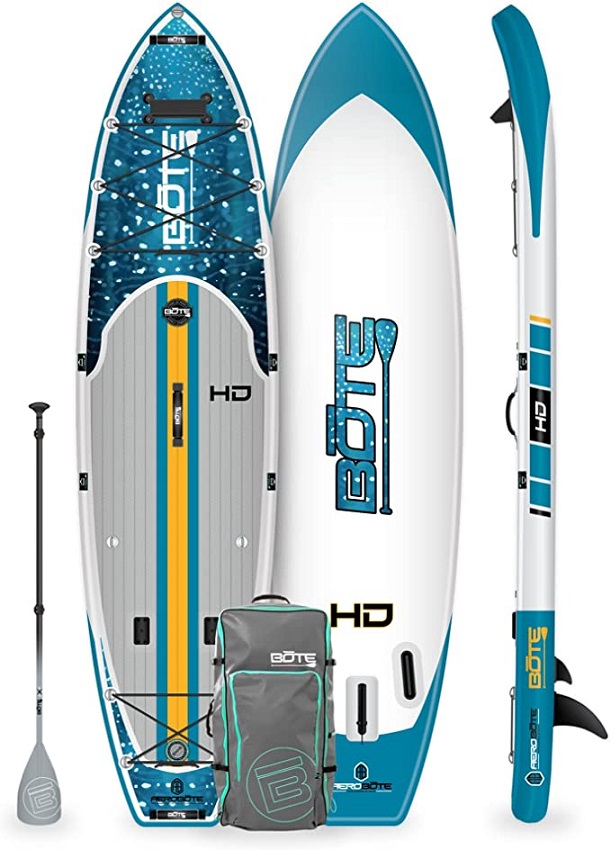 Are you tired of buying a paddleboard ever so often because it withers away so fast? Worry not! BOTE has got your back! The HD Aero falls in the elite league of wider paddleboards, making itself a great choice for tandem rides.
This stand-up paddle board features a very wide deck for you to enjoy along with your pets and pals, forcing you to give up the idea of doing purposeful donkey kicks in the middle of the ride.
Aside from entertaining a spacious deck, Bote advocates durability. Save your money instead of buying a board now and then and spend it where it is needed the most in your life. Because money talks, bullshit walks. The board is designed to tackle salty waters through its corrosion-resistant material, so let your guards down and just say yes to whatever comes your way.
The board is made to handle maximum pressure up to 15 PSI, and it is suggested to inflate it to a minimum pressure of 12 PSI for quality performance.
It comes with a dual-action pump with a built-in gauge for inflation and deflation purposes. Speaking of additional accessories, Bote offers a spacious carry bag, three-piece adjustable paddleboard paddle, a repair kit, a paddle sheath to protect and enhance its life, rac receivers for easier mounting on your transport, and a removable center fin for excellent stability.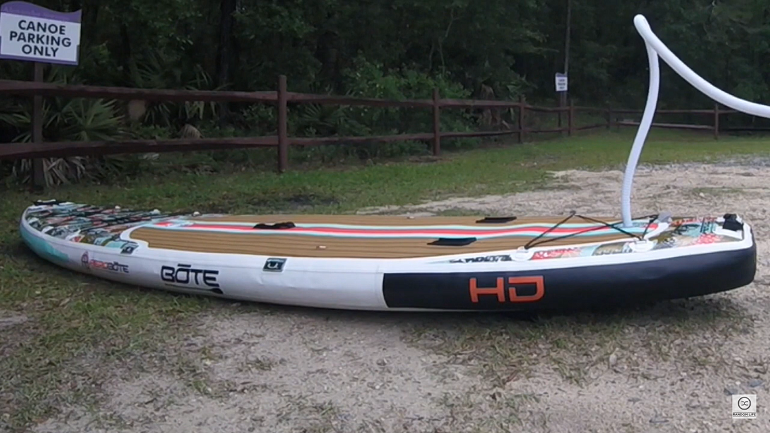 Features
Weight capacity: 315 lbs.
Length: 350.52cms/11 feet 6 inches
Width: 91.44cms/3 feet
Weight: 30 lbs.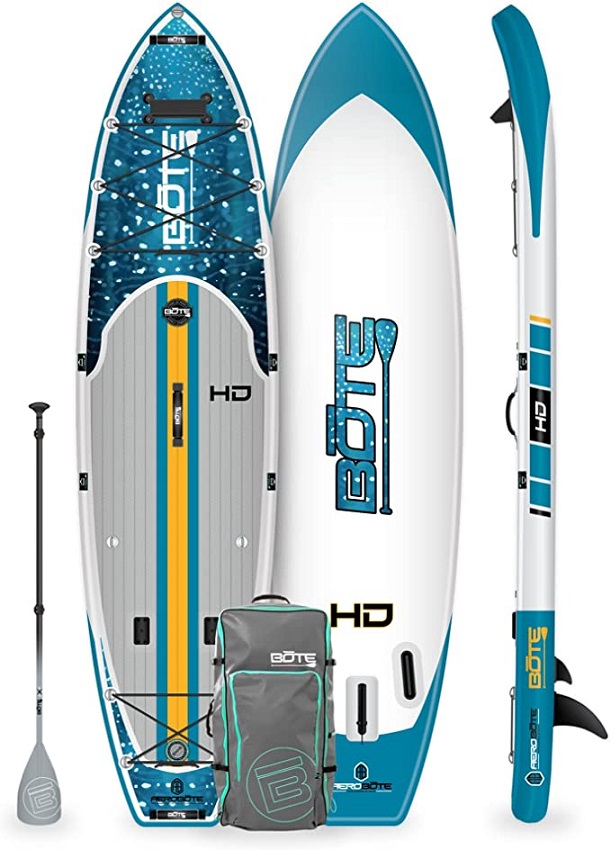 BOTÉ HD Aero
The price of "BOTÉ HD Aero" varies, so check the latest price at

The Red paddle Tandem performs best both ways, whether you are paddling solo or riding with adults and gear on board. It can bear the weight of an adult and two small humans, or two adults and a lighter folk with you. This capacity makes it possible for the board to provide enough space for 3 humans in total. Happy touring, pals!
The board swanks its 8 inches thickness when inflated, which is the reason behind its sturdiness and rigidity. It also comes with extra length and tie-down points to let you enjoy the freedom of space. This attribute of the board also saves your day when it comes to extra paddling gear, coolers, and other accessories. Its exceptional flat bungee cargo system featuring straps and another one featuring six D-rings allow enough space for gear storage.
The board looks like a great vessel cutting through the water with its long length and impressive thickness, not to mention that it is designed to handle a maximum pressure of 22 PSI. But it is also recommended to inflate it to a minimum of 16 PSI pressure. You can inflate it with the help of your fellow rider as it comes with two pumps because giant paddle boards take longer to get fully inflated. Save your time and energy!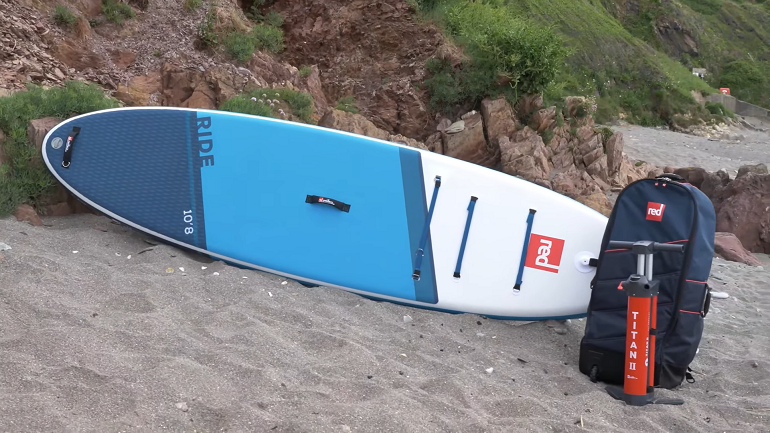 Features
Weight capacity: 240 lbs.
Length: 457.2cms/15 feet
Width: 86.36cms/2.83 feet
Weight: 38.14 lbs.

Red Paddle Co. Voyager Tandem MSL
The price of "Red Paddle Co. Voyager Tandem MSL" varies, so check the latest price at
Specifications To Be Considered Before Buying
To find the best multi-person SUP paddle board, it's important to take into account some prime aspects of a board. So, let's read and find out the secret to a perfect board.
Wide Deck Pad
The width of a board stands very important as it hugely impacts your riding journey. An ideal measurement of SUP board for 2 people is 84 cms or more. If you don't mind getting pissed off after every 5 minutes, go ahead and buy a narrow board.
Quick and Efficient Inflation
Paddle boards mostly come with dual-action hand pumps for inflation and deflation purposes. But for quick and efficient inflation, I recommend you use a high-pressure electric pump to save time and energy.
Storage Space
A suitable paddle board should have an optimum scope of delivery. For two people, the storage space should be available in abundance, along with extra D-rings or bungee cords for tying it down.
Maximum Carrying Capacity
The multi-person paddle board should be able to sufficiently handle a weight of 150 kg/330 lbs. or 200kgs/440 lbs. Before buying, you should decide the total weight that you will be putting on the board. then, you should also include the combined weights of both paddlers and your personal gear.
FAQs
Can 2 People Paddle Board On the Same Board?
Even though many paddle boards can fit up to two persons, you cannot risk riding it with your beloved fellow if it's not a multi-person paddle board. If you are not in love, that's another case. So, better try to buy a 2-person SUP board.
How Much Weight Can a Multi-Person Paddle Board Hold?
On average multi-person paddle boards can hold up to 200kg/440 lbs.
What Is the Difference Between Two-Person Paddle Boards and XXL Boards?
Two-person paddle boards can carry loads up to 200kg or more. The XXL paddle boards are extra-large boards used for a bunch of people like up to 8. Such kind is ideal for larger groups of friends or company trips etc.
Conclusion
Asking somebody along for a ride comes with responsibility, and hospitality is an opportunity to show love and care. True hospitality is all about giving the best of yourself, so don't risk giving a wrong impression when all you wanted to do, was show some love.
I mean, a poky board might bring closer the person you love, but it can also get them in the mouth of sharks. So, choose the paddle board wisely, and hunt for a total package. By complete package, I don't imply scented candles and champagne bottles but proper gear and accessories because most paddleboards don't come with additional accessories.