No, Your Jeans Are Not Enough!
It's a beautiful end-of-winter morning. The sun's rays lazily stretch across the slopes as you strap onto your board. The pow below isn't fresh, but the conditions are perfect. You're in nirvana, but you begin to descend from your enlightenment the more you ride.
This isn't right.
Your board carving up some ASMR-worthy magic through the snow should alleviate your mind. You're getting colder the more you shred, it's an uncomfortable feeling. The freeze is creeping up your legs. You look down and realize your mistake.
You've got jeans on.
Everyone's favorite streetwear but this is a mountain you're on. Caked with snow and dotted with trees. Jeans, jeans without an adjustable waistband. Jeans without thigh vents and with a waterproof rating of zero.
You don't have the stretchy fabric to do 180s in, you can barely even squeeze out an ollie. A pair ofbaggy snowboard pants could have avoided all of this.
What You Need (and it's not love)
We've shown you the best boards that a beginner rider can rip up the slopes with. We've walked you through the best snowboard helmets and bindings to go with your board. Perhaps you think you are ready to brave the mountain? Eager to shave the top layer off the piste?
Not so Fast!
There's something missing. In fact, you are lacking one key ingredient.
The best snowboard pants feature a variety of specifications that can make or break your experience. From an adjustable inner waistband to waterproof zippers. The snow is tough. If you head out there with the wrong gear, then you are only going to make it harder on yourself.
Stick around and see what you are missing out on. We've got the Flylow Snowmans with reinforced cuffs and the Ride Central Bib Pants with DWR-treated 10k fabric. And that's not even half of what's on offer here.
Best Overall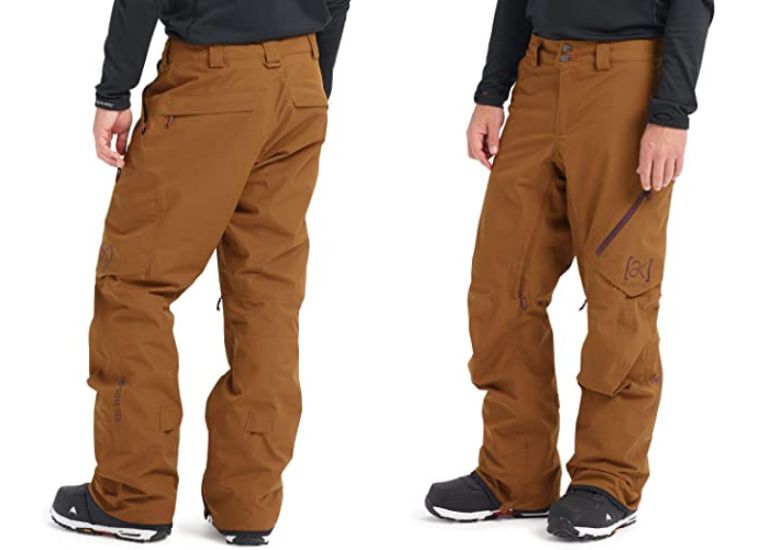 Burton AK Gore-Tex Cyclic
Color: Monks Robe
Material: Weave Fabric
Best for Beginners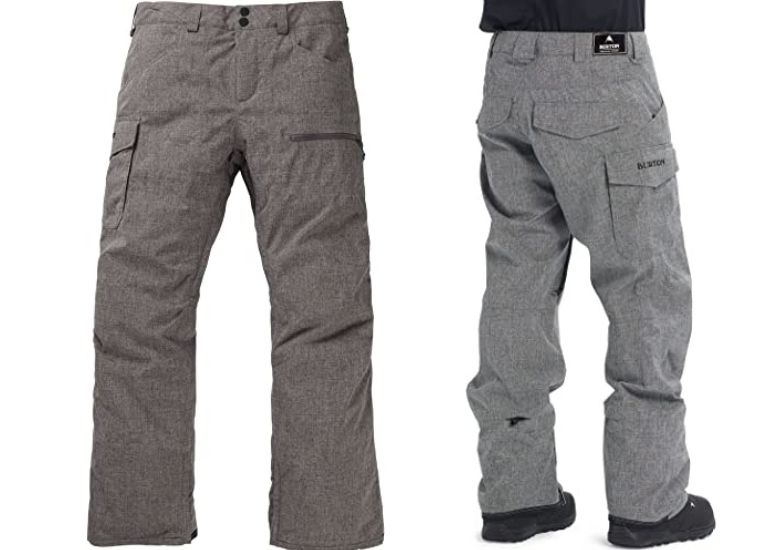 Burton Covert
Color: Bog Heather New
Material: Dryride two-layer fabric
Best for Cold Weather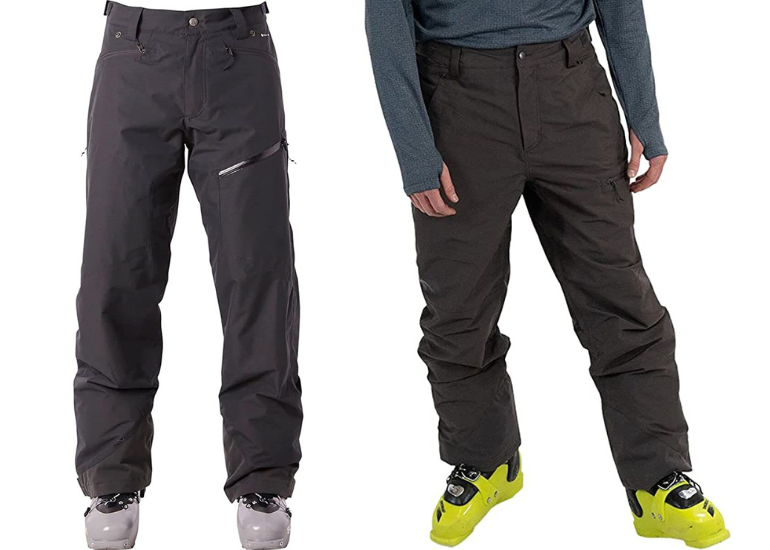 Flylow Snowman
Color: Black
Material: Intuitive fabric
Best Bib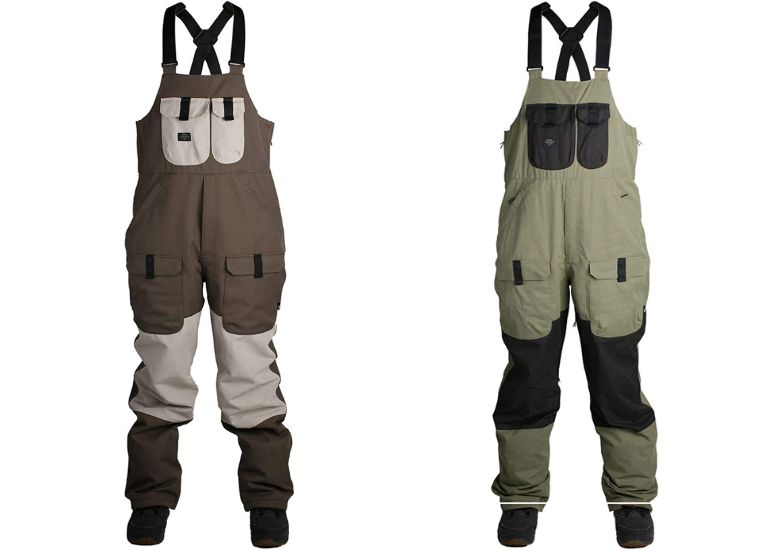 Ride Central
Color: Taupe
Material: Synthetic
Women's Fashionable Choice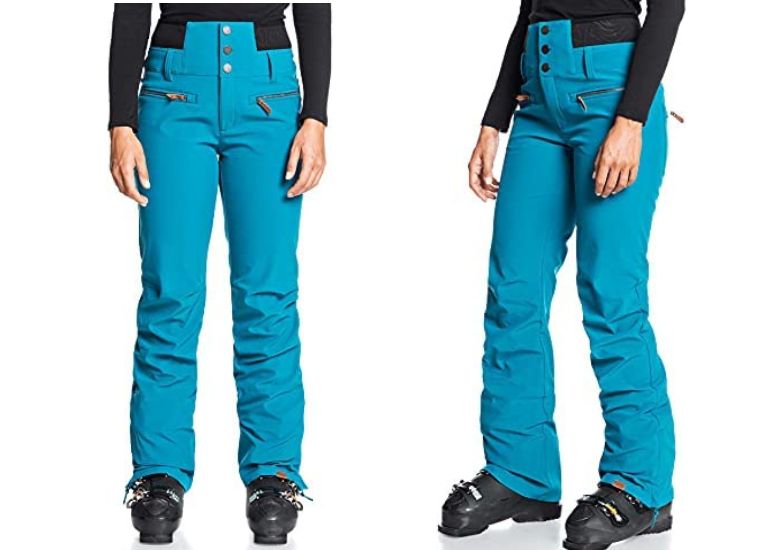 Roxy Rising High
Color: Ocean Depths
Material: Polar Fleece
Women's Budget Option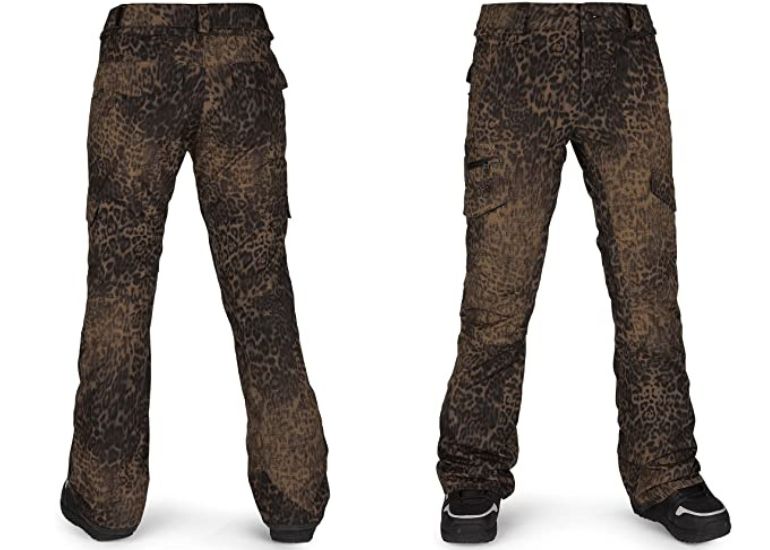 Volcom Ashton
Color: Leopard
Material: Polyester
Best for Security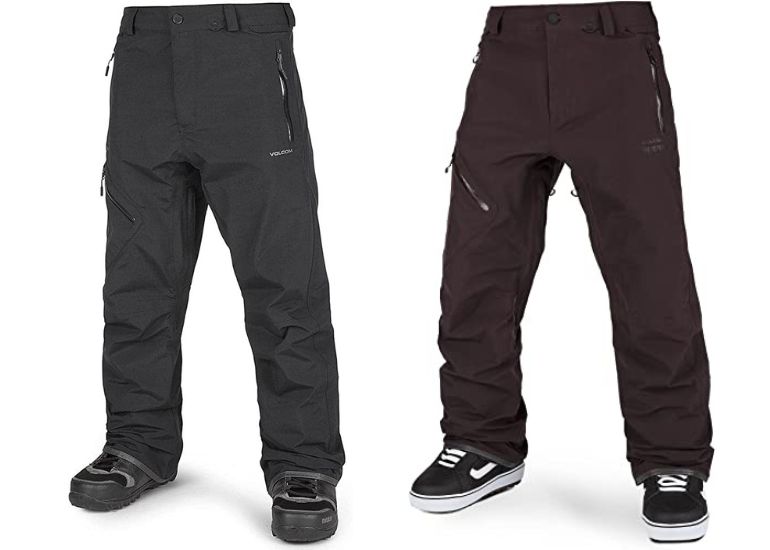 Volcom LO
Color: Black Static
Brand: Volcom
Best for Kids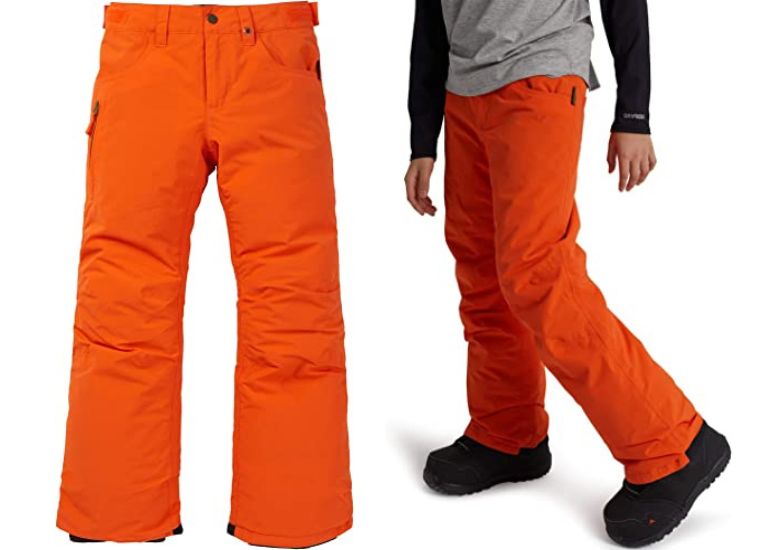 Burton Barnstorm
Color: Orangeade
Material: Dryride fabric
Best Snow Suit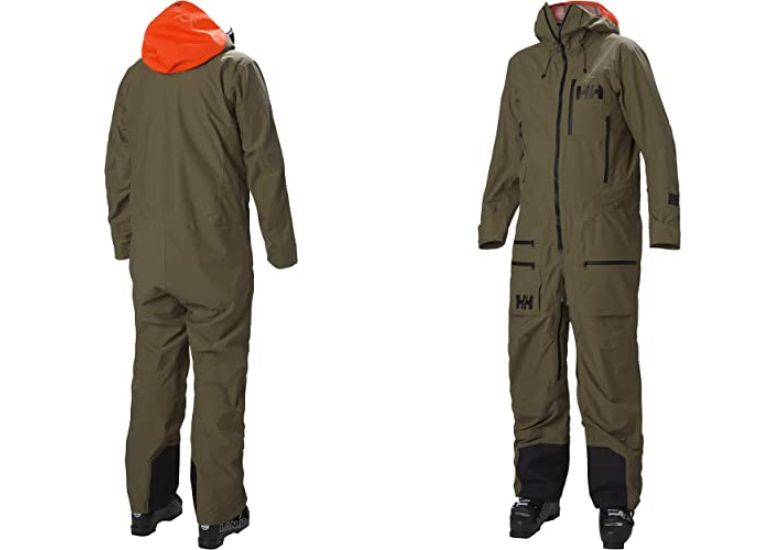 Helly Hansen Ullr Chugach Powder Suit
Color: Greenish
Material: Ripstop Fabric
Best Women's Overall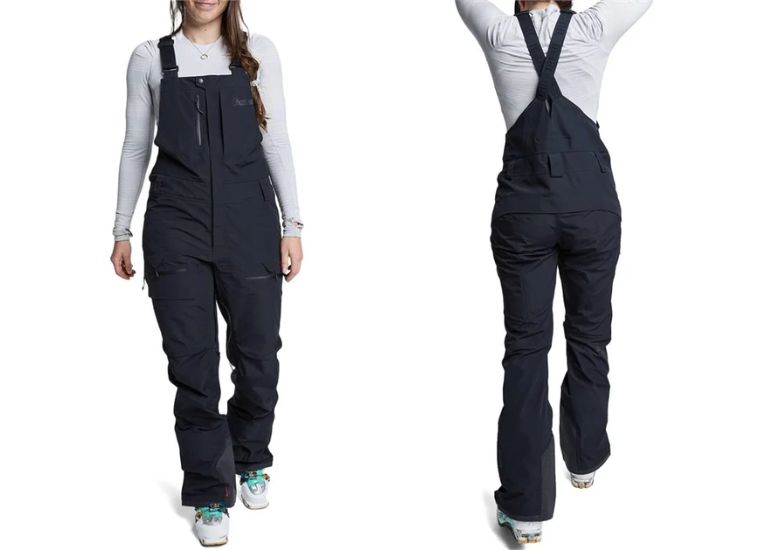 Women's Trew Gear Chariot Bib
Color: Blackout
Material: Nylon
Best Weather Protection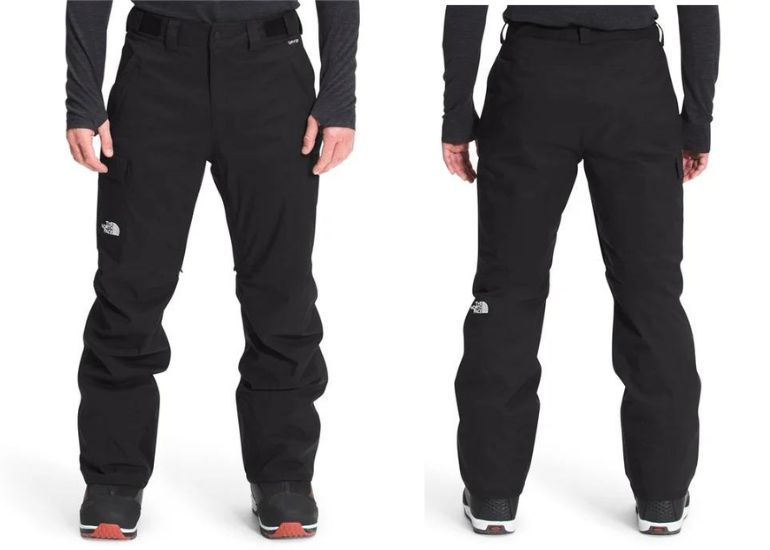 The North Face Freedom Insulated Pants
Color: TNF Black
Material: Polyester
Quality At The Seams: 11 Best Snowboarding Pants
Below you'll find the best snowboard pants for any occasion. Just as long as that occasion takes place on a snowboard and on a mountain. Snowboard pants were specifically designed to brave the elements that you'll encounter as you ride.
Their most basic features include keeping snow out and helping you stay warm. But they offer much more than that, and your riding style need not be a barrier to entry. Even across different snowboard brands, you'll find that some of the best features that snow pants have to offer are commonplace.
While you could choose snowboard pants that are not on this list, they may not offer the same level of weather protection that these do. Top snowboard pants are acclaimed because they go far past the bare minimum.
Of course, top-quality snowboard pants (much like fancy snowboard boots) require a top payout, but this is true for anything. Fortunately for your crying wallet, there are plenty of budget snowboard pants on this list that has both quality and price to brag about.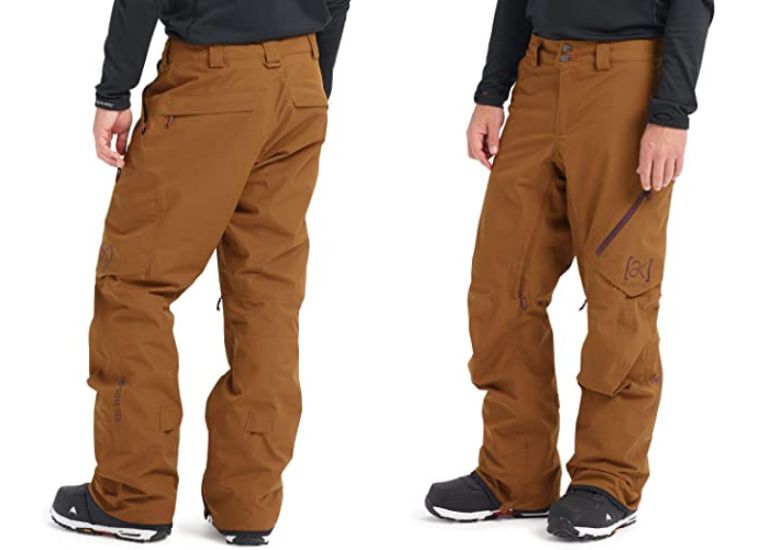 The best snowboard pants on this list earned its top spot thanks to its never-enough mentality when it comes to design. The 2l gore-tex membrane that these best men's snowboard pants are constructed of is bonded only to the outer fabric.
What's there to gain from this?
Layer GORE-TEX
The result of having the 2l gore-tex layer on the outside is that a separate lining layer on the inside can be dedicated to improving comfort and for versatile uses. The Burton AK Gore-Tex is a great meld of design choices.
For its face fabric, Nylon 70D Plain Weave Fabric was the chosen material. The properties of nylon are well known. A sturdy and resilient material that isn't coarse or rough.
"Face Fabric" is the outermost layer of the clothing.
Perfect for clothes that are intended to last. Perhaps nylon's greatest feature is that it's a durable water-repellent. This is key because we all know, snow is water by another name, and riding around on it all day is bound to get you wet.
Imagine how uncomfortable it must feel to have wet clothing stick to your legs as you ride. Making you colder and increasing the likelihood of joint pain and even illness. These snow pants are built from the outmost layer to keep the water out and your legs warm.
It's Alive!
These Burton ski pants can count on a lining that has been mapped by soft taffeta. Soft taffeta is a fabric that is soft (Wow! What a surprise!) and made from silk and polyester, among other things.
Burton calls this lining: Living Lining. The way it works is simple. The lining has pores that allow it to breathe. They expand to release heat when you are feeling hot and when you are in cold weather, these same pores shrink in order to maintain your body heat.
The lining responds to your body temperature, your own heat, or lack thereof, expanding and contracting the material. A breathable lining system.
Features
Fit: Regular
Length: Regular
Warranty: Limited Lifetime
Belt Loops: Yes
Material: Gore-tex and Nylon
Breathability: 20,000(g)
Insulation: No insulation
Pros
Size doesn't have to be exact because, with belt loops provided, you can wear a belt to tighten these snowboard pants.
Excellent cuff design that stays out of the way of your snowboard boots and bindings.
Nylon face fabric makes these a great pair of waterproof ski pants.
Cons
These are not insulated snowboard pants. No insulation, but the living lining makes insulation completely unnecessary.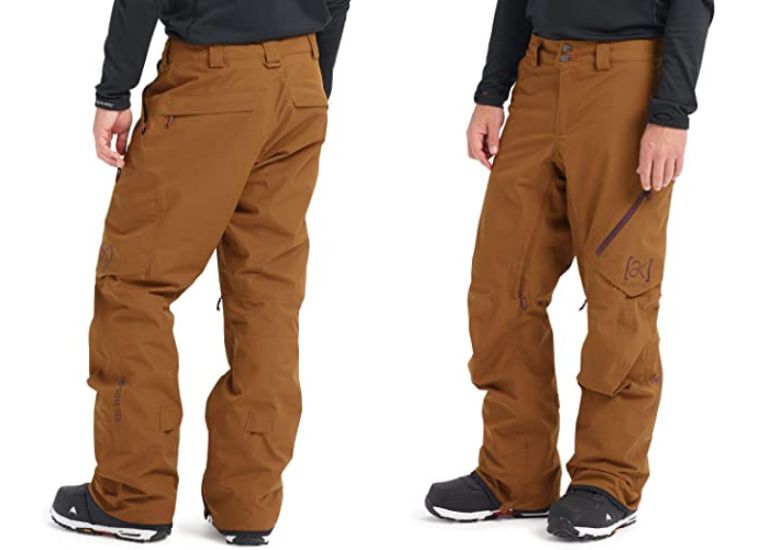 Burton AK Gore-Tex Cyclic
The price of "Burton AK Gore-Tex Cyclic" varies, so check the latest price at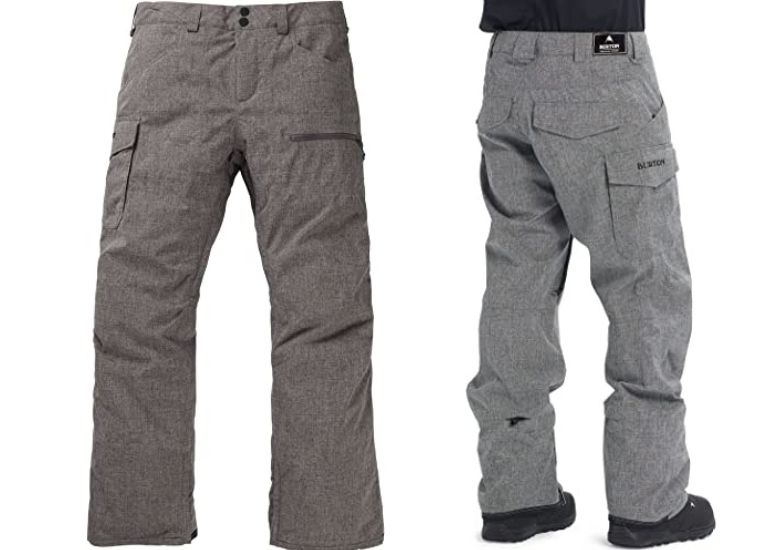 What the excellent Burton AK Gore-Tex offering from above couldn't do, the Covert does. These are insulated pants. As the name suggests, these snowboard pants have insulation within their structure.
Bringing with it the ability to trap warm air within, creating a fireplace for your legs.
More Than Insulation
This pair of pants has been outlined with THERMOLITE® Insulation. Nearly half, 40%, of this insulation has been made from recycled material.
Within its core are hollow fibers that contain warm air. These fibers work in tandem with a greatly expanded surface area that helps evaporate the moisture.
This is an excellent bit of design. Before, most snowboard pants would trap warm air but do nothing about the moisture that would eventually gather. In the end, you would end up with legs that were wet. Only from sweat, not water.
To be honest, that sounds even worse!
By having a large surface area from which this moisture can escape, you can keep the heat without any downsides. All clothes should have this kind of technology.
You are probably telling yourself, "This is great, but what about those warmer days? ". You would be right to worry about this. After all, snowboarding on warmer days is probably the best time to shred.
What then?
The Boss Taffeta
The lining material of these insulated pants is Embossed Taffeta. This crisp woven fabric has a lustrous surface, eye-catching, to say the least. This material breathes easily and pairs up nicely with the Living Lining that we discussed before.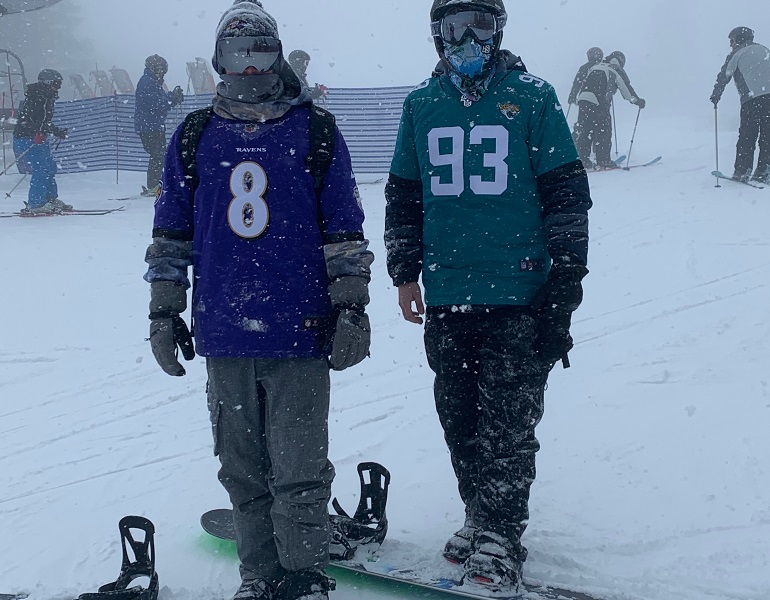 Attention to detail, intricate design, and no expense spared. This is why Burton is consistently at the top of our lists. It's also why they are the leaders of the snowboarding industry.
Don't worry about anything sneaking in between the cracks. Fully taped seams create no entrance, no chance for something to break in and disrupt your experience.
This is why the Coverts are considered one of the best snowboard pants. Focused design.
Features
Fit: Regular
Length: Regular
Warranty: Limited Lifetime
Belt Loops: Yes
Material: Nylon and Polyester
Breathability: 5,000(g)
Insulation: Thermolite
Pros
Zippered pockets: thigh pockets and hand pockets (for warming those mittens up!). Back pockets with a hook and loop closure. Cargo pockets with the same build. Pockets, pockets everywhere.
Thermolite insulation for enhanced heat retention.
Not too tight and not too baggy.
Cons
No layer gore-tex to be found.
Loose cuff design.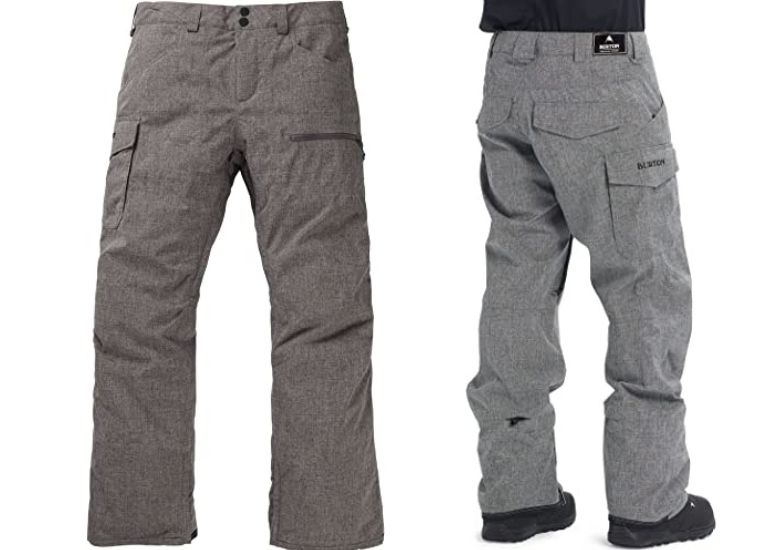 Burton Covert
The price of "Burton Covert" varies, so check the latest price at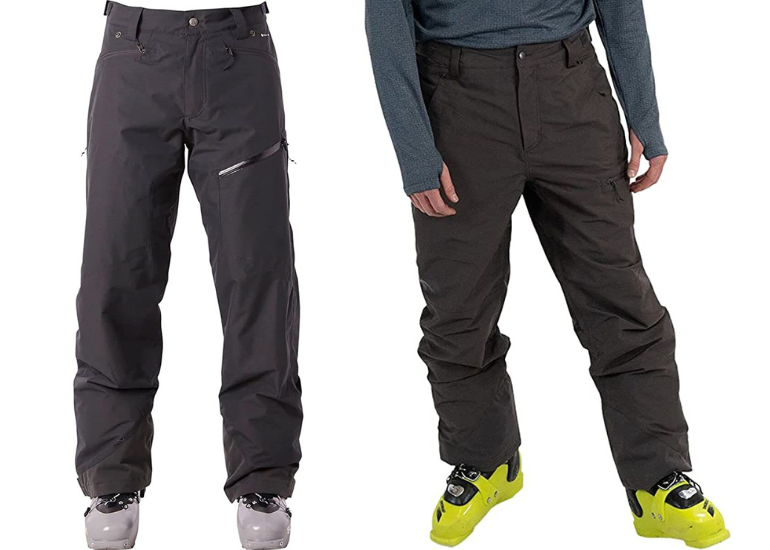 Fly low and break through the frost with the Flylow Snowman pants. Hate the cold but love to snowboard? These are the snowboard pants for you, and I would argue that for those that shatter in low temperatures, these are your true number one snowboard pants of 2023.
IT'S layers all the way down
The outer shell of these pants, the face fabric, is a three-layer fabric combination. It begins with 2 layers of intuitive stretch fabric. Not only does it guard against the cold winds, but it also has water/snow slip off its surface. Not to mention it's flexible.
The layering underneath this is 500 Denier Cordura Reinforcements. Cordura is an extra-strength fabric that is made from reclaimed preconsumer (straight out of the factory) materials. A high-quality yarn made from recycling.
Denier is used to measuring the thickness of the fibers in a piece of fabric. With 500 being the denier level for the Cordura.
How it all works together is that you have got a strong fabric, that at a rating of 500D, also acts as a water repellant. Perhaps the best waterproof pants on this list and therefore essential for beginners.
Although, in my opinion, anyone can benefit from these snowboard pants.
The final piece of this trifecta is high-performance DWR. The DWR stands for durable water repellant. As if you didn't already have a literal anti-water force field on your legs. The exterior shells and mid-layers are coated with durable water-repellent coating.
Seriously, these pants are top-of-the-line for beginners and those looking to avoid wet clothing. Sadly, there is one issue. A major one.
The only flaw
These expensive snowboard pants are only available in two sizes: either medium or large. If you can't fit comfortably into either size, then go with the North Face Freedom pants down below (at the bottom of the list).
But if you can fit into either size, then these are an instant must-buy.
Features
Fit: Regular
Length: Regular
Warranty: Limited Lifetime
Belt Loops: Yes
Material: Synthetic
Breathability: 10,000(g)
Insulation: Synthetic
Pros
Micropuff synthetic insulation. Like getting your legs hugged by cotton balls.
Four pockets spread throughout the insulated snow pants.
Top-of-the-line synthetic design at every level of the snowboard pants' structure.
Cons
Only available in two sizes: medium and large. A massive letdown for everyone else.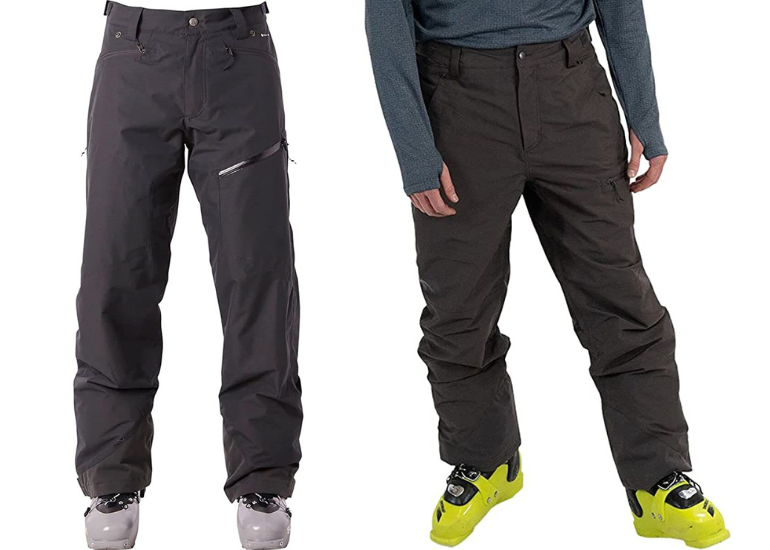 Flylow Snowman
The price of "Flylow Snowman" varies, so check the latest price at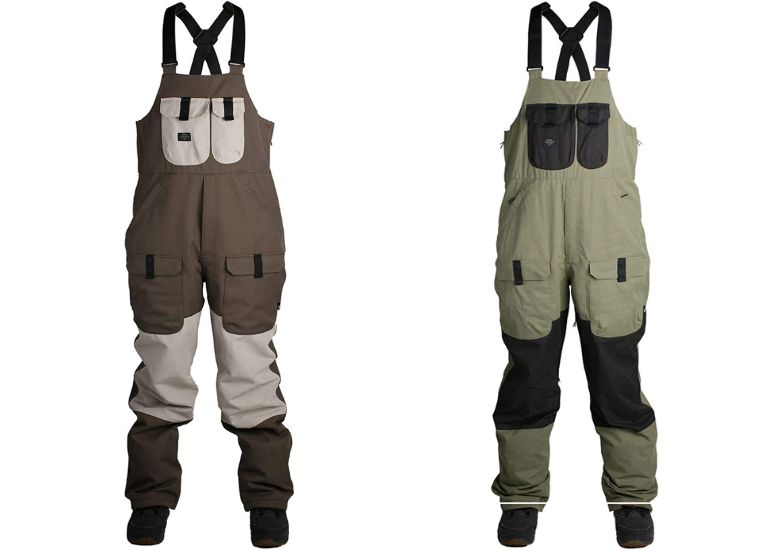 Last I checked, this snowboard bib was sold out and that's not a surprise at all. Bibs have some serious advantages over the best snowboard pants. They are far better at keeping snow off of your entire body than any pair of snowboard pants.
Due to their relaxed fit, they fit comfortably on more body types. Don't get me wrong, a good pair of pants (snowboard pants) is always great to have around. But there are reasons for the Ride Centrals being ranked so highly.
Let's find out more about the best snowboard bib on the list.
The Ultimate Waterproof Membrane
The Strata HD 10 membrane of this waterproof bib counts on a waterproof rating of 10,000! Alongside it is a breathability rating of 5,000. That's as high as the Burton Coverts, the second-ranked item on our list.
The Strata HD 10 membrane pulls moisture from the innermost layer and expels it. Nothing is going to ruin your ride, not from the inside and definitely not from the outside.
The entire bib has also been coated in a DWR finish. Even if somehow, water was to get through this plethora of waterproof materials, the slightly baggy fit would prevent it from hugging your body.
As for the seams, they are not fully taped seams but critically taped seams. Critically taped seams are seams that have only the hood, neck, and shoulders taped. The only chink in this armor but a minor one.
Active Core Lining
The lining material within this waterproof bib has an active core temperature system. This shell outerwear has its lining material spread out in zones. These materials have been strategically spread out to ensure that the core temperature is regulated.
Consider This
If you hate how your clothes get damp as you snowboard, especially the top layers, then you should really consider getting waterproof bibs (Get The Ride Central). You are going to receive full body protection that lets you adjust more of what you are wearing.
It's a loose fit which means you can pack on the sweaters with no problem. Imagine riding through fresh pow. Carving up a blizzard of your own. Snow clouds trailing you and all while maintaining the majority of your body nice and dry.
Features
Fit: Loose
Length: Regular
Warranty: One Year
Belt Loops: Yes
Material: Synthetic
Breathability: 5,000(g)
Insulation: Synthetic
Pros
Constructed with 2 layers underneath the face fabric.
The loose fit allows you to stack on more clothing underneath for extra warmth.
Protects more of your body than snowboard pants ever will.
Cons
Some riders may dislike the loose fit. They may feel that it gets in the way and bogs them down. In this case, a pair of snowboard pants are a much better option.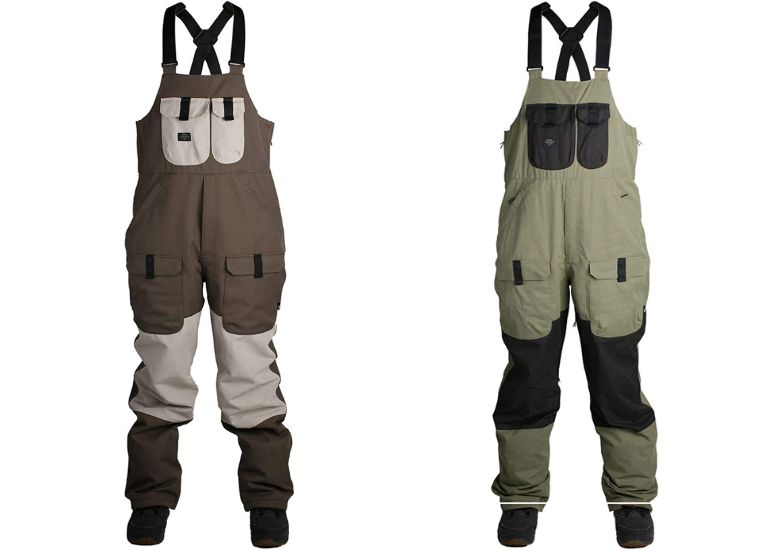 Ride Central
The price of "Ride Central" varies, so check the latest price at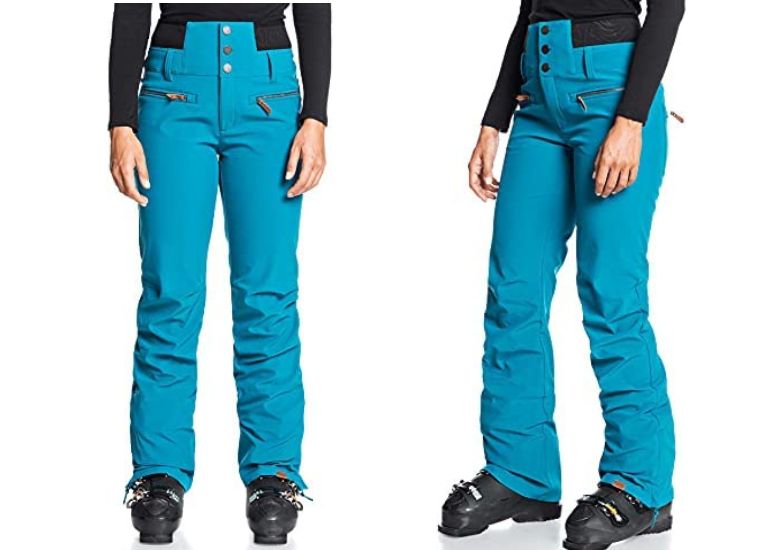 The Roxy Rising High pants get their name from their high-rise waist design. It's a unique look and one that some female snowboarders may even dislike. The Rising High aren't baggy pants, they aren't even a regular fit.
They are a slim fit, and that is another reason why many will be quick to discount them as a serious option. But I'm surprised to say that there are many benefits that these pants bring with them.
Style Meet Functionality
It can't be denied that these are the best-looking snowboard pants on the list. They fit well and have a pretty great waterproof rating to back up the style. The membrane of these pants is made with 15K ROXY DryFlight® Technology.
This membrane has a waterproof rating of 15,000. That's good enough to keep you covered across all of North America or any similar regions.
But it doesn't end there. When paired up with a moisture management rate of 10,000gr, you aren't just getting a strong external shield against the elements but a near equally strong system to combat your body's reaction to them.
It's surprising to see how much quality was fitted into pants that are by no means the thickest nor the loosest of the options listed here.
These fit so well that it wouldn't be difficult to imagine them as an everyday wearable option, regardless of if you are snowboarding or not.
Efficiency at Face
The face fabric of the Rising Highs is constructed from 89% polyester. Some may be bothered by the fact that there is no nylon here to be found, but polyester is a worthy substitute.
Polyester is a material that is quick drying and very easy to clean. One simple scenario can easily illustrate the power of this combination:
A day out at the slopes filled with plenty of carves and jumps to fill a bag with. Naturally, your clothes get dirty or snow flooded in the process. Worry not, because in as little as a couple of hours, your snowboard pants are dry and ready to go.
You head out again and again. The process repeats itself each time, and your pants are ready to go each time. You see it right? Your gear is conforming to your needs, not the other way around.
That's quality.
Features
Fit: Slim
Length: Regular
Warranty: One Year
Belt Loops: Yes
Material: Polyester
Breathability: 10,000(g)
Insulation: No insulation
Pros
Two-layer construction type ensures durability and sound weather protection.
Boot gaiters (taffeta) with a stretch panel.
Form-fitting with an elastane plain weave.
Cons
No insulation, so it won't be the warmest option but these are efficient at keeping the elements at bay. You won't have too much of a problem with the cold weather.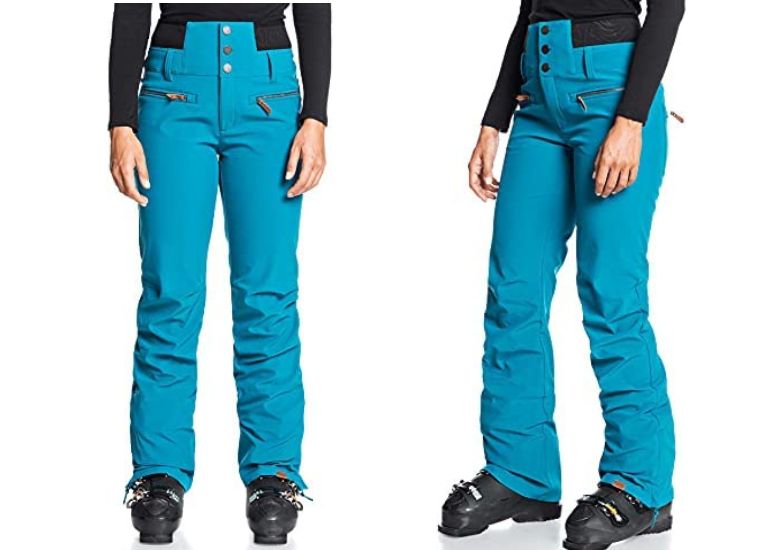 Roxy Rising High
The price of "Roxy Rising High" varies, so check the latest price at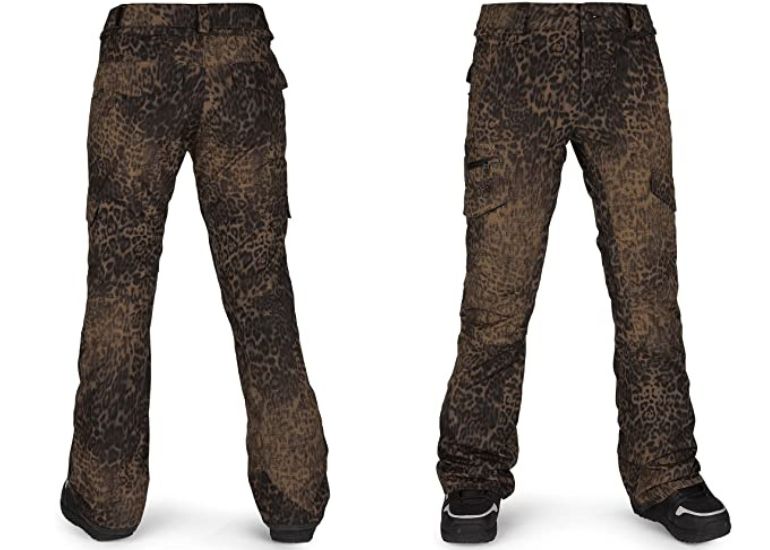 Perhaps the Rising Highs have a price point that is too much to stomach. That's fine. Volcom has swooped into position number 6 with a great pair of pants.
They, in my opinion, not only look better but are also priced fantastically when compared to other women's options.
The Return of Gore-tex
Remember the much-lauded gore-tex feature from before? Well, it makes its return here in stunning fashion with a waterproof and breathable membrane.
This material has been put through the runner long before it ever reaches your hands in order to ensure that the product lives up to standard. This is why the "Keep You Dry" guarantee is even a thing because Gore believes in the quality of their product
The lining material is breathable. You won't have to contend with excess moisture or water bothering you. Between the two, moisture is by far the more annoying substance. It's a pretty gross thing to contend with.
The CROSSROADS
The Volcom Ashtons have meshed lined zippered vents throughout their design. Also included is Zip Tech, this is a jacket-to-pants interface that allows you to connect any Volcom Jacket with any pair of Volcom pants.
This is done using the powder skirt of the jacket to bridge with the pants. By far the coolest feature that I have ever heard of. You can take a jacket and pants and turn them into a snowboarding bib.
Pure design magic and a must-buy.
Features
Fit: Regular
Length: Regular
Warranty: Two Years
Belt Loops: Yes
Material: Gore-Tex
Breathability: 20,000(g)
Insulation: No insulation
Pros
An insanely high waterproof score of 28,000.
Can be used in any region around the world thanks to its high waterproof and breathability capabilities.
Fully taped seams.
Cons
Hard to find any flaws with Volcom Ashton's. Too much good at such a low price.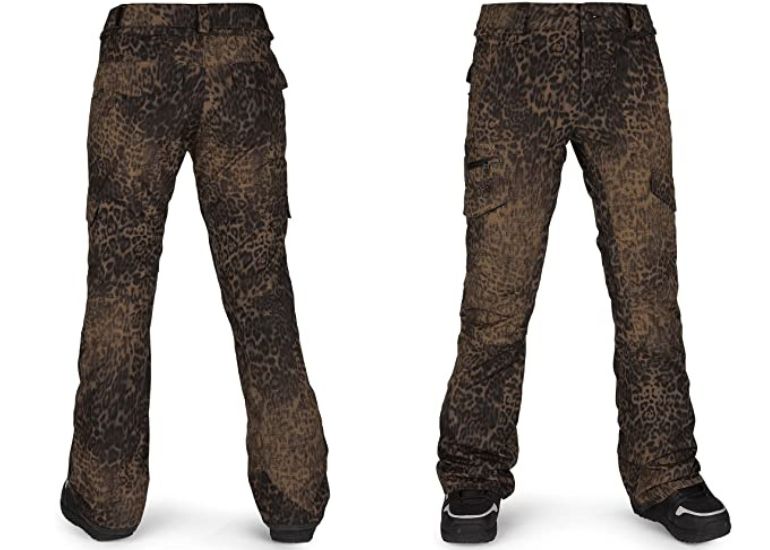 Volcom Ashton
The price of "Volcom Ashton" varies, so check the latest price at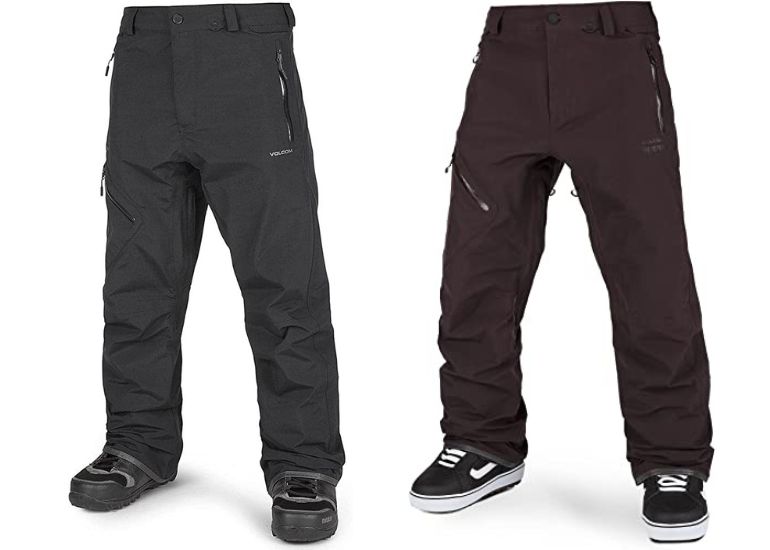 Nope, you got it wrong. These aren't cargo pants, they are the Volcom LO pants, and they've got the loose and comfortable fit that you've been looking for. The boot gaiters at the bottom are stretchy.
No matter your boot size, these gaiters will fit and protect you. Batting out any annoying snow that tries to sneak its way in. The Volcom Ashtons are the choice for ladies on a budget, but they aren't the only ones who get to enjoy the wonderful Zip Tech technology.
Fellas, our time has arrived.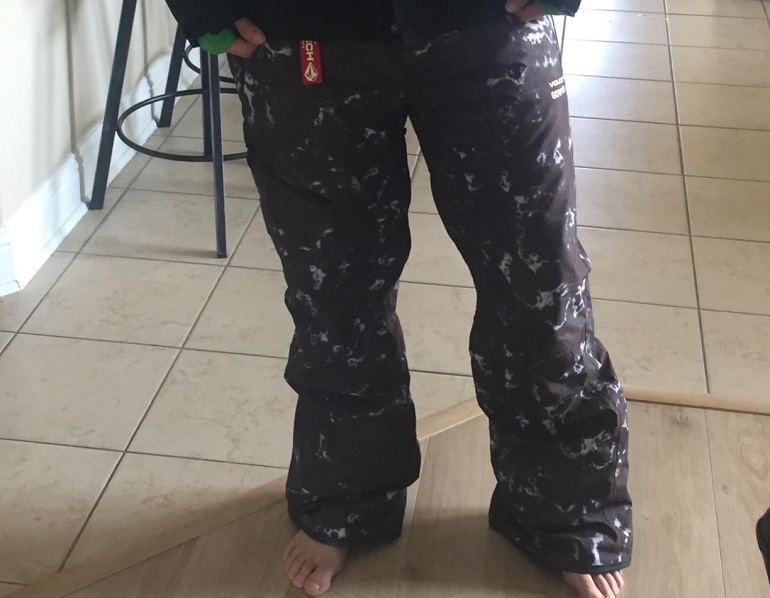 Pockets and Zip Techs
Cargo pockets line the lower sides of the pant legs and they are a small feature with a needed impact. Do you know how easy it is to lose something small in the snow? The answer is frighteningly easy, and you won't find it again, trust me.
Well, with two cargo pockets at the ready I don't believe that I'll be losing anything, anytime soon. Not even your lift ticket, thanks to a ring on the pants that lets you hook that sucker in.
The zip tech from before also makes another appearance, and it is still just as incredible as before. It's so good that I would argue that you can't possibly purchase a pair of Volcom pants without a Volcom jacket to go with it.
Like a burger with fries.
Need a reminder of what zip tech is? Zip tech allows you to connect your Volcom jacket with any pair of Volcom pants for full body protection.
Features
Fit: Regular
Length: Regular
Warranty: Two Years
Belt Loops: Yes
Material: Gore-Tex and polyester
Breathability: 20,000(g)
Insulation: No insulation
Pros
Boot gaiters have lace hooks to hook your laces and maintain them in place.
You can attach your lift ticket to your pants with the specialty ticket ring provided.
Added durability.
Cons
No insulation, so you may feel the freeze just a bit.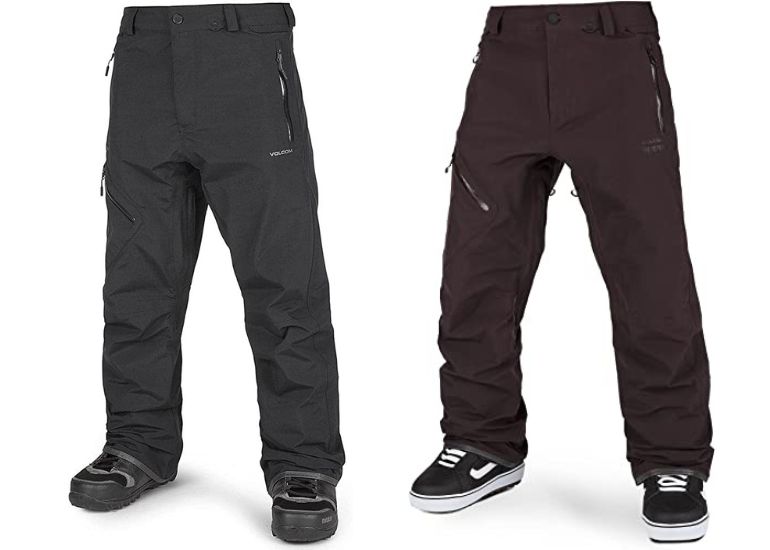 Volcom LO
The price of "Volcom LO" varies, so check the latest price at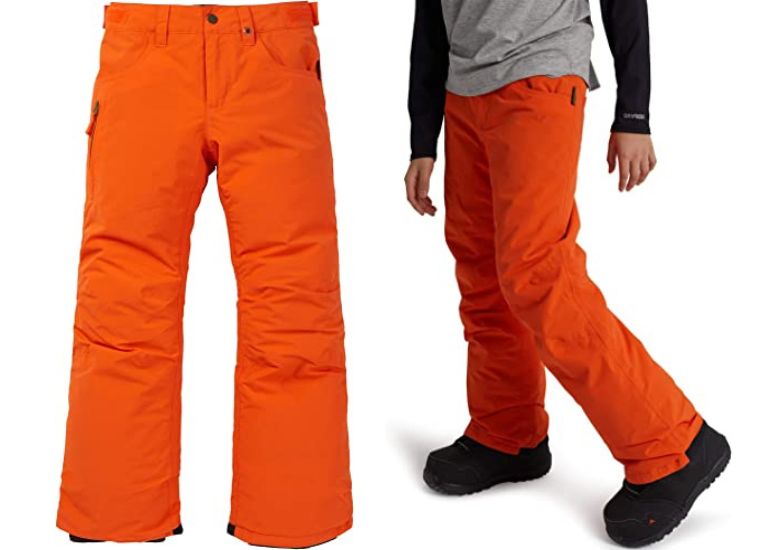 We gave you great options for the men and women riders, but how about one for your children? The Burton Barnstorm has the membrane, insulation, and lining material that your child needs to rip and tear into the snow with no problems at all.
Plus, it's a Burton product so you know that you are going to get good quality here.
2L DRYRIDE Durashell with Thermacore
The membrane has got a waterproof score of 10,000 and a breathability score of 5,000. Already we are seeing a solid amount of protection from water and sweat, either of which can be dangerous when surrounded by snow.
Despite this elemental offensive, the durashell fabric still manages to be soft and comforting to wear for your child. The inside of these snowboard pants has been mapped with Thermacore insulation.
This thermacore insulation can come in a variety of weights, Burton lets you customize how much of it you want. Now you've got to love consumer-friendly practices like that one. This particular set of pants has a fill weight of 60.
To top it all off, the lining material is made from Taffeta. It's crisp and fresh, breathing easy and getting you comfortable in the process.
Features
Fit: Regular
Length: Regular
Warranty: Limited lifetime
Belt Loops: Yes
Material: Polyester
Breathability: 5,000(g)
Insulation: Synthetic
Pros
Solid build quality for protection across several weather and snow conditions.
Limited lifetime warranty far exceeds the one or two years warranty we've seen recently.
Made from quick-drying polyester.
Cons
Sadly, expandable kids' wear is not an option.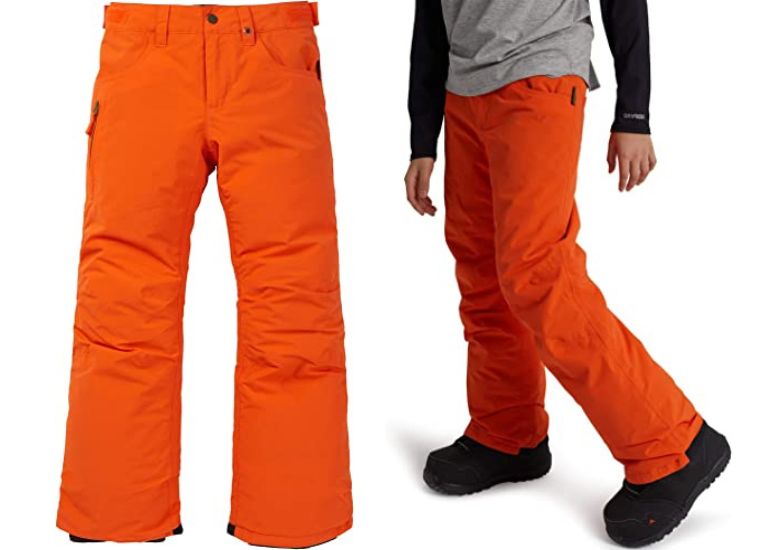 Burton Barnstorm
The price of "Burton Barnstorm" varies, so check the latest price at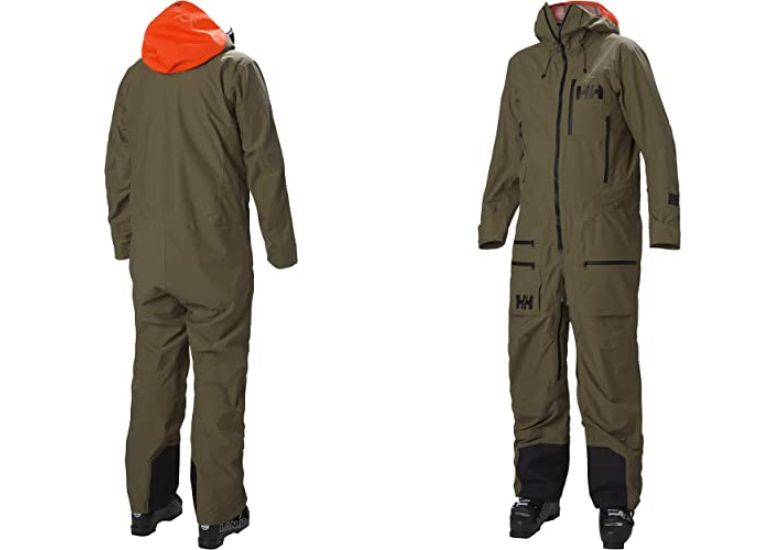 Snowboard pants are great but do you feel that they are lacking? Do you turn your head toward the bib and think "still not enough"? What about Volcom and their incredible Zip Tech snowboarding jackets and pants? Not satisfied?
No problem, because the true full body shield has arrived. It's got a long name (and even more features) but for now, let's just call it the Ullr Chugach.
Fully wrapped and ready to go
It looks like a hazmat suit and it damn near operates like one. With a hoodie that'll stretch across any helmet you wear and the ability to zip it up all the way to just under your eyes.
The words "full body protection" have never been truer than with the Ullr Chugach. This suit is composed of two shells.
The first one is made from 71% polyamide and 29% polyester. The second shell is made from the exact same materials in the exact same percentages. Polyamide is extremely durable and as such, you shouldn't expect any tears within this armor.
It's even got a backpack-compatible pocket placement. This snowsuit is the ultimate solution to any problem that you could encounter on the mountain.
Features
Fit: Loose
Length: Full-Body
Warranty: Limited lifetime
Belt Loops: Yes
Material: Polyester
Breathability: 20,000(g)
Insulation: No insulation
Pros
Total body protection, the only parts not covered being your eyes and hands.
Loose enough to wear a backpack or extra clothing layers underneath.
A hoodie that is big enough to accommodate most helmets.
Cons
Could take some getting used to, riding when using a full-body suit.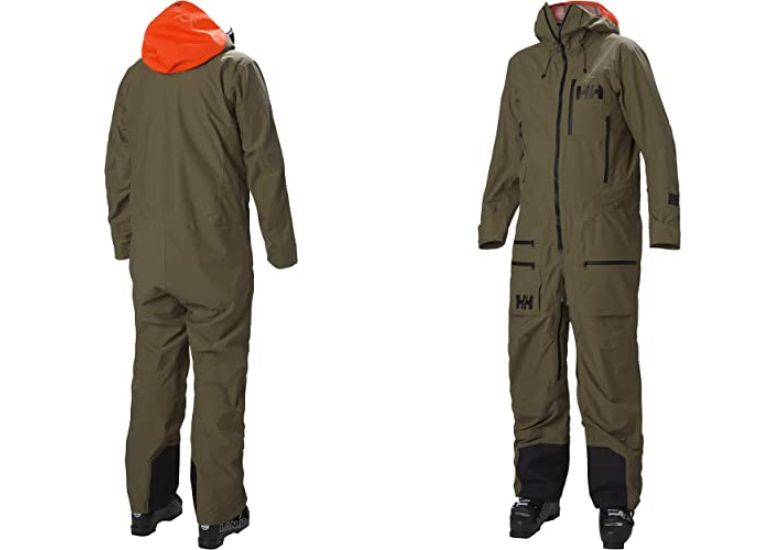 Helly Hansen Ullr Chugach Powder Suit
The price of "Helly Hansen Ullr Chugach Powder Suit" varies, so check the latest price at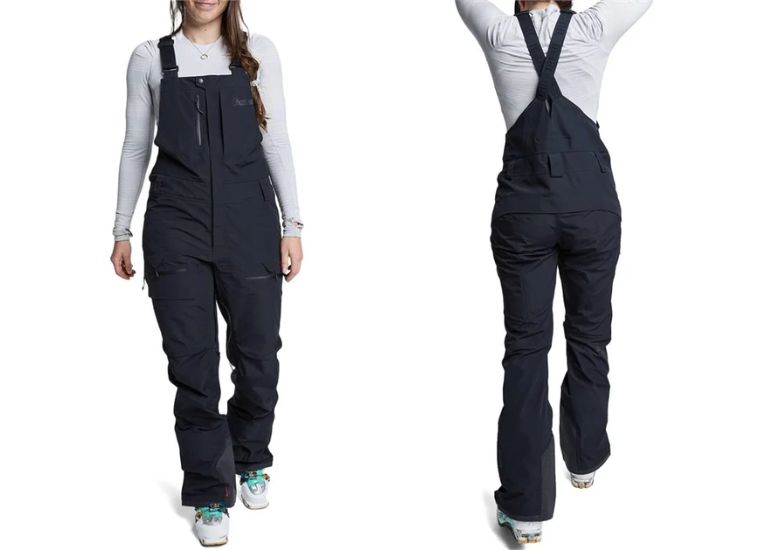 Sleek, form-fitting, and with a waterproof and breathability score to die for. The Chariot Bib rides you out in style and keeps the fluids out and the heat in. Unlike other bibs on this list, the shoulder straps here are adjustable. Letting you lift or drop the rest of your bib as you see fit.
Little Essentials
There are quite a few quality-of-life improvements in the Chariot Bib. It's a piece of snowboard equipment that is made up of the sum of its parts, truly. For example, the back is fitted with a back door design that, (how should I put it?), allows you to answer the call of nature.
In other words, there is a back door flap that lets you easily go to the bathroom without having to remove the entire bib.
Pockets bombard the landscape of the Chariot Bib. Your hips and thighs have never been so useful… well when it comes to keeping your belongings that is.
Strapped to your shoulders are two fully adjustable straps that will modify how the entire bib fits onto your body.
Lots of great little design choices that add up to a pretty practical and weather-resistant bib. A solid option all-around.
Features
Fit: Regular
Length: Regular
Warranty: Three Years
Belt Loops: No
Breathability: 20,000(g)
Insulation: No insulation
Pros
Perfect waterproof score and breathability score of 20,000 each.
Transceiver pocket with a D-ring attached.
Water-resistant zippered pockets.
Cons
No insulation is to be found.
Last I checked the only size available was extra large so expect a very loose fit.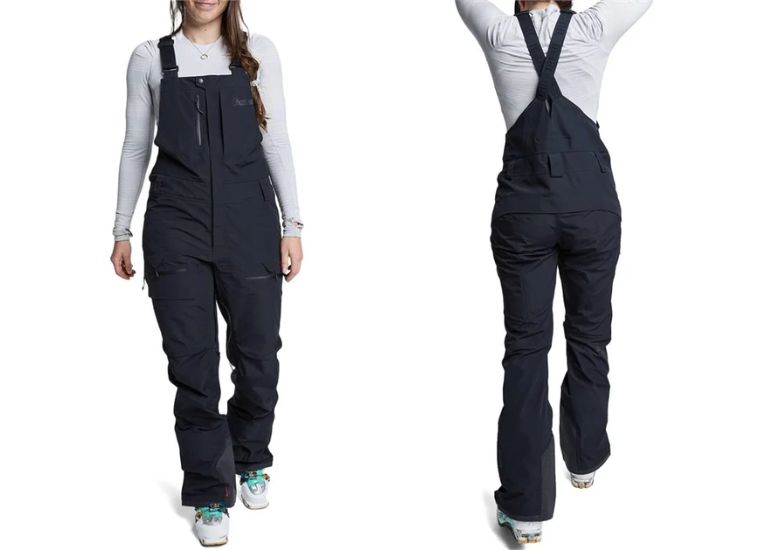 Women's Trew Gear Chariot Bib
The price of "Women's Trew Gear Chariot Bib" varies, so check the latest price at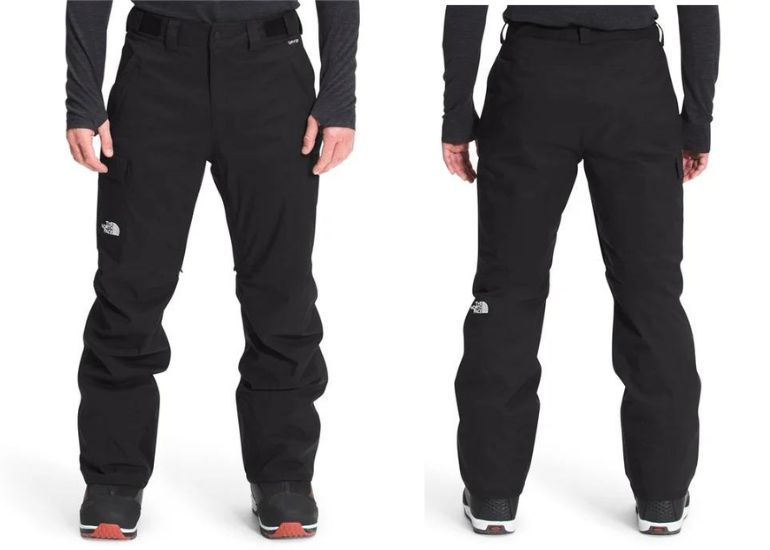 With our final option on this list, you've got a DryVent membrane that uses a 2 layer construction. One layer is there to act as your shield against the weather and everything that it can throw at you.
The second layer is added purely for your comfort and to retain heat. How does it retain the heat you ask?
Well with Heat Seeker insulation that is 60g thick and made from recycled polyester.
The Best Of It
For pockets/storage the Freedom pants have two zippered hand pockets and a cargo pocket that is secured with velcro. There are vents on the inner thighs that use the North Face's chimney venting system.
The chimney venting system pushes the excess heat upwards and out. Expelling what would have normally created moisture that would have left you feeling sticky and uncomfortable.
Although these pants are a standard fit, they do have an adjustable waist tab on either side that is secured with velcro. So much velcro, the child within me already loves these pants.
The North Face Fabric
Rounding out this solid entry is a face fabric that is constructed 100% from nylon. Keep in mind that 57% of this nylon is recycled, while the other 43% of nylon has a DWR coating applied to it.
You know a product is high-quality whenever a company places this much attention to detail on it.
Features
Fit: Regular
Length: Short
Warranty: Limited lifetime
Belt Loops: Yes
Material: Nylon, Polyester, Recycled Polyester
Insulation: Synthetic
Pros
60g heat seeker insulation made from recycled polyester.
Body, inner leg and knees, and lower leg and gaiters are made from different lining materials.
Top and bottom opening side vents.
Cons
Short length that may leave the top parts of your boot exposed to the elements.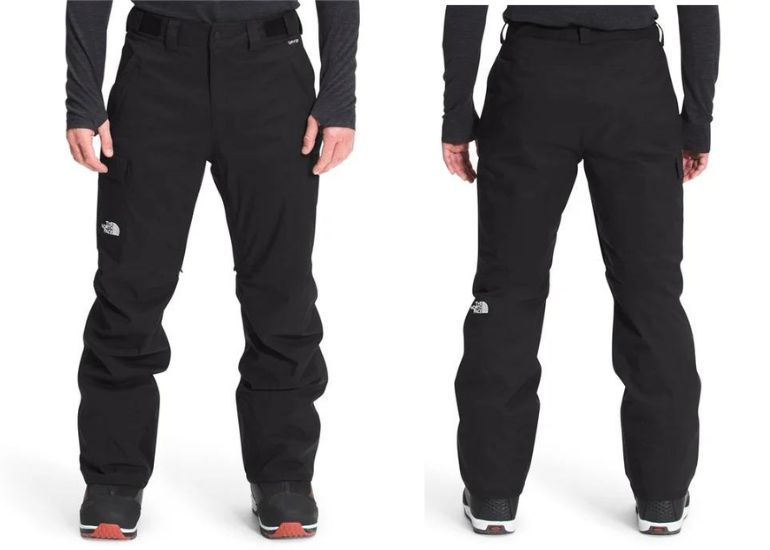 The North Face Freedom Insulated Pants
The price of "The North Face Freedom Insulated Pants" varies, so check the latest price at
How Strong? How Flexible? What Color? – Consider This
You've got a great number of options to choose from, and you don't have a single clue on how to grade each feature. Perhaps you need a quick run-through of all the essentials that a pair of snowboard pants should have.
Well, work your way down below for a brief overview of what you need to know and consider when it comes to your snowboarding pants.
If you are interested to buy snowboard padded shorts then, check out our article.
Durability
This comes as a no-brainer. When it comes to anything wearable, you are going to want something that won't rip or tear upon your first few outings. Especially when doing something as intense as snowboarding.
The more layers a pair of pants has the more durable it is. The North Face Freedom pants are constructed with two layers. If that isn't enough for you, then the Flylow Snowman pants and their three-layer construction should be more than enough to suit your needs.
You should get plenty of durability from either option. Anything with Gore-Tex can also be counted on.
Materials
Nylon and its durable and lightweight framework that is both easy to wash and waterproof. Polyester and its insanely fast quick drying properties. Resistant to wrinkles and abrasions.
Maybe a combination of the two? Hoping to achieve the best of both worlds with none of the downsides? No matter the path you choose, there are plenty of snowboarding pants to keep you covered.
The Burton AK Gore-Tex Cyclic has a great mix of gore-tex fabric and nylon, now that is strength in design. The full body suit Ullr Chugach has got a terrible name but fantastic polyester makeup. Which is ideally what you would want with a full body suit, and fast drying excellence.
Warranty
Tears and rips are going to happen eventually and depending on how much you ride, then it could happen sooner or later. If you are a frequent rider, then do yourself a favor and get a multi-layered pair of pants that has either a limited lifetime warranty or at least three years of full warranty.
For that sweet limited lifetime warranty, seek out any Burton pants on this list. They all have this warranty policy.
The Women's Trew Gear Chariot Bib has a three-year full warranty policy if you are a female rider looking for a lengthy policy.
Warmth and insulation
Shell pants are common on the snowboarding market today. These types of pants lack insulation, but they offer you enough space within for you to wear extra sweatpants underneath. This allows you to set the amount of coverage for your legs.
If you'd rather skip the extra layers (I don't blame you. Extra layering is annoying.), then do pick up Ride Central pants.
Synthetic insulation should keep you nice and toasty. Interested in those shell pants I talked about before? Then scroll upwards and choose either of our Volcom entries.
Zips and Vents
All snowboard pants need good ventilation. This can come either in the form of mesh or built-in vents. Make sure these vents have zippers that are waterproof. This way, you can adjust the amount of airflow as you ride.
Conditions change, and so do we. The Volcom Ashtons and the Ride Central have got the vents you need to air yourself out.
Nothing wrong with a breeze.
Waterproofing
Waterproofing, of course, all snowboard pants should be waterproof. That's the main reason why we seek them out. Depending on where you ride and at what time of year, as well as in what weather conditions, you may require a waterproof rating of at least 20,000.
Especially if you ride in the Pacific North West or a similar region. The Volcom Ashton pants have by far the highest waterproof rating on this list. It's got a rating of 28,000!
You could shower in these and not get wet.
Fit and Sizing
If you are like me and you can't stand baggy clothing, then you'll want pants with a regular or slim fit. You will also want built-in belt loops just encase they don't fit as tight as you would like.
Perhaps you feel too constrained with tight clothing. If this is the case, then liberate yourself with the full body suit Ullar Chugach. It's loose enough for you to wear several layers underneath, should you desire. You can even fit a snowboard backpack under there!
FAQs About Snow Pants
How Do Snowboard Pants Differ From Ski Pants?
Besides the aesthetic design and individual product specifications, ski pants for women or men are much tighter than snowboarding pants. This is because snowboarding pants need to be able to allow the rider to twist, flip, and jump as they see fit.
It is much harder to squat down and get a good jump (especially as you are riding) when you are wearing tight pants.
This is coming from the king of dressing for the wrong occasion… every single time.
How Are Snowboard Bibs and Snowboard Pants Different?
Snowboard pants are generally not as loose as bibs. They cover your legs and up to your waist only (thank you Captain Obvious) and they have fewer pockets.
Snowboard bibs cover your upper torso and have more areas to store stuff in (Five zippered pockets or more). They are also able to fit way more body types thanks to their much looser fit.
This is one of the main advantages of snowboard bibs. Finally, snowboard bibs allow you to wear more layers of clothing underneath them.
The main disadvantage that snowboard bibs have is that due to their loose fit, riding around in them can feel clunky. I prefer the tighter fit of snowboarding pants.
Do Snowboard Pants Need to Be Waterproof?
All snowboard pants, on some level, have some kind of feature that repels water. So I guess the answer would be yes. Depending on the conditions in which you like to snowboard, the waterproof rating of your pants will rise or fall.
Generally, a waterproof rating of 10,000 is what you should be seeking out (most snowboard pants fulfill this requirement).
But if you are located in a wetter region like the Pacific North-West or are riding in rougher conditions, then you should get snowboard pants with a waterproof rating of 20,000 or more.
Can I Snowboard in Jeans?
No! Do not snowboard in pants that are made of cotton(regular pants). Cotton retains water really well and you are setting yourself up for a very cold and potentially dangerous time. The cotton (regular pants) will retain water, snow, and sweat.
I personally know how bad cotton can be from my experience with water sports. Due to my poor choice of clothing, my kayaking debut was rougher than it should have been.
My Final Thoughts
The title of this post may have said "best pants" but in reality, we showed you a whole host of lower body and even full body clothing that will keep you dry and ready to soar high. When sorting through the selection above, think back on your worst snowboarding experiences.
Try to figure out which of the options above could have assuaged your pain and made for a much better experience. Did you need full-body waterproof clothing or perhaps pants that pushed out all that hot air and moisture?
There is no one universal option. Each rider is different and so are their needs. Find out what you lack, what you seek.
This will help you figure out what you require to ride your best set. Our selection above will be waiting. No matter which one you pick, you are bound to get great weather protection and comfort.
Want to make a smart purchase every time? Then you've got to know the top brands of the snowboarding world. Check our top picks in snowboard brands to find out the whose who of snowboarding.