Snowboard Companies Are More Different Than You Think
To an outsider, the snowboard industry is small and niche. Most individuals that are not snow sports enthusiasts fail to understand the wealth of options when it comes to snowboard brands and gear in general.
They don't know about Burton snowboards and their fantastic channel mounting system. They have never heard of Arbor snowboards and their eco-friendly manufacturing process. The significance is lost on them.
This causes a negative effect wherein someone is looking to get their first snowboard and are inundated with so many brands, bindings, and other stylish women's snowboard outfits that they get overwhelmed.
Most get discouraged and walk away, or perhaps even worse, they get the wrong gear and have a torrid time.
(Some riders are so bad at snowboarding that they take it personally and keep trying just to spite the world… or themselves? Ahem, let's move on.)
Question: What is the best way to get over what I like to call the "information typhoon"?
Answer: In my opinion, you've got to start from afar and slowly chisel your way to the center. Just like with learning to snowboard, you don't get your first snowboard and then fly off the french alps.
No, first you learn to stand up and stay up, and then you get to the basics of moving with the snowboard and bringing it to a halt.
We are going to use this paced approach, by introducing you to the top snowboard brands and their quirks.
You'll learn what snowboarding brands suit you and then you can move on to more specific subjects such as what best all-mountain snowboard you should get.
Presenting 10 Best Snowboard Brands
Below you have an overview of the best snowboard brands in the industry.
They aren't lined up in any particular order but some snowboard brands are more prominent than others and going off of what we tell you, you may be able to see why this is the case.
1. Burton – Different and Loved
From their humble beginnings in Vermont to the snowboarding industry titan it is today, innovation has always been in Burton's blood. That's how they rose to the top!
Their founder, Jake Burton Carpenter, is credited as being one of the inventors of what came to be known as the modern-day snowboard. But this drive for being the lodestar of the snow sports world didn't end there.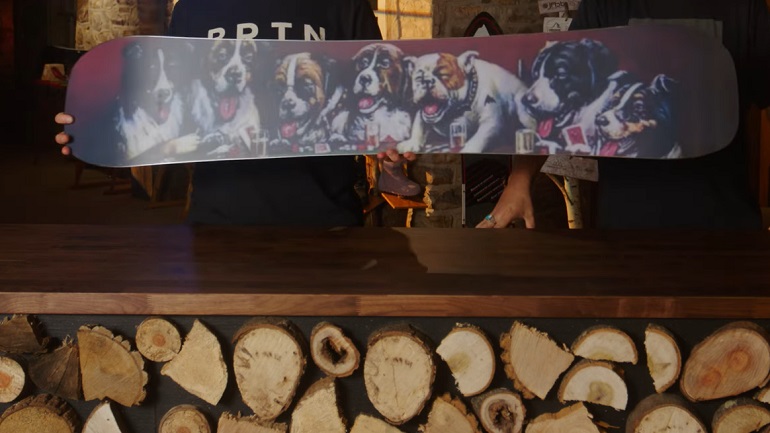 In 2007, the first snowboard with a channel mounting system had been released (a Jeremy Jones board), and with the introduction of this limitless system, snowboard technology had once again been pushed to new heights.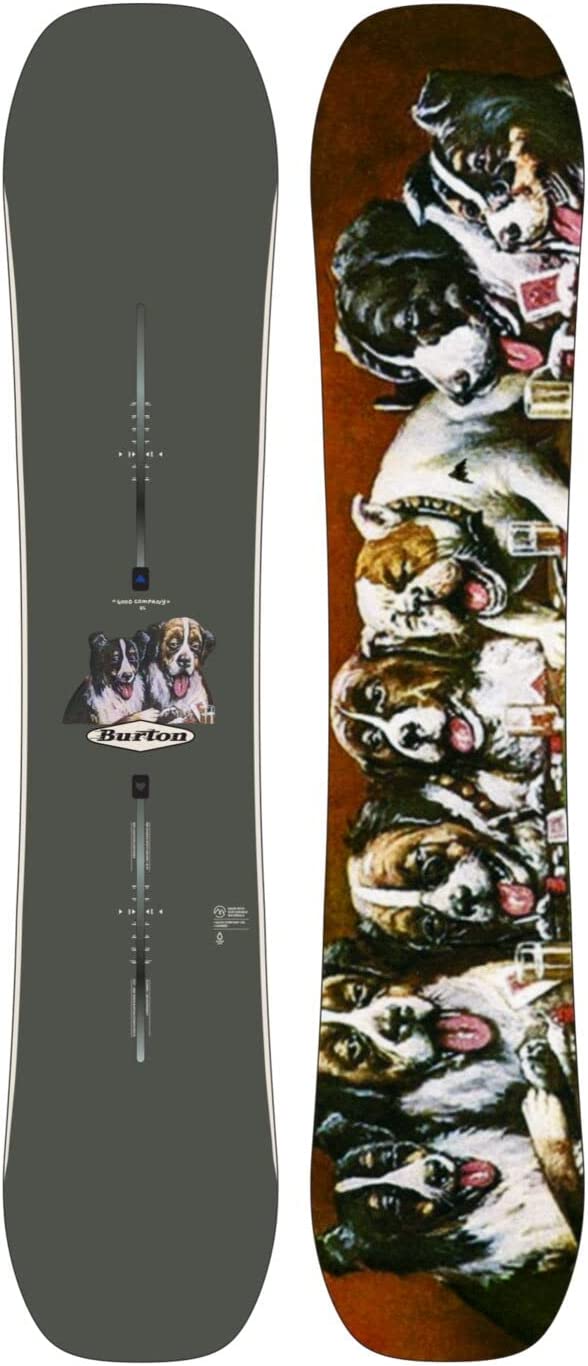 If I had to pick one product that showcases what Burton is all about, then it would be their Good Company Camber Board. Starting off with its most visible feature, the excellent graphic on the bottom of the board.
I mean, who doesn't love dogs? The answer is mean people!
Couple this with that renowned channel mounting system I was just gushing about, and you've got a snowboard that is capable of letting you set up any stance possible while looking good in the process.
The snowboard industry would benefit greatly if other brands pumped out high-quality products at the same rate as Burton.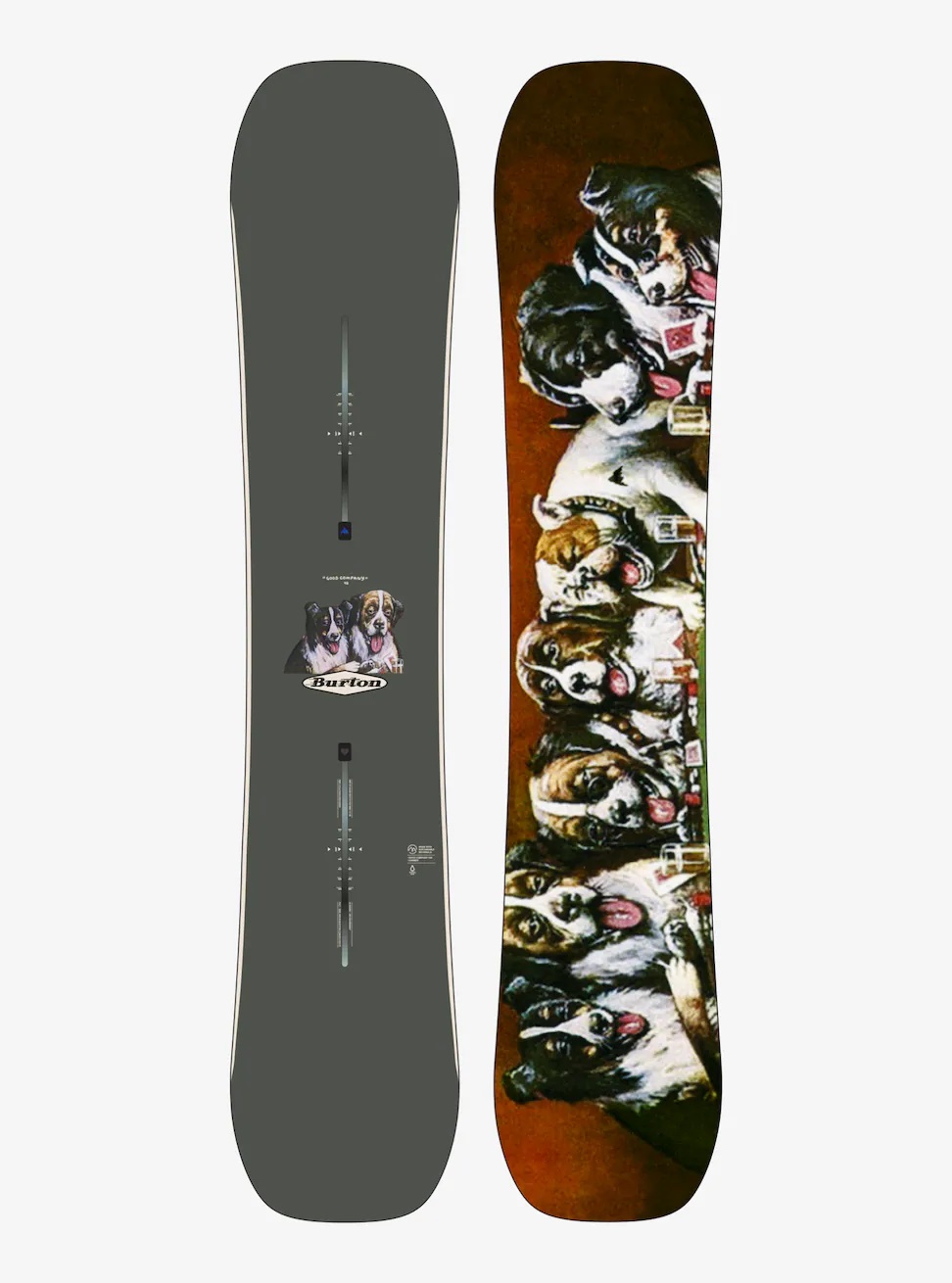 Burton Good Company Camber Snowboard
The price of "Burton Good Company Camber" varies, so check the latest price at
 2. Nitro – People First
Nitro is an admirable snowboard company, and they deserve every bit of love that is sent their way. From the ground up, they are structured in such a way that a sense of community is felt throughout every corner.
This snowboard company works closely with small family-owned businesses to act as their suppliers. They produce all-around snowboards that have prices that vary across a huge range.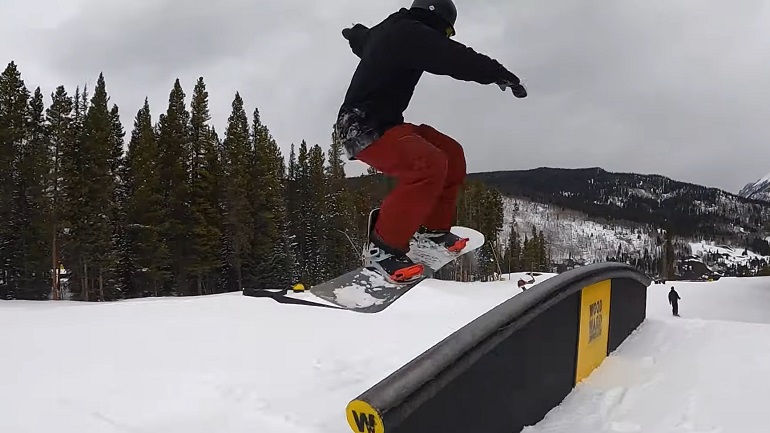 Meaning that anyone has a chance at purchasing high-quality products at an affordable price, as snowboarding can cost a lot.
While the best snowboard brands consistently fill the snowboarding market with high-quality boards, few snowboard brands can boast about the above.

This snowboard is appropriately named, but don't take the word cheap as a pejorative. Freestyle fans now have a snowboard that is both fit for their riding style and also nice to their wallets.
The board's flat-out rocker gives you that deep snow survivability that other boards lack. Serious riders rejoice! No longer will you have to wrestle with your own board's nose, struggling to keep it afloat.
Throw in some edges that are two times thicker and stronger than those found on other snowboards and you've got yourself one of the best snowboards for your freestyle riding.

Cheap Thrills Snowboard
The price of "Cheap Thrills Snowboard" varies, so check the latest price at
3. Capita – Energy Globe Award Winner
Capita snowboards and the snowboard brand itself are streamlined and deadly efficient.
Such is the mentality of the folks at this snowboarding juggernaut that their main manufacturing facility is not only the most advanced in the world but also strategically placed.
Near 100% of all of the materials that they use are locally sourced. This efficiency bonanza doesn't end there. The entire manufacturing facility is powered by clean energy and clean energy only.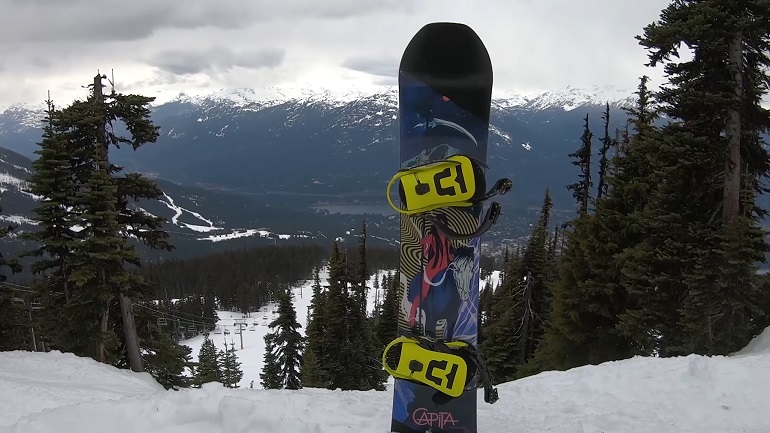 I can't think of too many snowboard manufacturers that are this committed to minimizing their carbon footprint. Capita is not just one of the best snowboard brands but also one of the most eco-friendly.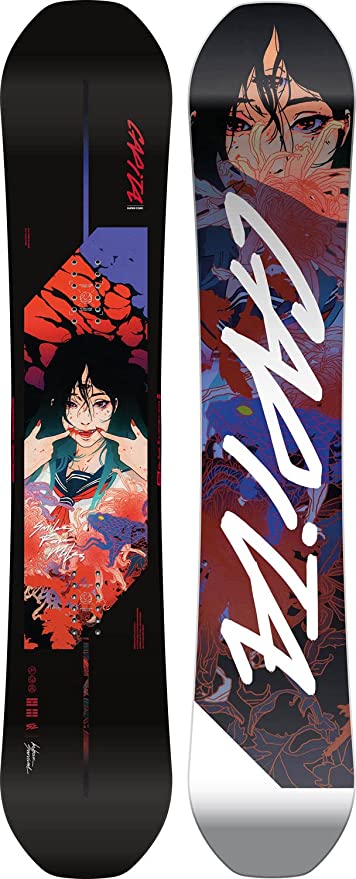 This breathtaking snowboard is a must-have, and not just because of its gorgeous graphics. The snowboard has a flex rating of 5 so you can expect a bit of a bend when riding through either the park or resort.
It's suited for many things and its camber Park V1 profile gives you that control and ease of use that should be a standard for all of the best brands to follow.
The core of the board has been improved upon, shaving off the excess weight that the 2020 model was being weighed down with. Fortunately, the waist width has been widened to accommodate more riders.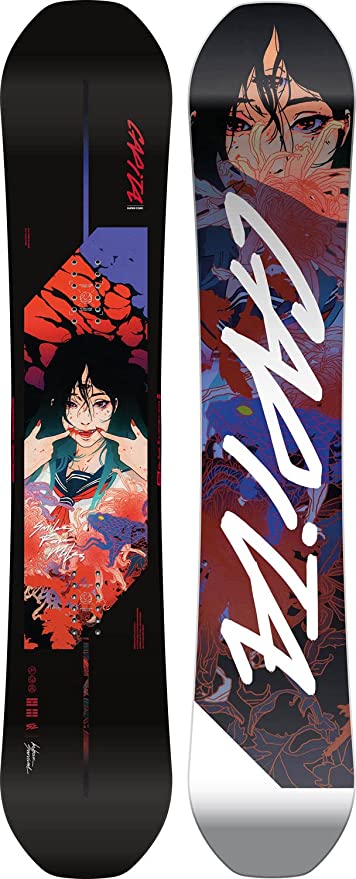 Capita Indoor Survival
The price of "Capita Indoor Survival" varies, so check the latest price at
4. Union – Freestyle Binding Expertise
Union is known best for its boots and bindings. No snowboards here but it's impossible to go snowboarding without bindings and Union is the only conventional top snowboarding gear supplier that owns and operates its own production facility.
And what a facility it is, lovingly referred to as "The Box". This simple and vibrant building is situated in Colico, Italy. Most comfortable snowboard bindings, beautiful company, and beautiful country (and delicious pizza)!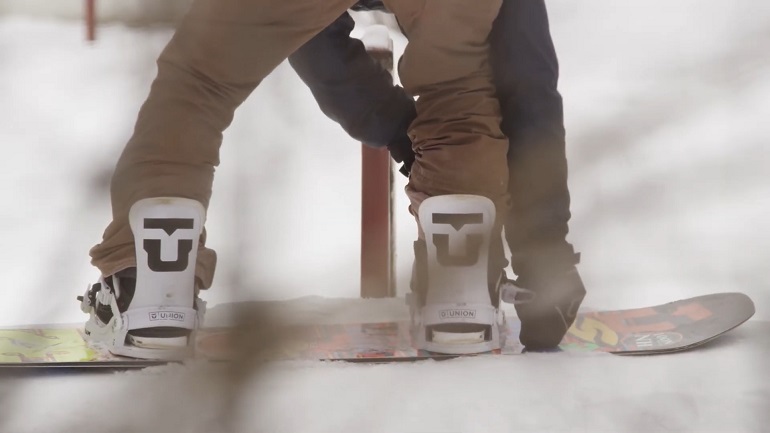 Union Forces (the flagship brand of the company) consistently beat competitors when it comes to performance and price. No wonder this iteration has been continuously in production for more than a decade now.
Recommendation: Union Force – Affordable Excellence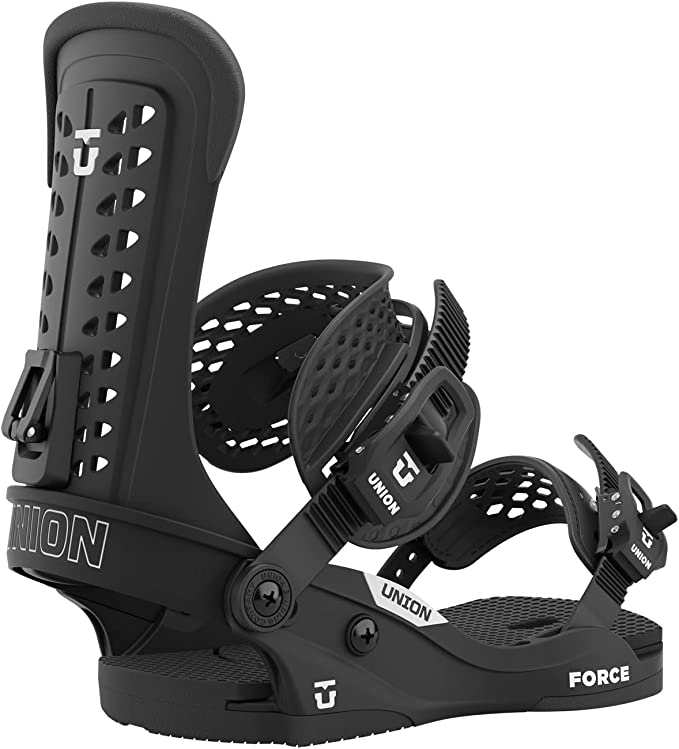 These bindings had to be recommended, nothing else would have fit the bill when talking about this snowboard equipment manufacturer. Great for freestyle and freeride snowboarders but best used by all-mountain aficionados.
At a price point that won't break the bank and with a flex rating of seven that will provide advanced riders with the stability that they crave. The union force bindings have a warranty of a lifetime for the base plate and heel cup and one year for everything else.
These bindings are simply too good to be ignored and they should be the bindings of choice for anyone looking to begin snowboarding. Curious about what to wear when snowboarding?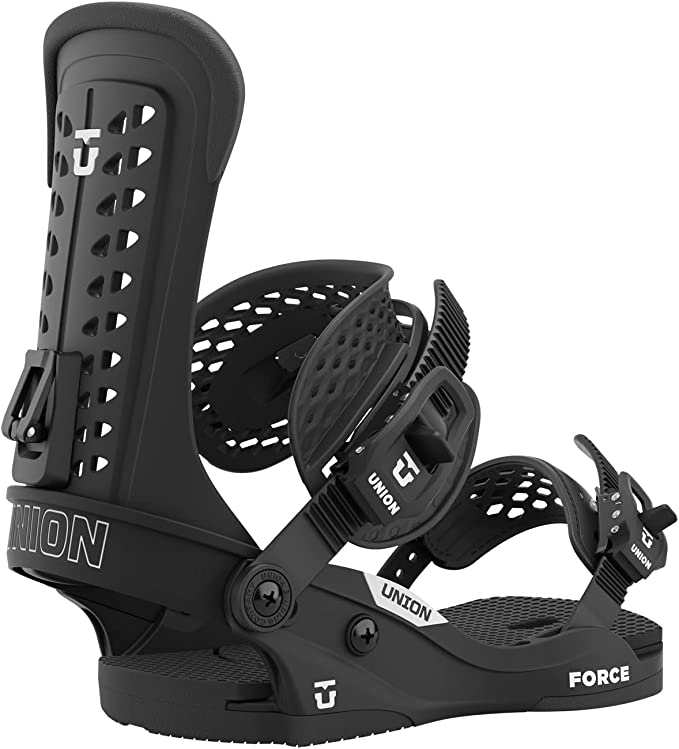 Union Force Binding
The price of "Union Force" varies, so check the latest price at
Jones Snowboards was brought into existence by the free-riding master, Jeremy Jones. This relative newcomer to the snowboard market is focused on two things: being all about the performance of the board and protecting the planet.
These are the guys that pioneered the 3D contour base that I have written about before. Molded to fit the needs of your stance and body as a whole.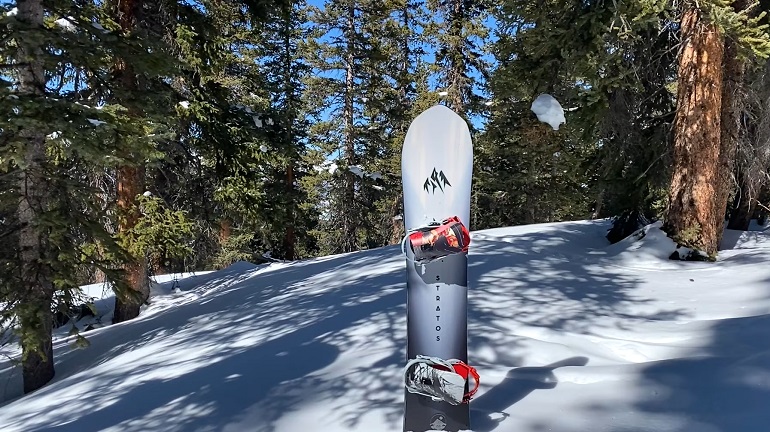 The performance begins and ends with you and the best snowboard is one that improves your ability to harness your skill.
One percent of all sales go to the Protect Our Winters and Community Carbon Trees non-profits.
Recommendation: Stratos Snowboard – The Stealth Bomber

The nose and tail design of this board makes it resemble a jet and the Traction Tech 3.0 built-in to the board improves the acceleration when carving and turning. So I guess that means it handles like a jet as well.
The contoured base from before is here and you won't get a better float with other boards available. If you prefer the setback stance then this speed demon has got you covered.
Float pack inserts are featured and together with the eco-plastic top sheet, both you and the planet are taken care of.
An all-mountain board with excellent hybrid camber technology.

Stratos Snowboard
The price of "Stratos Snowboard" varies, so check the latest price at
6. Salomon – From The Before Times
Salomon group existed long before snowboarding was an actual sport but they have always been involved with winter sports. In the beginning, they would manufacture plastic skis and saw blades.
Their innovations with ski bindings changed that sport, and winter sports as a whole, forever. It was in 1997 when it began its journey to becoming one of the best snowboard brands in the industry.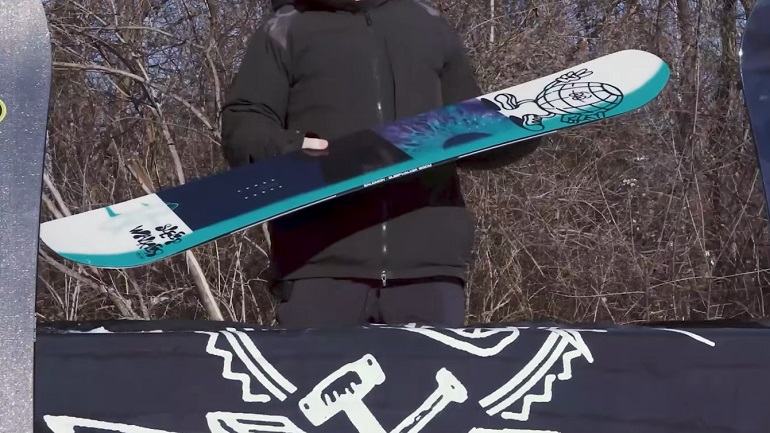 Whether you are looking for free ride snowboards or a split board. Salomon has been there and they have made it with attention to detail and care.
Their equipment is consistently tested for a guaranteed quality build.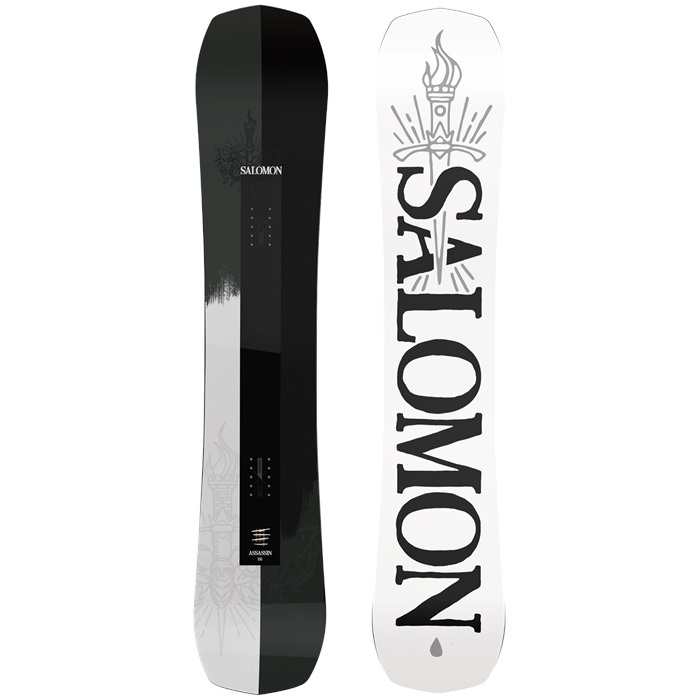 No, I didn't choose this snowboard because of its cool name or even cooler graphic, that would be childish! Ahem, anyways, the Assassin Pro is what you get when you set out to create an all-mountain snowboard that is imbued with the best that Salomon has to offer.
Fitted with a Rock Out camber that was made for freestyle functionality and improved float as well as the incredibly named Ghost Green Core. This lightweight core reduces the weight and drag that would have stifled your ride had you selected another board.
Be warned that this stiff board is best left to the experienced riders looking for a challenge and not for those still looking to get their snow legs.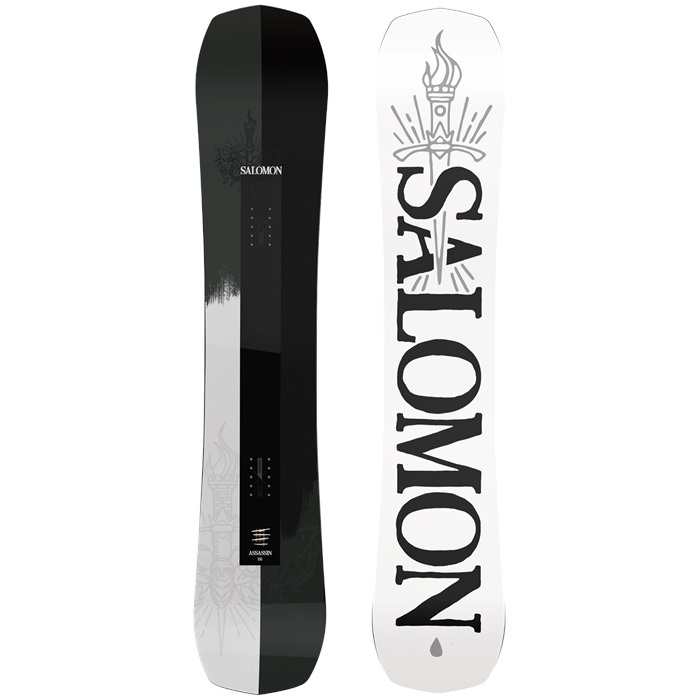 Assassin Pro Men's Freestyle Snowboard
The price of " Assassin Pro" varies, so check the latest price at
7. Arbor – Loves Trees
I love hugging trees as much as the next guy but Arbor was doing it before it was cool. Sustainability is what these guys are all about and it shines through their considerate manufacturing processes and repeated use of sustainable materials.
Snowboard production has never looked so green. Arbor has planted more than 350,000 trees in the wonderful, once-independent land of Hawaii. Their brilliant rocker and camber profiles are brought to you by the mysteriously named "The System".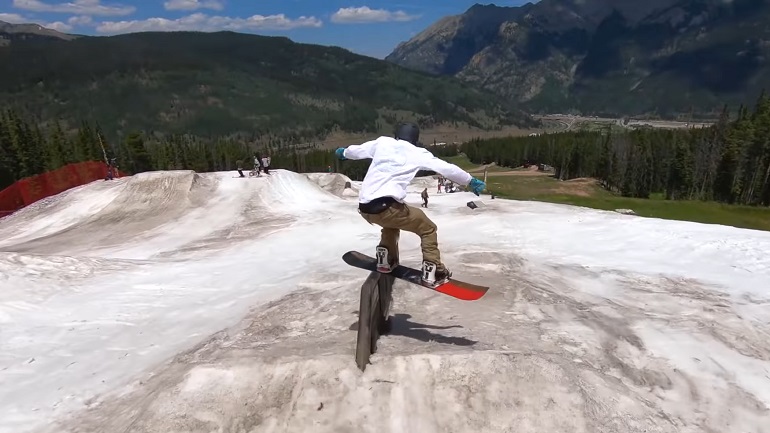 This system works to maximize the potential of each platform. And with their much improved Grip Tech, I'd say that they are hitting the mark.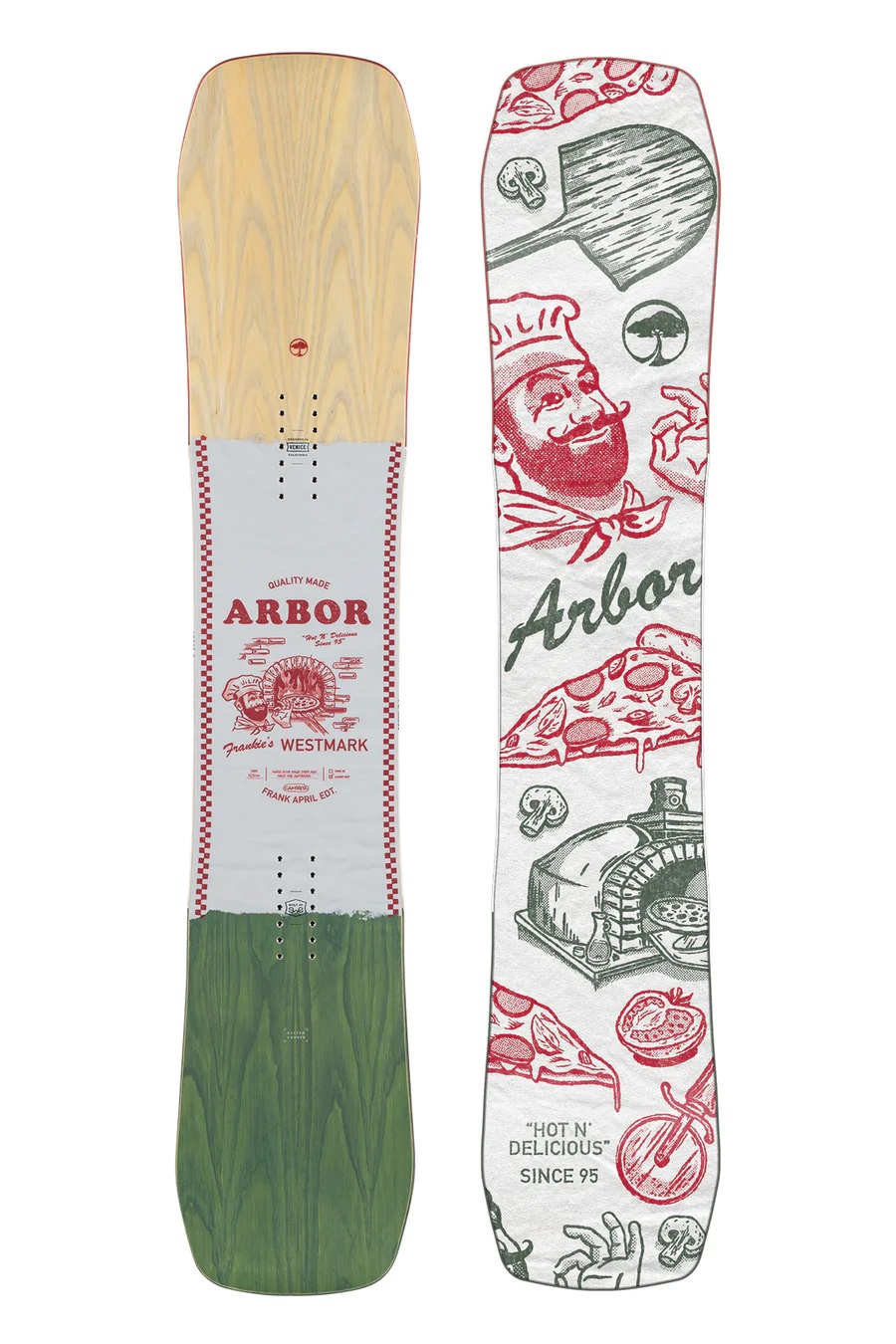 I don't know for how much longer this snowboard will be available but you've got to get it as soon as possible. It has a medium flex level of 5, so novices can work their way to this board in no time.
This board is best used for parks and resorts but you could probably guess that from looking at the slight lift of both the nose and tail. I'll be honest, I couldn't guess this from looking at it. I had to read the description.
Both ends of the board are much wider than the contact points and the graphic is among the best I've ever seen.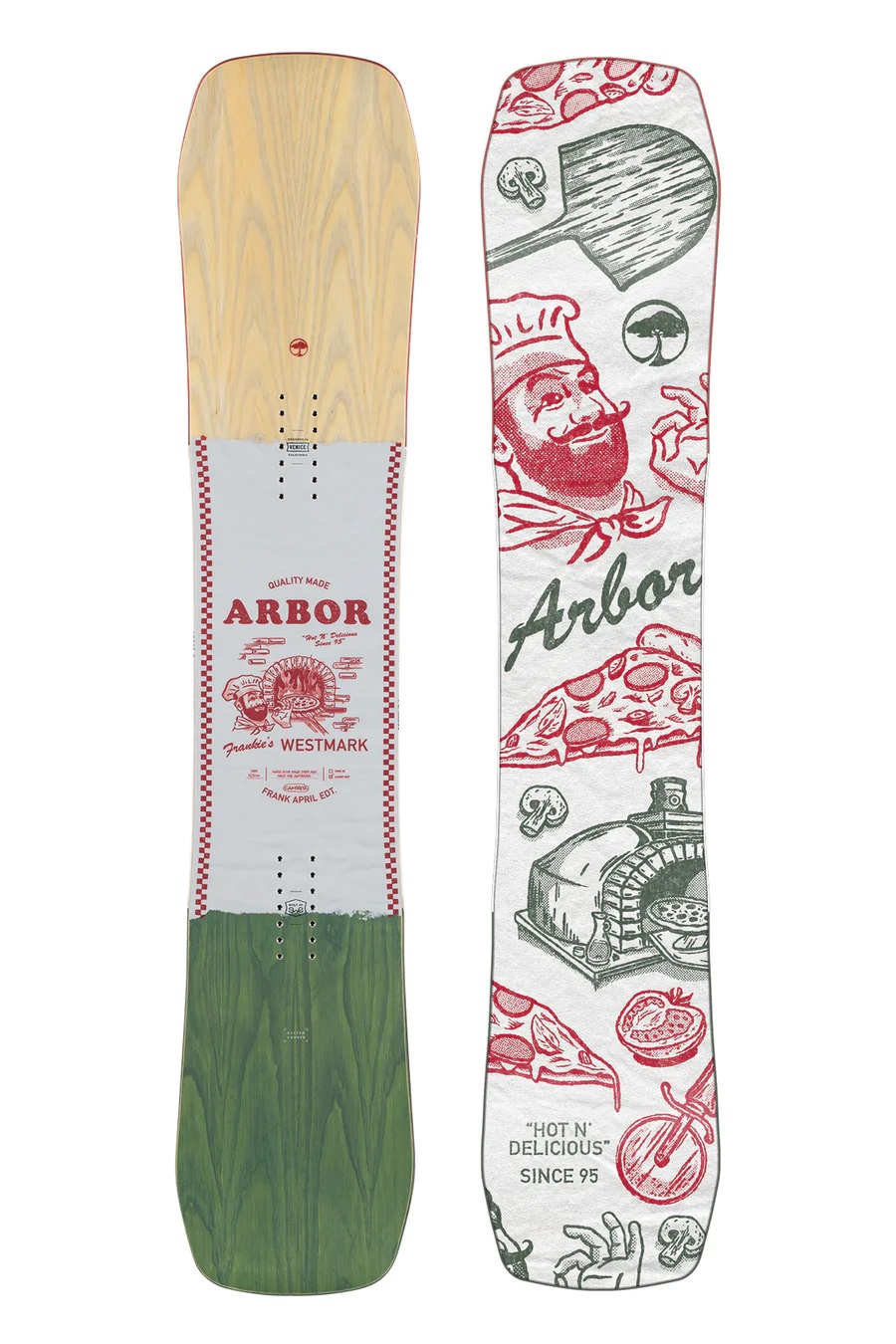 Westmark Camber Frank April Edition
The price of "Westmark Camber Frank" varies, so check the latest price at
8. Lib Tech – All-Around Best
Considered by many to be the best all-around snowboard company but why is this the prevailing notion?
Well, when you've got a consistent team of artists (Matt French, Mike Parillo) that make some great graphics you are bound to catch a few eyeballs.
Some of the cutting-edge technology to hail from this company include the original banana technology and Magne-Traction. What is banana technology you ask? In the company's words it "focuses edge pressure beneath your feet".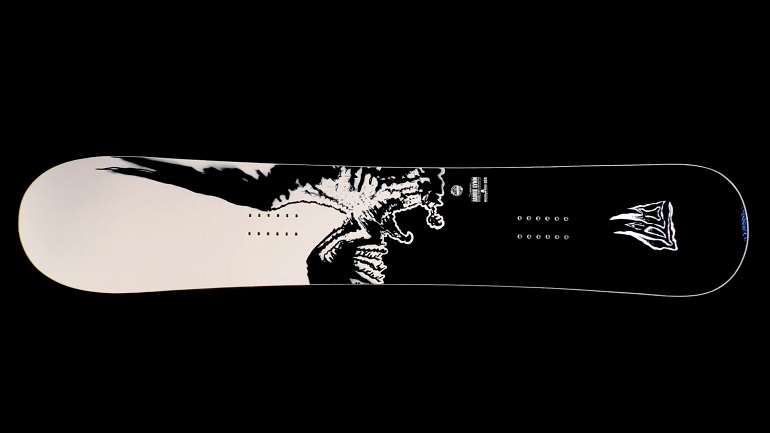 But if you use my words, "it's a tasty reminder of the world's greatest fruit."
Recommendation: Jamie Lynn '96 – Rebirth of a Classic

The classic is back and the freestyle beauty has been re-imagined for the modern era. Remember those fantastic graphics I talked about earlier?
Audience: Yes, you never shut up about them.
Well, this is just one prime example of their excellence. This freestyling weapon's art was designed by the freestyling great Jamie Lynn himself. Radial side cuts, a tighter radius tip, and tail curves all combine to give you the control that anyone looking to shred needs.
This is a great reminder of simpler times and wrapped up in a beautiful package.

Jamie Lynn '96
The price of " Jamie Lynn '96" varies, so check the latest price at
9. Rossignol – Older Than You
Hailing from the French Alps and born decades before they even trekked into the mountains of snowboarding. 80 years from their initial existence, that's how long it took for Rossignol to make their first snowboard.
Ever since then, the company has amassed a history of some of the best free riders the world has ever seen. From the previously mentioned Jeremy Jones to Xavier de La Rue.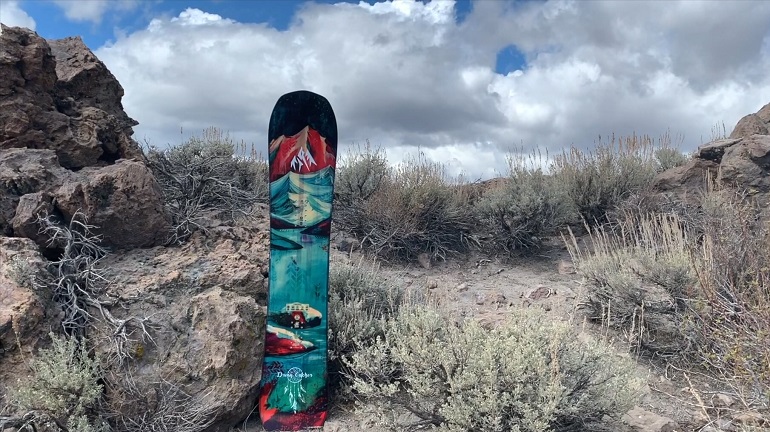 The company's reputation for quality and innovation supersedes its involvement in snowboarding.
From superior edge hold, thanks to their RadCut technology, to L.I.T.E frame shock absorption. This is time-tested quality right here.
If you are interested to read the history of snowboarding check out our latest article.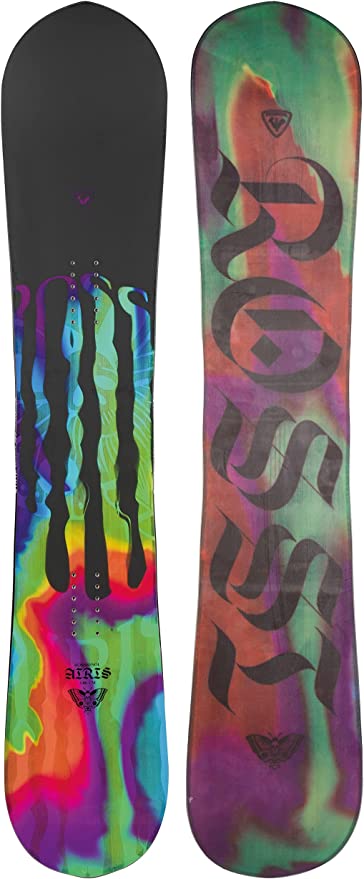 Best suited for intermediate riders, the Airis has an AmpTech All-Mountain rocker that makes for an edge grip that is balanced and a stable float. That's not all, as the edges have been serrated for carving into the tightest turns.
Considered a woman's board but stereotypes are dead and Rossignol killed them, thankfully. Personally, I wouldn't call this a women's board but rather a stick for those looking to cut up the mountain into confetti.
To top it all off, 100% of the wood used on this board is from sustainably harvested forests. Earth day is every day.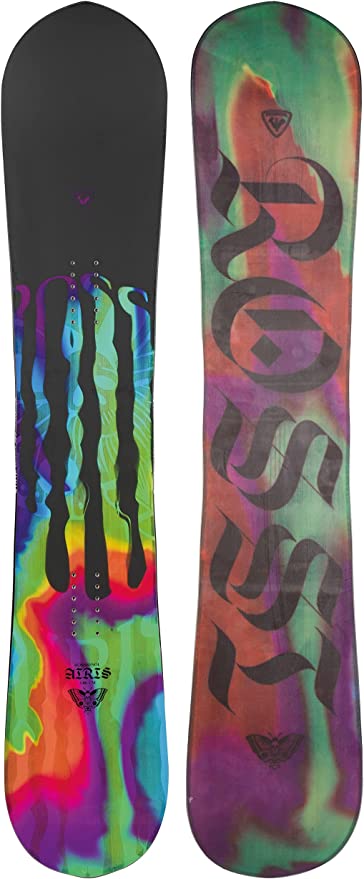 Women's Rossignol Airis Snowboard
The price of "Women's Rossignol Airis" varies, so check the latest price at
10. Rome SDS – Traditionally Rebellious
The final member of our best snowboard brands listing has arrived but it's by no means a slouch. A Vermont native from the minds of Josh Reid and Paul Maravetz, two Burton alumni that wanted to do things their way.
This rebellious nature extended down to their products. With a great line of rocker-camber hybrids that refuse to conform. It doesn't end there.
The use of Hot Rods, that run through certain areas of the board, providing different benefits depending on the area, is a trailblazing advancement.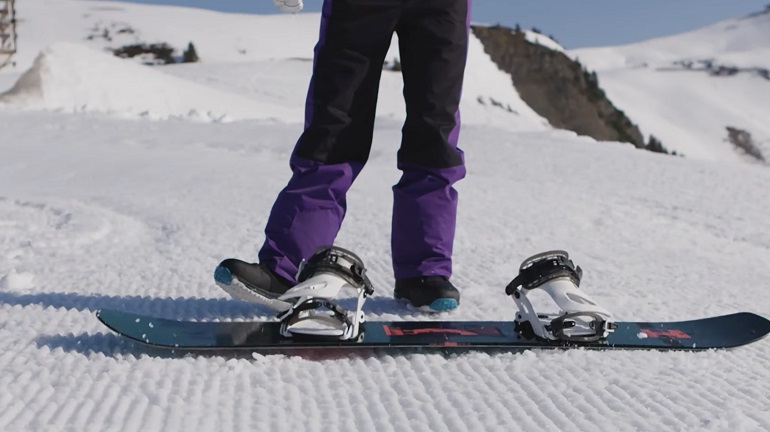 I'll finish off by making a quick mention of their smooth-turning Diamond 3D tech.
Recommendation: Rome Muse Snowboard – Women's 2023 – Most Beautiful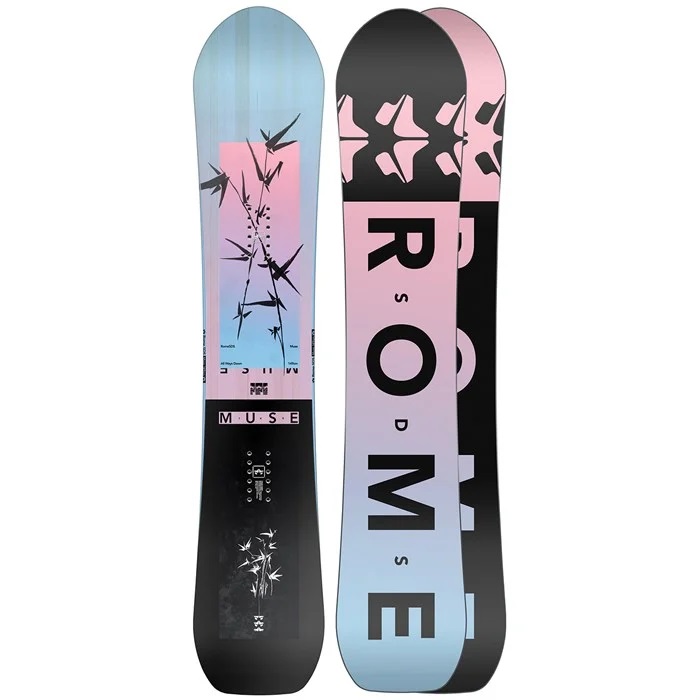 My favorite board on this list and for more reasons than its wonderful graphics. The Muse is a directional twin shape that'll have you riding regular or switch with no problems at all.
The art on this masterpiece stimulates your mind and its shape pushes you to experiment. This product's name is a perfect fit.
With a flex rating of 6 and a recommended rider level of intermediate, beginners will have to hold off before picking up this board.
Bamboo Hot Rods run from the inserts all the way to the nose and tail of the board.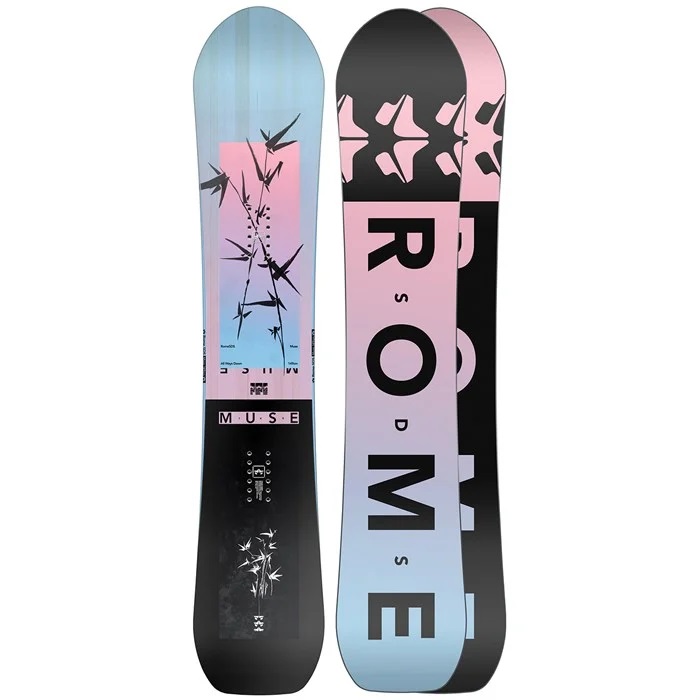 Rome Muse Snowboard
The price of " Rome Muse Snowboard" varies, so check the latest price at
FAQs
What Are the Types of Snowboards?
The types of snowboards available are free ride, powder, all-mountain, freestyle, and split boards.
Free-Ride Snowboards
Free-Ride Snowboards are all about speed and aggressive riding. They have a stiff flex level and come in a directional shape, one direction. Best left for the advanced rider looking to bomb down the mountainside.
Powder Snowboards
Powder snowboards have a long nose and a small tail with a setback of around 20 mm. Obviously, they are meant for extensive riding through powder thanks to their large nose.
All-Mountain Snowboards
are the best of all worlds mash-up that the indecisive masses have been clamoring for. Available in a true twin or directional twin design making them optimal for all riding styles.
Freestyle Snowboards
have a softer flex than all the other boards and as a result, they are more forgiving, with great edge control. Perfect for hard landings and beginners. To learn more about freestyle snowboarding and boards for beginners, check out our guides.
Split Boards
are the transformers of the snowboarding world. This is a normal snowboard that can split into two halves, becoming skis in the process. Great for getting uphill. Versatile and functional. My favorite!
In my opinion, there are only two types of snowboards: cool-looking ones and ugly ones.
What Is the Most Accessible Type of Snowboard To Ride?
The most accessible snowboard type to ride is the freestyle board. This is because these boards have a soft flex that is more forgiving and can tank the impacts of the snow better. Perfect for beginners and for anyone looking to advance their skill set and trick list.
What Brands Do Pro Snowboarders Ride?
Professional riders use all kinds of brands. For example, Mack McMorris uses the Burton brand and Shaun White uses his own personal brand White Space.
A better name would have been White Noise but who's asking?
Jamie Lynn uses the Lib Tech brand and even has his own board with them. Shaun White isn't the only pro to launch his own brand. Jeremy Jones has his company (Jones Snowboards) that we have talked about already.
In short, many pros start out with an existing brand before deciding that they want to establish their name in a new way and then decide to launch their own companies.
Do Snowboard Brands Really Matter?
Honestly speaking, when it comes to the overall quality of the board, there isn't too much of a difference between the top brands. All of the brands mentioned in this post consistently make high-quality snowboards that look great.
Brands really differ when it comes to individual features and manufacturing/design practices rather than the quality of the snowboards.
For example, the channel system over at Burton is something unique to them and the use of Hot Rods was pioneered by Rome SDS (former Burton employees oddly enough).
Brands like Arbor and Capita care for the environment and make it a part of their very culture. But again, when it comes to quality, there is no significant difference.
My Final Thoughts
How do you go about choosing among the best snowboards and snowboard brands? It depends on what being the "best snowboard" means to you.
Is it a board that is made by a company that only uses sustainable materials? Maybe the best board for you is whatever all-mountain snowboard you can afford or a board that lets you unleash your creative energy by trying out different riding styles.
From the best snowboard brands above, select one that fits your interests the most and then take a look at our recommendations and consider whether that showcase is enough to get you excited.
If you are still unsure then consider checking out our post on how to choose a snowboard, however minuscule, there is a chance you'll learn something there.