Skiing can truly liberate you. The feeling of being atop a high slope, only to go flying down it with nothing but your skis and poles is as exhilarating as it is terrifying. But you can always go one step higher.
Consider what stops us from fully enjoying our time out in the snow. It's the cold, always the cold.
This is where heated ski socks come in. Heated socks may sound like a luxury item, but one day with them and you'll realize just how essential they are to your overall skiing experience.
Best Overall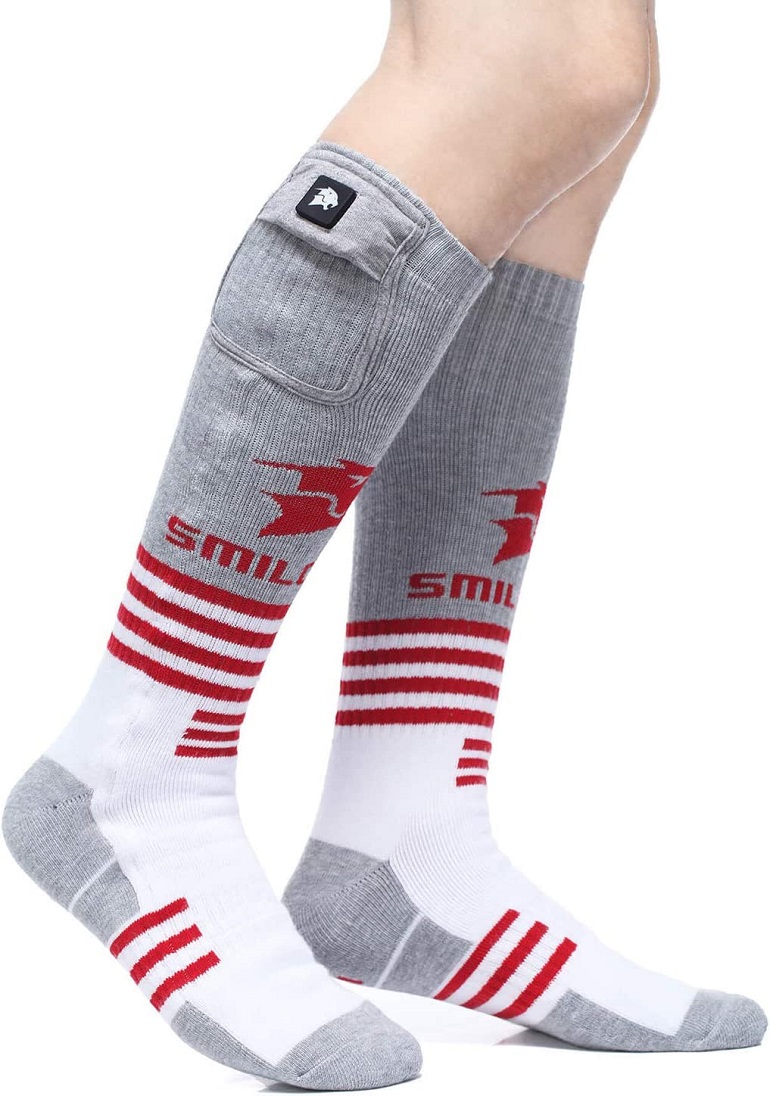 Smilodon Heated Socks
Brand:Smilodon
Material:Polyester
Great Battery Life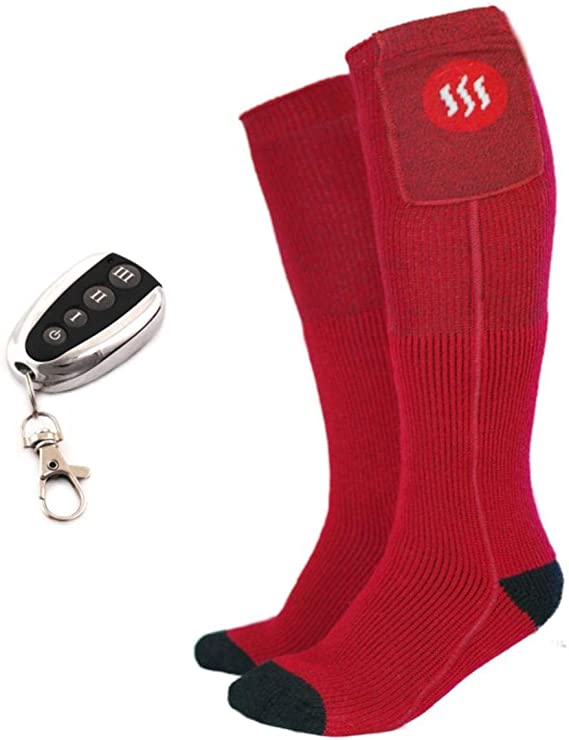 Glovii Heated Socks
Brand:Glovii
Material:Cotton
Best Wireless Option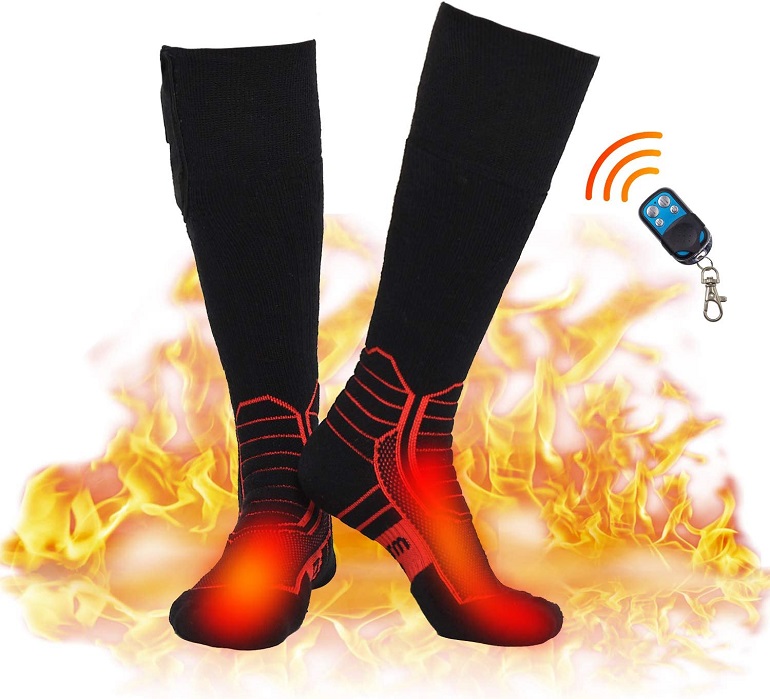 Dr.Warm Wireless Heated Socks
Brand:Dr.Warm
Material:Cotton
Best Comfort Fit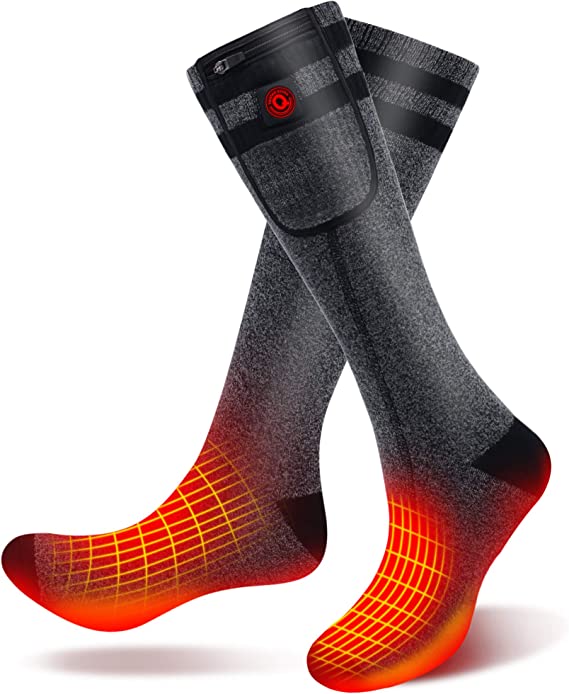 Rabbitroom Electric Heated Socks
Brand:Rabbitroom
Material:Cotton
Best Moisture Wicking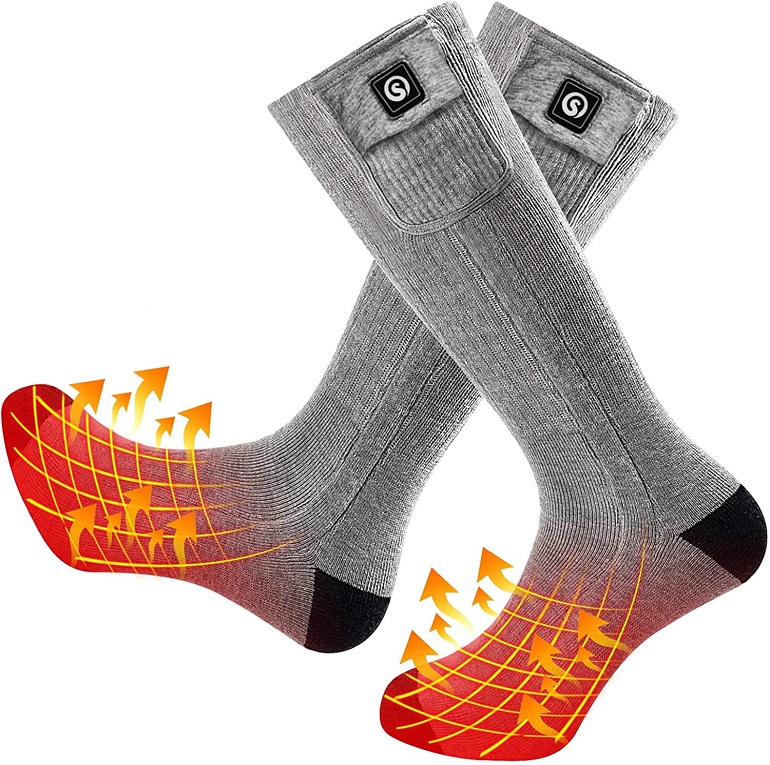 SNOW DEER Heated Socks
Brand:SNOW DEER
Material:CoolMax,Elastic,Spandex
Best Of The Rest

Lens Heated Socks 5.0
Brand:Lenz
Material:merino wool
6 Best Heated Ski Socks
Getting into skiing is all about using the right gear from the very moment that your ski touches the snow.
Here are our best picks for those that want the perfect experience when skiing.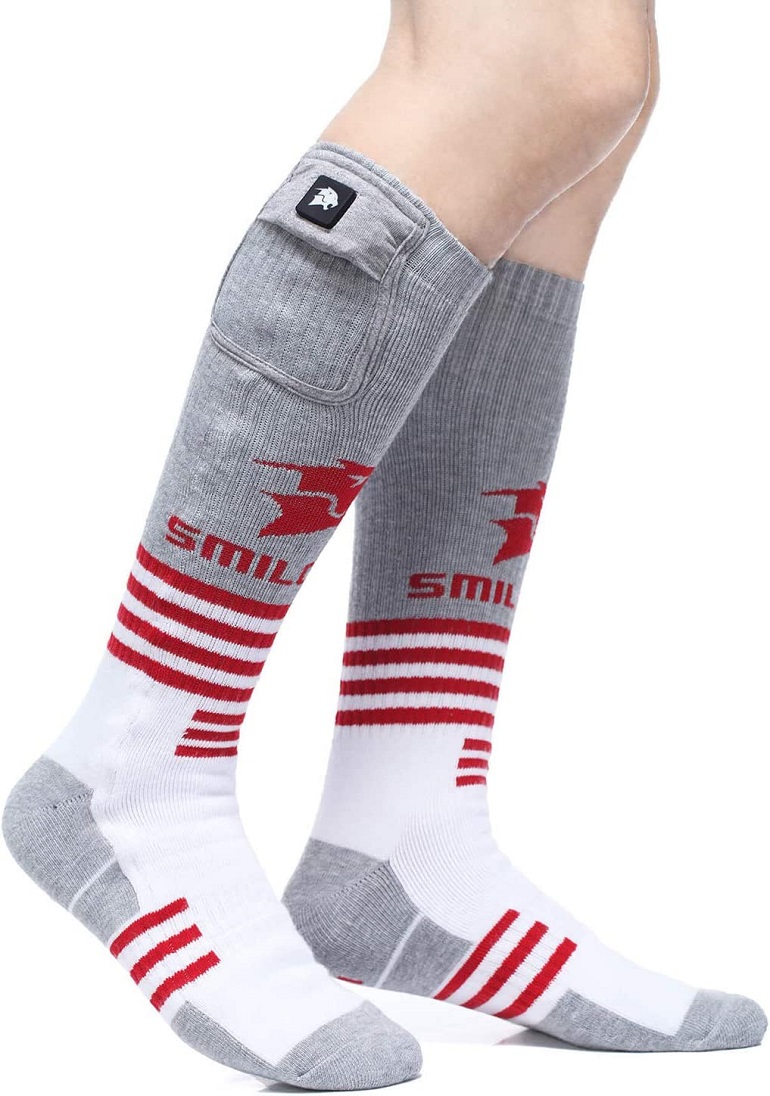 The Smilodon heated socks work in the same way as all the other heated socks on this list. That alone didn't get them to the top. They are constructed from polyester, a quick-to-dry fabric, but so are many of the heated socks on this list.
Why then did they pick up the number one spot? The answer was simple, they had something special that even the best-heated socks for skiing didn't have.
That Something Special
There are several fabrics and materials that were used to construct these socks. First, was the high amount of cotton packed into the frame of each sock. Ensuring that your entire foot can stay warm even when the heating mechanism of the pair of socks wasn't engaged.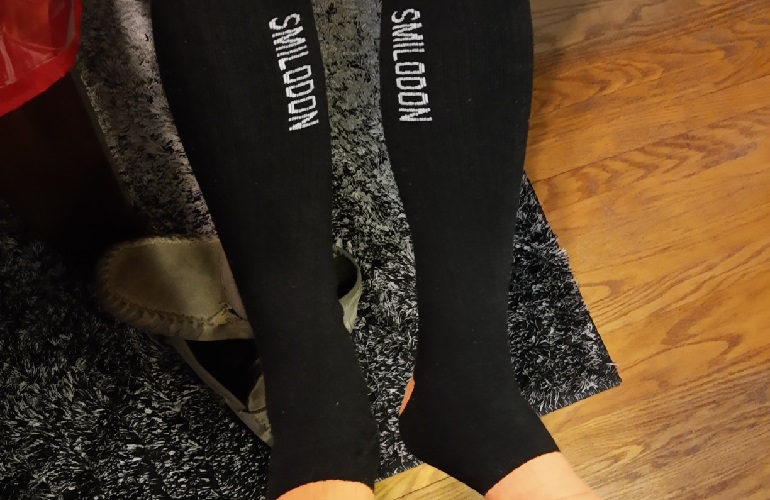 To go with this cotton goodness is the blended fabric known as COOLMAX. CoolMax transfers sweat from the surface of the skin to the sock's outer layer. By removing your foot sweat from the innermost layer, bad foot odor is prevented from sprouting up.
Best of all, for any lazy skiers like myself, all that is required to machine wash these heated socks is a laundry bag.
Keeping your feet warm has never been so easy.
Features
Fabric: Polyester
Power Source: Battery Powered
Battery: Lithium-Polymer
How To Wash: Hand washable recommended
Pros
Is machine washable but requires the use of a laundry bag.
Technical mixed fabric with majority cotton build.
The COOLMAX blended fabric transfers sweat to the surface of the sock.
Cons
Requires socks to be put in a laundry bag in order to machine wash.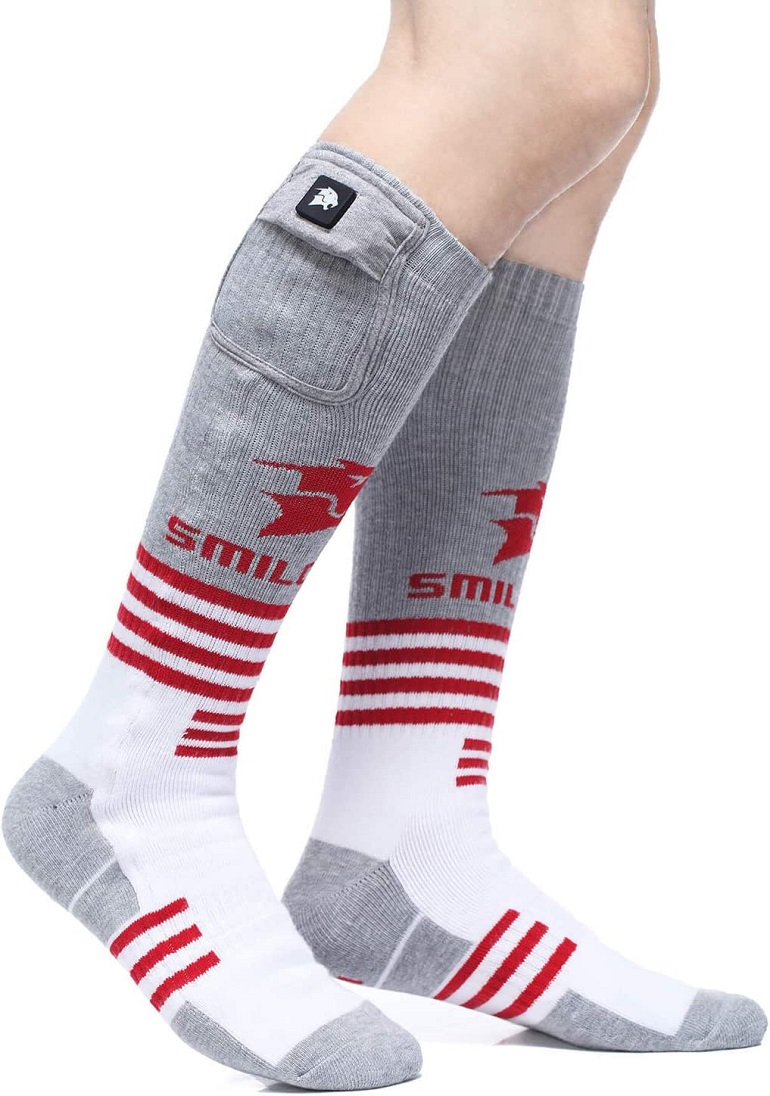 Smilodon Heated Socks
The price of "Smilodon Heated Socks " varies, so check the latest price at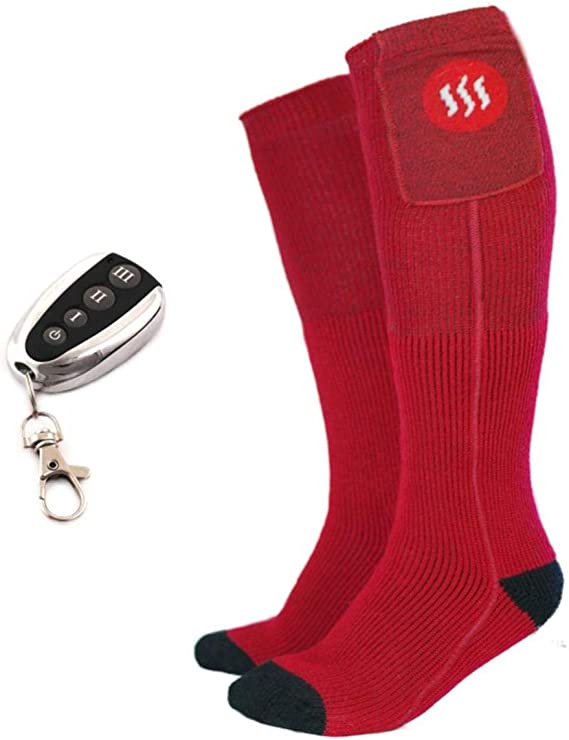 The Glovii hand-wash heated socks have got a workhorse of a battery powering them. This 2400 Milliamp battery can last for hours and a full charge is never farther than a couple of hours away.
Long Battery Life
This is why I consider these heated socks to be the best-heated ski socks when it comes to battery life. Because not only do they last for hours and hours but it only takes a fraction of those hours to fully recharge them.
The carbon fiber weaved into their overall structure improves their durability. Meaning, that despite having to hand wash them. You won't have to worry about them tearing on you in the process.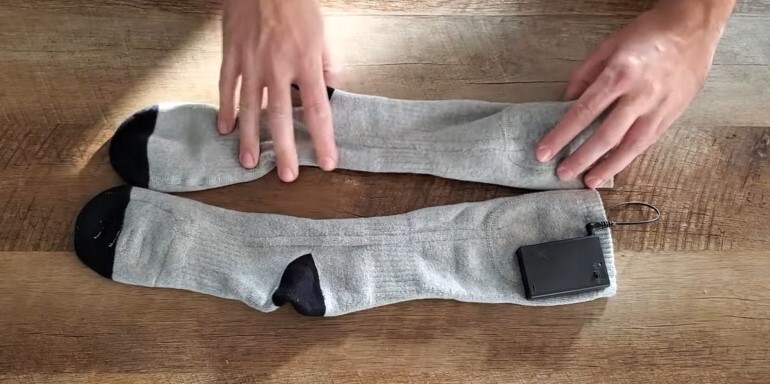 The last thing that I'd like to highlight about these heated socks for skiing, is the remote control that comes included with your purchase. You can lie down and keep your feet warm, changing temperature settings as you like, without having to get up.
Wearing socks like these heated socks is a true privilege.
Features
Fabric: Cotton
Power Source: Battery Powered
Battery: Lithium-Polymer
How To Wash: Hand washable only
Pros
Has a 2400 Milliamp battery. Perfect for whole-day usage.
A remote control comes with socks for easy adjustment.
Carbon fibers were weaved into the build for maximum durability.
Cons
Can only choose from one color option.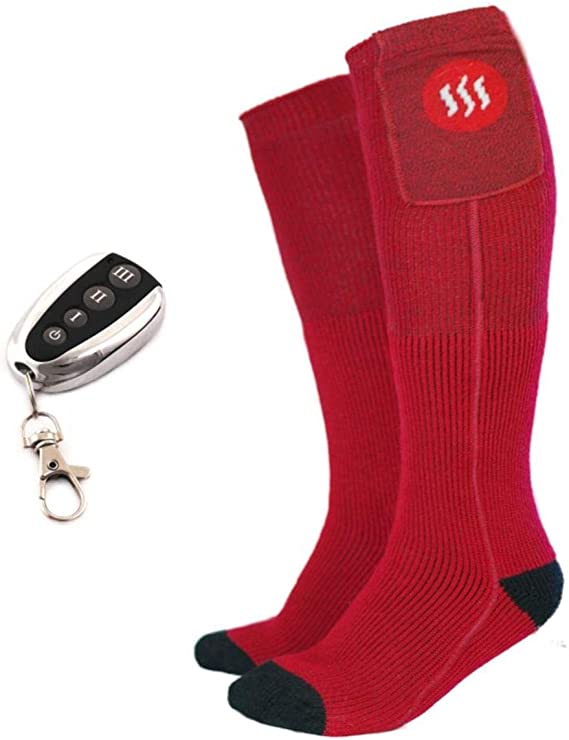 Glovii Heated Socks
The price of " Glovii Heated Socks" varies, so check the latest price at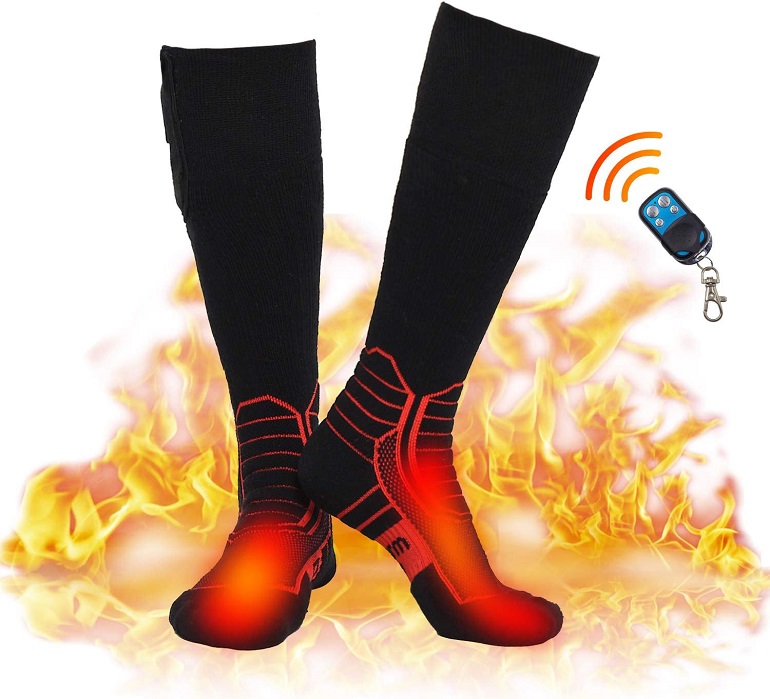 Dr.Warm came into our lives and delivered fully wireless heated socks for skiing or home use that wouldn't let us down. Isn't it too early for Christmas?
These are among the best-heated socks because not only do they keep your feet warm, but they also have plenty of non-electric heating systems in place to keep them that way.
No Wires, No Problems
The Dr.Warm wireless heated socks keep your feet warm with three different heat settings for you to choose from. True to their wireless name, they come with a remote control that allows you to dial in the maximum temperature in seconds.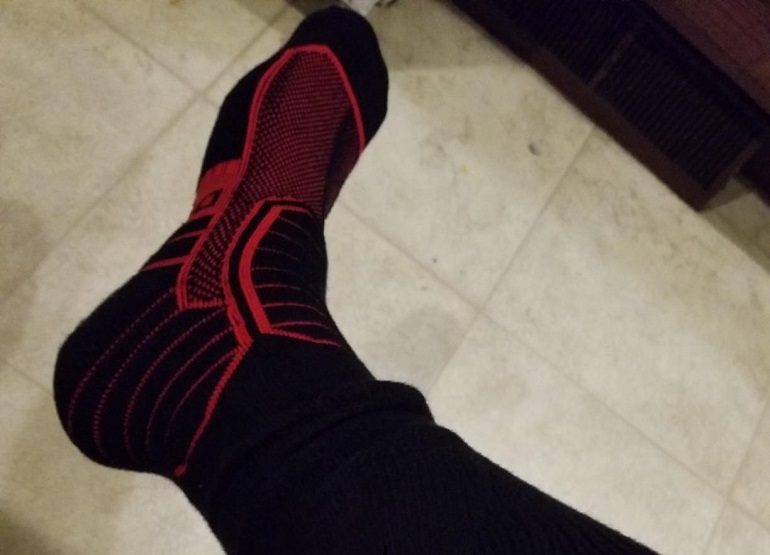 The battery pack of these heated ski socks is powered by long-lasting Lithium batteries. But even if the heating system of these electric socks were to break down, these socks have more than enough built-in to prevent cold feet.
Namely, the 3mm thick cotton walls. I think that is more than enough to keep your toes warm.
Features
Fabric: Cotton
Power Source: Battery Powered and electric
Battery: Lithium-Ion
How To Wash: Hand wash
Pros
Are both battery-powered and can be plugged into an electric outlet.
Various heat settings to prevent cold feet.
The sock is 3mm thick, with plenty of cotton for user comfort.
Cons
Very tight fitting for those with bigger calves.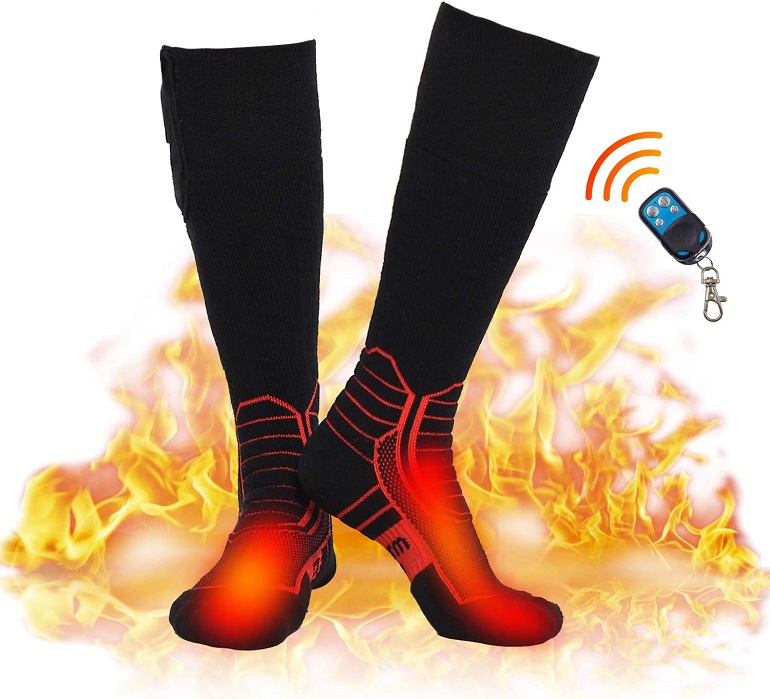 Dr.Warm Wireless Heated Socks
The price of "Dr.Warm Wireless Heated Socks" varies, so check the latest price at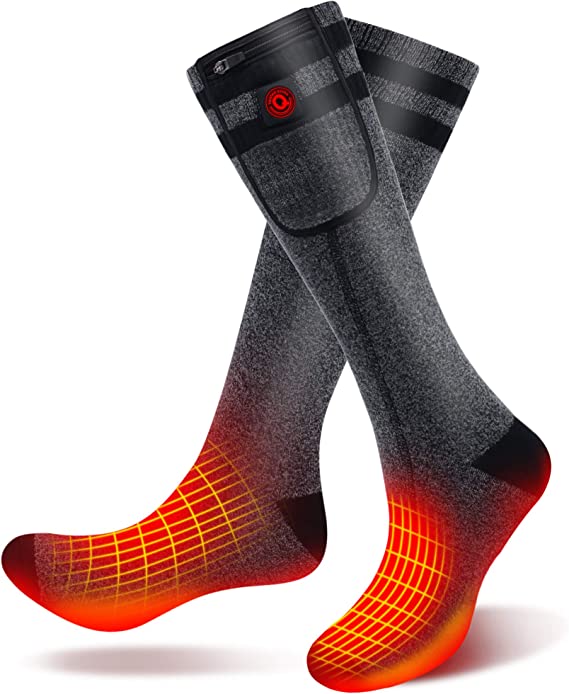 The Rabitroom electric socks have got a tight fit that won't mesh well with skiers that have big calves. I've got small calves and so I was able to make the most of their comfortable fit.
Still, it was easy for me to understand why these heating socks might be too snug for others.
Hugging Your Feet Tightly
The tight and therapeutic fit of these socks is perfect for older skiers that suffer from joint and muscle pain. While I am fortunate enough not to suffer from such conditions, I will be keeping these socks in mind as injuries begin to pile up.
The rechargeable batteries of each sock should last you around four hours in the highest temperature settings. However, you can squeeze out 10 hours of battery life if you set the temperature of these heated ski socks to a medium setting.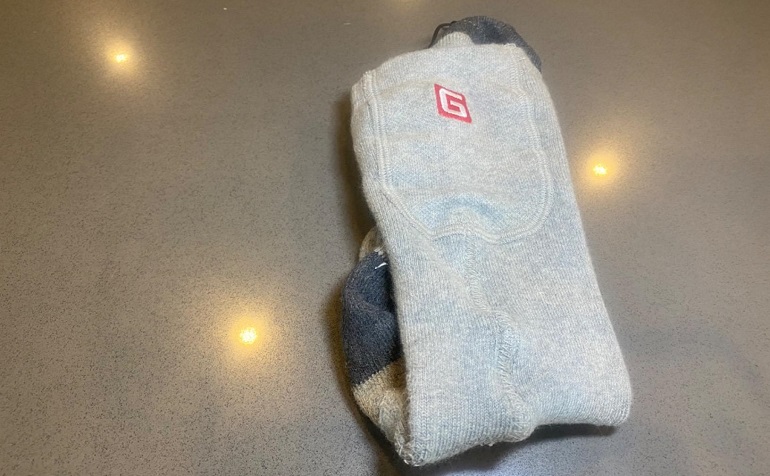 Rabitroom paid attention to customer complaints because the entire toe section was remade in order to better heat that particular section. It's nice to find ski gear manufactures that care.
Features
Fabric: Cotton
Power Source: Battery Powered
Battery: Lithium-Polymer
How To Wash: Gentle hand wash
Pros
High-grade battery life lasts anywhere from four to ten hours depending on usage.
Three heat settings with a cotton build that retains heat.
Upgraded toe design for complete heating of the toe area.
Cons
Can only be hand washed and must be done so in a gentle manner.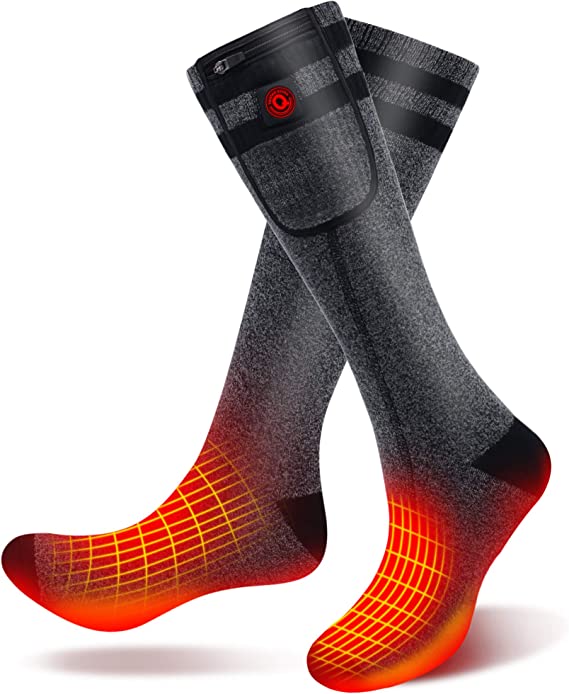 Rabbitroom Electric Heated Socks
The price of "Rabbitroom Electric Heated Socks " varies, so check the latest price at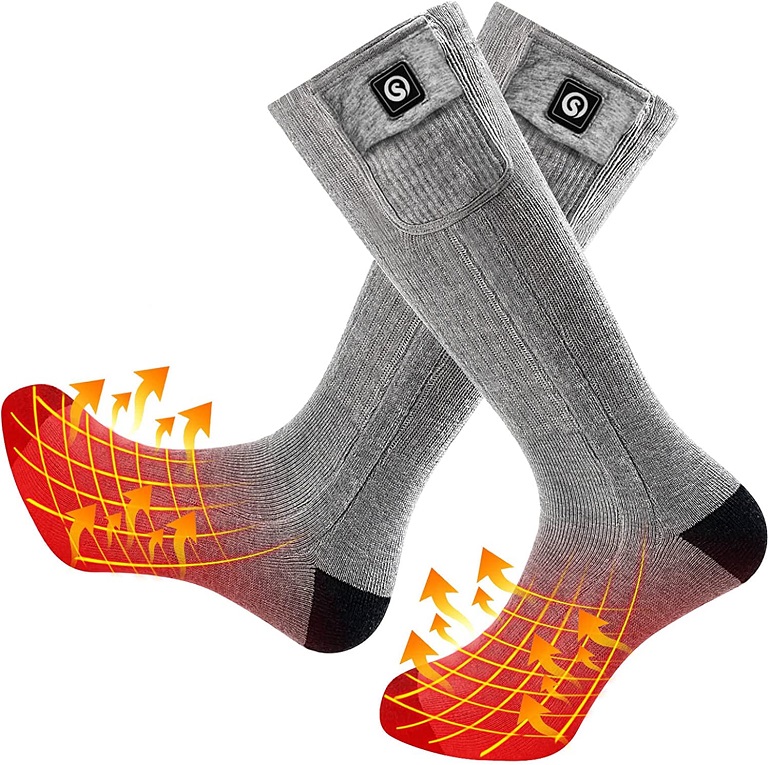 Moisture wicking comes as a godsend for people like me who heat up at a moment's notice. Whenever I head out to ski, two things are guaranteed. Before I get started, I'll pack on the layers, and, as I ski I begin to remove these layers lest I run the risk of sweating profusely.
But the Snow Deer heated socks are helping change this time-honored tradition of mine.
Goodbye Moisture My Old Friend
The excellent moisture wicking of these socks comes from the fabric. The fabric of the Snow Deer heated socks is made up of three different materials.
First, is the legendary CoolMax (which also powers our number one pick). The second material is an elastane-equivalent material, and finally, the last material used is spandex. What this all adds up to are heated socks that are incredibly efficient at keeping your feet warm and dry.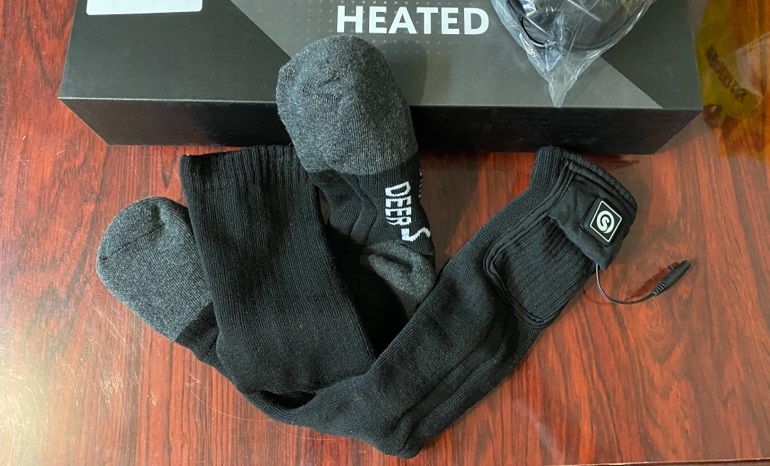 They also leave your toes a great amount of wiggle room to enjoy. Taking into account its machine washable capability and I'd say these are truly one of the best-heated socks that I've ever used.
Features
Fabric: CoolMax, elastic, and spandex
Power Source: Battery Powered
Battery: Lithium-ion rechargeable batteries
How To Wash: Hand wash or machine washable
Pros
Fantastic build of three high-quality fabrics and materials.
Dual battery charger and batteries included with purchase.
The moisture-wicking fabric makes short work of any gross sweat.
Cons
A sack bag or other protective cover is needed in order to ensure that socks aren't damaged.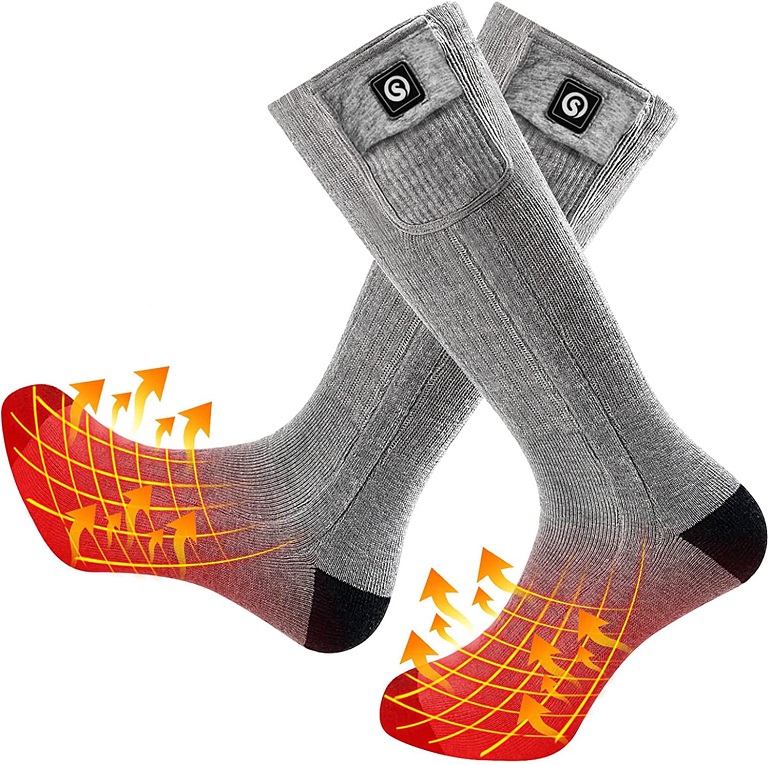 SNOW DEER Heated Socks
The price of "SNOW DEER Heated Socks" varies, so check the latest price at

Coming in at last place on this list of the best-heated socks for skiing is not something to be ashamed of. The competition was fierce, but the Lens heated socks still managed to earn a spot on here.
How did they do it? Let's find out.
How Lens Won It All… Almost
There are many impressive things about these heated socks. Not only do they do a great job of making sure you don't have cold feet, but they do it in style. The outer design of these best-heated socks is sleek and so is their fit.
The dual lithium-ion batteries that power each sock are contained within a compact package that is hard to notice. Most heated socks have a heating element that applies a blanket warmth to your entire foot.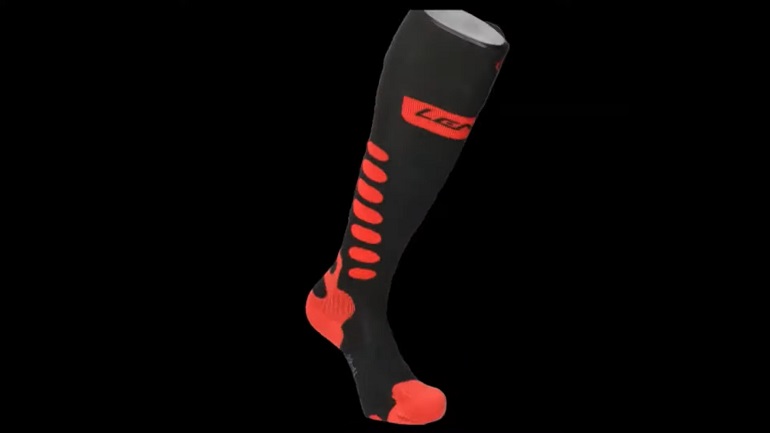 This is great, but sometimes precision is the better way of handling things. Precision is exactly what you get here because these Lens heated socks specifically target two vital areas. Your toes and the balls of your feet.
More than just warm socks, these heated socks are intelligent.
Features
Fabric: Cotton
Power Source: Battery Powered
Battery: 2 Lithium Ion batteries
How To Wash: Machine washable
Pros
Are fully machine washable without any worries of damage to the sock.
Easy to attach and detach lithium packs.
The toes and balls of the feet are warmed.
Cons
Can't heat as effectively as the electric socks on this list.

Lens Heated Socks 5.0
The price of "Lens Heated Socks 5.0" varies, so check the latest price at
How to Choose The Right Heated Ski Socks For You
A quick way to know what is quality and what isn't is to break down what makes a pair of heated ski socks the best of the best.
Here's what you should be looking for in any heated ski socks to keep your tootsies warm.
Your Sock's Battery Life
The battery life of your heated socks is important because the longer it is, the more warmth you get to enjoy. One thing to keep in mind is the heat setting that you decide to set your heated socks at.
Lots of battery power is great, but all the battery packs in the world will quickly run out if your electric-heated socks are pushing their heating elements to the max.
Understand that if you want to keep your feet warm for long periods of time, then you are going to want heated socks with adjustable temperature settings.
The Heated Areas of Your Sock
Most of the best-heated socks on our list offer a blanket warming effect on your feet. There is no smart targeting, just a one size fits all solution. Do heated socks with targeted heating exist?
Of course, the last entry on our list, the Lens heated socks, specifically target your toes and the balls of your feet. The two areas that require heating the most. You can decide what works best for you and then choose accordingly.
Sock Build Quality
Build quality is an important area that should be looked into when making any kind of purchase. But how does one specifically know when the build quality of best ski socks is worthy of a purchase?
The first thing to look out for is the materials used to construct the sock. Snow Deer heated socks aren't likely to tear up on you because they've got the right amount of spandex in their build.
Thin ski socks will tear up faster than thick socks. Socks like the Dr.Warm Wireless socks are built to last because of how thick they are.
Sock Comfort Level
Everyone wants to wear heated socks that are comfortable but sometimes, heat alone isn't enough to get the job done. But comfort can mean different things to different people.
For those who sweat more than others, the moisture-wicking fabric of the Smilodon heated socks could be just what they need. Maybe tight-fitting socks like the Dr.Warm wireless would provide more comfort to you.
This is a criterion that you must figure out based on your current preferences.
The Feasibility of Your Heated Socks
Feasibility is not something that could apply to other kinds of ski gear, but it certainly applies here. Heated socks are great, but if they are so thick that you can't even fit into your ski boots then they aren't a great option for you. It's better to refer to a proper ski boot size chart in order to get a perfect fit with these kinds of socks.
You'll want socks that are battery-powered because those are the only socks that you can realistically ski in. Fortunately for you, all of the socks on our list are battery-powered.
My Final Thoughts
Socks are a complicated business and there is more variety there than even I previously thought. To help you decide what pair of heated socks are best for you, figure out your fit, your optimal temperature setting, and their moisture-wicking capabilities.
With our buyer's guide above and these three factors in mind, you'll be able to quickly locate the perfect pair of socks to marry your feet to.
Keep in mind, that socks that are remote-controlled may be convenient but if you lose that remote, you'll have to enjoy whatever temperature you set them at last forever. I hope you choose wisely.