Riding a paddle board doesn't have to be an activity you only do standing up. Paddle boards are remarkably versatile and range from surfing and racing to touring and fishing. They are designed to be used across the whole scope of options the open water has to offer.
Paddle boards are accessible to even the beginner and are suited for all age ranges, making them the perfect hobby for families and solo enthusiasts alike.
Paddle boards are designed with a lot of extra features that make your chosen day out easier and more pleasurable, depending on what it is you hope to get up to.
The introduction of bungee webbing and multiple d-rings across the wide decks makes carrying luggage for long trips a breeze. Most paddle boards are able to carry a lot of extra weight in addition to their single riders.
The Winner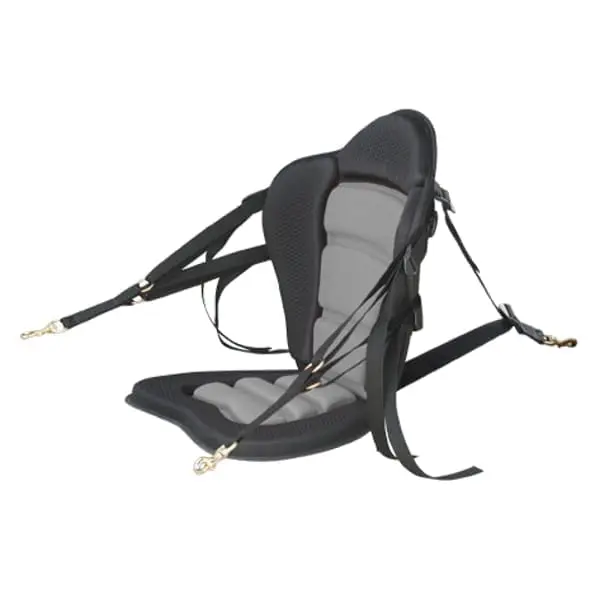 Bluefin Kayak Seat
SIZE: 10.8
DIMENSION: 12.598*3.483
Best Versatility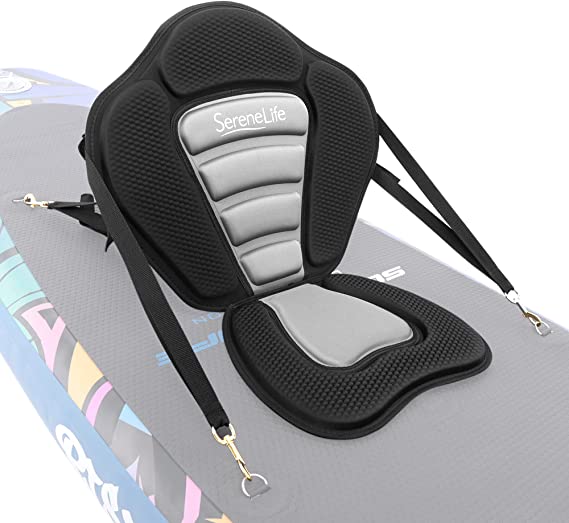 SereneLife Detachable
SIZE: 12.38
DIMENSION: 20.08*18.7
Great Compatibility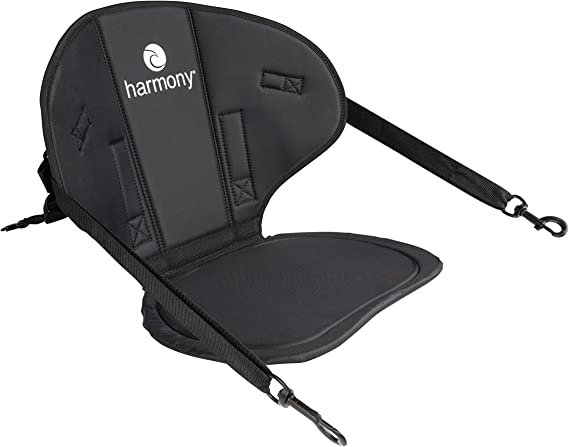 Harmony SUP Seat
SIZE: 21
DIMENSION: 21*14
Most Convenient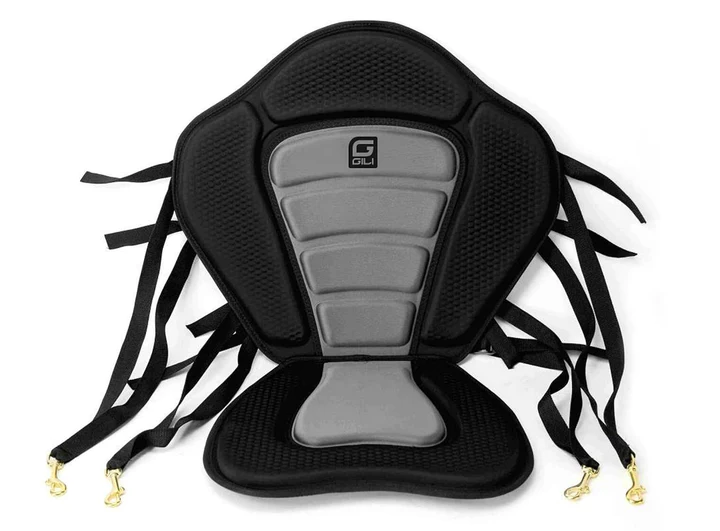 GILI Kayak Seat
SIZE: 15
DIMENSION: 21*30
Extra Softness
Kayak Seat Cushion
SIZE: 15.7
DIMENSION: 15*12.4
Super Comfy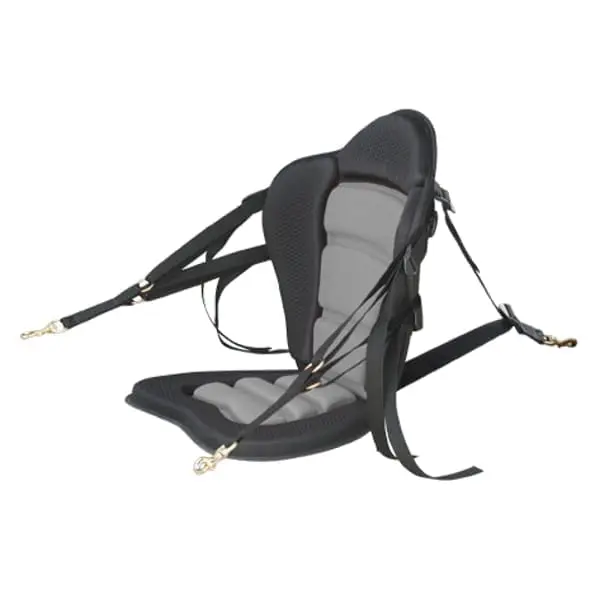 iRocker Kayak Seat
SIZE: 15.7
DIMENSION: 12.4*14
Heavy Duty Option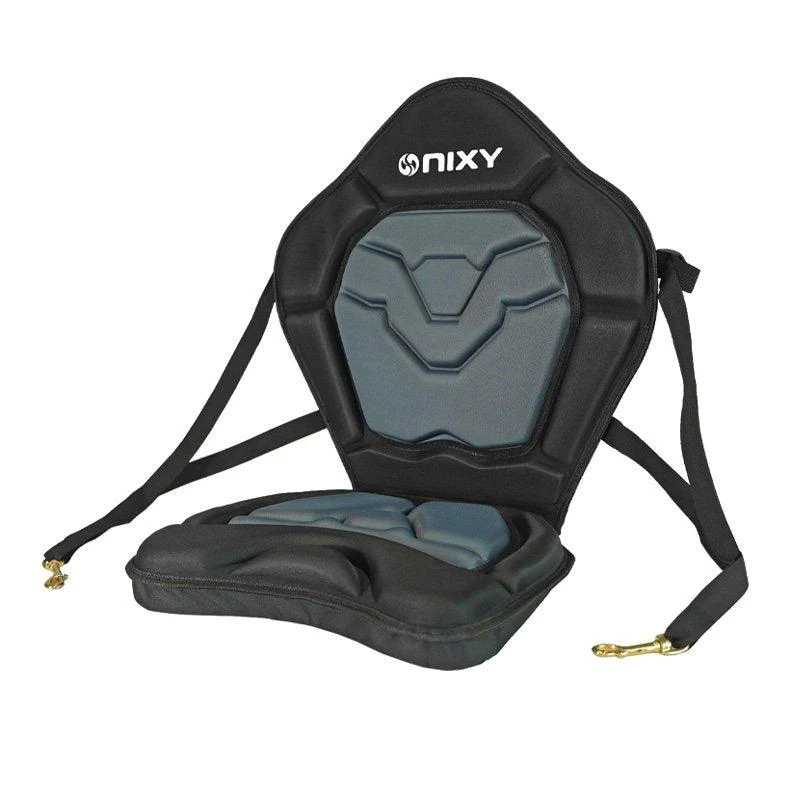 Nixy Premium Kayak Seat
SIZE: 15
DIMENSION: 10.6*33
Innovative Design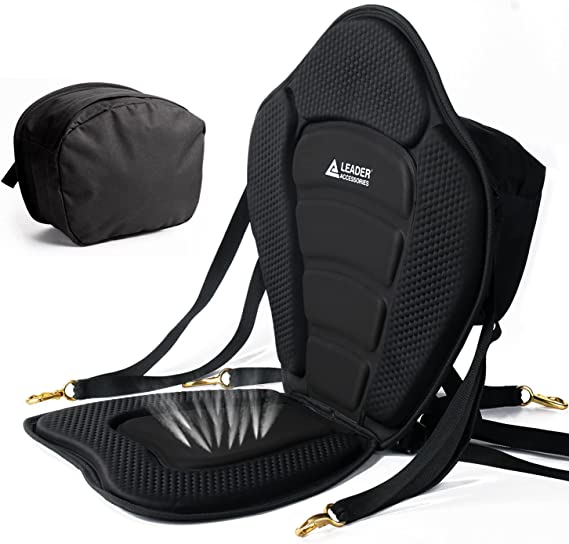 Leader Accessories Kayak Seat
SIZE: 21
DIMENSION:21*18.5
Best Value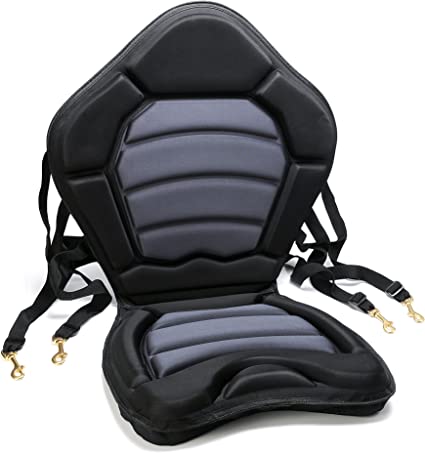 Ocean Motion Ergofit Kayak Seat
SIZE: 21
DIMENSION:19.76*18.78
Amazing Adjustability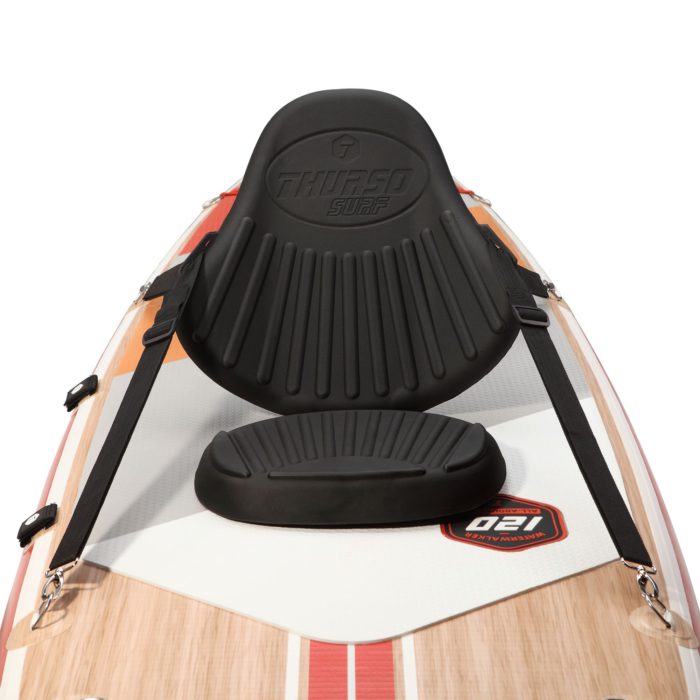 Thurso SUP Kayak Seat
SIZE: 21
DIMENSION: 18*18*6
Adding a Kayak Seat
Using the D-Rings and numerous clips, paddle boards are able to become just that little bit more adaptable.
By attaching a paddle board kayak seat to the deck of your inflatable paddle board, you have now transformed your stand-up into a kayak with almost no effort. The addition of a kayak seat will provide numerous benefits for many riders.
If you are planning longer trips or perhaps aren't quite as comfortable standing for extended periods of time, then the ability to ride in the sitting position would be ideal for you.
A paddle board seat is designed for ultimate ocean kayak comfort. The extra back support and padded supports around your body will release a lot of the stresses that can come with paddle boarding.
In addition to providing maximum comfort, the best paddle board kayak seats will also help you paddle in more adverse weather conditions. Although it is never advisable to go out in bad weather, if the wind and rain do pick up, lowering your center of balance will help you stay afloat on your SUP board.
10 Best Paddle Board Kayak Seats
If you have already invested in your own paddle board and are looking for a new way to ride or the next best accessory, then a paddle board seat is never a bad place to start looking. You will open the door to a whole new way to paddle and may even fall in love with kayaking.
I have perused the stores to find you a selection of some of the best that you may want to grace the deck of your paddleboard with. There should be something for everyone, beginners and veterans alike.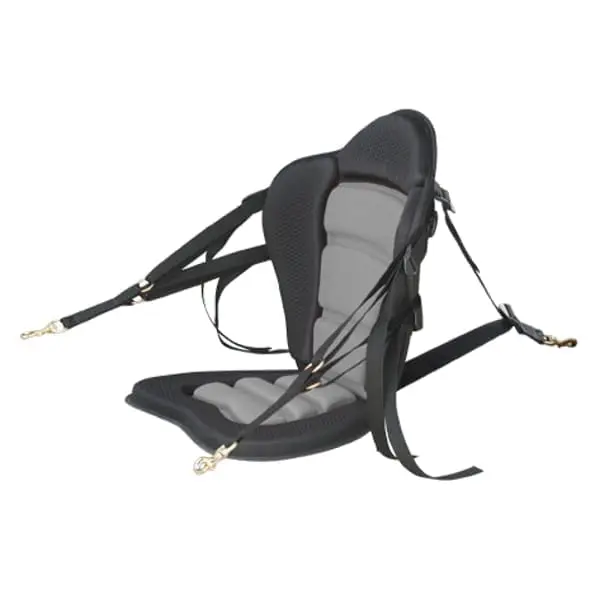 If you are already lucky enough to own one of Blue Fin's kayaks, then the Bluefin kayak seat will be perfect for you. They are annoyingly only compatible with a select few boards in their own range, but they do provide the expected quality from one of the better players in the paddle board market.
With multiple adjustable straps, this seat clips to the D-Rings of your sup via easy-to-install fasteners. The straps can be adjusted until you find whatever backrest potion is suitable for you and your height. Finding the most comfortable position has never been easier.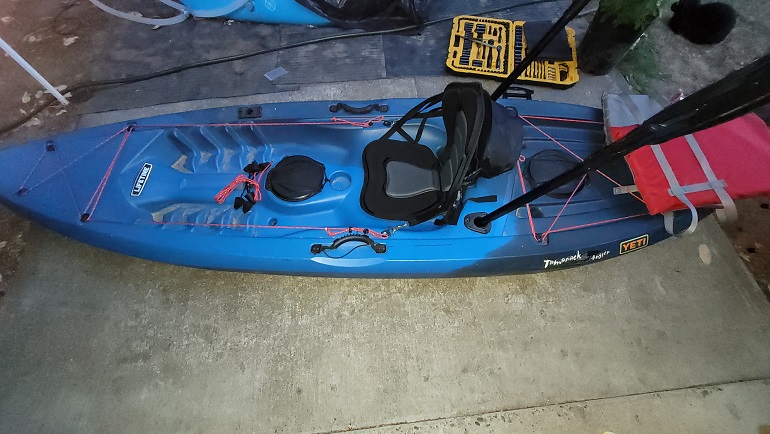 The whole seat is able to be easily folded down into a compact space and will easily fit under your webbing on the front or rear of the board. You will be able to simply and easily attach it even whilst out on the water. Once it is installed, you can enjoy the back support that a sitting position provides.
Summary
If you are riding one of the Bluefin Spring, Voyage, or Sprint models, then their custom-made kayak seat will be the ideal choice for this specific brand.
It is great quality, packs down nice and small, and is installed in seconds, even when out on the water. It is a shame that it is only reserved for a select paddle board.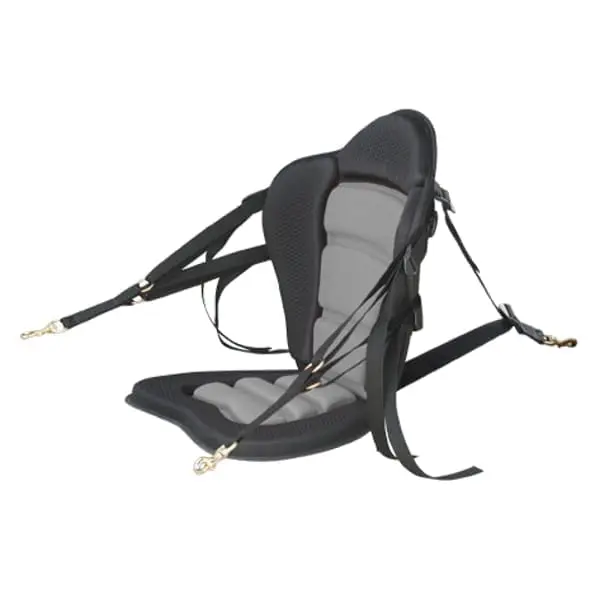 Bluefin Kayak Seat
The Price of "Bluefin Kayak Seat" varies, so check the latest price at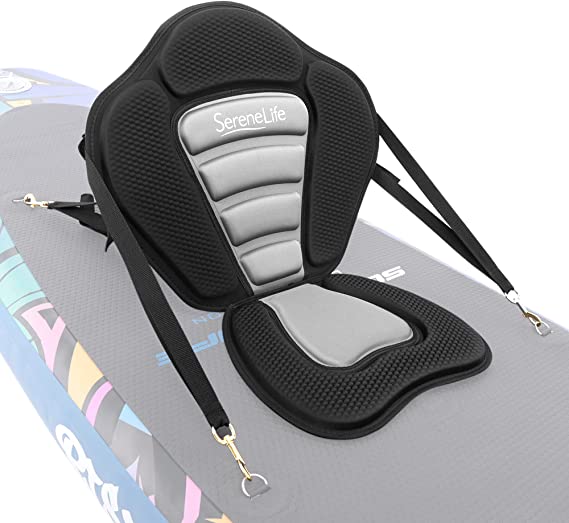 When you buy equipment that is designed to be in the water and under the duress of sport, you need to know that it will stand up to the stress and strain this entails.
Serene life has made a durable kayak seat that can be attached to far more than just your paddle board. Versatility and toughness are the names of the game with this kayak seat.
A durable EVA foam interior provides not only a tough kayak seat but also solid back support that is suitable for multiple sizes and weights of body. The thick padding provides comfort even over a long day out on the seat cushion. The cushion is all held secure and kept dry with a lightweight polyester exterior.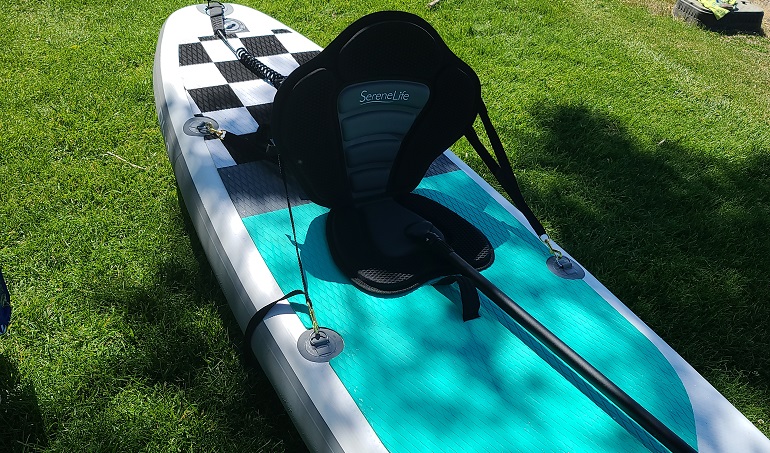 Serene life has chosen to use copper on their high-grade hooks, this is a great thing if you're planning to be in more corrosive waters such as the salt of the sea.
Copper is one of the materials that cope with rust and corrosion much better than its more commonly used counterparts. You can rest assured that the clips keeping you secure in position won't break from the D-Rings anytime soon.
Summary
Invest in a seat that will not only keep you comfortable on your long paddling trips but will also see you through many a journey.
The form-fitting design is more durable than other kayak seats and can still provide enough support that you need whilst out there for long periods of time. The high-quality hooks and solid padding make this seat a sound choice.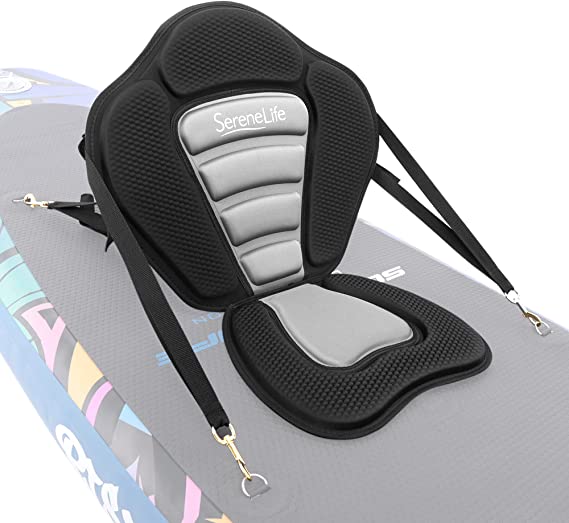 Serene Life Detachable Paddle Board Seat
The Price of "Serene Life Detachable Paddle Board Seat" varies, so check the latest price at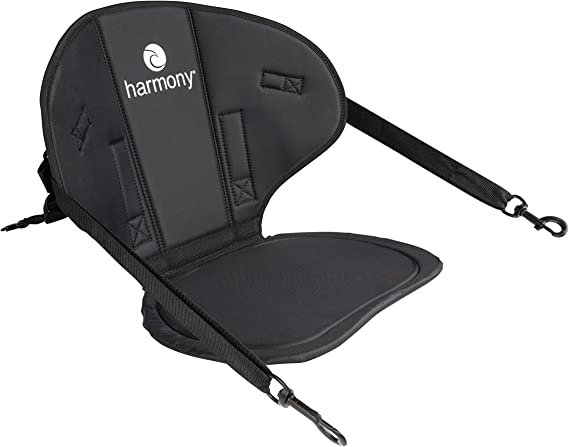 Harmony has made a kayak seat that is simple, easy, and widely compatible. It is made to be strapped to anything with ease and takes up almost no room on your SUP board deck.
You'll hardly notice it's there until you decide it's time to take a seat and pull it from your webbing. It isn't packed with paddle board seat features, but if you need a no-nonsense and cheap seat option, then look no further.
If you don't have much space on the SUP you are going to want to save as much room as possible. The compact and lightweight nylon construction take up almost no area when folded away and still takes up a minimal area when actually deployed.
It does not provide a huge amount of neck and back support, but for a short trip, it is a perfect inflatable paddle board seat.
Summary
For a chair that will be compatible with almost any brand's paddleboard and will easily fit into a bag, you could do a lot worse than this. The simple and efficient board seat is easy to adjust, provides adequate support for shorter journeys, and won't slip around on top of your inflatable SUP.
Don't expect incredible comfort but if you just want to sit down for short periods and don't want to lose out on luggage, then opt for this.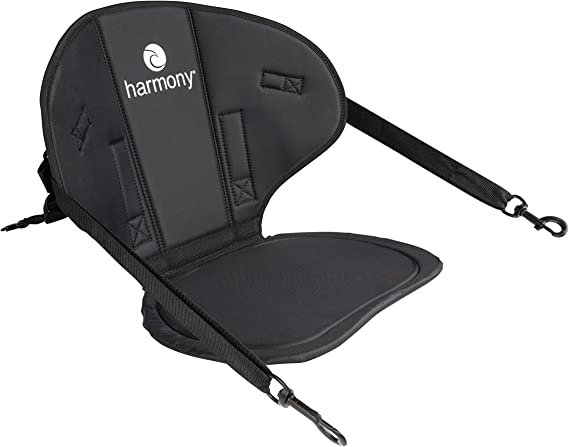 Harmony SUP Seat
The Price of "Harmony SUP Seat" varies, so check the latest price at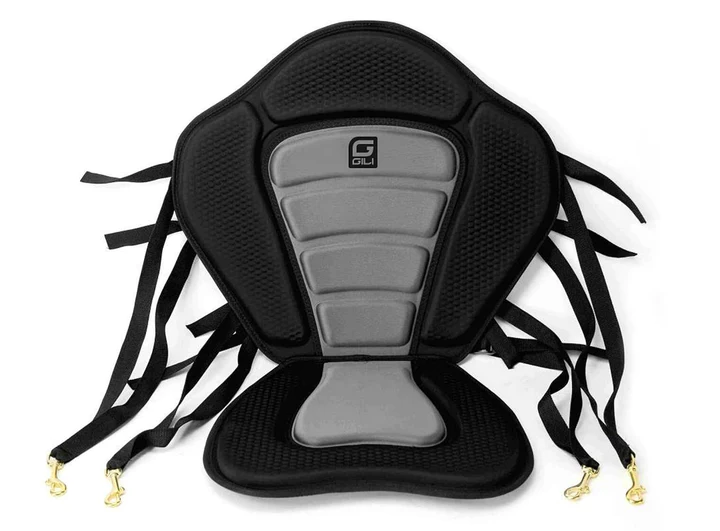 If you still want to get out there on your paddle board but just don't have the energy in your legs, then a kayak SUP seat is the next best thing.
Whether you have had damage to your legs, such as a sprained ACL, or just find more comfort when in a sitting position, then give this seat a go.
Simple snap hooks make connecting this chair to your SUP super easy, even when out on the water. Four adjustable straps can change the positioning with little effort.
Simply slide the straps to where you find the support you the most. The backrest shouldn't be uncomfortable with a few simple tweaks.
The seat is made of thick neoprene foam and high-quality materials that are resilient and unlikely to break even under heavy usage. The kayak seats' strong clips secure the D-Rings around the inflatable board surface, locking it down.
When not in use, it can be packed down and stowed under the forward netting.
Summary
This is another paddle seat that is only suited to one brand's boards. The seat is built for Gili paddleboards and may not work with other brands' inflatable SUPs.
The thick padding, sturdy back straps, and excellent support still make this a great choice if you want to be able to sit back and relax while you enjoy the joys of paddling experience.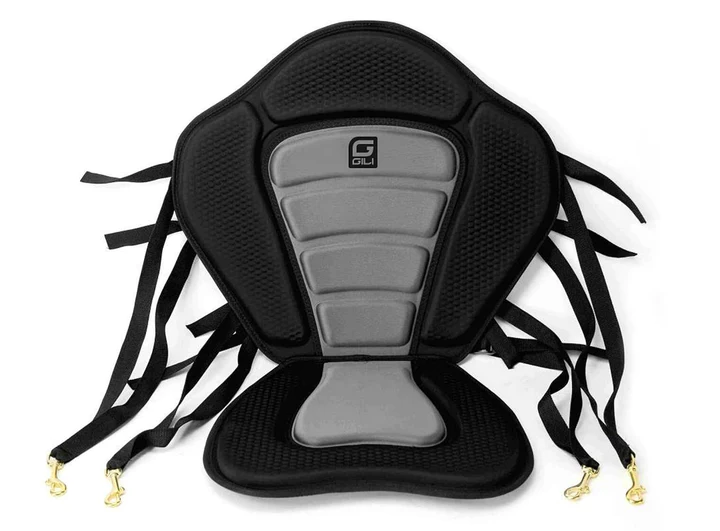 GILI Kayak Seat
The Price of "GILI Kayak Seat" varies, so check the latest price at
One of the features missing from a lot of SUP seats is a decent cushion on the bum pad. A SUP can be very hard, and a lot of the gear we have looked at today doesn't provide that much comfortable cushioning.
On a long trip, you may really start to feel the lack of foam. iRocker has come up with a suitable solution, a super easy-to-install booster seat cushion.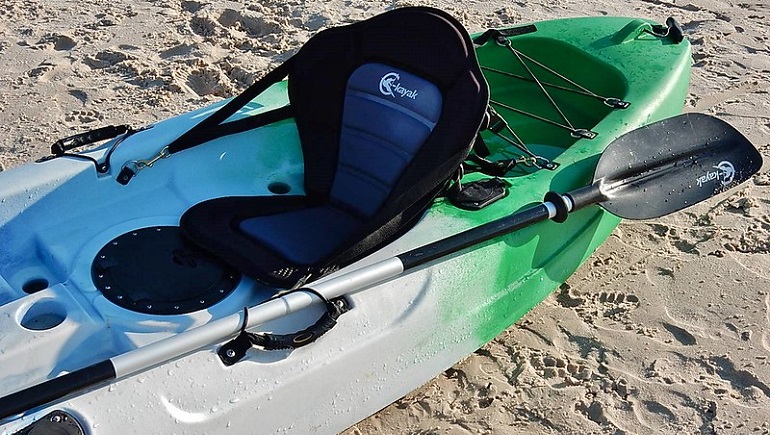 Sitting right in the middle of a SUP can become quite uncomfortable, even with good back support. Inflatable boards are surprisingly hard, especially when sitting for extended periods of time.
This is a cushion you can attach beneath your board seat for some extra height and relief. A happy bum makes for happy paddling.
Summary
Want extra padding for your bum? Get some!
Kayak Seat Cushion
The Price of "Kayak Seat Cushion " varies, so check the latest price at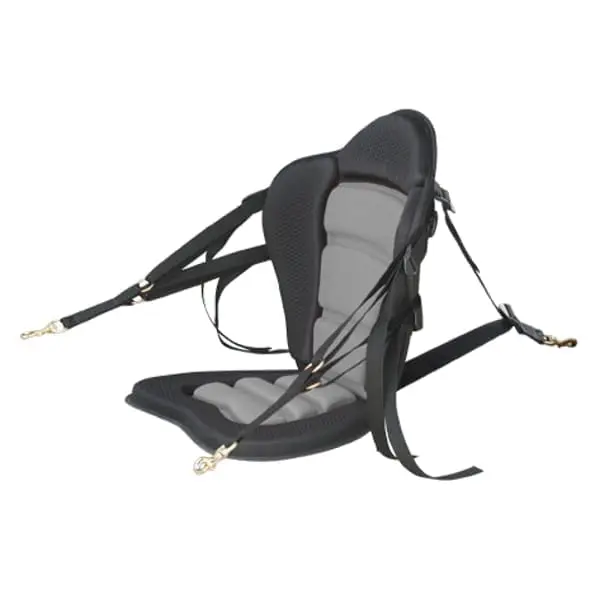 Sit in comfort with the iRocker kayak seat. iRocker is a name synonymous with quality in the paddle boarding industry, and you can have no doubt they'll make a SUP seat that they're happy to put their name on. Simple adjustable straps and padded supports make this a seat worth sitting in.
Unlike a lot of other seats we have looked at today, this features a high back design which is perfect for the extra back support you may find you need after a few days out in a row.
Paddleboarding can be a strenuous sport on the whole body, so when you sit, you want to really feel the padded foam cushion and support. The high-back design adds plenty more comfort.
If you are using your paddle board for fishing, you may find the better design of the backrest helps when trying to reel in a catch.
Excellent hooks hold the straps of the seat securely to the D-Rings around your best stand-up paddle boards.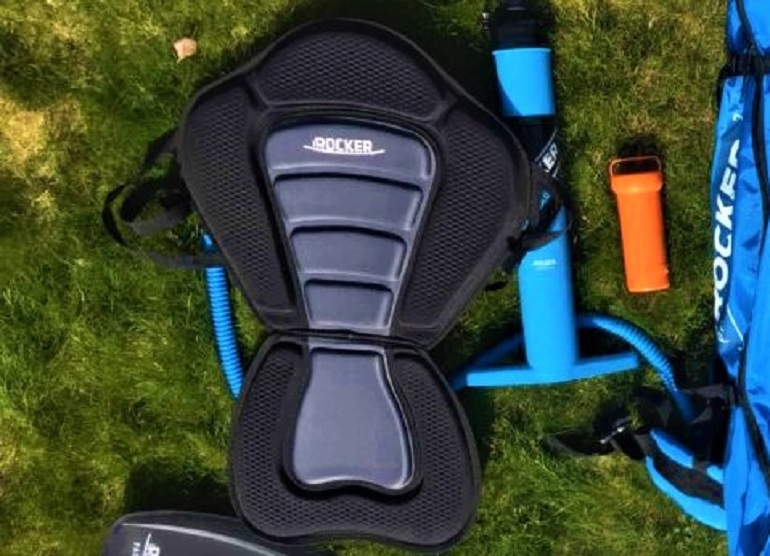 The front straps can be adjusted to move the seat further forward along the upper side of your paddle board kayak, and the rear straps will alter the backrest position. The SUP seat is quick and easy to install on your paddle board, even out on the water.
Summary
You can relax in a comfortable board seat that is only improved with the previously reviewed cushion. This is one of the greater kayak paddle seats out there with its multiple features and better design.
The excellent hooks are easy to install, and their durable waterproof design will last you as long as your paddle board.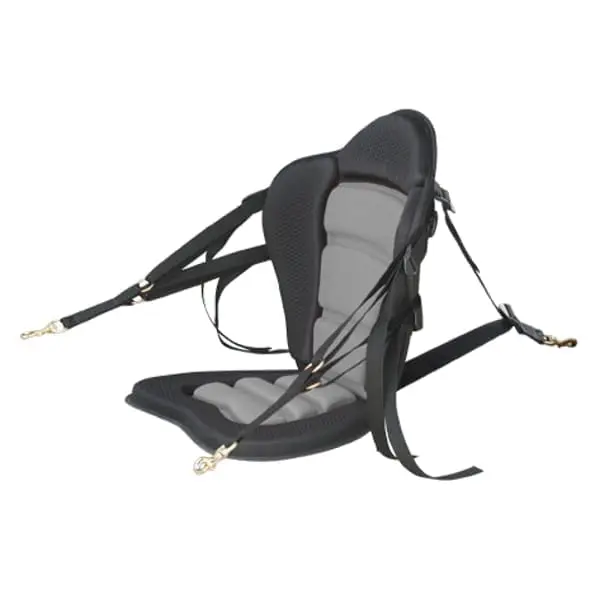 iRocker Kayak Seat
The Price of "iRocker Kayak Seat " varies, so check the latest price at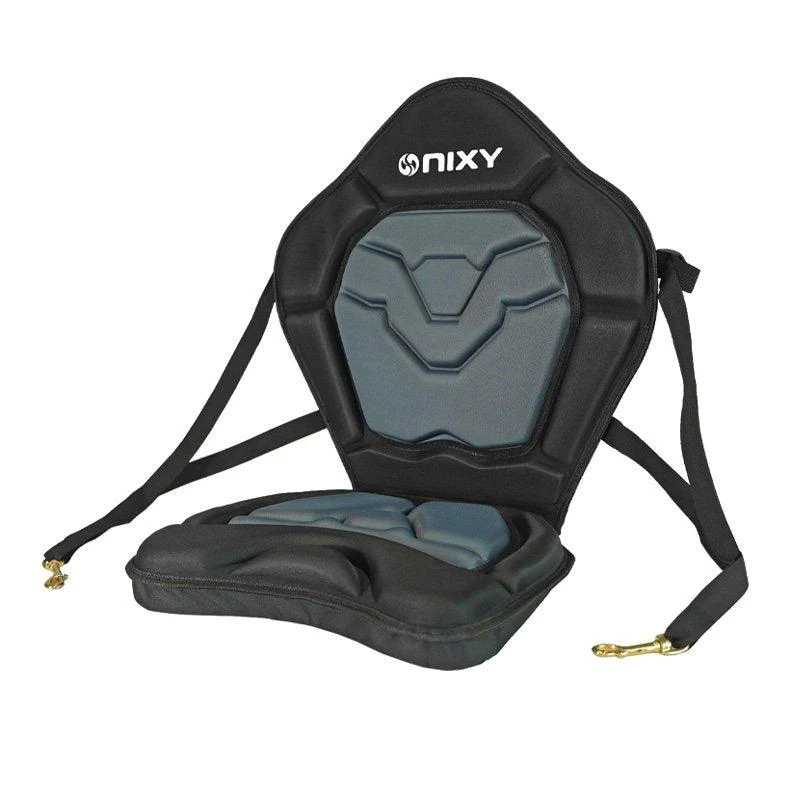 This is a paddle board seat that means business. It is heavy-duty, has excellent foam padding, and has a few other nice-to-see features. For riders carrying a little extra weight, the deep cushion foam will provide a comfortable ride on any SUP.
Thick padding is provided by EVA cushion throughout the whole construction of this paddle board seat. Sitting on a thin kayak seat for an extended period of time can become very uncomfortable, you can't exactly bring along a pillow from home for relief, they're not known for being water resistant.
The kayak seat features a detachable storage bag connected to the rear of the back support. The detachable storage bag is ideal for keeping sun cream or a water bottle in for easy access whilst paddling.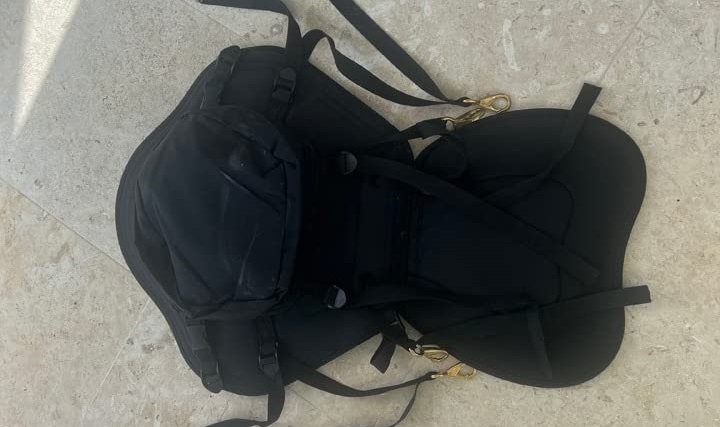 This SUP seat is supported by only two adjustable straps. They secure to the D-Rings via hooks in front of the riders sitting position and can be adjusted by tightening the seat front straps to pull the backrest forward.
Summary
The thick padding and hardy foam make for a comfortable and well-padded trip. The addition of the bag to the backrest is a great feature to see, especially if you have a light load and only need one easy-to-remove bag for essentials or small fishing goods.
It is a shame to see the seat features only two adjustable straps on the kayak seat, but with the strength provided by the thick SUP seat, it may be enough to provide the seat with some reliable stability.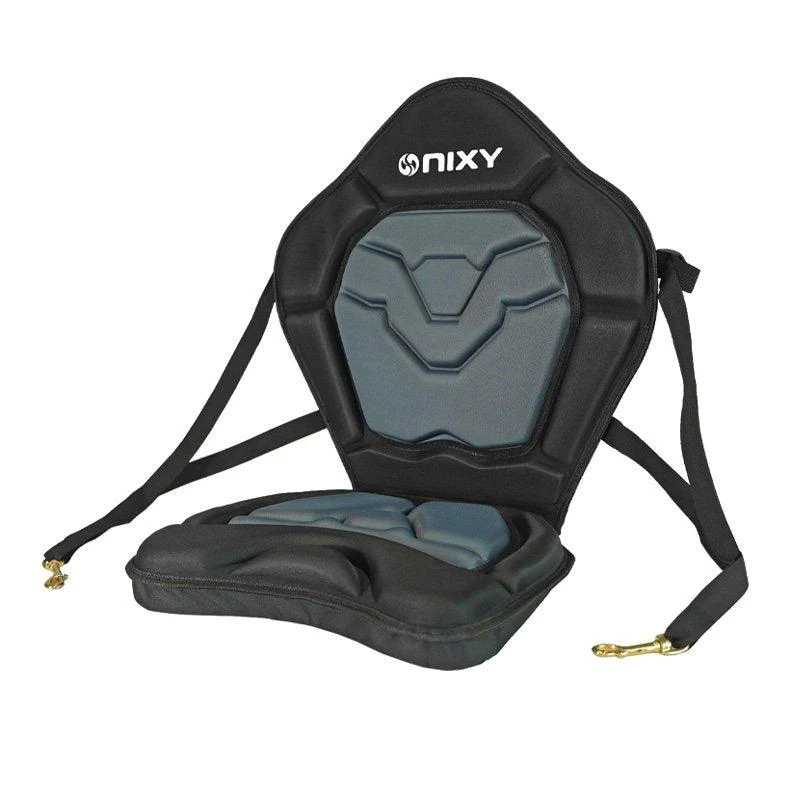 Nixy Premium Kayak Seat
The Price of "Nixy Premium Kayak Seat" varies, so check the latest price at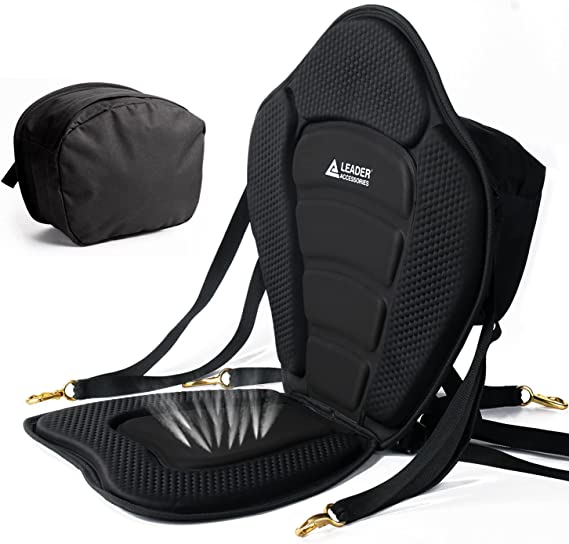 Some serious market research and care have gone into the design of this paddle board seat, which has resulted in a product that has all the seat features you would like to see, plus a couple of extras.
The high back support makes for a well-supported sitting posture while riding your paddle board as a kayak. The kayak seat is designed to work with you when you want to sit and paddle rather than stand. The seat features an ergonomic design with supportive padding down the middle and sides.
The seat features marine-grade brass connecting hooks to link to the D-Rings on your gear. The hooks hold the four straps to your board and are suitable for a wide range of both sit-on kayaks and paddle board seats.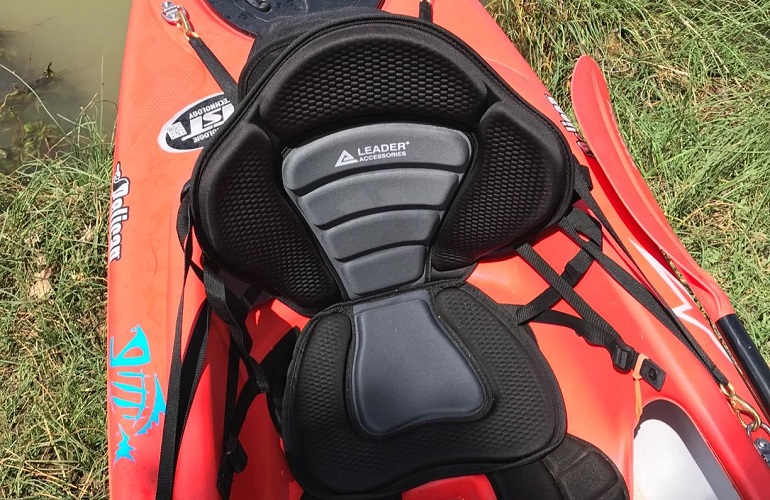 Leader Accessories paddle board kayak seat comes with its own carry bag. You can attach this to the back of the deployed kayak seat as extra storage whilst you paddle your SUP around.
Summary
Packed with features and comfortable for any and all riders, this seat can adjust to whatever is needed of it. Great levels of high-quality foam padding line the high backrest and deep SUP seat.
The ability to attach the transport bag to the kayak seat makes this a product to reckon with. Not the smallest or most lightweight, but comfortable and packed with great features.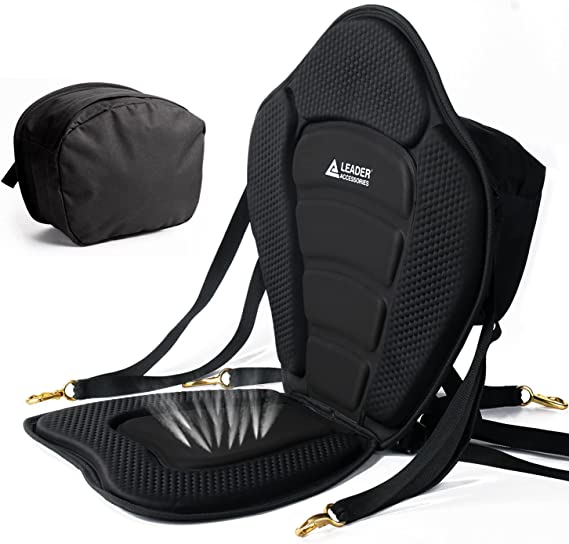 Leader Accessories Kayak Seat
The Price of "Leader Accessories Kayak Seat " varies, so check the latest price at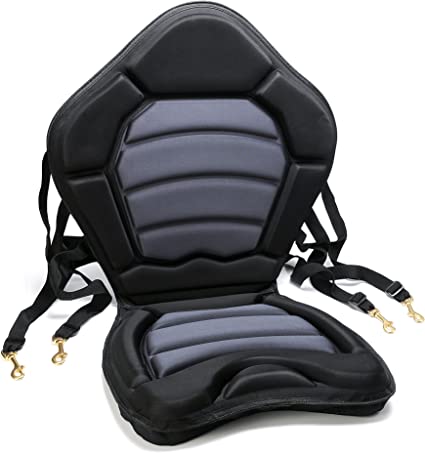 For a light and compact paddle board kayak seat that won't break the bank, look no further than the Ocean Motion Ergo fit. You can take the strain out of long days standing up and paddling with this streamlined kayak seat.
You can quickly and easily connect the kayak seat to your board through the four hooks attached to the long straps. The straps are able to adjust to a remarkable 22″, meaning they will be suitable to attach to even the largest paddle board.
The reinforced construction makes for a comfortable ride, even on extra-long trips. After a big day standing and paddling you want to be supported throughout your whole back when you finally decide to move to the seat on your SUP seat.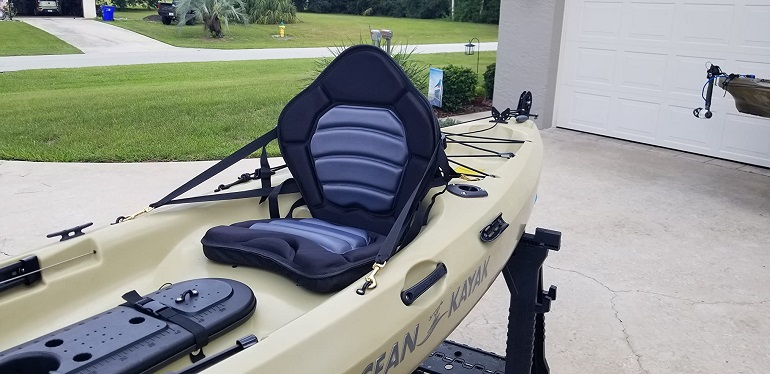 Like the previous model, this paddle board kayak seat comes with a storage bag you can attach to the rear of the seat adding storage for all the essentials you may need. Extra water and nutrition will never go amiss whilst out on the water.
Summary
This is the perfect SUP seat for the larger paddle board. The straps adjust to a wide board with ease and can accommodate the largest of decks.
The handy transport bag makes for a helpful feature that allows you to take even more with you on your kayak trip. Good support and adequate padding make for a great choice in a paddle board seat.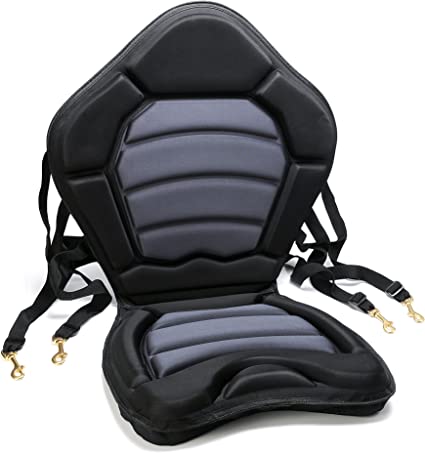 Ocean Motion Ergofit Kayak Seat
The Price of " Ocean Motion Ergofit Kayak Seat" varies, so check the latest price at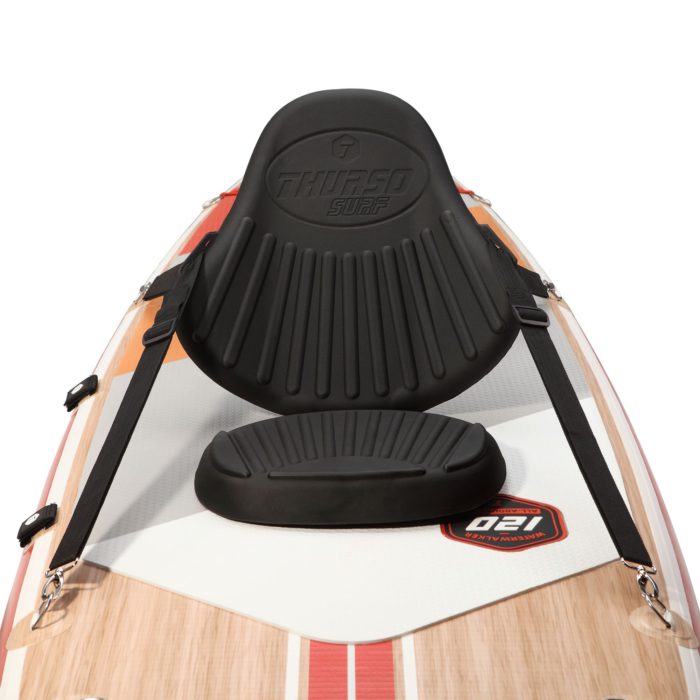 For ultimate comfort whilst riding your paddle board as a kayak, choose the Thurso kayak seat. It is easy to attach and offers the ultimate in deep padding and back support.
Not necessarily the most portable of the selection seen today but still a good contender for beginners and advanced alike.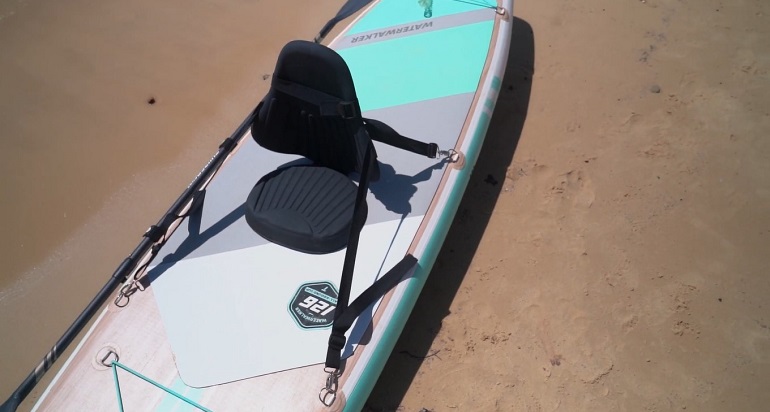 The first thing to point out is the depth of the foam on this seat. It is made to keep the customer not only extremely comfortable in the soft cushioning but also seated in an ergonomically optimal posture for paddling. The deep seat and supporting back will help with power and energy expenditure.
The four straps are easy to adjust to whatever position you need and whatever size board you may be riding. Simply adjust the clips on the straps and move the padded seat to your desired placement. The adjustable hooks secure tightly to the rings around the SUP.
Summary
If you want something that will keep you comfortable and be as adjustable as you need, then this is the paddle board kayak seat for you.
Deep foam and multiple straps make for a seat that stands out from the rest in luxury. It doesn't pack down small but still comes with its own transport bag for ease.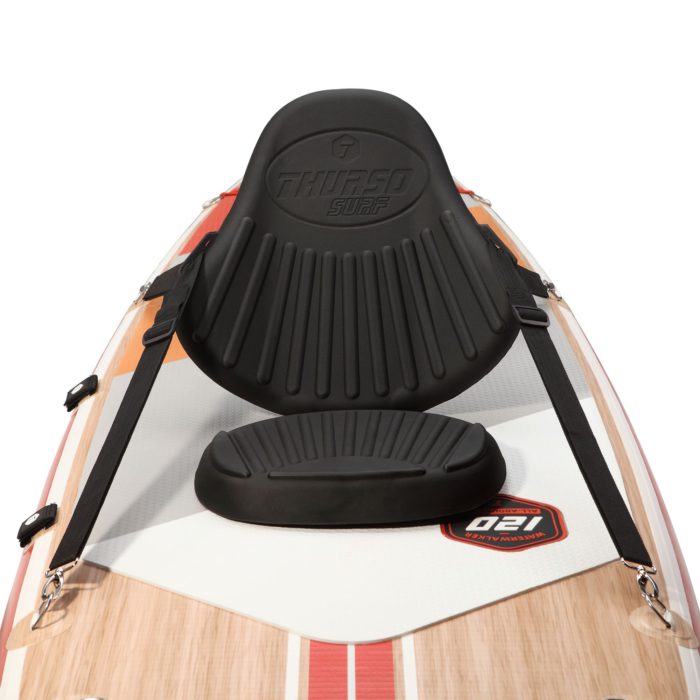 Thurso SUP Kayak Seat
The Price of " Thurso SUP Kayak Seat" varies, so check the latest price at
A Buyers Guide
Knowing what you're looking for before you start looking is half the battle won before it's fought.
Compatibility
This is an important one. A number of the paddle board seats we looked at today are made only for their particular models of boards. There is a chance these kayak seats will be compatible with other makes, but it is best to check or just buy a universal mount.
A kayak conversion kit with a kayak seat attachment is an excellent solution for those looking to enhance their kayaking experience.
Inflatable Vs Non-Inflatable
You will rarely find an inflatable paddle board kayak seat on the market. Paddle board seats are usually designed to be packed down small enough to fit on the webbing of your SUP and so aren't necessary to inflate.
Material
Ensure that whatever you are buying is both waterproof and made of durable foam that won't compact and become hard after only a few hours. High-quality EVA foam is always something to keep an eye out for.
Padding and Size
The smaller and more portable paddle board seats will sacrifice padding and comfort. The choice is yours, versatility over comfort.
A Few Frequently Asked Questions
Saving you the google search later.
What Is a Paddle Boards Seat Made Of?
Usually waterproof synthetic material over heavy-duty foam padding inside the seat.
Can All Paddle Board Kayak Seats Be Attached to All Paddle Boards?
No, some paddleboards don't have the necessary connections, and some kayak seats are only made for specific models of SUP. Be sure to check compatibility.
As a Final Thought
As long as you're having fun, it doesn't really matter how you ride your stand-up paddle board. Sitting, standing, or even standing on your head are all viable options as long as you're enjoying yourself. Paddle boarding is supposed to be fun, so if a seat is a way you're going to have the best time, then go for it.
I hope my list of best kayak seats helps you find what you're looking for, and remember, stay safe, paddlers!