Unless you want to squint your way down the mountain, a solid pair of goggles is a must-have.
I remember when I decided not to wear goggles on a sunny mountain day.
Big mistake!
In case you're not aware, the sun reflects off the white snow and seriously messes with your eyes. You might not notice it at first, but it can be pretty blinding when you get home. One time, it was so bad that I had to stay in a dark room for days.
Goggles are just as important on snowy, cloudy days. Try skiing at full speed down a mountain while being constantly pelted with icy snowflakes.
Take it from me:
Riding with your eyes closed might seem kind of fun at first, but it's risky as hell with a serious chance of colliding with trees, other people, or fences.
The obvious solution is to get yourself a pair of goggles.
Best Overall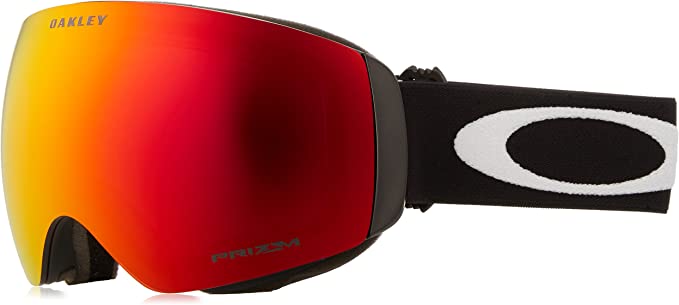 Oakley Flight Deck XM
Color: Matte Black
Material: Nylon
Best Ventilation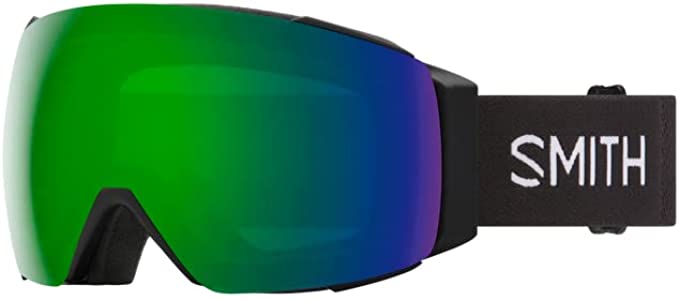 Smith I/O MAG Snow Goggles
Color: Black
Material: Plastic
Most Adaptable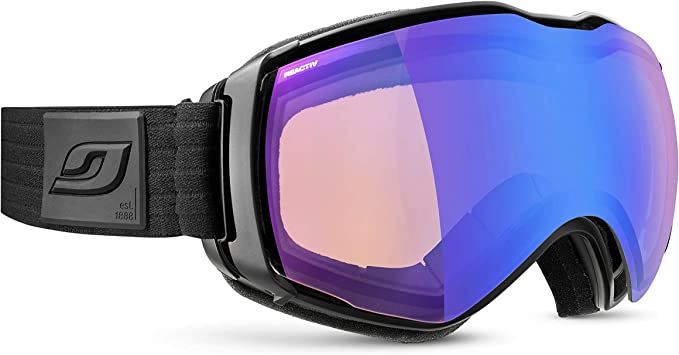 Julbo Aerospace Snow Goggles
Color: Black, Red
Material: Silicone
Best Value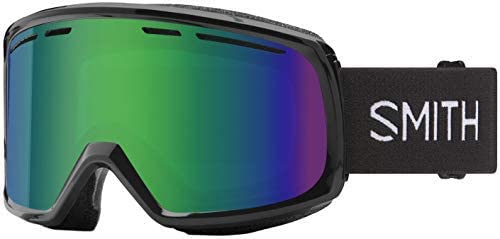 Smith Range Sunglasses
Color: Black / Green
Material: Metal
Advanced Technology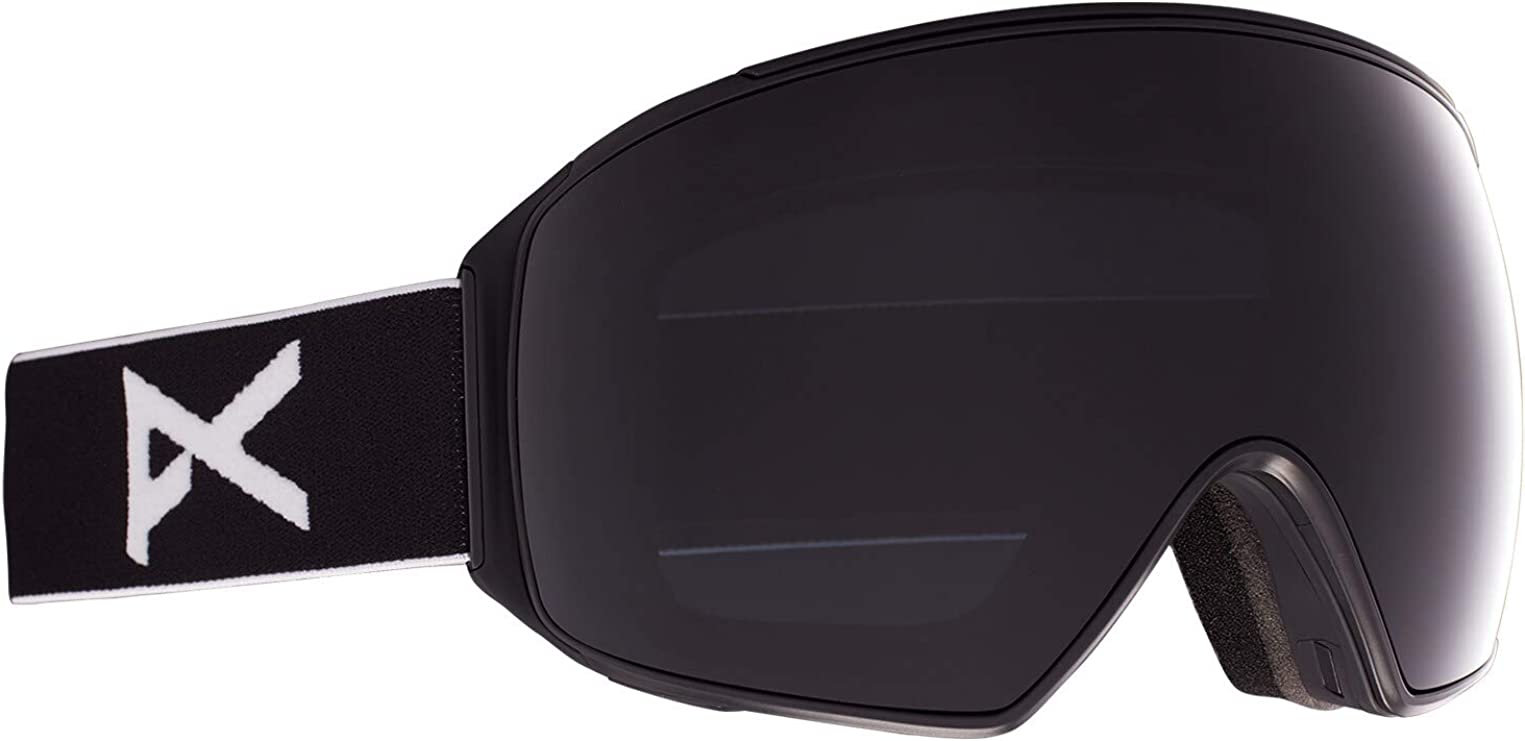 Anon M4 Toric Polarized Goggles
Black / Polar Smoke

Material:

Acrylonitrile Butadiene 
The Best Anti Fog Ski Goggles Available
All ski goggles aren't created equal – and it makes sense to spend a little extra for a few additional features like anti-fog technology, long-lasting durability, and style.
If you're looking for the best anti-fog ski goggles, you've come to the right place.
Enough talk!
Here are the best anti-fog ski goggles you can get your hands on today.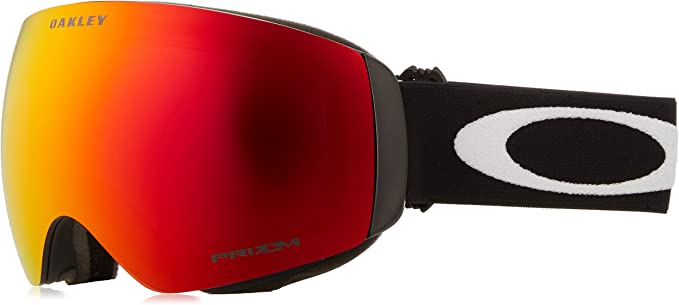 Oakley is a brand that needs no introduction, and some of the best pro skiers rely on Oakley goggles.
But do these Oakley Flight Deck prevent goggle fogging?
From my own personal experience, I experienced solid visibility with these goggles in virtually all conditions. While hints of fog appeared from time to time, it would clear up almost instantly.
This is thanks to the F3 anti-fog coating – but that's not the only thing that boosts visibility here.
You also get plutonite lenses and a fighter-pilot-inspired shape that maximizes your field of view – while making you look super cool in the process!
All in all, it's a solid choice – but be prepared to drop some major cash.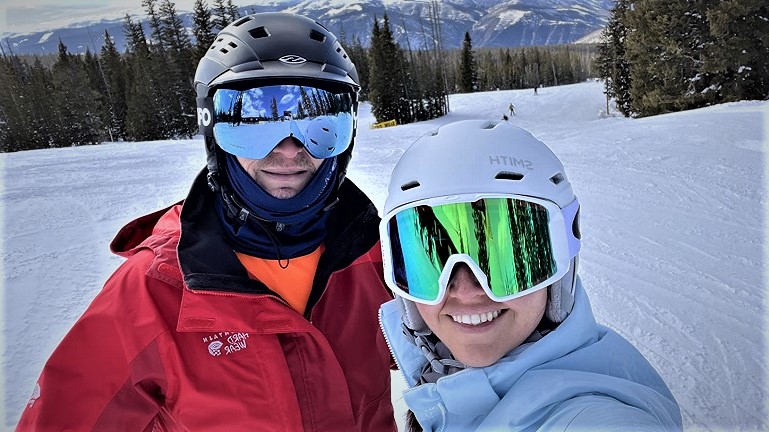 Top Features
F3 Antifog lens coating
Spherical lens shape
Solid style points
Polycarbonate frames
Pros
Wide field of view
Fog clears up almost instantly
Stylish design makes you feel like a pro
Cons
Only one lens included
Anti-fogging technology could be better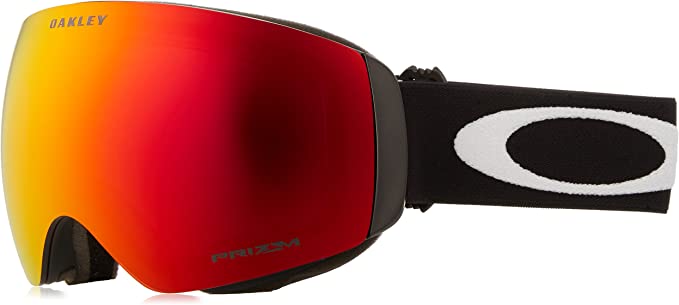 Oakley Flight Deck Goggles
The price of "Oakley Flight Deck Goggles" varies, so check the latest price at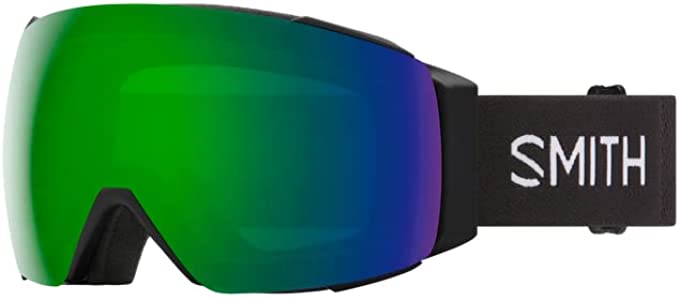 Smith is another extremely reputable brand in the ski goggle world, and their Smith I/O MAG goggles represent the latest evolution in their company's history.
Solid airflow and ventilation combine with Smith's highest level of anti-fog treatment for incredibly clear views.
Add the I/O "widescreen" design and ChromaPop lenses to the mix, and you have a pair of goggles with high-contrast, wide-angle fields of view.
I have to hand it to Smith:
This is a pair of anti-fog snow goggles that you can really rely on.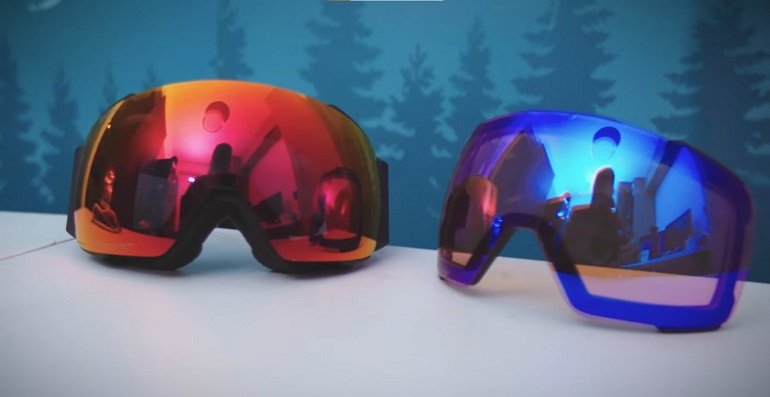 On the other hand, one of my friends has a really large face – and he complained that even the XL version was too tight.
Top Features
Anti-fog coating
Boosted airflow and ventilation
Compatible with Smith helmets
Quick-snap MAG lens system
Pros
Ventilation and anti-fog coating keep your vision clear
ChromaPop lenses boost contrast for solid views in low-light conditions
Cons
Might not fit larger faces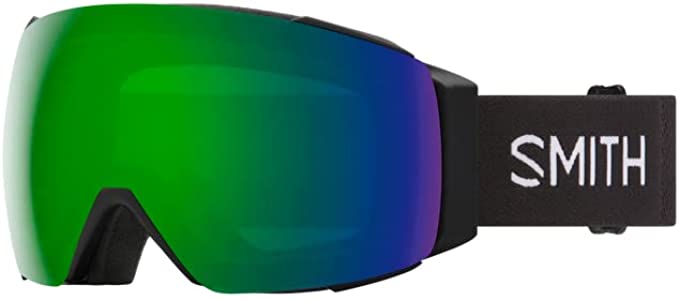 Smith I/O MAG Snow Goggles
The price of "Smith I/O MAG Snow Goggles" varies, so check the latest price at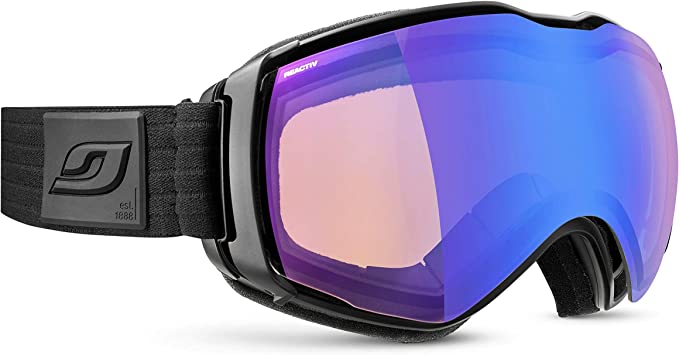 Slightly lesser known than Smith or Oakley, Julbo nevertheless produces solid goggles with plenty of exciting features.
The REACTIV lenses really impressed me, and these Julbo Aerospace goggles automatically adjust based on current conditions. This gives you a VTL range between 17% and 75%.
But what about the anti-fog coating?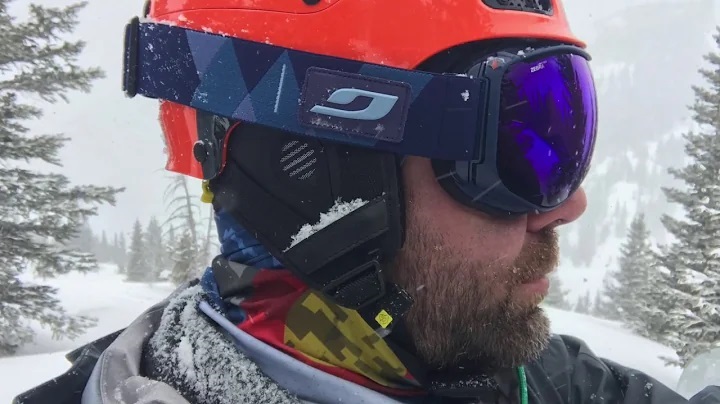 The cool thing is that the anti-fog layer is on the inside of the goggles.
Truth be told, I experienced a little bit of fog on the chairlift, but the built-in ventilation system cleared everything up by the time I started hitting the run.
Top Features
Spherical lenses
Photochromic lens
Long-lasting anti-fog coating
Pros
Photochromatic lens gives you complete versatility in any light conditions
Good ventilation and anti-fog coating clear up your vision as soon as you get moving
Cons
You'll still see a little fog on the chairlift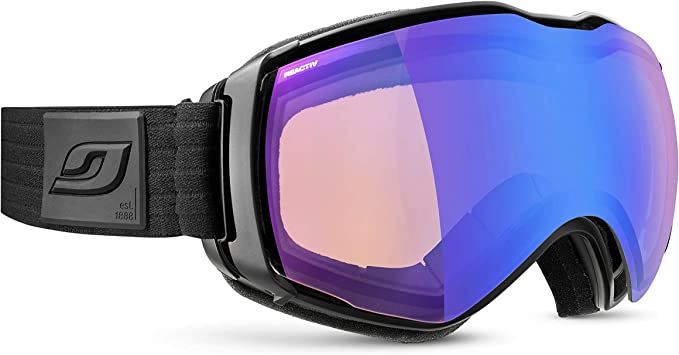 Julbo Aerospace Snow Goggles
The price of "Julbo Aerospace Snow Goggles" varies, so check the latest price at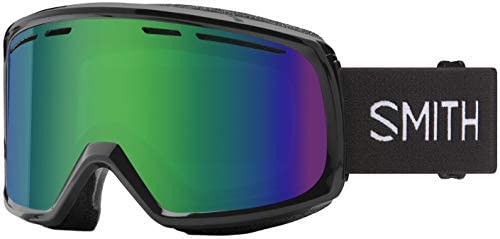 If you're looking for a more affordable pair of goggles that still provides plenty of anti-fog punch, then you might want to reach for a pair of Range goggles from Smith.
I picked up a pair of these after my previous (expensive) goggles finally fell apart on me halfway down the mountain.
I just needed a quick, easy, and cheap replacement.
I have to admit, I'm pretty impressed. I don't expect them to last forever – and they certainly won't win any style points.
But Smith goggles are functional, and durable, and they keep my vision clear.
What else could you possibly want in a pair of goggles?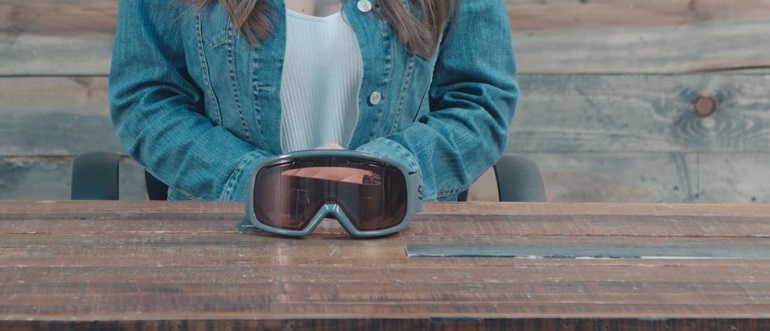 The DriWix face foam provides plenty of ventilation, combining with the Fog-X inner lens to seriously reduce fogging, moisture droplets, and anything else that might interfere with your vision.
Smith also makes these in a wide range of colors, so you can choose an option that matches your personal sense of style.
The only thing is that I'm not exactly sure how long they'll last – a few of my friends have reported issues within a few seasons. But for $80, it's hard to expect much more.
Top Features
Affordable
Tons of color options
DriWix face foam
Fog-X anti-fog inner lens
Pros
Affordable yet functional
Great selection of colors
Reliable anti-fog features
Cons
Might not last many seasons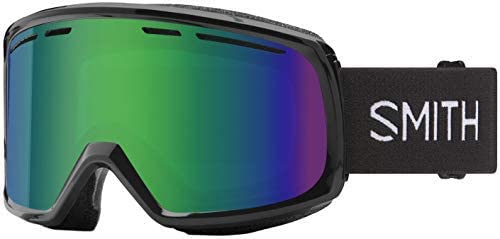 Smith Range Sunglasses
The price of "Smith Range Sunglasses" varies, so check the latest price at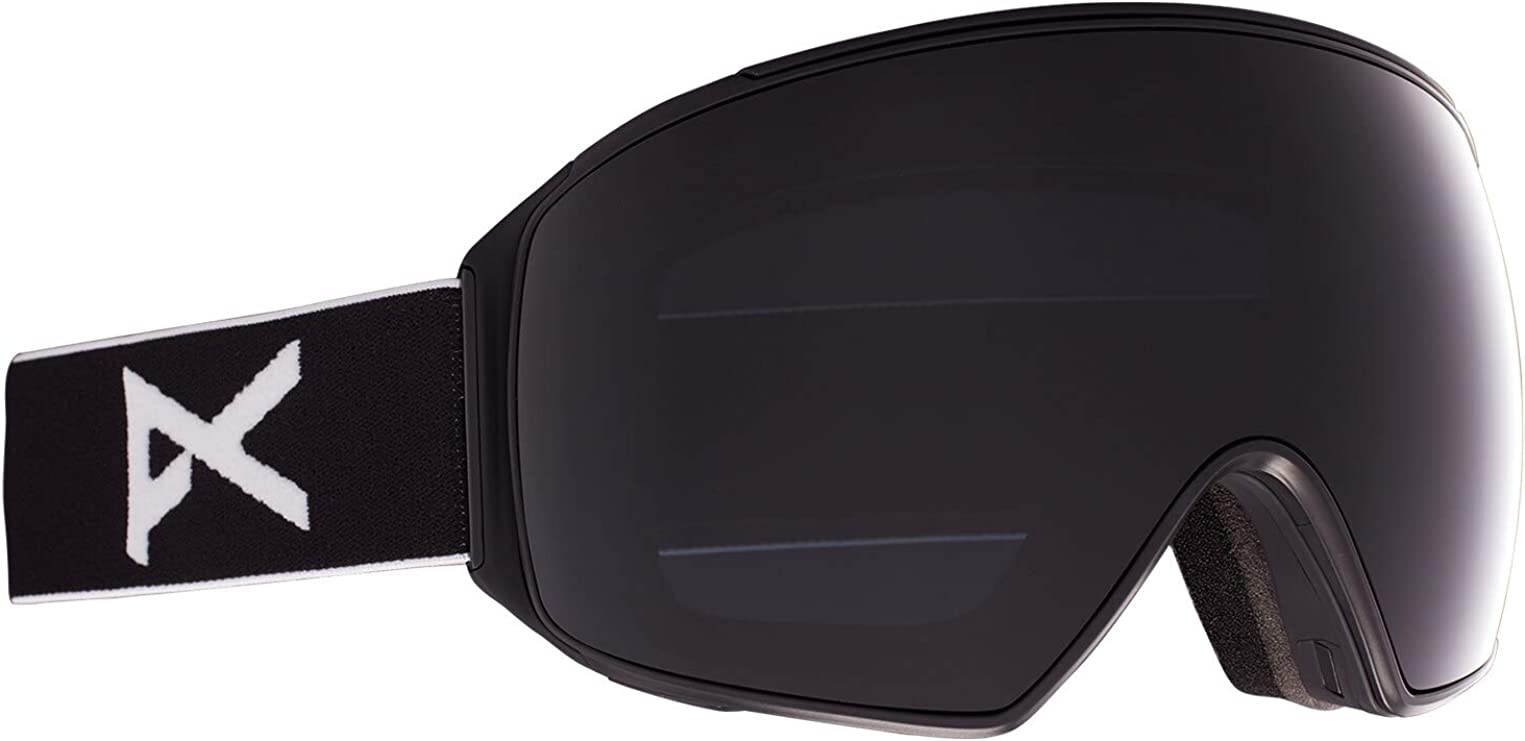 While the Anon M4 Toric Polarized Women Ski Goggles will cost you a pretty penny, you'll also get access to some crazy advanced features.
First up, you have polarized toric lenses – definitely not something you see in every pair of goggles, and it makes a real difference on the mountain.
It also comes with an MFI facemask and a microfiber goggle bag – so you get a lot of goodies for that higher price.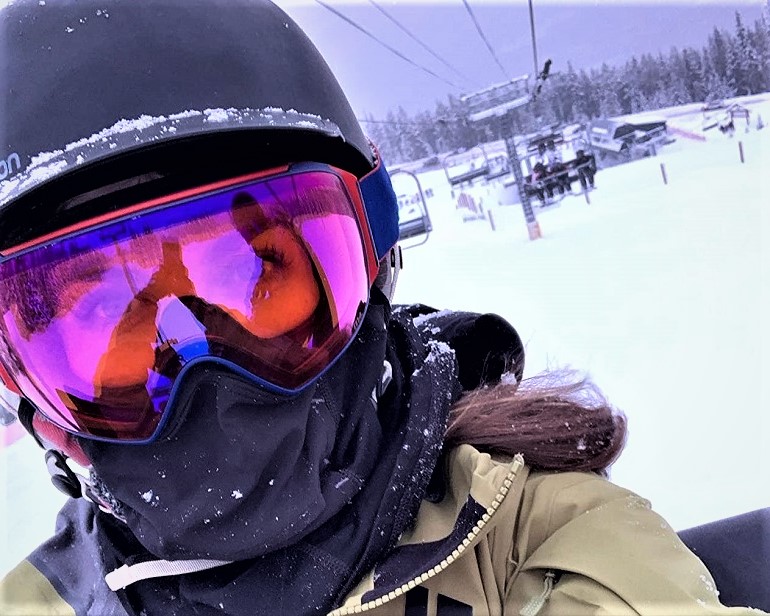 The MFI facemask combines with the goggles to create a magnetic seal that makes fogging a distant memory.
And for good measure, Anon throws in some Integral Clarity Technology and Outlast Fog Management Face Fleece to keep vision clear.
Is it worth almost $400?
Maybe!
If you're willing to go big and you're looking for something that will make everyone else jealous, it's hard to find a better option.
Top Features
Advanced integral anti-fog technology
Magnetic Face Mask Integration
MANGA-TECH feature to swap lenses quickly
Pros
Magnetic technology gives you a reliable seal
Solid anti-fog features
Cons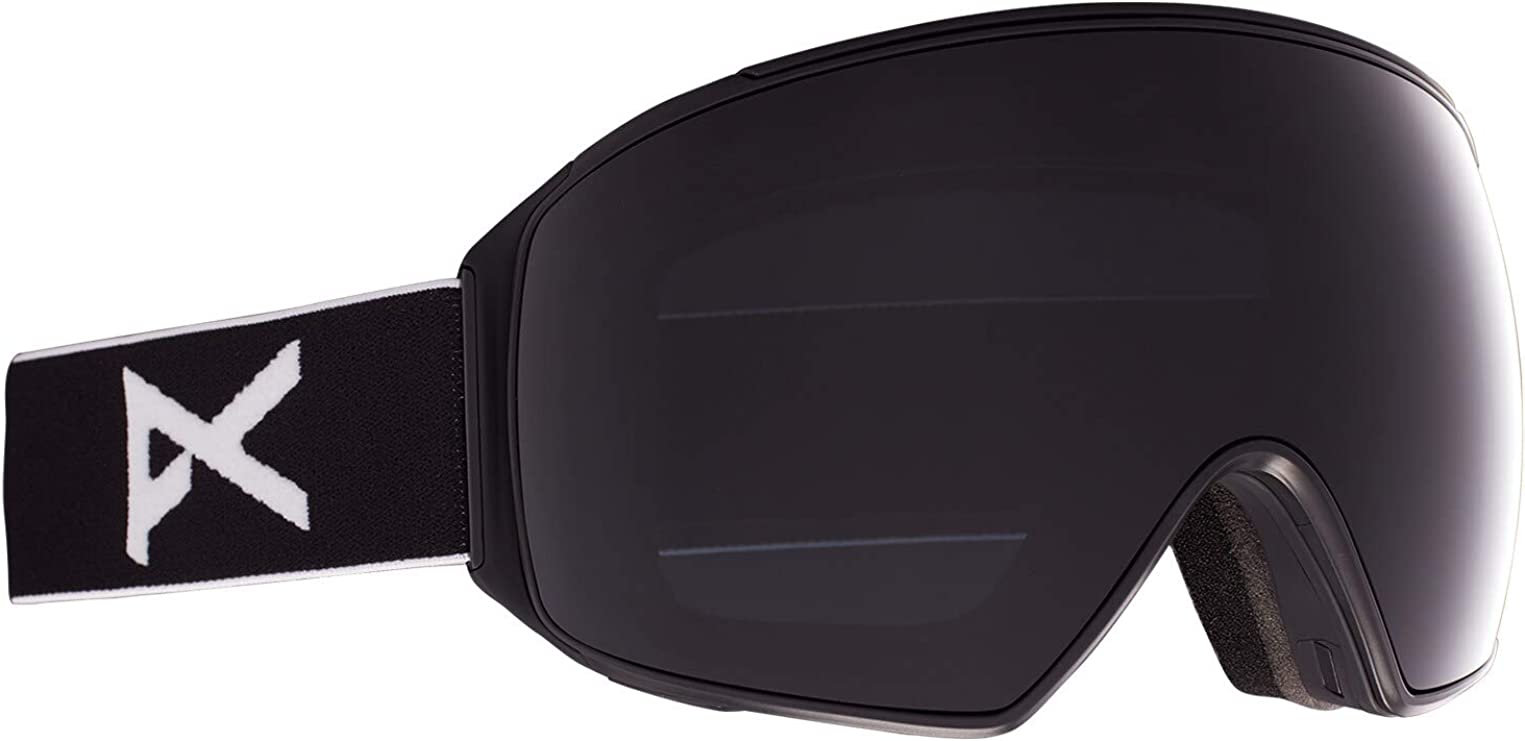 Anon M4 Toric Polarized Goggles
The price of "Anon M4 Toric Polarized Goggles" varies, so check the latest price at
Why Invest in a Nice Pair of Anti-Fog Goggles?
If you're like 90% of the skiers and snowboarders out there, you're probably trying to stick to a budget when it comes to your gear.
And when you add everything up, a nice pair of anti-fog ski goggles might seem a pretty low priority.
After all, it would help if you were worried about expensive ski boots, ski bindings, ski helmets, ski jackets, kid's ski goggles, and even skiing socks.
So are anti-fog goggles really necessary?
If you're new to the world of skiing or snowboarding, you probably have no idea just how frustrating it can be to have foggy goggles.
Seriously – it can ruin your entire day.
You can't really see where you're going, and you might totally misjudge bumps and lips. This can make even the most experienced skiers bail, and yeah:
It's not fun!
Think of it this way:
If you can't see anything, it doesn't matter whether you have the most expensive skis and boots money can buy. You're still going to struggle to reach a high level of performance.
More importantly, you're going to struggle to have fun.
This is why I think anti-fog ski goggles are a solid choice.
How Does Anti-Fog Coating Work?
The anti-fog coating is one of the newest technological innovations in the world of ski goggles. There are a number of interchangeable lenses shape used – cylindrical lenses are flatter and have a lower profile than spherical lens.
As the story goes, one type of anti-fog coating was originally developed by NASA during the Gemini project more than 50 years ago. It was then transferred to the consumer market, and one of the most obvious applications for this technology was to slap it onto a pair of ski goggles.
But how does it work?
There a number of potential solutions:
Heated Goggles:
Heated goggles rely on an internal, battery-powered heating system to prevent fogging. Expect these goggles to cost a little more – but the results can be well worth the money.
Titanium Dioxide:
A thin layer of titanium dioxide on lenses can be enough to repel moisture molecules and prevent fogging.
NASA technology:
NASA anti-fogging technology involves a mixture of liquid detergent, deionized water, and oxygen-compatible oil. This coating can drastically reduce fogging and improve visibility.
Polyvinyl Alcohol:
Polyvinyl alcohol emerged as a viable anti-fogging solution back in 2011, with Université Laval proving its efficacy in keeping surfaces fog-free.
Nanoparticles:
Nanoparticles like colloidal silica and porous organosilicate micelles can also provide anti-fogging results. This hydrophilic coating is compatible with multiple surface types.
Spin Coating:
The Spin Coating technique involves PEMA and PVA layers that combine to allow covalent bonds and hydrophilic qualities. Not only does this eliminate fogging, but it also delays the onset of initial fogging.
Buying Guide
If you're struggling to determine which pair of anti fog ski goggles to choose, consider these factors:
Anti-Fog Technology
Some anti-fog technology is more reliable than others. Even the cheapest goggles now claim to have anti-fogging technology these days, but you might be a little disappointed when you try them out. The reality is that only the best anti-fogging technology eliminates this problem, while cheaper options merely reduce it.
Ventilation
Adequate ventilation is one of the key features of anti-fog ski goggles. If you don't have ventilation, fogging is almost guaranteed. Consider ventilation features before you make your decision.
Comfort
Solid visibility is one thing, but you shouldn't have to sacrifice comfort in the process. The best goggles are those that you barely notice, offering a snug, secure feeling.
Durability
The best goggles are built to last. You shouldn't feel like you're wearing a fragile piece of gear that will break at the slightest impact. Whether you like to keep it clean or go big in the park, it's important to feel confident about the durability of your goggles.
Reflectivity
Fog is only one factor that can affect visibility on the mountain. You should also consider reflective, anti-glare surfaces that function just like sunglasses on those sunny spring days.
Adaptability
The best anti fog goggles are highly adjustable and customizable. You should have the ability to easily tighten or loosen your goggles depending on whether you're wearing a helmet.In addition, some goggles come with two pairs of lenses (clear and reflective) that let you choose the best option for current conditions.
Style
Last but certainly not least, you should at least try to grab a pair of goggles that look awesome. It might not be as important as functionality – but hey: If you're going to spend a lot of money on a pair of goggles, you might as well look good.
FAQs
What Are the Best Ski Goggles for Low Light?
The ski goggles for low-light conditions (like night skiing) are ones that have very little tint. You want to aim for goggles with high VLT (visible light transmission) ratings – perhaps as high as 60%.
Yellow or amber shades are great because they give you a ton of contrast at night. These are also solid shades for cloudy conditions.
Just keep in mind that this only really applied to the lens, and not necessarily the goggles as a whole.
How Long Do Ski Goggles Last?
It really depends on a number of factors, including:
How often you hit the mountain each year
Whether you bail often
Whether you hit the park or halfpipe
The quality of your goggles
The price of your goggles
Now, you'd expect your goggles to last if you're willing to spend a lot of money on an expensive pair. This logic is pretty sound, but it's not always true.
Sometimes, cheaper goggles last longer than expensive ones – especially if you're reaching for high-price goggles with super delicate components.
That being said, I just recently threw away a pair of goggles that I used since my teen years, and I'm in my 30s now. They were probably mid-range in terms of price.
How Do I Keep My Goggles from Fogging Up?
From my personal experience, one of the best ways to keep goggles from fogging up is to simply keep them on. When you lift up your goggles and expose them to air and snow, everything starts to go downhill.
If you avoid lifting up your goggles, the problem might resolve itself. This is because goggles have built-in ventilation systems that circulate air when you start moving quickly.
So while your goggles might be foggy at the top of the run, they might clear up once you gather speed.
Some say that taking your goggles off at the end of a run helps reduce fogging, but I personally can't relate.
Is Anti-fog Spray Safe for Eyes?
Personally, I would recommend anti-fog goggles rather than anti-fog spray.
There's been some talk about anti-fog sprays being toxic, especially since some of these sprays use chemicals like PFOAS.
Grab a Pair of Anti Fog Ski Goggles Today
At the end of the day, visibility is everything when you're skiing.
Whether you're a total newbie or an advanced skier, you won't get very far if you can't see where you're going.
In fact, poor visibility can even cause serious accidents.
For this reason, a pair of anti-fog ski goggles represent a solid investment in not only performance but also safety.
Grab yourself a pair today and make the season ahead that much more enjoyable.