Winter temperatures can be unpredictable, notwithstanding global warming's occasional surprises. But for those who embrace winter sports, cold is no longer a concern.
To ensure maximum comfort and performance, however, you must select the right base layer apparel that not only keeps your body warm but also allows easy motion without making you sweat profusely.
In this article, we'll explore the absolute best ingredients to acquire comfort and keep you warm – base layers. We will focus on various materials used within these garments along with their advantages & drawbacks concerning how well they retain warmth and offer solace.
To make your purchase journey easier, I'm offering you my ultimate list of favorite base layers from all time. This way, you can effortlessly find what's best for you and your needs in no time!
But if nothing seems to inspire or fulfill your desired criteria on my top picks' list, don't worry; I'll be dishing out some helpful advice about how to choose the finest quality layer so that when venturing outdoors, you are able to remain there longer and enjoy nature more fully.
Let's get started now!
Best in General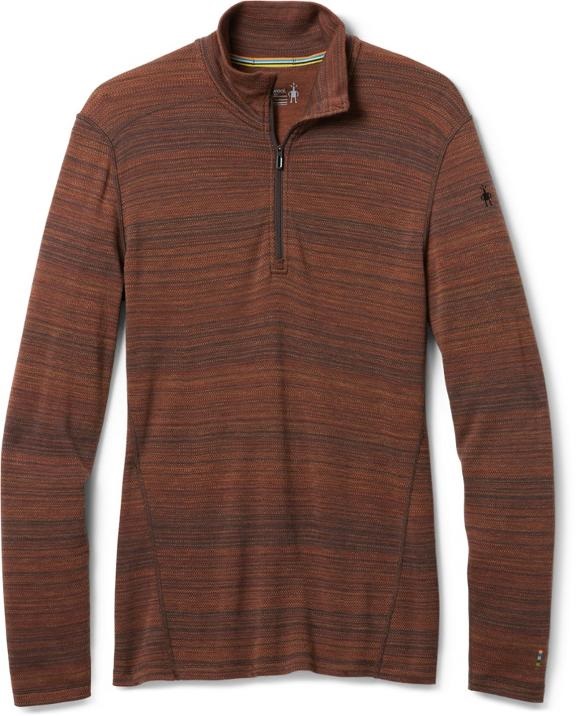 Smartwool Classic Base Layer
Picante Heather

Material: 100% merino wool
Best Polyester-made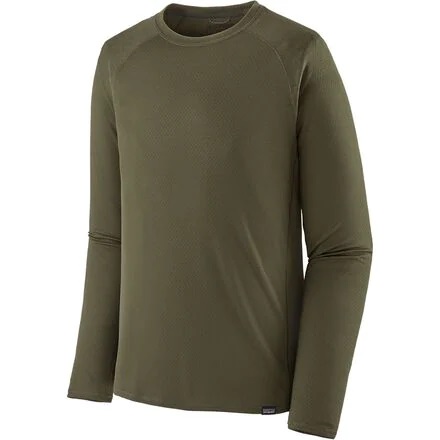 Capilene Midweight Crew Top
COLOR:

 

ASTRAL BLUE

MATERIAL:

 

78% MERINO WOOL
Best Weight Ratio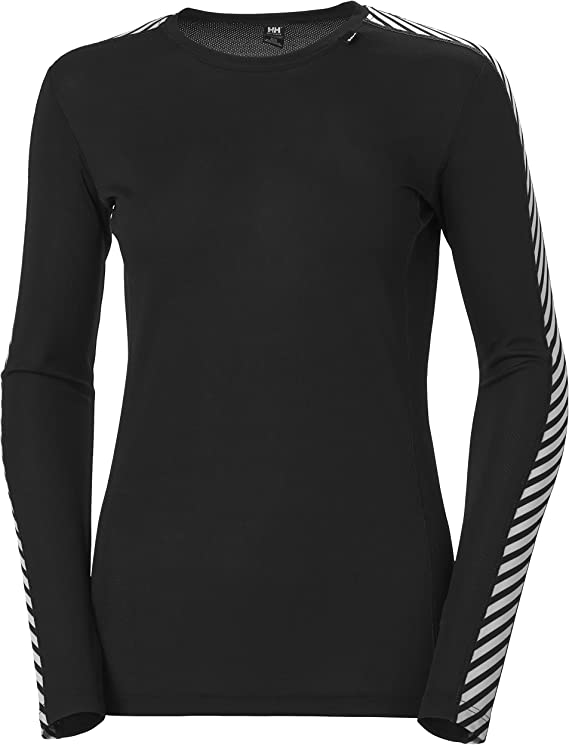 Helly Hansen HH Lifa Crew
Black

Material: 100% Polypropylene
Most Sustainable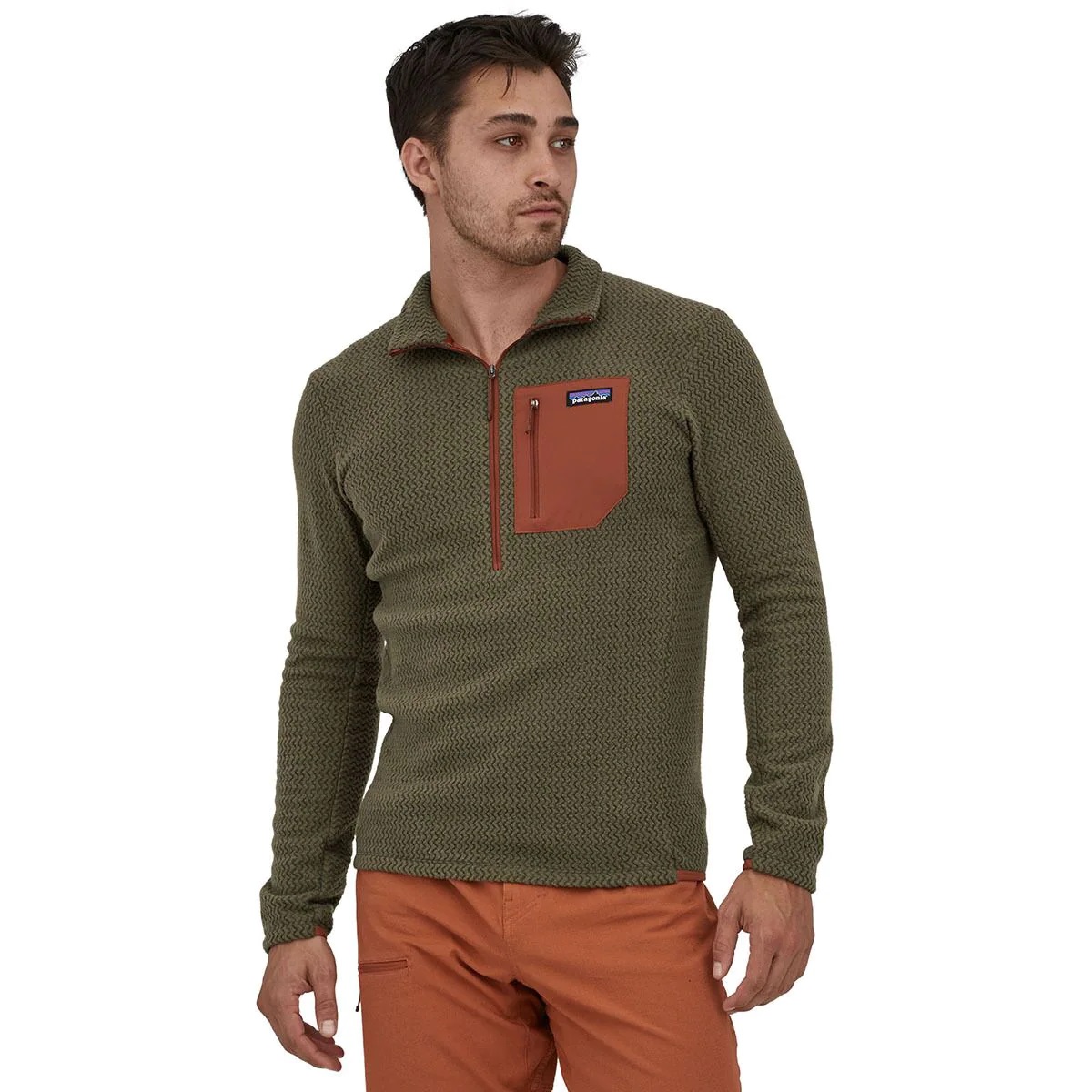 Patagonia R1 Air Zip-Neck
Color:

Basin Green

Material: polyester
Best Comfort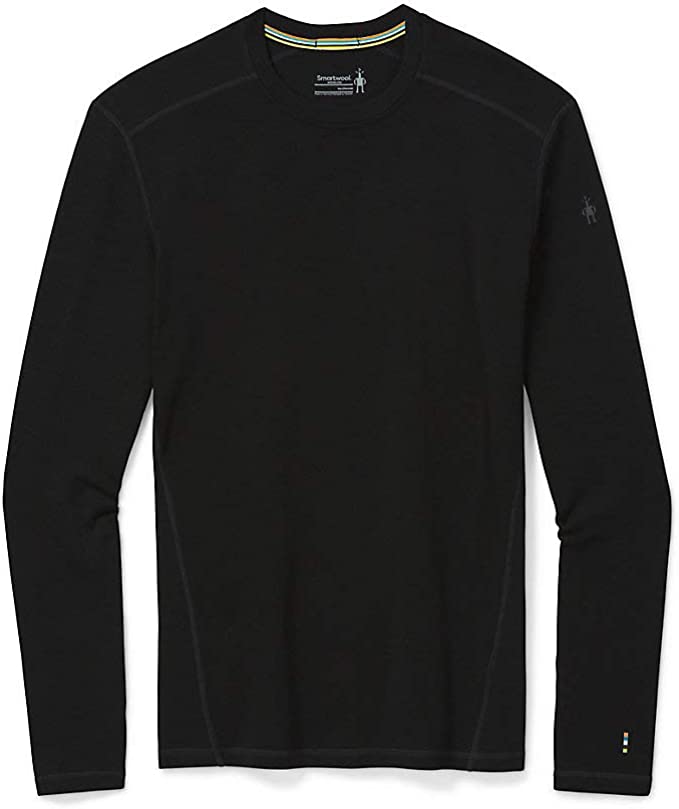 SmartWool Merino 250 Crew
BLACK

MATERIAL: 

100% MERINO WOOL
Best Features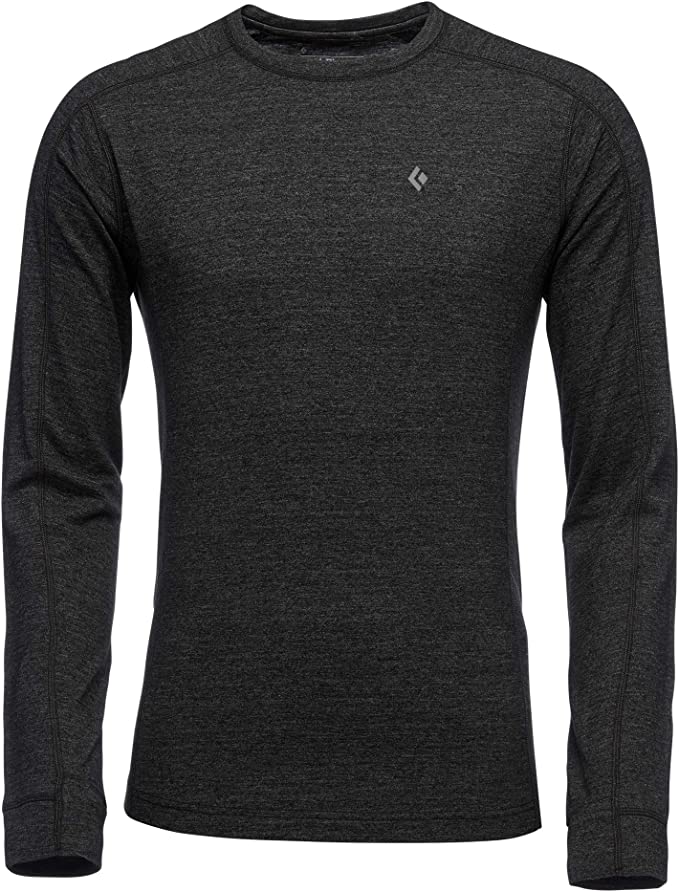 Black Diamond Solution 150 Merino
Best Versatility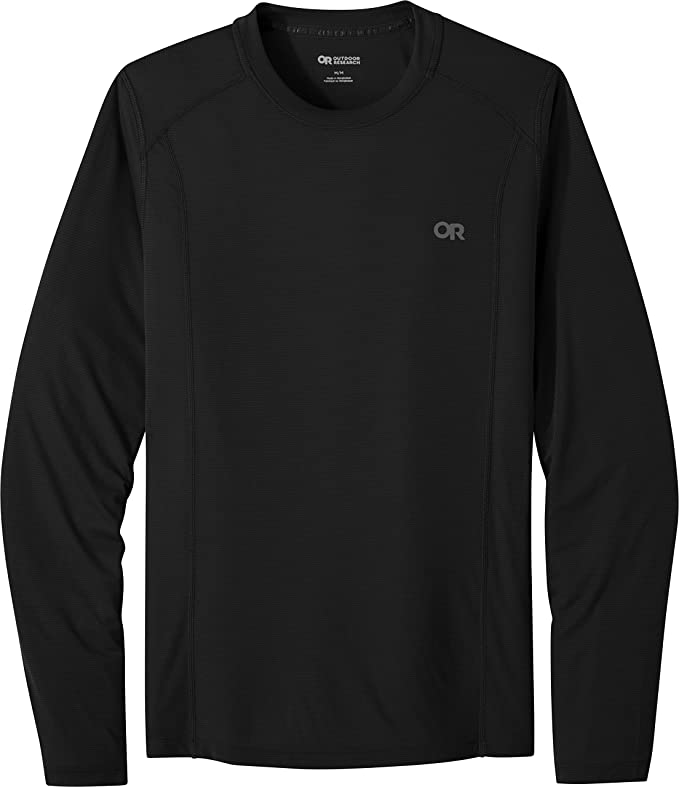 Outdoor Research Echo L/S
Black

Material: 100% Nylon
Best Base Layers for Cold Weather: Top 7 Picks
Base layers come in a variety of materials, and each has its own unique features designed to respond to different needs. Ultimately, they are all created for the purpose of warmth and comfort. Before we go any further though, let's start with some basics – what is even a base layer?
It's quite straightforward: a base layer is a single thin garment that rests against your skin and serves as insulation. It can be worn on its own or beneath other clothing, frequently seen donned by athletes when participating in winter sports or exercising outdoors during colder weather.
Indeed, it's an essential piece of gear for all avid winter sports lovers!
Gaining insight into why base layers are so relevant can be achieved by examining some of my all-time favorite options. Not only will I discuss features, but also the benefits and drawbacks of each one as well.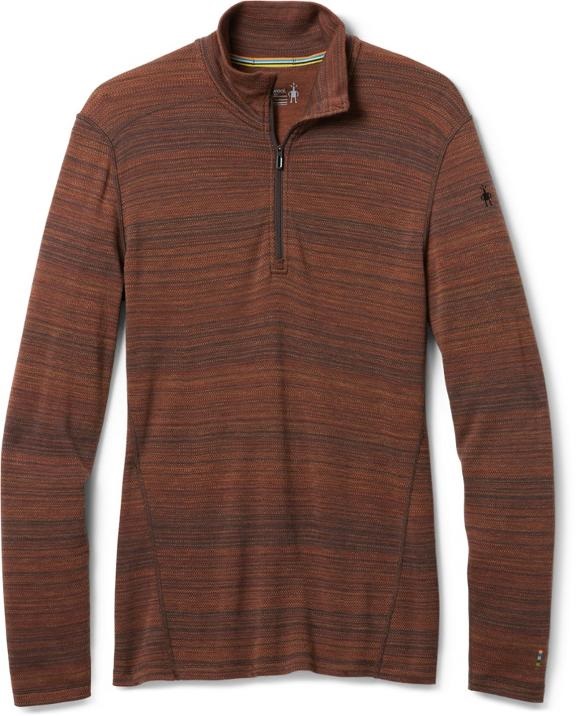 Without question, the Smartwool Classic Thermal Merino Quarter-Zip Base Layer is one of the most esteemed base layers available. There are several reasons why this product stands out from its peers.
First and foremost, it is crafted from 100% Merino wool which you may already know about. If not, don't worry; I will explain more about this material shortly in this article!
Merino wool is the ideal material for a base layer, as it offers superior warmth and comfort with excellent breathability. The only downside? This isn't an inexpensive option… but you get what you pay for! Rest assured that this luxurious fabric comes at a cost — after all if something sounds too good to be true… well, usually it is!
Not only is this Merino wool base layer crafted from the finest materials, but it also boasts a convenient quarter zip for ease of wearing and removal.
Not only is this top-notch base layer odor-resistant, but it can be worn all day long and even for multiple days! This means that no matter how intense your outdoor activities are, you can continue to stay outside without having to worry about unpleasant odors.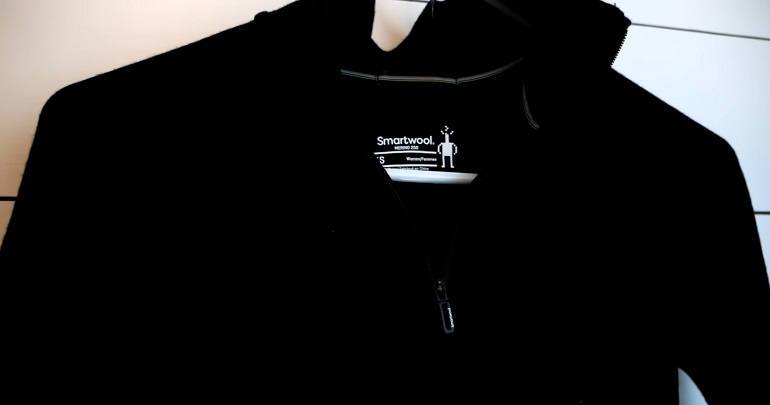 Features
Fit: Slim
Material: 100% Merino Wool
Fabric Weight: 250 g
Flat Seam: Yes
Pros
It is made 100% from Merino wool, which means that it feels great, and is warm, but also exceptionally breathable.
Lightweight, so it is a great shirt for long trips.
It has odor-resistant features, which means you will smell fresh all day long.
Cons
Not the best durability on the market.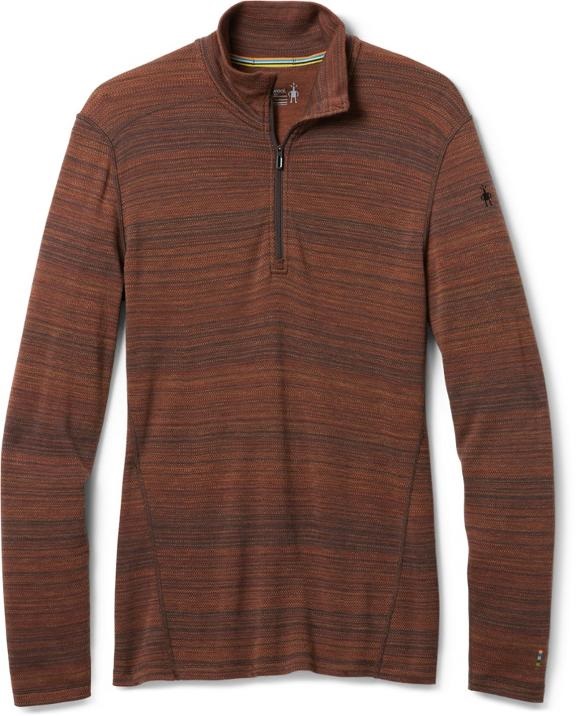 Smartwool Merino Base Layer
The price of "Smartwool Merino Base Layer" varies, so check the latest price at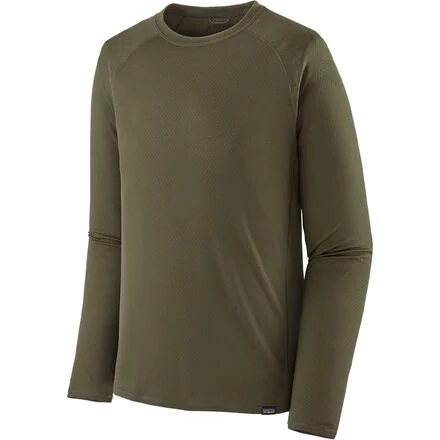 While Merino wool is undoubtedly warm and odor-resistant, there are more affordable options that possess the same qualities on the market – albeit of lesser quality.
The Capilene Midweight Crew Top offers a favorable alternative with its moisture-wicking polyester material which ensures you won't sweat when out in nature participating in activities such as hiking or skiing.
This layer is notable not only for its thumb hole, which helps keep your hands warm while you're out and about, but it also features ribbed cuffs and a hemline to provide extra comfort.
It's made of recycled polyester rather than Merino wool in order to cut down on costs – however, the cheaper material can mean that there are some sacrifices when it comes to overall comfort.
Even though you won't feel overly warm while outside, this base layer made with premium materials ensures a high level of comfort. It's designed to be worn under a shell in temperatures as low as -30 degrees Fahrenheit, according to the manufacturer.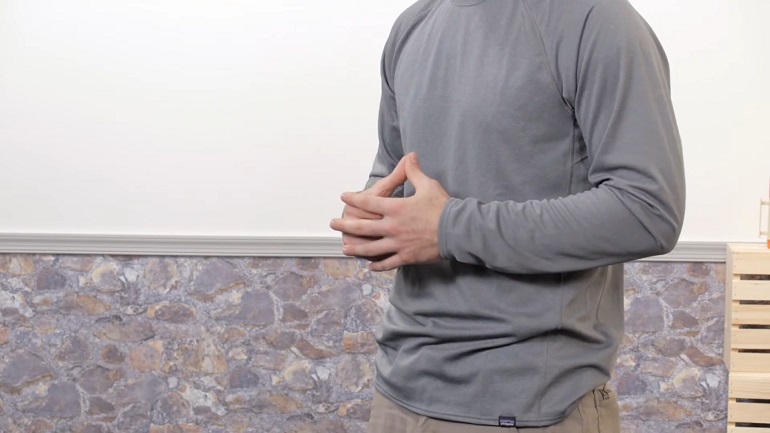 You can trust that your body will stay at an ideal temperature no matter how cold it gets!
Crafted with the chill of winter in mind, this long-sleeved design covers your arms and hands entirely. The only part left visible is the edge between where the thumb holes end and the cuff begins – leaving barely any exposed skin.
Features
Fit: Slim
Material: Recycled polyester
Fabric Weight: 250 g
Flat Seam: Yes
Pros
Comfortable synthetic layers feel good against the skin, even if they are not made of wool.
Odor-resistant, which is great on long trips.
Made for temperatures as low as -30 Fahrenheit, this layer keeps the warmth inside.
More affordable than a layer made of wool.
Cons
Not made of Merino wool, which means is not comparable with other base layers that use that material. Not being made of wool is both a pro and a con, you choose what is more important for you.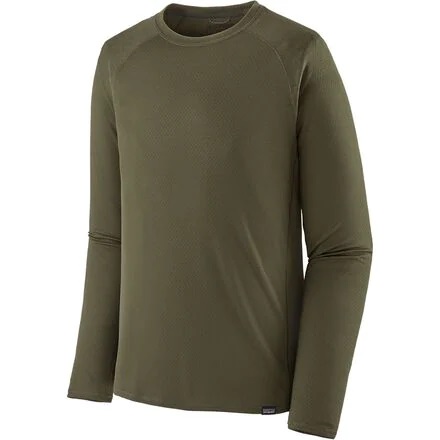 Capilene Midweight Crew Top
The price of "Capilene Midweight Crew Top " varies, so check the latest price at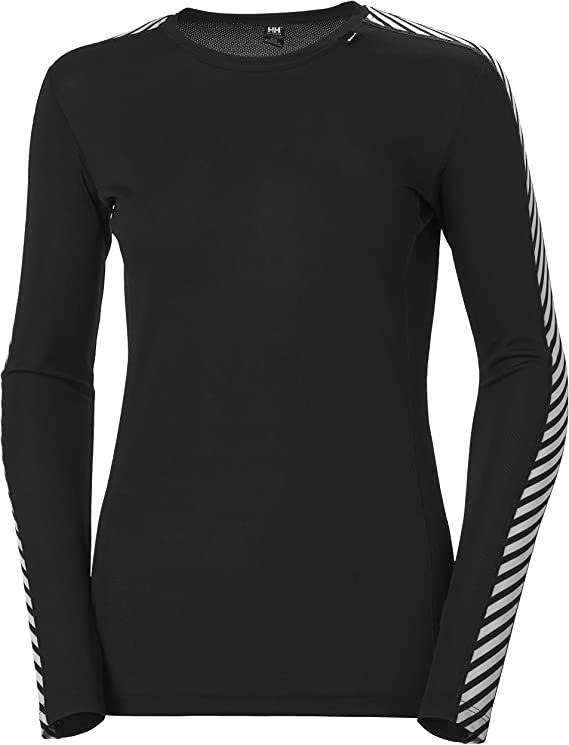 This option is unbeatable when it comes to its lightness and breathability. However, one must accept that trade-offs are inevitable; the warmth of this particular layer does not compare to those on our list.
This base layer is crafted from 100% polypropylene, which has superior absorbency and odor-blocking capabilities. Furthermore, flatlock seams ensure that the inside of your garment won't cause any chafing when wearing multiple layers at once for enhanced comfort.
The price tag of the Helly Hansen Lifa Crew is unbeatable – you won't find a better deal than this one at under $50! It's so exceptional that it almost feels too good to be true. This makes it an excellent option for anyone who needs something warm and comfortable to wear beneath their winter coat on chilly days.
With quality materials and its great affordability, you can rest assured knowing that you'll remain cozy all day long without spending a fortune in the process.

Features
Fit: Slim
Material: 100% Polypropylene
Fabric Weight: 145 g
Flat Seam: Yes
Pros
Lightweight, having a weight of just about 145 g.
Great features: breathable and odor-resistant.
Super affordable, with a price under $50.
Cons
The size chart is not great, and the baselayer fits smaller than advertised.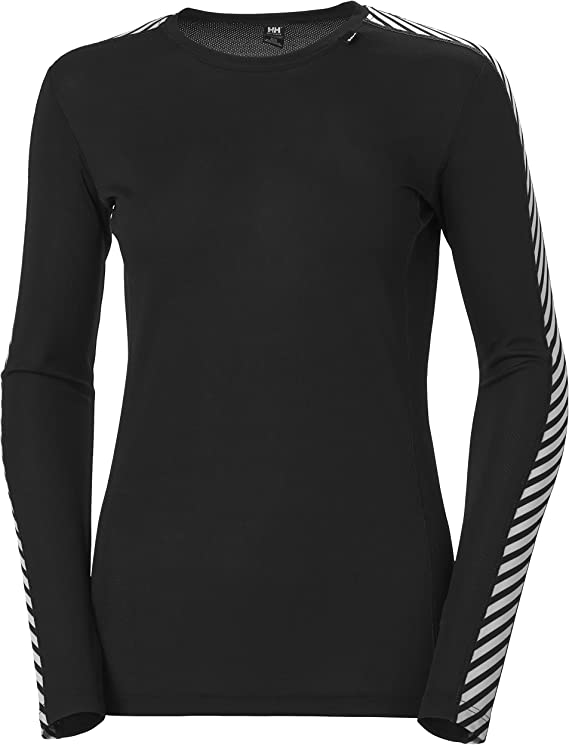 Helly Hansen HH Lifa Crew
The price of "Helly Hansen HH Lifa Crew" varies, so check the latest price at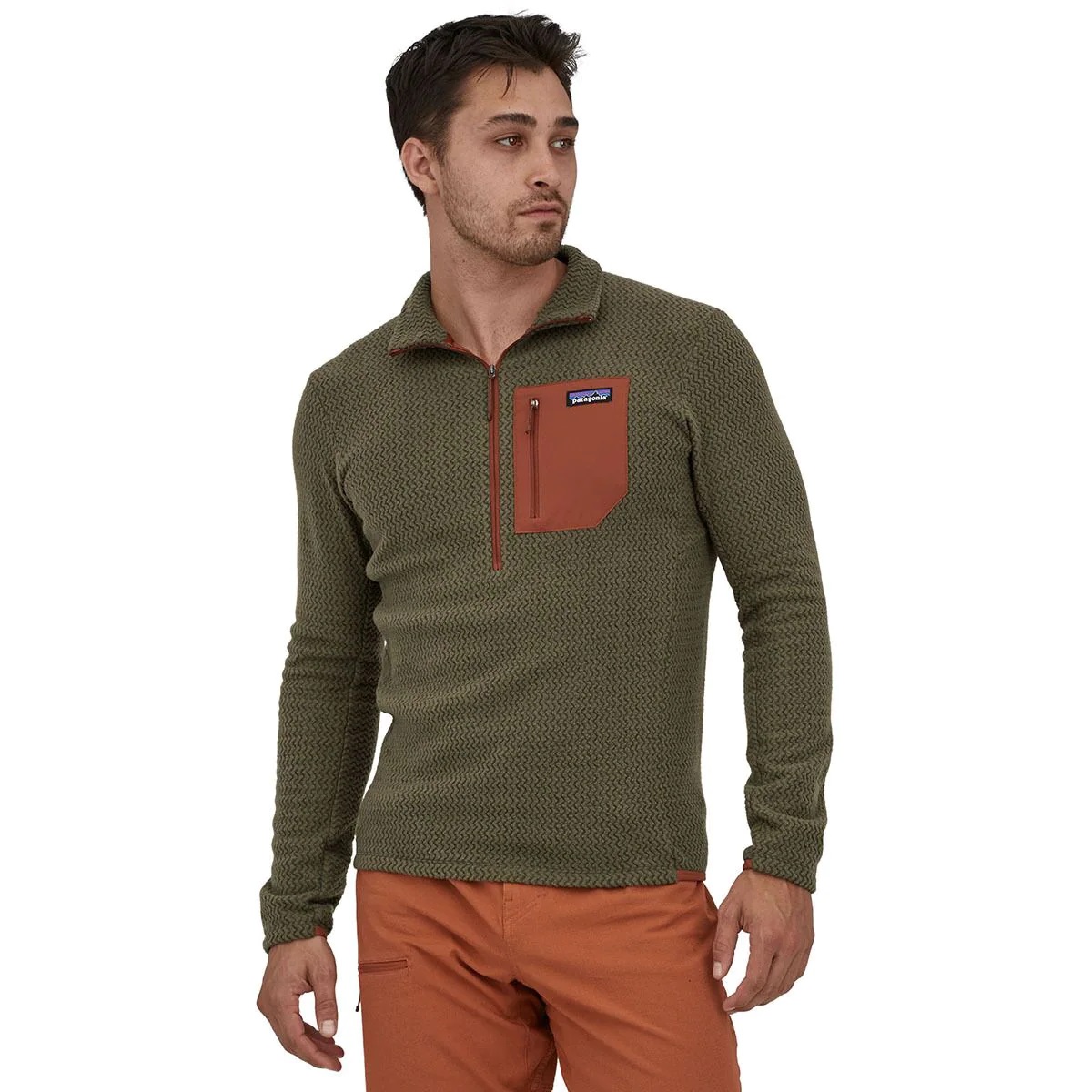 If you're searching for a base layer that will keep your body insulated and dry in temperatures below zero, so you can engage in all of the activities you love, Patagonia's R1 Air Zip Neck is ideal.
This midweight baselayer has been carefully crafted to evaporate sweat away from your skin promptly while moving it towards the fabric's surface where it can be dispersed into the atmosphere.
Moreover, the manufacturer incorporated polyester yarns to retain heat within the material while still allowing your skin to breathe. This dynamic combination of two great features makes this baselayer a must-have!
Perfect for any activity, this polyester shirt won't stretch nearly as much as merino wool would when worn against your skin. Not only is it comfortable and provides excellent mobility, but the material is highly durable so you can make use of the same baselayer in seasons to come.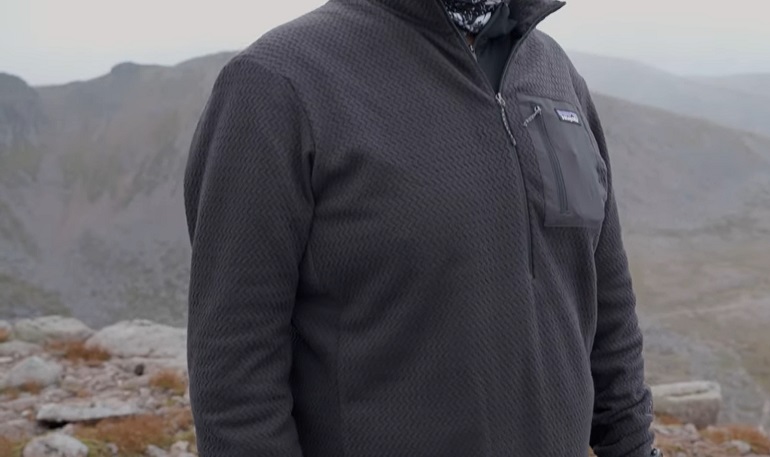 Additionally, this shirt is designed to be worn next to the skin which makes it perfect for moderate temperatures. It won't keep you as warm on its own compared to a Merino wool top, but can still assist in regulating your body temperature effectively.
Enjoy your favorite winter sport with a clear conscience; this base layer is fashioned from recycled polyester so you can preserve the environment while having fun!
Features
Fit: Slim
Material: 100% recycled polyester
Fabric Weight: 275 g
Flat Seam: Yes
Pros
Great breathability and warmth.
Made entirely from recycled materials.
Wicks moisture and feels comfortable.
Cons
Not as warm as the base layers that use Merino wool.
Not super lightweight compared to other base layers from this list.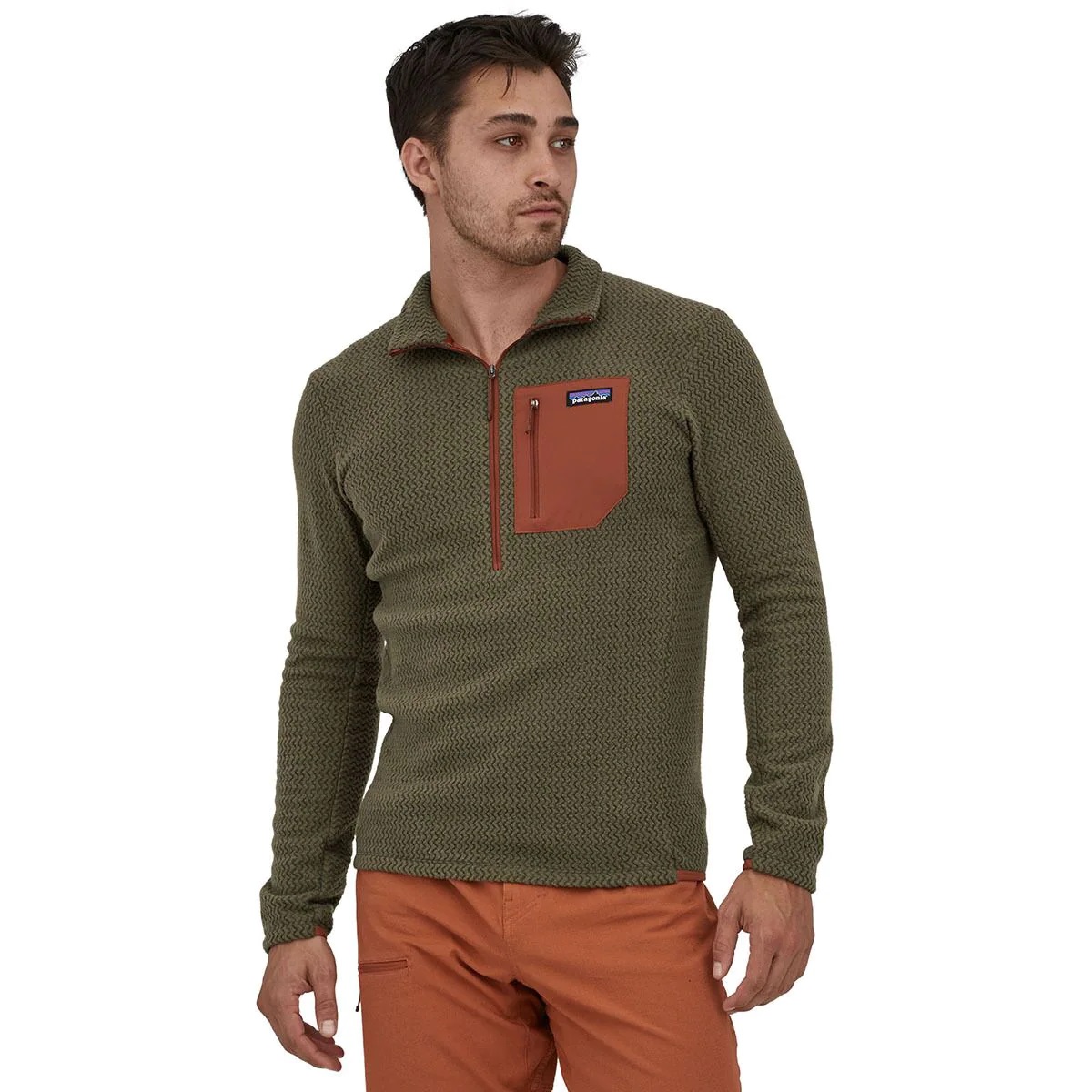 Patagonia R1 Air Zip-Neck Top
The price of " Patagonia R1 Air Zip-Neck Top" varies, so check the latest price at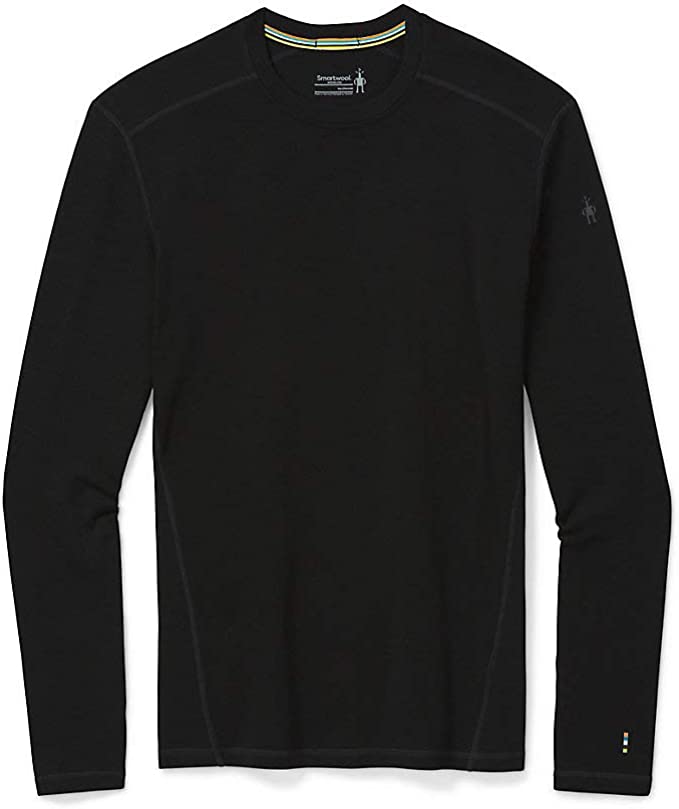 The SmartWool Merino 250 Crew is an ideal choice for your wardrobe. It's light and airy, providing maximum breathability and comfort. Moreover, its minimalist design makes it easy to style according to your taste! The quarter-zip construction grants you the luxury of effortlessly taking off or putting on this baselayer with ease.
Crafted from 100% Merino wool, this shirt is luxuriously soft and snug against your skin. Delivering the perfect combination of warmth and breathability, it can keep you cozy without ever becoming overly hot or stuffy.
When choosing a baselayer for outdoor activities, an ideal balance between insulation and airflow should always be kept in mind to ensure maximum comfort!
If you're looking for a comfortable and functional shirt, this is the one for you! This stretchy style provides plenty of freedom to move without feeling constrained. Plus, it's available in numerous colors so that there will be an option perfect for your taste.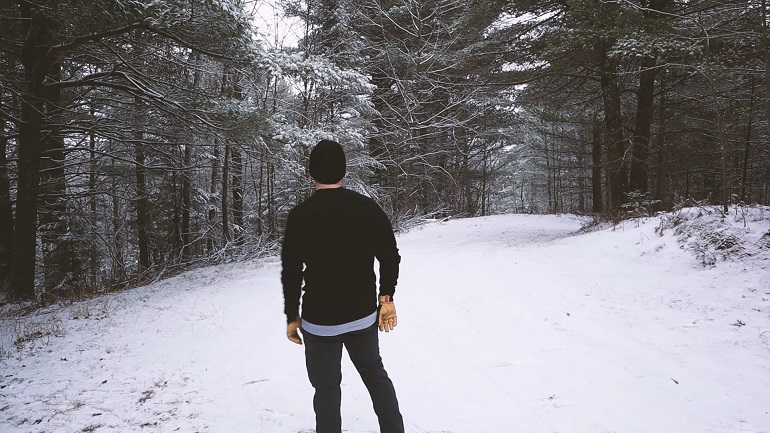 Whether you need something to wear during sports or another strenuous activity, this top offers unbeatable comfort and convenience.
While I'm hard-pressed to find any flaws in this baselayer, I will admit that the price tag of over $100 may make it inaccessible for many.
Features
Fit: Slim
Material: 100% Merino Wool
Fabric Weight: 250 g
Flat Seam: Yes
Pros
One of the most comfortable base layers available on the market.
Made from 100% Merino wool, which means it feels great against the skin, while also being warm and breathable.
Quarter-zip design, so you can put it on or get off super easy.
Also looks great.
Cons
The price is, in general, over $100.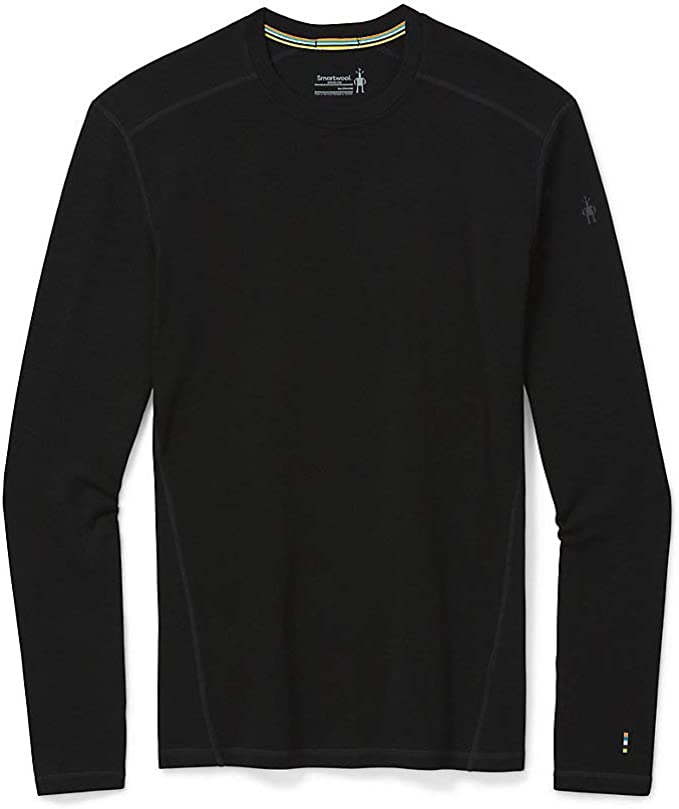 SmartWool Merino 250 Crew
The price of "SmartWool Merino 250 Crew" varies, so check the latest price at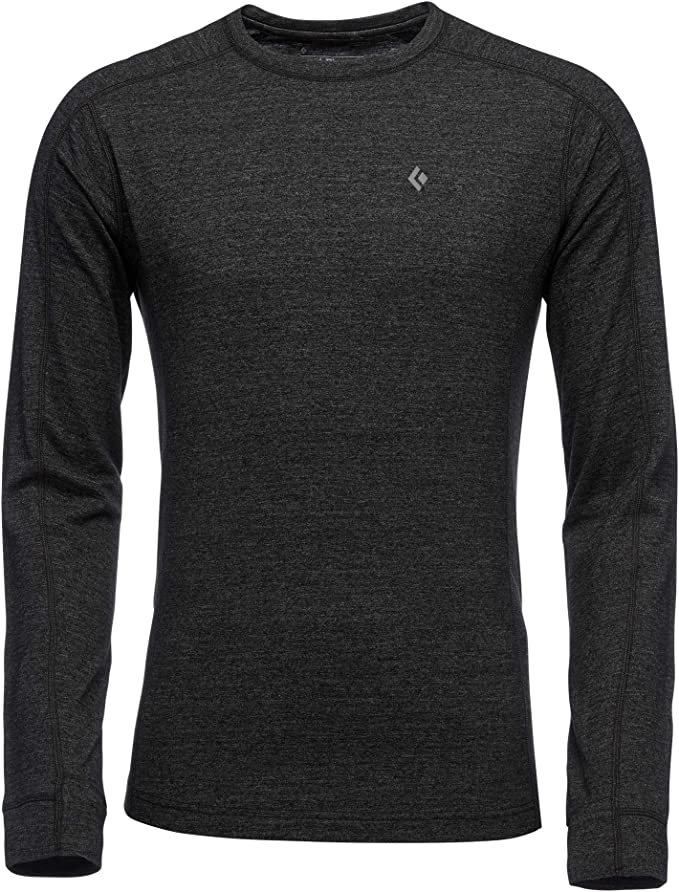 If extreme cold-weather hiking or backcountry skiing is part of your life, the Black Diamond Solution 150 Merino Long Sleeve makes an ideal option. This ultra-lightweight design ensures maximum comfort when using a layering system for more frigid temperatures, and its soft fabric feels nice against your skin.
Don't miss out on this perfect solution to brave chilly weather!
Feel warm and confident in this 100% Merino base layer. Natural antimicrobial properties protect against odor buildup, so you can make sure to stay smelling fresh for longer. Enjoy the coziness that comes with wearing one of nature's best materials.
With its knit construction and moisture-wicking design, this base layer ensures you stay dry and comfortable regardless of whether it's a long day on the trails or slopes. The breathable fabric wicks moisture and helps keep sweat away from your body so that you can enjoy maximum comfort no matter where your adventures take you!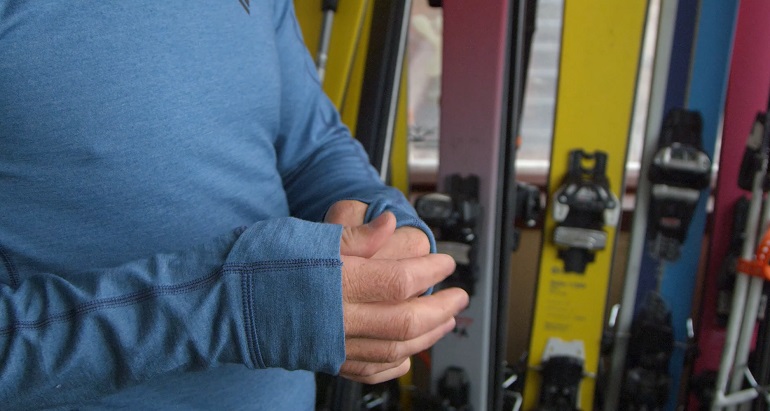 Features
Fit: Slim
Material: Merino
Fabric Weight: 150 g
Flat Seam: Yes
Pros
It's really lightweight and feels great against the skin.
Being made of Merino means it is really warm, breathable, and odor-resistant.
Good and comfortable even if is extremely cold.
Cons
Pretty expensive for a base layer.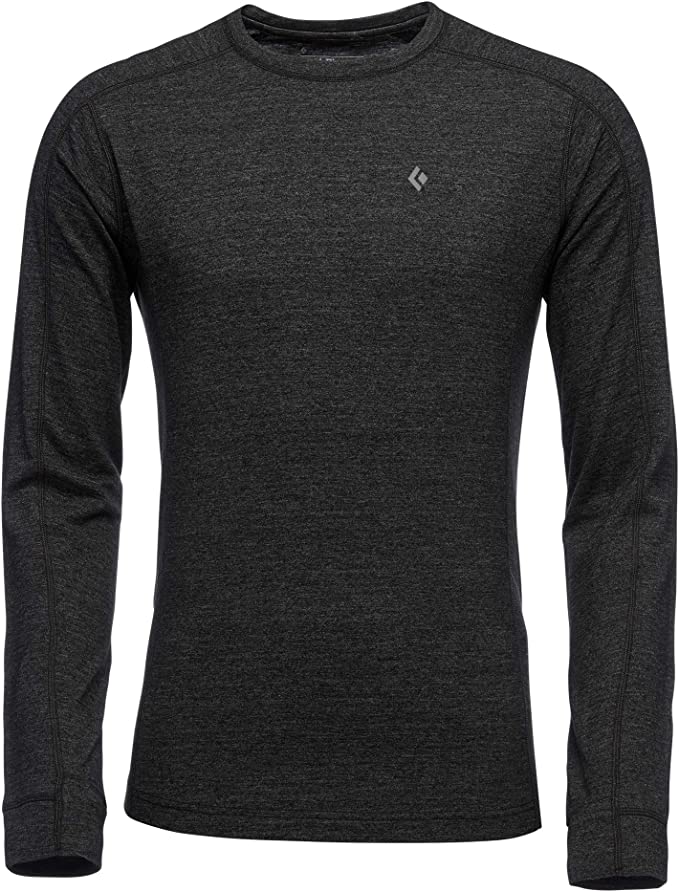 Black Diamond Solution 150 Merino
The price of "Black Diamond Solution 150 Merino" varies, so check the latest price at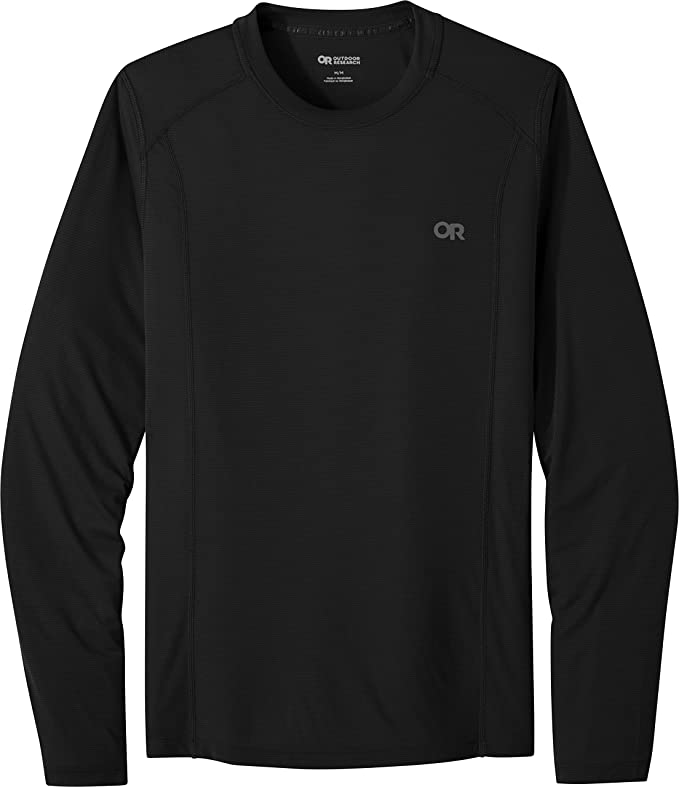 Whether you are in cold or sunny conditions, the Outdoor Research Echo L/S base layer is an ideal solution for your outdoor adventures. It will keep you cool and offer protection from UV rays when it's hot outside, as well as provide warmth during winter months.
With this versatile layer, there's no need to worry about getting burned while out on a hike!
This polyester base layer was designed to keep your skin breathable and safeguarded against the sun's harmful rays. Its AirVent technology provides superior moisture management, while ActiveFresh odor control ensures you stay cool, dry, and smelling fresh throughout the day.
On top of all that, this base layer is crafted from 100% recycled materials – making it a great choice for anyone looking to invest in long-lasting mountain essentials without sacrificing sustainability.
This lightweight base layer is ideal for hot days, yet can be worn in colder temperatures when you're willing to layer up.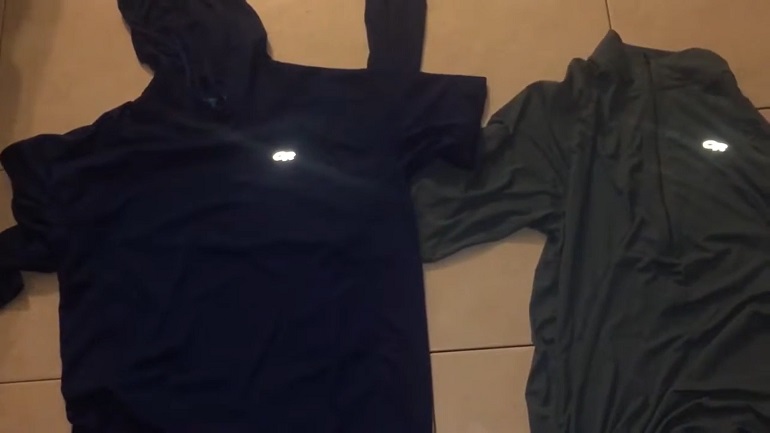 Features
Fit: Regular
Material: 100% recycled polyester
Fabric Weight: 101 g
Flat Seam: Yes
Pros
Really versatile, you can wear it on sunny days but also on colder ones.
Really lightweight, so you will not even feel it, which is great when using a layering system.
Synthetic layers have great technology for odor resistance.
Absolutely lovely price.
Cons
Not the most durable on the market.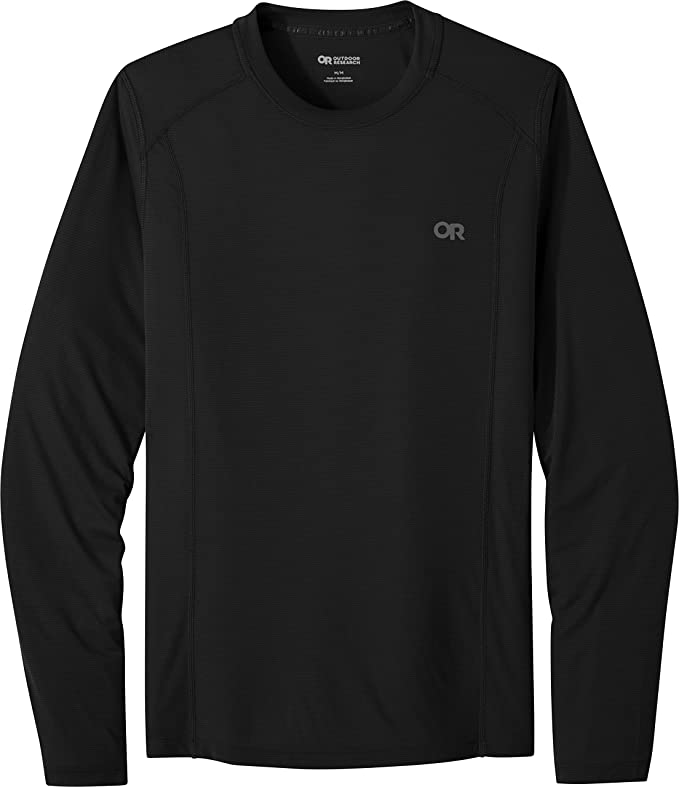 Outdoor Research Echo L/S
The price of "Outdoor Research Echo L/S" varies, so check the latest price at
Buyer's Guide: How to Choose the Best Base Layers
If you're looking to shop for base layers, consider the following features:
Baselayer Materials
If you're shopping for a base layer, look no further than moisture-wicking and fast-drying fabrics; the best options available are lightweight and breathable as well. When it comes to wool layers, ensure that they have been crafted from 100% merino – this will be clearly stated on the label of said item.
Commonly, base layers are composed of Merino, polyester, or silk. Though there can be rare exceptions when searching for them on the market, these three materials tend to remain standard choices.
Now, let's dive into each individual material.
Merino Wool
Merino is an ideal choice for wool base layers due to its excellent insulating powers, strength, and breathability. Not to mention it feels soft against the skin without holding onto any foul smells like other fabrics might do.
Additionally, Merino wool's natural antimicrobial characteristics help repel bacteria and fungi that can cause unpleasant odors.
Merino is an excellent choice for winter clothing, offering multiple benefits that no other natural fiber can match. Soft to the touch and itch-free on your skin, merino also fights off an odor like a champ.
Not only does it keep you warm even when wet – perfect for those frosty early mornings – but with its superior ability to wick moisture away from the body quickly and easily, people love layering up in merino base layers before hitting the ski slopes!
Its lightweight nature makes it ideal for subzero temperatures; you'll remain snug as a bug all season long!
Polyester
Polyester has many advantages that make it a popular choice for apparel and fabrics: lightweight, breathable, quick-drying, and soft to the touch. Despite these desirable qualities though, polyester can start looking aged prematurely due to its tendency to pill up after just a few washes!
Polyester has many of the same benefits as merino, such as its remarkable durability and breathability. Although it is resistant to odors, polyester does not regulate temperature or prevent uncomfortable chafing from tight clothing in the same way that merino wool does.
For those looking for a more economical option, polyester blended fabrics are a perfect choice.
These materials consist of small amounts of polyester mixed with natural fibers like cotton, rayon, or merino wool fibers to form an affordable material that may not be as high-quality as pure merino or polyester, but is still quite durable and long-lasting. So if you're shopping on a budget, then this could be just right for you!
Blends
When it comes to fabric blends, you're likely one step ahead of the game. Blends are composed of materials such as wool, silk, and synthetic fabrics that provide more durability than a single 100% wool layer. As a result, they can be used in multiple apparel items with gusto! In the end, just try to avoid synthetic base layers.
Silk
Silk is a beautiful and lightweight fabric that's perfect for making clothing, bedding, or other fabrics. Its breathability helps trap your body heat to keep you warm throughout the day; however, silk does not retain as much warmth as wool, so it's best suited for outdoor activities lasting only an hour or two in cold weather conditions.
Although silk can be an excellent choice for base layer clothing, there are several drawbacks to consider before purchasing. Silk is prone to wrinkling if not treated properly during laundry or dry-cleaning; its fibers may also become damaged by exposure to heat sources such as ironing boards.
Additionally, some individuals with sensitive skin may experience allergic reactions when wearing this material.
Breathability
Having the ability to wick sweat is known as breathability. Fabrics that are constructed of polyester, nylon, and blends have lower ratings than wool fabrics, so it's essential to select garments with high breathability values if you want to remain comfortable outdoors for extended periods.
If you're looking for the right type of clothing to keep your body warm while still allowing moisture out, merino wool baselayers are the way to go.
Odor Prevention
These base layers boast odor resistance, allowing you to keep your clothing fresh and eliminate any unwanted smells after hours of wear.
Odor prevention should be a major consideration when selecting the right base layer for you. Some synthetic materials like polyester and nylon can cause odors that linger for days, which is especially irritating if your skin is sensitive to them.
To make sure you stay comfortable throughout the day, opt for a fabric with excellent odor-resistant qualities so that your clothing doesn't give off any unpleasant smells.
Durability
To guarantee your base layer will stand the test of time, there are many facets to assess. Fading or pilling of the fabric should be evaluated, and one can also see if it keeps its original composition after frequent washes.
To ensure that your base layer is of quality, the best way to test its durability is by washing it with hot water and vigorous agitation. If you find that no damage or decrease in function has occurred after this cycle, then it can be assumed that your product will last even longer when exposed to harsh outdoor conditions.
Whenever possible, steer clear of dry cleaning your base layer – harsh chemicals used in the process can damage its structural materials over long periods.
Warmth
When considering how warm a base layer is, look at its thickness and insulation weight. The heavier the fabric, or the thicker it is, will mean that warmth won't be an issue.
Merino wool and synthetic fibers are particularly great for keeping you comfortable as they offer superb thermal capacity while also wicking moisture away from your body – meaning no dampness or clamminess!
Selecting the right base layer for your next outing can be tricky, as warmth ratings often range from 200 g/m2 to 400 g/m2.
Unfortunately, these figures do not give you a clear indication of how warm each garment is since different manufacturers use varied testing processes – and even measure natural or synthetic materials differently (like merino wool vs polyester).
If you find a base layer of clothing rated at least 200 g/m2, it will be sure to keep you comfortably warm even on the chilliest days outdoors. You can also add an extra thin mid-layer or an outer layer overtop depending on how much protection against windchill factors outside you need.
This layering system is just as effective and reliable as "ultra-warm" or "extreme-cold" gear without having to splurge for them!
Crew Neck Vs. Quarter or Half Zips
For most, a crew neck is an optimal choice as it keeps you warm, and comfortable and can be easily layered with other garments. Additionally, if your activities are strenuous and will result in heavy sweat production, then this option provides superior perspiration management compared to alternatives.
Whether you're skiing or snowboarding, a crew neck jacket is a go-to choice for optimal comfort and versatility when layering. But if you anticipate doing more strenuous activities such as trekking, then quarter-zips or half-zips are better suited since they provide increased ventilation than crew necks do.
Fit
Don't overlook the importance of fit when it comes to base layers! You won't be able to move freely or comfortably if you pick something too small.
When selecting the perfect base layer, it is essential to consider how snugly you want it to fit. Don't assume that tighter always mean better when trying to keep your body warm!
If wearing a tight-fitting garment in balmy temperatures, you won't have adequate space for air circulation and will become uncomfortably hot or cold depending on the weather.
To ensure maximum comfort while engaging in outdoor activities such as skiing during wintertime, select a base layer with extra flexibility so that you can move without interfering with airflow around your body.
When you're unsure which size is your best fit, always opt for the larger option.
Sustainability
Previously, I discussed the importance of sustainable base layers and my preference for utilizing recycled materials. Now let's further explore how to find a sustainable option that fits your individual needs.
To help the environment, go for materials that are created using recycled or renewable resources.
To stay warm while being environmentally conscious, choose wool fabrics or other natural fibers.
Whenever possible, steer clear of synthetic materials like polyester and chemicals. If you do decide to purchase items with these components present, make sure they are crafted without hazardous substances such as dyes and flame retardants.
Sustainable clothing offers numerous advantages, from diminishing waste to slashing energy utilization and greenhouse gas emissions during production. It even helps to maintain wildlife habitats by reducing water usage when cleaning garments in the home.
Once you've settled on a base layer, the next step is to wash it. To ensure optimal performance and comfortability of your fabric, avoid using fabric softeners as they will hinder the breathability of your garment by making humidity stick to its fibers instead dispersing it away from your skin.
This could lead to an overall decrease in temperature regulation during any physical activity you do while wearing them. Before skiing, you should also need to know how to layer for skiing and how to dress for skiing.
Conclusion
So, what do you make of it? Are you now ready to brave the chill? I trust this guide will give you some ideas for deciding on a reliable base layer that is perfect for your outdoor ventures.
Don't forget about the essential features all quality base layers should have like warmth, breathability, and combatting odors. If uncertainty still lingers as to where to commence -try out a few different brands and find one best suited for you!