Even if you love to hike or if skiing is your favorite winter sport, there are still guidelines you should follow regarding the proper clothes you should wear when exploring the mountains when it's cold outside.
In order to maintain an ideal body temperature and, consequently, to be able to completely enjoy the time you spend in nature, you should never forget about the base layer.
Every winter sport requires a base layer since it is the layering system that is closest to your skin and serves as a continual "second skin" throughout the day. Base layers add a layer of insulation and help you stay warm and dry by absorbing and draining perspiration.
Finding the base layer may appear to be a simple task, but there are actually many possibilities available, making it a bit challenging. But because you're here to find the best base layer, let's focus on what matters to us right now.
So that you can experience the warmth enveloping you when snowboarding, skiing or hiking, let's get to work!
Best Overall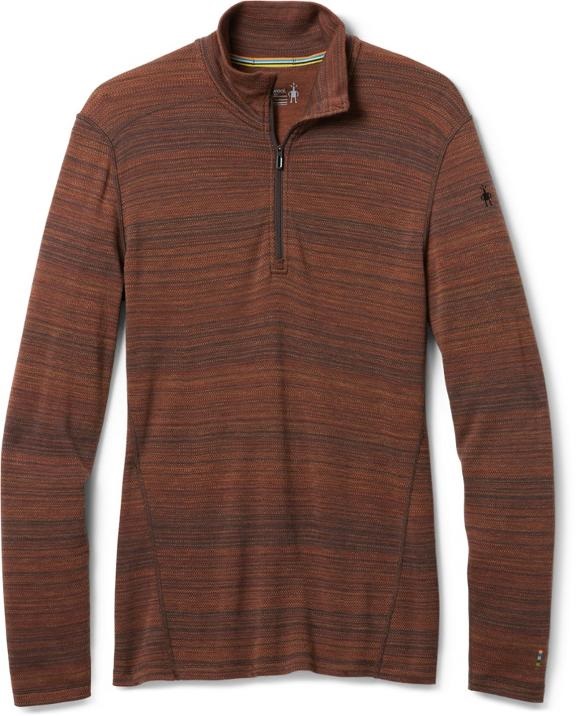 Smartwool Classic Base Layer
Picante Heather

Material: 100% merino wool
Diamond-grid Pattern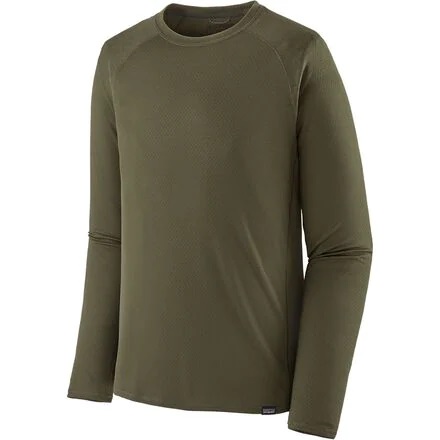 Capilene Midweight Crew Top
COLOR:

 

ASTRAL BLUE

MATERIAL:

 

78% MERINO WOOL
Lightweight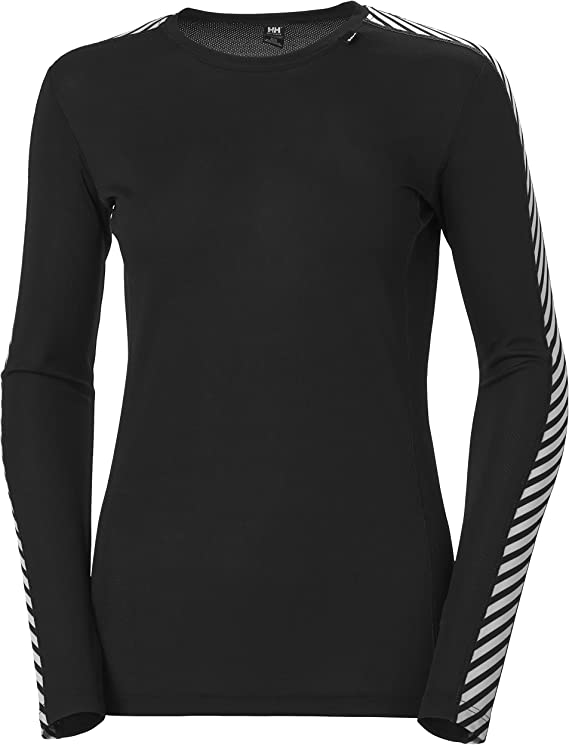 Helly Hansen HH Lifa Crew
Black

Material: 100% Polypropylene
Most Sustainable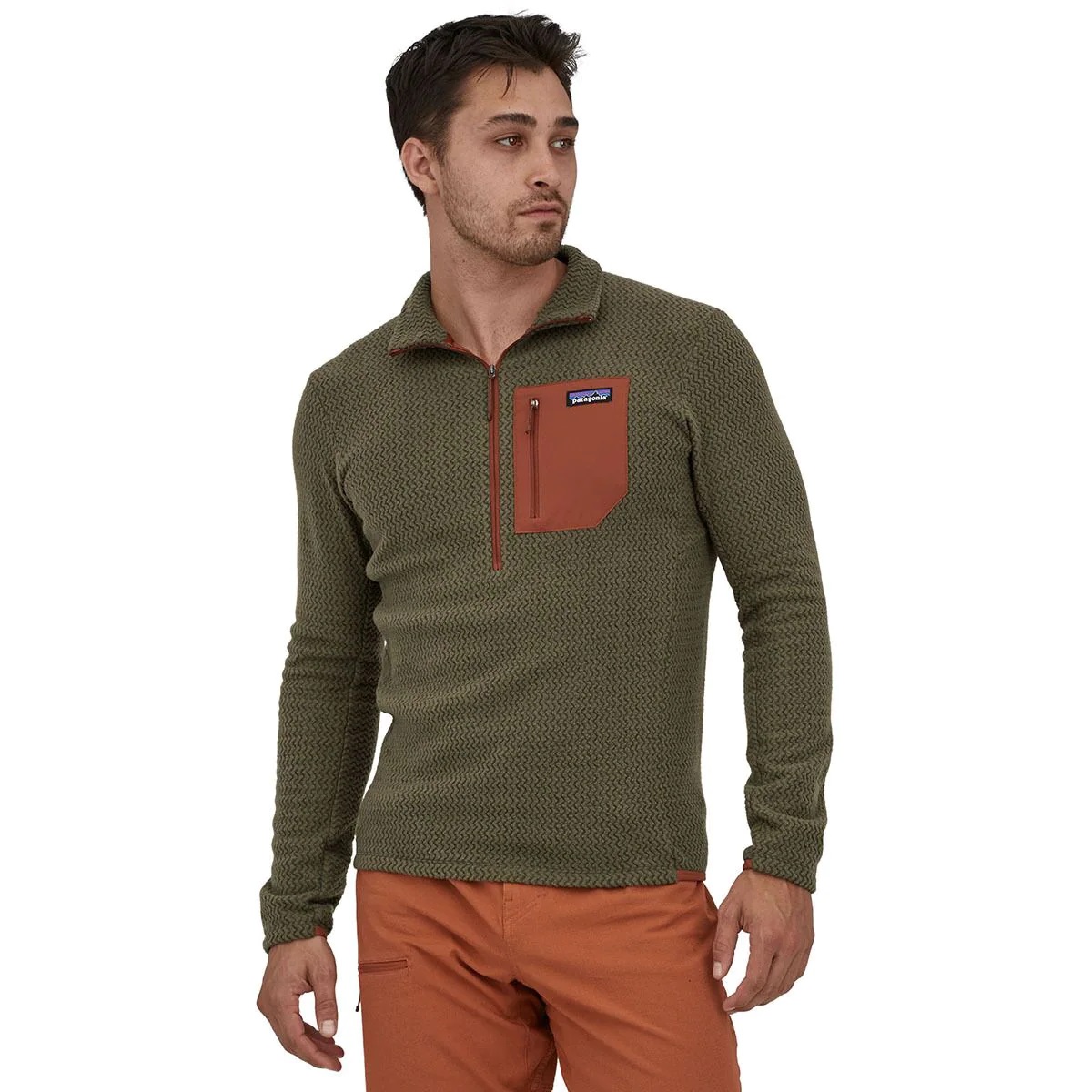 Patagonia R1 Air Zip-Neck
Color:

Basin Green

Material: polyester
General Favorite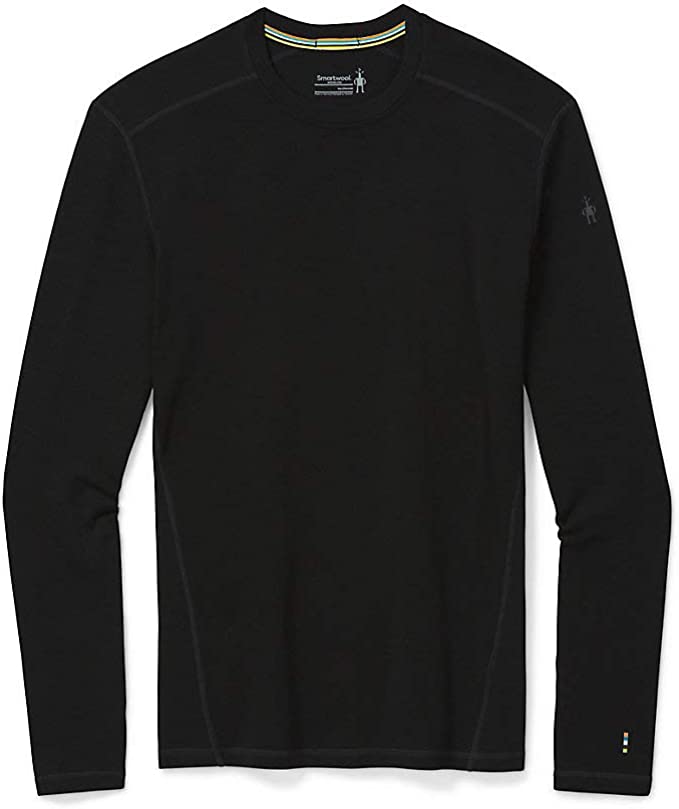 SmartWool Merino 250 Crew
BLACK

MATERIAL: 

100% MERINO WOOL
High-end Base Layer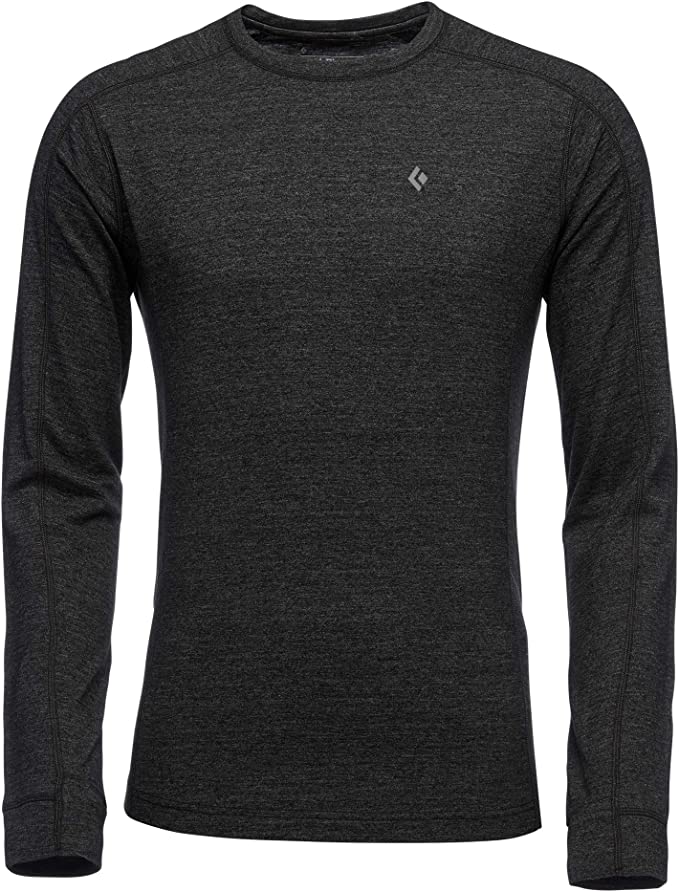 Black Diamond Solution 150 Merino
Versatile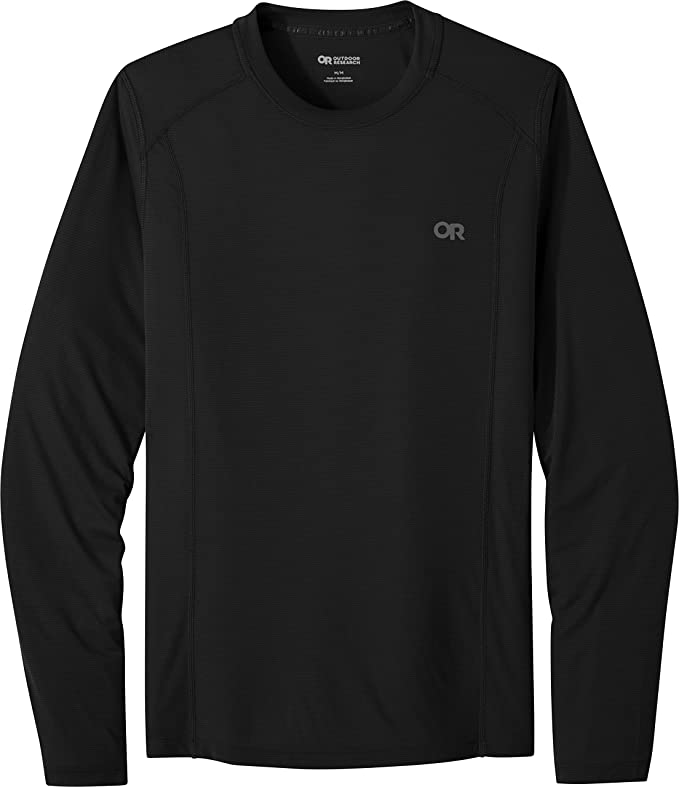 Outdoor Research Echo L/S
Black

Material: 100% Nylon
Top Picks for Best Base Layers
Everybody wants to feel comfortable when sliding down the mountain or scaling the summit of their dreams. It all comes down to enjoying yourself while doing what you love. And nothing ought to ruin your pleasant experience.
When spending time outdoors, especially when temperatures decrease, you should be mindful of your clothing to prevent any inconvenience.
Choose one of the top 7 selections I'll provide for you in the following section, and you won't ever go wrong.
You don't even have to believe me; in the end, I'll give you a thorough buying guide that will explain the criteria you should consider when selecting base layers.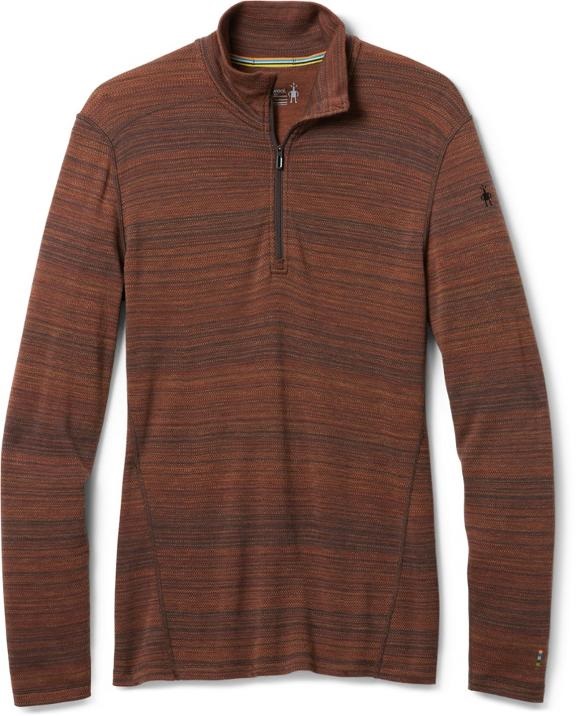 Great for protection from elements in harsh winter weather, the Classic Thermal Merino Base Layer 1/4 Zip top is stylish and functional at the same time. These shirts are excellent in every way, and I wouldn't want to change a thing.
It is one of the heaviest base layer tops for cold weather. It uses 100% responsibly sourced Merino wool which provides excellent warmth. Additionally, wool has unique breathability properties, naturally wicking sweat away from the skin's surface to keep you dry and super comfy.
Smartwool Classic thermal has flatlock seams, shoulder panels, and a padded zipper, which help minimize chafing and keep you comfortable and temperature regulated while you enjoy different activities like high-intensity skiing, hiking, running, etc.
The addition of shoulder panels makes it easier to carry a heavy pack with greater comfort.
When the shirt is fully zipped, the high collar rests just above the chin. The front 14-inch zipper helps regulate your body temperature when you need to bundle up for extra warmth or unzip to release excess heat.
The front zip also comes padded with a wool panel, keeping the potentially freezing-cold zipper from touching your skin. It has extra-long sleeves that completely cover your arms, no matter what your ape index is.
If you want even more flexibility in your layering system, you can pair this top with another stretchier base layer, thanks to the semi-fitted cut, which leaves a lot of room for different body types.
Being warm is one thing, but you don't want to sweat all over. Fortunately, merino wool is naturally hydrophobic and moves sweat from the skin's surface to the base layer's surface, keeping you dry.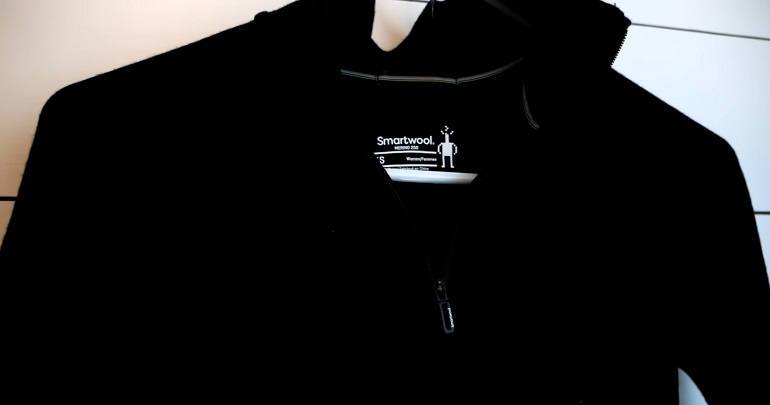 I think it's better to use this top as a base layer beneath more durable middle and outer layers to protect it from the elements. As it has good odor control, try that you wash this base layer only when absolutely necessary to extend its lifespan. I also prefer to hang it whenever possible instead of drying it on low in the dryer.
Although Smartwool Classic Thermal faces some drawbacks when it comes to durability, the fact of how great wool works makes this compromise totally worth it!
Drying times may be slow because wool actively absorbs water as it is a hygroscopic material. Put it another way, it holds water between its fibers instead of absorbing and permeating water throughout the fabric to dry it out.
This top, in my opinion, is ideal for cold weather mainly. You'll get too hot if the sun starts to shine brightly enough. Since wool is a more delicate material than synthetic fibers, treat it with care, and it will last you for many more adventures to come!
Features
Fit: Slim
Material: 100% Merino wool
Fabric Weight: 250 g
Flat Seam: Yes
Pros
Exceptionally warm
Comfortable
Odor-resistant
¼ front zip for body temperature regulation
Shoulder panels for carrying heavy backpacks easily
Cons
Less durability
Expensive
Wool may sag without proper care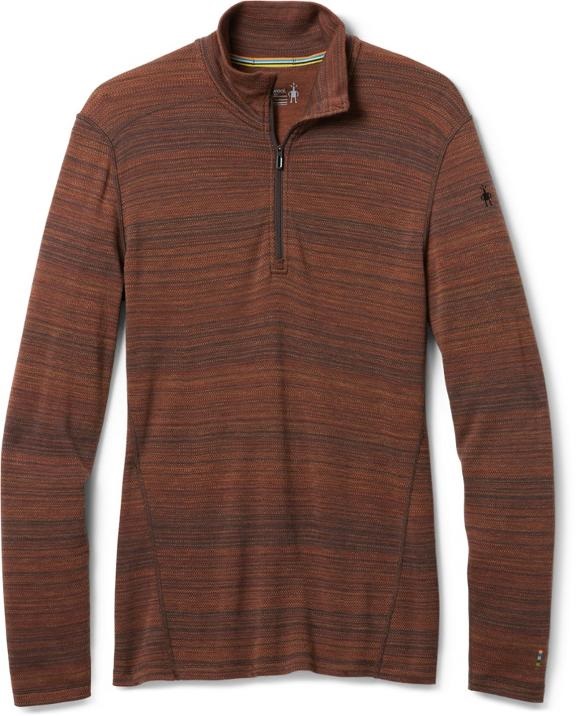 Smartwool Merino Base Layer
The price of "Smartwool Merino Base Layer" varies, so check the latest price at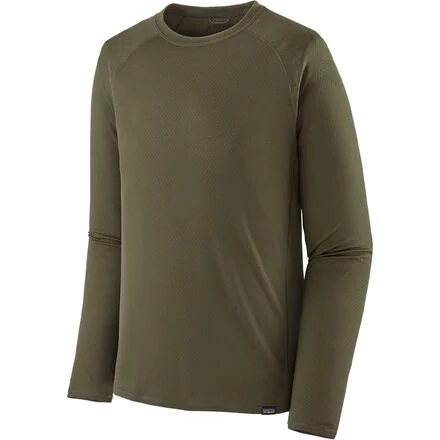 The Capilene is very soft and comfy against the skin. To ensure that the sleeves rest flat and continue to protect the back of the hands and wrists, there are additional tiny thumb loops in the cuffs.
This base layer top places a high priority on comfort, with features like gussets under the sleeves to minimize chafing and small details like flat seams, and a thin strip of cloth around the back of the neckline to be as soft as possible against the skin.
The fabric is made with a double-knit diamond-grid pattern that is intended to drain moisture away while also trapping body heat in cold conditions.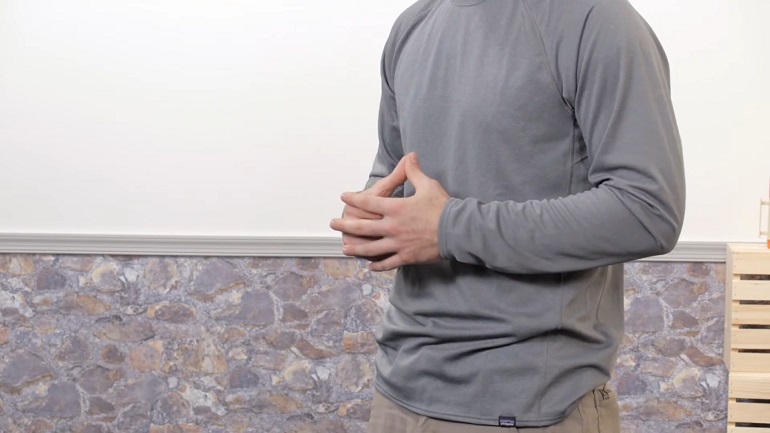 If you get the fit right, the Capilene's thin and stretchy design will feel great on your skin and will perform well, like it was marketed.
Features
Fit: Slim
Material: Recycled polyester
Fabric Weight: 250 g
Flat Seam: Yes
Pros
Really comfortable
High-quality materials
Warm
Exceptionally breathable with odor-resistance
Affordable
Cons
The thumb loops can be uncomfortable.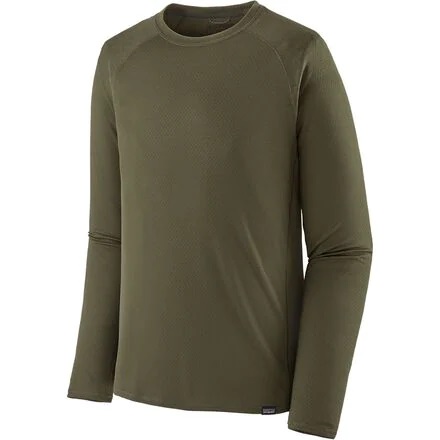 Capilene Midweight Crew Top
The price of "Capilene Midweight Crew Top " varies, so check the latest price at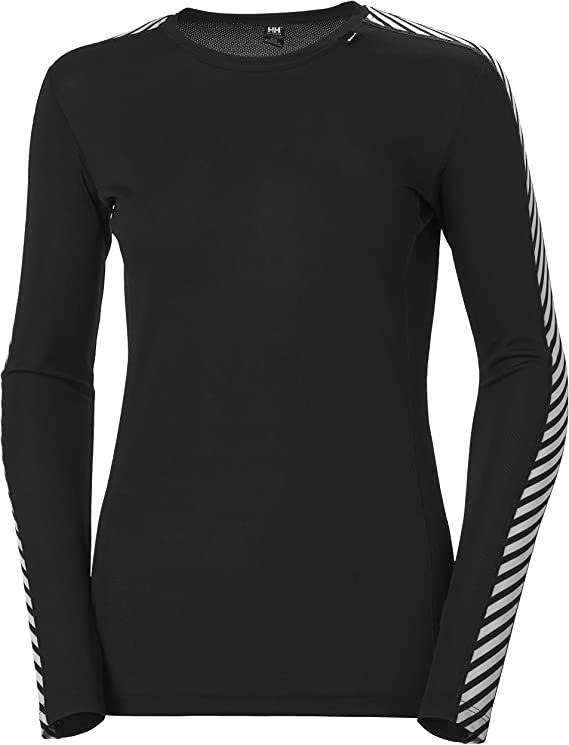 The Helly Hansen HH Lifa Crew is a lightweight base layer to replace the relatively heavy one we discussed earlier.
The Helly Hansen Lifa Crew is so comfy that you'll often forget you're wearing it while snowshoeing, hiking, or engaging in whatever outdoor activity suits you best.
It won't be as warm as the SmartWool Merino because these lightweight layers are designed for aerobic activity. Consequently, you will feel comfortable enough as long as you remain active.
You will even feel cozy while wearing it thanks to the cuffs, which are made to increase ventilation and comfort, such as the cuffs of models made to keep the user dry and warm.

You don't need to worry about breathability because synthetic layers breathe effectively, with moisture-wicking capabilities, in colder temperatures when worn under another layer.
According to Helly Hansen, this layer works best when worn under other outer layers/clothing to regulate perspiration during aerobic sports and activities. Additionally, after being wet, this base layer wicks moisture and dries in just a few hours.
Features
Fit: Slim
Material: 100% Polypropylene
Fabric Weight: 145 g
Flat Seam: Yes
Pros
Feels really comfortable
Wicks moisture
High breathability
Lightweight
Cons
The stitching on the sleeve cuffs doesn't seem to be particularly sturdy.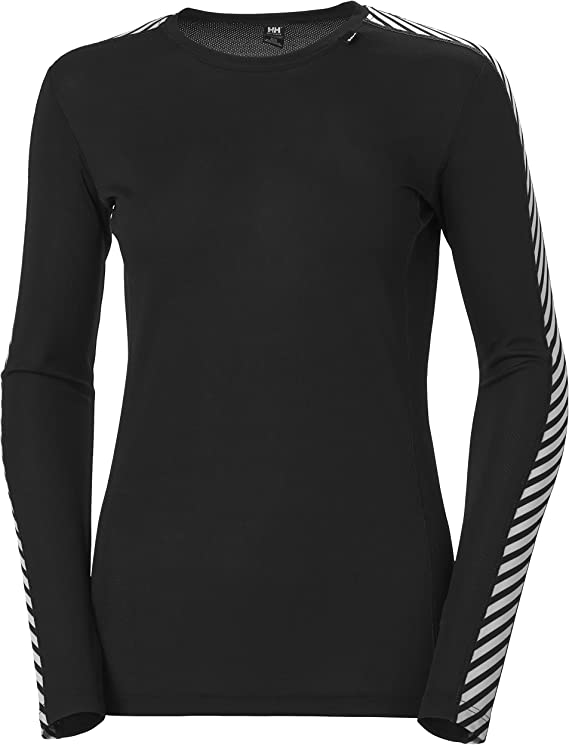 Helly Hansen HH Lifa Crew
The price of "Helly Hansen HH Lifa Crew" varies, so check the latest price at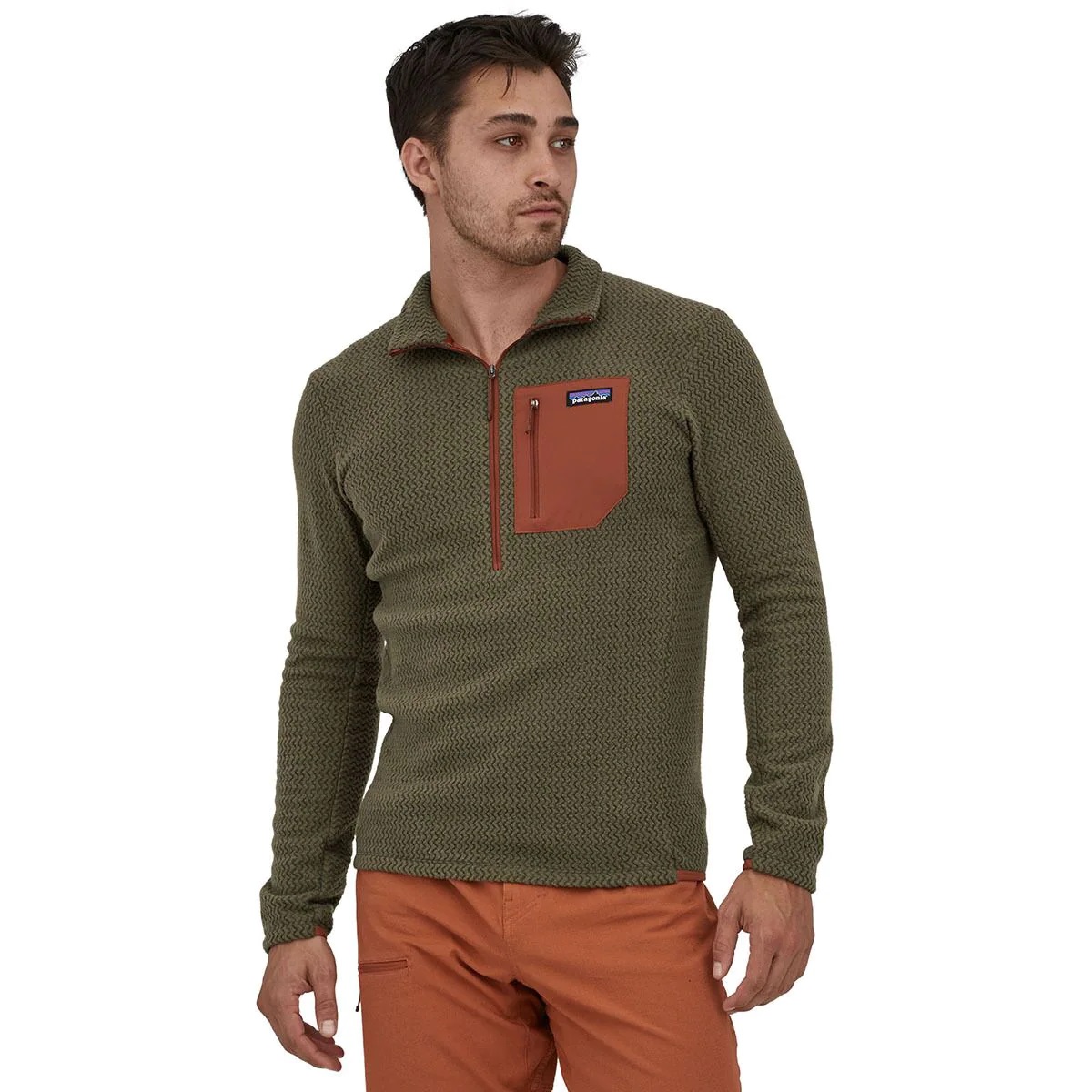 The Patagonia R1 Air Zip-Neck Top is lightweight and breathable, so get ready to push your limits in cold winter weather without skipping a beat.
As Patagonia is a high-end brand and comes with a premium price, the quality is also top-of-the-line. Patagonia R1 Air Zip-Neck has excellent quality and is made in Sri Lanka with Fair Trade certification.
There is nothing this bad boy can't handle, whether you wear it alone, under your insulated jacket, or as an outer layer. It is exceptionally warm, breathable, quick-drying, and incredibly soft—you'll feel like it is an extension of yourself.
It is very light for the incredible warmth that it provides and lets in all the air. You'll want to wear a hardshell or a jacket over it, so the wind doesn't blow away that lovely warm layer around you!
R1 Air is made with recycled hollow-core fabric, which has a distinctive zig-zag texture and is great at wicking moisture away from our skin. This allows for repeated wear before washing.
It has off-shoulder seams to prevent discomfort while wearing a pack, a zippered chest pocket (internal chest pocket on the women's version), and a venting half-zip. When I got too hot, the half-zip was a good way to let the air out, but there were times when I wished for a full zip.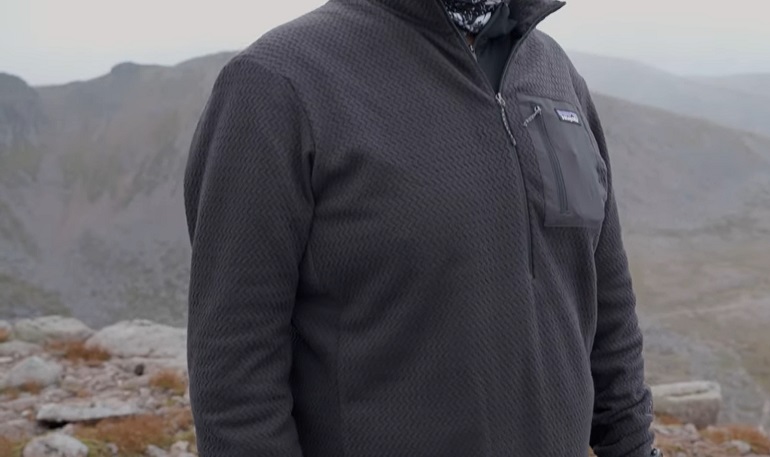 This base layer is Bluesign® approved and is made entirely of recycled polyester. This sustainable fabric provides the highest level of consumer safety by using methods and materials that preserve resources and reduce impacts on people and the environment.
It is suitable for cold winter walks as a medium-weight fleece, but it couldn't keep me warm when I wasn't moving. Also, a hood would be pretty welcome on colder days.
Features
Fit: Slim
Material: 100% Recycled polyester
Fabric Weight: 275 g
Flat Seam: Yes
Pros
Comfortable
Made with sustainable materials
Off-shoulder seams make backpack carrying easy
Half zip for temperature regulation

Cons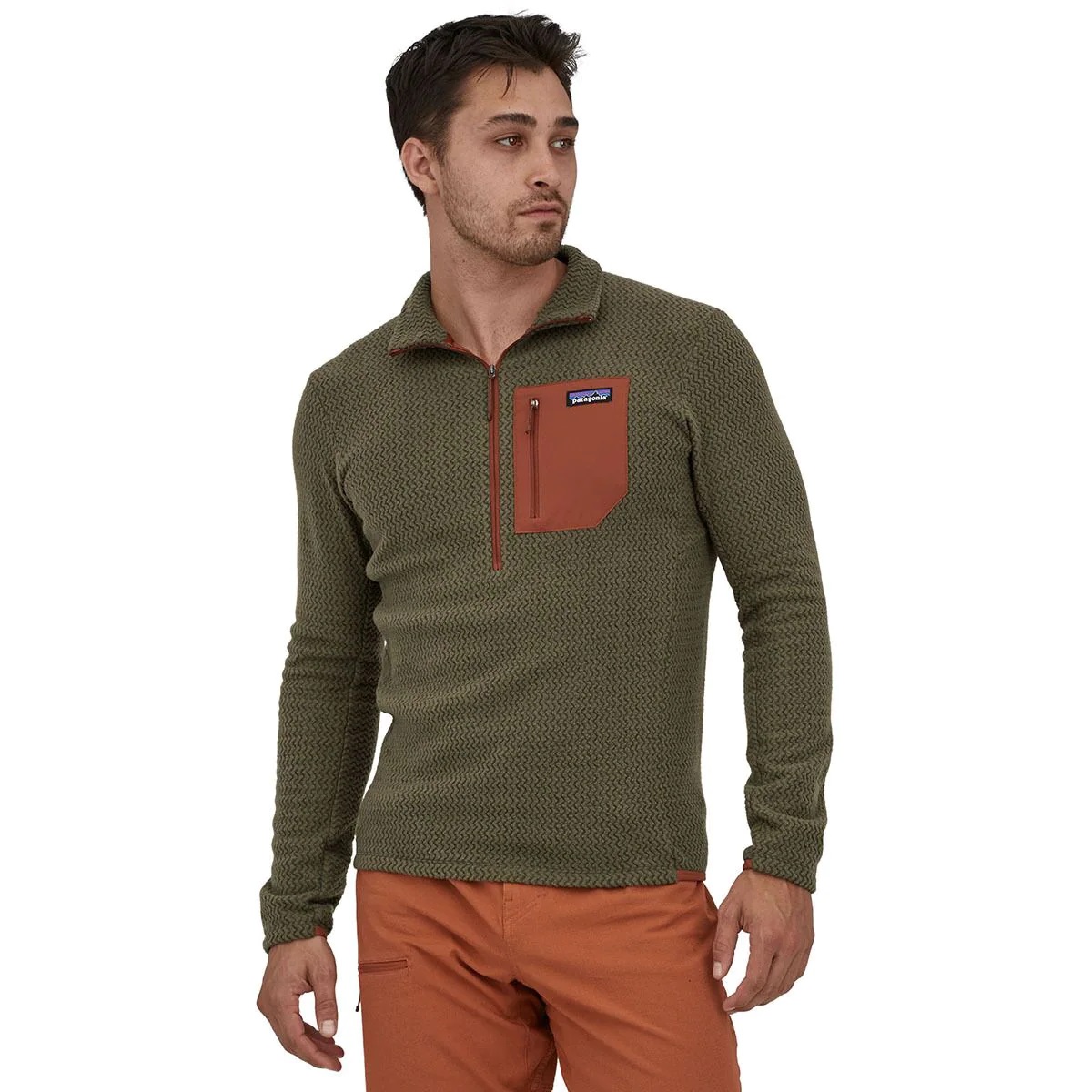 Patagonia R1 Air Zip-Neck Top
The price of " Patagonia R1 Air Zip-Neck Top" varies, so check the latest price at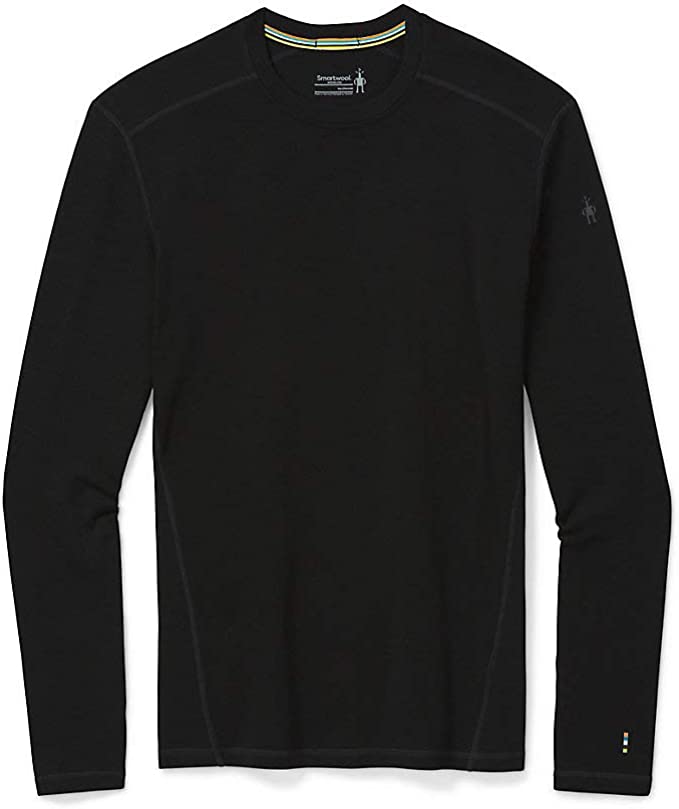 The SmartWool Merino 250 Crew will do the trick if you want a warm item of clothing that also allows for breathability. Add to it the base layer's silky, 100% merino wool fibers weave, and I vouch that you'll remove it only when it comes to washing it.
I won't argue that merino wool is recognized for its lack of durability, but this base layer defies that stereotype.
Additionally, The SmartWool Merino 250 is their heaviest option, coming in at 250 g/m2. It follows that this wool layer will provide you with all the warmth you require before embarking on your outdoor journey.
The Merino 250 can be used as a mid-layer, even though base layers are all designed to be worn next to the skin when you feel that you need to be especially warm during a particularly chilly snowy season.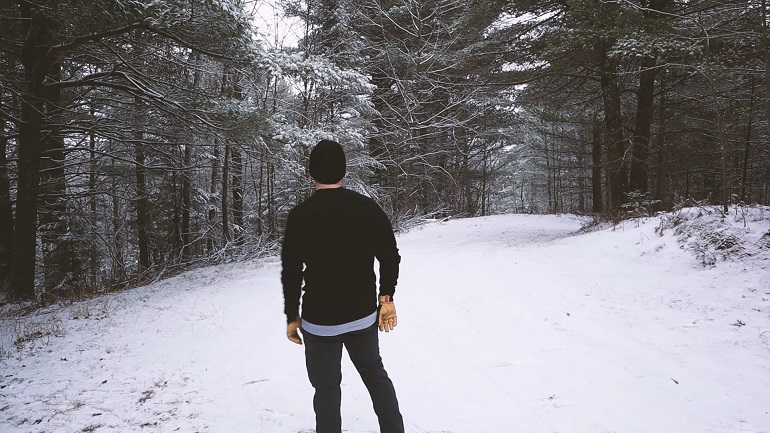 You can take it off to feel more comfortable once you start warming up because, as we all know, skiing or snowboarding is a demanding sport that can lead you to sweat a lot. It is a really adaptable item of apparel, so you should think about it as you get ready for your winter sports season.
Though, I can guarantee, that for its weight, this layer performs a great job of preventing overheating, especially in colder areas. The Merino 250's natural fibers' ability to wick away sweat comes from merino wool.
Despite all its benefits, it's crucial to keep in mind that the Merino 250 struggles to dry rapidly.
Features
Fit: Slim
Material: 100% Merino Wool
Fabric Weight: 250 g
Flat Seam: Yes
Pros
A really warm base layer
High breathability
Cozy
Comfortable
Cons
Pretty expensive, given that the price is around 110$
Quite heavy for a base layer.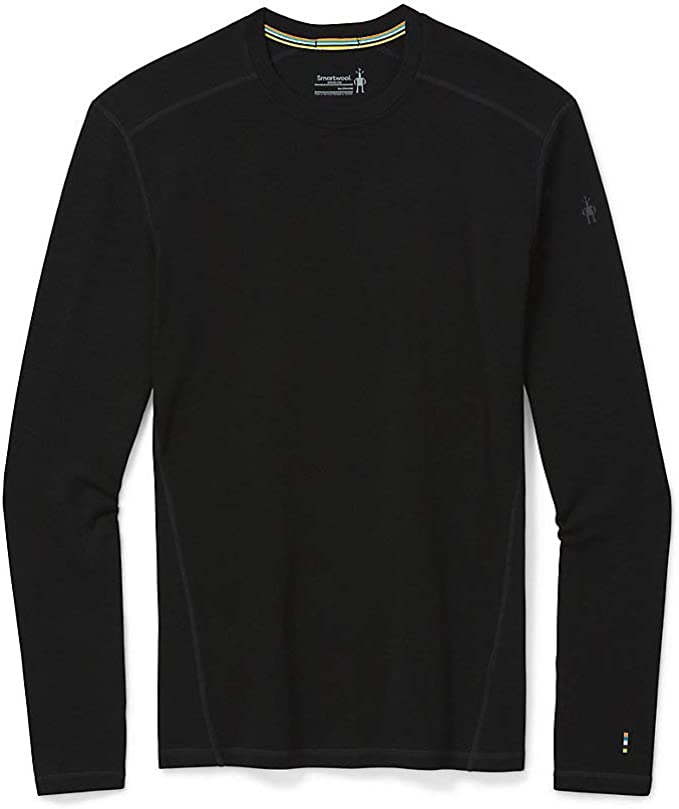 SmartWool Merino 250 Crew
The price of "SmartWool Merino 250 Crew" varies, so check the latest price at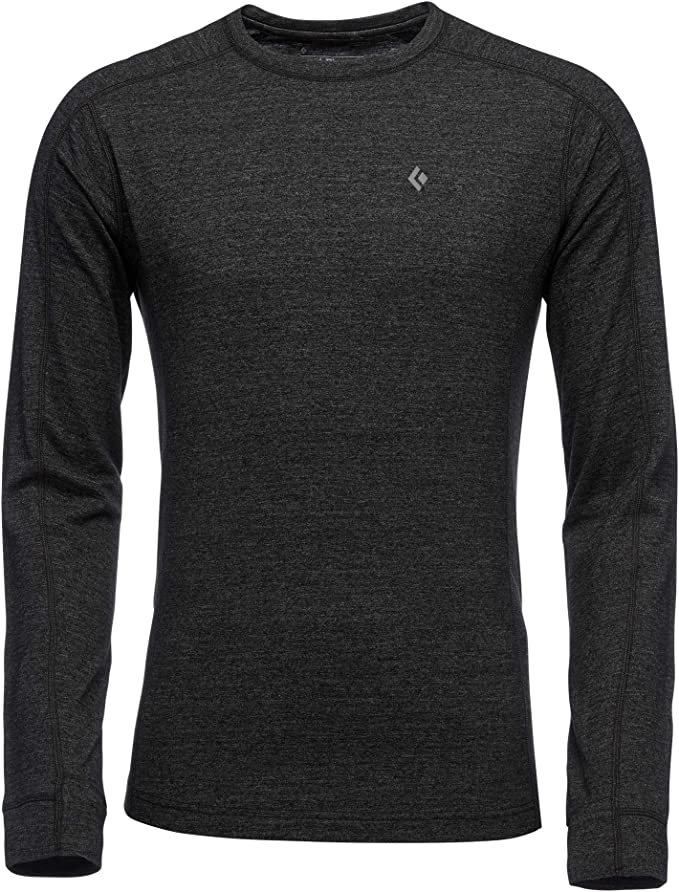 This top's 150 g/m2 fabric weight, which falls somewhere between light and midweight, makes it a versatile choice for high-output activities, especially during the colder seasons.
I don't even need to mention how comfy, and incredibly warm this base layer is, given that it is made of merino wool.
Snow and cold are kept out thanks to an easily tucked-in drop-seat, drop tail hem, and thumb holes, but what really distinguishes this merino wool blend from the competition is the state-of-the-art NuYarn technology.
The goal of NuYarn, a cutting-edge spinning technique, is to produce "the world's first performance wool." The Black Diamond Solution base layer is centered on it as well.
The enhanced loft inside the wool fibers is the first benefit of NuYarn, and thus the Black Diamond Solution base layer, as an illustrative case study of this ground-breaking material.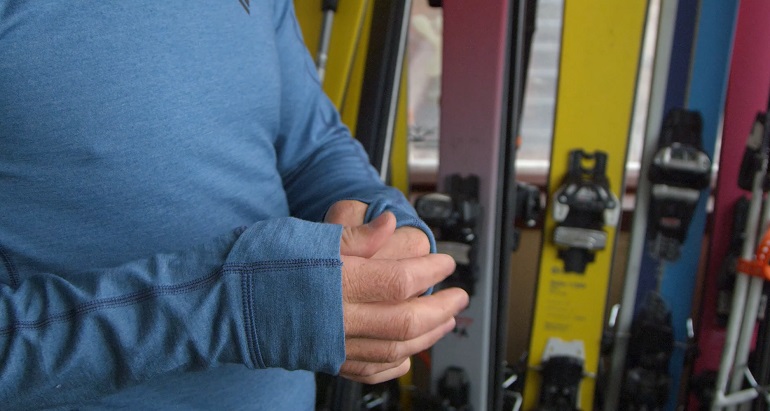 The enhanced loft inside the wool fibers is the first benefit of NuYarn, and thus the Black Diamond Solution base layer, as an illustrative case study of this ground-breaking material.
Base layers made of merino blend frequently bring out the greatest qualities of both fibers, producing a superior item in terms of both performance and comfort. Although the durability and dry speed aren't perfect, you can't have everything in life!
Base layers made of merino blend frequently bring out the greatest qualities of both fibers, producing a superior item in terms of both performance and comfort. Although the durability and dry speed aren't perfect, you can't have everything in life!
Features
Fit: Slim
Material: Merino wool
Fabric Weight: 150 g
Flat Seam: Yes
Pros
Lightweight
Comfortable
NuYarn technology
Great warmth-to-weight ratio
Cons
Really pricey
Not that durable
The dry speed is not really impressive.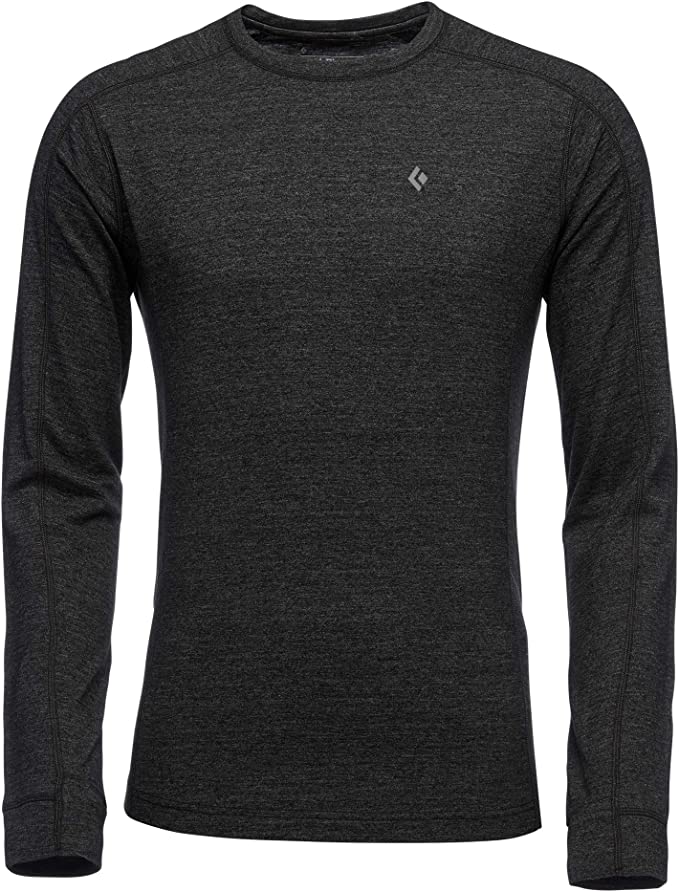 Black Diamond Solution 150 Merino
The price of "Black Diamond Solution 150 Merino" varies, so check the latest price at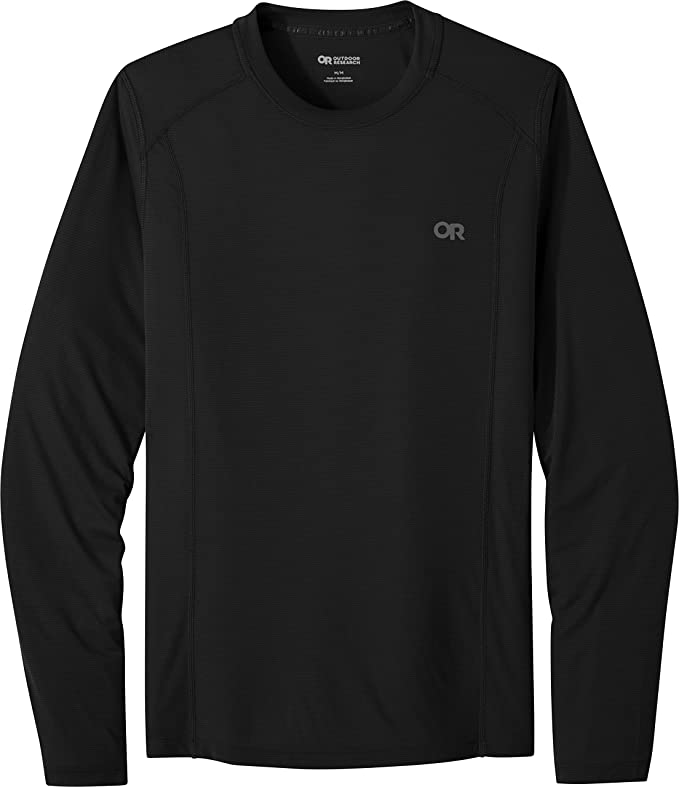 Given its high level of permeability and ability to be worn in both cold and extremely hot or humid conditions, this base layer is a remarkably adaptable item of clothing.
I can therefore state categorically that this is the ideal base layer for long-distance trekking, running, skiing, and hillwalking.
Made from 100% polyester Airvent by Outdoor Research, a material that is very breathable feels wonderful next to the skin and has excellent wicking capabilities.
This base layer has been treated with polygene's ActiveFresh odor control technology, which will keep you smelling fresh even after several days of hiking, for example.
This layer has a little stash pocket right above the hemline, which is an odd but pleasant feature.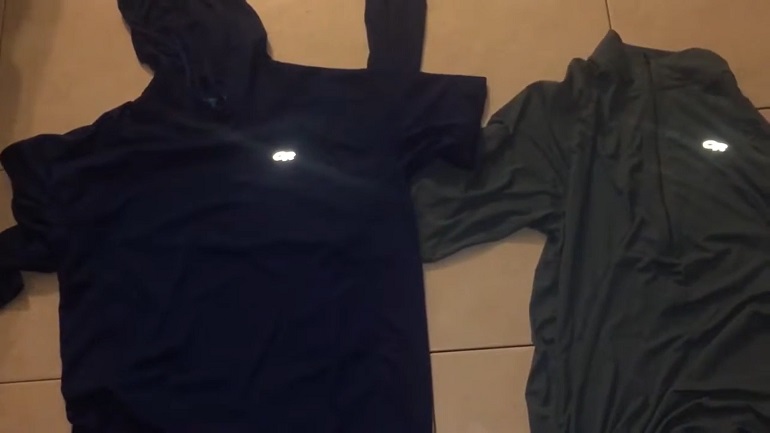 And let's be honest, we can't ignore that this base layer only costs around $30.
Features
Fit: Regular
Material: 100% Polyester
Fabric Weight: 101 g
Flat Seam: Yes
Pros
Lightweight
Comfortable
Versatile
Really affordable
Cons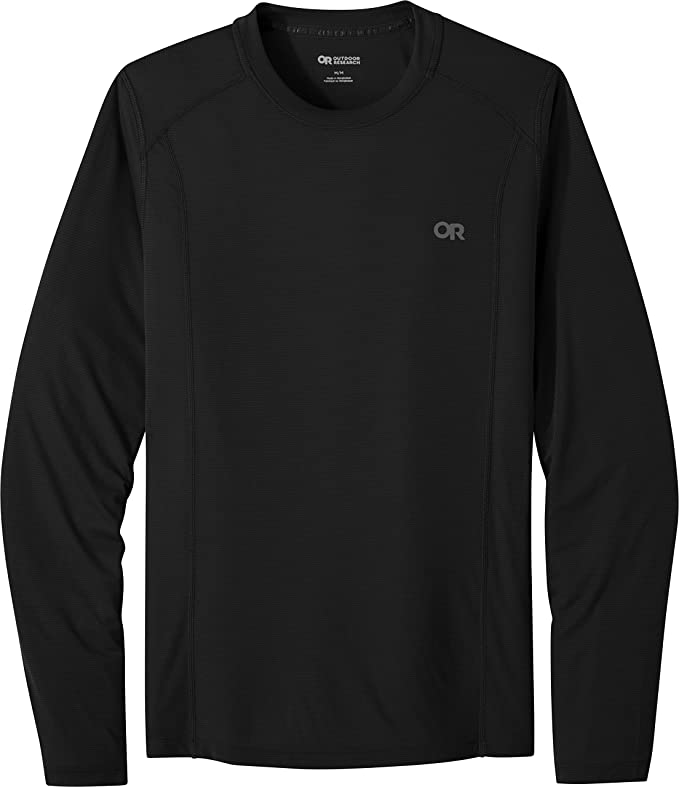 Outdoor Research Echo L/S
The price of "Outdoor Research Echo L/S" varies, so check the latest price at
Buyer's Guide: How to Choose the Best Base Layers
As you have seen, there are numerous factors to consider when selecting a base layer if you want one that can satisfy all of your needs.
To help you understand all the factors that require your attention, I will cover everything from fabrics to odor prevention in the following paragraphs.
This will enable you to make the best decision possible in order to feel fantastic while outdoors. Before skiing, you should also need to know how to layer for skiing and what to wear to skiing.
Baselayer Materials
Baselayers are available in a variety of different fabrics. Base layers are typically made of polyester, merino wool, nylon, bamboo, or silk.
Sometimes they are made of a combination of synthetic fabrics in order to be perfect for different temperatures, so they can also be warm, but still give high breathability.
A variety of material combinations can be used to create the ideal synthetic base layers, depending on your requirements. Select materials that can be warm, breathable, and quick to dry. In general, you can find a versatile layer by just looking at the fabrics.
Your budget, preferences, intended use, and even allergies will influence your selected material. I have listed the most used baselayer fabrics below.
Merino Wool
Merino wool is produced by a particular breed of sheep that inhabit New Zealand's higher elevations. This is the reason that merino wool is so soft; it doesn't itch at all and feels lovely next to the skin.
Despite its higher price, merino wool is my preferred baselayer material for several reasons. It resists odor, has excellent temperature regulation, and is exceptionally comfortable.
It is true that merino wool baselayers are typically heavier, about twice more expensive, and less durable than polyester ones. They are prone to developing holes, pilling, and stretching out. However, if you give proper attention to the care, you should be able to use your wool layers for at least a few seasons.
Additionally, merino wool fabric wicks moisture and is naturally antibacterial, so you won't have to worry about unpleasant odors while you work out.
Polyester
Polyester can always be considered a cheaper alternative for a base layer. Polyester is a specialized fiber. This synthetic material is durable, strong, effective at managing moisture, and resistant to stretching.
It is ideal for base layers because it ensures that garments fit close to the body as intended. Polyester also dries quickly and has an exceptional moisture-wicking capability.
A good polyester base layer usually includes technical wizardry that prevents bacteria from infesting the fabric and causing fabric odors, despite not having any "natural" fabric odor defense like Merino does.
It is the use of Silver Ions and inbuilt chemical treatments during production that prevent the bacteria from causing fabric odors.
Blends
It's not as straightforward as choosing between a baselayer made entirely of polyester or merino. Some brands, with their primary focus on performance, are experimenting with blends that combine polyester's durability and moisture-wicking properties with the comfort and performance of merino wool.
These blends are more concerned with performance than cost savings, as they are among the most expensive items on the market.
The advantages and disadvantages of each full-fiber option are combined in these blended knits. These Merino/poly-blends often shine the brightest when it comes to moisture wicking.
The wool fibers naturally draw sweat away from the body, and the lightweight polyester quickly evaporates it from the layer's exterior surface.
Silk
Silk is one of the best base layer fabrics that is the softest and most comfortable. It also packs an impressive amount of warmth into a light and thin design next to the skin.
Silk is much less durable than polyester, so it should always be worn under an outer or middle layer to protect against abrasion and UV rays. Additionally, it also lacks breathability.
Despite being less durable and more expensive than wool or synthetic fabric, silk excels in terms of its weight-to-thickness ratio.
Since silk does not naturally resist odor, it must be washed every time you wear it. Wicking away moisture, speedy dry time, softness, easy wash, and no ironing are the features that make silk stand out as a baselayer fabric.
Breathability
It is the most crucial feature of an effective base layer, alongside warmth. Breathability is the capacity of a material to let sweat pass through its fibers. If the fabric is not breathable, every molecule of water vapor expelled from your skin will get trapped.
The base layers should offer both ventilation and breathability, meaning they can keep you cool in a warm climate and warm when the cold sets in. The right base layers will assist with regulating your temperature and keeping you comfortable, whatever the weather.
Heavyweight base layers are great for keeping you warm, but they are less breathable and won't keep moisture out as well as lightweight and midweight layer options do. Synthetic materials have excellent breathability because they absorb very little water and dry quickly.
The thickness, openness of the weave, and fabric's type and quality all impact a baselayer's breathability. Lightweight merino wool typically provides the best breathability. However, some high-quality lightweight synthetics are close too.
For high-exertion activities like ski touring, cross-country skiing, snowboarding, biking, and climbing, investing more money in a baselayer that performs better is probably worth it.
Merino and blends offer good breathability as compared to polyester and silk. Ultimately, your personal preference and capacity to overheat will determine the type of layer you should choose.
Odor Prevention
Odor control is another measure to consider before going for a quality base layer purchase.
Merino wool is excellent at removing moisture from the skin, which means less sweat and less odor. Merino wool is the way to go if you're going on a long trip in the backcountry and don't want to carry multiple baselayers or wash them every night.
Merino keeps you dry and smell-free like nothing else. However, if you don't sweat a lot or are not going for some heavy exercise, there are some synthetics that also work fine for odor control.
Durability
A quality that we look for in all of our outdoor gear is durability. I frequently spend more on fewer high-quality goods in the hope that what I own will last longer and won't be going to waste.
I follow the same standards while buying baselayers as with all other gear purchases. I will suggest you buy high-quality products at a lower price and repair them when needed. You can choose post-consumer products if that is not possible.
The most durable base layers are those made of thick synthetic fabrics. On the other hand, base layers made entirely of Merino wool tend to be the least durable, regardless of their thickness. Thin layers of any kind are also usually less durable.
Base layers made of a Merino wool blend include polyester, nylon, or elastane spun with the wool fibers. The more these other materials are incorporated, the more durable the fabric becomes. However, the durability of a synthetic product has no match.
Warmth
Warmth is one of the most crucial things to consider when making your choice about base layers, as it serves as the foundation of your layering system. It's not just about heat retention, but also about the system of thermoregulation.
When your body temperature rises and your heart rate goes up, a good base layer should allow excess heat to escape while also trapping heat to keep you warm in cold temperatures.
An extremely warm layer that doesn't allow for much airflow may work for ice fishing, but for high-output activities like backcountry skiing, it will probably leave you all wet and cold.
The Smartwool Classic All-Season Merino 1/4 Zip is my top pick as the best top for balancing warmth. This top is made of thicker, comfy fabric that keeps heat in while still being breathable and wicking away moisture.
Merino wool is the best at absorbing heat. Merino has a better warmth-to-weight ratio than polyester and regulates temperature better. When you're sweating a lot during high-exertion activities, the same shirt that keeps you warm in the winter will also keep you cool.
Silk is also noticeably warm for its light makeup, but it is not as breathable, which is a significant disadvantage. It's also essential to consider whether you'll use your baselayer as an outer layer.
While merino wool doesn't do much to block wind, some polyester fabrics can withstand light gusts because they are so tightly woven. Additionally, keep in mind that the material's thickness also has a direct impact on warmth.
Crew Neck vs. Quarter or Half Zips
Long-sleeved crewnecks and half- or quarter-length zippered shirts are just two examples of the many different designs that are available when it comes to base layers.
A crew neck with long sleeves provides warmth and has wicking capabilities. A crew design with long sleeves is a good baselayer for any cold-weather activity.
But, a baselayer with a zipper has enhanced versatility. The layer has long sleeves that keep the upper body warm and can either be fully zipped, which covers the neck for increased warmth, or unzipped, which allows for excellent ventilation.
Backcountry skiing, other activities that combine high and low output movement, and activities that take place in various weather conditions call for a 1/4 or 1/2-zip baselayer.
There are several reasons why you should consider a zippered shirt instead of the crewneck style. The capacity to adjust to shifting weather conditions is one advantage. You may zip up for extra warmth and unzip as you sweat it off.
It's also nice not to have to take off your best snow ski helmet if you want to remove the shirt altogether.
The quarter or half-zip long sleeves baselayers also have a decent look around town, and the raised collar provides a nice boost of warmth. However, having a zipper on your next-to-skin layer isn't as comfortable as the cleaner crew style, and the collars can flop around if you unzip the shirts while running.
Fit
Many customers place a high value on fit and comfort when weighing their options. A layer will not serve you if it excels in all other areas but does not fit well or is uncomfortable for you.
The base layer's form-fitting may be the most challenging metric to evaluate because comfort and fit are ultimately individual preferences and depend on body types.
A baselayer should have either a fitted or a compression fit. A loose-fitting base layer is not even close to a "base layer"—call it more like a T-shirt or a second layer.
If the shirt is too tight and perfectly fits your body, it won't be suitable to wear anywhere else.
However, if you're looking for a base layer that doubles as a casual shirt, the one with a roomier fit is a great option. But it loses some breathability and moisture wicking. In the end, it's up to you and depends on your intended use and style preferences.
Style
Base layers are available in a range of styles and cuts, including vests, long-sleeved, and short-sleeved tops. Each of these various styles has its own advantages and applicability.
I advise selecting a long-sleeved base layer since, with the appropriate selection, you can stay comfortable even in high temperatures. I can't say the same for cold-weather short-sleeve base layers, though. For plus sizes, Rei co op offers a great budget set option.
Insulation Weight
Generally speaking, weights are classified as lightweight base layers, midweight layers, or heavyweight base layers, with thicker materials adding a little bit more warmth.
You might also come across terms like "ultralightweight," or "featherweight,". These occur when companies try to push the boundaries of lightweight fabrics. If you're talking about something heavier, you can hear terminology like "expedition weight."
Key Baselayer Features
It is essential to consider the activities, conditions, and purposes for which you intend to use a base layer. From that point on, you can get into the specifics of fabrics, weights, features, etc.
Do you need something to walk your dog and shovel snow in the middle of winter, or are you an athlete who pushes yourself in the harshest of conditions?
Baselayers can be anything from plain crewnecks with no features to hooded half-zips with chest pockets.
A good base layer should have some basic features. It should be made of a fabric that wicks away moisture well, regardless of whether it's a natural or synthetic one. A snug fit is also crucial, as the wicking fabric needs to be close to the skin to work.
If you decide to cover your baselayer with an outer or middle layer, then the simpler, the better. On the other hand, zip pockets and thumb loops will be appreciated by those who want to wear their baselayer as an outer layer. Additionally, skiers and climbers will benefit from wearing a hood that fits snugly under their helmets.
You should have a base layer for all seasons to make sure you get maximum comfort, with wicking materials helping to dissipate sweat in the warmer months and increased warmth in the winter.
A good base layer can significantly increase your level of comfort and enjoyment during all sports and leisure activities, regardless of the season.
If you are into more dynamic contact sports like football and rugby, a poly-based garment is more durable and makes removing mud and grass stains easier. Merino and poly fibers options that look good under ski gear are available for activities like skiing, cycling, and hiking.
In addition, some baselayers have a UPF rating that indicates they are capable of blocking sun rays. Before deciding which features you require, I suggest you determine what you will use your baselayer for.
Sustainability
In the outdoor industry, sustainability has become more important over the past few years, and baselayers are no exception.
Sustainability is one of the most important things to consider when making a purchase. Consumers and brands alike are becoming increasingly aware of how the clothes we make and wear affect the environment and the lives of those who make them.
We all have an obligation to reduce the amount of unnecessary harm that we either cause or support, as well as to improve the lives of those who put in long hours to make outdoor gear.
When it comes to the apparel industry, brands must make deliberate efforts to make their clothing more environmentally friendly. One of the most important actions a clothing company can take to lessen its impact on the environment is to source and manufacture its products using sustainable fibers and materials.
Patagonia is a determined leader who not only leads but also encourages other brands to reduce the impact of their clothing and business. We can also play a part by supporting brands and purchasing goods made of sustainable materials.
Conclusion
Since outdoor activities are all about freedom and connecting with nature, nobody should ever feel uncomfortable while engaging in them. And, let's be honest, if you are sweating profusely and are feeling extremely cold, you cannot connect with anyone.
The base layer serves as a second layer of skin that is meant to keep you comfortable and at ease while doing what you love, which is why it is such an important piece of equipment.
Base layers are also adaptable items of clothing that come in a variety of fabrics and designs with advantages best suited to particular climates and conditions, so you should choose depending on your need.
Also, keep in mind that the temperature in the mountains can vary quickly, so you should be able to remove one layer of clothing to stay cool while adding another to stay warm.
I sincerely hope that this post has been helpful to you in finding what you need or, at the very least, has provided you with a clearer understanding of the value of base layering and the characteristics you should look for when selecting the best fit for you.
Winter is almost here, therefore you should start thinking about a base layer that will make you happy for many seasons.
Remember that base layers aren't just for the cold months. There are possibilities for the summer as well, and in this case, the base layers are designed to keep you cool while you still engage in your favorite activities.