Let's go paddleboarding! But, wait! Have you packed your gear?
Your paddling trips are not complete without a high-quality dry bag! The constant worry and tension of where your equipment will go and how to keep your valuables dry is hardly something to carry along with you.
Whatever paddleboard you use, or how you use it, there is a bag to suit every paddle boarder. You have dry bag backpacks, zipper dry bags, roll-top dry bags, and dry bag duffels. Each provides seamless waterproofing to all your necessities.
However, when purchasing any type of dry bag you must be extra attentive to the quality of the material used, its capacity, the price range, and any additional useful features such as additional straps and belts.
Top Pick
YETI Panga 28 Backpack
Material: Nylon
Closure Type: Zipper closure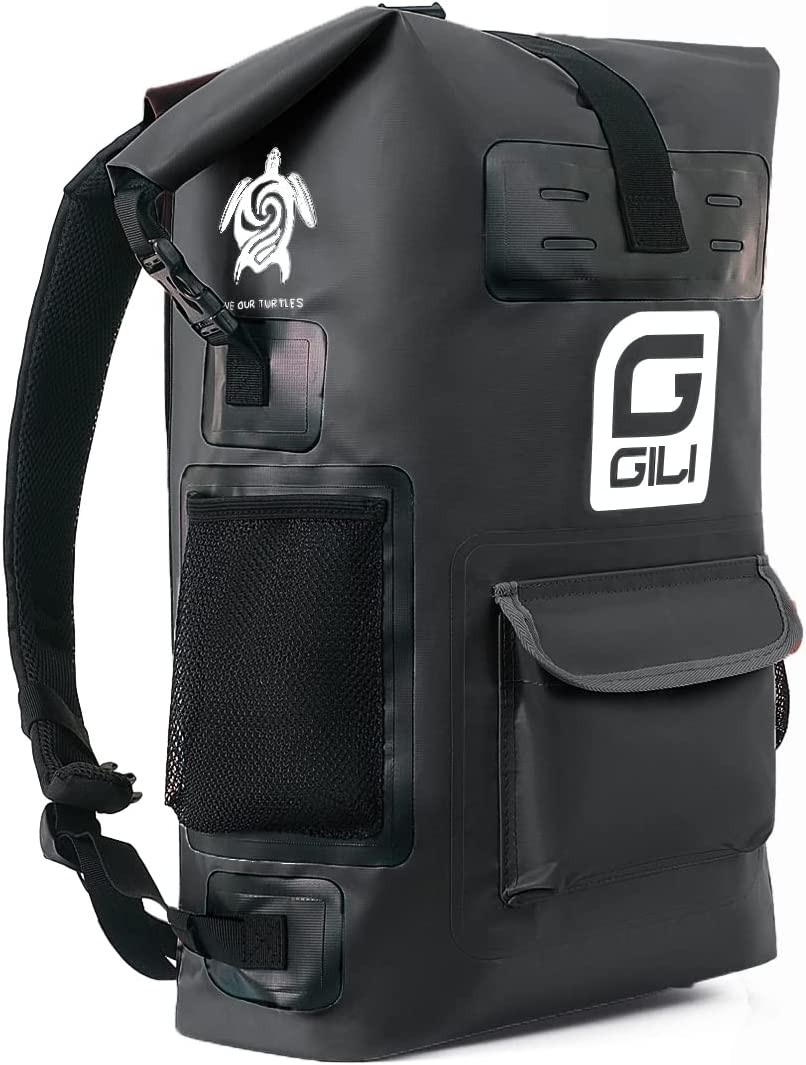 Gili waterproof backpack
Material: Vinyl
Closure Type: Buckle, Zipper
Ultra Lightweight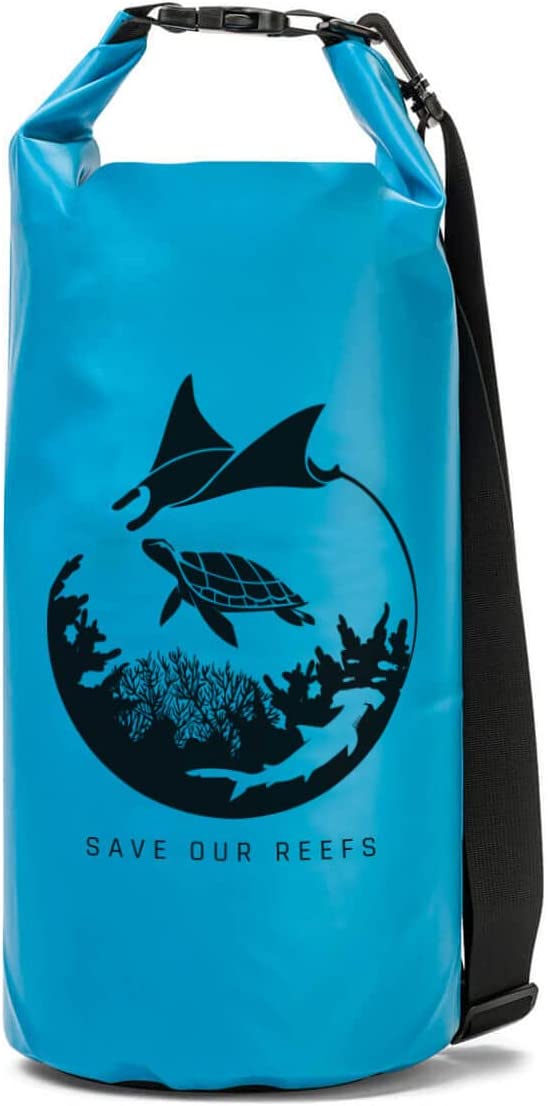 Gili waterproof roll-top
Material: Vinyl
Closure Type: Zipper
Super Versatile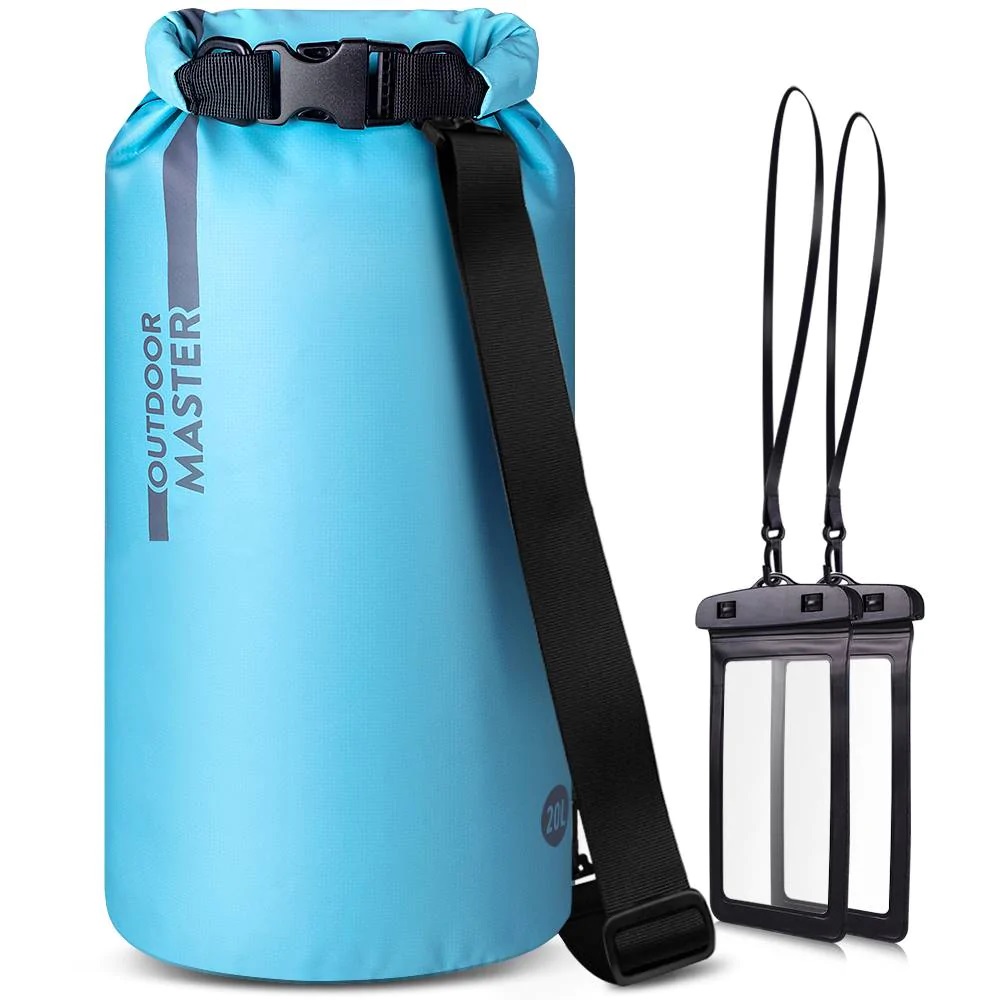 OutdoorMaster dry bag
Material: 500D PVC
Closure Type: BUCKLE, ZIPPER
Heavy-duty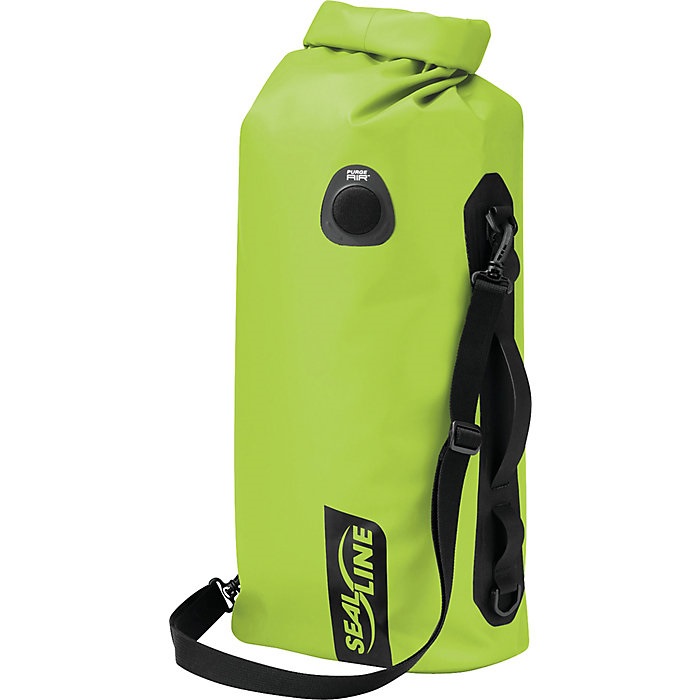 SealLine Discovery Deck Bag
Material: VINYL
Closure Type: Buckle
All-purpose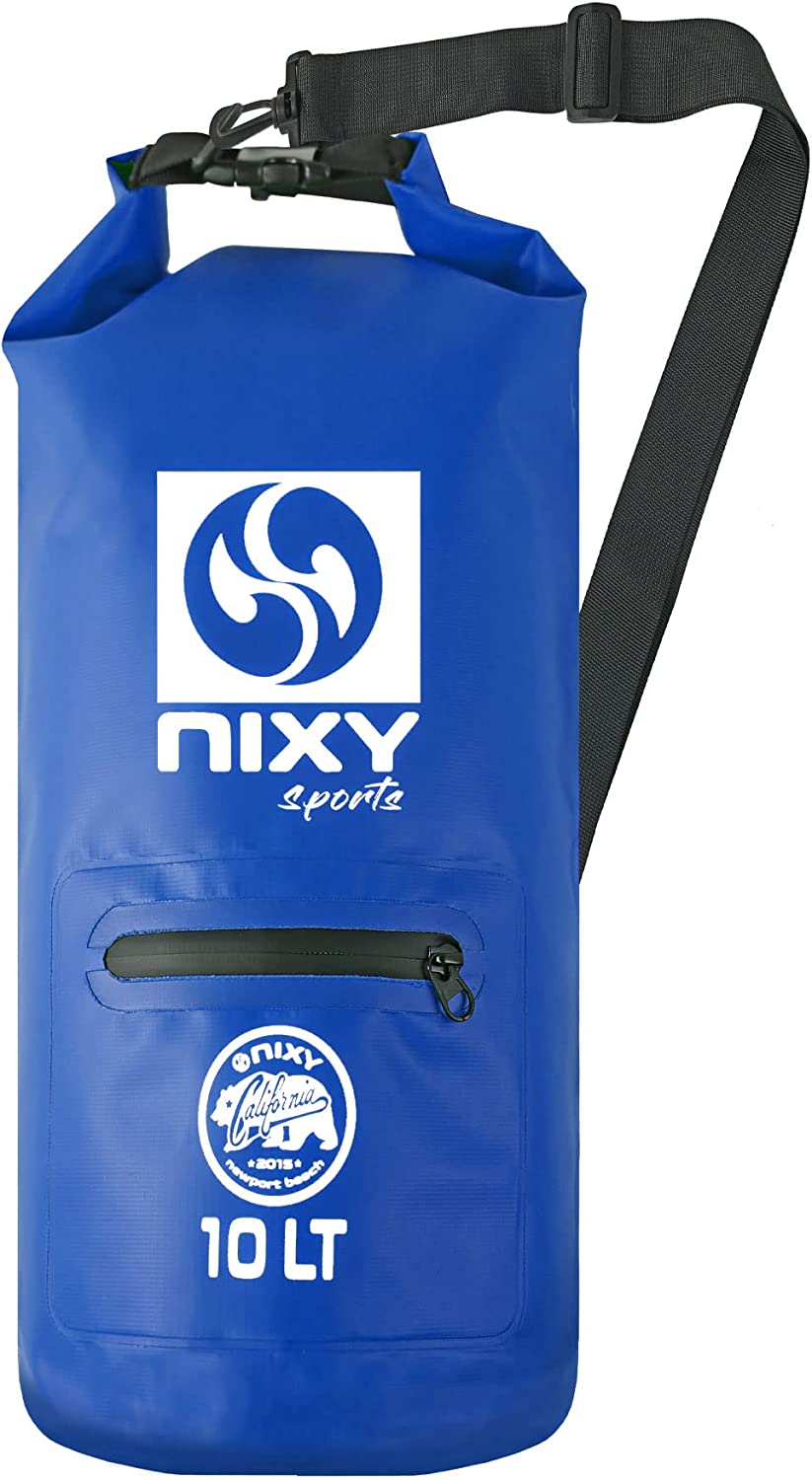 Nixy dry bag
Material: Nylon
Closure Type: Roll-top Closing Flap
Solid Waterproofness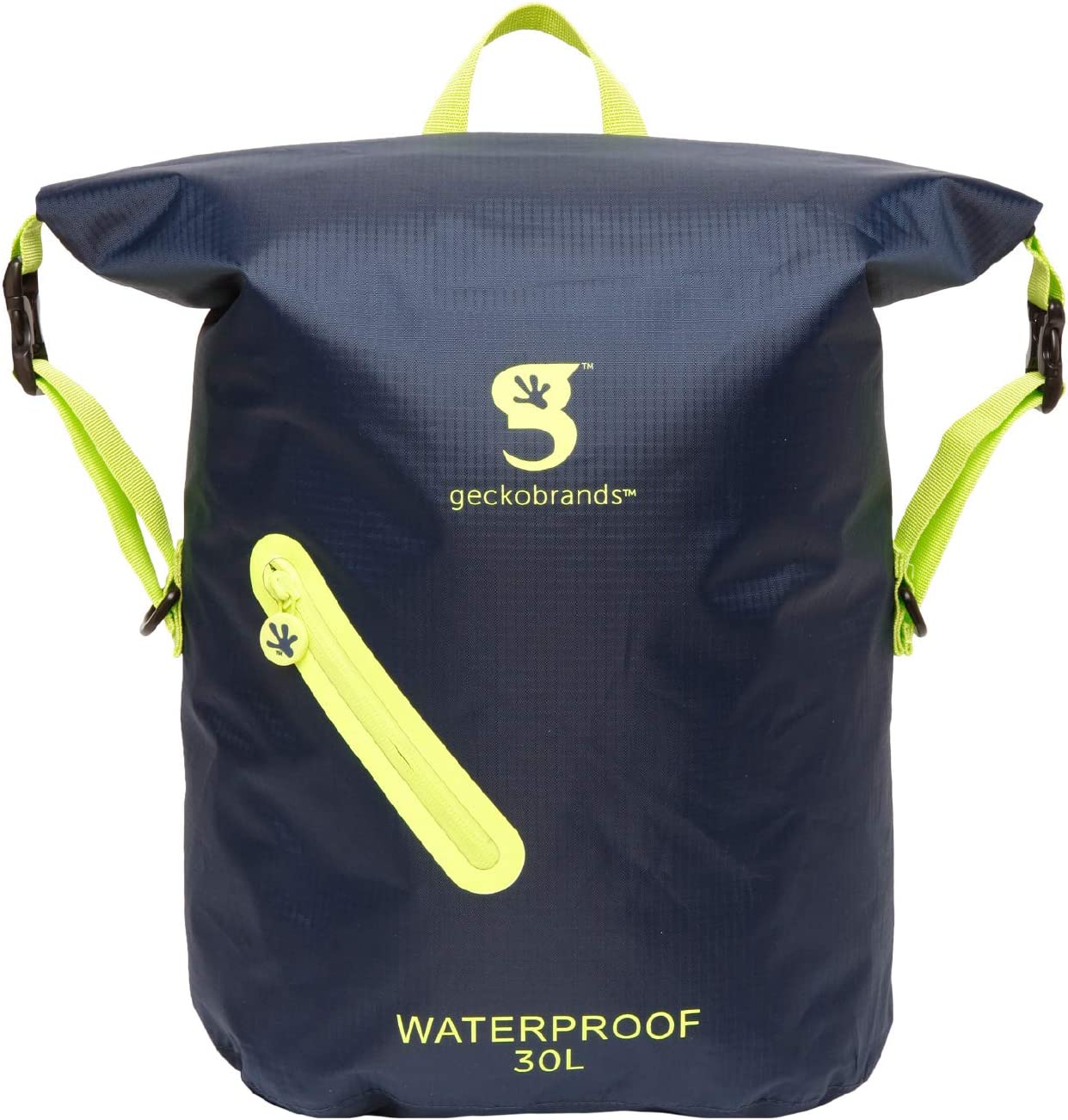 Geckobrands dry backpack
Material: VINYL
Closure Type: BUCKLE
Super Durable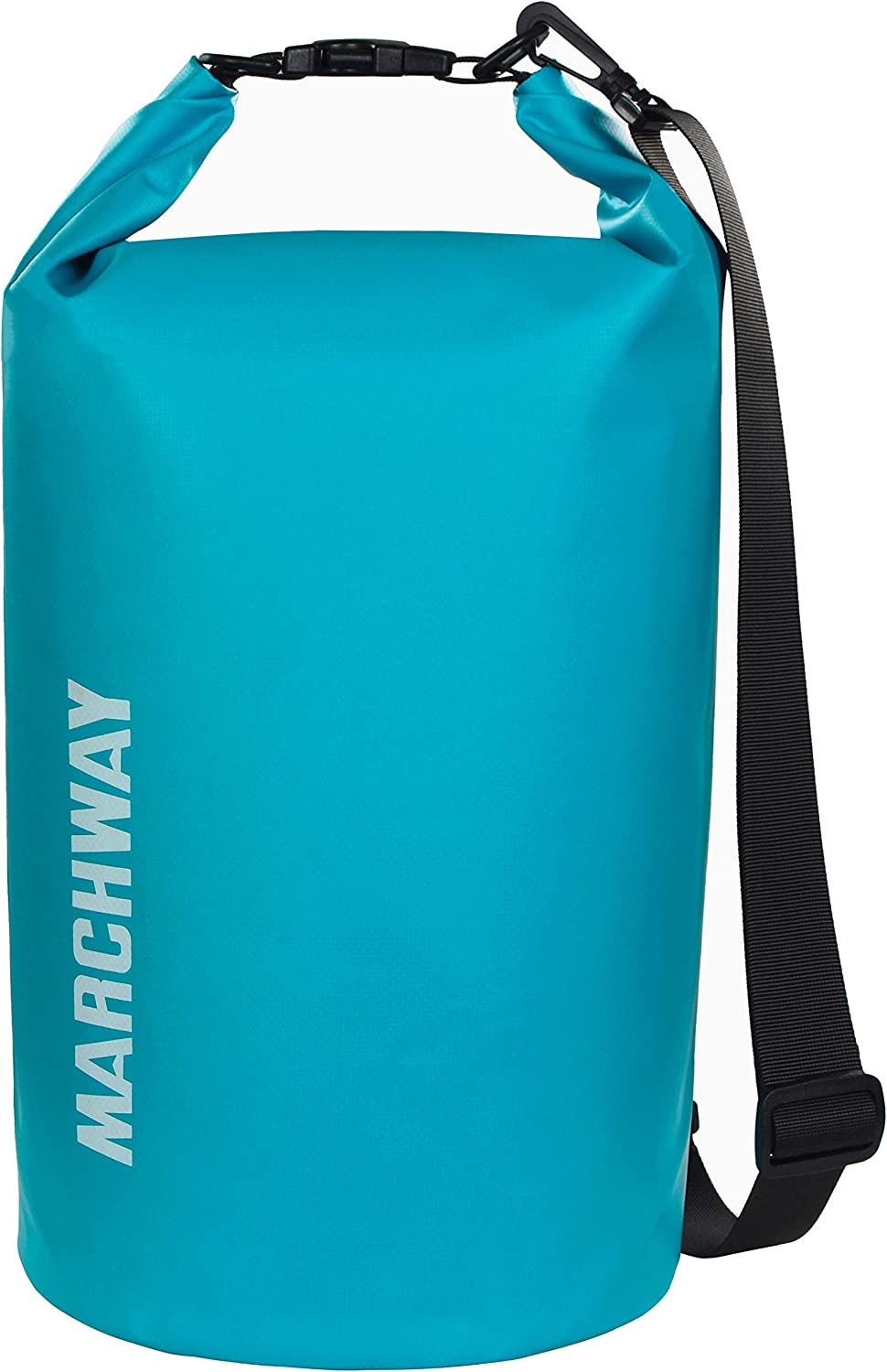 MARCHWAY Dry Bag
Material: Plastic, Tarpaulin
Closure Type: Buckle
Best Reliable Waterproof Dry Bag for Paddle Boarding
So when it comes to the best dry bag for paddle boarding, the options are endless! There's something for everyone to keep their paddle board accessories and gear dry with additional features like a waterproof phone case, watertight seal, exterior pocket, and hydrolok zipper.
You just need to streamline your requirements and needs in order to finalize the perfect option for your water adventures!
The Panga Backpack is manufactured with a highly durable ThickSkin shell which makes it practically immune from any punctures or snagging.
The high-density nylon and heavy TPU lamination used in manufacturing this dry bag give it the sturdiness and impermeability of a tank.
Although the dry bag lacks internal padding the creators made sure that the interior served important purposes. With high visibility bright blue lining on the inside, this helps you find what you're searching for quickly even in low light.
Upon purchase, customers receive a warranty card, user manual, an additional adjustable waist belt, and sternum strap as well as zipper lubricant.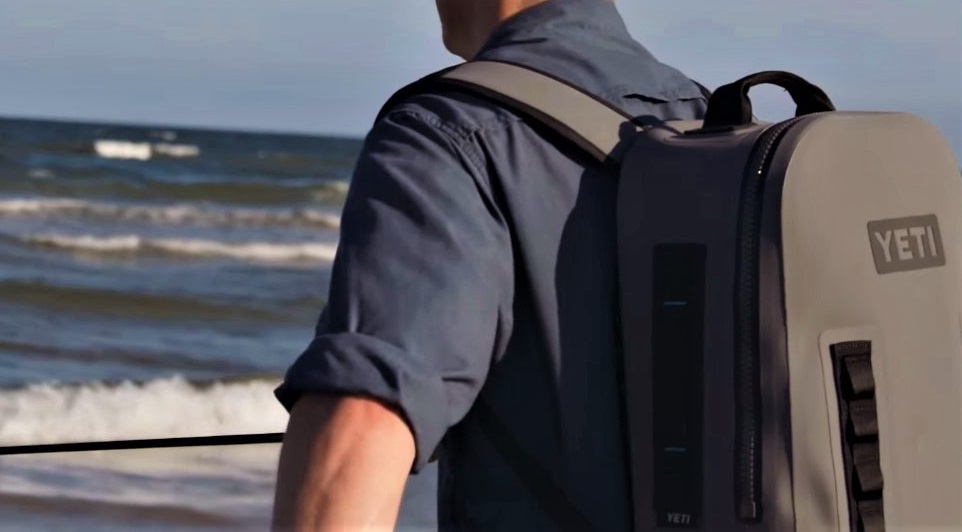 Features
Capacity: 28L
Type: Dry Bag Backpack
Weight: 3.9 lbs
YETI Panga 28 Backpack
The price of " YETI Panga 28 Backpack " varies, so check the latest price at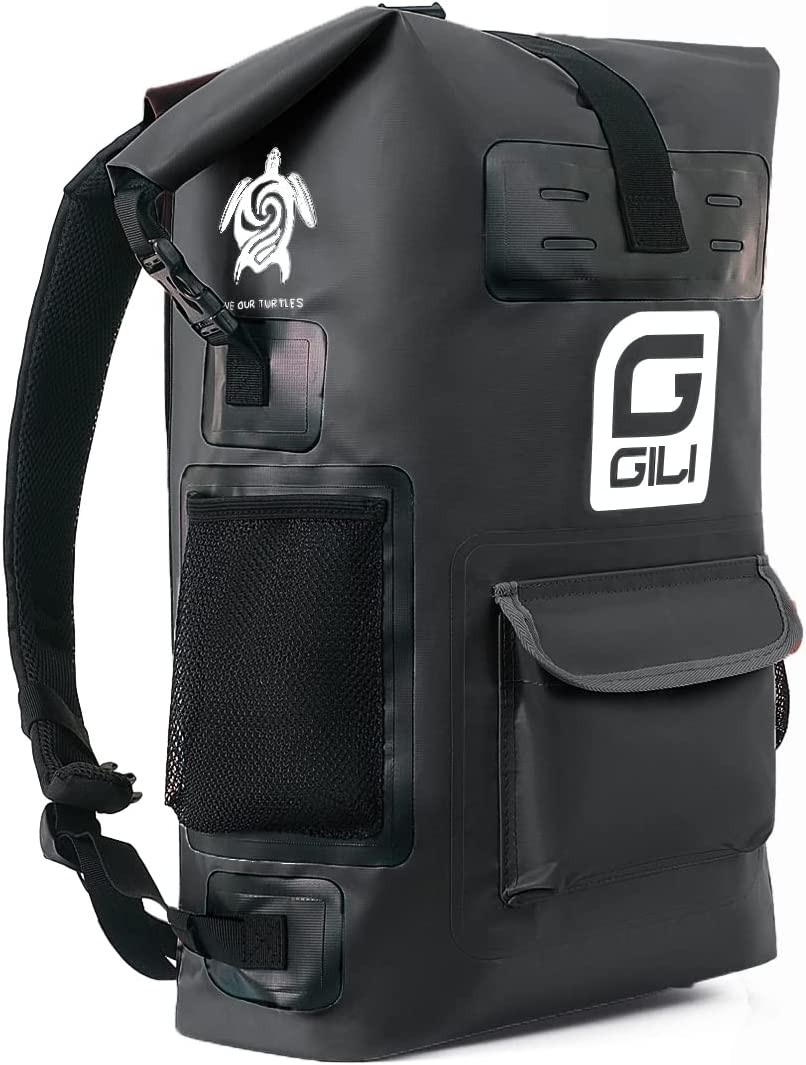 The Gili backpack is compact with comfortable straps with a pocket and compartment for everything you would need on your trip. You can find this reliable dry bag in 3 different capacities depending on how much gear you need to pack for your journeys.
A nifty added feature to this Gili is the reflectors that are strategically placed on it to aid in low light settings and keep you visible when you're traveling with it on foot.
The zippers are tailored with extra splash-proof features with added mesh pockets that keep your gear bone dry.
Oh, and this waterproof backpack also has a laptop compartment for when you are going for a splash and still on a deadline.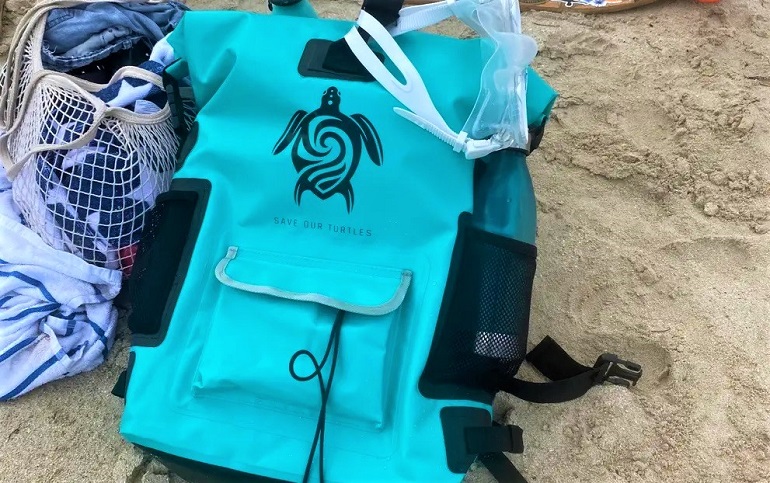 Features
Capacity: 28/35/55 L
Type: Dry Bag Backpack
Weight: 2.36 lbs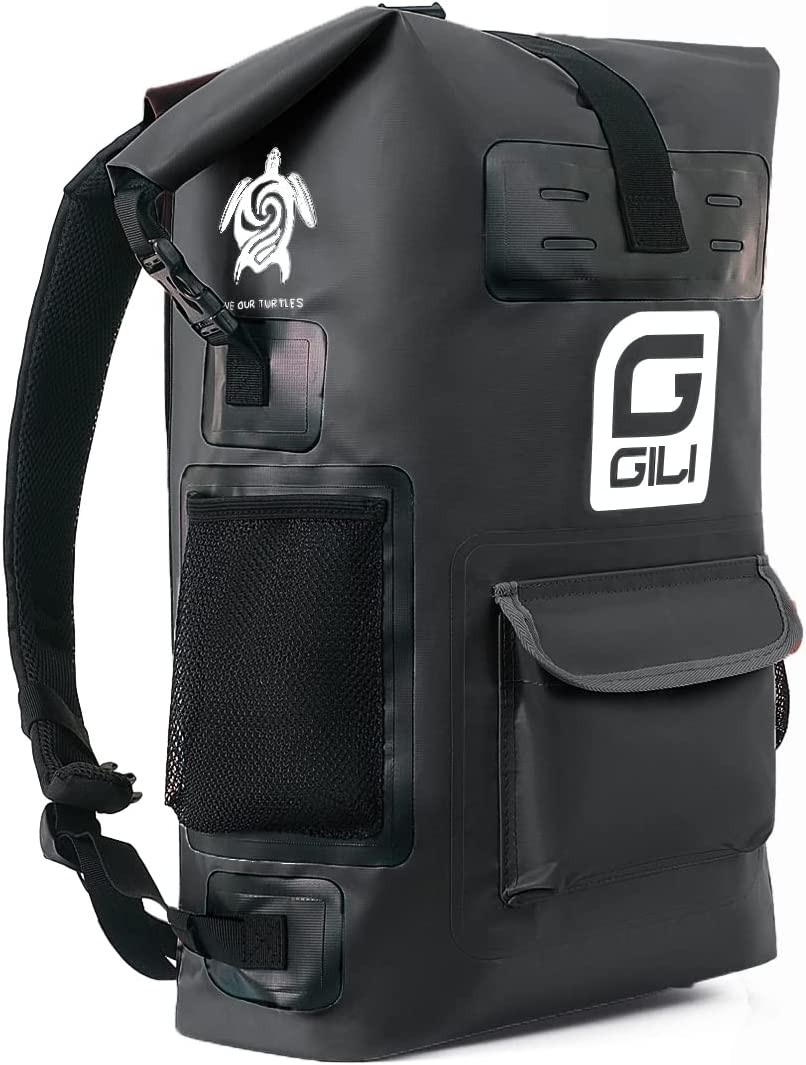 Gili waterproof backpack
The price of "Gili waterproof backpack " varies, so check the latest price at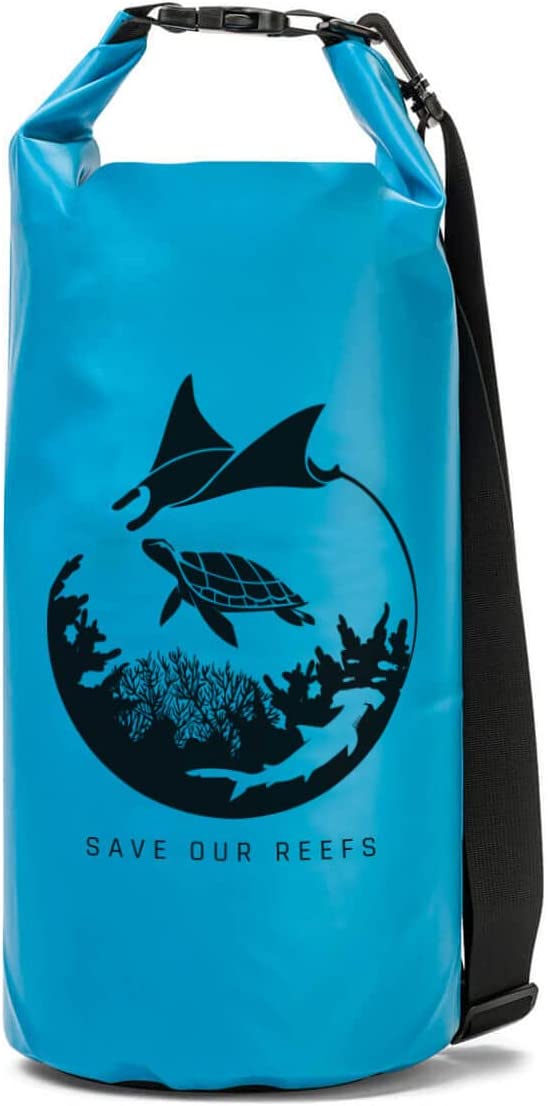 This Gili Roll Top Closure dry bag barely weighs anything when empty which means you can stash it with you practically anywhere. However, it does withstand a capacity of up to 15 liters and has a handy watertight pocket with a zip on the outside for easy access.
When on the move you can either sling it on your shoulder with its removable shoulder strap or carry it by hand.
Rest assured this bag is bound to provide your equipment with stellar waterproofing as it is manufactured from high-quality, heavy-duty vinyl laminated fabric.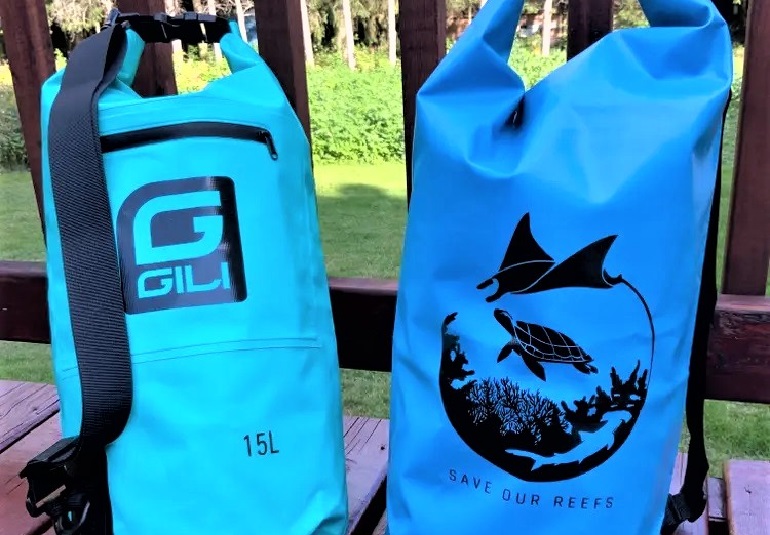 Features
Capacity: 15L
Type: Roll top dry bag
Weight: 0.85 lbs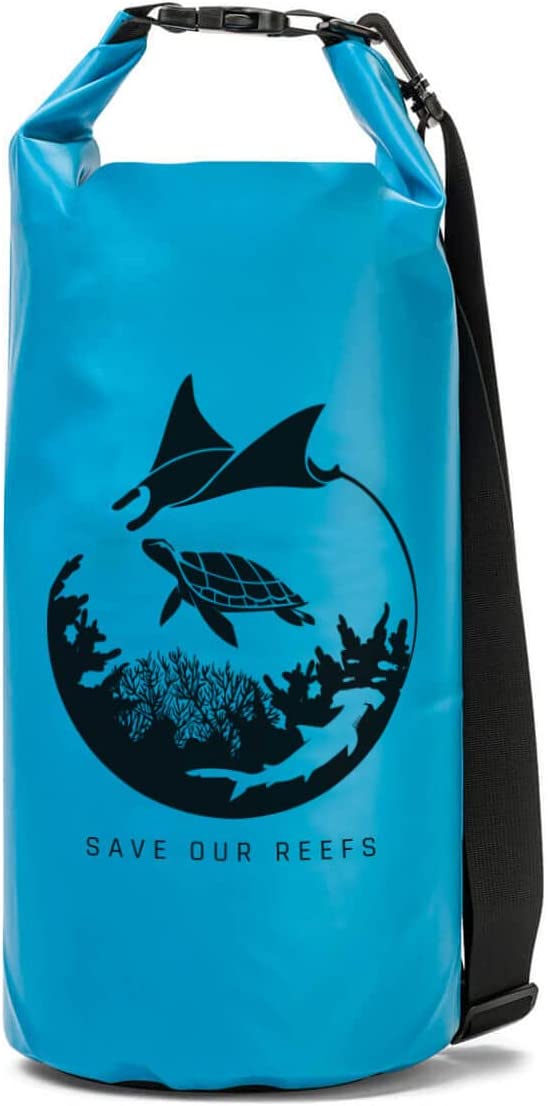 Gili waterproof roll-top
The price of "Gili waterproof roll-top" varies, so check the latest price at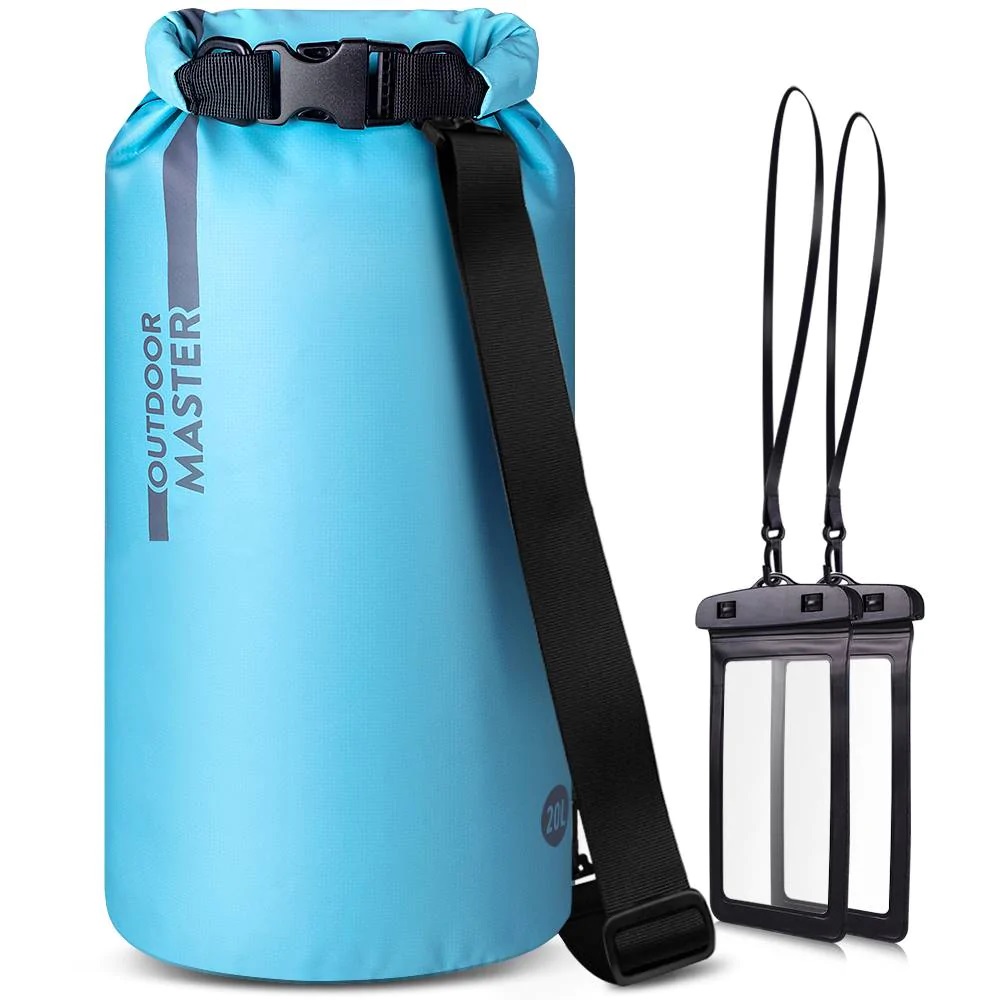 Better than a submarine in the water, the Outdoor bag is the ultimate leakproof and reliable waterproof dry bag. With fully welded seams and a reliable roll-top system, you can drop this bag in the sea and still find your stuff inside completely dry.
Made of lightweight yet highly resistant 500D PVC material there is no possibility that any tug or pull will rip the fabric. Regardless of how heavy your equipment is or how rough your use is, this bag is here to power through it all.
The versatility of this OutDoor Master is that it can be used for a multitude of other sports as well besides paddleboarding. A truly wise and handy investment.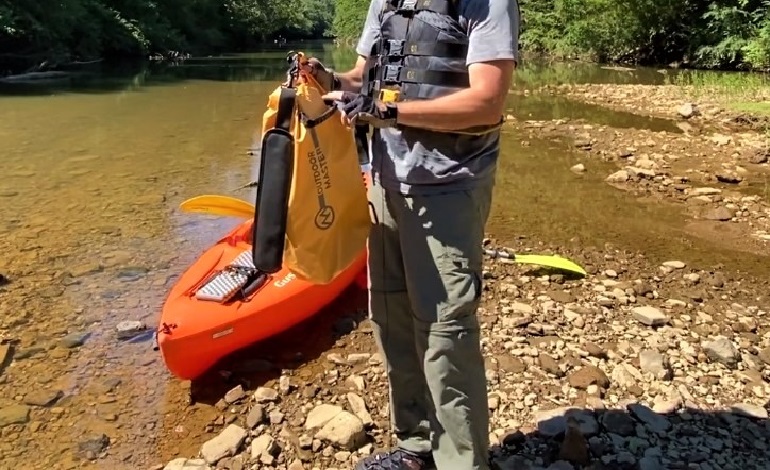 Features
Capacity: 10/20 L
Type: Roll top dry bag
Weight: 0.66/0.9 lbs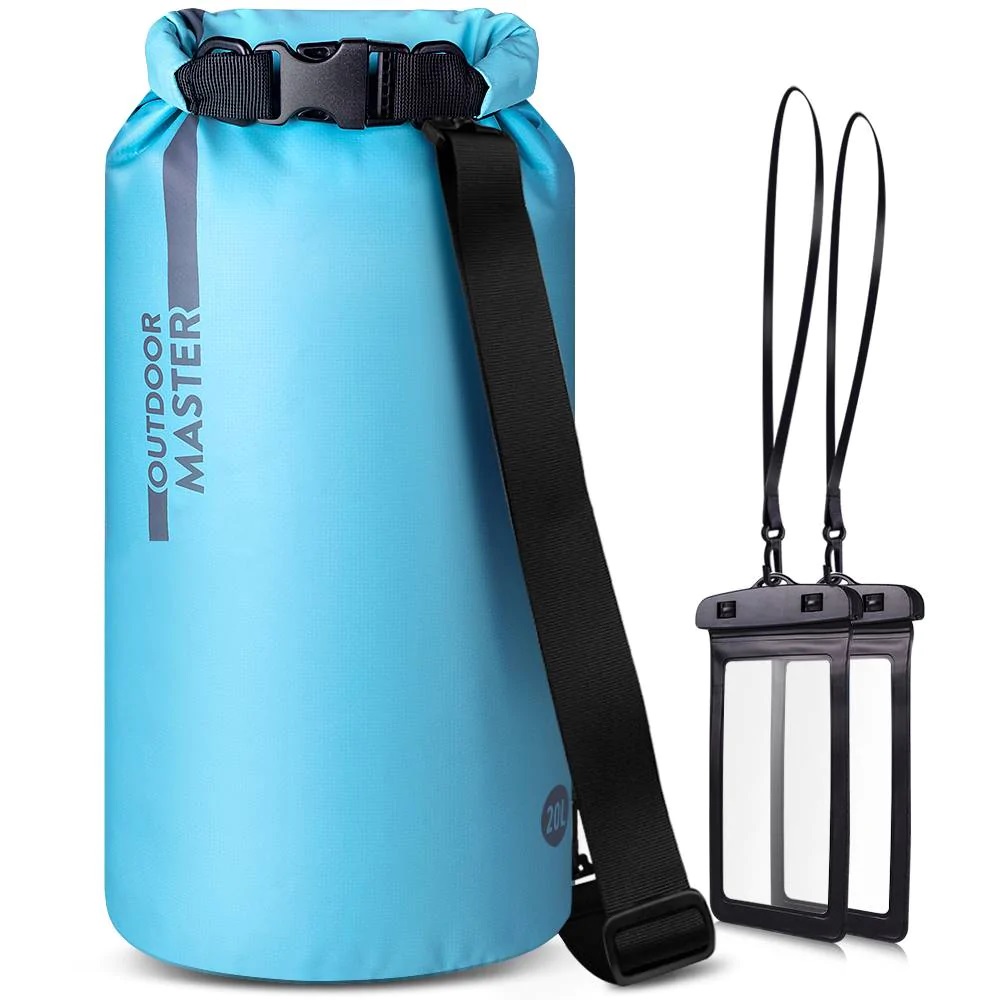 OutdoorMaster paddle board dry bag
The price of "OutdoorMaster paddle board dry bag " varies, so check the latest price at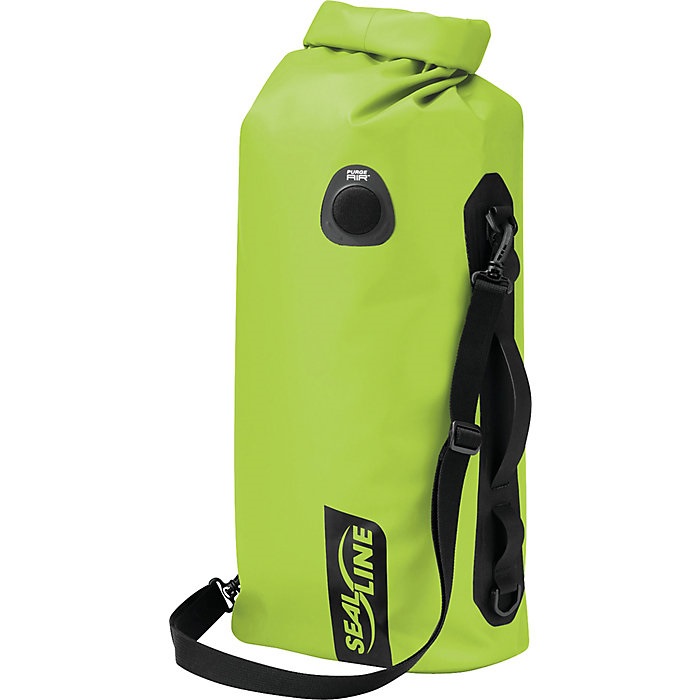 With top-notch DrySeal closure and 330D polyurethane-coated polyester fabric that is capable of withstanding any sort of activity, the SealLine deck bag lives up to its name.
Never worry yourself again about some rough action going down on your bag… 'cuz it can take it!
It has shoulder straps for when you want to carry it around on land but otherwise when paddle boarding, strap it down to your board and it won't budge an inch. The Purge valve allows you to let out all trapped air and seal your paddling gear in.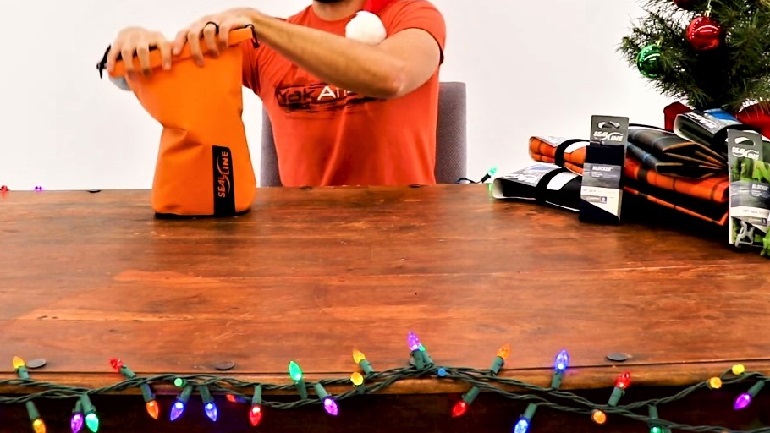 Features
Capacity: 50L
Type: Deck dry bag
Weight: 1.7lbs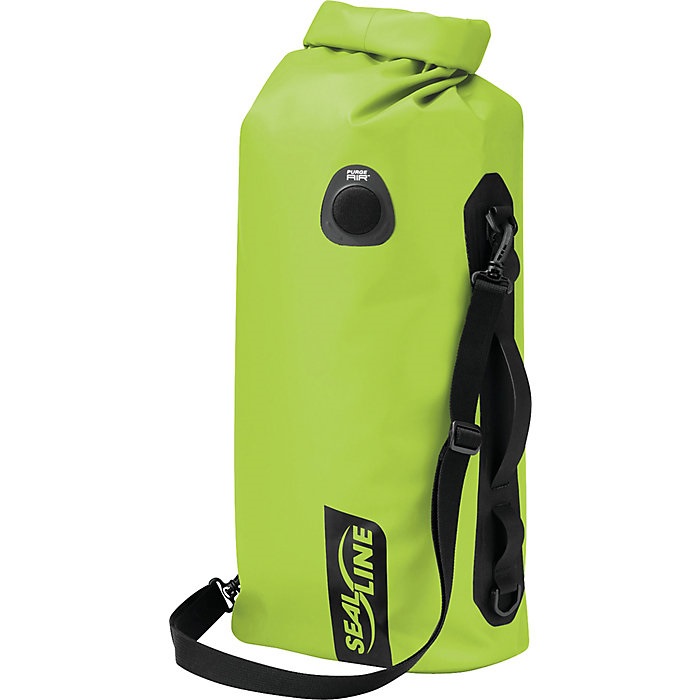 SealLine Discovery Deck Bag
The price of "SealLine Discovery Deck Bag " varies, so check the latest price at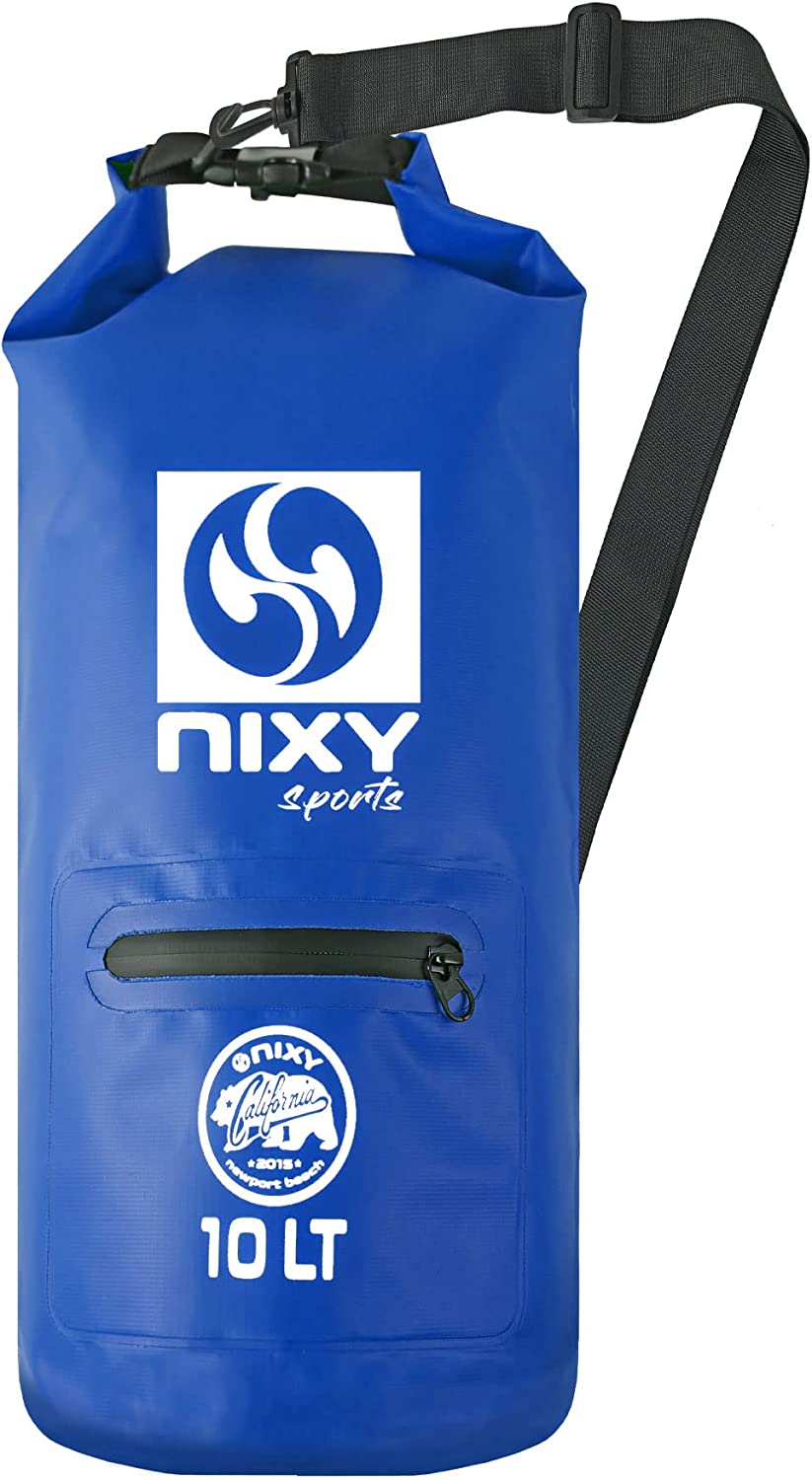 The Nixy bag function is better than a floaty. Whether it has or has not reached the maximum capacity, it doesn't matter since this is a fully floating dry bag. You can keep an eye out on your stuff while simultaneously paddling.
Whether you want to carry or strip down this bag it has options for both. The handle clip makes it highly convenient for the user to move it around by hand whereas the D-ring on the top handle buckle is to secure its placement on your board.
This TPU-coated bag seals with a roll-top closure system that logs out moisture better than any other bag.
Features
Capacity: 5/10/20L
Type: Dry Sack
Weight: 0.11/0.12/0.15lbs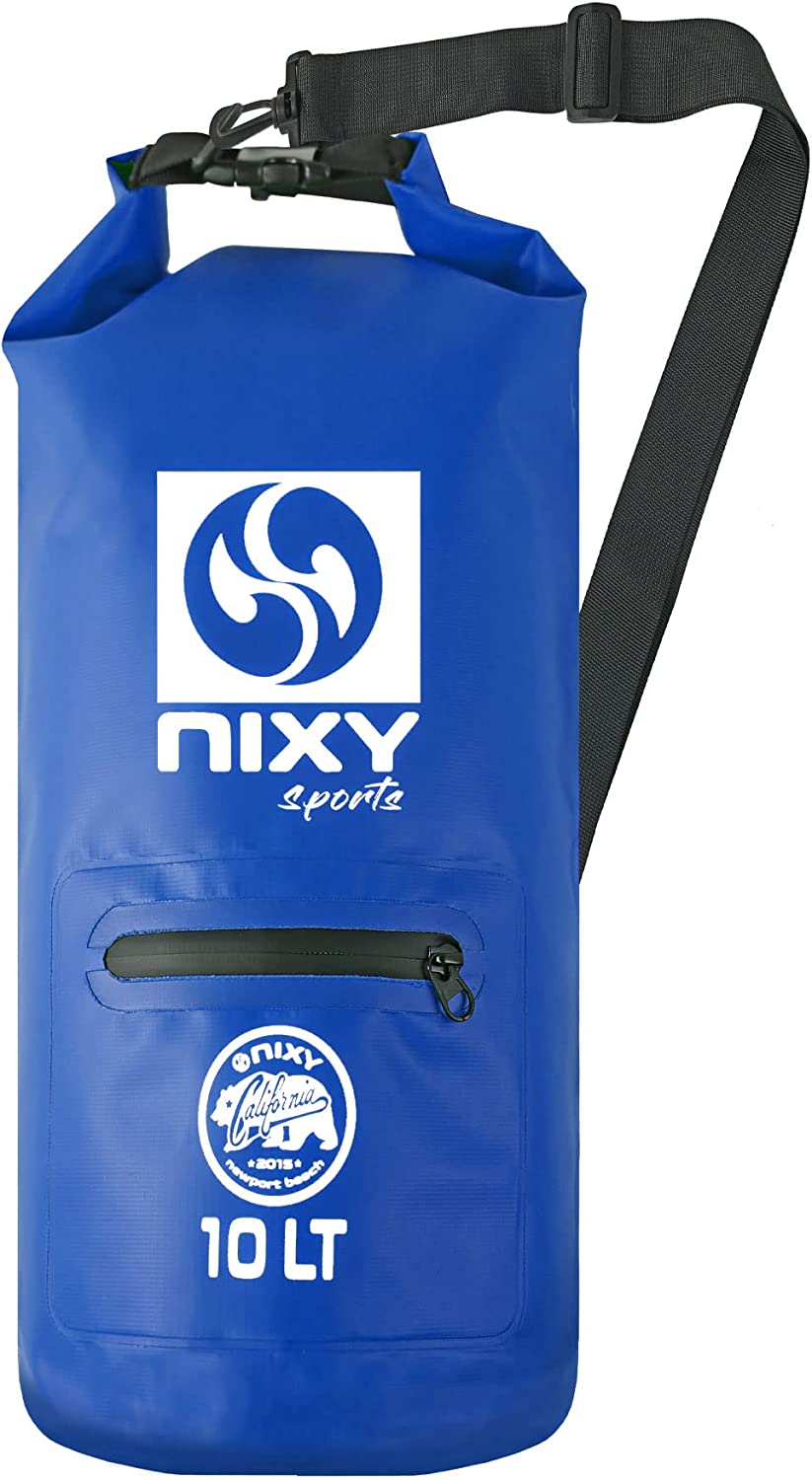 Nixy paddle boarding dry bag
The price of "Nixy paddle boarding dry bag " varies, so check the latest price at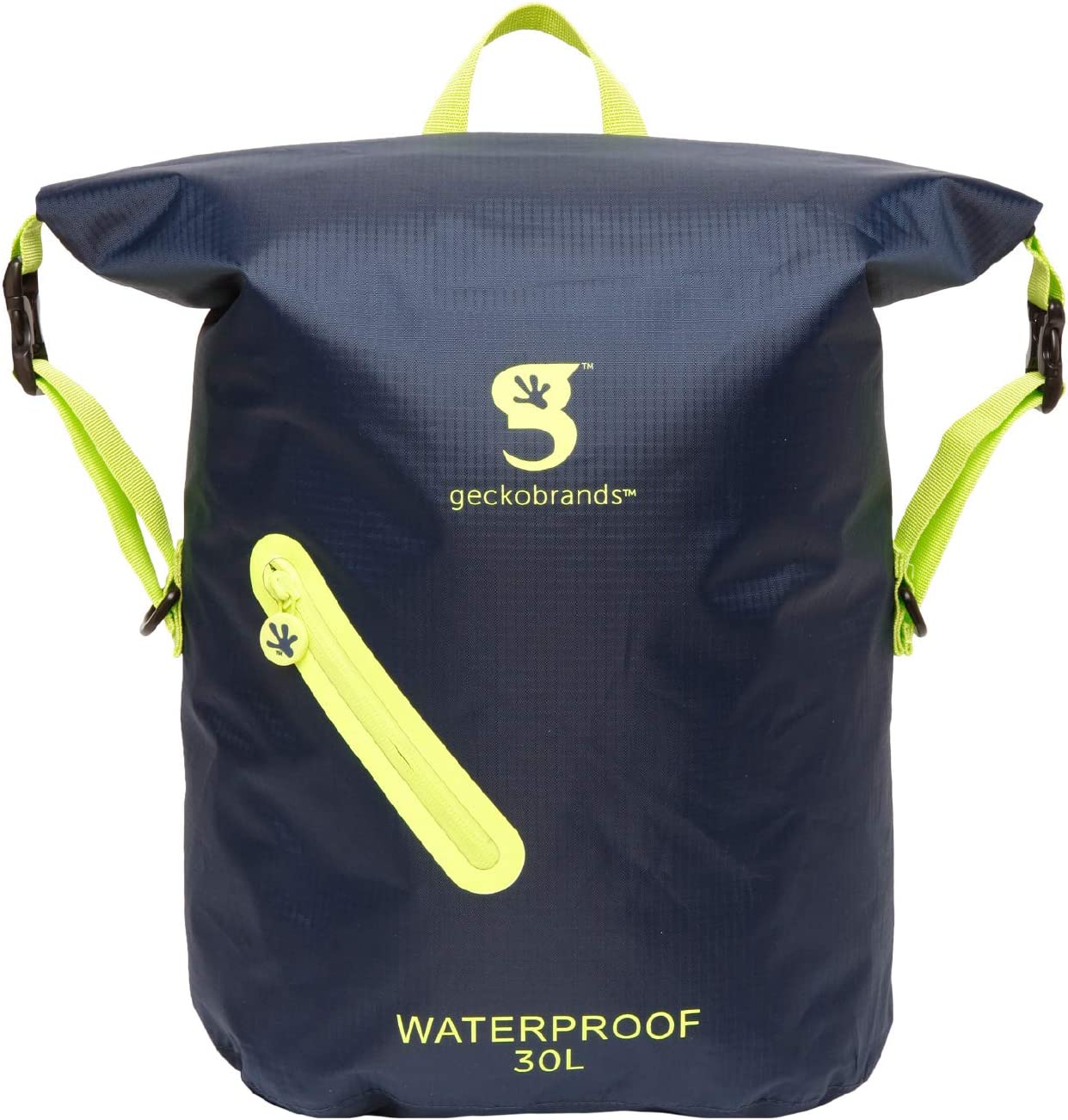 Gecko dry bags are known in the market for being the most waterproof dry bags manufactured with the highest quality material and tested on some really harsh weather conditions.
The manufacturer makes a habit of personally guaranteeing all customers that their valuables and water-sensitive items will be 100% safe inside their bags.
This specific waterproof backpack features a multi-layered waterproof framework that promises completely waterproof results. There are strong dual reinforced nylon straps on this bag that allows you to fasten it to your paddleboard with no fear that it may fall off.
Whether it is hail, rain, or sunshine nothing will wet your equipment.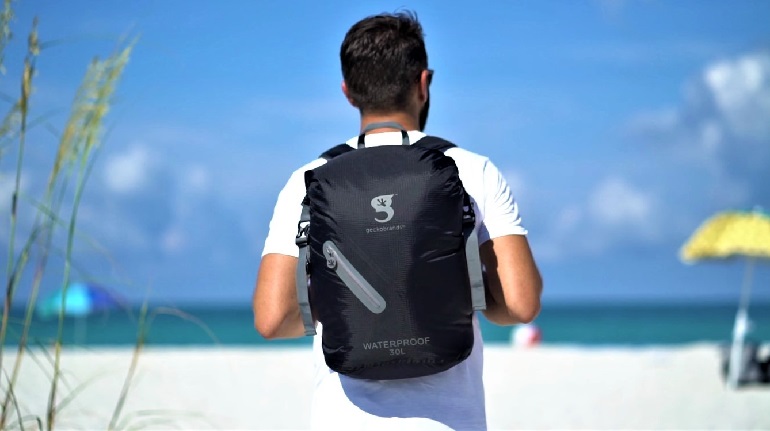 Features
Capacity: 30L
Type: Dry Backpack
Weight: 0.6 lbs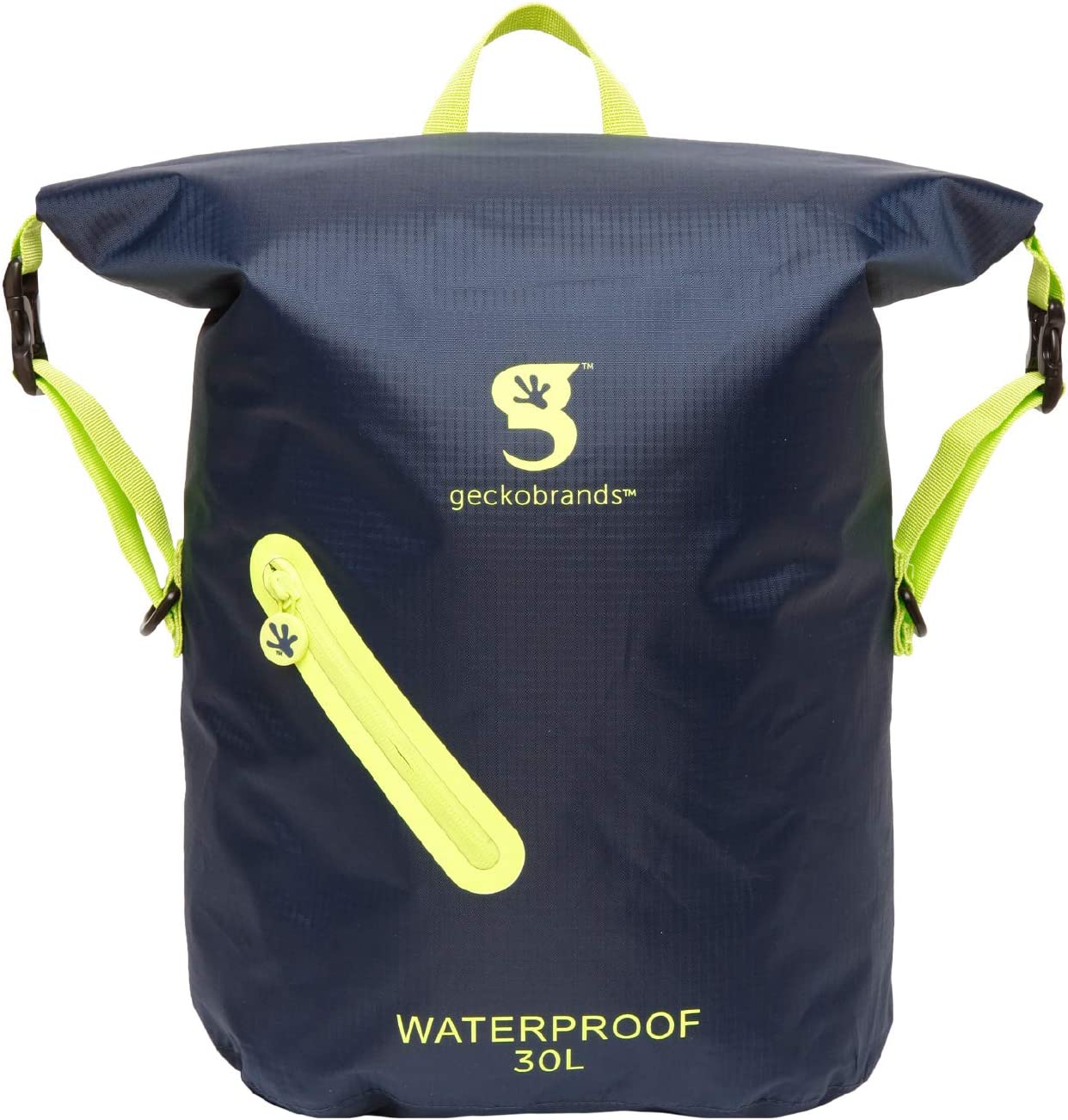 Geckobrands dry backpack
The price of "Geckobrands dry backpack " varies, so check the latest price at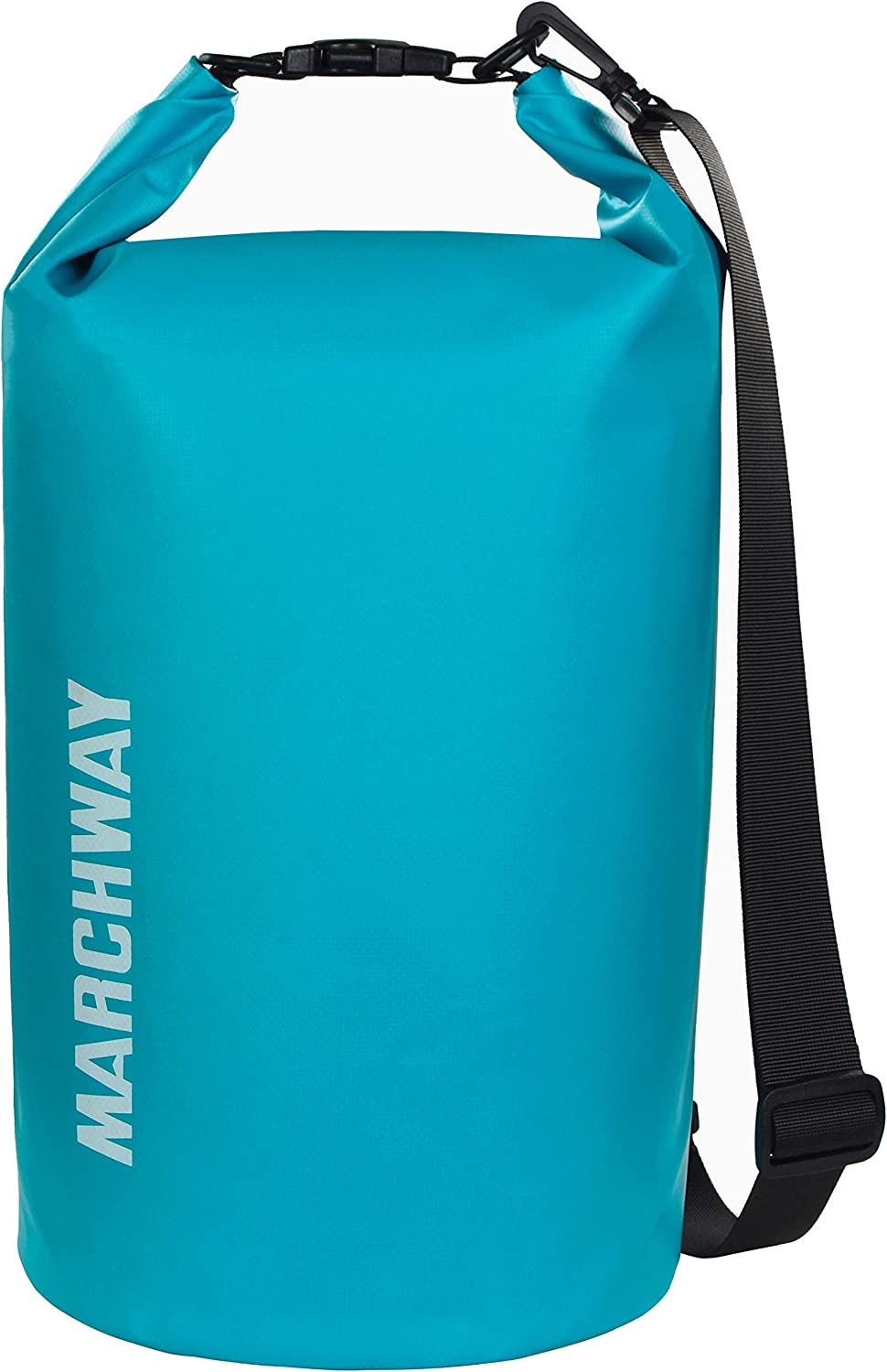 The MARCHWAY dry bag speaks in languages of versatility and durability of measures untold. The 5 and 10-L capacity dry bags come with a detachable strap for cross-body adjustability.
The double detachable straps mean you can either wear the bag crossbody or as a backpack. Lastly, the 40 L has non-detachable double straps.
Made with the strongest 500 D tarpaulin material that is tough enough to withstand the harshest weather conditions and still is quite soft to the touch. The easy-to-use rolldown seal system provides the most secure airtight protection in the water.
The Thermo welding ensures that no moisture or drop of water makes it inside your preciously stashed gear. When empty these waterproof bags take up almost no space and are easy to store anywhere.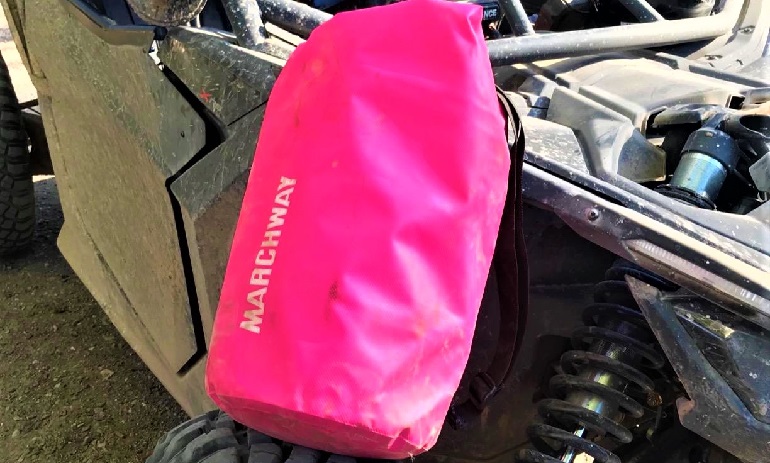 Features
Capacity: 5/10/20/30/40L
Type: Roll sack
Weight: 0.53/0.66/0.9/1.48/1.63 lb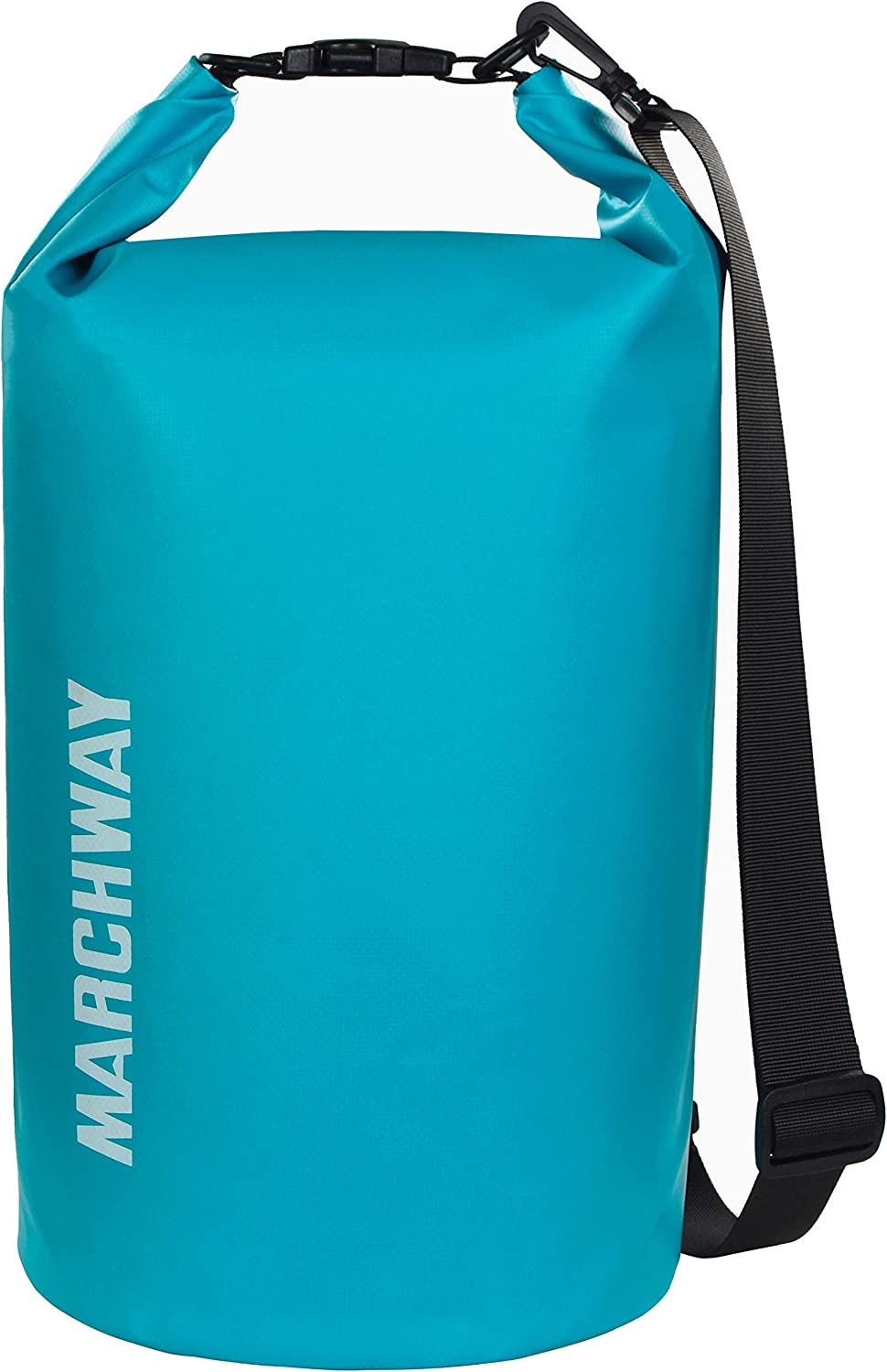 MARCHWAY Floating Waterproof Dry Bag
The price of "MARCHWAY Floating Waterproof Dry Bag" varies, so check the latest price at
Buying Guide For the Best Dry Bags
Now let's delve deeper into what it takes to make the best dry bags for paddle boarding. From padded backpack straps to a waterproof coating, you'll get to know all the itsy bitsy details to keep your essentials dry on your kayaking and paddling trips.
Quality of the Material
The material used in dry bags for paddle boarding has to be completely waterproof. Whether it is vinyl-coated fabric or heavy-duty multilayered tarpaulin, your perfect bag should keep your heavy gear and other valuables dry and easily accessible.
PVC and nylon are popular choices for dry bags as they prove to be resistant to a lot of wear and tear.
On top of that, the stitching of the dry bag and how finely it is executed is another major factor of quality. When purchasing online, user reviews who have tested and bought the product are your best friend.
If you are physically shopping, then make sure you give the bag a thorough investigation up and down.
Capacity
There is no set rule for which capacity you should opt for when purchasing waterproof dry bags for paddle boarding. Since that completely depends upon what gear you are packing and how long your journey is going to be.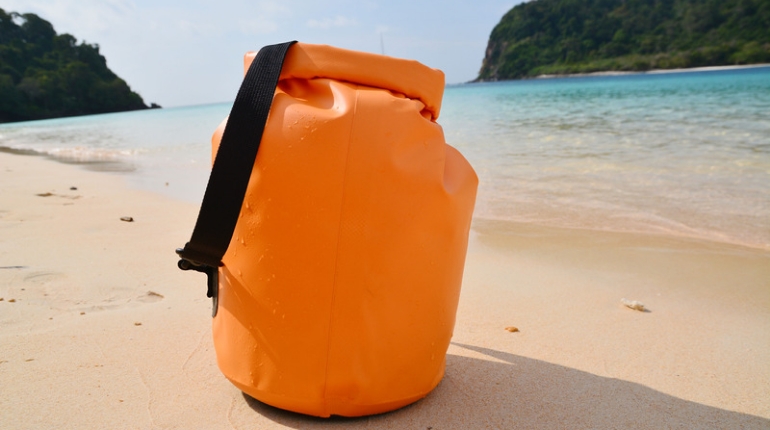 Dry bags have varying capacities that can range from 5 L to over 100 L. The smallest capacity is for those quick runs where you don't exactly need a lot of equipment with you but just the basics.
On the other hand, the large capacity bags are when you are setting off for a multi-day trip and need to pack all your extra necessities plus essentials. However, if you're shooting for mid-range capacity bags for paddleboarding, choose one that is between 20 to 35 L.
Those are usually the most frequently stocked in the market and hence pack some majorly cool features like extra compartments for your laptop, additional external pockets, ergonomic shoulder straps… etc. This capacity is moderate and quite enough for a day-long journey on water paddle boarding.
Organization (for bigger bags)
If you are searching for one of the big bags that go up to 60 L and above, then you have to keep one thing in mind; organizing your gear in the dry bag inside.
Of course, with a larger bag you have to pack a whole lot of gear in there. It is necessary your bag has a multitude of pockets, on the inside or outside; it doesn't matter. Alternatively, you can also utilize Sea to Summit TPU case for protecting your beloved phones.
The more pockets you have, the easier it will get to arrange all your items with care and precision. Nothing is more irritating than having to look through a huge bag for the tiniest thing that could have settled to the base of the bag.
Pay attention to the extra features.
Pockets and Other Features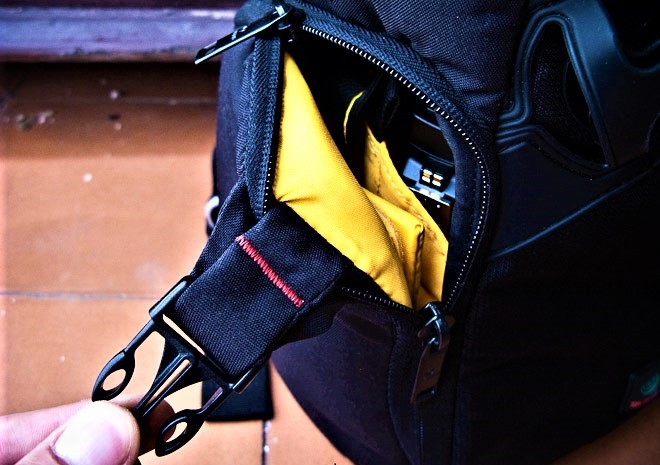 While there are some pretty simple dry bags with nothing too intricate on them, it is always advised that you go for those bags that give you your money's worth. Additional features are always a welcome sign.
When talking about additional features, you get little perks like extra pockets, extra straps… etc. These are highly essential when looking at your comfort preferences and how you prefer to carry around your baggage.
Some bags for paddle boarding come with additional straps as their style and design don't accommodate every carrying style. For instance, a dry sack that has the capacity and color you want, but it doesn't have backpack straps.
In such cases, an additional strap would make a world of a difference for the customer. On the other hand waist belts are also an added feature for some dry bags. Some paddle borders prefer added stability to their bag when they are transporting them on land.
Therefore, when a waist belt is added to the final package, it comes across as a great relief for the user as now they can comfortably carry around their favorite bag.
Your Gear
The type of baggage you have on you also impacts your choice regarding which dry bag to purchase. Whether it is sensitive items or pointy-ended ones, make a wise choice! Most options, like the Earth Pak dry bag, give you the freedom to handle multiple equipments with ease.
Clothing and Sleeping bags
Clothing like paddle boarding life jackets or personal items like a sleeping bag aren't fragile equipment, so therefore you can just stuff them into any bag big enough to accommodate them.
A regular sleeping sack will fit into a 15L dry bag, but it is advised by the experts to pack it separately and stash it within a slightly bigger bag with your other clothes.
Electronics and Sensitive Items
Cameras, laptops, and camera gear are all sensitive items that need ultra protection. While there are some dry bags that come with inbuilt pockets and compartments to keep your electronics safe and completely dry, cameras are tricky gear.
You could either buy camera cubes to cushion the item and keep it protected throughout your journey or if you want a more affordable choice; wrap it in towels.
Use thick and fluffy towels to wrap your lens and accompanying equipment and pack it in a 5 to 10 L bag. Following that, pack your separate camera bag into your larger bags.
Moreover, roll-top dry bags are the best for packing such sensitive items as they are completely waterproof dry bags.
Cooking gear
When packing for long trips, you must keep these aspects in mind as they can cause large mishaps later on. Since cooking gear has a lot of pointy-shaped items, unlike clothes and towels, you will need to individually wrap every sharp item.
Not just that, but nylon isn't the material you want to go for if you are packing heavy-duty items. Other bags with a more durable and heavy exterior will work better. Why? Simple! Because cooking items are also heavy and if you will be doing a lot of carrying around, then a resistant and strong backpack is much needed.
FAQs
Does It Have to Be Sup Dry Bags or Just Any Waterproof Dry Bags?
The difference between just any dry bag and a dry bag for paddle boarding is the little nifty features that make the world's difference for you. Perks like waterproof zippers, sealed seams and specially designed and laminated fabric ensure that paddle-boarding dry bags are the way to go.
Since paddle boarding is rough and involves a lot of falling/upending your board into the water, any dry bag would be soaked right through by the end of your journey. However, waterproof dry bags are designed to withstand the harshest weather conditions.
How Do You Attach a Dry Bag to Your Sup Board?
If your paddle board has bungee storage, then the easiest way to pack your dry bag with you is to place it under the bungee area. Otherwise, if your paddle board includes snap hooks, then simply fasten them to the D-rings on your dry bag.
Moreover, sup paddle boards usually have elastic straps at the front to slide bags with a capacity of up to 60 L underneath them. Remember to not keep fragile items in your dry bag if using the elastic strap mechanism.
Final Thought
When buying a dry bag, don't overlook the little yet important key features about it. We hope you'll be able to find your best pick after going through our all-inclusive list of dry bags.
We have included the options of the waterproof backpack, duffel bag, deck bag, and many more so you can easily find the one according to your preference!