If you are an avid paddleboarder, then you already know how important it is to have a reliable pump. A good iSUP pump can make your life easier as it will enable you to inflate your board at home within minutes.
We all know that paddle boarding is a fun activity that brings people closer together. That's why finding the right electric pump should be one of your priorities when buying an iSUP.
In this article, I will share with you what I believe are some of the best electric pumps available on today's market so that buying one becomes much easier for you.
Of course, you must conduct some research before deciding on the equipment that is best for your hobby. Choosing an electric sup pump is not something that simple because you need to pay attention to several things, but we will talk more about this later.
Let's look at some of the best electric sup pumps available!
Best Overall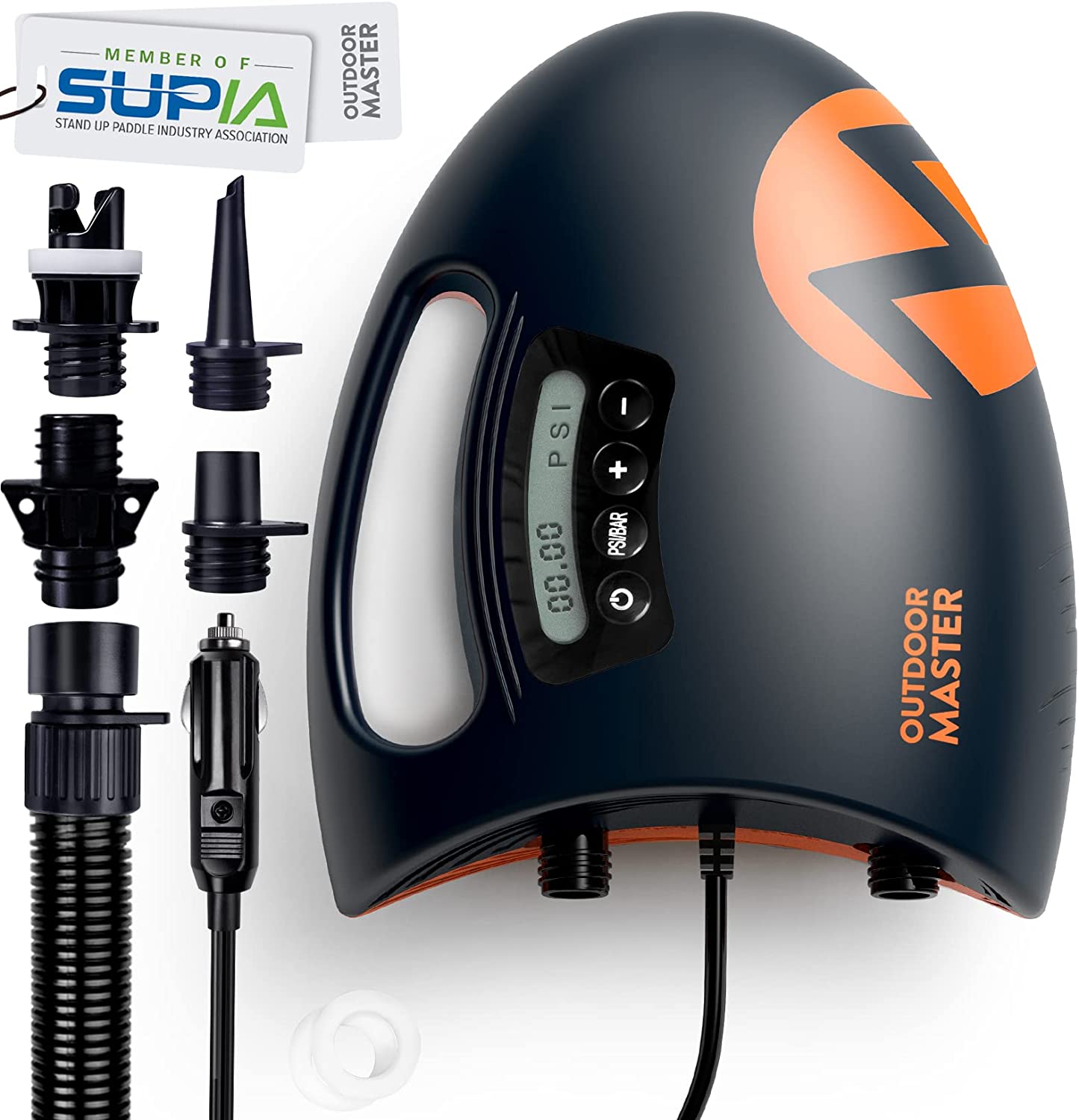 Outdoor Master Shark II
PSI: 20
Power Source: Corded Electric
Best Portability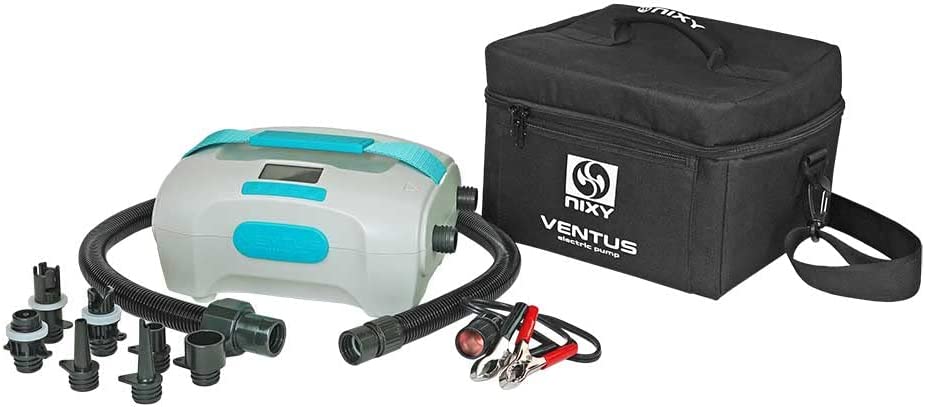 Nixy Ventus
PSI: 20
Power Source: Battery
Best Recharging Options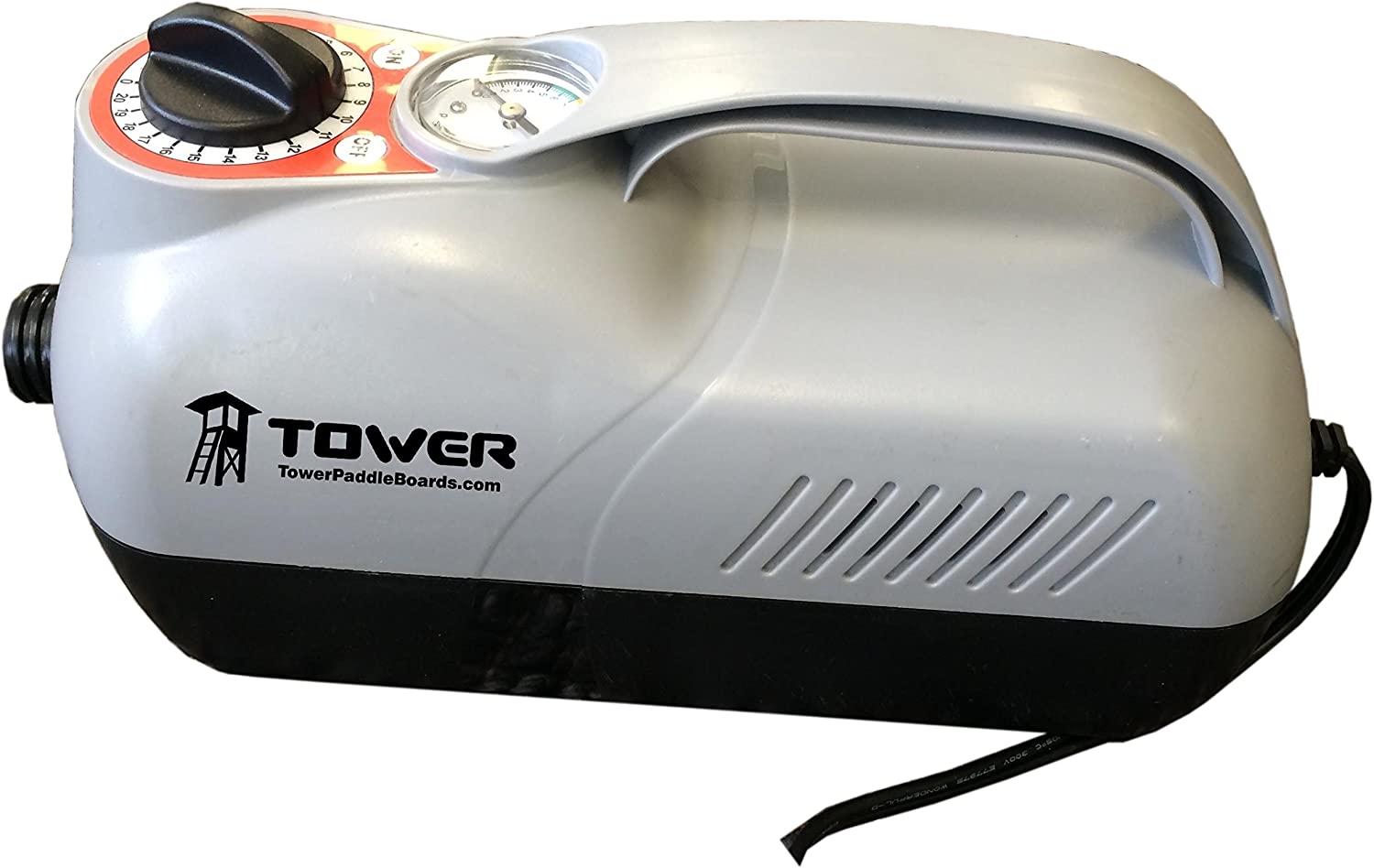 Tower Paddle Boards Pump
PSI: 20
Power Source: Battery
Best Looking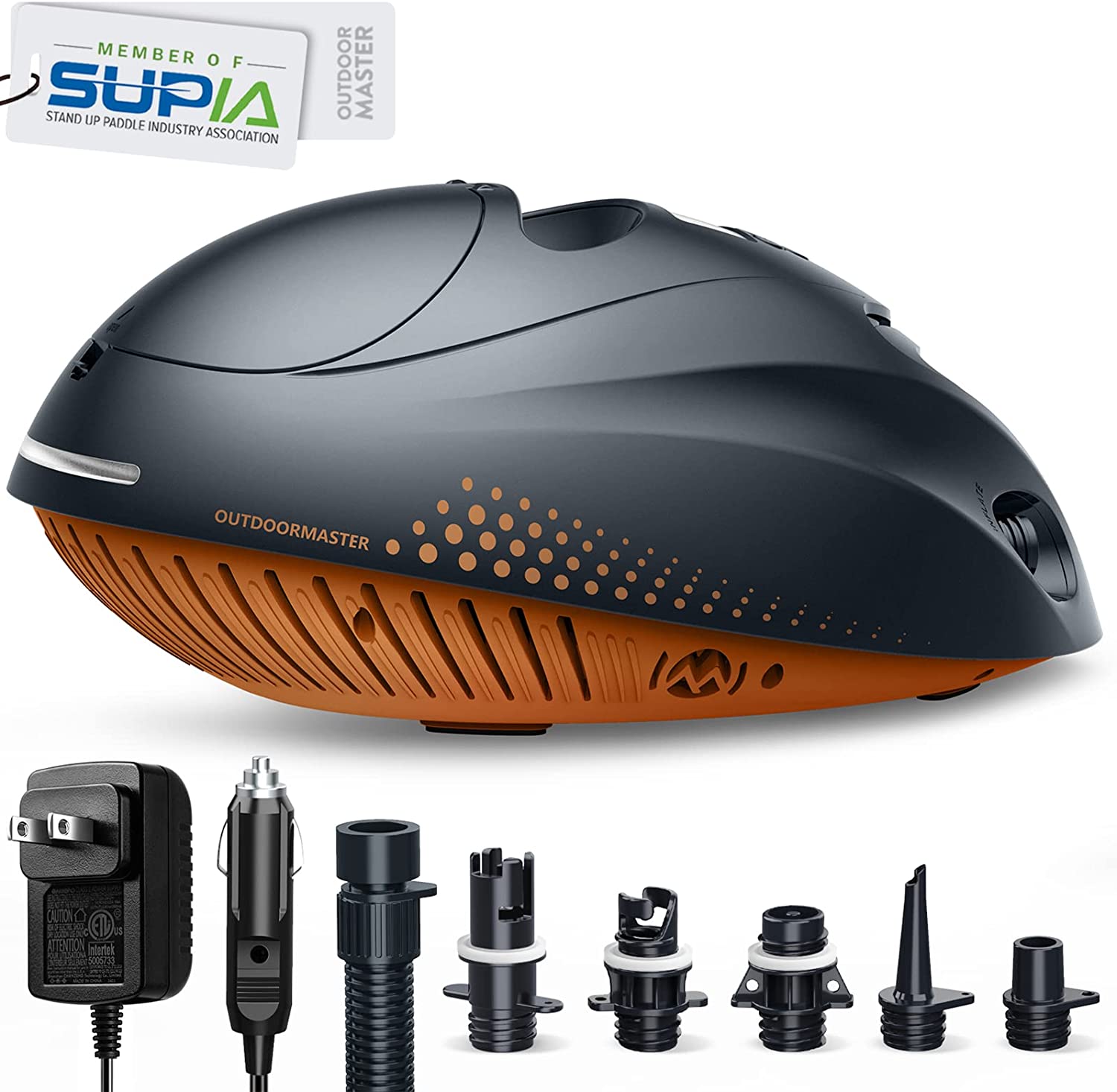 Outdoor Master Whale
PSI:16
Power Source: Battery
Best price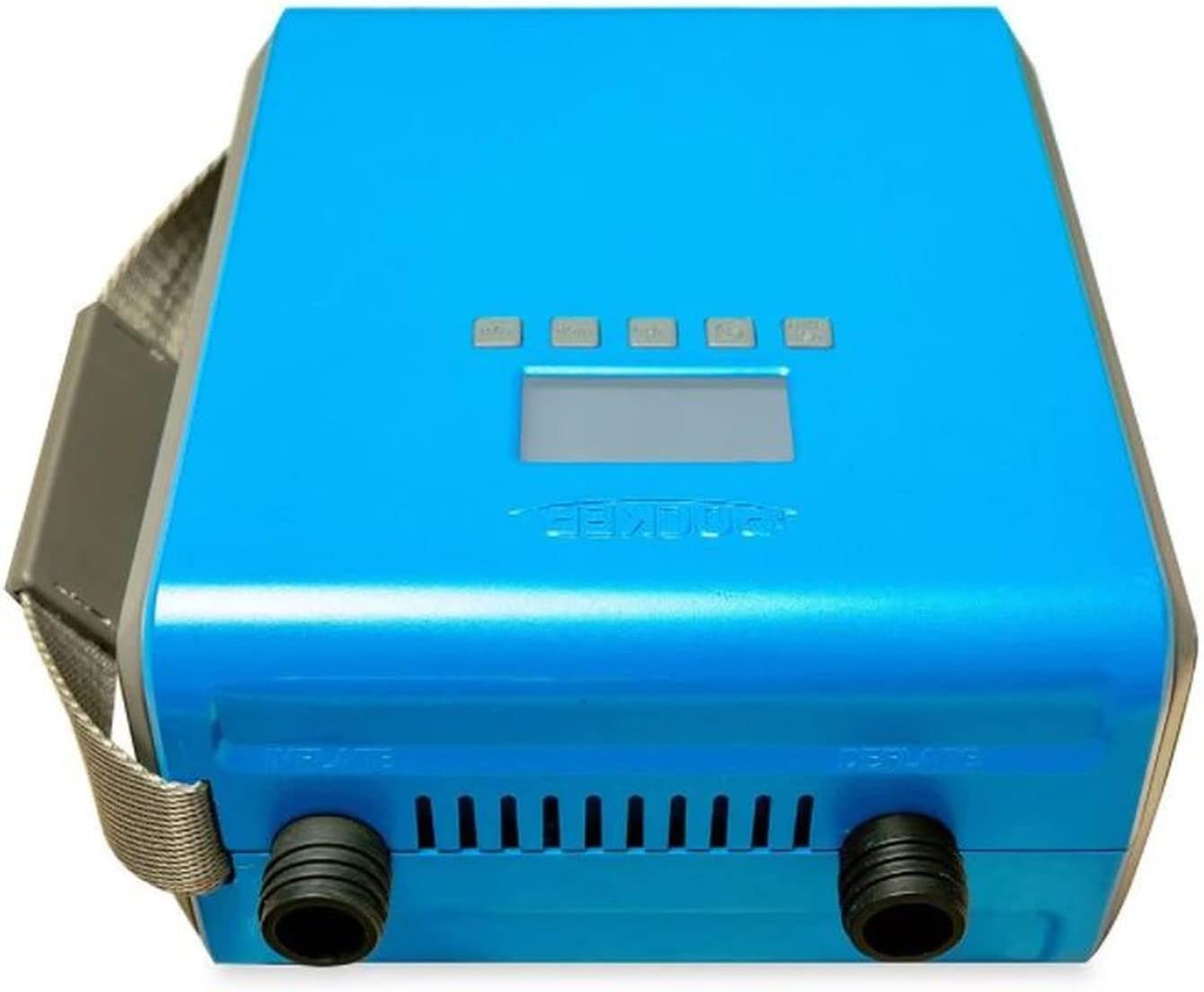 iROCKER 12V
PSI: 20
Power Source: Battery
Best Dimension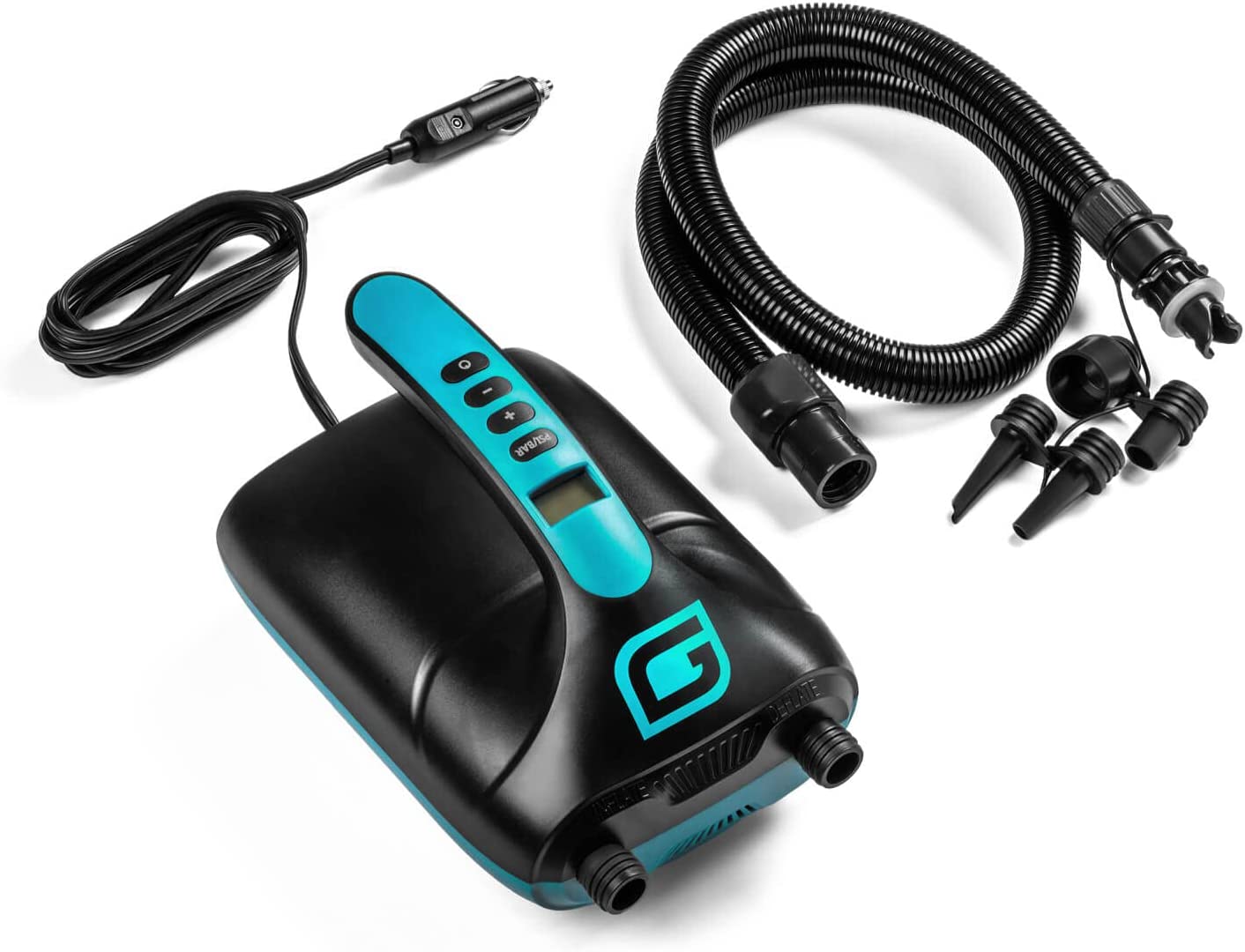 Gili 12v
PSI: 20
Power Source: Electric
6 Best Electric SUP Pump
I know how vital it is to feel that your passion has all the right equipment to make you a pro, and that is why I think this article will help you a lot.
You'll find a variety of solutions from different manufacturers in this list. I made an effort to create a list that was as varied as possible to accommodate different spending ranges and levels of expertise, in the hopes that you would find your next buy here – your greatest electric sup pump.
There are two references for Outdoor Master electric air pumps, but not because I have a preference for them or want you to believe that they are your best option, but rather because I believe that the benefits that these pumps provide are too great to be disregarded.
In any case, as you read this article, you will comprehend my selections for SUP pumps since at the end, we'll talk about everything you need to consider before making a buy like that, so you can get one of the best electric air pumps out there.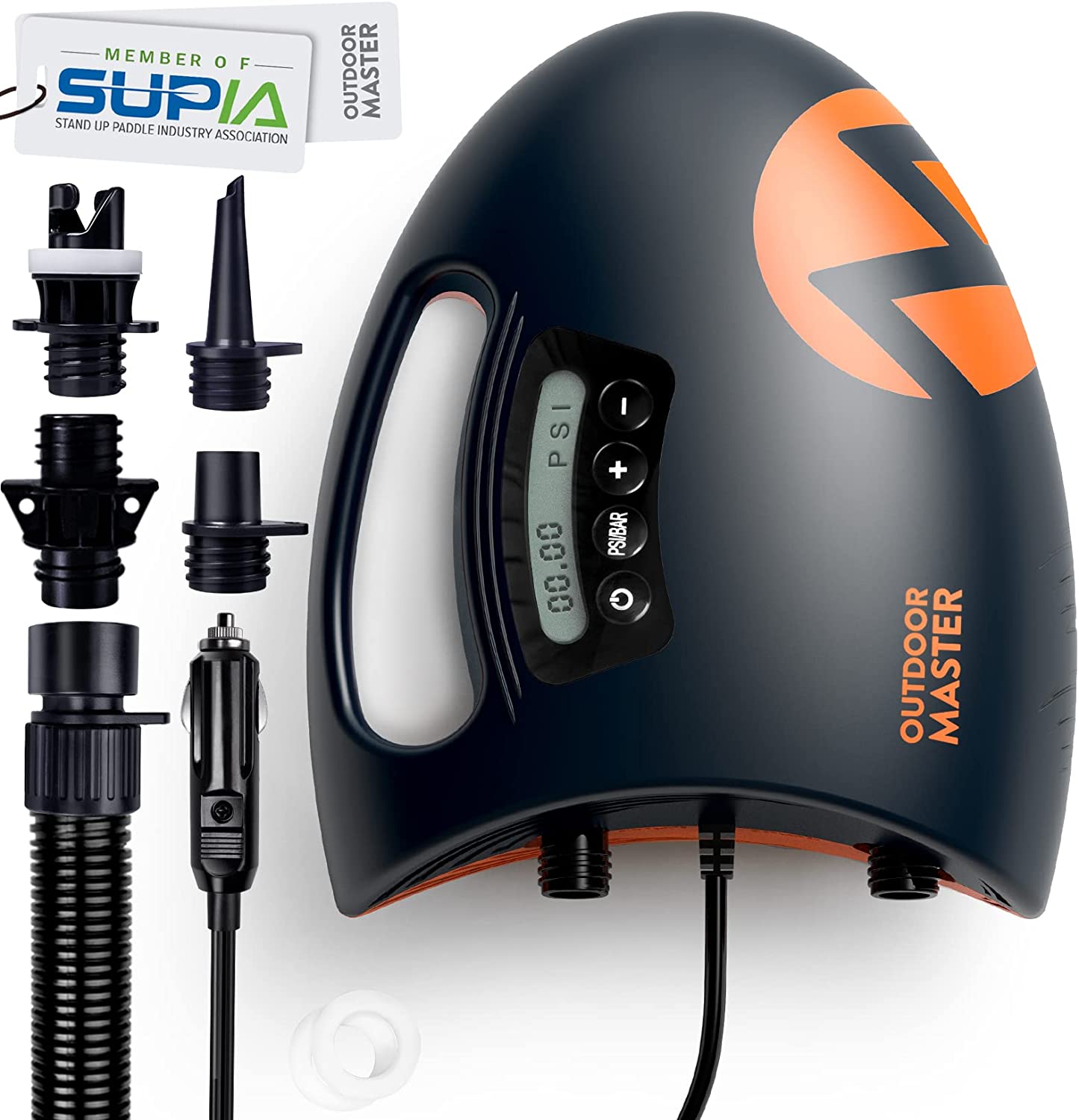 The Outdoor Master Shark II Electric Air Pump is a well-designed electric pump that comes with a 12V battery. It has a large air intake and a high airflow rate.
The built-in pressure gauge will allow you to accurately measure the velocity of your inflating tires and inflatables. This electric air pump also has a 40-inch power cord for convenience and an anti-slip handle to make it comfortable to hold.
If you are looking for an electric air pump that is easy to use, then this is the one for you. It's also great for inflating inflatable boats, rafts, and other water toys.
So, I can say that this is an electric pump for everything you need, including sups.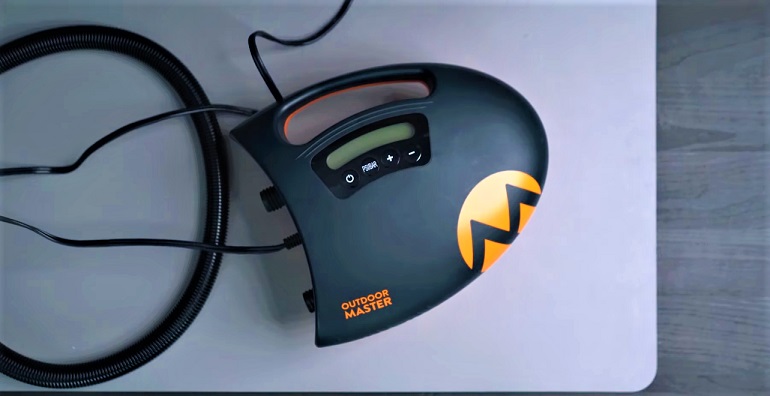 Features
Power source: 12V DC Connector, with 12A fuse for safety
Speed: 7 minutes to inflate an average-size ISUP
PSI: 20 PSI
Display: Digital
Cooling system: Built-in frost active cooling system
Valve connectors: H3/HR valve, C7 valve, Boston valve and Pinch valve
Pros
12V battery, good for inflating multiple boards in a row
Cooling system, which means the Outdoor Master pump will not overheat, even if you inflate multiple boards
Automatic shutoff, so you don't have to worry about stopping the electric pump when your board is inflated
Hands-free deflation, so your board will be ready for packing in just 3 minutes
Cons
Not the most affordable on the market, at $170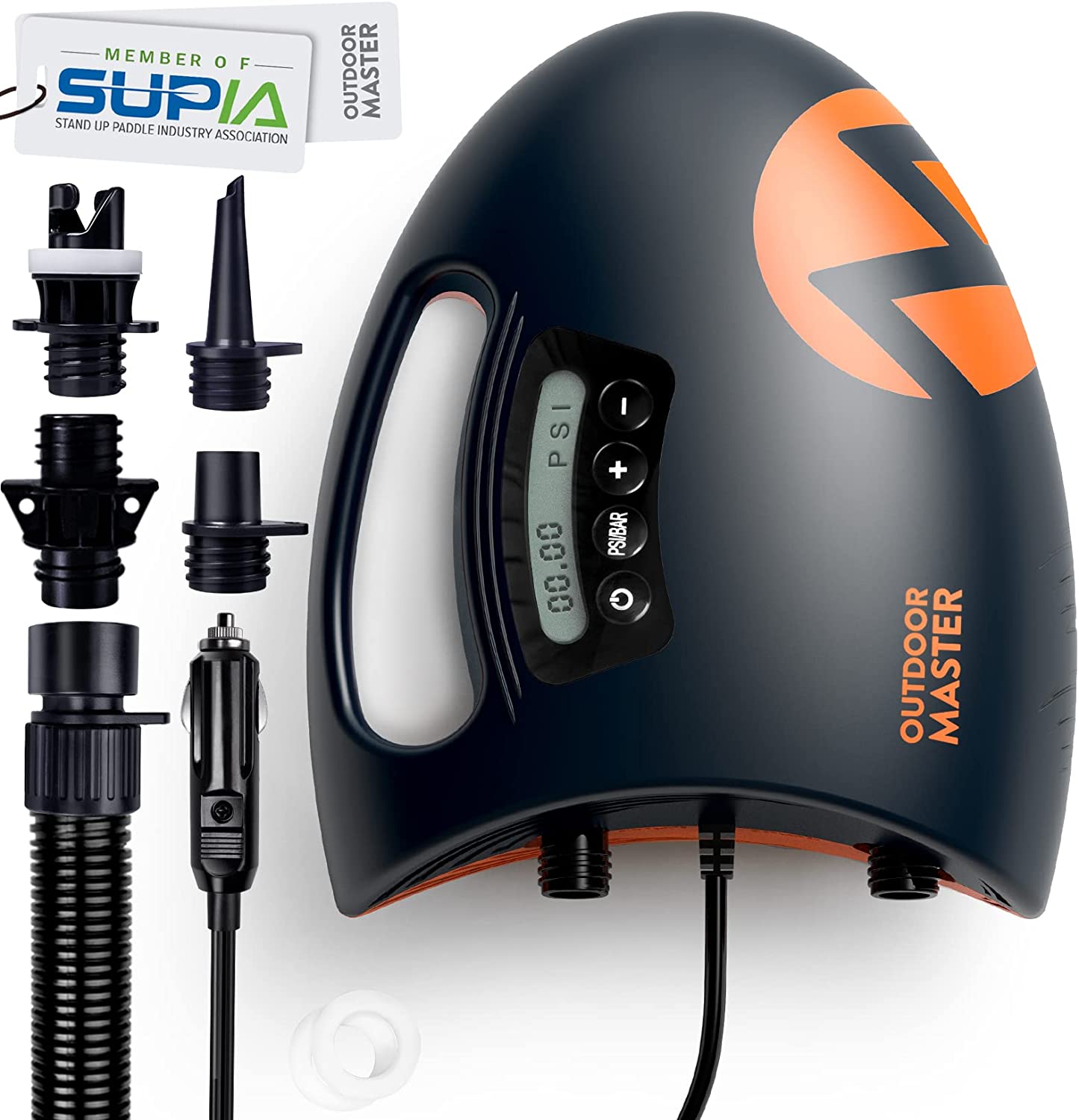 Outdoor Master Shark II Electric Air Pump
The price of "Outdoor Master Shark II Electric Air Pump " varies, so check the latest price at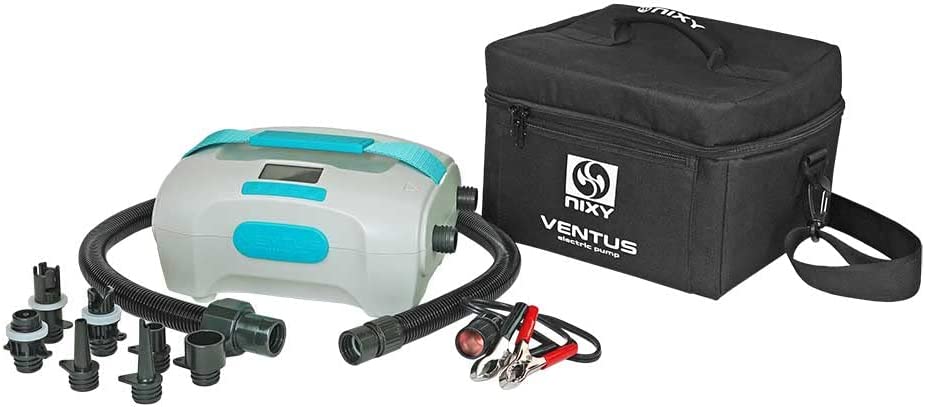 The Nixy Ventus Electric Pump is one of the most powerful and fastest electric sup pumps on our list. It's also portable and easy to carry around, making it perfect for camping trips or when you need an extra hand in inflating large items like inflatable paddle boards, boats, or water toys.
The 12v electric pump has a battery that can be charged so that you don't have to worry about running out of power during your trip, which is especially useful if you're planning on being out for long periods of time or going off-grid for several days at a time.
The NIXY Ventus Paddle Board Electric Pump has an innovative Active Cooling TECH that enables the simultaneous inflation of numerous boards.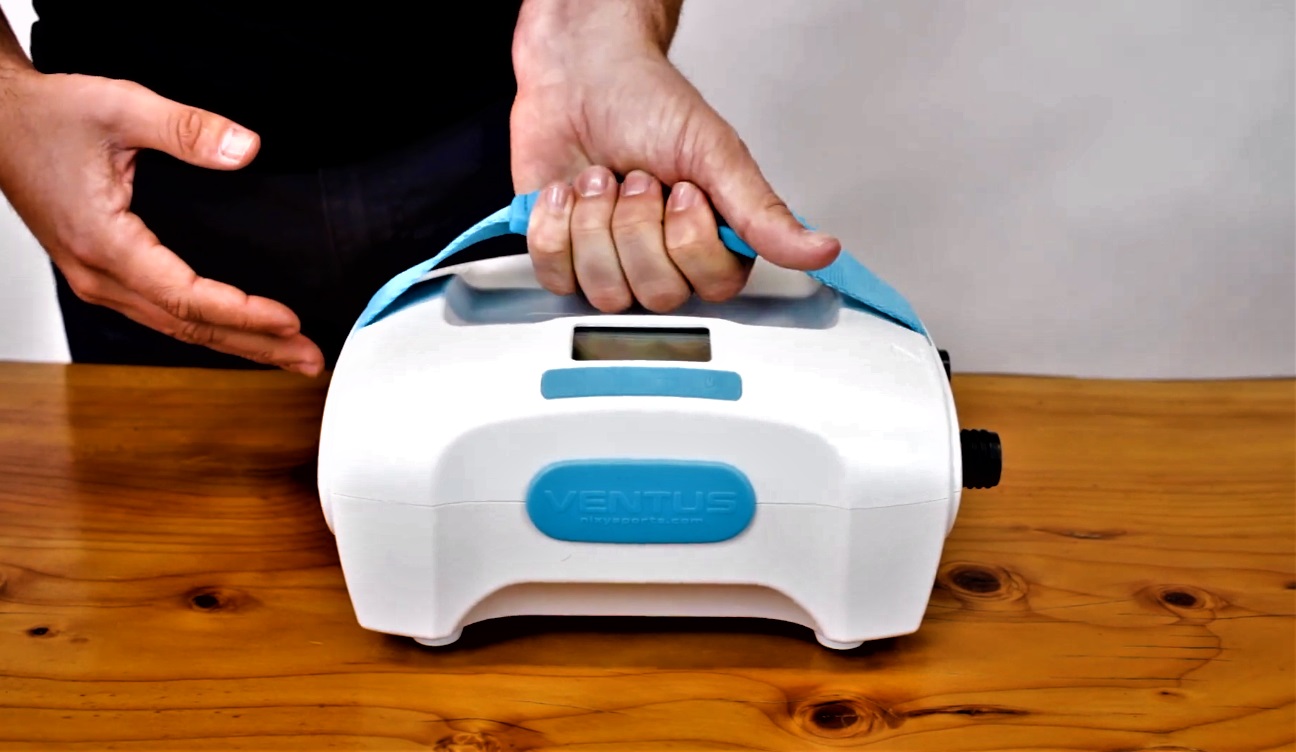 Features
Power source: 12V DC Connector & 12V Battery Alligator Clip
Speed: 2 pumping speed – stage 1 with 350L/min and stage 2 with 70L/min
PSI: 20 PSI
Display: LCD Digital Display
Cooling system: Active Cooling TECH – you can inflate up to 10 boards without overheating
Valve connectors: 7 different nozzle attachments and 3 rubber gaskets
Pros
You can inflate up to 10 boards, thanks to the active cooling technology
You have 7 different nozzle attachments, which means that this battery-powered pump is very versatile
Lightweight, so you can carry it without much effort
Auto-shutoff, so the sup electric pump will stop when the desired pressure is reached
Cons
Ventus pump is a bit cheaper than the Outdoor Master Shark II, but still over $100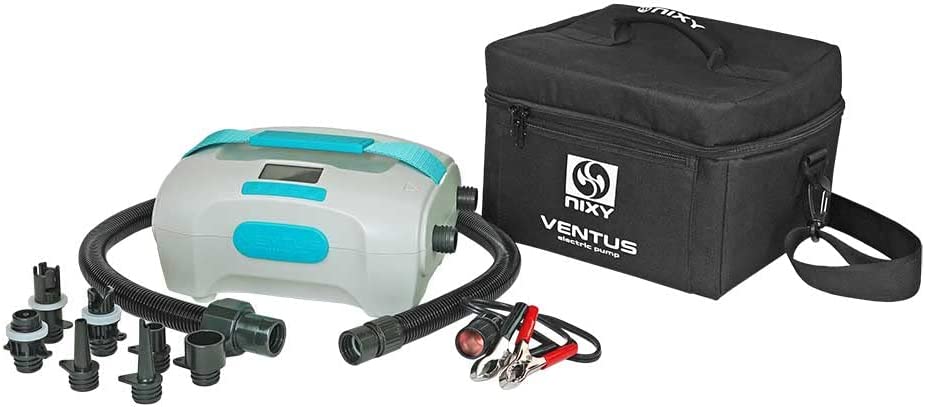 Nixy Ventus Electric Pump
The price of "Nixy Ventus Electric Pump " varies, so check the latest price at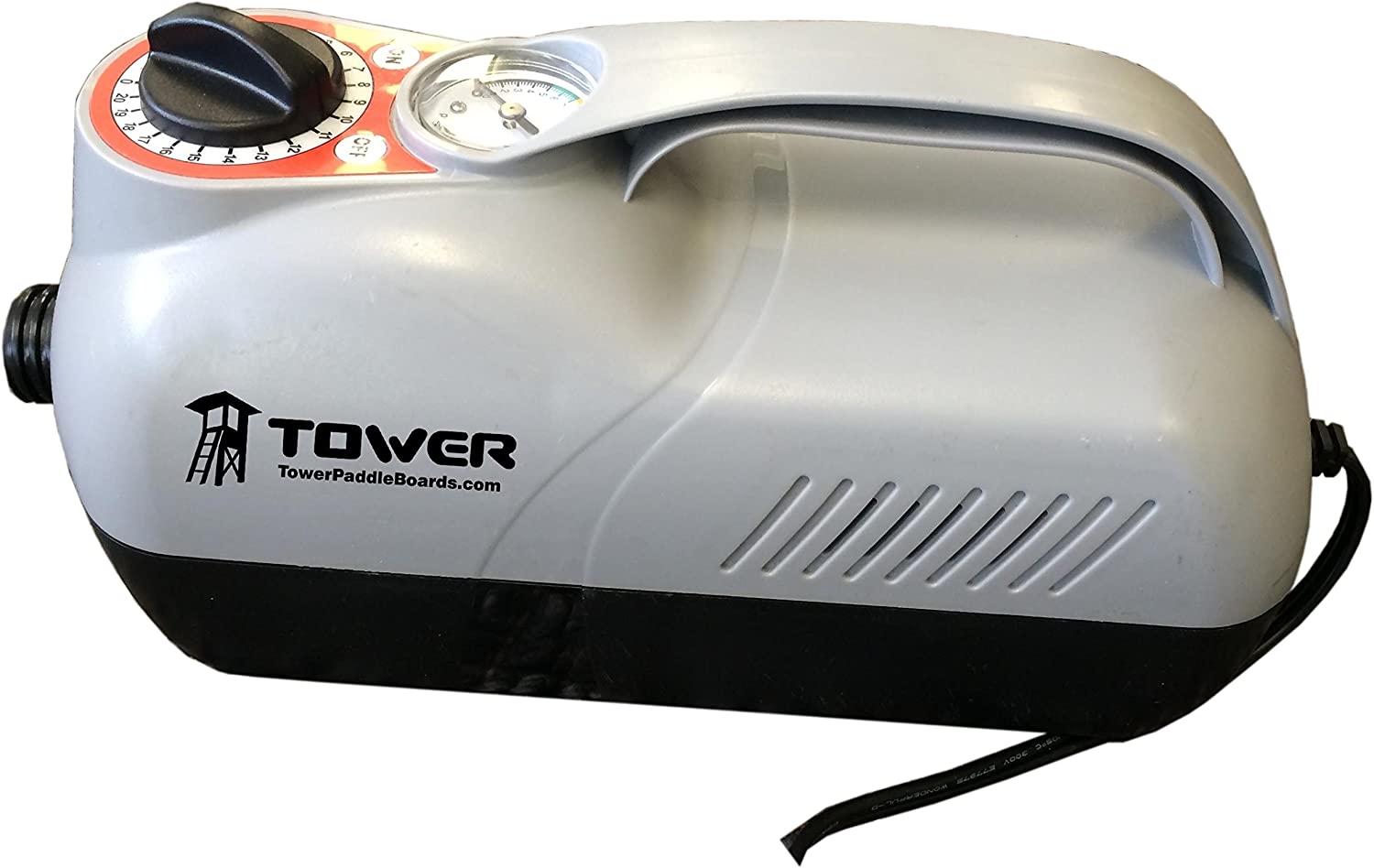 If you're looking for an electric pump that can be used on multiple boards and is fast and powerful, this electric pump by Tower Paddle Boards is a great choice.
It comes with an air pressure gauge, making it easy to check how much air your board has in it. The maximum air pressure this pump can reach is 15 PSI, so you are guaranteed a perfect amount of air every time.
This 12v electric pump is also very lightweight and compact, making it easy to carry with you and store when necessary.
The rechargeable battery can be charged via a USB cable or AC outlet, so you don't have to worry about batteries running out of juice in the middle of your session.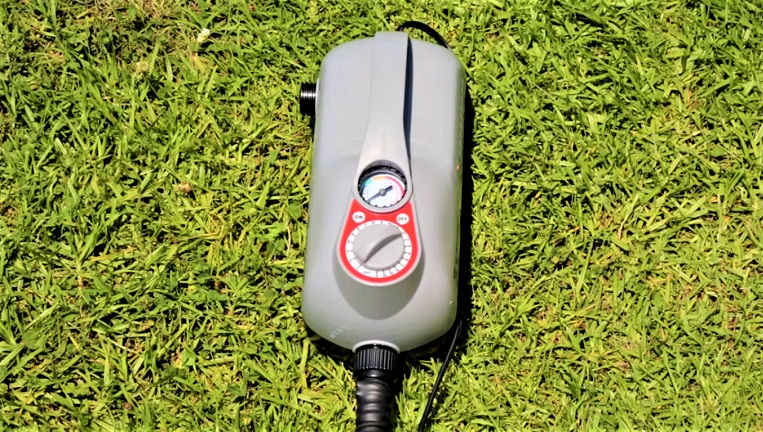 Features
Power source: 12V cigarette lighter plug & 12V battery cables
Speed: 1 PSI/ minute
PSI: Recommended to be used at maximum 15 PSI
Cooling system: No
Valve connectors: flexible, non-kinking hose with H3 nozzle.
Pros
Easy to use
Can be connected to the car battery for faster results
Auto-shutoff mode
Cons
Pretty expensive for what it offers
No cooling system
Do not work on the Xterra sups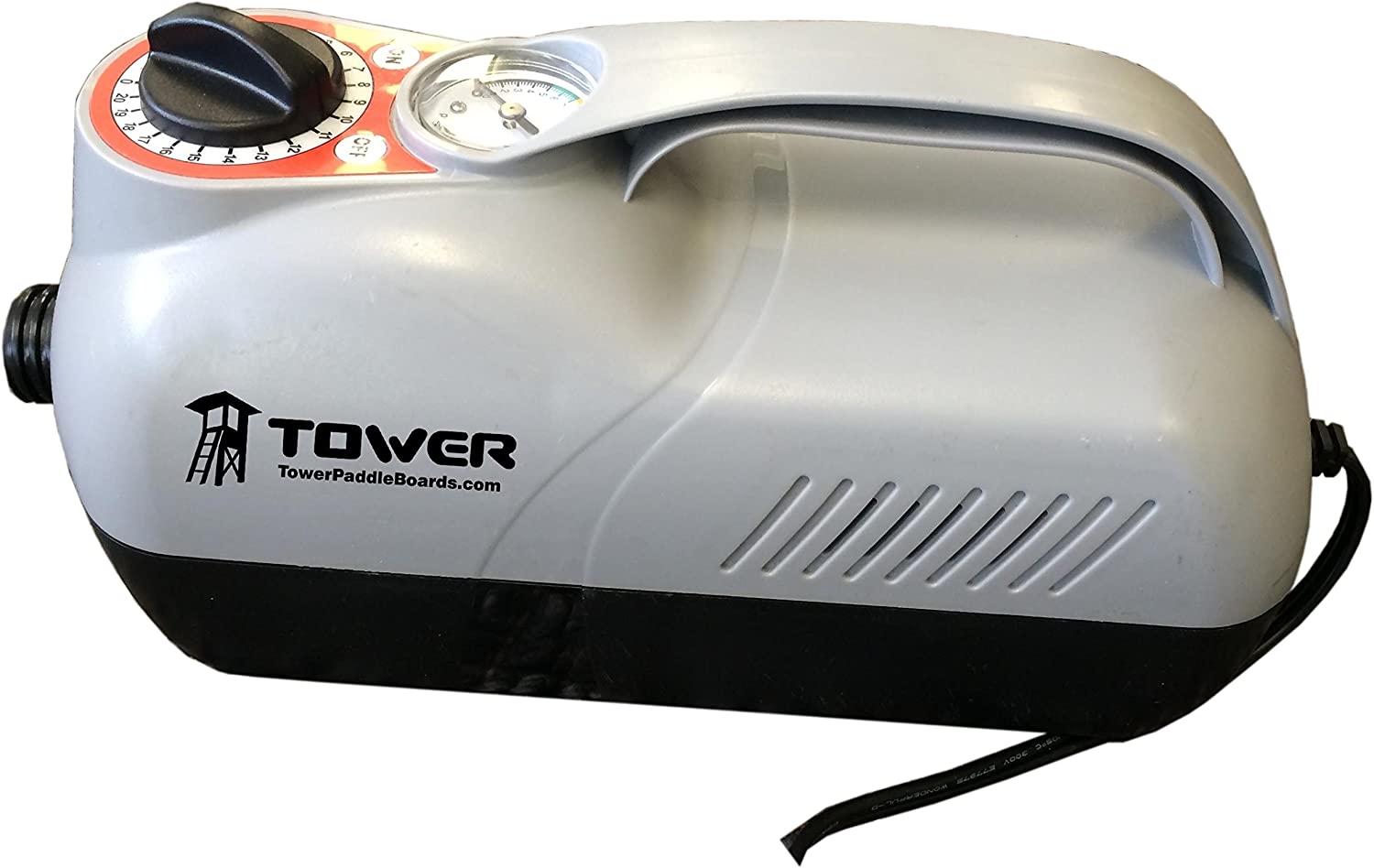 Electric Pump by Tower Paddle Boards
The price of "Electric Pump by Tower Paddle Boards" varies, so check the latest price at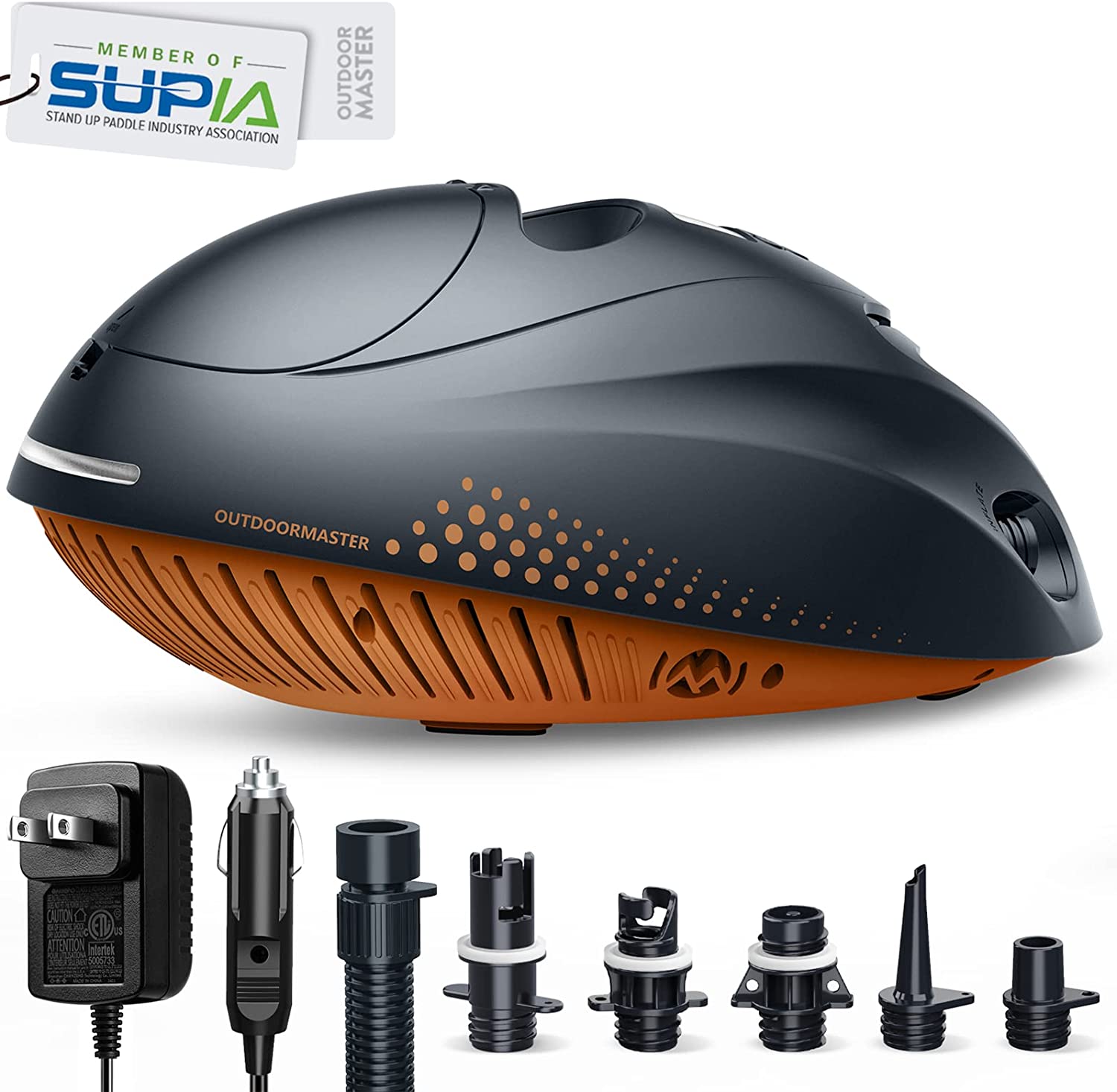 This electric pump is designed to pump up boats, kayaks, and SUPs with ease. Featuring a max air pressure of 16 psi and 350 liters per minute pumping capacity, it's a great choice for inflatables of all shapes and sizes.
You can fill up quickly in a variety of situations thanks to the on/off switch, built-in air filter, and double hose capability (also suitable for inflating mattresses).
With a dual-stage and cooling system, it will pump up to two boards and charge itself from your car's power outlet or AC adapter. And it has an automatic shut-off and digital display to help make deflating simpler.
The built-in storage box makes it easy to store paddle board gear between uses. With 5 compatible nozzles, you can inflate anything from a raft to a basketball.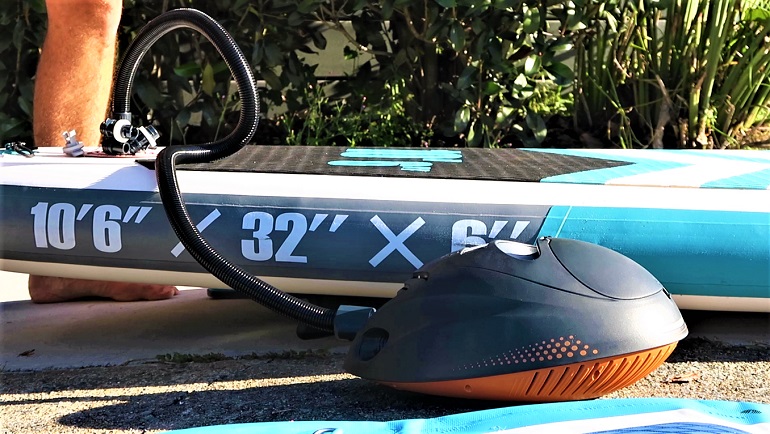 Features
Power source: 12V DC Connector, with 12A fuse for safety
Speed: 2 pumping speed – stage 1 with 350L/min and stage 2 with 70L/min;
PSI: 16 PSI
Display: LCD Digital Display
Cooling system: Patented interior design with FACS for preventing overheating
Valve connectors: 5 different nozzle attachments
Pros
Really cool design, looking like a whale
Innovative cooling system
2 pumping speeds
Automatic shut-off
Cons
Definitely the price: $240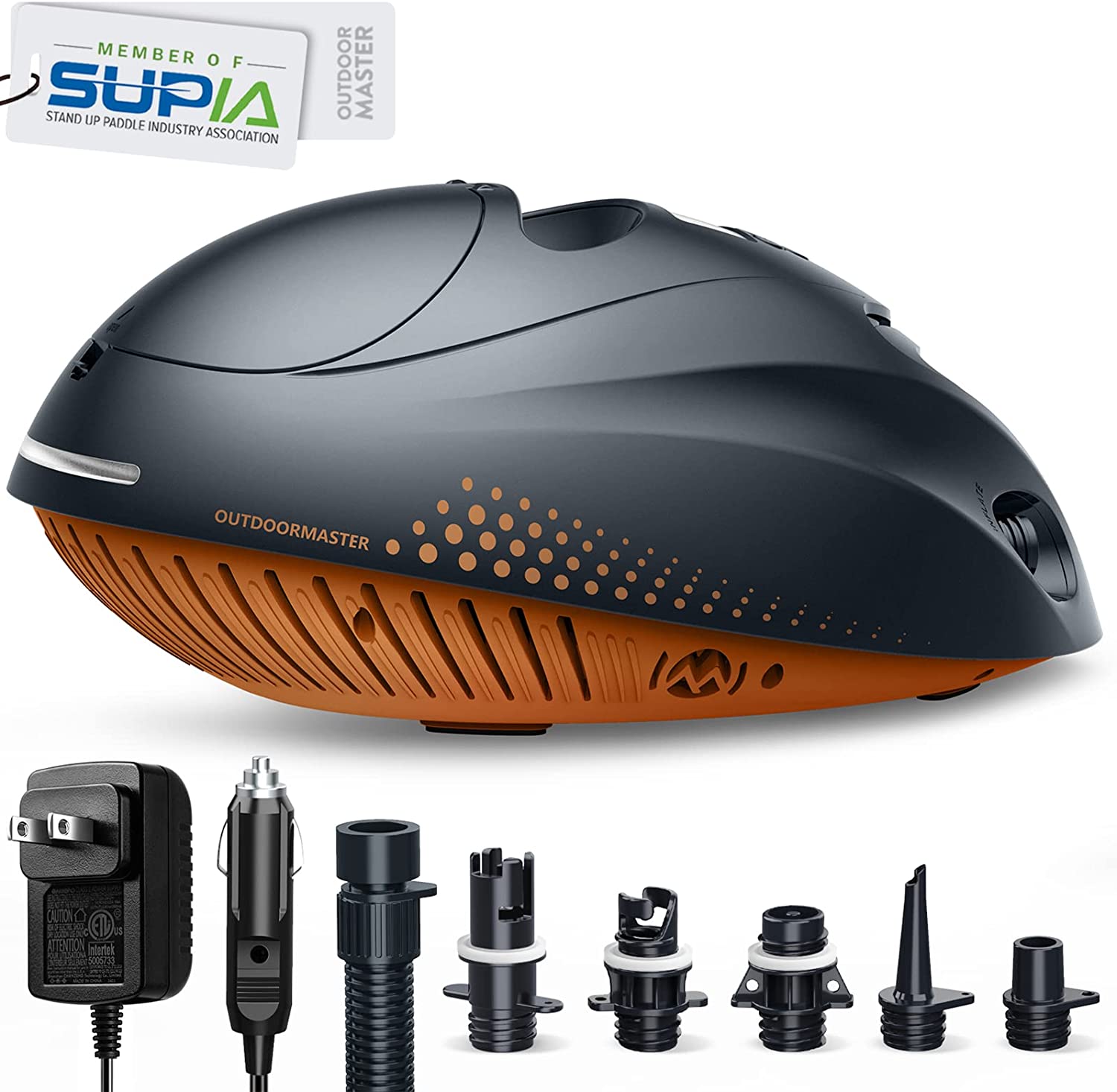 Outdoor Master Whale Electric Pump
The price of "Outdoor Master Whale Electric Pump " varies, so check the latest price at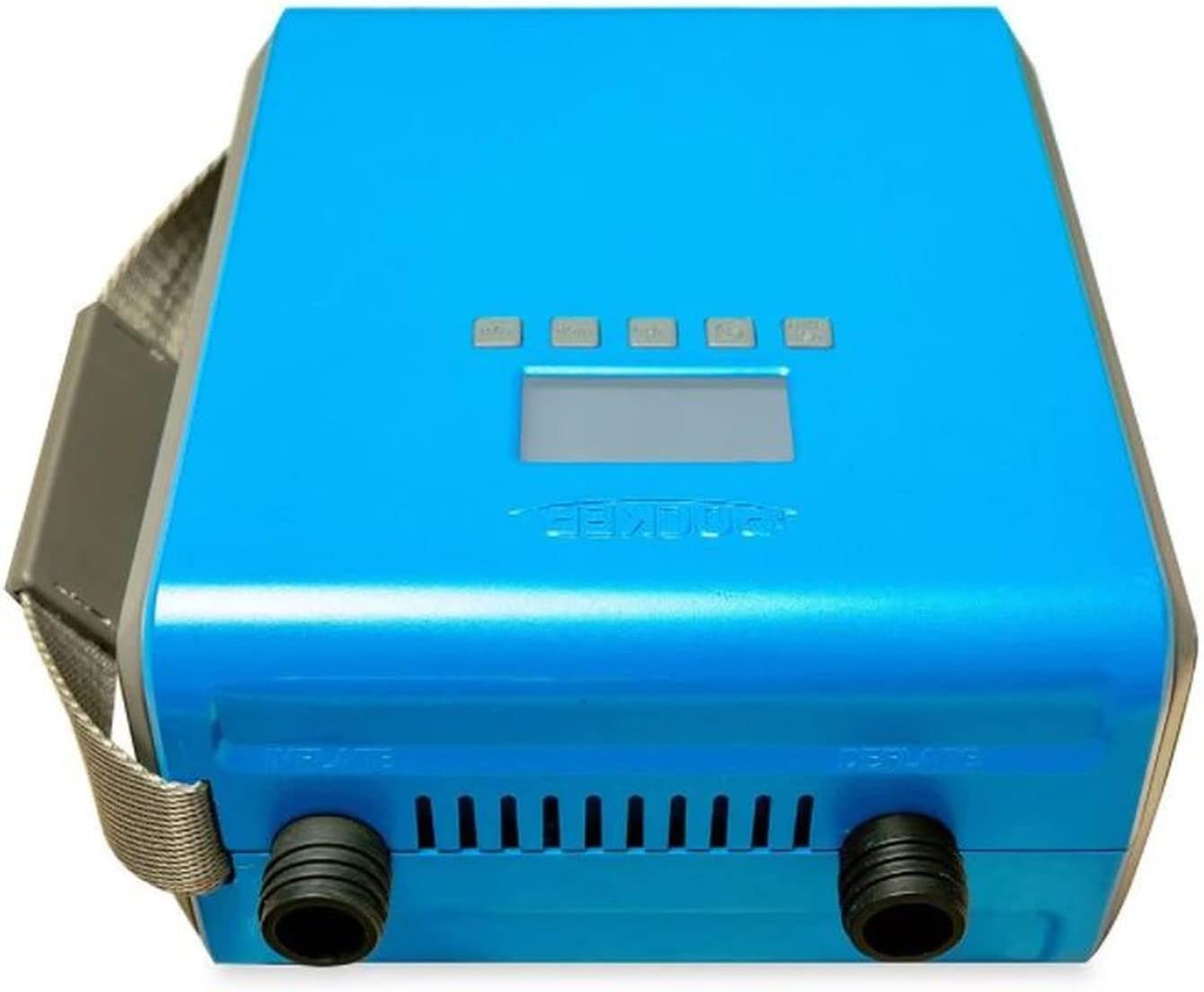 The iRocker Electric Pump is great for inflatable paddleboards, motorized inflatables, and more. It inflates a board in less than three minutes, comes with a power cord and AC adapter, and can be charged using a 12-volt battery.
This electric air pump also has a pressure release valve to reduce the risk of injury from overinflation.
The iRocker electric sup pump manufacturer notes that this model is best used with small inflatables up to 12 inches thick; however, I think it could work well on larger boards as well (if you're willing to spend more time inflating them).
So, what do you think? Is this iROCKER Electric SUP pump for you?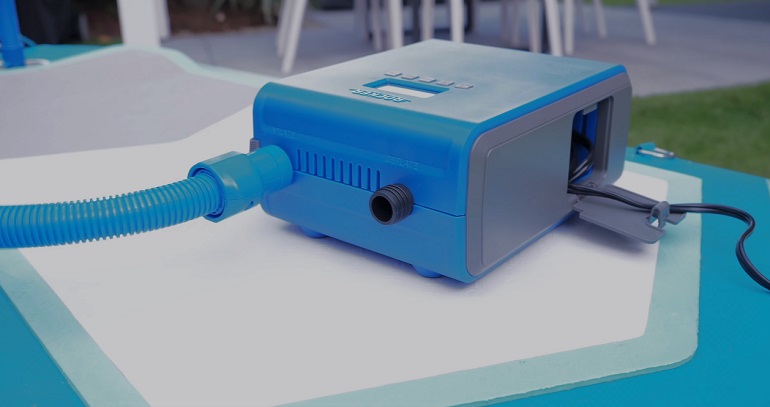 Features
Power source: 12V cigarette lighter plug & 12V battery cables
Speed: 12 minutes
PSI: 15 PSI – recommended
Display: LCD Digital Display
Cooling system: No
Valve connectors: H3 valve
Pros
iRocker pump comes at a good price
Pressure release valve to reduce the risk of overinflating
Lightweight
Cons
iRocker pump comes with just an H3 valve
No cooling system
The 12V battery is not included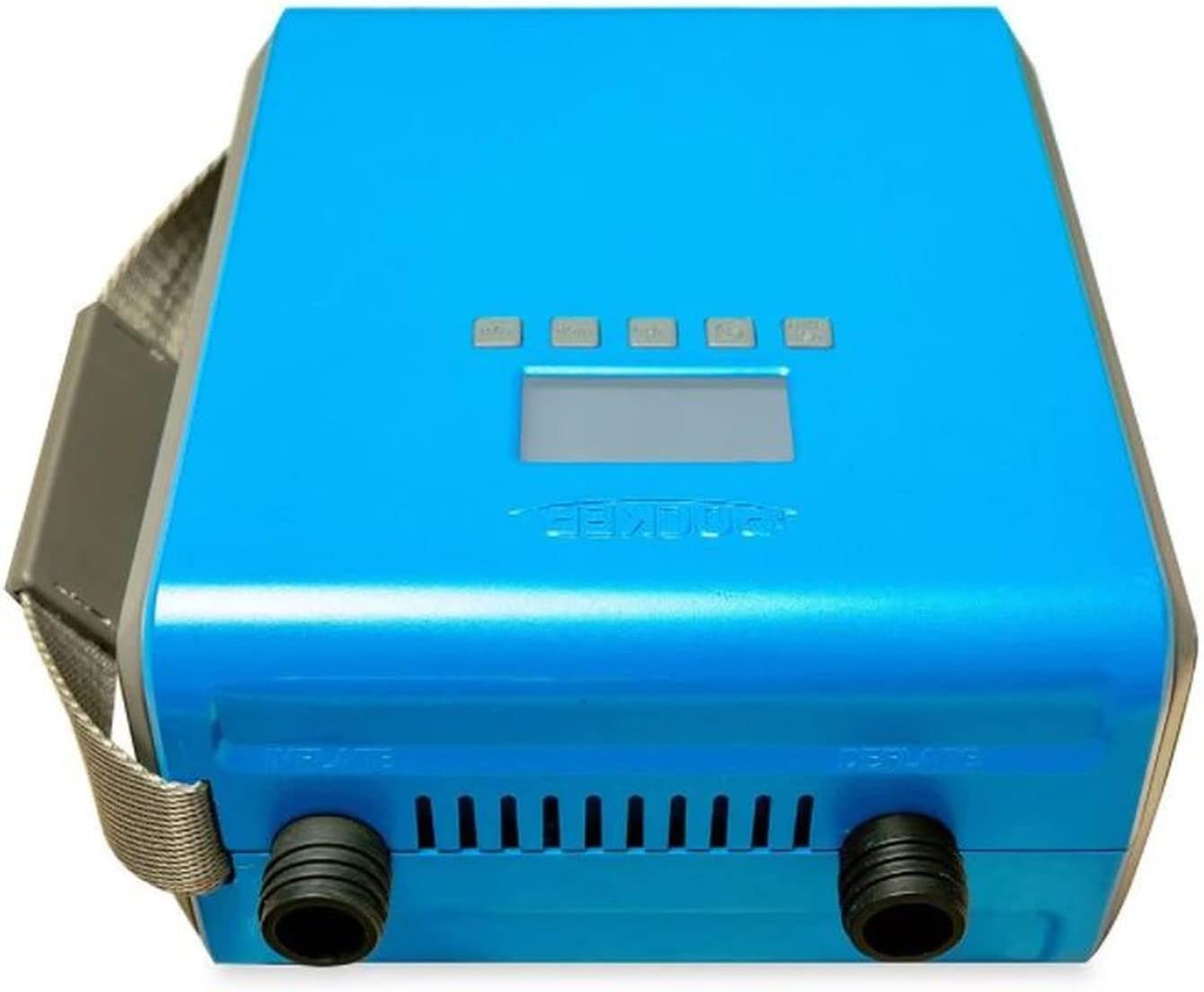 iROCKER 12 V Electric Pump
The price of "iROCKER 12 V Electric Pump" varies, so check the latest price at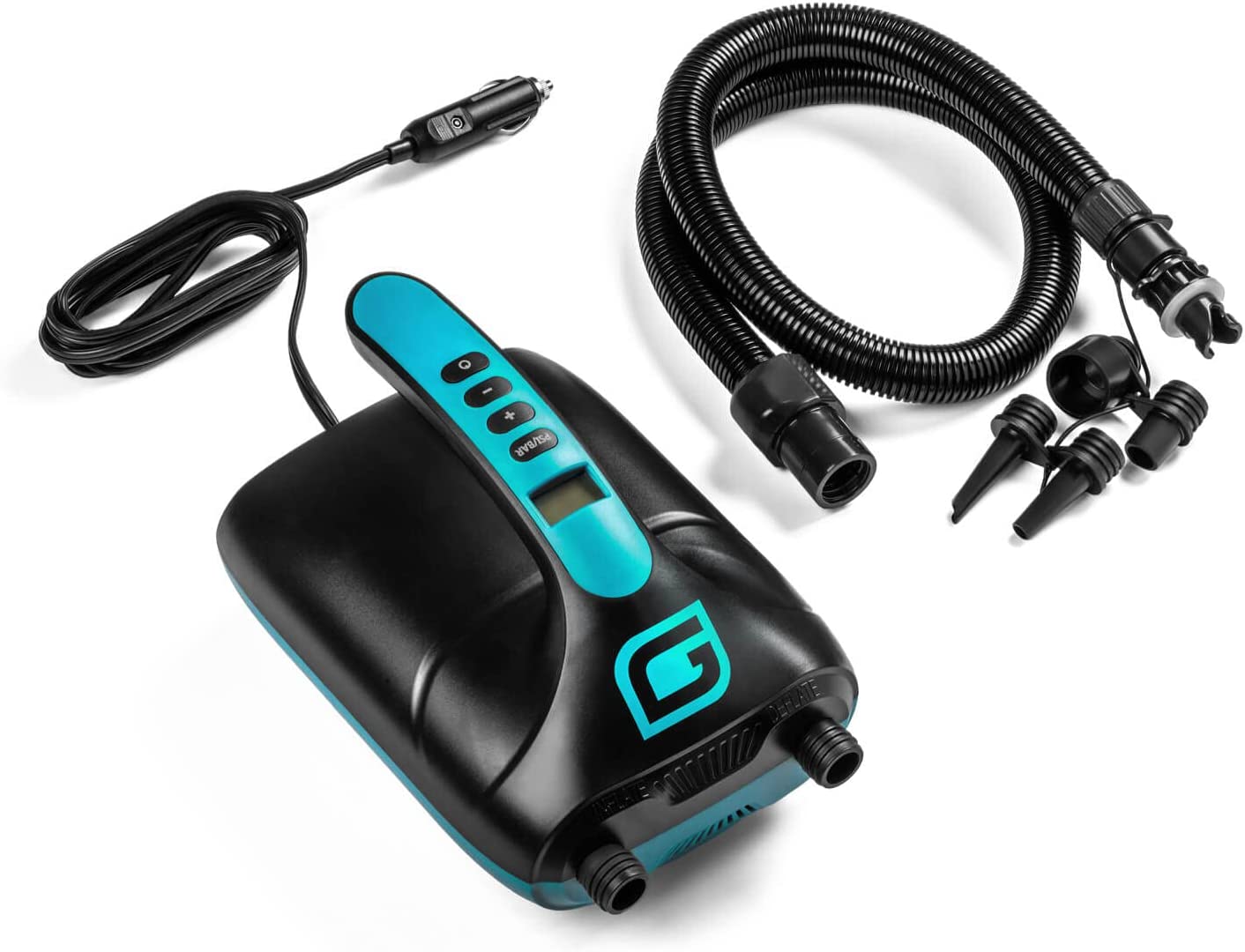 This electric pump is a great choice for inflating SUPs. It inflates a board in minutes and is very quiet, so you don't have to worry about bothering your neighbors or wildlife. The motor is powerful enough to inflate any board.
The built-in pressure selector allows for variable inflation from 2-20 PSI to suit your needs. This model has a digital gauge, is made from durable materials, and comes with a cigarette lighter adapter and hose for easy car charging.
An optional adapter allows for direct connection to a car battery for longer-term pumping needs.
Another great feature is that this Gili SUP pump includes both an 8ft/20ft cord set as well as double-sided plugs so that you can use it in different countries around the world where either 110VAC or 220VAC is used instead of 120VAC.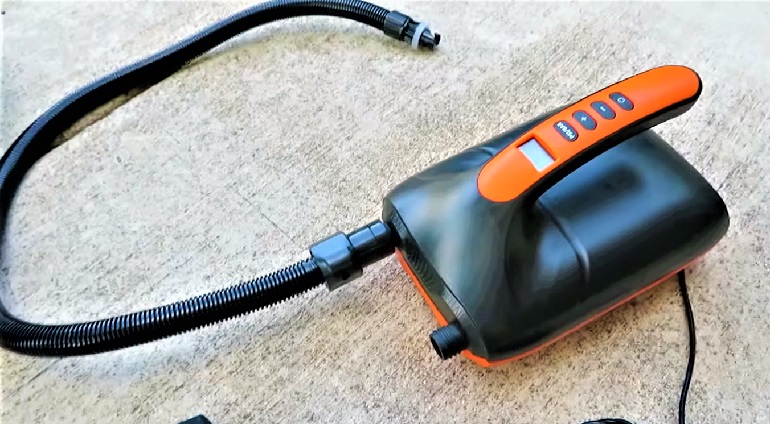 Features
Power source: 12V cigarette lighter plug, 12V battery cables & pump hose
Speed: 2-stage pump
PSI: 20 PSI
Display: LCD Digital Display
Cooling system: Built-in overheat protection
Pros
Lightweight and very portable
Durable, thanks to qualitative materials
Adaptable
Stops once you've achieved the pressure setting that you've chosen automatically
Cons
Even if it has built-in overheating protection, it is not that great.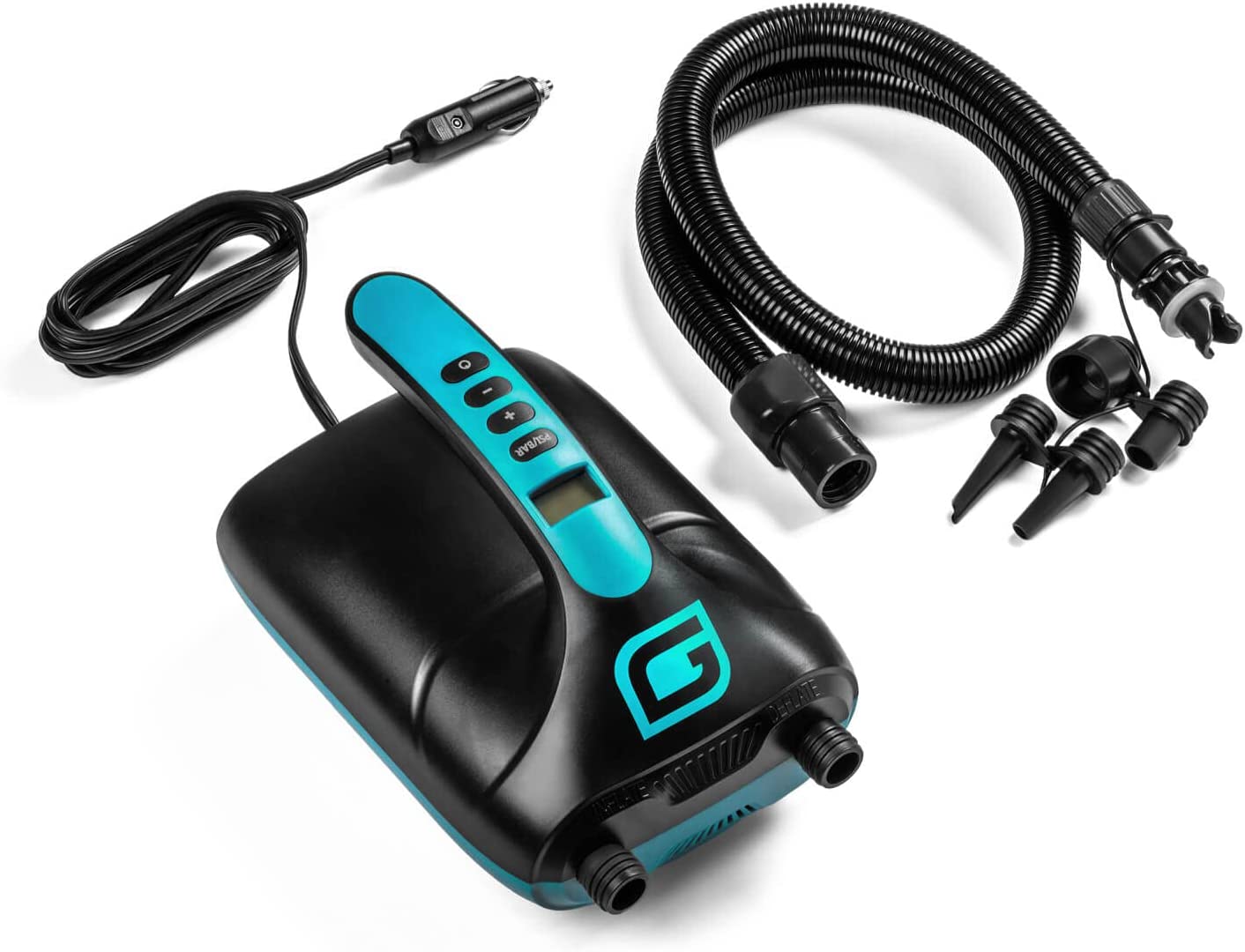 Gili 12v Electric Pump
The price of "Gili 12v Electric Pump " varies, so check the latest price at
How to Choose the Most Reliable Electric iSUP Pump
Whether you're a beginner or an advanced rider, a good-quality air pump is an essential piece of equipment to have. They can make it much easier to inflate your board and help prevent over-inflating which could damage your SUP.
The best SUP air pumps are relatively lightweight, portable, and easy to use. They are designed to inflate a SUP in minutes, which means you don't have to stand around for ages trying to pump up your board by hand.
Now, let's talk about what you should look for in your next electric iSUP pump, so you can make the best possible decision.
Features and Usability
An iSUP pump should have an LCD screen and a total of three different modes of operation. The screen should display the remaining battery power, and it should show how long the current session has been running, as well as how long it has left to run.
The three modes are auto-inflate, auto-deflate, and manual-inflate. The auto-inflate function inflates your board automatically when you plug the air hose into the board's valve. The auto-deflate function deflates your board automatically when you unplug it from the valve.
The manual inflate function allows for full control over your paddleboard's inflation rate and pressure level by pressing a button on top of the pump handle – it is like you have a manual pump.
Still, the most important thing to look for when buying an iSUP pump is whether or not it has a built-in battery. If you're going to be using your pump in multiple locations, having one with a battery can make things much easier.
You should also pay attention to the number of pumps per minute that the iSUP pump offers. The more pumps per minute a pump offers, the faster it will be able to fill up your iSUP.
If you're going to be using your pump for a lot of different SUPs, make sure that it has an adjustable nozzle. This will make inflating things like surf paddleboards and inflatable kayaking much easier.
Finally, make sure that you get a pump with a pressure gauge. This will allow you to monitor how much air is in the board and prevent over or under-inflation.
Portability/ Convenience
A portable pump is essential if you're traveling with your board and want to be able to inflate it with ease wherever you go. It's much more convenient than having to rely on a car or truck, which means that the battery life of your electric iSUP pump will be an important consideration when making your purchase.
Most electric pumps come with some form of an integrated carry handle and cord storage compartment, making them easy enough to transport if they aren't too bulky. However, if your SUP is large or heavy (for example) then this might not be possible for some models.
You should also take into account how much space there is in your vehicle—can it comfortably hold both the board and its pump? If so, great! If not though…you may need something smaller.
Speed
A great SUP pump should be able to inflate your board in just a few minutes, or even seconds, and the same with deflating.
The quicker you can inflate and deflate your board, the better! If you're going camping or somewhere there isn't an electricity supply, then this is especially important. You don't want to be wasting time inflating and deflating your SUP every time you want to use it.
Battery
The battery life is a very important consideration. If you plan to leave your pump at the beach, you will want a longer battery life. If you're going somewhere where you'll be able to recharge your batteries, then that's less of an issue.
Some people like having two or more batteries so they can swap them out while they are being recharged and use another one while they're waiting for their current one to charge up again. If you choose one of the best electric paddle board pumps, you will be able to use it on more inflatable paddle boards in a row.
Battery Type
There are two different types of batteries that work well with an electric paddle board pump:
Nickel-metal hydride (NiMH) – these are the most common type of rechargeable battery used by most electric iSUP pumps;
Lithium-ion (Li-ion) – li-ion cells have very high energy density per unit volume, meaning that they can store a lot of energy in a small space.
Other Recommended Accessories for Stand-Up Paddleboards
When it comes to stand-up paddleboarding, having the right accessories can enhance your experience and keep you safe on the water. Here are a few recommended accessories to consider:
Personal Flotation Device (PFD)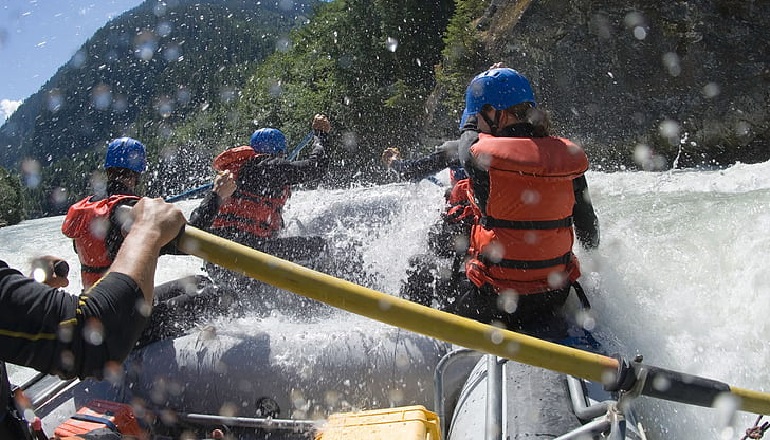 A PFD is an essential accessory for water sports, including paddleboarding. It provides buoyancy and ensures your safety in case of unexpected falls or accidents. Look for a PFD that is comfortable, properly fits your body, and is designed specifically for paddleboarding or water sports.
Dry Bag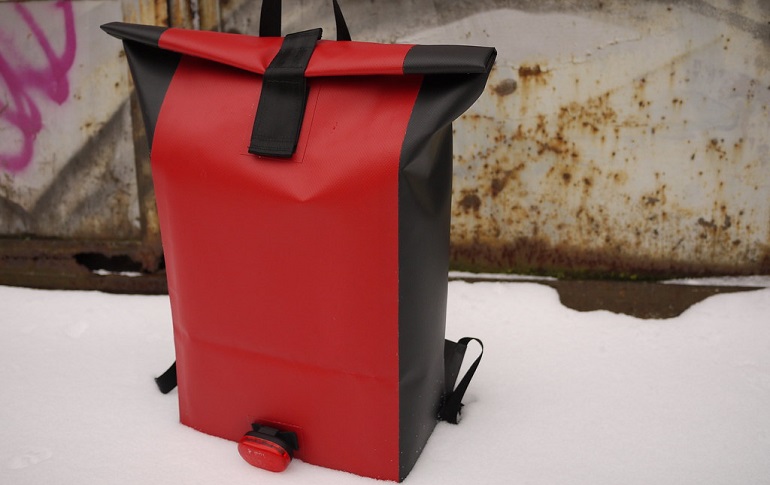 A carrying bag is a must-have accessory to keep your belongings safe and dry while out on the water. Whether you want to store your phone, wallet, keys, or extra clothes, a carry bag provides waterproof protection, preventing water damage and allowing you to enjoy worry-free paddling.
Deck Cooler
If you plan on spending long hours on your paddleboard or enjoying picnics on the water, a deck cooler is a fantastic accessory. It attaches securely to your paddleboard, providing a convenient storage space for snacks, drinks, and refreshments.
Tips for Electric Air Pumps
After acquiring your first electric pump, you'll want to experience the joys of riding the waves and making the most of your time on the water. To ensure optimal performance and protect your board, we're here to offer valuable tips for maximizing the benefits of your electric pump.
Maximize Inflation – Ensure Your Valve Pin is Up
By positioning the valve pin in an upward direction, you create a clear path for the air to flow into the paddleboard. This allows the pump to efficiently inflate the board, saving you time and effort.
If the valve pin is not in the correct position, it can cause air leakage during the inflation process. This can result in an improperly inflated board, affecting its stability and performance on the water.
Moreover, properly inflating the board with the valve pin up helps maintain its structural integrity. It ensures that the air is evenly distributed throughout the board, preventing over-inflation in certain areas and reducing the risk of damage.
By following this simple tip, you contribute to the longevity of your paddleboard. Proper inflation reduces strain on the seams and materials, minimizing the chances of wear and tear over time.
Inflating Multiple Sups in a Row – Stay Mindful and Avoid Common Mistakes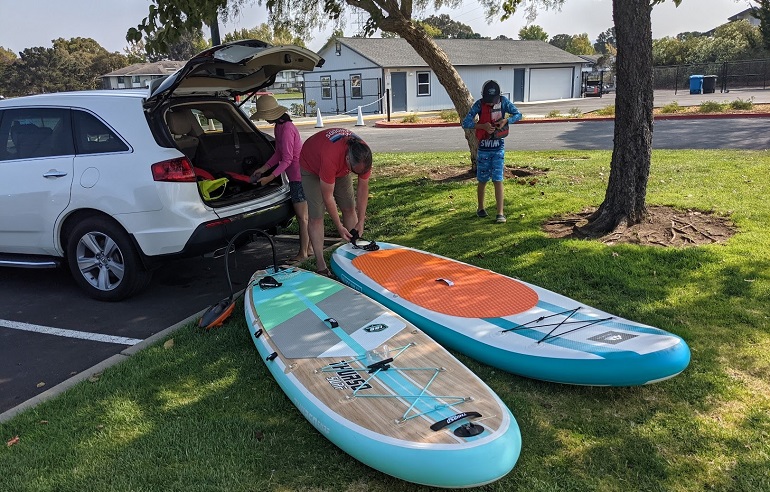 Take breaks between inflating multiple paddle boards to avoid overexertion and fatigue. This will help maintain your energy levels and ensure accuracy in the inflation process. Set up a designated area to keep the SUPs organized during inflation. This will prevent any confusion or mix-ups between boards and help streamline the process.
Before inflating each SUP, carefully inspect the board for any defects or damages. Identifying issues early on will save time and prevent complications during the inflation process. Consider using a timer to keep track of the inflation time for each board. This will help maintain consistency and prevent over or under-inflation.
Keep a close eye on the pressure levels of each SUP as you inflate them. Use a reliable pressure gauge to ensure that they reach the recommended PSI for optimal performance. If possible, involve others in the process to help inflate multiple SUPs simultaneously. This can speed up the process and reduce individual workload.
Furthermore, living in hot climates requires extra vigilance when using electric pumps. Higher temperatures can put additional strain on the pump and increase the risk of issues such as clogged vent systems due to sand or dirt.
Remember, continuous operation of the pump can lead to overheating. Allow the pump to cool down between inflations to prevent any damage and ensure its longevity. An automatic shutoff and a cooling fan are great safety features in this regard.
Keep Your Pump in Top Condition – Use a Tarp, Blanket, or Landing Mat
Using a tarp, blanket, or landing mat under your SUP pump offers several benefits that can help extend its lifespan and protect it from wear and tear.
Firstly, these materials act as a protective barrier between the pump and the ground, preventing direct contact with rough surfaces, sharp objects, or abrasive elements like sand and dirt. This helps to minimize scratches, punctures, and damage to the pump's body or components.
Additionally, it provides stability and cushioning during the inflation process. It helps distribute the weight and pressure more evenly, reducing strain on the pump and minimizing the risk of accidental drops or falls that can lead to impact damage.
Furthermore, these materials offer convenience and ease of use. They provide a clean and flat surface for placing and operating the pump, ensuring it remains stable and steady throughout the inflation process.
Proper PSI Inflation – Stay Within the Limit
Inflating your paddleboard to the desired PSI ensures proper rigidity and stability on the water. This allows you to maintain better balance and maneuverability while paddling.
It allows the board to glide smoothly through the water, resulting in improved speed and efficiency. You can enjoy a more enjoyable and effortless paddling experience.
However, overinflating your paddleboard beyond the recommended maximum pressure can put excessive pressure on the seams, materials, and valves. This can lead to potential damage, including leaks, tears, or even board failure.
By avoiding overinflation, you reduce the stress on the board's components, ensuring they last longer and maintain their quality over time.
Simplify Deflation – Utilize the Power of Your Electric Pump
Using your electronic pump to deflate allows for a quick and effortless way to remove air from your inflatable items. It eliminates the need for manual deflation, saving you valuable time and effort.
Electric pumps are designed to generate strong airflow, this helps deflate your items more evenly and thoroughly, ensuring a smoother deflation process.
Most electric pumps are compact and portable, allowing you to easily carry them along for outdoor adventures or trips. Their lightweight design makes them convenient to use and store, making deflation a hassle-free task.
Electric pumps can be used to deflate a wide range of inflatable products, including paddleboards, air mattresses, pool toys, and more. By removing air efficiently and evenly, you can maintain the integrity of the materials, ensuring a longer lifespan for your inflatables.
Remember to follow the manufacturer's instructions and adjust the settings on your compact pump accordingly for deflation.
Frequently Asked Questions
What Psi Should My Sup Be?
The recommended PSI (pounds per square inch) for your SUP can vary depending on factors such as the type of board, its dimensions, and your body weight. However, a general guideline is to inflate your SUP to a PSI range of 12 to 15.
To determine the specific PSI range for your SUP, refer to the manufacturer's guidelines or check any markings or labels on the board itself.
Are paddle board pumps universal?
Paddle board pumps are not necessarily universal, as there are different types of pumps available on the market. The most common types include manual hand pumps, electric pumps, and dual-action pumps. Each type of pump has its own features, advantages, and compatibility.
When purchasing a paddle board pump, it's important to consider the valve type of your paddle board. Some pumps are specifically designed to work with certain valve types, such as high-pressure or low-pressure valves. It's recommended to check the specifications of the pump and ensure compatibility with the valve type of your paddle board.
Should I Get a Battery for My Electric Pump?
It would be great, but you need to ask yourself if you will use your electric pump away from any source of energy. Before investing, think about your needs.
In general, it is preferable to have a battery for your electric paddle board pump, because it will give you more flexibility. If you don't even use the paddle board that often, you will be fine even with a manual pump.
How Do You Inflate a Paddle Board with an Electric Pump?
To inflate a paddle board with an electric pump, follow these steps:
Set up your items in a suitable location
Attach the appropriate nozzle or adapter to the pump's hose
Insert the nozzle into the valve opening on your paddle board securely
Plug into a power source, if required, and switch it on
Set the desired PSI on the pump
Start the inflation process by activating the pump
Monitor the PSI gauge and stop pumping once you reach the desired pressure
Switch off the pump and disconnect the nozzle from the valve carefully
Check to ensure there are no visible areas of sagging or unevenness.
Double-check that the valve is securely closed and enjoy your time on the water!
Can I Use My Car Tire Inflator to Pump My Sup?
Although it is technically possible to inflate your inflatable paddle boards with a car tire pump or air compressor, I do not advise doing so. Instead, use electric SUP pumps.
Final Thought
With so many great choices available, you'll be sure to find the perfect electric paddle board pump for your board. Whether you need a smaller or larger one, it's important to do your research before making any purchase. Still, my top option is the Outdoor Master Shark II Electric Air Pump.
If this 12v electric pump is not for you, maybe you will still find the best one in this list with the best electric paddle board pumps. Maybe your budget is not that high, so the iROCKER electric sup pump sounds best for you.