The Dark Doesn't Stop You
Skiing is all about the conditions. With heavy winds, endless snow, and variable terrain, you need every bit of skill and fortitude to engage in this sport. But what if you had to contend with all of the above… in total darkness?
Whether you are sneaking into a resort after hours, or you found one that is open late into the night, night skiing is every bit as dangerous as it is exhilarating. You aren't tested until you've been thrown into near-total darkness.
Within this domain, it's just you, your ski gear, and nothing else. Can you make it out in one piece? Yes, but you're going to need night skiing goggles to find your way.
Goggles for night skiing have the build and technology to grant you the sight and coverage needed to show out in the dark. Lucky for you that we've got the best ski goggles for night skiing listed down below.
Best Night Ski Goggles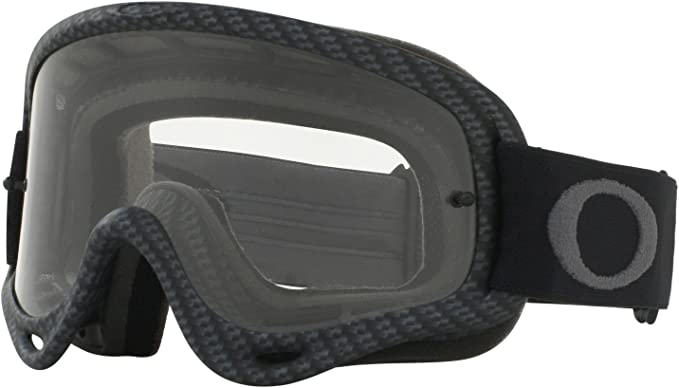 Oakley O-Frame MX
Brand:

Oakley

Frame Material:Nylon
Best Budget Ski Goggle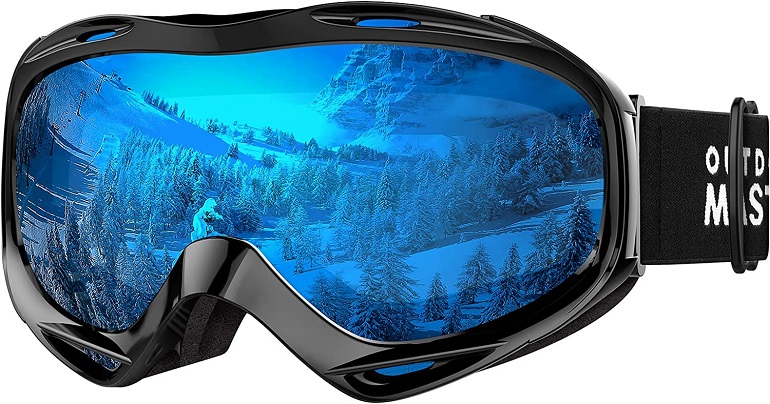 OutdoorMaster Ski Goggles OTG
Brand: OutdoorMaster
Frame Material: Thermoplastic Polyurethane
Best Build Quality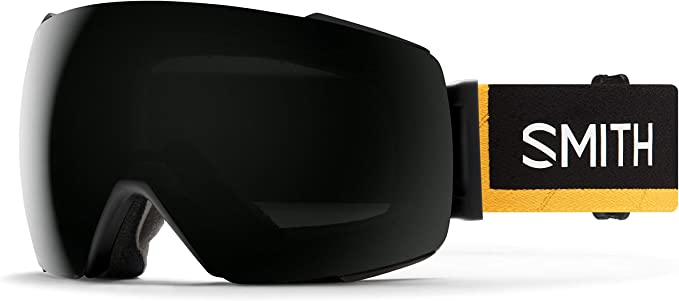 Smith I/O Mag
Brand:Smith
Frame Material:Silicone
Best Visibility
WildHorn Outfitters Pipeline
Brand: WildHorn Outfitters
Frame Material:Acrylonitrile Butadiene Styrene
Best Features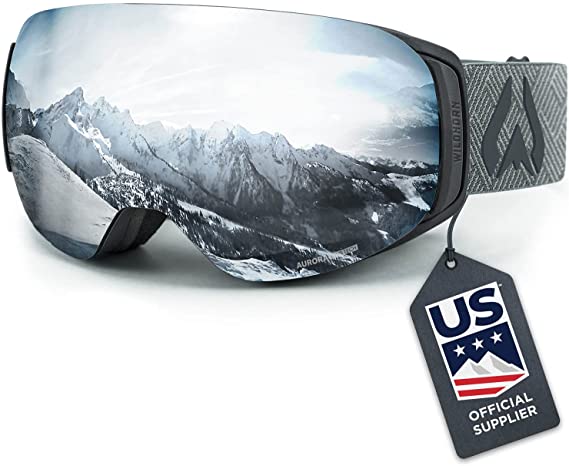 WildHorn Roca
Brand:

WildHorn Outfitters

Frame Material: Thermoplastic Polyurethane
Best of the Rest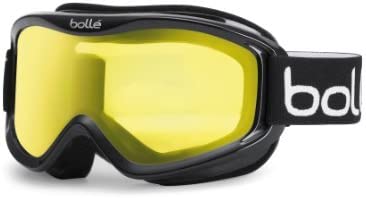 Bolle MOJO
Brand:Bolle
Frame Material: Shiny Black
The Top 6 Best Night Ski Goggles
You are probably used to regular ski goggles by now. Night skiing goggles offer much of what their daytime counterparts do but with a twist. Visible light transmission. I'll be going over this in more depth later but what you need to know is that this represents how much light your ski goggles let in.
This is the key difference between night skiing goggles and regular goggles. Ski goggles with day lenses let in a lot less light than night ski goggles. If they didn't, you'd be blinded. Goggles for night skiing are specially made to maximize the amount of light they let in.
With this distinction out of the way, let's get to the good stuff.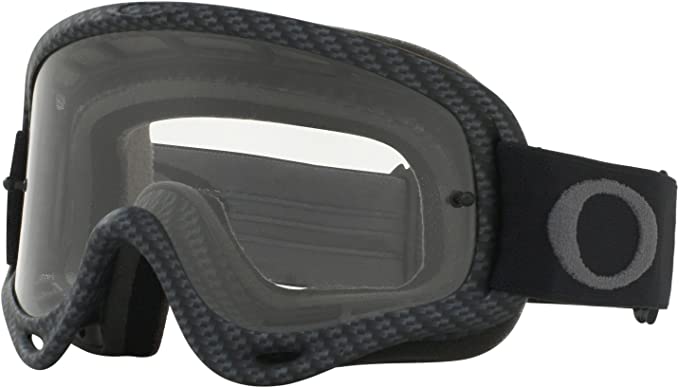 Number one and indisputably so. With all the caveats that one needs for comfort, a proper fit, and solid performance. The Oakley O Frame MX is fitted with features that other goggles simply do not have. This goes beyond night skiing, even regular goggles would find it difficult to compete.
The number one choice
The Oakley O Frame MX has three layers of face foam. Among this pillowy triple-layer construction, closest to your skin is a fleece layer. This fleece layer serves two purposes, obviously, comfort is one of them, but the other is something that won't be found anywhere else.
The fleece layer pulls sweat and moisture build-up away from your skin and toward the innermost layers of these goggles. Preventing sweat from obscuring your view and making you uncomfortable.
Oakley also included a Lexan lens into these goggles. This lens type was specially treated with a high-grade anti-fog coating. A coating so solid, that even breathing directly onto these goggles wouldn't be enough to fog them up.
The lens is also scratch and impact resistant. Backing up this durable lens is a one-year warranty policy, and keeping it all together is a silicone-lined strap. The silicone is present to create a more secure hold.
One thing to keep in mind is that all of this quality may be present, but these goggles have a medium fit. As a result, they aren't as responsive as some of the others on this list.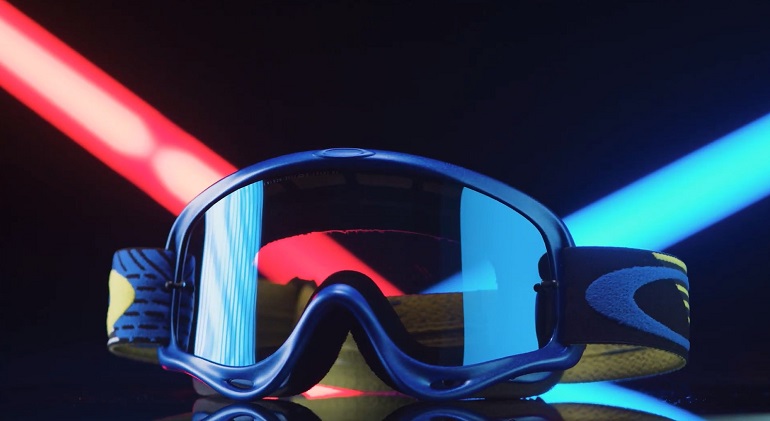 Features
Frame Structure: Triple-layer foam
Strap: Silicone-lined strap
Warranty: One year
Interchangeable Lens: Not available
Lens: Lexan lens
Pros
These Oakley goggles have three layers of face foam fleece.
Lens has an anti-fog coating and is scratch resistant.
Has a fleece layer that is in place for its moisture-wicking capabilities.
Cons
Medium fit frame size that isn't suitable for bigger skiers but will fit most people.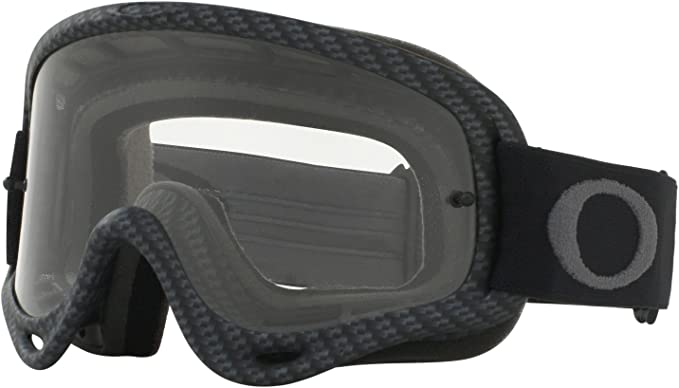 Oakley O-Frame MX
The price of "Oakley O-Frame MX" varies, so check the latest price at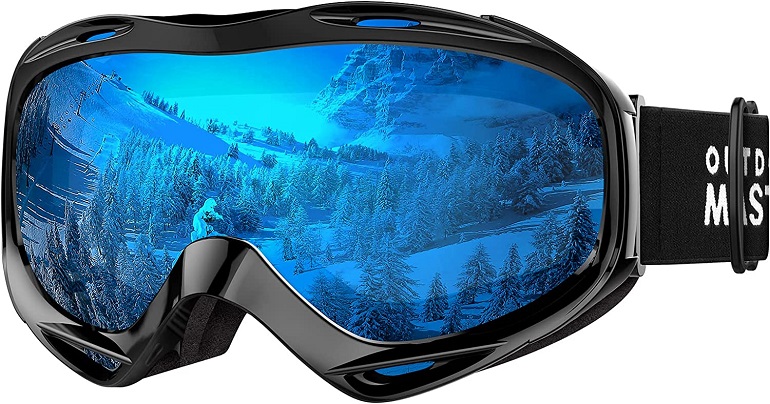 Skiers with prescription glasses have got it rough. It's hard enough for your average skier to find the right equipment. Imagine how much worse it must be to find something that won't interfere with your very sight.
Best value per dollar
Fortunately, we live in a world where the Outdoormaster ski goggles exist. Fit with a ventilation system that would make those old blocky window air conditioners blush, you won't have to worry about fog one bit. Even when you are wearing prescription eyewear.
Cool air gets sucked in, and it muscles out the warm air. Usually, this would make for a very cold time, but these ski goggles have managed to find a happy medium. One that gives you a clear lens but also skier comfort.
Speaking of comfort, the strap of these goggles is form-fitting. It doesn't fight with the circumference of your head. Rather, it aims to avoid pressure points, and it does so well enough.
Something else that I enjoyed about these goggles was all the extras that come with the purchase. You get a limited lifetime warranty and a carrying pouch for your snow goggles. Night skiing be damned, that pouch alone is more than enough for me to contemplate purchasing these.
I sure do love a good deal, and with an excellent anti-fog coating and clear lenses, there isn't a better deal around. Not at this price.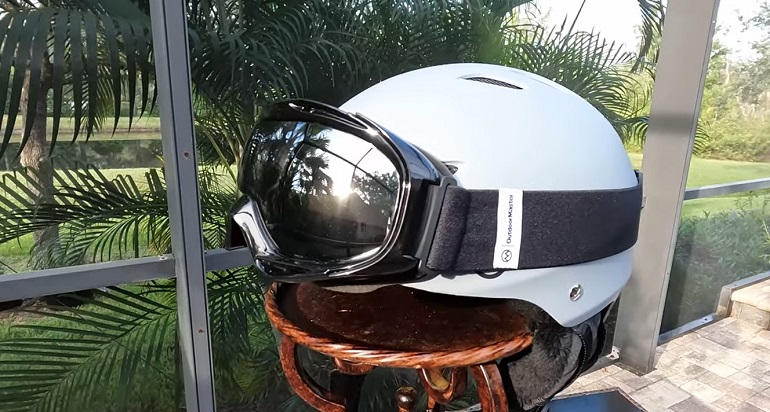 Features
Frame Structure: Thermoplastic polyurethane
Strap: Comfortable and form-fitting
Warranty: Lifetime warranty
Interchangeable Lens: Yes
Lens: Double lens polycarbonate
Pros
These goggles for night skiing are also true otg goggles.
A comfortable strap that doesn't pinch or create painful pressure points.
Comes with a lifetime warranty and a carrying pouch for the goggles.
Cons
The ventilation system is too exposed and bulky.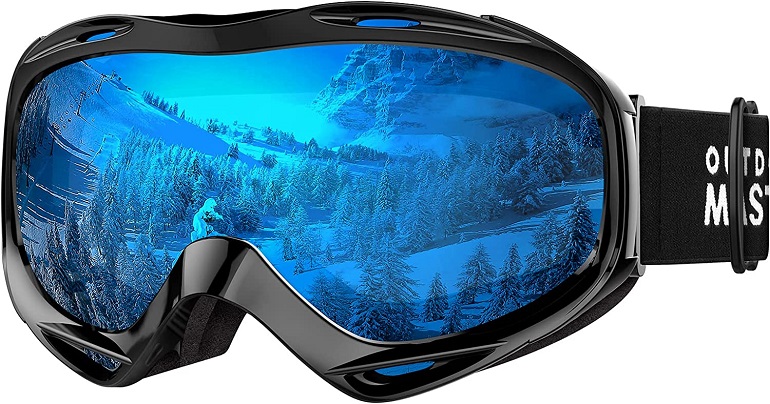 OutdoorMaster Ski Goggles OTG
The price of "OutdoorMaster Ski Goggles OTG" varies, so check the latest price at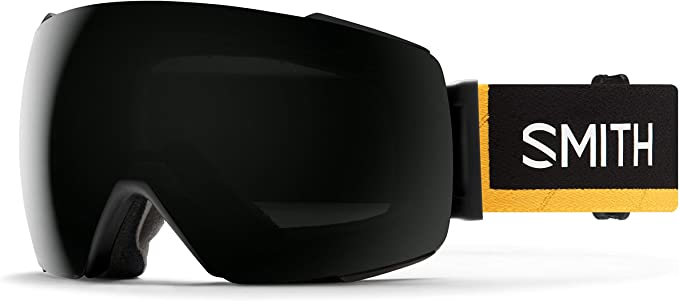 The Smith Mag has an elite air to them that is well deserved. How often do you come across ski goggles that have spherical lenses that were made to tank hits and enhance your vision? You're getting durability and performance in one package.
Built to last
The durable lens that I listed above doesn't come alone. With your purchase, you get two of these Chromapop lenses. What the Chromapop tech does is make colors and details stand out more. Helping you pick apart the tiniest blips as you blaze right past them.
Sounds great, but what if you can't get these nighttime goggles to fit on properly? Should you waltz on over to the Outdoormaster ski goggles? While that wouldn't be a bad choice, keep in mind that the Mags have a responsive frame that will bend and contort itself to fit your face.
Completing this awesome frame build are eight different magnetic points that secure your lens into place. If you notice any issues with your vision, simply change lenses and get a move on.
Of course, with such a quality build, the price was going to have to reflect it. Yes, these are the most expensive goggles on the list but they are also the ones with the best build quality. If you've got cash to burn, light it up with the Smith I/O Mags.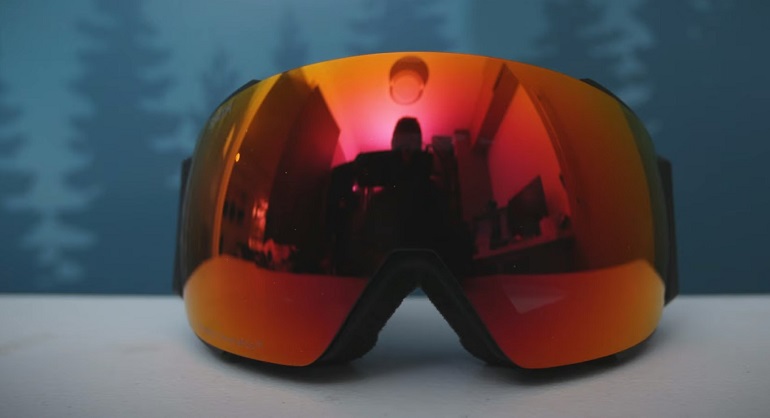 Features
Frame Structure: Responsive fit frame
Strap: Has QuickFit strap adjustment system
Warranty: Limited lifetime
Interchangeable Lens: Yes
Lens: Chromapop lenses
Pros
Has a responsive frame design that will bend to fit your unique face shape.
These goggles for night skiing have the best anti-fog lens on the market.
Has spherical lenses that improve impact protection and sight.
Cons
Due to their great quality, can be a bit expensive.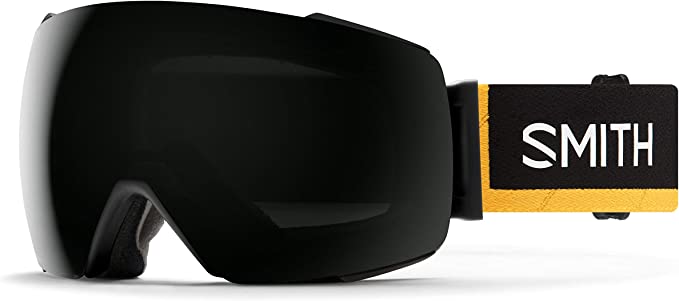 Smith I/O Mag
The price of "Smith I/O Mag" varies, so check the latest price at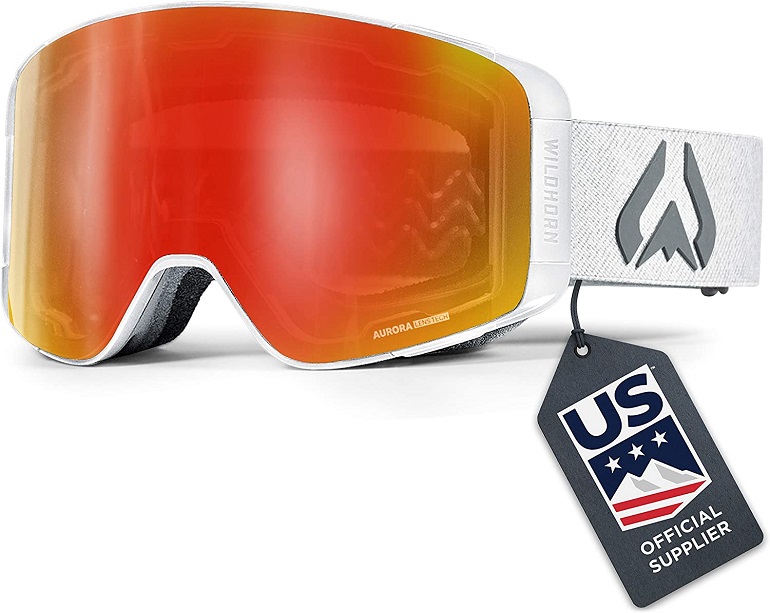 Our vision is the most important of our five senses. Obviously, we don't want anything obscuring our peripheral vision. Especially not when we are traveling at high speeds while under the cover of darkness. When it comes to making the most out of low light conditions, the Pipelines are without a peer.
waterproof and breathable
Thanks to the Aurora lens tech, you get an ultra-wide field of view, complete with one hundred percent UV light protection. The UV protection may not seem like much at night, but this means that these goggles are capable of being used during the day as well.
Think of them as a completely universal option. Not just when it comes to size and style but also usability. The Pipelines can even tank the worst kinds of weather and conditions thanks to their high waterproof rating and breathability.
With a rating of twelve thousand when it comes to both of the aforementioned categories, these goggles are top-performing beasts. It's why they made it onto the list. Consistency is a hallmark of experts and high-end goggles.
You won't have to worry about the strap slipping either because it comes equipped with a silicone grip. The lens can be quickly swapped out, and there are dozens upon dozens of color combinations for you to choose from.
Best of all, these goggles have a thermoplastic polyurethane structure that is perfect for elasticity and low-temperature resistance. Consistently among the best goggles for night skiing.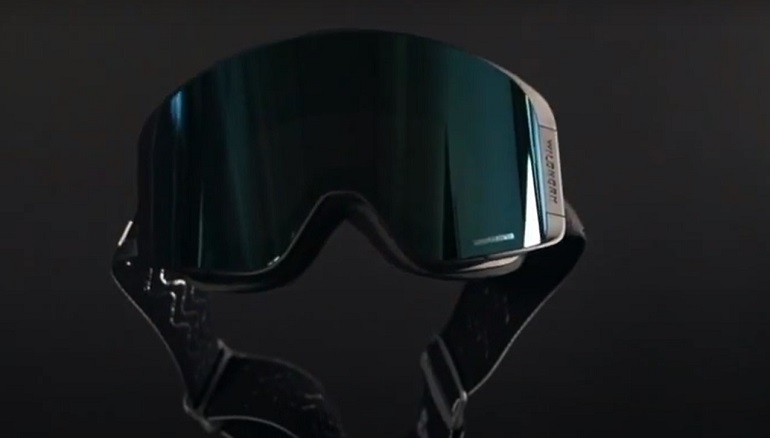 Features
Frame Structure: Thermoplastic polyurethane
Strap: Strap with silicone grip
Warranty: One year
Interchangeable Lens: Quick swap lenses
Lens: Aurora lens tech
Pros
Has a sleek and minimalist goggle frame that highlights the large lens.
Clear goggles with clear lenses for maximum visibility.
More than 70 lens and color combos to choose from.
Cons
Large frame sizes may prove cumbersome for skiers used to smaller frames.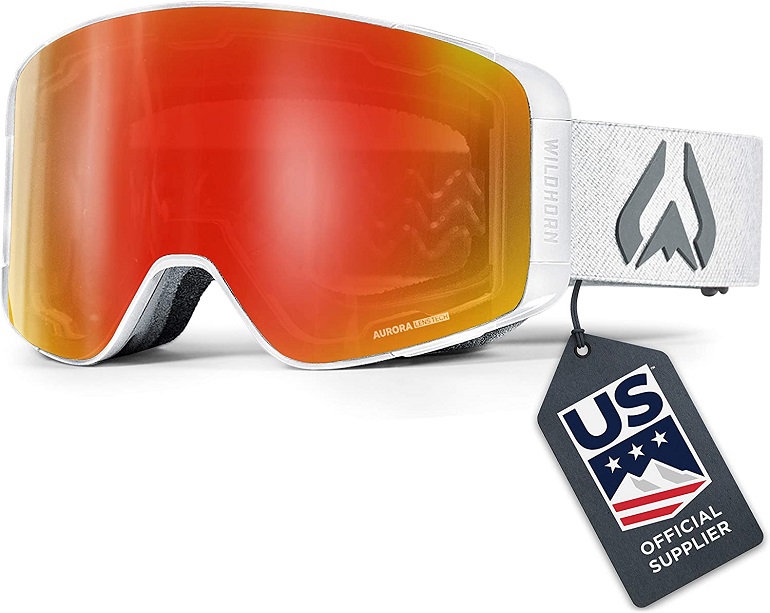 WildHorn Outfitters Pipeline
The price of "WildHorn Outfitters Pipeline" varies, so check the latest price at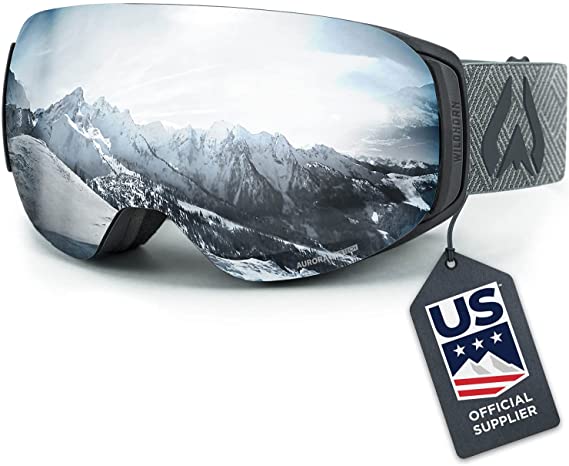 While not as good looking as its cousin, the Outfitters pipeline, the Roca definitely has its own features to brag about. From the insanely fast and user-friendly interchangeable lens swapping to its comfortable strap design. Roca sets itself apart and it does so masterfully.
Loaded with the best
Remember that thermoplastic polyurethane structure that I was raving about earlier, I would hope so because it just happened like two paragraphs ago, well it's also present here. As we know, this material retains its flexibility at all kinds of temperature ranges.
This means that whatever fit you get in medium temperatures, it'll still feel the same as the cold air really starts to set in. But this need not be the end of your comfort. The Roca goggles have a specially woven strap that is made from polyester and cotton.
Polyester is a sturdy fabric that is quick to dry. Even if you were to take one of the world-class tumbles that I am known for, the strap would dry off in no time.
Cotton has also been included in the strap's build. As a result, you get a soft and comfortable feeling that also warms up your head.
As I stated earlier, lens swapping is a cinch, thanks to the lens change system that the Roca has. Should you crack your lens or if you want a fresh lens, all you need to do is pop out the old spherical lens and slot the new one in.
The magnets and integrated locking system will hold your lens in place. High-definition optics but with a secure hold. It isn't easy to design a system like this, much less implement it but WildHorn has once again pulled it off.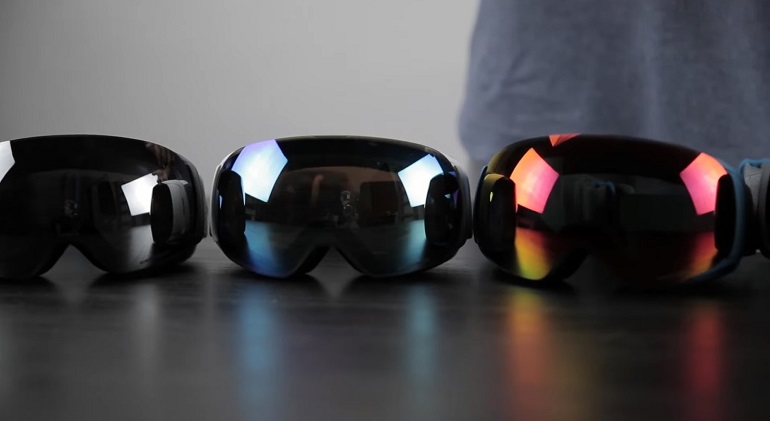 Features
Frame Structure: Thermoplastic polyurethane
Strap: Woven strap with silicone grip
Warranty: One year
Interchangeable Lens: Interchangeable lens system
Lens: Spherical lenses
Pros
Has a rapid lens change system that allows you to swap lenses in less than 30 seconds.
Has a woven strap that is the most comfortable that I've tried.
The strap is made from cotton and polyester, hence why it is so comfortable.
Cons
Has a standard field of view, wish it was larger.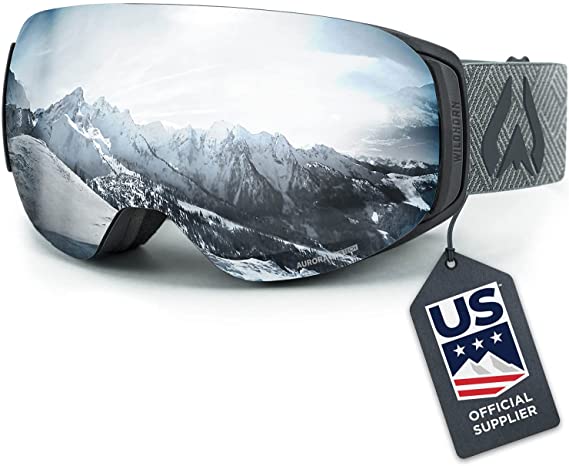 WildHorn Roca
The price of "WildHorn Roca" varies, so check the latest price at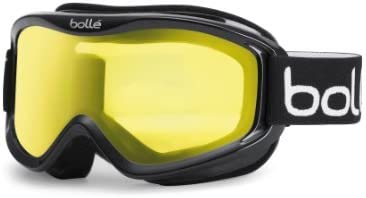 The Bolle Mojo is the quick and dirty option that is available for an astoundingly low price. These ski goggles are the spares that you keep in your glove box should you ever need them. With a price point this low, it would be silly not to pick them up.
Quality for pennies
The Mojos has a dual-pane lenses build. Each lens has a specific purpose for being present beyond the obvious. The first lens acts as a thermal barrier, with the second focusing on keeping your vision clear and secure.
A great thing about these snow goggles is that they have a near-universal fit. Everyone that doesn't have a small facial frame, sorry my small-faced friends, can easily get a secure fit with these.
This is owed to the standard elastic strap. It may not be as fancy as the other straps on this list but thanks to its elastic build, it can stretch to wide lengths. What surprised me about these ski goggles is that they even come with a one-year warranty.
To come with a warranty policy at this price point proves that Bolle has total faith in the quality of its product.
Sure, the Mojos don't have the prestige of the Oakley flight deck goggles, but they don't need to. They've got a solid build and are amazingly cheap. Perfect for night skiers and the perfect low-light clear goggles to have as a spare.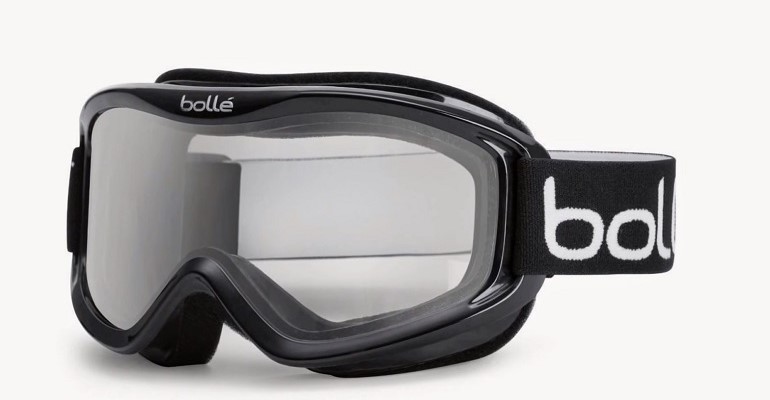 Features
Frame Structure: Medium-to-large fit
Strap: Standard elastic strap
Warranty: One-year warranty
Interchangeable Lens: Not available
Lens: Cargo glass double lens
Pros
These night skiing snow goggles are available for a very low price.
Can fit medium to large face frames.
Has dual pane lenses that provide a thermal barrier for your eyes.
Cons
Not the best-looking color goggles that you can find.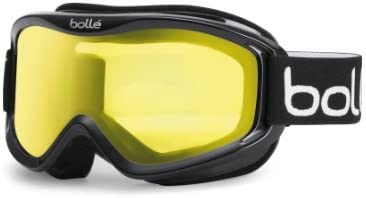 Bolle MOJO
The price of "Bolle MOJO " varies, so check the latest price at
What To Consider When Choosing Night Ski Goggles
When it comes to night skiing, you've got the best ski goggles that are up to the task listed above. However, any seasoned pro knows that one skier's number one pick will be different from another skier's.
This is why you have got to know what makes a pair of ski goggles perfect for night skiing. Consider the following down below and use it to pick out your number one.
Visible Light Transmission
I gave you a brief description of what visible light transmission is but allow me to break it down a bit more here. VLT is the amount of light that a pair of goggles will let in. There are some goggles, those with day lenses, that filter out large amounts of light.
While these goggles certainly have their uses, filtering out large amounts of light when night skiing would be incredibly dangerous. A good rule of thumb is, the darker or less light there is, the more VLT your goggles should have.
The best night ski goggles have both a light tint and one hundred percent VLT. Both of these features assure that you get the best sight possible that takes in the most light. This amount of VLT can also help when skiing in stormy weather.
Lens Swapping or Not
Being able to swap lenses is incredibly important. This is because throughout our time skiing, we will take many hits and bumps.
Your lenses cracking or even just getting scratched is bound to happen. Being able to swap lenses is a fast and cheap way of handling this issue without having to purchase new ski goggles.
However, keep in mind that the lens-swapping system is just as important as being able to swap lenses in the first place. Always try and get ski goggles like the WildHorn Roca or the Wildhorn Outfitters Pipeline. These goggles have magnetic lens-swapping systems that are fast and easy to use.
Release Warm Air With A Ventilation System
Do you know what builds up moisture and fog? Warm air. Warm anything may sound tantalizing when you are surrounded by cold snow but remember, it's all fun and games until you can't see anymore.
Ski goggles like the Outdoor Master ski goggles are the best goggles for good venting and good ventilation overall. In fact, just taking one look at those things and it's pretty obvious to see why. They couldn't fit bigger vents onto those goggles if they tried.
Sure, it might look unappealing, but fogged-up lenses are incredibly annoying and not to mention dangerous.
Foam, Padding, and Skier Comfort
Look, if comfort is what you are really after then get the Oakley o frame mx. These ski goggles have three layers of foam and padding for your comfort. They even have a fleece layer for moisture-wicking goodness.
Having an elastic strap and a responsive frame that will fit the contours of your face will certainly help in getting you a great overall feel. These are the main factors that will influence your comfort. Our selection above takes care of each one for you.
Your Style When Night Skiing
The good thing is that each of the ski goggles on this list is versatile and durable enough to withstand and support you no matter what skiing style you employ.
It doesn't matter if you like to freestyle or freeride, you need to see to get it done in the first place. Our goggles can help with that.
My Final Thoughts
Think you are all set for some night skiing action? I wouldn't blame you for feeling confident, but you might not have considered one thing. Skiing during the day can get pretty cold, just imagine how much worse it is when there isn't a sun to wash away the cold air.
Beyond helmet compatibility, having a toric lens, or cylindrical lenses, be sure to wear the right ski clothes because it will get chilly. Insulated jackets and ski pants are definitely a good start.
Remember, night skiing can be a lot of fun, but just make sure to wear ski goggles with a clear lens. Safety should always be paramount.