Paddleboarding actually originated as a form of surfing all the way back in 18th-century Hawaii. The Hawaiians of old times took a paddle, and a wider board, and altered their stance to the waves to improve stability and board-to-wake connection. Riding waves had never been so easy.
If you're considering catching waves on your inflatable SUP, you'll want to ensure you're confident on other boards and flat water.
Calm waters allow you to learn how to get the basics down first, such as standing up and finding the right board for you. Surfing isn't particularly beginner-friendly.
Almost any paddle board can be used to catch waves, but some are better than others. A surfing board is often slimmer than a traditional six-inch design, choosing to have less volume coming in at around four inches of thickness.
Top Pick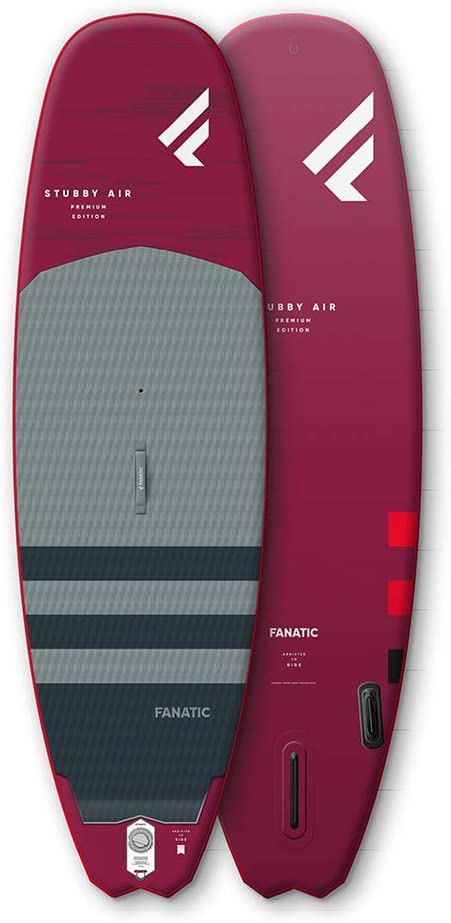 Fanatic Stubby Air
Material: Pvc
weight: 19 lbs
Premium Choice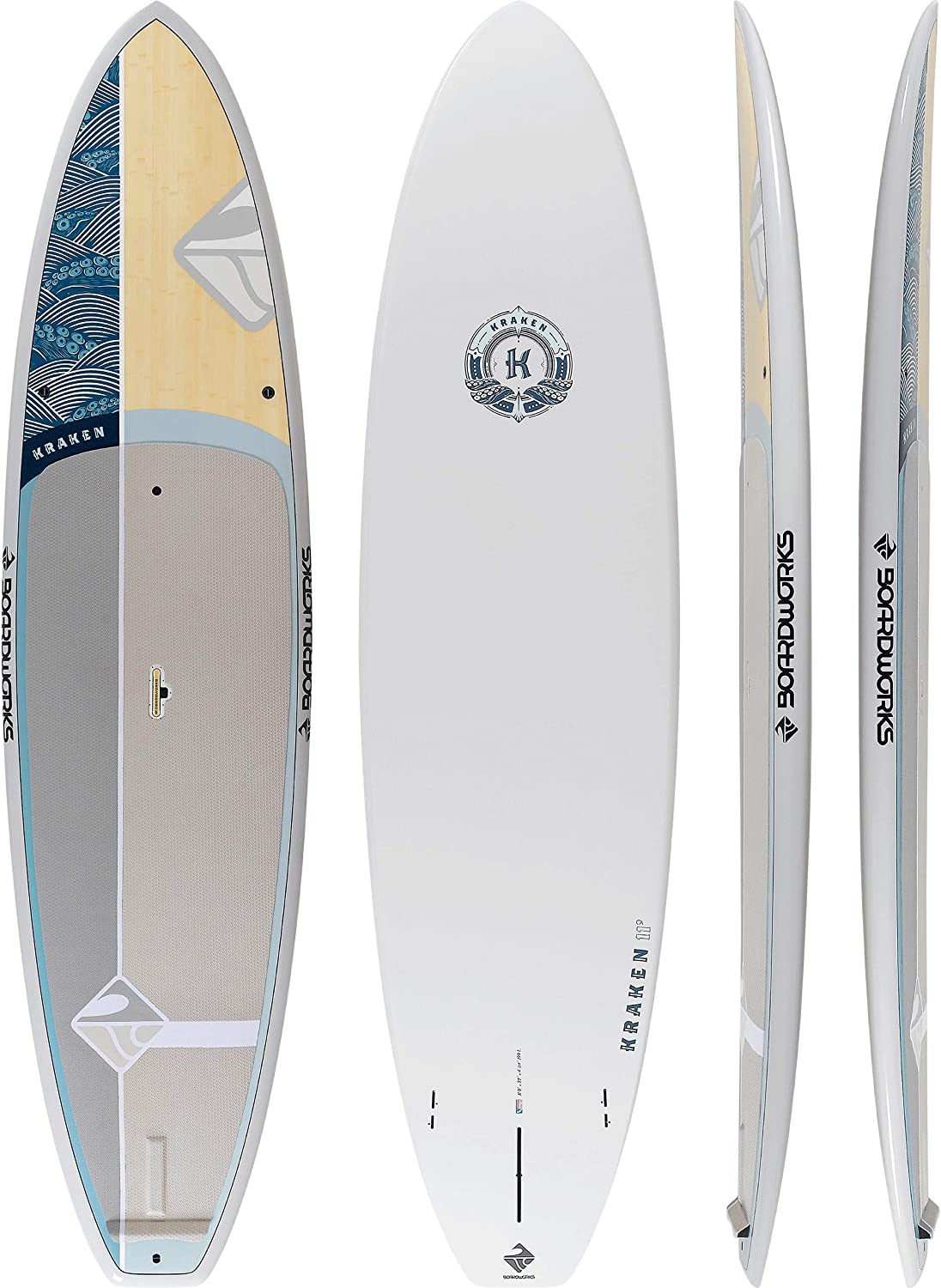 Boardworks Kraken
Material: foam, Nylon-Mesh
weight: 34.93 Pounds
Super Versatile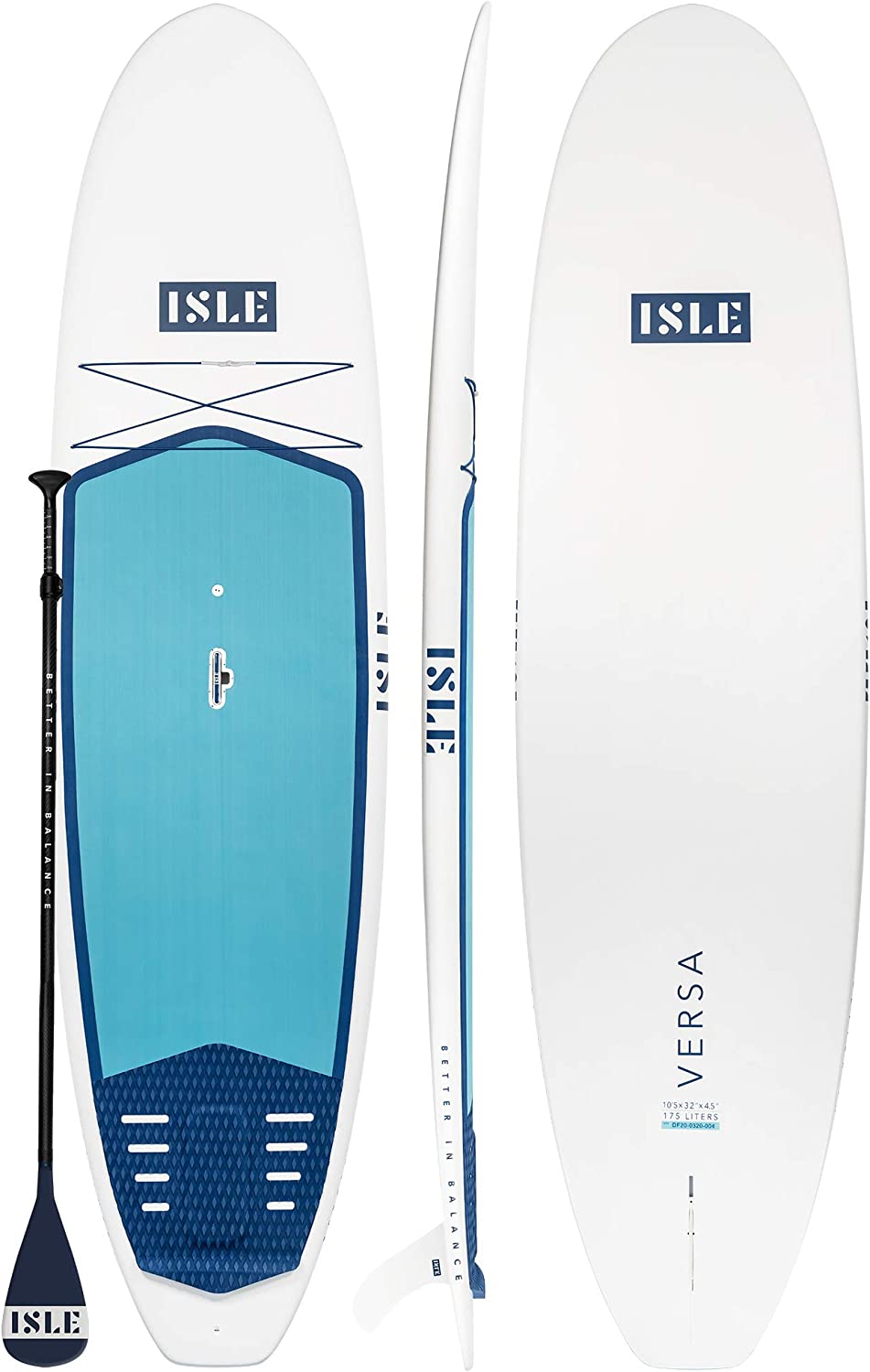 ISLE Versa
Material: Nylon
weight: 27 Pounds
Ultra Lightweight

RedPaddle Co. Whip
Material: Ethylene Vinyl Acetate
weight: 45 Pounds
All-rounder Option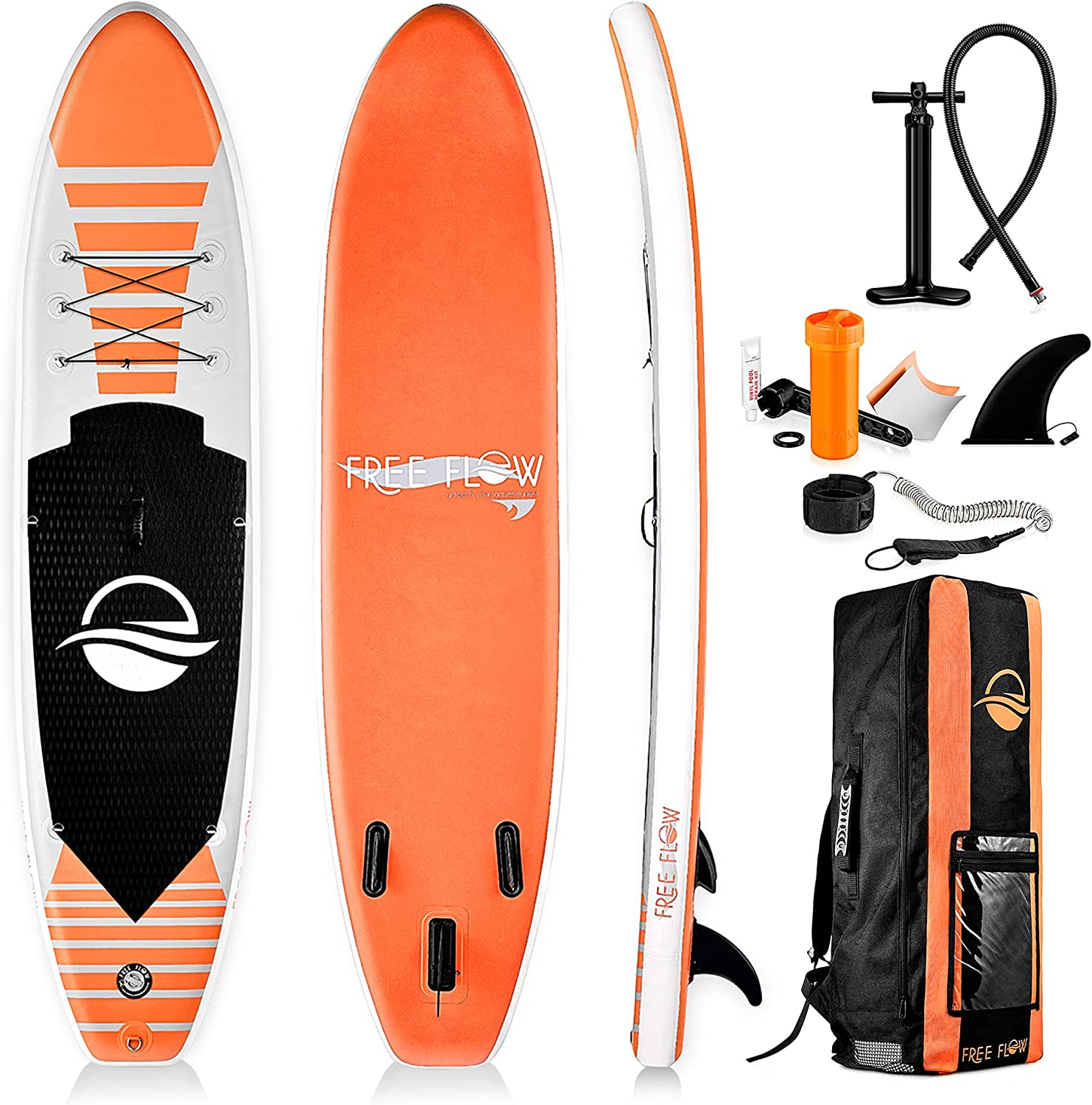 SereneLife
Material: Double PVC
weight: 13.89 Pounds
Great Performance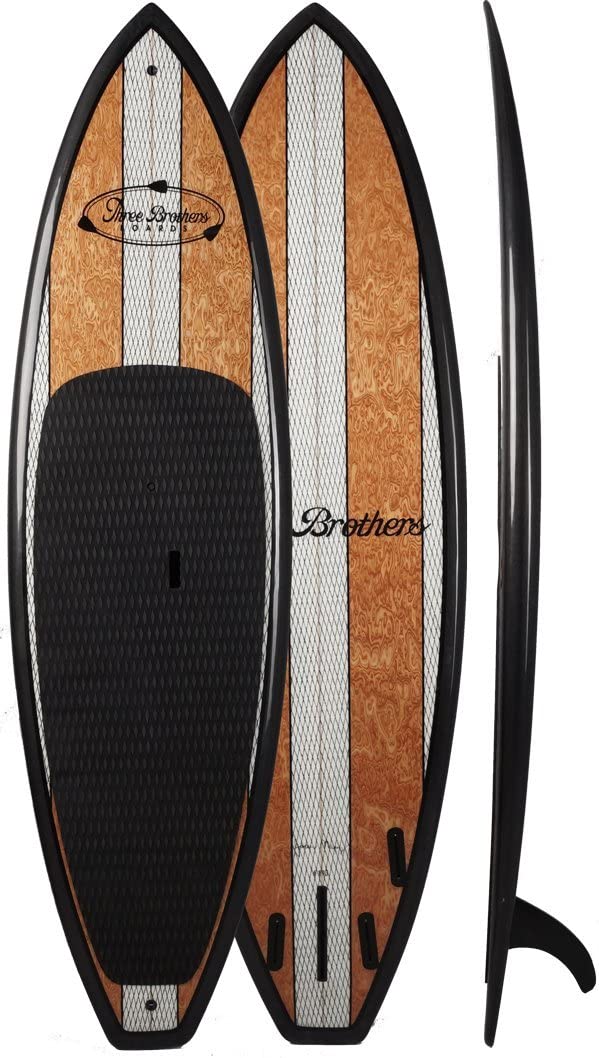 Three Brothers Rico 9'
Material: Wood
weight: 18 Pound
Jack-of-all-trades
ISLE Explorer
Material: Polyvinyl Chloride
weight: 24 Pounds
Catching Some Waves with the 7 Best Surf Paddle Boards
Getting out there and riding waves on a few of the best paddle boards on the market is the best way to really get a feel for their stability and performance. Paddle boarding is a personal thing and even beginner water sports enthusiasts know what they like.
Most people will be learning on a board that is between 10 and 12 feet long but choosing something closer to 9 feet and below is actually better for maneuverability in the surf.
I've sampled a selection of the best surf paddle board options on the market today to find some of the most fun and best paddle boards for all riders out there. My detailed breakdowns should include something for every skill level and budget.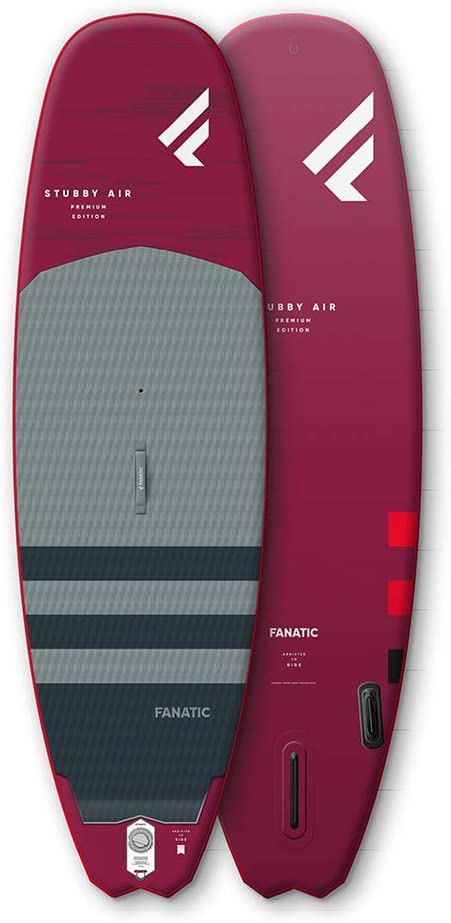 Snappy turns, great hold, and ultimate transport convenience are all features of this stubby, all-around paddle board. This is a SUP board you can rely on for excellent maneuverability, reliable float over even small waves, and a lot of fun in the ocean.
Fanatic has created a very short and agile board specifically for surf. My number one pick features a stubby, double-diamond tail and a wide nose. This helps it not only catch the waves but also ride them smoothly and with speed.
SUP surfboards are made with turns and weight in mind and the Stubby Air is no exception. It has an incredibly low profile compared to other SUPs, with only 4.5 inches of thickness.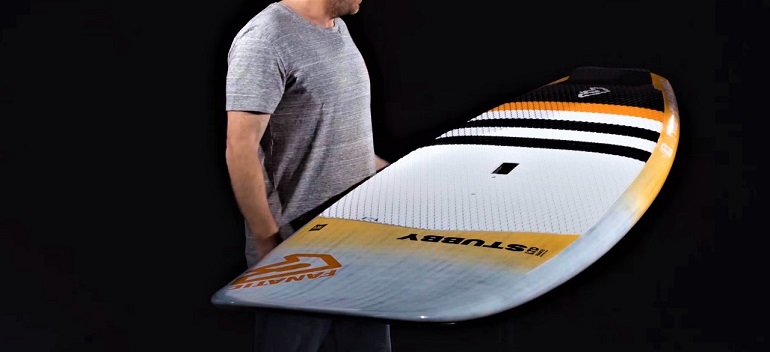 This lowers its carry weight significantly, leaving only 90kg as the recommended rider weight. The light weight of the board stays above and ahead of waves.
The three fins at the rear assist in digging the tail of the deck in and really throwing it around on the surf. The diamond groove deck pad holds onto your feet even in the wettest conditions. Even big waves will be able to be contoured by this agile and stable bit of kit.
Features
Length – 8'6″
Width – 29″
Thickness – 4.5″
Construction material – Double Layer PVC & V-Drop Stich
Max Weight – 198 lbs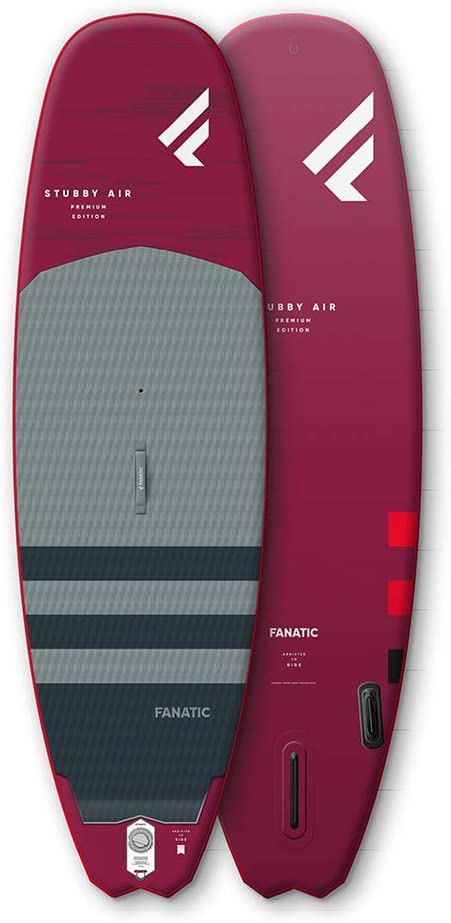 Fanatic Stubby Air
The price of "Fanatic Stubby Air" varies, so check the latest price at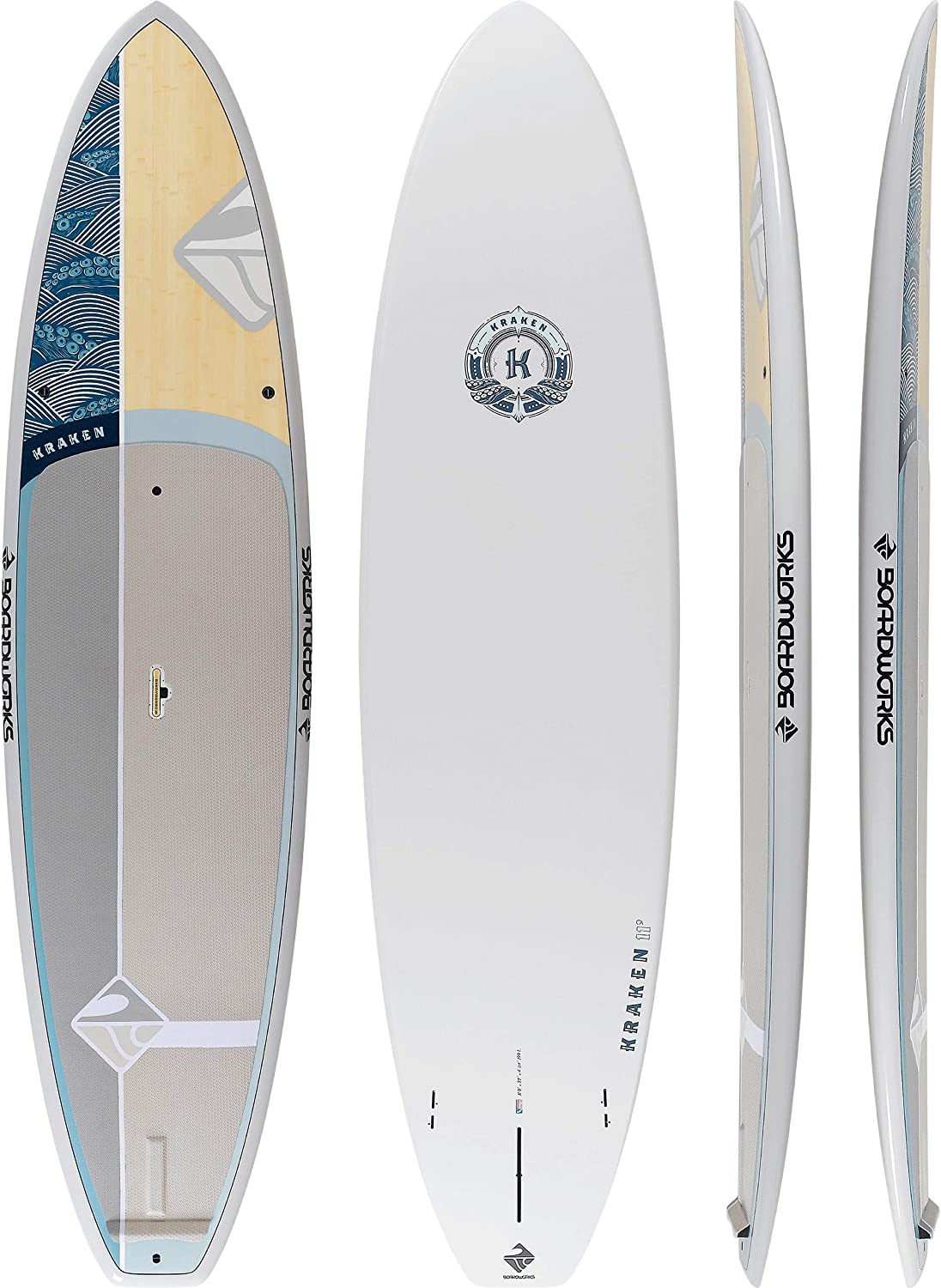 Premium prices provide premium boards, and this is a SUP surfboard that provides it all. It can be used as a touring board or to hit waves with some simple adjustments to the fins and luggage straps. This is the perfect board for the intermediate to advanced rider that likes to get around.
Boardworks have chosen to equip the Kranken with a five-fin setup. The additional fins are all removable, allowing you to choose between a quad fin, dual fin, or five-fin configuration.
For cruising, a central fin really helps with tracking, and when surfing, the side fins are perfect to keep the bite in the water. The wide selection of removable fins can be easily added and taken off without the use of a tool.
This paddle board doesn't have to be specifically a SUP surf board. The addition of some extra bungee storage straps at the nose of the board, combined with the slightly wider design and fin setup, makes it a great all-rounder.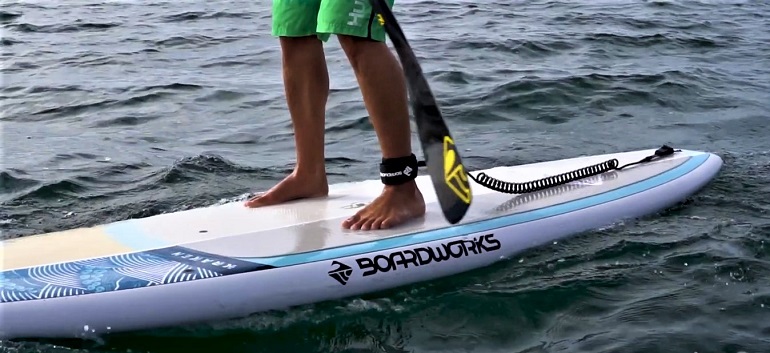 The pointed nose lends itself to cutting through the water, and a blunt tail will give more control over the waves.
This is the best stand-up paddle board for someone looking to hit some small to medium waves whilst still having the versatility to really get out there with some luggage. Despite the slim 4 3/4 thickness, this SUP surfing board can still hold some decent weight. Ideal for trips and tricks.
Features
Length – 11′
Width – 32″
Thickness – 4.75″
Construction material – EPS, Fiberglass & Bamboo Veneer
Max Weight – 260 lbs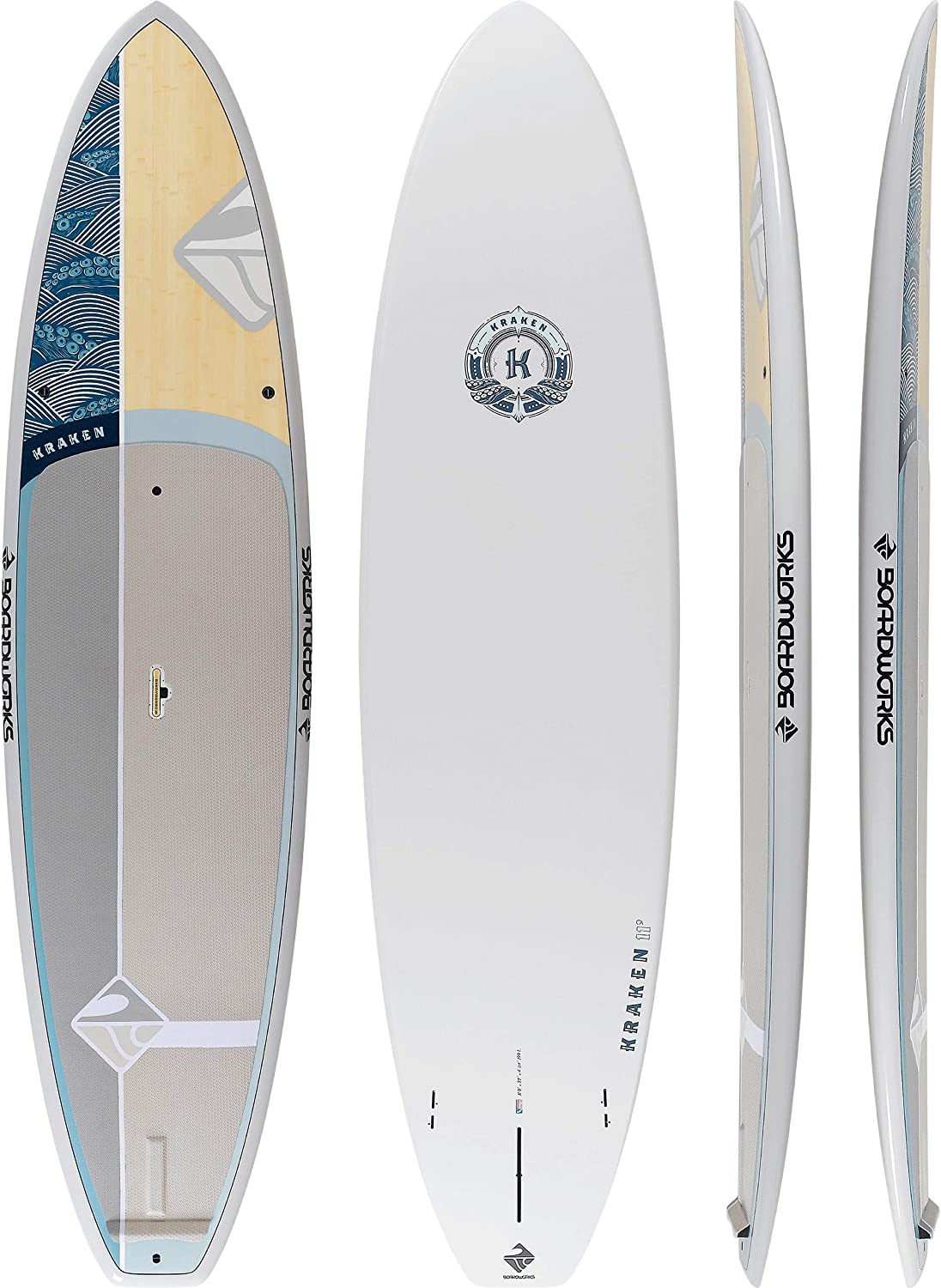 Boardworks Kraken
The price of "Boardworks Kraken " varies, so check the latest price at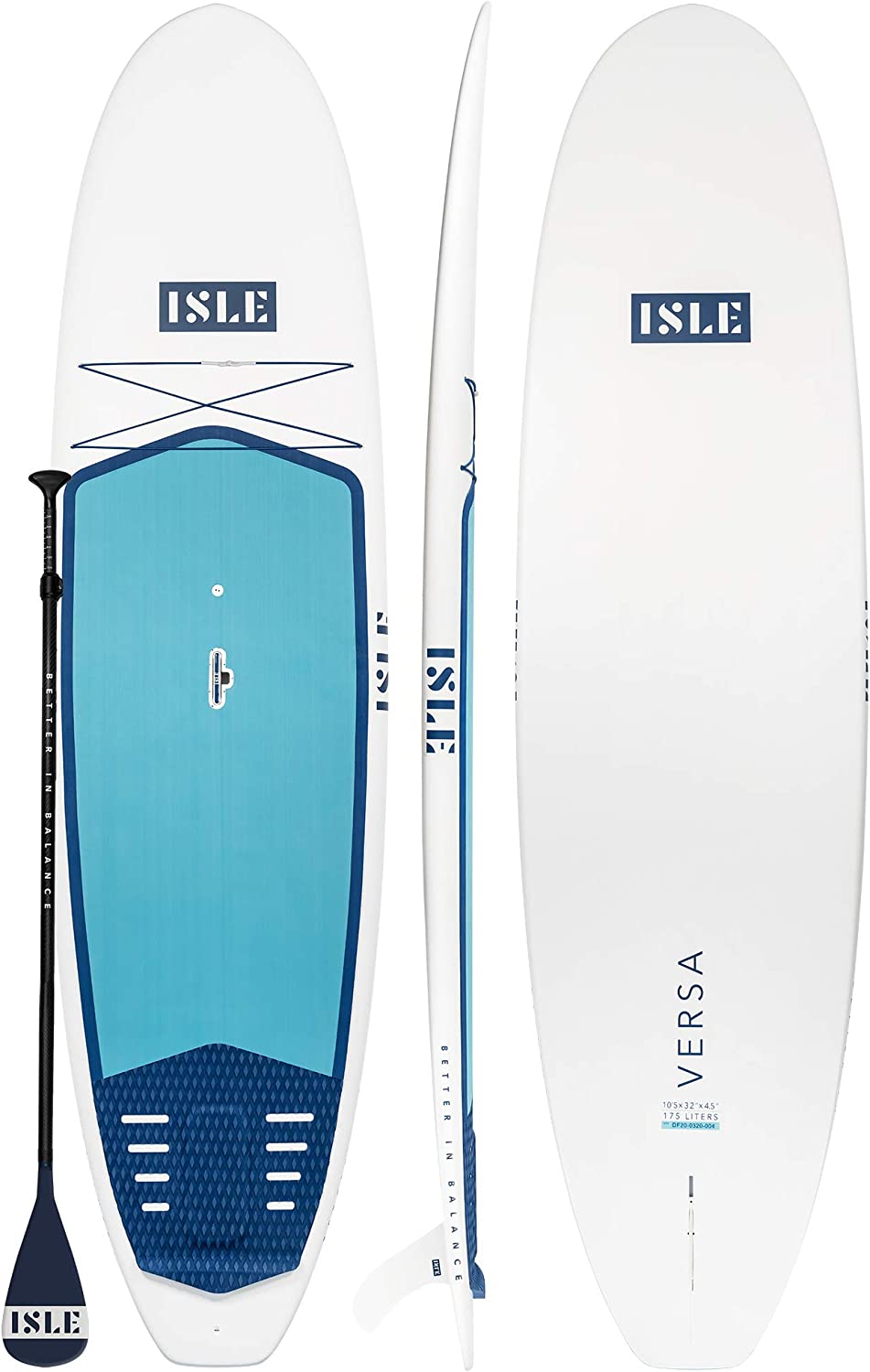 Versa by name versatile board by nature. Isle has produced a hard board that can hold its own on the odd wave and out on the open ocean. The rounded shape is made for extra stability and being able to glide or carve whenever you need it to.
It is less common to see a hard board design in the modern day, but the last few years have really seen the uprising of the inflatable paddle board over the harder alternative. The former choice does come with a few features some may find desirable though.
At the cost of weight, ease of transport, and often eco-friendliness, some noticeable benefits can be seen. Hard boards offer more maneuverability, more speed, and more stability, and are much closer to their counterparts in the surfing world.
You would never see surfers using inflatable surf boards. This durable option is your best bet if you're looking for maximum control when riding the wave.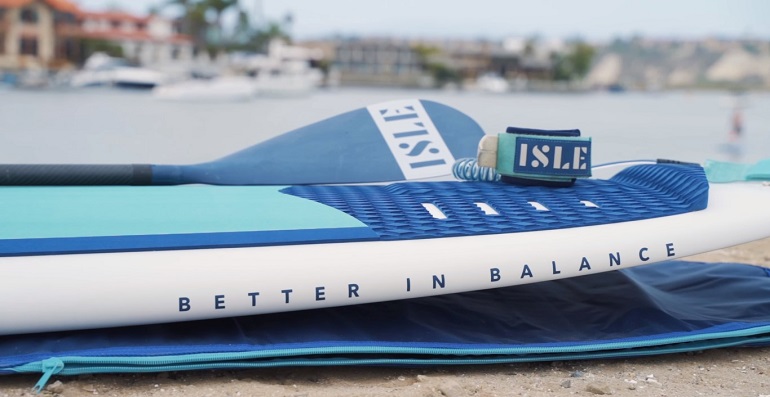 Isle has chosen to go for the all-around SUP design with the gently rounded nose shape and blunt, pulled-in tail. This creates a sup paddle board that can ride over surf and open water with ease for beginners and experienced paddlers alike.
The solid option is usually more durable than the inflatable board equivalent. It is constructed from high-quality thermal molded epoxy using eco-friendly techniques. The extra durable material will be noticeable in the long run as the inevitable bumps and scuffs of paddle boarding take their toll.
Features
Length – 10'5″
Width – 32″
Thickness – 4.5″
Construction material – EPS, Fiberglass & Resin
Max Weight – 300 lbs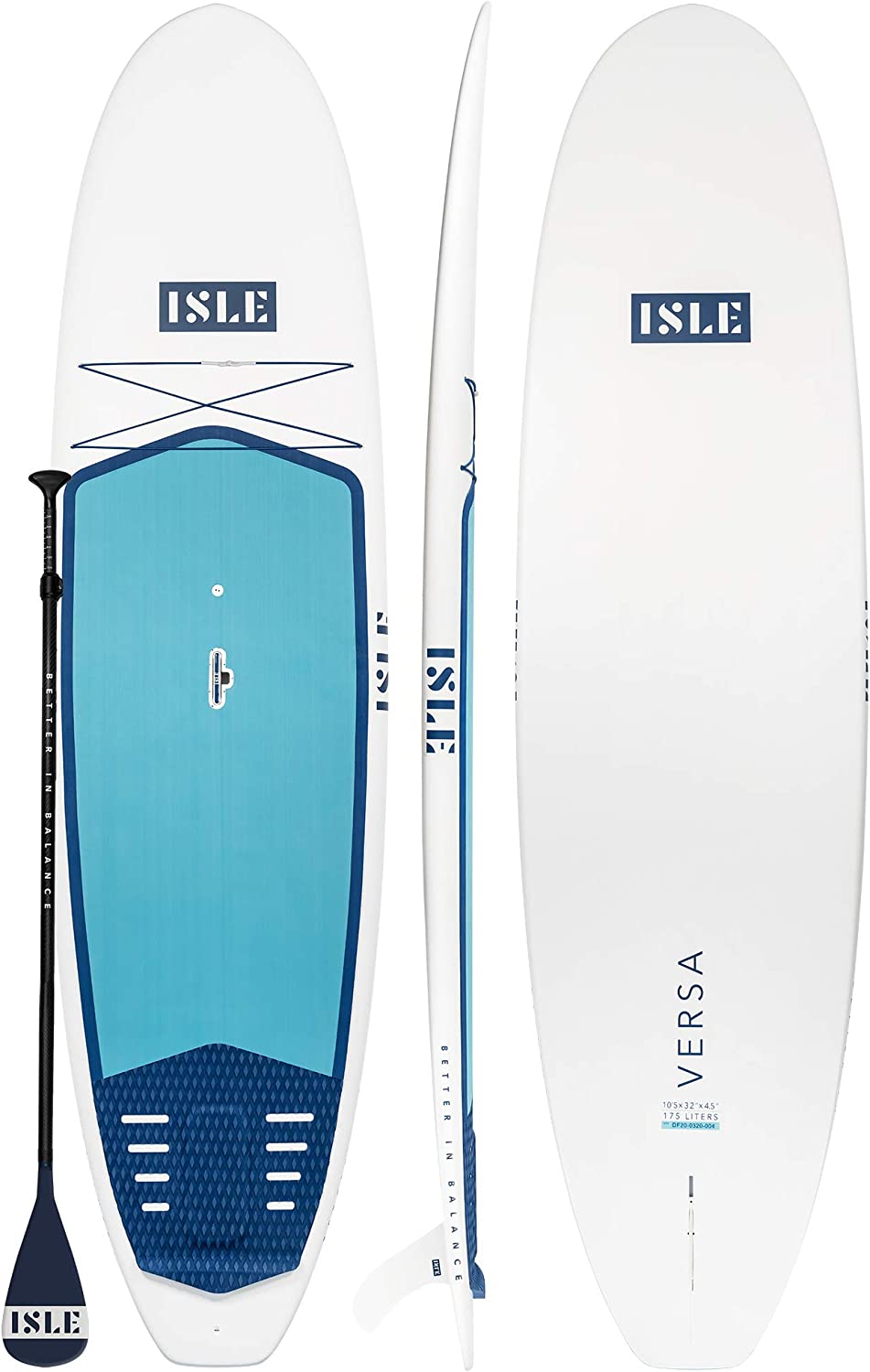 ISLE Versa
The price of "ISLE Versa " varies, so check the latest price at

Supremely lightweight whilst still providing excellent stiffness and versatility is the aim of the game with RedPaddles boards. They use their own construction technology to bring remarkably tough inflatable sups to the market that can tackle the big waves and survive even the worst scrapes.
The first thing to mention is the rounded and dynamic profile that is geared towards maximum performance whilst paddle board surfing. The gentle nose and narrow tail on the SUP board will float through the surf and chop with ease.
The single fin on the SUP surfboard will keep it straight and true without sacrificing maneuverability.
This stand-up paddle board features varying traction zones across the whole deck pad. When SUP surfing, it is likely you will move out and around the board's surface.
A deck pad that can work with your movement and stay grippy all the way around will keep you stable on all waves. A raised kick pad at the rear allows you to really throw the back of the board into turns.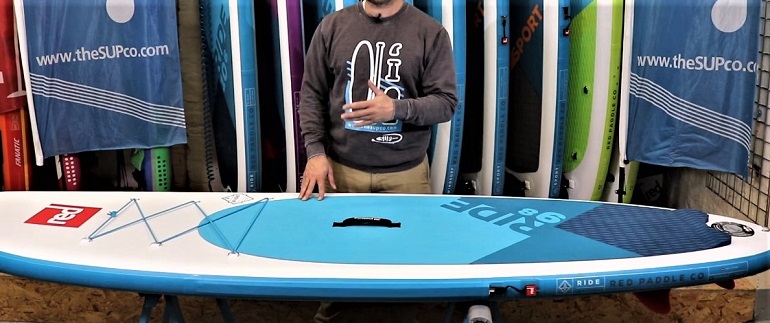 The MSL construction of this surfing board claims to have been tested under the most rigorous conditions like being run over by a truck. It should be able to withstand serious abuse and be even stronger than hard boards.
This tough build even stays rigid under low pressures offering the same performance at low PSI. This means less time on the beach and more time to carve.
Features
Length – 8'10"
Width – 29″
Thickness – 3.9″
Construction material – Ethylene Vinyl Acetate
Max Weight – 210 lbs

RedPaddle Co. Whip
The price of "RedPaddle Co. Whip " varies, so check the latest price at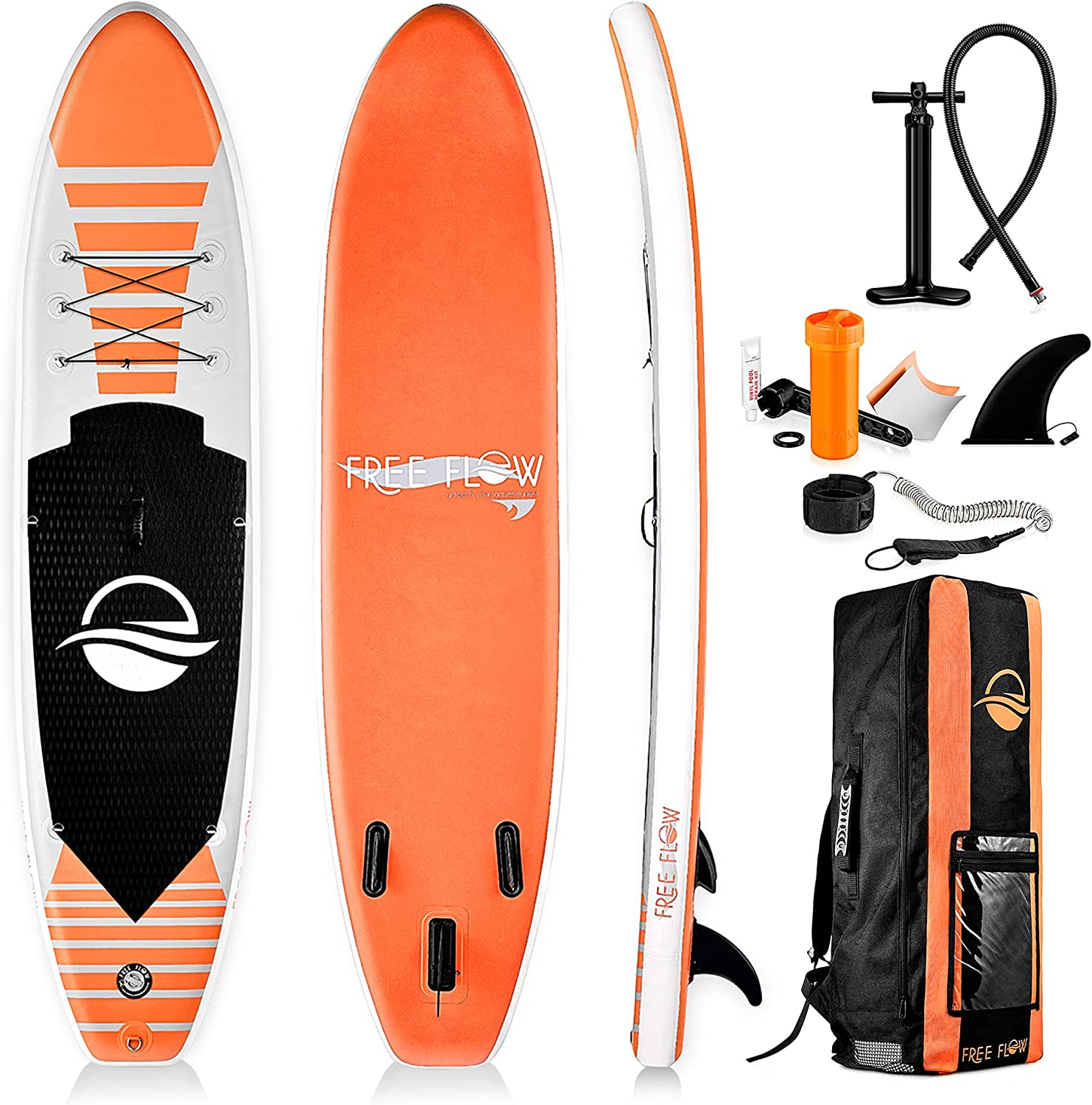 SereneLife has brought an all-around paddle board that is built for maximum performance for beginners and experts alike.
It targets the market right down the middle and is a fantastic option for anyone looking for something that can hit the waves but also have some features that make it perfect for a big trip out.
Although this inflatable stand-up paddle board isn't the most tailor-made to riding the surf, it may be the best inflatable SUP if you want to get out and about and throw a little surfing in along the way.
The length, width, thickness, and bungee storage all lend themselves to taking big trips out with a passenger and some luggage. This may make it a little less agile than a surf SUP but won't make it impossible.
The fin setup is one most commonly seen on touring paddle boards and lends itself to straight and true tracking. A surfing board would commonly go for a single or two smaller fins for added movement but the use of three fins is geared towards distance and speed whilst paddling rather than waves.
SereneLifes' all-around paddle board's performance features everything you would want from the one-board quiver. It won't let you down in any area but won't really excel in any one class. You could do a lot worse than having this inflatable stand-up board in your collection.
Features
Length – 10'5″
Width – 32″
Thickness – 6″
Construction material – Military grade PVC & Drop stitch
Max Weight – 300 lbs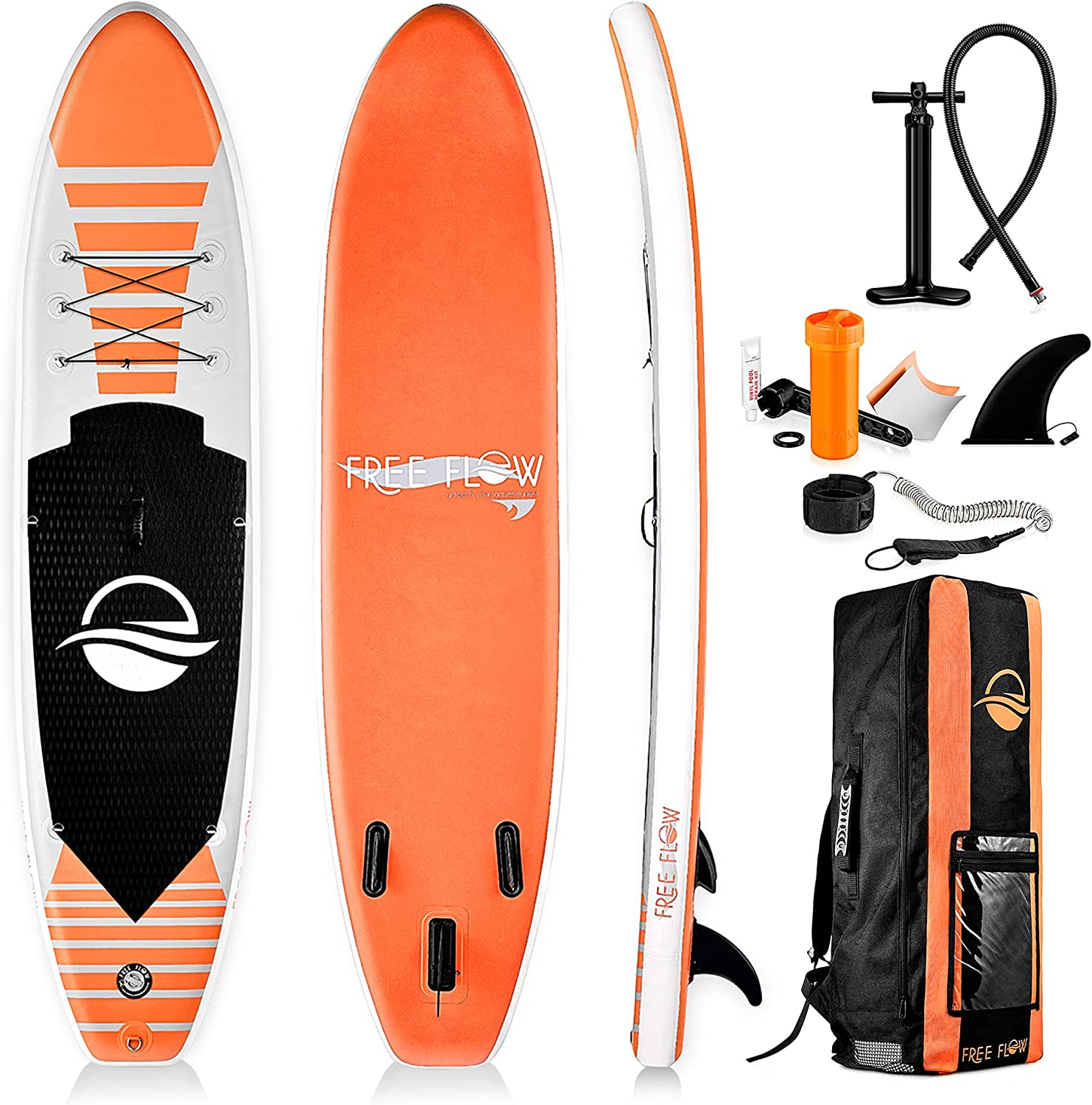 SereneLife Inflatable SUP
The price of "SereneLife Inflatable SUP " varies, so check the latest price at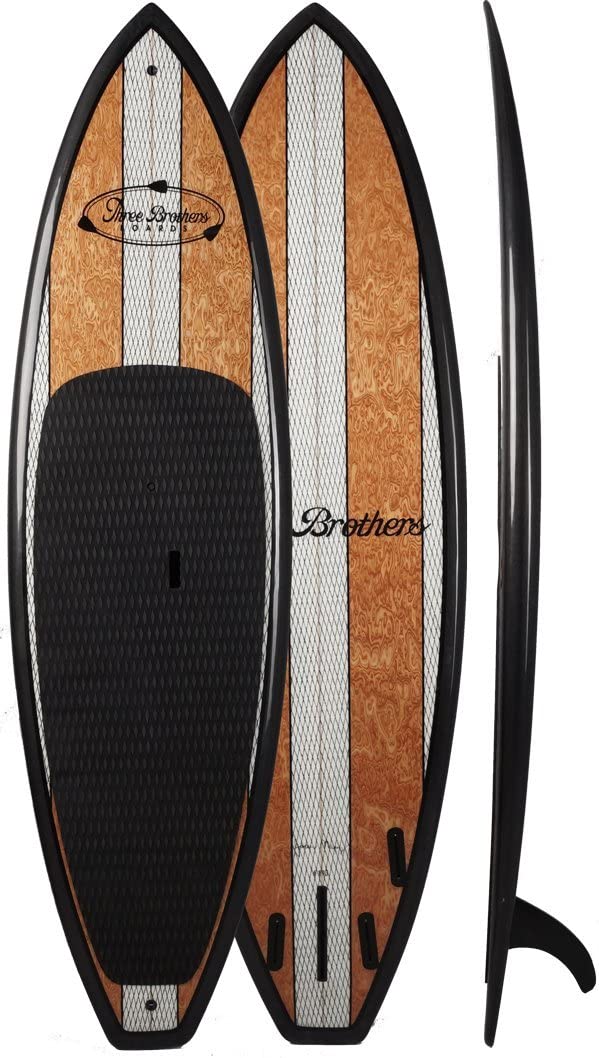 Here is a board that will turn heads. As hard boards go this is an excellent choice for the intermediate to advanced rider who wants to get their SUP board on some big waves and maybe even airborne. The lightweight construction and quad fin setup make this a surfboard to be taken seriously.
The first thing to mention is the construction of Rico. A diamond waved kevlar is wrapped around a fiberglass foam. The kevlar allows for incredibly light internal materials to be used without sacrificing strength.
The rails that run around the edge of the board are carbon fiber-wrapped rails. These are the area of the board that needs the most protection, you know you're going to be able to keep your board safe.
Five fins adorn the bottom of the inflatable SUP with small fins on the outside, two more small fins closer to the middle, and a large fin right in the center. This is called a quad + 1 setup and is perfect for wide versatility.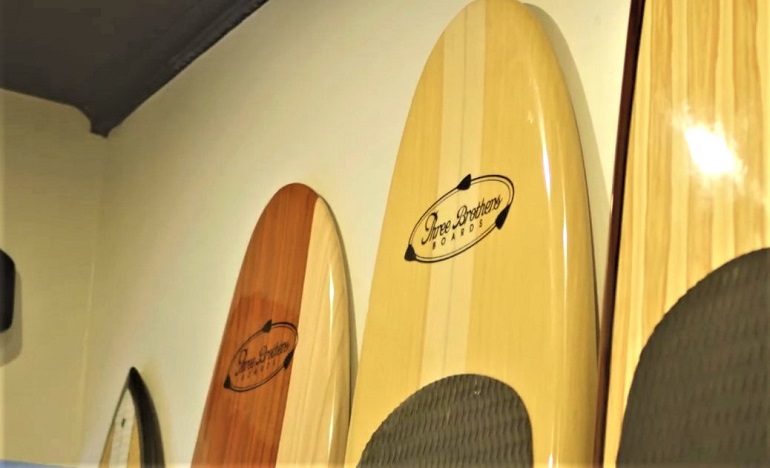 You can clip and unclip to your heart's desire making this a great choice for paddling or finding the next great wave.
The lightweight fiberglass SUP board has a pointed front, tucked-in tail, and displacement hulls beneath. This pushes the water around under the deck pad and makes paddle boarding feel floaty and maneuverable. These solid boards will feel weightless while SUP surfing a wave.
Features
Length – 9′
Width – 31″
Thickness – 3″
Construction material – Fiberglass & Kevlar Weave
Max Weight – 230 lbs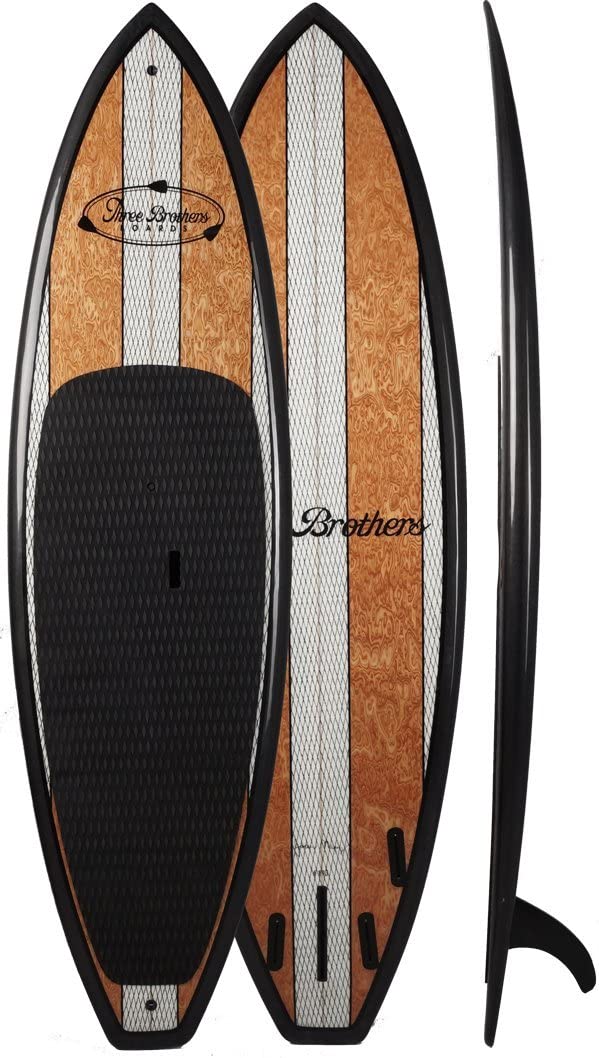 Three Brothers Rico 9'
The price of "Three Brothers Rico 9' " varies, so check the latest price at
The Explorer is the best paddle board for anyone looking for an inflatable sup that can do it all. It is the jack-of-all-trades board that can take you out on fishing trips, support you while doing SUP board yoga, and could even be up to doing a little SUP surfing.
If you're still in your early days of paddling, you probably don't know exactly what area you will eventually move into. Isle has all bases covered. This is a longer board along with a wide frame with a much higher weight capacity.
It is ideal for loading up with gear and taking on a whole day out. Whilst the board will be less at home on a wave than still water, it doesn't mean you couldn't still give it a go.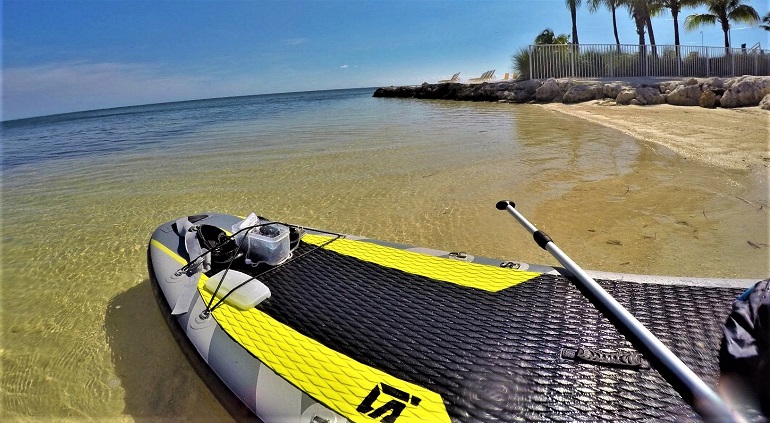 SUP boards are usually below the 10′ mark but this sits way higher at an impressive 11'6″. This makes it one of the best paddle boards for long days out and loading up with luggage but will make it hard to wrangle on the waves.
This maybe isn't the inflatable board you would want as a specialist.
The Paddle Boards bundle comes with everything you could possibly need for a new starter kit. In the carry bag, there are the removable fins, repair kit, hand pump, ankle tether, and oar. If this is your first SUP board, you will have everything you need to get paddling out there on the water.
Features
Length – 11'6″
Width – 34″
Thickness – 6″
Construction material – Military-Grade PVC
Max Weight – 300 lbs
ISLE Explorer
The price of "ISLE Explorer " varies, so check the latest price at
Buyers Guide for Paddle Boarding
The world of SUP surfing can be a confusing and overwhelming one. Knowing what to look for in the best paddle boards only comes with time and experience. I have both.
I know what I need in a surf board and in a SUP board so I can help you break down what you should be keeping an eye out for. SUP surfing should be fun, not a chore.
Construction
Hard board vs inflatable board, fiberglass vs PVC, what's the best paddle board for you? Everyone's choice is different, but if you're looking to start SUP surfing you'll be wanting something that is rigid and stable.
If you look at surf boards you'll notice that they are never inflatable. To get the most out of inflatable boards you need to keep them as close to surfing boards as possible.
Hard constructions are an option but if you want to keep the versatility and ease of transport that comes with inflatable boards just ensure they are tough and rigid.
Size
An all-around SUP or touring board will almost always be about 33″ wide and between 10″ and 11″ long. Surfing boards are much shorter and narrower to facilitate SUP surfing. They have lighter, slimmer builds that are able to float above the waves with much better control.
The smaller, lighter shape will allow you to throw the SUP board around on the water without having to fight it. The down point of this is that it will often take away from speed and control in open water.
Hull Type
A planing hull is often seen on all-around boards, it pushes the water beneath the deck and keeps the SUP board sat high atop the water for excellent balance and surface area.
When SUP surfing, you will want something closer to a displacement hull. The form pushes water around the board, streamlining and powering the SUP board through wake and waves.
Fin Setup
Versatility is king in this case. A number of the inflatable SUP boards we have reviewed have incredibly customizable setups. Being able to switch from five, all the way down to single fins means you can ride your SUP board your way.
With SUP surfing you don't want too many fins in the water. They will keep you stable in a straight line but not when you're trying to dig the tail in and really pull your SUP board into some waves.
Inflatable Paddle Boards Vs Solid
Unlike most other paddle board water sports, a hardboard can often have some advantages over inflatable SUP boards. For simple touring, SUP yoga, beginners, and even white water, I would usually recommend an inflatable due to its versatility and lightweight design. The last few years have seen huge improvements.
A hard board for surfing allows for sharp turns, great stability, and a feel much closer to traditional surfboards.
For someone who has been a surfer and is now giving stand-up paddle boarding a go on the waves, a hard board would be a fantastic choice. Where they really fall behind is transportability.
Some Frequently Asked Questions about Sup Surfing
Saving you a Google search later down the line.
What Is the Difference Between a Surfboard and a Paddleboard?
SUP boards are built for paddling across open water, be it a lake, marina, or the sea. They can be inflatable boards or solid and are built to be propelled by an oar. They are made to have a high carry capacity and make balance a breeze.
Surfboards are not specifically designed to be stood on when you're not tearing up some waves. They are built to slice through the wake and drive down a curl.
What Is the Best Paddle Board for Surfing?
It all depends on preference, but for me, I would choose the Three Brothers Rico from this list. This versatile board is perfect for SUP surfing due to its light, rigid build that is as close to a surfboard as you can get.
The Last Thought Before You Catch Your next Wave
If you're shopping for a surfing SUP, you are already most likely comfortable standing up and paddling on your local calm water. You may have already done a few big trips out. Perhaps you're a surfer who wants to be able to tour on their board.
Either way, giving the wonderful versatility of surfing on your stand-up is a great idea. With the perfect board, the calmness of inflatable boards can be paired seamlessly with the exhilaration of surfing. See you out there.