You can have the best wakeboard bindings on your feet and a wicked wakeboard at the ready but you are not going anywhere without a wakeboard boat. For me, this was the most intimidating barrier on my journey to begin wakeboarding.
I had many questions about what the best wakeboard boats were and whether I could rent one instead of buying one. Fortunately for you, we have created this guide that will walk you through the best wakeboard boats on the market.
We will be going over top wakeboard boat brands from malibu boats and tige boats to centurion boats.
Some considerations to keep in mind would be everything from design to engine specifications. It all matters when you are looking to wakeboard. This is because a wakeboard boat is the most important component of the wakeboarding experience.
Best Wakeboard Boat – Top Rated List
Below we have comprised a list of the best boats for wakeboarding. They differ across several spectrums including high performance, ballast system, hull construction, and potential board riding speeds.
Despite their differences, we can assure you that the list below is comprised of the best wakeboard boats that you can buy.
If you are looking for the best wakeboard boat when it comes to ballast systems and storage space then look no further. The Supra SA is the answer to all your storage needs, in fact, it is specifically designed for such purposes.
Measuring over 22 feet in length, with a beam that is a little over 102 inches wide, its storage capacity is truly one of its standout features.
Additional amenities include removable seats which provide you with a space that a smaller boat simply can not. The cockpit space can also be expanded thanks to these standard features.
If you aren't a fan of the heat then you will be pleased with one of the Supra SA's innovative standard features. The Supra SA has chill tech vinyl implemented into all of its materials. This material is known for keeping the boat cool despite the sun bearing down on it.
The Supra SA is one of the best wakeboard boats for capacity and storage.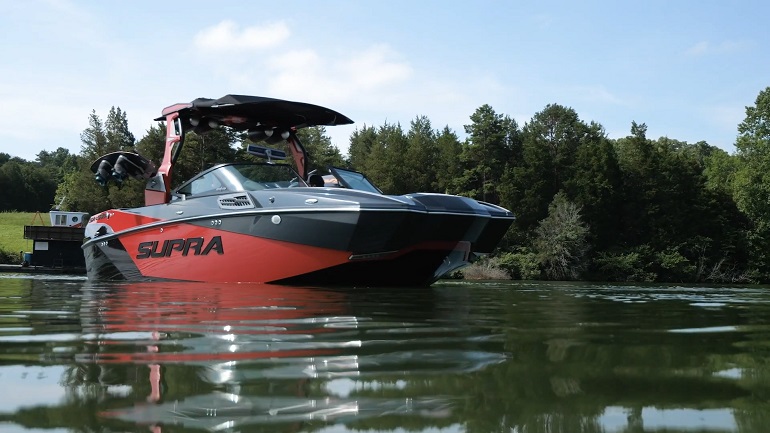 Supra SA
The price of "Supra SA" varies, so check the latest price at
If you like to listen to music while you are wakeboarding then the audio system within the Axis Wake A20 will leave you smiling. This wake boat has seven speakers spread throughout its interior.
The A20 has some of the same features as the Supra SA, removable chairs that make way for more space within the wake boat itself and a transom design that is wide enough to serve as one of the many conversation spaces on the craft.
The sound system on competing boats is usually only made up of around three to four speakers. That is why this boat's systems put it ahead of the pack when it comes to audio capabilities.
Other standout features include its impressive fuel efficiency, a built-in cooler, and a high-performance engine that makes for a smooth ride.
Wake boats like the Axis Wake A20 are all about providing you and your friends with your own conversation spaces, where you can relax and catch an awesome wake.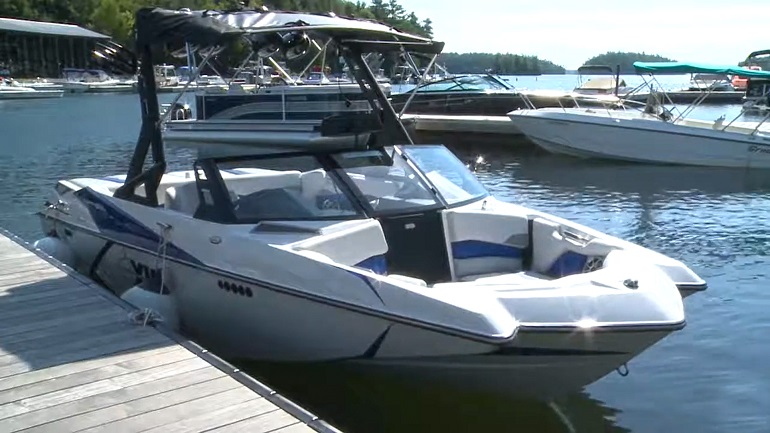 Axis Wake A20
The price of "Axis Wake A20" varies, so check the latest price at
The Moomba Kiyen is my personal favorite on this list. It is a smaller wake boat but its powerful engine makes it perfect for creating some impressive waves. All proper wake boats have a Nautique surf system but the Moomba Kiyen's Nautique surf system comes with easy toggle controls.
The toggle controls are placed behind the steering wheel. Due to its smaller size, the designers wanted to ensure that everything on the sea craft was as compact as possible.
This allows the driver to create massive waves and a powerful wake for you to soar off of. Among its standard features, you can count on an available ballast system that is designed to carry more than 3 tons.
This wake boat is smaller than its competitors but anyone in the wake sports market knows that a high-performance wakeboard boat is more important to wakeboarding than a wake boat that overcompensates on size.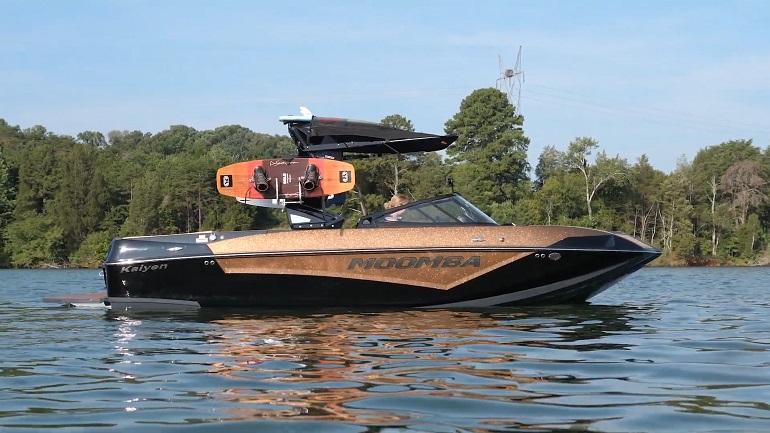 Moomba Kiyen
The price of "Moomba Kiyen" varies, so check the latest price at
The Super Air Nautique GS22E is my dream boat, it comes with a built-in touch screen that allows you to change its control speed. The largest wake possible can only be created by a wake boat going at an optimal speed and this boat can certainly do that.
The most astounding thing about this wake boat is its all-electric engine. No noise is generated as you're zipping off of wakes and waves. This electric engine has a use time of three hours, after that, you will have to find a charging station. To conserve battery avoid activating cruise control if available.
The Super Air Nautique and its electric engine can handle choppy waters, so all you need to worry about is riding perfect waves and wake surfing to the fullest. You can even attach your GoPro to the stilts provided.
When it comes to sports boats that allow you to take full advantage of the wakes and waves, this water sports boat is top of the line. It even comes with its own app that allows you to change the wake settings even if you aren't driving the boat yourself.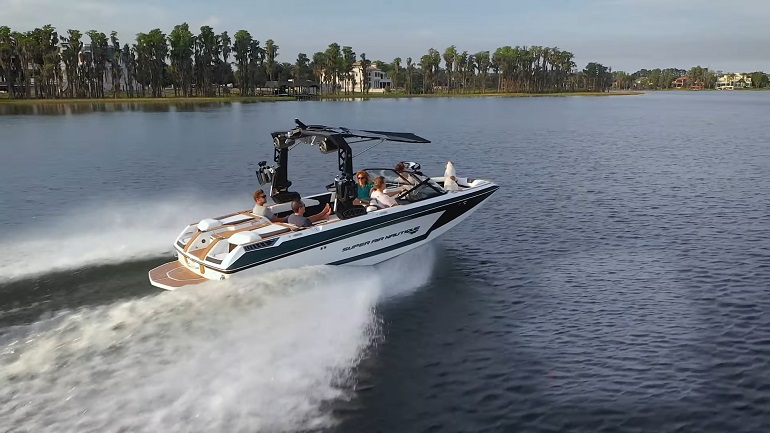 Super Air Nautique GS22E
The price of "Super Air Nautique GS22E" varies, so check the latest price at
This wake boat has a different appearance from other surf vehicles on this list but that is what makes it one of the best wakeboard boats. Thanks to its opti v hull design it is incredibly stable.
A stable boat is important not just for wakeboarding but for other water sports like water skiing for example. The largest wake can only be created when a boat is stable enough to hold its course even in rough waters. This is true for a ski boat or a small boat.
Its v hull is at a steeper angle than usual for boats of this size. At the rear, you will find a wake plate. A wake plate is a device that allows riders to switch from one side to the next in a matter of seconds.
The wake plate and control speed is operated by two paddle shifters, one for each feature. Like similar crafts in this sport, these paddle shifters are located behind the steering wheel.
Some riders need to change sides in order to accommodate their style. A slalom enthusiast knows that this need is not exclusive to water sports. After all, wake surfing has much in common with skiing.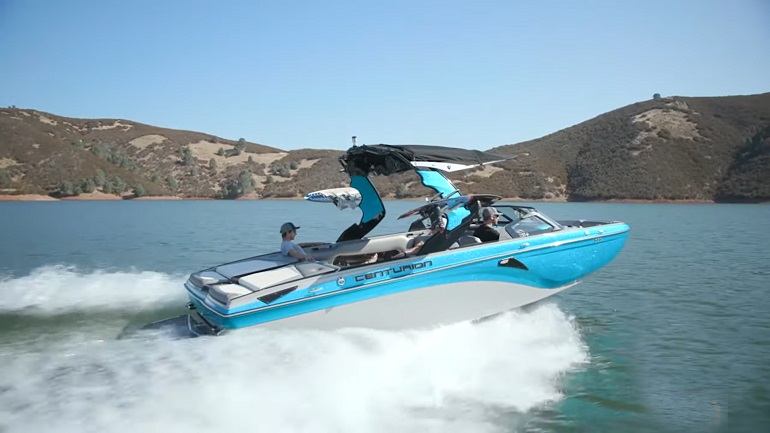 Centurion Vi24
The price of "Centurion Vi24" varies, so check the latest price at
You have probably never heard of wet sounds audio system but it is features like this one that makes the Tige a contender for the title of best wakeboard boat. This award-winning wake surfing boat is built on the principle of a customizable user interface.
Its wet sounds audio system blares out the sounds made when wake surfing through its speakers. This creates an immersive experience for anyone sitting at the steering wheel or within its deep v hull.
Comfort was the main design philosophy behind this boat's creation process. The Tige 23RZX contains a comfort mode that nurtures the waves behind it. What it means is that both a beginner and an expert can have the same experience due to the balance being created for each wave.
A wake surfing boat such as a Malibu wakesetter may have brand appeal but this Tige comes out ahead thanks to its intelligent design.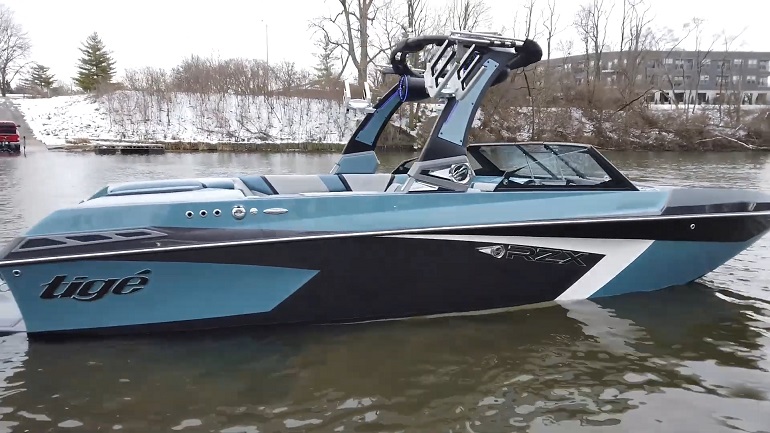 Tige 23RZX
The price of "Tige 23RZX" varies, so check the latest price at
The best wakeboard boat is one that doesn't fail to meet a rider's lofty expectations. We believe that the Mastercraft NXT22 is one such boat. With a space capable of fitting up to 14 people within it, no one will get left behind.
Any driver will smile upon setting their eyes on the ship's control panel. It features a perfect blend of analog and digital technologies. This system comes with a set of switches that allows you to easily customize the wake being created by the boat.
Just what more could you ask for? If you answered "a surf system implemented into this boat's pickle fork style design" then you will be pleased to find out that this is the case. This 23-foot boat was made to compete with the best of them.
The space economy of the boat has got to be among the highest on this list. This is because every single seat on this seacraft can be removed. Remove the seats before you set out into the water and store them in a safe location. Otherwise, the seats will bounce out into the water.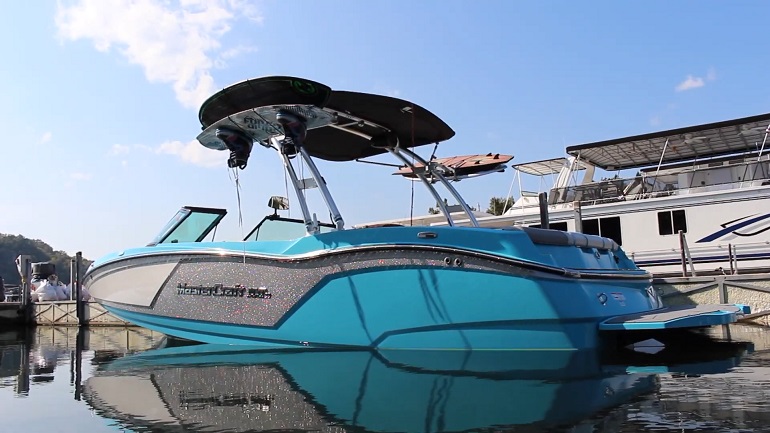 Mastercraft NXT22
The price of "Mastercraft NXT22" varies, so check the latest price at
The Malibu wakesetter is a pillar of the sports boat world. This is because this boat has a continuously updating operating system. Foregoing the touch screen that is common to water boat design, in its place is a set of dials.
With these dials, you can quickly alter the speed and ballast distribution of the boat. The Malibu hasn't turned its back on all technology though. It offers the ability to connect to Spotify and even has wireless phone charging capabilities.
Several board racks are distributed around its pickle fork bow shape. Its surf gate is smaller than the ones that can be found on atx surf boats but that shouldn't pose much of a problem.
If the look of the boat is as important as its functionality then you will be a big admirer of this craft. The Malibu 23 MX looks like it soared out of a spy movie, with its incredibly sharp nose and slender body.
Its entire hull was designed to glide across the water. However, this does not mean that the craft will bounce wildly with each wave as all flat-bottomed boats do. Consult our buyer's guide below in order to find out why flat-bottomed boats are not optimal for wakeboarding.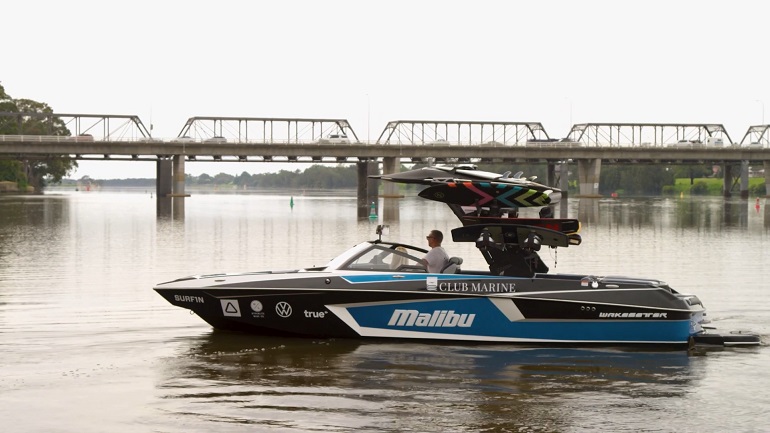 Malibu Wakesetter 23 MX
The price of "Malibu Wakesetter 23 MX" varies, so check the latest price at
Choosing the Best Wakeboard Boat – Buyer's Guide
If you are feeling stumped about what boat to pick then allow us to break down the criteria for a high-quality boat. Below you will find a list of features and areas to consider when looking to purchase a boat for wake surfing.
Consider what it is that you care about most when making a purchase. Personally, I value the internal ballast system because this gives me the ability to alter the maneuverability of the boat.
Test drive
When you purchase a car you don't do so without first taking it out for a test drive. This same principle can be applied to purchasing a boat. As you test drive your potential boat place close attention to how difficult it is to navigate through its set of features.
There is no point in purchasing a boat that can provide you with a million services if you aren't capable of accessing said services. Other features to note are how much sound the boat is making. A loud boat will make it difficult to have a conversation with friends.
Finally, you should consider the feel of a boat. As you are test driving the boat, if it feels sluggish then it probably won't be able to create the wakes that are required for this sport.
Hull Design
The hull design of a boat is the outer layer that helps it cut through the water. Typically a v shape displaces water around your boat. This allows the boat to sail smoothly and at high speeds even if the waters are rougher than usual.
A hull that is flat on the bottom results in a boat that will bounce off the water more. While this may seem exciting, it is definitely not recommended for wakeboarding because a constantly bouncing boat can not make proper wakes for you to ride.
For wakeboarding, avoid flat-bottomed hulls.
Engine Make
The more powerful the engine in your boat, the higher the speeds that can be reached, and the greater the wakes. But power isn't everything, consider the fuel efficiency of the engine.
Fuel costs are quickly skyrocketing around the world and you don't want an engine that will eat up your wallet. You could consider an electric-powered engine but remember that then you would have to keep in mind the charge time of the engine.
If your boat's engine dies out on you in the middle of a lake, then you won't be able to pour more fuel in if it is electric.
Internal Ballast
The ballast provides stability to the ship and allows you to alter the maneuverability of your craft. Internal ballast simply means that this weight is hidden within the ship rather than on the exterior.
Placement
The placement of the internal ballast system is important because its location will determine how it affects the boat. A ballast system placed on opposite ends of the same boat will cause wildly different alterations to the boat's ability to stay upright.
Fill-Time
Fill-time is simply how long it takes to fill the internal ballast system. Impatient individuals should seek out ballast systems that fill up in minutes. Keep in mind that as the pump ages, the fill time will increase.
Most wakeboarding boats today have an average fill time of six minutes with a new pump.
How Much Does It Cost To Own A Wakeboard Boat?
The price tags of a boat of this kind usually hover around the $100,000 to $200,000 mark. For example, the previously mentioned Mastercraft NXT22 starts at $106,000. This price climbs as you begin to customize it and add new features.
A Centurion Vi24 was last quoted at a starting price of $110,000. The price of the boat itself isn't the only cost to keep in mind. If you don't have anywhere to store the boat then an in-water storage space will cost you around $1,000 to $5,000. This price fluctuates depending on the season.
Insurance is also required on any vehicle no matter the terrain that it is built to travel across. Average policies for boats of this size start at $300 but can quickly climb up to $800 or more depending on your own personal record.
Finally, you will have to contend with the maintenance cost of the craft. There is no set number for the maintenance of a boat. Typically, this cost is 10% of the boat's total price. If you purchased a boat that cost you $100,000 then yearly upkeep will ring you around $10,000.
Owning a wakeboard boat is expensive but also required if you want to be able to wakeboard at your own discretion. This is because many wakeboard shops and boat rentals close during certain times of day and even for entire seasons.
Conclusion
Buying a boat for wakeboarding can be a life-changing experience. It is a decision that I myself have long thought about when considering whether or not I wanted to progress further in this water sport.
The brands and models that we have listed above are the best in class and you can't go wrong when picking amongst them.
Keep our buyer's guide in mind when looking to thin the herd of your potential choices. You will only be able to make an intelligent purchase if you systematically remove boats that don't fit your needs. Always test drive a craft before making a final decision.
On paper, you may believe to have found the one but if you can't properly navigate the craft, you don't like the feel, or you aren't making use of its more eccentric features then it isn't right for you.
We don't just want you to make a purchase, we want you to make the right purchase. The best wakeboard boat for you is the one that lets you elevate your game to a higher standard.