I thought I was cruising directly to Heaven, and they were all cruising the other way. You want to know why? Because I concluded that the secret to a great SUP experience is choosing the right paddle board for yourself. And I figured the right one must be of ideal construction.
Well, it turned out to be the opposite as I found myself as wrong as Louise Litt against Harvey Specter. I dare you to guess why. To get a thrill out of SUP paddling, one needs not only to own a finely constructed board but a catalyst. A catalyst? Yes, which allows you to grow with all the extra benefits it provides.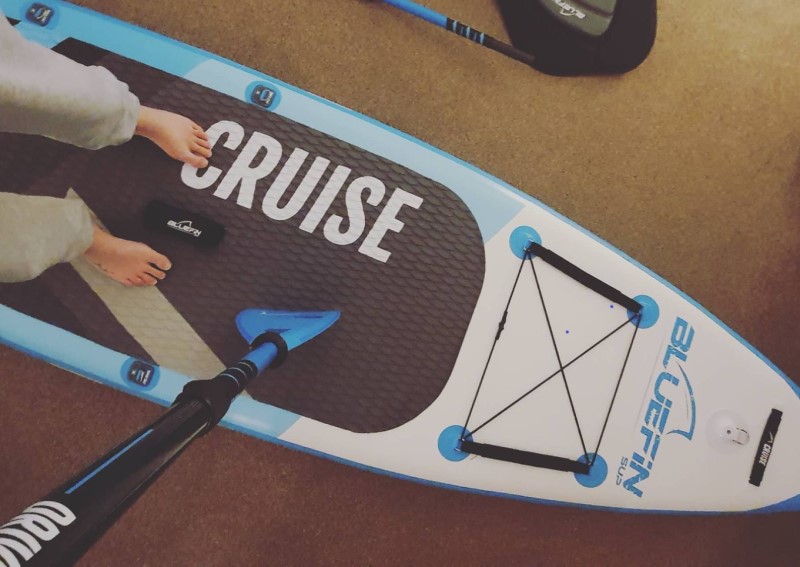 As a beginner, at one point while sailing, I got so ready to plunge in and do whatever it takes to rule this sport. And I surely did. Wondering what really saved me yet motivated me to do it again? The Bluefin Cruise 10'8". It is not a product but a spark plug.
A true leader never stops learning. And if you have a good teacher, you never stop being a student. Instead of owning equipment for the sake of learning to paddle, own something that pushes you to level up your game, something that makes you want to rule the waters during your paddling adventures.
Here are some of the prominent features that forced me to have Bluefin Cruise 10'8" for the sake of self-development.
Features of the Bluefin Cruise SUP 10.8
Below we will discuss some prominent features of the board in details, so it gets easy for you to decide fairly.
Gear storage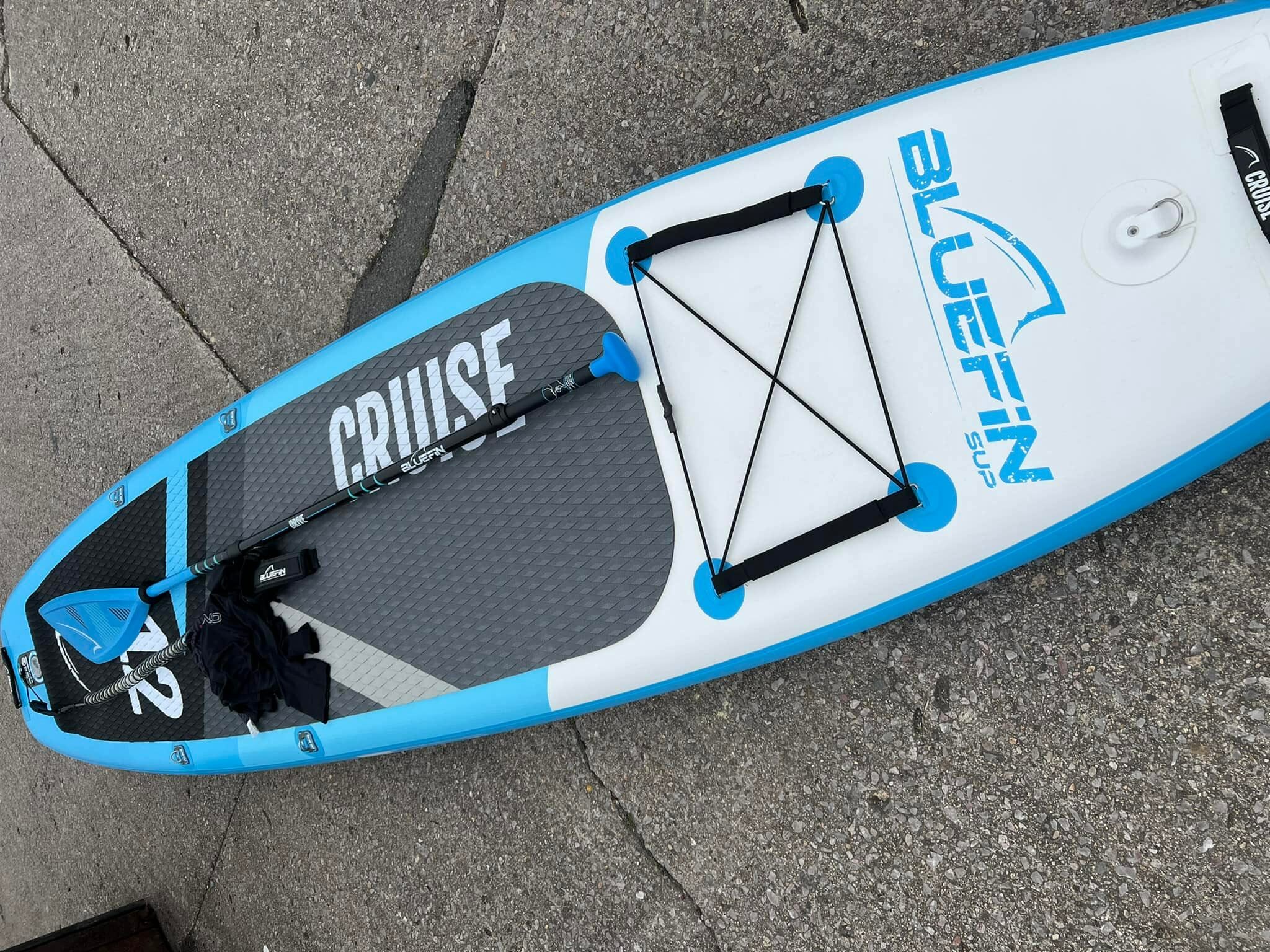 The 'how' of food and other stuff storage has been solved by Bluefin Cruise 10'8". After all, everyone deserves a snack to stave off exhaustion when you refuse to give up, even after many setbacks. Don't we? Whenever we go outside for recreational paddling, we must consider all its impacts, whether negative or positive.
Storage is one of the most important aspects to consider while going for medium or long tours. Indeed it is for most of us as it provokes great displeasure when you fail to find any solution for gear storage.
Bluefin boards provide D-rings near the nose of the inflatable SUP paddle to store gear. There are bungee cords stretched between those D-rings to help you out in securely holding all the necessary stuff you plan to take out with you while paddling.
If you find this gear storage not enough for your stuff, you may even use D-strings intended for a kayak seat when not kayaking. This allows for maximum carrying capacity. Pretty amazing, right?
Construction
Bluefin Cruise 10'8" (325cm) is not a typical all-round board but is an exemplary all-rounder. The reason why it is ideal is that it pushes you to level up your game by providing high-quality accessories and various features to motivate you.
With an ideal width of 83.5cm for beginners, this Bluefin cruise excellent board offers a lot of stability, balance, good performance, and riding pleasure. This paddle board is constructed with a drop-stitch core comprised of 11200 stitches of 500 denier space yarn m².
These Nylon-made paddle boards weighing about 17.6 kilograms feature multiple layers of military-grade PVC on the outside and heat-welded double side rails, which makes for a very rigid board. The exterior side of this high-quality board is coated with UV-resistant coating, which prevents it from damage caused by the sun, thus, making it a better board than the aqua marina SUP boards, which are no doubt great SUP boards but without a kayak seat kit. So you need not worry if it's sunny outside.
The Bluefin cruise board offers a lot of rigidity that feels very solid under your feet and boosts your performance. The ideal hull design, tapered nose, and rocker profile of the paddle board expand its area of application from touring to all-around.
This inflatable board, when optimally inflated, provides the desired rigidity. The load capacity of the board is 130 kilograms which means that two light paddlers or one heavy paddler can ride on it.
Grip deck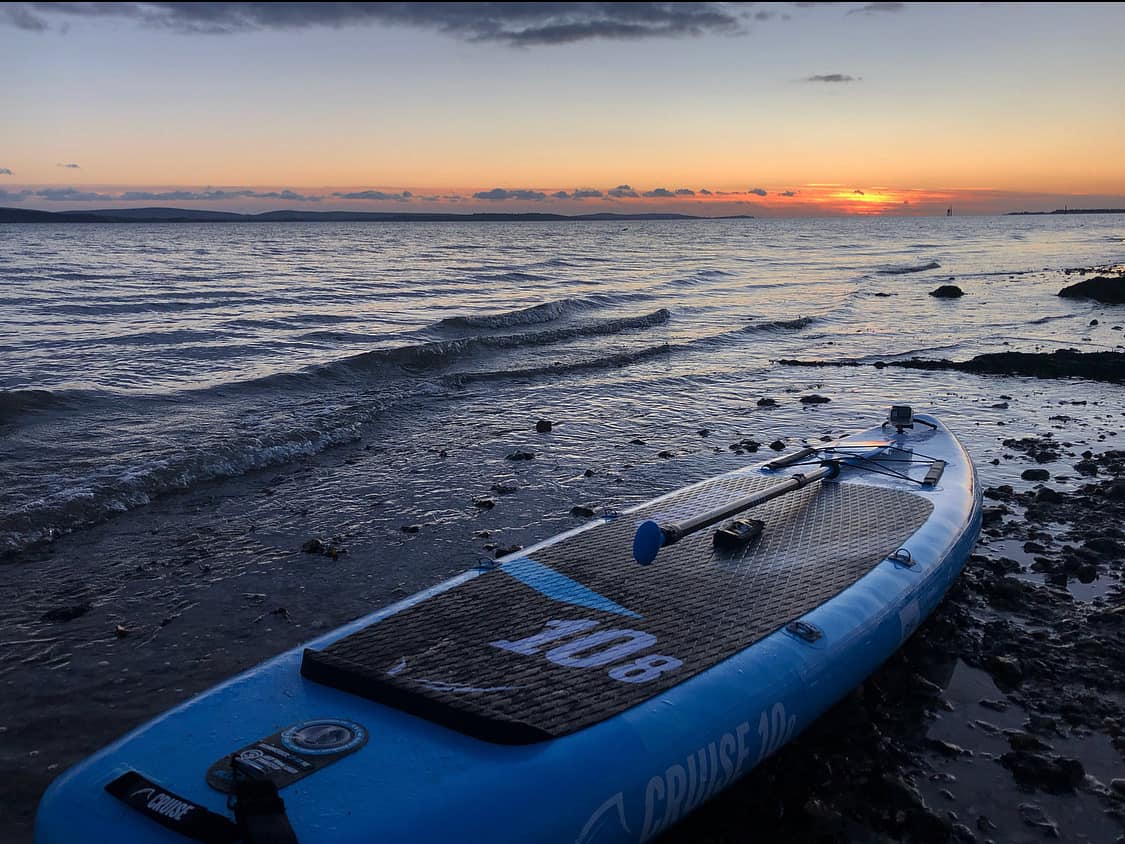 British manufactured Bluefin paddle board is equipped with an EVA foam traction deck pad with a subtle textured diamond crocodile pattern. This dark anthracite pad encompassing this diamond-like structure makes certain a great feel and a secure footing happening concurrently.
The patterned surface automatically enhances your grip on the surface and minimizes the risks of slipping while on board. While offering an outstanding grip, it also provides a raised kick tail for good control while maneuvering or surfing.
The aesthetic appeal of the deck does not disappoint you either. The dark gray and black AVA foam traction pad has been beautified with graduated stripes in monochrome and matching hues, rendering it very appealing. Furthermore, good typography is equally admirable for providing a sporty impression.
Carry handles
Bluefin cruise 10'8" is equipped with three carrying handles, one in the center, one at the front near the nose, and another at the rear end or the tail of the board. The handles make it easy to carry the paddle board. The carry handle in the middle of the paddling board features a Velcro closure system. This great feature supports you in the times when you feel like taking a break from paddling. It allows you to have snack time or go swimming or whatever.
Fin system
The underlying motive of your voyage determines the kind of fin setup you need. Fewer fins may bore advanced paddlers, as it can be of any good in flat water only. While 3 to 5 fins can be used in surfing, which indeed is a level-up. Bluefin Cruise 10'8" allows accomplishments beyond just SUP paddling with the provision of 2 small fins and one big fin, thus proclaiming itself an all-rounder.
All round boards are suitable for trips over canals, short and medium tours to lakes, and for surfing small waves. Out of these three, the bigger one is removable without any help taken from tools due to the US Box Fin System. The fins outshine the others in strength and quality.
For beginners, it's the best choice due to its super stability, sturdiness, and maneuverability. If you decide to use the smart lock single bigger center fin alone, directional stability would be more emphasized. Going into a straight line and staying straight on track results in higher speeds, which is made easy by Bluefin due to the availability of a lightweight fiberglass paddle.
Kayak conversion kit
To your advantage, a mountable kayak seat is not an add-on accessory costing you extra bucks. The offered sit-on-top kayak seat makes your board a versatile version while making you a versatile person, side by side. Isn't it worthy of your attention?
Bluefin's best paddle boards permit the transformation of your inflatable SUP board into a kayak in a snap. Attachment of the kayak seat to the deck also requires zero effort, as it has adjustable straps and services of all 4 D-rings along both rails. Well, what's more, is a kayak blade attachment that is easily secured to the upper part of your paddle; it allows the SUP paddle to change into a double-paddled kayak paddle.
Backpack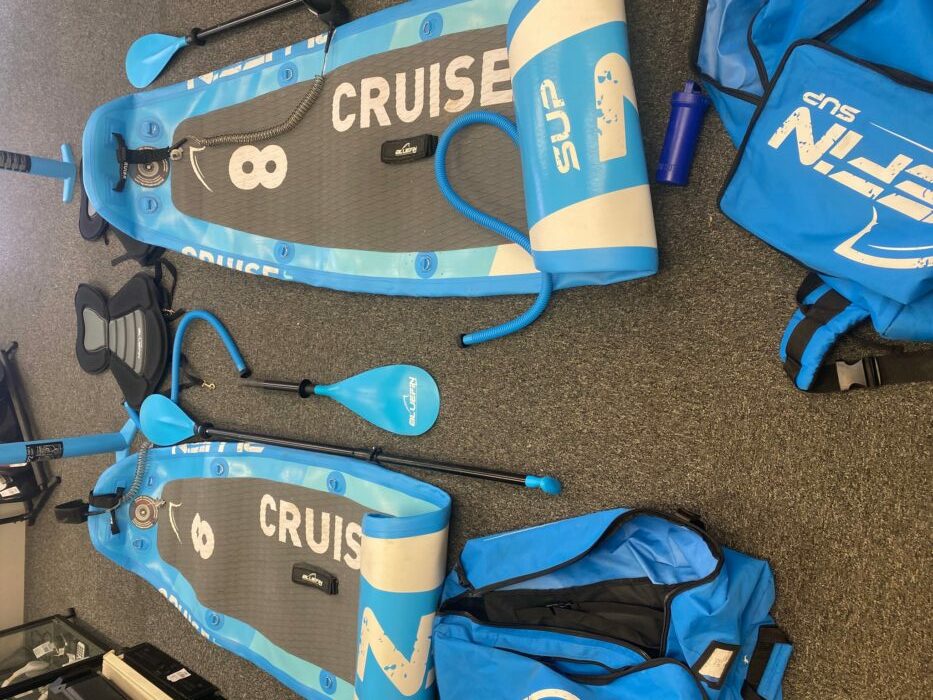 The spaciousness of the Bluefin backpack that comes with the cruise cannot be ignored. It enables easy transportation in the blink of an eye whenever you decide to go on a quest to explore every other lake, river, or beach out there. Also, remember, the equipment well-cared-for will prove more durable.
Talking about its construction, besides its basic storage area, it has one big storage pouch on the exterior front and a small mesh pocket on its left side, in which you can place your phone when it's encapsulated in the provided waterproof phone case, a repair kit, or a water bottle. In addition to this, for reinforcement and stability, it has rubber feet, and on the rear of the bag is a soft cushioned back pad to comfort the bag wearer.
For holding purposes, it has two adjustable shoulder straps along with the plastic D-rings and sewn-in loops and a sternum strap for stabilization of the bag. There is also a waist belt near the bottom of the bag, which helps to keep the bag balanced while its padded quality ensures comfort.
Bluefin Cruise SUP 10.8 review
Let's talk about the kind of experience you will have when you go paddling with the Bluefin Cruise 10'8".
Paddling Performance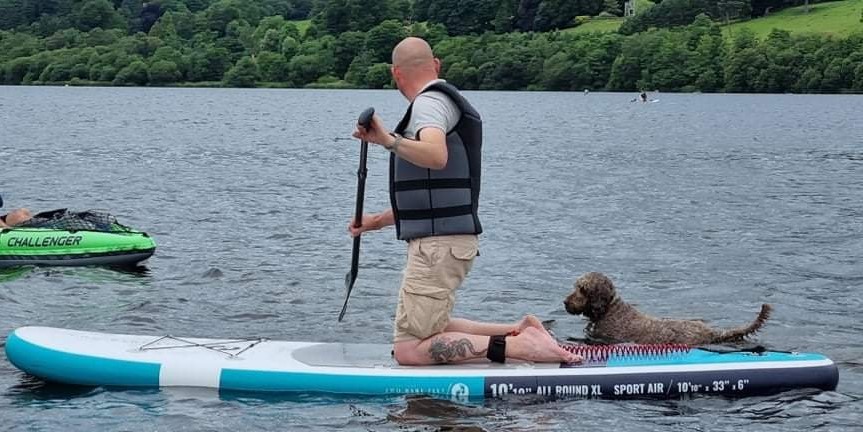 The Bluefin cruise is a complete equation of versatility, good performance, and stability. What could be a better combination than a squared-off tail profile with a thermos-sealed Croco-diamond pattern deck and an angled nose? All these best features work in your favor when you do tricky turns and tackle some harsh waves or a water swell.
The super responsive quality of the board allows excellent tracking and superb stability, which are the prerequisites to fun paddling. The best thing about it while considering performance is its responsible turning and the ability to manage difficult turns.
This very enjoyable board is especially suitable for short waves, but when a bigger set comes through, you can easily and efficiently turn the board 180 degrees in some strokes, as the board deviates less from the direction it is intended to go in. While doing that, you don't need to worry about tripping because the AVA foam tracking pad won't let you fall because of its very functional textured surface.
In addition to this, a coiled safety leash is also provided, which allows worry-free paddling. This short leash included in the cruise package provides much-needed confidence while paddling. You can attach its one end to any D-ring and the other to your ankle or calf, however you like. This leash will not provide you the stability of course but it will keep your board from drifting away in case you intentionally fall off the board to swim a bit or fall unintentionally.
Tracking
To your surprise, the cruise 10'8 weighing about 11.3 kg (251 lbs.) will cut through the wind like a sharp knife while staying on track. The pointed nose of the paddle board especially helps with the directional stability you need while paddling straight ahead.
For a fact, a round nose SUP doesn't efficiently tackle with the winds as much as an angled nose does. Its sharp nose refuses to get into any failed battles against the unpromising weather; on the contrary, it shows less resistance under the same tricky circumstances.
This SUP cruise comes with fins that are all removable: 2 small fins and one large smart lock fin for better tracking and sturdiness. While the angled nose cuts through chop, the fins attached to its bottom make the way with much-needed speed and ease.
Stability
You need not worry even if you don't have any experience regarding SUP paddling because Bluefin 10'8" has got your back. This all-round board offers a lot of stability. Hence, it put major emphasis on a better performance than on top speeds.
Beginners often find inflatable boards a bit too wobbly, which may lead to them getting demotivated. But Bluefin keeps the rider from getting into any such displeasure by exceeding the paddler's expectations regarding sturdiness and stability.
The almost 33 inches width and a rigid base under your feet won't allow you to trip. Its rigid traction pad imitating crocodile skin assists the rider in standing up confidently without having any fear of falling or slipping. Thus, the very obedience of the board will let you pass through any tough times like risky turns or anything of this sort.
Maneuverability
With the provision of plenty of room for maneuverability, Bluefin Cruise 10'8" takes top place in the list of best cruises for beginners and advanced paddlers. This very performant paddle board entails a great hull shape and a pointed nose which allows high efficiency; otherwise, it couldn't be able to handle rocky vicinities and strong and hard waves.
It glides very nicely on the flat and other waters and maneuvers to its best because of its squared-off tail profile. This quality of better engineering and better design makes these touring boards and race boards very maneuverable. It brakes less and offers better directional stability.
Rigidity
Incorporating a flex reduction system and the Air Duo inflation makes it an extremely stable board, rigid, and sturdy to nimble on the water. Bluefin inflatable paddle boards really mimic and imitate a classic hardboard in its construction as a carbon cruise.
The cruise will allow you to tackle whitewater or unpredictable waves with a little extra inflation. Owing to the fact that it's made of 10000 denier EXO surface Laminate PVC and a pro drop-stitch weave, this board can take up to 28 PSI, hence, making it incredibly rigid and strong.
Moreover, the Croco-diamond pattern of the tracking board under your feet delivers much-needed confidence while paddle boarding and tackling short waves while surfing. The 32 inches wide deck provides enough space to comfortably stand and even spread out, while its 6 inches thickness provides sufficient weight support for most adult paddlers. This optimal thickness makes the board feel rigid and sturdy beneath your feet as you paddle which enhances the overall feel of the paddling experience.
Ease of use
Cruise 10'8" takes less than 10 minutes to inflate when you are using its dual action pump for said purpose. Optimal inflation, in return, will provide better rigidity and a priceless paddling experience. Even when inflated, the board doesn't get heavier to carry; instead remains lightweight. Thanks to its carry handle, though, especially the middle one, for making carrying so easy. Besides easy inflation, the cruise also deflates quickly and easily and rolls up fine without troubling you.
The cruise is maneuverable enough to allow you to explore thoroughly and extensively without leaving any stone unturned and without it being damaged every now and then.
Unlike other inflatable boards, the cruise 10.8 resists common SUP accidents even though it has the same drop-stitch core as other inflatables. This improved performance is made possible through a military grade PVC composite shell that protects the drop-stitch core of the board. So you need not worry and run to repair it after every ride.
Versatility
Its biggest strength is its versatility. If you are an eager learner but a beginner, Bluefin 10'8" can help you. With its multiple useful features and high-quality accessories, this paddle board outperforms the others in terms of versatility.
While SUP paddling, what do you do when the weather suddenly stops being in your favor? You surely don't stop but get benefits from the kayak conversion kit of Bluefin SUP 10'8". Simply attach the kayak seat to the board, transform the SUP board paddle into a kayak paddle and relax.
Likewise, when you don't feel like paddling straight ahead because it may get boring, you do not stop but switch to surfing short waves because of the smart lock fin system this paddle board offers. Conclusion – Bluefin SUP 10'8" never ceases to amaze you.
This inflatable paddle board allows ample space for gear storage for short, medium, or long overnight camping trips without being heavy. As mentioned earlier, it also allows you to surf and lets you use it like a kayak when desired. It not only motivates you to excel in SUP paddling but also inspires you to raise your game in other water-related sports.
Price/Quality Ratio
The functionality of the Bluefin Cruise carbon 10'8" commendably justifies its price as its performance and effectiveness wins against its cost. With its price as affordable as $549 for such premium quality, this cruise stands more durable and affordable than many other products available in the market. Customers seems to be very satisfied with the cruise especially because of its extensive accessories inclusion.
Besides this, its praiseworthy workmanship let it play in the top league. The cruise doesn't display any undone look which might portray it cheap. It really has very fine assembly thus making it a work of art.
What I like and dislike about the Bluefin Cruise SUP 10.8
What really caught my attention while I was doing my homework for the purpose of buying a cruise SUP board is that for beginners tipping stability is of paramount importance. And so did my experience say.
My most favorite thing about this Bluefin cruise board is how it strikes a balance between stability and speed while being attractively sporty. You neither fall, nor you get bored. Gucci? Yes.
The only thing I didn't like about this cruise is it isn't always available. It gets out of stock so annoyingly fast. Secondly, the paddle isn't a carbon paddle and lacks the length indicator.
Final Verdict
No brand in the market delivers such a complete paddle boarding versatile package as Bluefin. It delivers not only a product but something that benefits you, teaches you, and helps you like a friend.
The most exciting thing about the Bluefin Cruise SUP board is that it can be ridden with multiple people. Well, to be specific, two light adults or an adult and a kid. So a day out cruising with your kids or your pet or your spouse is made possible by Bluefin cruise boards.
This versatile package is worth the wait and worth every penny because it enables you to surf in a variety of conditions like against strong headwinds, harsh waves, and rocky surroundings.
What really amazes me is this all-inclusive cruise has a 5 years warranty, 2-in-1 two piece paddle which is a fiberglass paddle, smart lock fins, a kayak seat kit, a dual-action pump, gear storage availability, and whatnot. Its outstanding and impressive accessory package makes it possible for the rider to have an experience of smooth tracking, easy maneuverability, sturdiness, and desired stability. Isn't this what we all are looking for?