Paddle boarding is one of my favorite ways to enjoy the open water. It is a calm and easy way to get around that takes only a short amount of time to become quite proficient.
The large and stable deck of an inflatable paddle board has all the space for gear storage you need allowing you to take out friends, pets, and even camping gear. They can come in both inflatable and solid designs.
Beginners and advanced paddlers alike can enjoy the freedom of a SUP paddle board. They are super easy to transport due to their easily deflated and packed nature. They can be easily carried to your local water and taken for a paddle.
Today we're going to take a look at the Bluefin Cruise, a fantastic all round board for anyone looking to purchase a new inflatable SUP.
Who Is the Bluefin Cruise 10'8″ For?
The Bluefin Cruise 10'8″ SUP board is a paddle board made for everyone. It is wide enough for a beginner who needs a bit of stability and has a slim and streamlined profile for the advanced paddler who wants to make the miles. So, pick up that paddle and board and start learning to stand-up paddleboard like a pro.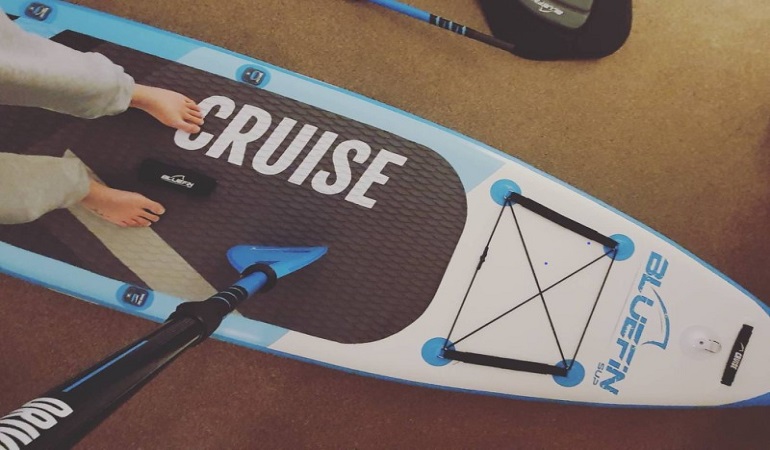 This inflatable board features a kayak conversion kit for the days when standing up just becomes too much work. It is perfectly suited for long trips out with its big surface area capable of carrying a large load capacity.
D-Rings and bungee straps help facilitate the extra luggage. I think this short but mighty paddleboard has something for everyone.
Bluefin Cruise 10'8″ Specs and Features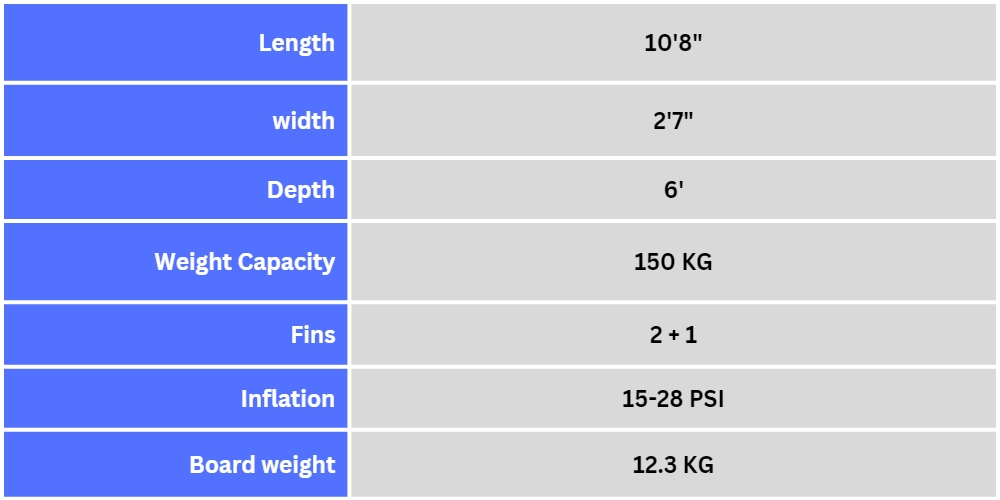 As you can see, the Bluefin Cruise is a shorter paddleboard with the capacity for luggage or two light adults. In addition, it is a rigid board that can take you on all the paddling adventures you could want without the worry of overloading the deck.
If I were a shorter or lighter rider, I would choose the Bluefin Cruise SUP board. They have larger boards designed specifically for the heavier or taller riders in their range. You can take a look at the Bluefin Cruise Carbon if you want something with a bit more space.
Gear Storage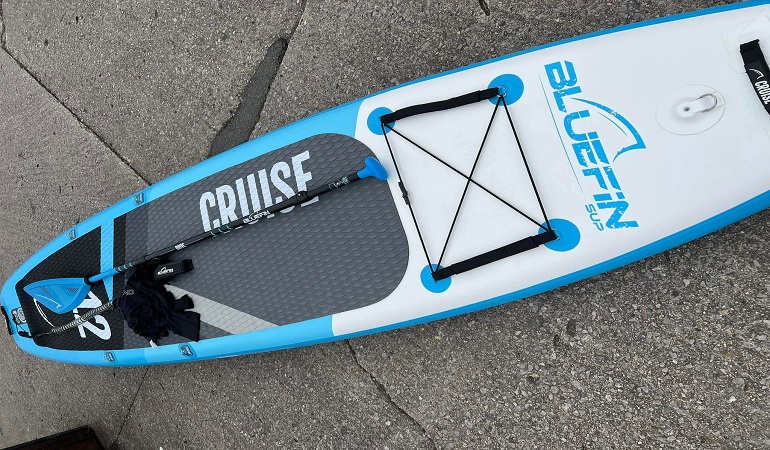 As I mentioned before, there are SUP boards in the Bluefin SUPS range that have more storage, such as the Bluefin Carbon Cruise, but for the size and weight, this one will do a great job. For its small and compact size, it can carry a decent load.
The 150 kg maximum carrying capacity won't struggle to hold you and another person, pet, or camping equipment. You can store your adventure gear collection under the SUP boards' front bungee straps. You can take the Bluefin Cruise on overnight camping trips with your equipment and even a paddleboard cooler.
Construction
The Bluefin Cruise range always uses high-quality material in the construction of their inflatable boards. They are made to withstand all the bumps and scrapes that accompany riding. The build quality is made to last.
A UV-resistant coating on the Bluefin Cruise 10'8″ will prevent it from decaying in the sun. Cruising in hot weather will always magnify the damaging rays. Therefore, ensuring that your SUP paddle board won't be negatively affected is important.
Drop stitch construction holds the two PVC surfaces of the Bluefin Cruise together. This results in a very rigid board. Drop stitch weaves thousands of small threads between the board's top and bottom, ensuring a solid shape that will support your weight.
Grip Deck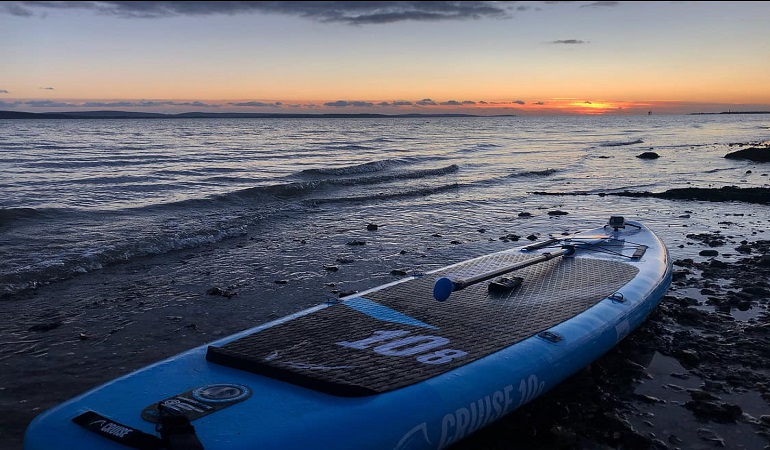 Good stability is the key for me when I am out paddle boarding. I need to be sure I am not going to be let down by the deck under my feet, which is why a decent grip deck is so important. The Bluefin board includes a thermo-sealed diamond-shaped deck pad.
Whatever your paddling position, you can be sure you will have the grip you need underfoot. Even when wet, the specifically designed shape of the grip will keep your new Bluefin Cruise steady underfoot.
The deck also features a kick pad designed specifically for responsive turning when you need to put your feet into your movements.
Carry Handles
Once you have inflated your Bluefin Cruise iSUP board, you will need to get it to the water. This is facilitated with the front, and rear carry handles. You can easily carry the Bluefin Cruise alone or with the help of a friend.
Fin System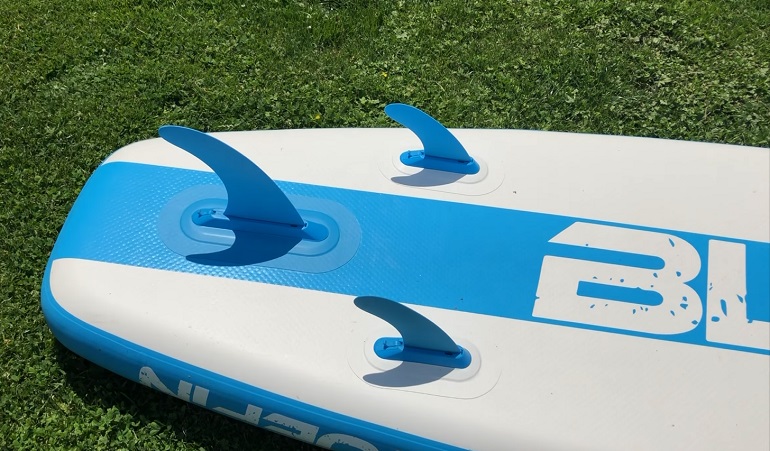 The three-fin system on the base of the Bluefin Cruise 10'8″ keeps the inflatable paddleboard in a straight line over small waves and moving water. In addition, the center fin provides excellent tracking and will ensure your Bluefin Cruise inflatable SUP glides nicely.
The center fin is removable for easy storage and transport. The included backpack will hold it all perfectly. You can easily reattach the fin without any tools using their smart lock system.
Kayak Conversion Kit
I think this is what separates Bluefin Cruise boards from other similarly priced boards. The kayak conversion kit that comes with the Bluefin Cruise makes it the perfect all-rounder board. You can simply attach the kayak seat to the Bluefin boards' d-rings and convert it into a kayak.
The mountable kayak seat turns this versatile SUP into the perfect sit-down craft. If you are facing strong headwinds or adverse water conditions, sitting down is the added stability you need.
I have sometimes found standing not to be suitable in some waters, so having a kayak seat is a blessing. It's also a great way to rest your legs on long journeys.
Bluefin Backpack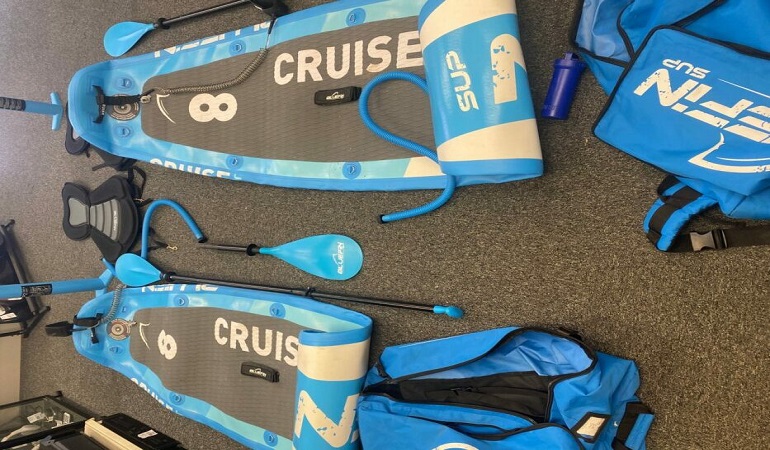 The Bluefin Cruise board deconstructs down into one versatile package. All the accessories, as well as the included paddle, fit into the comfortable paddleboard dry bag. You can carry all your gear in a high-quality backpack.
Transportation of my SUP is always something I have to take into consideration. I want to be able to get out to the water as easily as possible. The Bluefin Cruise boards' backpack makes this a breeze.
Bluefin Cruise Review
Let me get down to the nitty-gritty of the Bluefin Cruise SUP. I can break down the performance of the board features, so you know what to expect.
Paddling Performance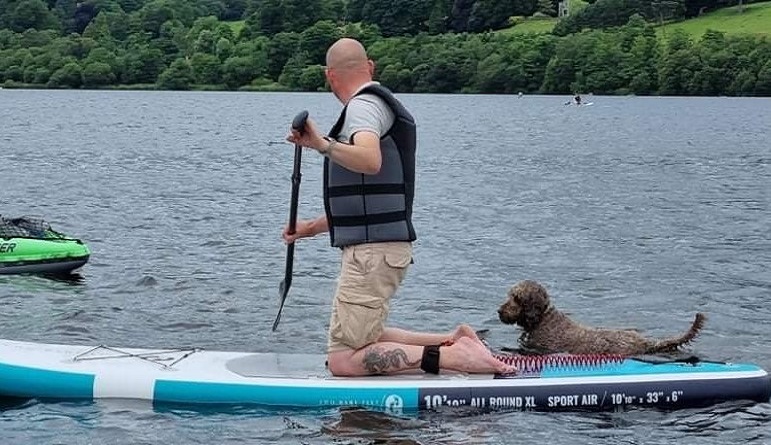 The new Bluefin Cruise can stay in a straight line wonderfully due to its pointed nose and excellent fins. Touring boards are often longer, giving them more stability and surface, but despite the Bluefin board's short length, you won't find the board deviating from your desired direction.
As your first board, this would be a great choice and a very enjoyable board. The short length offers less resistance in small waves and moving water. I found it very easy to manipulate with the paddle. It was a suitable all-rounder. It doesn't take too much effort to paddle, but you may burn some calories with this.
The gentle rocker on the board really helps it move over the water, even if it isn't as smooth as glass. Small waves and chops are a breeze to traverse.
Tracking
The high-performing fins assist the Bluefin boards tracking along the base of the deck. They keep the nose going in exactly the direction you want it to. With little effort, you can keep going in a straight line. I found that even in choppy water, I could keep the Bluefin SUP tracking perfectly.
Stability
Beginners and advanced paddlers alike know how important the stability of a typical all-round board is. You want a high-quality board to support you and your cargo even when the going gets tough.
The new Bluefin Cruise 10'8″ does a fantastic job of keeping you upright. Despite the SUP boards' short length, the width of the deck will keep you standing nice and firm. With the addition of a kayak seat, you can also sit down to really get your center of gravity low and locked down.
Maneuverability
This is where I found the shorter length of the Bluefin SUP came in handy. It is really easy to throw around with even a little effort due to its size and weight. It makes it very suitable for the beginner or shorter paddler. Also, knowing what size of paddleboard you need is important.
It didn't take a huge amount of effort for me to move this board around. The addition of the kick pad at the back of the grip deck allowed me to put my maximum weight behind every stroke, pushing the back of the SUP into the turns.
If you need to really get the board moving around in the water, you can remove the center fin. This will reduce your tracking ability slightly but allow you to throw the deck around easily.
Rigidity
The new Bluefin Cruise is advertised as best between 15 – 18 PSI, but if you need more rigidity, you can add a little extra inflation. Race boards and surfboards both need that stiffness in their frame to keep them fast and inflexible.
I found the extra rigidity provided by the thick military-grade PVC and drop stitch to be more than adequate. This pairs perfectly with the reinforced double-layer side walls. They keep the shape and solid frame under your feet, even at a lower PSI.
Ease of use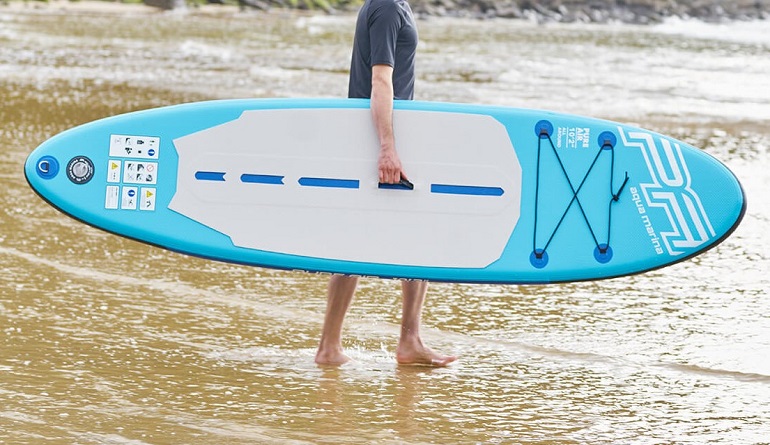 Bluefin has made this board as easy to use as it can. It is a complete impressive accessory package with all the paraphernalia you could need. A dual action pump, carry bag, kayak paddle, and kayak seat all combine to give you everything for your paddling needs.
You won't have to shop around for extras and should have everything you need for a reasonable price. Inflating and using the board takes only minutes, and you can be out and about on the water in no time.
I found the Bluefin remarkably easy to use. The stable platform, supportive grip, and kick pad made standing and moving easy. The fins on the bottom kept the nose pointed precisely where I wanted it.
For the new paddler, you couldn't ask for more. It facilitates a day out on the water perfectly. It is simple to set up and even simpler to get out on the water with.
Connecting the mountable kayak seat to the d-rings only took a few minutes, and I was able to get comfortably seated in it. With a few simple adjustments, I was able to remove the paddle blade and convert it into a kayak paddle, perfect for sit-down paddling.
Versatility
The addition of the seat and paddle conversion kit makes this a highly versatile SUP. Stand-up and sit-down paddling are both perfectly viable options with the Bluefin Cruise. You can have the best of both worlds while recreational paddling.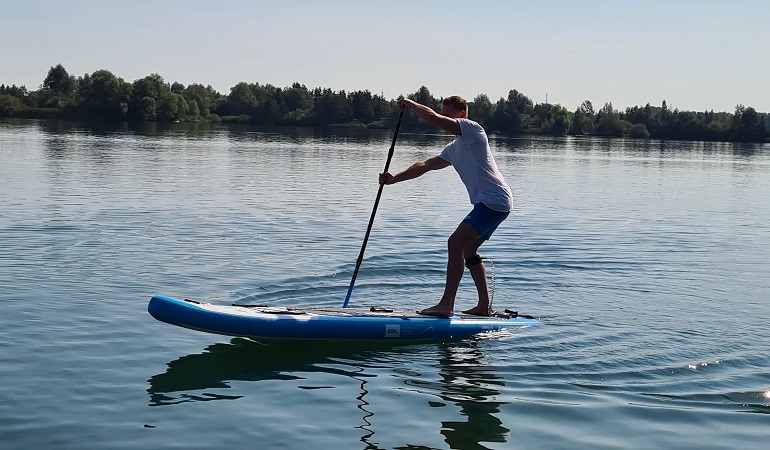 Touring boards need to be long, slim, and have plenty of cargo space, and I think this is where the Bluefin 10'8″ starts to lack a little. The shorter length does not provide the most luggage space. We have reviews on much longer SUPs that would certainly be better suited to touring.
With the size of this paddleboard, you may struggle to take it out for things like paddleboard surfing, but it wouldn't be impossible. The rocker and rigidity will work with the waves.
You can always upgrade to the longer craft if you need a little extra space. You could even purchase the luxury version and get yourself a higher-priced cruise carbon paddle rather than the supplied fiberglass one.
Price/Quality Ratio
Buying a Bluefin product is always a safe bet. I stand by their great quality and would always recommend them. They may not be as cheap as some other SUPs you could find online, but for less than $500, you can get your hands on a craft you can rely on.
The addition of all the extras helps push this inflatable paddleboard ahead of the rest. When you buy the Bluefin Cruise, you get a double action pump, a kayak seat, a waterproof phone case cover, a coiled leash, a repair kit, a fiberglass paddle, and an action camera mount.
I think spending money on quality is always worth it over buying something cheap and having to buy it over and over again. The Bluefin Cruise will last you a lifetime with proper care, and you can paddle, knowing you're not just in safe hands but that it's also built well.
Accessories
As I just mentioned, this comes with the complete package. So you won't need to do any extra shopping when you buy this board. They have already taken care of anything.
I have collected a lot of optional extras for my paddle boards over the years. One of the pleasures of riding them is their versatility to adapt. You can strap seats, cargo, cameras, rod holders, and a huge variety of other things to their decks.
With this purchase, you get most of what you will already want anyway. You will only need to buy other accessories if you want to specialize.
The Cruise SUP board comes with a few d-rings on the deck, but not quite as many as other longer SUPs. This allows for some accessories to be added, but if you're looking to kit it out for some serious fishing or a longer couple of days, you may want to look for other boards with a bit more adaptability.
What I like Most about the Bluefin Cruise 10'8″
The bluefin Cruise is the all-around board for everyone. It has the stability and adaptability to suit almost everyone's needs. Bluefin makes fantastic boards using only the best tech and the best materials.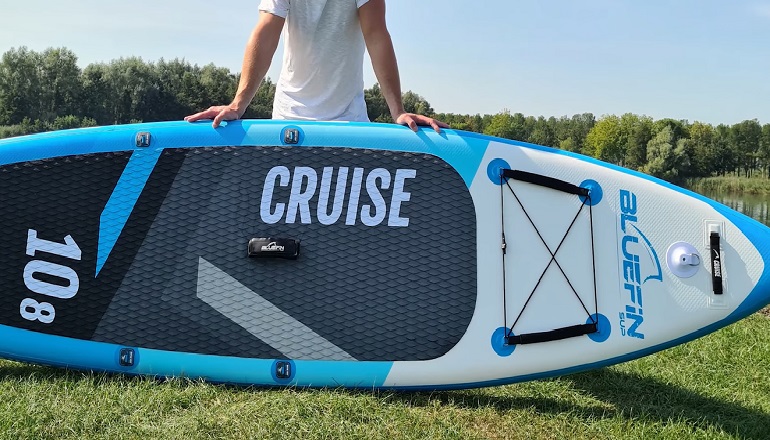 I love the addition of a kayak seat and convertible paddle. I have often been on long trips where standing for such extended periods becomes exhausting, especially if the water is rough. Being able to unpack a seat from the front rigging and convert to a sit-down craft is a blessing.
The comfortable and easy-to-carry backpack that everything fits into makes the SUP board incredibly quick and easy to transport. When I want to get to some of the harder-to-reach locations, being able to throw the whole package on my back and trek to it is great.
Another great thing that Bluefin is doing is its pledge to help protect the environment we all live and paddle in. They make their craft from recycled materials and plant a tree for every purchase. They are helping to preserve the beautiful planet we need to keep paddling in pleasure!
What I Don't like so Much about the Bluefin Cruise
The length is a bit of an issue, in my opinion. The maneuverability is nice, but for me, I like a little more cargo space. It is quite limiting as to what you can fit on the top of the deck when you only have a few extra feet of room.
The paddle that comes with this paddleboard isn't the best either. There are better carbon fiber options out there that weigh less and are more durable. You can always buy the upgraded version of the Cruise and have it come with a better paddle.
A Few Frequently Asked Questions
I'll save you the hassle of doing a google search later.
How Long Does It Take to Inflate the Inflatable Paddleboard?
With the supplied double-action pump, you can get this board up in about three to five minutes. It takes almost no time at all to assemble, and will be ready to ride. You can also use an electric pump which will take even less time. Be careful not to overinflate it, though; it can damage the construction.
What Does the Bluefin Cruise Come With?
Almost everything you could want! A paddle, repair kit, kayak conversion kit, ankle leash, action camera mount, carry bag, and removable fin. You won't have to buy any extras when you make this purchase!
Does the Bluefin Cruise Come with a Warranty?
Unless you have purchased an ex-demo board, you can simply contact the offices in West Yorkshire and claim your five-year warranty. They have a broad and comprehensive list of reasons you can claim so you know you're in safe hands. Bluefin is proud of its products and stands by its build quality.
Some Last Words From Me
You could do a lot worse than grabbing this excellent board from Bluefin. I love their boards including Bluefin Cruise, and Bluefin Sprint although this one is a little too short for my liking, it is still a fantastic choice.
The durability, efficiency, short design and amazing maneuverability are perfect for shorter paddlers, children, and people who don't need all the extra space. Hope this Bluefin Cruise review helped you with all you needed to know.
Bluefin Cruise is the best paddleboard for dogs. The best part of this paddle board its accommodates you and your dog on a paddleboarding adventure easily.
Get out there on your local water, stay safe, enjoy yourself, and keep on paddling!