Playful Precision
Nimbly darting in between trees and forgiving enough for great freestyling fun. The slight tail rocker at the end gives you a decent amount of float. Instilling within you the confidence you need to fully adopt the "have another go at it" mindset.
Is this a hard-charging freeride ski? No, these skis have the shape and edge for something more important. These skis…are about adventure.
You would think that something named the Dictator, much less the Dictator 2.0, would be rigid and unyielding. When I first came across the Faction Dictator 2.0s, I expected a pair of mountain skis for breaking the speed limit and powerful skiing.
Instead, what I found was a modern-day ski that is the holy grail for playful runs. Despite its lightweight build and lighthearted nature, the Dictator is still capable of charging turns. It'll just take some work out of you.
Looks like the backcountry just found its new companion.
The Faction Dictator 2.0 In Charts

Before we get into the meat and potatoes of this all-mountain joyride, allow me to give you a quick rundown of what these skis are all about. The Dictators were made for all-mountain and big mountain terrain.
In fact, I'd say these are among the best all-mountain skis that I've ever encountered. It's their main selling point.
Thanks to the flat tail rocker and dual radius sidecut that adorns either ski, you have all the tools you need to make the most out of your environment.
I could go on, and I will, but a picture is worth more than a thousand words. Below you'll find a sizing chart, detailing the waist width, sidecut width, and available ski lengths.
And for anyone in a hurry, here's a quick performance overview chart: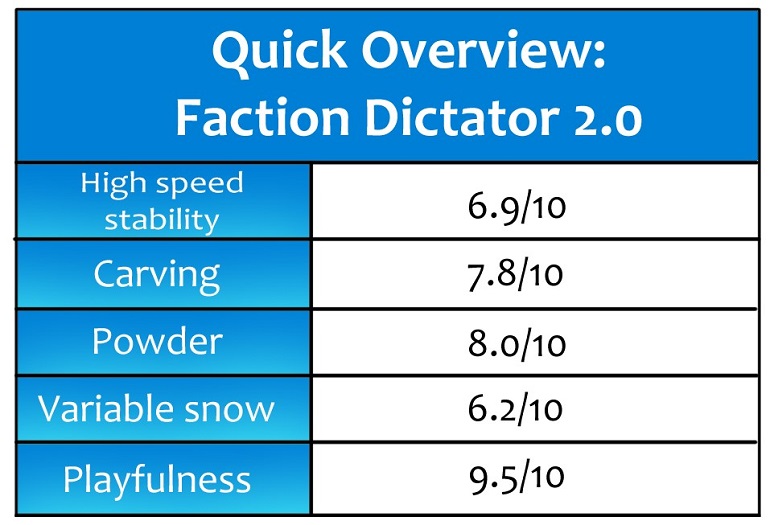 What Skier Benefits From The Faction Dictator 2.0?
Do you love to have a good time? Are you a budget warrior that is constantly looking for the best deals?
Look, I could keep asking annoying questions that you already know the answer to, but I think it's better if I just tell you the answer to the original question.
The Dictator 2.0 is the perfect all-mountain ski for experienced skiers that want a daily driver that'll make the most out of fresh conditions.
You're getting a solid construction that is easy to control. One that doesn't blast through powder but rather dances on it. A ski that makes it easier to enter your rhythm.
The only skiers that shouldn't get these skis are those that don't have the skill level required to get the most out of them. Namely, novices.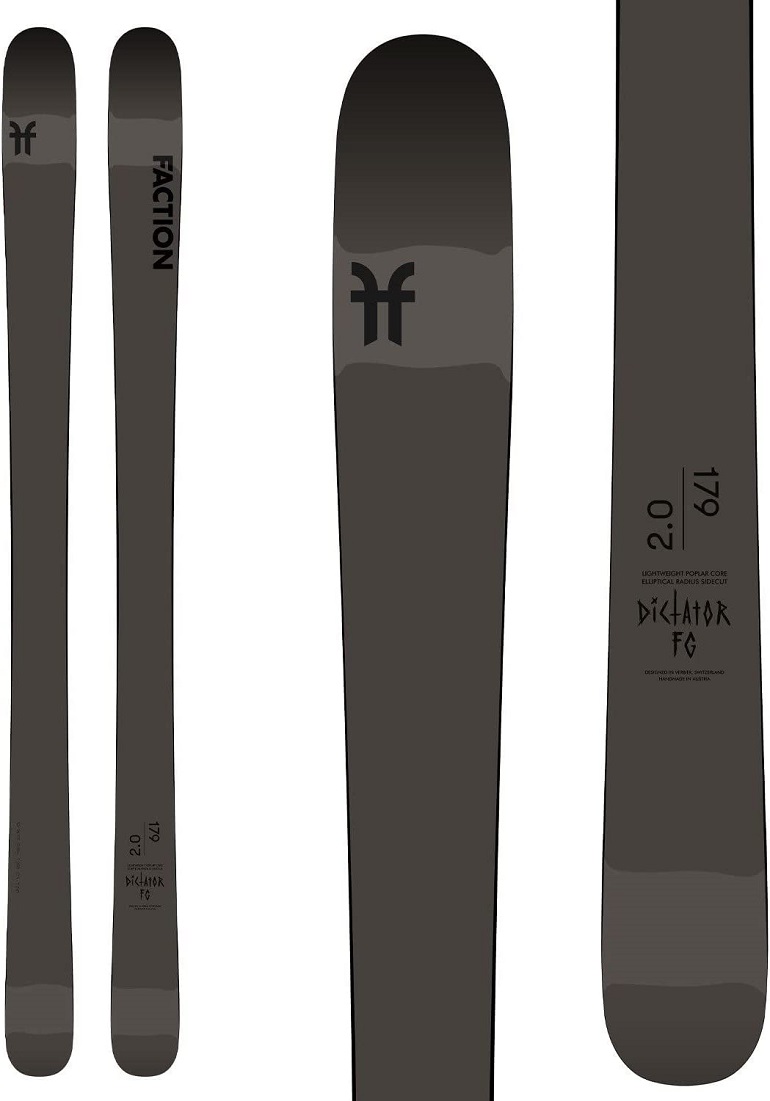 Faction Dictator 2.0 Ski
The price of "Faction Dictator 2.0 Ski" varies, so check the latest price at
The Faction Dictator 2.0 In-depth
This ski loves to play but now it's time to get serious. I am going to be breaking down every aspect of these skis that matter. Going in-depth and telling you what the charts in the previous sections left out.
From carving to their length and how that affects your ride. Expect it all.
The Dictator's Carving Ability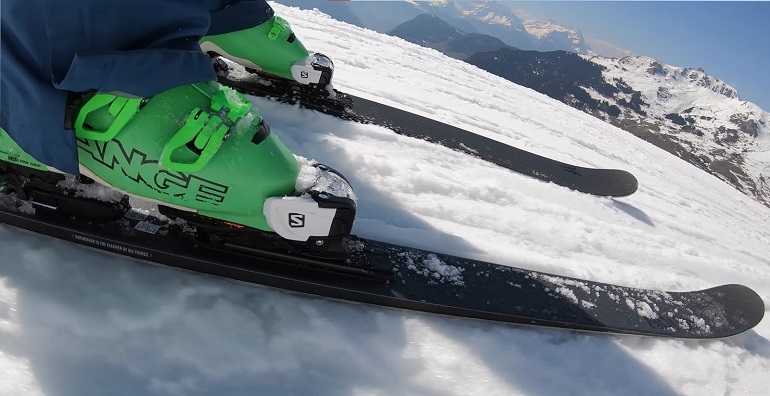 The edges of the Dictator are ruthless, titanal layers are fitted onto each edge. What this gives you is an equally strong slice in all directions. In other words, the Dictator's ultimate edge grip has isotropic qualities.
While you can cut through most bumps and mounds that get in your way, I wouldn't say that these are total crud demolishers. Still, it feels stable when carving and turning through changeable snow, so what more could you ask for?
Pulling out of a carve is just as delightful as getting into one. It seems that Faction has found the perfect chassis build, and it's why the Dictator is so playful.
What's The Dictator Made Of?
There was a lot of thought put into the Dictator's overall build. As I mentioned earlier, the titanal edges are standouts, but there's more where that came from. At the heart of these skis is a full Poplar wood core that is lightweight and durable.
Plastered on top of this is a scratch-resistant top sheet. The edges were also made thicker, which improves the lifespan of the skis. Suffice it to say, it's got good bones.
Ski Length
As you would expect from skis that were made for you to control and toy around with, these skis are shorter than their contemporaries. This stout build is a primary reason as to why the Dictators weigh so little.
However, this should not be seen as a downside. What you want most out of any ski gear you use is control. When it comes to that, the Dictators are without a peer.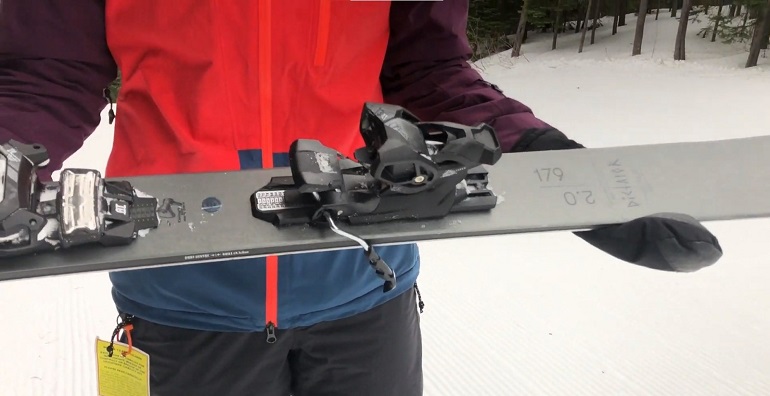 What Bindings Go Best With The Dictator?
A simple question but important nonetheless. The kind of ski bindings that you'll want to pair up with the Dictators are bindings that have a brake width that is equal to the waist width of these skis.
The widest brake width you'll want is anything that is up to 15mms wider than the Dictator's waist.
How Much Pop?
Pop, pop, pop, you want it. Everyone does, getting air feels great, and the Dictators can take you for a ride.
These skis have what Faction calls "Surf Zones". The surf zones connect the rocker and tip taper, having both merge to give you excellent flotation.
This float allows you to pivot far more easily than with other all-mountain skis. It's all one connected and seamless design that creates a beautiful harmony for you to enjoy. Take flight, it's easier than you would think!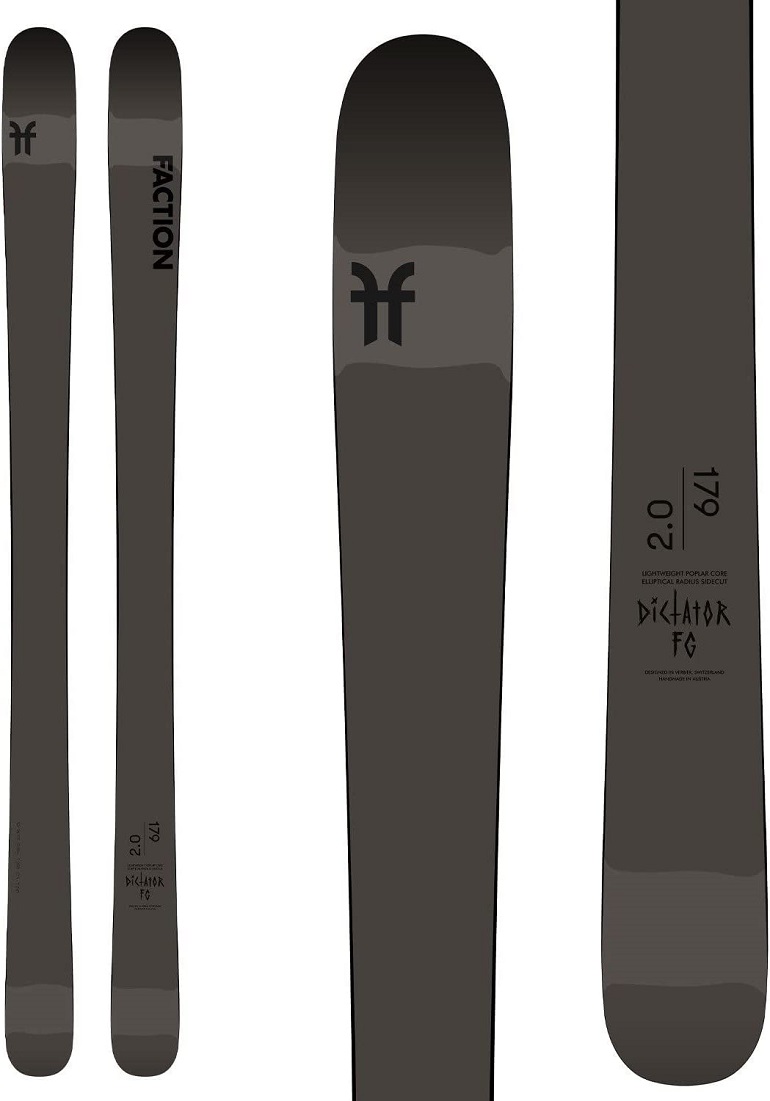 Faction Dictator 2.0 Ski
The price of "Faction Dictator 2.0 Ski" varies, so check the latest price at
The Dictator's Stability At Higher Speeds
For all that they are good for, the Dictator is no crud slayer. The faster you go, the more chatter you will experience. This was to be expected.
You can't have a light rocker and a low weight and expect it to be the dampest ride you've ever had.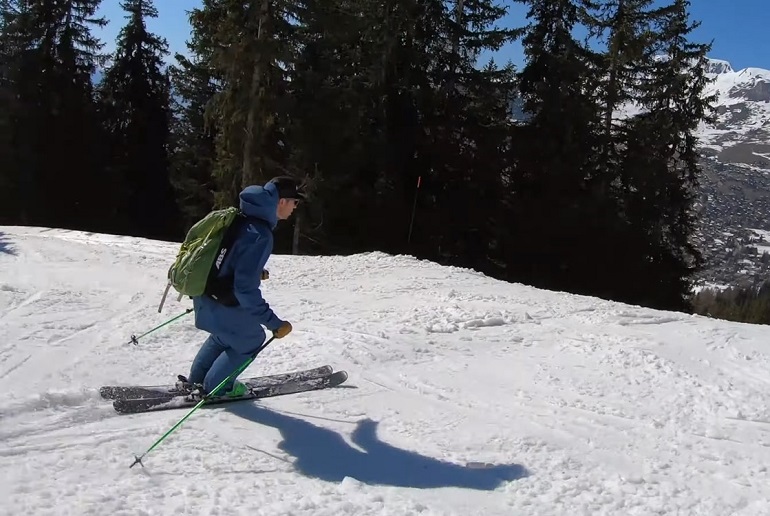 Sure, these skis are built with metal (two layers of titanal), but it's not the best for high-speed riding. The firmer the snow, the greater the shakes.
There are much better skis for speed and power, but not many that come close to the Dictator's surfy ride.
My Final Thoughts
To sum up Faction Dictator 2.0 review, it can be concluded that the hook of the Dictator is giving you everything you need to play and test your freestyling abilities.
Sure, at higher speeds and on firmer snow, you will start to rattle but if you wanted freeriding skis, there are far better options.
Like I said before, these skis are for experienced skiers that want to mess around and have a good time!