Break the Speed Limit
Soft snow paved into a proper road. It's like this all the way down the entire mountain. This frozen majesty can be seen from miles away. If you squint hard enough, you'll even catch a glimpse of a tiny blip carving up a storm.
This blip moves fast, through side hits and variable snow. Soft snow, firm snow, the conditions don't matter. With versatile skis, the whole mountain becomes your domain. Waves of fresh snow fly into the air, trailing the blip.
You wonder to yourself, what skis are they using? The Nordica Enforcer 100 with its sintered base? Perhaps it's the Salomon QST 106s? At those speeds, you're going to need the chatter-free ride.
Whatever the case, you know two things:
You want to be like them.
You're going to need the best all-mountain skis.
Lucky for you, we've got the best skis that you can find listed down below.
Best Overall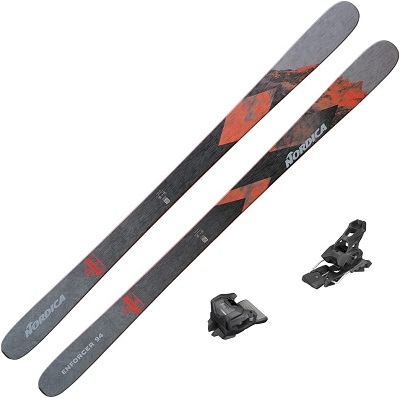 Nordica Enforcer 94
Size: 172 cm

Material: Wood, Carbon, Metal

Best Beginner Ski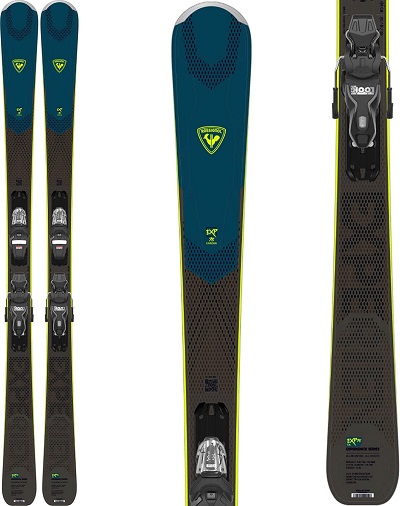 Rossignol Experience 78 Carbon
Size: 162 cm
Material: Soft Dampening
Best for Hard Snow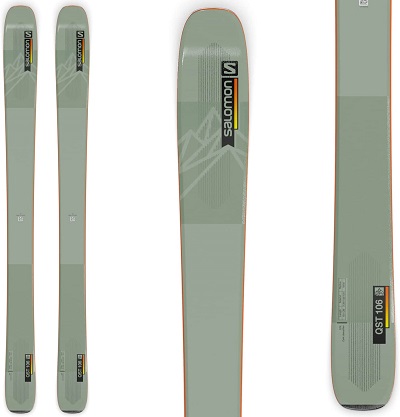 Salomon QST 106
Size: 181 cm

Material: Carbon Fiber Stringers
Best Expert Ski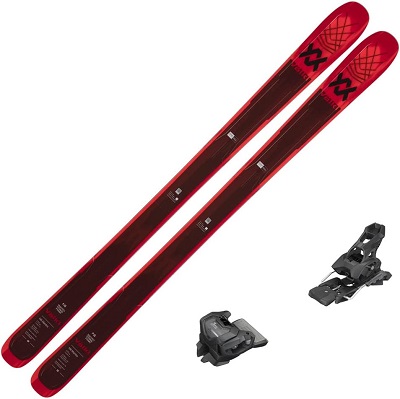 Volkl M6 Mantra
Size: 163 CM
Material: Multi-Layer Wood Core
Best Women's Ski

Black Crows Camox Birdie
Size: 156 cm 
Material: Poplar + Fiberglass Laminate
Best for Alpine Skiing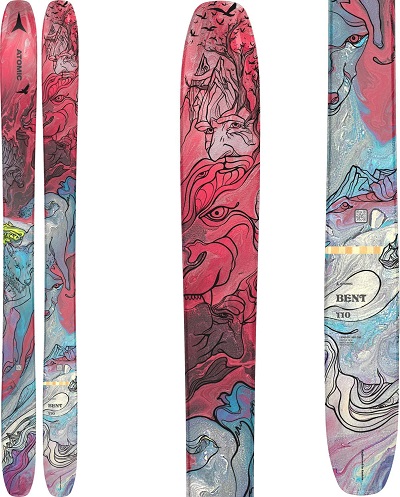 Atomic Bent 110
Size: 172 CM
Material: Light Wood Core
Best All-Around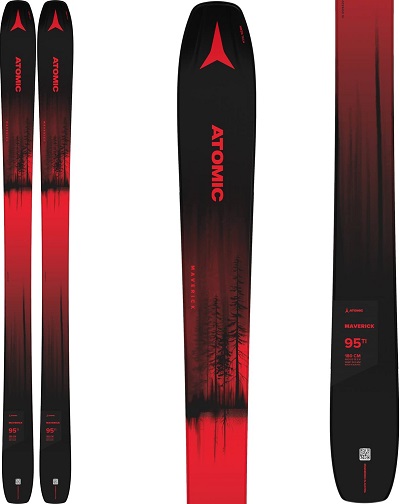 Atomic Maverick 95 TI
Size: 164 CM
Material: Poplar Wood Core
Crud Crusher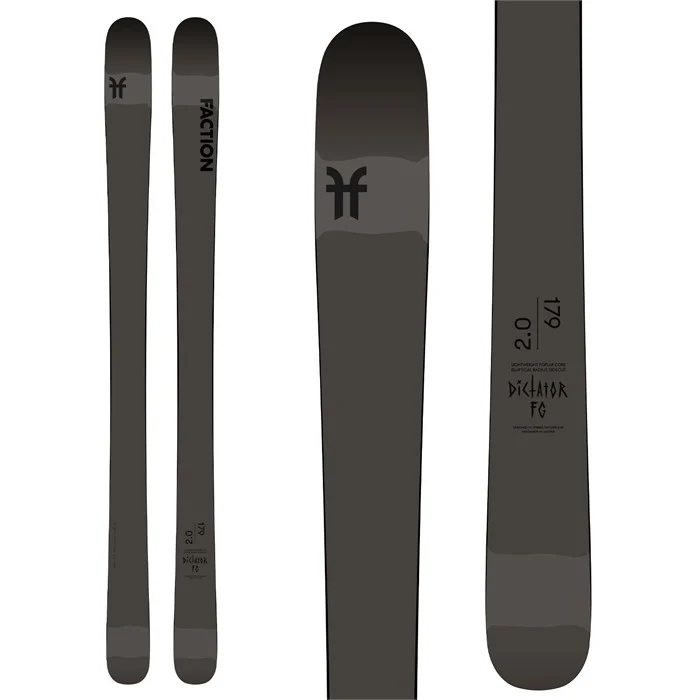 Faction Dictator 2.0
Size: 155 CM
Material: Peuplier
Fast Turner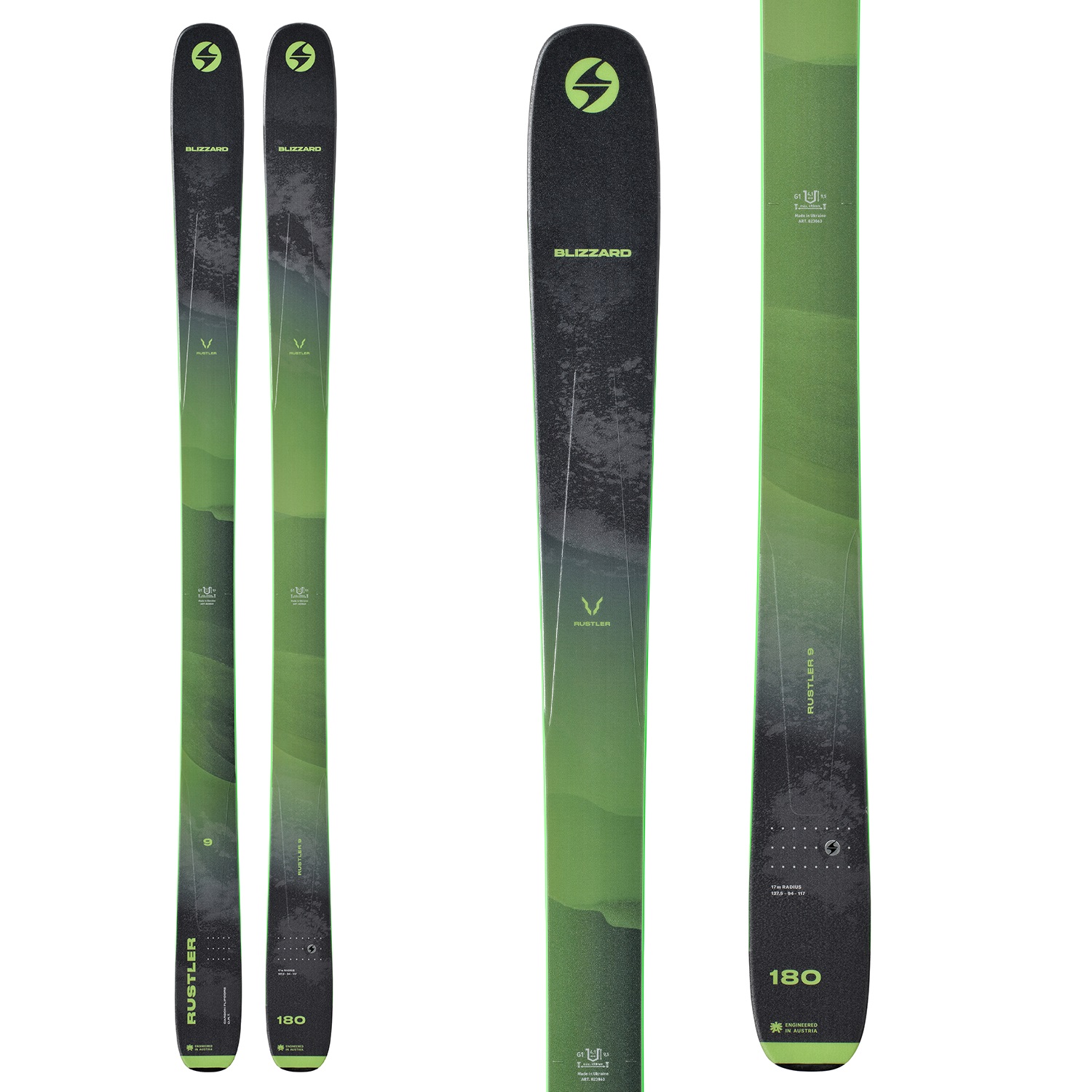 Blizzard Rustler 9
Size: 164 CM
Material: Carbon Flipcore
Flotation Device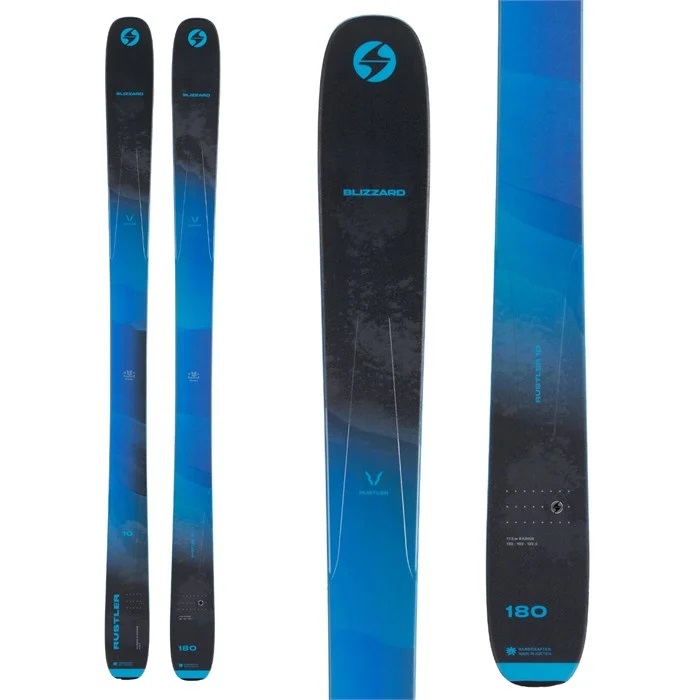 Blizzard Rustler 10
Size: 172 CM
Material: Carbon Flipcore
Take Flight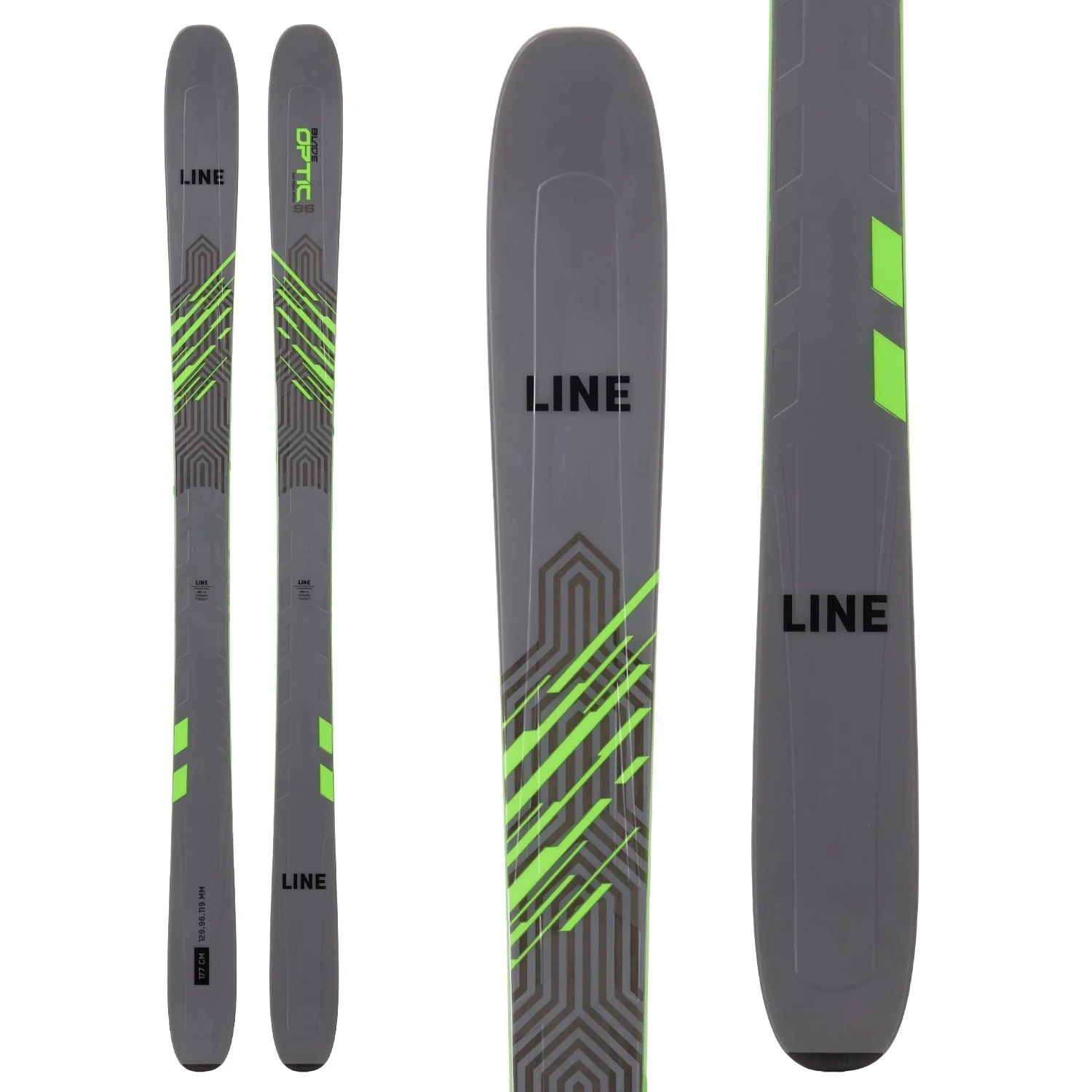 Line Blade Optic 96
Size: 170 CM
Material:Hardcap TPU
Rip and Tear 2.0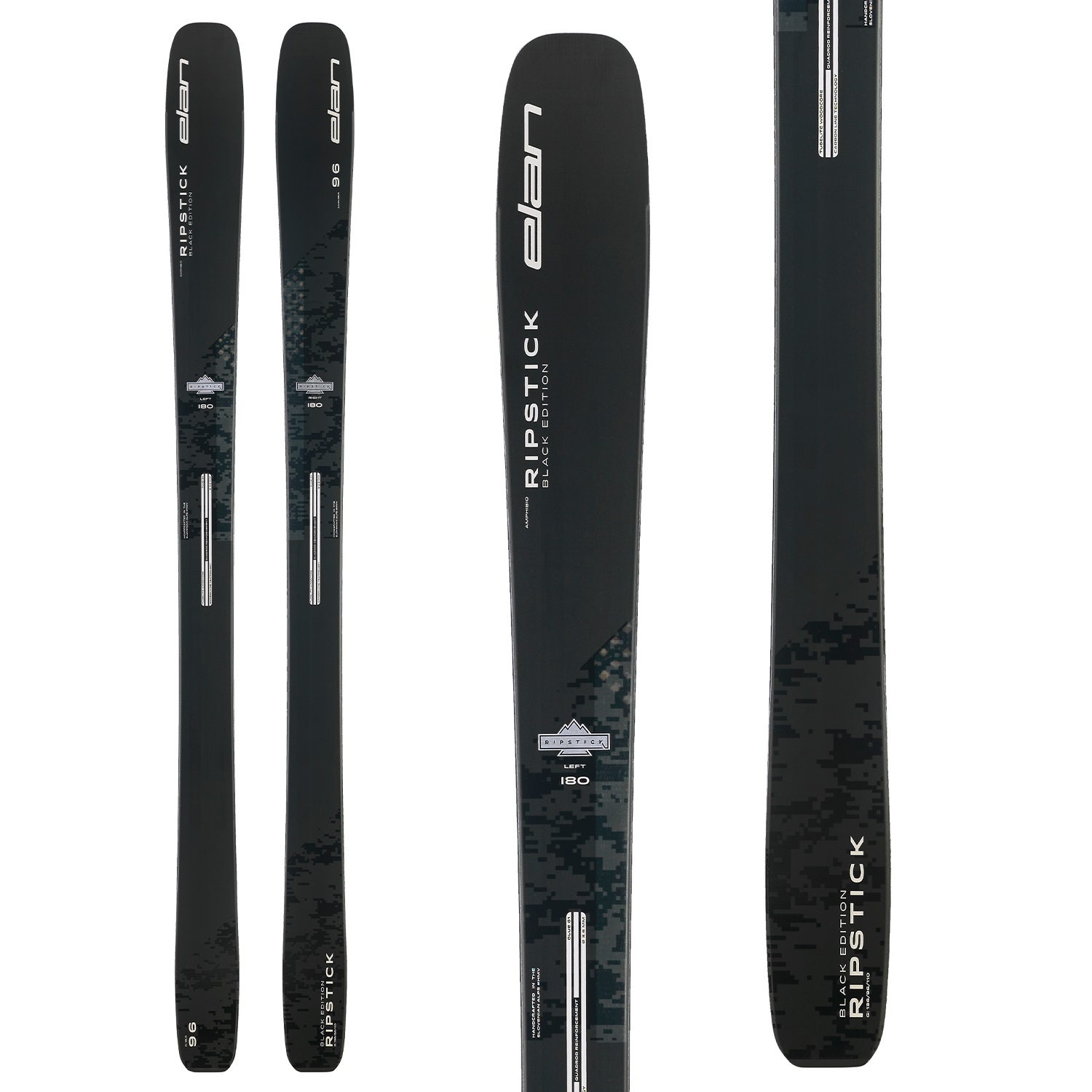 Elan Ripstick 96
Size: 164cm
Material: Carbon Rods, Tubelite Wood Core
Return to Sender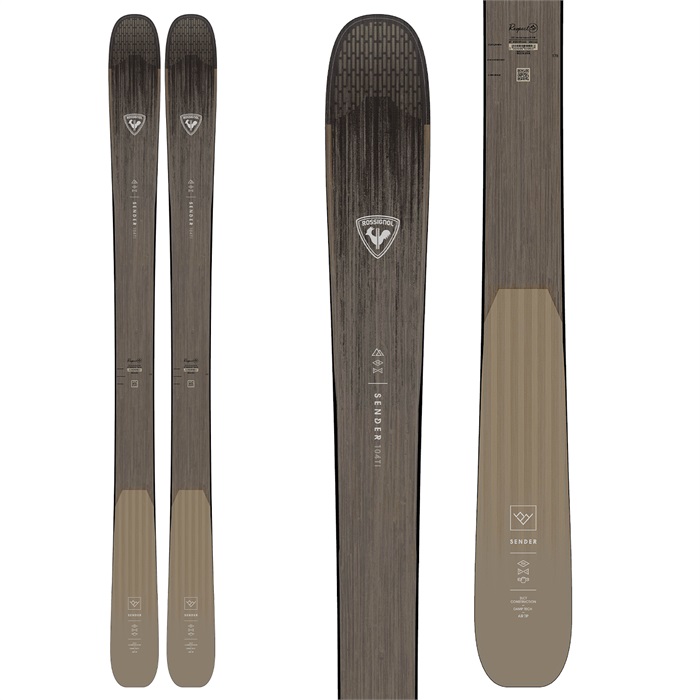 Rossignol Sender 104 Ti
Size: 172 CM
Material: CARBON FLIPCORE
Head Of The Table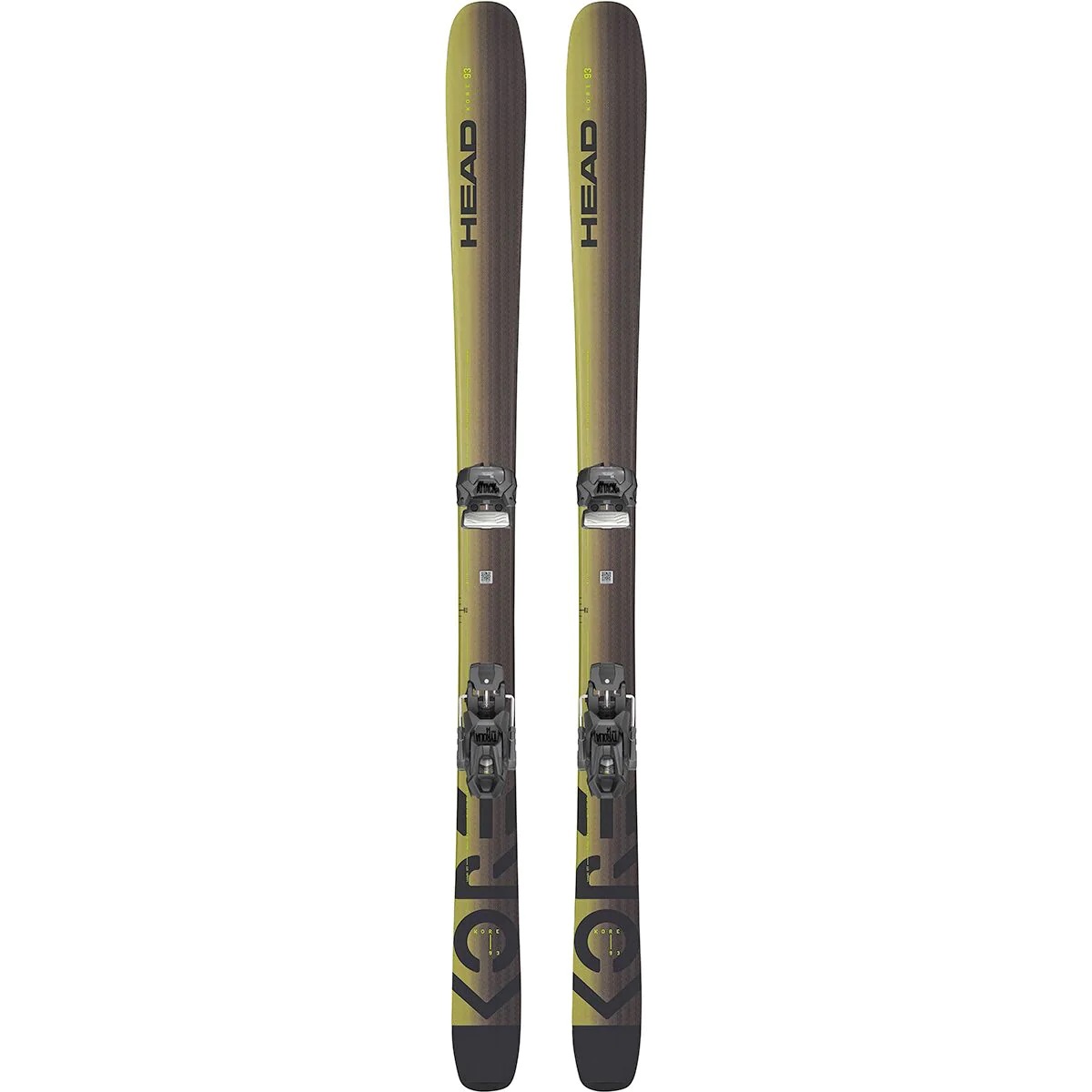 Head Kore 93
Size: 170 cm
Material: New topsheet
Storm Chaser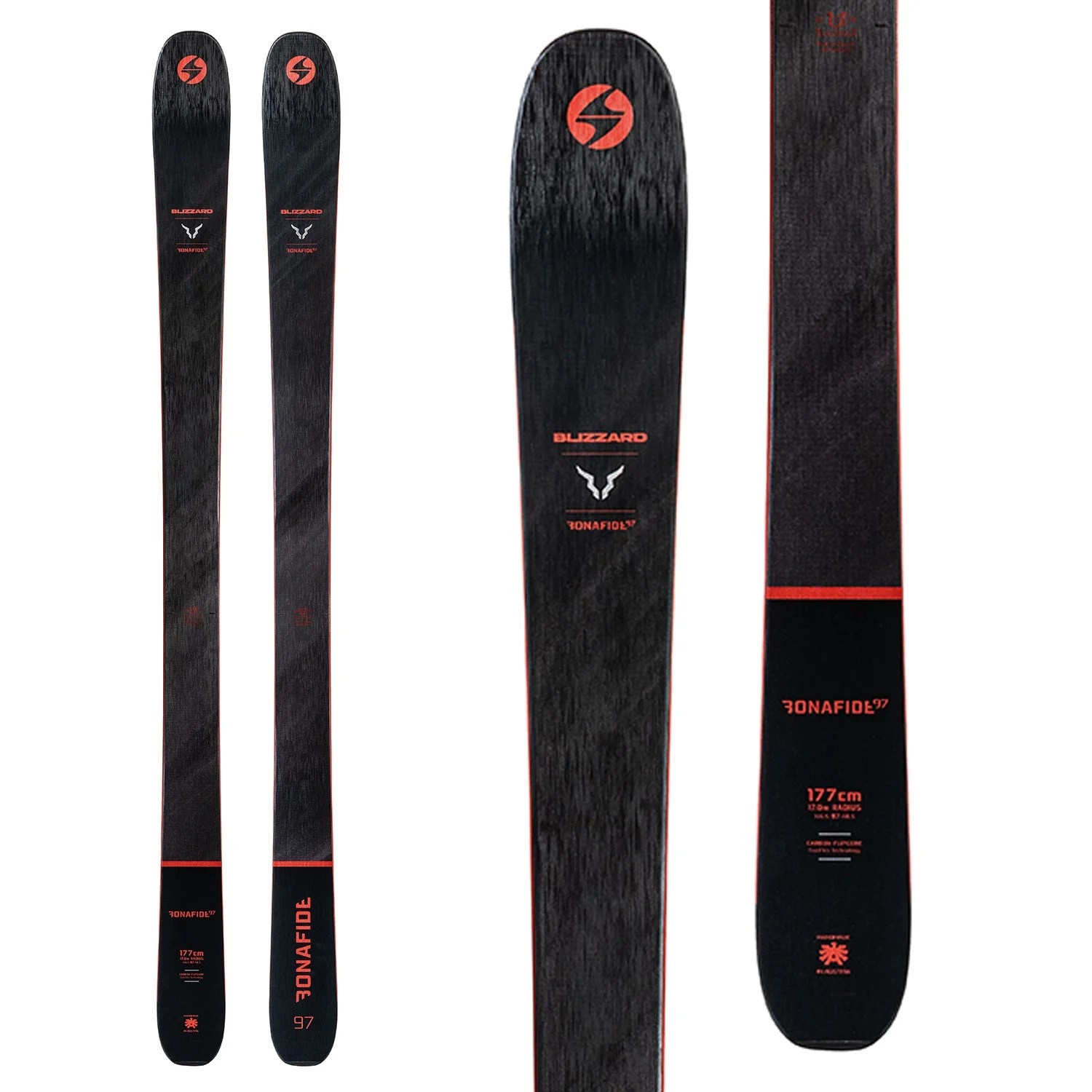 Blizzard Bonafide 97
Size: 189 CM
Material: titanal plates, a wood core and carbon fiber
Best All-mountain Skis of 2023 – Top 15 Picks
What divides the masses? Well, everything really. But what I mean is, what truly decides whether one pair of skis is better than another? The truth is that advanced skiers can get a great ride out of anything.
However, you've got to reach a high level in order to truly appreciate a great ski. That's when you'll know why a sintered base is a must. Especially in firm snow conditions. That's when you'll be able to truly enjoy metal edges, and the strong edge holds that they bring.
But don't worry, even if you are a beginner skier, there's something down there for you. Check out number two on the list. In fact, we've got the best all-mountain ski for skiers at every skill level.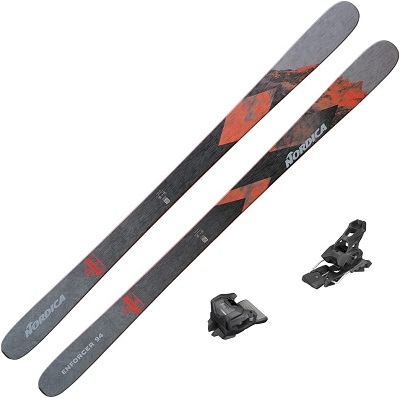 The king. The Nordica Enforcer 94 is the best of the best all-mountain skis. It's an all-mountain rocker. That's what gripped me. Enraptured me and had me knowing that it had to take the top spot. Head of the table.
Versatile rocker? Doesn't every all-mountain ski have such a feature? Incorrect but only partially. The Nordica Enforcer 94 has a modified rocker profile. Within a realm of its own.
The Enforcer's rocker was made for all-mountain consistency. It provides the same balance throughout the entire mountain. Uniform performance that's top-notch. A hard bar to beat.
Built for performance
Extraordinary camber layout aside, what else has the Enforcer got going for it? How's a sintered graphite base sound? One that feels incredibly satisfying. Letting you glide across layer after layer of variable snow. Flowing like water.
It's silky smooth. And the Enforcer's weight won't stop the fun. Incapable of slowing you down. Nordica took care of this potential pitfall by including a carbon chassis laminate. This kind of laminate weighs less and is more durable than glass laminates.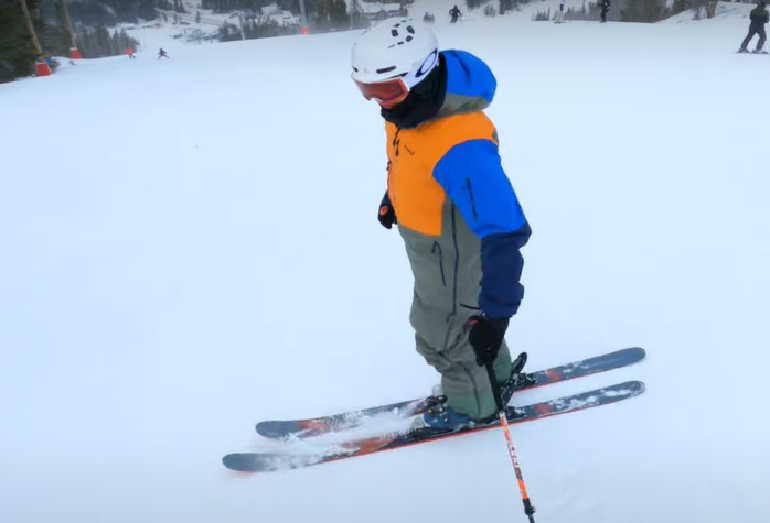 While following traditions is great, it's best to leave them aside when a new, better way of doing things has been found. At least, that's what the folks over at Nordica believe. And I'd say that they were right on this one.
Other innovations include the changes done to the tips of the skis. Excess plastic was trimmed. Replaced by an extended lightweight wood core. A core that's got a tapered shape to it for further weight efficiency.
What else can I say? These men's all-mountain skis are head of the table for a reason.
Features
Terrain: All-mountain
Ability Level: Advanced to expert
Rocker Type: Rocker/Camber/Rocker
Turn Radius: Medium
Warranty: One year
Pros
Has a sintered graphite base that elegantly glides off the top layer of snow.
The carbon chassis weighs less and is more durable than traditional glass laminates.
Metal sheets on edges for increased edge hold and performance.
Cons
Does not come with bindings like some other skis.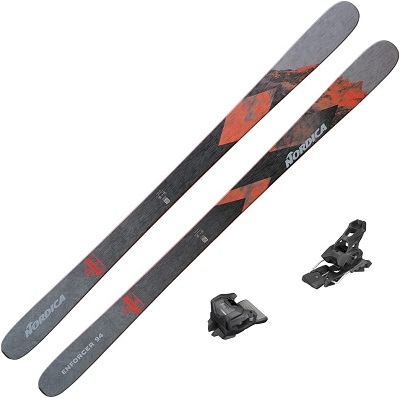 Nordica Enforcer 94
The price of "Nordica Enforcer 94" varies, so check the latest price at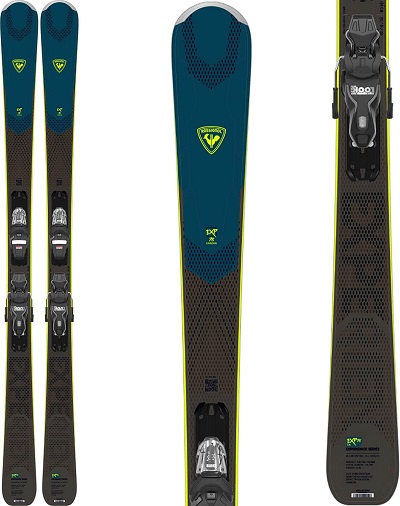 It's not often that a beginner's option ranks this high on a list. That's because ski manufacturers don't pack as much quality into them. They believe that beginner skier wouldn't know what a quality ski was if it hit them in the face.
But Rossignol is different, and their Experience 78 Carbons are even a cut above skis for advanced skiers.
The Full package
I'm a believer that beginner-friendliness begins with the price tag. While all-mountain skis that have a price north of $500 may not seem "beginner friendly", they are only priced this way because of two reasons.
Excellent quality and they come with their own pair of adjustable bindings. You won't have to worry about picking out bindings for your skill level. You also won't have to wonder if your bindings are even compatible with your skis.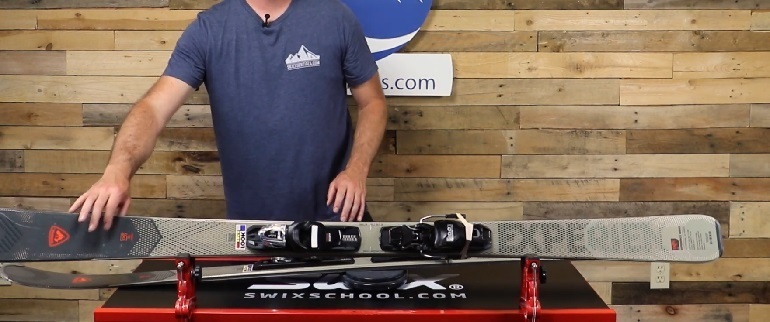 This is a great starter package.
As for the quality of the skis themselves, the tips are made from directional fibers and dampening material. Combining to create a chatter-free ride that novices can learn in. This Drive Tip design works in tandem with the side cuts.
The side cuts offer smooth turn initiation. Even as you are finishing up the turn, you'll have consistent control throughout. The Experience 78 Carbons may not have much in the way of looks, but their build is solid.
They perform best on groomers, but they are still all-mountain skis. Don't be afraid to ski into deeper snow. You'll still get a quality ride.
Features
Terrain: Groomed slopes
Ability Level: Beginner to intermediate skiers
Rocker Type: Rocker/Camber
Turn Radius: Short
Warranty: One year
Pros
A pair of Xpress bindings are included with the purchase.
Drive tip design boosts control and makes for smooth turn initiation.
Responsive feeling side cuts.
Cons
Limited amount of sizes to choose from.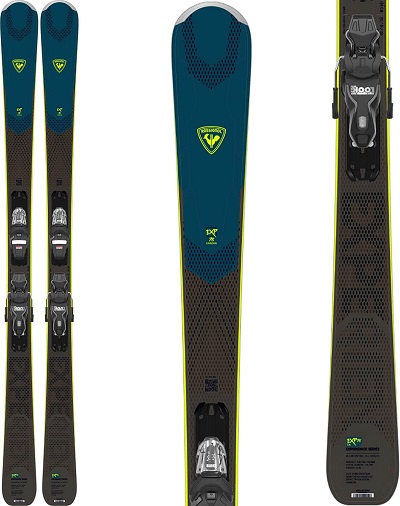 Rossignol Experience 78 Carbon
The price of "Rossignol Experience 78 Carbon" varies, so check the latest price at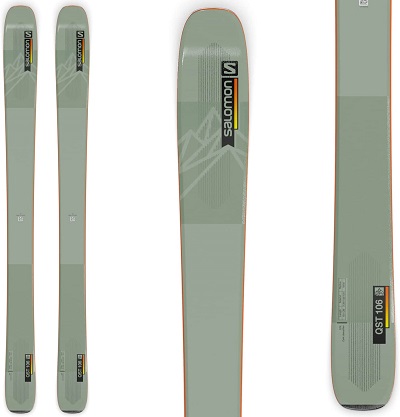 What do you get when you take a dull graphic design, and you cross it with a laundry list of specifications designed to create the most stable ride possible? One of the best all-mountain skis on the market.
No expense spared, no detail too small, everything about this best all-around ski was tailor-made for giving you a stable ride.
The Most Stable Ride
A cork damplifier. Do you know what that is? Neither did I, but I found out that it's a material that was included in the tips of the Salomon QST 106s.
This damplifier, weighs less than Koroyd, which is the other option for skis to have, and it increases vibration absorption. Beneath this is a titanal insert that extends throughout the all-mountain ski. This insert improves edge control even in packed and rough snow.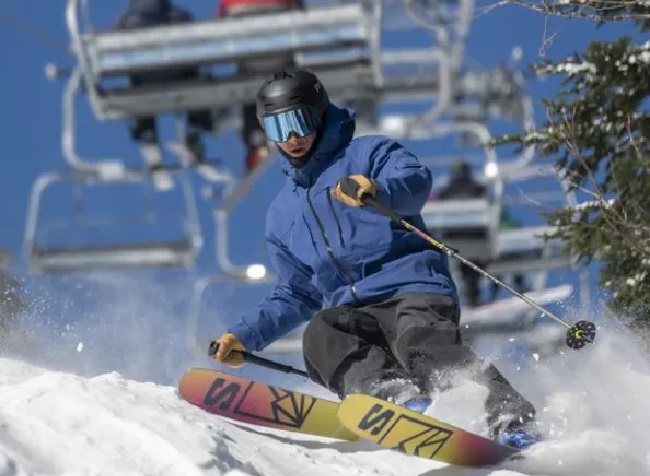 Ski aggressively, that's the message that Salomon was trying to deliver when designing these skis. The reason for terrain versatility can also be due to the ski's sidewall construction.
It's laminated and with the right amount of material layers for smooth ski-to-snow contact. Like most skis, the turn radius here is medium in length. But the 106's rocker tip and blunted tail make for a wonderful directional ride.
The last feather in the cap of the Salomon QST 106s would be its fiber layer of both carbon and flax. Married together for increased ski strength and stability. Without increasing the overall ski weight.
Features
Terrain: All-mountain
Ability Level: Intermediate to advanced
Rocker Type: Rocker/Camber/Rocker
Turn Radius: Medium
Warranty: Two years
Pros
It has a poplar wood core that filters out chatter and vibrations.
Cork amplifier reduces chatter even further.
Decreased ski weight thanks to the core design.
Cons
Not the best all-mountain skis for speed but definitely the best chatter-free ride on the list.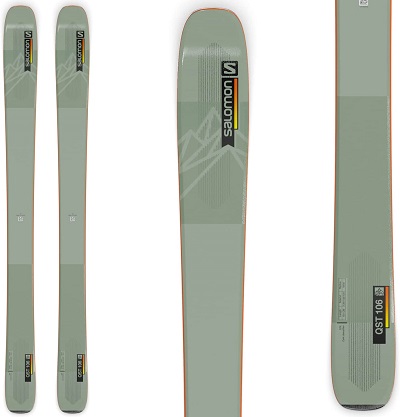 Salomon QST 106
The price of "Salomon QST 106" varies, so check the latest price at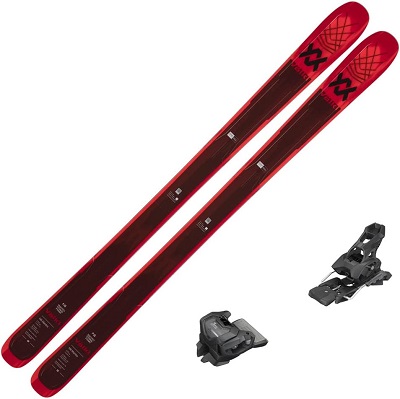 The Mantras can be spotted from a mile away, and if its graphics won't catch the onlooker's eyes, then the rider's skill level certainly will. This is because these are the best all-mountain skis for expert skiers. Perfect for the ones that have done it all.
For the elites
The Volkl M6 Mantra has side cuts that have been formed to increase the stability of the ski's tail and tip specifically. This is important because the front and back end of your skis act as your steering and rudder respectively.
You kind of want those two areas to be stable. This is why both ends curve upward, with a camber smack dab in the middle of each one. With increased steering control comes the ability to draw out short turns or supreme arcs.
Expert riders can do it all, and the Mantra were made to aid their abilities. The core is multi-layered. A dual play of beech and poplar woods makes for a wood core that's durable in the areas where it needs it most.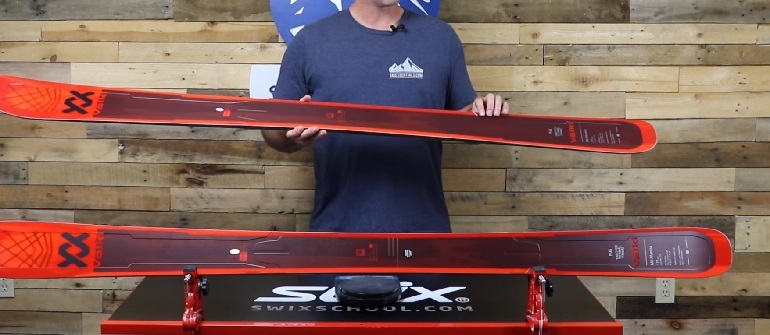 It feels especially lovely on softer snow, and this great feel extends when going off-piste. The M6 Mantra may be for experts, but it's a playful all-mountain ski. What about the power transmission? Can't be expert skis without great power transmission.
Well, with full-length sidewalls, I am happy to report that the power transmission is fantastic and up to standard. This is the one ski that experts need to fully realize the full potential of their skiing ability.
Features
Terrain: All-mountain
Ability Level: Advanced to expert
Rocker Type: Rocker/Camber/Rocker
Turn Radius: Medium
Warranty: One year
Pros
Eye-catching bright red graphics.
Side cuts are made for a versatile tip and tail stability.
Tailored frame to fit a skier's height.
Cons
Best used by expert skiers and no one else.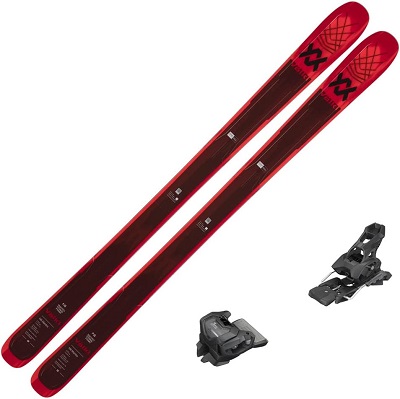 Volkl M6 Mantra
The price of "Volkl M6 Mantra" varies, so check the latest price at

Break the walls down with the Camox Birdie. The best all-mountain skis for women that we've encountered this year. Primarily suited for groomers or powder, the stable yet forgiving ride of this best powder ski is something to desire. And envy…
The LADIES Choice
The Camox Birdie has a double rocker. This kind of rocker type increases control and pivot. Pivoting is especially useful when riding on powder and with a rocker at each end, you know this was made for pow plowing.
In the middle lies a camber underfoot. Nothing new about this camber placement, it's been tried and tested. But this design is the optimal one. More so, when you realize that the side cuts here are mostly straight.
The Black Crows wanted to take everything that worked before and combine it all into the best all-mountain skis for women that they could make. Unfortunately, these skis don't come with bindings included but there is a two-year warranty.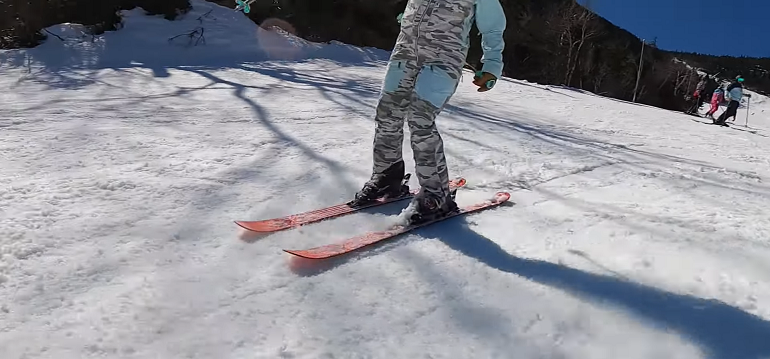 That's one year more than most others on this list. With a medium-sized turn radius, you're getting the same arc that the men's skis are offering. But what is different is the progressive flex that runs through these skis.
It's my favorite feature. This is what makes the ride so comfortable and forgiving. A forgiving ride lets you improve without causing harm to yourself. It should be a design staple of all skis.
Features
Terrain: Groomers and powder
Ability Level: Intermediate to advanced
Rocker Type: Tip and Tail Rocker
Turn Radius: Medium
Warranty: Two years
Pros
Get more stability and balance at higher speeds, thanks to side cuts.
Very forgiving ride thanks to its progressive flex.
Double rocker improves maneuverability.
Cons
The mounting points have been set back by six centimeters.

Black Crows Camox Birdie
The price of "Black Crows Camox Birdie" varies, so check the latest price at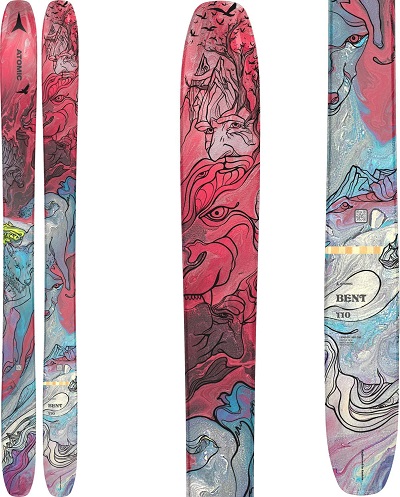 With killer graphics and a wider tip and tail, the Atomic Bent comes skating on our list. The Bent isn't the only Atomic offering on this list, but it is the best of the two that mark an appearance here.
The reason why it placed higher than its brand compatriot is due to it being a true one-ski quiver. When the terrain you ski on and your skiing styles are diverse, these are the skis to get.
The One To Rule them all
Perfect for rough and domineering mountains but just as capable for alpine skiing or touring. The one ski to outlast them all is here. Part of Atomic Bent's charm is its lightweight construction.
Lightweight skis are capable of giving their rider the ability to try it all. This is because the skier is no longer encumbered by heavy weighing gear. Making use of this lightweight design is the camber underfoot that is sandwiched between a tip and tail rocker.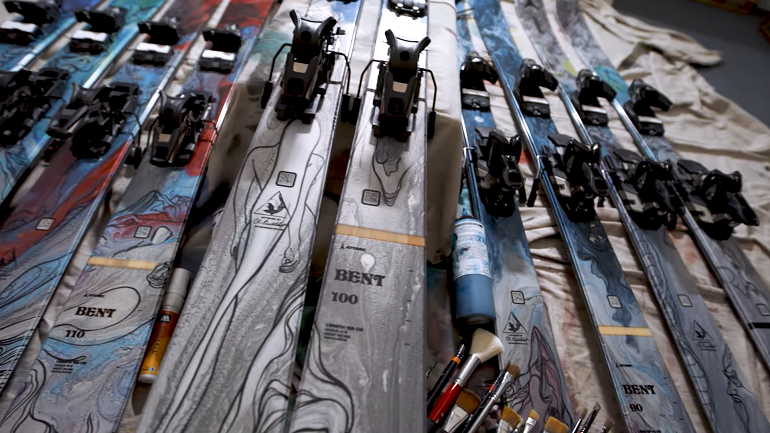 With this, you get an insane float and tip deflection. Combine that with the Dura Cap sidewall for boosted power transmission and durability. Its design excellence is built for big moments in even bigger arenas.
One thing to note is that this brilliant pair of skis is best used by experienced skiers. This is a shame but completely understandable, especially when you consider the kinds of skiing that these are built for.
The cherry on top is a two-year warranty policy for the entire ski pair.
Features
Terrain: Big mountain and alpine, touring
Ability Level: Advanced to expert
Rocker Type: Powder Rocker
Turn Radius: Medium
Warranty: Two years
Pros
The one ski quiver that you've been looking for.
Camber underfoot for both tip and tail rocker.
Lighter weight than many skis.
Cons
Directional shape may not be favored by speed demons.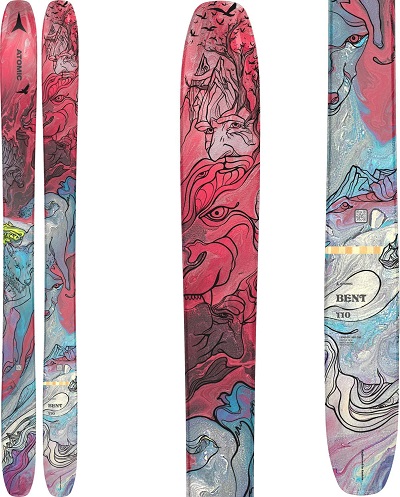 Atomic Bent 110
The price of "Atomic Bent 110 " varies, so check the latest price at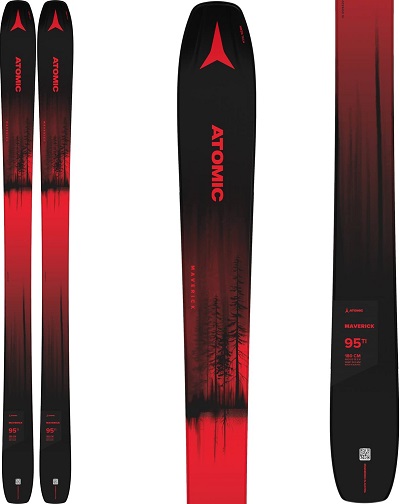 Being the best of the skis that didn't make it on the list isn't as demeaning as it sounds. Think about all of the quality skis that exist, and the fact that the Maverick 95s were able to supplant them is a big deal.
It speaks volumes of the quality on offer here, from its all-mountain-rocker to the flow profile. You are getting an elite offering with the Maverick.
Best of the rest
Starting at the head of the skis and working our way downward, the Mavericks have expanded tips for better traction and control. Anyone that's ever engaged in winter sports knows that the snow is rarely ever a perfectly flat canvas.
This is why ski tips that cover more surface area are so important. Spread throughout the entire ski, are fiberglass laminates that further improve the dampness of every ride. As mentioned before the flow profile of these skis is a stand-out feature.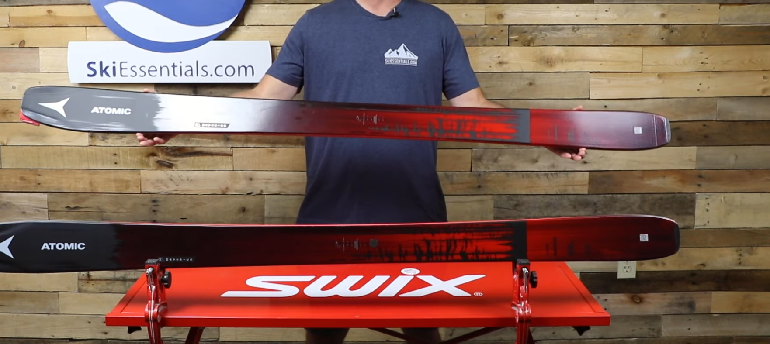 This flow profile has been optimized to increase the edge hold of each ski. Making carving and tight turns that much more satisfying and stable. The Mavericks have everything needed to become the perfect everyday ski for you.
There is a lot more that can be said about its overall build. Including the world cup base finish or the excellent balance between stiffness and flexibility. It's a great ride, and if you weren't convinced by the other top skis, then this is definitely the pick for you.
Features
Terrain: All-mountain
Ability Level: Intermediate to advanced
Rocker Type: All-mountain rocker
Turn Radius: Medium
Warranty: Two years
Pros
The flow profile has been optimized for increased edge hold.
Tech tips make for greater surface area ski tips.
Fiberglass inserts within the laminate.
Cons
May be too stiff for some skiing styles.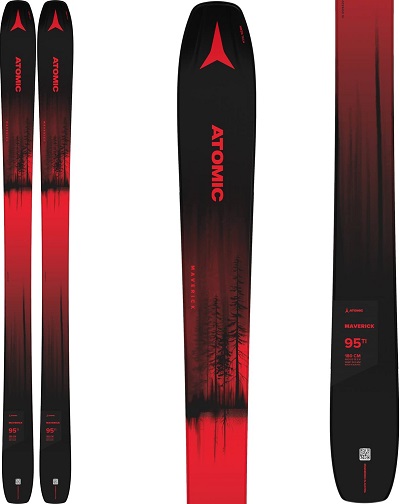 Atomic Maverick 95 TI
The price of "Atomic Maverick 95 TI " varies, so check the latest price at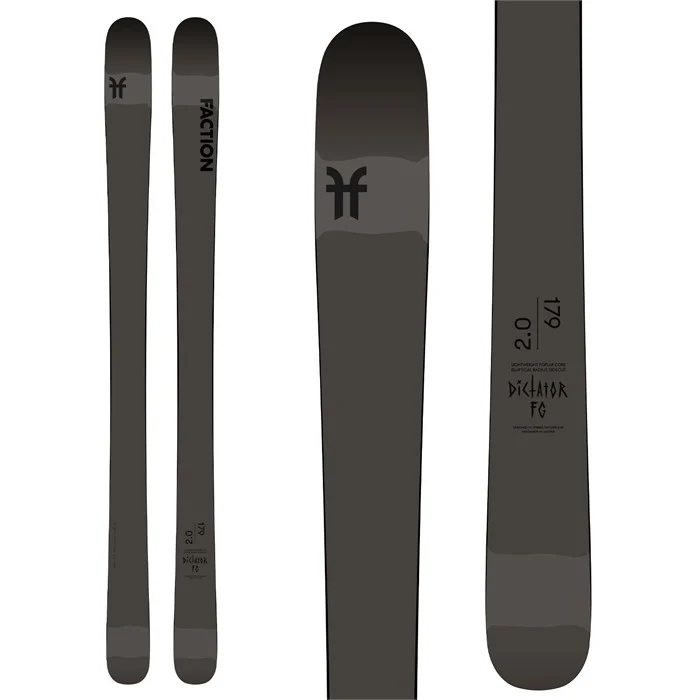 Cracking through the crust. Now that there is a workman's job. Toss out the power drills. Leave the excavator at home. What you need is a heavy hand with bite. The Faction Dictator 2.0 are that very heavy hand. Although, they are not my kind of skis.
I prefer playful vibes and fresh pow. Despite this, I can appreciate their build. Sidewalls constructed so well, densely packed, that the underfoot won't crack. That there is a guarantee. Even with repeated slams and crash landings. They aren't going to splinter.
This lack of fractures feeds into your confidence. Why hold back? Why hold back when you know that your skis won't buckle? Though, it's not all rough and tumble. You heard of surf zones?
Me neither. Fortunately, it's not a difficult concept to understand. Once I point it out, you won't be able to miss them. Take a look at the tips of the Faction Dictator 2.0. Flying high. That's by design. The Dictator's tip and tail are tapered. Their tapers merge into one another. A pullback is created. This pullback results in a very lifted ski.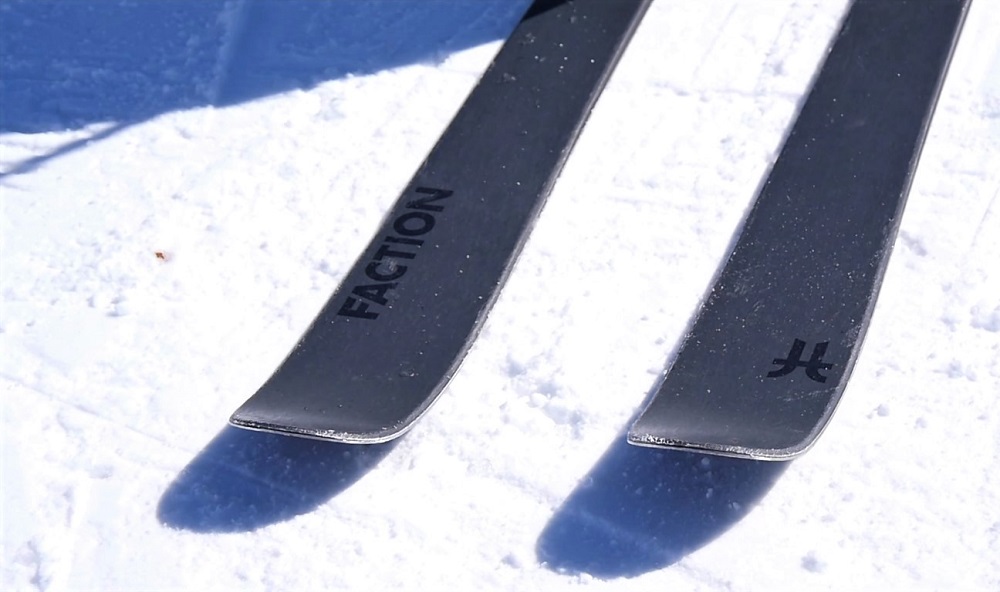 In turn, a surfy ride is created. Hence the name, "surf zones". And what of the Dictator's core? Not cold and black. Rather, constructed from softwood. Lightweight and with a low flex throughout. Forgiving at its very center. Now that is ironic for something named the Dictator 2.0.
Features
Terrain: Big Mountain
Ability Level: Intermediate to advanced skiers
Rocker Type: Flat-tail rocker
Turn Radius: Medium
Warranty: Two years
Pros:
Durable softwood makes up the core. Lightweight and with a relaxed flex.
Enjoy the surf zones! Both the rocker and tip taper are united. Making for a floaty ride.
Crazy durable. The sidewall underfoot won't chip or crack with the tough times.
Cons
Bland aesthetic design. Not a disaster but still rather unappealing to look at.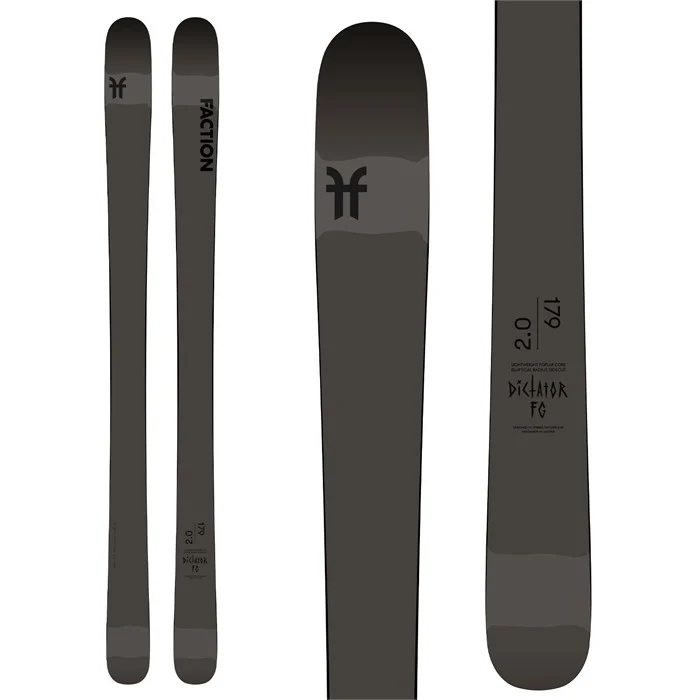 Faction Dictator 2.0
The price of "Faction Dictator 2.0" varies, so check the latest price at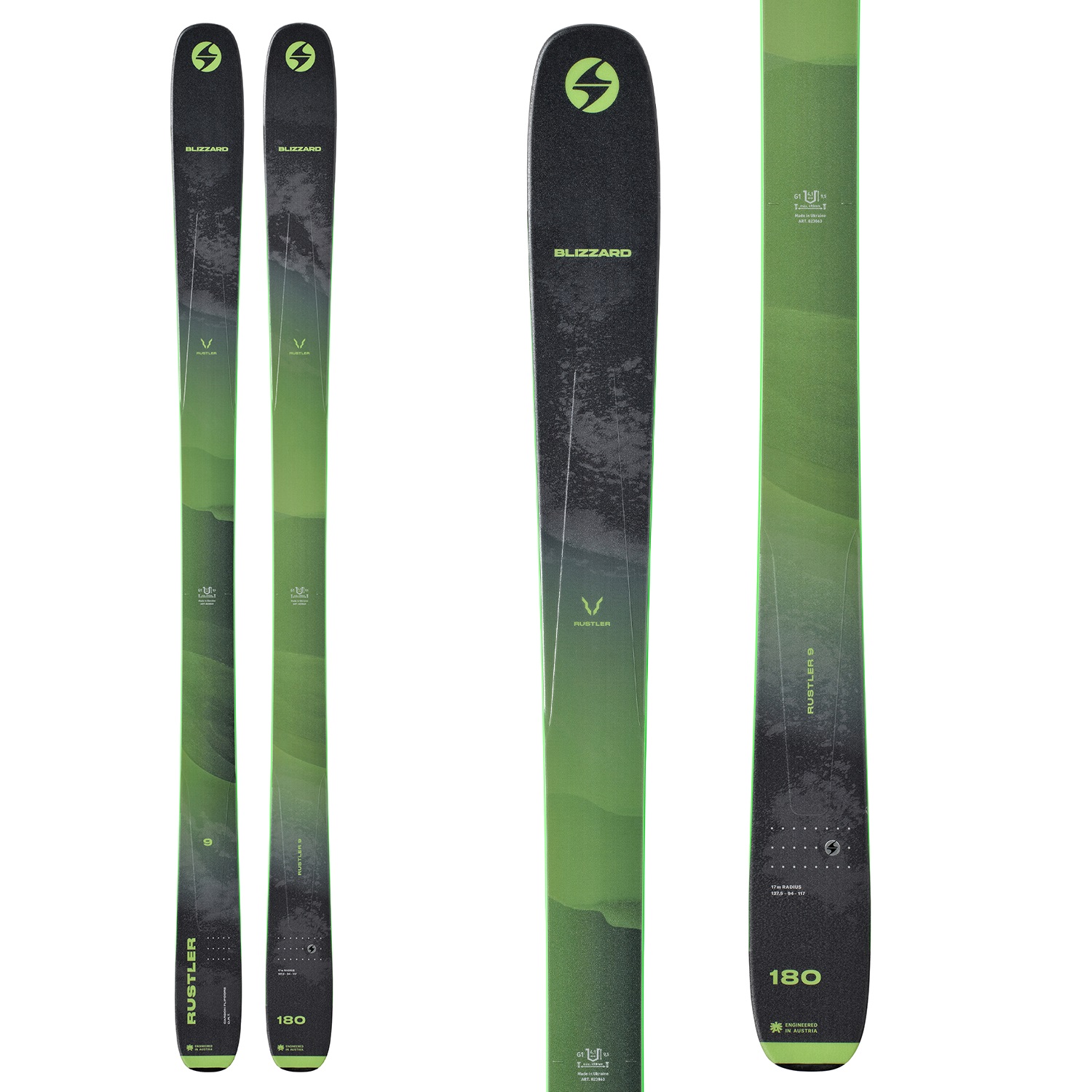 The Blizzard rustler 9. A sintered graphite ski that stands alone. The black sheep of the Blizzard rustler family. It's a ruse! Cast away the thought that all Rustlers are the same. The Blizzard rustler family is very diverse. The 9 especially. With its fast turns and hard stops.
The Blizzard Rustler 9 is an all-mountain vengeance. Take it up to Jackson Hole in Wyoming. I'm that confident in its aggression. As I stated before, its got a short turn radius. A rarity. More so in the world of all-mountain.
A short turn radius lets you complete turns much faster. Turn initiation is also boosted. So is the possibility of a wipeout. Concussions are no laughing matter. I'd advise caution for anyone engaging with the Blizzard rustler 9. Extend that wariness to any short-turn radius ski.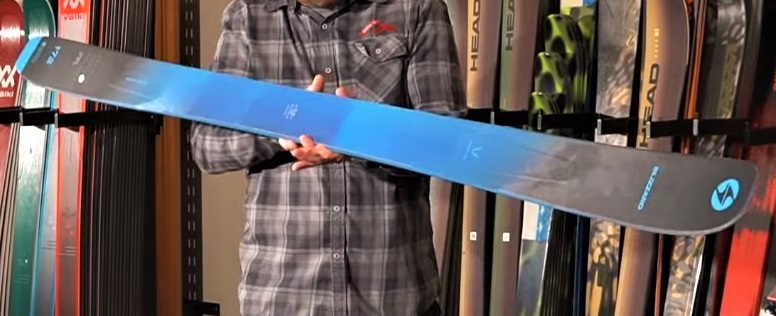 My cheek has met the cold hand of winter. The impact was not a light one. Wicked turns are only further fueled by the 9's sidewall construction. Sandwich built. Layers on top of layers of metal and wood. Boosting your power even further. Performance limits broken.
Despite all of this, the 9's got quite a progressive body. It's wide. Perfect for stability. More so at high speeds. The Blizzard Rustler 9 is mean but if you can rein it in… you'll prosper. At the very least, you'll get one hell of a thrill.
Features
Terrain: All mountain ski
Ability Level: Intermediate to advanced
Rocker Type: Rocker camber rocker profile
Turn Radius: Short
Warranty: One year
Pros:
Aggressive board with a vicious radius. Despite this, the Blizzard rustler employs a progressive wide body style.
It's core? TrueBlend Free core that melds together beech, poplar, and paulownia woods.
Sandwich sidewall offers great edge hold and off-piste performance.
Cons
Beware! The short turn radius makes for some crazy whips.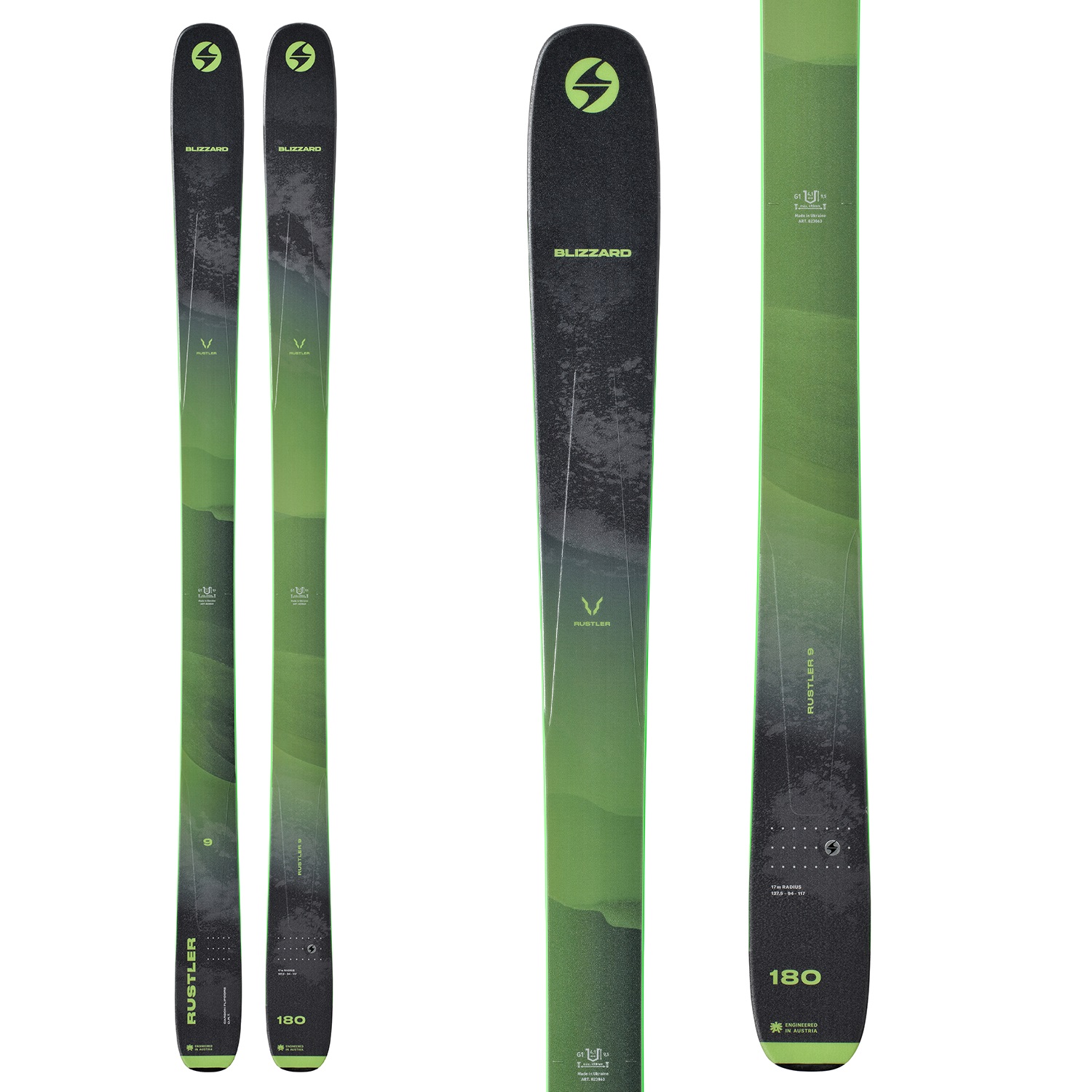 Blizzard Rustler 9
The price of "Blizzard Rustler 9 " varies, so check the latest price at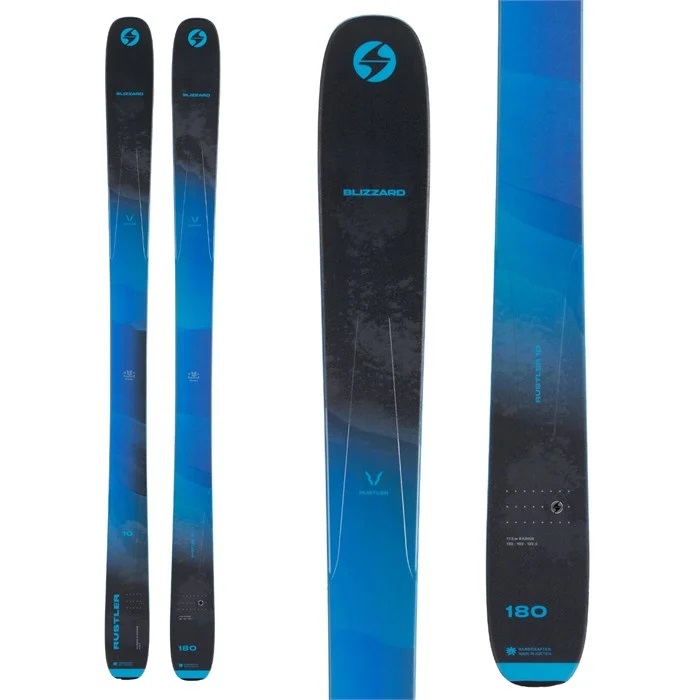 Plunder the chunder! If need be that is. Otherwise, just float over it. Sprightly in form and style. The Blizzard Rustler 10 is not an evolution over the 9. Rather, a complete deviation.
Let go of the ruthless aggression. It's not good for your soul. Instead, why not pal around with the Blizzard rustler 10 and its narrow waist?
Its waist width is important. The more narrow it is, the faster you'll go. Aye, speed isn't the issue here. With this one, only mounds of pow can stop you. I'm talking termite hills worth of the stuff. Does the Blizzard rustler 10 float? Better than anyone else. Thanks to its generous tip and tail rocker.
However, this tip-tail dynamic is also its greatest flaw. As the pow begins to stack up, catching an edge becomes all but assured. Can a setback stance save you? Yes, but there is a better question that should be asked. Can you maintain the lean the whole way through?
Even if the answer were yes, why would you want to? Performance concerns aside. It's just not comfortable. Worst yet, it's not enjoyable. And the Blizzard rustler 10 is very enjoyable. Which is why I couldn't understand why anyone would want it to surf the aforementioned conditions.

What else has the Blizzard rustler 10 got going for it? Well, besides being the best floater? I'd say its edge hold. I wasn't worried. When sailing through groomers. Occasionally a mound would sprout up. It wasn't an issue. And if I ever needed to cut through it, I could depend on the 10's edge.
Features
Terrain: All-mountain
Ability Level: Intermediate to advanced skiers
Rocker Type: Rocker camber rocker tip
Turn Radius: Medium
Warranty: One year
Pros:
Ideal flotation? You got it! The Blizzard Rustler 10 has got the right amount of tip and tail rocker. A king of the all-mountain category.
Surprisingly good off-piste performance. All thanks to its edge build.
Progressive body shape that relies on its narrow waist to float you over danger.
Cons
Softer snow? Not the best ride for fresh pow slaying.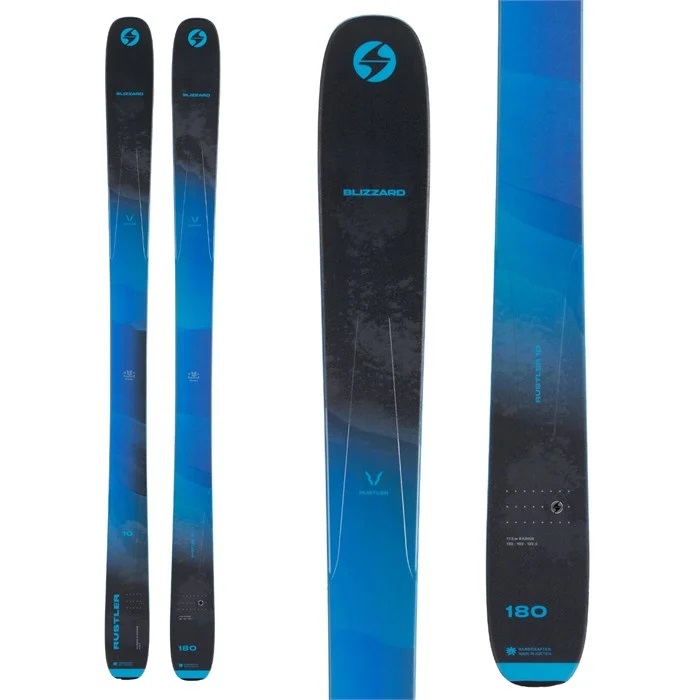 Blizzard Rustler 10
The price of "Blizzard Rustler 10 " varies, so check the latest price at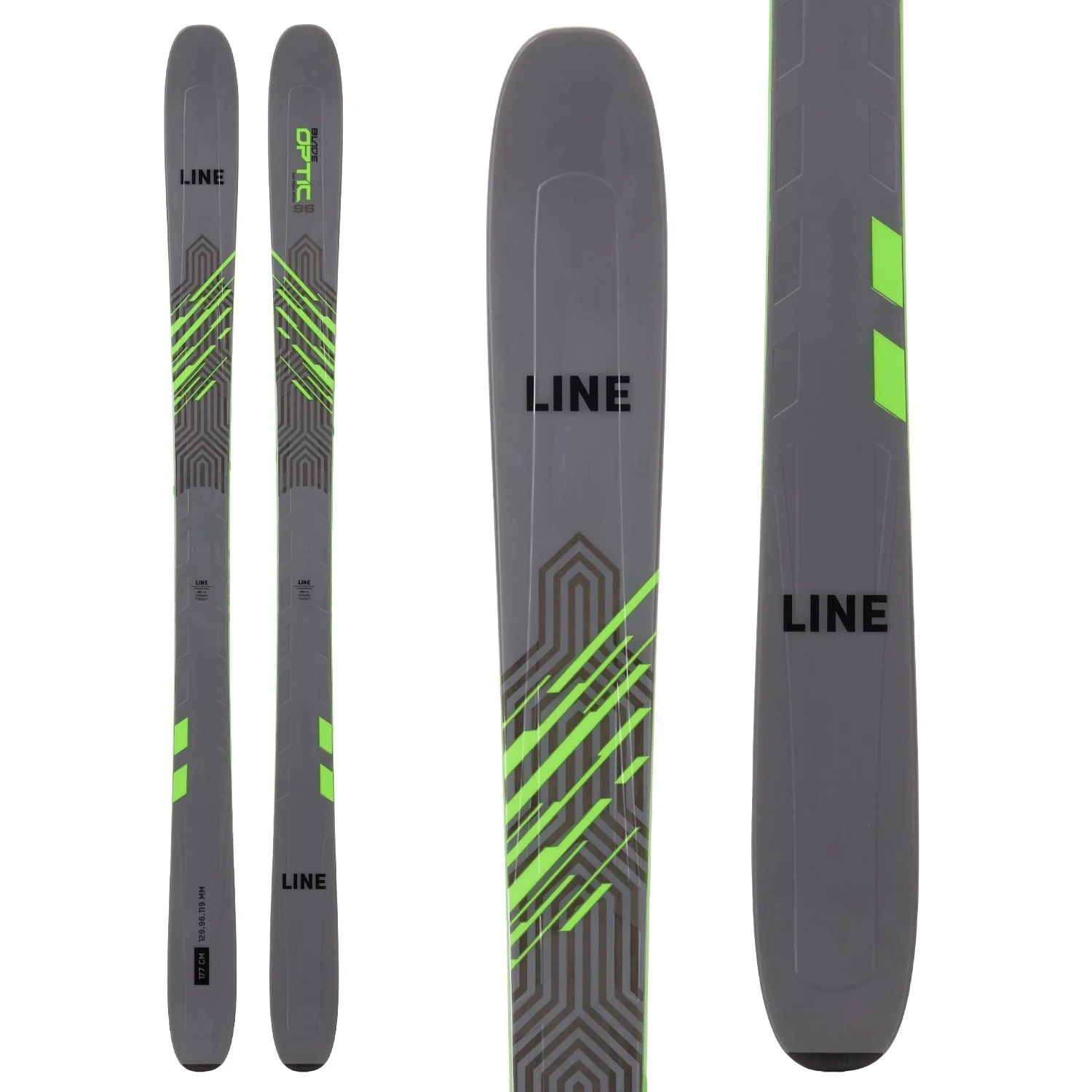 Attention to detail. Those little design specifications. The Line Blade Optic 96 is all about the specifics. Let's look past the uninspired graphics and the dull colors that paint them to see what I mean.
The rear of the Line Blade Optic 96 is a stiff place. Stiffer than the Black crows justis, the Atomic maverick 95, and the K2 mindbender. What for? Control and lift. And what about its tip? Soft as can be. A soft tip won't do much for grip but it floats incredibly well. More so in softer conditions.
It's called directional flex. And it pays dividends within the Line Blade Optic 96 skis. Wait for it. The design of the Optics gets even more concentrated. A ski's sidecuts. Often a clean cut that either curves or doesn't. Not much more to it than that.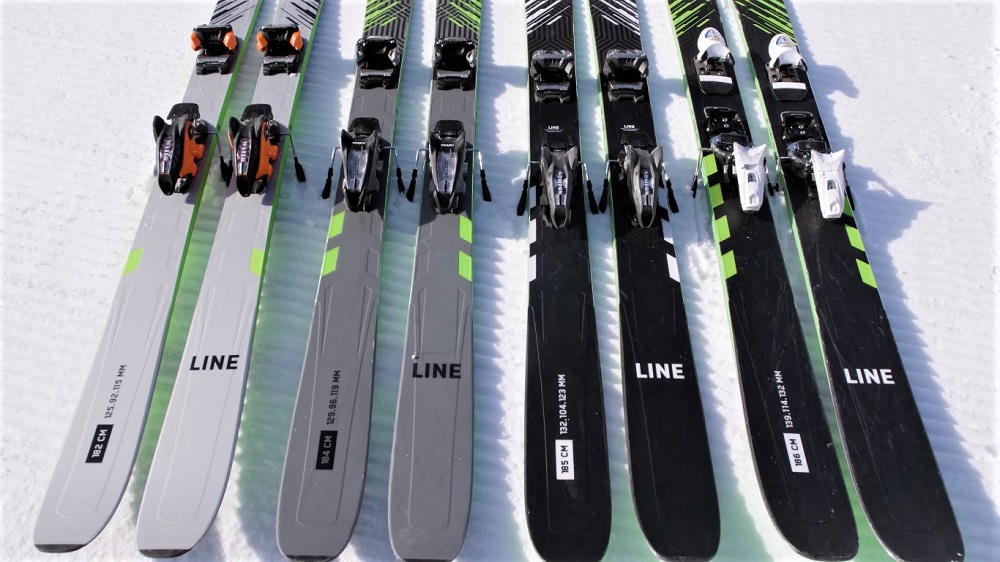 Except the Line Blade Optic 96s decided to take it five steps further. These skis have what are called 5-cut geometry sidecuts. Five different radiuses have been ground into the sides of these skis. That's why turning with the Optic 96s feels so unique.
Five rings together? The Olympics committee may have something to say about that.
Leading the charge is a design choice that is become increasingly more common. Early rising tips. Except the Optic 96s took it to the extreme. Half the time, I felt as if only the very center of the board was touching snow. Fun times were had with these skis.
Features
Terrain: All mountain ski
Ability Level: Advanced to expert
Rocker Type: Rocker tip
Turn Radius: Medium
Warranty: Two years
Pros:
An early riser. The Line Blade Optic 96 has a tip and tail that lift far more than any other skis.
Best deep powder performance I've ever encountered. It feels as if only the center of the skis is making contact with the snow.
Intricate sidecut design. One that incorporates five different radiuses.
Cons
Only a true expert can maximize the build of these skis.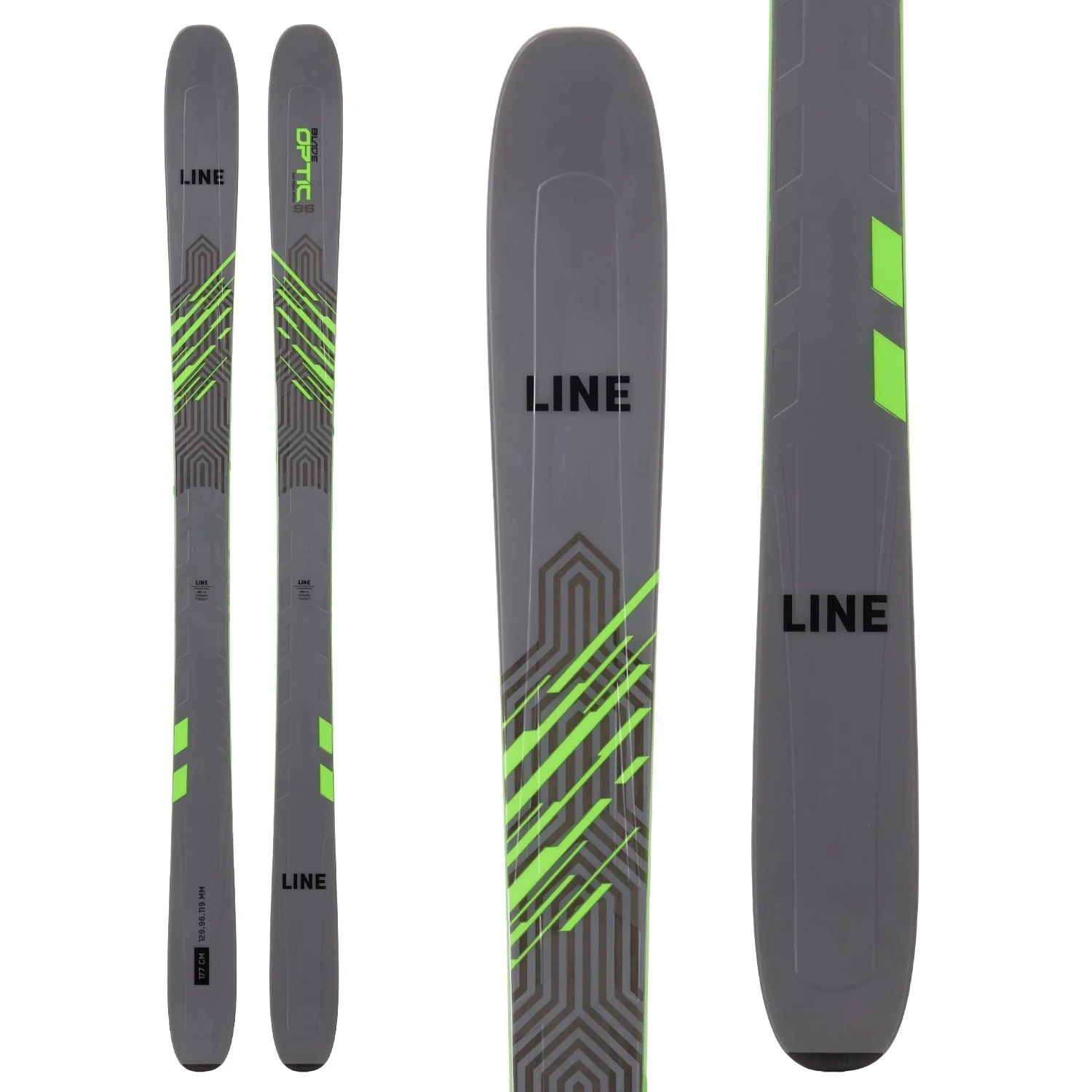 Line Blade Optic 96
The price of "Line Blade Optic 96" varies, so check the latest price at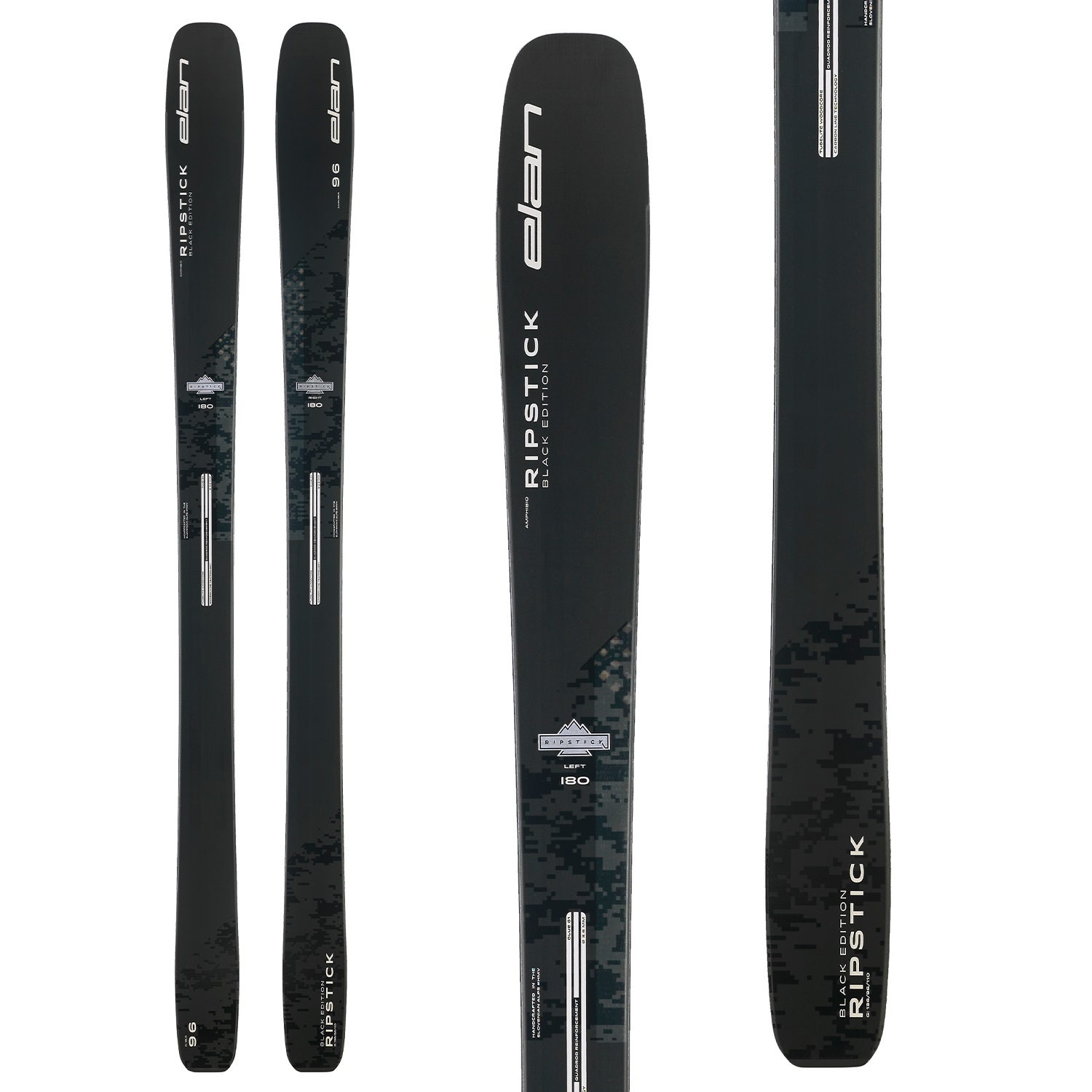 Want great power rebound? How's four carbon tubes sound? Four carbon tubes have been baked into the core of the Elan Ripstick 96. Sounds like a "six million-dollar man" situation. That reference is so old not even I understand it.
The Ripstick 96 is what you get when a pair of skis never turns down a shock absorption feature. Riding with them on felt unnatural. I'm so used to feeling every bump. Every landing. Many skis now know the importance of a damp ride. However, what gets lost in the fray is just as important.
Shock absorption. Skiing is just about as much about your air time as it is about the snow itself. We don't have wings. Eventually, we have to land. That is why shock absorption is so important.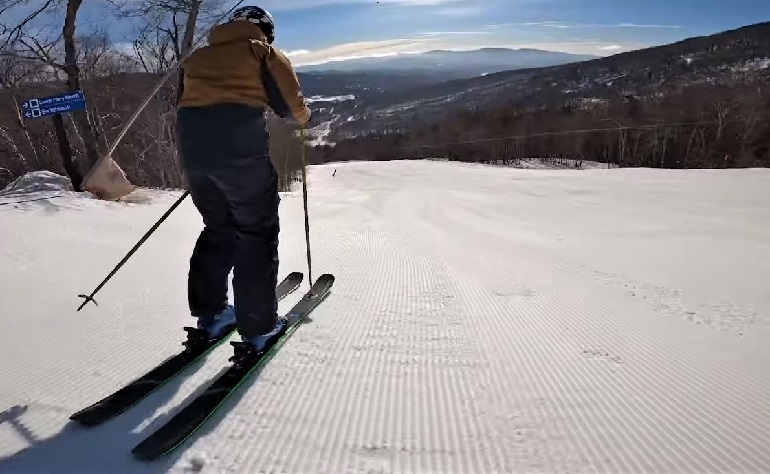 Fear not! The Ripstick 96 does have a chatter-silencing feature. Vapor tip inserts. These inserts worked their way into the tip and rear of the Ripstick, their goal? To reduce the ski's overall weight and therefore impact.
The less contact with the chunder, the better. Well then, damp rides and safe landings. Anything else? Yes, the Ripstick 96's sidewalls are also something to be marveled at. Thanks to their SST sidewall construction, power transfer has never been as effective.
Quickly transition from a hard landing into a burst of speed without any trouble.
Features
Terrain: Big mountain and all-mountain
Ability Level: Advanced skiers
Rocker Type: Amphibio profile
Turn Radius: Medium
Warranty: Two years
Pros:
Fantastic shock absorption and transfer. All thanks to the four carbon tubes in the ski's core.
Recycled vapor tip inserts have also been included in the build. They reduce weight and chatter.
The SST sidewall construction makes for speedy power transfer.
Cons
Flat tail type. Not a deal breaker but I prefer floaty rides.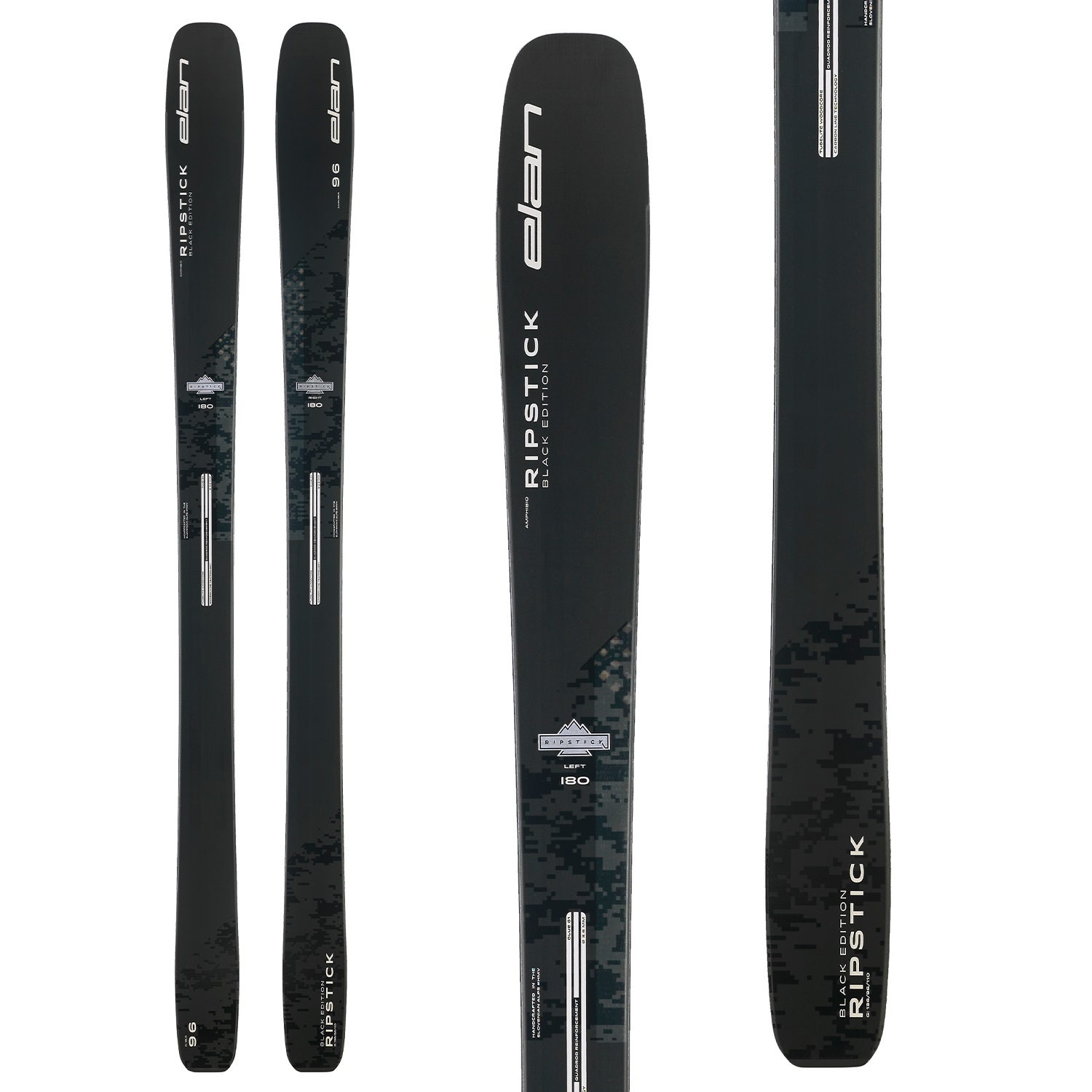 Elan Ripstick 96
The price of "Elan Ripstick 96 " varies, so check the latest price at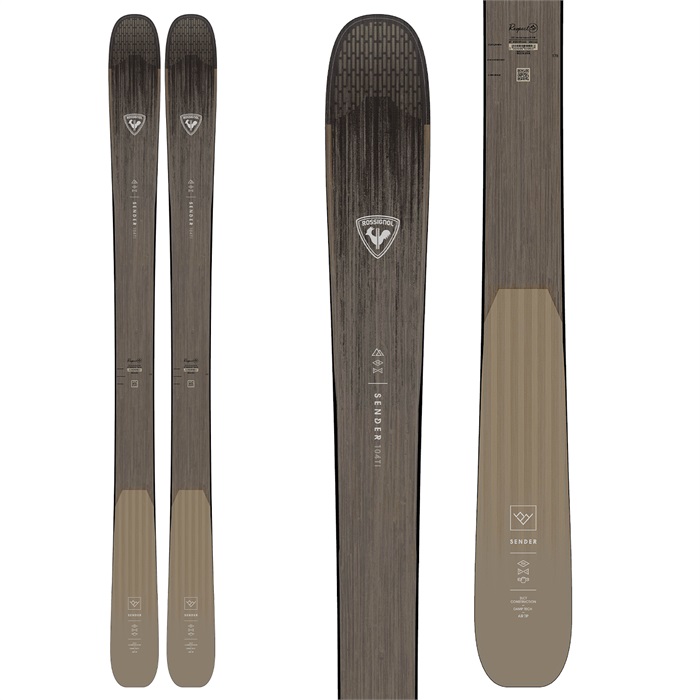 Crud mounds and hard crust? Send them packing with the Rossignol sender. At the crossroads of speed and strength stood the Rossignol Sender 104. It's got big mountain etched all over it. The main deviation between it and other all-mountain offerings is its core.
Metal and wood simultaneous fused together to create an astoundingly stable center. Searching for torsional stability? Don't go anywhere else because Sender is your man. The aforementioned core does well to center the entire ski.
As I skied with them, it always felt as if I was grounded. This is not a complaint. Surfy skis and boards are great. The downside is that sometimes they can get too lost in the float. Resulting in a ride that never felt stable at speed. The issue only getting more egregious with each bump.
The stability felt here can't be fully chocked up to the Rossignol Sender's core. Underneath your feet, lie expanses of camber. With enough camber underfoot for four skis, the Sender 104's provide you with a great landing pad to stabilize yourself on.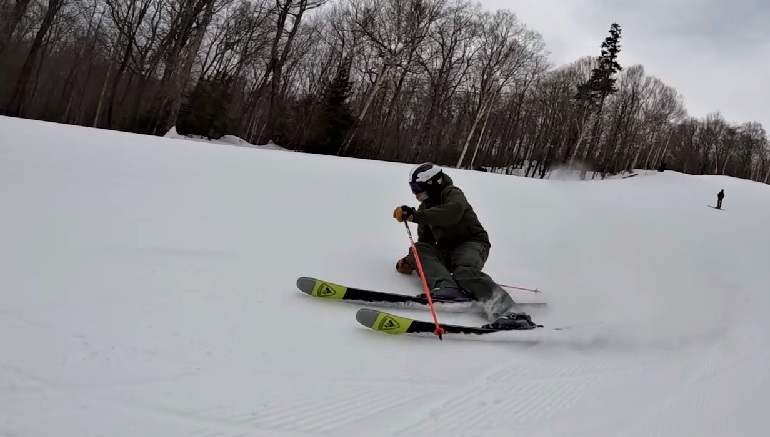 Alright, we get it. It's stable. Anything else? Plenty, the Rossignol Sender 104 has lightweight air tips. These air tips take the place of the usual full-bodied tips present in most skis. What's the difference? Due to their build, air tips are incredibly lightweight. Hence the name.
This weight reduction in such a pivotal location creates easy skis to maneuver. Leading and changing direction become even easier maneuvers. As does initiating a turn.
Features
Terrain: Big mountain and all-mountain
Ability Level: Advanced to expert
Rocker Type: Free rocker camber
Turn Radius: Medium
Warranty: One year
Pros:
Metal and wood core hybrid that gives the sender fantastic torsional stability.
Free rocker with plenty of camber underfoot for a steady ride.
Enhanced maneuverability from the lightweight air tips.
Cons
Rectangular sidewalls are great for smashing through resistance. But they will impact your skiing style.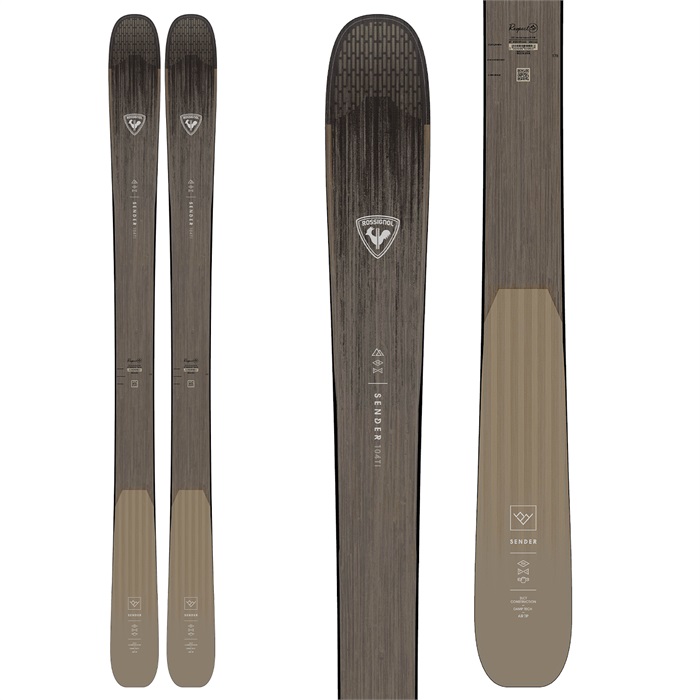 Rossignol Sender 104 Ti
The price of "Rossignol Sender 104 Ti " varies, so check the latest price at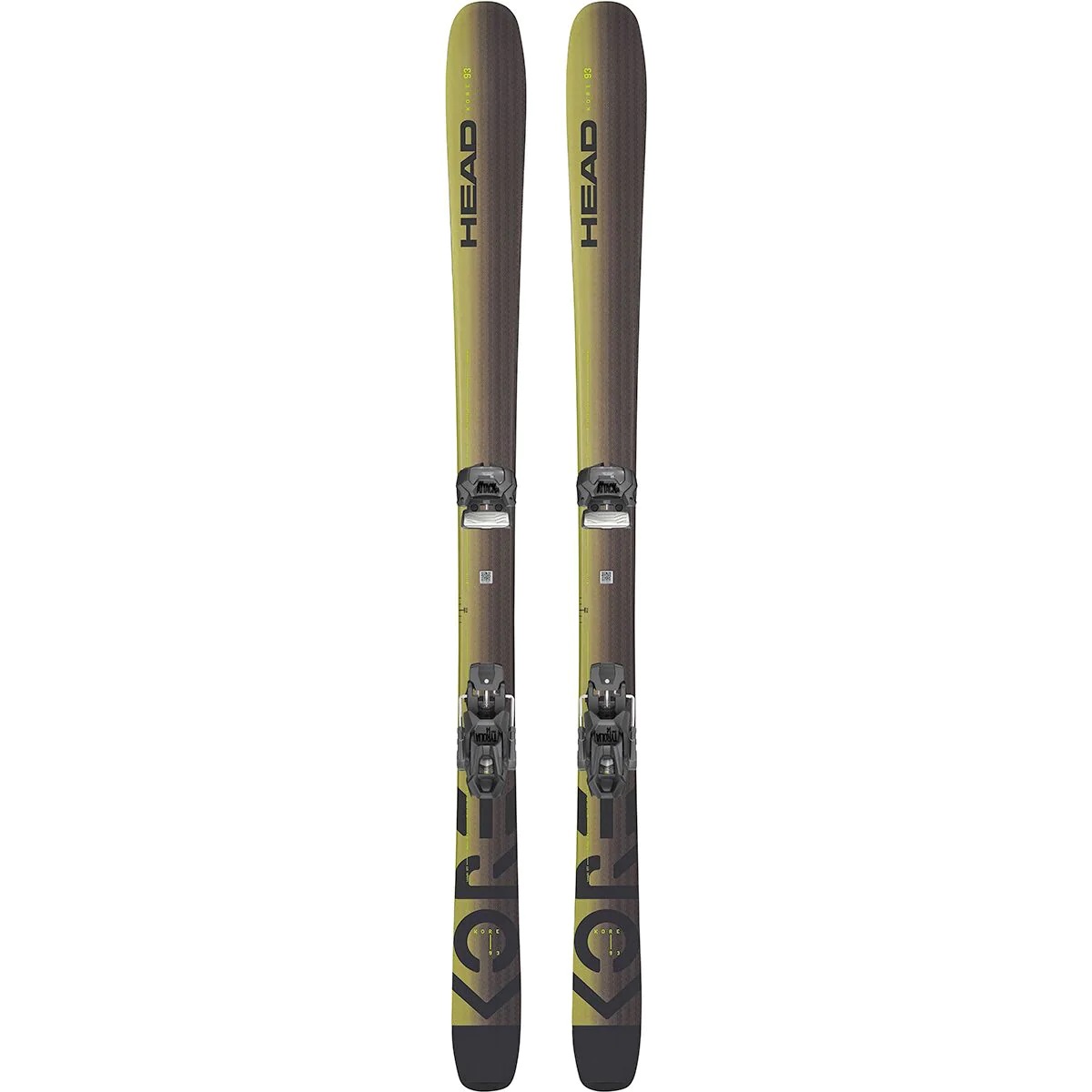 Karuba wood anyone? Frankly, I can't tell you the difference between Karuba and poplar wood. But I sure can feel it. The Head Kore 93 resonates with you. As you ride, everything becomes a blur. In record time as well. That's the beauty of having the best acceleration around.
The Head Kore 93. The marketing department should have done this one better. Agile in design and nature. These skis are fast. Have I reached higher marks with competing skis? Yes. However, the Kore 93s felt faster. Rather than becoming fixated on top speed, more attention was placed on speed overall.
That is: turn initiation speed, acceleration, nimbleness, and deft. Which is strange when you consider the Kore 93's turn radius. Medium. Again, it didn't feel that way to me. Yes the arch was wider. However, the speed at which that arch came about? Lightning!
Remember the Blizzard rustler 9? Aggressively fast. It felt dangerous. The Kore 93 is one side of a similar coin. Lightning fast but controllable. That there is the key difference. I felt in control here. When your body telegraphs movements and your skis respond in turn… that's magic.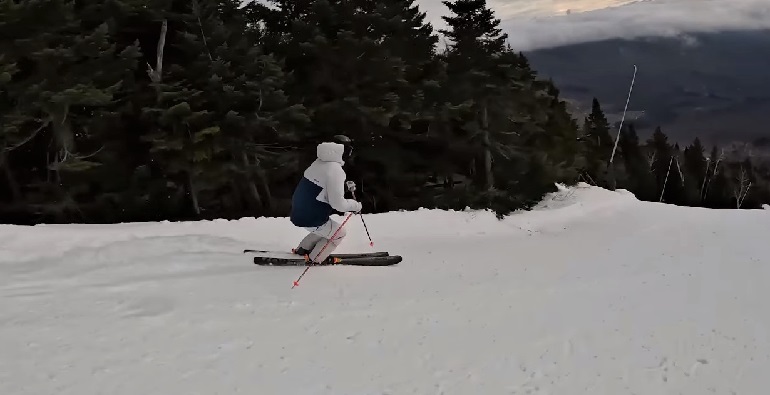 Magic is what the Head Kore 93 felt like at its best. Too bad its graphics nearly put me to sleep. I know appearances aren't everything. More so in the skiing world. But come on! Is that the best they could come up with? Murky green?
Look, dull colors aside, it feels like a dream and is easy to dominate.
Features
Terrain: All-mountain
Ability Level: Intermediate
Rocker Type: Rocker camber rocker
Turn Radius: Medium
Warranty: Two years
Pros:
Durability to the max. Has a dual karuba and poplar wood core construction.
Freeriding shape for speedy turn initiation and killer acceleration.
As agile as a hummingbird. Few skis can match its edge performance.
Cons
Performance and edge build aside. It's got a rather bland look to it.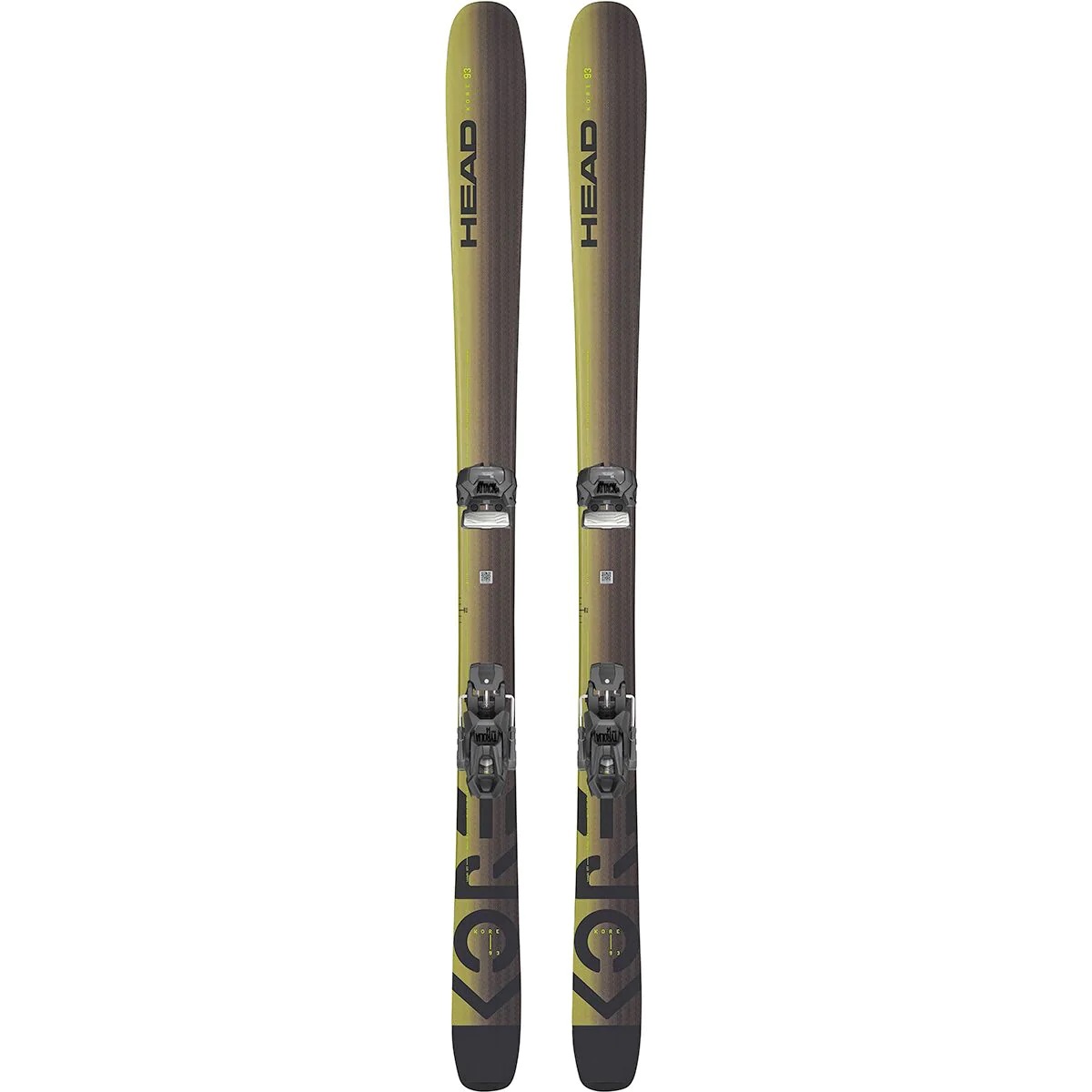 Head Kore 93
The price of "Head Kore 93" varies, so check the latest price at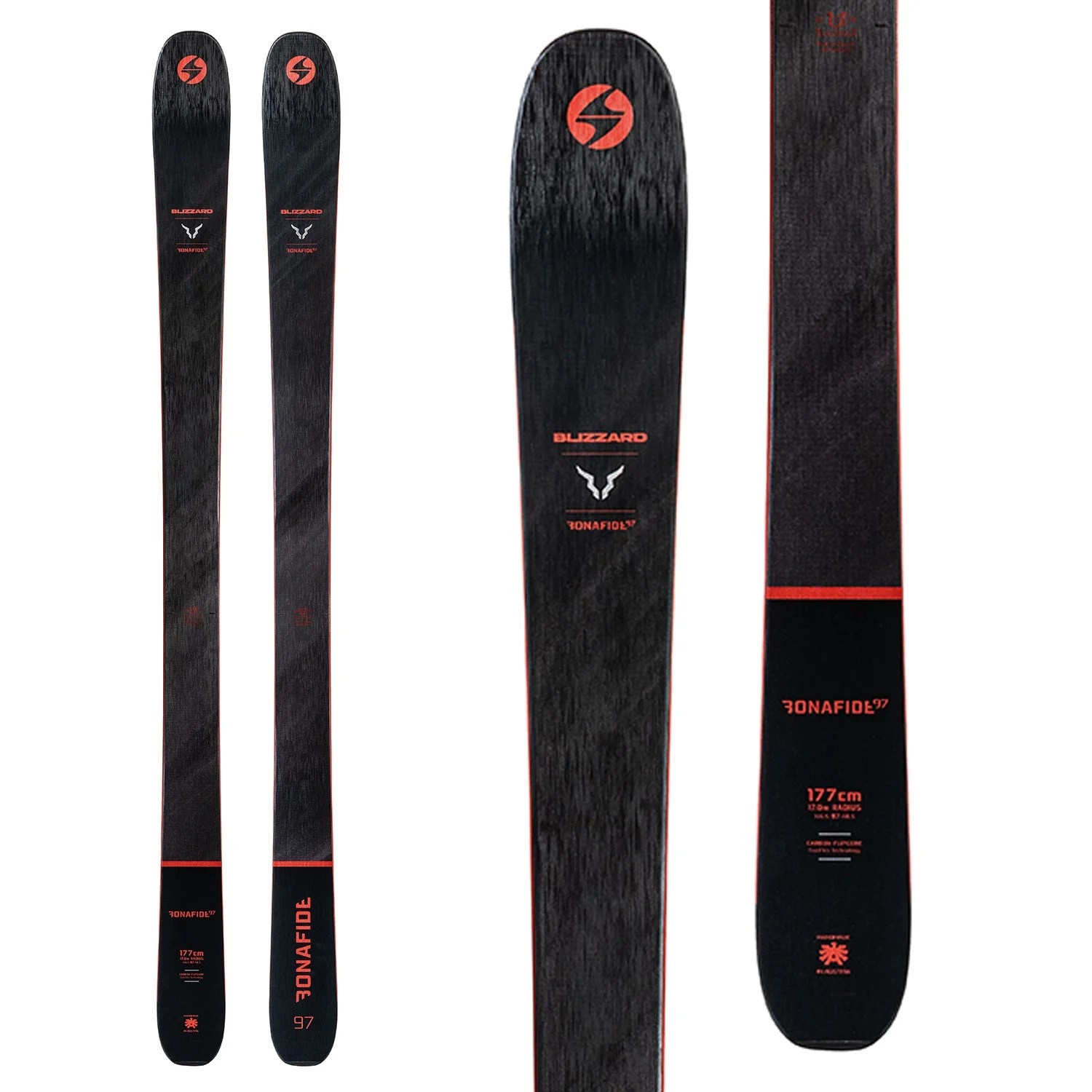 Easy handling, blizzard ready. The Blizzard rustler (both 9 and 10) were great. Exemplary examples of the all-mountain ethos. But it's time for something new. Let us cast aside the surf and the aggression. Together, we enter the era of the Bonafide 97.
The Bonafide 97 is as steady offering. Nothing extraordinary about its specifications. Does it need to be? Must it be extraordinary? I say no. What you get with the Bonafide 97 is a consistent and reliable ski. That's what all-mountain means to me.
I've come to depend on its rubber anti-shock layer. A light tough that silences the worst chatter. Often, I found myself relying on its rocker. Nothing sensational about it. At first glance. It is only when put to use that you can feel the difference.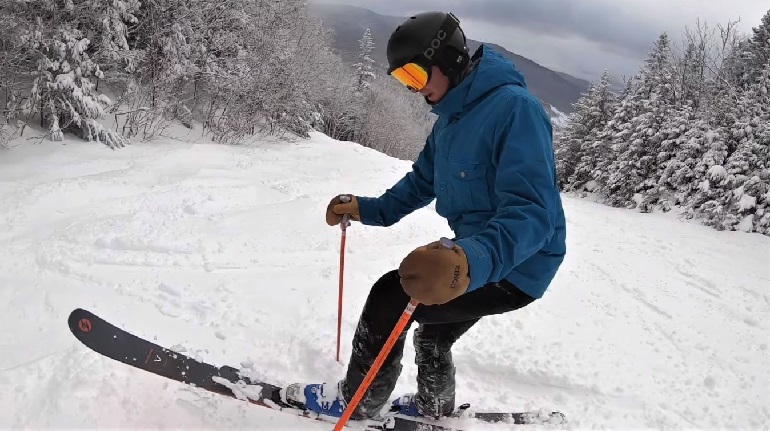 The profile of this ski was put through an innovative production process. One that birthed a lax ride. Easy feeling, undemanding. Pure vibes. Vibes that became intoxicating the more I put them to the test.
Crud, chopped up bits, and messy moguls. The edge flotation came through every single time. This is because they had their pressure reduced. The build of these skis doesn't place undue strain on the edges. The freedom helps them pop more.
Dependability need not be the death of liberty. With the Blizzard Bonafide 97s, I found both traits in spades.
Features:
Terrain: All-mountain
Ability Level: Advanced skiers
Rocker Type: Rocker camber rocker
Turn Radius: Medium
Warranty: One year
Pros:
Laminated with a rubber anti-shock layer. An extra touch that dampens the chunder.
Incorporates a new rocker production process that results in an easy feeling ride.
Reduced pressure at the edges for increased flotation and powder performance.
Cons:
Took me a while to come to grips with its rocker profile.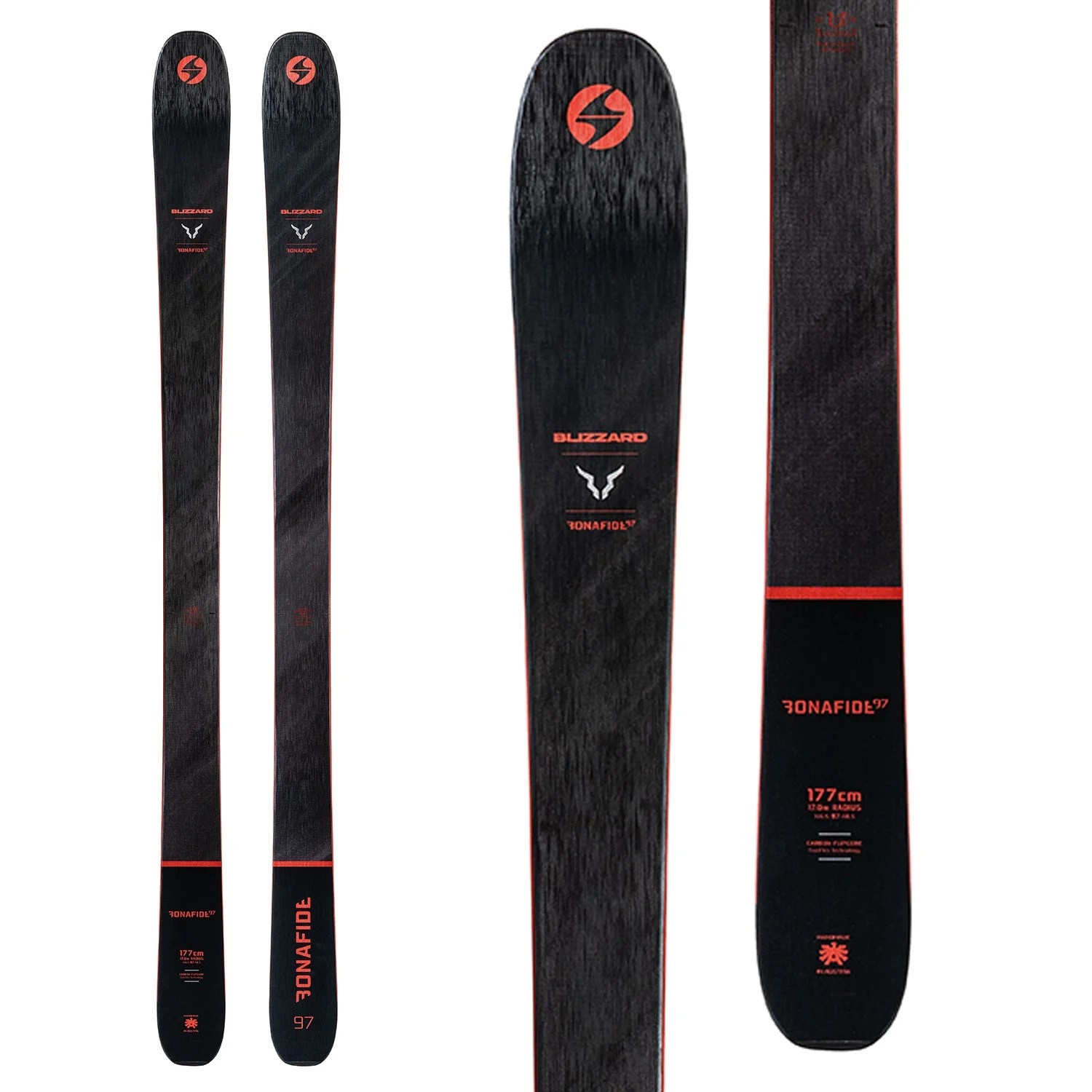 Blizzard Bonafide 97
The price of "Blizzard Bonafide 97 " varies, so check the latest price at
Your Buyer's Guide for Best All-mountain Skis
There can be two equally great all-mountain skis, but each in its own different way. That's what this section is for. A one-stop shop on what makes a quality all-mountain ski.
Whether you are taking a look at skis better suited for groomers or powder, can you even tell the difference? Interested in the importance of your ski's side cut? You'll find an explanation below.
The role of a ski's ability and stiffness will also be discussed. In particular, how it affects you, the rider. Don't worry it may sound like technical hoopla, but you've got to know how to pick your skis apart.
Groomer-leaning All-mountain Skis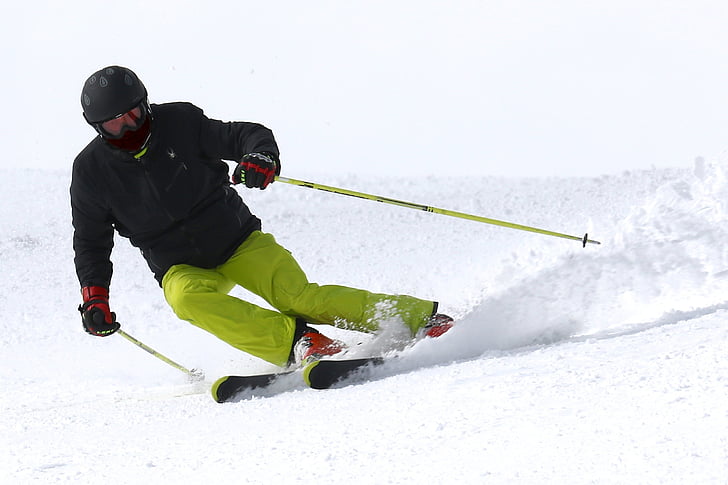 Are the groomers your terrain of choice? Then you'll want to get groomer-leaning all-mountain skis. But how can you tell which skis are best for groomers? It's simple, skis that are best for groomers have sharp and curved edges.
It's odd. Groomed snow is supposed to be maintained. Perfectly manicured. Yet, skis that perform well on groomers…like the Elan ripstick 96, have such strong edges. I hypothesize that such sharp edges feel more satisfying when carving through groomers. Personally? I prefer to mulch through crud.
Although, I have felt soft snow get cut open. The line blade optic 96 is perfect for this. Quite the electrifying experience. As for the camber profile? I highlight that down below. The short answer? A traditional camber will usually be employed. However, this isn't always the case.
As you'll see in a moment. Profiles, much like the length of the ski and the torsional stiffness, will vary.
For their profile, they've got a full camber profile. The side cuts are prominent and easy to spot. This results in tips that are much wider than the center of the skis. All of these qualities make for great performance on groomers.
Keep in mind, that all-mountain skis are made for all terrain types. Even if they may not have all of the qualities listed above.
Powder-leaning All-mountain Skis
First and foremost is the waist width. It'll be wider than groomer-leaning skis, but this increased surface area has its benefits. The larger surface area allows you to move quicker through the snow.
Is that all? Waist width changes. Nothing more? No. Powder skis tend to have a more forgiving flex. A vast majority of skis pay undue attention to their edge performance. Edge performance is important. However, edge performance isn't as vital when churning through pow.
It's every skier's dream. Barreling through powder stashes. Freeride skis like the K2 mindbender and the Head kore series are great. But that fresh pow on Mammoth mountain deserves better. Powder skis have the style and build to make the most of it all.
More so, because of how they handle pressure. A powder ski's design is tailor made for distributing pressure.
The distribution of pressure reduces the resistance between the ski and the snow itself. This leads to greater speed that can be consistently maintained. Powder-leaning skis will also have a rocker at both tips and a lifted nose.
This is to make it easier for you to not catch an edge. Catching an edge can be very easy to do in powder, especially when using the wrong gear.
Ski Stiffness and Flex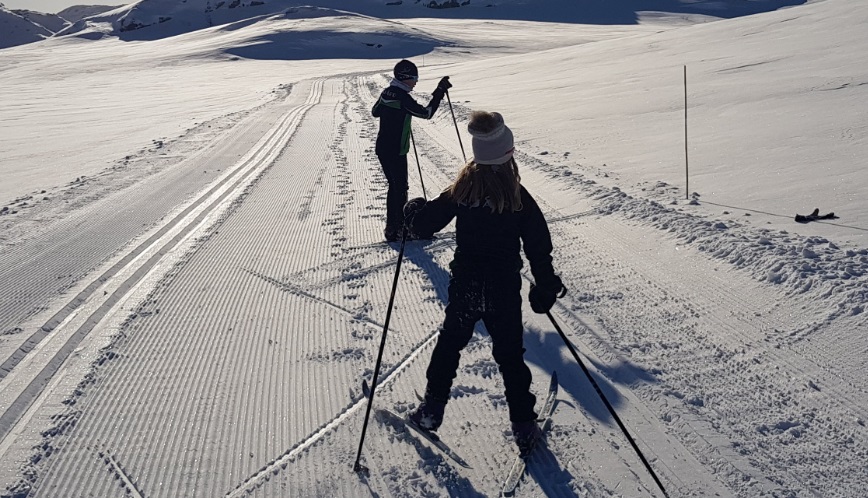 The stiffness and overall flex of your skis determine how much of a forgiving ride you have. The stiffer the flex of your skis the great control you'll have. Your skis will be incredibly responsive but if you don't have the ability level to handle this, you will tumble.
Softer flex skis are more forgiving but as a result, are not as responsive. If you want to reach high speeds, you'll have a harder time doing so with a softer flex.
Both sides have their benefits and trade-offs.
Sidecut and Turn Radius
The correlation between side cut depth and turn radius is pretty simple to understand. The deeper the side cut of a ski, the smaller the turn radius of that ski. Why would you want a small turn radius? Because a smaller turn radius equals tighter turn capabilities.
The benefits of a larger turn radius are an easier transfer of power from the rider to the skis. A larger turn radius also allows you to maintain your speed even as you are engaging in a turn. Advanced skiers benefit more from a larger turn radius.
Beginner skiers should stick to a smaller turn radius since they can use those tight turns to lower their speed whenever they feel as if they are going too fast. You can also learn beginner ski tips for perfect turns with fast speed.
High-stability and Crud Performance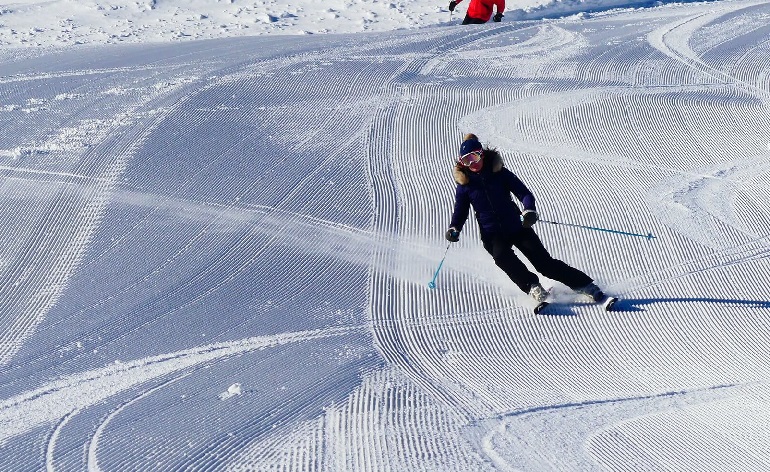 Crud. Black ice. Want to be a bomber? You can't aspire to be a proper ripper unless you can handle difficult terrain. Acumen can only drag you so far. Many all mountain skis can handle your average natural terrain park. Groomed trails? No problem. Icy groomers and soft snow conditions? Again, no problem.
But it isn't always that easy. Isn't it? Terrain and snow conditions can vary from day to day. A fun ski is great. However, a versatile ski is celebrated. For good reason. How then? How can one identify a stable at speed ski? What parameters and metrics are to be used?
Ski length. That's the fast answer. The most stable ski won't always be the longest. However, more advanced skiers the importance of a burly ski. More so when traveling at a high speed across deep snow. The longer your powder ski, you greater its stability.
Dampness is also a factor. Many skis, especially those in the all mountain category, employ a carbon fiber build. While having a lighter weight is great for acceleration. The same can't be said for high speed stability. Choppy snow, hard snow? Yeah, you can forget about it.
For a damp ride, silent-like, look for a ski that has carbon inserts throughout its frame and wood core. That'll muffle the chatter. That's about it. All the boxes have been ticked. Just keep in mind: shorter skis don't make for a stable ski.
Advanced and expert skiers agree on one thing. Size doesn't always matter but build materials sure do.
Playful Skis and Their Weight
The first thing ski testers consider? A ski's weight. Playful ski, women's skis. It doesn't matter. If you are searching for true all mountain versatility, the right weight is vital. Your ski's weight determines many things.
Does it need more camber? Enough versatility? Carving turns, how well does it handle them? Your decision-making is directly influenced by your ski's weight. Certain skis are carving specialists. Black crows justis and Rossignol sender, a couple that come to mind.
However, that doesn't mean that weight didn't play a part there as well. One thing to note, your ski's weight must correlate to yours. Submerged in deep powder? Your skis couldn't displace your weight.
It's not just a matter of performance but of being able to ski in the first place. Snow sports retailer evo tends to have a weight chart for ever ski listed. A useful resource. Anything else a ski's weight affects? Velocity.
Heavier skis are for bombing. Lighter skis for those left wanting. A longtime favorite of mine. High-performance skis tend to weigh more for this reason. Nothing complex about it. It's simple gravity, those that weigh more, fall faster and harder.
An experienced skier can transform this velocity into a winning drive. Yes, softer conditions may suit an hourglass shape more. But any charging runs will have to be made with a pair of heavy-duty skis. I'd suggest the Blizzard rustler. Excellent edge grip and rocker profile. Well-rounded skis indeed.
The perfect all-mountain ski is one that can accommodate your weight and use it to its advantage.
FAQs
Are All-mountain Skis Good for Beginners?
All-mountain skis are definitely a great option for beginner skiers. In fact, I'd say that these kinds of skis should be the first skis that you try out. This is because all-mountain skis aren't as expensive as more specialized skis.
They are also a lot easier to control than other skis that may be more responsive or faster. The great thing is that beginner skis are usually sold with bindings included. Almost everything you need to get going. You would still need the right snow jackets and top cross-country ski boots.
Are All-mountain Skis Good for the Terrain Park?
As the name would suggest, all-mountain skis are made for taking on the entire mountain. Any terrain. That's the name of the game here. This is why they make such great one-ski quivers.
But keep in mind that if you want the best performance on certain types of terrain then you are going to need specialized skis. Each terrain type and skiing style has its own type of skis made especially for them.
Final Thoughts
What an endeavor! By far one of the most complete lists that we have ever created. What's your skill level? Your skiing acumen? Regardless of the answer, there is something for you. Somewhere within the doldrums of this best all-mountain skis list. Check every nook and cranny.
Beginner? Looking to improve? May I suggest the Rossignol Experience 78 Carbons? Great skis that come with coequally great bindings.
That's what it's all about. Choosing the right skis. An expert skier may not have any need for the spare bindings. Preferring instead metal edges on their skis. For the boost in control. Edge control that is.
It's all about being familiar with your style. Your ability level. From there, choosing the right gear for your skiing profile will be a cinch.