Break The Speed Limit
Soft snow paved into a proper road. It's like this all the way down the entire mountain. This frozen majesty can be seen from miles away. If you squint hard enough, you'll even catch a glimpse of a tiny blip carving up a storm.
This blip moves fast, through side hits and variable snow. Soft snow, firm snow, the conditions don't matter. With versatile skis, the whole mountain becomes your domain. Waves of fresh snow fly into the air, trailing the blip.
You wonder to yourself, what skis are they using? The Nordica Enforcer with its sintered base? Perhaps it's the Salomon QST 106s? At those speeds, you're going to need the chatter-free ride.
Whatever the case, you know two things:
You want to be like them.
You're going to need the best all-mountain skis.
Lucky for you, we've got the best skis that you can find listed down below.
Best Overall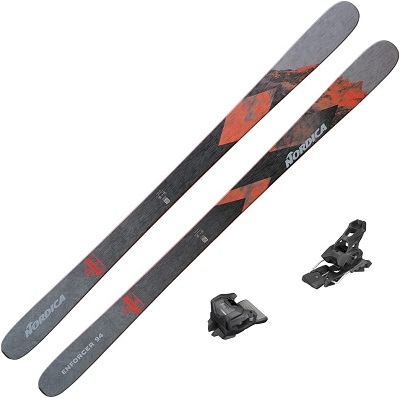 Nordica Enforcer 94
Size: 172 cm

Material: Wood, Carbon, Metal

Best Beginner Ski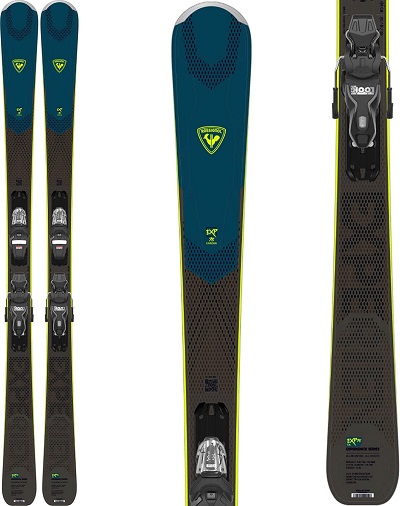 Rossignol Experience 78 Carbon
Size: 162 cm
Material: Soft Dampening
Best for Hard Snow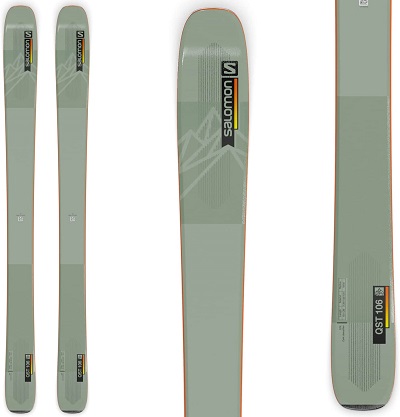 Salomon QST 106
Size: 181 cm

Material: Carbon Fiber Stringers
Best Expert Ski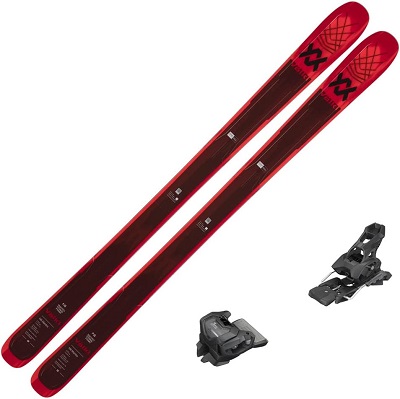 Volkl M6 Mantra
Size: 163 CM
Material: Multi-Layer Wood Core
Best Women's Ski

Black Crows Camox Birdie
Size: 156 cm 
Material: Poplar + Fiberglass Laminate
Best for Alpine Skiing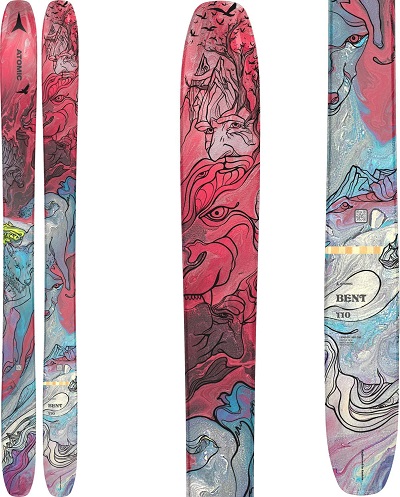 Atomic Bent 110
Size: 172 CM
Material: Light Wood Core
Best All-Around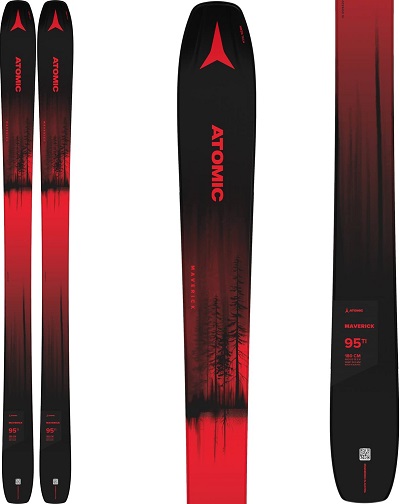 Atomic Maverick 95 TI
Size: 164 CM
Material: Poplar Wood Core
Best All-Mountain Skis – Top 7 Picks
What divides the masses? Well, everything really. But what I mean is, what truly decides whether one pair of skis is better than another? The truth is that advanced skiers can get a great ride out of anything.
However, you've got to reach a high level in order to truly appreciate a great ski. That's when you'll know why a sintered base is a must. Especially in firm snow conditions. That's when you'll be able to truly enjoy metal edges, and the strong edge holds that they bring.
But don't worry, even if you are a beginner skier, there's something down there for you. Check out number two on the list. In fact, we've got the best all-mountain ski for skiers at every skill level.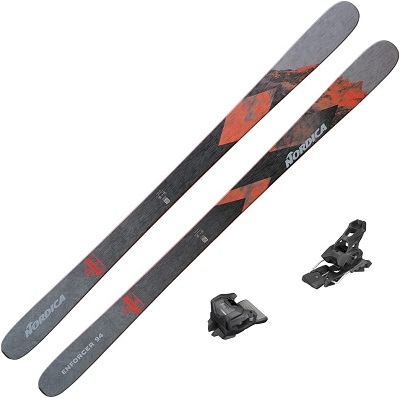 The king of the best all-mountain skis is the Nordica Enforcer 94. Once I saw its all-mountain rocker, I knew it had to take the top spot. You'd think that this type of versatile rocker would be found in every all-mountain ski, but you'd be wrong.
The Enforcer's rocker was made to provide the same balance throughout the entire mountain. Uniform performance that's top-notch. A hard bar to beat.
Built for performance
Besides their extraordinary camber layout, what else has the Enforcer got going for it? A sintered graphite base that feels incredibly satisfying as you ski across layer after layer of variable snow.
It's silky smooth, and you can forget about the weight of the Enforcer all-mountain ski slowing you down. Nordica took care of this potential pitfall by including a carbon chassis laminate. This kind of laminate weighs less and is more durable than glass laminates.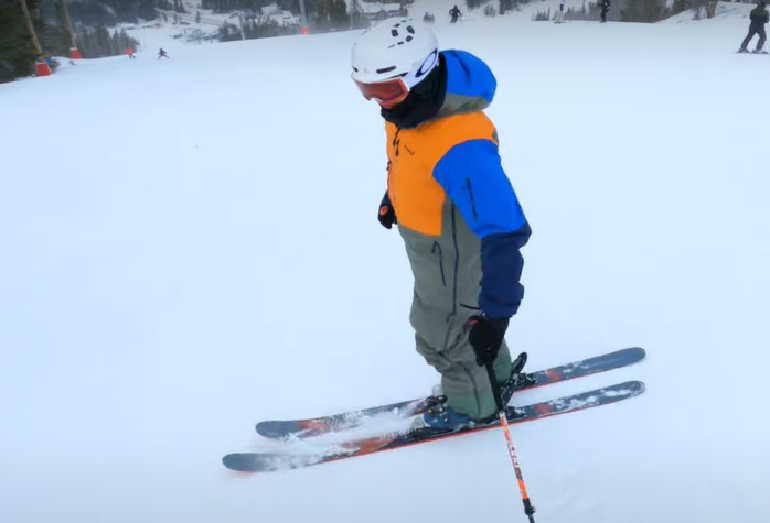 While following traditions is great, it's best to leave them aside when a new, better way of doing things has been found. At least, that's what the folks over at Nordica believe. And I'd say that they were right on this one.
Other innovations include the changes done to the tips of the skis. Excess plastic was trimmed. Replaced by an extended lightweight wood core. A core that's got a tapered shape to it for further weight efficiency.
What else can I say? These men's all-mountain skis are head of the table for a reason.
Features
Terrain: All-mountain
Ability Level: Advanced to expert
Rocker Type: Rocker/Camber/Rocker
Turn Radius: Medium
Warranty: One year
Pros
Has a sintered graphite base that elegantly glides off the top layer of snow.
The carbon chassis weighs less and is more durable than traditional glass laminates.
Metal sheets on edges for increased edge hold and performance.
Cons
Does not come with bindings like some other skis.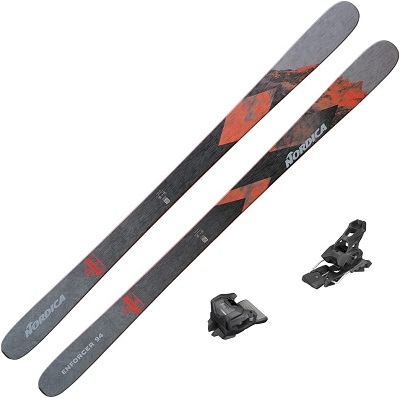 Nordica Enforcer 94
The price of "Nordica Enforcer 94" varies, so check the latest price at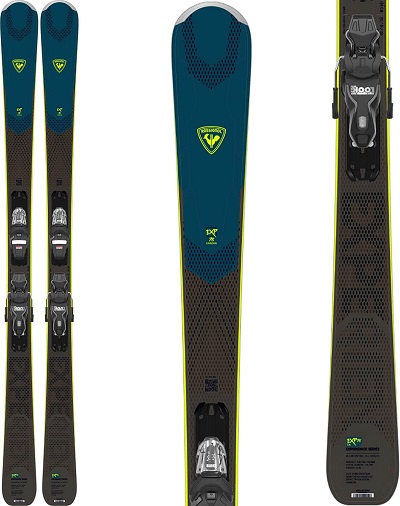 It's not often that a beginner's option ranks this high on a list. That's because ski manufacturers don't pack as much quality into them. They believe that beginner skier wouldn't know what a quality ski was if it hit them in the face.
But Rossignol is different, and their Experience 78 Carbons are even a cut above skis for advanced skiers.
The Full package
I'm a believer that beginner-friendliness begins with the price tag. While all-mountain skis that have a price north of $500 may not seem "beginner friendly", they are only priced this way because of two reasons.
Excellent quality and they come with their own pair of adjustable bindings. You won't have to worry about picking out bindings for your skill level. You also won't have to wonder if your bindings are even compatible with your skis.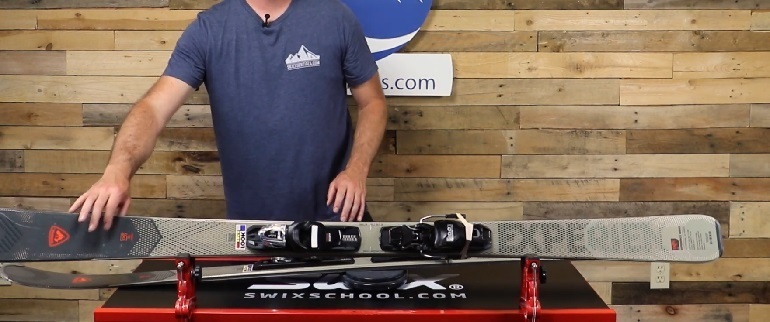 This is a great starter package.
As for the quality of the skis themselves, the tips are made from directional fibers and dampening material. Combining to create a chatter-free ride that novices can learn in. This Drive Tip design works in tandem with the side cuts.
The side cuts offer smooth turn initiation. Even as you are finishing up the turn, you'll have consistent control throughout. The Experience 78 Carbons may not have much in the way of looks, but their build is solid.
They perform best on groomers, but they are still all-mountain skis. Don't be afraid to ski into deeper snow. You'll still get a quality ride.
Features
Terrain: Groomed slopes
Ability Level: Beginner to intermediate skiers
Rocker Type: Rocker/Camber
Turn Radius: Short
Warranty: One year
Pros
A pair of Xpress bindings are included with the purchase.
Drive tip design boosts control and makes for smooth turn initiation.
Responsive feeling side cuts.
Cons
Limited amount of sizes to choose from.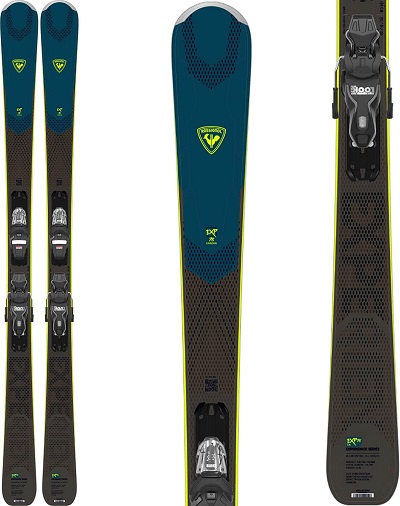 Rossignol Experience 78 Carbon
The price of "Rossignol Experience 78 Carbon" varies, so check the latest price at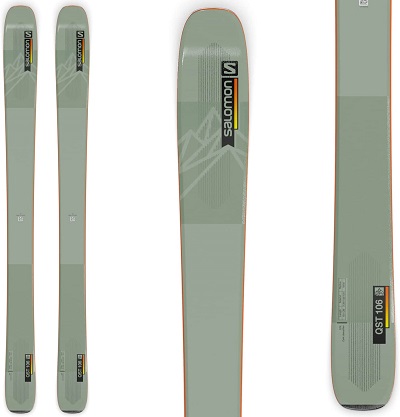 What do you get when you take a dull graphic design, and you cross it with a laundry list of specifications designed to create the most stable ride possible? One of the best all-mountain skis on the market.
No expense spared, no detail too small, everything about this all-mountain ski was tailor-made for giving you a stable ride.
The Most Stable Ride
A cork damplifier. Do you know what that is? Neither did I, but I found out that it's a material that was included in the tips of the Salomon QST 106s.
This damplifier, weighs less than Koroyd, which is the other option for skis to have, and it increases vibration absorption. Beneath this is a titanal insert that extends throughout the all-mountain ski. This insert improves edge control even in packed and rough snow.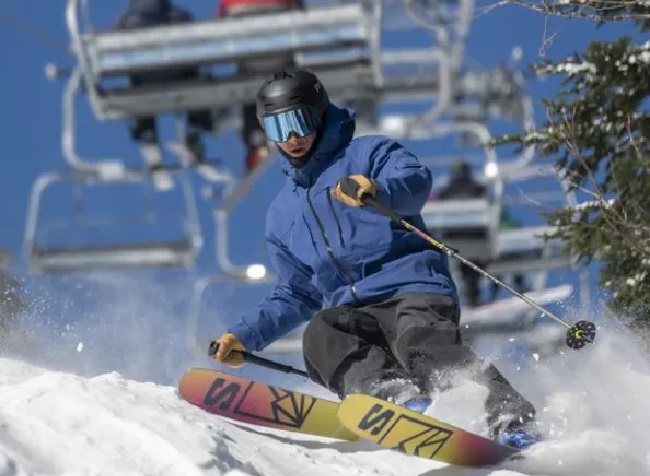 Ski aggressively, that's the message that Salomon was trying to deliver when designing these skis. The reason for terrain versatility can also be due to the ski's sidewall construction.
It's laminated and with the right amount of material layers for smooth ski-to-snow contact. Like most skis, the turn radius here is medium in length. But the 106's rocker tip and blunted tail make for a wonderful directional ride.
The last feather in the cap of the Salomon QST 106s would be its fiber layer of both carbon and flax. Married together for increased ski strength and stability. Without increasing the overall ski weight.
Features
Terrain: All-mountain
Ability Level: Intermediate to advanced
Rocker Type: Rocker/Camber/Rocker
Turn Radius: Medium
Warranty: Two years
Pros
It has a poplar wood core that filters out chatter and vibrations.
Cork amplifier reduces chatter even further.
Decreased ski weight thanks to the core design.
Cons
Not the best all-mountain skis for speed but definitely the best chatter-free ride on the list.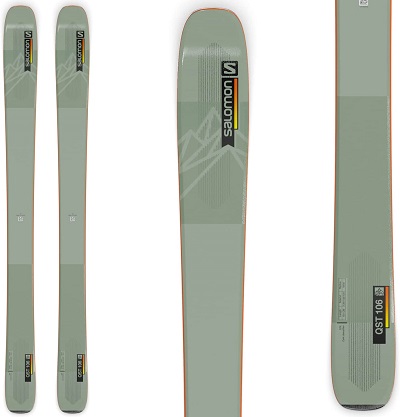 Salomon QST 106
The price of "Salomon QST 106" varies, so check the latest price at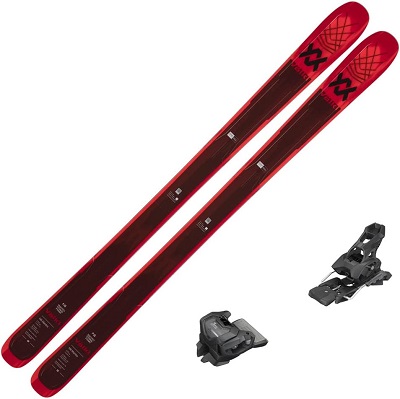 The Mantras can be spotted from a mile away, and if its graphics won't catch the onlooker's eyes, then the rider's skill level certainly will. This is because these are the best all-mountain skis for expert skiers. Perfect for the ones that have done it all.
For the elites
The M6 Mantra has side cuts that have been formed to increase the stability of the ski's tail and tip specifically. This is important because the front and back end of your skis act as your steering and rudder respectively.
You kind of want those two areas to be stable. This is why both ends curve upward, with a camber smack dab in the middle of each one. With increased steering control comes the ability to draw out short turns or supreme arcs.
Expert riders can do it all, and the Mantra were made to aid their abilities. The core is multi-layered. A dual play of beech and poplar woods makes for a wood core that's durable in the areas where it needs it most.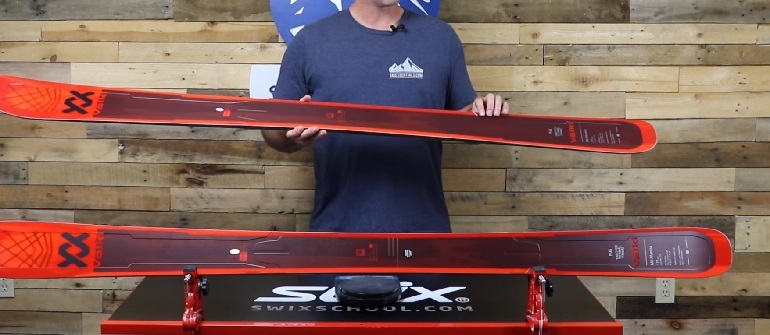 It feels especially lovely on softer snow, and this great feel extends when going off-piste. The M6 Mantra may be for experts, but it's a playful all-mountain ski. What about the power transmission? Can't be expert skis without great power transmission.
Well, with full-length sidewalls, I am happy to report that the power transmission is fantastic and up to standard. This is the one ski that experts need to fully realize the full potential of their skiing ability.
Features
Terrain: All-mountain
Ability Level: Advanced to expert
Rocker Type: Rocker/Camber/Rocker
Turn Radius: Medium
Warranty: One year
Pros
Eye-catching bright red graphics.
Side cuts are made for a versatile tip and tail stability.
Tailored frame to fit a skier's height.
Cons
Best used by expert skiers and no one else.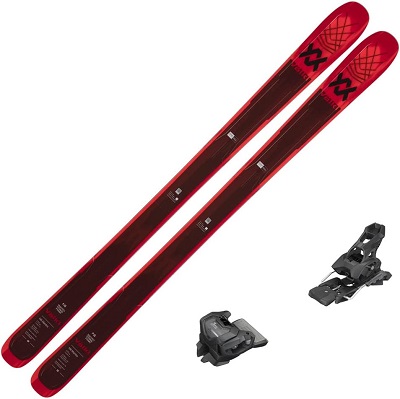 Volkl M6 Mantra
The price of "Volkl M6 Mantra" varies, so check the latest price at

Break the walls down with the Camox Birdie. The best all-mountain skis for women that we've encountered this year. Primarily suited for groomers or powder, the stable yet forgiving ride of this powder ski is something to desire. And envy…
The LADIES Choice
The Camox Birdie has a double rocker. This kind of rocker type increases control and pivot. Pivoting is especially useful when riding on powder and with a rocker at each end, you know this was made for pow plowing.
In the middle lies a camber underfoot. Nothing new about this camber placement, it's been tried and tested. But this design is the optimal one. More so, when you realize that the side cuts here are mostly straight.
The Black Crows wanted to take everything that worked before and combine it all into the best all-mountain skis for women that they could make. Unfortunately, these skis don't come with bindings included but there is a two-year warranty.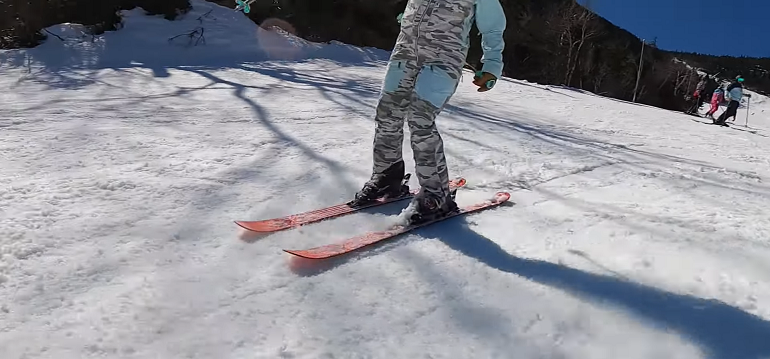 That's one year more than most others on this list. With a medium-sized turn radius, you're getting the same arc that the men's skis are offering. But what is different is the progressive flex that runs through these skis.
It's my favorite feature. This is what makes the ride so comfortable and forgiving. A forgiving ride lets you improve without causing harm to yourself. It should be a design staple of all skis.
Features
Terrain: Groomers and powder
Ability Level: Intermediate to advanced
Rocker Type: Tip and Tail Rocker
Turn Radius: Medium
Warranty: Two years
Pros
Get more stability and balance at higher speeds, thanks to side cuts.
Very forgiving ride thanks to its progressive flex.
Double rocker improves maneuverability.
Cons
The mounting points have been set back by six centimeters.

Black Crows Camox Birdie
The price of "Black Crows Camox Birdie" varies, so check the latest price at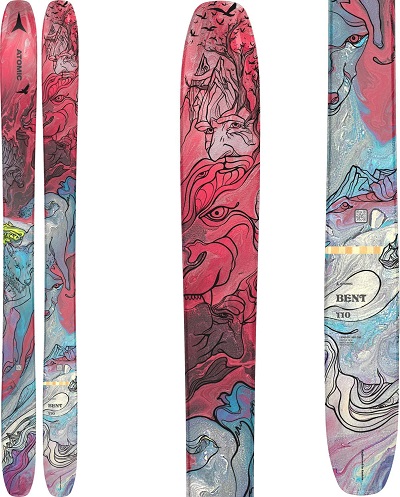 With killer graphics and a wider tip and tail, the Atomic Bent comes skating on our list. The Bent isn't the only Atomic offering on this list, but it is the best of the two that mark an appearance here.
The reason why it placed higher than its brand compatriot is due to it being a true one-ski quiver. When the terrain you ski on and your skiing styles are diverse, these are the skis to get.
The One To Rule them all
Perfect for rough and domineering mountains but just as capable for alpine skiing or touring. The one ski to outlast them all is here. Part of Atomic Bent's charm is its lightweight construction.
Lightweight skis are capable of giving their rider the ability to try it all. This is because the skier is no longer encumbered by heavy weighing gear. Making use of this lightweight design is the camber underfoot that is sandwiched between a tip and tail rocker.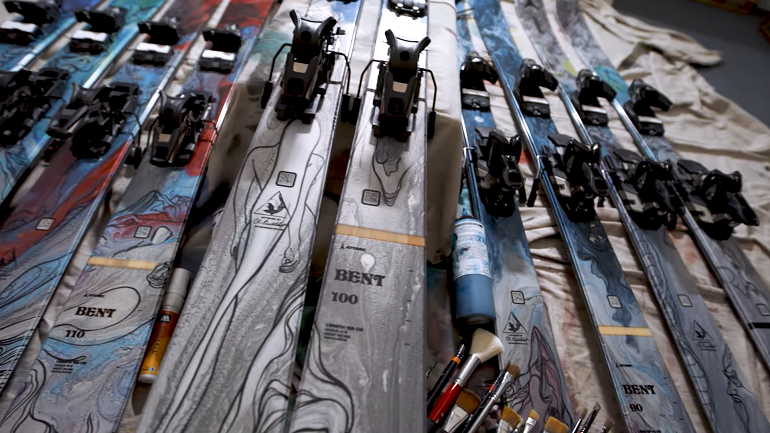 With this, you get an insane float and tip deflection. Combine that with the Dura Cap sidewall for boosted power transmission and durability. Its design excellence is built for big moments in even bigger arenas.
One thing to note is that this brilliant pair of skis is best used by experienced skiers. This is a shame but completely understandable, especially when you consider the kinds of skiing that these are built for.
The cherry on top is a two-year warranty policy for the entire ski pair.
Features
Terrain: Big mountain and alpine, touring
Ability Level: Advanced to expert
Rocker Type: Powder Rocker
Turn Radius: Medium
Warranty: Two years
Pros
The one ski quiver that you've been looking for.
Camber underfoot for both tip and tail rocker.
Lighter weight than many skis.
Cons
Directional shape may not be favored by speed demons.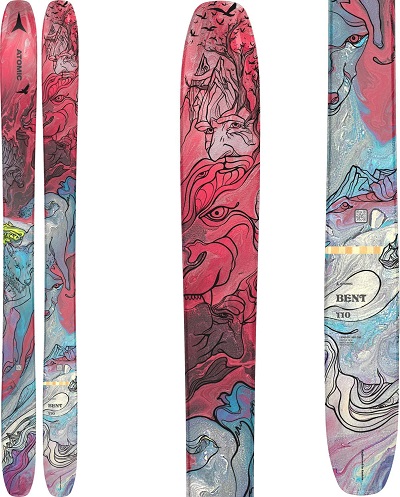 Atomic Bent 110
The price of "Atomic Bent 110 " varies, so check the latest price at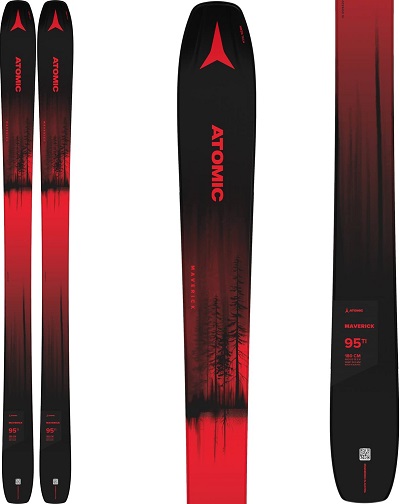 Being the best of the skis that didn't make it on the list isn't as demeaning as it sounds. Think about all of the quality skis that exist, and the fact that the Maverick 95s were able to supplant them is a big deal.
It speaks volumes of the quality on offer here, from its all-mountain-rocker to the flow profile. You are getting an elite offering with the Maverick.
Best of the rest
Starting at the head of the skis and working our way downward, the Mavericks have expanded tips for better traction and control. Anyone that's ever engaged in winter sports knows that the snow is rarely ever a perfectly flat canvas.
This is why ski tips that cover more surface area are so important. Spread throughout the entire ski, are fiberglass laminates that further improve the dampness of every ride. As mentioned before the flow profile of these skis is a stand-out feature.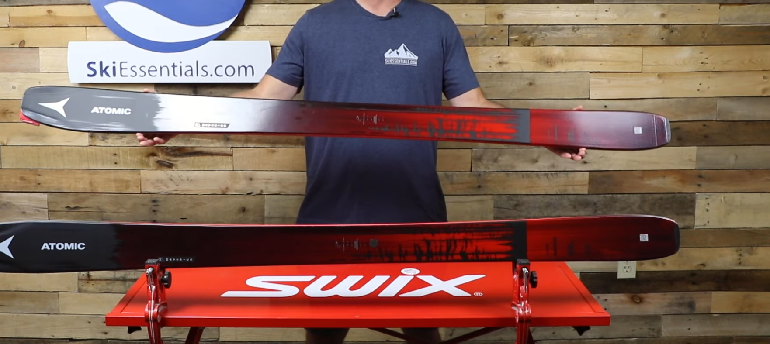 This flow profile has been optimized to increase the edge hold of each ski. Making carving and tight turns that much more satisfying and stable. The Mavericks have everything needed to become the perfect everyday ski for you.
There is a lot more that can be said about its overall build. Including the world cup base finish or the excellent balance between stiffness and flexibility. It's a great ride, and if you weren't convinced by the other top skis, then this is definitely the pick for you.
Features
Terrain: All-mountain
Ability Level: Intermediate to advanced
Rocker Type: All-mountain rocker
Turn Radius: Medium
Warranty: Two years
Pros
The flow profile has been optimized for increased edge hold.
Tech tips make for greater surface area ski tips.
Fiberglass inserts within the laminate.
Cons
May be too stiff for some skiing styles.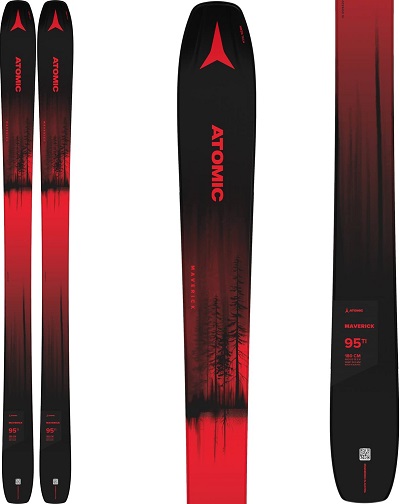 Atomic Maverick 95 TI
The price of "Atomic Maverick 95 TI " varies, so check the latest price at
Your Buyer's Guide for Best All-Mountain Skis
There can be two equally great all-mountain skis, but each in its own different way. That's what this section is for. A one-stop shop on what makes a quality all-mountain ski.
Whether you are taking a look at skis better suited for groomers or powder, can you even tell the difference? Interested in the importance of your ski's side cut? You'll find an explanation below.
The role of a ski's ability and stiffness will also be discussed. In particular, how it affects you, the rider. Don't worry it may sound like technical hoopla, but you've got to know how to pick your skis apart.
Groomer-Leaning All-Mountain Skis
Are the groomers your terrain of choice? Then you'll want to get groomer-leaning all-mountain skis. But how can you tell which skis are best for groomers? It's simple, skis that are best for groomers have sharp and curved edges.
For their profile, they've got a full camber profile. The side cuts are prominent and easy to spot. This results in tips that are much wider than the center of the skis. All of these qualities make for great performance on groomers.
Keep in mind, that all-mountain skis are made for all terrain types. Even if they may not have all of the qualities listed above.
Powder-Leaning All-Mountain Skis
First and foremost is the waist width. It'll be wider than groomer-leaning skis, but this increased surface area has its benefits. The larger surface area allows you to move quicker through the snow.
The distribution of pressure reduces the resistance between the ski and the snow itself. This leads to greater speed that can be consistently maintained. Powder-leaning skis will also have a rocker at both tips and a lifted nose.
This is to make it easier for you to not catch an edge. Catching an edge can be very easy to do in powder, especially when using the wrong gear.
Ski Stiffness and Flex
The stiffness and overall flex of your skis determine how much of a forgiving ride you have. The stiffer the flex of your skis the great control you'll have. Your skis will be incredibly responsive but if you don't have the ability level to handle this, you will tumble.
Softer flex skis are more forgiving but as a result, are not as responsive. If you want to reach high speeds, you'll have a harder time doing so with a softer flex.
Both sides have their benefits and trade-offs.
Sidecut and Turn Radius
The correlation between side cut depth and turn radius is pretty simple to understand. The deeper the side cut of a ski, the smaller the turn radius of that ski. Why would you want a small turn radius? Because a smaller turn radius equals tighter turn capabilities.
The benefits of a larger turn radius are an easier transfer of power from the rider to the skis. A larger turn radius also allows you to maintain your speed even as you are engaging in a turn. Advanced skiers benefit more from a larger turn radius.
Beginner skiers should stick to a smaller turn radius since they can use those tight turns to lower their speed whenever they feel as if they are going too fast.
FAQs
Are All-Mountain Skis Good For Beginners?
All-mountain skis are definitely a great option for beginner skiers. In fact, I'd say that these kinds of skis should be the first skis that you try out. This is because all-mountain skis aren't as expensive as more specialized skis.
They are also a lot easier to control than other skis that may be more responsive or faster. The great thing is that beginner skis are usually sold with bindings included. Almost everything you need to get going. You would still need the right snow jackets and ski boots.
Are All-Mountain Skis Good For the Terrain Park?
As the name would suggest, all-mountain skis are made for taking on the entire mountain. Any terrain. That's the name of the game here. This is why they make such great one-ski quivers.
But keep in mind that if you want the best performance on certain types of terrain then you are going to need specialized skis. Each terrain type and skiing style has its own type of skis made especially for them.
Final Thoughts
This was by far one of the most complete lists that we have ever created. Skiers of all skill levels and terrain types can find just what they are looking for above.
If you're a beginner looking to learn or improve, get the Rossignol Experience 78 Carbons. These great skis come with bindings.
This is what choosing the right skis is all about. An expert skier may not have any need for the included bindings. They may prefer metal edges on their skis for better edge control.
It's all about being familiar with your style and ability level and choosing the right gear for your skiing profile.