Unexpected Blessings
There is one aspect of skiing and snowboarding that I dread. Loading up the car with all of my gear and then having to haul around my extra gear on my own.
It's not fun to drive around with a cluttered mess. It's even worse once you get to the resort and you have to look through your pile of ski equipment in order to find and put on what you were looking for.
Keeping your gear organized is more than just a clutter issue. It can also protect and extend the life span of your ski gear.
Ask yourself, where are your light ski boots less likely to get scratched and torn apart? In a pile, banging against your other gear, or safely kept in place within a bag?
The best ski and snowboard boot bags allow you to keep what's important to you in a safe and easy-to-find location.
Best Overall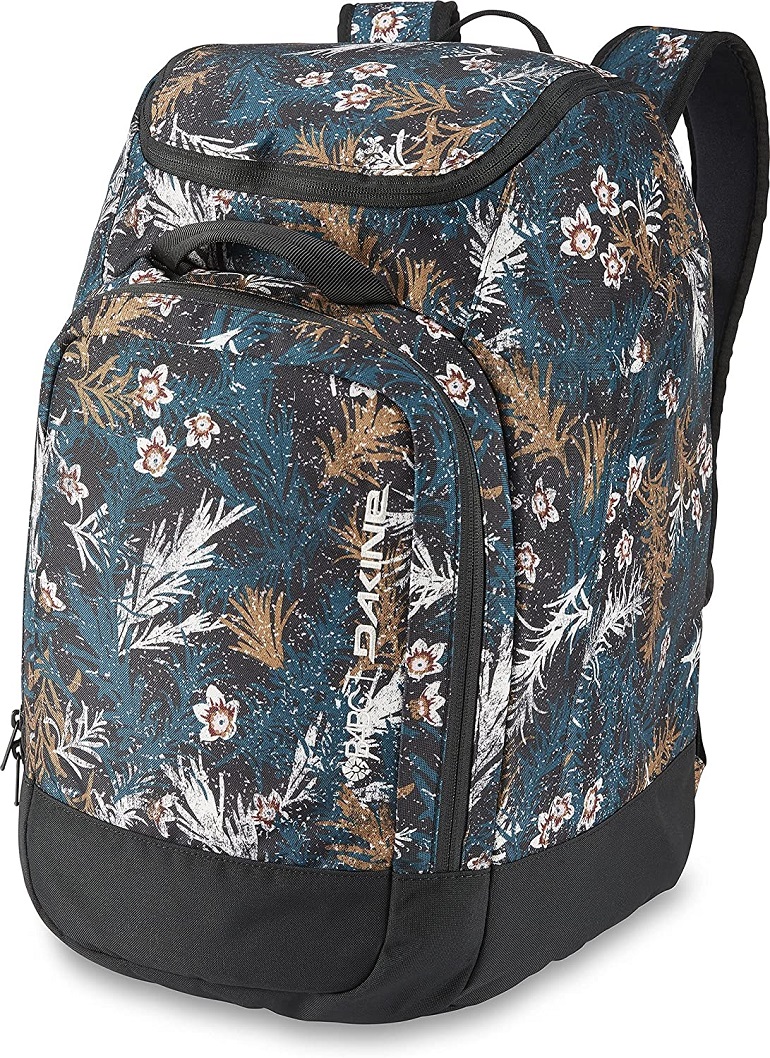 Dakine Boot Pack
Material:Polyester
Brand:Dakine
Best Storage Space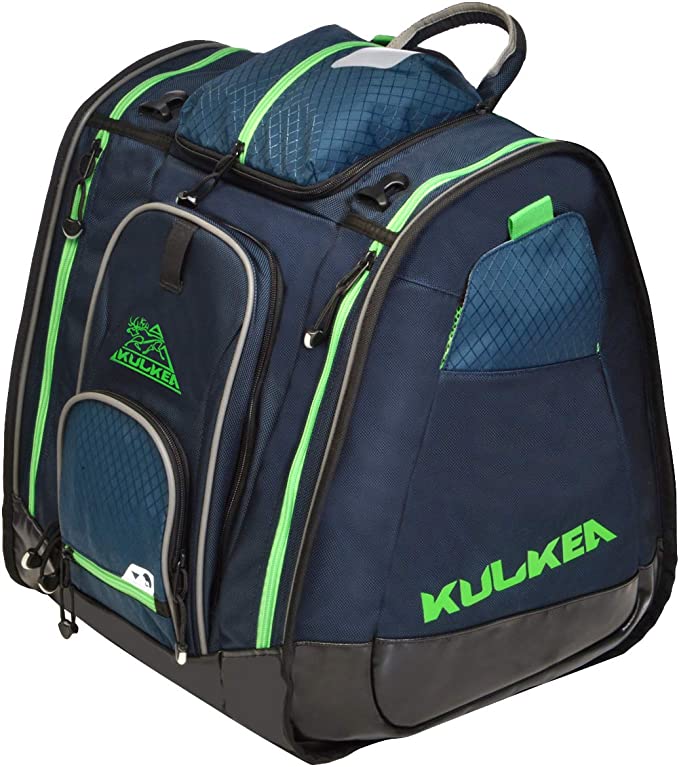 KULKE Boot Trekker
Material:Polyester
Brand:KULKEA
Best Lightweight Option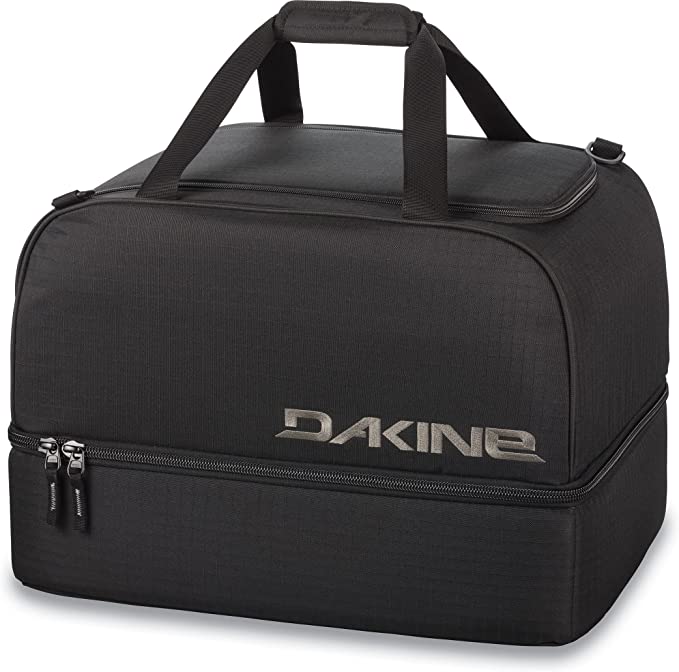 Dakine Snow Boot Locker
Material:Polyester
Brand:Dakine
Best Budget Option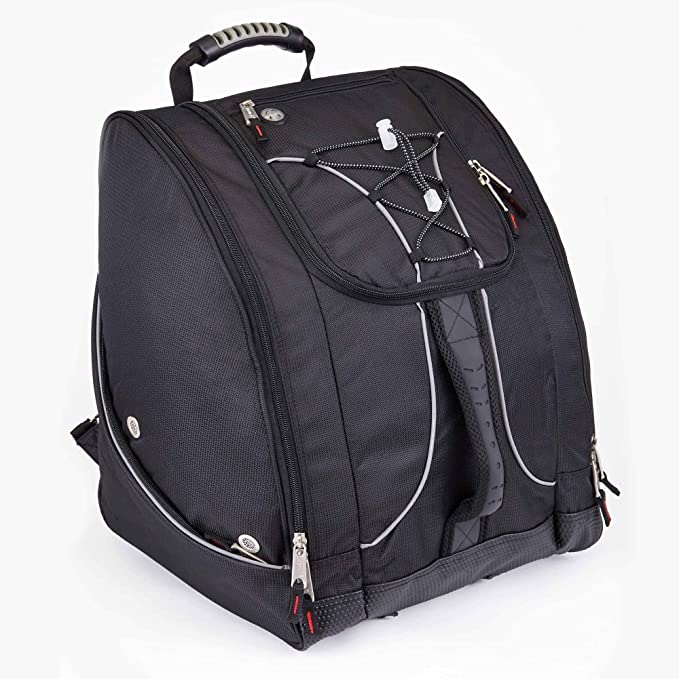 Athalon Everything Ski Boot Bag
Material:Polyester
Brand:Athalon
Best Backpack Style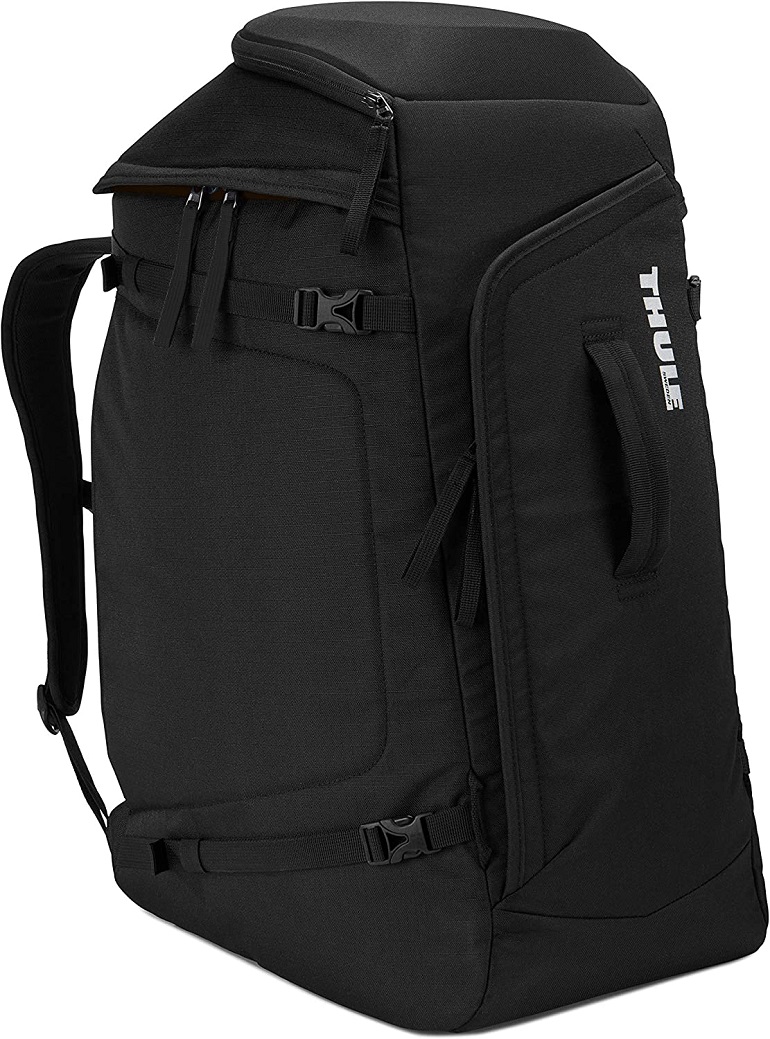 Thule RoundTrip Boot Bag
Material:Polyester
Brand:Thule
Best of the Rest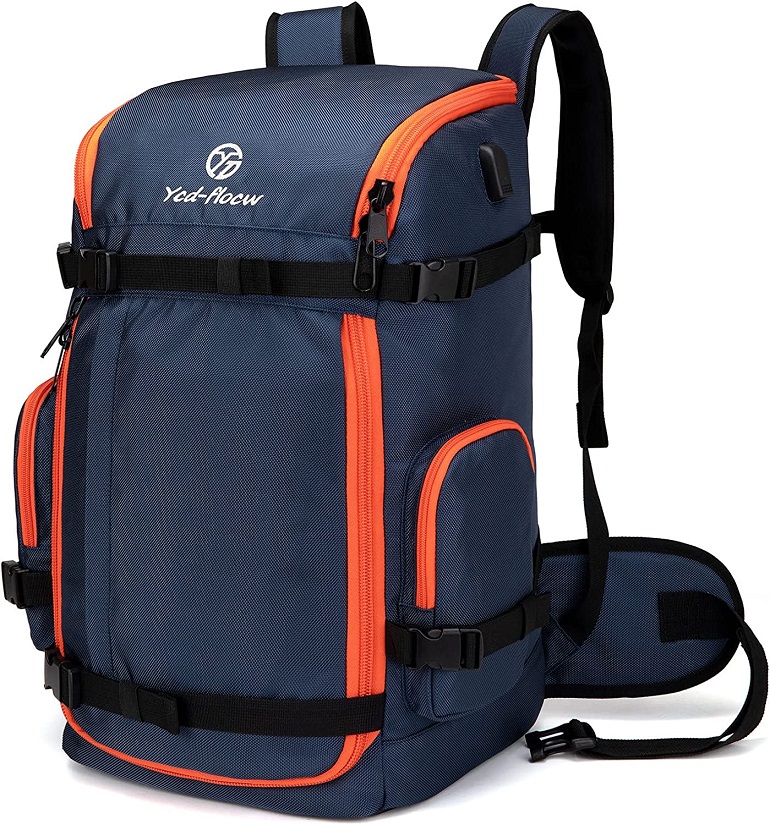 YCD-FLOCW Ski Boot Bag
Material:Nylon
Brand:YCD-FLOCW
Best Ski & Snowboard Boot Bags – Top 6 Picks
Peace of mind can make your ski trip much more fulfilling. That is why we've lined up the best ski boot bags that money can buy. Sorted and ranked according to their storage space (which we described as volume with the L representing liters), convenience, and even pricing.
Some of the boot bags below can be carried around as ski backpacks, like the Dakine boot pack, while others are more traditional. Opting to be carried as an actual bag, like the Dakine boot locker bag.
Do you want a compact boot bag or something that can handle all your sport gear? Either way, you'll find it here.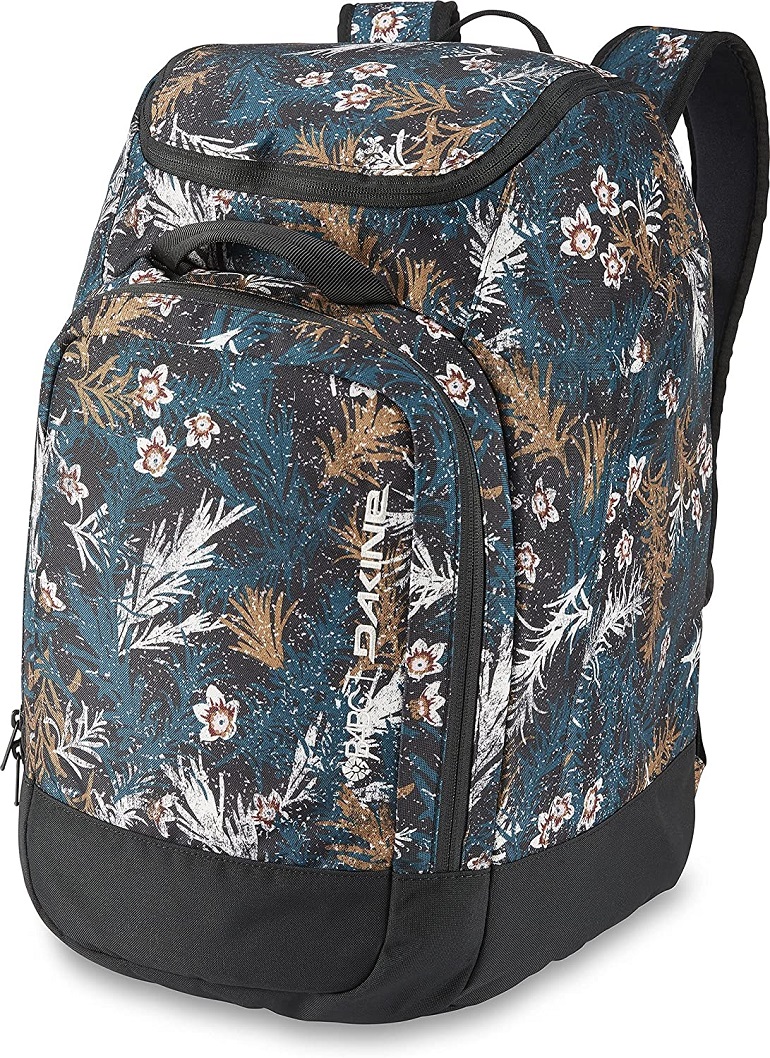 The Dakine Boot Pack didn't have the largest storage capacity out of all the bags on our list. It's also not the lightest weighing boot bag. So then, why did it take the top spot?
It's simple, the Dakine Boot Locker blew the competition out of the water when it came to everything else.
Everything Else
The Dakine Boot Locker appears to be a traditional backpack (albeit, with a not-so-traditional color design). But the boot locker is far from a traditional backpack. It's got special boot compartments for your different equipment.
There is a pocket for your ski goggles, to prevent them from getting scratched, and even a section for your helmet. Sorting through all of your gear can get annoying, especially when you are in a hurry.
Fortunately for us, the Boot Locker has a rear entry panel and a front cargo pocket for your warmest ski gloves and everything else. A complete storage hotel where each piece of ski or snowboard gear that you have, has its own room.
It's more than a backpack-style bag, it's a complete locker.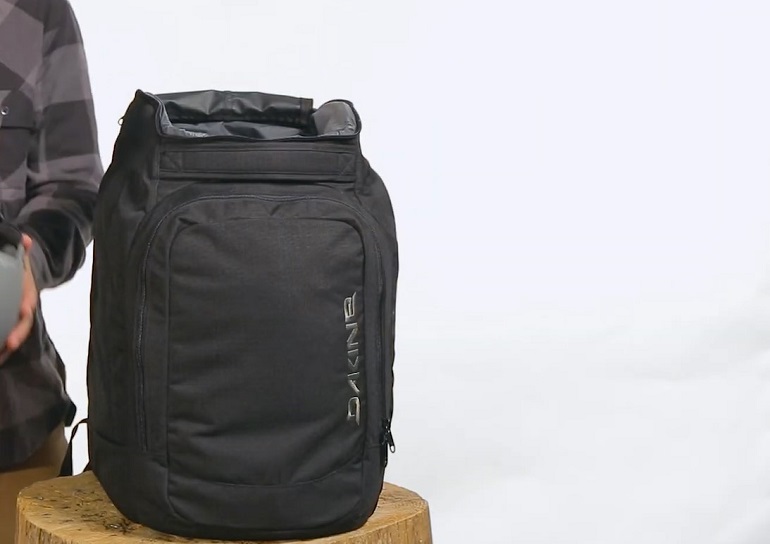 Features
Volume: 50L
Transportation style: Wear as a backpack
Material: Polyester
Weight: 1.65 Pounds
Multiple Pockets: Yes
Pros
Has several dedicated pockets for your ski gear. One for your helmet and another for your goggles.
Zippered rear entry panel makes it quick and easy to access all of your gear.
The polyester build makes water damage a non-issue.
Cons
Could have benefited from extra storage space.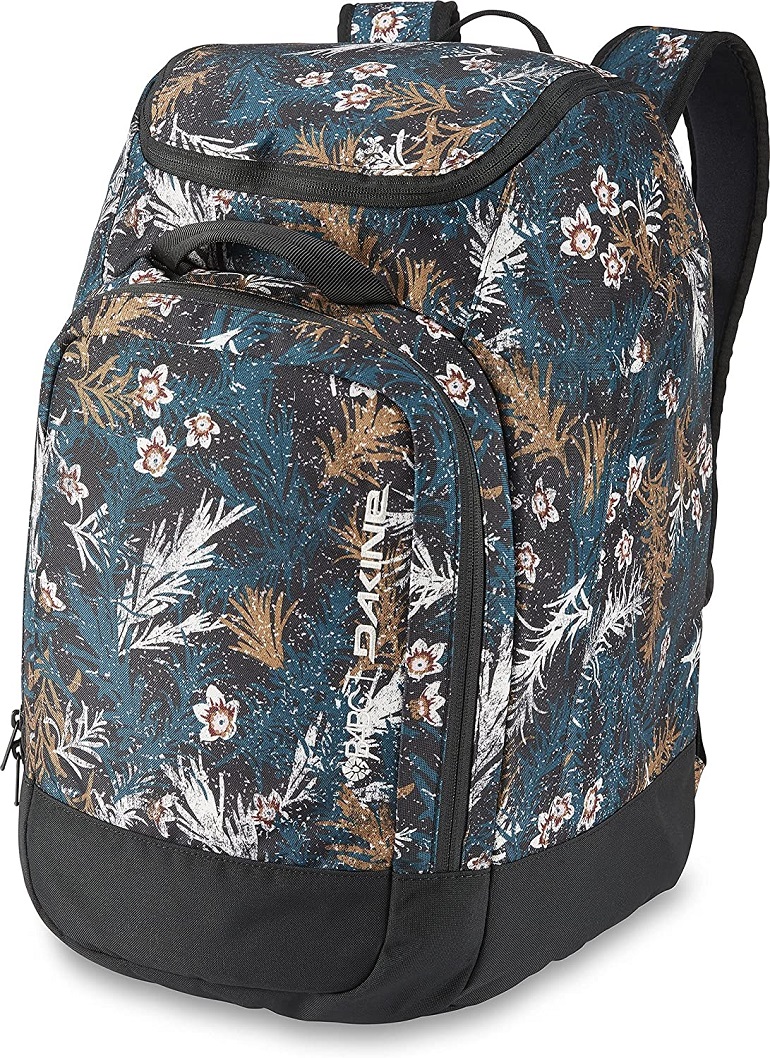 DAKINE BOOT PACK
The price of "DAKINE BOOT PACK" varies, so check the latest price at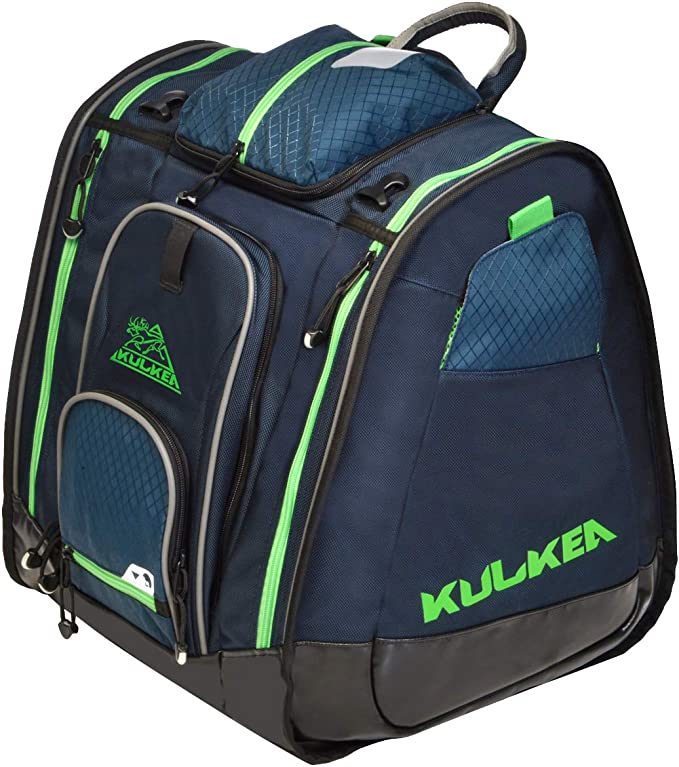 The Kulkea boot trekker is capable of carrying everything you've got in your storage closet. When it comes to ski boot bags, storage space matters. On that merit alone, the Kulkea boot trekker was able to rank so high.
Cavernous Depth
With all of this storage space and such a massive main compartment, the Boot Tracker can weigh quite a bit. Carrying around this bag could become problematic, especially when hiking through hard snow.
But this doesn't have to be an issue because this Kulkea bag can be carried as a backpack. It comes with a strap and belt system that helps it double as a handbag or a backpack. There are also several access points throughout the bag for locating your gear.
Its polyester build helps keep your gear dry, and the reinforced bottom corners prevent any tearing. Hefty storage and durability.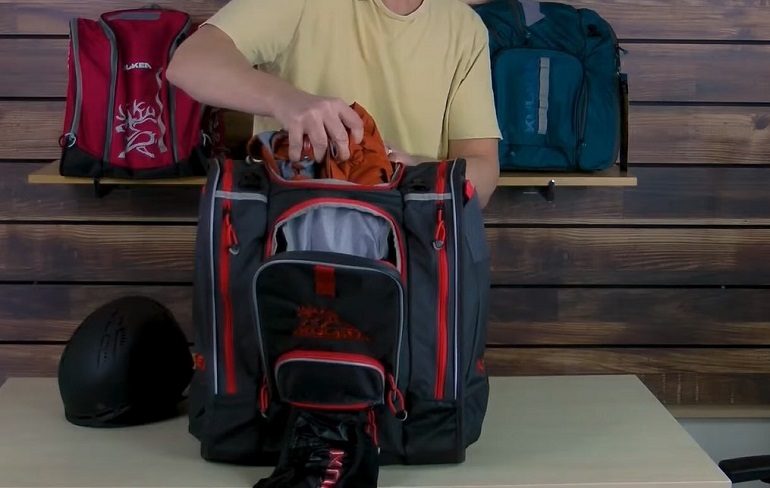 Features
Volume: 70L
Transportation style: Carry in hand or as a backpack
Material: Polyester
Weight: 0.66 pounds
Multiple Pockets: Yes
Pros
The highest amount of storage space available when compared to other bags.
Comes with a removable padded shoulder strap and belt system for wearing as a backpack when needed.
Multiple points of entry to access your ski equipment.
Cons
The color scheme will not be to everyone's liking.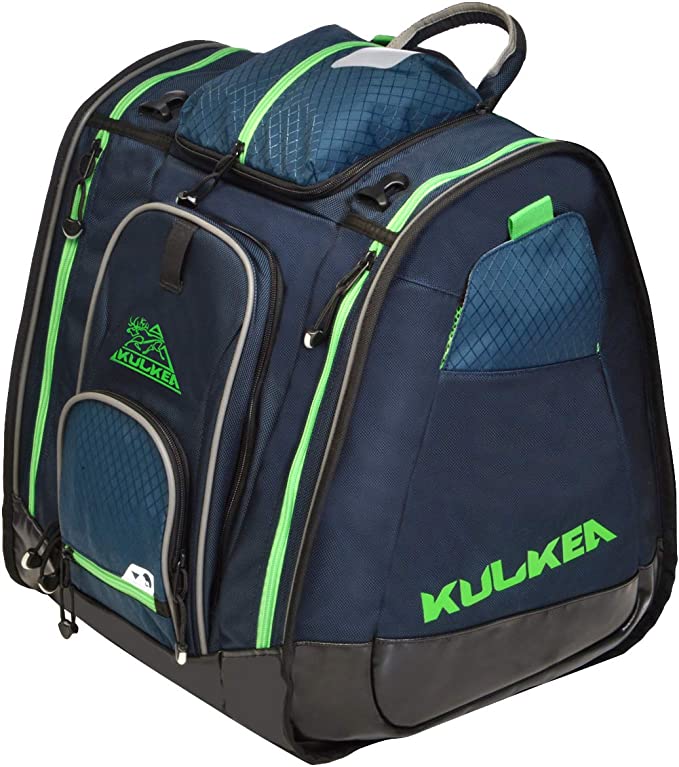 KULKEA BOOT TREKKER
The price of "KULKEA BOOT TREKKER" varies, so check the latest price at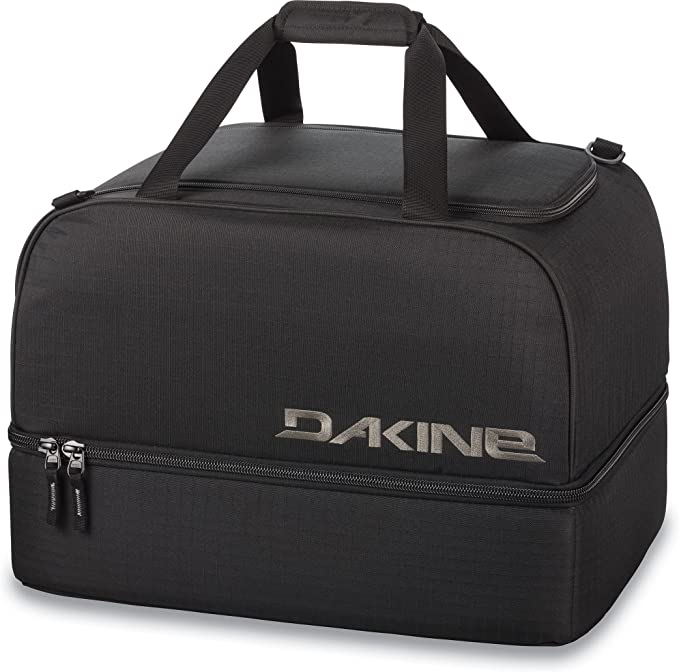 Our second Dakine entry on the list, the Dakine Snow Boot Locker blew us away with its lightweight design. This featherweight contender can pack in gear like a heavyweight, having the second-largest storage space out of all the bags on our list.
The Duality of Bag
There are two sides to this bag. The lightweight, lightest weight on this list, makes it incredibly easy to carry around with you. Convenience is king, and this snowsport boot bag wears the crown proudly. But the weight scale isn't the only area it dominates.
The Dakine Snow Locker can store almost as much gear as the Kulkea bag ranked above it. Throw everything you need and everything you think you'll need in it because it'll fit. One thing to keep in mind is that the Dakine Snow Boot Locker can't be worn as a backpack.
This is a true carry-on bag, complete with baggage handlers and a shoulder strap that has minimal padding. The padded straps aren't overdone. Not too bulky, but enough foam in there to keep you comfortable.
It's a great bag to have for your ski boots alone if you've already got a ski backpack for the rest of your gear.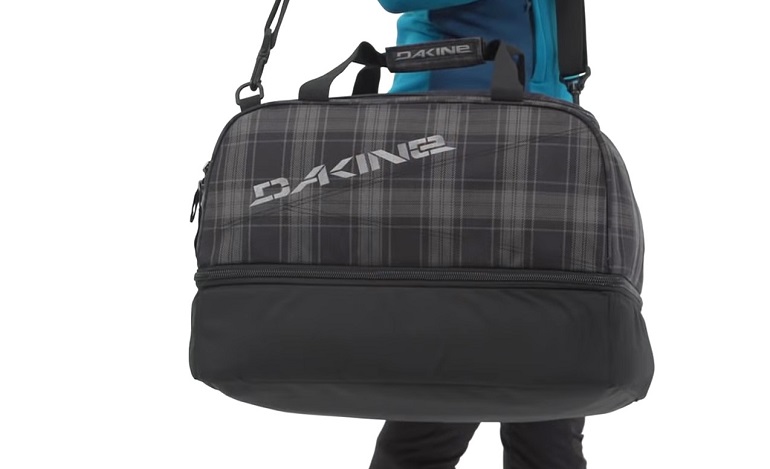 Features
Volume: 69L
Transportation style: Carry in hand
Material: Polyester
Weight: 30 ounces
Multiple Pockets: No
Pros
Fantastic lightweight design. Only weighs 30 ounces!
Despite its low weight, comes with high storage capacity.
Secure straps for carrying in hand.
Cons
Could have benefited from more storage pockets.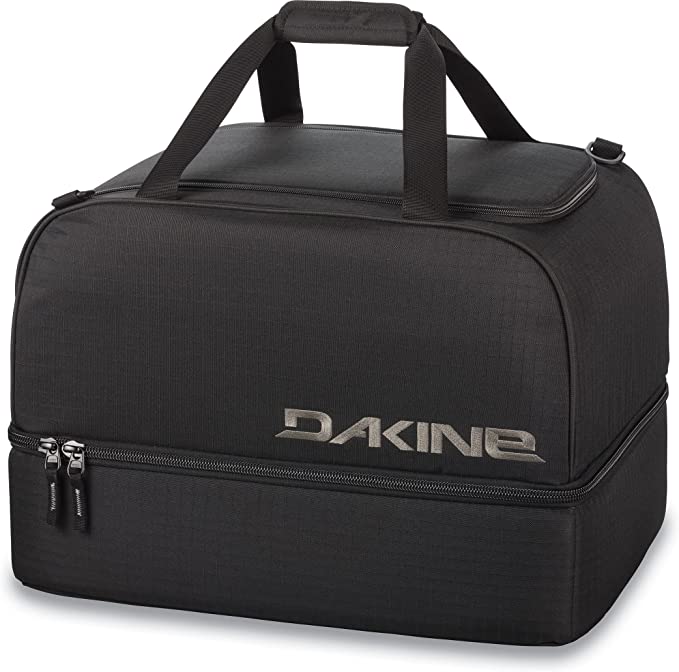 Dakine Snow Boot Locker
The price of "Dakine Snow Boot Locker" varies, so check the latest price at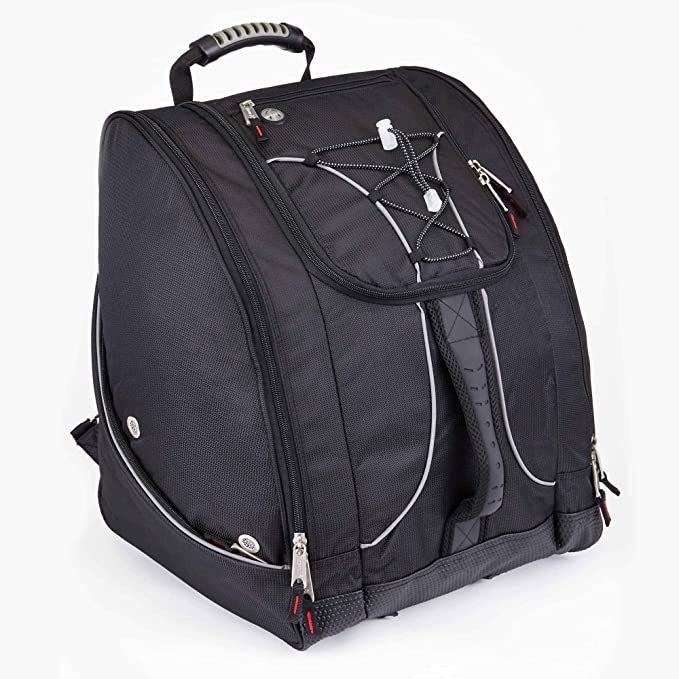 The Athalon Everything lives up to its name, it can be worn as a backpack or carried around as a handbag. The bag's shoulder straps have daisy chain webbing and a D-ring. This D-ring is essential for wearing and securing harnesses onto your bag.
If you choose to use the bag as a handbag, then grab hold of its molded ergonomic rubber handle. You won't want to let go.
Everything Inside
There's plenty of storage space to be had within the Athalon Everything. An extra large cargo pocket as the bag's main compartment and an interior security pocket on the Everything's top flap.
There are also air-vented boot pockets located next to side pockets for your accessories.
Even as you trek around looking for that perfect skiing spot, your ski boots are being dried thanks to the air vents. Everything was thought of when this bag was being designed, and as a result, nothing gets left behind.
Alongside these vented pockets are a glove clip and a clip for your keys within the interior security pocket. To finish off this excellent bag, you can slip your headphones through the bag's port.
This bag can truly handle everything.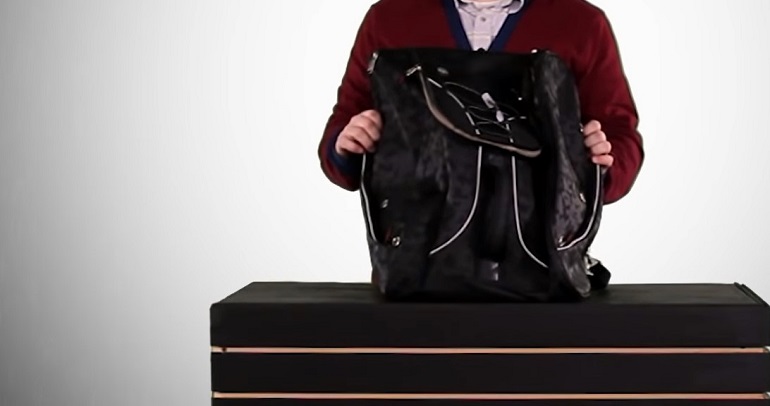 Features
Volume: 58L
Transportation style: Wear as a backpack
Material: Polyester
Weight: 36 ounces
Multiple Pockets: Yes
Pros
Great price for beginner skiers to buy in-to.
Despite the low price, has high storage capacity.
Can be worn as a backpack should you desire.
Cons
Bigger skiers will have difficulty fitting into shoulder straps.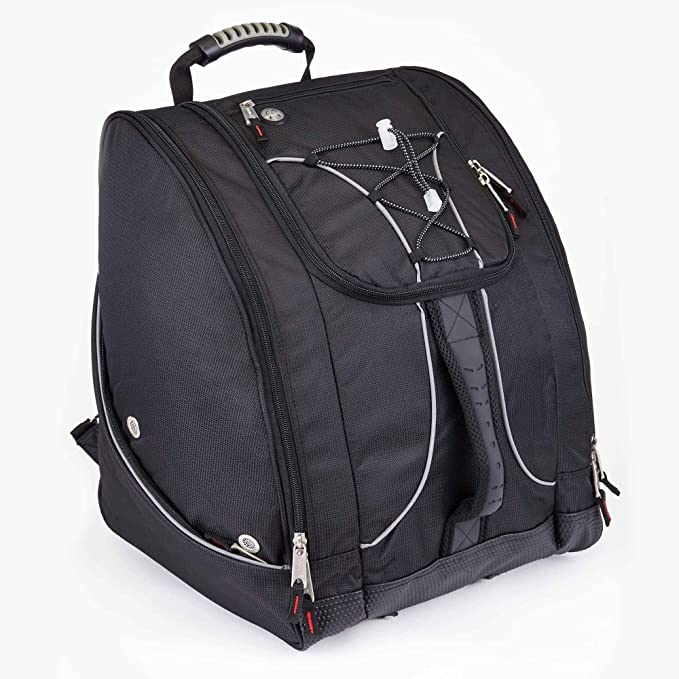 Athalon Everything Ski Boot Bag
The price of "Athalon Everything Ski Boot Bag" varies, so check the latest price at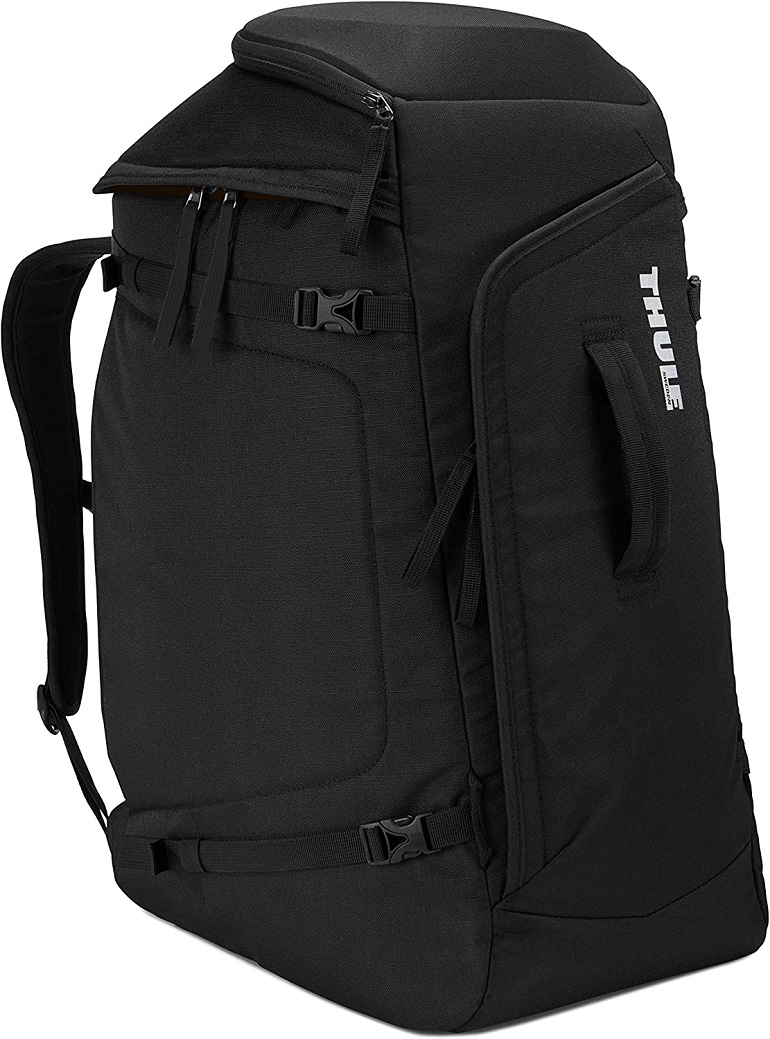 Design-wise, the Thule's RoundTrip ski is my favorite bag on this list. The main compartment doubles as both a place to store ski boots or your best ski helmet.
The rear entry panel of this bag can be laid down and extended to serve as a built-in changing mat. Amazing, but we are just getting started.
For Your Next Ski Trip
It's a heavy bag that has extra layers for all the pockets within it. The pseudo-split-level design allows you to pack in the extra equipment without fear of them rubbing into one another.
Opposite the front compartment, is a section that can be connected to any Thule Round Trip ski or snowboard storage bag. For easy carrying of every single gear piece, you need to tear up the slopes. It may not seem like it, but it's a compact design.
From the fully padded pockets to the standing mat and shoulder straps. You shouldn't worry about the changing mat tearing up as you repeatedly apply your entire weight onto it. This is because the standing mat is made from water-resistant nylon.
This bag literally rolls out the red carpet for you! Well, the nylon carpet but still impressive.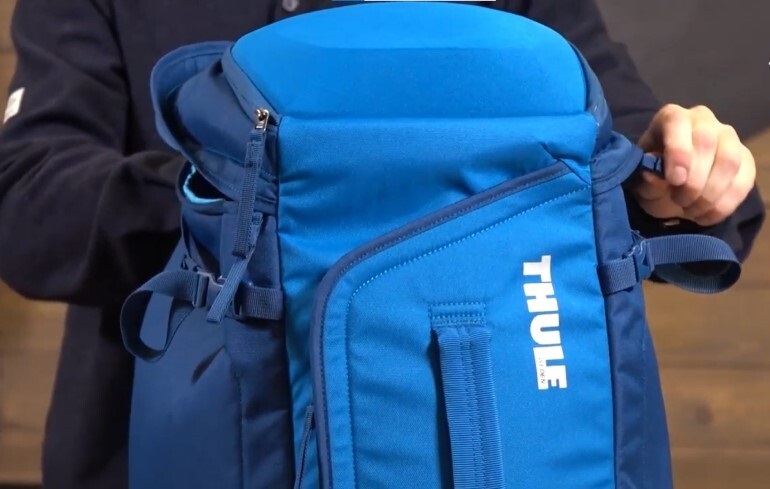 Features
Volume: 60L
Transportation style: Wear as a backpack
Material: Polyester
Weight: 1200 grams
Multiple Pockets: Yes
Pros
Can connect with any Thule Round Trip Ski or Snowboard bag.
Zipper pulls can be locked for extra theft protection.
Goggle pocket located on top of the bag.
Cons
Locks for zipper pulls are sold separately.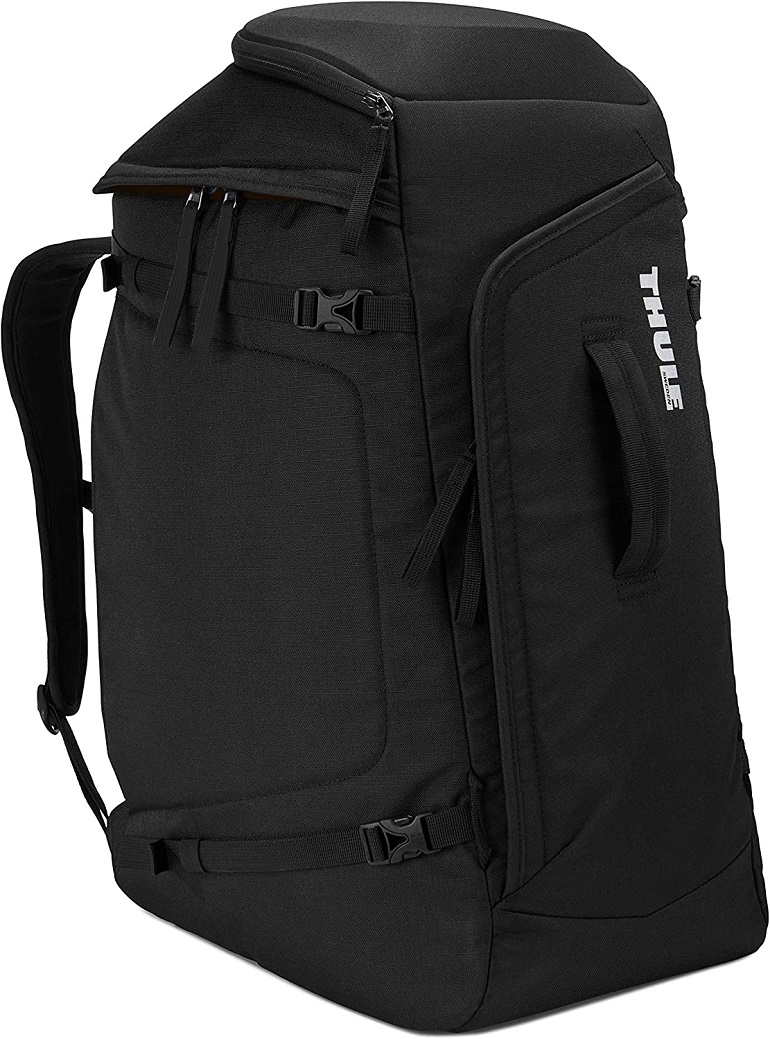 Thule RoundTrip Boot Bag
The price of "Thule RoundTrip Boot Bag " varies, so check the latest price at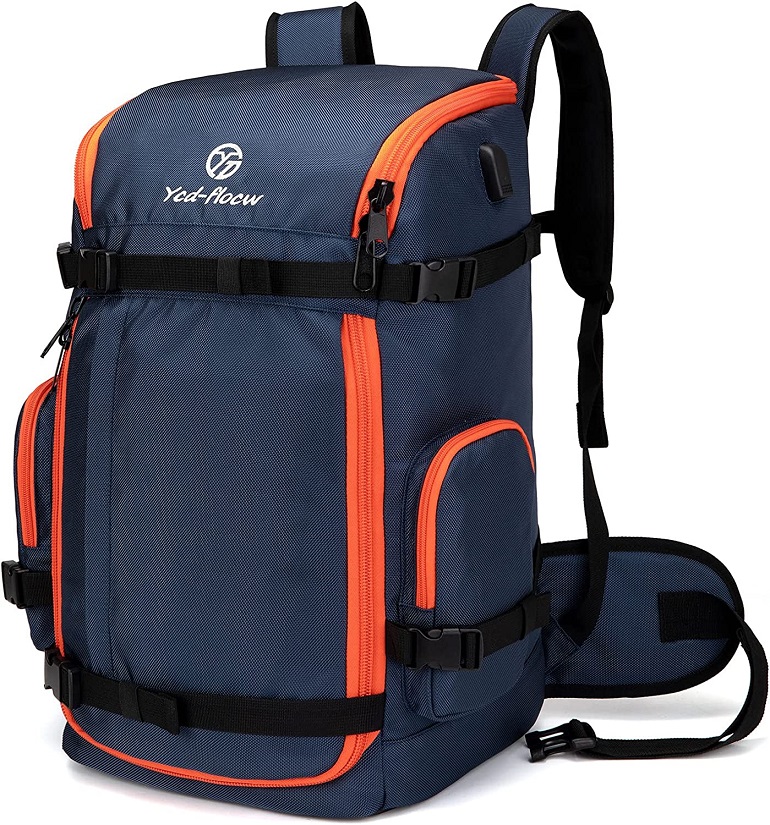 It's got a weird name, but this bag has also got a back panel to die for and a great outer aesthetic design. There is more to it than just looks, constructed from incredibly durable nylon that is water-resistant, it won't fall apart on you.
What's There to It
I suppose the extra-strength nylon used to make this bag would have some consequences with it. It's a large bag but certainly not the largest we've come across, but it sure does weigh like the largest bag on our list.
Close to two and a half pounds, and that's without anything inside of it. But this weight does bring with it an incredible amount of durability. There are also two separate compartments, one for your ski boots and the other for anything else you might need.
A change of clothes, for example.
An extra boot compartment located at the very top of the bag completes a rather spacious offering that manages to be a compact boot bag. The polyester build of this backpack is high-density, and it couples nicely with the nylon already in place.
To top it all off, you can even attach your skis or snowboard to the exterior of the backpack.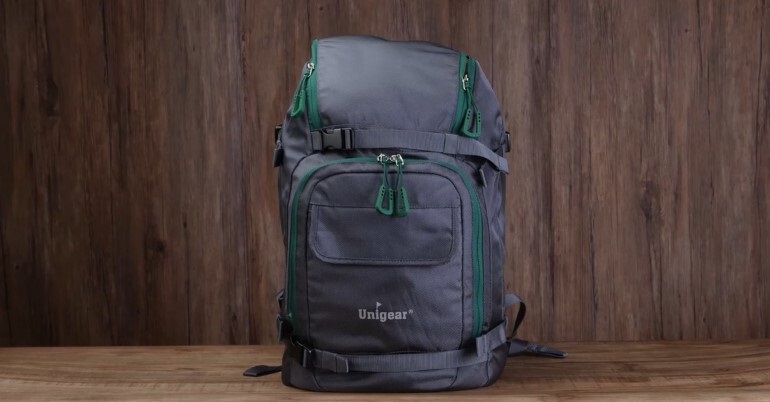 Features
Volume: 50L
Transportation style: Wear as a backpack
Material: Nylon
Weight: 2.4 pounds
Multiple Pockets: Yes
Pros
Incredibly durable materials were used in the build.
The back panel comes padded with EVA foam.
Great color design and style.
Cons
Among the highest-weighing items on the list.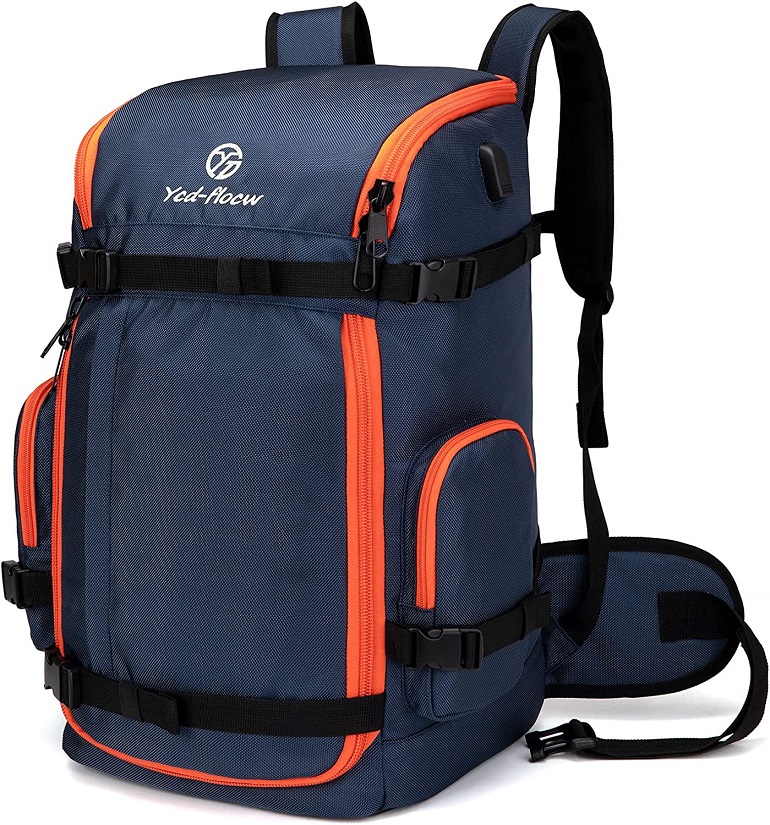 YCD-FLOCW Ski Boot Bag
The price of "YCD-FLOCW Ski Boot Bag" varies, so check the latest price at
Our Buying Guide For A Knowledgeable Purchase
Before you can make a satisfactory purchase, you've got to ask yourself a series of questions. But chief among them is what makes a good ski boot bag high quality? You've also got to consider what is quality within the ski boots' bag world.
You can tell what top ski boots are like, but the same criteria can't apply to the best ski boot bags. That's what this section is for. To inform you of the areas that your ski and snowboard bag of choice should be excelling in.
From the material that they are made from to their weight and carrying capacity. Everything will be run under a microscope.
Boot Bag Material
It's very important to pay attention to the materials that your bag is made out of. If you are located in a wet region, such as the Pacific North-West, then you are going to want a bag that was made with polyester.
But if you ski or snowboard in the backcountry or other particularly rough terrain, a bag like the YCD FLOCW bag is a must. This is because this bag was constructed with nylon.
Nylon is incredibly durable, and polyester is quick to dry. What kind of terrain do you ski in? That will lead you to the right choice.
A Boot Bag's Size and Capacity
Of course, you can't decide what ski or snowboard bag to get (or any bag, for that matter) unless you know how much it can carry. This should be relatively simple to figure out. The more gear you have, the larger the size of your boot bag's main compartment.
Consider the bags that have special compartments for your ski boots and other gear. Ski or snowboard gear is expensive and can be delicate, these compartments not only help us transport our belongings but also protect our valuables.
The Total Weight of Your Boot Bag
When it comes to a boot bag, weight is a two-part equation. First, there is the weight of the bag itself, and then there is the weight of the bag with all of your ski gear inside of it.
If you tire easily, then it is best to stick to ski boot bags that don't weigh much on their own. Like the Dakine Snow Boot Locker. This bag is the lightest weighing bag on our list, and it won't drag you down.
Getting a boot bag with water-resistant materials is a must. Your gear will get demolished by the wet snow unless you can properly store it.
Waterproof Boot Bags
But that is not all, your ski gear gets wet after use, and storing the wet gear in a waterproof bag with drainage holes prevents the bag itself from leaking or falling apart. Any bag made out of polyester is heavily recommended.
FAQs
How Do I Choose the Best Ski Boot Bag?
Use the buyer's guide from above. Think about how much gear you like to carry with you as well as the size of the gear itself. Get something with waterproof materials. After all, snow is just frozen water, and snow melts.
The last thing to consider is the weight of your ski boot bag and your additional equipment. Make sure you get something that you can carry for long periods of time.
Are Ski Boot Bags Necessary?
If you want to protect your expensive snow sports equipment, such as your snow pants, ski goggles, ski jacket, and even your snowboard boots, then yes. A ski boot bag is necessary.
If you don't want to keep your ski boots separate and would rather they get transported together, then yes, a boot bag is necessary. Want to protect your other gear and prevent damage to them? Once again, a boot bag is necessary.
I suppose the answer is an absolute yes, a ski boot bag is necessary.
My Final Thoughts
I'm going to take a guess, and you tell me whether or not I was right. I'm guessing that before reading this post, you didn't fully know all of the benefits there were in having a ski boot bag. That's fine, you know now, and it's always better late than never.
Remember, keeping your gear organized saves you time and prevents headaches. This means that not only will you have more time to ski, but you'll do so with a clear mind.
But that's not all. A good boot bag prevents your ski equipment from being damaged or breaking entirely.
Money and time saved, what's not to like?