Headed to Mui Ne, Vietnam? Feast your eyes on our selection of the top things to do in Mui Ne.
Belonging to a quiet, rural part of the south central coastline, Mui Ne, Vietnam, is a small seaside town known best for its thriving watersports community and sandy beaches.
As well as being one of Asia's main hubs for kiteboarding (with a dash of windsurfing and surfing action to boot) Mui Ne beach is also the destination of choice for a whole bunch of other traveling types- backpackers, beach lovers, honeymooners, retirees…. Heck, who wouldn't love this place.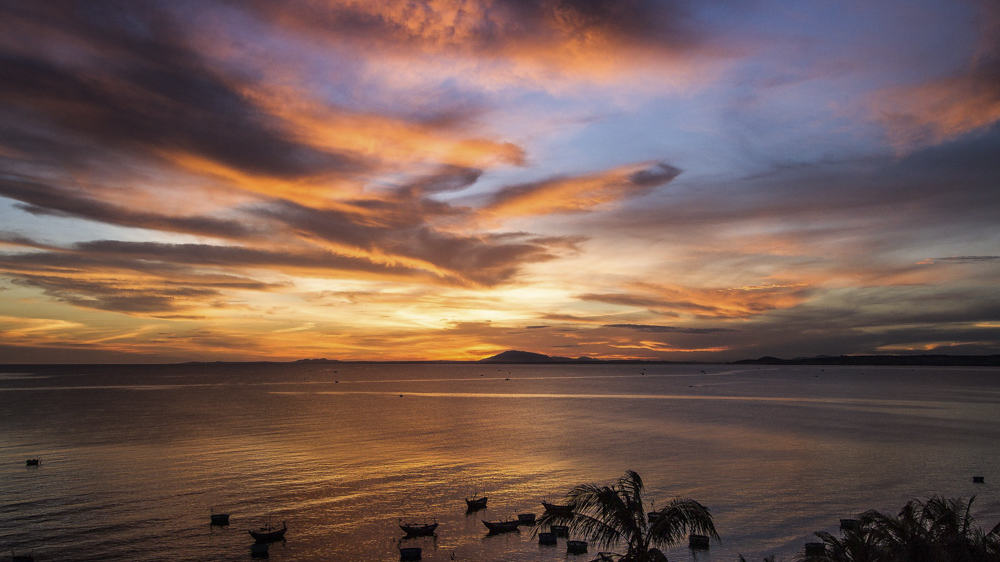 This guide is going to walk you through the coolest, quirkiest, and most authentic things to do in Mui Ne, Vietnam, from craft and cooking workshops to extreme sports, and from bougie brunching in the finest resorts to offroad adventures in the countryside.
We'll also be sharing our extensive vault of Mui Ne travel tips, including how to rent a motorbike, where to stay, local internet speeds, the best cafes to work from, and our top picks for restaurants and bars (ooohhhh, how very many there are).
For the uninitiated, let's get you filled in:
Mui Ne, Vietnam: a lil' bit of background
Up until the early 2000's, Mui Ne was little more than a simple fishing town. Flash forward a few years to when the wandering watersports community caught on to the awesome conditions here, and Mui Ne beach quickly developed into a windsurfing and kitesurfing haven.
Modern Mui Ne is a mishmash of culture; while the Ham Tien part of town is mostly dominated by foreign tourism and the kitesurf community, you only need to take a spin 10 kilometers up the road to find the 'real' Mui Ne, where fishermen and simple lifestyles still reign supreme.
Long considered a favourite spot for seasonal sports people looking to take advantage of Mui Ne beach's strong winds and easy way of life, the town is a perfect place for nomads who value sun, sea, and a mix of adrenaline-fuelled outdoor activities.
What to expect from a trip to Mui Ne, Vietnam
Life in Mui Ne, Vietnam, is easy and laidback- as most beachside towns tend to be. Early risers taking a stroll through the village will often find they're the only ones around, the rest of the town either still sleeping off last night's party, recharging with a sunrise yoga session, or stocking up on supplies at the early morning wet market.
The entire town runs along the length of a single road, where you'll either be on "the beach side" or "the not beach side". Because of this, there's no real 'center' to Mui Ne; at the same time this means that nothing is too far away- walking the length of the busiest part of town takes about 40 minutes.
As well as being considered one of the best destinations to visit in Vietnam, Mui Ne is a seasonal tourist town, at its busiest between November and April and quietest during the rainy summer months. Most nomads head to town during the high season, with a few choosing to stay full-time throughout the year.
Although it has become quite a hub in recent years, Mui Ne is a good 4-5 hour drive away from Ho Chi Minh City (keep reading to find out the best way to get here from the city), and 3-4 hours from Nha Trang. However, it's down to this central location that you can easily reach other fantastic nomad-friendly spots, such as Dalat and Phan Rang.
And within the town itself, dayumn, there's a lot goin' on:
No BS list of things to do in Mui Ne
But first, a caveat:
Mui Ne was our adopted home for a little over a year (and dang, lemme tell you, it wasn't an easy place to leave). This basically means the info we're about to dish out to you in this guide is a fair size different from most other blogs you'll read on the subject.
How so?
Well, let's be real for a sec:
Virtually every tour operator, travel blogger and their uncle will tell you the top things to do in Mui Ne are: a) visiting the white sand dunes b) the red sand dunes and c) the fairy stream.
Guess what this blog ain't gonna talk diddly squat about?!?
Visiting the sand dunes or the goddang fairy stream.
Sure, they're worth a look for first time visitors who are keen to check out the local scenery- but seeing as these spots are already heavily documented by tour operators and bloggers, our list is going to cover some of Mui Ne's lesser known, offbeat, and adventurous offerings instead.
Top things to do in Mui Ne for the adventurer:
Mui Ne, Vietnam, is a bona fide adventurer's haven. No prizes at this point for pegging the awesome kitesurfing opportunities, but on top of that there's a whole smorgasbord of other adrenaline-fuelled, exciting things to do in Mui Ne, Vietnam, to give you your adventure travel fix.
Here's our crème de la crème:
Kitesurfing
Having earned itself a reputation as one of the windiest spots in the region and having hosted rakes of international kitesurfing competitions throughout the years, Mui Ne is- first and foremost- a kitesurfing town.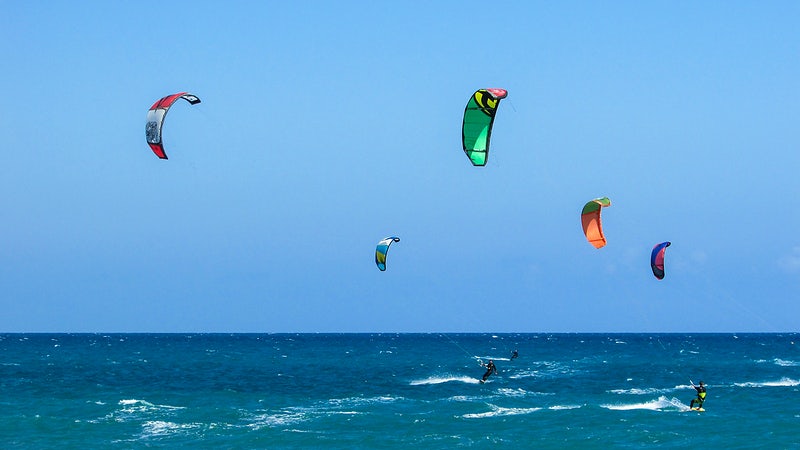 There's now around 15 kitesurfing schools dotted along the beach here, all of which offer full instruction, rentals, storage, and beach facilities.
If you're already an experienced kitesurfer- yay for you!- you'll want to head over to our complete guide to kitesurfing in Mui Ne for info on spots, season, conditions, accommodation and more.
For those of you opening up a new tab and sneakily googling "most awesome kitesurfing videos of all time" (yeah buddy, I see you) and wondering if it's actually humanly possible for you to learn it too, lemme tell ya:
It totally is.
For many travelers, learning how to kiteboard is top of their list of things to do in Mui Ne.
Fair warning: there are a bunch of people who'll tell you Mui Ne beach is not a good place to learn kiteboarding, since the conditions here are notoriously tough- but don't be put off. All you need is an awesome instructor (plus the motivation to get out there on the water) and you'll be flying in no time.
We wholeheartedly recommend booking a beginner's course with the incredibly talented, patient, and professional instructors at C2Sky Kite Center.
Windsurfing
Before the kite scene really took off, windsurfing ruled the roost in Mui Ne. Windsurfers sussed the place out way back in the 90's for its awesome wind and water conditions, and there's still a small community of active windsurfers in town today.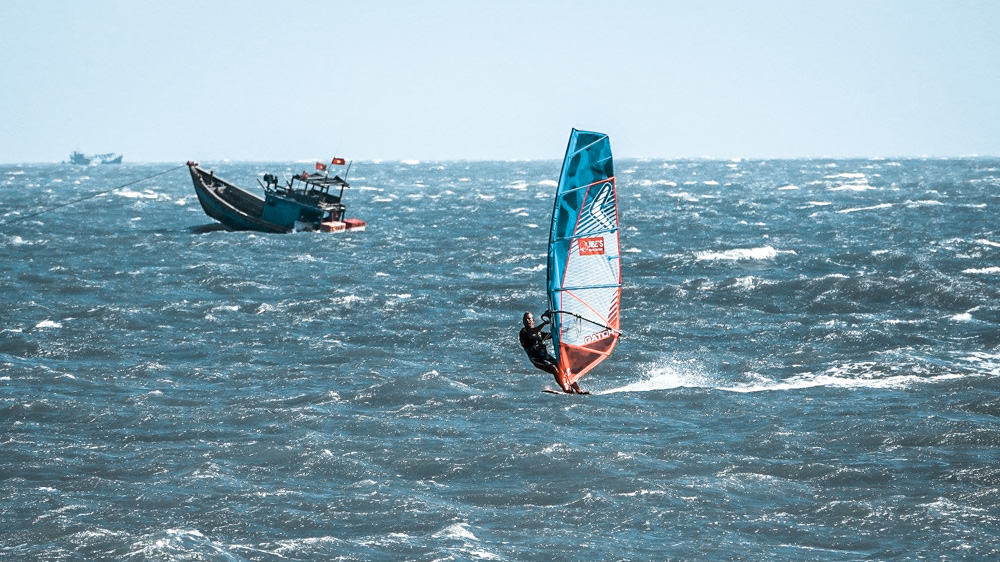 You'll find the crew at Jibe's Beach Club, which is easy to spot along the main road in town. Lessons and gear rental are both on offer, and you're guaranteed to be well looked after by beach club managers Adie and Matt, along with their team of awesome beach boys.
Surfing
Surfing in Mui Ne depends on wind swell and storm fronts (as is the case for all of the surf spots in Vietnam). And granted, it's not exactly 5 meter barrels you'll find here, but if you keep your eye on the weather forecast you'll see that Mui Ne's waves are in fact worth waiting for.
Surfing along the main beach in Ham Tien doesn't happen very often- only if a mega storm front has blown through and left behind some clean breaks. Generally speaking, there are three other surf spots in Mui Ne worth visiting:
Malibu should be your first port of call. Set 7 km away from the main "downtown" area, this huge stretch of beach gets some decent swell and nice clean waves, particularly during high season (November-April).
Then there's Suoi Nuoc, which is located in front of Mui Ne's famous white sand dunes. This is the host spot for the town's annual Sunrise Surf & SUP wave riding competition (hosted by Jibe's Beach Club) as well as local surf club, Vietnam Surf Soul.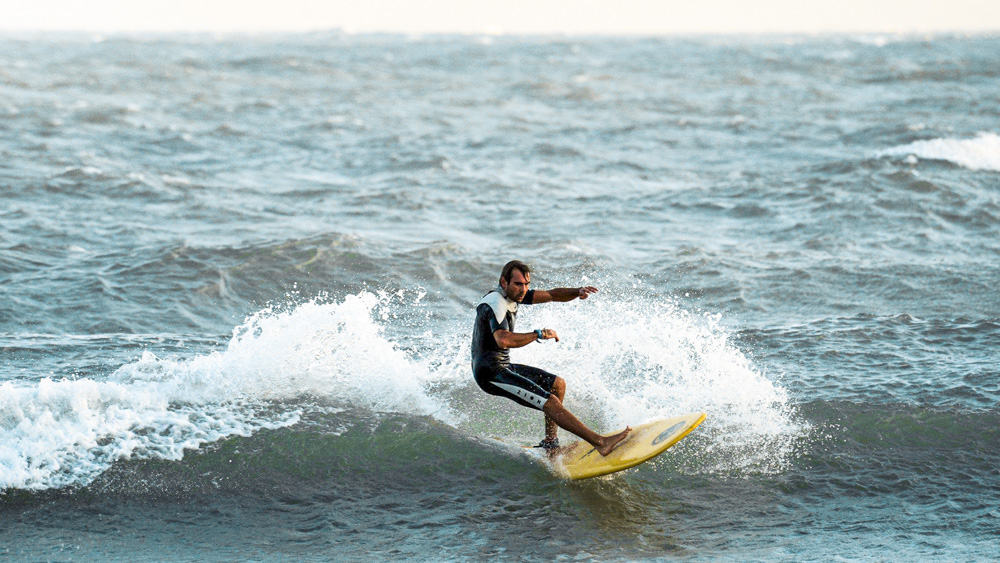 Lastly, there's Little Buddha, a spot that came into being after the nearby Sea Links Resort built a walkway that juts out into the bay; a happy accident for local surfers, since perfect little waves form after hitting the concrete.
Practical side note: surfboards are easy enough to rent at each of the above spots.
Paddle boarding
With so many different alcoves dotting the coastline, taking out a stand-up paddle board (or SUP, as it's known) is one of the most awesome things to do in Mui Ne when it comes to getting to know your surroundings.
Jibe's Beach Club makes for the perfect base to enjoy a wee paddle session out on the open sea (though it gets pretty tough as soon as there's a hint of wind, so best off sticking to early mornings and no-wind days). The club has a mix of inflatable and solid Starboard SUPs up for rent.
In the low season, our morning ritual used to consist of an hour-long paddle out from Jibe's (followed by a yummy omelette or bowl of pho in their beachside restaurant- sooo good).
For those of you looking for some beginner-friendly flat water paddle action, hook up with C2Sky Kite Center owner, Liz, and her fantastic team of beach boys who offer SUP tours through Mui Ne's fishing village at sunrise and sunset.
And speaking of which…
Exploring the fishing village
You can't rightly visit Mui Ne without making a trip to the traditional fishing village. For the locals, this is one of the main hubs of activity in town, and from a visitor's eyes, it's probably the best reflection of what life in 'real' Mui Ne is actually like.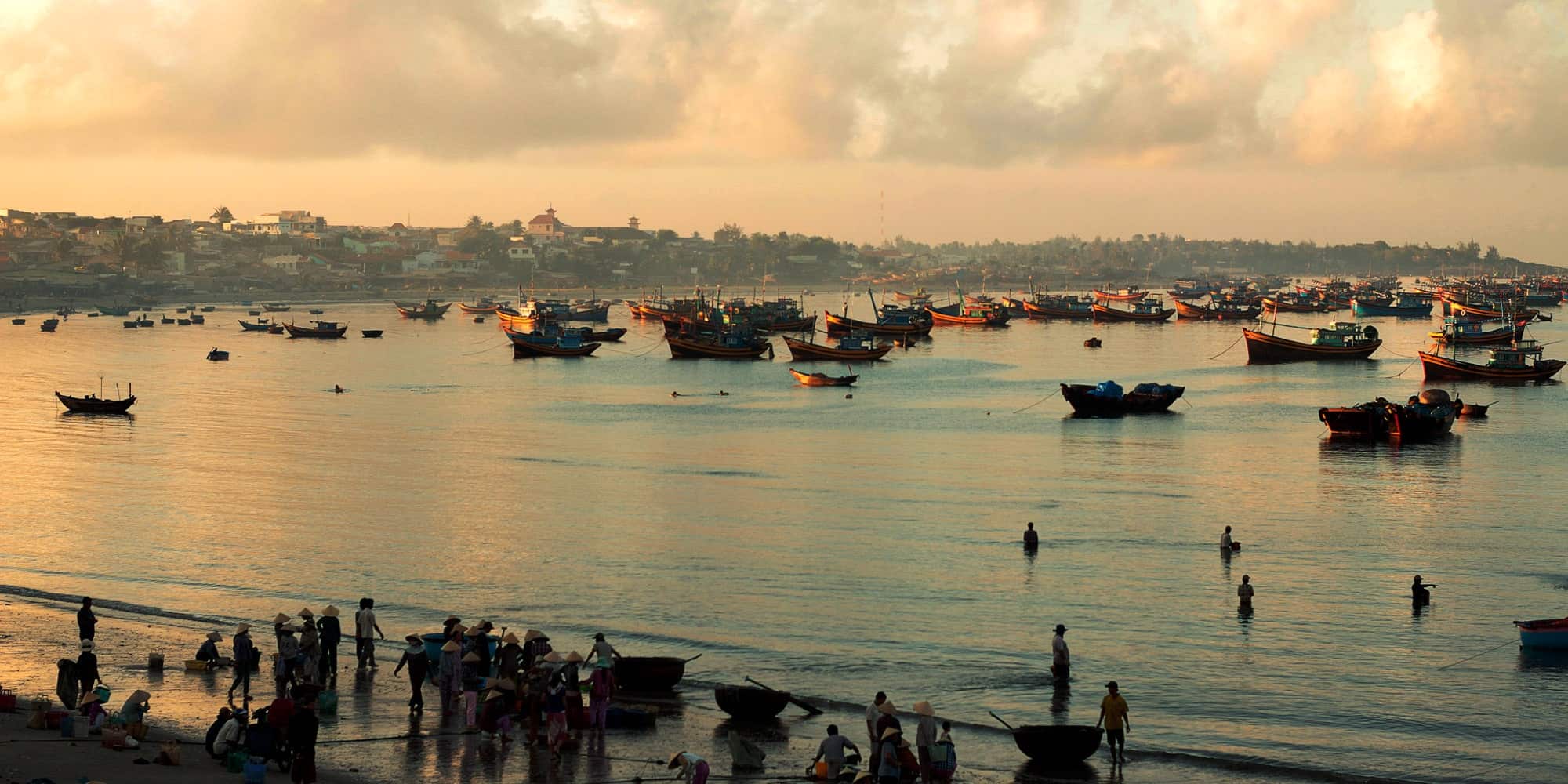 The fishing village sits about 10-15 minutes north of the touristy Ham Tien side of town (the location changes from one side of the cape to the next as the seasonal wind direction shifts) where dozens- if not hundreds- of colourful junk boats and traditional coracles bob up and down in the water.
Seafood lovers, eat your lil' fishy hearts out! This is bound to be one of your absolute favourite things to do in Mui Ne.
For a truly unique experience, visit the fishing village at sunrise to see the fishermen arrive back to shore with the night's catch. They'll hand the goods over to the wives and grandmas, who'll haggle with customers right on the shoreline as they try to strike a deal on their fresh catch- crabs, snapper, mussels, eels, and more.
Drive through the backcountry
Head up to the highway behind Mui Ne and take any of the little turns west; there are tons of sweet little villages, stretches of rural farmland, and miles of snaking roads passing through thick groves of palm trees.
Rent a scooter from, well.. Basically anywhere along the main road in Mui Ne and set off on your own adventure. Who knows what you might discover!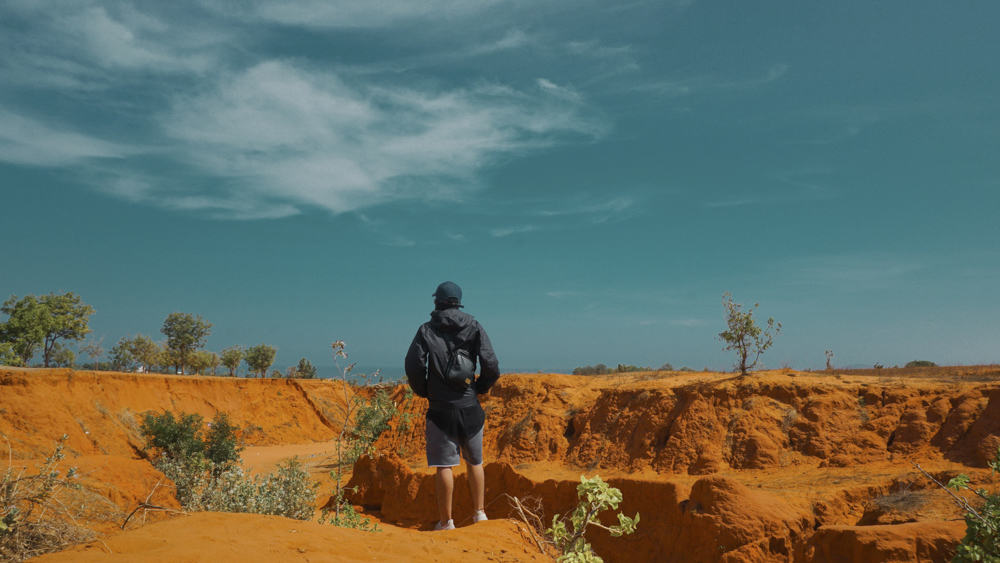 (Side note: there are some important tidbits of info that you should know about before renting a scooter in Mui Ne- namely to do with driving license requirements and local police stops. We'll give you full details on that a little later on.)
Some of my happiest, most beautiful memories of living in Mui Ne were during the days when Jim and I would take off on our motorbike to explore some random corner of the countryside that we'd spotted on the map.
There really wasn't anything scientific about it, and most of the time we had very little (okaaaay okay, zero) idea where we were going.
Which… is kinda the awesome thing about it.
Cycling
Though the road that runs through Mui Ne is less than ideal for cyclists (think potholes, manically swerving drivers, and lots of horn beeping), the back roads just outside the village offer some beautiful routes for a two-wheeled adventure.
Head up to the new highway (yup, the very same one we just talked about in the last section) overlooking the village and you'll be greeted with: #1 panoramic views of the coastline below and #2 not a single vehicle in sight.
Boo ya!
This "highway" connects the fishermen's end of Mui Ne with Phan Thiet and, at the moment, very few cars and bikes drive this road (plus the new tarmac makes it ideal for cyclists).
If you fancy taking things off the beaten track, take one of the small side street turns off the highway (on the opposite side of the road to Ham Tien/Mui Ne) and head into the jungle brush to discover some of those tiny local villages we just mentioned.
You can even take these little snaking roads all the way back to the coastline just north of Mui Ne, where you can then continue onwards to Phan Rang or even Da Lat. It might be a long journey, but for a seasoned cyclist it'll be no sweat.
For bicycle and mountain bike rentals in Mui Ne, check out the small rental shop on the main road opposite Novella Resort.
Hiking Ta Cu Mountain
Aright aright, so teeeechnically this one isn't "in" Mui Ne (it's actually about 30 km west) but it is one of the most noteworthy on-land outdoor activities in the area.
Here's why:
Ta Cu Mountain is home to one of the few decent hiking trails around Mui Ne, and is covered in super lush jungle and filled with wildlife (think exotic birds and monkeys). Even more impressive though is the 59 meter-long, pearly white, lying Buddha statue at the summit- word on the street is that it's the largest of its kind in Vietnam.
You can choose to hike up the mountain- which is totally doable, even though some of the path is pretty overgrown- or take the 10 minute cable car to the top.
Trampolining
Lads, honestly, the day that the giant trampolining center opened in Mui Ne was the day that all of my childhood dreams came true at once (because I was the kid who was never allowed to play on the trampolines…. Thanks a lot Mom).
Impulse, the trampoline center, is basically a humongous big-kids' playground. Designed in equal parts for fitness and fun, you can start with a giddy lil' bounce around and, as you get more confident, progress to tricks and flips (it's seriously good training for surfers, kiters, and wakeboarders).
And what's more fun than a trampoline…. How about TWENTY trampolines?!?
Impulse is located just off the main road in Mui Ne and features 20+ acrobatic trampolines, a wall run, a warm up/workout area, and is staffed by super friendly, professional instructors.
Hot air ballooning over the sand dunes
Okay, so I KNOW I promised I wasn't going to go down the sand dunes route, but guys- this is one experience that you absolutely don't want to miss (and in fairness, it's a far cry from the dime-a-dozen sand dunes tours that you'll normally find).
Even better is the fact that hot air ballooning is also a totally new experience in Vietnam, so relatively few travelers will have had the chance to check this one out yet.
Typically, you'll start (VERY) early morning so as to catch the sunrise; you'll meet with the balloon pilots and set off on your hour-long flight over the sand dunes, swamps, farmlands, and tiny local villages.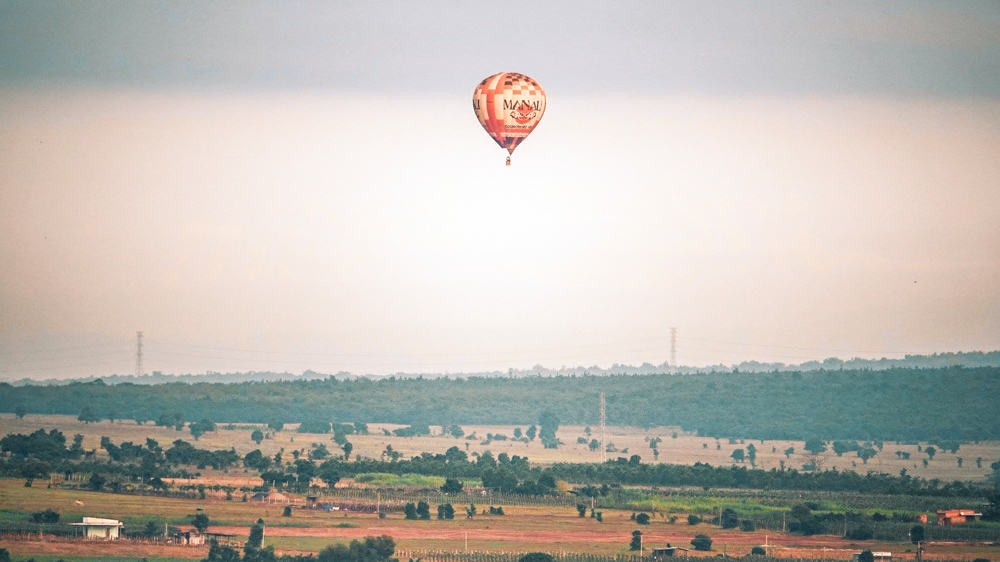 Lemme tell ya- watching the sun come up over the sand dunes is actually a friggin' magical sight. And beyond that, you'll also get the chance to see eeeeverything there is to see of Mui Ne and Phan Thiet- but from a wildly different point of view.
And get this:
Once you've landed, they'll whisk you off to the local winery (did I mention Mui Ne has a winery? Because it does.) for a glass of champagne and a special 18th Century inspired "fliers ceremony". Ooh la la, how aristocratic.
Guys, if champagne and hot air ballooning doesn't get you pumped, I'll be a monkey's uncle.
Top things to do in Mui Ne, Vietnam, for the laid-back traveler:
Even Indiana Jones needs a day off eventually, and when that day comes there's plenty of maxin' relaxin' to be done in good old Mui Ne, Vietnam.
Or, y'know, maybe your idea of a perfect holiday is just a lil' less "extreme kite balloon jungle trekking" and a lil' more "pina colada by the pool" and that's totally okay.
Don't worry, smush; we got ya covered:
Swimming pool hopping
Ahhh, easily my favourite lazy day activity in Mui Ne, Vietnam- and thanks to the ridiculous abundance of resorts in town, swimming pool hopping is a legit experience.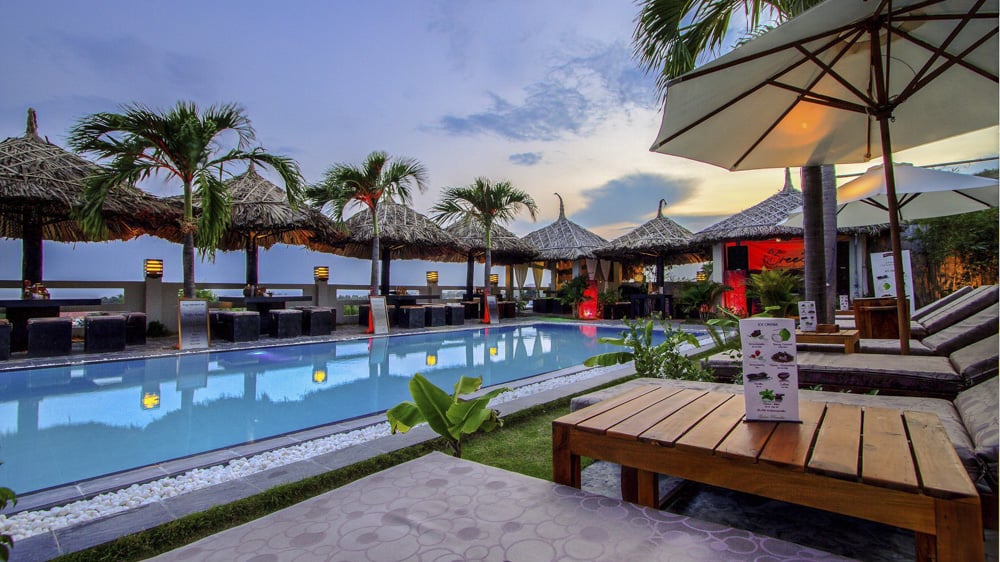 Now, here's the thing:
If you're staying in a sweet-ass resort with a pool already, you'll have access to that one as standard. Good for you!
But a lot of resorts aren't super cool with outsiders coming in to lounge by the pool and snap selfies all day (go figure, eh?). HOWEVER, I've scoped out a fair few swimming pools that non-residents can use:
Time to don that swimwear and slap on some sunscreen (yo, safety first).
The Mui Ne Mud Baths have the biggest and best public swimming pool in town, and for a cover charge of about $3, it's yours to use for the day (you'll also be given a sun lounger and towel within that price).
Green Hill Resort has a lovely pool which visitors are allowed to use for $2 (equivalent), as does Venus Hotel (NDC 202), Ananda Resort ($10), Victoria Resort ($5-6) and the likes of The Crown & Anchor (117 NDC), Ocean Vista Hotel (NDC 202) and Mui Ne Hills (69 NDC) will let you use their pool if you make a purchase from their bar/restaurant.
Remote Mui Ne is the only place in town which has a natural, chlorine/chemical free swimming pool, which visitors are welcome to use with a $5 (equivalent) purchase from the bar/restaurant.
Beachside brunch
Feelin' like getting your fancy on? There's literally no better place in town to gorge on delicious eats and drink your body weight in coffee than Mia Resort's seaside cafe.
The open-air space faces out over the beach, where you'll have a prime view of any kitesurfing action (if it's windy) and the glittery blue water of the bay.
They offer an all-you-can-eat breakfast buffet which is filled with tropical fruit, cereals, home baked treats, breads, cheese and cold cuts, cold pressed juices, fry-up material, and Vietnamese staples. You'll pay a flat rate of around $12 to stuff yourself silly.
Shopping
DON'T jump to conclusions here- I'm not about to suggest that you go and drop half a year's salary in the glitzy gold and pearl shops (seriously, do I strike you as a gold/pearl kinda gal?! Playyyz…).
But if you're keen to do a spot of retail therapy, there are a couple of key shops in Mui Ne that might tickle your fancy:
First up, since Mui Ne's surf culture runs so strong, big name brands like Rip Curl, 69 Slam, and Roxy/Quiksilver have set up shops in town. This is actually one of the only places in all of Vietnam where you can buy surf apparel straight from the shop, so if you're in the market for a new pair of board shorts or a cute bikini, make your way on over.
For the gals specifically, there's a couple of fab boutique designers in town who are making super gorgeous, unique, travel friendly clothing.
Get crafty at a macrame workshop
If you're a) female and b) don't live under a rock, chances are you're well aware of the mighty macrame trend that's taken over Instagram. If not, allow me to shed some light:
While in Mui Ne, you can actually sit down with your very own macrame mastermind and learn how to create your own piece of boho rope art.
Mui Ne local (err…well, she's French, actually) Lea, is the brains/artist behind The Knotted Ropes, and she's taken to offering exclusive macrame workshops right in her own home.
For a super reasonable cover charge, she'll provide you with all the material and instruction you need to create gorgeous plant hangers and wall hangings, which you'll be able to take home with you at the end.
(Psssssst: she also sells her own creations, which are AMAZING and 100% unique.)
Not only is the workshop one of the most unique things to do in Mui Ne, but the piece you create will probably end up being the goddamn coolest travel souvenir you've ever come home with.
Take a Vietnamese cooking class
From handmade spring rolls to phở, learn how to make all the classic Vietnamese dishes under the watchful supervision of Miss Thuy and her team of local chefs. Bonus points for the fact that she offers veggie/vegan options for anyone interested!
Mui Ne Cooking School offers traditional Vietnamese cooking classes at their feet-in-the-sand space on Mui Ne's main street.
The class typically lasts all morning, beginning with an early trip to the wet market where you'll purchase all the fresh ingredients needed for your dishes (and sample a few of the local specialties while you're at it!). Then you'll be driven back to the school to cook up a storm.
A word of warning: you are going to make and eat a lot of food. Do NOT eat breakfast. Wear stretchy pants. Maybe even consider fasting for like, three days beforehand.
Join a yoga class
Mui Ne has yogis coming out its ears, with classes offered in-house by resorts, surf clubs, and even in specialised yoga centers.
Class schedules and availability changes seasonally, as most instructors will come to town and teach during the high season and leave during the low season. It's easiest to find classes between November-April, but that said it's usually possible to find someone somewhere ready to teach a class at any given time throughout the year.
Take a look on the Mui Ne Info & Events Facebook page for sessions happening currently; use the search function to find the latest yoga posts- or write your own call-out and see who gets back to you.
Where to eat in Mui Ne, Vietnam
Of all the things to do in Mui Ne, eating might actually be my all-time favourite.
You can eat pretty much whatever you fancy here: Vietnamese, Thai, Indian, Russian, Italian, French, fresh seafood, BBQ, vegetarian/vegan… You name it, one of the Mui Ne restaurants has probably got it.
There are tons of great resties in town- I could easily write an entire article just on what to eat in Mui Ne (hmmm…. Is that an idea?!). But for now, I'll just leave you with my absolute can't-miss picks:
Choi Oi
Run by Miss Thuy and her family (remember, Mui Ne Cooking School??), Choi Oi is the absolute best place in town to chill out, slurp a coconut, and chow down on some home cooked Vietnamese food. Vegetarians and vegans rejoice- this is the place to eat the best veggie pho that's ever existed on the face of the earth.
Ganesh
In short: friggin' delicious Indian food at a seriously reasonable price. They've got an enormous menu with something to suit every flavour- and plenty of vegan/veggie options (there's actually an entire North Indian vegetarian section of the menu- don't miss the Punjabi Chana Masala!). Treat yourself to a thali if you're ready to get really stuffed.
Mia
When you're feeling like splurging on a seriously beautiful meal, Mia is the place to go; bigass burgers, open sandwiches on homemade bread, fresh salads, smoothie bowls, and more. Get. In. My. Belly.
Dong Vui Food Court
All things considered, this may be my favourite place in Mui Ne to eat/drink/be a general glutton. The giant, open-air food court is made up of a hodgepodge of stalls, each selling their own specialty menu and dishes.
Take your pick between classic Vietnamese, spicy AF Thai curries, fresh Italian pasta, cheese boards, steaming pans of paella, and more. OOOOH, and they also have a brilliant selection of craft beers on tap (for crazy cheap prices). Don't miss it!
Gino's Pizza
Of all the pizza joints in all of Mui Ne, this is the clear winner to me. The price is good, the quality is great, and Nam- the main man running the show- is just about the nicest dude going. He'll chat your ear off about tody's kitesurfing session while your pizza bakes in the oven, but once it arrives- trust me, yo- your mouth is gonna be waaaaay too busy eating that delicious cheesy goodness to continue the convo.
The Bar
Dirty, cheesy, delicious Mexican food. That's what I think of when The Bar has anything to do with things! In actual fact, they have a ginormous menu with not just Mexican food, but all kinds of Vietnamese and Western flavours; plus huge portions and unbeatable prices to boot.
El Cafe
Argh, how I wish El Cafe had been open during my time in Mui Ne! This vegan-friendly restaurant opened up super recently, and has since earned a glowing reputation from locals for its insanely delicious, locally-sourced vegetarian food. Cheap cheap, too!
Fancy cooking yourself? Here's where to grocery shop in Mui Ne, Vietnam
There are two main wet markets in Mui Ne for fruits, veggies, fresh fish and meats; Ham Tien Market (3km away from "downtown") and Mui Ne Market (8km away). Best go between 6-9am for the freshest pick!
In terms of grocery shopping in Mui Ne, you're limited to the basics; although if it's sunscreen and inflatable pool toys you're after- by chrisht, you're in luck! There's at least two dozen shops that have your name all over it.
There's also a couple of 'essentials' shops where you can get basic food and household supplies; but you'll need to go to Phan Thiet (12 km away) for everything else.
Phan Thiet has two big supermarkets, the Co-op and Lotte Mart. Between the two of them, you can find most things (including some imported products like cheese, wine, pesto, butter, pasta, and cereals).
If you can't find what you're looking for up there and you really have a craving, Annam Gourmet Market in Ho Chi Minh has indicated that they will make deliveries up to Mui Ne as long as the customer pays the cost of putting the goods on the bus/train (approx. $5). Contact their customer service for more details.
Mui Ne nightlife
Whether you're up for a few quiet pints of quality beer or a vodka-infused wiggle and boogie at a nightclub, there's plenty of things to do in Mui Ne after hours:
Best bars in town – our tops picks
Mooney's Irish Pub
No frills Irish bar run by a bona fide Howth man, Liam. Get your craic, Jameson, and Guinness fix here!
Crown & Anchor
English sports bar owned by a wonderful couple, Englishman Brian and his Kyrgyzstani partner Adele (and their loveable dog Mini). Great selection of draft beers and oodles of screens showing the latest sports coverage.
Joe's
The place in town for live music- and they've got it on 7 nights a week, no less. They stock all kinds of craft beer, including my absolute numero uno, Pasteur Street's passion fruit wheat ale. Joe's is also one of the best places in town to smoke shisha, if you're down for that kinda thang.
Jibe's
Ideal for a frosty post-surf-session bottle of beer. They may just have the best happy hour deal in town, too (made better by the fact that they have, like, three happy hours a day?!).
Source
Source Kiteboarding and Lodge is located about 10 minutes from the main strip in Mui Ne, and- apart from being one of our top picks for kitesurfing schools in town- it's also got the single best rooftop bar in all of Mui Ne.
Serving up delicious cocktails, frosty beers, and glasses of wine, you can also binge out on some seriously yummy food- all while looking over the epic scenery of Mui Ne Beach. Tip: head there at sunset to score the best views!
Old Fashioned
The only real mixology bar in Mui Ne, they serve up a seriously impressive menu of quality wines, spirits, classic and specialty cocktails. FYI, they do a damn good negroni!
Lively bars/nightclubs in Mui Ne:
For when you're ready to up the ante and (if you're anything like me) humiliate yourself on the dance floor, head over to any of the following:
Dragon Beach
Jury says this is the biggest and best nightclub in town. Dragon Beach features an indoor dance floor and bar area, as well as a separate 360 degree outdoor bar and separate DJ booth. Weekends are big here, especially during high season and holidays.
Line Up
With a big dance floor and fully stocked bar overlooking the seaside, Line Up often hosts live music/DJ events from international artists, including the likes of Wankelmut and The Prodigy's Leeroy Thornhill.
Mad Monkey Backpacker Bar
The newest club to join the roster, Mad Monkey is an extension of the Mui Ne Hills Hotel empire that sits up on top of Ham Tien, overlooking the town and bay. They're known for their wild parties filled with young, energetic backpackers- and Mad Monkey is where it all comes to a booze-fuelled peak.
Chameleon Beach Bar
Live DJs, a huge bar, and chilled out views of the crashing waves below- that's what Chameleon is all about. For those of you who've been to Mui Ne in the past 10-ish years, you'll probably know this space as Pogo; but new owners have come in mid-2018 and have the place transformed and looking smashing- but with the same good tech/house beats.
Digital Nomad tips:
Where to work remotely in Mui Ne, Vietnam
While there are currently no official coworking spaces in Mui Ne, there are a handful of digital nomad friendly cafes and beach clubs where you can pull out the laptop and clock in some hours.
Our favourites are:
Jibe's Beach Club and Bar
Originally established as the main windsurfing hub in town, Jibe's is a big, open-air beach club, restaurant, and bar. Good wifi, plugs, tasty grub, lots of feet-in-the-sand chairs and couches- and it's one of the few places in town with a backup generator (so no panic if you get caught in the occasional power out).
Choi Oi
Miss Thuy and her family just opened this cheap-and-cheerful restaurant late in 2017, and they've already earned themselves a reputation as one of the best eateries in town. Free wifi (and plugs) and chilled cafe vibes- not to mention awesome food!
Backstage
Centrally located (on the "not beach side" of the road), Backstage has big comfy couches and reliable wifi.
Internet speeds in Mui Ne, Vietnam
Internet in Mui Ne has been catching up in speed recently, and you'll now find a minimum of 10 Mbps almost everywhere, while some already enjoy fiber optic up to 50 Mbps.
The only issue with internet in Mui Ne is the occasional power blackout that can last anywhere from 10 minutes to a full day- and will be a pain if the place you're working remotely from doesn't have a generator.
SIM cards
3G/4G in Vietnam averages 5.4 Mb/s, which is lower than the Asia-Pacific average of 9.69 Mb/s. Vietnam's 4G networks cover 95% of the nation's population and there are no known dead spots anywhere around Mui Ne.
The main 4G providers in Vietnam are Mobifone, Viettel and Vinaphone. For more advice about buying a SIM card for mobile internet in Mui Ne, see a full guide on Vietnam's SIM cards options here or maybe even there.
Where to stay in Mui Ne, Vietnam
If there's one thing Mui Ne knows… it's resorts. So when it comes to the question of where to stay in Mui Ne, there are pllllenty of answers.
Short term travelers can rent a private room in a local style guest house for as little as $8. For this price, expect something simple but comfortable, with wifi as a given and possibly even access to a communal kitchen.
Take your pick from an entire spectrum of offerings, from swanky 5-star hotels like Anantara and boutique resorts like Mia to intimate midrange options like Sunrise Village to budget-friendly guest houses and backpacker haunts (for the latter, check out the top rated cheap-as-chips digs at Mui Ne Hills Backpackers).
Of course, this is the starting price so if you're willing to part with a bit more cash you can find yourself some pretty luxurious digs- think swimming pools, full Western amenities, and beach views.
For nomads planning to stick around upwards of one month, you're best off either finding an apartment to rent or negotiating a deal with a guesthouse for a good monthly rate. The most basic studio apartment might cost you as little as $120/month, while a fully furnished 2 bedroom house tends to start at $250/month.
Psssssst: we've got a whole article coming up about Mui Ne's accommodation options. In the meantime, if you're looking for specifics, join our FREE facebook group and pitch your question to the community!
How to get around:
When it comes to getting around Mui Ne via public transport, local buses are dirt cheap and can be hailed anywhere along the side of the road. Taxis are also cheap and easy to come by.
You'll quickly find the most cost effective (and convenient) way to get around Mui Ne is to rent a motorbike/scooter. Just take a walk down the main street and you'll see plenty of local guys ready to hook you up.
Prices average at $6 with discounted rates available for long term rent.
Caveat: when driving in Vietnam, you officially need to have a Vietnamese driving license. By and large, international driving licenses are not recognised, and could result in you being fined if you're stopped by police.
Now, most people drive without a Vietnamese license and never experience an issue. Ahem- we're not saying you should… just that it happens. Like, all the time.
How to get to Mui Ne
Getting to Mui ne is a little bit long winded, but it's fairly straightforward once you know where you're headed for.
It's relatively easy to travel to Mui Ne from any of the major cities in Vietnam, including Hanoi, Da Lat, Nha Trang, and Ho Chi Minh.
The most popular ways of getting to Mui Ne are:
Bus (book your tickets here)
Train (check schedules here)
Private car/van (get a quote here)
There's also a bus service offered by Vietnam Bus Tickets which includes a direct transfer from Ho Chi Minh airport to Mui Ne, as well as buses all over Vietnam.
For a full rundown on each of the options (plus details on how to road trip up to Mui Ne on a motorbike!) head on over to our full guide on how to get from Ho Chi Minh to Mui Ne.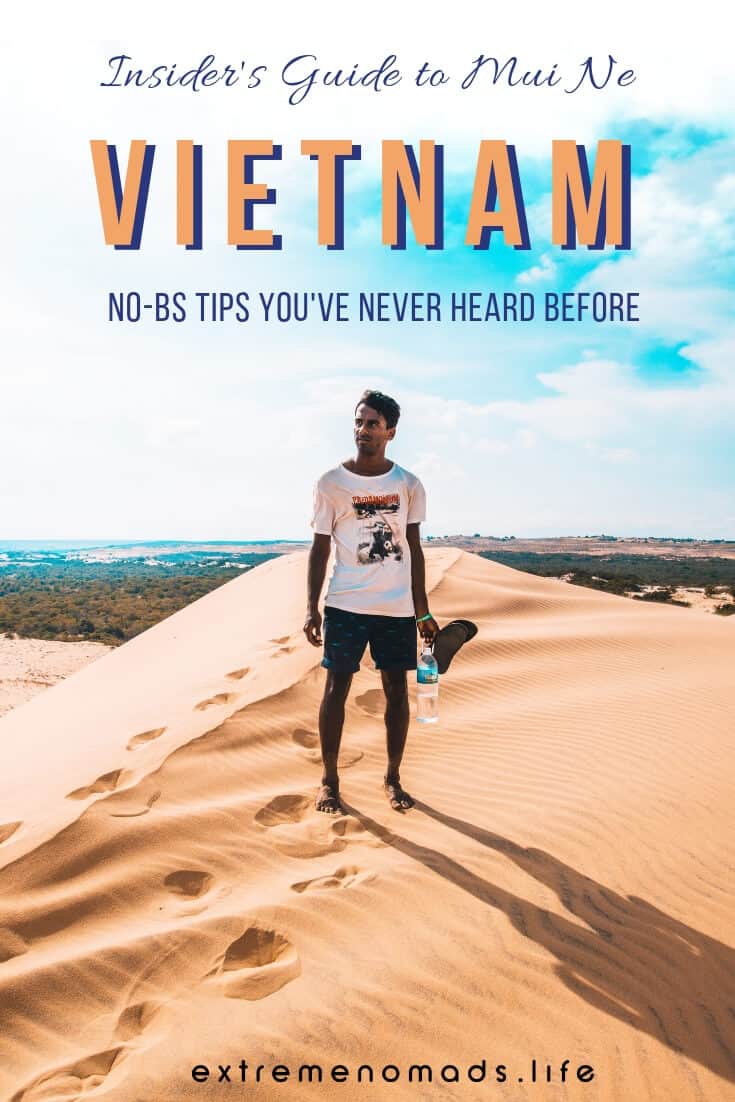 ---
Still have a question about things to do in Mui Ne, Vietnam? Let us know in the comments section below, or head over to our free facebook group and ask the Extreme Nomads community!