When I first started snowboarding, I remember going into a thrift store and picking out my first pair of boots. Almost inevitably, I chose a pair of Vans.
They were old, torn, and scuffed – We're talking serious wear and tear.
But they were also soft flexing, responsive, and comfortable. So soft, in fact, that Vans still has a soft place in my heart.
Those old Vans boots made learning how to ride a positive experience for me. Even though I was falling on my butt almost constantly, my feet were always comfortable.
And whether you're a new rider or an experienced pro, it's important that you remember this one simple fact:
Snowboard boots are crucial if you want to have a good time on the mountain. In fact, many experts (me included) argue that your boots are the most important piece of gear you'll use while snowboarding.
Forget your jacket, forget your board, and yes, forget your new snowboard binding too. Your boots are what you should really be concerned about as a first priority.
Why?
Because your snowboard boots are your first point of contact against the snow – the first contact point as you try to maneuver your board.
Of course, you probably already know this – and you probably just want to know whether the Vans Hi-Standard OG boots are worth your time.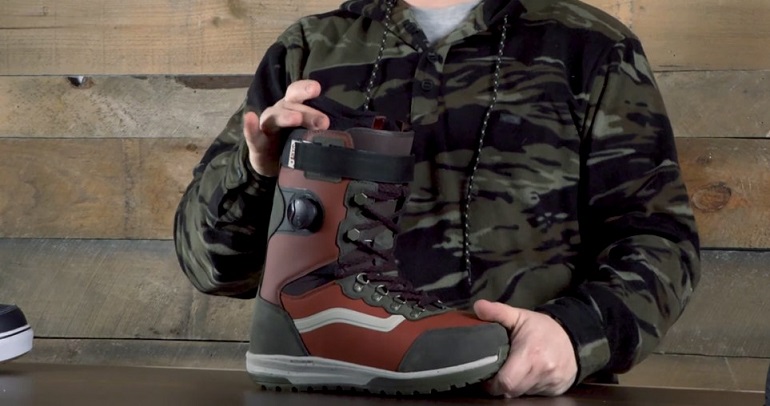 My take on the Vans Snowboard Boots Review
The Hi-Standard OG represents the latest in a long line of great boots Vans has been offering.
Make no mistake:
Vans has come a long way since making those old boots I picked up at the thrift store when I was 13.
But what kind of new technology do the latest Hi-Standard OGs bring to the table? Is this really the right pair of boots for you? And perhaps most importantly, how do they stack up against the competition?
Let's get right into the nitty-gritty details:
Pros
Affordable for new riders and anyone on a budget
Medium flex for mellow, fun riding
Classic sneaker styling that never goes out of style
Traditional lacing system for a snug fit
Small footprint
Cons
You might want a stiffer boot for more serious snowboarding
The Hi-Standard Pro gives you a bit more shock absorption at a slightly higher price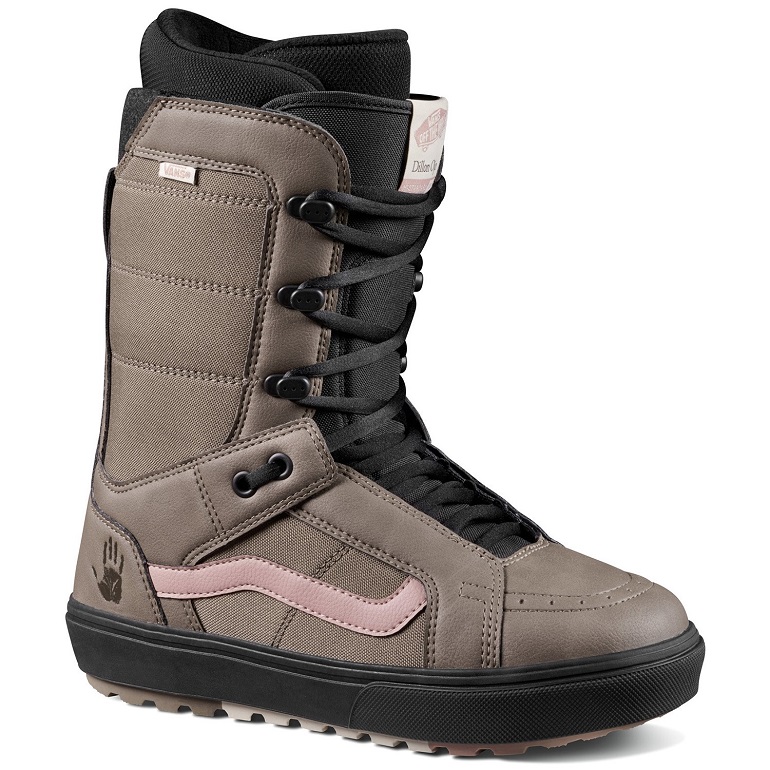 Vans Hi Standard OG Snowboard Boots
The price of "Vans Hi Standard OG Snowboard Boots" varies, so check the latest price at
Overview of the Vans Hi-Standard OG Snowboard Boots
Let's see what makes this boot so popular among the riders:
Tech Specs
Let's start the review by going over some tech specs:
The Vans Hi-Standard OG is a traditional lace-up boot with an internal web harness and a traditional, classic, "skate shoe" riding style.
Notable features include an instep lace lockout, waffle lug outsoles, a V1UltraCrush Liner, a V1 POPCUSH Footbed, and a quick-pull internal speed lace system.
Not sure what all these buzzwords mean?
Don't worry – We're about to go through each of them in more depth later in the review!
These boots also weigh about 1,060 grams – making them pretty light and adding to that sneaker-like comfort.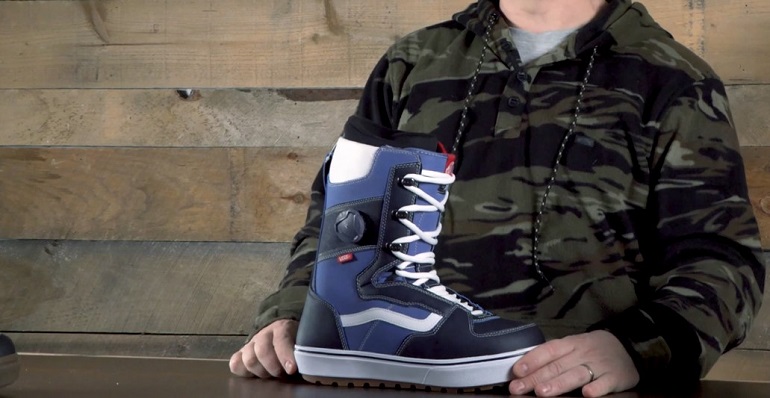 The Classic Vans Styling
The basic Vans Hi-Standard OG model has been around for decades. At first glance, these boots seem pretty much identical to the boots I found in my local thrift store all those years ago.
But when you look under the hood, it's clear that Vans has been continuously updating its classic line of snowboard boots with insane new technology.
Even though they might look like classic skate shoes from the 90s, the Vans Hi-Standard OG definitely feels like a modern boot with cutting-edge features.
Who is the Vans Hi-Standard OG For?
The Vans Hi-Standard OG is for pretty much any snowboarder right out of the box. If you're a beginner, you might want to reach for a slightly softer, more forgiving boot – but it's not like the OG will ruin your fun.
The Hi-Standard OG is probably the best option if you're just making the transition toward intermediate-ability level snowboarding.
You're not going to see many professional-level snowboarders wearing the Hi-Standard OG when they compete in major events.
Why?
Not enough stiffness. It's that simple!
Even though I had tons of fun with these boots, they're probably not the best choice if you're the type who loves aggressive deep, carving – or anything highly technical.
But with all that said, expert riders can still have a super chill, mellow day on the mountain with the Vans Hi-Standard OGs.
If you're like me and you own multiple pairs, these softer, medium-flex boots might be a welcome source of relief after a hard day of snowboarding.
Let's pause this review for a second:
I took a three-day trip to Mount Washington a few years back, and by the third day, my legs were completely done. It would have been a huge relief to switch from my stiffer boots to a more mellow pair like the Hi-Standard OGs.
So at the end of the day, these boots are essentially aimed at intermediate-level riders – although they could definitely work for beginners and experts too.
Let's be honest
It doesn't actually take that long to start carving as a complete newbie.
Here's another segway from the review:
When I was teaching kids how to start snowboarding on Grouse Mountain, I was usually able to get them linking their turns by the end of the first day. 
So even if you're a beginner right now, you might want to start out with an intermediate ability level boot like the Hi-Standard OG. Within a few weeks – or even a few days – you'll reach that higher ability level, and the OGs will be perfect for you.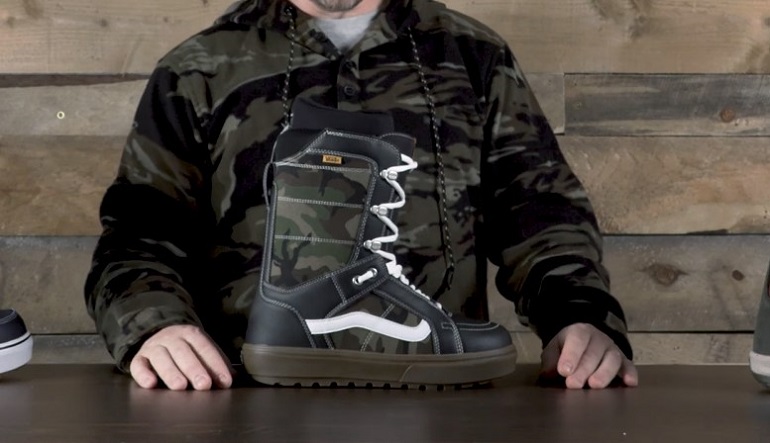 Vans Hi-Standard OG vs. Vans Hi-Standard Pro
Here's the thing:
There's a big debate right now between the Hi-Standard OG and the Hi-Standard Pro. I see a lot of people asking the same question:
Which one should I choose?
If you're a new rider, you're probably wondering what the difference is.
It really comes down to the insoles.
For about 70 extra bucks, the Hi-Standard Pro gives you some extra shock-absorbing tech that really helps with big air impacts.
I personally gravitated towards ollies and tricks pretty quickly as a new rider – probably because of my personality and my background in skateboarding.
And let me tell you this right now:
That a little extra shock absorption does make a difference when you stomp your landings.
But if you're not even thinking about doing tricks, those insoles aren't really going to make a big difference – and you'll be fine with the Hi-Standard OG.
Vans Hi-Standard OG in More Detail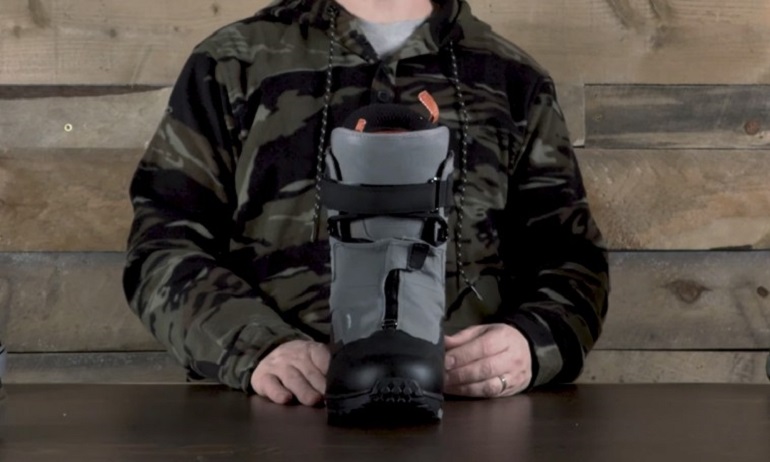 Now it's time for the science behind these boots:
Let's go over some of the most notable features of the Vans Hi-Standard OG:
Shell & Outsole
The V1 Waffle Lug outsole draws inspiration from classic skate shoes for vulcanized, grippy performance and solid traction that translates to a snappy board feel.
One thing I learned right off the bat was that this boot just refused to slip around on me.
Liner
The V1 UltraCrush Liner is seriously soft flexing – which is what makes this boot so ideal for beginners and intermediate riders.
With that said, the liner isn't too flexible – I still felt like I had the support I needed as an expert rider with absolutely no heel lift.
The boot also felt super snug, warm, and comfy as soon as I put it on. Obviously, this is going to be perfect for heat molding – especially if you have high arches or big toes.
Fit
From what I could tell, this boot has a somewhat wide fit. But of course, that might be because I have a fairly narrow foot size… Soooo it might actually be more of a medium fit.
I also found that the OGs ran slightly small – which was weird because literally, every other boot from Vans seems to be pretty consistent in terms of sizing.
Anyway, a few of my friends have experienced a slightly tight toe box – so you might want to go down half a size to give your toes a little more breathing room.
Shock Absorption
The OG boasts a solid V1 POPCUSH Footbed that gives you tons of versatility – whether you're hitting the park, soft powder, or any other part of the mountain.
While it didn't give me as much shock absorption as the Hi-Standard Pro, it definitely kept each foot nice and comfy with its Nylex moisture-wicking top sheet and plenty of airflow.
Responsiveness
You're looking at a medium-flex boot here – which makes it a fun, solid choice for just about any situation.
Great for beginners – and even advanced riders like me can have fun with its mellow, laid-back responsiveness.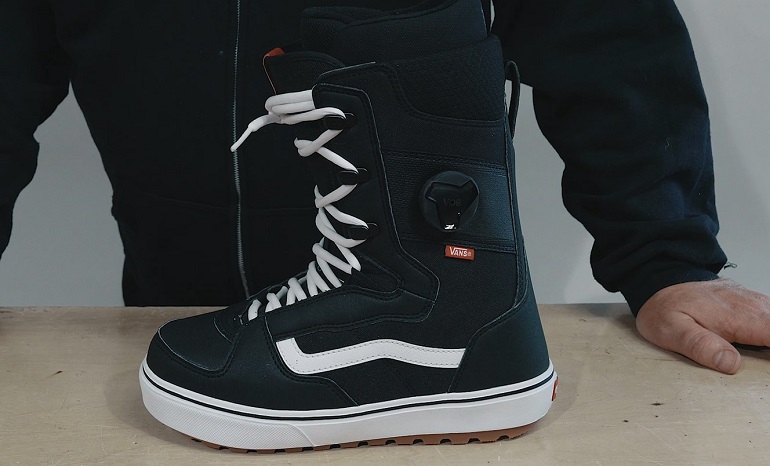 Adjustability
You really can't go wrong with traditional laces on a snowboard boot – and the OG's traditional lace system lets you fine-tune your fit with personalized flex patterns that match your unique riding style.
That said, I liked the addition of the internal Quick-Pull system for a little extra convenience.
Reduced Footprint
With a reduced footprint, the Hi-Standard OG gives you way less overhang – which reduces the chances of catching your edge.
I personally have a pretty big foot size, so I'm always thrilled when I find a boot that saves me a few crucial centimeters for better board feel.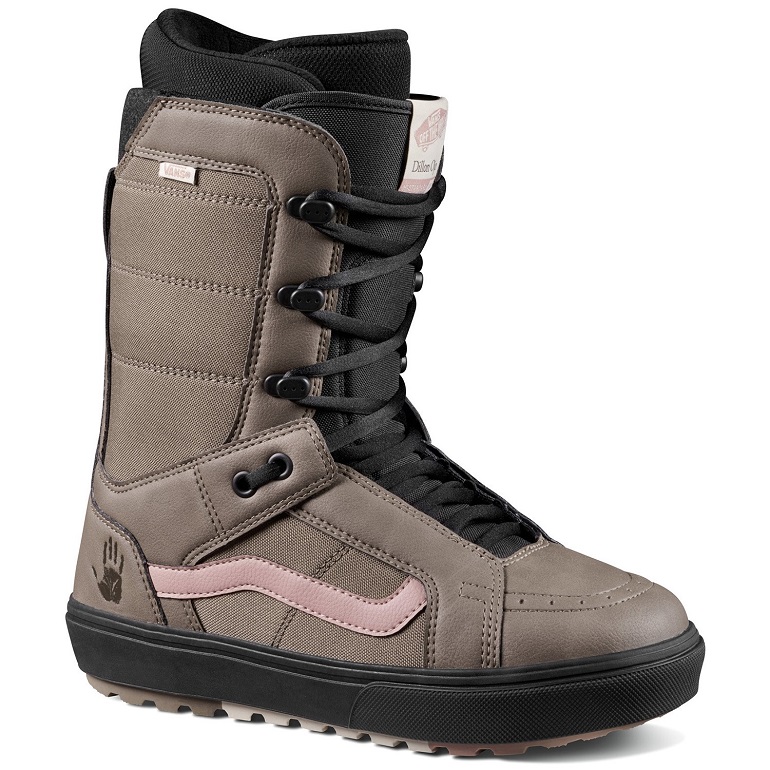 Vans Hi Standard OG Snowboard Boots
The price of "Vans Hi Standard OG Snowboard Boots" varies, so check the latest price at
Score Breakdown and Final Verdict
Keep your eyes peeled for the Hi-Standard OGs this snow season, because you're probably going to see a lot of people wearing them.
Why?
Let's break it down:
Value
A lot of riders out there – including me – are extremely surprised when they see the price tag on these babies.
There's no getting around it – they shouldn't be this cheap. With so many features packed in here, you're looking at a boot with some serious value.
Style
Vans look incredible whether you're a pro or a newbie – and this is a big reason why I think the OGs are so popular.
I don't know about you, but when I'm snowboarding, style is always a priority for me.
An Ideal Starter Boot
If you're looking for your first boot, you really can't go wrong with the Hi-Standard OG.
It'll be forgiving enough for those first few weeks – but you'll get plenty of stiffness, support, and responsiveness as you progress to a higher level.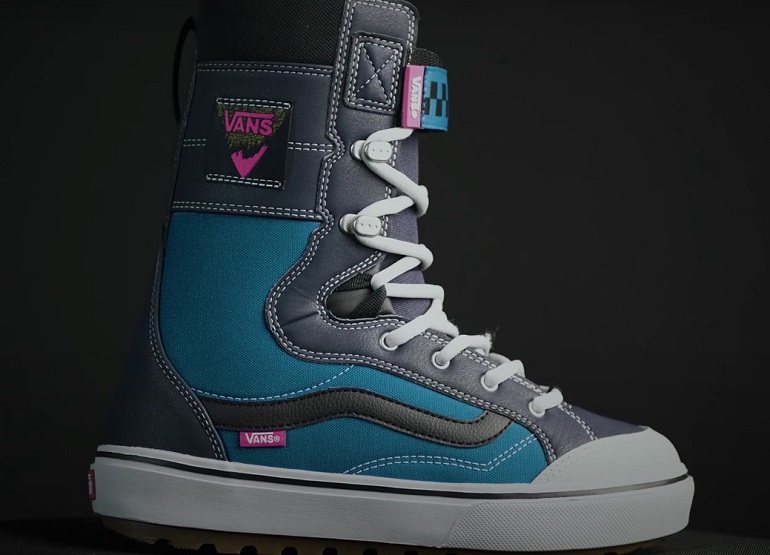 Wrapping it up: The Best Vans Boots for the Money?
To wrap up this review, the Vans Hi-Standard OG gets a solid 8/10 from me. I would have given it a nine if it weren't for the Hi-Standard Pro.
Don't get me wrong, with its traditional lace approach, solid traction, excellent comfort, stellar control, lightweight, amazing styling, and low price, the OG is a solid choice for intermediates and beginners.
But for just a slightly higher price, The Hi-Standard Pro gives advanced riders like me a slightly stiffer, more responsive boot with added shock absorption technology.