Whitewater Paddling or Recreational Paddling?
The kayaking adventures that we all embark on are different. Some of us want to sweat as we battle against the current. Using everything we've got to avoid spiraling out of control. While others, would rather slowly move through a calm lake.
Whether you opt for an inflatable whitewater kayak or a recreational one, kayaking is always best done with another person. A 2 person inflatable kayak has the build, length, and weight capacity that allow us to bring a friend or loved one along.
Don't worry, should you ever want some alone time, you can have it. The inflatables down below are capable of being manned by one individual. If your friend ever annoys you, you could leave them stranded on some island.
Whatever works best for you…
Best 2-Person Inflatable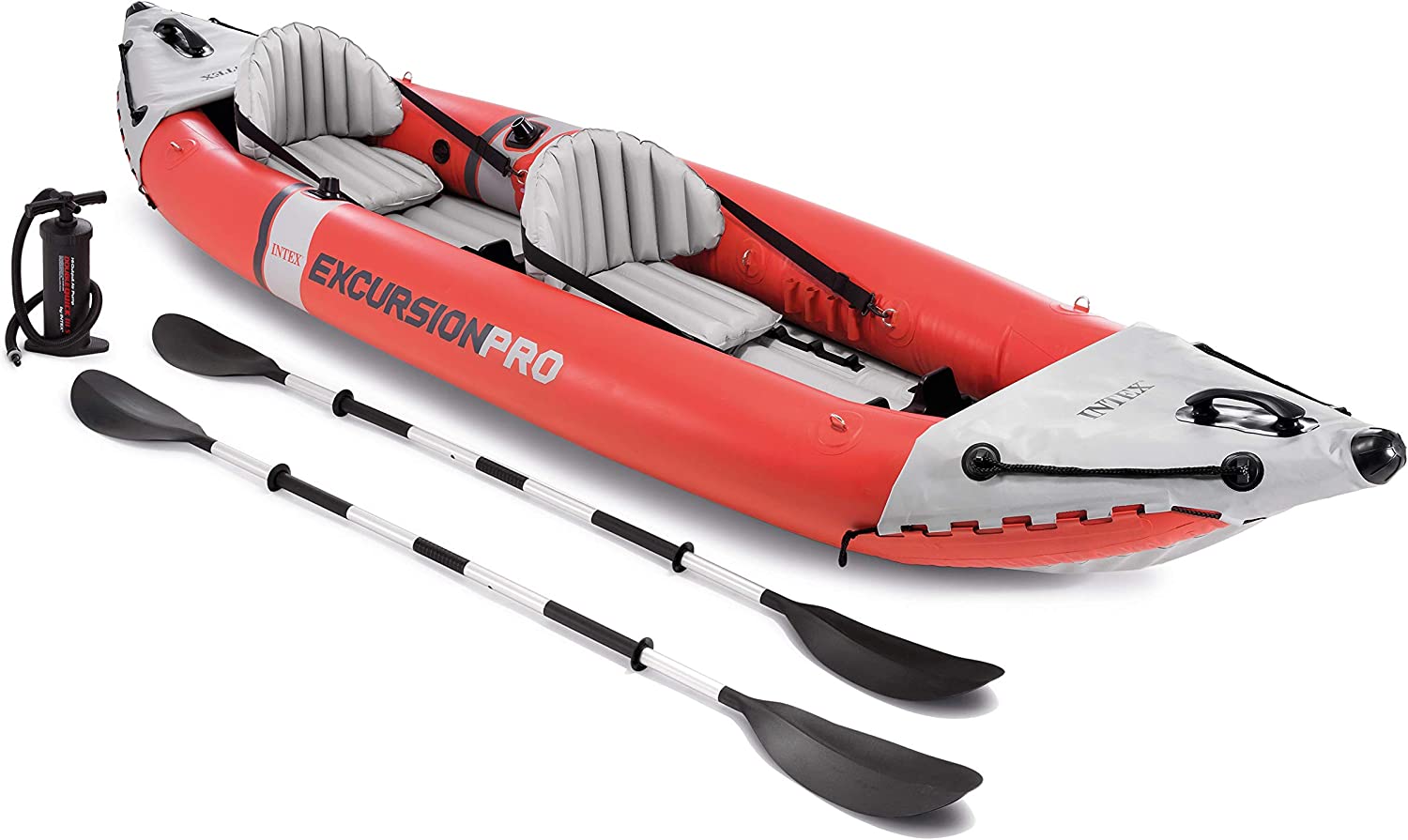 Intex Excursion pro
Material:

Polypropylene
Item Weight: 46.73 Pounds
Best Adjustable Kayak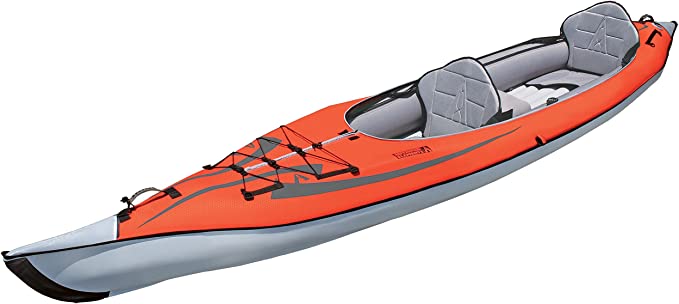 AE1007-r
Material:

plastic, nylon
Item Weight: 52 Pounds
Best Performance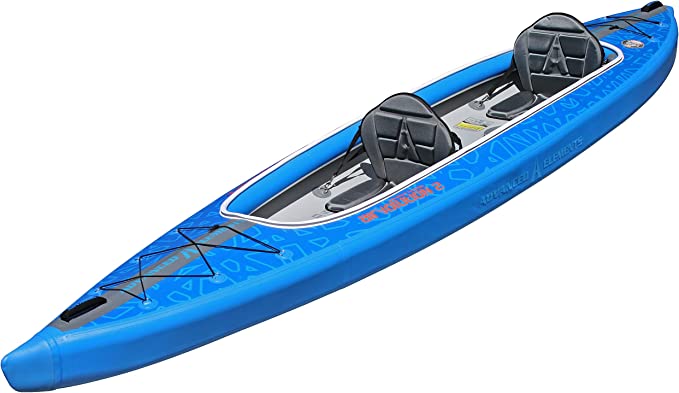 Advanced Elements Airvolution
Material:

Synthetic
Item Weight: 52 Pounds
Most Durable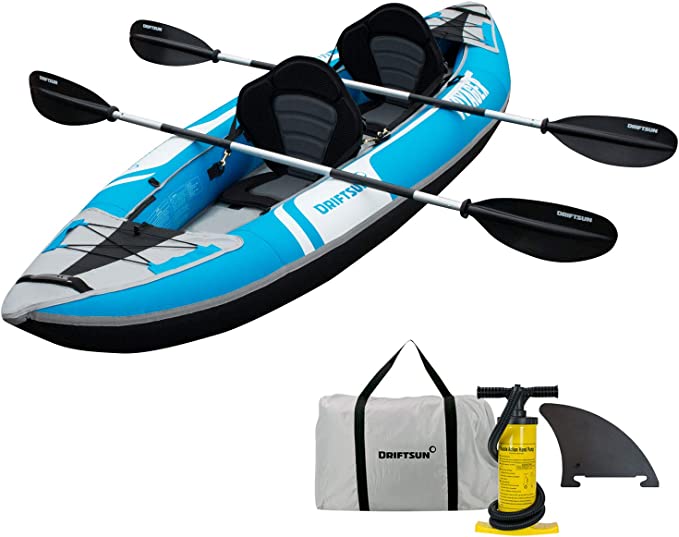 Driftsun Voyager
Material:

Polyvinyl Chloride
Item Weight: 27 Pounds
Best Seating Capacity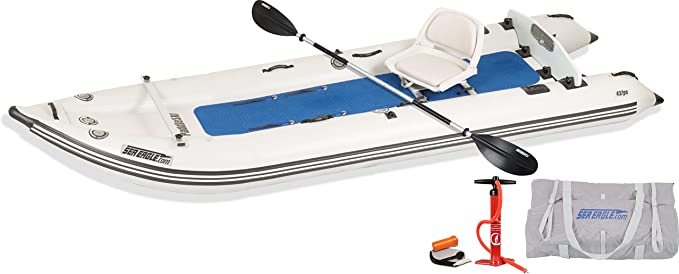 Sea Eagle 437PS
Material:

Hulls
Item Weight: 67 Pounds
Best Budget Option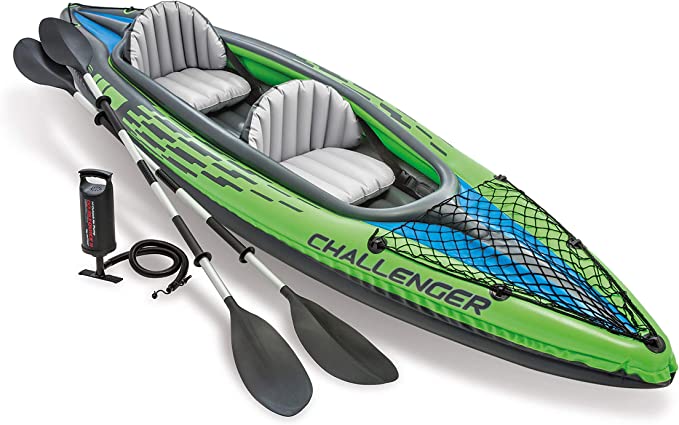 Intex Challenger K2
Material:

Inflatable
Item Weight:38.24 Pounds
Best Premium Option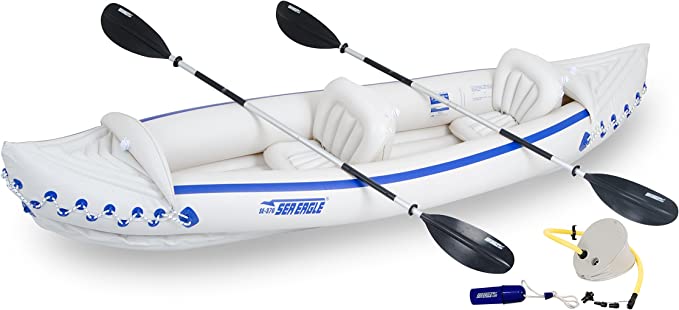 Inflatable SE370
Material:

Polyvinyl Chloride
Item Weight: 32Lbs
Best Of The Rest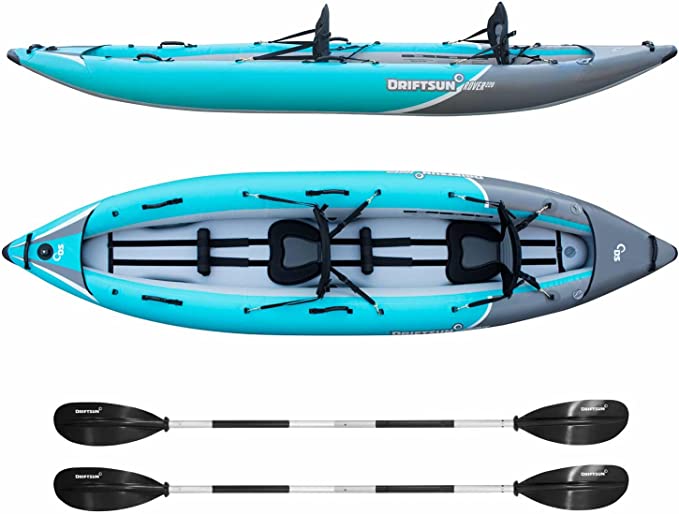 Driftsun Rover 220
Material:

Polyvinyl Chloride
Item Weight: 28 Pounds
8 Best Two-Person Inflatable Kayaks
It takes two to tango and two to get the most out of any inflatable tandem kayak listed below. Keep in mind that while each tandem inflatable kayak does have one defining feature, this by no means equates to them being sub-par in everything else.
The inflatable tandem kayaks on this list have great stability, durability, and perform well in their specified conditions. Aside from this, a two-person kayak needs to be able to handle not just two passengers but two fully grown passengers.
The best part is, that even if you paddled solo, you would still benefit from everything listed above.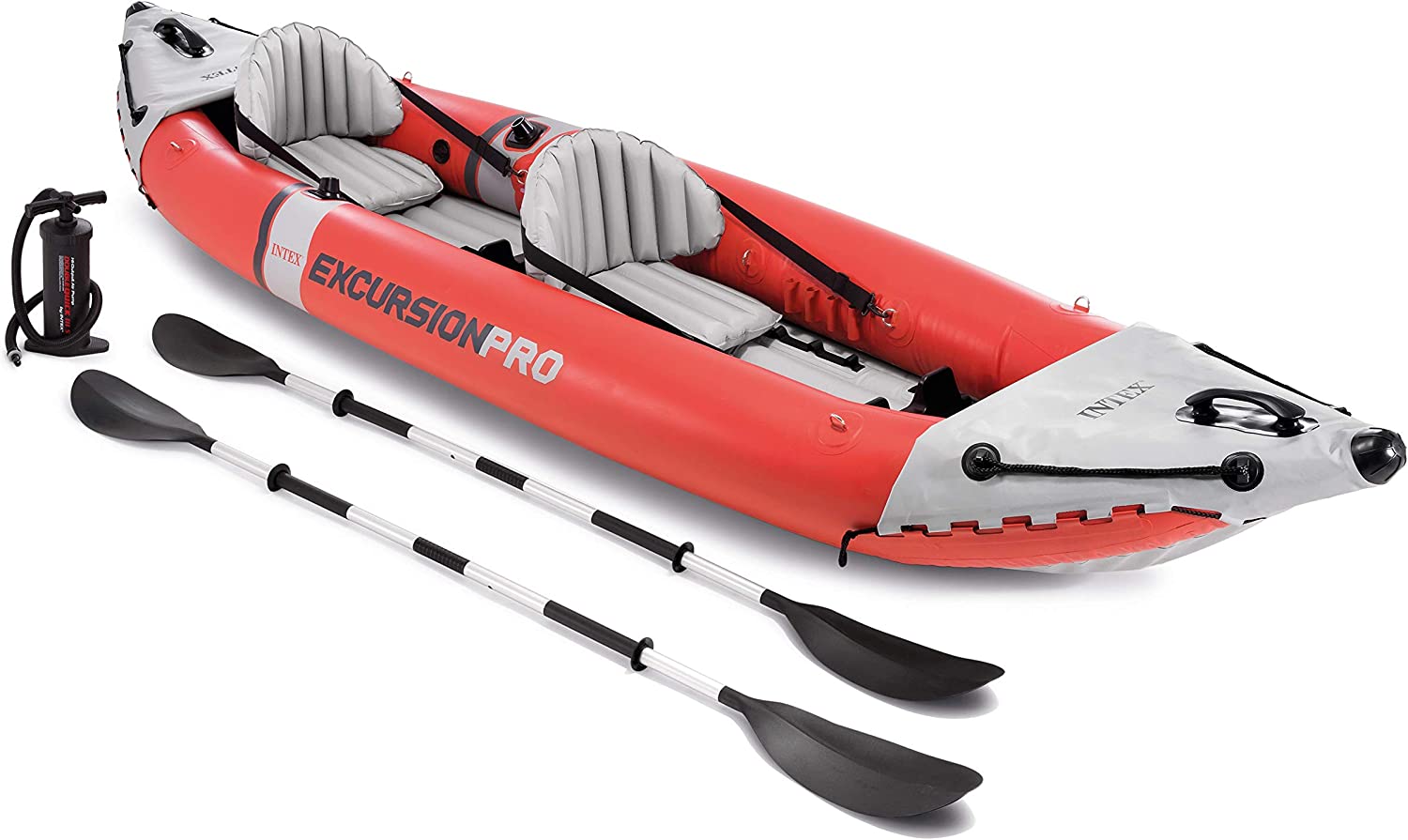 The Intex Excursion Pro has everything it needs to succeed. A three-ply laminate construction that ensures you won't have to worry about any punctures, outlines the entire kayak.
As if that wasn't enough, a PVC exterior shell caps everything off. Securing a polyester core that doesn't weigh the Excursion Pro down but still manages to provide stability and support.
For your comfort, you get removable seats with adjustable placement and back angles. It seems as if the theme here was to secure the lifespan of the vessel and the rider's comfort. I'd say that it paid off spectacularly well, the best kayak overall.
The only downside that I noticed was the warranty policy. Ninety days is a very small window frame and I felt that this was embarrassingly low. Thankfully, the performance and build of the kayak itself lightened me up.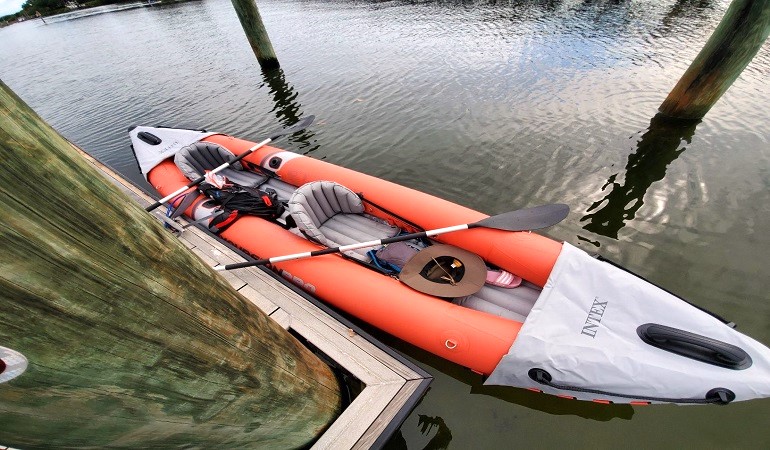 Features:
Weight: Forty-six pounds
Best Feature: Three-ply laminate construction
Build Material: Polypropylene
Length: Twelve feet
Warranty: Ninety-day limited
Pros:
The seats are removable and adjustable, find the solution that works best for you.
Comes with two paddles, a carry bag, and a hi-output pump.
Durable and abrasion-resistant PVC exterior with a polyester core.
Cons:
The warranty policy is very short by kayak standards.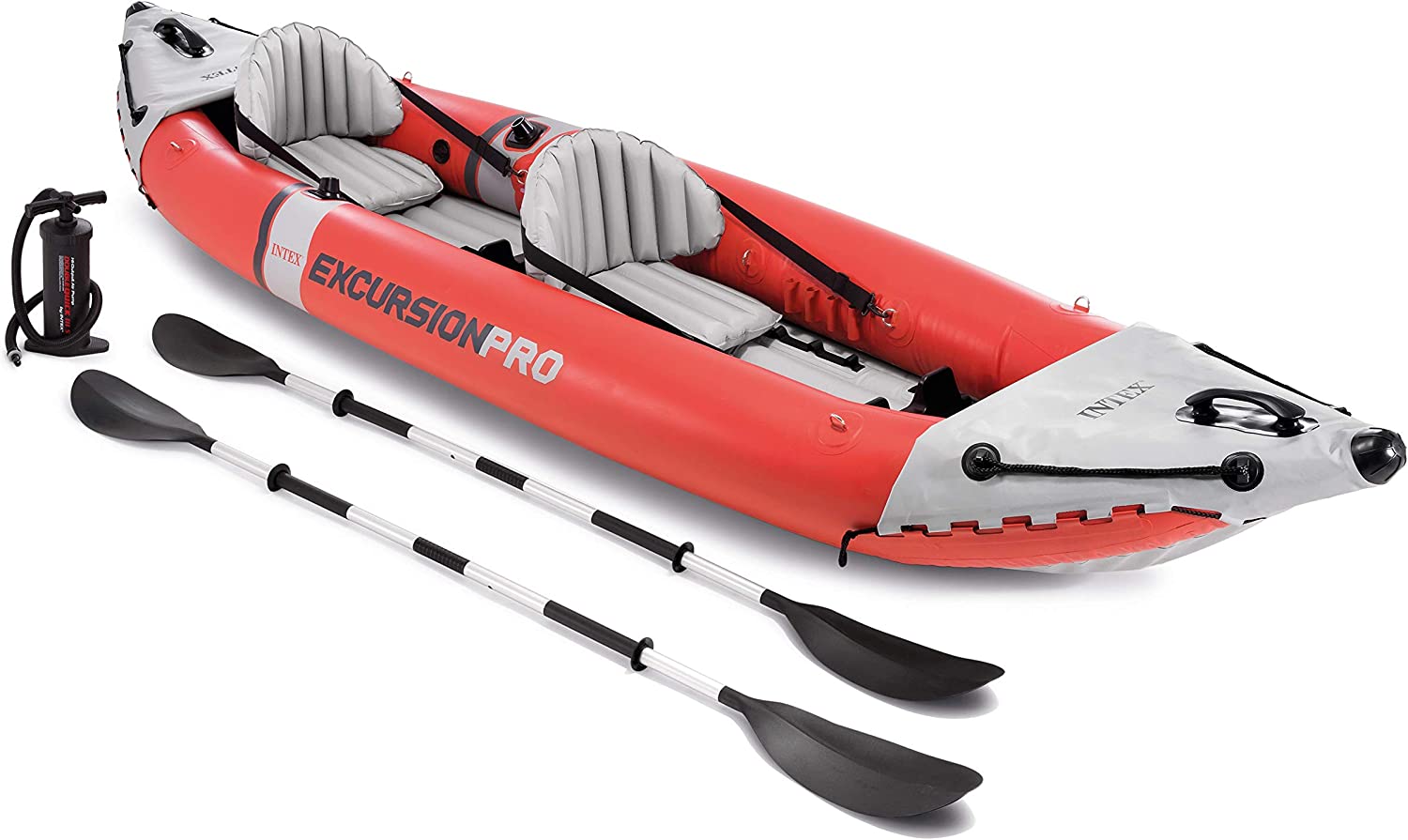 Intex Excursion pro
The Price of "Intex Excursion pro" varies, so check the latest price at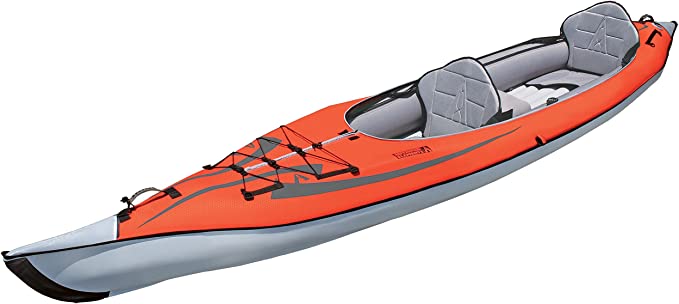 While the Excursion Pro did provide you with some adjustability, it can't hold a candle to the AdvancedFrame. Removable seats or a removable skeg are nothing compared to being able to attach entire different decks to your kayak.
There are three different decks that you can use to customize the AdvancedFrame. One that provides you with ample storage space. Another that isolates and secures both paddlers. And finally, a deck that turns this two-seater into a solo operation.
It doesn't matter what deck you chose, thanks to the sharp bow design, you'll be cutting through the water effortlessly.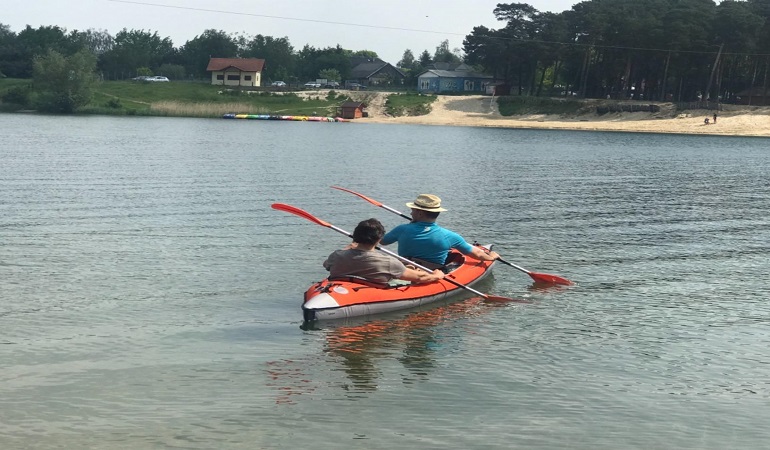 Features:
Weight: Fifty-two pounds
Best Feature: A truly convertible kayak
Build Material: Plastic and nylon
Length: Fifteen feet
Warranty: One-year warranty
Pros:
You can attach different decks to the kayak frame to change the entire surface and seating arrangement of the kayak.
Sharp bow design that easily cuts through any flat water or otherwise. Perfect for paddling efficiency.
The adjustable seat(s) offers upper back support and a sturdy frame.
Cons:
The additional decks and air pump are sold separately.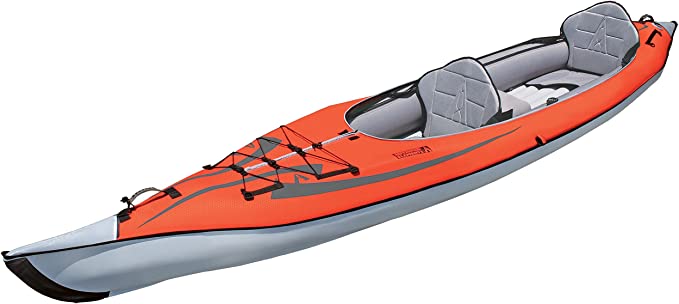 Advanced Elements Ae1007-r
The Price of "Advanced Elements Ae1007-r" varies, so check the latest price at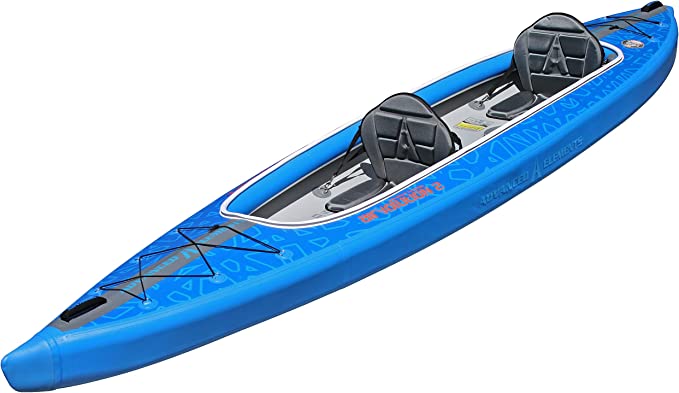 Yes, the AdvancedFrame has a great bow design but if it's performance you want, then the AirVolution is your ride. This is the tandem inflatable kayak for those obsessed with speed and efficiency.
The drop stitch hull gives this kayak the same kind of feel and body type as a solid kayak. Granting it all the boosts in speed and stability with none of the storage drawbacks. Strategically placed air chambers provide buoyancy and lift to key parts of the vessel.
Even the PVC outer skin was designed to be hydrodynamic. Further improving your speed capabilities. With this outer skin, the expression "cuts through it like butter" has never been more apt.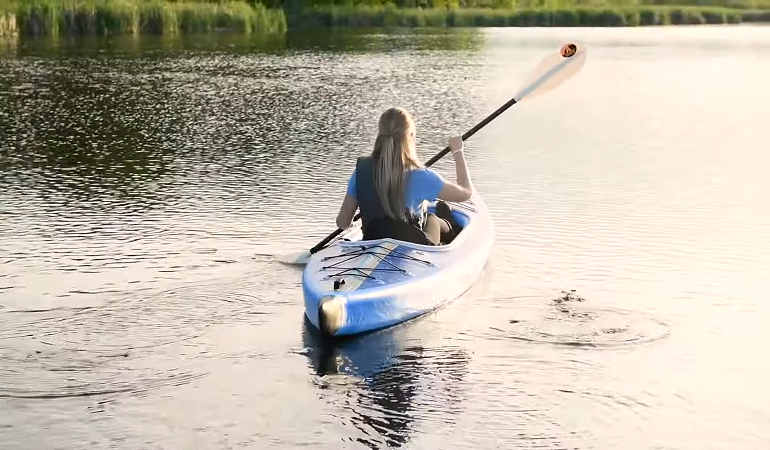 Features:
Weight: Fifty-two pounds
Best Feature: Drop stitch floor and air chambers
Build Material: Synthetic
Length: Fourteen feet
Warranty: One-year warranty
Pros:
Built for performance, the drop stitch air chambers create a hull that is equal in ability to hardshell kayaks.
The PVC tarpaulin outer skin is hydrodynamic. This improves the speed and power of this kayak.
Fully inflates faster than tandem inflatable kayaks and most kayaks in general.
Cons:
Not much storage space is available.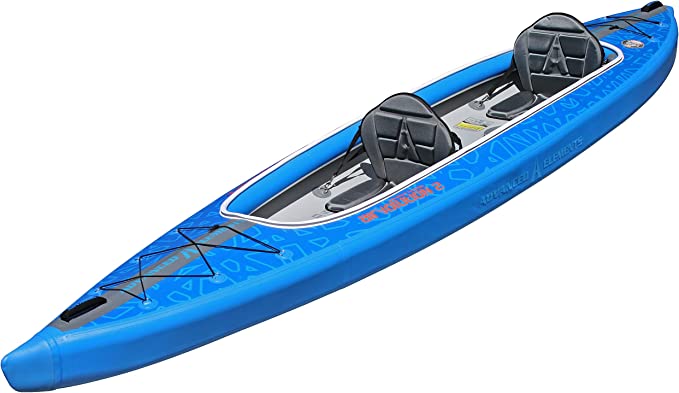 Advanced Elements Airvolution
The Price of "Advanced Elements Airvolution" varies, so check the latest price at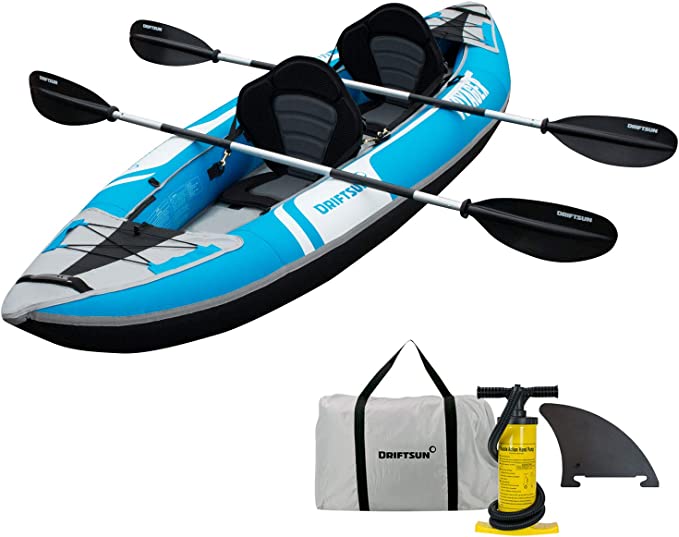 Don't throw your money at yet another sub-par inflatable kayak that'll rupture at the first sign of trouble. Even quality kayaks begin to break down as the seasons go by. Well, not all of them.
The Voyager 2 is made from polyvinyl chloride. This material is resistant to weathering. Weathering is the grim reaper of all inflatables and solids alike. Paddle boards or kayaks, they all fall at the hands of this process.
Fortunately, the Voyager manages to stave off this process significantly thanks to its hull. Even the paddles it comes with are surprisingly durable. They are made from aluminum and this grants them a fair amount of resistance to corrosion.
Besides its long lifespan, the rocker profile and pointed bow make this kayak one floaty ride. It's a great pickup.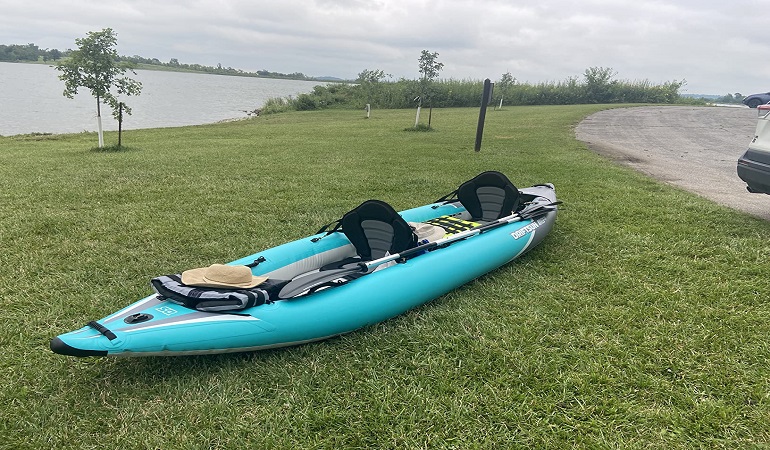 Features:
Weight: Twenty-seven pounds
Best Feature: Great rocker profile and pointed bow
Build Material: Polyvinyl Chloride
Length: Ten feet
Warranty: One-year warranty
Pros:
Comes with two adjustable EVA padded seats and two aluminum oars with ergonomic handles.
Responsive tracking thanks to removable deep fin.
The outer shell is made from Oxford fabric and nylon, which is 840 deniers thick.
Cons:
A lower weight capacity than other kayaks on the list.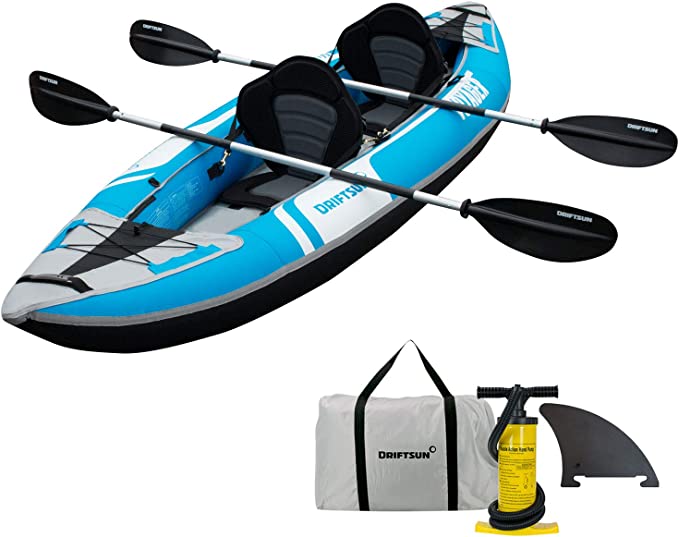 Driftsun Voyager Inflatable Kayak
The Price of "Driftsun Voyager Inflatable Kayak" varies, so check the latest price at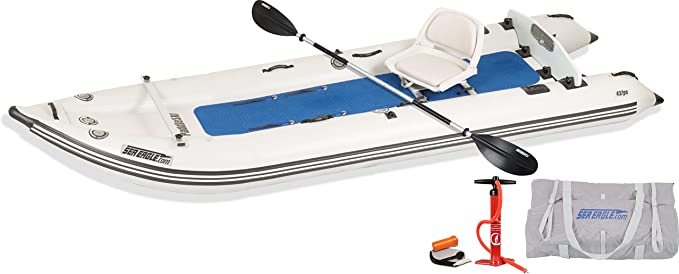 There are several kayaks that claim to be tandem inflatable kayaks. They've got the length and width to properly fit two adults. But when you take a look at their weight capacity, you quickly realize that while the space may be there, the weight capacity is not.
The Sea Eagle can be a tandem inflatable kayak but in reality, this kayak has enough space for three individuals. As for its weight capacity? The Sea Eagle can handle up to six hundred and fifty pounds without breaking a sweat.
More than enough to accommodate three adults. Even three big adults.
That's not all, this kayak specializes in handling whitewater rapids. Among the toughest of all terrain. It can perform well within that chaos because of the large I-beam tubes that its floor is made from.
This is honestly a very well-built kayak that is perfect for family outings. I've yet to see any tandem inflatable kayak that comes close to its efficient use of space and weight.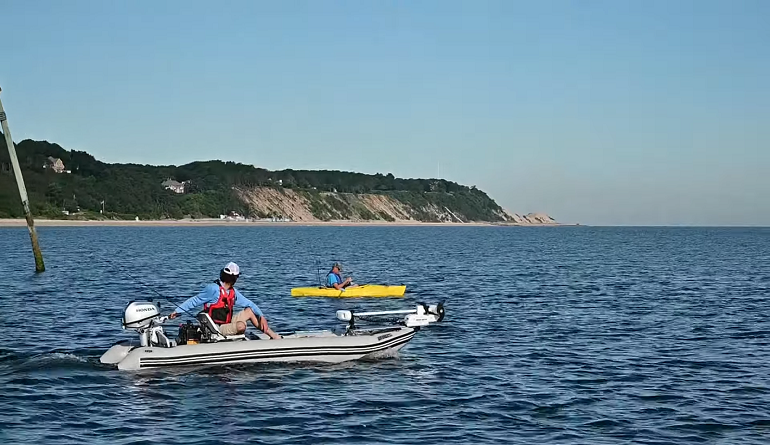 Features:
Weight: Thirty-two pounds
Best Feature: Weight capacity of six hundred and fifty pounds
Build Material: Polyvinyl Chloride
Length: Twelve feet
Warranty: Two years
Pros:
The floor of this kayak is composed of large I-beam tubes that are durable and improve speed.
Can easily seat three people thanks to its length and high weight capacity.
Perfect for whitewater paddling. This kayak has the strength to power through it all.
Cons:
Not much that I could find to complain about.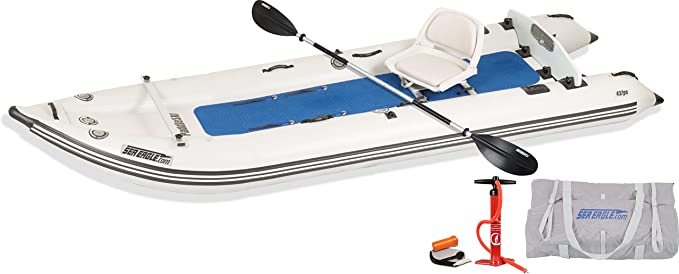 Sea Eagle 437PS PaddleSki
The Price of "Sea Eagle 437PS PaddleSki" varies, so check the latest price at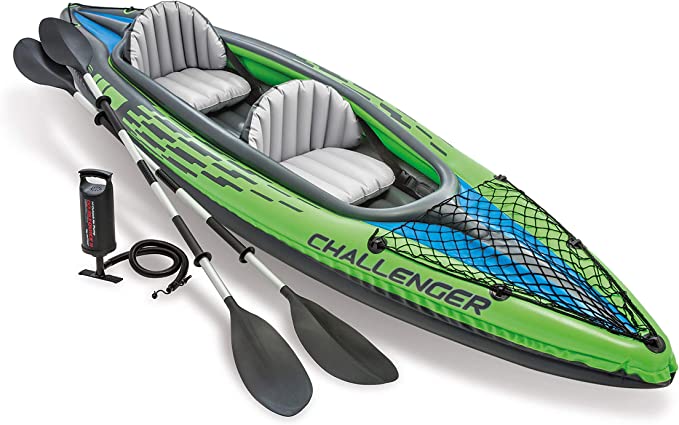 If you are on a budget, then all of the tandem inflatable kayaks featured thus far have no doubt depressed you. "When, when can I experience a quality tandem inflatable kayak for myself?", you tell yourself. I've got your answer. It's right now!
The Intex Challenger K2 is priced insanely low, for a tandem inflatable kayak that is. Made from tough vinyl that is corrosion-resistant and abrasion resistant. All bases are covered with this hull.
Measuring eleven feet long, you'll still be able to fit another person inside with you but it'll be a tight squeeze.
The edges have been slimmed down and the nose pointed to better power through the current. A solid option at a great price.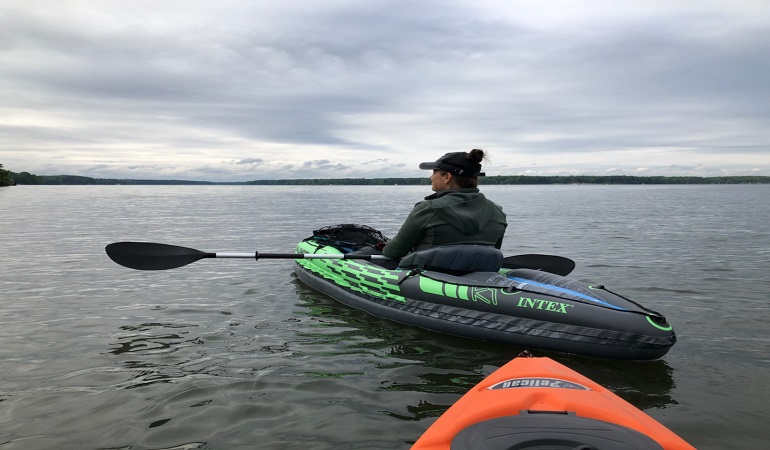 Features:
Weight: Thirty-eight pounds
Best Feature: Sleek design
Build Material: Tough vinyl
Length: Eleven feet long
Warranty: No warranty
Pros:
Incredible build quality and design are available at an affordable price. Excellent for those that want performance on a budget.
The streamlined design performs well in coastal waterways, slow-moving rivers, and deep water.
UV protection ensures long-term durability.
Cons:
A tight fit for two people but still manageable.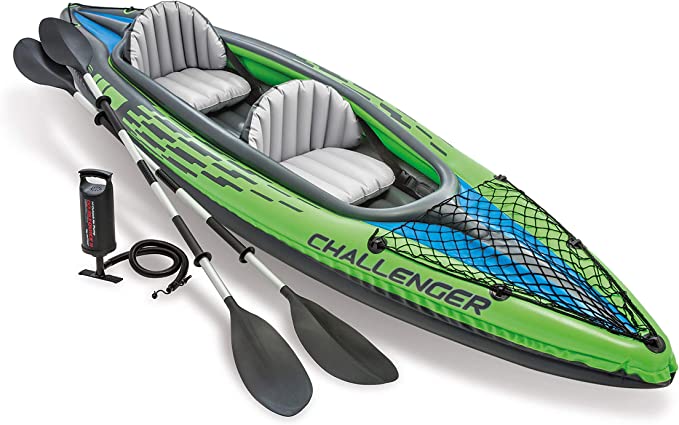 Intex Challenger K2
The Price of "Intex Challenger K2" varies, so check the latest price at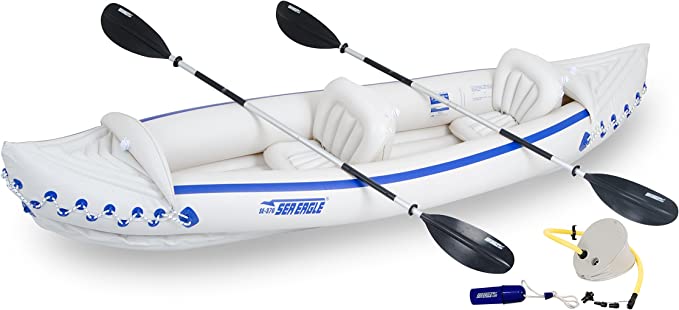 Ever feel like your paddling is getting you nowhere? Life can be that way sometimes but why put up with it? Attach a kayak trolling motor to the back of your tandem inflatable kayak and watch the shoreline pass you by.
The Sea Eagle is powered by a motor that works in "tandem", see what I did there, with your paddle strokes. This is one of the bigger kayaks on the list so a motor while not needed, is definitely a big help.
On its own, the Sea Eagle is the best-looking kayak that we've gone over today. It's got a wonderful open design that isn't just for show. You see, thanks to its high-pressure flooring, you can stand up and paddle if you want to. It's stable enough to let you do that.
In truth, the Sea Eagle is as much of a kayak as it is a paddle board. One with five air chambers for maximum buoyancy.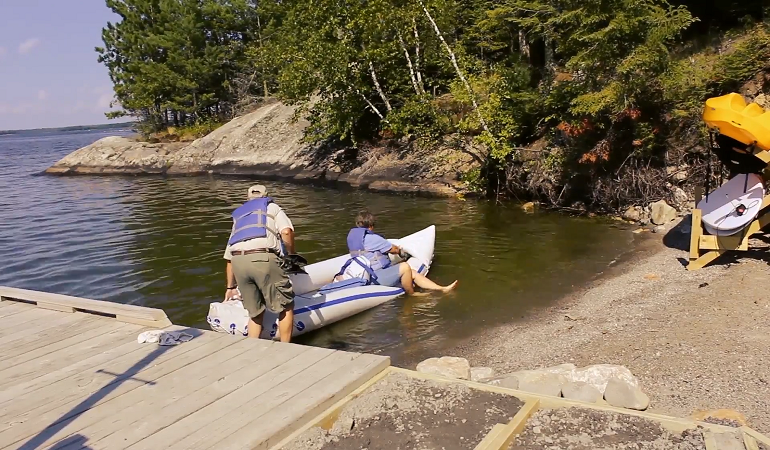 Features:
Weight: Sixty-seven pounds
Best Feature: Weight capacity of 885 pounds
Build Material: Tough synthetic materials
Length: Fourteen feet
Warranty: Not available
Pros:
Awesome open design with great seating that is highly adjustable.
The high-pressure flooring allows you to stand up and paddle. This works as a kayak and a paddle board.
Has five air chambers that improve buoyancy and performance.
Cons:
Very high price point but this is understandable due to its quality.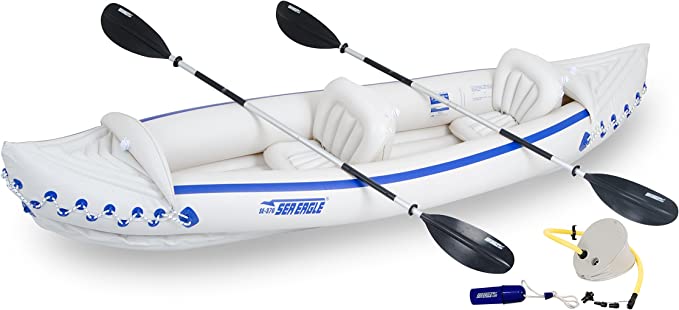 Sea Eagle Inflatable SE370
The Price of "Sea Eagle Inflatable SE370" varies, so check the latest price at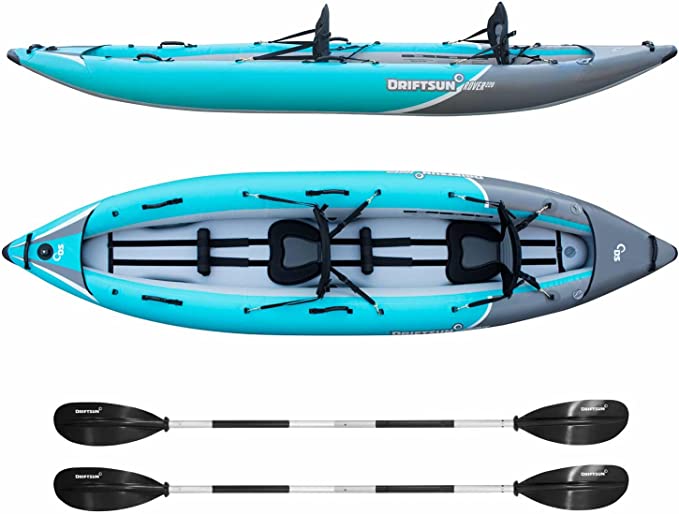 The Driftsun Rover impressed me with how well it handles tough waters. In fact, this is the only tandem inflatable kayak on the list that is able to handle class four rapids. Not even the Sea Eagle or the Voyager 2 can make such a claim.
With a hull made from polyvinyl chloride, the passage of time has no effect on the Rover. I also enjoyed all of the extras that came with it. Namely, an action camera mount for capturing some intense shots and padded seats.
It may seem like a small feature but kayaks aren't known for having the most comfortable seating.
A heavy-duty bag is also included with the purchase, for storing all of your gear and the kayak itself.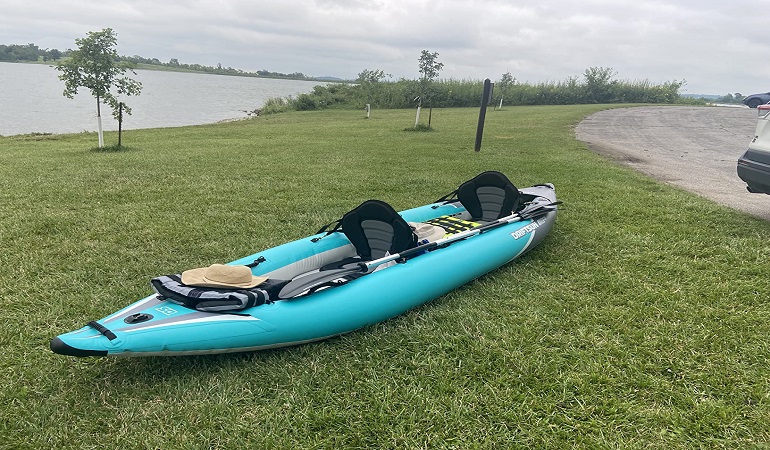 Features:
Weight: 28 pounds
Best Feature: Can handle class four rapids
Build Material: Polyvinyl Chloride
Length: Twelve feet
Warranty: One year
Pros:
This kayak can handle fierce rapids with ease. The best in class when it comes to rough waters.
Comes with plenty of accessories, including an action camera mount and padded seats.
Large travel backpack included with your purchase.
Cons:
Best used by experienced paddlers that want a challenge.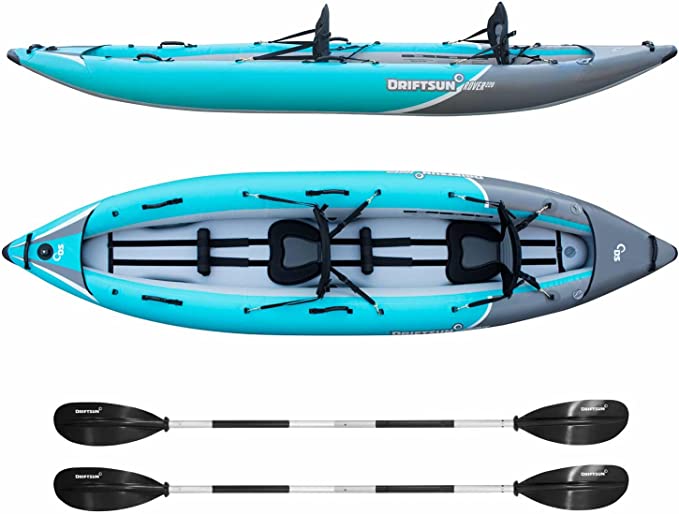 Driftsun Rover 220
The Price of "Driftsun Rover 220" varies, so check the latest price at
Choosing the Best 2-Person Inflatable Kayak
What do you want with your 2 person inflatable kayak? Fishing rod holders or a foot pump? Before you get ahead of yourself, you've got to make sure that you backed the right horse. Sure, most tandem inflatable kayaks, at least the ones on our list, are high quality.
However, each one is suited or geared toward one function or another. This is why you need to go through the information below. Consider each factor presented and how it will affect your final choice.
How rigid a kayak is, its durability, and even how fast it inflates will have a big effect on your kayaking trip.
Durable Kayaks
Durability in a kayak can be most easily identified by the materials that make it up. For example, the Driftsun Rover 220 has a hull that is made out of polyvinyl chloride. This is a material that is resistant to weathering.
While it may not be abrasion-resistant PVC or nylon, a material like polyvinyl chloride is all about longevity. Most kayaks, no matter how well built, will become significantly less durable with each passing year. Resistance to weathering solves this issue.
There are other ways of boosting a kayak's durability. The Advanced Elements AdvancedFrame Convertible, a personal favorite of mine, is made from hard plastic and nylon.
It's materials like the ones listed above that you should be on the lookout for. At the very least, your tandem inflatable kayak of choice should have an equivalent material in its build.
How your kayak is structured, that is, the number of layers it has is also important. This is easier to understand. The more layers a kayak has, the better.
A Rigid Kayak
The rigidity of the kayak's hull will determine how well it performs. The more rigid a kayak is, the higher its stability and speed. While there are few kayaks that are equally amazing in both categories, having a rigid hull certainly helps.
One thing that I didn't discuss in the previous section, is that rigid kayaks are more durable than "softer" kayaks. I know, this sounds extremely obvious but what I mean is that this isn't a quality that only affects performance.
The Intex Excursion Pro is one such tandem inflatable kayak that benefits greatly from its rigid hull.
Most people equate rigid with stiff and in the world of sports, being stiff is a cardinal sin. But when it comes to your gear and equipment, it can be a great thing to rely on when looking for an extra boost.
Inflation Time
An easily explainable category. The faster you can inflate your tandem kayak, the sooner you and your partner can set sail together. Certain tandem inflatable kayaks on our list, like the Airvolution Inflatable and the Driftsun Voyager, fully inflate incredibly quickly.
It only takes them a few minutes at most. But even then, the other kayaks are not lagging too far behind. One thing to note, which I will touch on further in the next category I discuss, is whether an air pump is included with your purchase.
You would think that this is always the case but I've encountered enough shamelessly priced bundles that don't include an automatic air pump. It should go without saying that using a manual pump will drastically increase inflation time.
Included Equipment
It doesn't matter where you purchase your tandem inflatable kayak or any kayak from, extra gear and equipment will always be thrown in. If you find a kayak that doesn't come with any extras then consider buying a different kayak.
What does come with an inflatable kayak varies.
The Driftsun Rover comes with an action camera mount and a large travel bag. The Voyager 2 brings along two aluminum oars, each with a solid grip handle, and padded seats.
Definitely keep an eye out for these kinds of deals. In the long run, it could end up saving you a large quantity of money. Before you buy a kayak you should also need to know how to store kayaks in a garage easily.
My Final Thoughts
As I have stated before, even if you kayak on your own most of the time, an inflatable tandem kayak would still be a great pick-up. This is because you can take advantage of the large weight capacity and bring along any extra gear or accommodations that you want. That's why I would choose an inflatable kayak over a hard shell kayak any day.
Not to mention that the durability of an inflatable tandem kayak will always be higher than a regular kayak. This is because it takes a much tougher frame and base to handle two fully grown adults. The inflatables also make the best lightweight kayaks for easy storage.
Whether you go with the Sea Eagle or any other kayak, you can be confident in its ability.